Budi Bar Malacca
Monica Tindall
Dondang Sayang is a form of music (sometimes translated as "love ballad"), that many say originated in Malacca around the 15th Century. Typically, two singers of the opposite sex exchange verse that is often humourous with layered complexities in meaning. Dondang Sayang clubs became popular throughout the Nyonya communities along the Straits branching up to Penang and down to Singapore, and Malacca was inscribed on the Representative List of UNESCO 'Intangible Cultural Heritage of Humanity, 'thus giving Malacca its second UNESCO award. Topics were varied but many included broader concepts such as love, nature, the sea and good deeds. Budi means good deeds or good manners, and hence the name of this Malaccan-style speakeasy inspired by these clubs and music.
Find this bar by first locating Sin See Tai, a charming little coffee roaster and café on Jalan Jawa. Ring the buzzer and you can enter the coffee counter, turn right and head up the stairs to Budi Malacca. It's lovely for afternoon drinking. Clear corrugated panels in the roof act as skylights and sun from the windows form natural backlight for the bottles on the bar. Plants hanging from the ceiling, rattan and old palette furniture and batik-covered cushions give a distinctly tropical feel.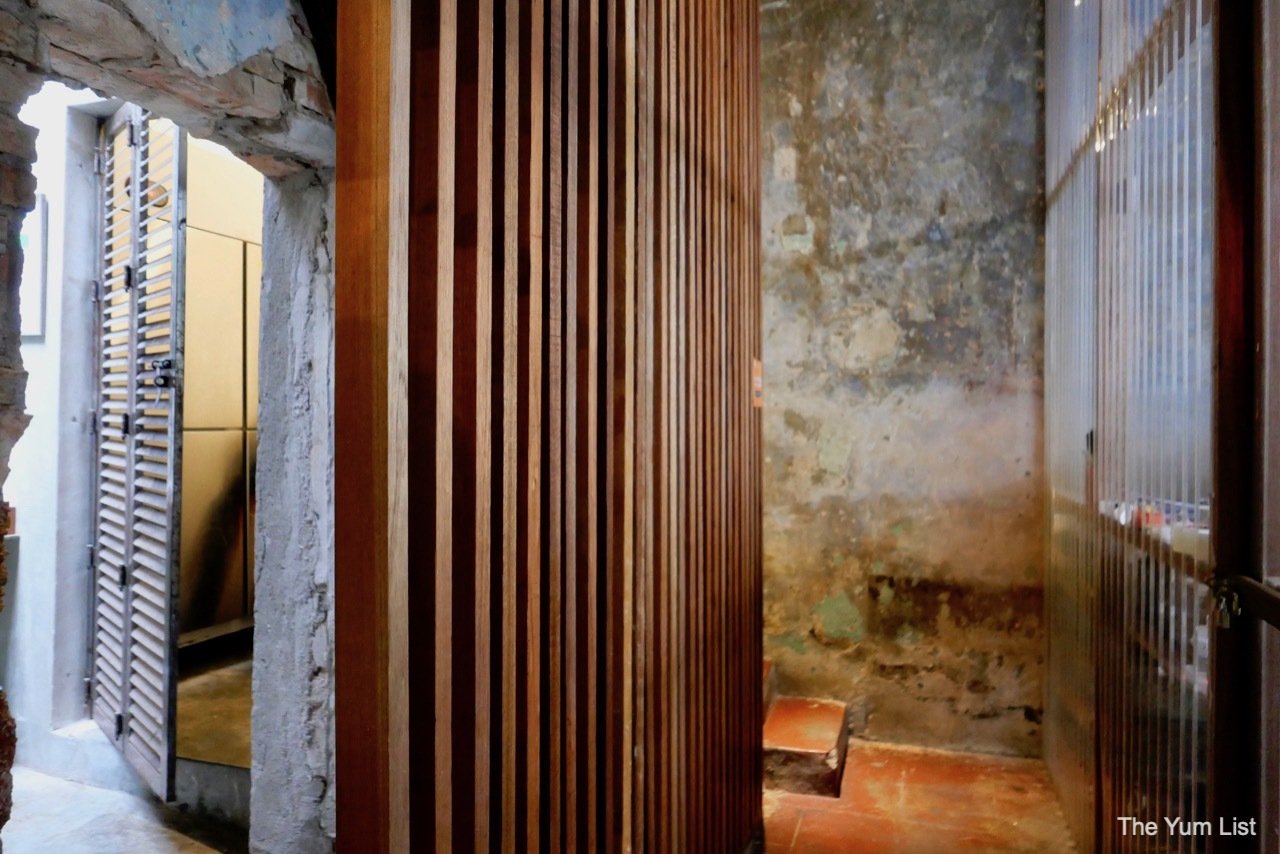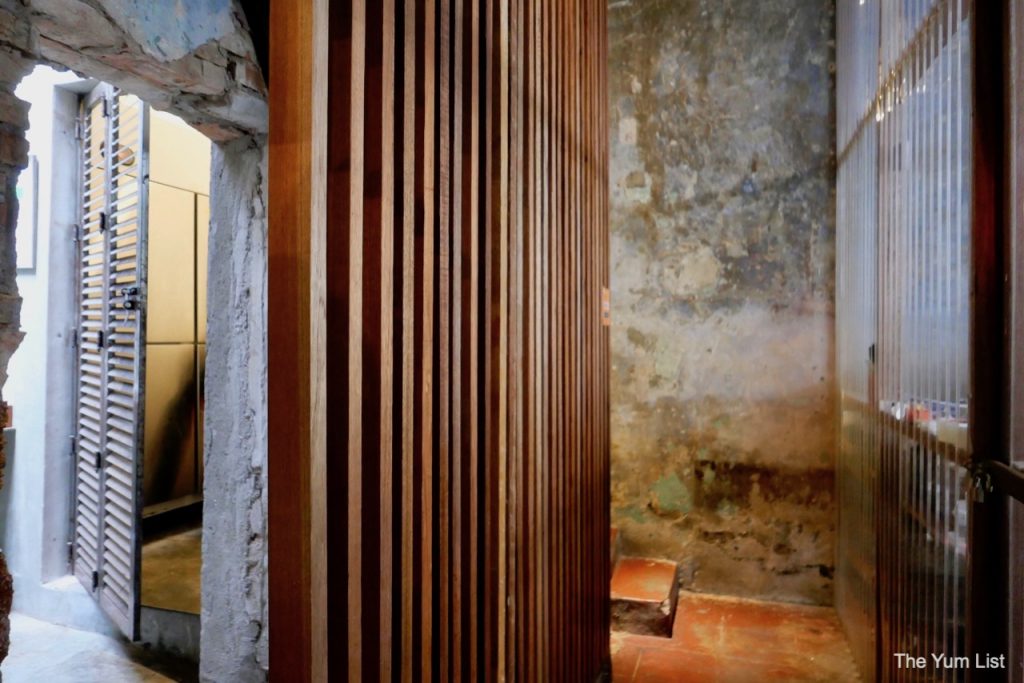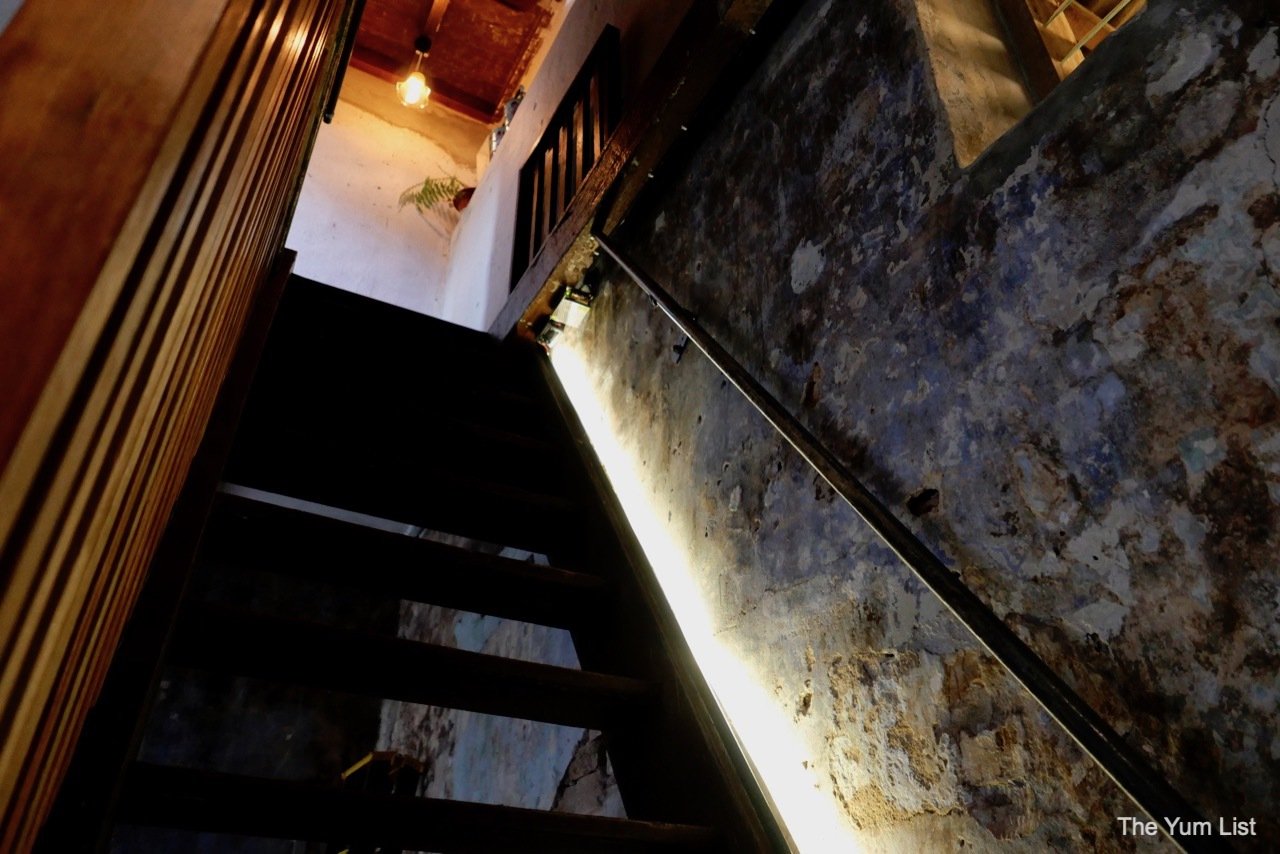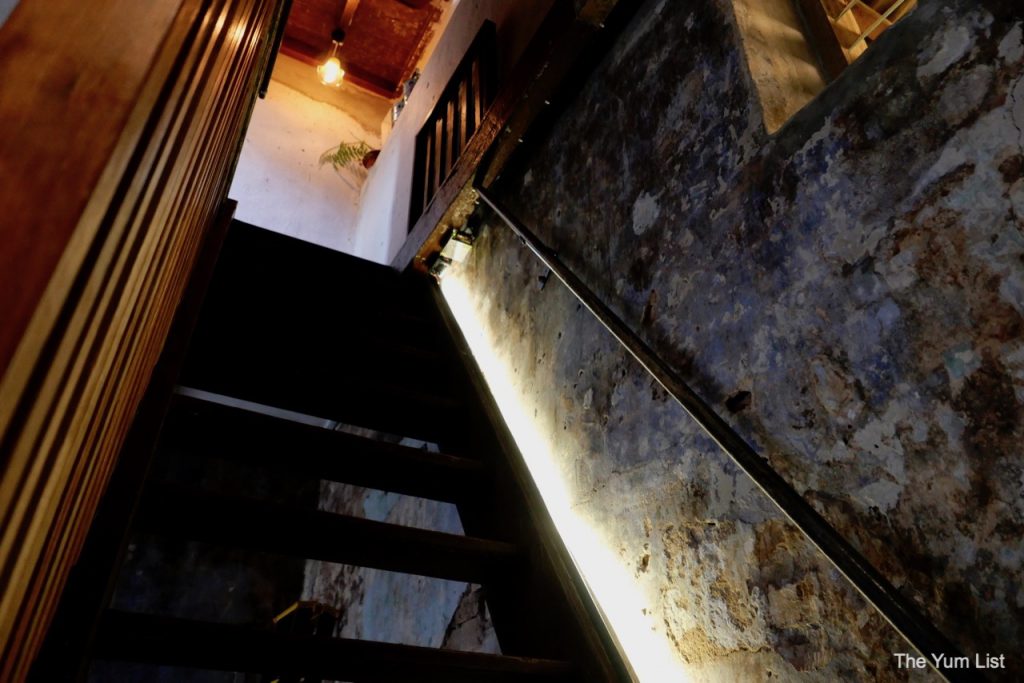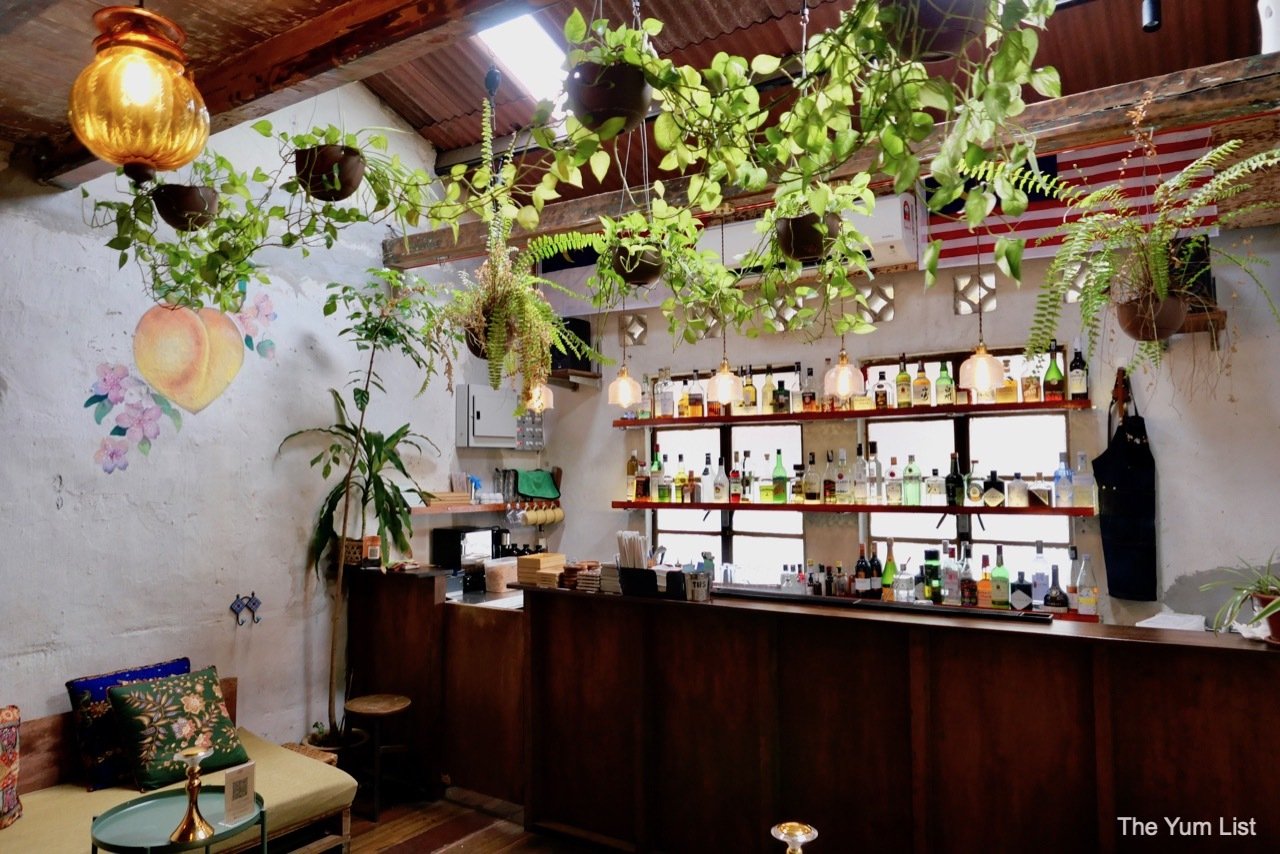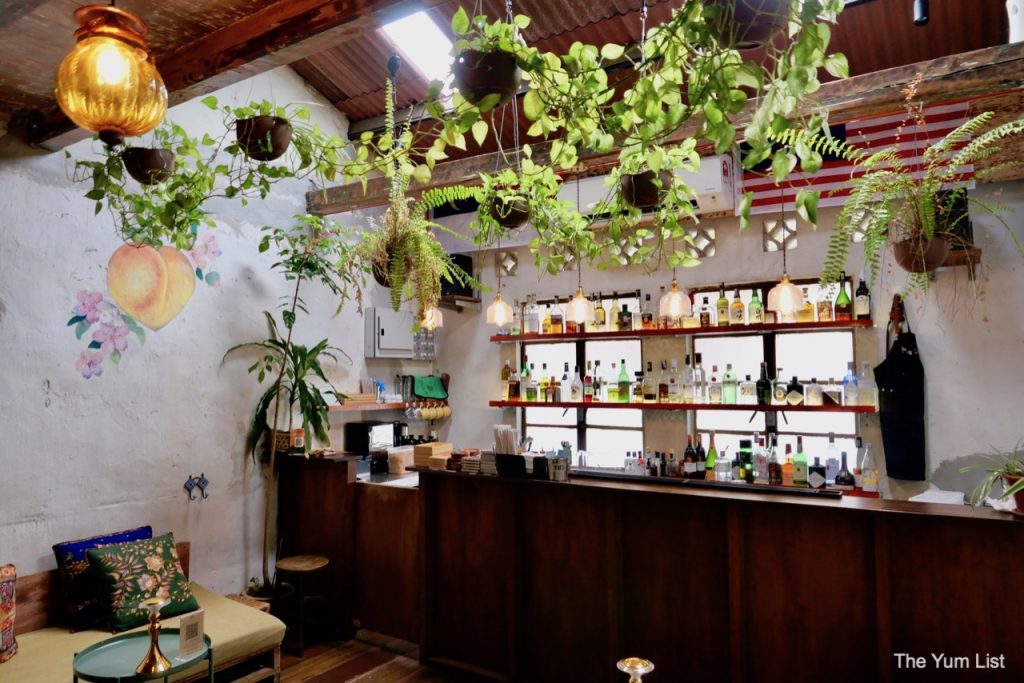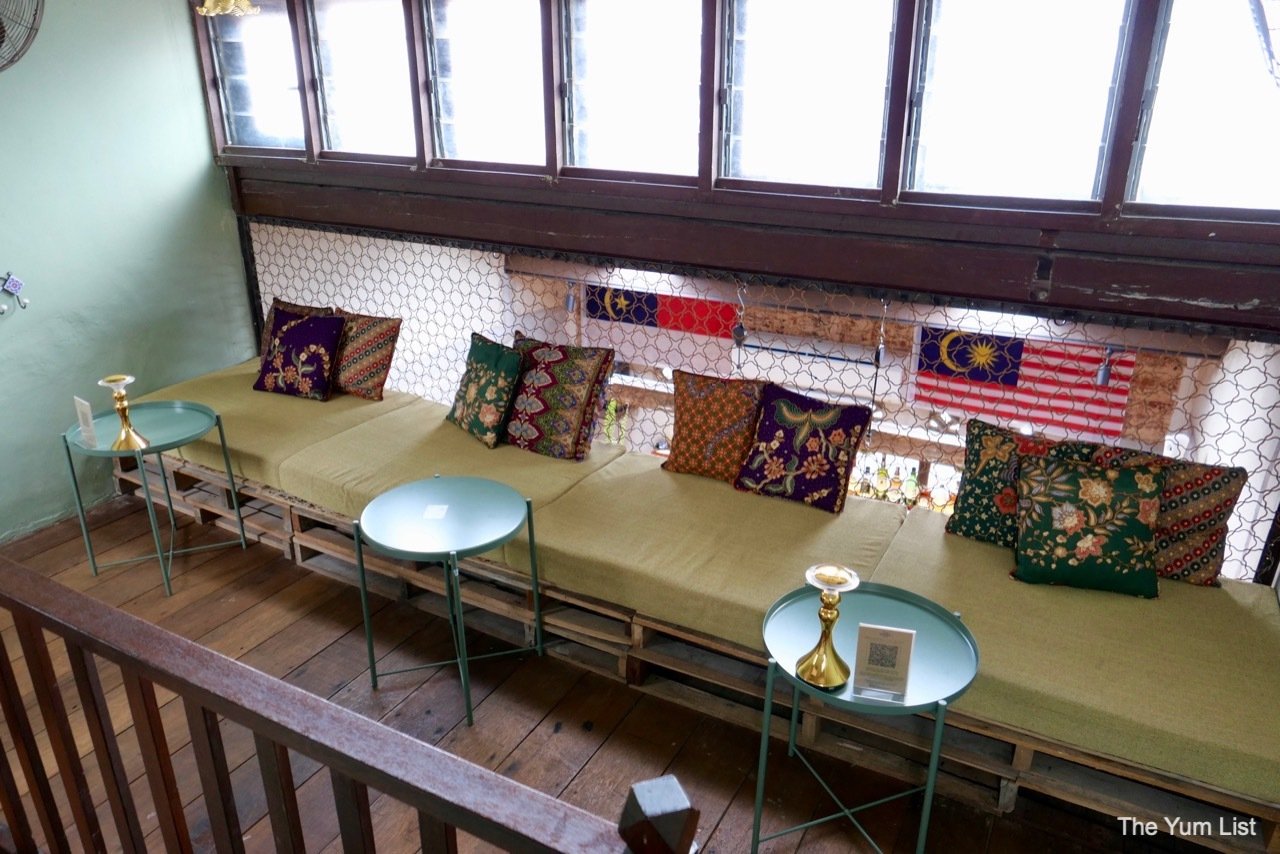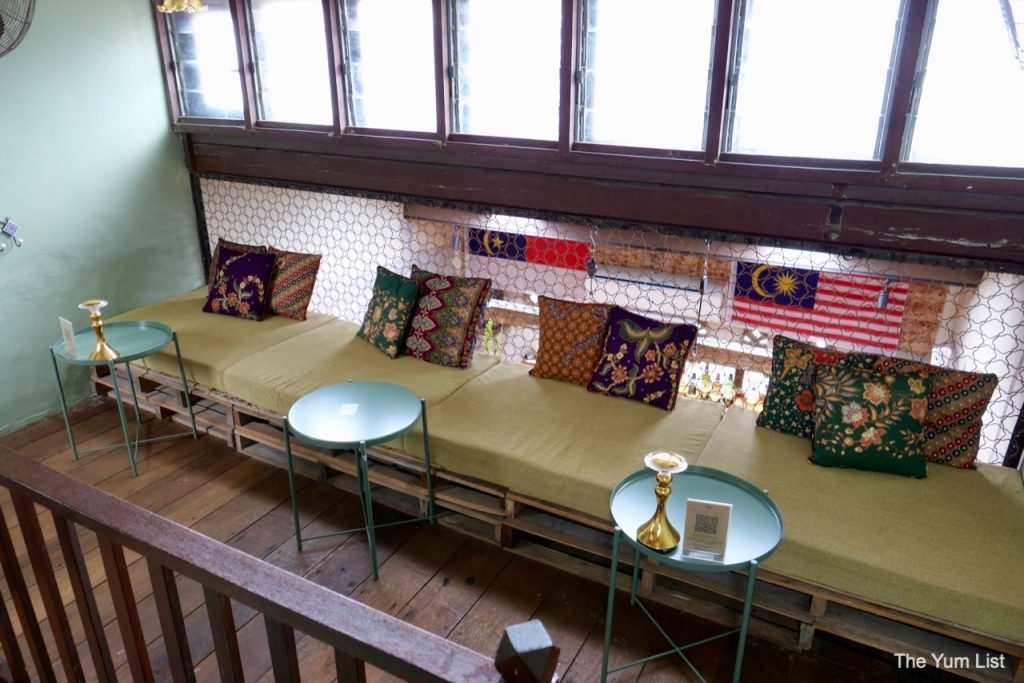 Budi Melaka Speakeasy Menu
Just like the location, the drinks too are inspired by local flavours. Craft cocktails are the innovations to try here but the menu is also supported by a handful of classics and basic spirits. Ingredients such as syrups and garnishes are made in house. I'm rather fond of this current theme of cocktails, which all feature local fruits. We don't even browse the other ingredients (wise or not) and go straight for our favourite fruits.
All guests are presented with a welcome drink when they enter. It's bartender Isaac's creation today. Yuzu sake, lemongrass, pandan, ume (plum) and lime juice are topped up with soda and served in a sake cup. It's clean and crisp, a palate cleanser perhaps.
Nenas (RM45), or pineapple, takes Malacca's famous pineapple tart and gives it new life in a twist on the iconic Malaysian cocktail the Jungle Bird. Hennessy VSOP, Carpano Antica Formula Vermouth, pineapple, pomelo and lime are combined into sweet and sour harmony with a light bitterness in the finish. A pineapple tart, torched just before serving, sits atop a perfectly cut, clear cube of ice. It's a pastry by a local aunty and clearly a labour of love with its hand-grated fruit and chewy texture. This tangy tropical refreshment is a great break following a hot day.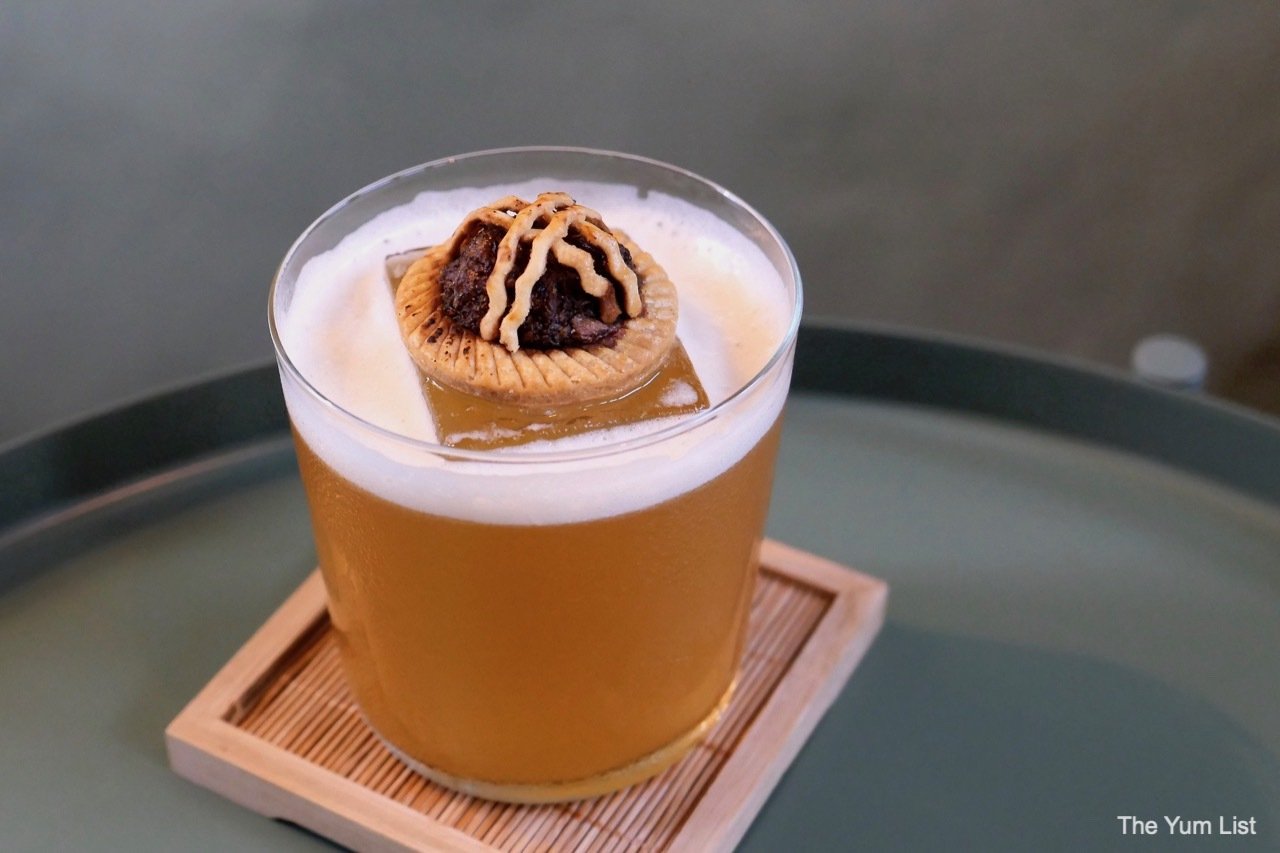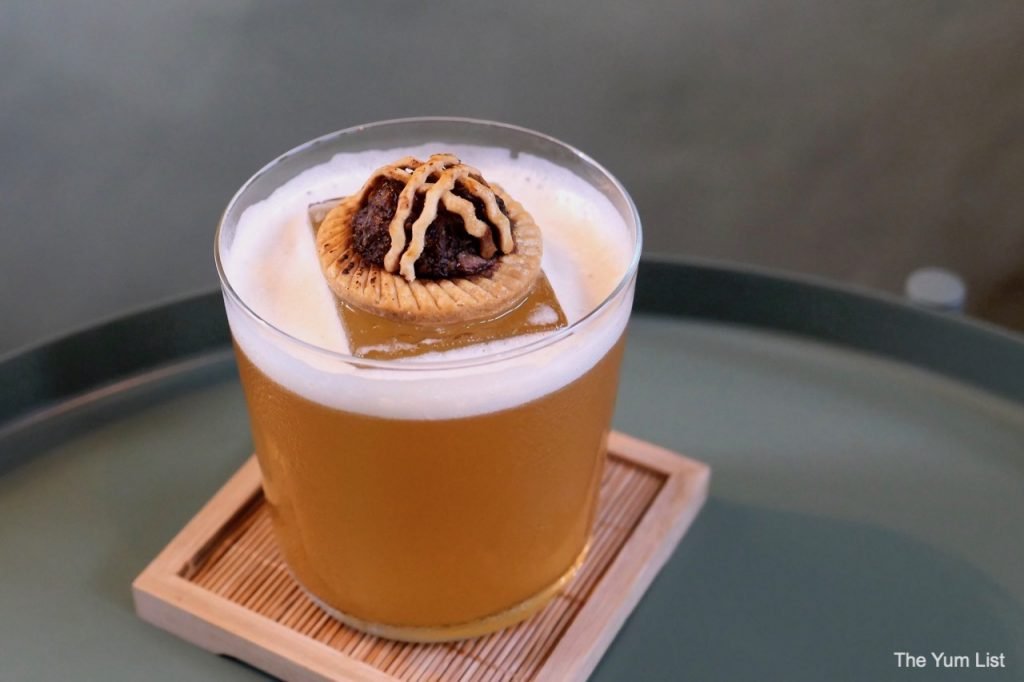 The star (literally – star fruit) of the menu is the Belimbing (RM45). The subtle fresh sweetness of the starfruit is complemented by Bacardi white rum and Chilean Pisco – El Gobernador. A crown of kaffir lime 'air' is well-suited to the leading lady completing the drink with a more-ish tang.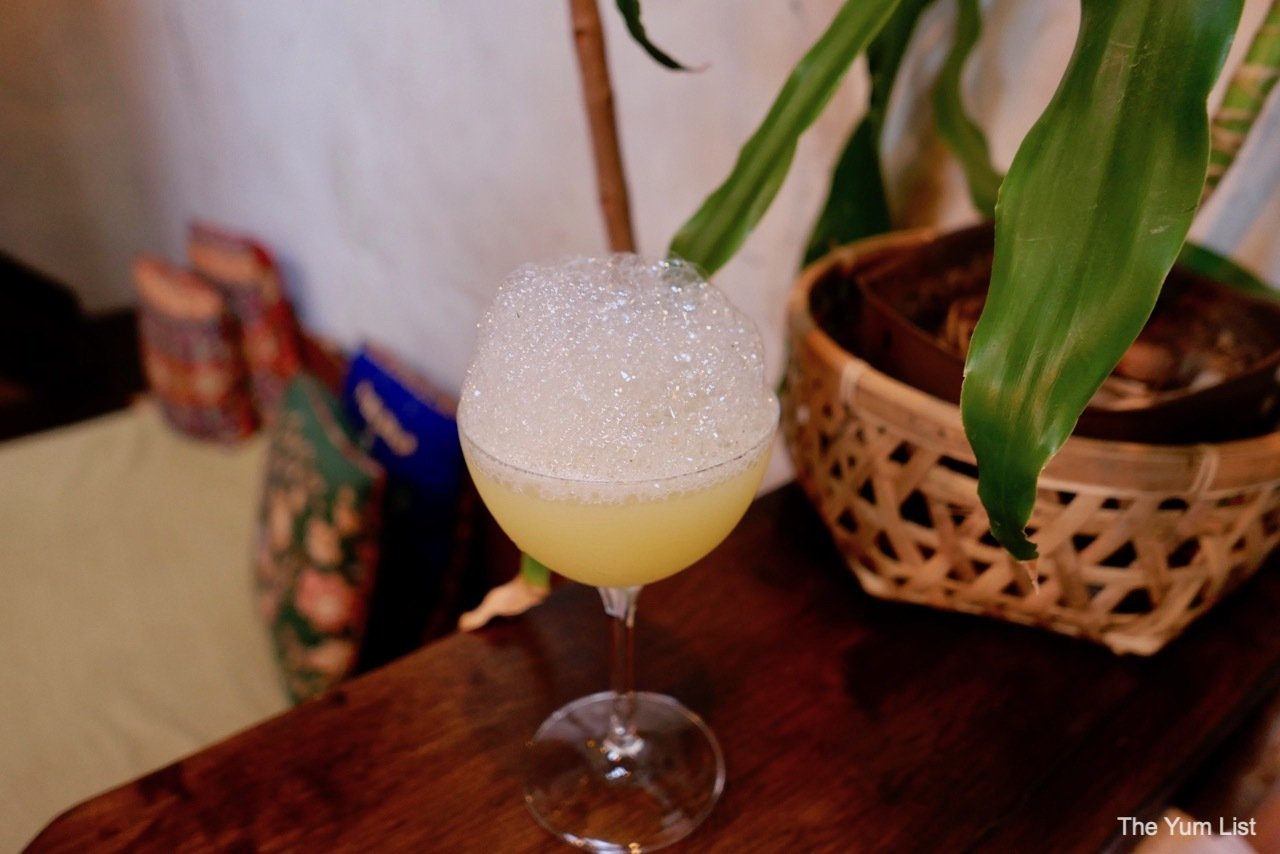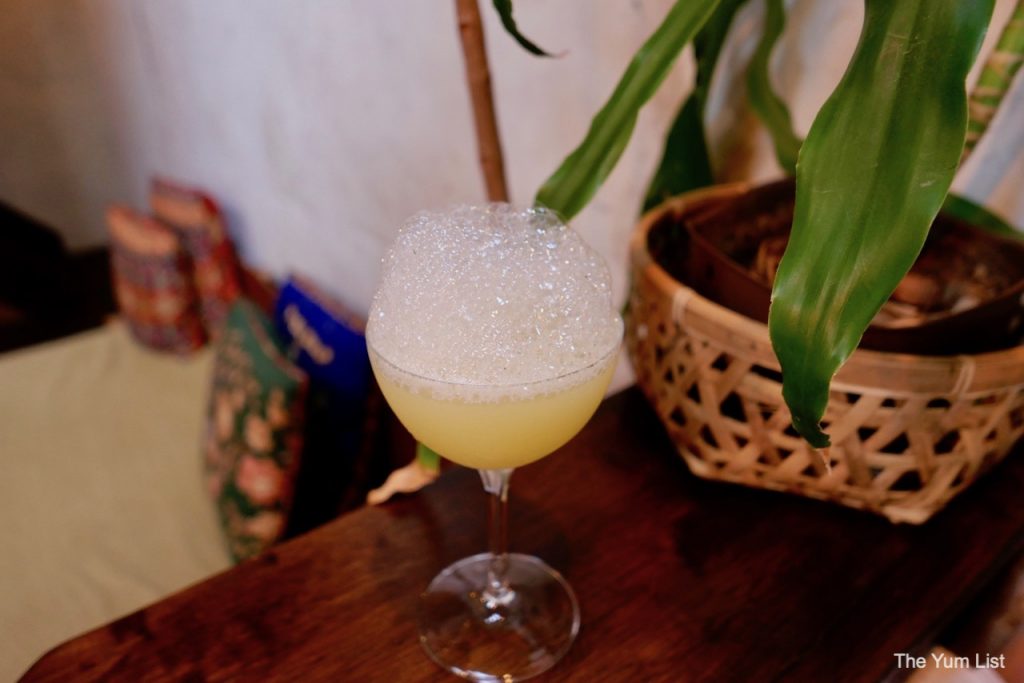 Kedondong (RM 40) is based on a local fruit with a whopping Vitamin C content grown in Budi's very own garden. With a mildly sour taste on its own, Tanqueray Malacca Gin, preserved plum (asam boi) and lime juice bring complexity to the palate rounding out the acidity with sweet, salty and a whisper of bitter. It's very easy drinking.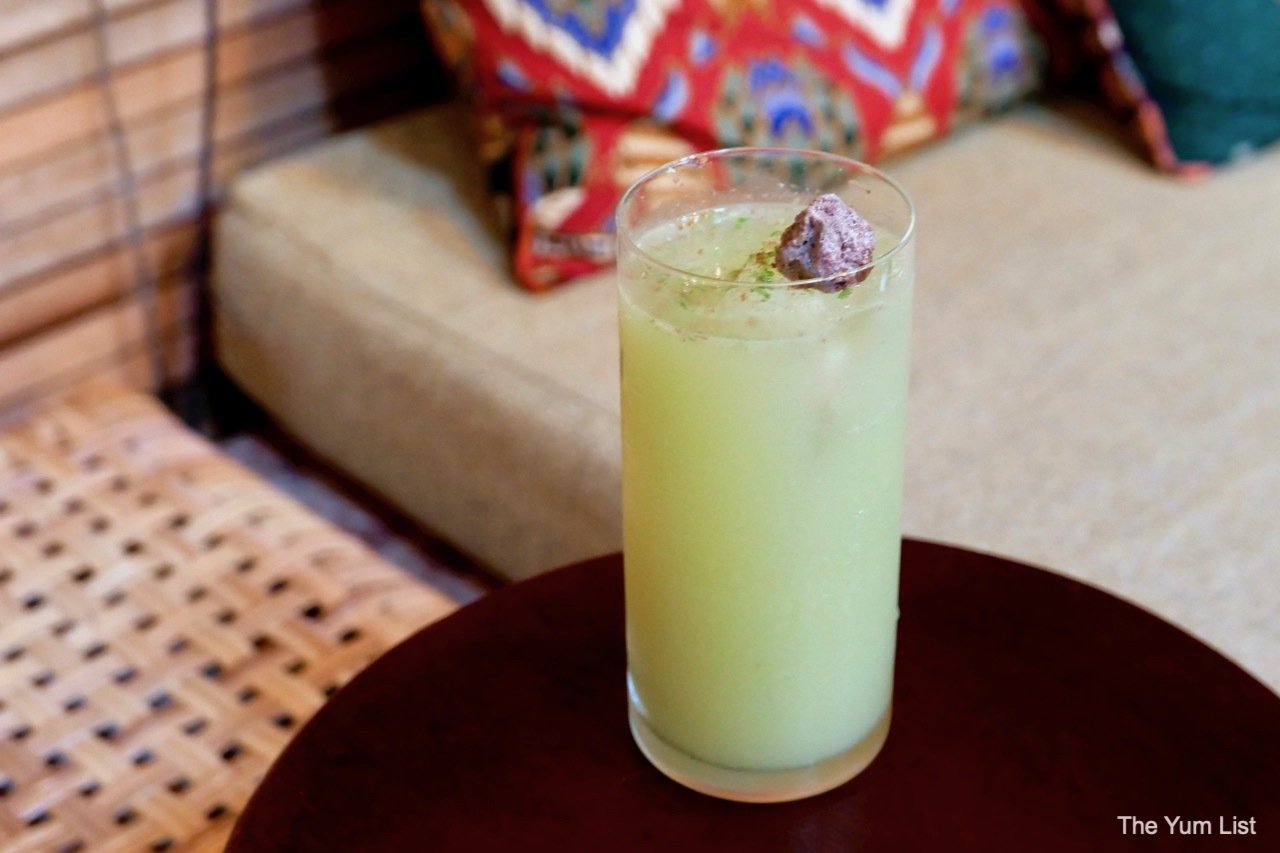 Taking inspiration from Malacca's beachside stalls that sell young coconuts with lemon, Kelapa Muda (RM40) is another thirst-quencher that goes down effortlessly. House-made pandan syrup offers a fragrant bouquet, Bacardi Carta Blanca provides the booze, and lemon slices balance the roundness of the coconut with a citrus zing. Going the extra detail, the glass is also smoked with coconut before serving. The bitterness from the smoke balances the sweetness of the coconut.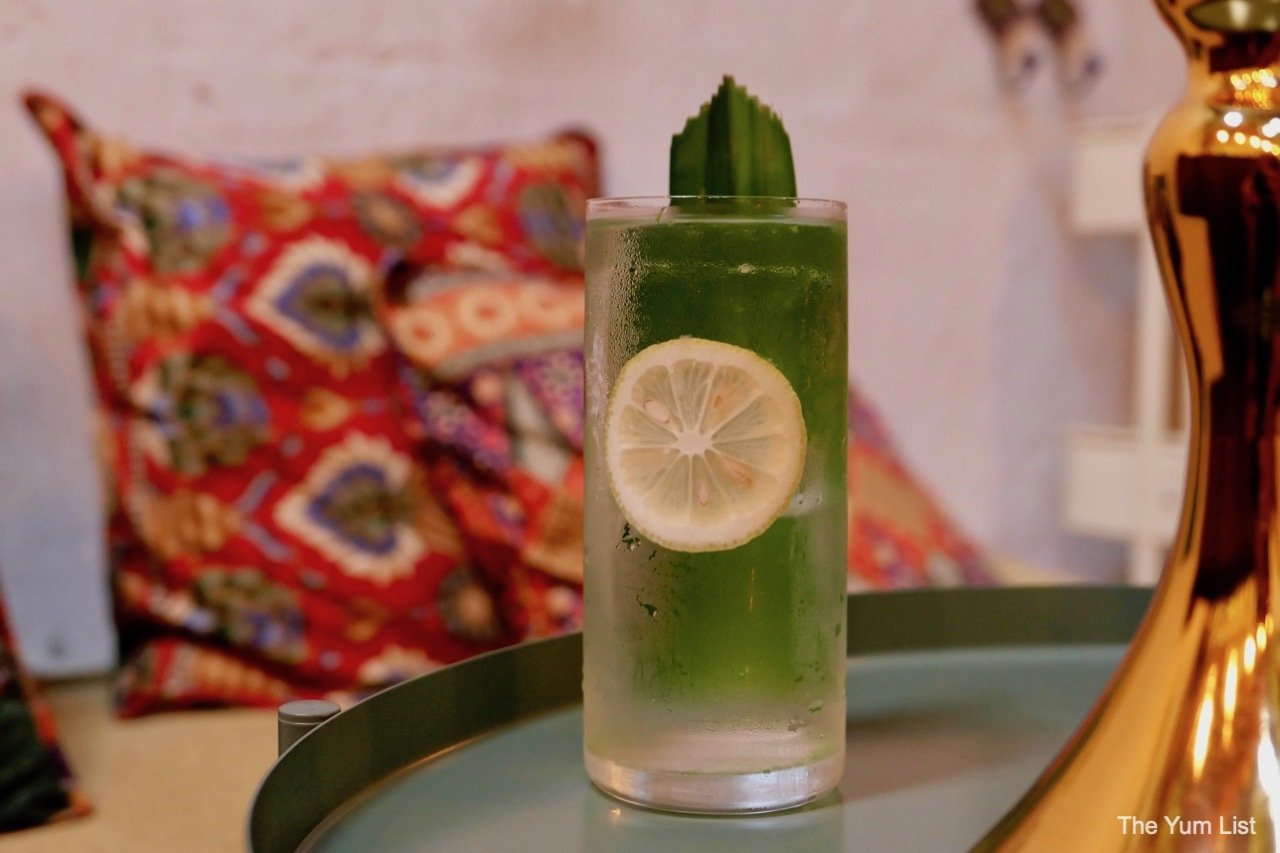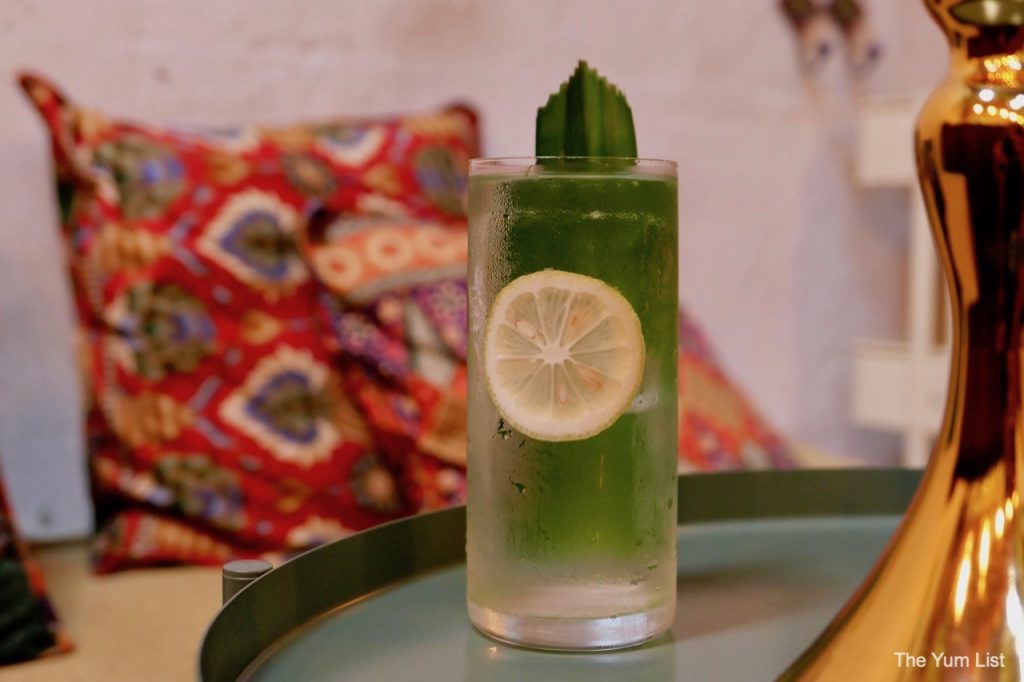 Pandan (RM 45) carries over from the previous menu; so popular the team at Budi feared an uprising if taken off the list. After the first sip, hubby has soon joined the fan club declaring it his favourite of the afternoon. Jameson's Whiskey infused with pandan, Bacardi Carta Blanca Rum, half & half, macadamia orgeat and pandan syrup make for a smooth and tasty number that goes down a breeze. As with the preceding cocktails, the taste of the namesake is at the forefront with alcohol an undercurrent elevating the protagonist.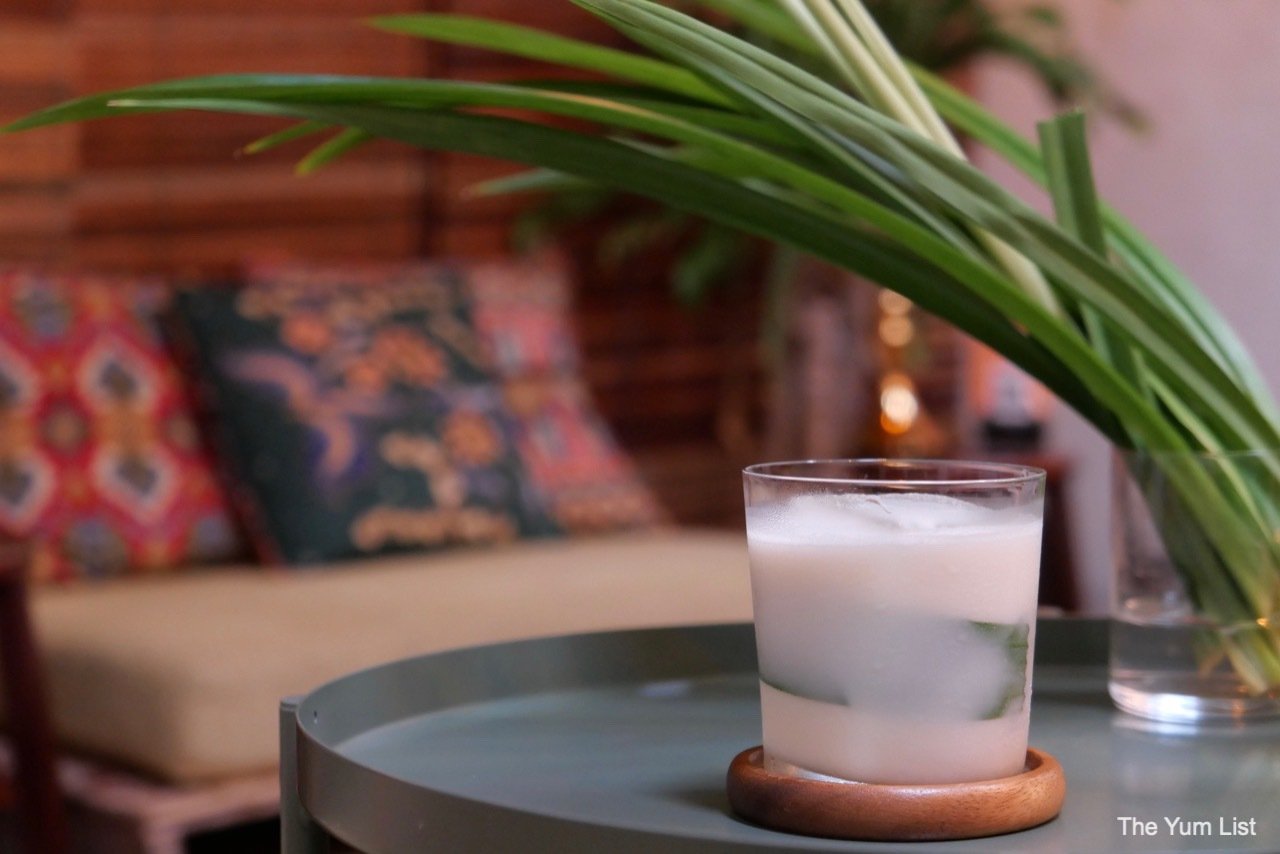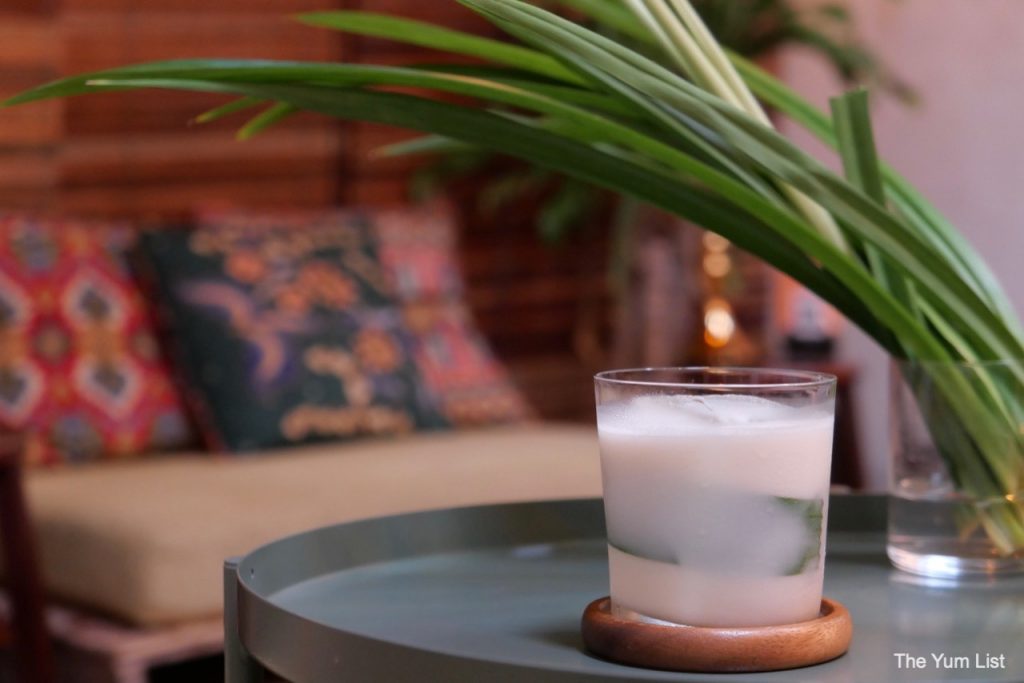 Classic Cocktails
For the less adventurous, the team at Budi Malacca offer a handful of classics. Old Fashioned (RM 40) is one of my preferred because of its simple list of ingredients. Wild Turkey 101 with muddled sugar and bitters build a deep flavoured, spirit-forward and smooth late evening sipper.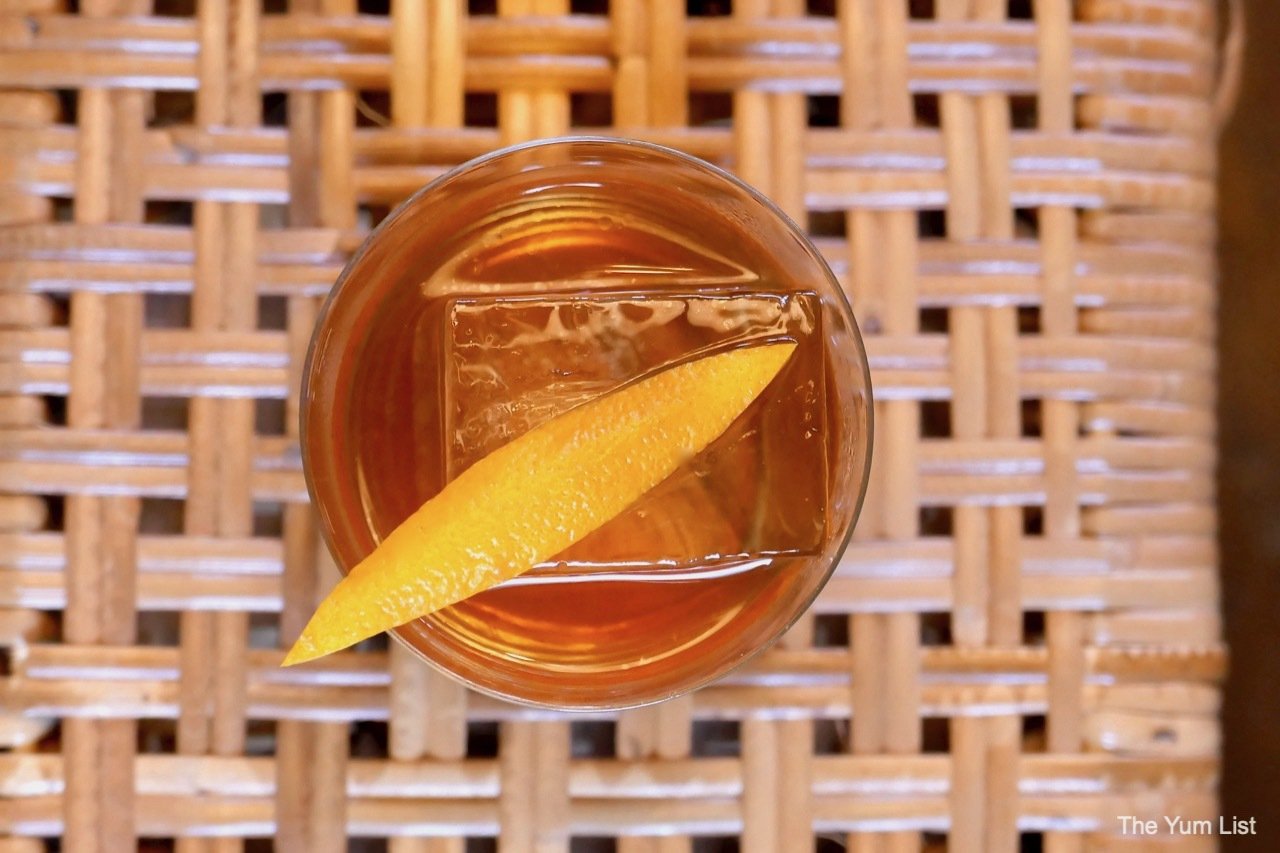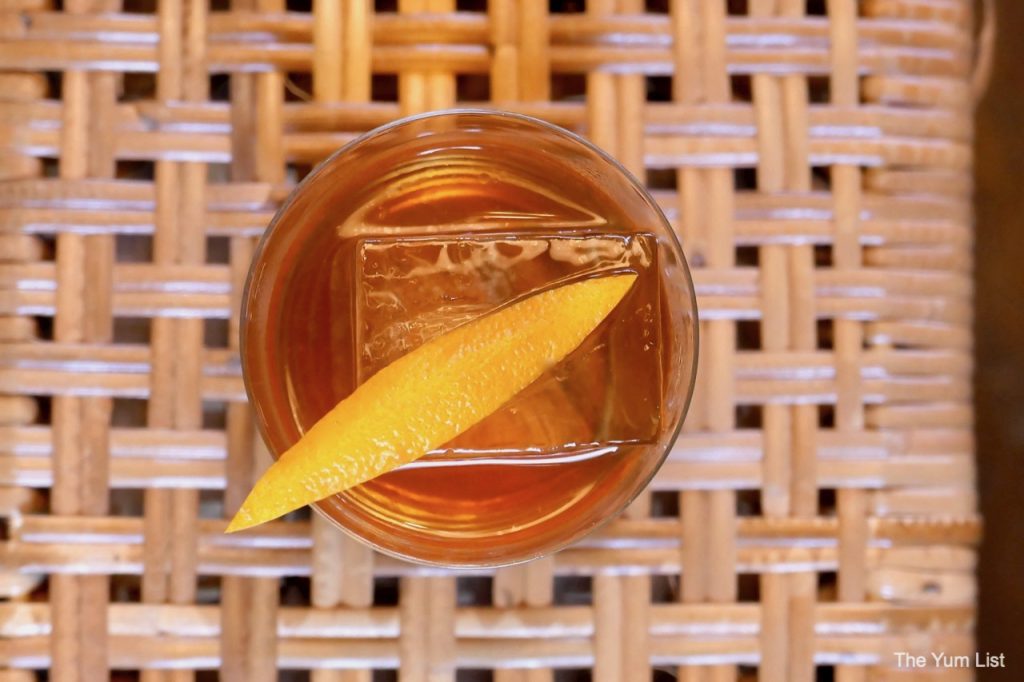 Afternoon Tea at Budi
The team at Budi Malacca also offer an afternoon tea set on weekends. The three-tiered set comes with a layer of condiments for pork satay, some savouries and kueh. It's priced at RM 128 per set and comes with any two cocktails from the menu. It's available anytime between 3 pm and 5 pm but advance notice is necessary so there is sufficient time to source the kueh.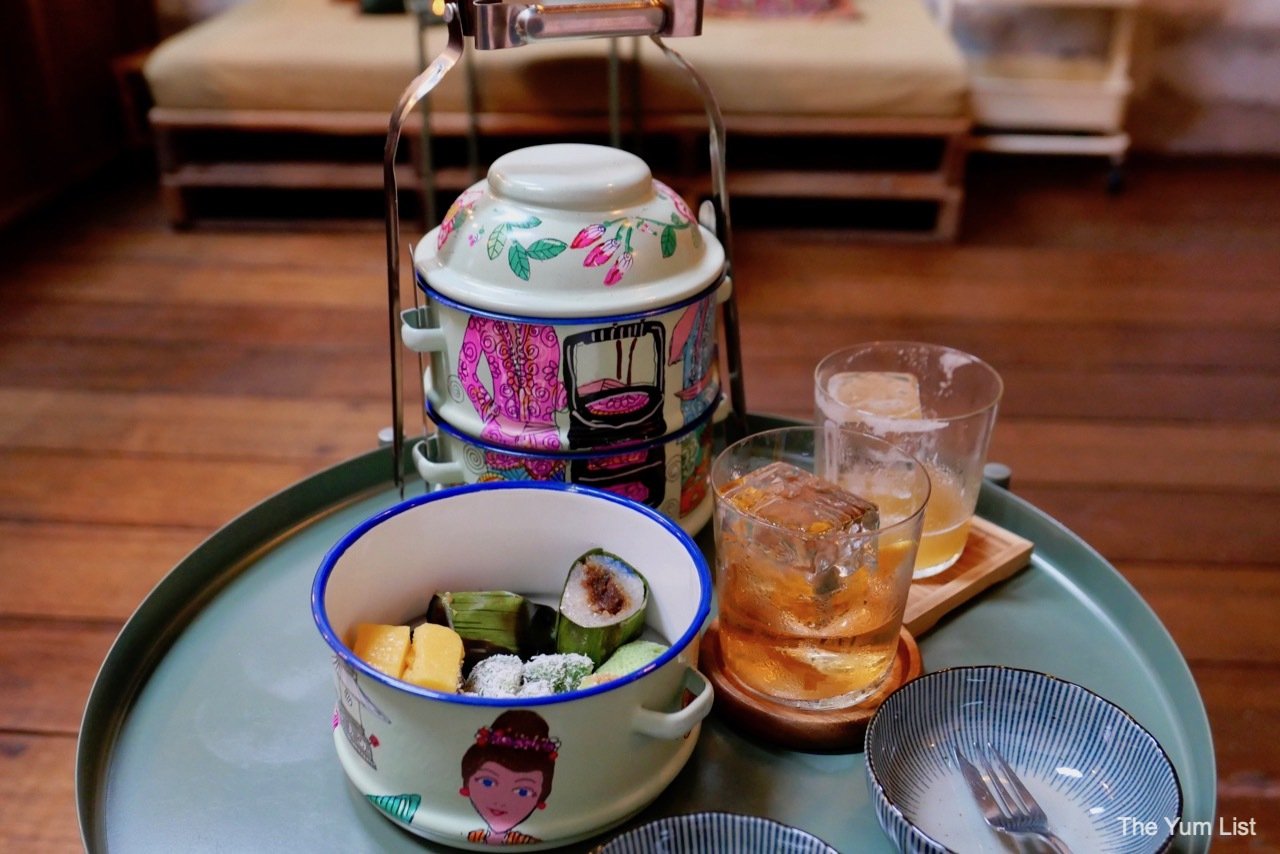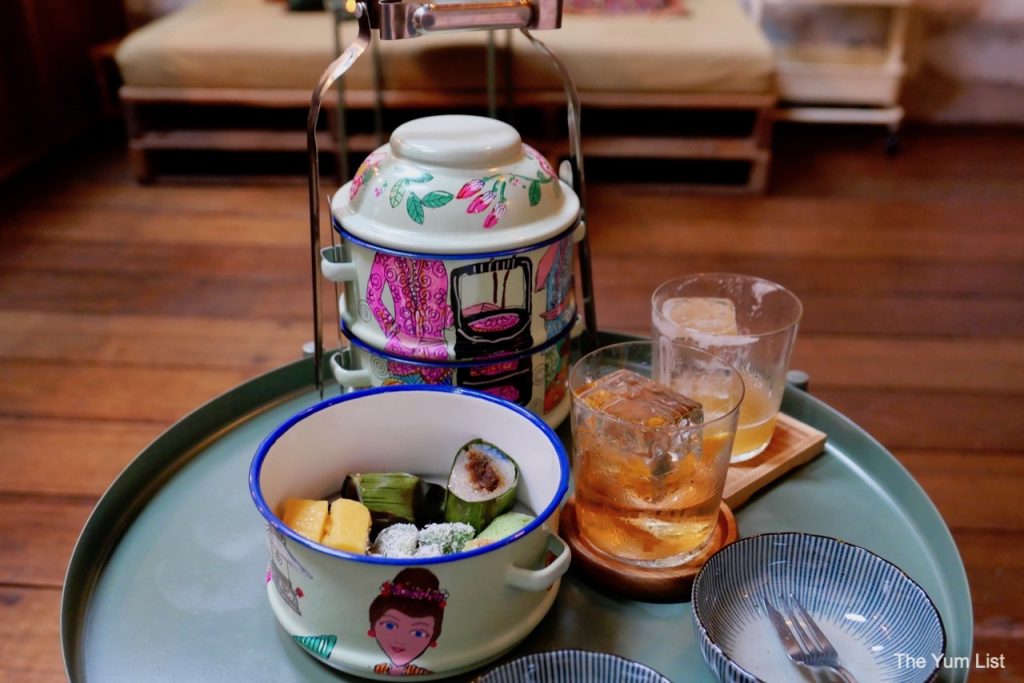 As the light fades, lamps illuminate the setting in a soft yellow glow. The crowd picks up but for us it's time to depart. We are fond of daytime drinking but clearly, Budi bar continues long into the night as well.
Reasons to visit Budi Bar Melaka: charming hidden setting; great for afternoon drinking; focus on fresh local fruits; original craft cocktails; my favourites are the Belimbing and Kedondong; hubby is a huge fan of the pandan.
Budi Bar Melaka
Malaccan-style Speakeasy
16, Kampung Jawa
75100 Melaka, Malaysia
+6 017-718 8269
www.facebook.com/BUDI.Melaka/
Budi Melaka Speakeasy Opening Hours
Wednesday to Monday: 3:30 pm – 12 midnight
Tuesday: Closed
Find more spots to explore in Malacca here and stay up to date with the happenings around Malaysia here and here.