Sage Restaurant and Wine Bar
Words: Alison Christ
Photos: Rich Callahan
Some say Champagne is the way to a woman's heart; I have to agree. Harin, the Sommelier at Sage must understand this as well. After a brief intro, he quickly says the magic words, "Champagne, ladies?" In unison, Monica and I say, "Yes please!" It's pouring rain outside so our companion is running late which is okay with us because we get to drink more Champagne! Laurent-Perrier `La Cuvée' Brut is the bubble of choice; a blend, with the majority being Chardonnay, is elegant with hints of citrus and pear, perfect for an aperitif.
Sage Restaurant and Wine Bar
Sage Restaurant and Wine Bar, located at level six of The Gardens Residences in the Mid Valley City, has several rooms perfect for private dining. We enjoy the lounge area, which is comfy and relaxing before we head into the main dining room. Upon entering, I am drawn to the clean white room with futuristic blue lights embedded in the ceiling and bar, which evoke a feeling of serenity like an invitation to jump into the ocean.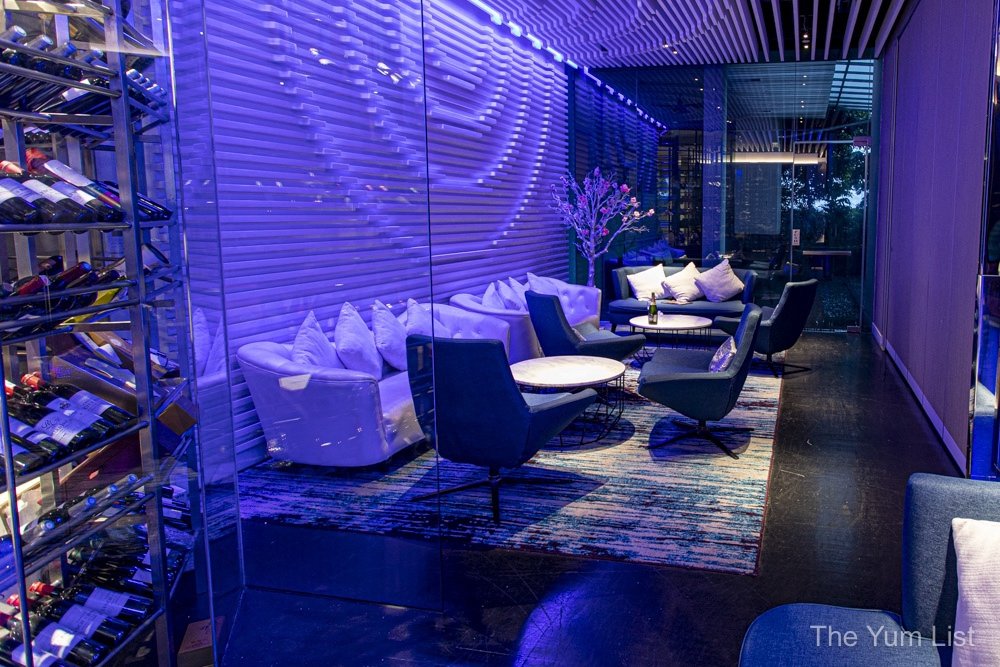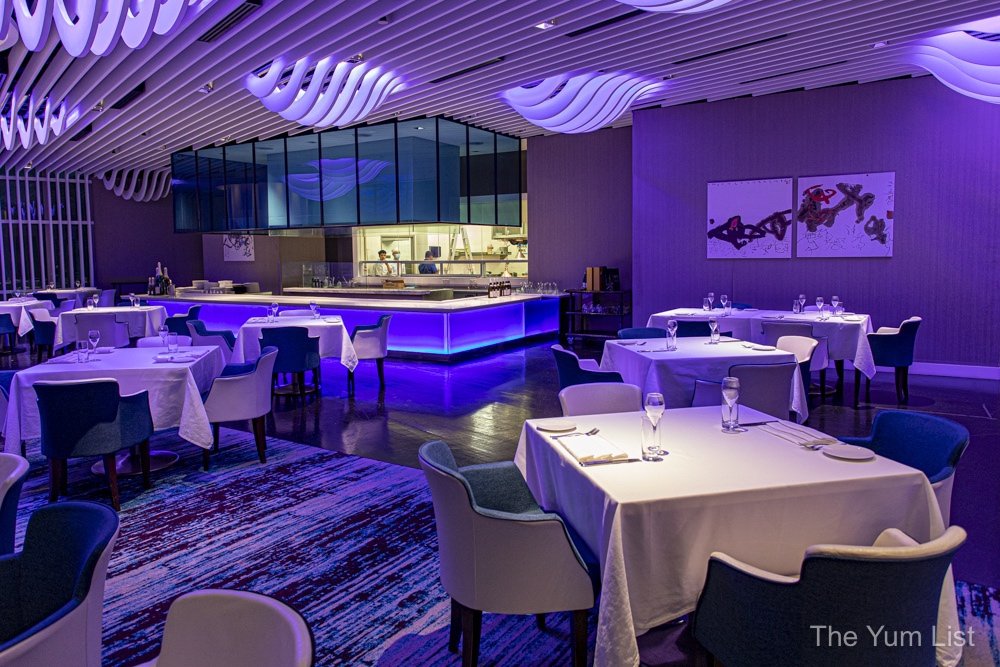 Excellent Fine Dining Deal
We are dining this evening to experience the October four-course set menu RM338 that's served with a complimentary glass of wine. On Saturdays, they offer the same menu with a choice of wine, cognac or single malt for RM298. Additionally, quote The Yum List Monday to Friday evenings and receive a complimentary Truffle Mushroom Soup.
Sage Restaurant and Wine Bar is also boasting to be a `corkage-free' restaurant, for any collector out there wanting to bring a special bottle to dinner. As the name suggests Sage is indeed a wine bar as well as a restaurant so I encourage you to order off of the very well-curated wine list. The list has hundreds of agreeably priced labels from around the world including many biodynamic and sustainable producers to choose from. The wine by the glass selection is sure to please everyone from the novice to the professional sommelier.
Sage Restaurant and Wine Bar
Chef Daniel Cheong is Malaysian-born and has been in the kitchen of Sage Restaurant and Wine Bar for over a decade. He is known for his love of French food with inspirations from Japan, Italy and Australia.
We start the journey with fresh out of the oven focaccia with walnut pesto and the Chef Appetizer, which is always a surprise (you'll find out what it is when the food arrives). Today we are delighted with salmon, dashi jelly, caviar and alfalfa sprouts. The fish is very delicate and full of umami, there's a zippy acidity to the dish, which pairs well with the Domaine Anne Gros & Jean-Paul Tollot Vermentino (RM70). We love this Vermentino, it's lush and full of juicy green apple. Gros and Tollot are well-known burgundy producers making some fun and delicious wines elsewhere in France.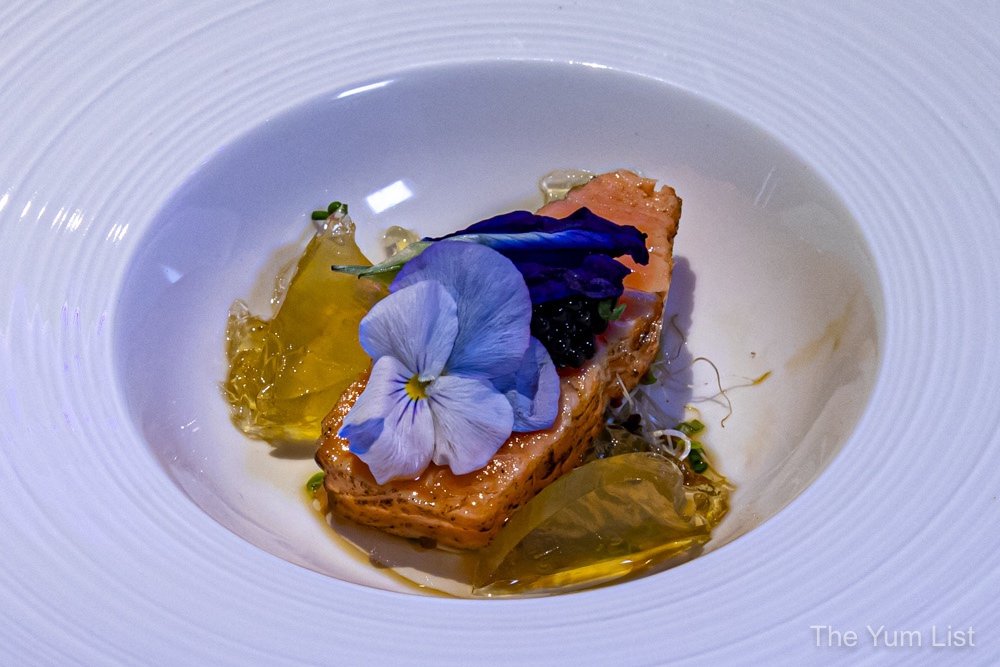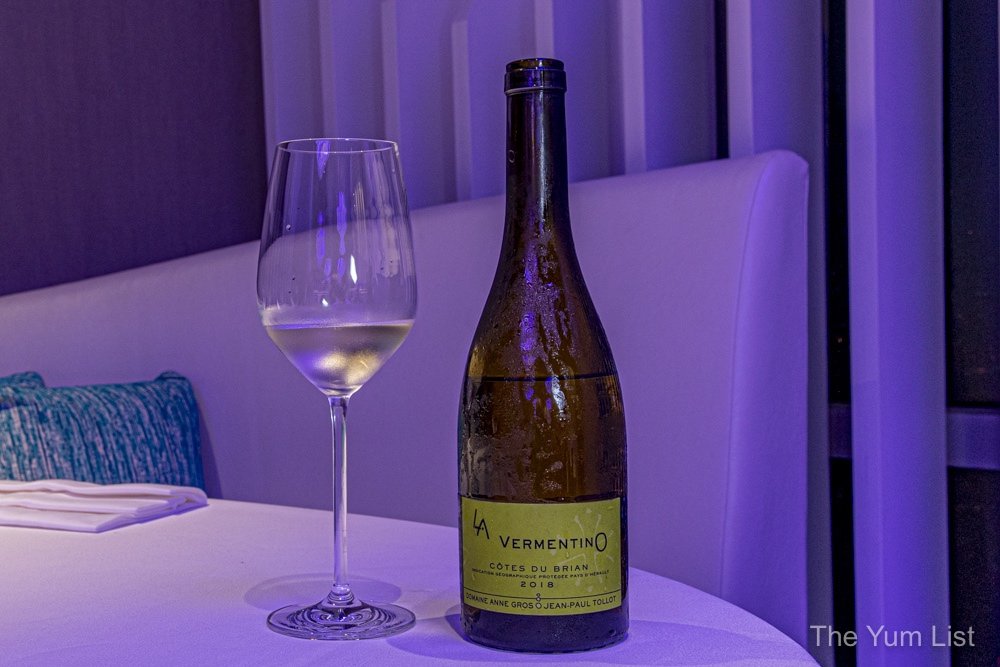 Appetizers
The tasting menu at Sage Restaurant and Wine Bar has six options for appetizers; you can pick two with the four-course menu. We start with Hotate Ceviche with Ikura and Ponzu. The Japanese scallops are extremely delicate and soft. The dish is beautifully presented and the palate is balanced with the sweetness from the scallop, the saltiness of the salmon row, and the acidity of the ponzu. We enjoy this tremendously with both the remaining Vermentino and a new glass of Laroze De Drouhin Chardonnay from Burgundy (RM70) produced by the fifth generation of family members. The chardonnay is not expressive of new oak and is a great pairing with the delicate hotate.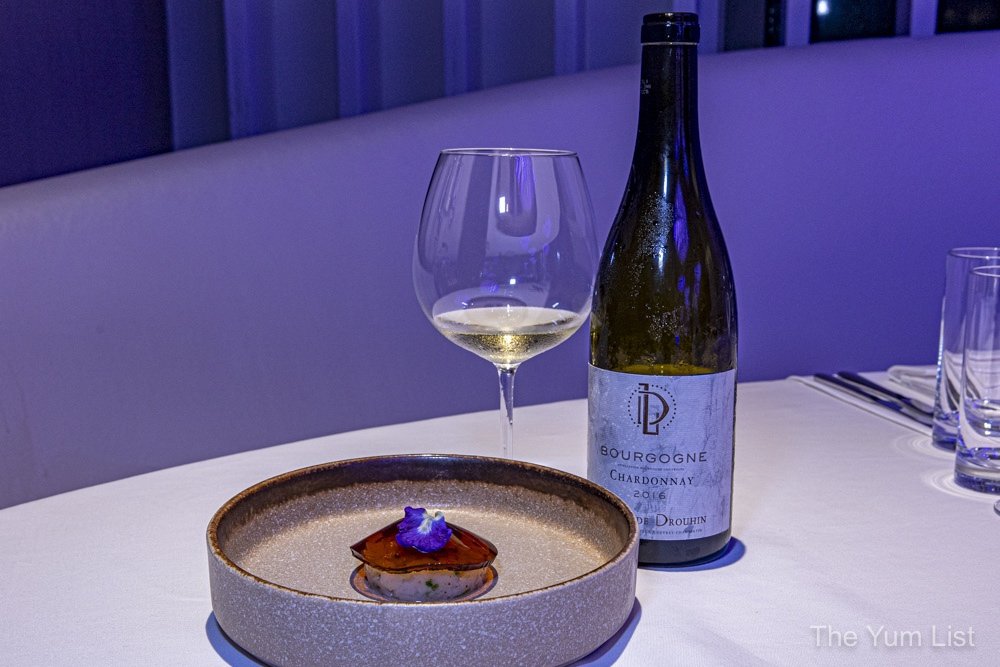 With the next two appetizers, Harin serves us one of my favourite New Zealand Pinot Noirs; Schubert `Selection' from Wairarapa (RM70). Kai Schubert is a friend of mine and he and his wife Marion make beautiful new world wines with an old-world seductiveness. The Thin Sliced Wagyu Rump with Shaved Truffle and Chives is tender and flavourful. We really enjoyed the Muscovy Duck Ravioli with Cèpe Mushroom Velouté and Balsamico Reduction too. The homemade Ravioli is perfectly thin and beautifully encapsulates the lean and tender meat of the highly praised Muscovy duck underneath.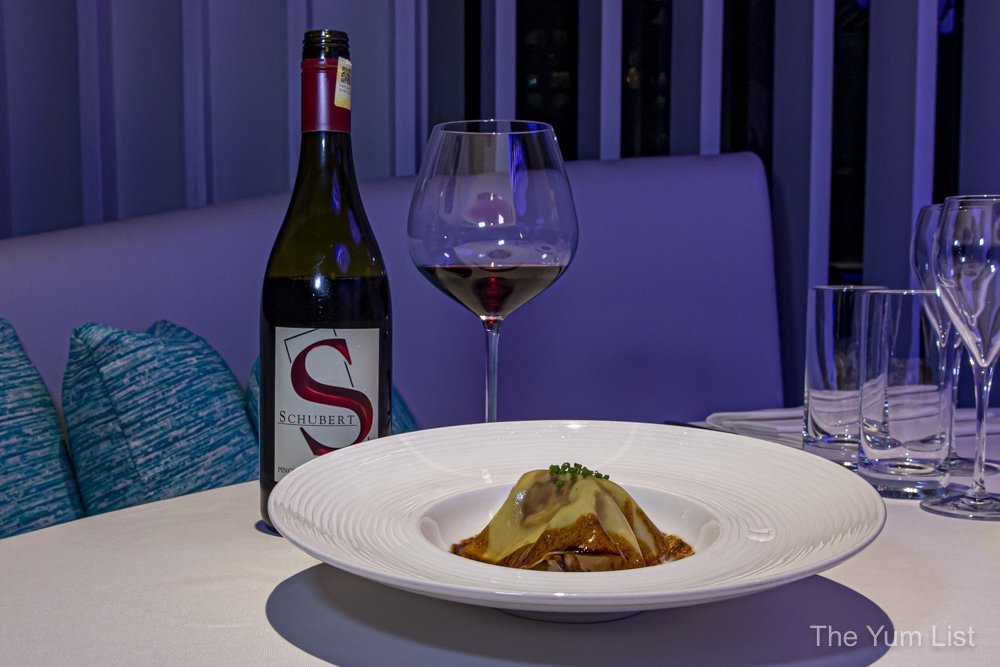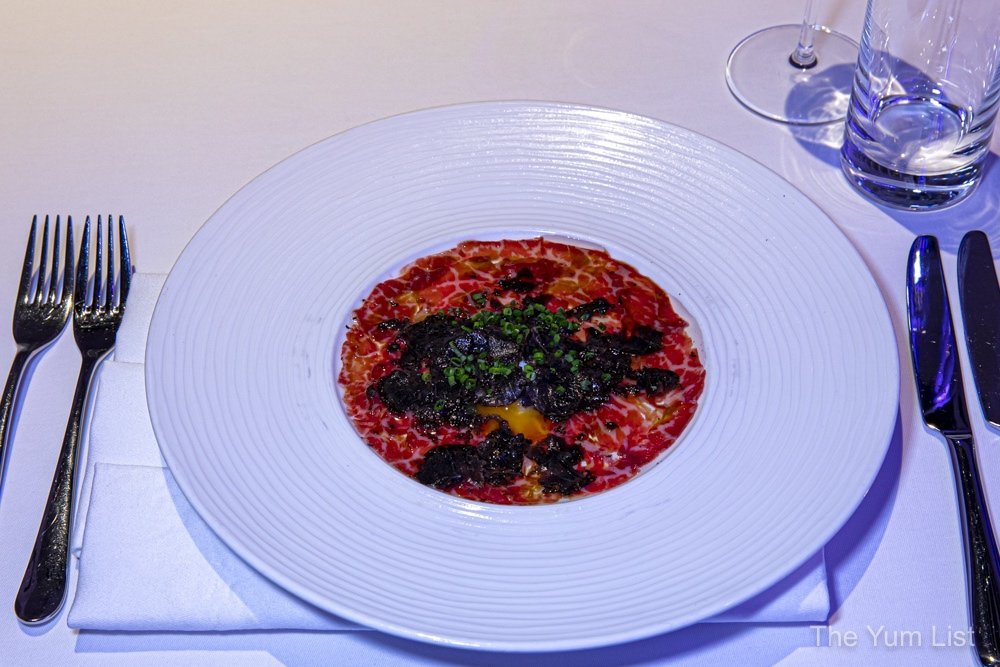 Sage Restaurant and Wine Bar – Mains
For mains, we continue with the Schubert Pinot and have a new glass of Chateau Croix Mouton, Bordeaux Superieur (RM70). Most people who know me know that I don't usually love Bordeaux; I rarely use it in my wine pairings. I am pleasantly surprised by how much I love this wine, a blend of Merlot and Cabernet Franc from the 2015 vintage. Sage has a small amount of the remaining bottles left in Malaysia.
Chef Daniel offers six choices on the mains and we start with the Pan-Fried French Seabass with Tsubugai and Umeboshi Beurre Blanc. The seabass and the Japanese snail offer a contrast in consistency on the palate. The salted plums add a uniqueness to the sauce. This dish is extremely delicate and I sip on the Vermentino to not overpower the fish.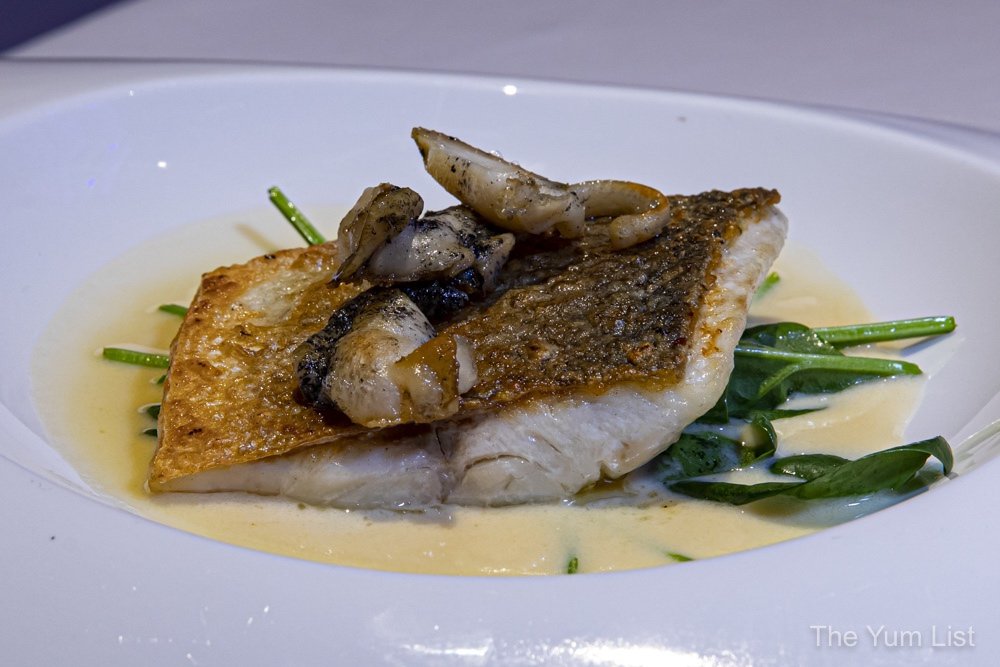 The next main is Wagyu Score-6 Striploin and Yuzukoshou. The marbling of the wagyu gives this dish the tenderness and juiciness one would expect from such a quality cut. The slight spiciness of the chilli peppers and yuzu complement the beef and we sip between the Pinot and the Bordeaux. To each his own; they both worked lovely depending if you're a pinot or a Bordeaux fan.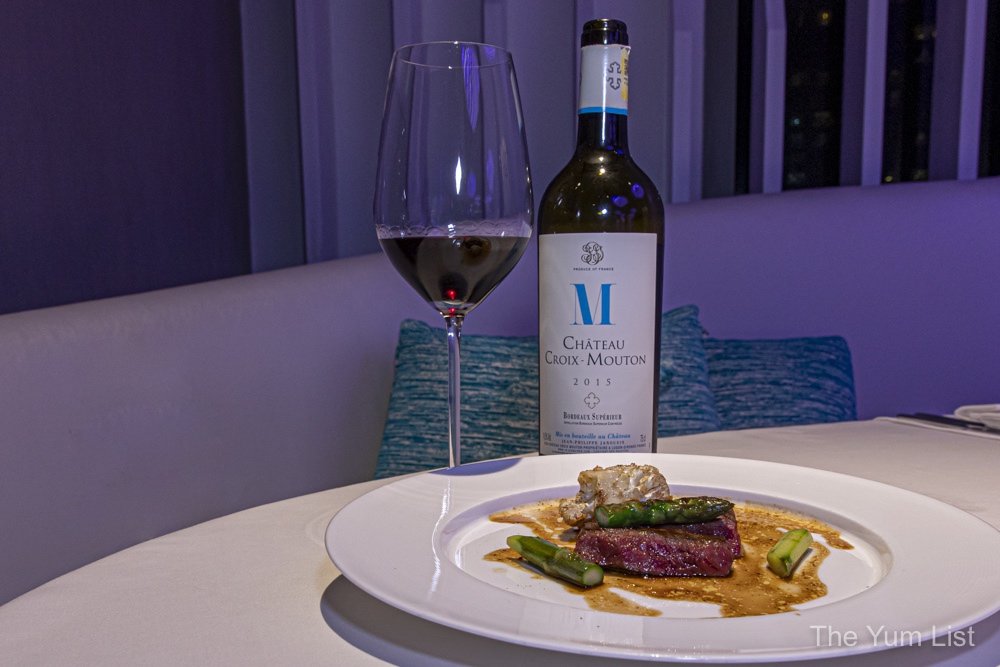 Last but not least the Slow-cooked Hillside Lamb Rack with Miso Sauce is served, the tender grass-fed lamb is full of flavour and the miso offers an interesting twist. The Bordeaux is definitely the winner with this dish. The complexity and tannin in the wine is a powerful match to the intense flavours of the lamb.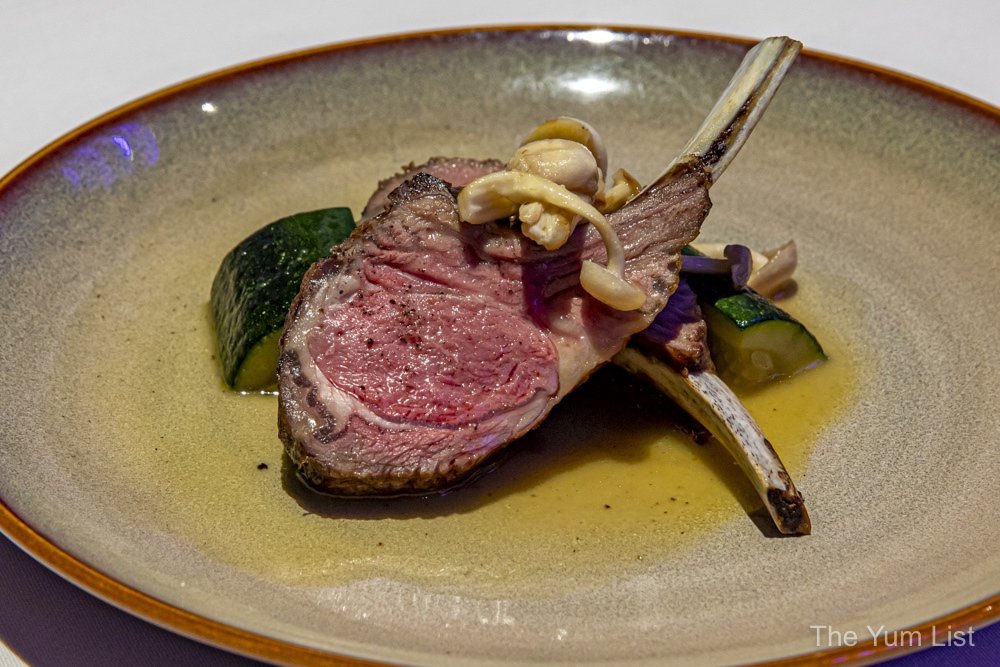 Dessert
For dessert we are treated with 2017 Disznókő, Late Harvest Furmint from Hungary RM61 to accompany our desserts (the tasting menu offers a selection of five to choose from). Tokaji-style wines can go great with blue cheese so if you like a more savoury dessert give the Blue Cheese Panna Cotta with Vanilla Ice Cream a go. My personal favourite is Chef Daniel's Souffle with Grand Marnier; I love it when dessert is hot and oozing of Grand Mariner.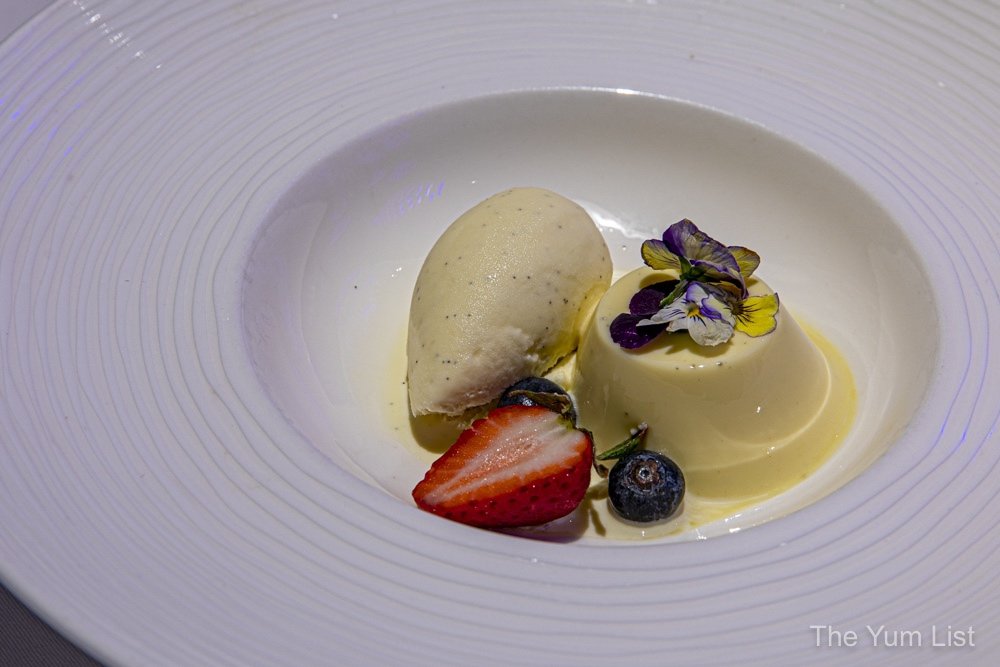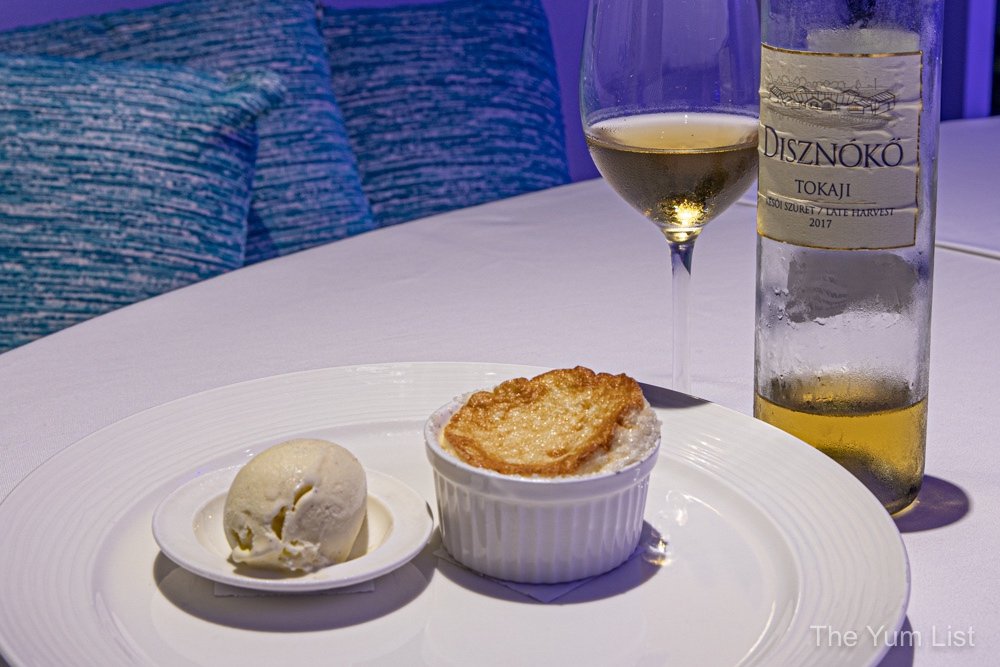 Sage Restaurant and Wine Bar Review
We all need to take some time to relax and slow down from the busy pace of everyday life. Sage Restaurant and Wine Bar can offer you a fine dining experience with an unassuming attitude and a really enjoyable wine selection. If you're free Monday to Friday evenings, make a booking and mention the Yum List quote… "What would the Yum List Do?" and you will enjoy Chef Daniel's signature Truffle Mushroom Soup on the house.
Reasons to visit Sage Restaurant and Wine Bar: quote the Yum List to get a complimentary truffle mushroom soup; great house pouring wine selection, solid wine list; free corkage; fresh dishes crafted with love; must finish with the Souffle with Grand Marnier
Sage Restaurant and Wine Bar
Level 6, The Gardens Hotel & Residences
The Gardens Mall
Lingkaran Syed Putra, Mid Valley City
59200 Kuala Lumpur, Malaysia
+60 3 2268 1328
[email protected]
www.sagekl.com
Sage Restaurant and Wine Bar Opening Hours
Lunch: Monday – Friday 12 pm – 2 pm
Dinner: Monday – Saturday 6 pm – 11 pm
Closed: Sunday
Find more restaurants for special occasions here, and stay up-to-date on KL's food and beverage scene here and here.