Sprout Plant-Based Fusion Bangsar
Words: Kitty Noble
Photos: Rich Callahan
Sprout Plant-Based Fusion in Bangsar is the brainchild of Colombian-born, Miami-raised Dani, who wanted to spread the message of how a plant-based diet can help with the environment and at the same time be tasty and nutritious.
Found on the first floor of Bangsar Village I, near the sky bridge, the design is that of a food truck with a fenced garden. It has a hip vibe about it with fairy lights and greenery, but the prices are reasonable reflecting the street-stall inspiration of the eatery.
Sprout Plant-Based Fusion – Bangsar Vegan Café Menu
The menu at Sprout Plant-Based Fusion in Bangsar is influenced by Dani's travels in South America. The dishes are so tasty, they're sure to convert any bona fide meat-eater to consider their options. Dani is particularly passionate and slightly military about scratch cooking. From the baguettes to the aquafaba meringues, everything is prepared in-house. Owing to the use of figs, the restaurant is not strictly considered vegan in some walks. There are zero animal products used here though and most definitively no ghastly fake meats.
The menu makes us smile, not only for all the green options but so too for the names! "Laugh My Falafel Off", "Hit the Rojak" and "Banh Mi From Eating More" are just some that give us a giggle.
Smoothies
Particularly refreshing on a hot day, we begin with the Sprout Ah-Sigh-EE and a Wish (RM 16). It's made with acai paste (note the pun in the name), banana, pea mylk, Heal vegan protein and agave nectar. It's delicious and also does you good, packed with nutritional benefits.
Smoothie Bowls
Mango Smoothie Rice (RM 18) is prettily presented in a coconut bowl, combining coconut mylk, banana and Heal vegan protein. It's topped with black glutinous rice, fresh mango, crispy mung beans and a coconut drizzle. Such a fan was Mon that she ordered another to take home for lunch the following day.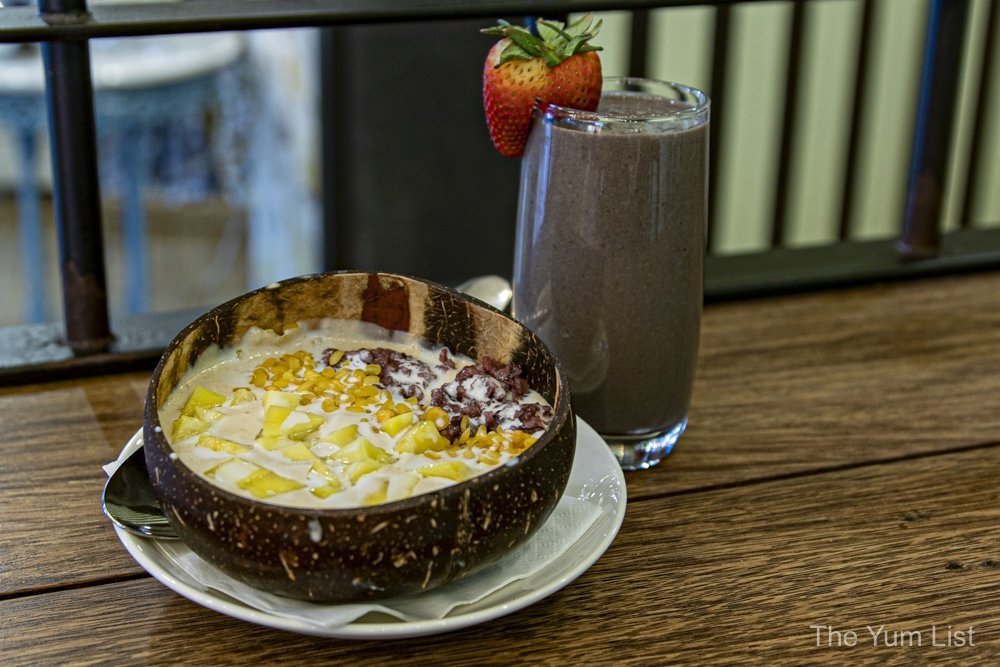 Toasties
With options such as Johnny Bravocado and Elvis Presley, we didn't know whether to choose by name or ingredients! In the end, Romeo & Juliet (RM 18) won with its more-ish combo of homemade gluten-free bread topped with cashew "cheese," guava and fig jam, and mint leaves. This has a really fresh flavour, with bread that is moist and with a lovely texture. Toasted chickpeas provide little pops of crunch on the side. Politely, we shared the last morsel between us, but had we been more forward, I'm sure we'd each have finished it ourselves.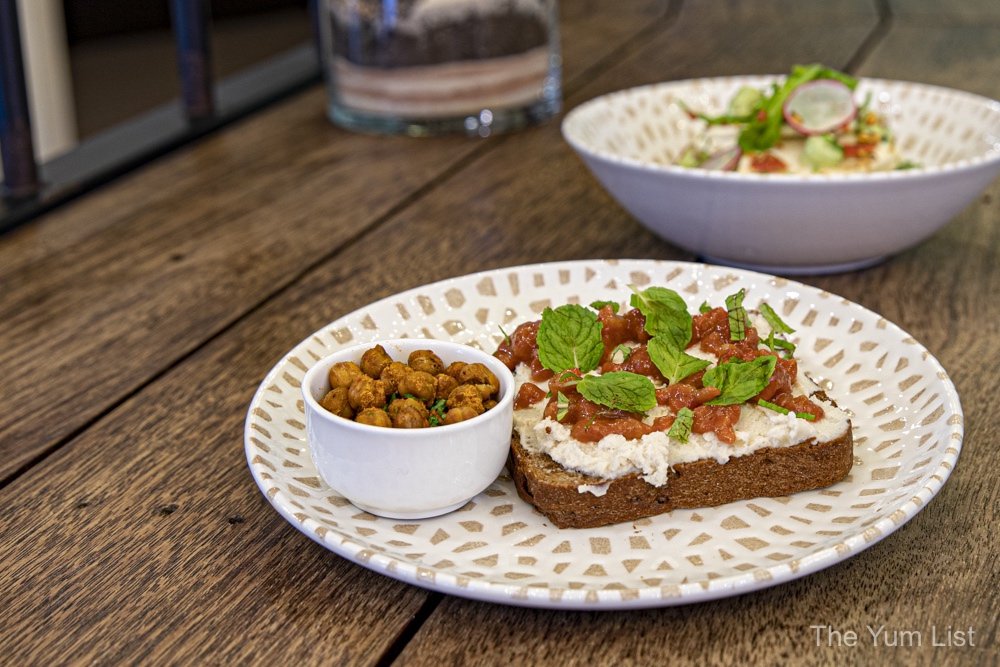 Salads
I do love a salad and Jicama tu Cama (RM 22) does not disappoint. Slices of jicama (an edible tuberous root), orange segments, rocket, crunchy quinoa-nut clusters, guava paste and avocado crema combine to make a super tasty bowl. It's crunchy, bright and well-balanced in both flavour and texture – a guilt-free bowl of sunshine.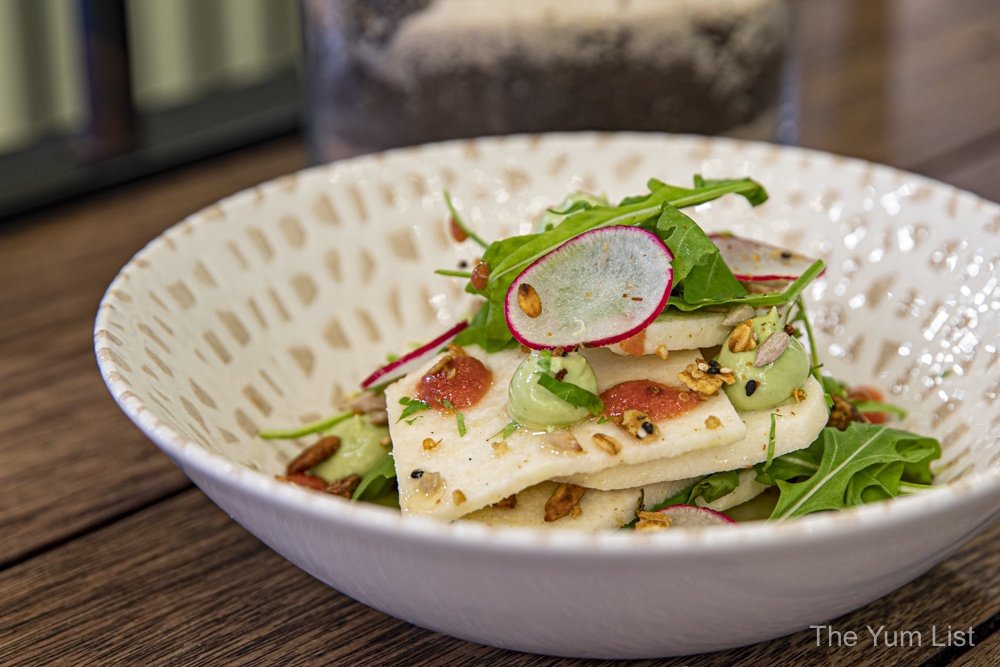 Vegan Sandwiches KL
On the slightly heartier side, the Meatless Ball Sub (RM 25) is one of our favourite sandwich options. Lentil balls are served in a fluffy, wholewheat baguette (made in-house of course) smothered with marinara sauce. Lattice fries add a good crunch to the side. The balls are bursting with flavour and have a fantastic consistency and mouth-feel. Topped off with that rich tomato sauce, we're happy to go meat-free all the way.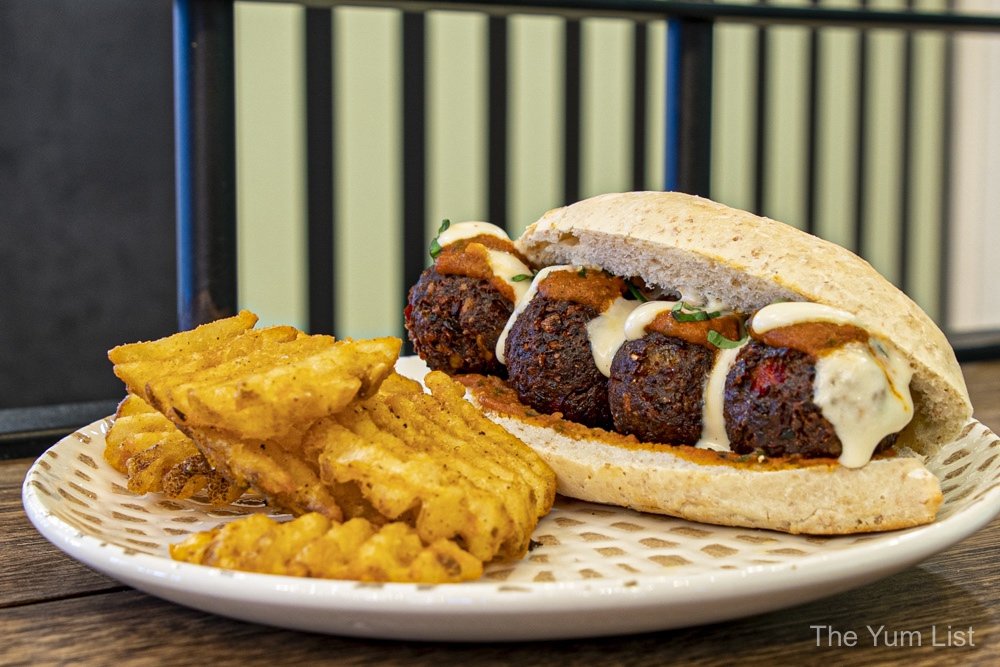 Summer Rolls Royce (RM 18) are striking with their rainbow of veg fillings. Vietnamese rice-paper envelopes purple cabbage, butterhead lettuce, courgette, capsicum, mango, avocado and fresh herbs. Cashew nut sriracha dipping sauce is a great change to the oft-used peanut. Mango adds a juicy, sweet dimension and the matchstick veggies are fresh and crisp.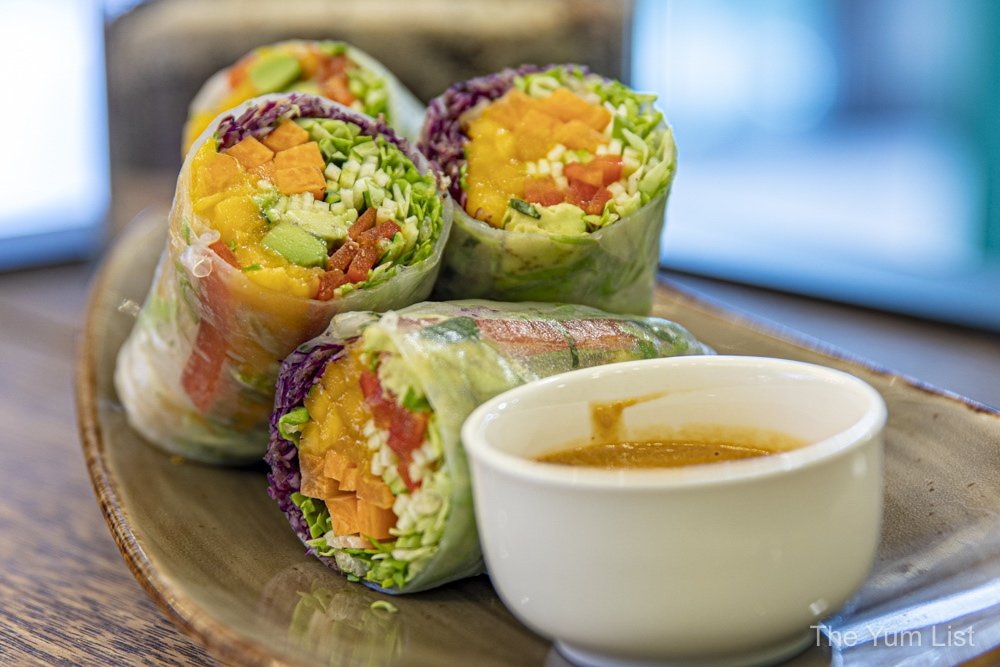 In a nod to South America, Choripan (RM 25) is made with homemade vegan chorizo. Green lentils, nutritional yeast, pea protein, yellow onion, garlic and smoked paprika, give a fab texture with a real bite and barbecue flavour. Diced avocado, garlic aioli, and a chimichurri sauce (Mon says, stellar) complete the combo. This is Rich's top pick.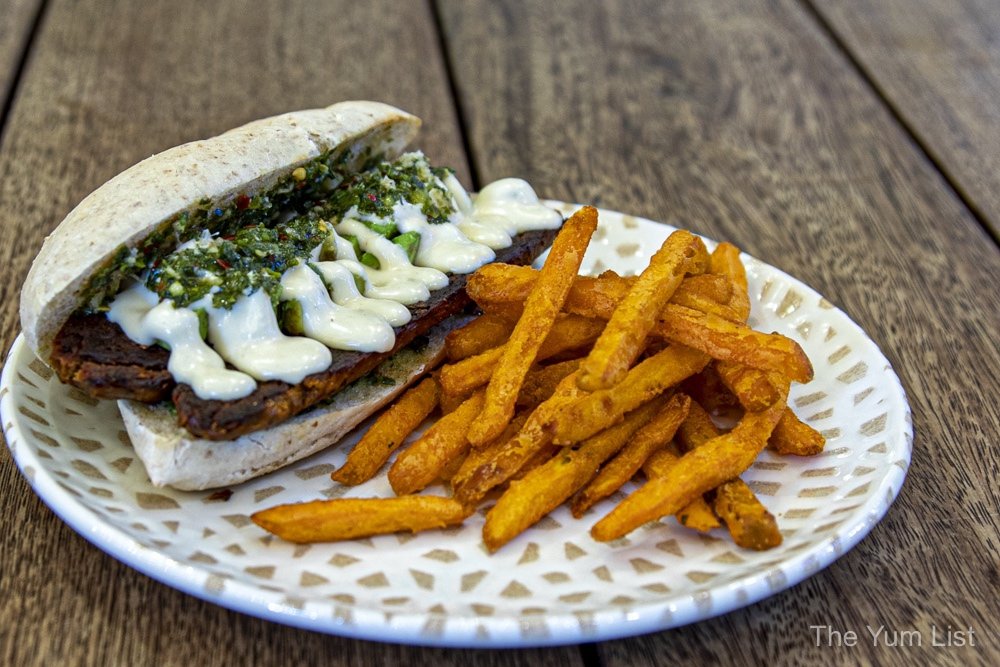 Lastly, Philly Cheesesteak (RM 22) is our final sampling of vegan meals. It's one of their most popular dishes and is once again served on a house-baked baguette. With a great umami composition, it consists of shaved tofu steak, vegan cheese sauce, caramelized onions and sautéed mushrooms.
Vegan Desserts
To round off our superb meal, Pavlova (RM 15) looks and tastes just like the traditional counterpart, yet is truly vegan. Eggless meringue (made with aquafaba – the juice of chickpeas!) is topped with whipped coconut cream (no cows were harmed in the making of this goodness) and fresh fruits. I honestly could not tell the difference in the meringue at all; truly impressive.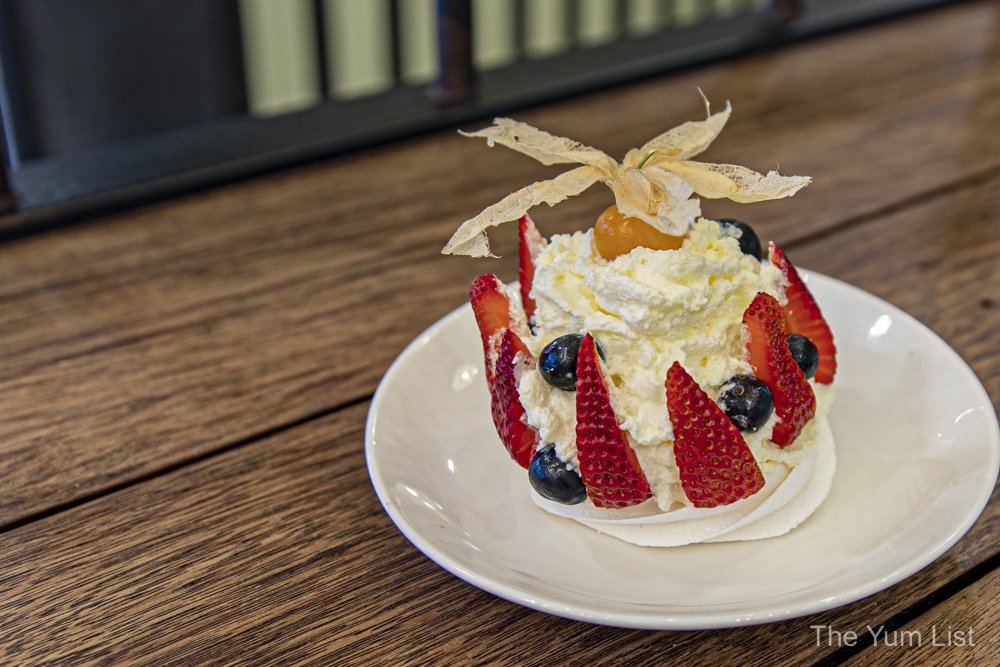 Drinks Menu
Coffee, tea and cool refreshment are all available to accompany a meal at Sprout Plant-Based Fusion, Bangsar. Limoncello Kombucha (RM 15), as by now you would come to expect, is house-made (Mon loves it). Sprout Cold Brew (RM 10) is served in a fashionable apothecary-style bottle offering a good balance of bitterness and acidity. Finally, Pandan Coconut Water (RM 13) is served chilled and wonderfully flavourful – doing justice to the well-known species originally from Thailand and sold purely for its beautifully smooth and gently sweet liquid.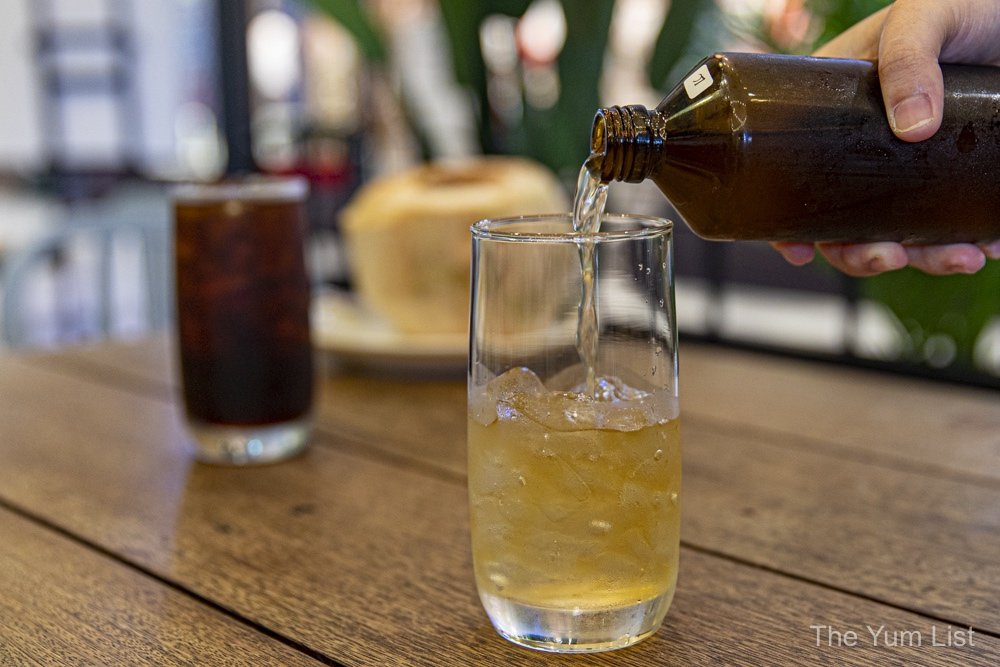 Sprout Plant-Based Fusion Bangsar Review
Sprout Plant-Based Fusion is an excellent vegan addition to the Bangsar food-scene. Pop in here for a nutritious bite on a shopping trip or order healthy food delivered to your home via Beepit.
Reasons to visit Sprout Plant-Based Fusion in Bangsar: all meals made from scratch with the freshest ingredients; charming setting; nutritionally balanced options ensuring veg lovers get their B12; no fake-meat; must try the Choripan, Meatless Ball Sub, Romeo & Juliet and a Sprout Ah-Sigh-EE and a Wish.
Sprout Plant-Based Fusion Bangsar
Lot F-13-A, Bangsar Village I (Skybridge connected Villages I & II)
1, Jalan Telawi 1, Bangsar Baru
59100 Kuala Lumpur, Malaysia
+6 012 961 7170
[email protected]
https://www.sproutfusion.co
Sprout Plant-Based Fusion Bangsar Opening Hours
Monday – Sunday
10am – 10pm
More vegetarian and vegan restaurants in KL here and stay up-to-date with the latest gourmet and travel recommendations for Malaysia here and here.