Dinner for Two in KL
Words: Monica Tindall
Photos: Rich Callahan
More than ever people are looking for value-for-money meals in KL and restaurants are delivering! Jhann for example currently has a fantastic deal: a four-course meal – dinner for two – priced at a very reasonable RM138. Further lubricating a delicious night out are some good drink deals too.
Jhann's beautiful décor makes the setting just perfect for dinner for two in KL. With private rooms and both indoor and outdoor seating, however, three or more would be as equally happy in the stylish surrounds. Do book ahead if you're thinking this might be the spot for end-of-year celebrations as their private rooms located in the whisky and cigar lounge are popular.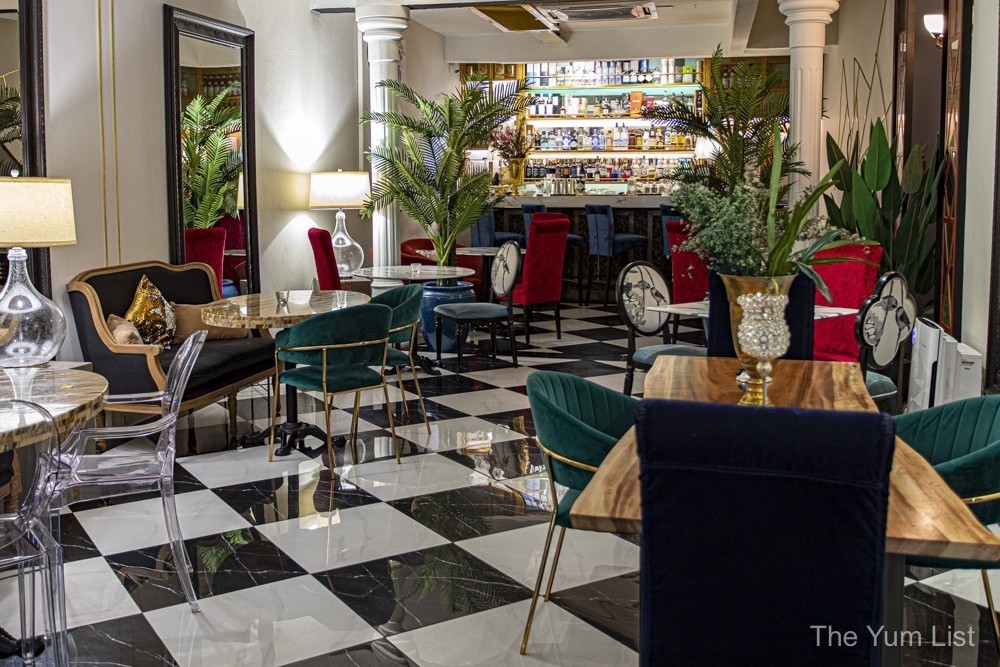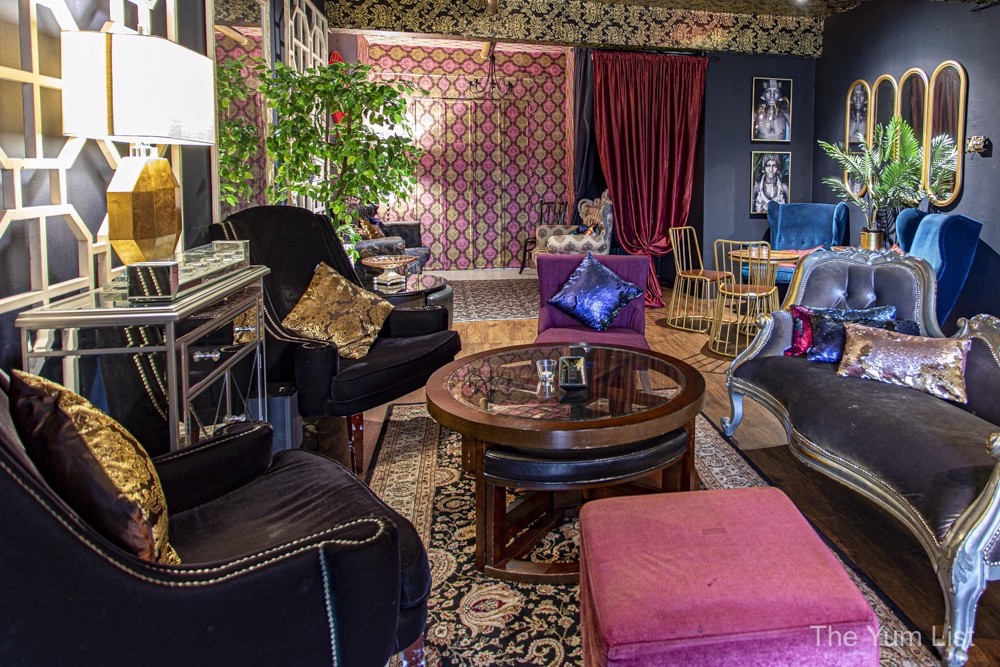 Jhann Menu – Four-course Meal
First Course
Dinner for two (RM138) at Jhann KL begins with popular Indian street food, Paani Poori Shots. They're incredibly fresh and tangy bites; perfect for opening the palate. Inside the petite spheres is fresh yoghurt, chopped shallots, tomatoes, cucumber and tamarind. You must pop the whole thing in your mouth in one go for the best and most genuine experience. Fun fact: some customers ask for a drop of vodka in their paani poori. This request can happily be accommodated if you'd like to try it!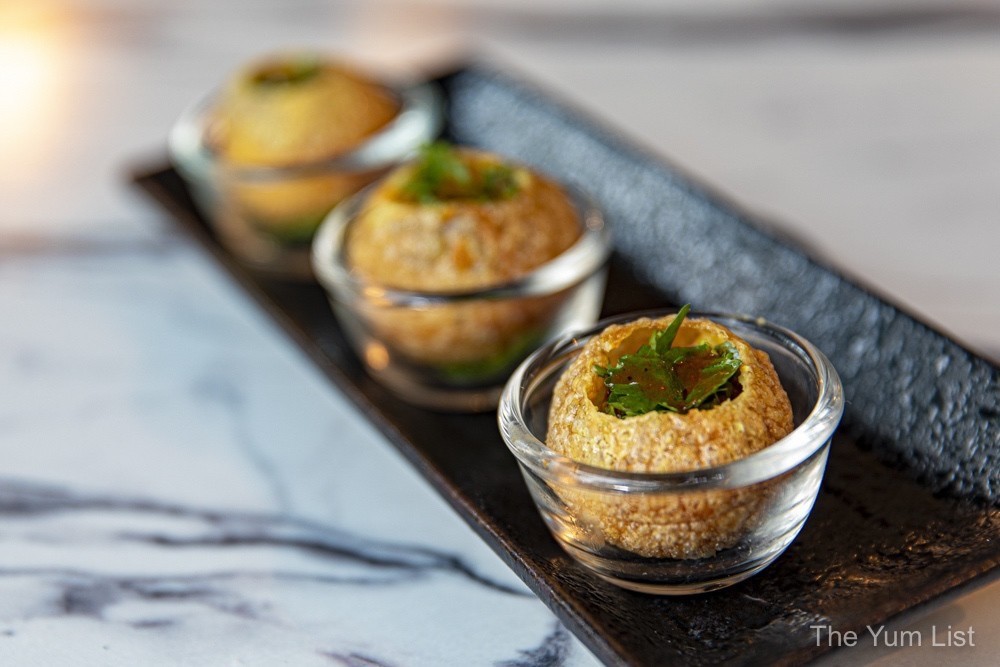 Continuing the merriment, Soft Shell Crab is served atop a bed of lettuce with giant chopsticks, similar to those oft used to toss the Chinese New Year favourite, yee sang. Pre-cut and deep-fried in bite-size pieces makes the crab easy to eat. On a side note, this is something I love about Jhann – everything is prepared so that you don't have to do any work – deshelled, deboned and cut. It's an elegant dining restaurant and dishes are served so that everything is manageable with a fork and spoon. The crab is given a note of savoury with buttermilk aioli and a light spice with dried and fried chilli.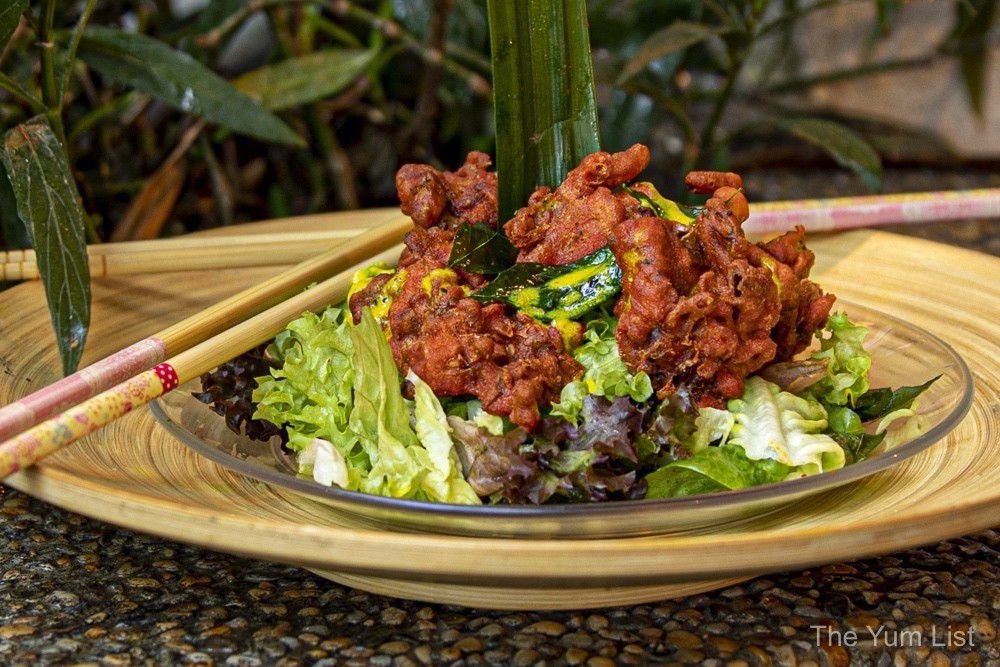 Dinner for Two in KL – Second Course
Butter Chicken is done in the tandoor then simmered in a buttery tomato and cashew gravy. The nuts give it a nice thickness, while yoghurt gifts a good tang. Whipping cream is the final touch providing a lovely velvety texture. Again, it's easy to manage with boneless cubes of chicken in the rich gravy. Try a spoon on its own and then with a piece of Jhann's house-made naan. Boasting their own tandoor oven, The Naanery offers guests a choice of garlic, cheese or butter naan. It's a tough decision but cheese is our pick today with a mix of cheddar and mozzarella. The former gives the taste and the latter gifts melty, chewiness.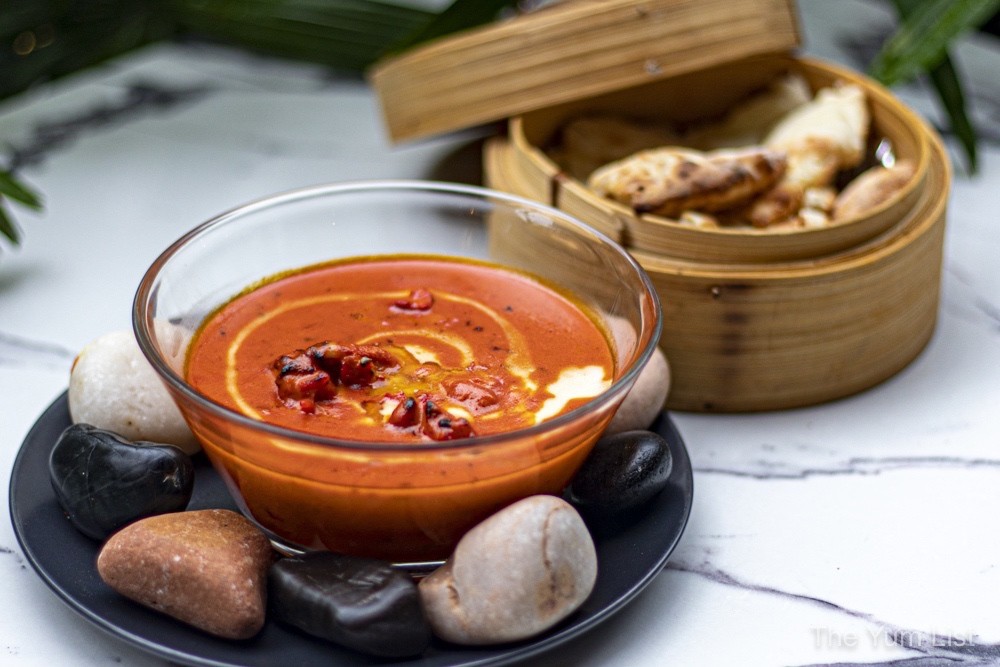 Main
Heard and smelled before it arrives, Sizzling Lamb is delivered on a hot plate with the sauce bubbling around the edges. The boneless meat is cooked with several herbs and spices such as cinnamon and their own hand-ground garam masala powder. The final stage of cooking in red onion gravy is done a la minute, which ensures the freshness of the recipe but also allows guests to request a personalized level of spice. Matched nicely with the lamb is Jeera Potatoes. Fried with cumin, turmeric, red chilli and coriander, they have plenty of flavour and could just as easily satisfy on their own.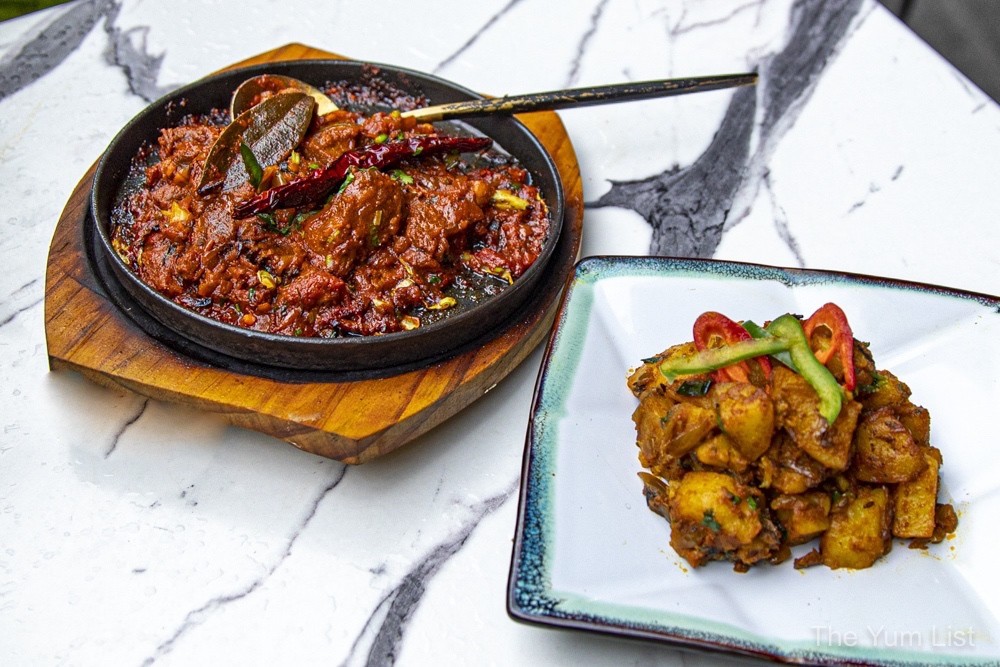 Dinner for Two – Dessert
A pretty plate of Halwa and Barfi concludes the dinner for two. The carrot pudding is the vibrant centrepiece and the Indian-style fudge cubes are dense balls of sweet deliciousness.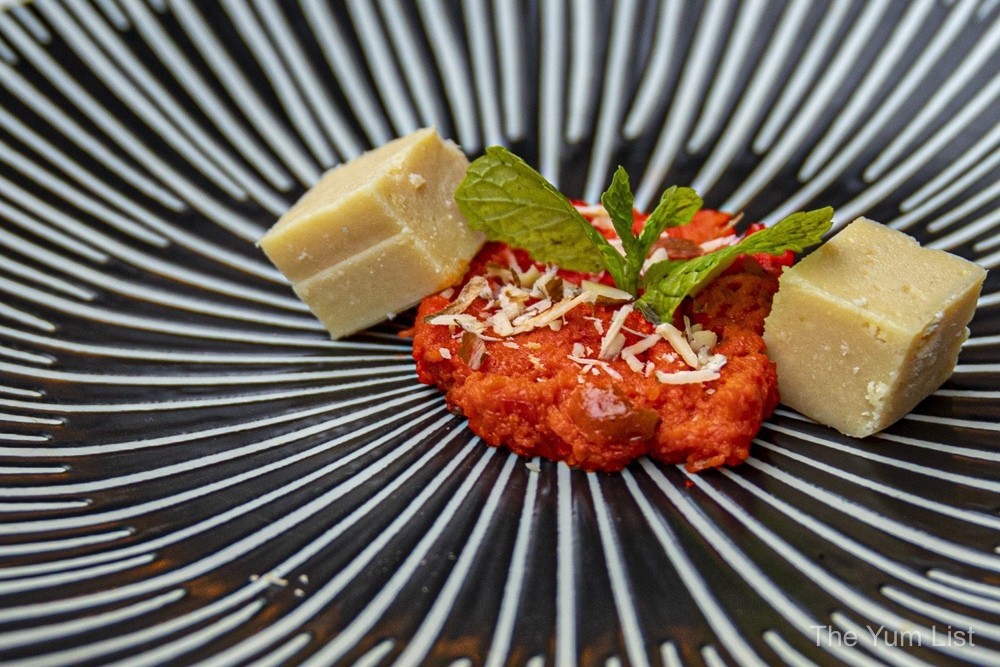 There are More Good Deals! House Lunch at Jhann
The dinner for two is no doubt one of the best deals in KL, but so too is Jhann's House Lunch. Available Monday to Friday until 3 pm, the two-course meal begins at RM 20 for the vegetarian dish and goes up to RM 29 for the lamb recipe. Guests may choose a starter and main, or main and dessert. We pick the vegetarian set lunch, which features Veg Jalfrezi as the main and either Onion Beignet to begin or Gajar Halwa to end. It's just the right portion to satisfy and energize for the afternoon.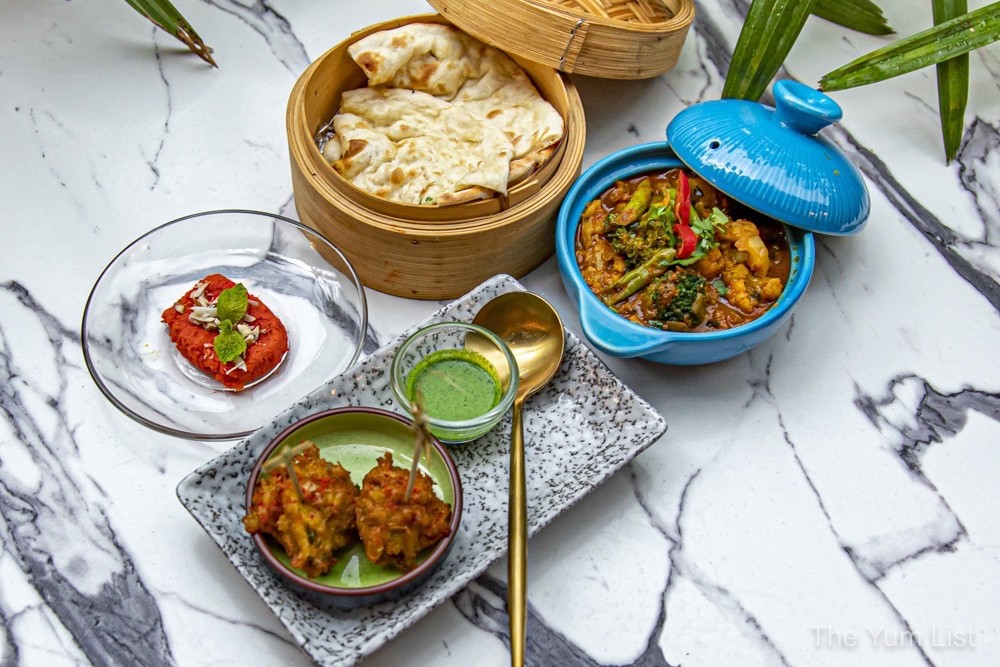 Drinks
The four-course dinner for two is not the only thing that is value-for-money at Jhann, KL. Look out for their Gin Hours (which happen to be all day every day) and A Scotch Affair (unbeatable whisky deals). Three glasses of Hendricks or Roku go for a wee RM 59! If you'd like to spread the serves out over a week, you can purchase the trio and enjoy them anytime within seven days. And, that whisky deal… in what must be the most reasonably priced bottle in Damansara Heights, The Macallan 12 is currently priced at only RM 390. Do enquire about Jhann's cigar pairing deals too!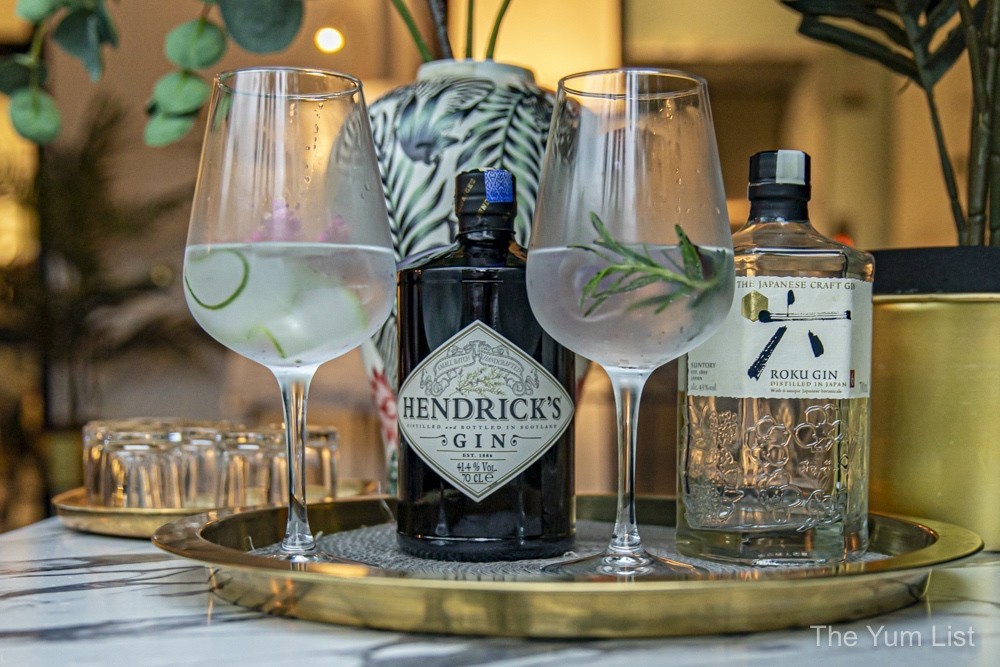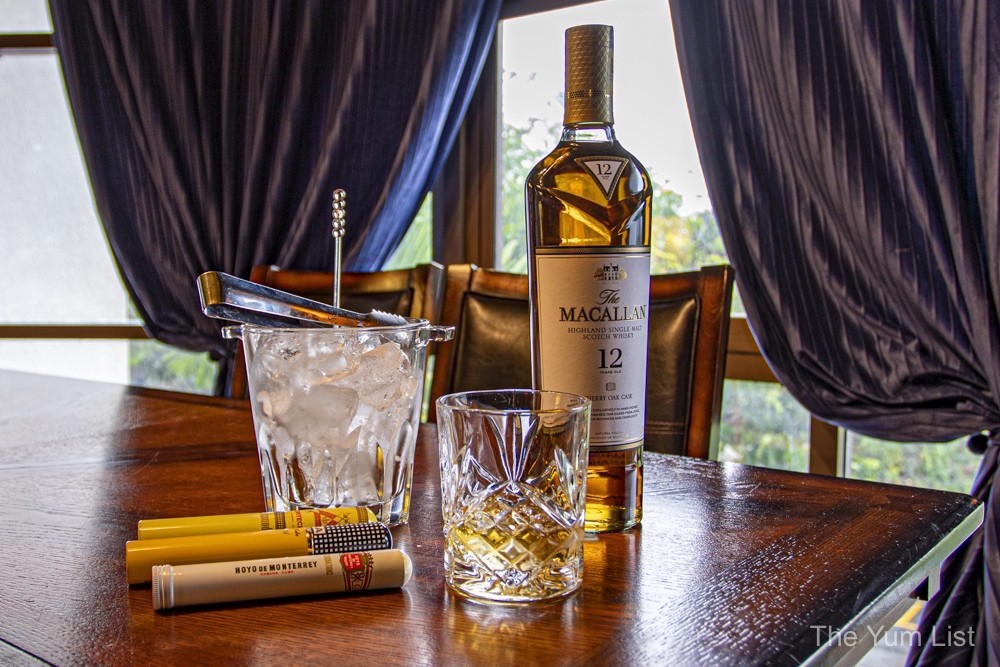 Reasons to try dinner for two at Jhann, KL: value for money meal; great drink deals; beautiful setting; private room; a variety of dining spaces with alfresco area, indoor and private dining options.
Dinner for Two KL – Jhann – Elegant Indian Restaurant
6, Jalan Medan Setia 2, Bukit Damansara
50490 Kuala Lumpur, Malaysia
+6 017 324 4323
www.jhannkl.com
Jhann KL Opening Hours
Daily 12 noon – 10 pm
Find more Indian restaurants in Kuala Lumpur here and stay up to date with the latest food and beverage happenings in KL here and here.