Mizukami Highball: Be Like Water
Words: TJay
Photos: Rich Callahan
This year has been disruptive, to say the least. For many, it has been a time for introspection, reflection and action. There is a famous interview with Bruce Lee, where he advises us to be like water. Lao Tzu in the Tao Te Ching makes a myriad of similar references to water. This is a time to demonstrate resilience, fortitude, learnability, adaptability and flexibility. Be like water and flow.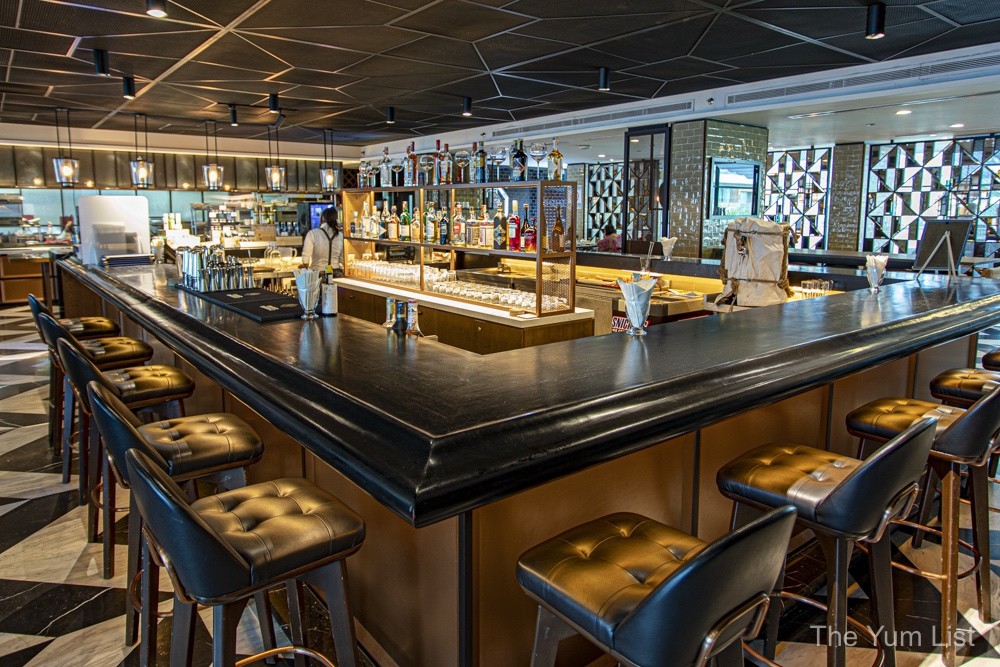 Mizukami Highball
Multiple award-winning, Japanese-influenced mixologist, Shawn Chong has put those words into action with Mizukami Highball, the first of his new brand, the Mizukami Collective. The name is reflective of both Japanese and Malaysian culture. Mizu is water and kami is god or goddess in Japanese. Kami in Malay is we or us. The name is intertwined with multiple levels of meaning. The uniform pays homage to both cultures as well. The tie and suspenders represent the classical Japanese bartender and the batik pattern for historical Malaysian clothing.
The Japanese have created the after work tradition of drinking highballs: Mizukami Highball focuses on that. As the collective expands to other restaurants, the brand will focus on different elements of Japanese-style bars. We have it under good advice that Mizukami Cocktails will be coming soon.
Another thing that members of the food and beverage world have concluded this year is the best way to succeed is to be hyper-focused and create smaller meaningful menus. All cocktails here must be ordered from the menu; no off-list requests. This is the accumulation of a decade's worth of experience and is the true meaning of omakase.
Mizukami Highball Menu
The menu at Mizikami Highballs is composed of highballs (of course), sake, a handful of classics and some zero-proof creations.
Highballs
The Monkey Shoulder Whiskey Highball (RM42) is a perfect way to celebrate the end of the day. This is a vibrant whisky, slightly fruity with hints of vanilla, making it ideal for mixing. Interesting fact: the name Monkey Shoulder comes from a common injury that the men received stirring the malt by hand, making their arm hang lower on one side.
Distilled with nine botanicals, Portobello Road Gin Highball (RM48) is a classic London Dry Gin. The highballs can be topped off with The Japanese Bitters at the bartender's recommendation, of which there are four flavour profiles. The addition of bitters adds to the smell and offers additional depth to these timeless classics.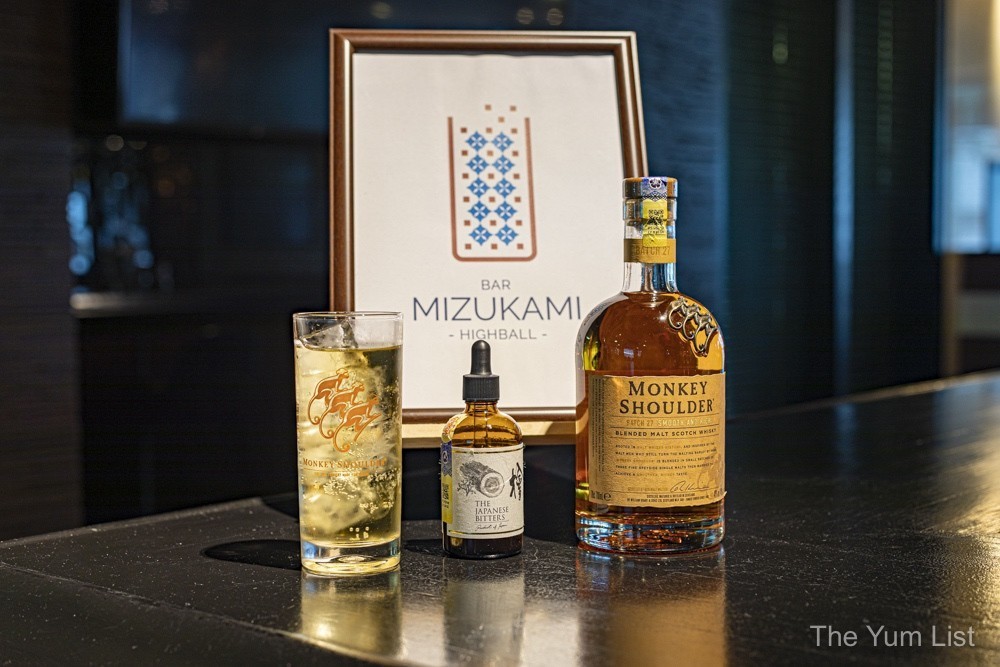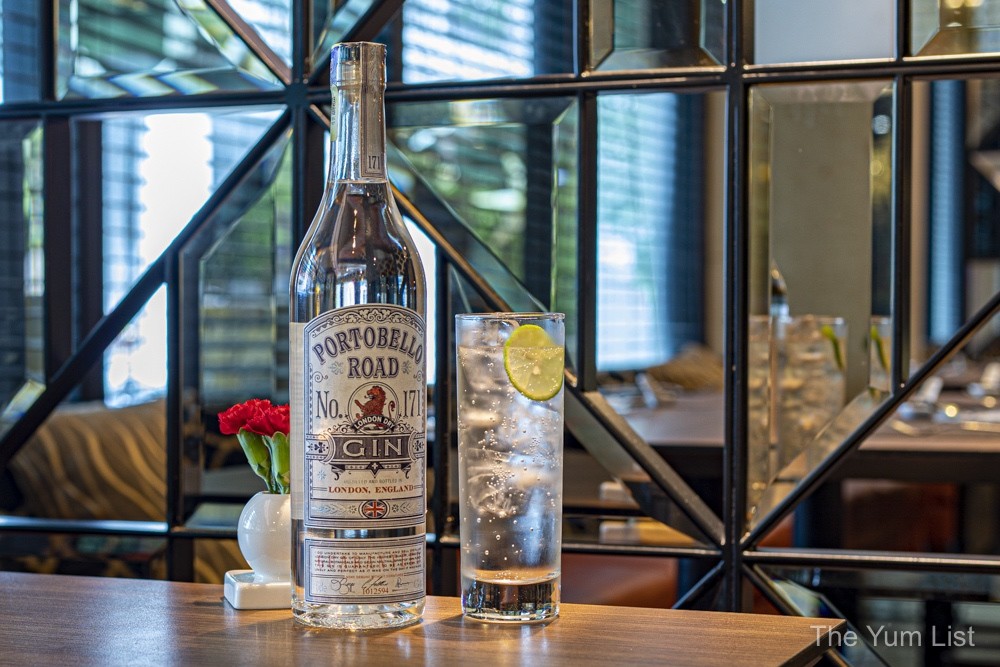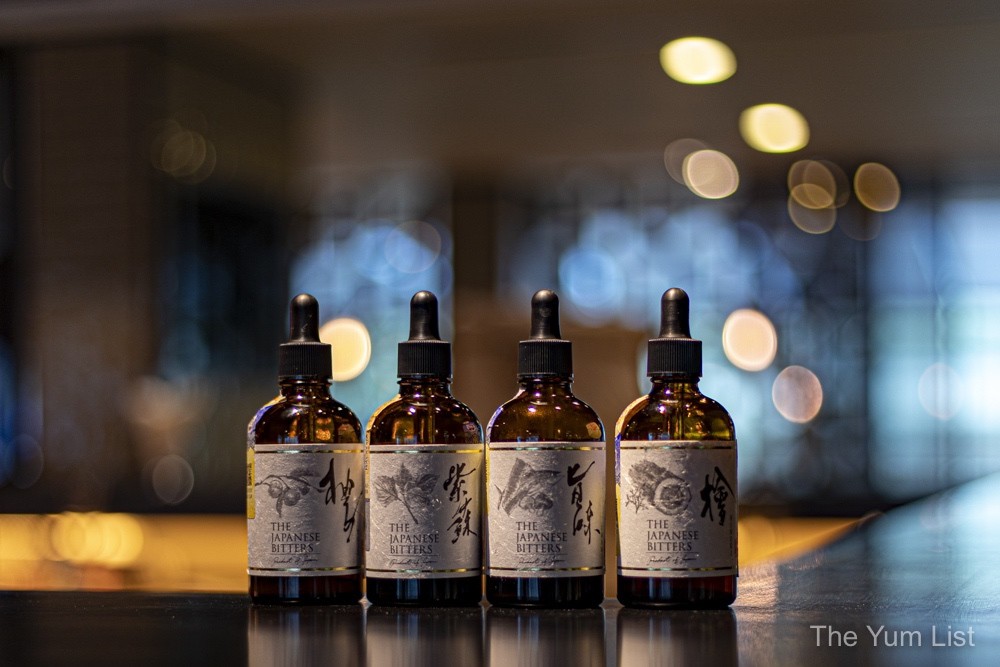 Sake by Draft
Mizukami Highball is one of the first bars to be serving sake by draft. The sake is kept chilled at the optimal drinking temperature in a canister similar to a beer keg. Junmai means pure rice, and in this instance, it's polished to 67%. This Chikusen Junmai (RM65, 150ml) is creamy and sweet. As it warms slightly, there are pronounced notes of melon.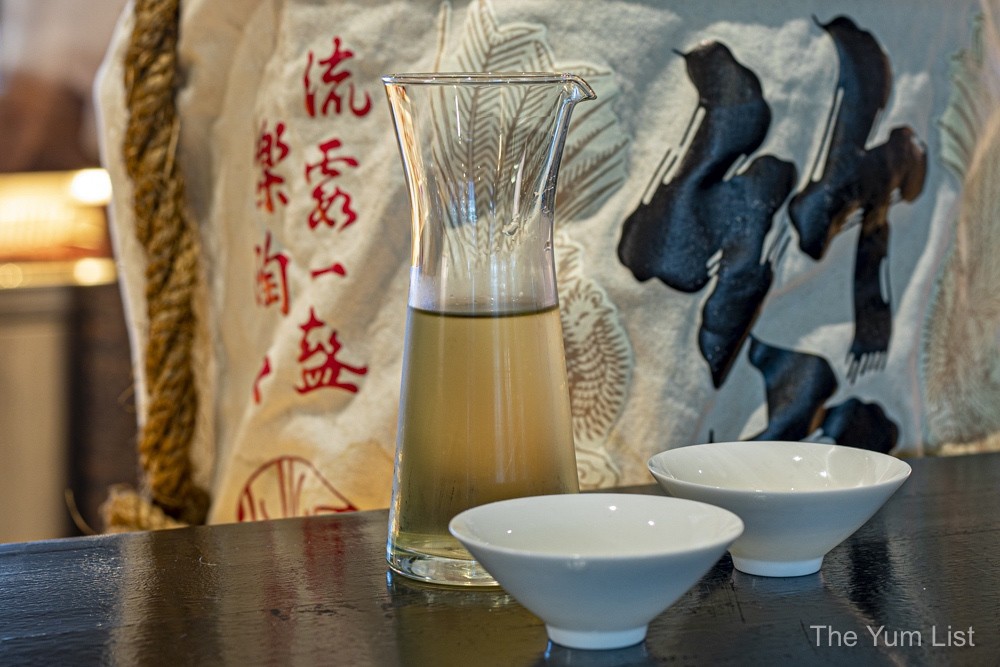 Zero-proof
One of the more recent drinks trends is bar menus featuring low ABV libations and complex zero-proof drinks. These are startlingly different from the sweet and syrupy 'mocktails' of yesteryear. Shawn developed his zero-proof menu to make the bar experience of friendship and joyful conversation inclusive to all. Zero-proof 'Stout' (RM22) is from that menu. It is truly reminiscent of the taste and the experience of drinking a stout beer. The stout is poured just like its beer cousin, creating a nice sudsy head. It's made from local kopi-o, honey, vanilla and cola.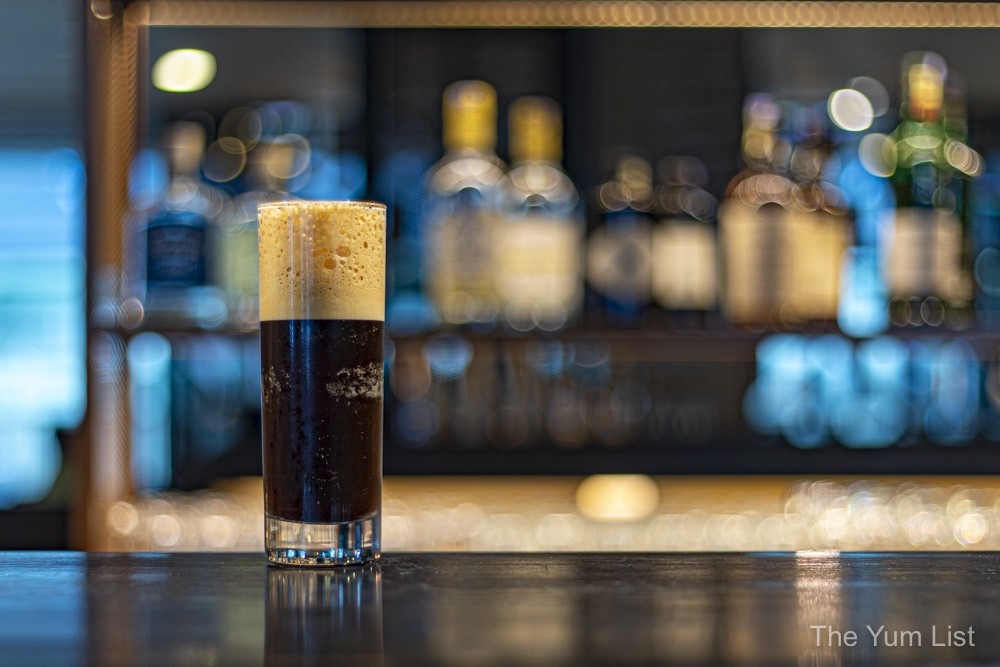 Classics
One of the cocktails bartender Shawn is known for is the Jungle Bird (RM48). I believe it will stay on the menu wherever he travels. It's a Malaysian classic combining Angostura 5, Campari, pineapple, lime and sugar. It's a delightful concoction perfect for tropical weather.
Lastly, Negroni (RM48) is made with Boodles Gin, Cucielo Rosso Vermouth and Campari; three of my favourite ingredients mixed together. An interesting thing to note about Boodles Gin is that there are citrus elements added during distillation. These are balanced in the drink with the Campari.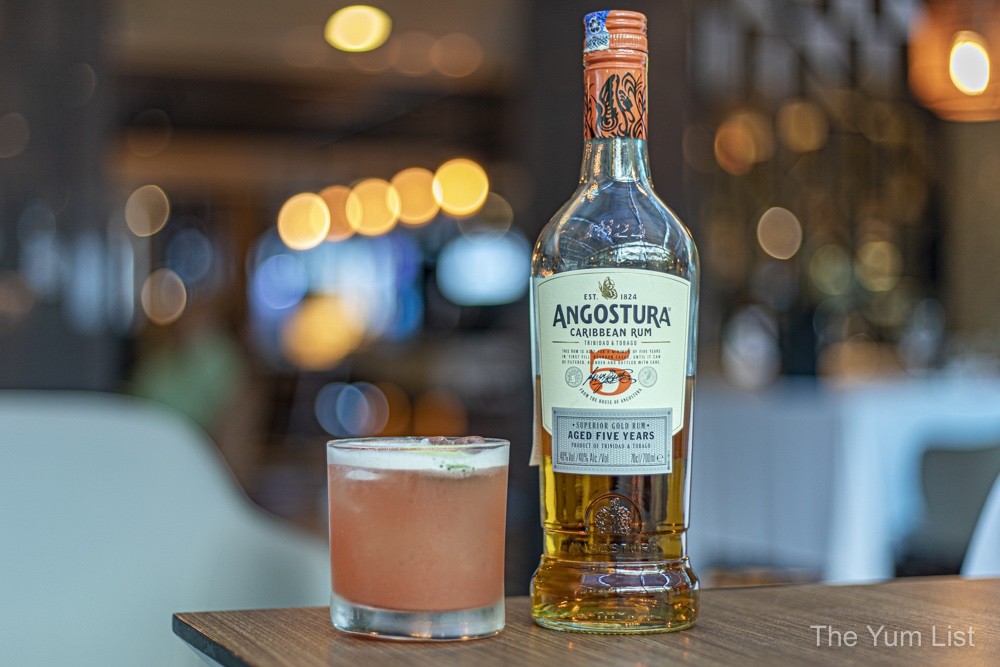 Bar Snacks
A compact menu of bar snacks provides something to nibble on at Mizukami. The Edamame Shoyu Zuke (RM8) are served cold. I like that. It somehow makes me relax while eating. Normally, I would feel rushed to eat the edamame while it is still hot. The soy was not over-powering, and the salt level was just enough to make one continue drinking. Crudites Miso (RM8) like all the bar snacks are small and enticing. They are just enough to crunch away during conversation and to stir up an appetite for something more substantial. The miso sauce was fantastic! The sauce was salty and creamy, elevating all the vegetables dipped, dunked or crunched.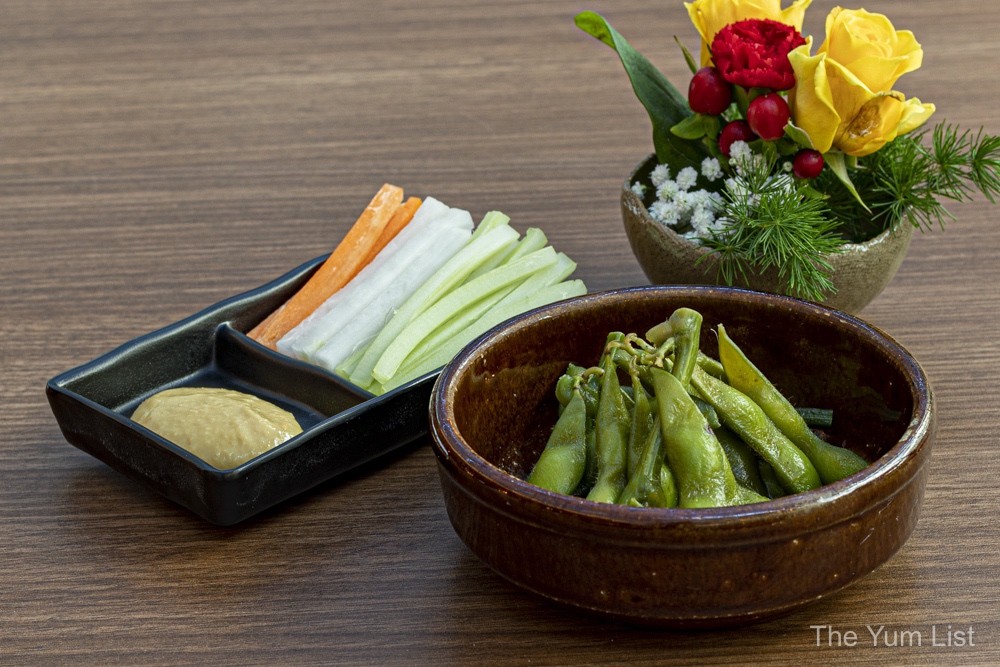 Shiso Dining
Mizukami Highball lives inside Shiso Dining, being one of the five elements that make up the space. The other four include the Japanese bistro menu of Shiso, a deli that incorporates some of the staples from Cilantro; a bottle shop highlighting selections from Marche & Vinifera and an alfresco dining area, La Terrasse.
Reasons to visit Mizukami Highball: simple cocktails beautifully crafted, a short walk from the MRT, convenient city-centre location. And remember in these trying times; be like water, drink a highball and just let it flow.
Mizukami Highball
Ground Floor, Mi Casa All Suites Hotel
368B, Jalan Tun Razak, Taman U-Thant
50400, Kuala Lumpur, Malaysia
+60 3 2179 8000
www.facebook.com/bar.mizukami
Mizukami Highball Opening Hours
Daily: 4 pm – 11 pm
Find more KL bar recommendations here, and stay up-to-date on the latest gourmet and travel happenings around Malaysia here and here.