Monroe Kuala Lumpur
Monica Tindall
Located on the first floor of KLoé Hotel, Monroe restaurant was originally set to be a north American-style diner. A few months into operation, however, the owners have decided to up the game and are in the process of refining the menu.
Monroe KL continues to carry that friendly diner feel that has been popularly Instagrammed but the menu has had a makeover. They're only four days into the new operation when we arrive and so apologize for the concise offerings. Still, we see plenty we like and find more than enough to keep us fed for our three-day stay.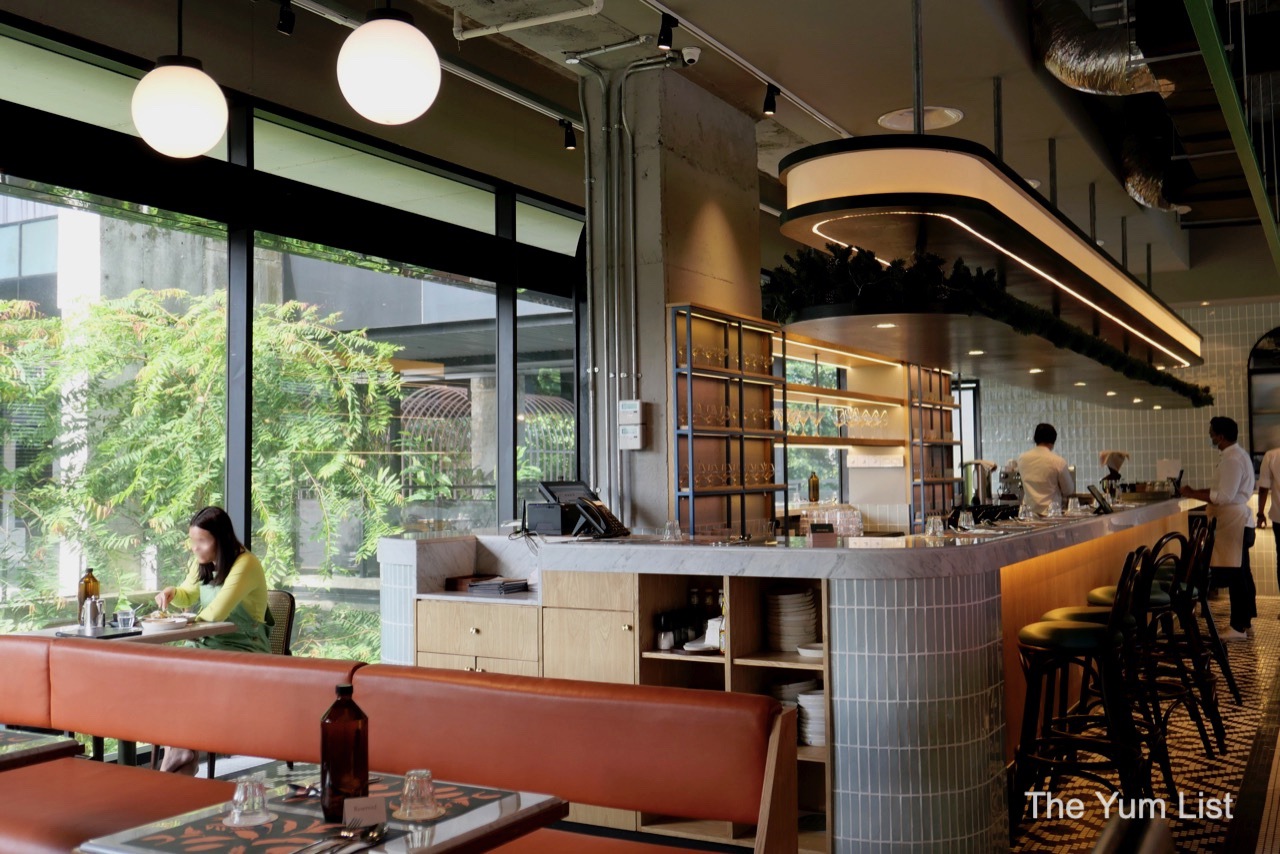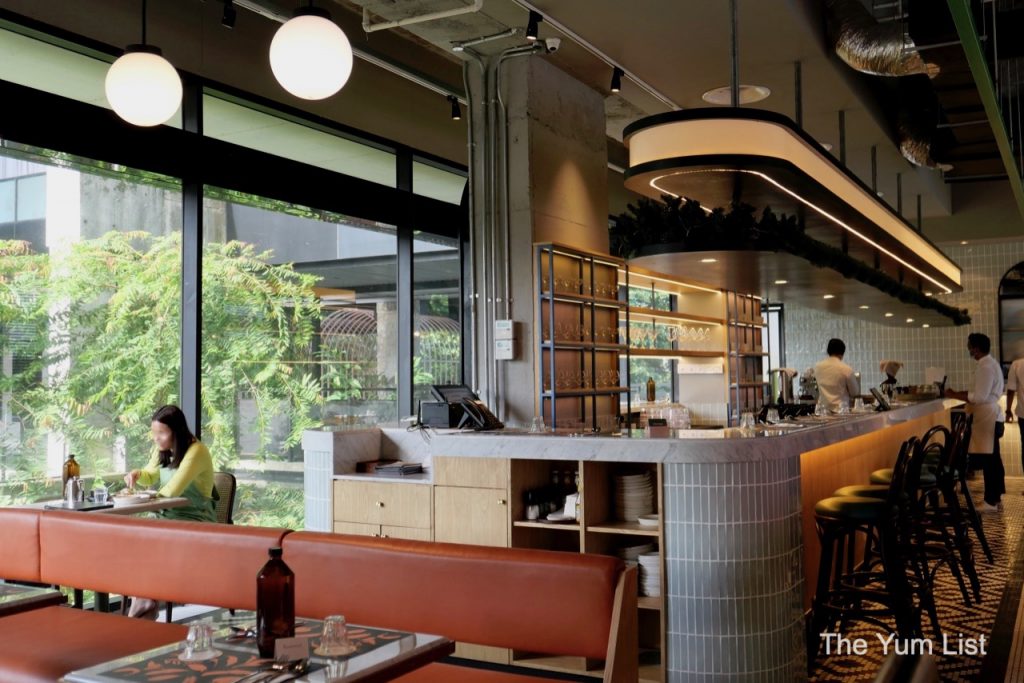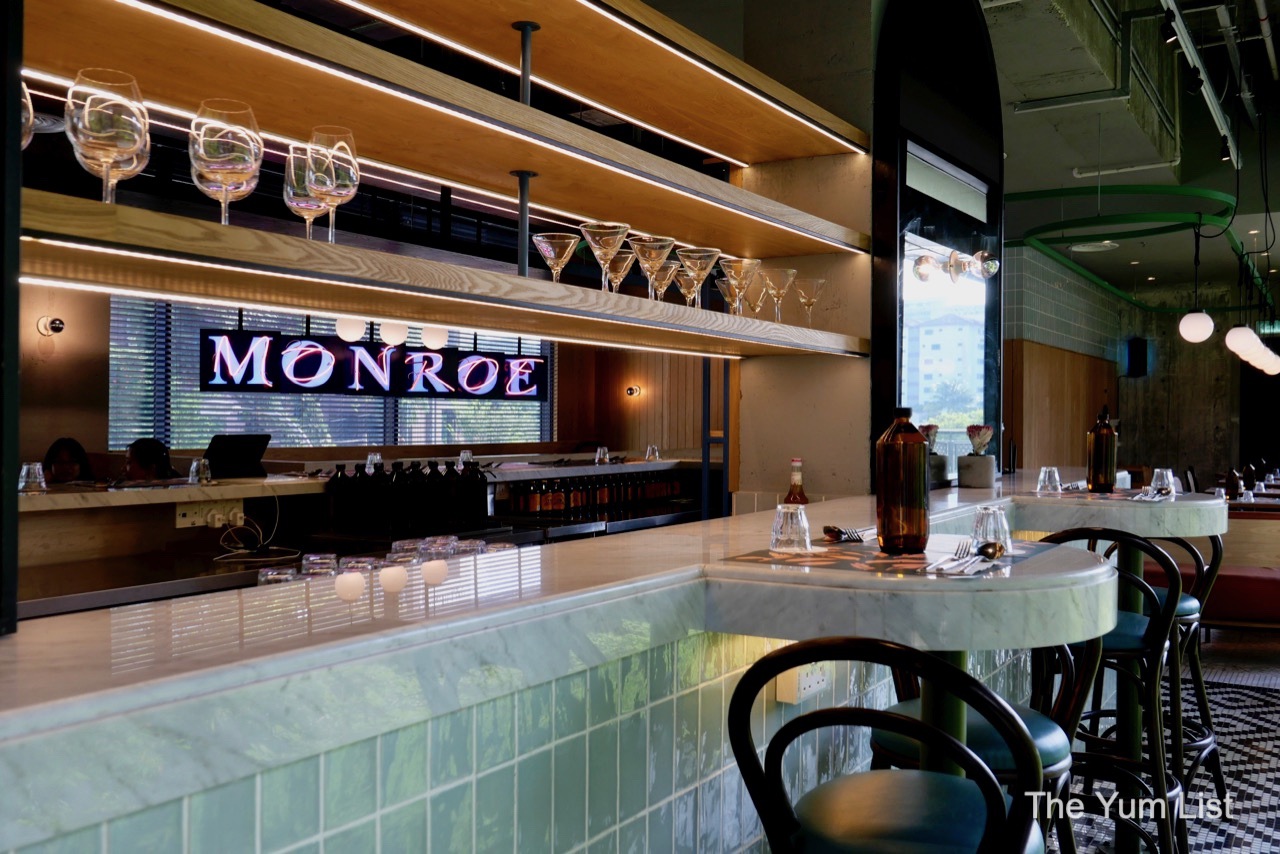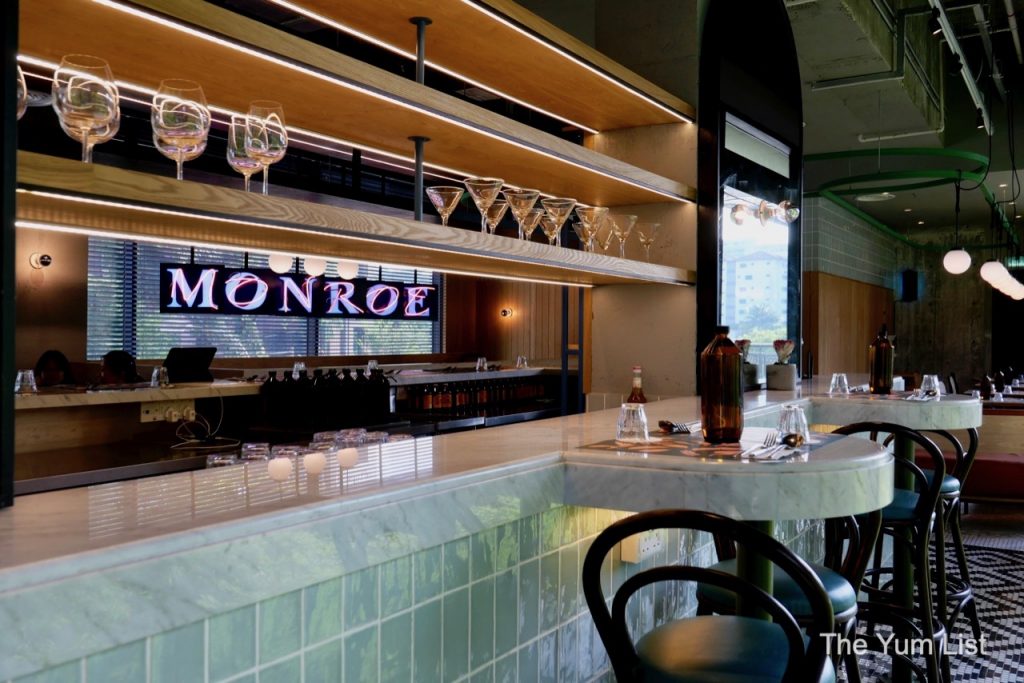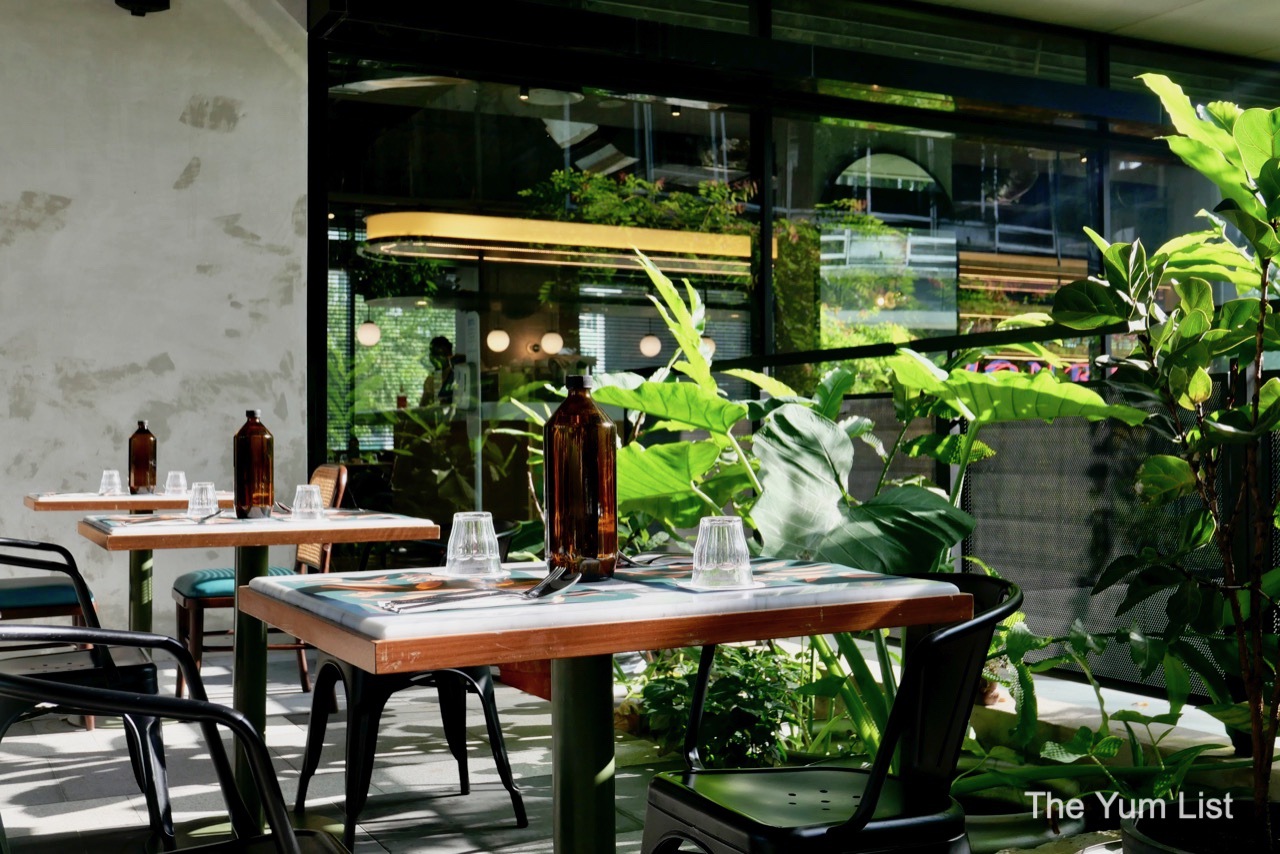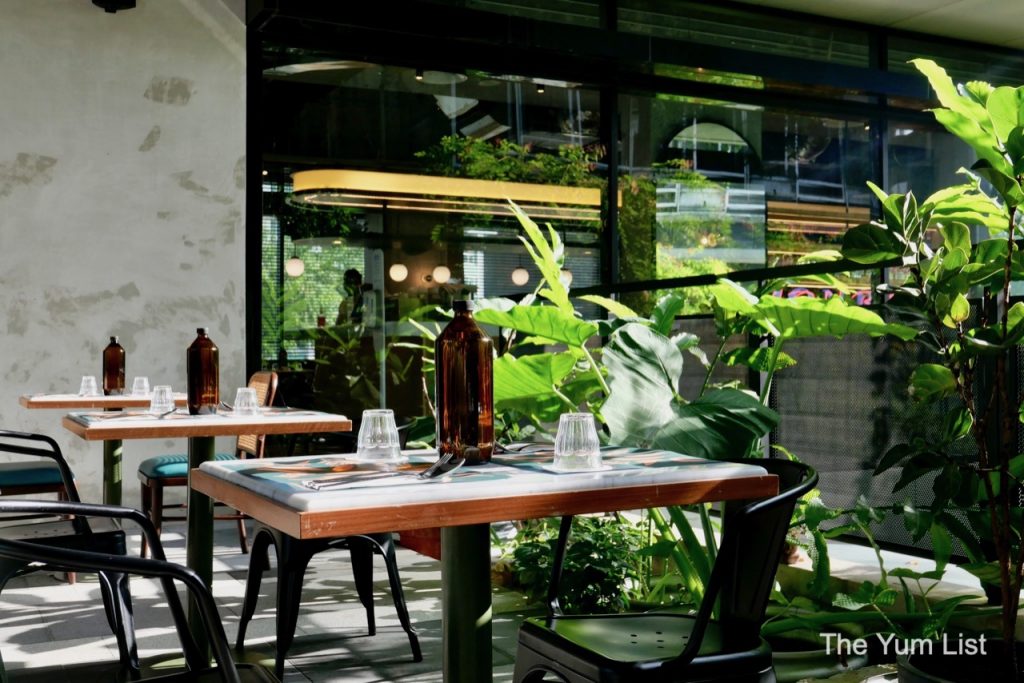 All-day Breakfast
It's a good sign for me when brekkie (fave meal of the day) is available all-day long. We choose from this section not only for our morning nosh but also for lunch.
First off, our healthy cravings are satisfied with the Monroe Everything Bowl (RM 28). Overnight oats, blueberry jam and cranberry granola are covered with a layer of whipped Greek yoghurt. A drizzle of honey and sliced grapes break up the white top. With the dairy particularly rich and creamy, and the double dose of sweet with both honey and jam, this could pose also as a dessert.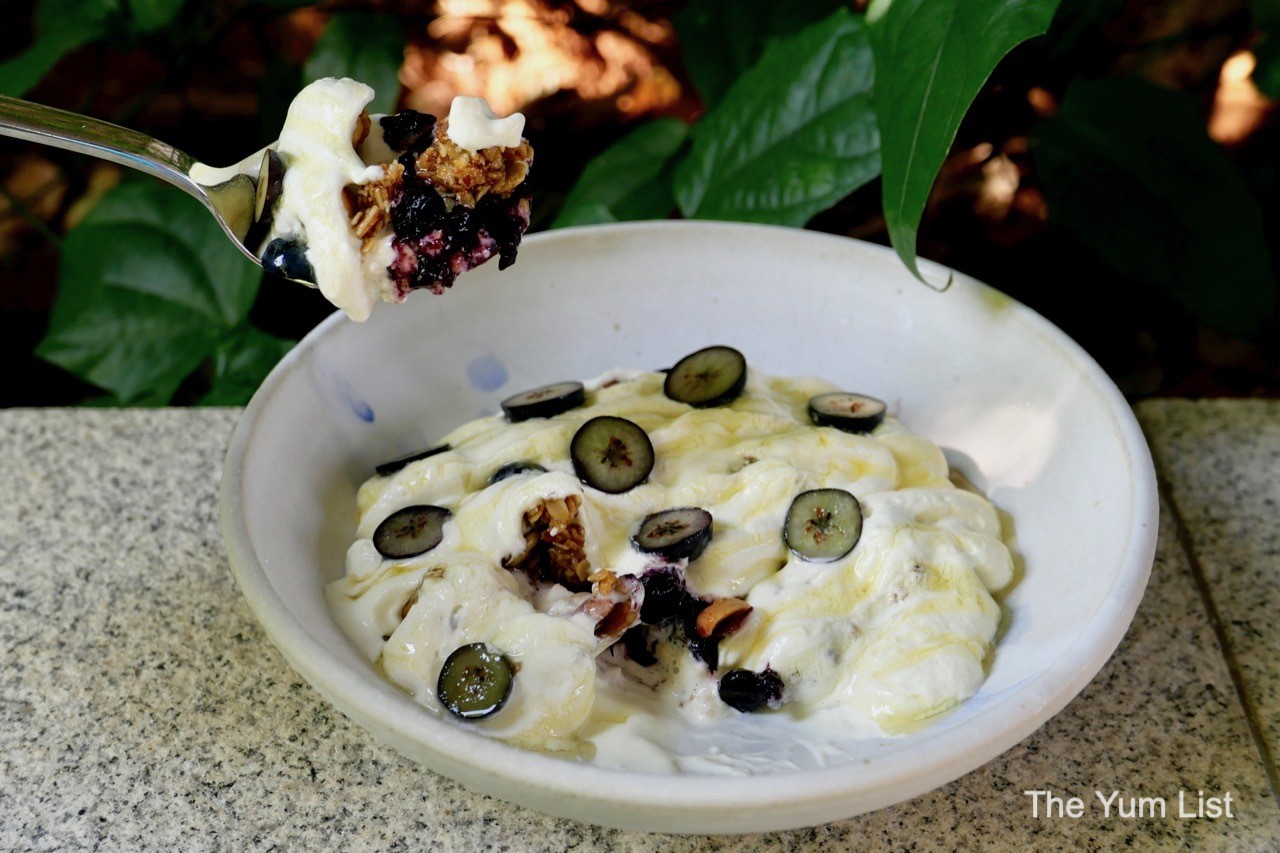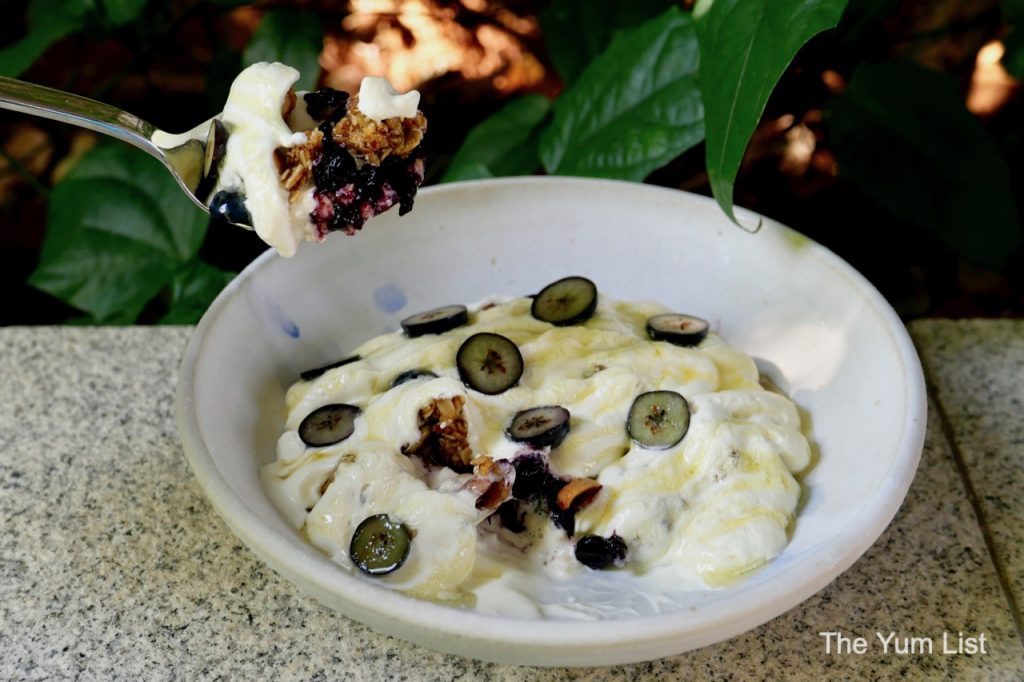 Both hubby and I love our greens so the Green Omelette (RM 25) is a must. The eggs act as the base for pea sprouts, baby asparagus, green beans and shaved root vegetables. Tomato jam and aged grana Padano add some oomph to the flavour. The jam is tasty, but if ordering again, I'd ask for the jam on the side as only a little is needed to complement the eggs.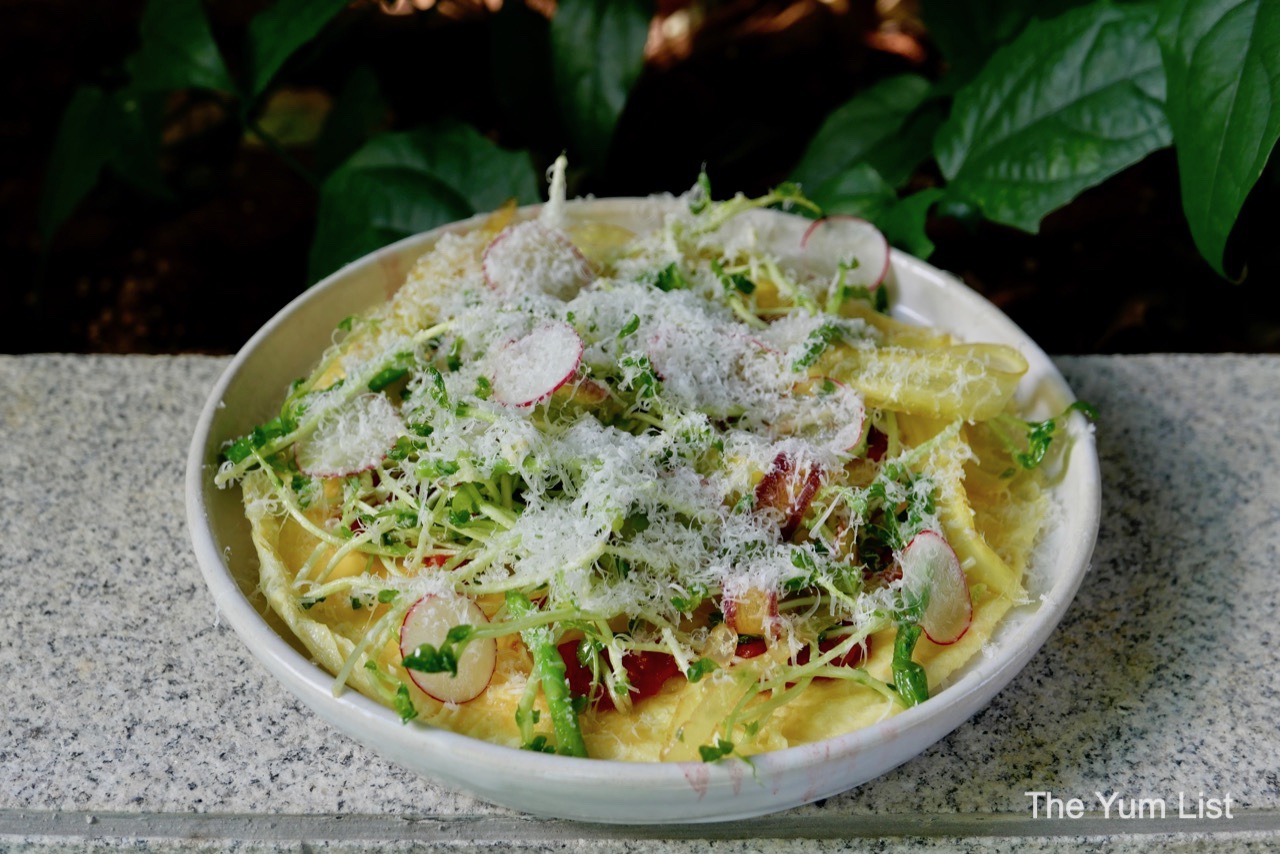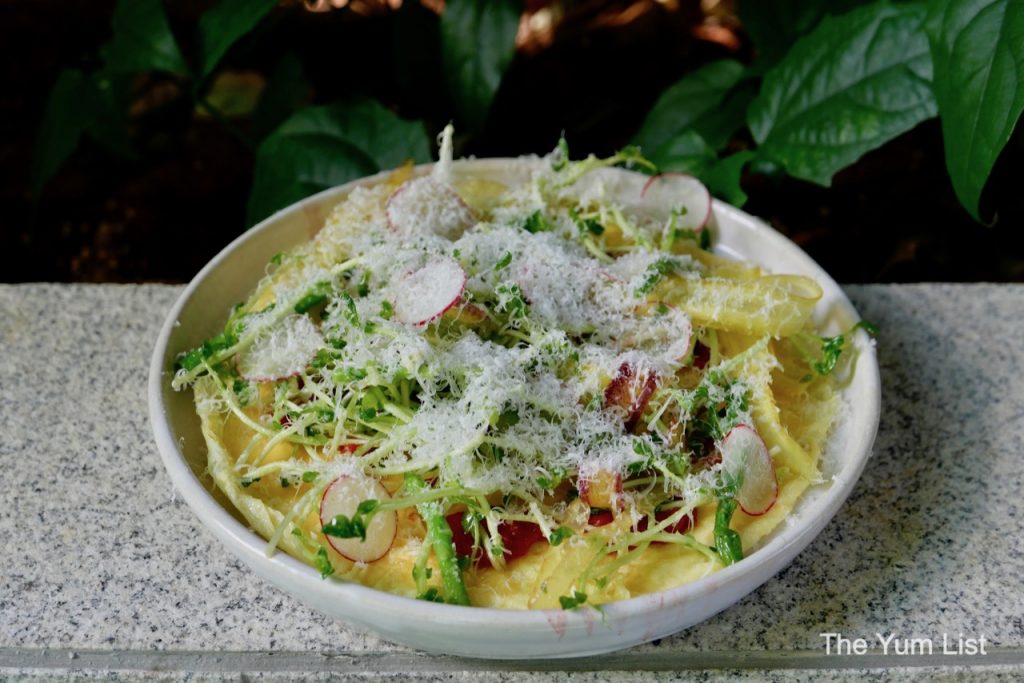 Balancing out our nutritious beginning, House Sourdough Pancakes (RM 38) also get an order. Hubby gives them two thumbs up for their thick bodies and thin crisp edge. Maple-whipped butter melts into the top and the golden syrup on the side is not even needed.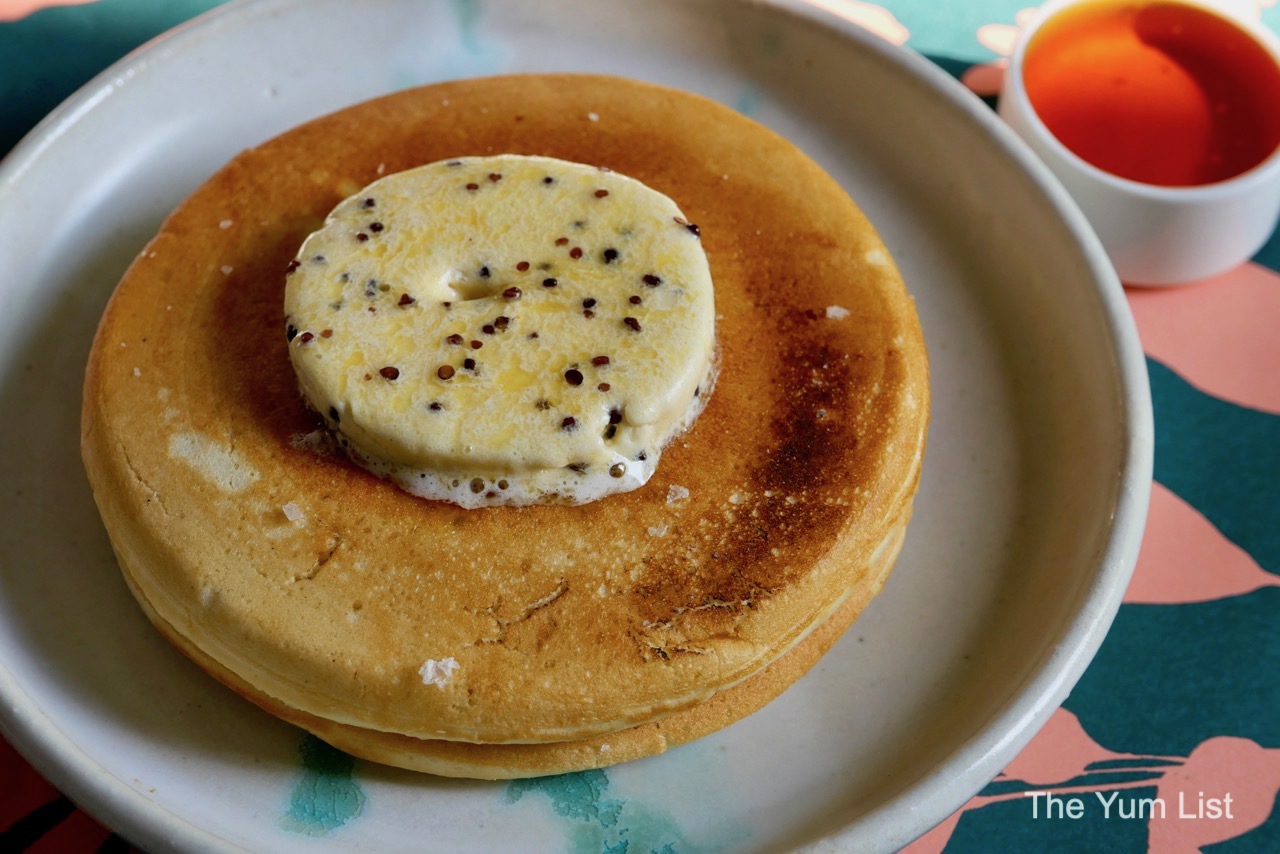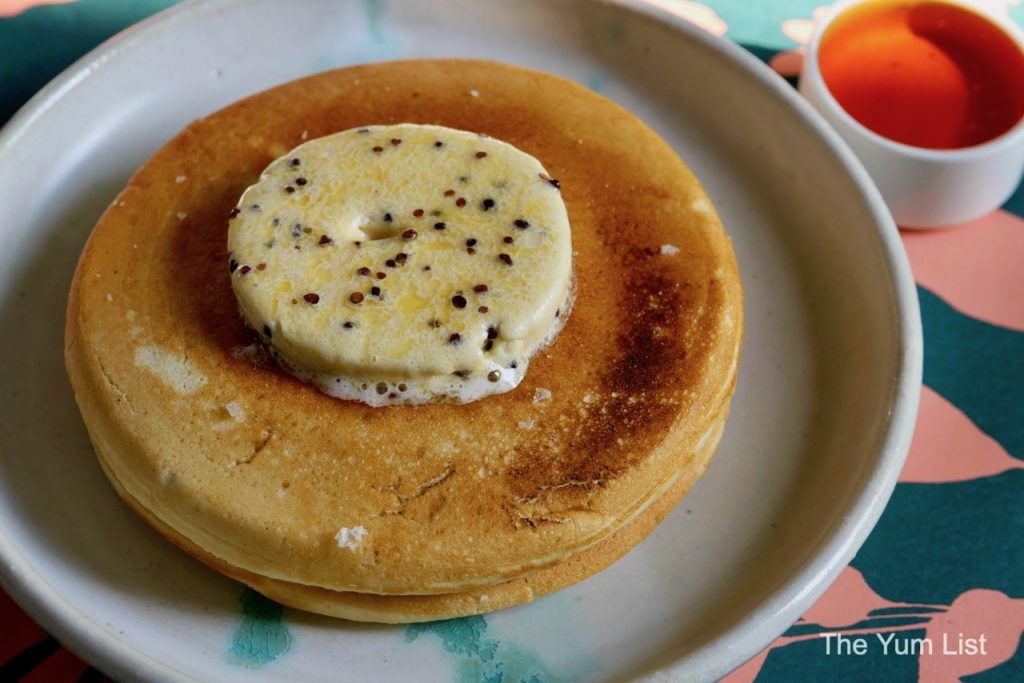 Savoury House Pancakes (RM 38) offer an alternative to the sweet recipe. These feature house-made ricotta, broad beans, mint, snow peas, pea shoots, lemon and olive oil.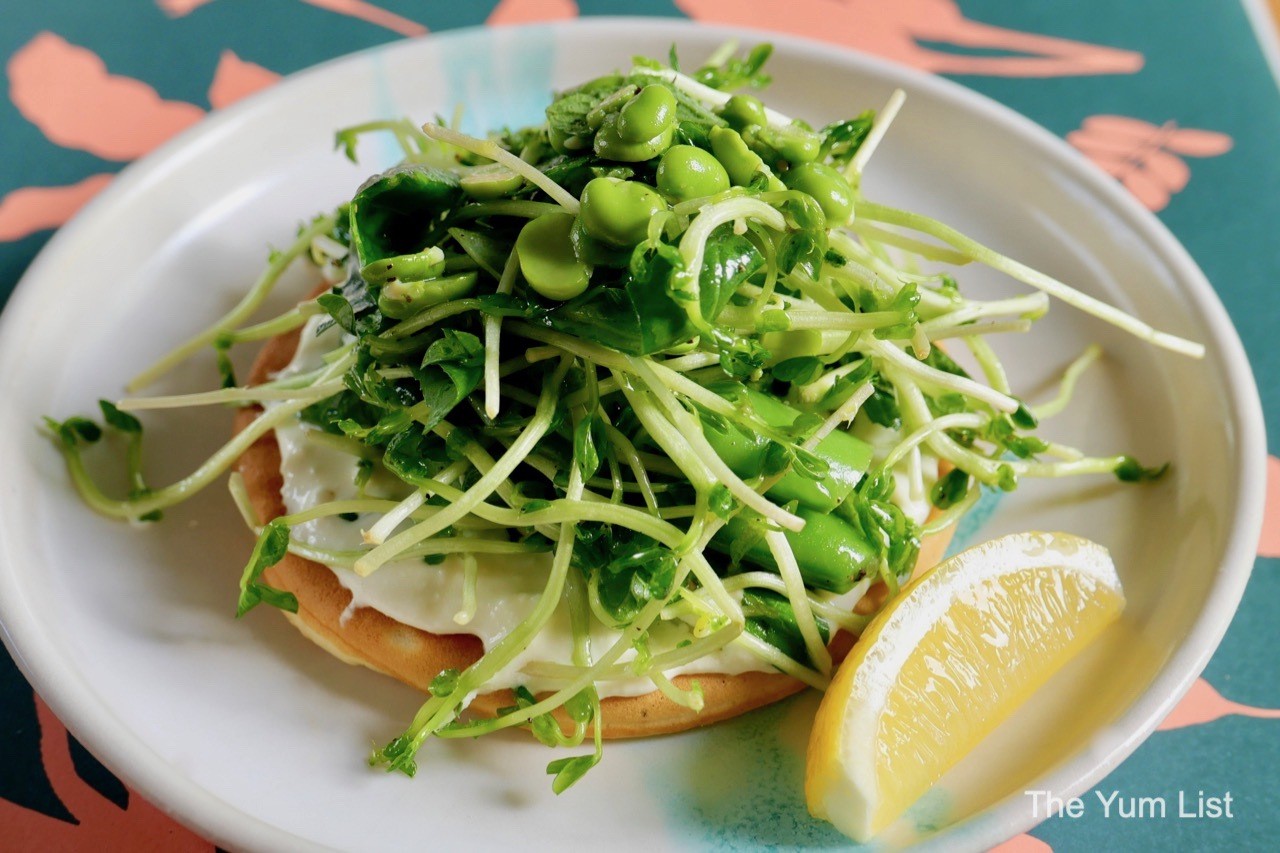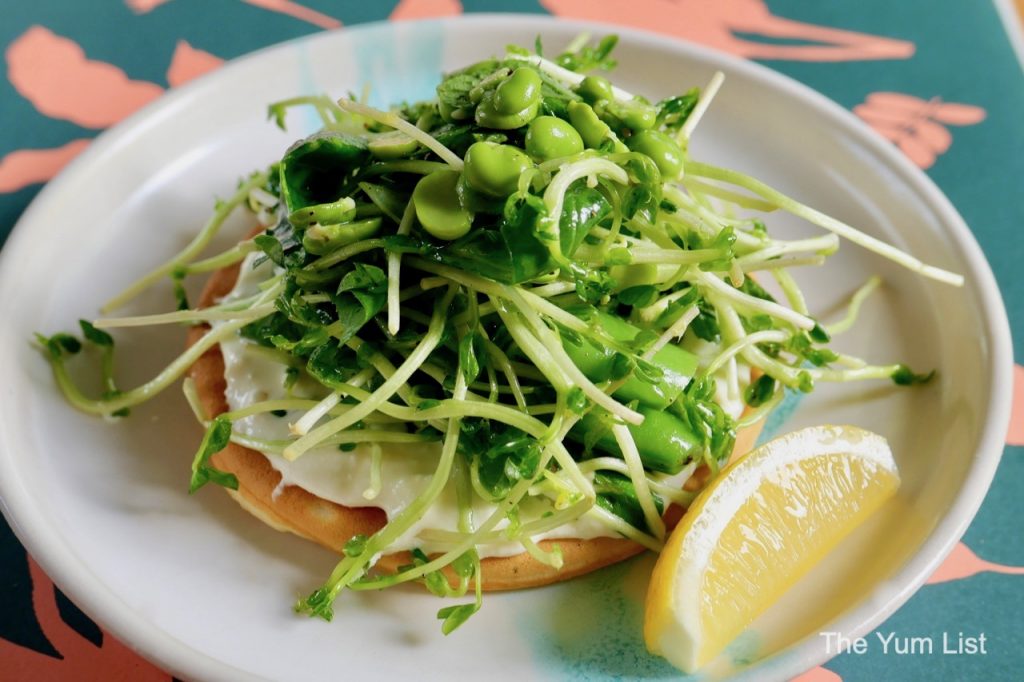 "Everything Bagel" Omelette (RM 35) consists of an open omelette with smoked salmon, whipped cream cheese and red onion capers – toppings you'd usually find atop a bagel – sans the bagel!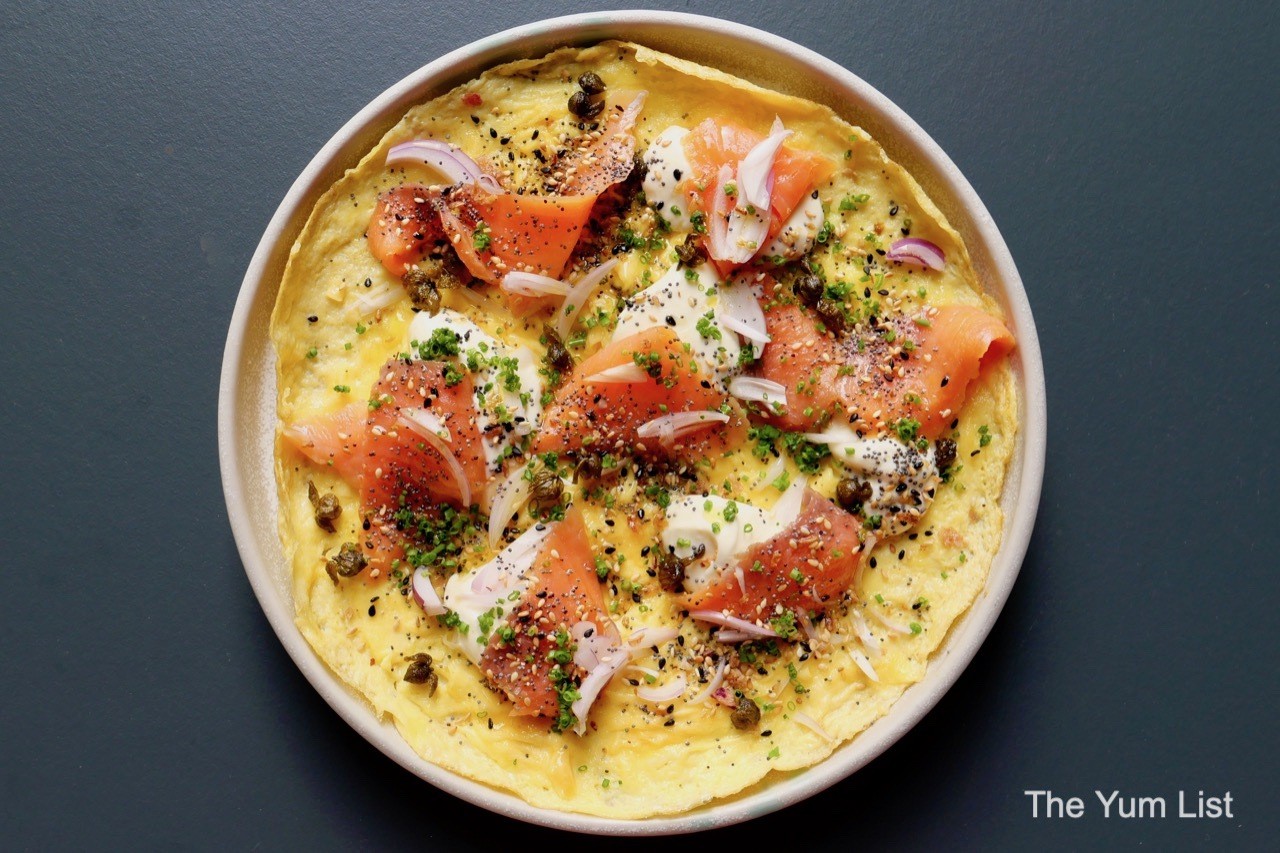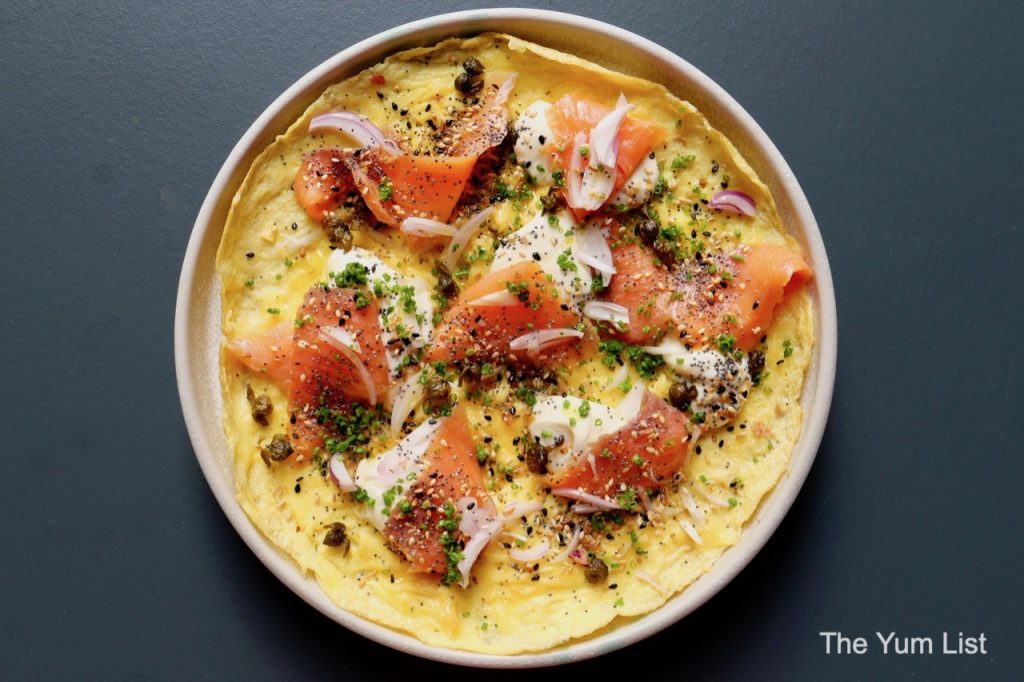 Aussie Steak & Eggs (RM 40) is guaranteed to begin the day with a definite energy boost. Australian beef is pan-fried and complemented by chimichurri sauce. Oven-roasted portobello sides the steak and a roasted heirloom tomato hides beneath a sunny-side-up egg. The toasted slices of sourdough are welcomed to mop up the plate – the runny yolk mixes with the garlic-packed chimichurri sauce and is well-deserving of the bread sponge.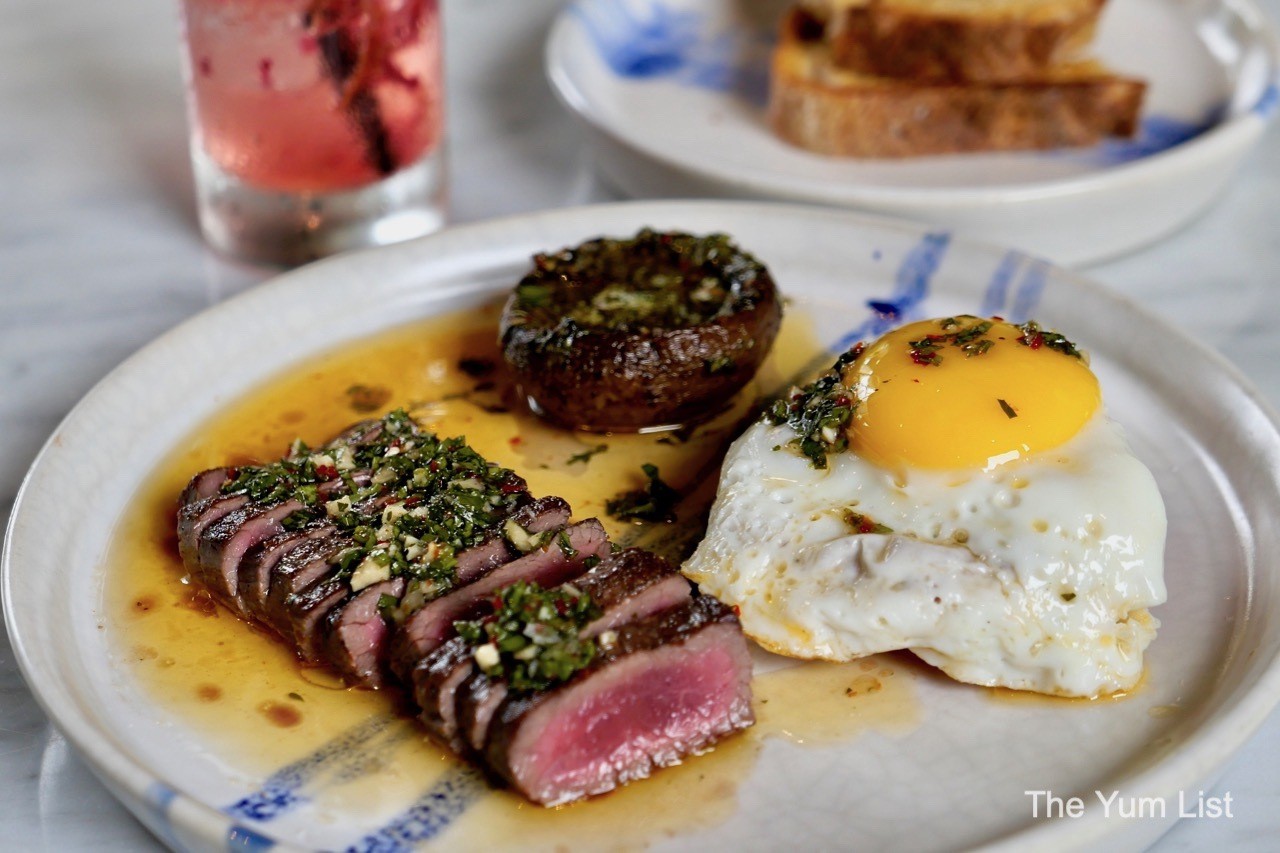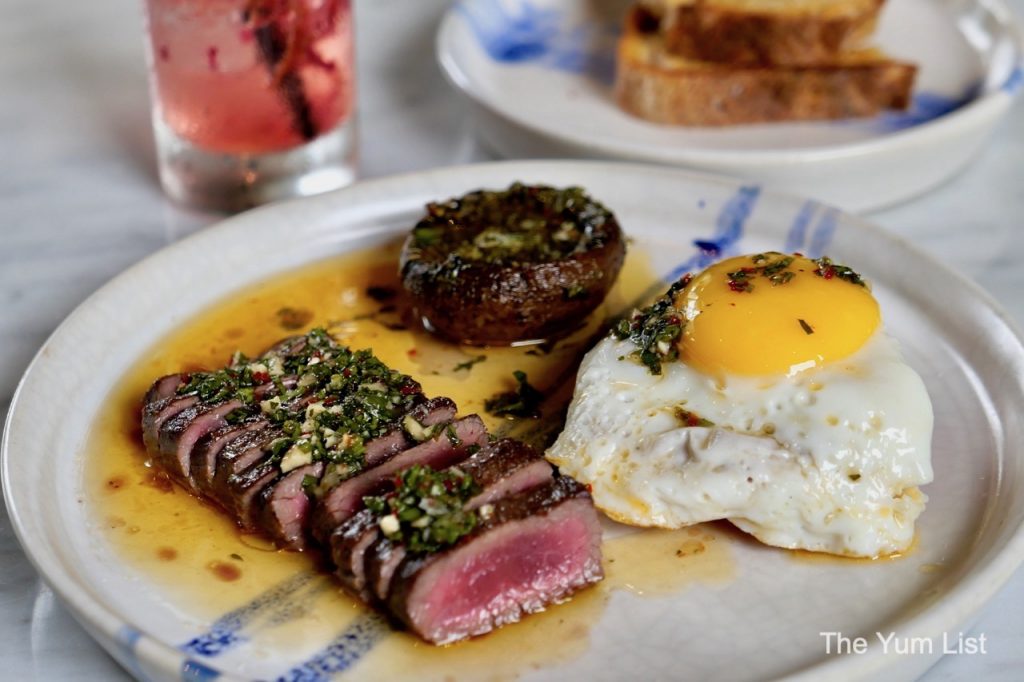 Lunch & Dinner
Salad
A lovely light start to lunch or dinner at Monroe is the Caesar Salad (RM 30). Not your usual presentation, baby gem lettuce is halved, spread with Caesar dressing, cured egg yolk and a generous sprinkling of 24-month aged Parmesan. Lastly, sliced toasted almonds are tossed across the crown. For something that looks surprisingly simple, it is highly satisfying.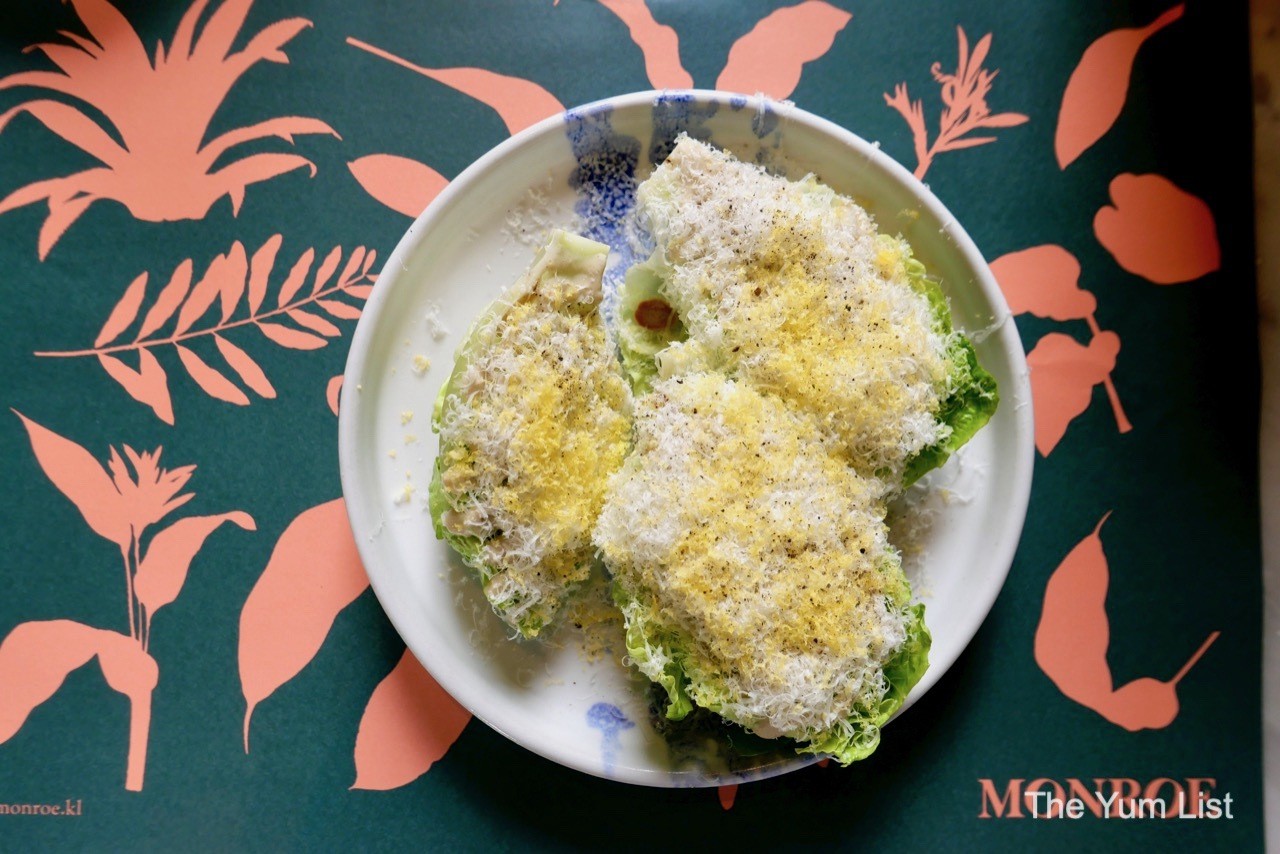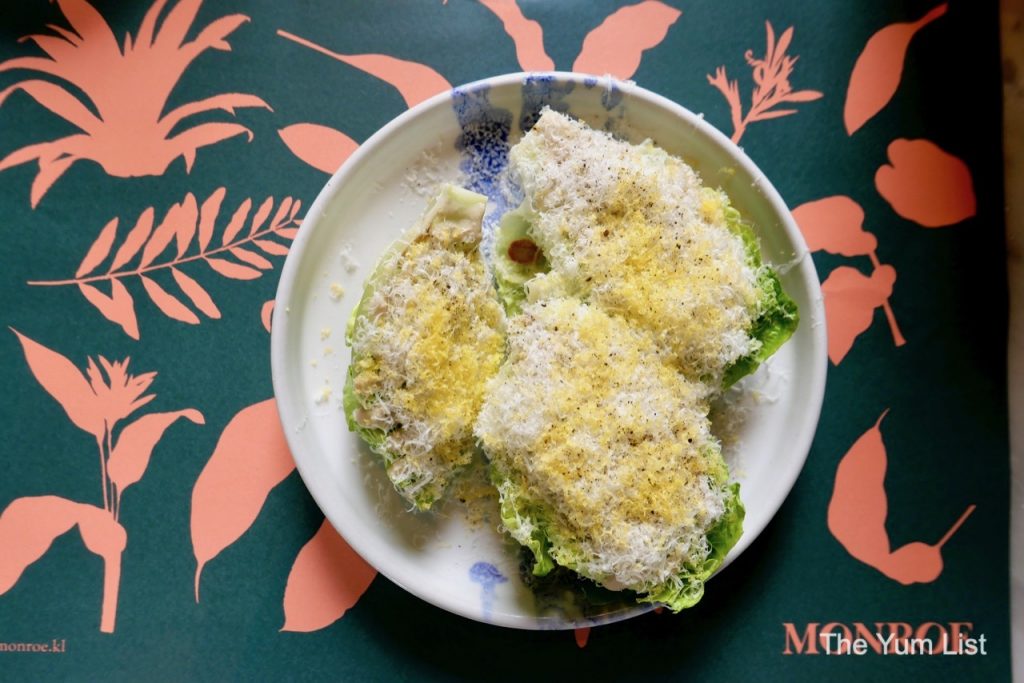 Tomato & Basil Salad (RM 26) is also a light beginning. Momotaro tomatoes and basil are seasoned with tamarind paste and crunchy toasted buckwheat. Decidedly east meets west, I appreciate both the savoury taste of Italy and the tang of local.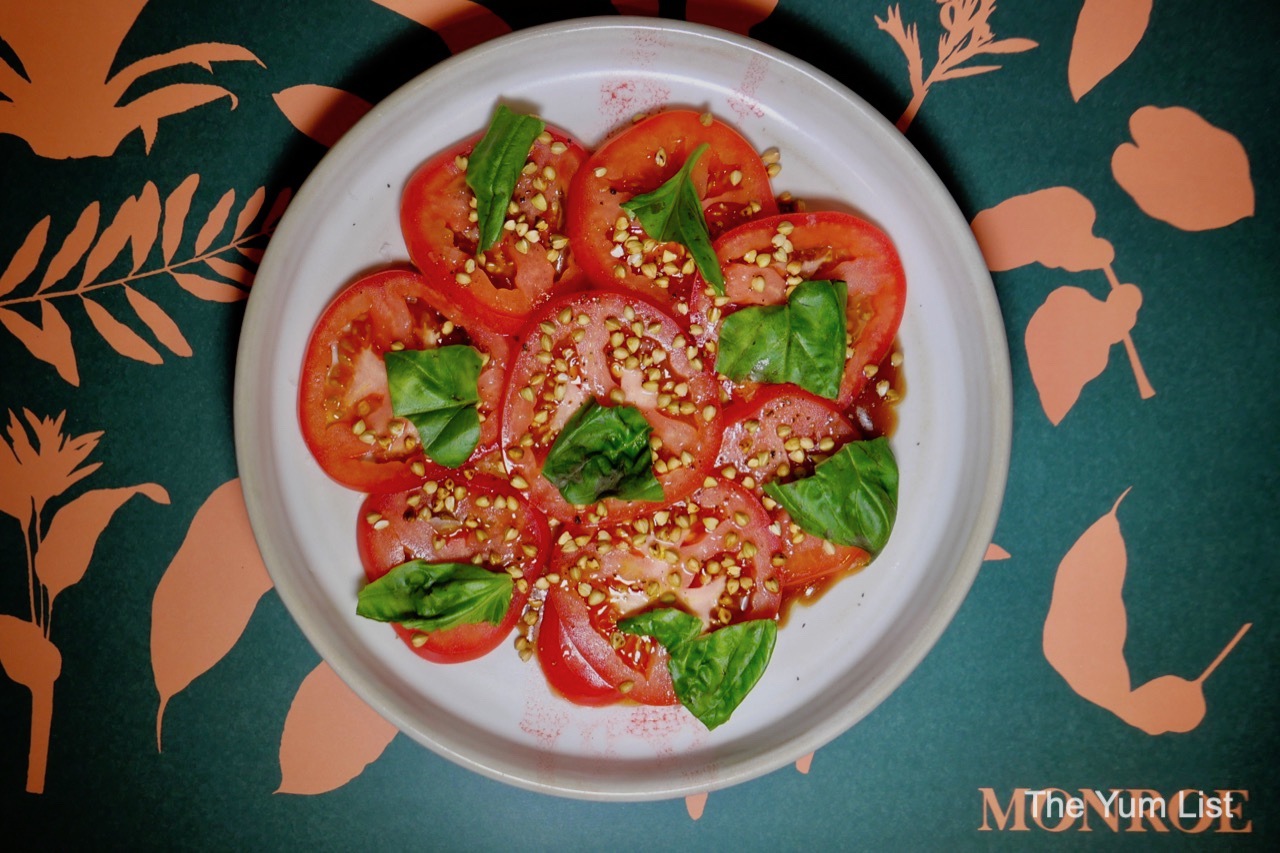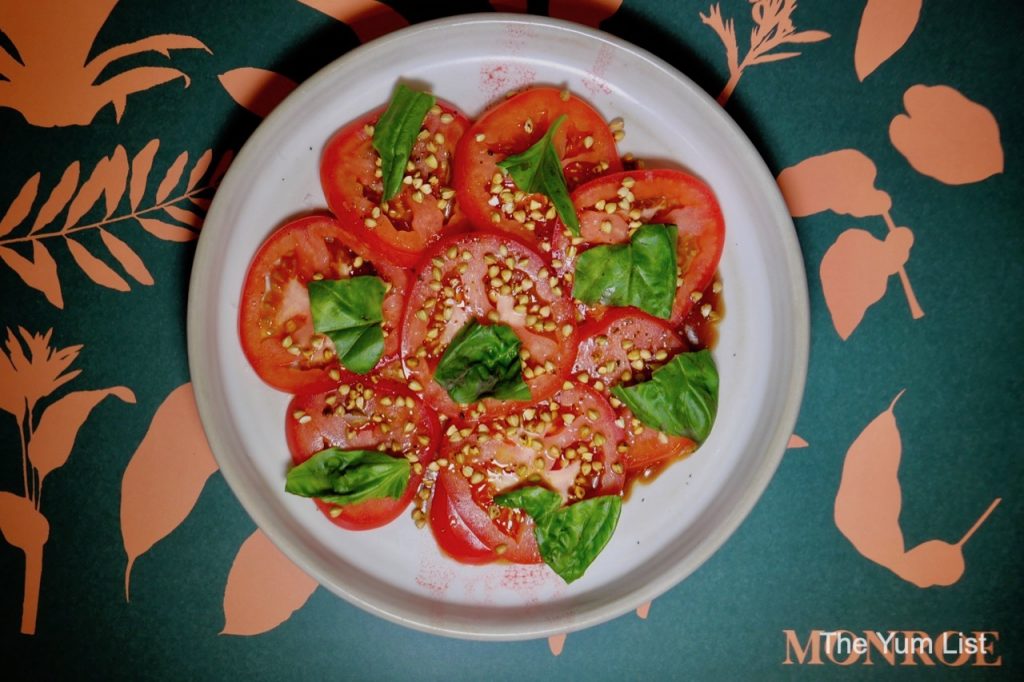 We thought the Waldorf Potato Salad (RM 32) might have been a little heavier. Glad to have wrongly predicted, it is actually crisp, fresh and plated elegantly. Thin crudités of potatoes and apple, halved red grapes and walnuts are coated with curry leaf aioli and dusted with basil seeds.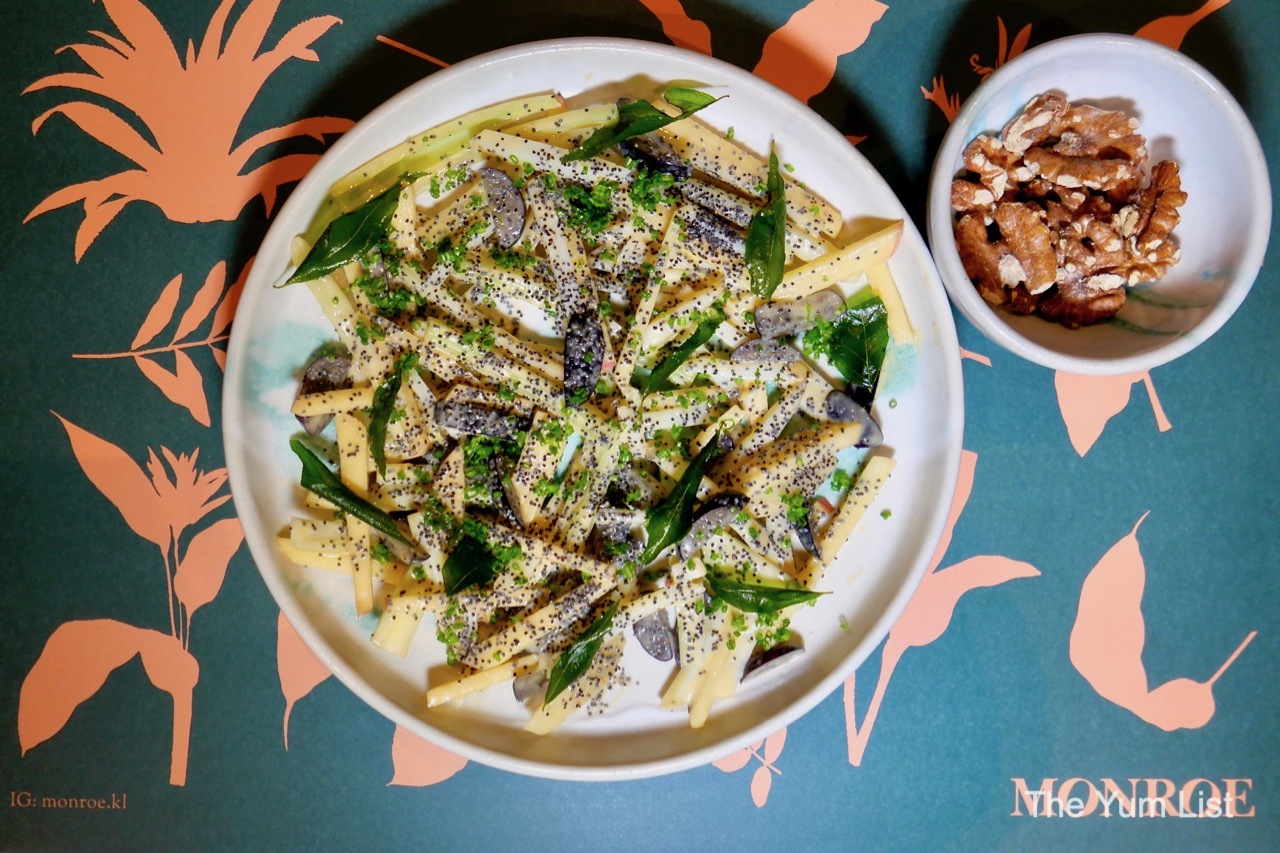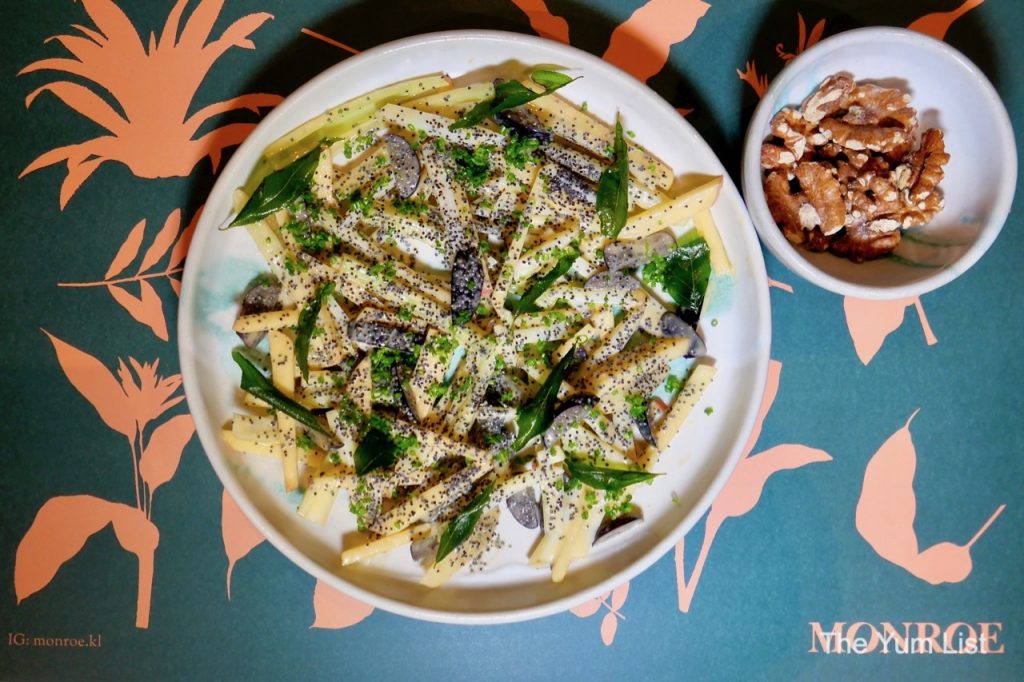 Main
Seabass Provencal (RM 42) sees the local fish cooked until the flesh is flaky and moist. It's served with slow-roasted tomatoes, zucchini and new potatoes. Burnt lemon, garlic chive butter and hot aioli provide delicious seasoning with a good thread of heat.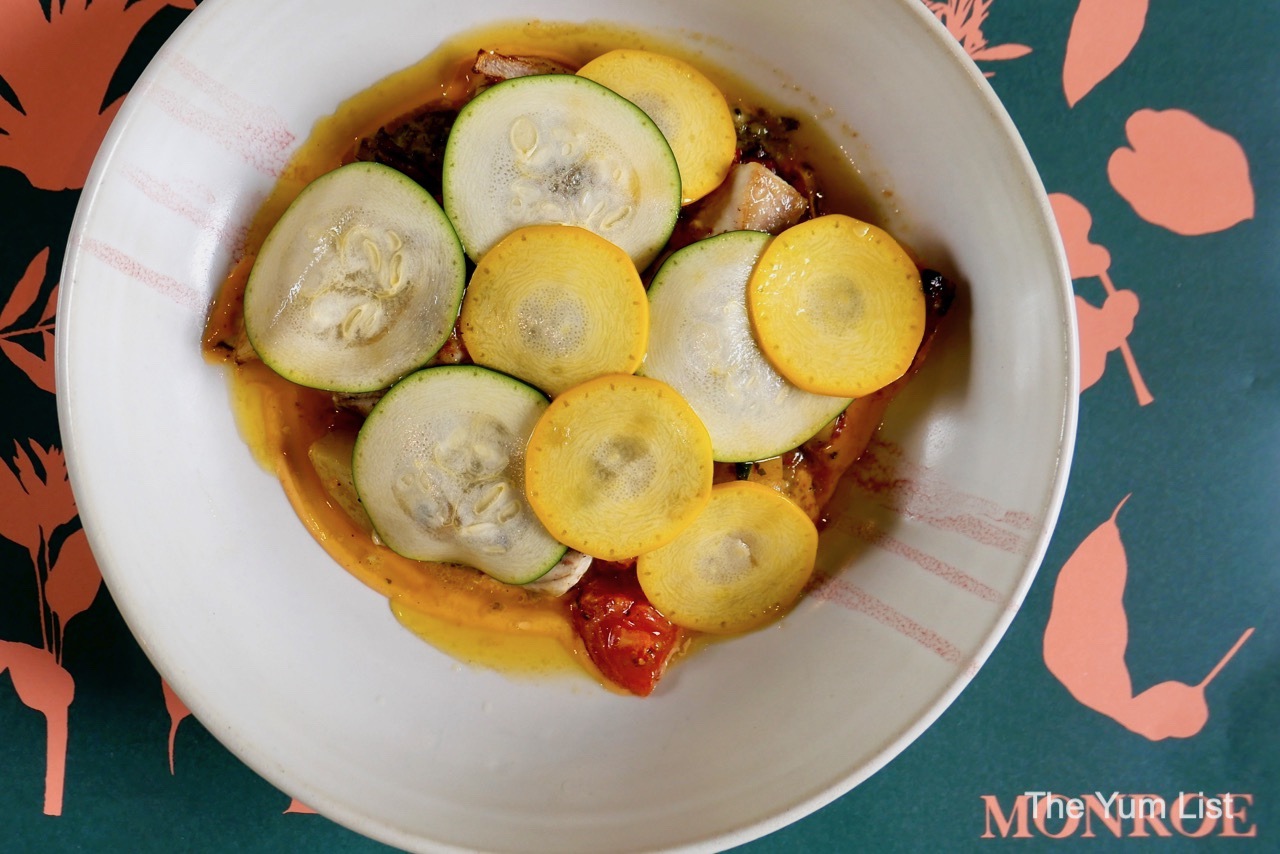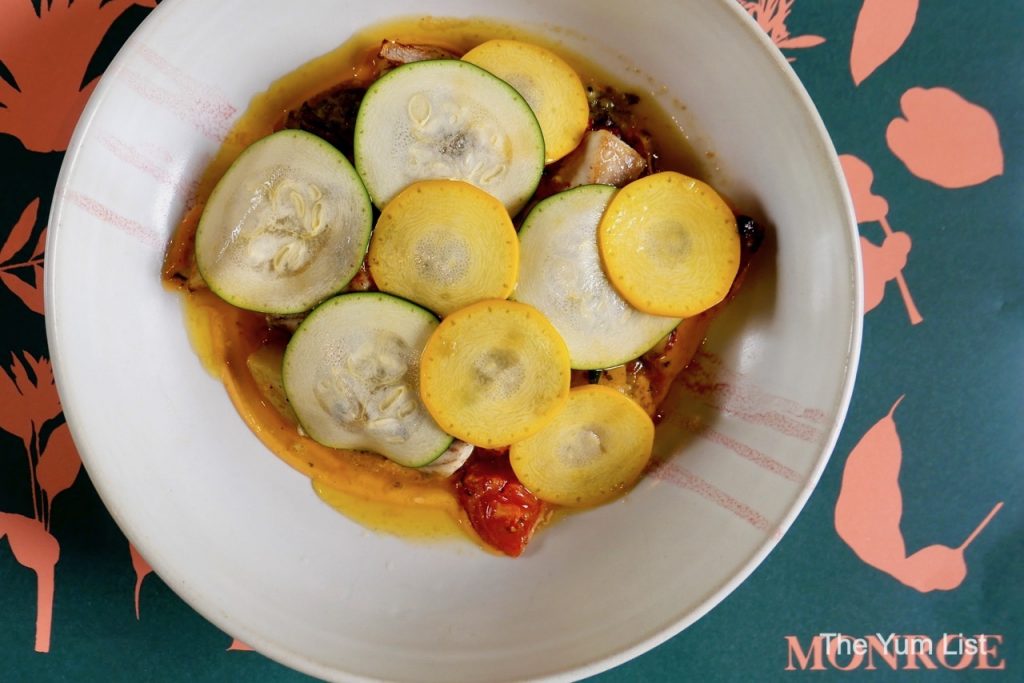 If you're looking for comfort food, try the Meatball Pasta (RM 40). House-made meatballs are fat spheres in a rich marina sauce and cover al dente strings of spaghetti.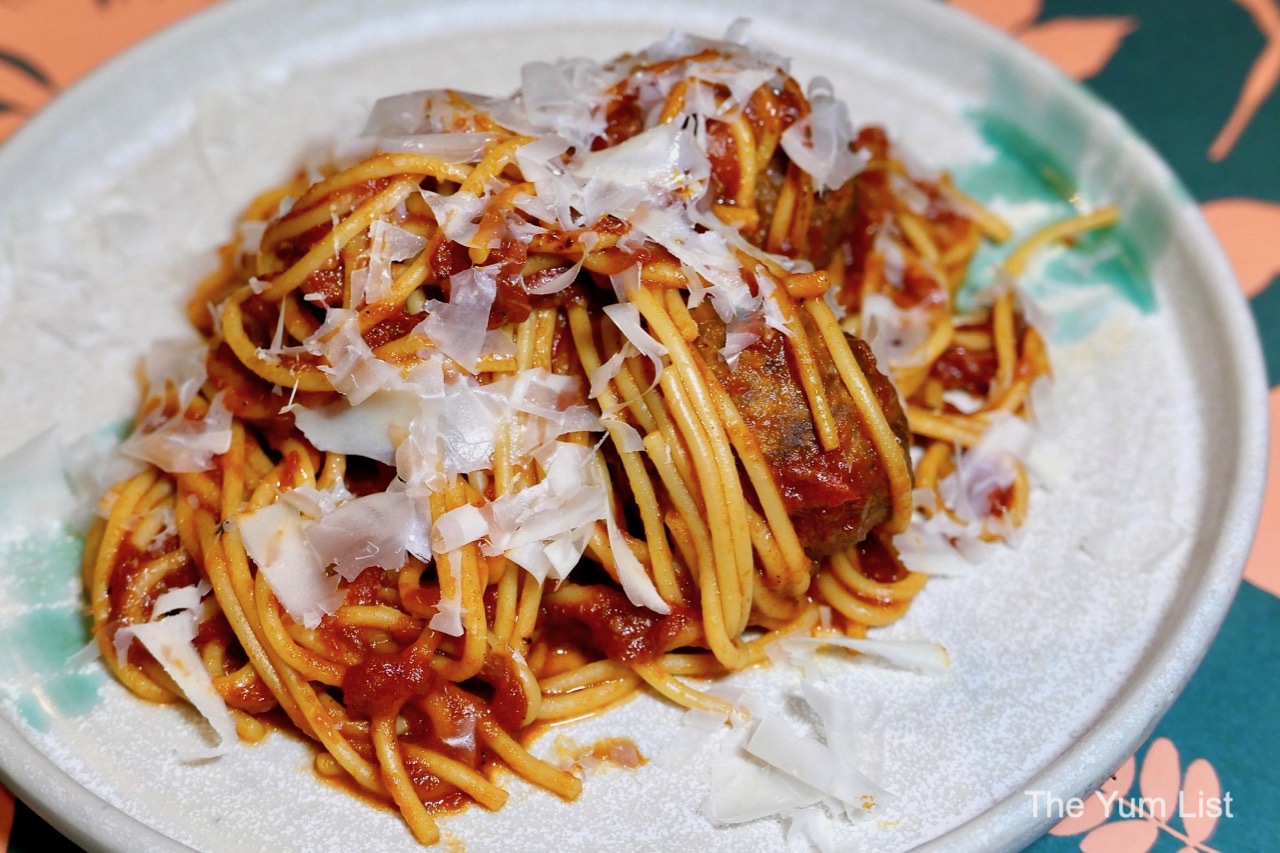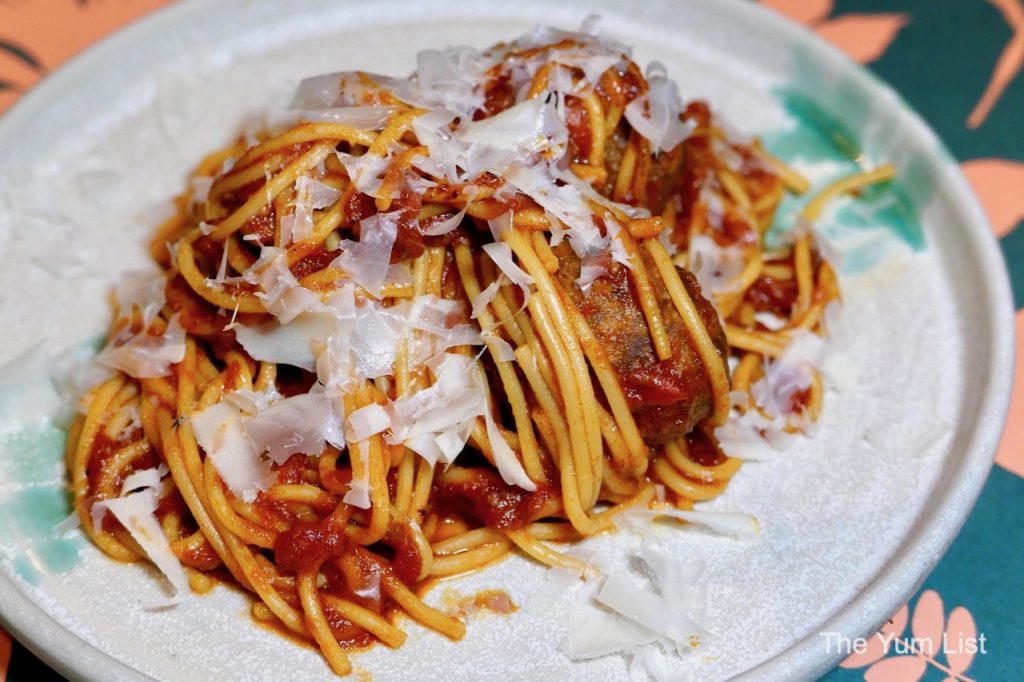 Drinks
Monroe has applied for but not yet received their liquor license, so for now coffee, tea, soda, beer, cold-pressed juices and their own recipes of iced drinks are the offerings.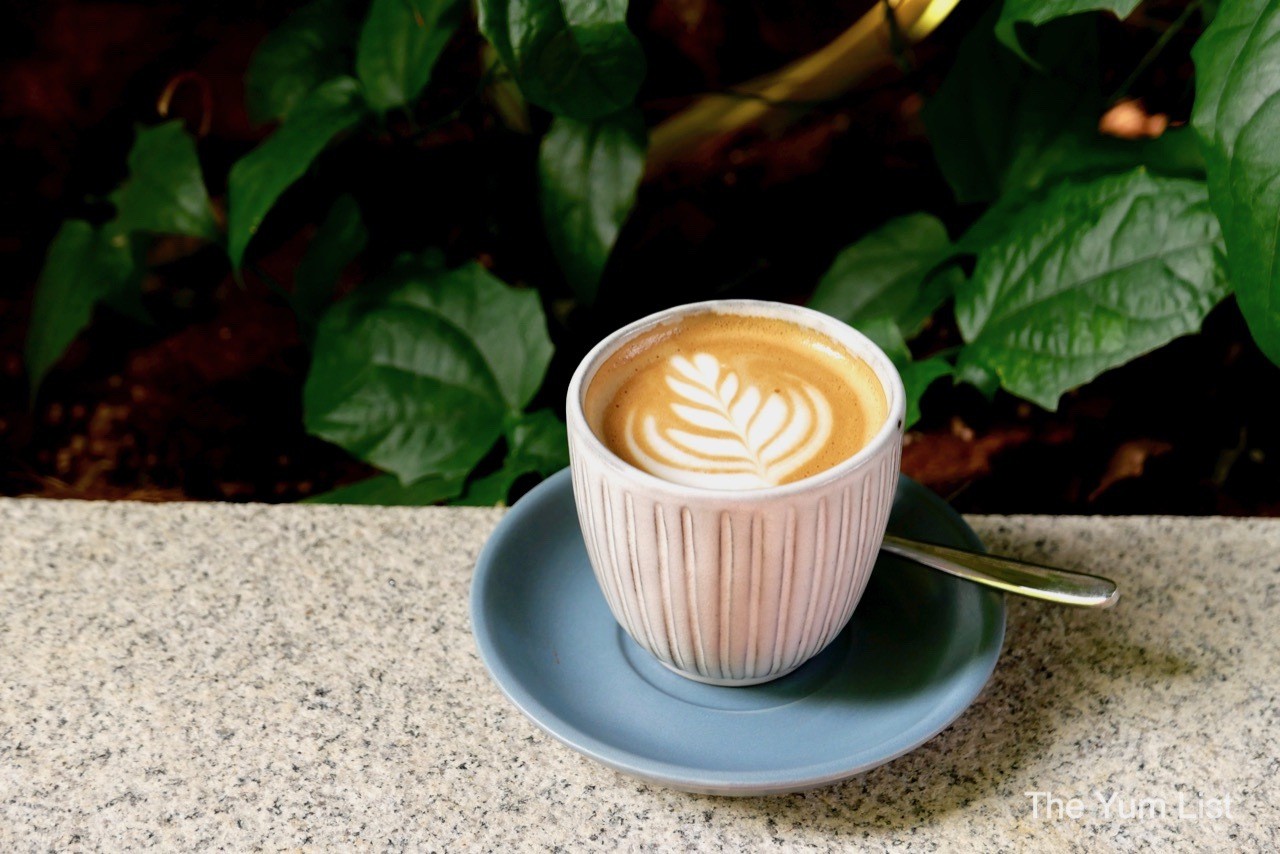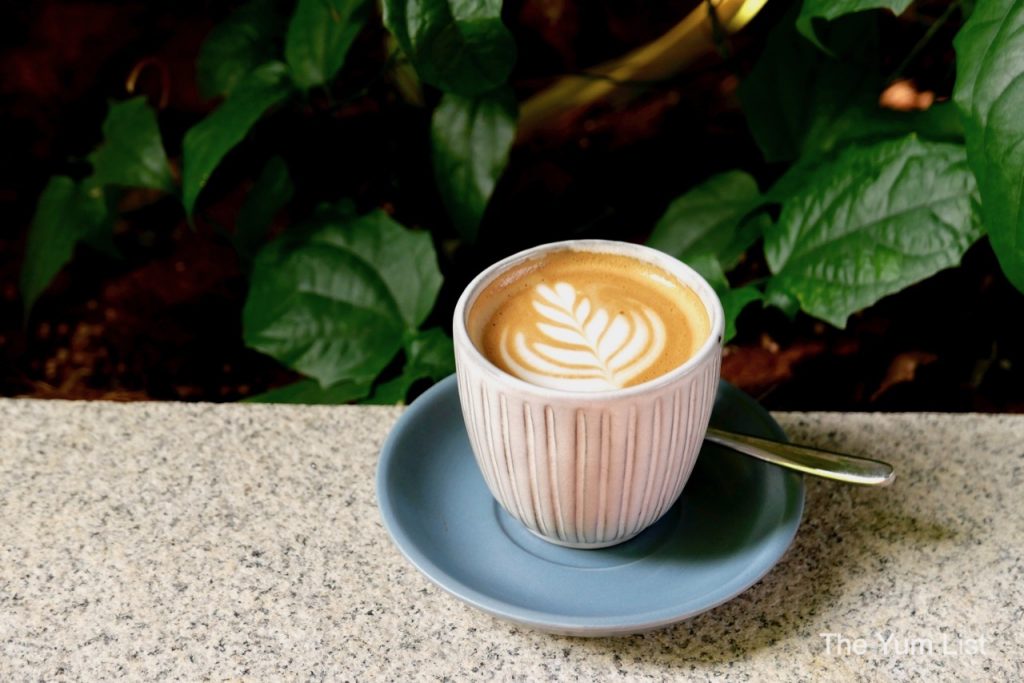 At brekkie we try the cold-pressed juices. Both the Beetroot, Pineapple, Cucumber & Ginger (RM 16) and the Kale, Cucumber, Apple & Honey are fresh pressed and gift us a nutrient-rich start to the day.
The Torch Ginger Cooler (RM 14) is recommended by staff and I appreciate that the syrup can be served on the side. It's a tall sparkling glass lightly tinted by the local plant. I love the tang of the herb and find I don't need any of the syrup at all. Hubby, on the other hand, up-ends the whole shot turning the liquid a vibrant pink. Passionfruit Ice Tea (RM 14) is also a refreshing beverage. It's a cheerful yellow with lots of fresh pulp floating on the top.
Another Monroe creation is Coconut, Cucumber & Lime (RM 14). Fresh coconut water is shaken together with cucumber and lime and a splash of sugar syrup (I request mine sans the sweetener) making a thirst-quenching choice. I might even ask for no cucumber next time too. I think the lime and coconut could be brilliant just on their own.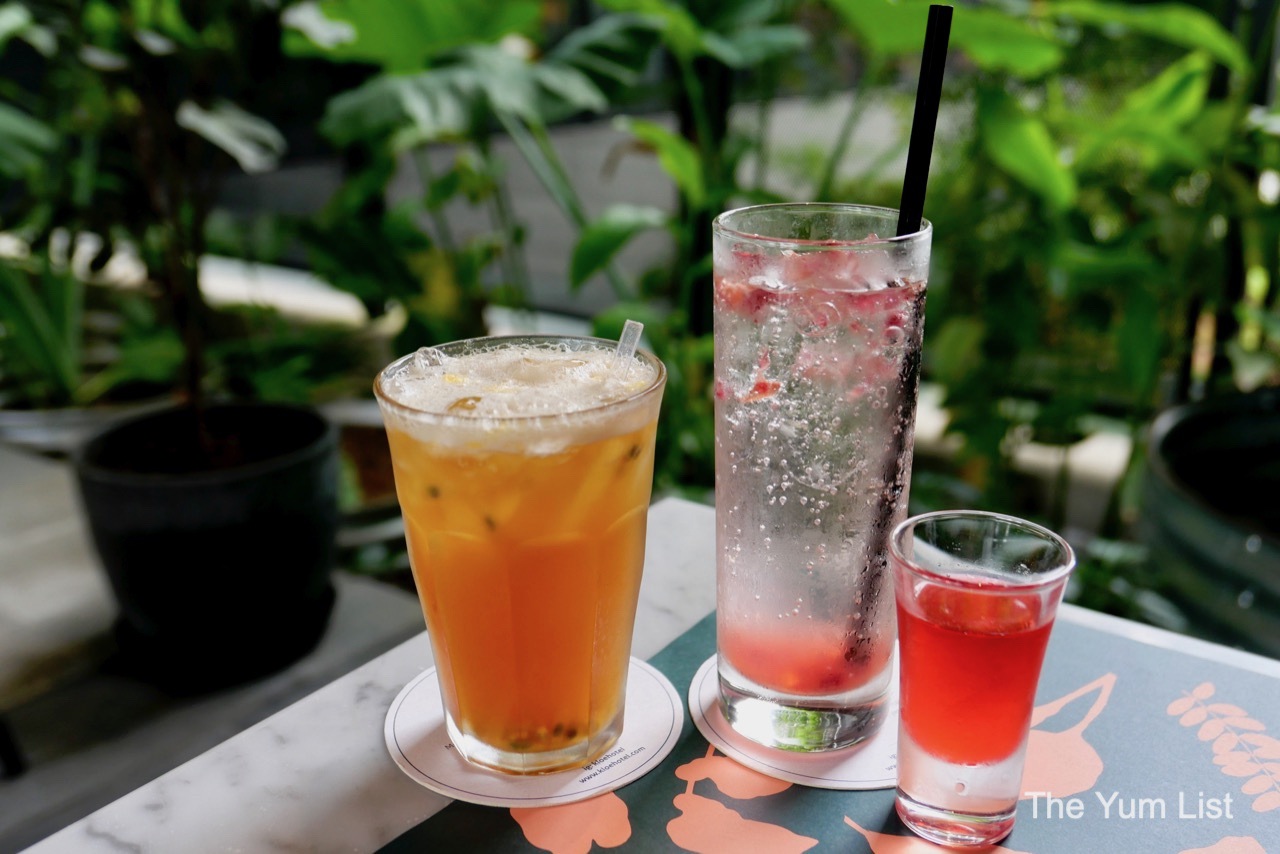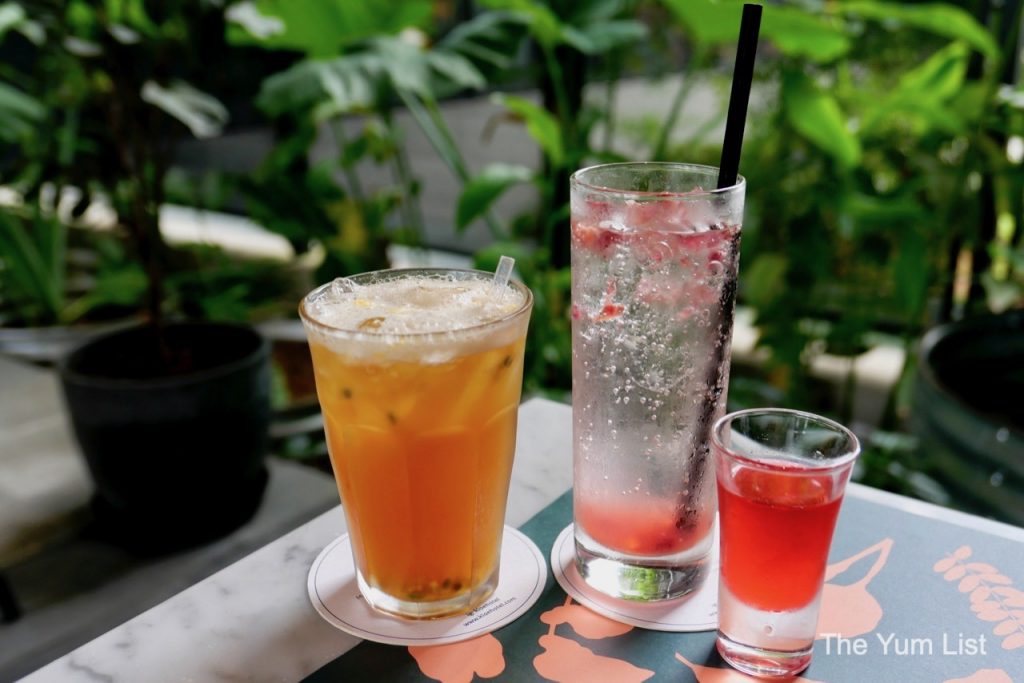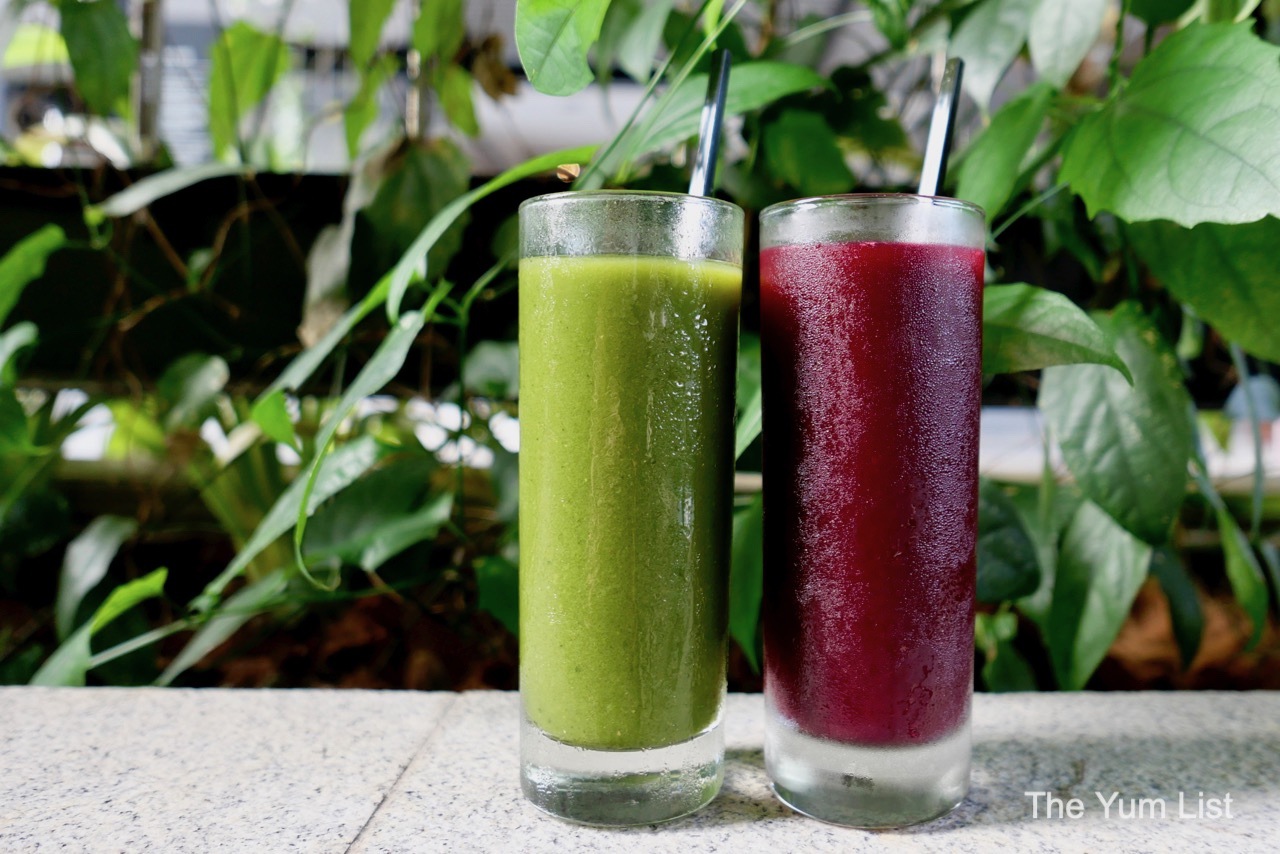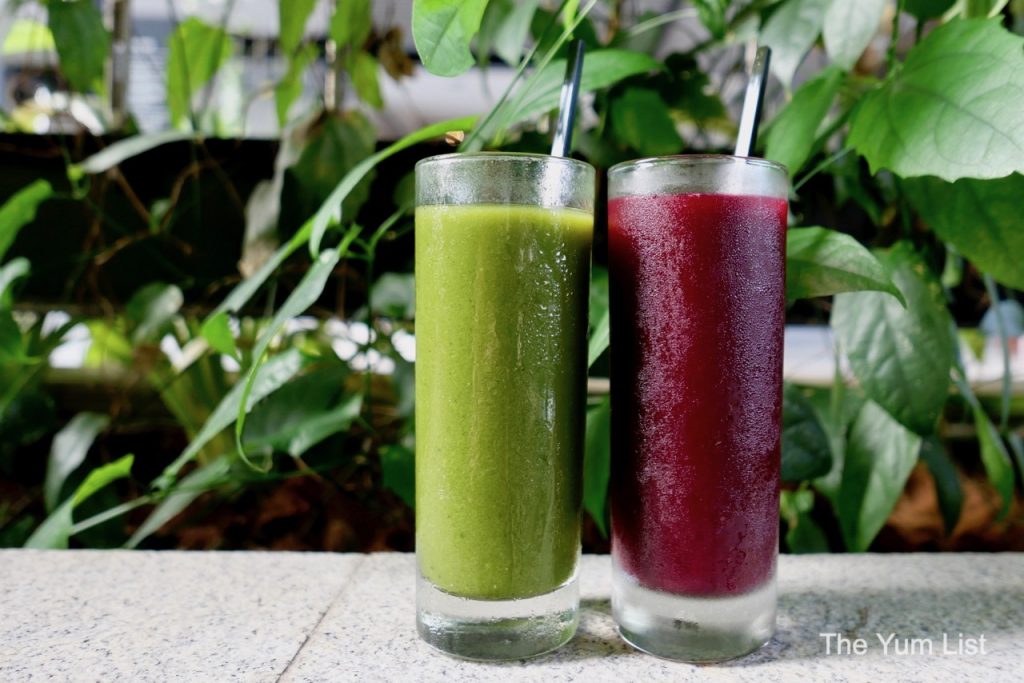 Reasons to visit Monroe KL: north American diner-style setting; surrounded by greenery; all-day breakfast; we particularly enjoyed the cold-pressed juices, Steak & Eggs and Seabass Provencal.
Monroe Restaurant at KLoé Hotel
227 Jalan Bukit Bintang
55100 Kuala Lumpur, Malaysia
+603 2772 1313 (24 hours)
https://kloehotel.com/
Monroe at KLoé Hotel Opening Hours
Daily
Breakfast: 7 am – 11 am
Lunch: 11 am – 10 pm
Find more western restaurants in KL here stay up-to-date with the latest gourmet and travel recommendations for Malaysia here and here.