Roberto's 1020 Osteria
Words: Monica Tindall
Photos: Rich Callahan
Possibly one of the hottest launches of 2020, Roberto's 1020 Osteria slid in to open its doors just before Christmas and the year-end. Stationed in Bangsar Shopping Centre (where La Bodega used to be), the Italian restaurant raises the mall's style-metre. It is already an overwhelming success with only two weeks of operation.
Roberto's 1020 Osteria in Bangsar Shopping Centre
A stylish bar and air-conditioned indoor dining area connect to a covered patio which extends over to a garden-lined lounge. A sip or two of Chianti and you could almost imagine you were seated on a verandah in the Tuscan countryside. While the feel is casual, there is a definite upmarket flair to the mood – one that entices you to give your hair an extra comb, paint on some lippy, and don more than thongs and shorts to dine.
Roberto Guiati, CEO of Petra Cucina (the group that also encompasses Luce and Zenzero) says that the idea for Roberto's has been a long time on his mind. He wanted to create a brand that could be replicated (there are plans to expand in South East Asia) and one that offered a "whole experience." The authenticity of the food is essential, but so is the setting, service, drinks and entertainment. As with all of their brands, quality is never compromised for cost. The team wants to build a place that appears high-end in a fashionable environment, but that is also casual in vibe. Roberto stresses that it is a place of celebration where all should feel welcome. Family get-togethers, date nights, business meetings and impromptu meet-ups with friends should all feel comfortable here.
Drinks & Wine Menu
The drinks and wine menu at Roberto's 1020 Osteria provides plenty of variety. Just over two-thirds of the wine list is from Italy while the remainder sees several French and international labels. The food, drinks and wine menu are thorough publications. For an easy-to-browse one-pager, ask for the daily specials' menu. This is also where you'll find wine by the glass. The wines change to enable clients to see various indigenous grapes, regions and winemakers and are chosen for their value for money.
We start with a classic Italian aperitif, Aperol Spritz (RM 33). Aperol is topped up with prosecco and garnished with a slice of orange. It's perfect for Malaysia's warm climate with its balance of bitter, sweet and chilled freshness.
Later we move on to a white and then red wine with our food. The Chardonnay Friuli DOC, Tenuta Beltrame 2018, Italy (RM 34) is made from a hand-picked harvest of perfectly ripe grapes. It offers warmth and both floral and buttery notes on the nose. In the mouth, it enters fresh with a touch of citrus and concludes with an elegant thread of vanilla. This is lovely with my fish but would also do well with chicken in a light sauce.
Going well with the red sauce on our gnocchi and also the lamb, the Montepulciano d'Abruzzo DOC, Gran Sasso 2018, (RM 32) is very easy drinking. Its abundance of fruit, balanced acidity and soft tannins makes it an excellent food wine. I'd even drink it a little chilled from the fridge on a hot afternoon.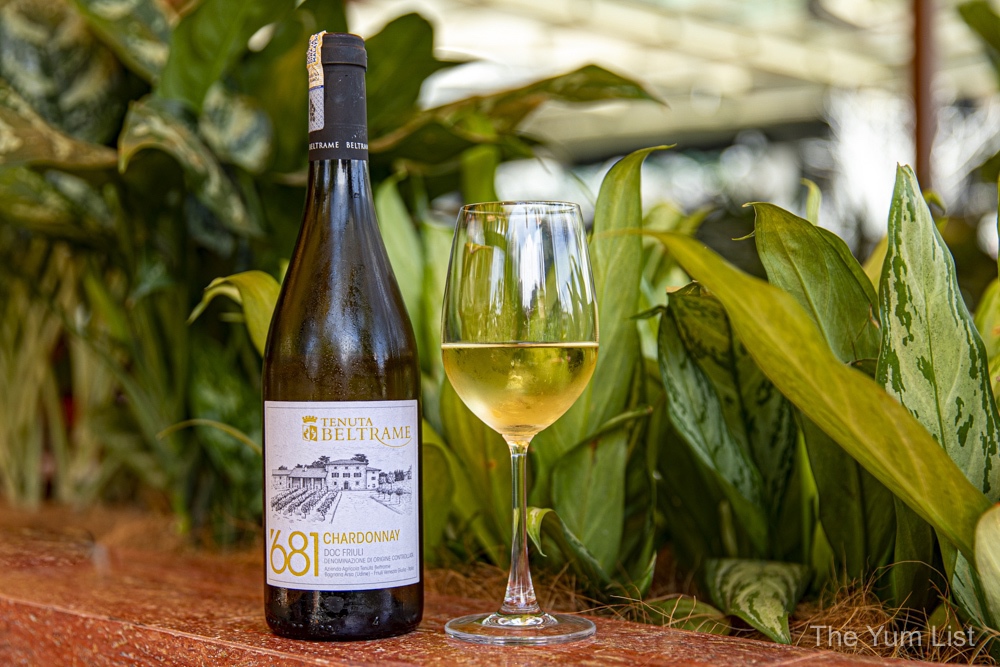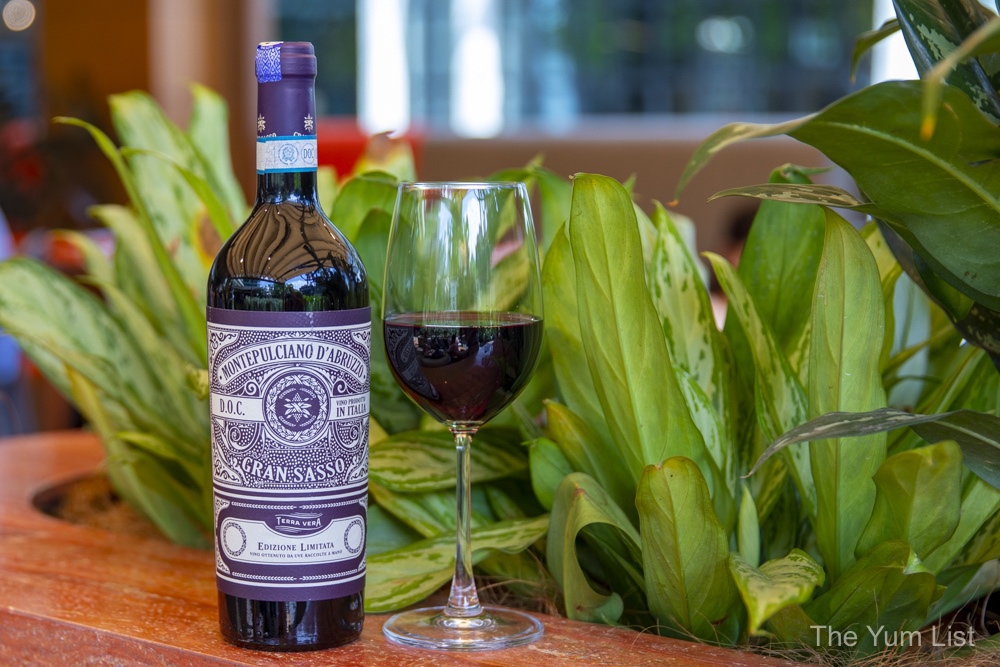 Roberto's 1020 Osteria Menu
Antipaste e Insalate/ Starters & Salads
An excellent way to begin a meal or spend an unhurried afternoon is with Taglieri e Formaggi – Cold Cuts & Cheese Wood Board (RM 58). All from Italy, the charcuterie and cheese platter consists of beef bresaola, smoked turkey ham, smoked duck and beef Cecina alongside Grana Padano, brie, Asiago and scamorza cheeses. Sun-dried tomatoes, caper berries, green olives and fried bread are delicious condiments. Roberto recommends breaking the fried pizza-bread open and stuffing it with cheese and ham – and there you have an Italian lunch.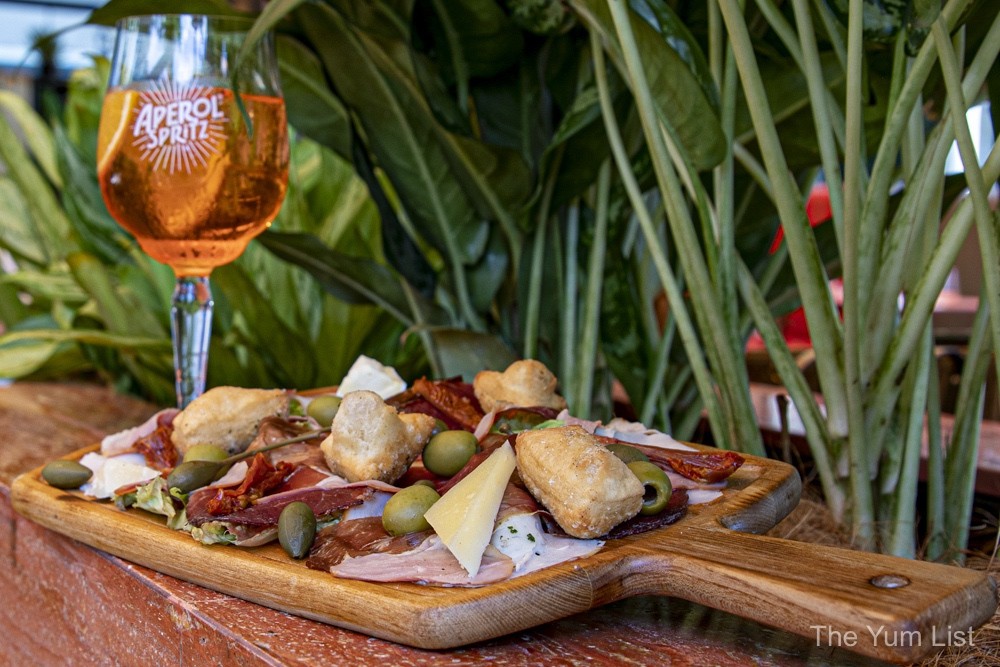 Pizze Gourmet
The crowning jewel of the restaurant is a wood-fired and gas combination oven – Alfa Forni. It's top of its range and the only one in Malaysia. Roberto muses that "Everyone who walks by and sees that big fire in the pizza oven must just think 'I want to go eat!'" He continues, "we find the best of everything that we can – even the chef, who is from my hometown!"
Many of you might know chef Cristian Grandi from Luce Osteria. He has certainly earned a reputation for making excellent Italian-style pizza in KL. With the opening of Roberto's 1020 Osteria, he has shifted focus, leaving a good team to run Luce while he spends his energy getting the kitchen in order over here. Besides the well-loved classic pizzas, chef's gourmet creations are also highly sought after.
We've already covered many of chef's specialities which you can find here, here and here. Today we introduce you to something off-menu. You can order it anytime, but only those in the know are privy to its existence. The Star Pizza (RM 88) is basically two pizzas combined – a calzone and flat pizza. Shaped as a star, the corners are folder offer as in the pocket pizza, and the middle remains open. Besides being highly attractive, you can stuff those corners with just about anything you like. A price tag of RM 88 might seem a little steep, but it's essentially two pizza doughs shaped together into one. Our toppings are a tasty mix of mushroom, turkey ham, mozzarella, chicken sausage and artichokes well-lubricated in a rich tomato sauce. It's a fantastic meal for sharing.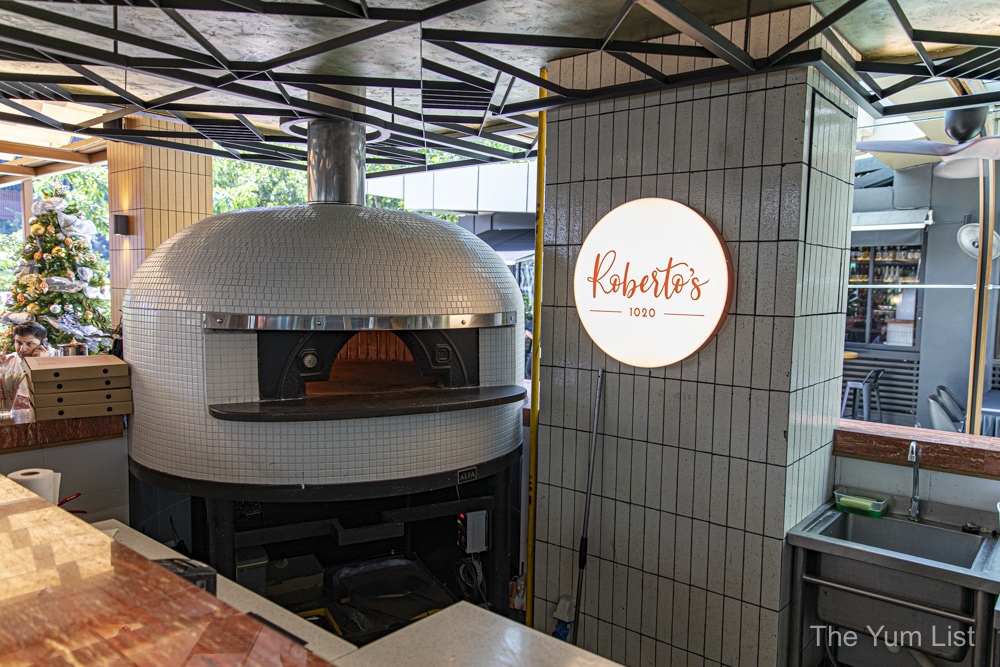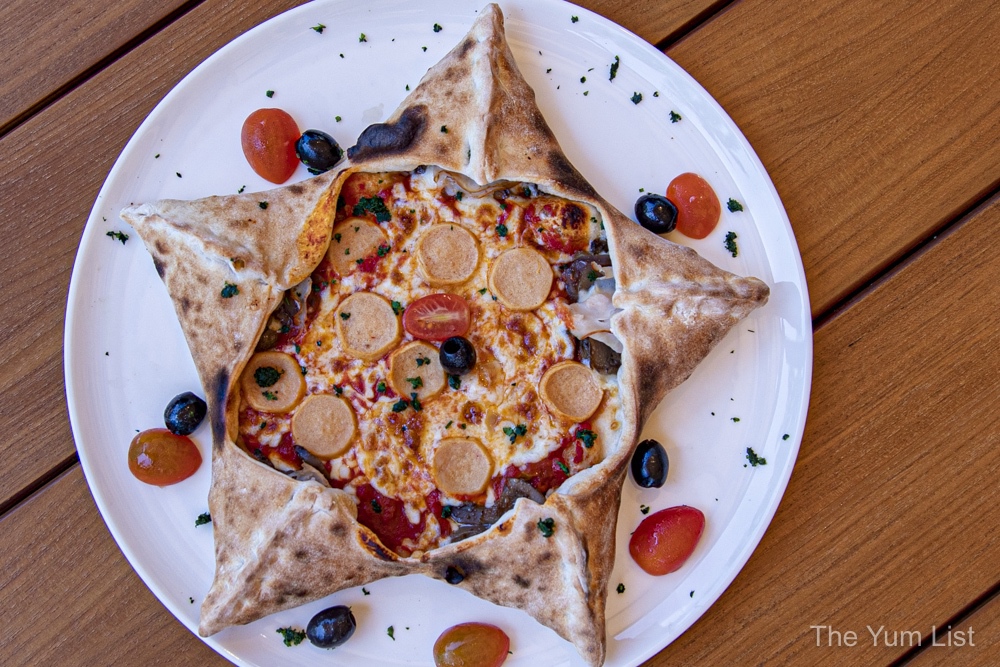 Pasta Fatta in Casa/ House-made Pasta
Another house speciality is handmade pasta. You can't go wrong with just about any order from the menu; each recipe comes from a mother or grandmother somewhere in Italy. One of my personal favourites, however, is Gnocchi Alla Sorrentina (RM 48). We can taste the fluffy mashed potatoes in every bite and the light yet flavourful tomato sauce is perfectly complemented with thick layers of buffalo mozzarella and a few leaves of aromatic basil.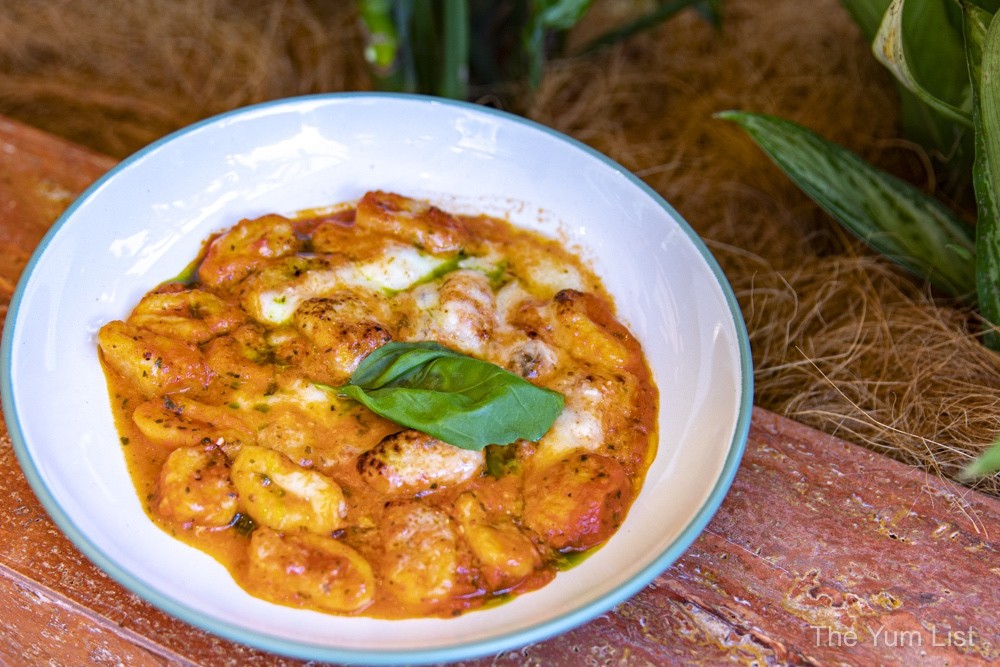 Secondi
Our two mains at Roberto's 1020 Osteria, fish and lamb, are hearty yet straightforward recipes. It's clear that the ingredients are top-notch and have been minimally processed to allow their natural flavours to shine. The Filetto di Barramundi (RM 60) is a moist and flaky pan-seared fillet with a delicious lemon caper sauce. Australian lamb cuts of the short loin and rack are again beautifully cooked in the Duo d' Angello (RM 116) with beef reduction. Both sit atop a highly enjoyable mash of sweet potato with green asparagus rested on top.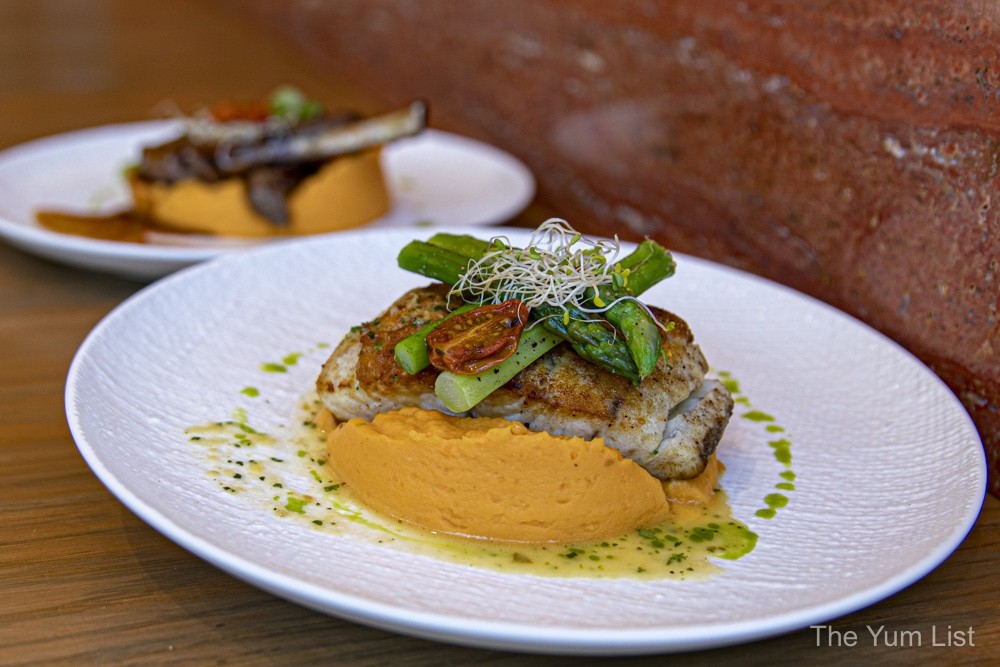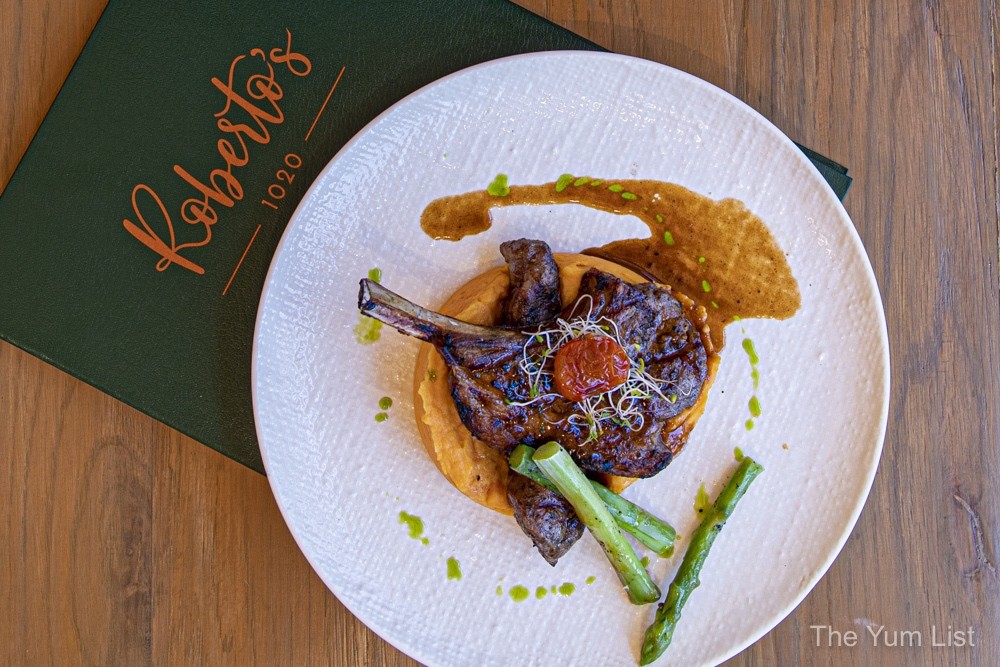 Dolci/ Dessert
Lastly, there must always be room for a little something sweet. Hailing from Roberto's home town, Cannoncini Alla Ricotta (RM 22) satiates the craving for a sweet finale. Not to be confused with cannoli from the south, these pastries are light and flaky and filled with sugared ricotta cheese. They're a touch lighter and plated ideally for picking up with your fingers and sharing (or not, says Rich).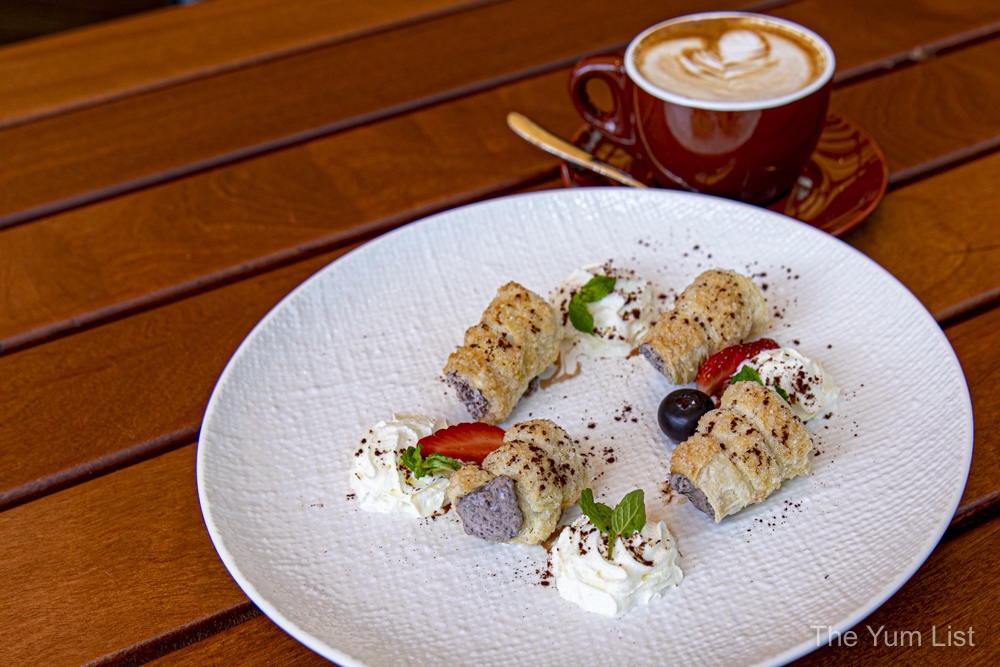 Robert's 1020 Osteria
Summing up the concept of Roberto's 1020 Osteria, Roberto says, "We aim to give all of our guests a true Italian experience, with authenticity and finesse in all aspects. This includes the food but also the ambience, service, wine list and an all-round good vibe. We want guests to feel welcomed into our home. We want guests to use Roberto's to celebrate their successes, enjoy life, and to perhaps even be transported to the Italian countryside."
Reasons to visit Roberto's 1020 Osteria: a stylish yet relaxed Italian restaurant; a setting that offers indoor dining and a bar, a patio and semi-alfresco seating; excellent house-made pizza and pasta; nice wine list with eight labels available by the glass.
Roberto's 1020 Osteria
Bangsar Shopping Centre
285, Jalan Maarof, Bangsar
59000 Kuala Lumpur, Malaysia
+6017 3948 050.
Best to reserve to guarantee a seat.
www.instagram.com/robertos.1020
*Pork-free
Roberto's 1020 Osteria Opening Hours
Daily 9 am – 10:30 pm (when regulations allow it, pizza will be available until midnight)
Find more Italian restaurants in KL here and stay up-to-date on the latest happenings in KL's food and beverage scene here and here.