Willow
Words: Alison Christ
Photos: Rich Callahan
Willow, the newest independent restaurant inside the W Hotel Kuala Lumpur, has a glamorous purple interior with high ceilings, cool birdcages, and a bright sunlit room. An ode to the spring season, the willow is the first bird to arrive after a cold winter. With a beautiful restaurant-length bouquet of purple flowers hanging from the ceiling, I'm expecting Prince to make a grand entrance at any moment. Being a semi-fine dining restaurant, you could expect some celebrities (right?). Monica and I sit in the glassed-off section of the dining room, which has the feel of a garden greenhouse. Not surprisingly, the team will start an edible garden there very soon.
Willow, W Kuala Lumpur
We begin our Willow experience with cocktails, which of course makes us very happy. I am seeing more and more restaurants focusing on cocktails rather than wine. If done well, it can make for an interesting pairing.
Osmund Bernard, the bar manager, is most certainly doing it well. His theory is simple; balance. We enjoy all of the cocktails for their flavours, uniqueness, balance, and, don't tell anyone I said this, but also for their "Instagrammability." Sometimes people get caught up in what a drink will look like on Instagram, and they forget about the taste. Osmund's drinks are all nice to look at but even better to imbibe.
We also like the cocktail list breakdown, starting with Aperitives then moving to Signatures, and finishing with Digestives. We must try every category!
Aperitive Craft Cocktails
We start with the Florecer (RM 40), made with sweet vermouth, lavender, gin, lemon, and soda. The glass has a beautiful collage of dried flowers on the side. I feel like I'm in a bath full of flowers while sipping on this. The cool octagonal ice cube inside reminds me of the Devil's Causeway on Northern Ireland's coast.
The Pananesia (RM 45) with pandan, calamansi shrub, Lillet Rose and tonic water, is fresh and easy with mellow pandan flavours. It's served in a tall flower-laced glass.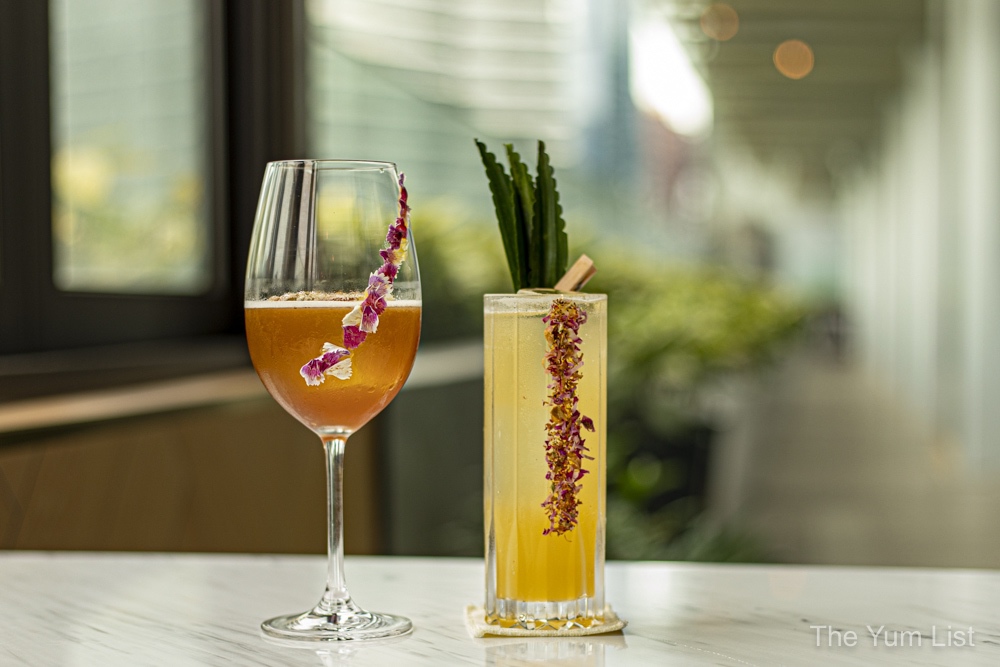 Willow Menu
After thoroughly enjoying our first two aperitives, we see what the kitchen has to offer. Chef Lroy Lim and Sous Chef Timothy Wang have worldly experience including stints in France, New York, Singapore, Switzerland and the Dominican Republic. The menu is an expression of this international experience. 
We start with a selection of appetizers. First up is the Octopus (RM 95) -Spanish octopus leg with gochujang, garlic, pico de gallo. The gochujang is a Korean fermented chilli paste that checks all the sweet, spicy and savoury boxes and has a sneak attack of heat at the end. The texture of the pulpo is perfect, and Monica and I say in sync, "This may be the best octopus we've ever had."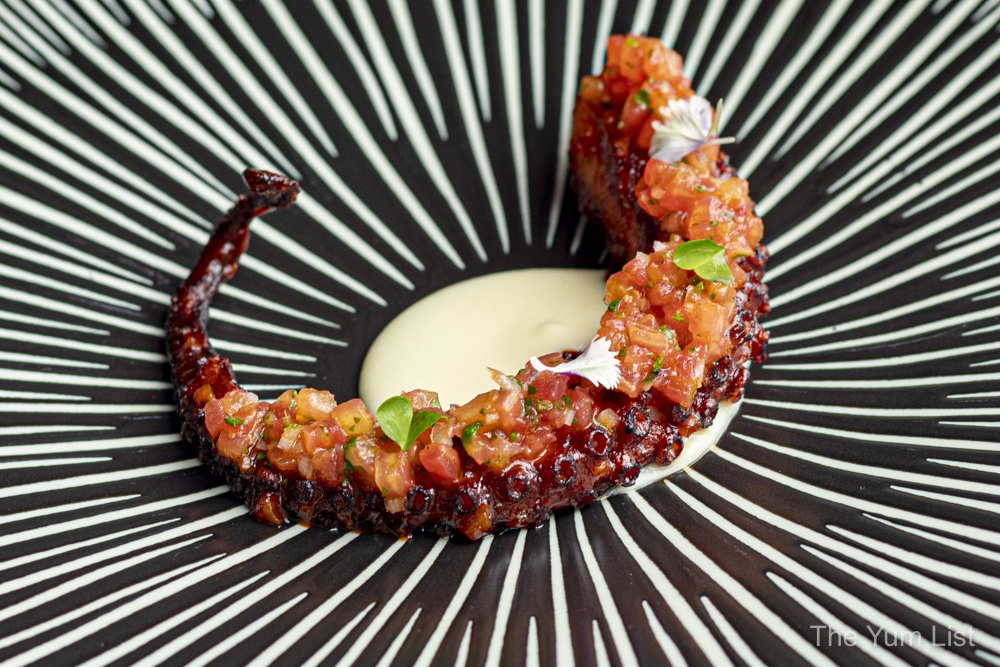 Tomato Tart (RM 58) comes next and has some stiff competition after the last dish. The tart of heirloom cherry tomatoes, anchovy mascarpone, and mozzarella does a great job of standing independently. The tomatoes are a mix of marinated, pickled, and fresh. Adding the buffalo mozzarella makes this a lovely spin on the classic Caprese salad.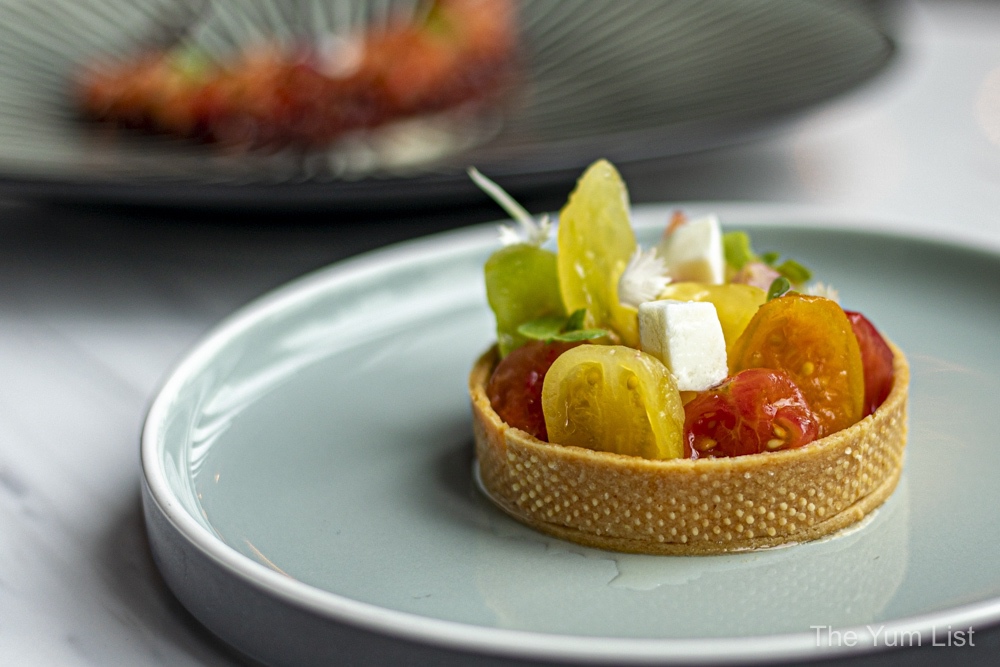 Next up Scallop (RM 82) features Hokkaido scallops in a lemongrass velouté with seaweed, seafoam and chilli oil. The scallops are topped with salted seaweed, Sabah sea grapes and seafoam with nori shitake mushroom stock. The dish exudes umami, and the palate is luscious, with a zippy spiciness. The sea grapes make a fun crunchy pop in your mouth.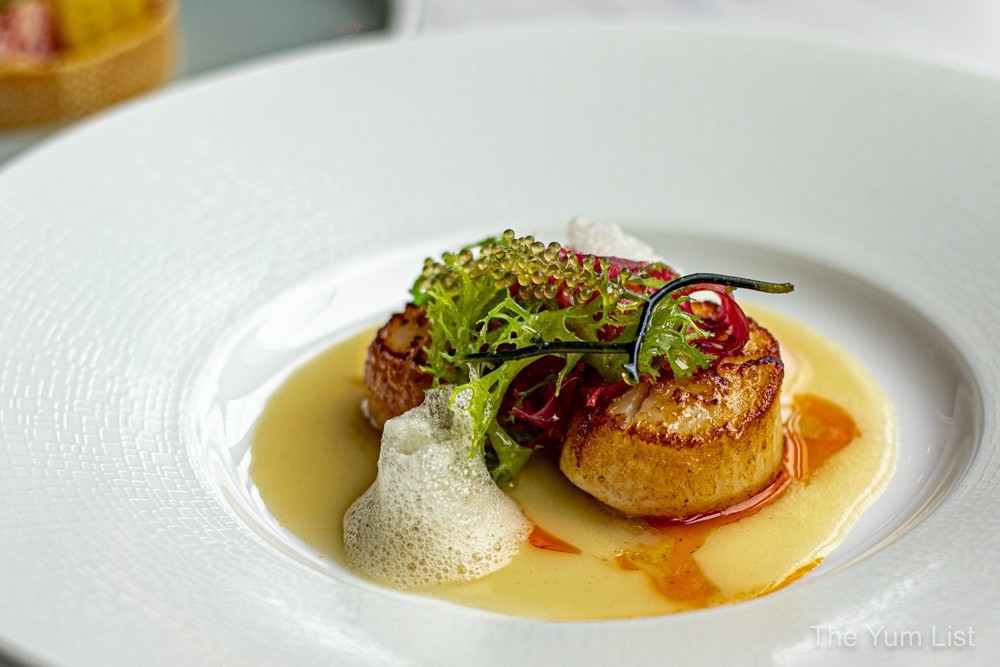 The starters are divine. On my next visit to Willow, I will order all of the starters to share tapas-style. We move onto the mains but not before trying two signature cocktails.
Cocktail Pairing
The Willow Tea Punch (RM 46) is made of rum, kwai feh lychee, Mancino Rosso, longan, peach and calamansi. It's served in an adorable teapot and is very "Intsa-worthy". The drink sounds sweet, but as Osmund boasts, "It's balanced."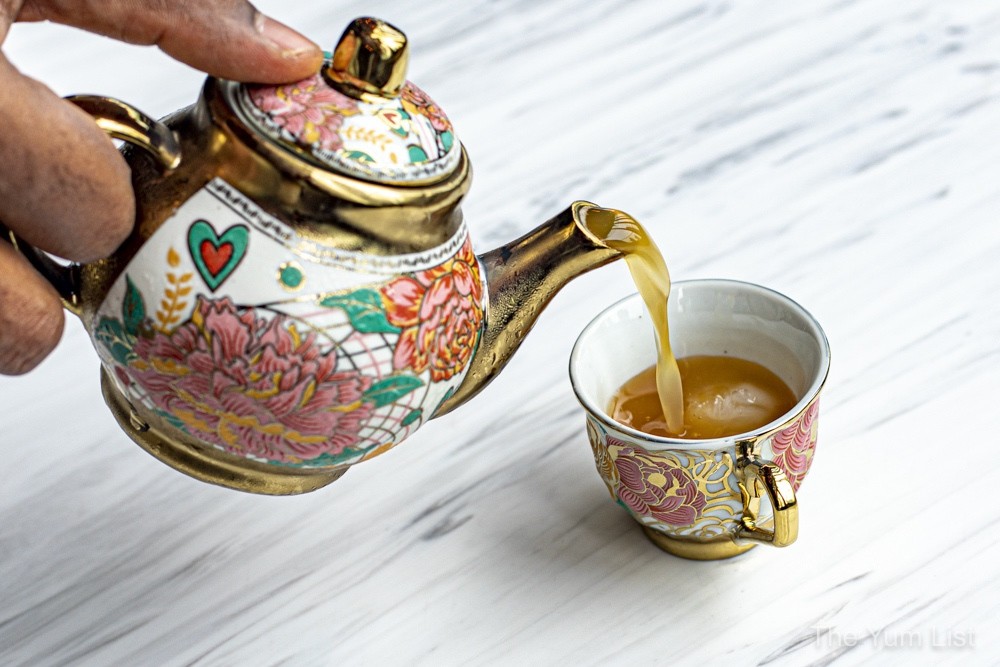 My personal favourite though is 8 Savoury (RM 55), a mix of Shackelton's Whisky, Angostura Bitters, homemade bumbu juice, lemon, grenadine and a spice blend. The Indonesian bumbu is a spin on sambal with ginger, chilli, garlic, onion, tomato, and coconut syrup. The drink is served smoking and poured tableside. Somehow I am having déjà vu of South Beach Miami while drinking this one.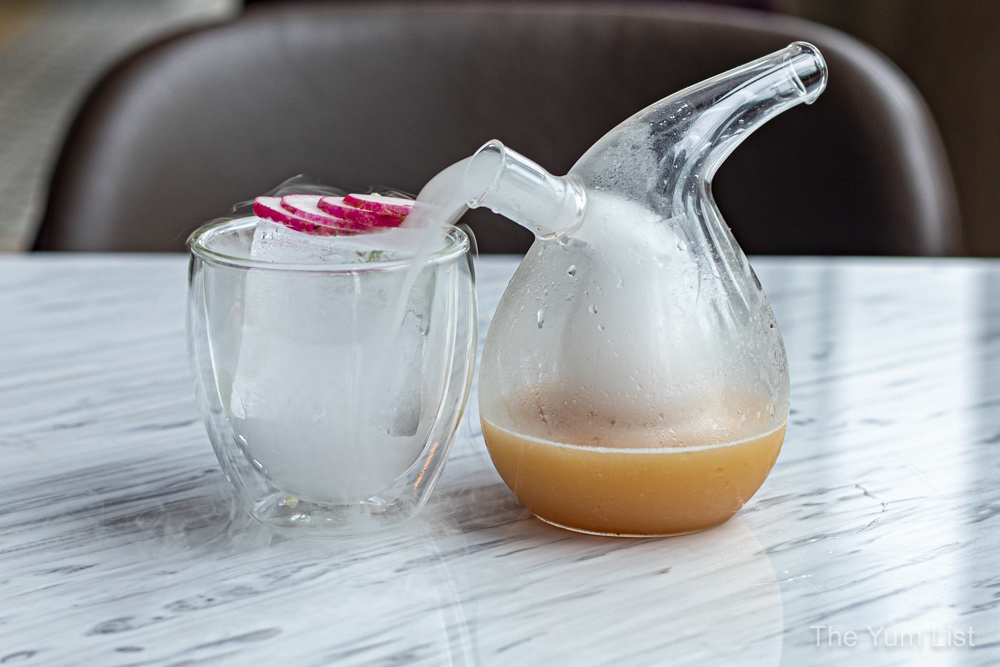 Willow Menu – Mains
We try two mains, and the first one steals the show; Cod (RM 130). The delicate cod sits in oxtail consommé, miso, lotus root, and celeriac purée. Chef says he's expressing the simplicity of the cod with light miso, just a hint of dried chilli and Chinese rice wine. There's a touch of sweetness to the dish, and the cod literally melts in our mouths.
Chicken (RM 85) showcases cornish chicken, pistachio, eryngii, pickled leek and mushroom. The chicken breast is sous vide and then pan-seared. The leg and thigh are used to make an interesting sausage with tarragon and chervil. The baby eryngii mushrooms and pickled leek add a nice textural experience. The foie gras and chicken jus are decadent. If you want to spoil yourself, you can add on black truffles (RM 45).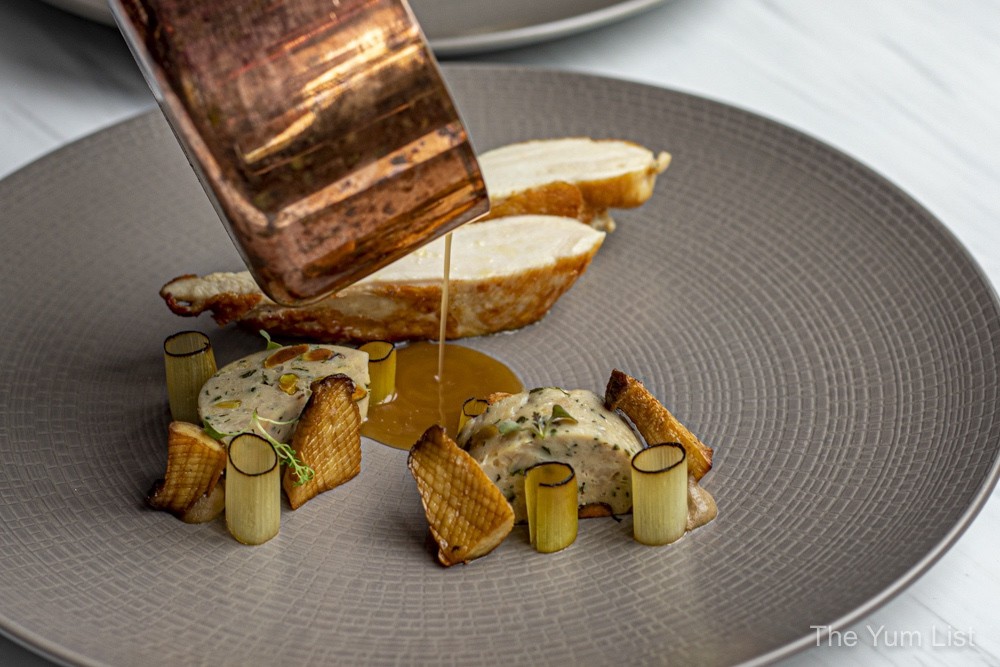 Digestive Cocktails
Before dessert must come digestives at Willow! We try the Seri Muka (RM45) with rum, sherry, coconut and matcha green tea. It's made with plant-based foam – not egg whites, a special solera 1952 sherry and pandan-infused rum. This is the first time I've heard of plant-based foam, and I like it. I'm also a big fan of matcha. Drinking this feels like eating a salad, it's light-bodied and bursting with umami.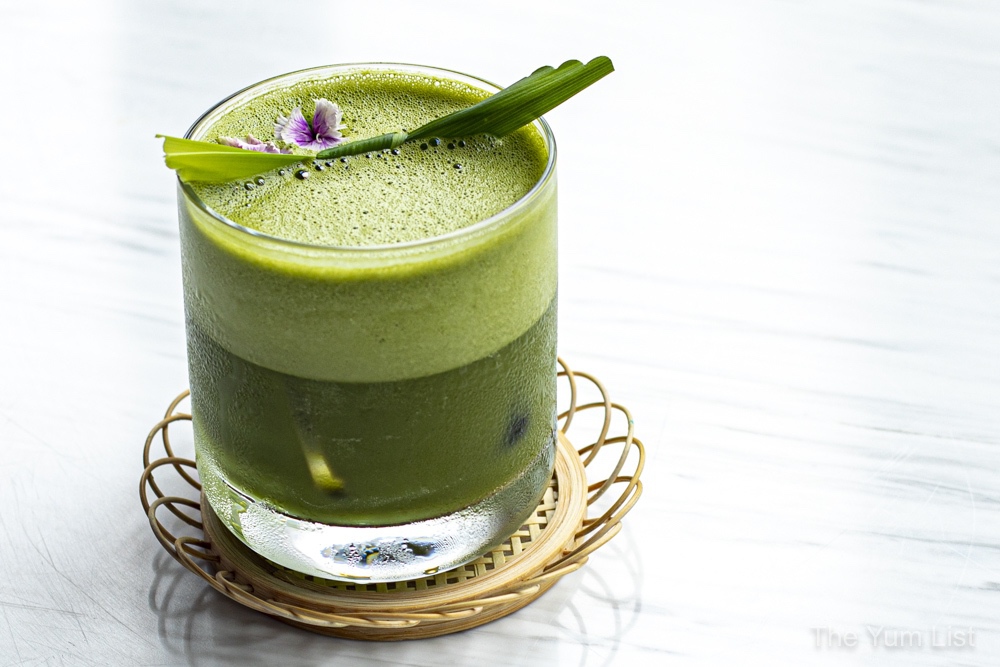 Last up is the Black Sail (RM 55) with Black Tears Spiced Rum, Pernod, sweet vermouth, coffee and popcorn. This drink smells like popcorn. How fun is that? If you're a fan of anise, this one is for you.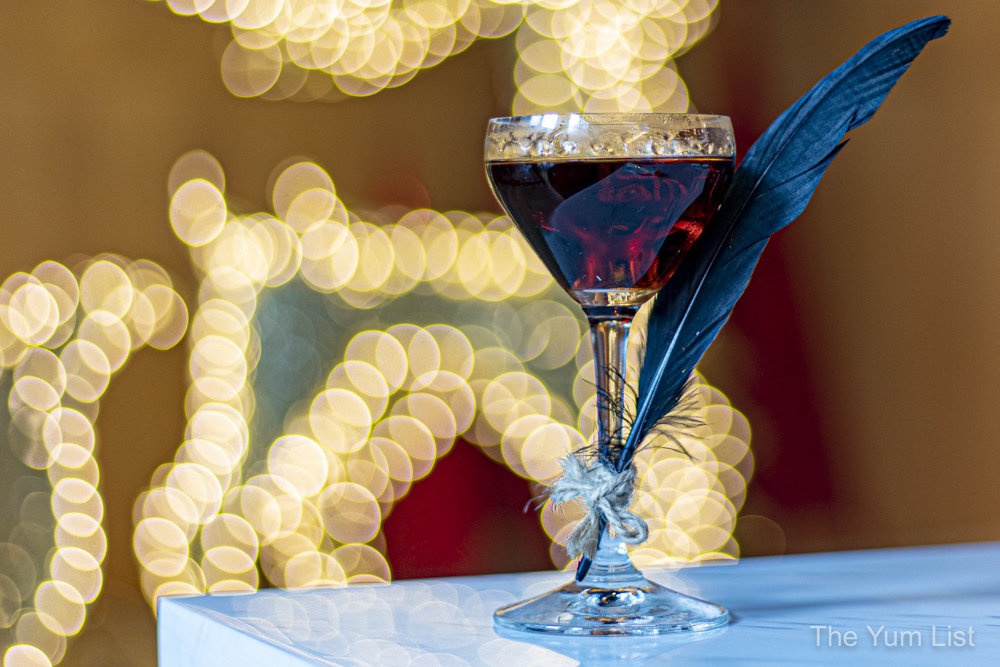 Desserts
Pastry Chef Ooi Viyern likes to sweeten things up. We try three desserts, and if you have a sweet tooth, we think you'll be delighted. Cookies & Cream (RM 40) is packed with dark chocolate, white chocolate and Oreo crumbs. According to Ooi, this is an adult version of a childhood favourite. What more needs to be said?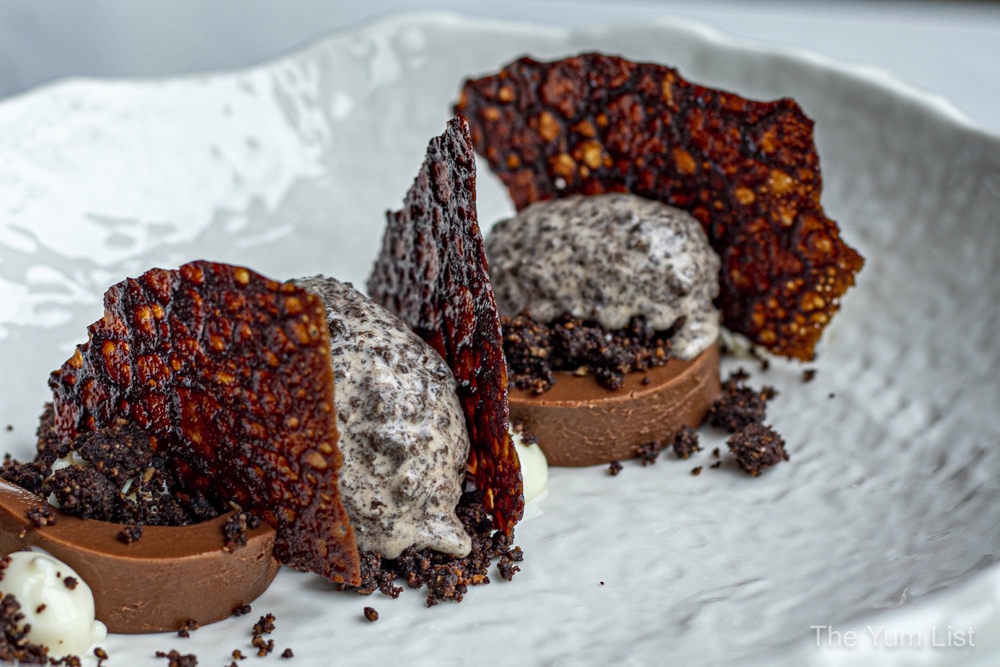 Strawberry (RM 48) comprises Chitose strawberries, pistachio cake, elderflower jelly and strawberry sorbet. I love the sorbet (it reminds me of my childhood). The cake is dense and moist and everything is screaming strawberries!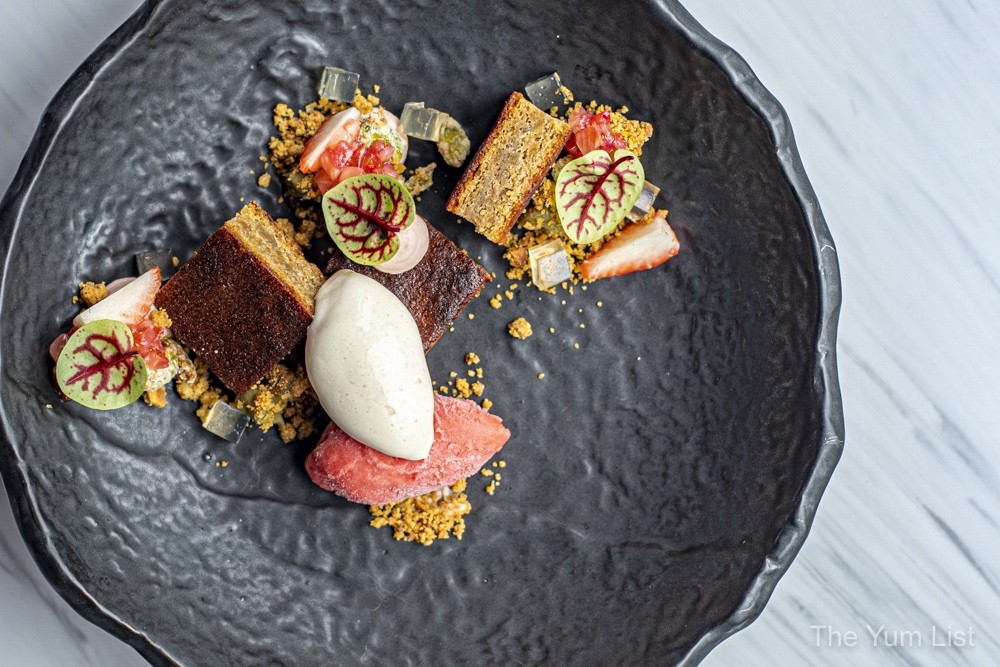 Louis XV (a NYE special) is Ooi's version of the signature dessert of Alain Ducasse. This is decadence at its finest; dark chocolate, hazelnut, vanilla ice cream and Ferrero Rocher. If you're like me, you'll be happy that this is gluten-free (but not guilt-free).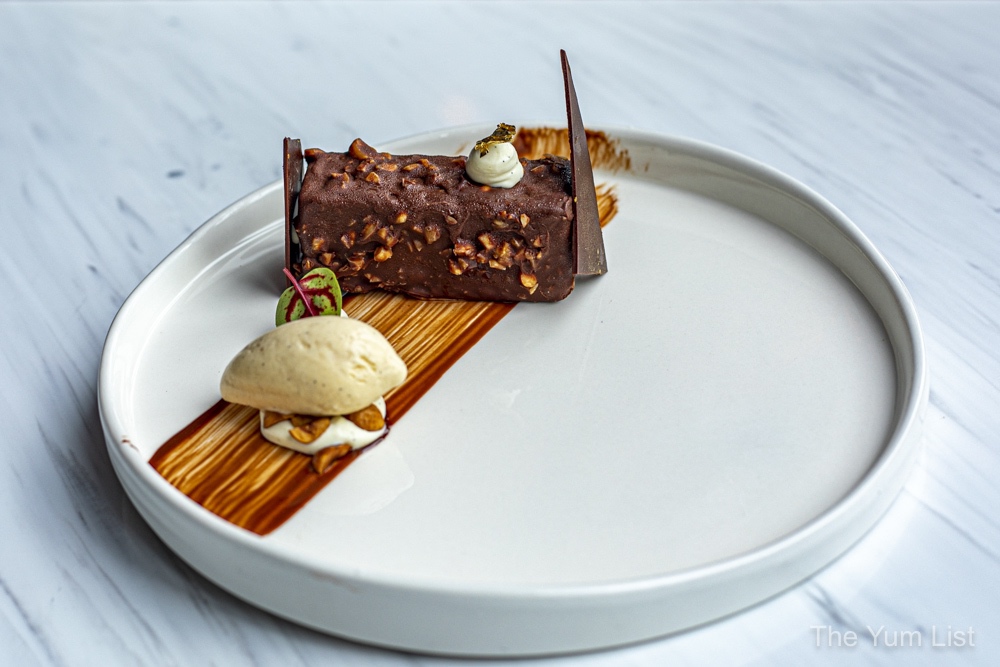 Sets & More
Willow is currently offering a two-course lunch for RM 95 and a three-course lunch for RM 125. For dinner, guests may choose a five-course omakase menu (RM 375) with alcohol pairing an additional RM 110, or a seven-course omakase menu (RM 480) with alcohol pairing an add-on of RM 160.
Willow Review
The staff at Willow are amicable and accommodating; several are hospitality veterans. If you're going to splurge on a fine-dining experience, it's nice to know you'll be well looked after. If you have a particular dietary need, the kitchen is top-notch and willing to help you with anything (I know this isn't always the case in many restaurants). While the wine menu is a work in progress, the cocktail menu has plenty to pair with an entire meal.
Reasons to visit Willow restaurant in W Kuala Lumpur: great service; a chef who is willing to care for your needs; super fresh and creative ingredients; awesome cocktails, must order the Spanish Octopus and the Cod; cool interior.
Willow
Level 8, W Kuala Lumpur
121, Jalan Ampang,
50450 Kuala Lumpur, Malaysia
+60327023392
www.facebook.com/willowdiningkl
Willow Restaurant Opening Hours
Tuesday: 6:00 PM – 12:00 AM
Wednesday-Sunday: 11:30 AM – 3:00 PM & 6:00 PM – 12:00 AM
Closed on Monday
Find more restaurants for special occasions in KL here and stay up-to-date with the latest gourmet and travel recommendations for Malaysia here and here.