The Grand Getaway KL
Monica Tindall
I am constantly surprised by Malaysia's food and beverage industry's ingenuity and refusal to give up. No one is lying down and letting a pandemic dominate their survival. Instead, creativity is being pushed, and diners have even more extraordinary dining experiences at their service. The Grand Getaway at Grand Hyatt Kuala Lumpur is one such production inviting guests to travel the world with a 360-degree virtual experience. (Be sure to scroll to the end to get the code for a 20% discount for readers of The Yum List.)
The Grand Getaway, Grand Hyatt Kuala Lumpur
The journey begins by purchasing your seats online and receiving your boarding pass. Bring the QR code to scan 20 minutes before take-off to partake in the full journey. Grand Hyatt Kuala Lumpur's Grand Getaway entrance looks just like a section of the Kuala Lumpur International Airport. It's complete with a flight information display system, airline counter, luggage check-in, travelator and uniformed hosts. There are even announcement chimes and boarding calls, putting full sound effects into play.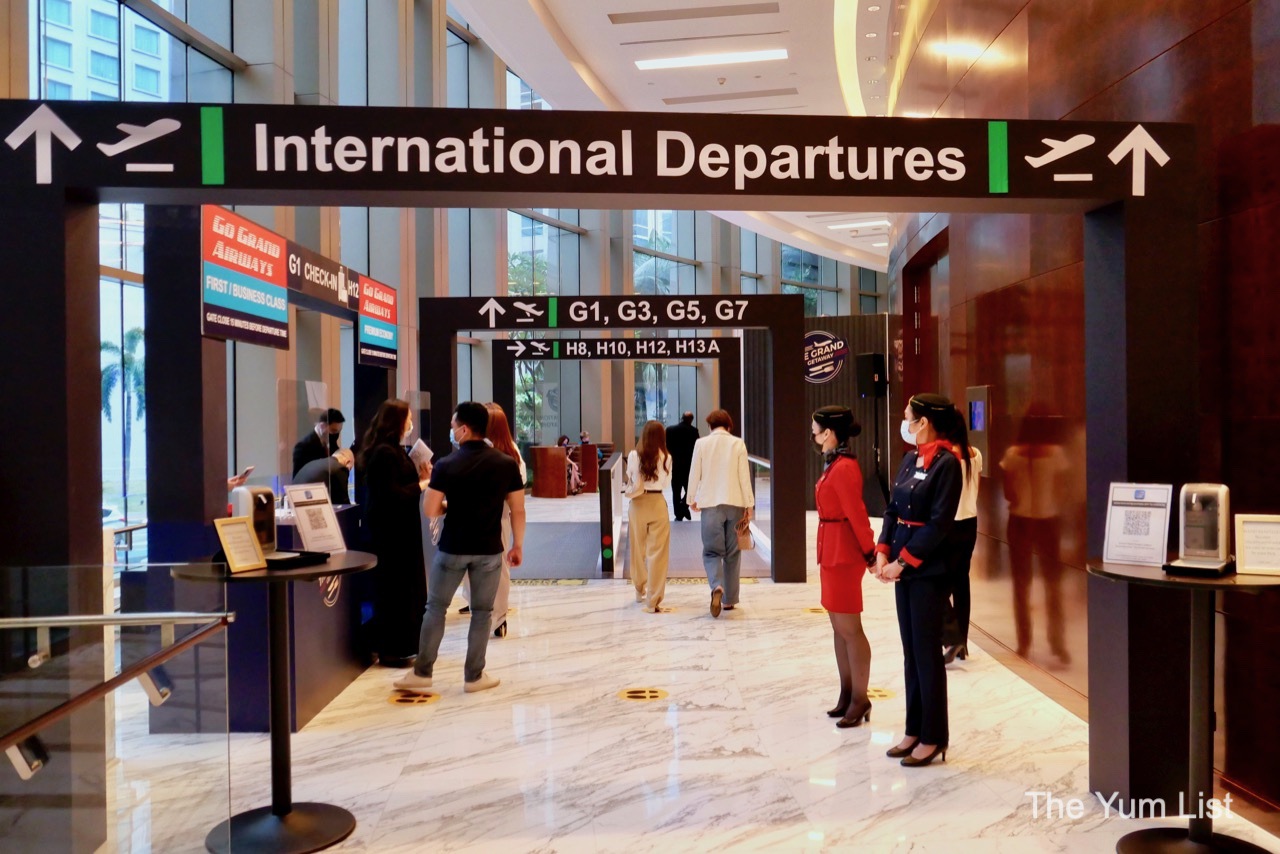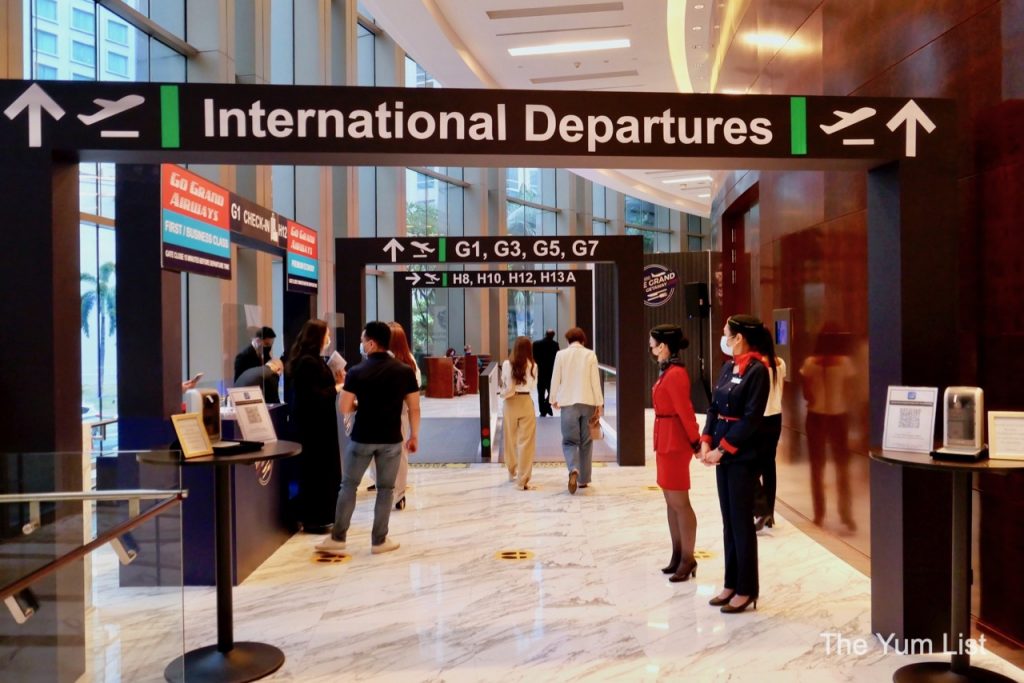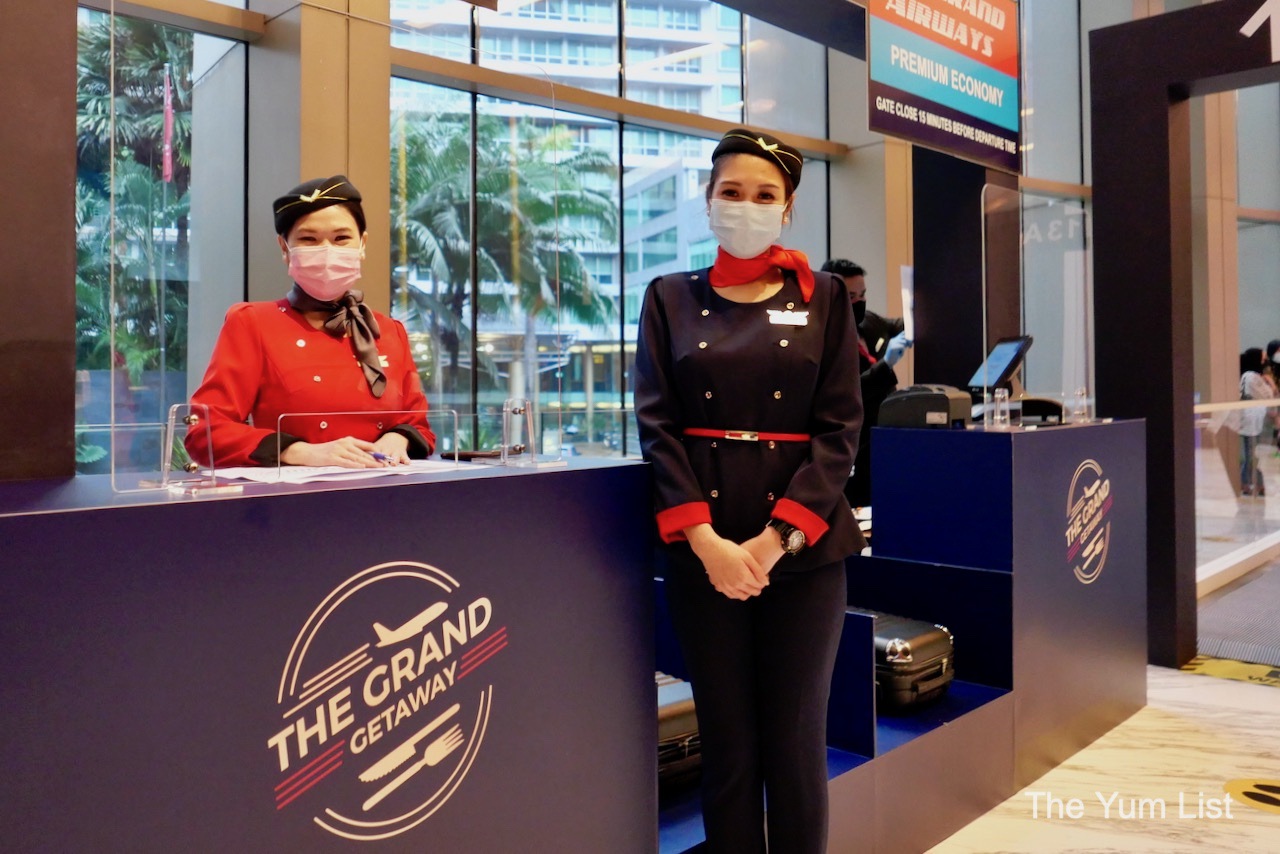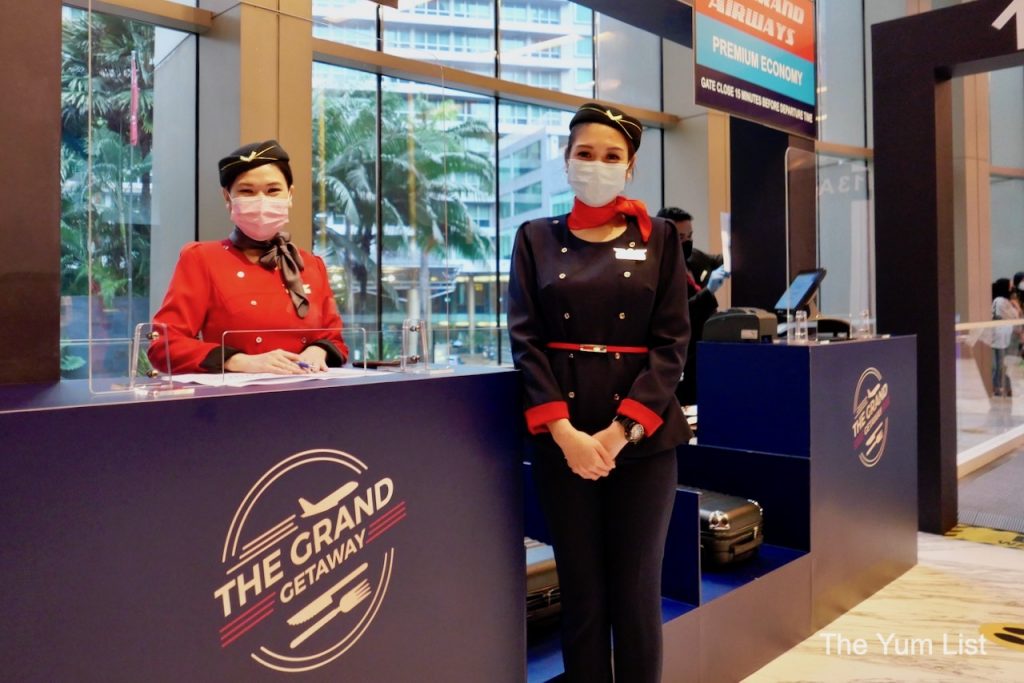 Once we've presented our boarding passes, we're invited to board through our gate to the Grand Ballroom of Grand Hyatt Kuala Lumpur. Taking our places in former seats from a Malaysian Airlines aircraft, we buckle up and settle in for the around-the-world flight. A 360-degree LED technology system projected on the walls of the ballroom gives a real-time airport ambience. Use of the enormous room means tables are well spread apart giving diners an exclusive feel and more than catering for physical distancing SOPs.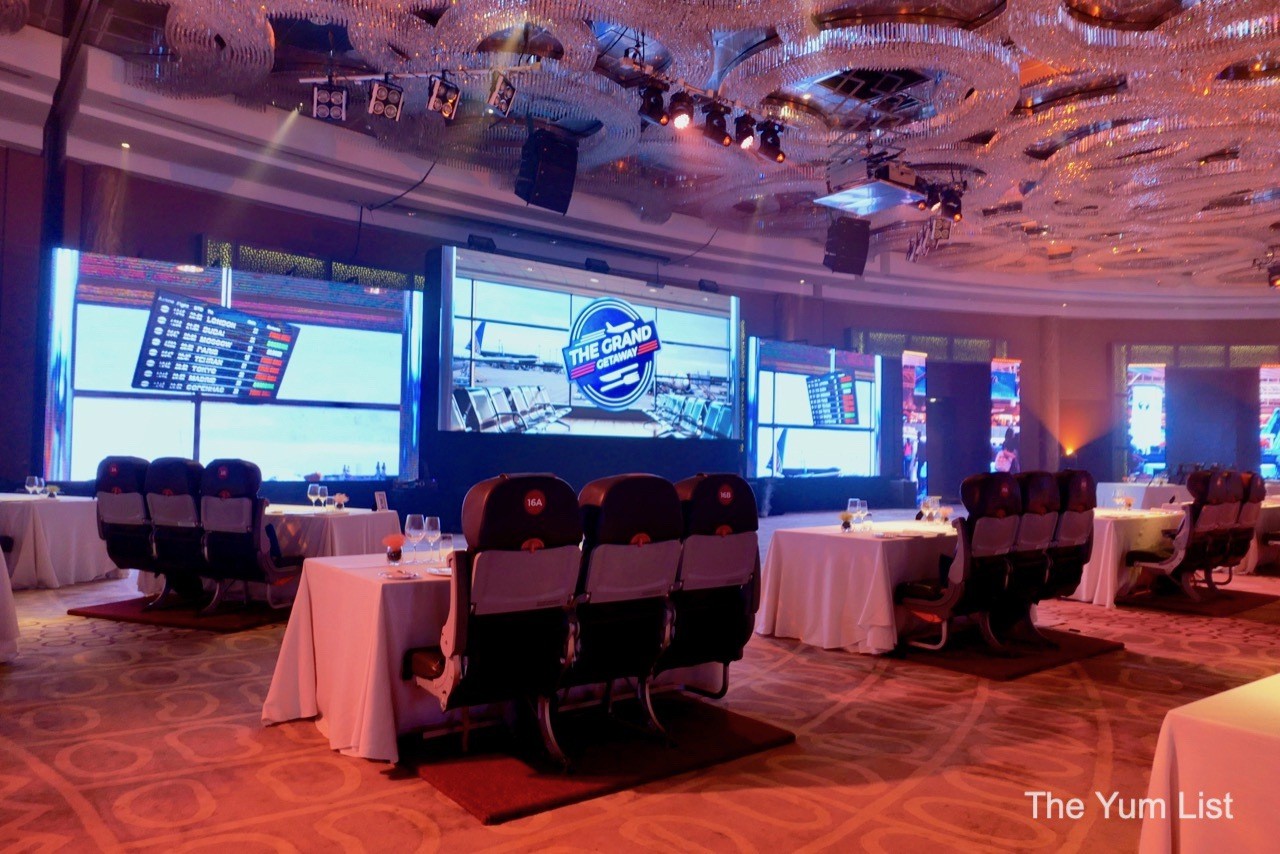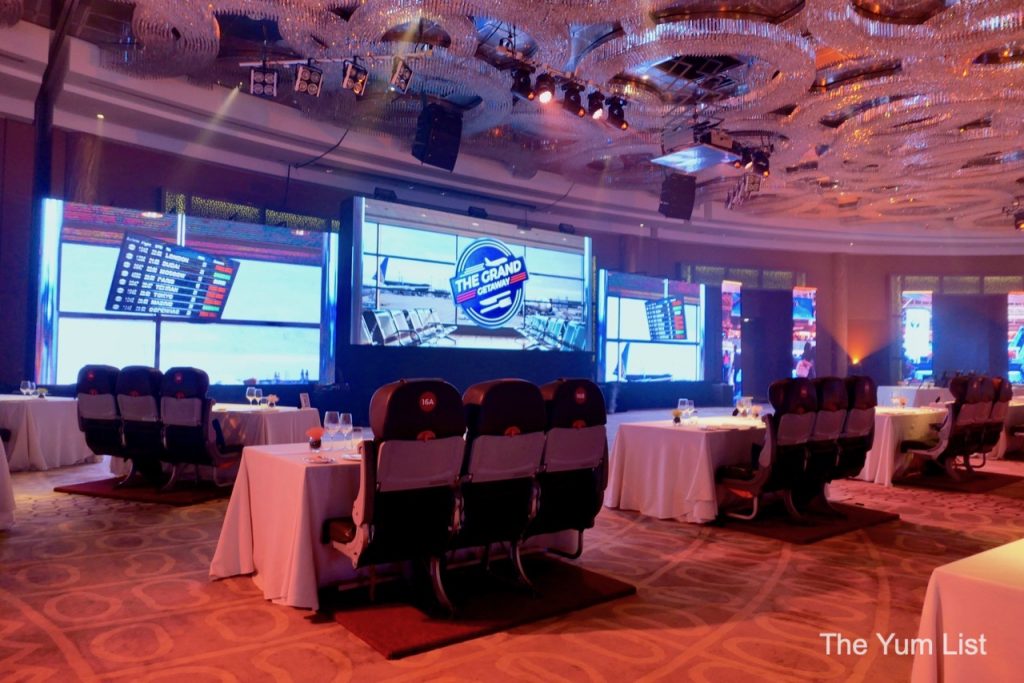 Safety Announcement & Take-off
With all passengers on board, our attendants prepare us for the flight with a safety demonstration. We're encouraged to leave our devices ON and enjoy the flight. The two-hour journey begins with a view from the cockpit at the front and panoramas seen from the windows overlooking the wings on the sides. The engine rumbles, and we take off!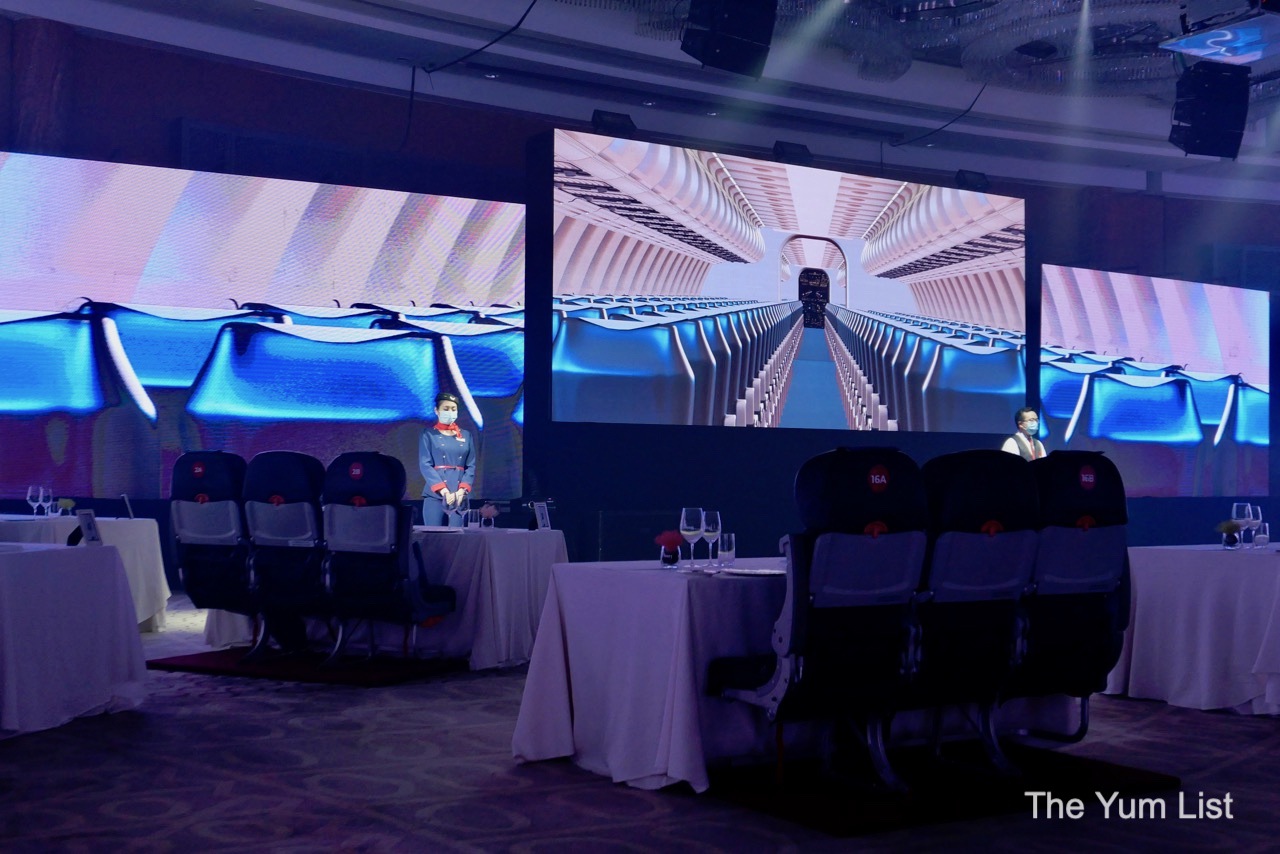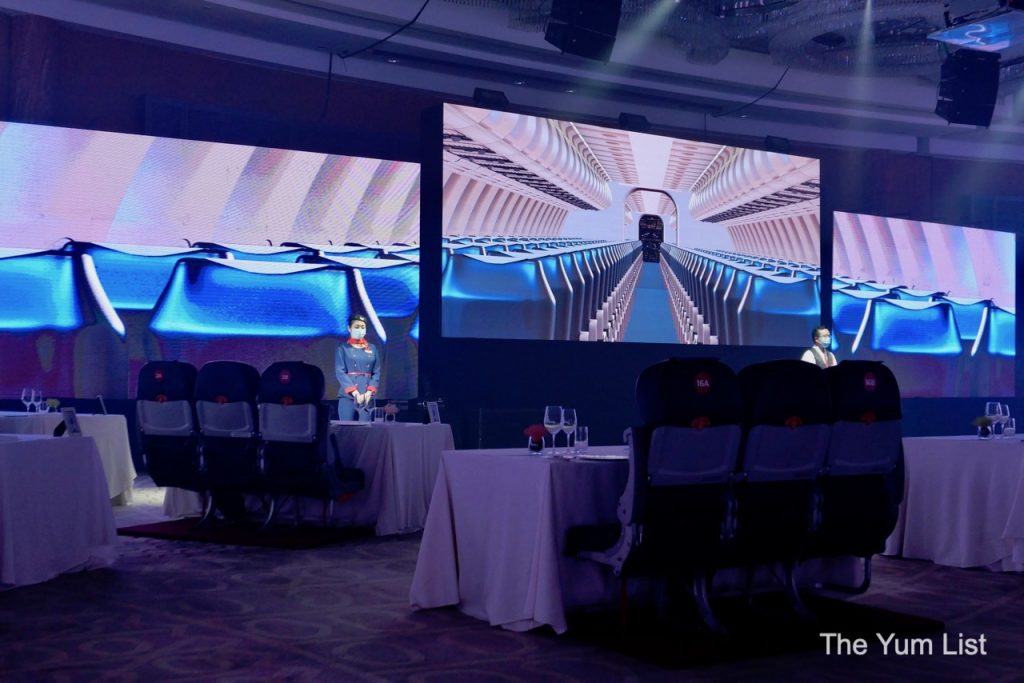 Go Grand Airways Airliner Menu
Tokyo
Our flight sets down in Tokyo with a scene from Fast & Furious: Tokyo Drift lifting our heart rates. A racecar does a 360 spin around the ballroom. Soon the stage transforms into images of busy city streets and later to more peaceful temples and gardens as we eat.
Japanese scallops are our first course. They're golden from the pan, fresh and tender. The accompanying condiments of wakame, radish, sesame and shoyu dressing support the freshness of the sea and a generous scoop of roe adds pleasant bursts of liquid.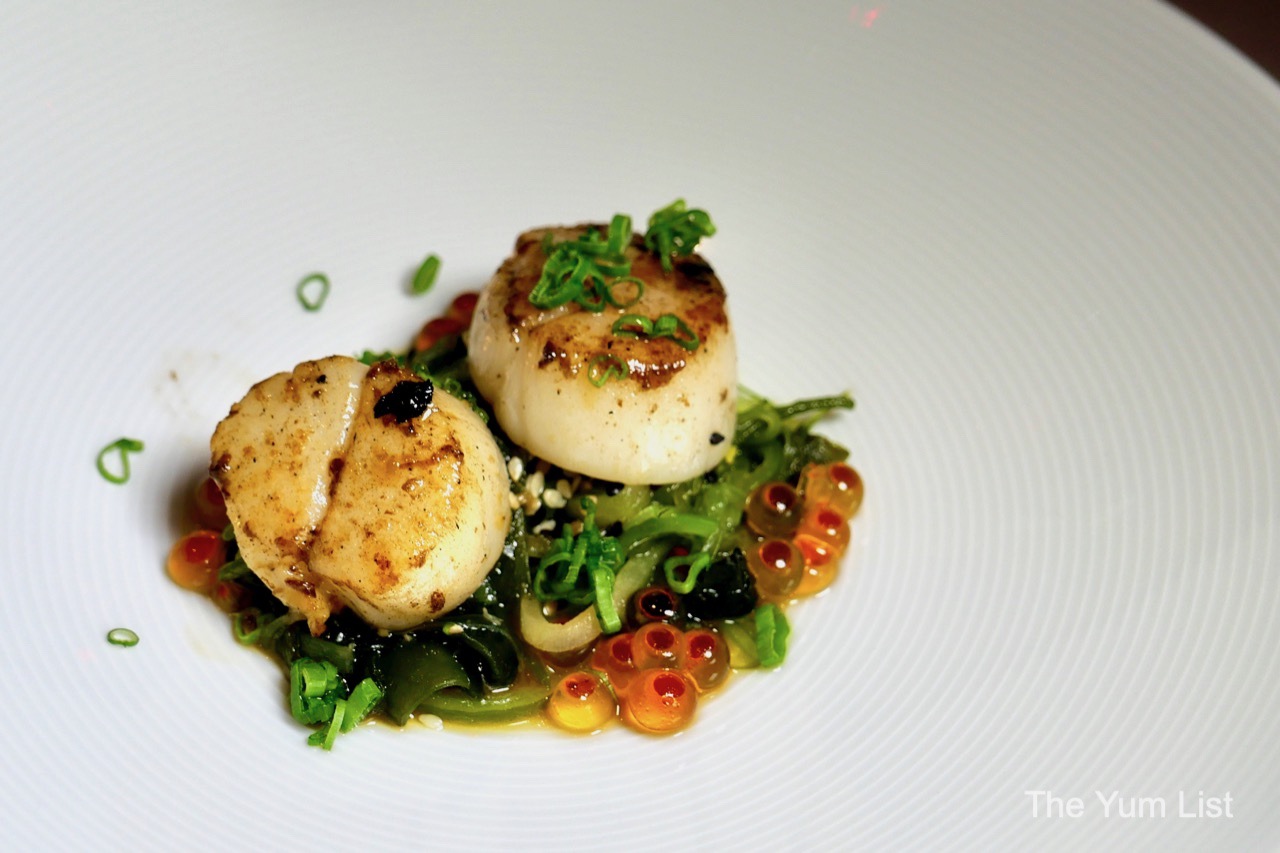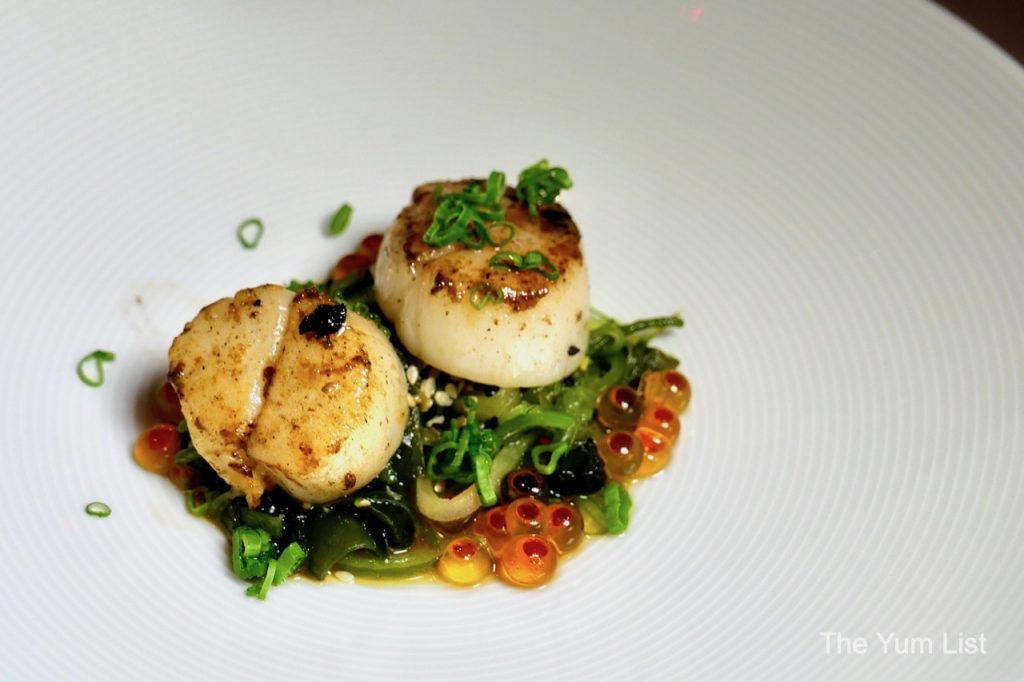 As we take to the air once again, a card trick is facilitated by our in-flight entertainment officer, and the result leads to our next destination, San Francisco!
San Francisco
Iconic scenes of the Golden Gate Bridge, Alcatraz Island, Fisherman's Wharf, trams and the famous winding streets of San Francisco are displayed. As we take it all in, flight attendants strut the aisles wearing sparkly top hats and lay down the next dish, Californian clam chowder. Served in a bread bowl, the soup itself is a small portion but I recommend refraining from eating its carb container as there is still sorbet, lamb and dessert to come.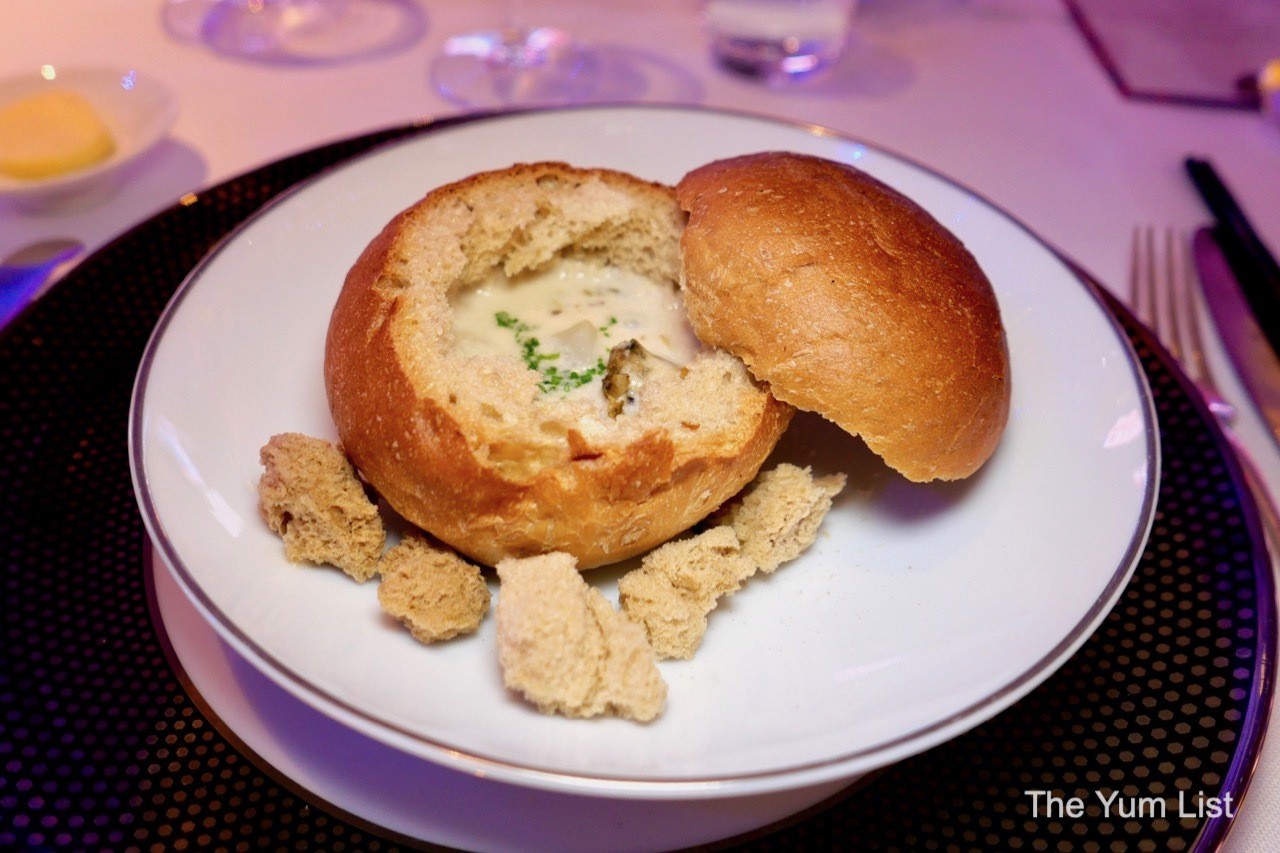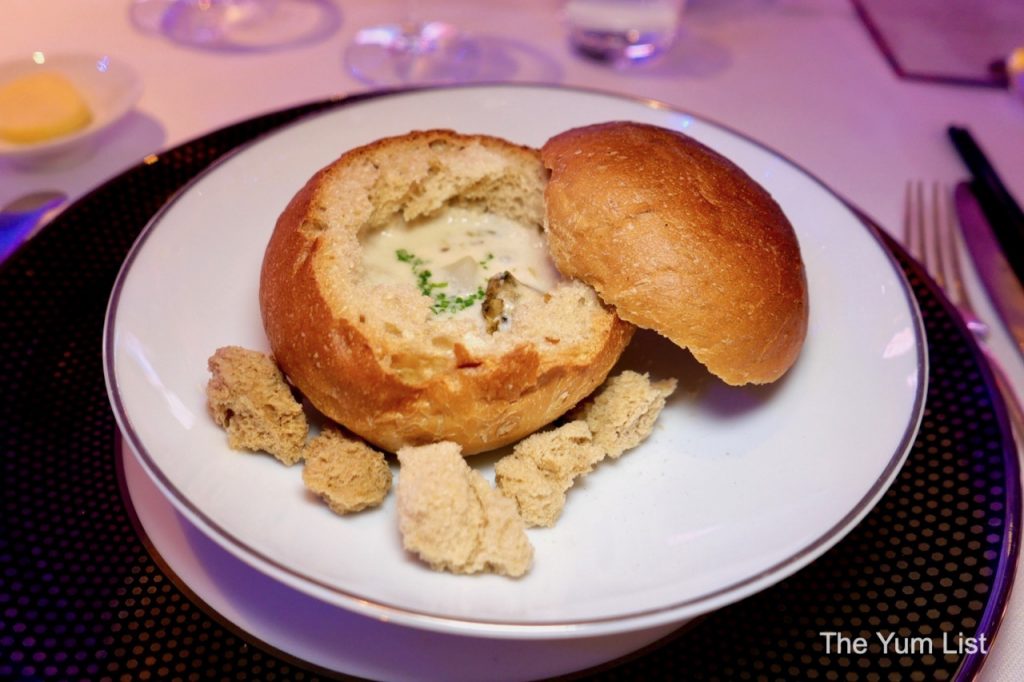 An add-on of RM 100 will get you a free flow of wine. It's nothing fancy but works well with the food. Tonight we sip on Down Under Semillon Sauvignon Blanc and Sunnycliff Estates Cabernet Sauvignon, but the labels could change as the days move ahead.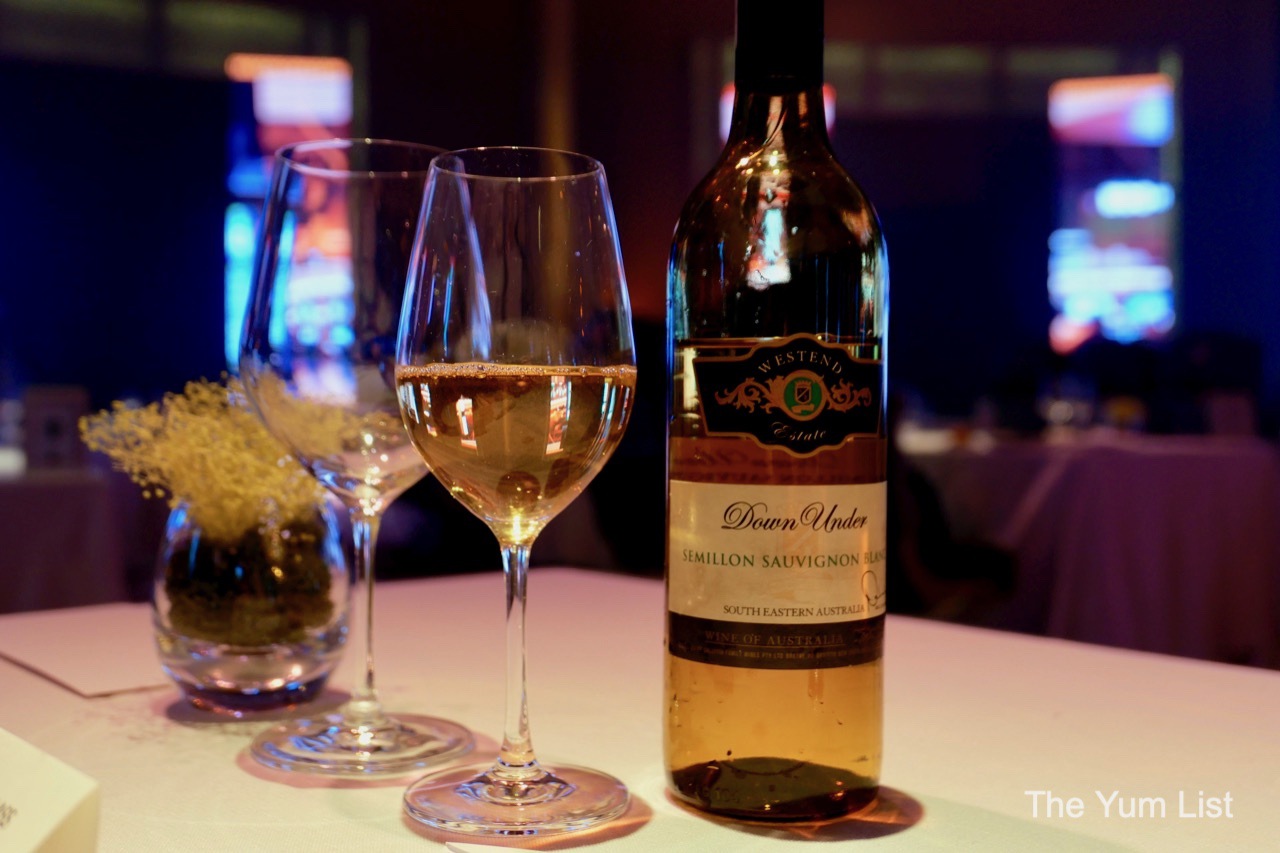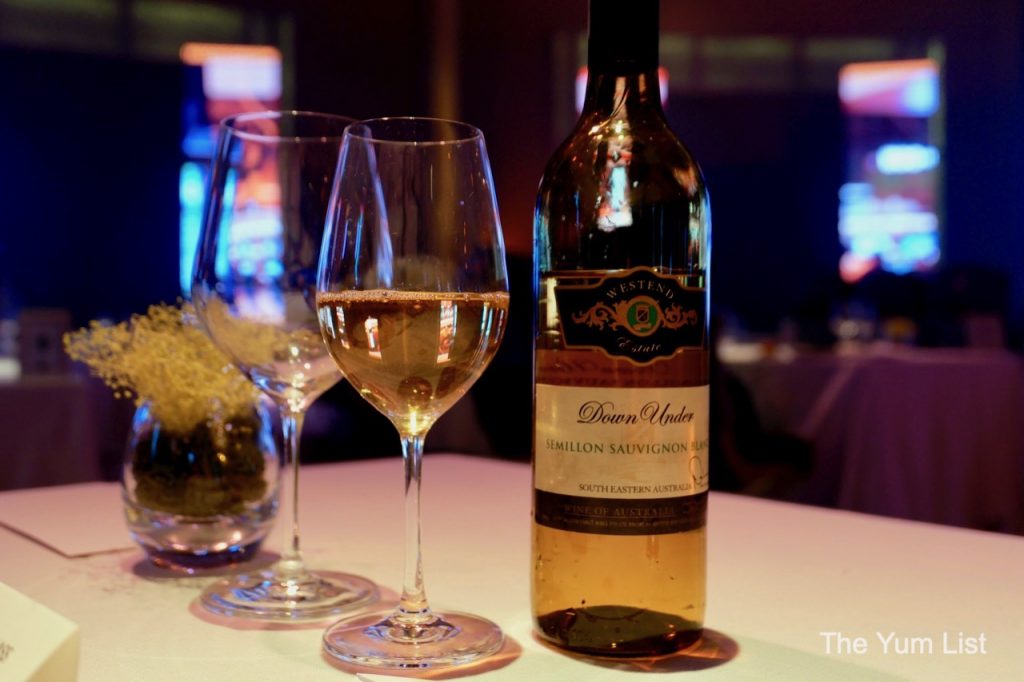 Duty-free
A cart of "duty-free" items for purchase is rolled out. Flyers can pick up chocolates, macarons and other such memorabilia on board.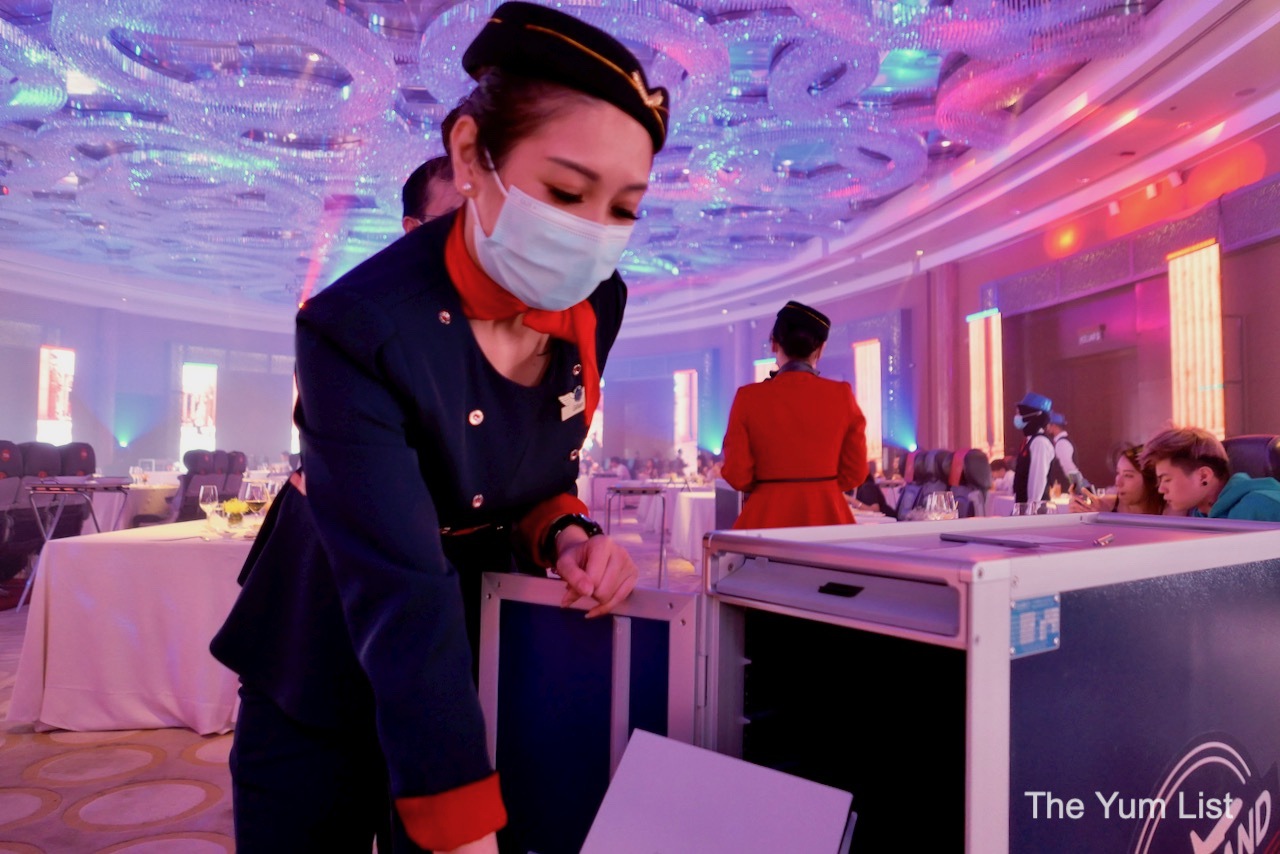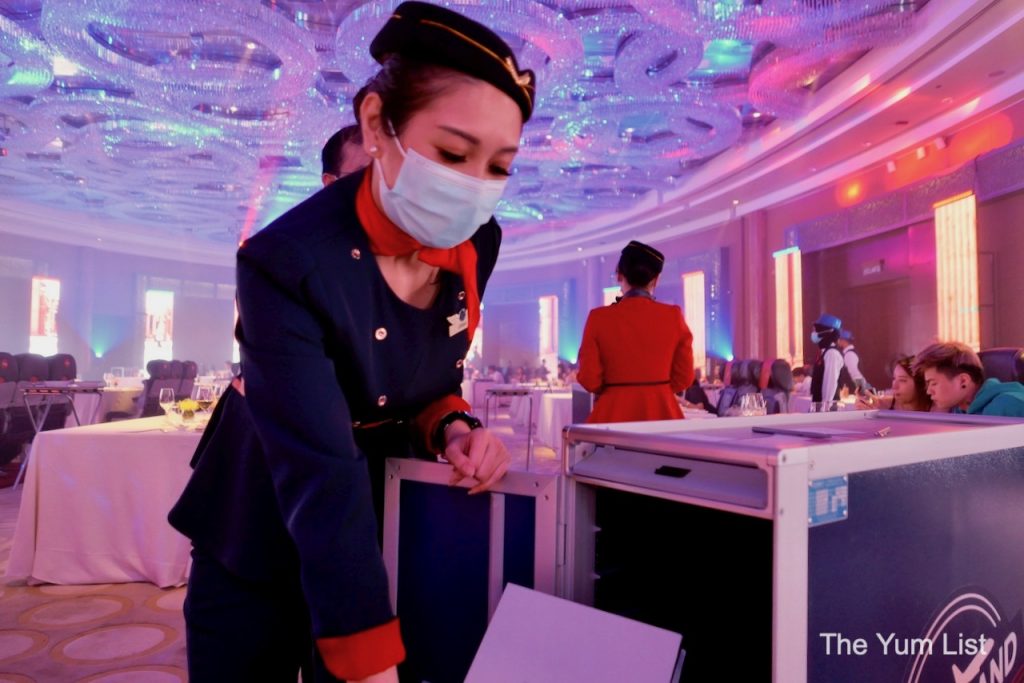 Moscow
Moscow follows on our flight schedule. We're welcomed to the city with a grand display of architecture and winter scenes accompanied by snow! Falling from the ceiling, the flakes grace our hosts' shoulders who make an entry with ushankas – Russian fur hats with ear flaps. Images of Russian architecture, babushka dolls and lively dancing brighten our surrounds as forest berry sorbet is served. The palate cleanser is smooth and sports a nice balance of sweet and tart.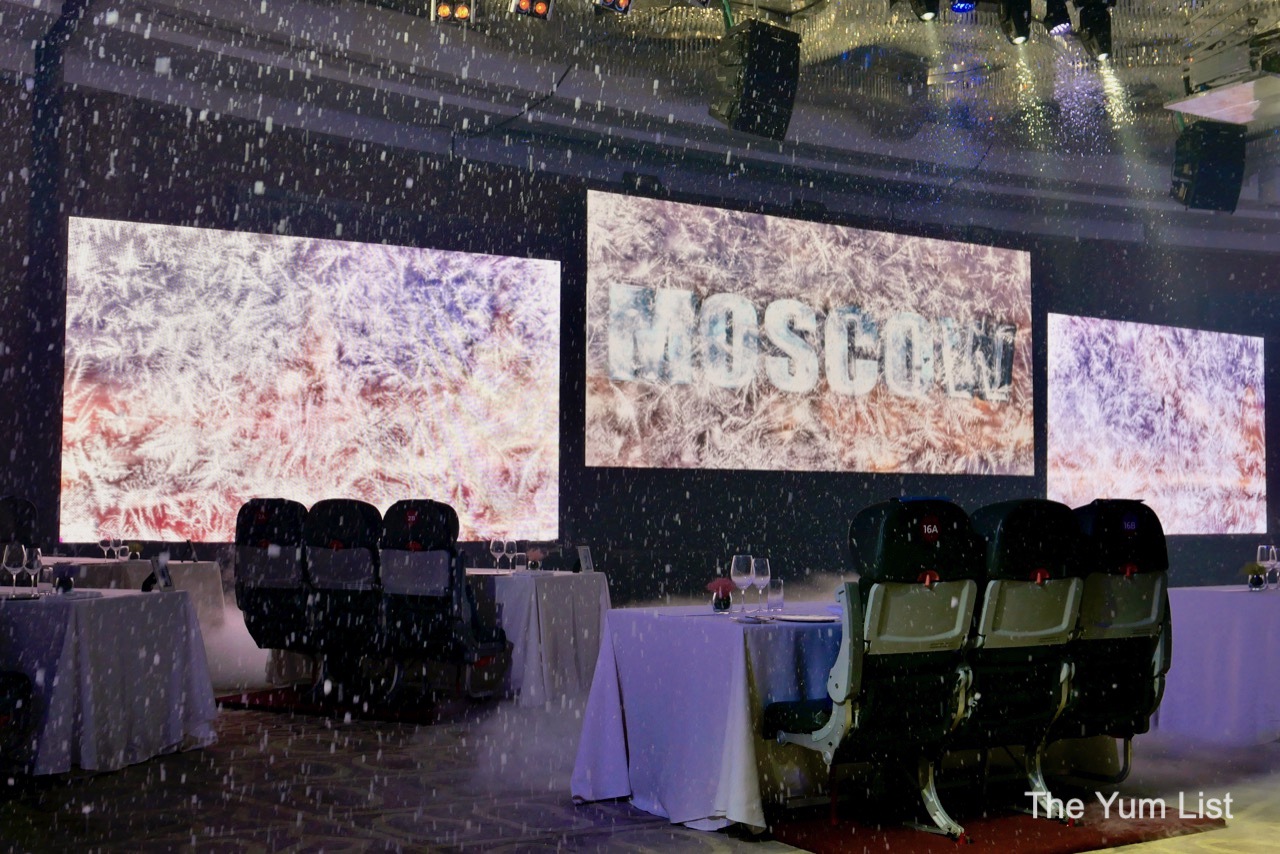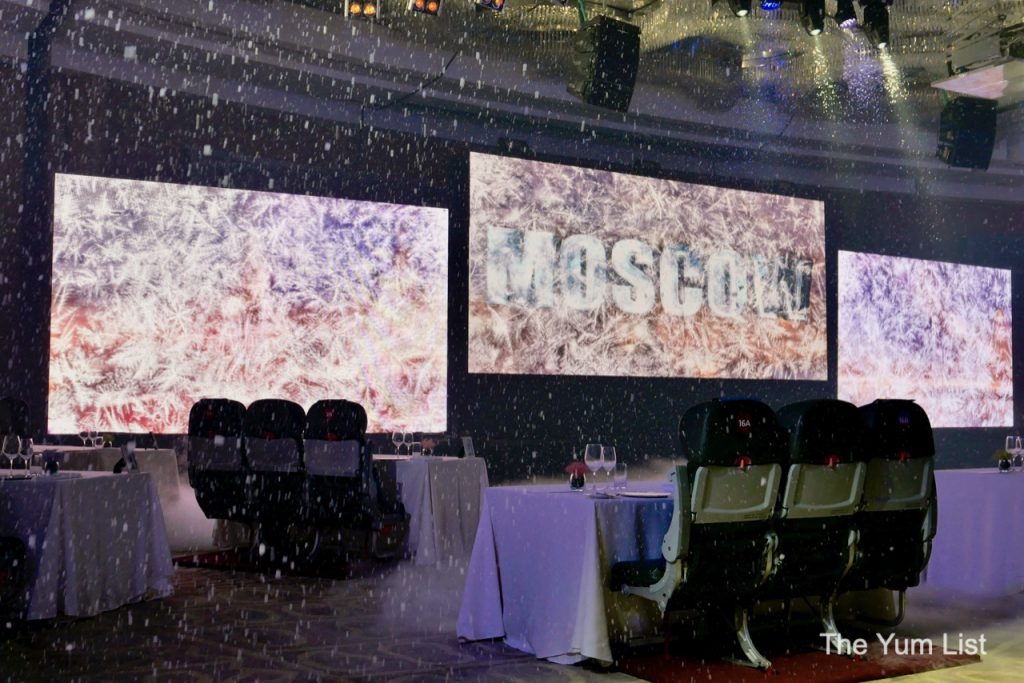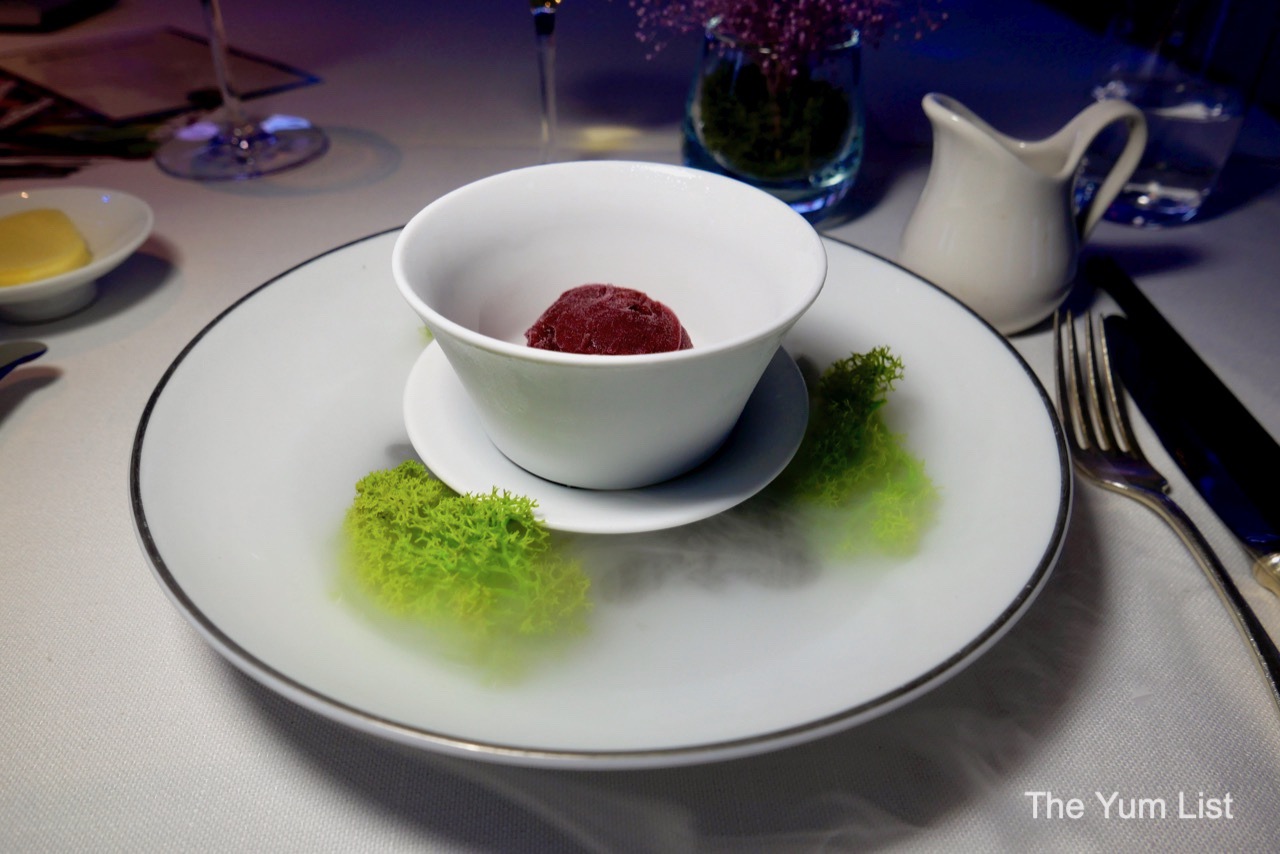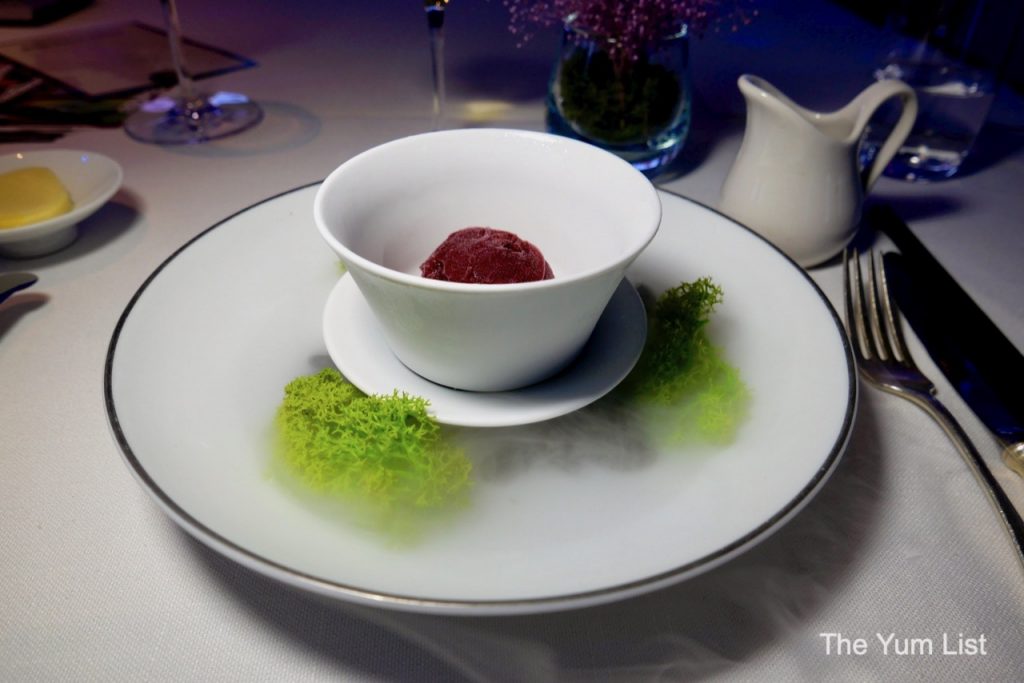 There's no chance of taking a nap on this flight as it's time to work off some calories before the main meal with a nightclub scene and light show. As the tunes abate, Venice is announced with canals, gondolas and attendants masked in Venetian volto.
Venice
Oven-baked lamb rack with lemon, herbs, sauteed garden greens, truffle mashed potatoes and thyme jus is our last dish before heading back to Kuala Lumpur. Prior to departure, we learn some fun facts about the Italian city. Then we're advised to fasten our seatbelts as we head to our final destination.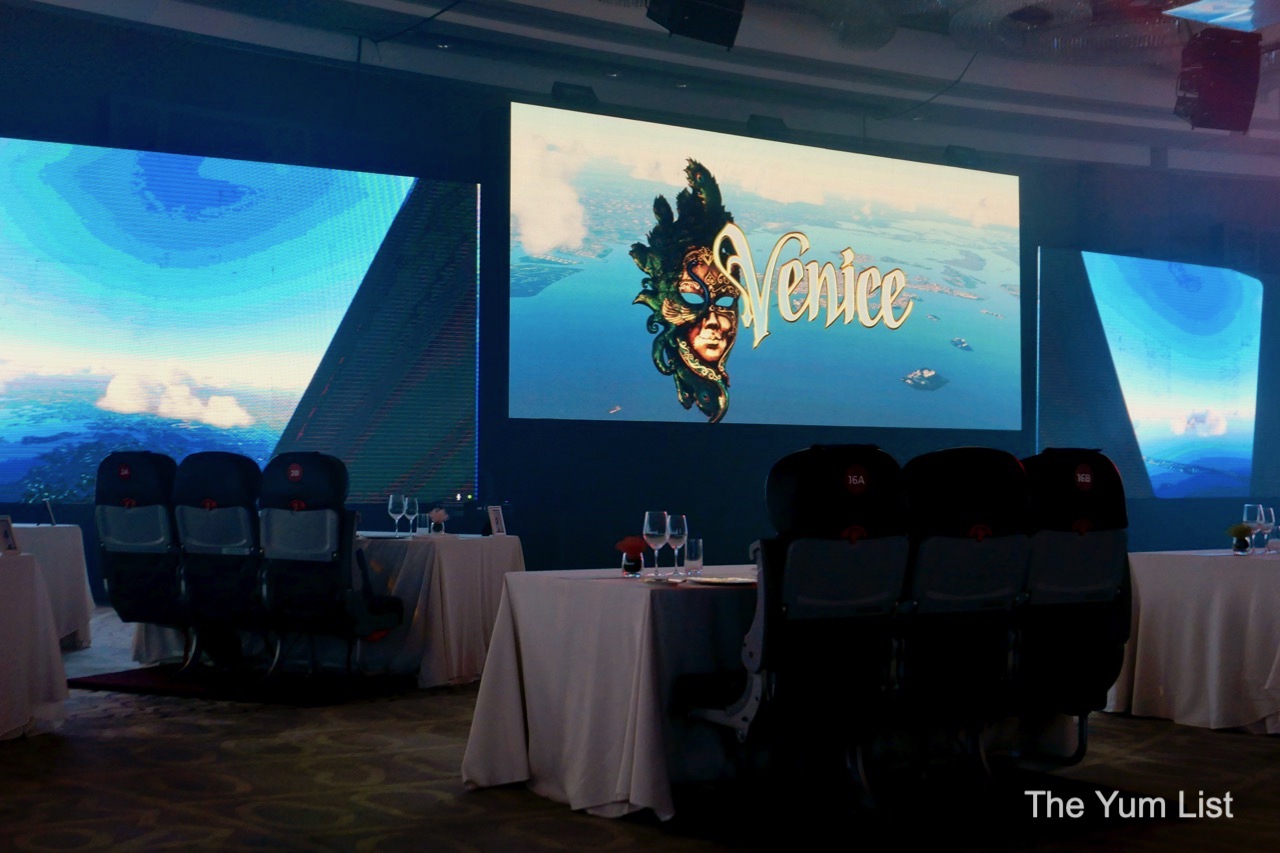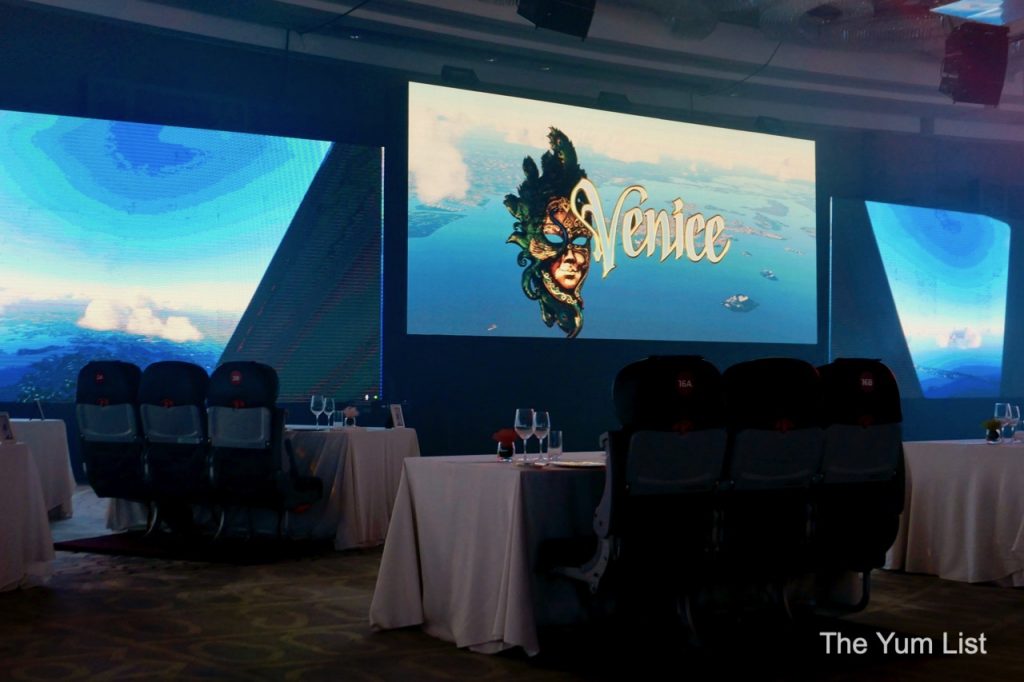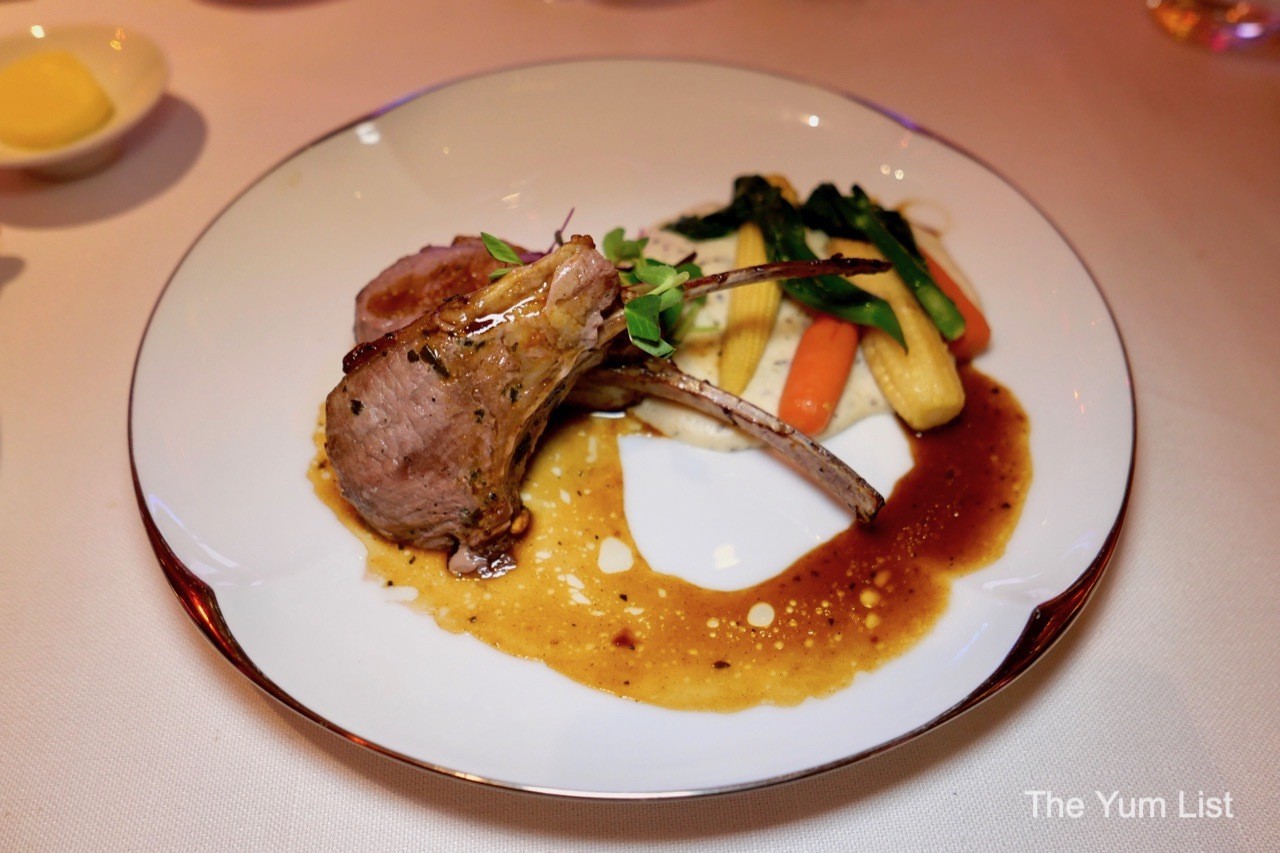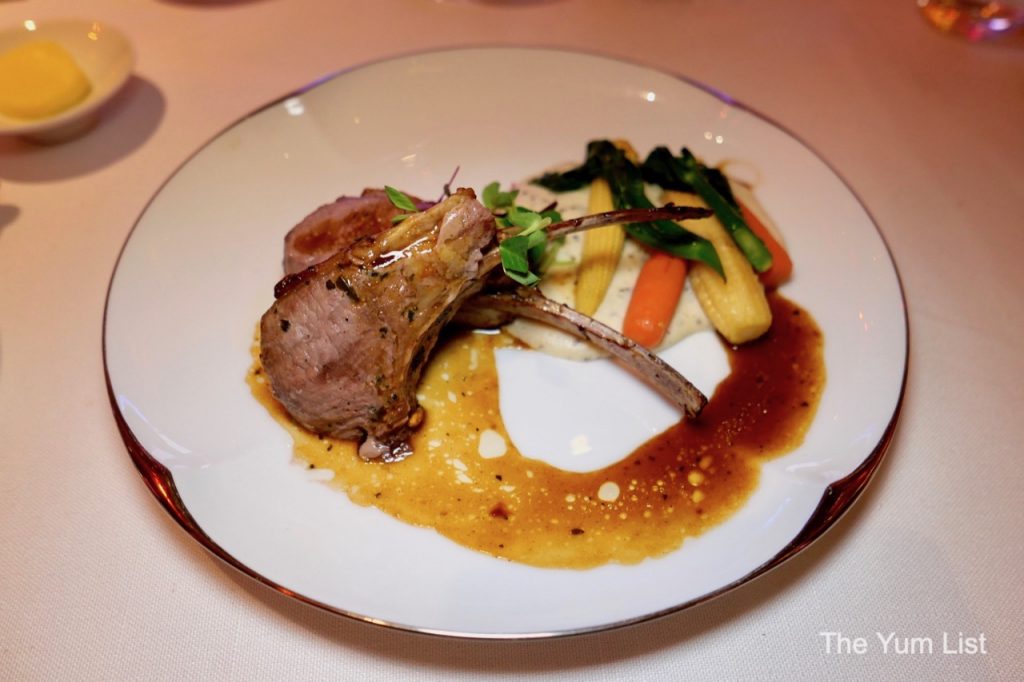 Despite a little turbulence on board, our approach to KL ends well, and we're received with images and music showcasing beautiful Malaysia.
Kuala Lumpur
Waitstaff arrives donning batik and presenting a worldly platter of sweets serving as a memento of our around-the-world trip. Mochi, sundae, pavlova, tiramisu and sago gula Melaka act as an edible memory, and postcards give us something to take home. Coffee and tea are included in the package, but we finish with the last sips of our wine.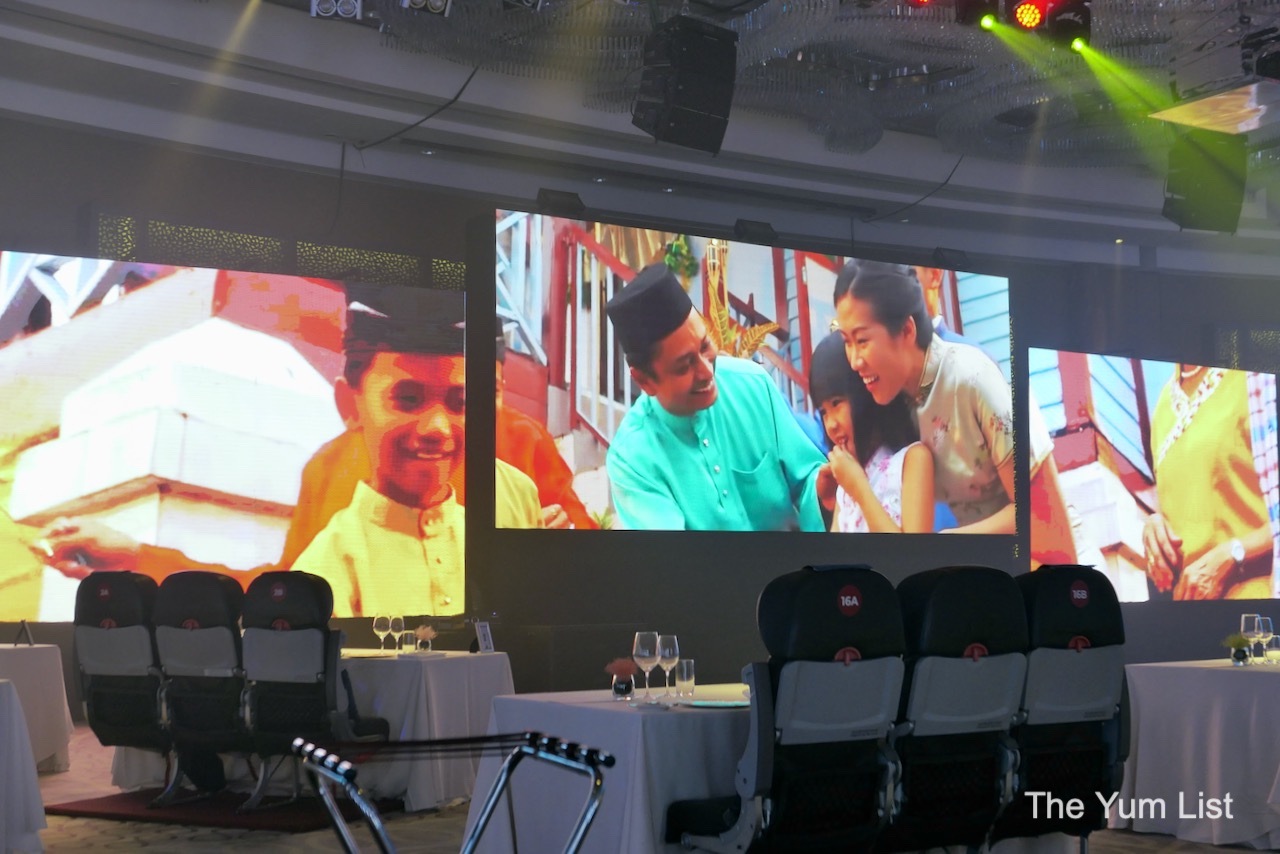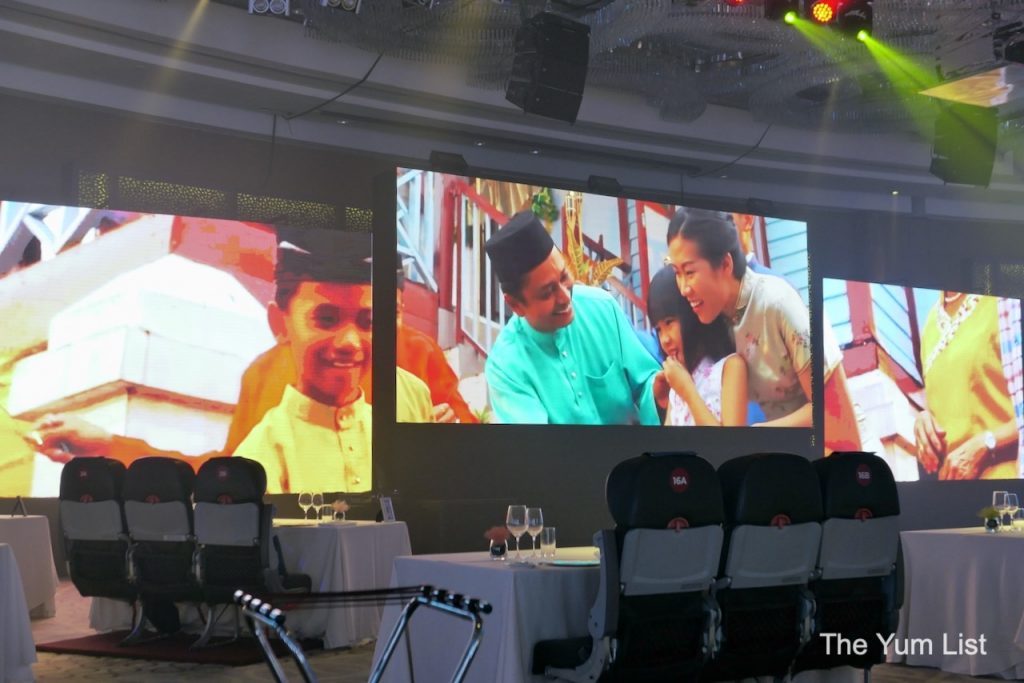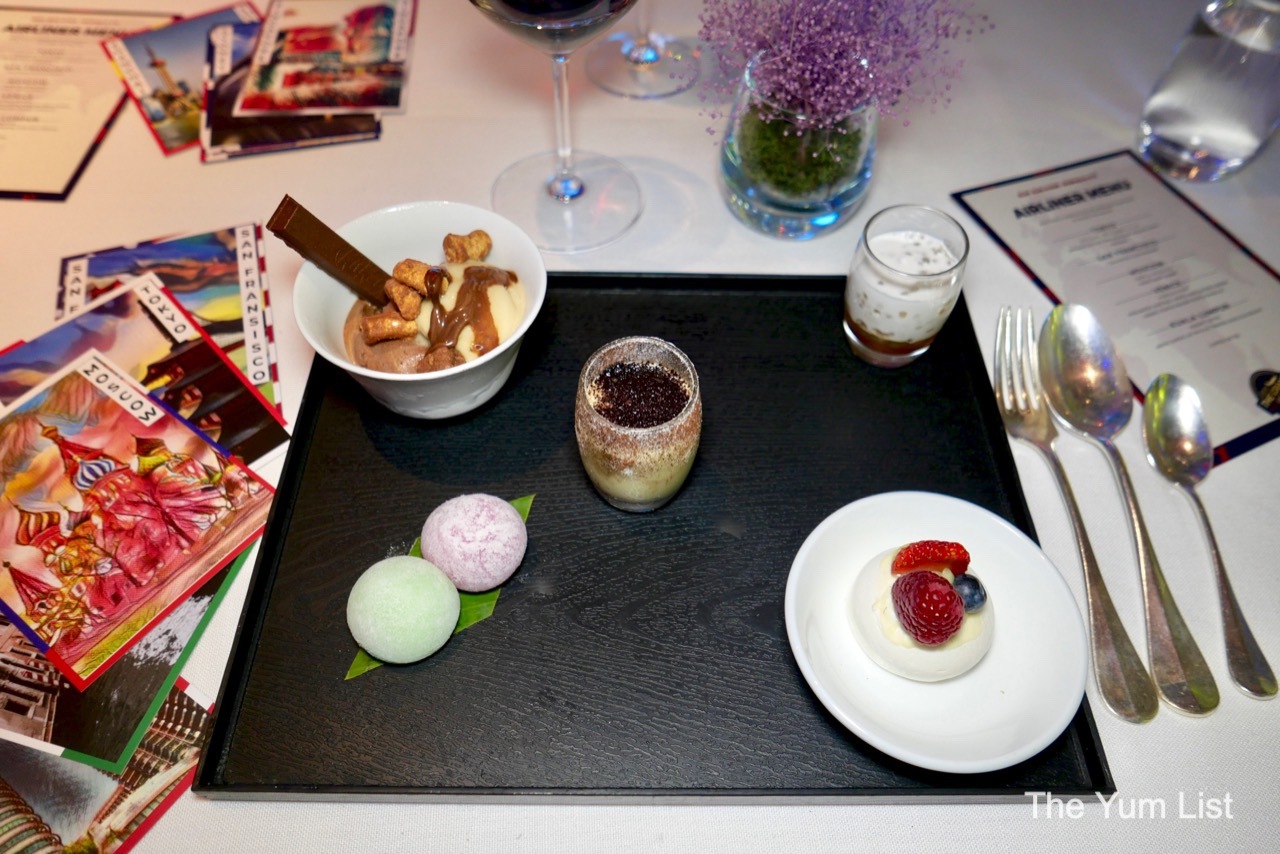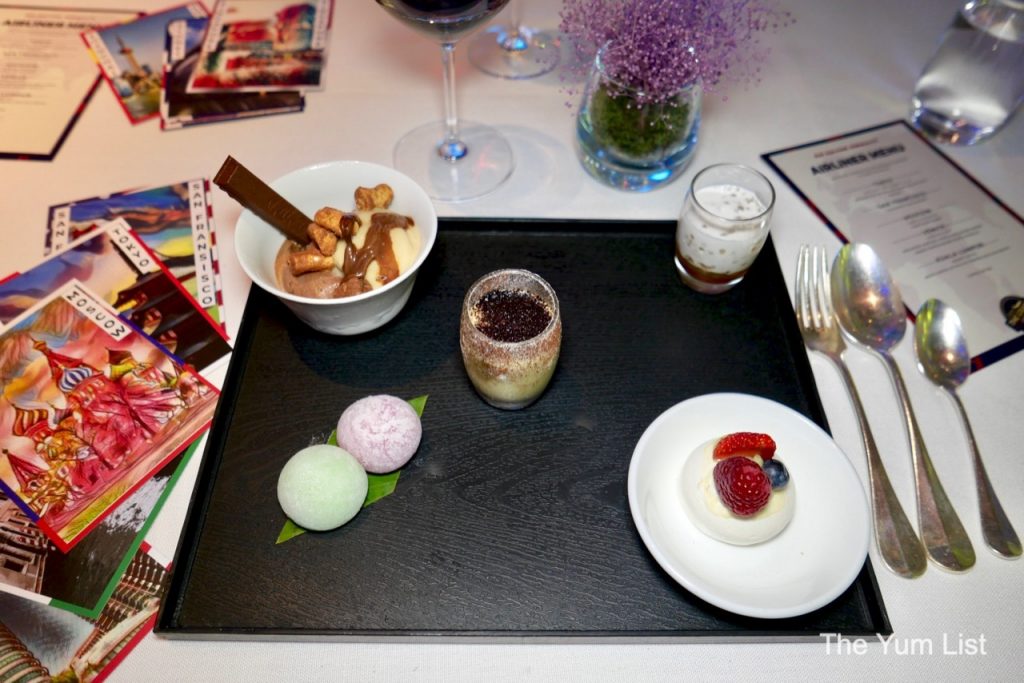 The Grand Getaway Review
The Grand Getaway at Grand Hyatt Kuala Lumpur is testament to the persistence and desire to thrive of the food and beverage scene in KL. Not willing to lay down their guns, they live the philosophy of "Go Grand or go home!"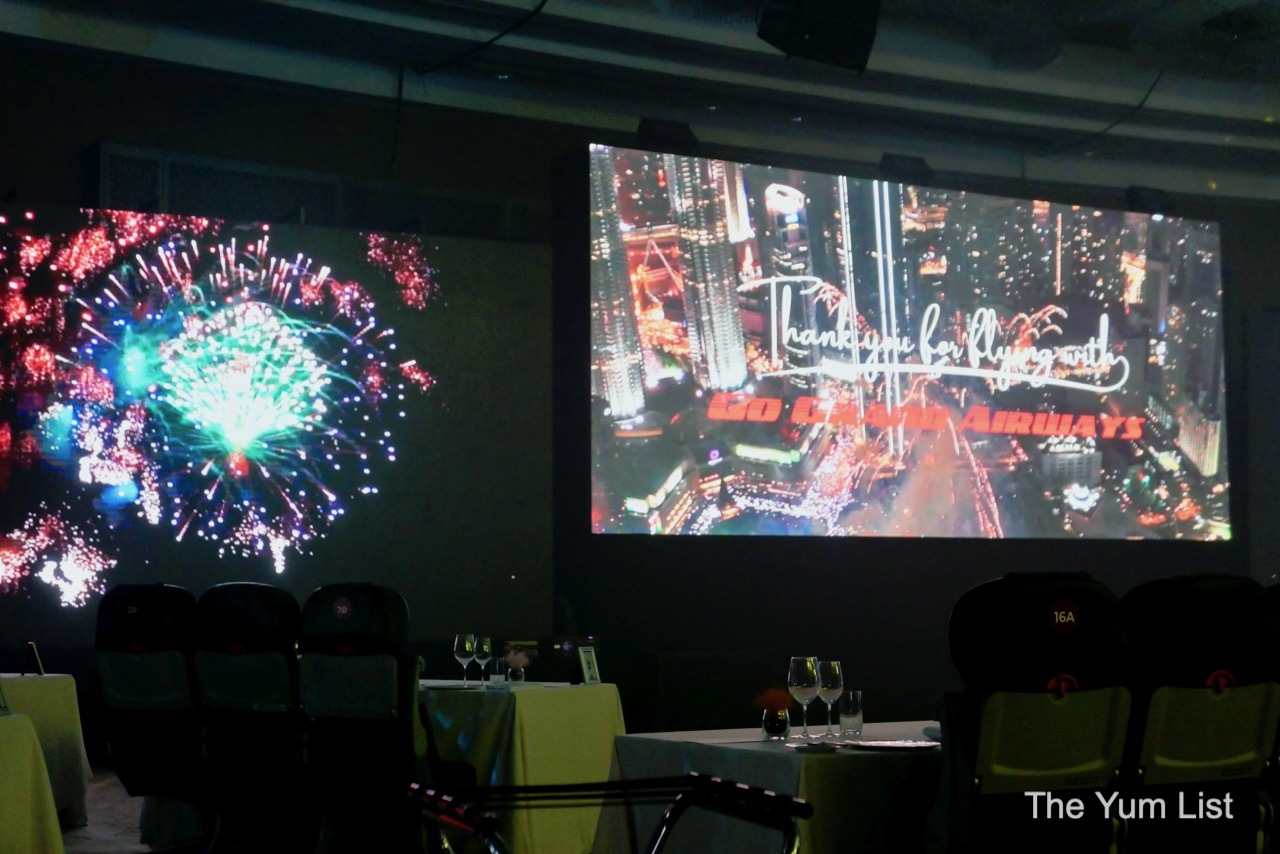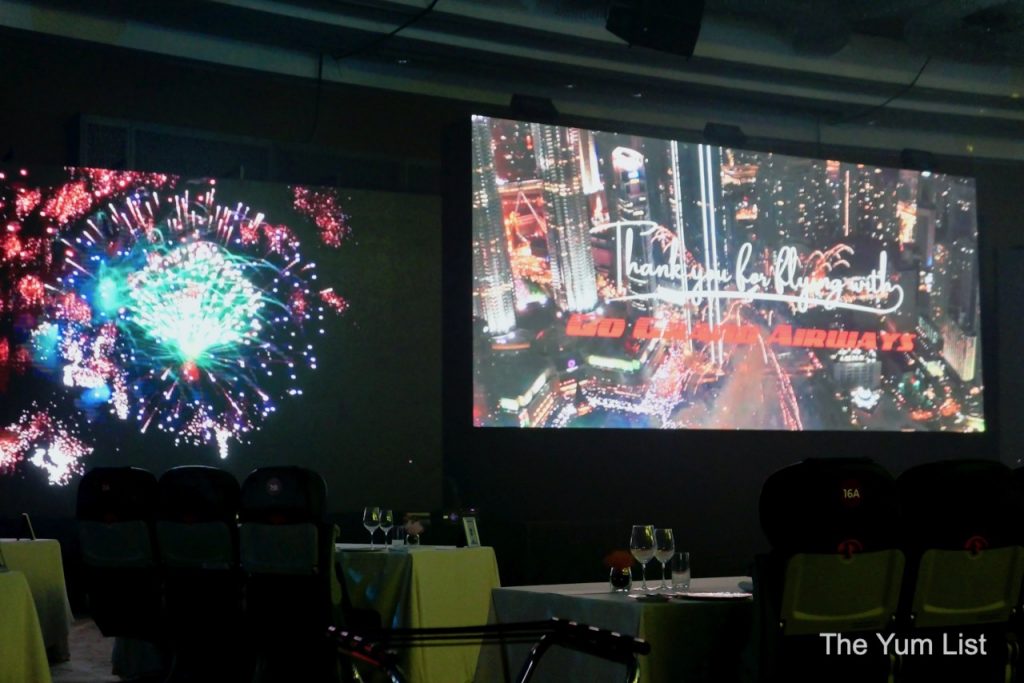 The Grand Getaway
Grand Hyatt Kuala Lumpur
Grand Ballroom, Ground Floor of Grand Hyatt Kuala Lumpur
12, Jalan Pinang, 50450 Kuala Lumpur, Malaysia
Website
The Grand Getaway Operating Hours
Daily: 7:00 PM to 9:00 PM
#TheGrandGetaway @GrandHyattKualaLumpur
The Grand Getaway Price
The Yum List readers may enjoy 20% off for bookings up to March 31, 2021. Use this code "FLY20" when making a reservation on the website.
Premium Economy Class at MYR 450 nett per person
· 5-course Airliner Menu
· Free flow of signature coolers (non-alcoholic)
*Add on MYR 100 nett to enjoy free flow of house pouring wines
Business Class at MYR 650 nett per person
· 5-course Elite Menu
· Free flow of signature coolers (non-alcoholic)
· Exclusive one-hour access to Go Grand Premium Lounge at level 37 for pre-boarding cocktail
*Add on MYR 100 nett to enjoy free flow of house pouring wines
Junior Class at MYR 250 nett per person
· 5-course Junior Menu
· Free flow of signature coolers (non-alcoholic)
**A surcharge of MYR 200 nett per person applies on top of the selected price on specified blackout dates (December 24, 25 and 31, 2020 and February 14, 2021).
First Class Suite and Family Getaway packages are available with room stay, breakfast and return chauffeur service included. For more details, menus and reservations, phone +60 3 2182 1234 or email [email protected]
Find more restaurants for special occasions in KL here and stay up-to-date with the latest gourmet and travel recommendations for Malaysia here and here.