Brunch at The Sphere – Five O'clock Brasserie
Word: Monica Tindall Photos: Rich Callahan
Surrounded by lush green landscaping, the casual yet stylish setting of Five O'clock Brasserie is perfect for brunch at The Sphere. Offering all-day dining with western dishes of great variety, there is something for everyone here.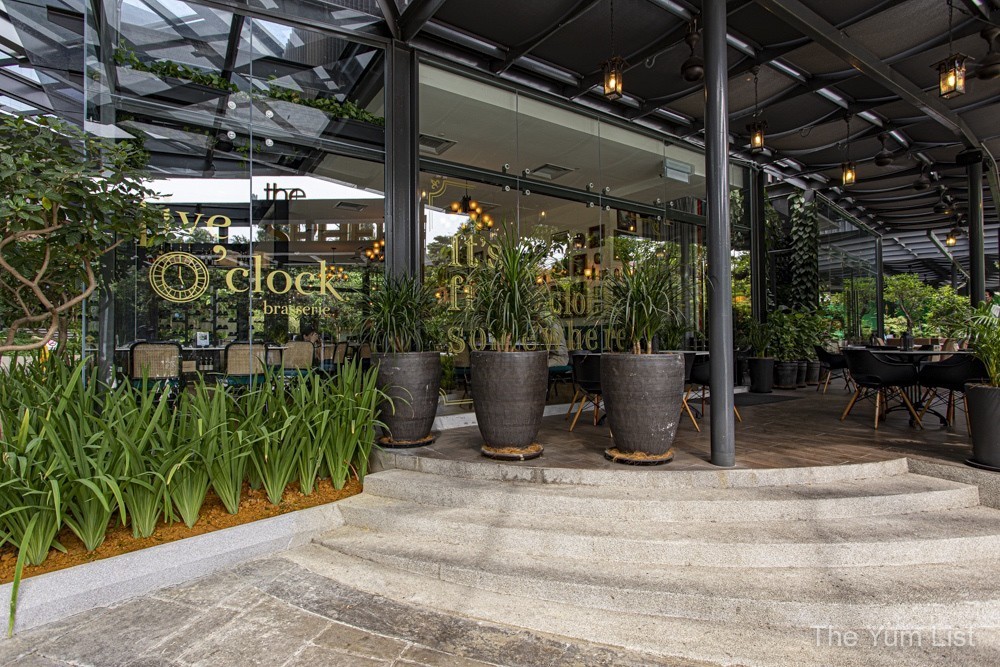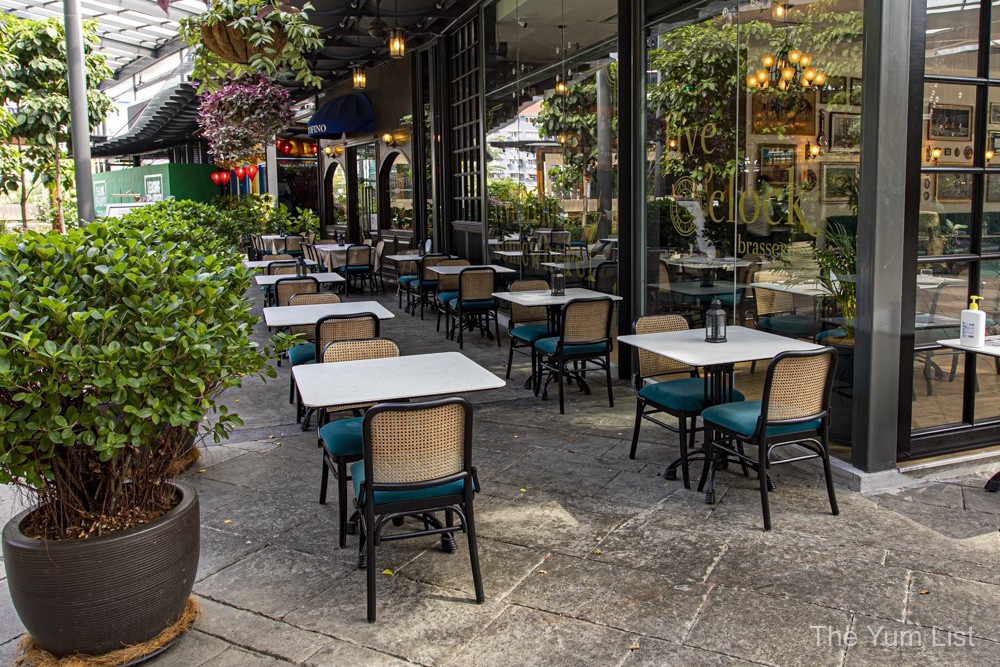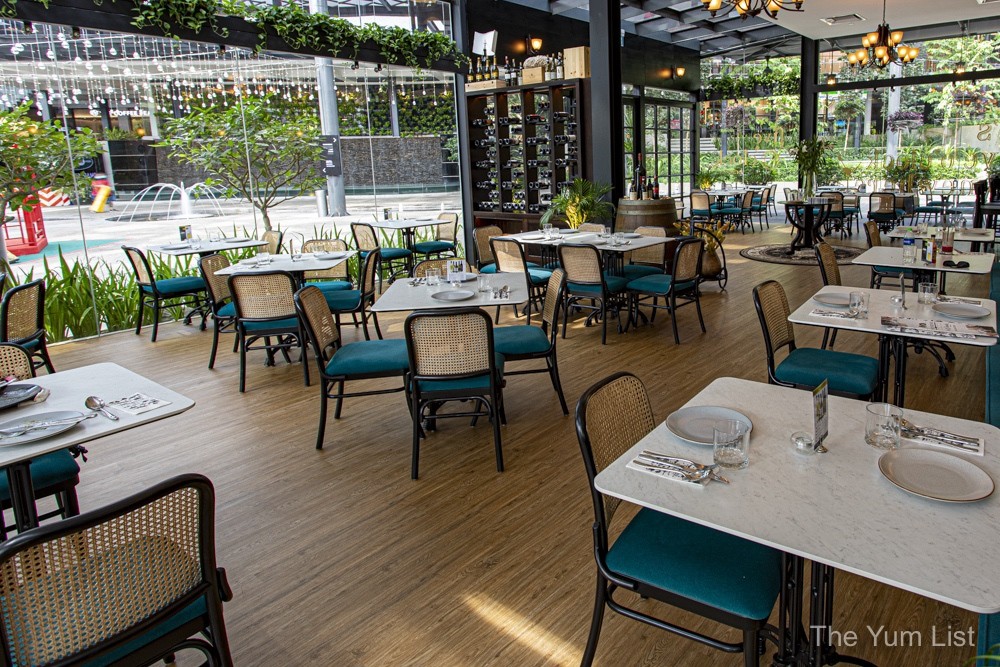 We visited just before the New Year when they first opened. Since then, they've revamped the menu, refining dishes and adding new recipes.
Drinks
On this warm afternoon, we begin with refreshments. We're happy to see some healthy options on the menu with Kombucha by Wonderbrew (RM 16). Markisa Breeze is a refreshing mix of passion fruit and spearmint. At the same time, the Purple Pari Pari has floral hints alongside green tea and lemongrass. There's also coffee, matcha, pressed juice and an extensive bar list – but more on that later.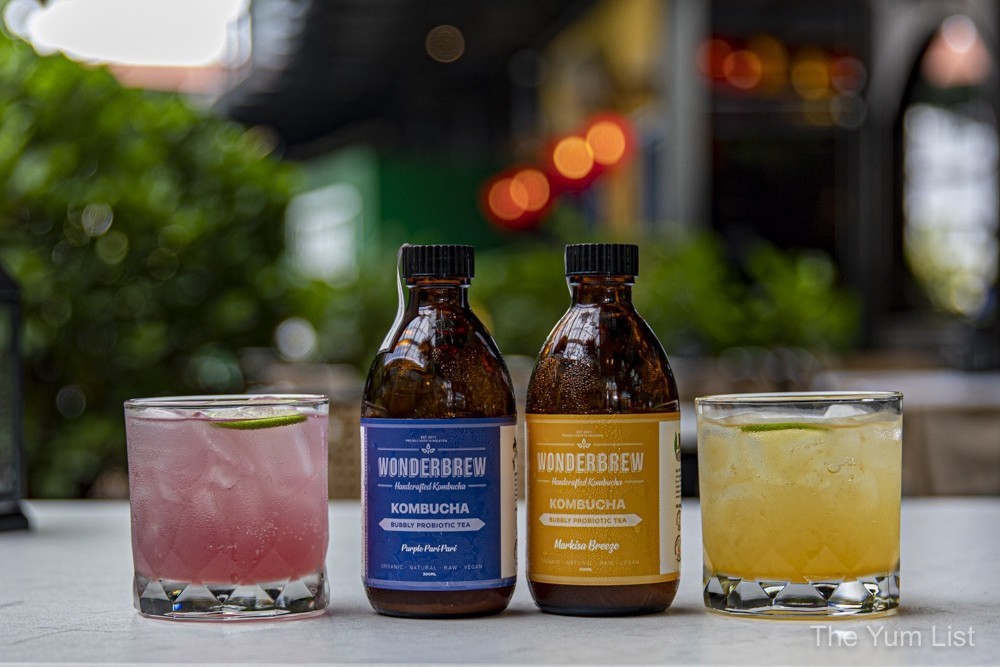 Brunch at The Sphere – Five O'clock Brasserie
Our tasting of brunch at The Sphere launches with a gorgeous plate of Tuna Tataki (RM 34). It's a fresh arrangement of lightly seared marinated tuna. It's just cooked on the edges remaining vibrantly pink in the middle. Ginger soy dressing and avocado are perfect companions. Pomegranate seeds are sprinkled across the top, showing attention to detail.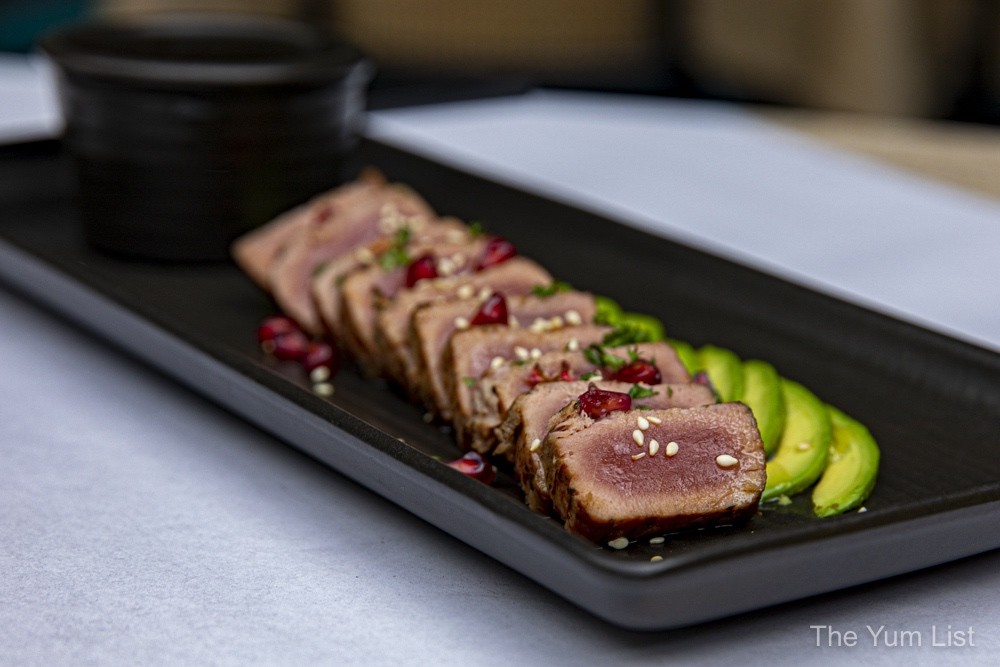 I am always on the lookout for veggie options and finger food to go with wine and friends. The Hummus Platter (RM 36) fits the bill on all accounts. A tangy homemade hummus is supported by guacamole, feta cheese, kalamata olives, artichokes, tomatoes, cucumber and sourdough bread in a pretty arrangement of nutrition. It is superbly fresh and delicious.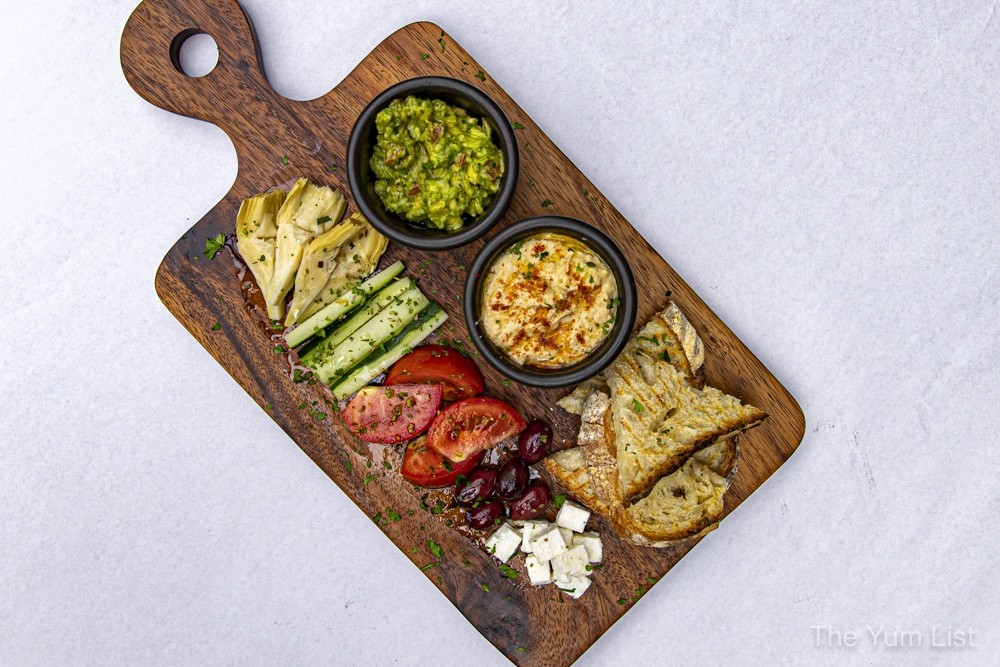 Fettuccine Pomodoro with Mozzarella (RM 29) sees another meat-free order. Flat ribbons of al dente pasta are coated in a generous tomato sauce with fresh basil. The sauce is balanced in acidity and sweetness – two thumbs up. Buffalo mozzarella is a nice touch, with chunks melting over the summit.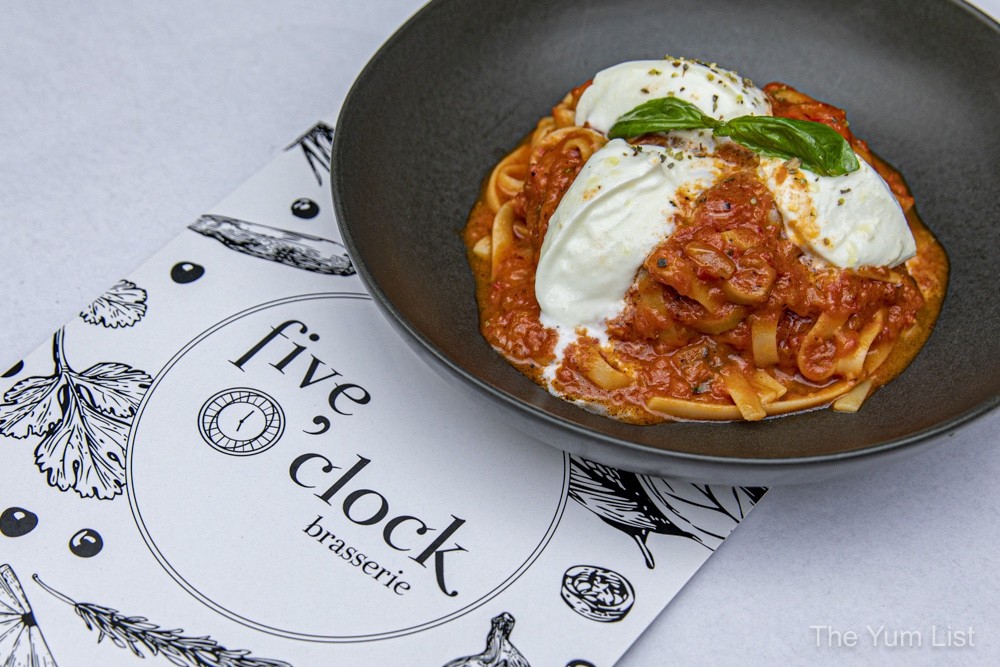 The Classic Beef Cheese Burger (RM 38) features a thick homemade patty between a fluffy soft bun. Balancing the meal are cheddar cheese, sliced tomato, lettuce, sunny side egg, gherkin and caramelized onion. Sriracha mayo adds a boost of spice. Superbly thin French fries come in a basket on the side with ketchup. With the size of the patty, it's good value for money.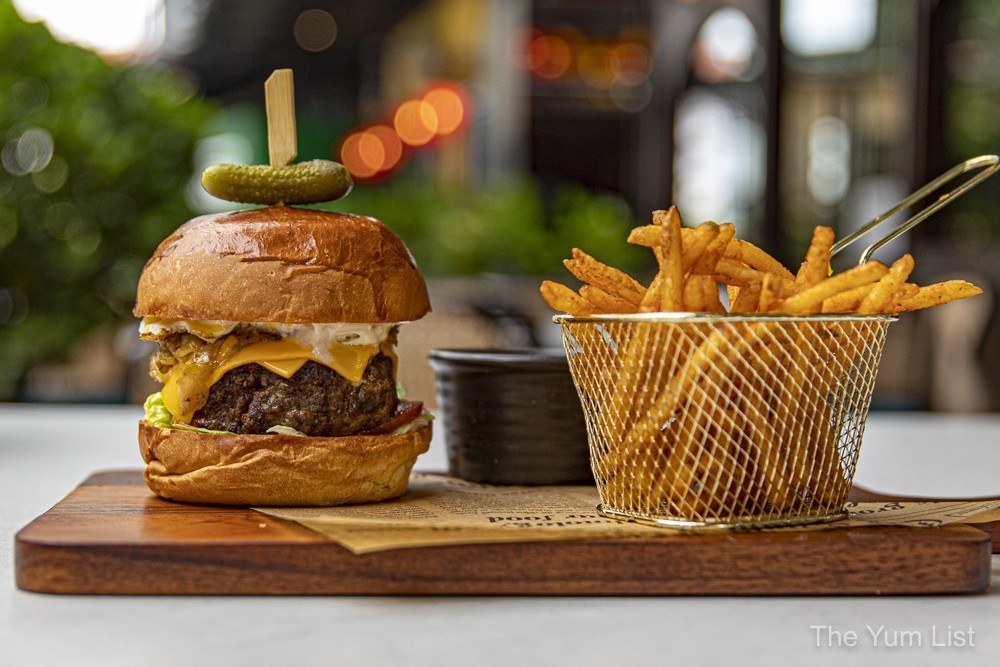 If you're looking for a hearty and healthy meal, you can't go past the Barramundi Fillet (RM 38). It's baked together with clams, mussels, cherry tomatoes, basil and extra virgin olive oil. Wrapped in aluminium foil, all of the juices are trapped inside, ensuring moisture levels are premium.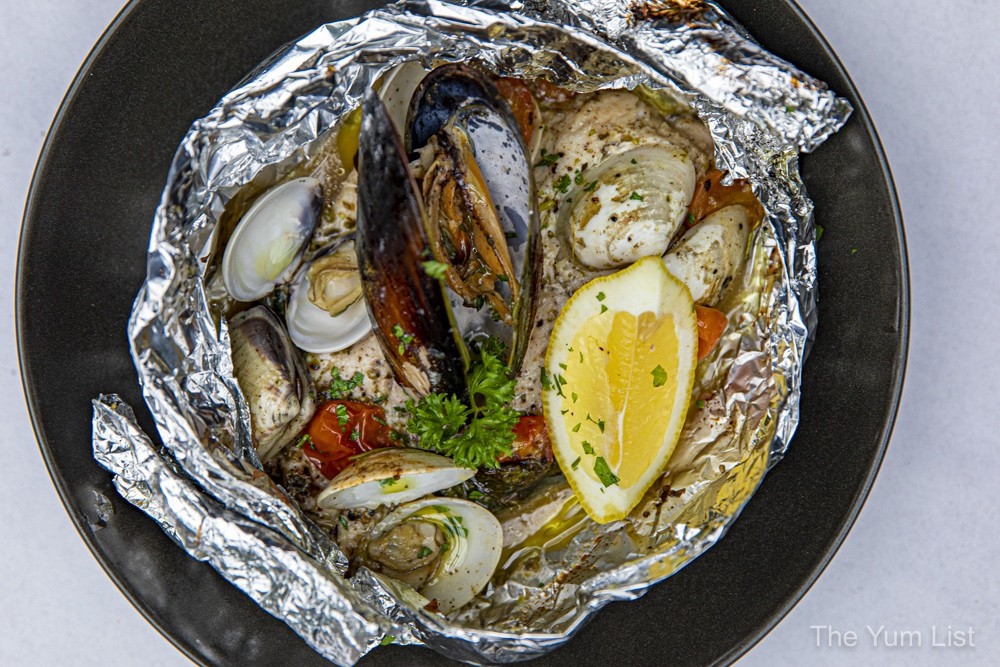 Something worth sharing is the Roast Chicken. A whole (RM58) or a half (RM33) spring chicken comes with roasted potatoes, green salad and truffle chicken jus. The secret to its tender flesh is marination for 24 hours before being slow-cooked.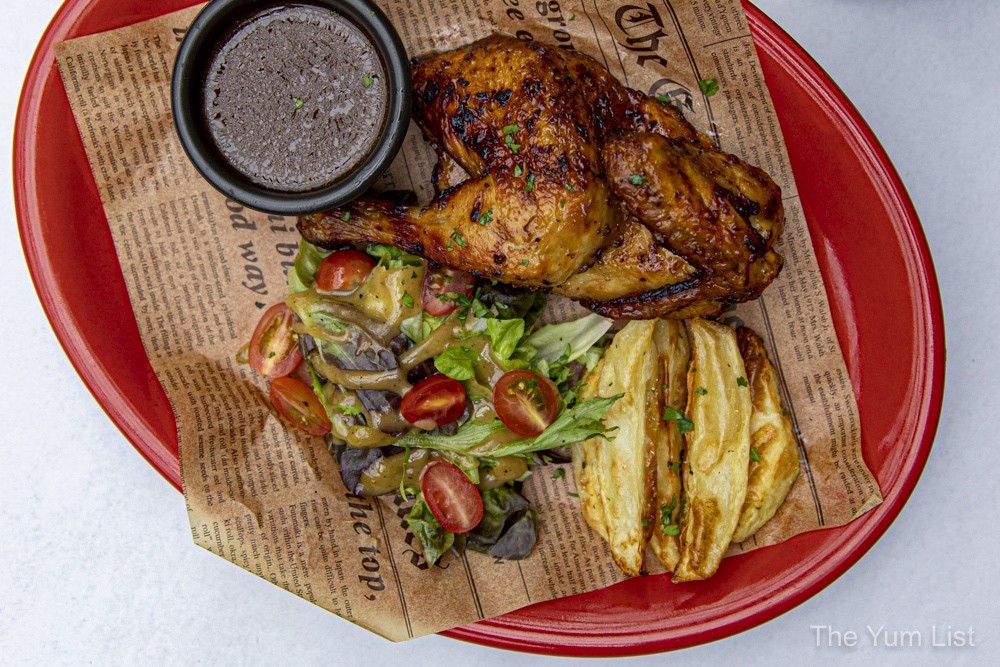 Australian Sauteed Mussels (RM 52) are a superb treat for us today. They arrived alive in KL this morning and were delivered to Five O'clock while we were seated. Cooked on the spot with garlic, fresh chilli padi and tomato sauce, they couldn't be more plump, succulent or fresh. Slices of sourdough bread are adept tools for mopping up every last drop of the sauce. Come on Thursdays for the same experience – they're delivered weekly!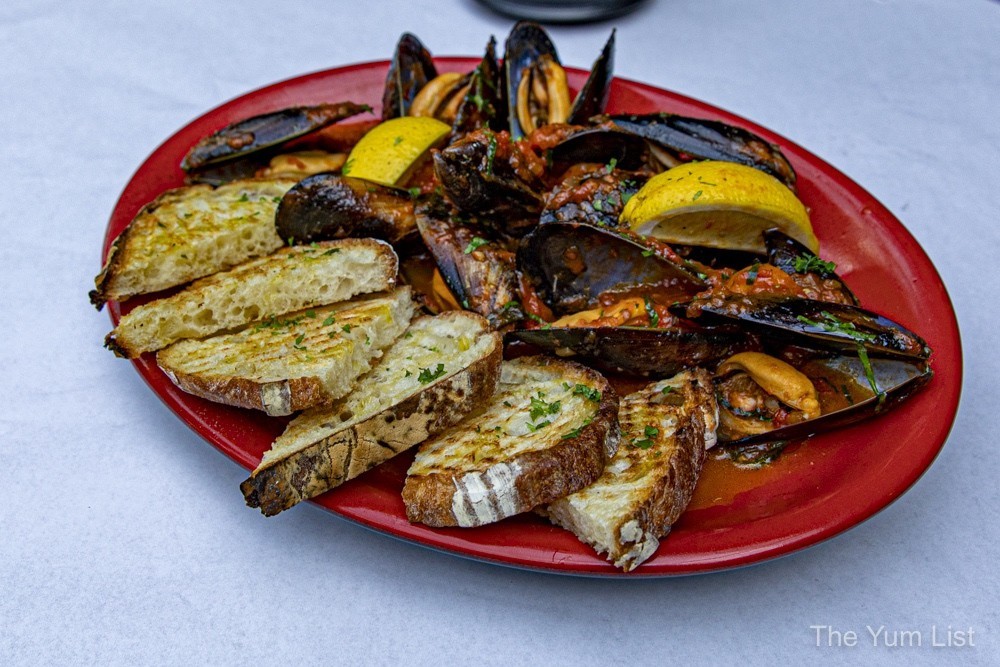 Brunch at The Sphere – Dessert
Rich ends the meal with a fat slice of Burnt Cheesecake (RM 18). He gives the classic recipe his approval for its density and creaminess, which is pleasantly broken with orange zest.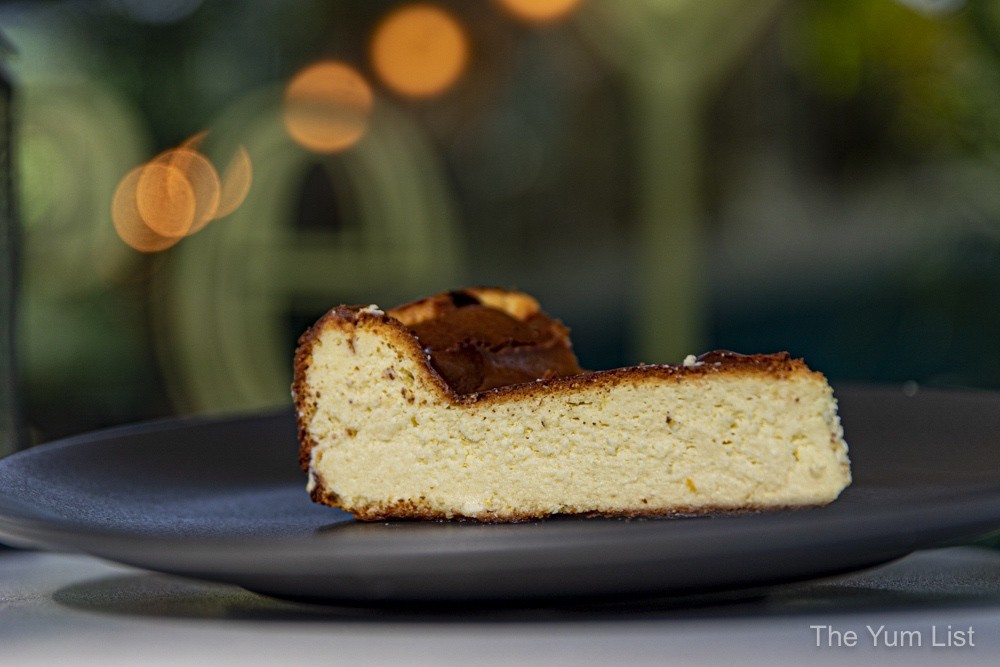 Gin & Tonic
While Rich has been doing his job with the desserts, I have fulfilled my role with the drinks. Brunch at The Sphere should definitely include booze, and as the name says, "It's five o'clock somewhere." On our last visit, we explored their wine by the glass menu. This round, we make a dent in the selection of gin and tonic.
Over two handfuls of gin are on the shelf. Each is paired with a Fever-Tree tonic chosen to pair favourably with the gin. Today we have Sorgin (RM 30) with Elderflavour and Four Pillars Shiraz (RM 32) with the Mediterranean style. London Dry (RM 34) and one of my favourites, Gunpowder (RM 36), are recommended with the Mediterranean style tonic. They'll all served in voluptuous bowl glasses over ice and simply garnished with a slice of citrus.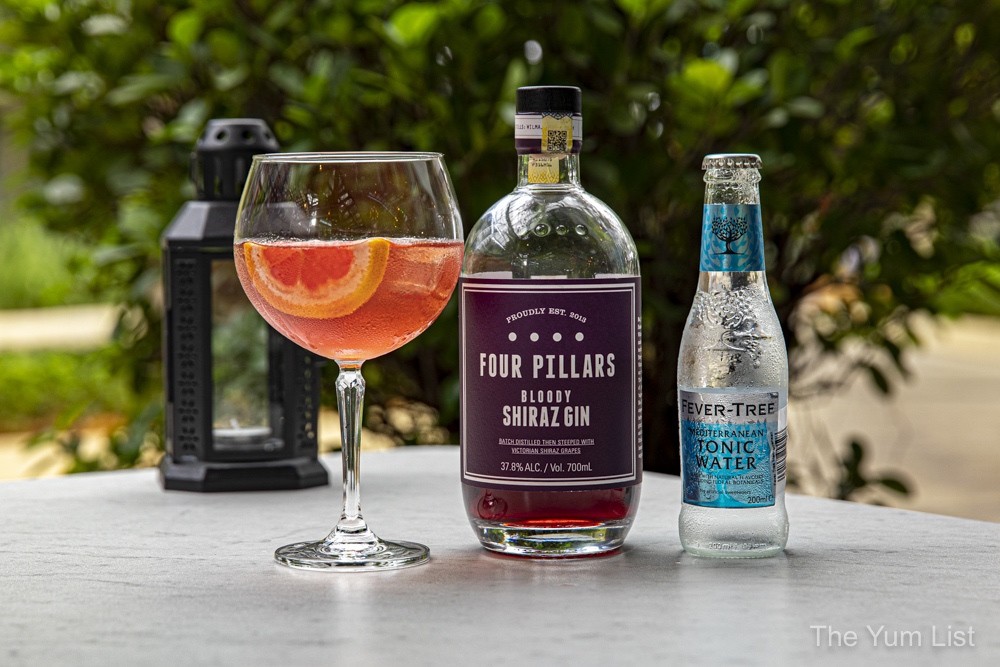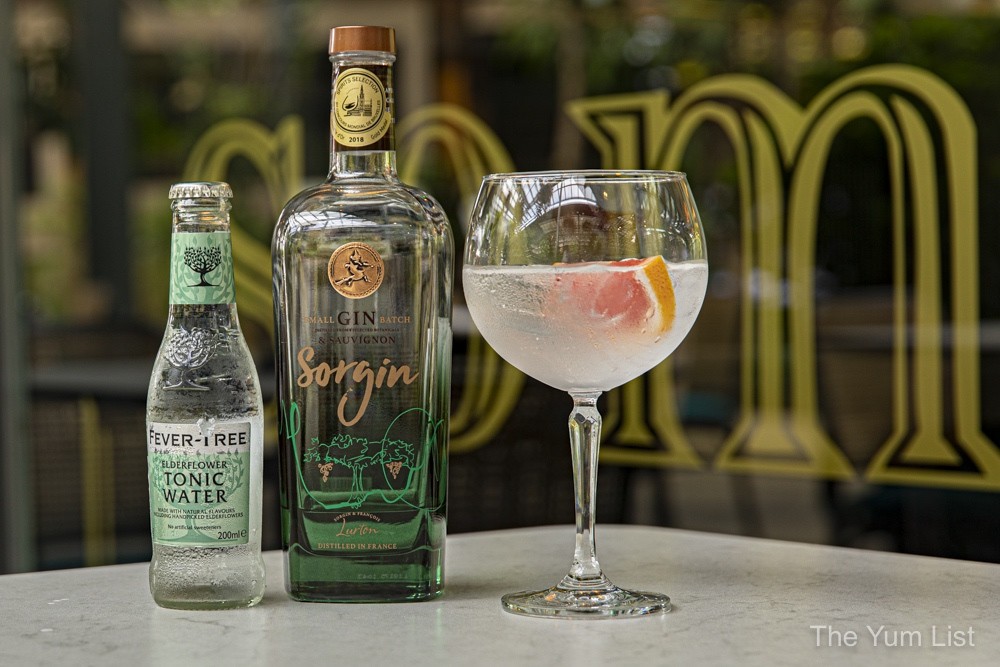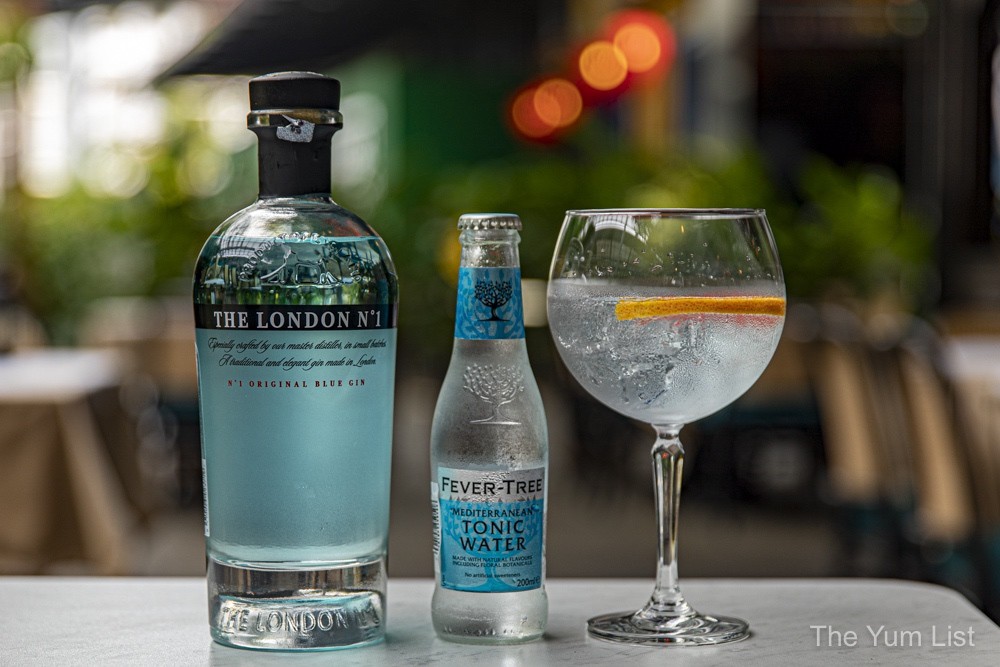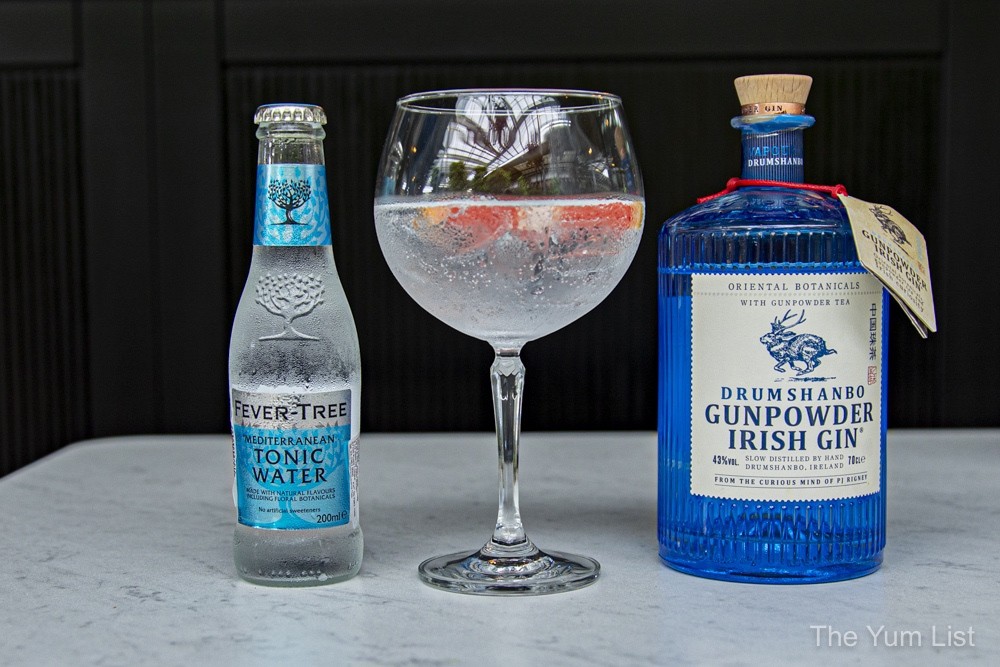 Reasons to have Brunch at The Sphere – Five O'clock Brasserie: lovely green setting; great alfresco dining area; a menu to suit the whole family; well-prepared dishes using high-quality ingredients; good selection of gin and wine by the glass; must order the mussels on a Thursday, and the Hummus Platter is a great sharing dish.
Brunch at The Sphere – Five O'clock Brasserie
Unit G-5, Level Ground Floor,
The Sphere. No. 1, Avenue 1, Bangsar South City
No. 8 Jalan Kerinchi, 59200 Kuala Lumpur, Malaysia
[email protected]
+6 0172181734
*pork-free
Five O'clock Brasserie Operating Hours
Daily: 9 am-11 pm
Find more brunch options in KL here and stay up-to-date with the latest gourmet and travel recommendations for Malaysia here and here.