The Alchemy, Kuala Lumpur's Crucible Turning Gin into Gold
Words: Claire Matheson Photos: Monica Tindall
Alchemy is defined as the forerunner to modern Chemistry, the speculative belief in the experimental transmutation of matter into gold, or the search for the elixir of eternal life. An apt name for the rebirth of Starhill Dining's glamorous new bar at The Alchemy, be prepared for chemical mixology wizardry, cocktails to make you feel immortal, and service to impress even King Midas. A scientific pursuit worthy of your own experimentation.
The Alchemy, The Starhill Dining
Headed by sommelier and local Kuala Lumpur bartending legend Johnny Yap, the team at The Alchemy specialise in the science of gin concoctions. The garnish for The Starhill Dining's newly reimagined food and beverage scene, The Alchemy's modish lounge is decked out in sumptuous tan leather, plush teal velvet, classy black and white herringbone, and rich accents of gold and marble. The backlit bar is the best seat in the house. Here, an array of the world's finest gins sit pretty in the spotlight. Shelves are stacked with Martin Miller, Monkey 47, No.3, Roku and Botanist, amongst other top tier finds. Johnny eagerly reveals he has big plans to add to the burgeoning collection.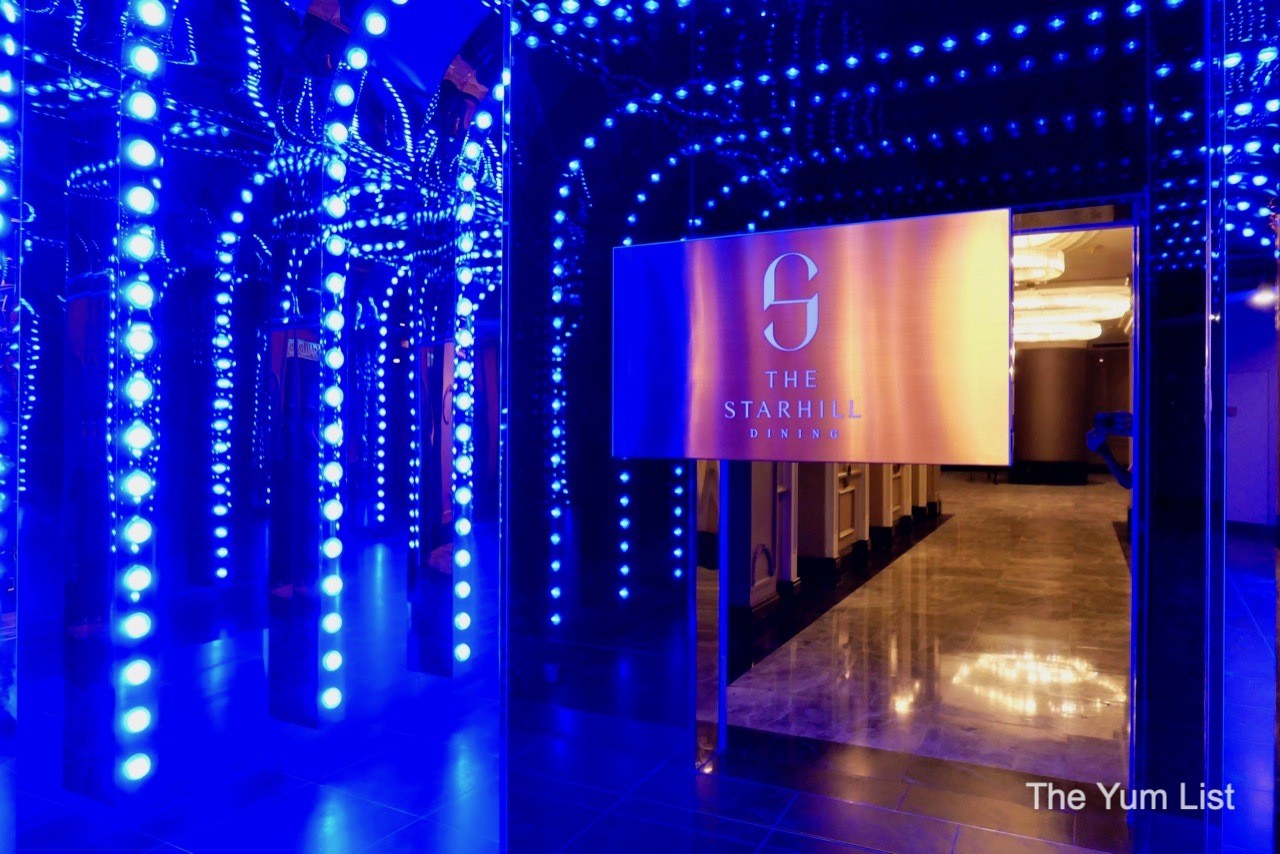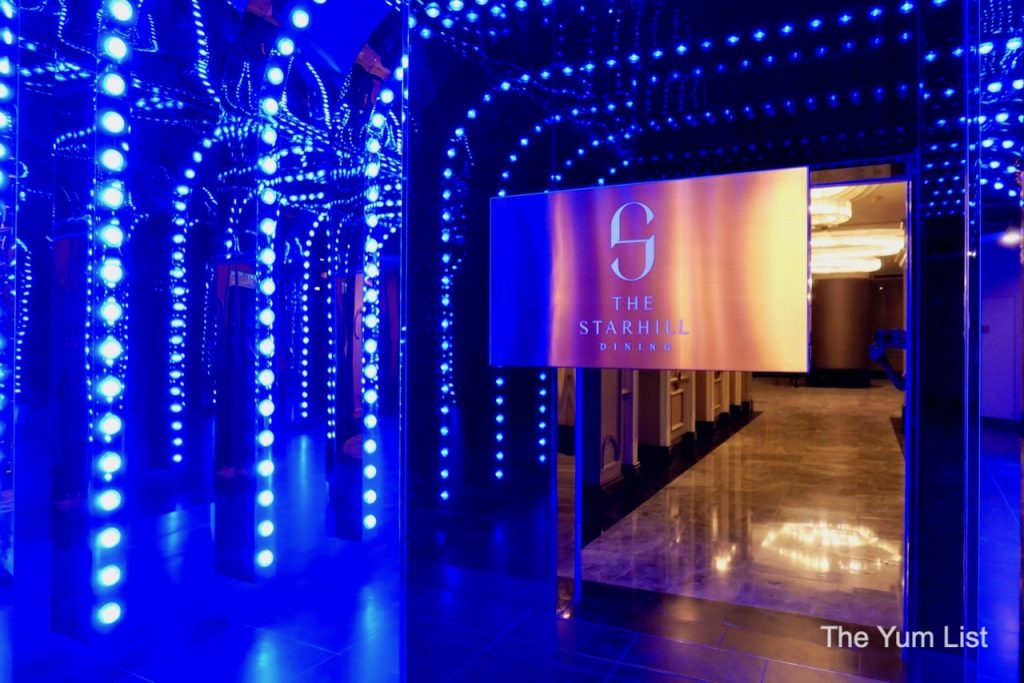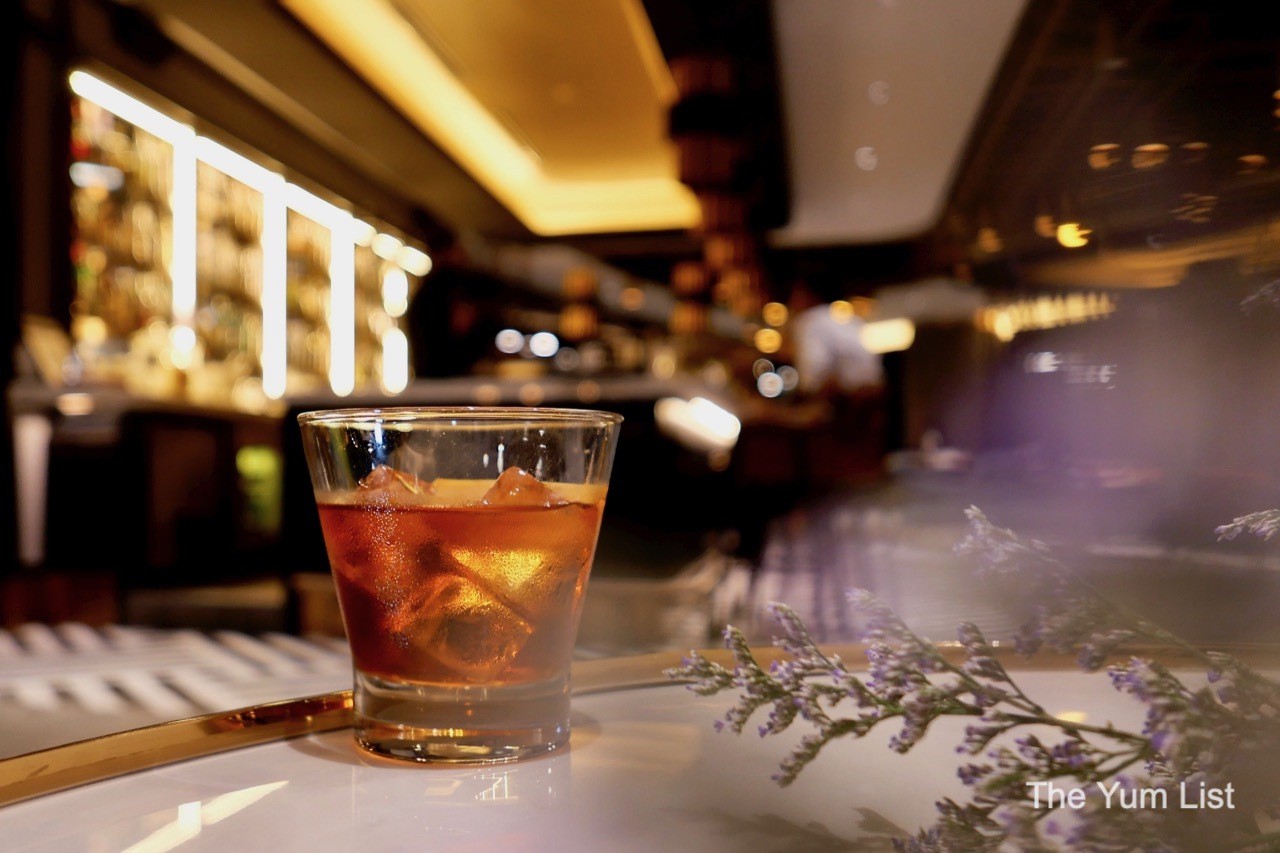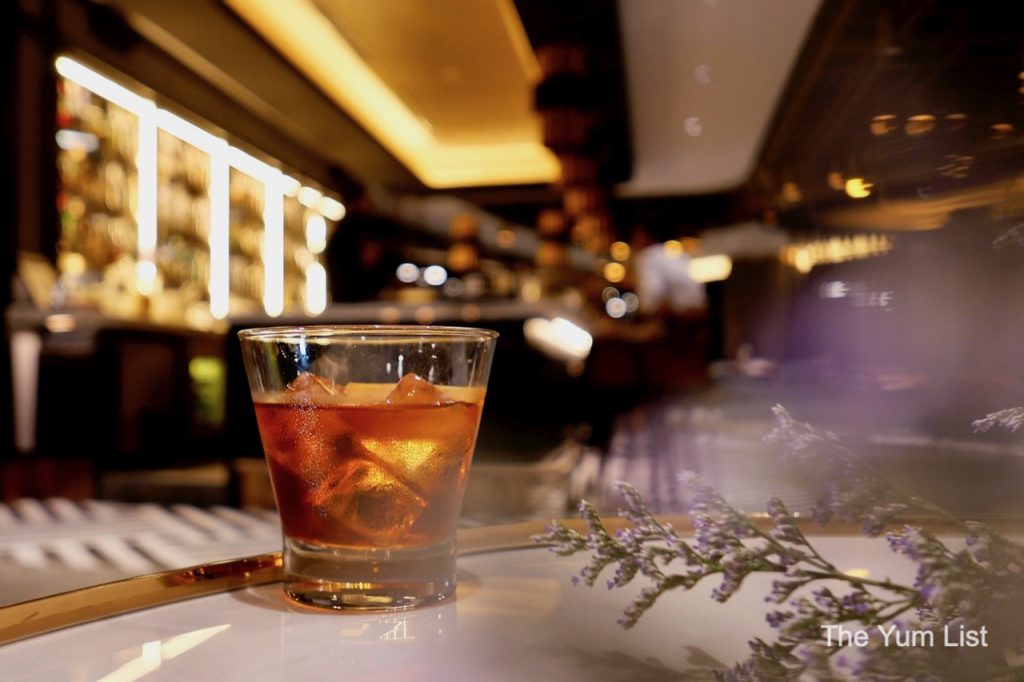 Gin Bar KL
The gin scene in Kuala Lumpur has blown up in the last five years. Previously dominated by sports and whisky bars, the young Malaysian guns of craft cocktail making have transformed this city into a global hotspot of bartending creativity. With it has come a newfound love of gin. Originally invented by a Dutch chemist and alchemist Franciscus Sylvius de Bouve, the juniper based libation was first intended for medical purposes. The health benefits of this tiny berry well documented. Traditionally known for granting 'Dutch courage', these days, gin has a reputation for elevated yet understated sophistication. It's adaptable botanical, herbaceous, floral, or citrus tones blend beautifully. A malleable catalyst for highlighting the flavours of its cocktail counterparts, gin is the intellect's drink of choice.
Vesper
The Vesper (RM40) is a return to a golden moment on the silver screen in Ian Fleming's Casino Royale. James Bond fans may even consider the switch from a shaken, not stirred vodka martini. Polished with understated elegance, Icelandic-English cross culmination Martin Miller's forms the base. Having previously tried this crisp citrus and herbaceous gin neat, I was equally impressed with the result in cocktail form. Smooth and pure, it raises the candied orange and pine of the Lillet Blanc and the snappy cut of the New Orleans Bitter Truth Orange Bitters. Combined with consistently dynamite Grey Goose vodka and a final twist of lemon, there is something unerringly suave and intelligent about this drink. Rather like Mr Bond or Vesper Lynd themselves.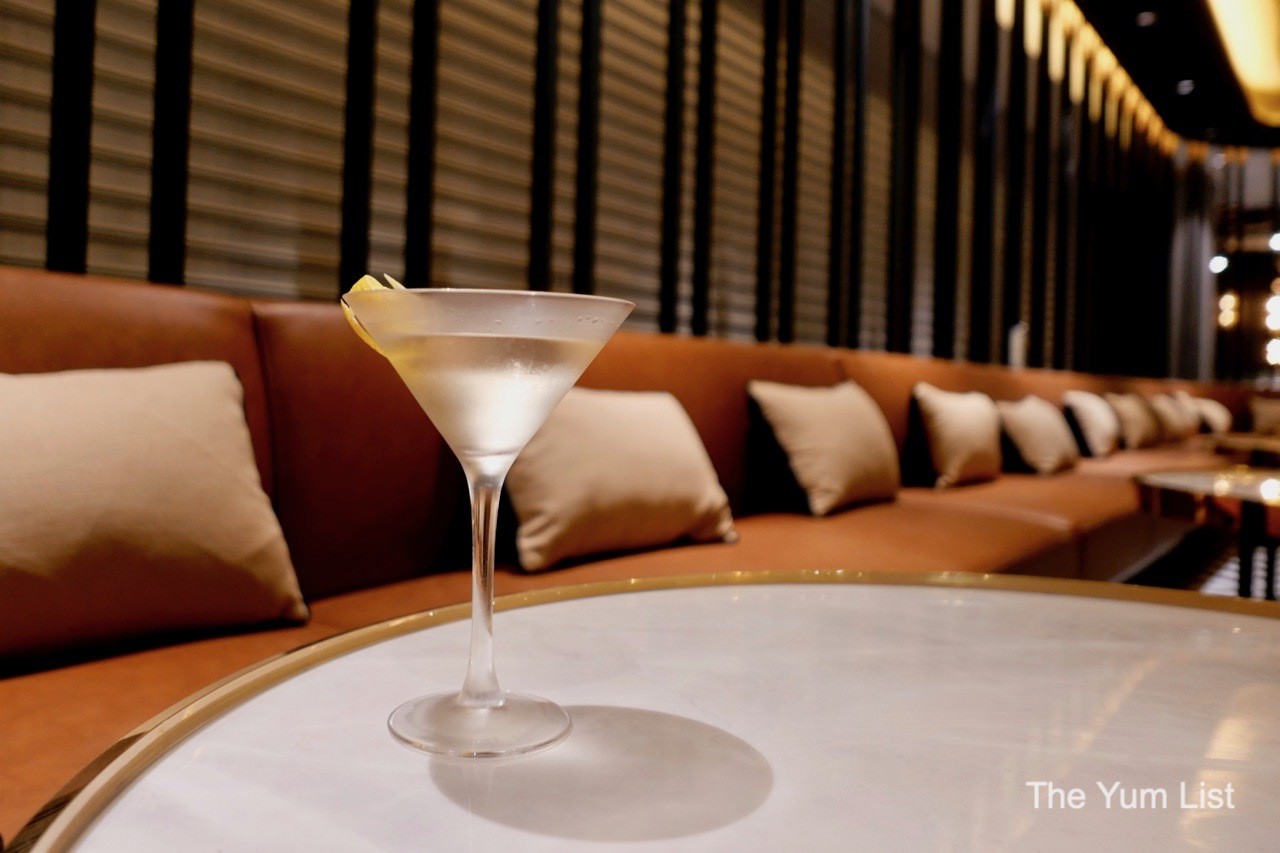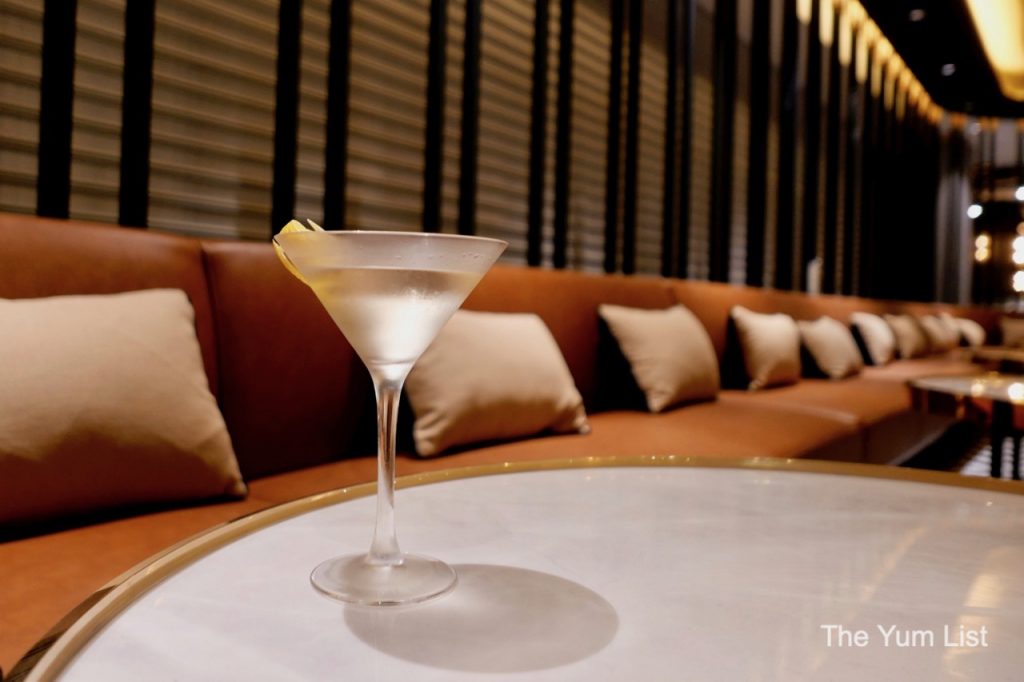 Corpse Reviver No 2
Best 'taken before 11am or whenever steam or energy is needed', Harry Craddock's 1930s Corpse Reviver No.2 (RM40) creation is rumoured to be the ultimate hangover cure for the practised drinker. At The Alchemy, the second iteration contains the four-time International Spirit Challenge World's Best Gin winner No.3 London Dry Gin. Strong juniper notes with grapefruit and orange and layered cardamom, angelica root and coriander seed spices make this a beautifully complex gin perfect for layering. Aniseed La Fée Parisian Absinthe is initially disguised before being unearthed amongst citrusy Lillet Blanc and Cointreau, with a dash of fresh lemon juice. The punchy final reveal is akin to a sobering dawn duel challenge. Served in a Marie Antoinette Coupe glass, with a dark maraschino cherry swaying in its centre, it is a sensually suggestive looking drink. The whole measure is evocative of a night of bad choices lived without regret.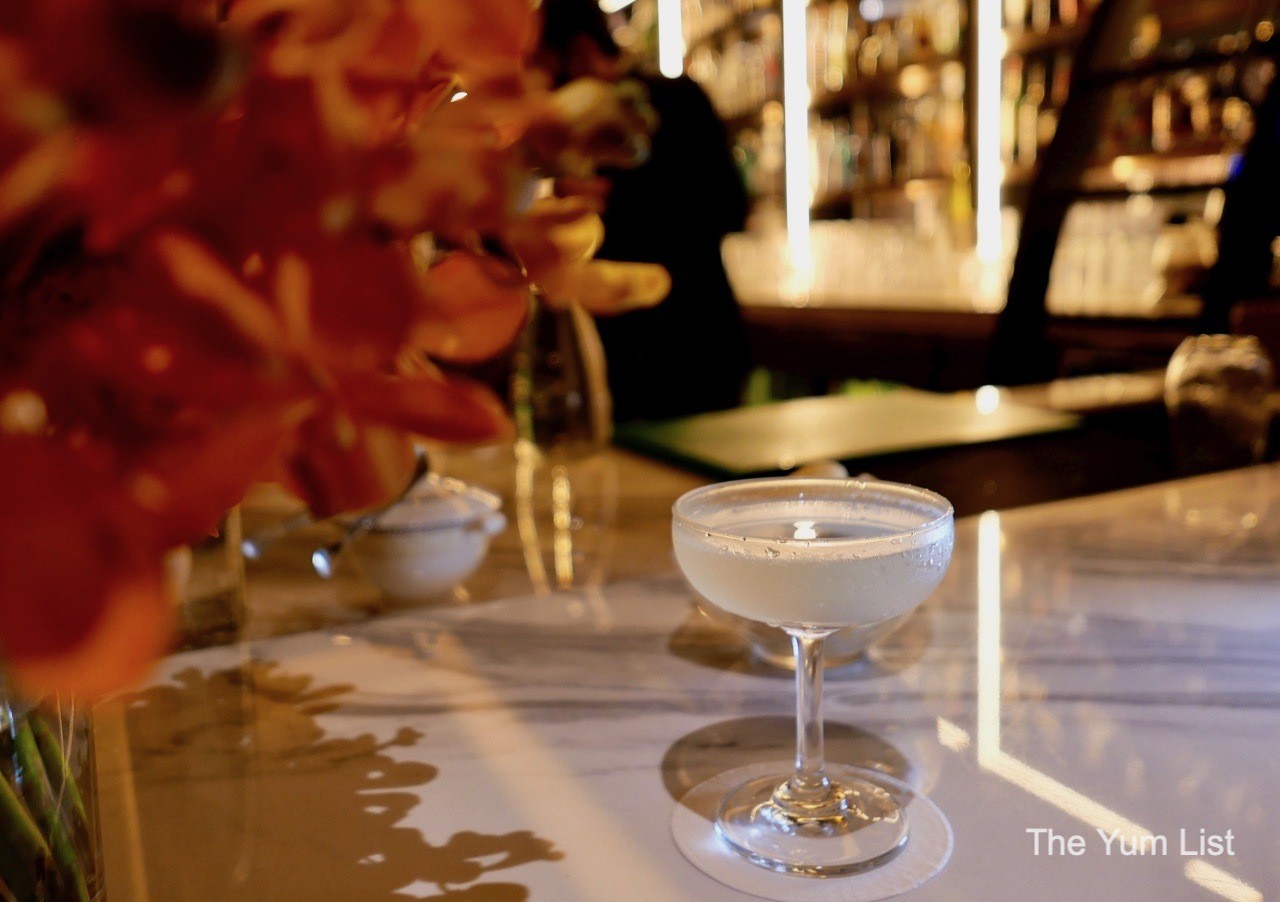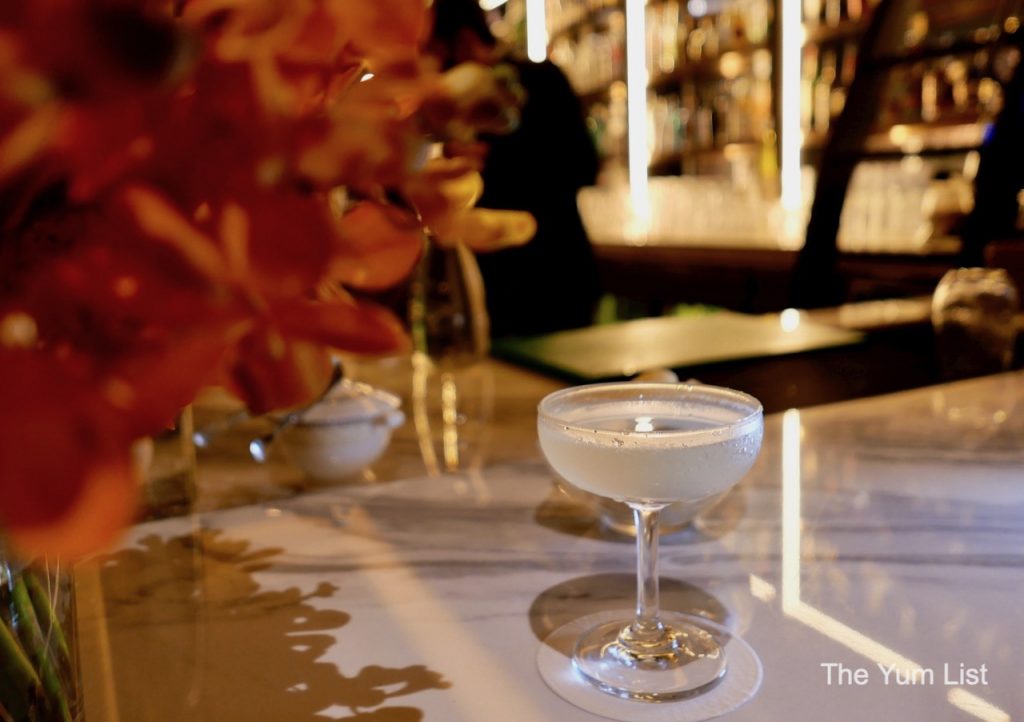 Butterfly
Sultry in smokey purple, the Butterfly (RM40) is similar to a gin sour. It is an excellent choice for those who like your drinks (and perhaps other aspects of your life) to be aesthetically alluring while maintaining a hidden bite or sour tinge. Considered a holy flower in certain parts of the world, we can understand the need to revere the butterfly pea in all its forms. The Alchemy combines butterfly pea infused Tanqueray London Dry Gin with French St Germain Elderflower Liqueur to bring forth the juniper on the palate in a balanced drink which was voted the number one bartender's gin for 2016. Tanqueray's grapefruit citrus layer is further highlighted with lemon juice, fizzy sour egg whites, and a garnish of freshly chopped aromatic rosemary with bitters' hearts. With a hint of umami, she's the perfect femme fatale. You won't be able to resist her chemistry.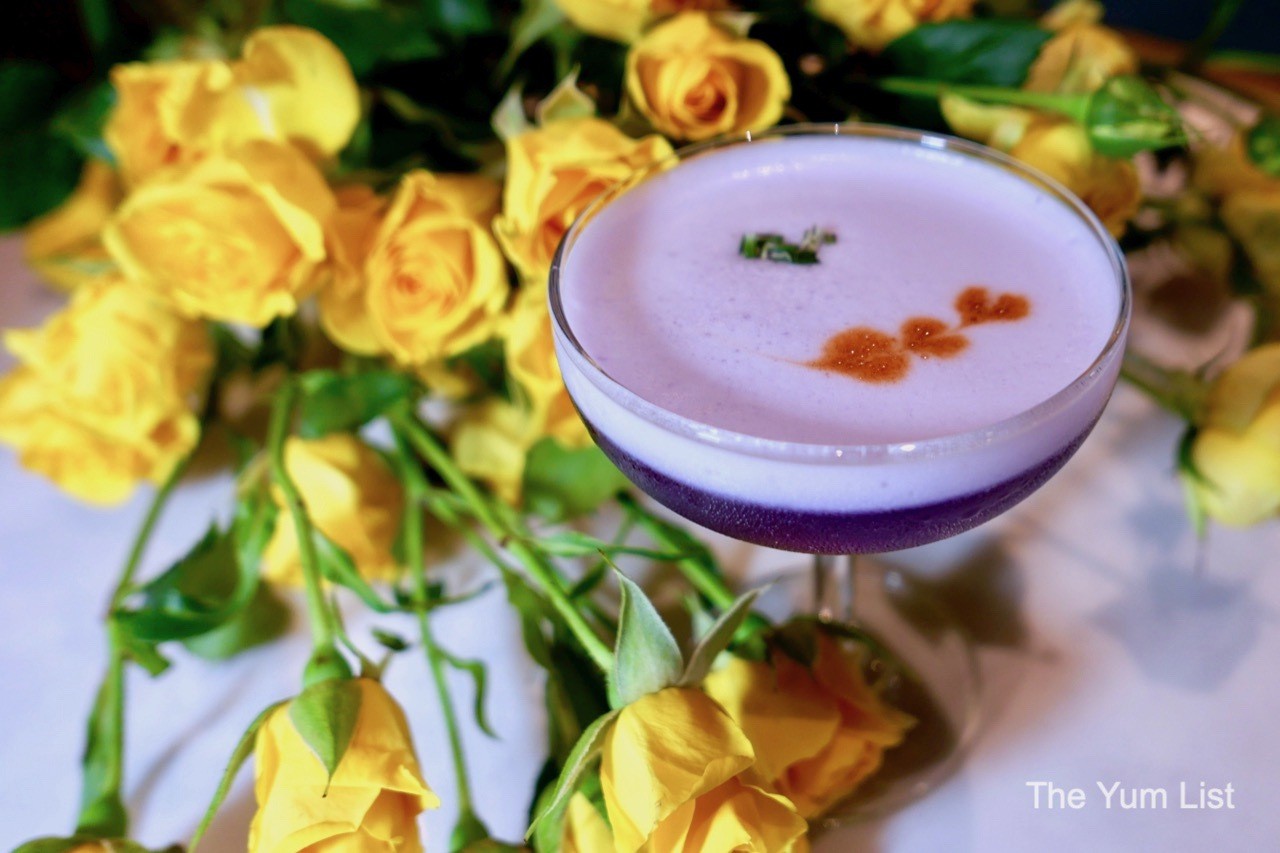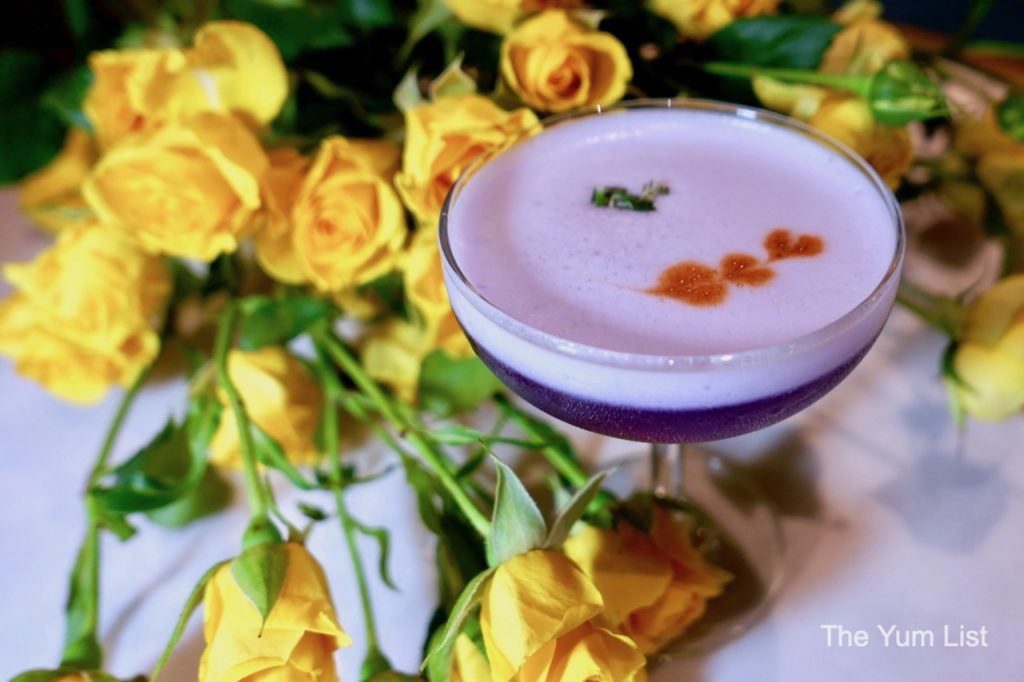 Bees Knees
Working the bar with pizazz, The Alchemy's bartenders Fauzi and Asraful prepare an ever-dapper Bees Knees (RM40). This prohibition-era cocktail is so simple yet so charming. In defiance of its English roots, Bulldog Gin showcases Asian botanicals, specifically longan fruit, lotus leaves and poppy, in combination with angelica, citrus and lavender florals. When paired with naturally sweet honey water and piquant lemon, this is a cocktail you could sip all day and never get tired of. Most cultures across the world share iterations of honey and lemon to treat all manner of ails. Utterly comforting and effortlessly chic, perhaps this is the elixir of a long life?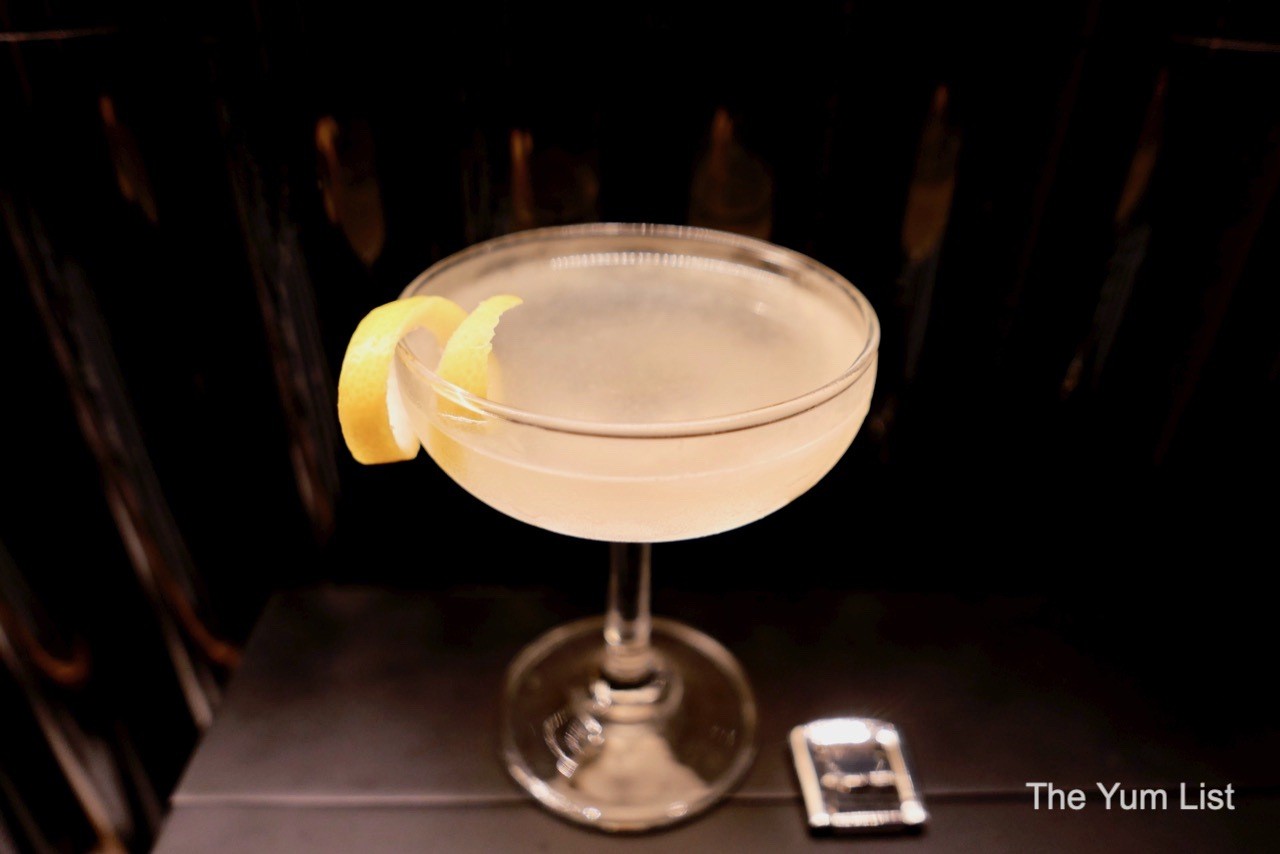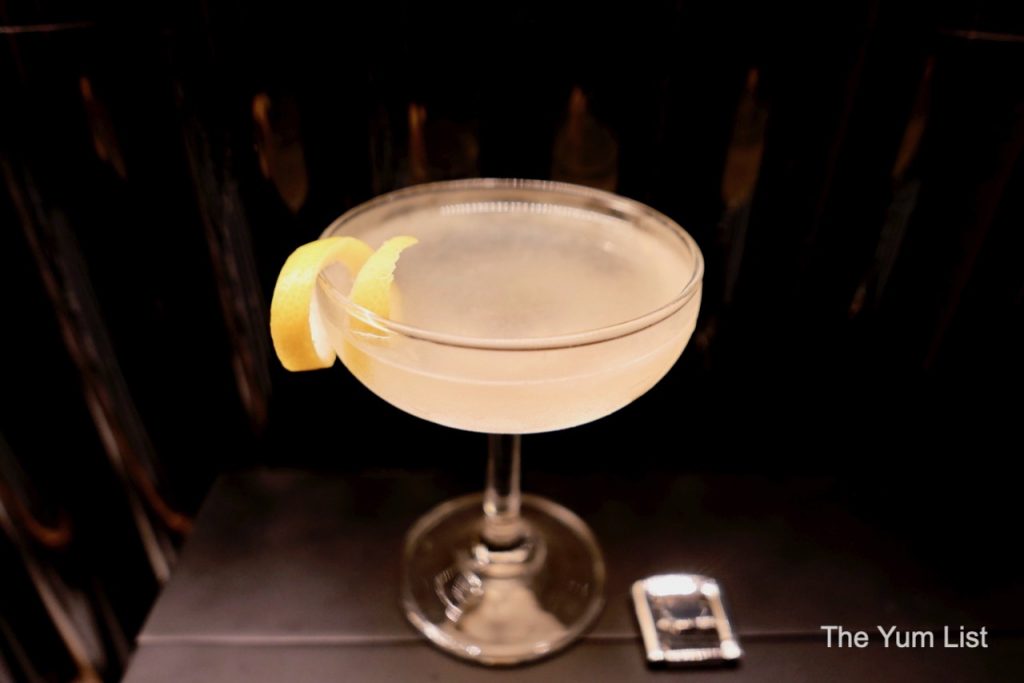 Gin and Tonic
Breaking up the cocktails, Johnny offers us an iconic Gin and Tonic (RM40) with his own experimental twist. Depending on the night, their mood, and their read of individual guests, at The Alchemy, Johnny, Fauzi and Asraful are creative with their own unique G&T sensations to surprise and delight. Tonight Johnny chooses Bogart's gin, a small batch Californian creation using Italian juniper berries, citrus, cucumber and roasted macadamia nuts. Bogart's tagline "All you owe the public is a good performance" rings true here. Mixed with Fentimans Premium Indian Tonic Water, a trickle of Dom Benedictine with its twenty-seven flowers, berries, herbs and roots, is added before a garnish of dehydrated lime, ribbons of cucumber and black pepper. The cucumber rises to the fore for ultimate refreshment. This is the gold standard of G&Ts.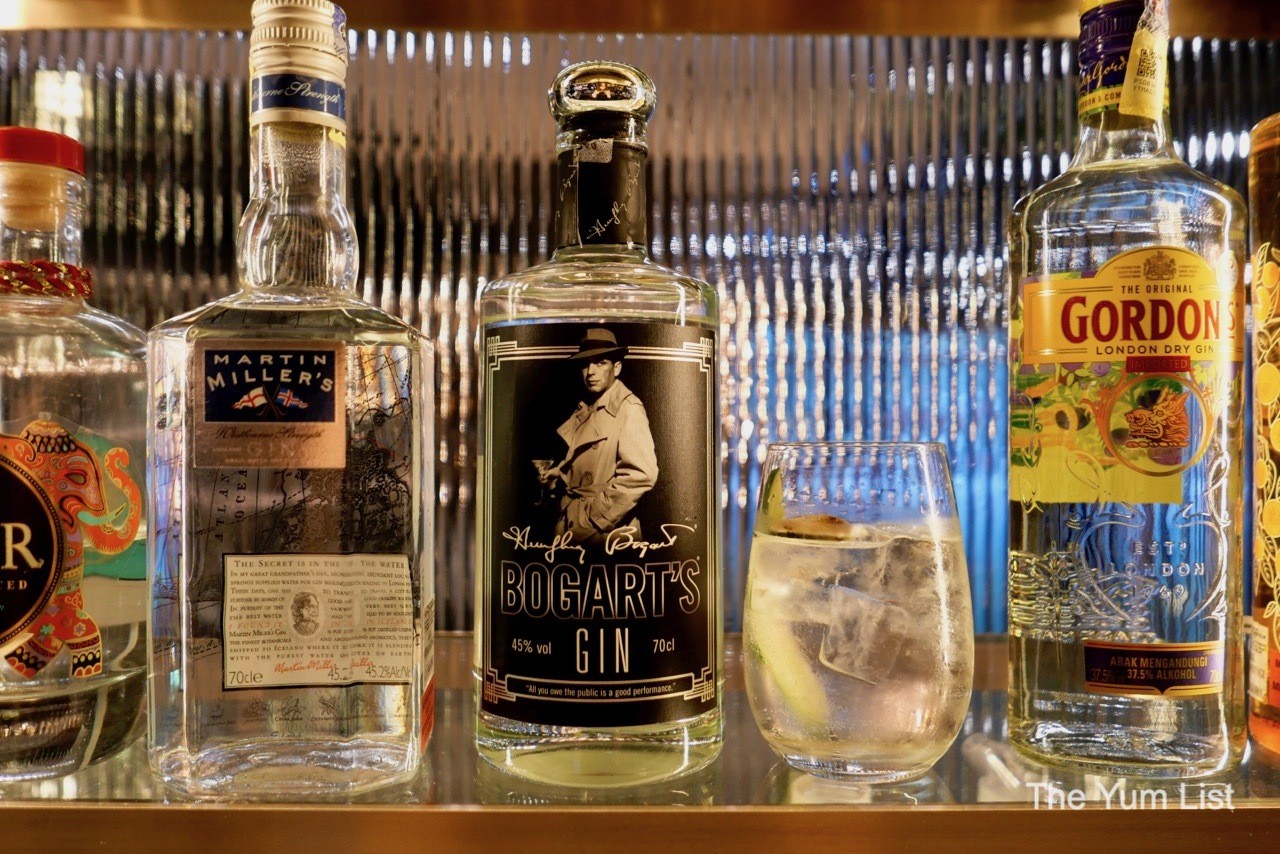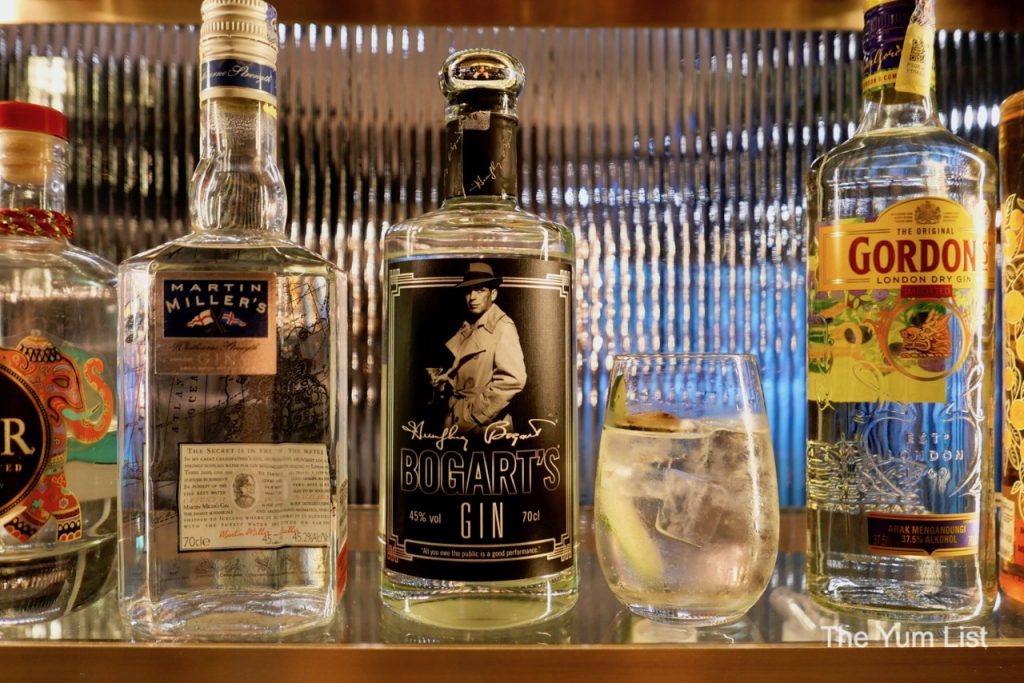 The Alchemy – Alaska
The golden-hued Alaska (RM40) is what to order when you feel like drinking something similar to a martini but don't want a martini. The Alaska was first documented by Jacques Straub in 1913 and refined by Harry Craddock in 1930 in his The Savoy Cocktail Book. Best consumed super chilled, The Alchemy uses complex and aromatic Sipsmith London Dry Gin and Yellow Chartreuse, and The Bitter Truth Grapefruit Bitters and Orange Bitters. Originally distilled by Carthusian Monks in 1737 from 130 flowers and plants, French Chartreuse is intensely herbal. The Yellow is milder and sweeter yet packs a punch with over 80° proof alcohol. Embalming your organs with alcohol is one way to achieve immortality. Straight out of the pages of one of Nicholas Flamel's scientific investigations, the combined bitters lend further aroma and roundness. While only the glass is chilled, the cocktail itself is icy. Think of a golden sun bouncing off glacial waters and crystalline icebergs.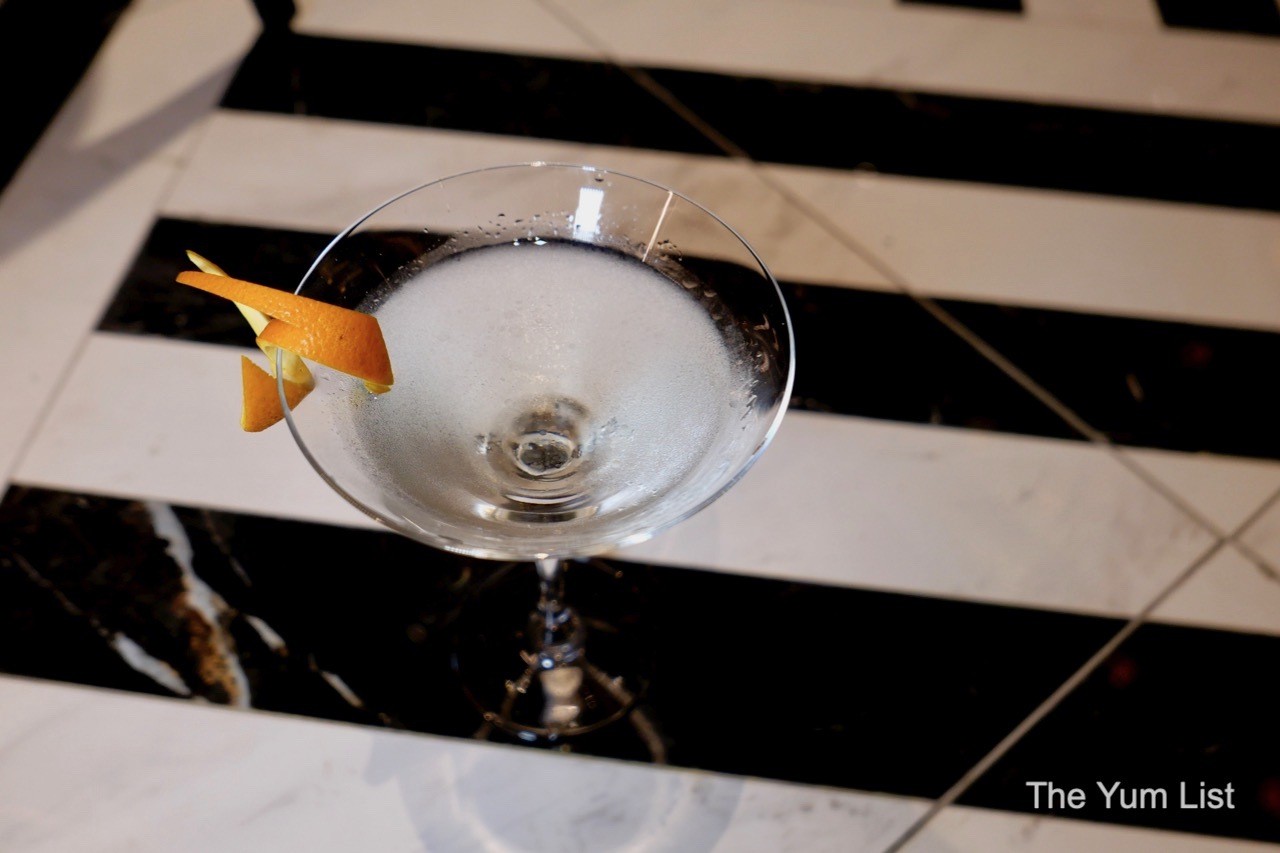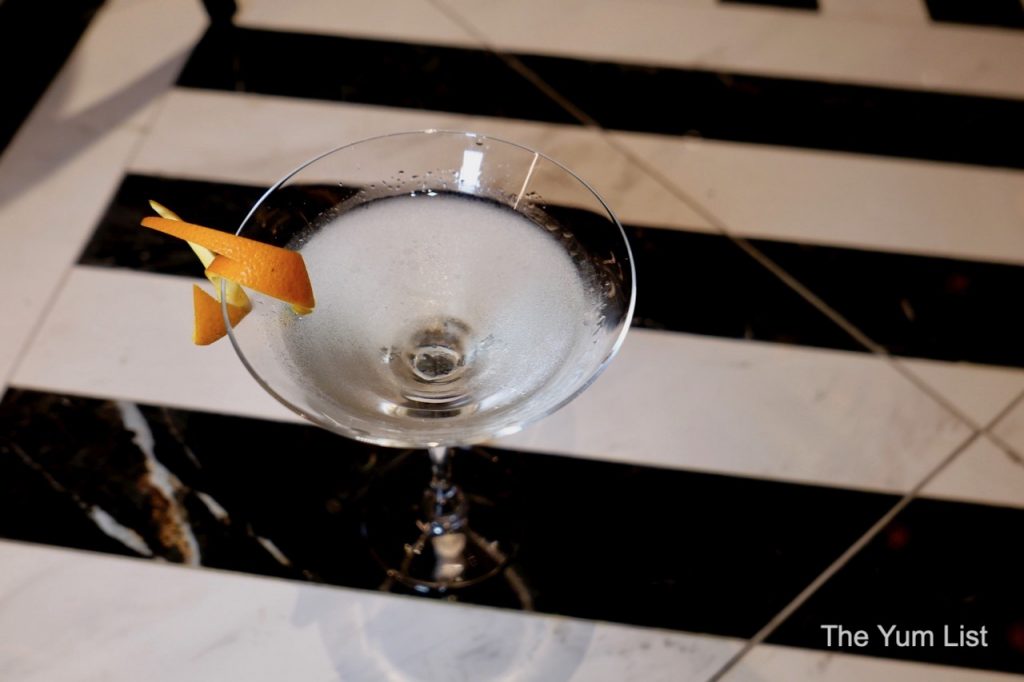 Bittersweet Symphony
Finally, no gin cocktail tasting experience is complete without a Negroni. Here, The Alchemy offers their Bittersweet Symphony (RM40), which has been transformed with the switching of traditional overtly bitter Campari for smoother and more accessible Aperol. Considering the Negroni's Italian heritage, the choice of lighter, vibrant Aperol is fitting. It creates a more mellow, delightful sipping sojourn. The Mediterranean theme is continued with a base of Gin Mare and Italian Rosso Vermouth. Salty and savoury Gin Mare with rosemary, olives and basil adds intensity to the liquid gold Bittersweet Symphony. We are transported to the sun of the Riveria, the architecture of Rome, the statue-filled squares of Florence, and the overflowing knowledge of Padua. Italians have achieved immortality through their cities, their art and their culture. It follows that their drinks would have the same level of eternal appeal.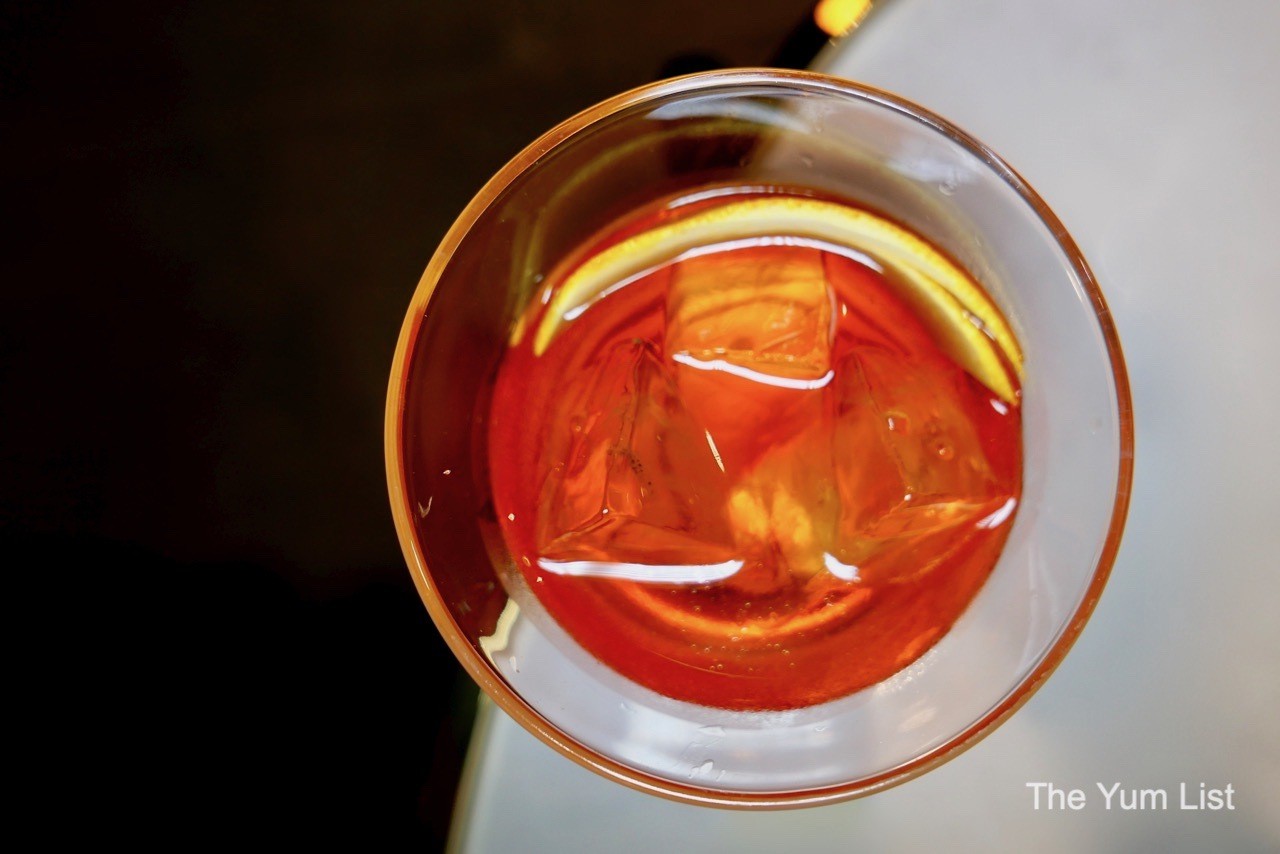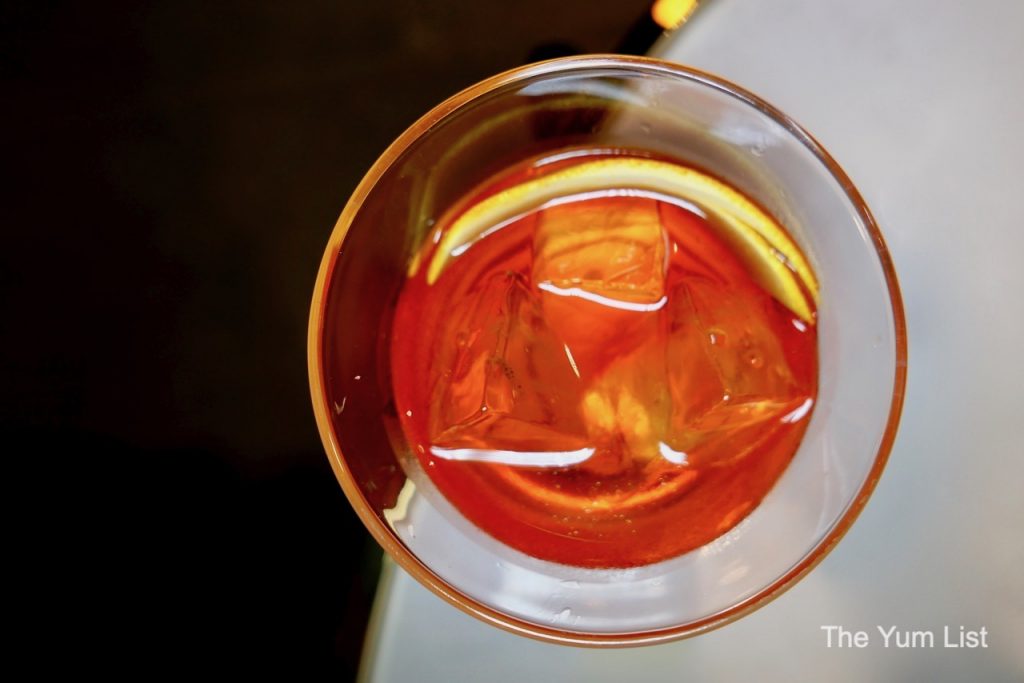 The Alchemy, Gin Bar in The Starhill Dining, KL
The Alchemy's gin collection starts at RM30 per glass and RM400 per bottle, with most cocktails listed at RM40 each, including tax and service. Extremely reasonable for top-shelf offerings. Their carefully crafted menu encompasses citrus and herbaceous gins, fresh and floral gins, juniper rich and robust gins, as well as sloe distilled and sweeter gins. Dry to fresh, spanning Europe, Asia, America and the Pacific, if you have not yet been converted to this elevated, dapper elixir, there is a label on the list to win you over. They also sell a wide array of whiskeys by the bottle as well as a variety of other top-shelf spirits, aperitifs and liqueurs.
As well as the welcome gin experiments of Johnny and his team, The Alchemy and Starhill Dining carry an extensive and breathtaking selection of wine. These start with by-the-glass house pours and range through to a global cross-section spanning varietals and vintages. However, the real crown lies in their Vertical Collection of French hard-to-get bottles. Prices are not for the fainthearted, but for a once in a lifetime splurge, a grand business celebration, or for the ultimate oenophile appreciator, The Alchemy boasts one of the best collections in Asia.
Alchemy as a tradition, was forged during the dark ages. The Alchemy shines a light on the immortal quest for balancing elements to produce eternal flavours to raise the spirit. If Nicholas Flamel had a bar of choice, The Alchemy would be it.
Reasons to visit The Alchemy, The Starhill Dining: It was difficult to narrow down the field, but Vesper, Alaska and Bittersweet Symphony were our favourites. If you're a G&T fiend, ask Johnny and his team to mix up an original scientific exploration just for you.
The Alchemy – Gin Bar
The Starhill Dining
181 Jalan Bukit Bintang
Bukit Bintang, 55100 Kuala Lumpur, Malaysia
www.thestarhilldining.com
[email protected] or +6018-9298060 
The Alchemy Opening Hours
Daily 11 am – 10 pm
Find more KL bar recommendations here, and stay up-to-date on the latest gourmet and travel happenings around Malaysia here and here.