Kuheiji Sake Pairing
Monica Tindall
The epitome of the fine dining scene in Kuala Lumpur, the team at DC Restaurant continuously strive to marry diners' desires with menus that are dependable but at the same time innovative. While the recent addition of a six-course Kuheiji sake pairing menu is not the norm with European cuisine here, the premium standard of service and meticulous attention to detail is.
Kuheiji Sake Pairing at DC Restaurant
Bridging divides and pushing past stereotypes, the Kuheiji sake pairing menu matches contemporary European-style cuisine with hand-crafted Japanese sake. Kuheiji sake has been in production since 1647, and the current 15th generation producer continues to forge forward with the inherited philosophy of "innovation; a drive to never remain content with the status quo." With sake labels written in English and a wine estate in Burgundy, the brand prides itself on rising "beyond genres, cultures, or national borders." The team at DC Restaurant sees this as an opportunity for a culinary union and has curated a menu, primarily based on seafood, to advance the diversity of guests' dining experience.
Kuheiji Sake Pairing at DC Restaurant
The Kuheiji sake pairing at DC Restaurant by chef Darrin Chin, sous chef Tran TT and the DC team is priced at RM798++ per person (minimum 2 pax). It's a full six courses plus bread and snacks and includes five glasses of sake.
Kuheiji, Kurodashō, Yamada Nishiki, Junmai Daiginjo, 2019
The signature start to any meal at DC Restaurant is a basket of warm, house-baked bread. Today there's a croissant, sourdough, onion bread, and a pastry puff topped with Cantabrian anchovies, butter and tomato. Crumbs are removed from the mouth with an aperitif of Kuheiji, Kurodashō, Yamada Nishiki, Junmai Daiginjo, 2019. Kurodashō in Hyogo Prefecture is the ideal climate and terroir for growing Yamada Nishiki rice. The complexity in structure, bouquet and flavour is due to the density of each grain. Polished to 50% without the addition of alcohol, this is an excellent introduction of what's to come.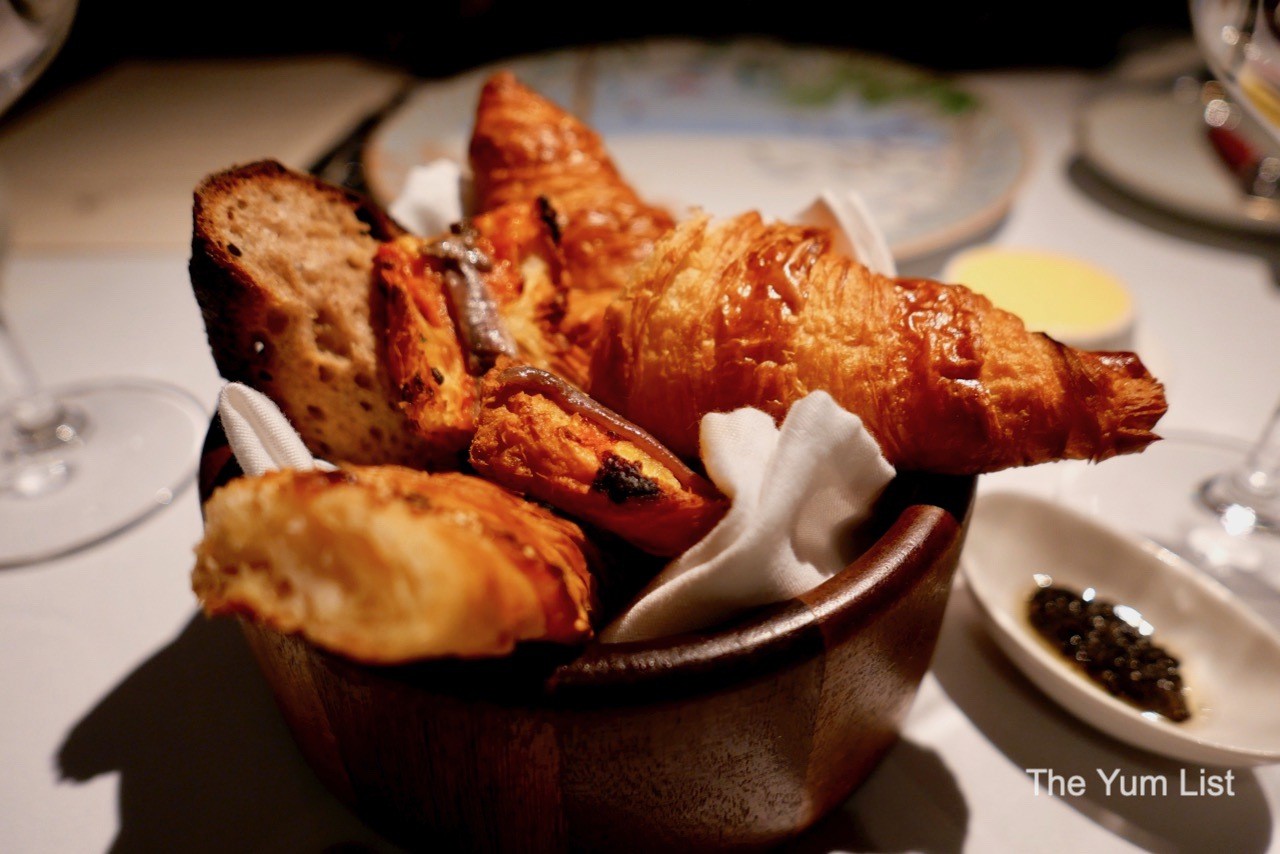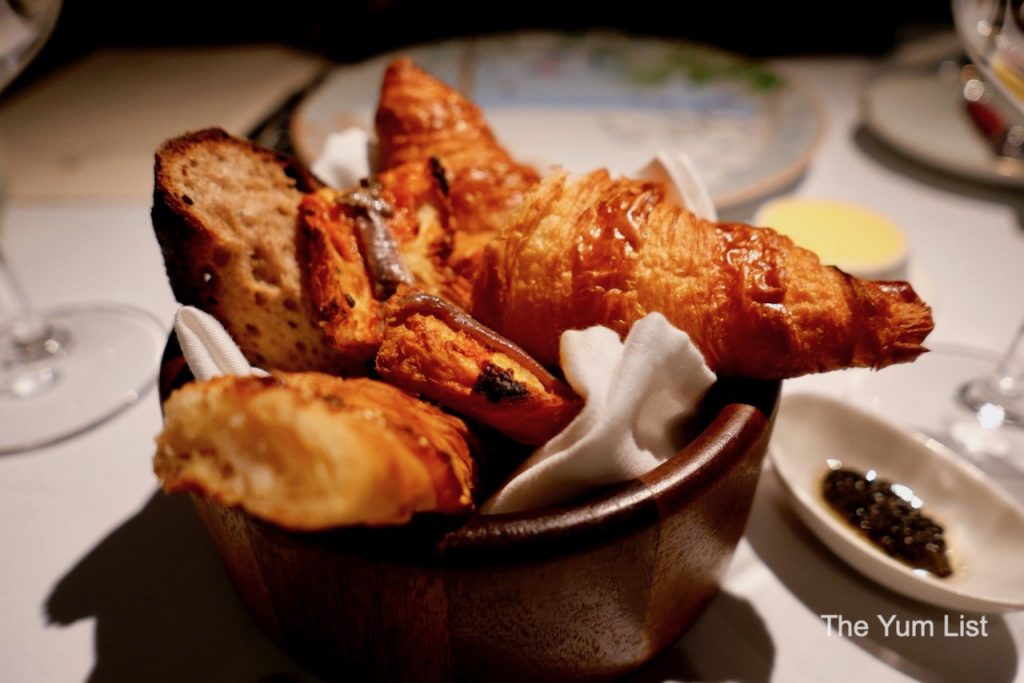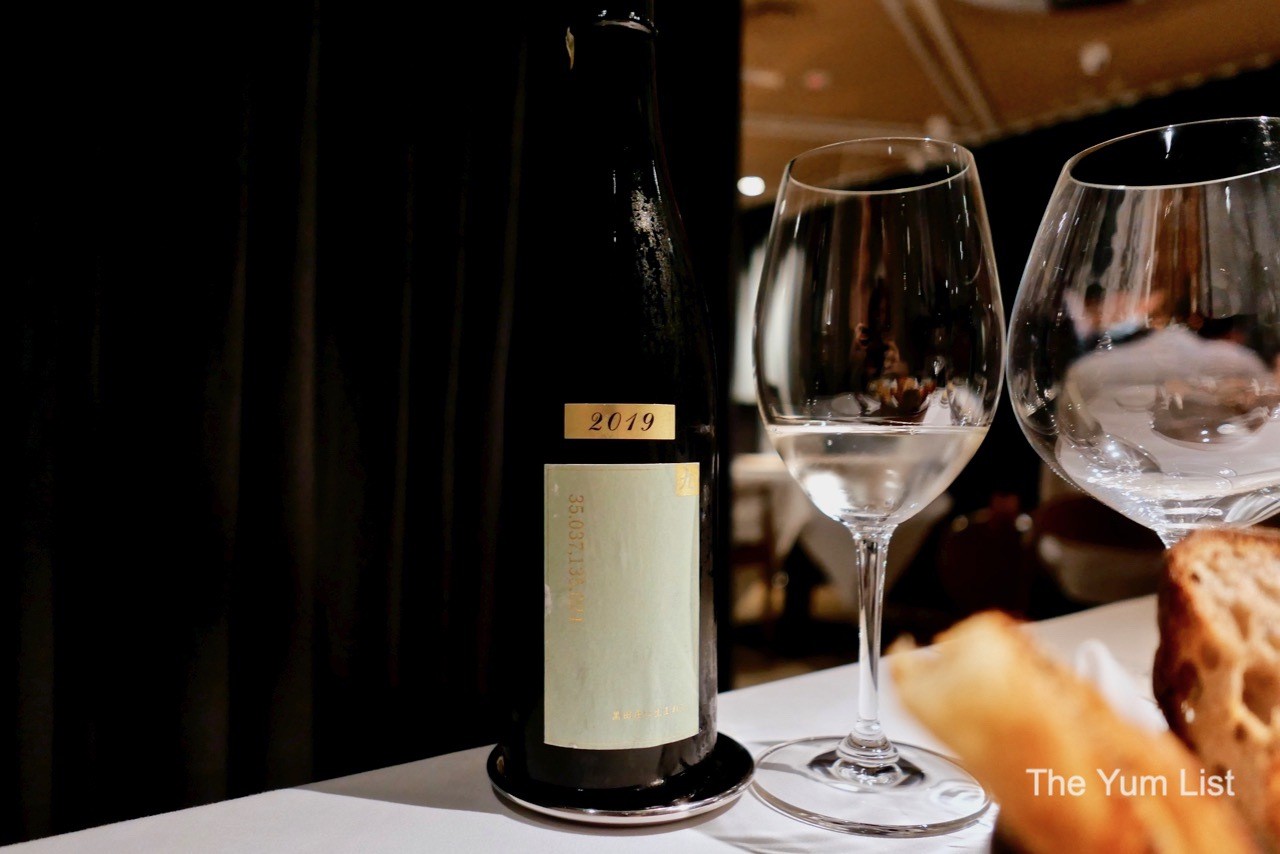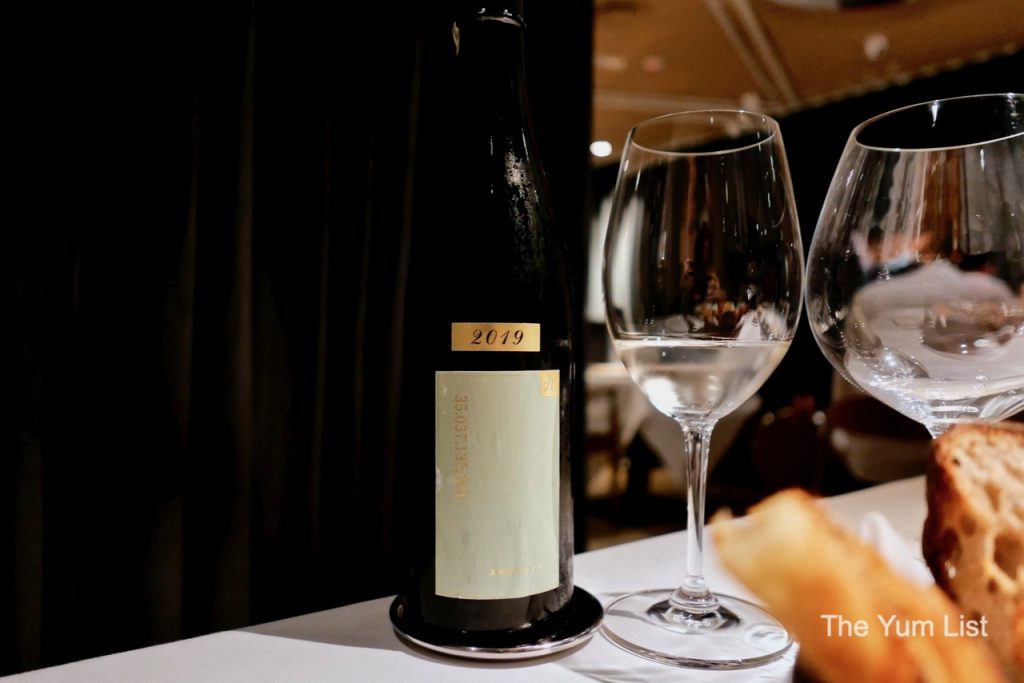 Chef "Snacks"
Presentation perfect, chef's snacks are delivered on two plates. Eaten in order, first, a crisp, thin shell holds cured mackerel with daikon and lime aioli in a fresh beginning. Crispy white fungus in mushroom stock is genius in the second bite. Topped with young cheese, herbs and bottarga skrei pearls, I could easily forgo pastry and opt for mushroom tartlets from now on. Lastly, Aussie hiramasa kingfish brings sweetness to the palate with confit Spanish kumquat. Yuzu, ice plant, black sesame and avocado are a lot going on but all work tremendously well together.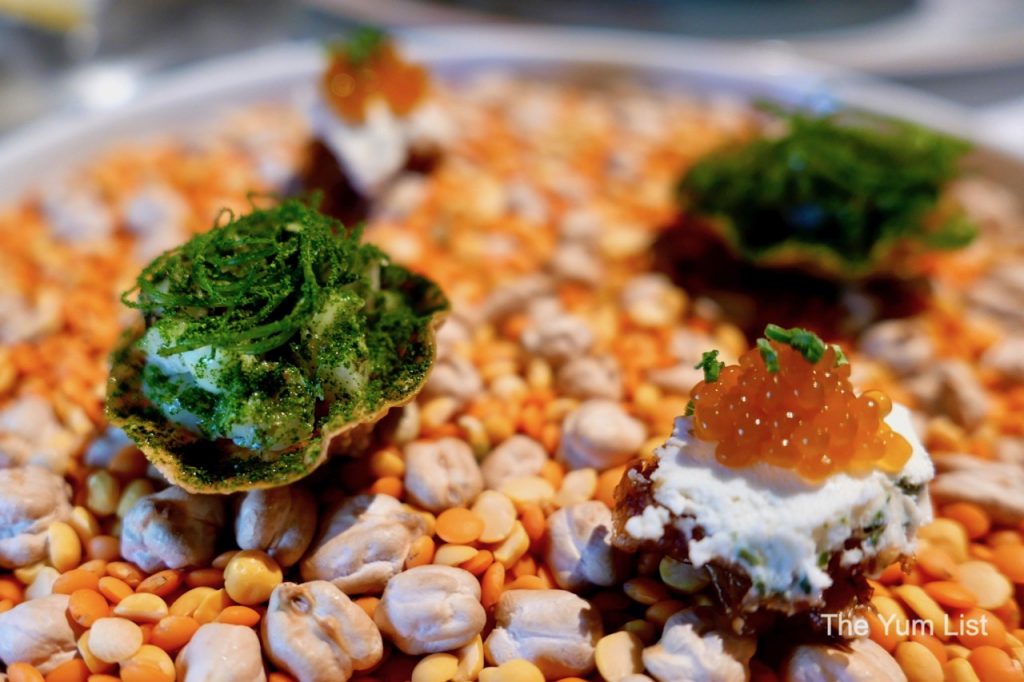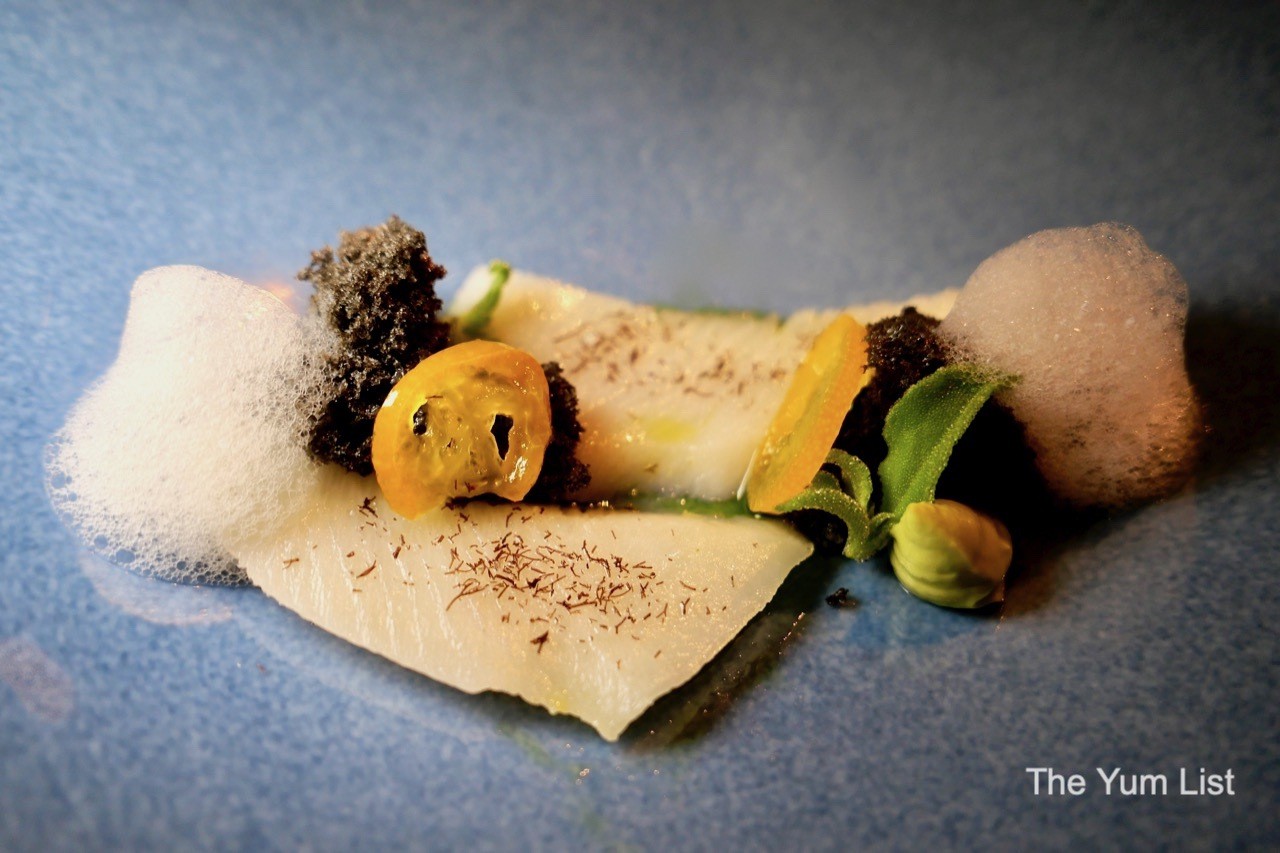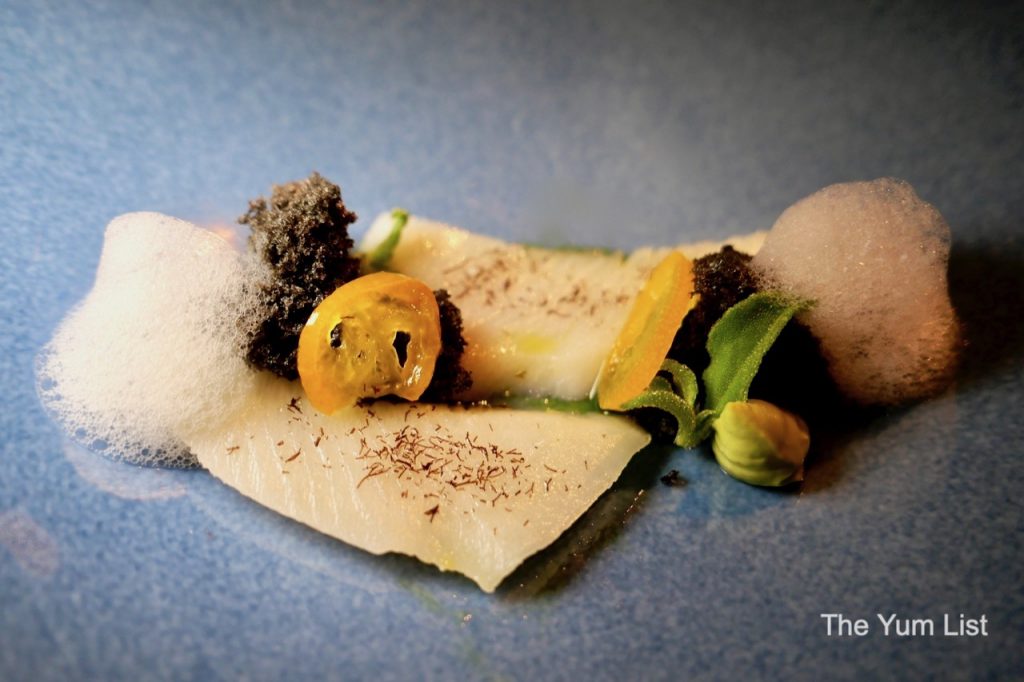 1st Course
Not a single dot is placed, or powder sprinkled without purpose at DC Restaurant. Tonight is no different with the Kuheiji sake pairing menu; be sure to wipe up every drop. The first course, blue swimmer crab, is deshelled and prepared with oba leaf. Companions of lime aioli and lemon gel give freshness, and smoked yoghurt cream and charred avocado dusted with nori power crown the mound. It's gentle but has a solid foundation. This excites us for the rest of the journey.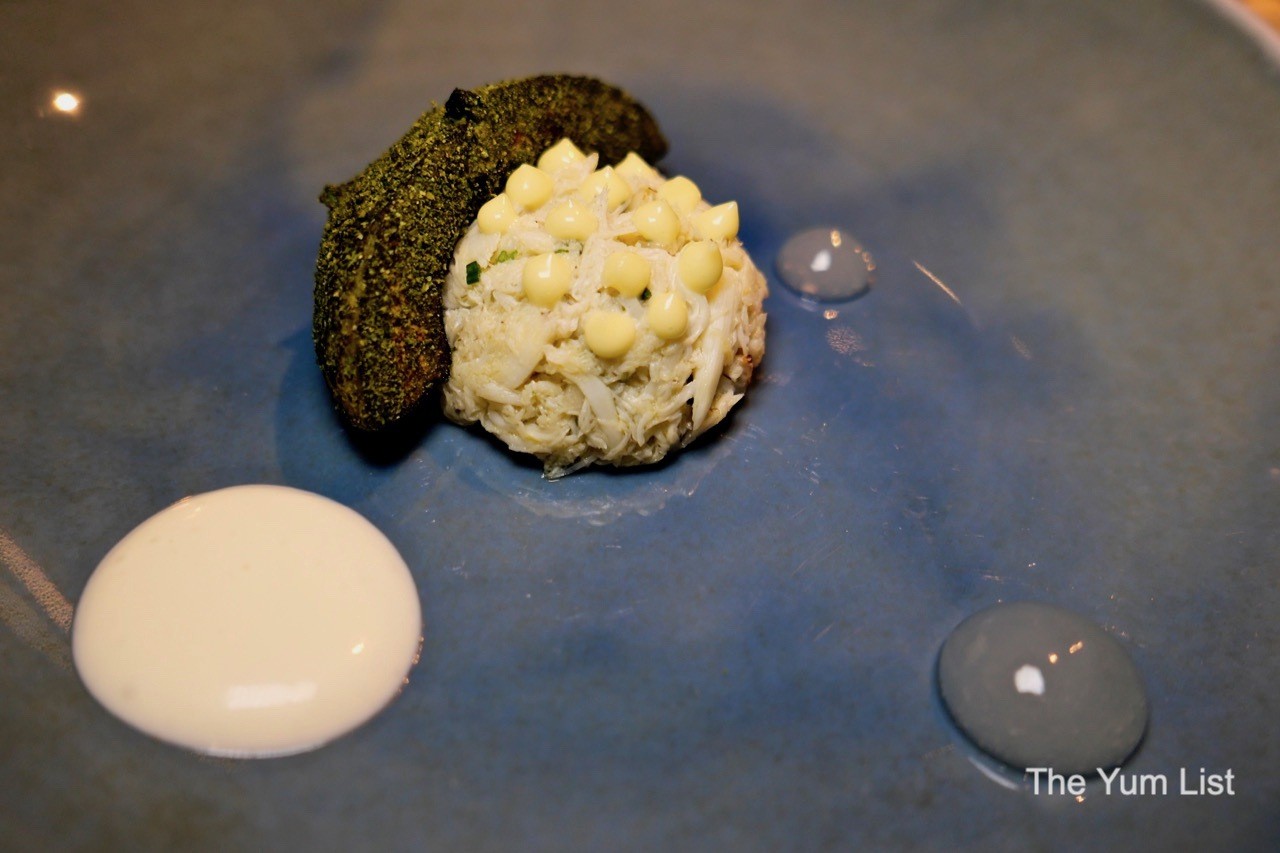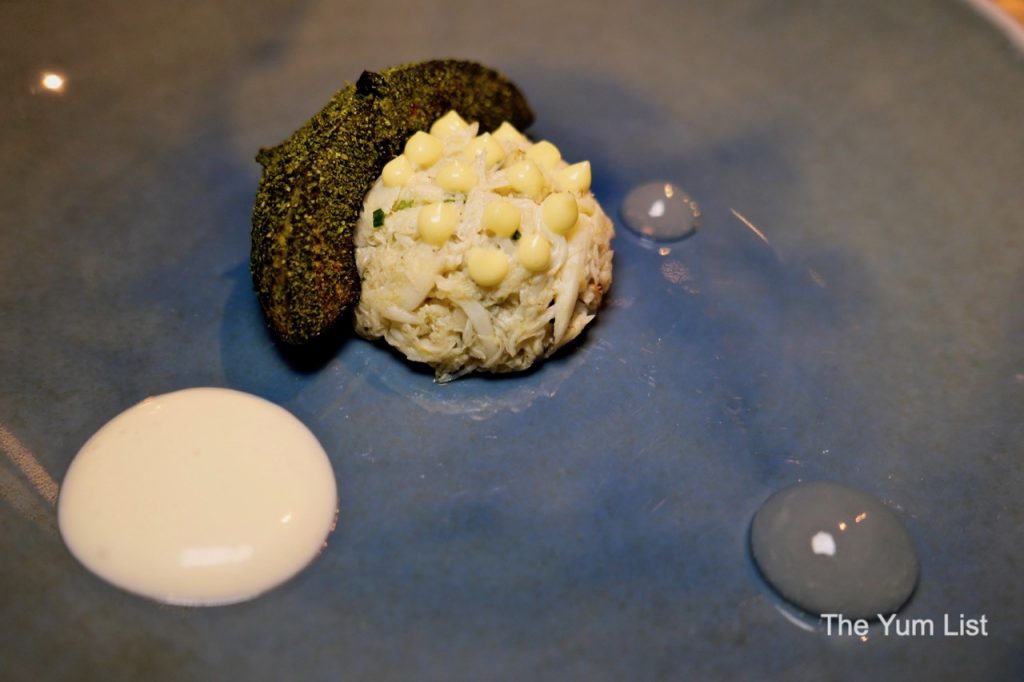 2nd Course
Eye-catching in size, the Scottish diver scallop is a fine fat specimen. It's lightly seasoned with salt and pan-seared in butter until golden brown. Even though it's a superbly plump example, it's evenly cooked through. Corn velouté forms a sweet, creamy pond in the base that hubby cannot resist mopping up with a second basket of bread. Haricot verts (baby green beans) are given a boost with Cecina slivers (cured beef), and clam foam adds a cover of savoury.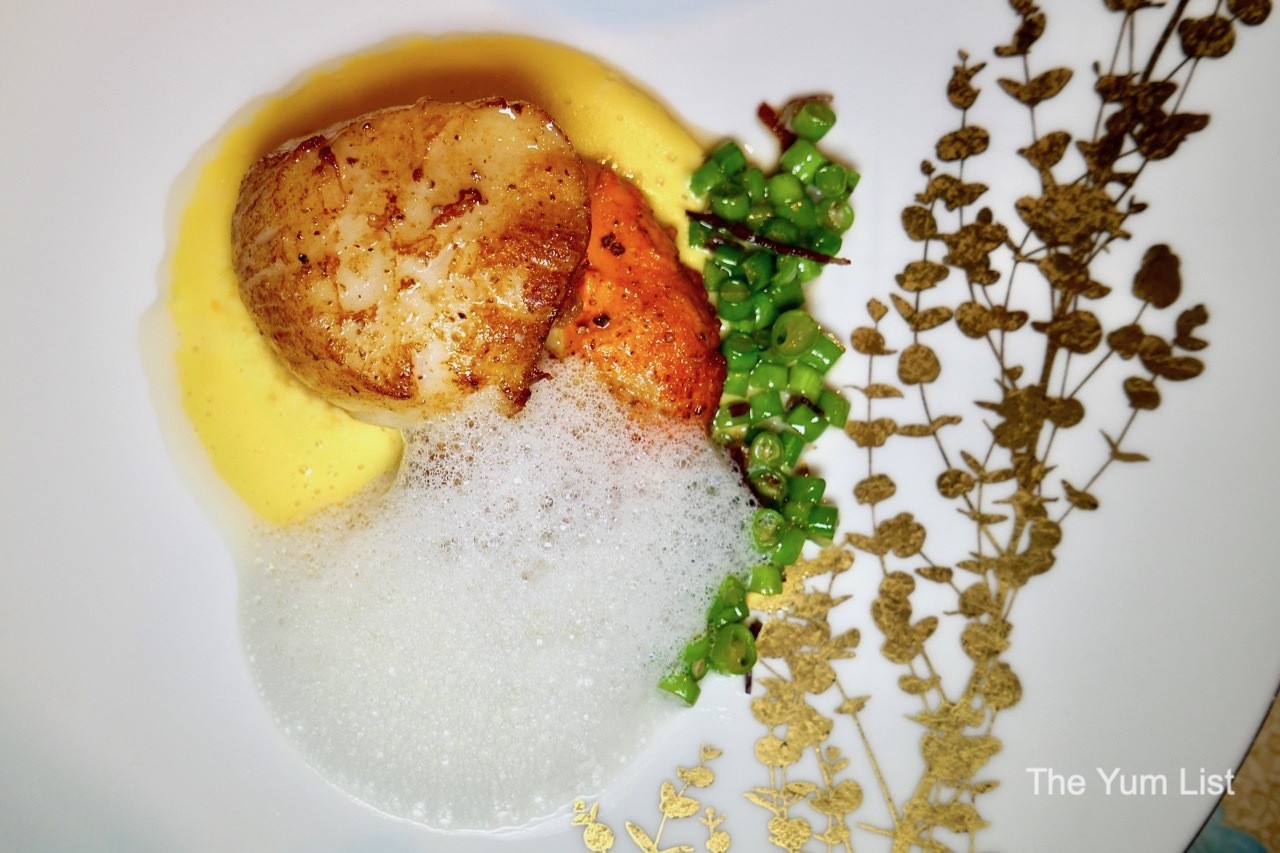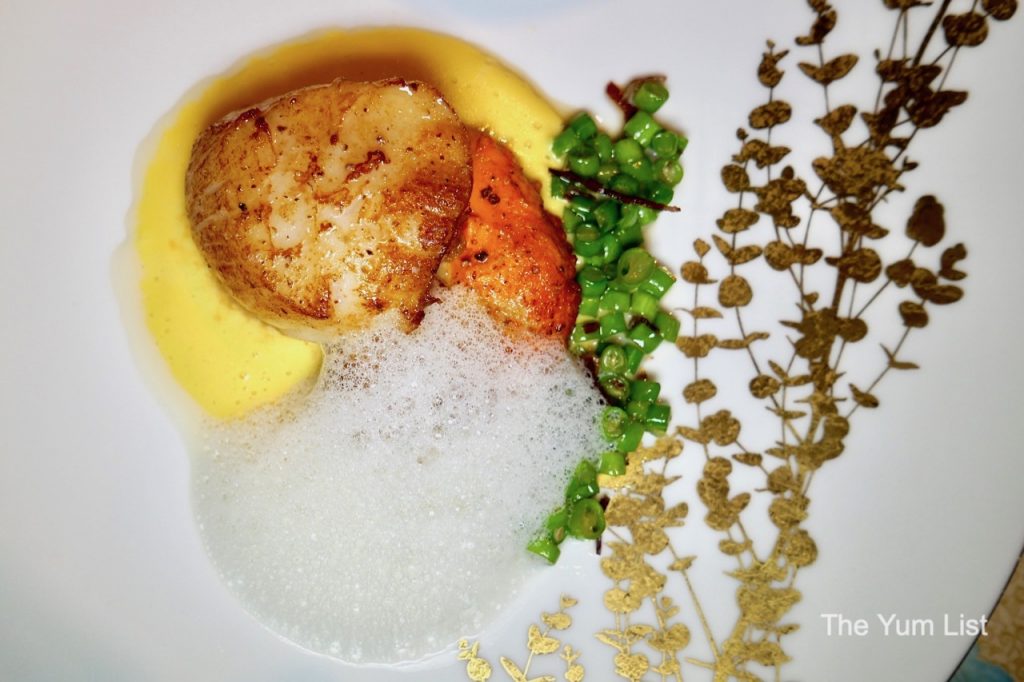 Kuheiji, Voyage, Yamada Nishiki, Junmai Ginjo 2019
The Kuheiji sake pairing for the scallop is polished to 55% in the Voyage, Yamada Nishiki, Junmai Ginjo 2019. It's an honest expression filling the entire palate. So-named "Voyage" for the desire to encourage diners to travel with their senses, experiencing sake without the limiting stereotypes in thinking it only a "distilled rice alcohol." We find this true for every sake we try tonight. The bottles are labelled in English, making them more approachable and memorable than typical bottles. Each sake is served in a different wine glass to enhance the aromas. The Voyage comes in a Chardonnay glass, while the first and third are in universal glasses. The most premium with the mains is later poured into a voluptuous Bordeaux vessel.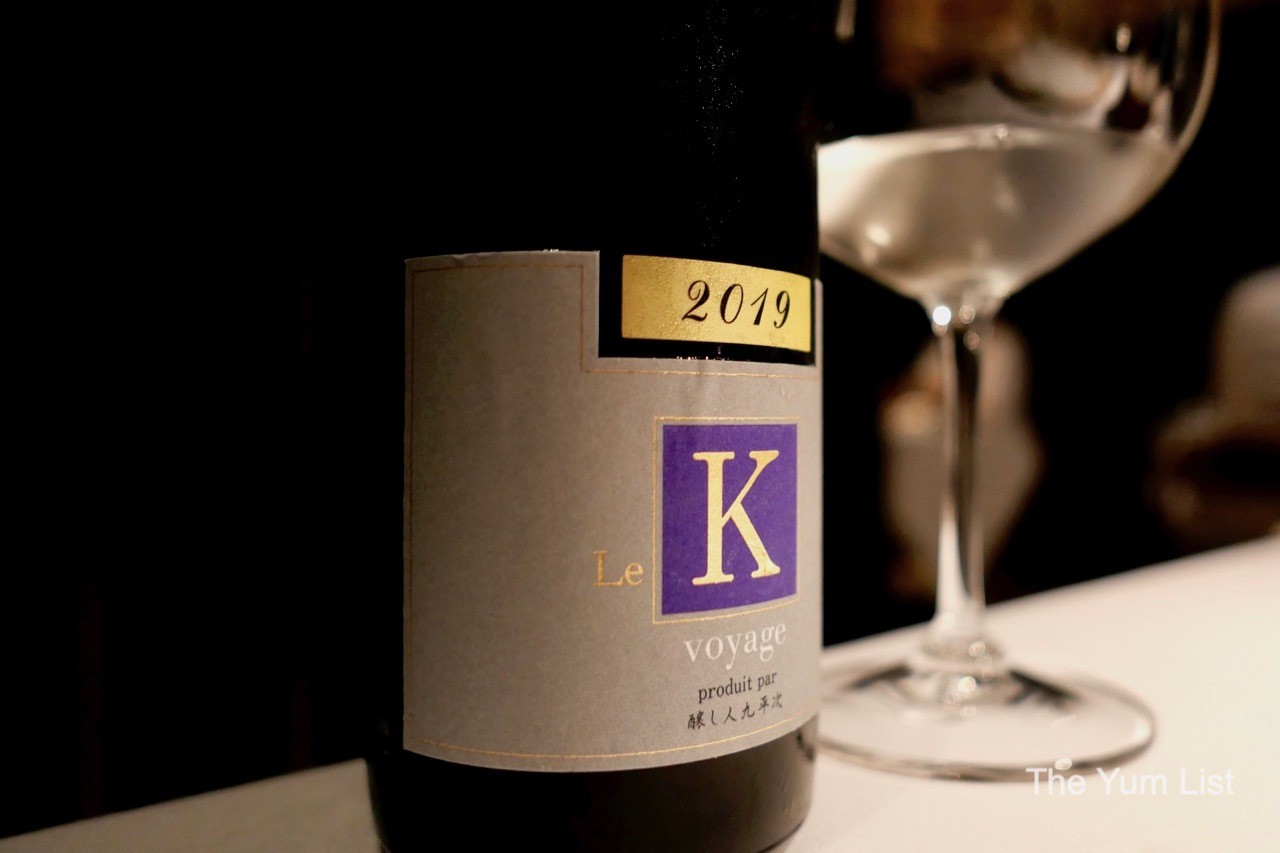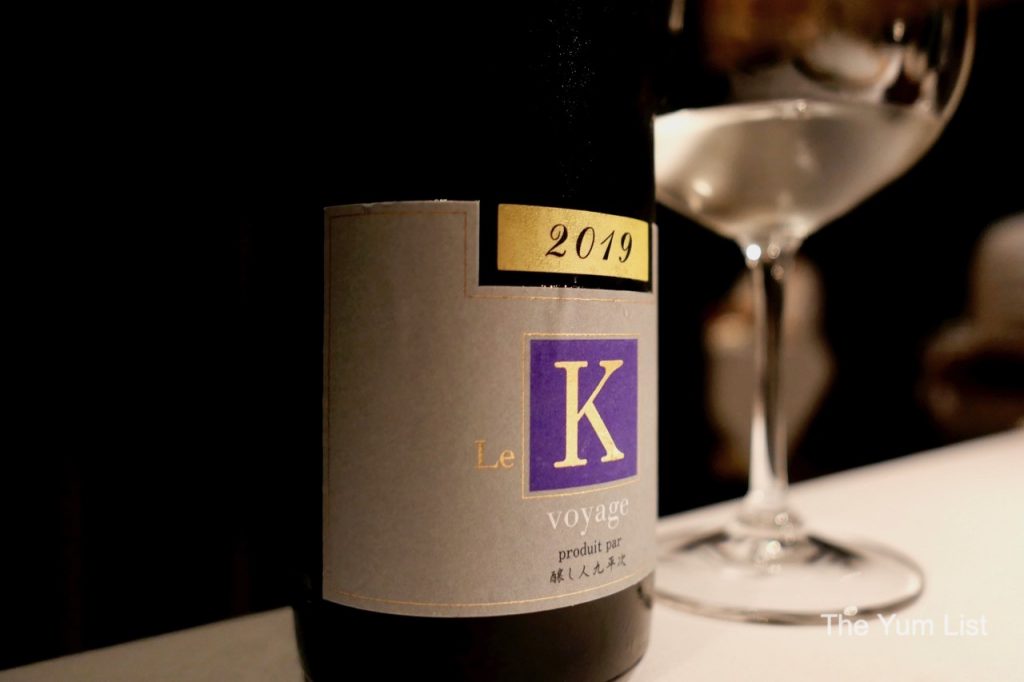 3rd Course
The third course, shiitake dashi, begins with charred turnips, parsnip pureé and shitake mushrooms centring a plate. Our waiter opens a treasure box filled with black truffles and shaves a generous fall atop. Finally, shiitake dashi is poured over. The dish is so warm and comforting that I almost forget the sake mate.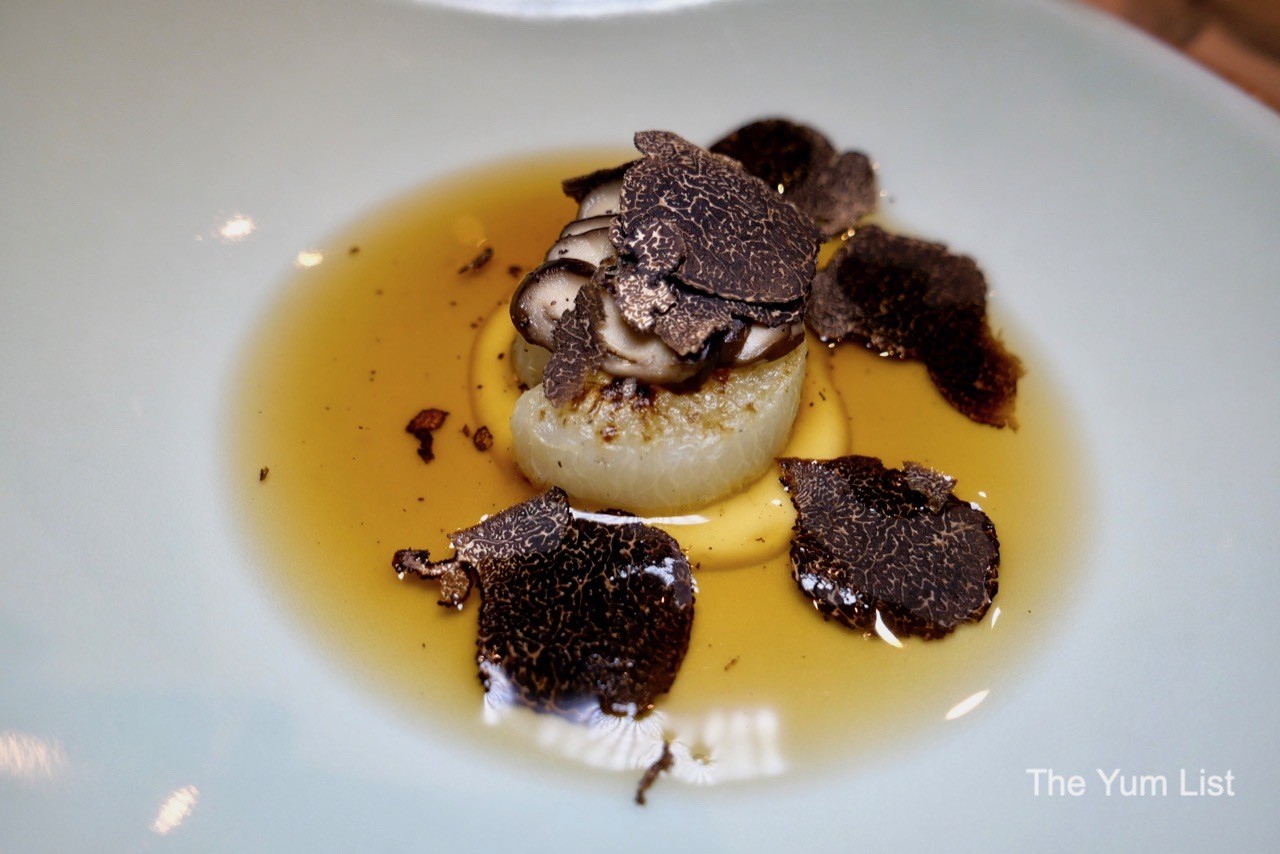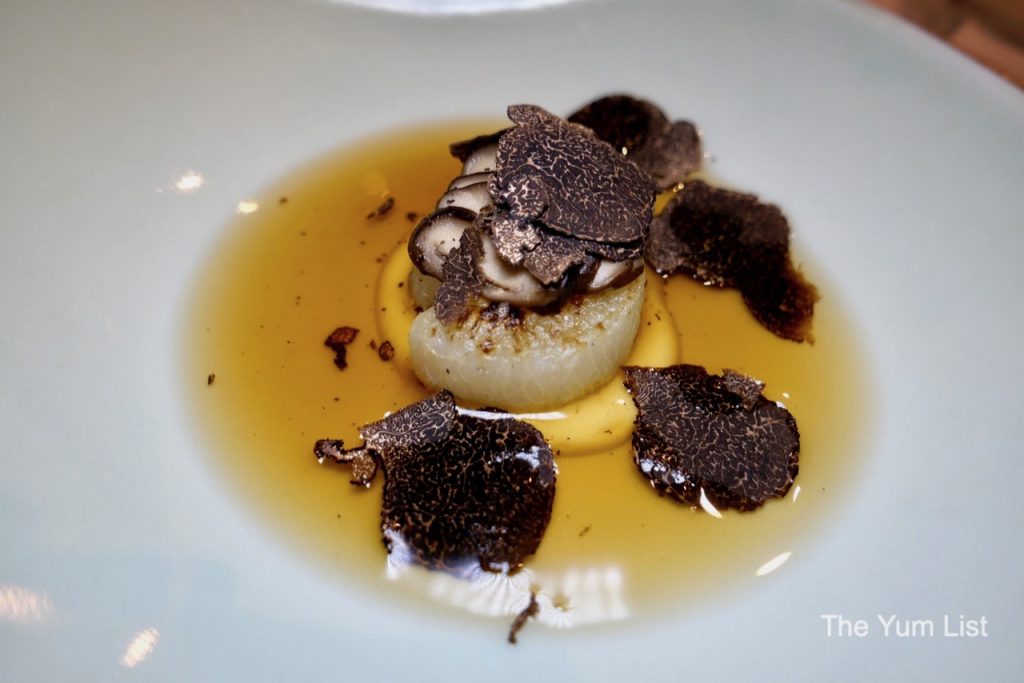 Kuheiji, Eau Du Desir, Yamada Nishiki, Junmai Daiginjo 2019
However, the Kuheiji, Eau Du Desir, Yamada Nishiki, Junmai Daiginjo 2019 should be given due attention. The Water of Desire is again made with grains of 50% polish and represents the style of the house. Production achieved a graceful and balanced sake while maintaining loyalty to the rice variety in the glass. Once again, higher fermentation temperatures than average are the key to composing the five tastes of sweetness, umami, acidity, astringency and bitterness in every sip – or "Go Mi" in Japanese.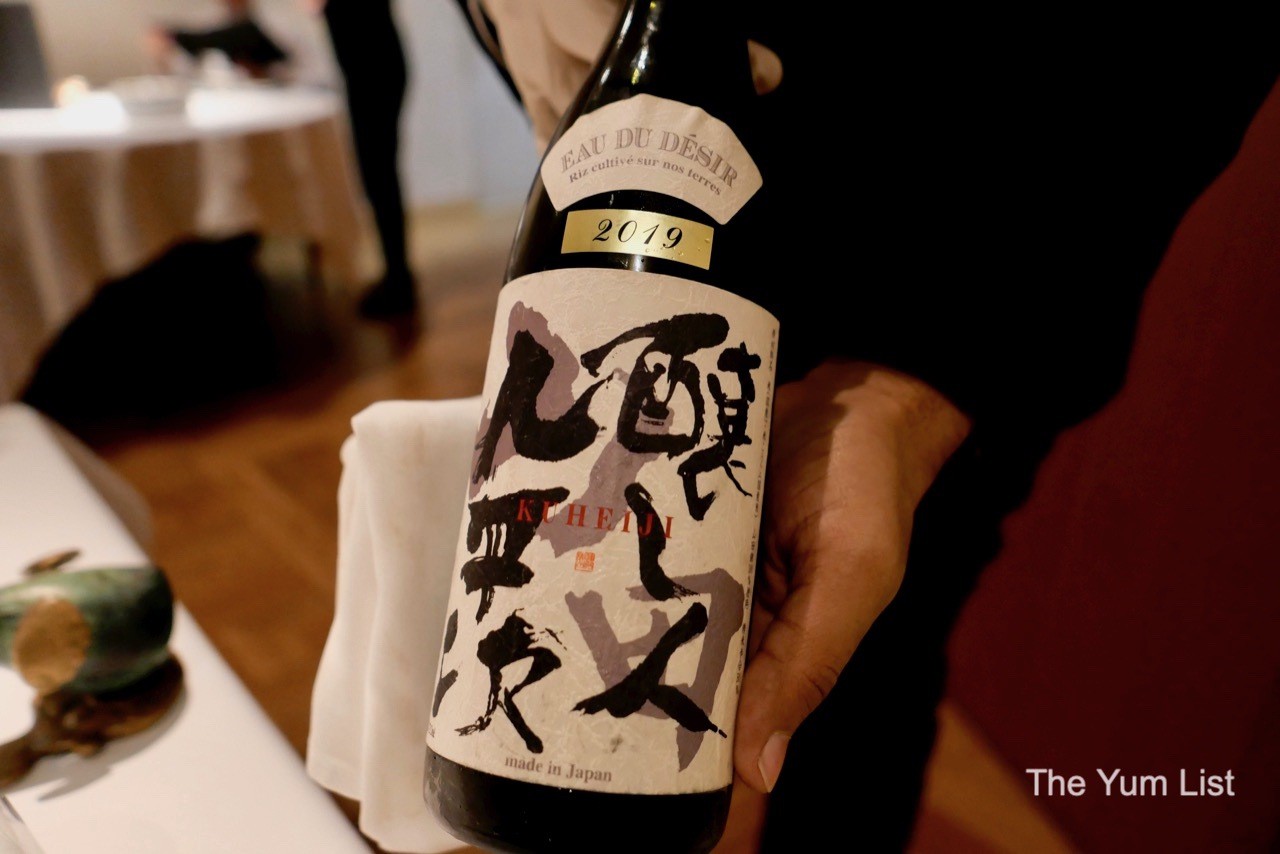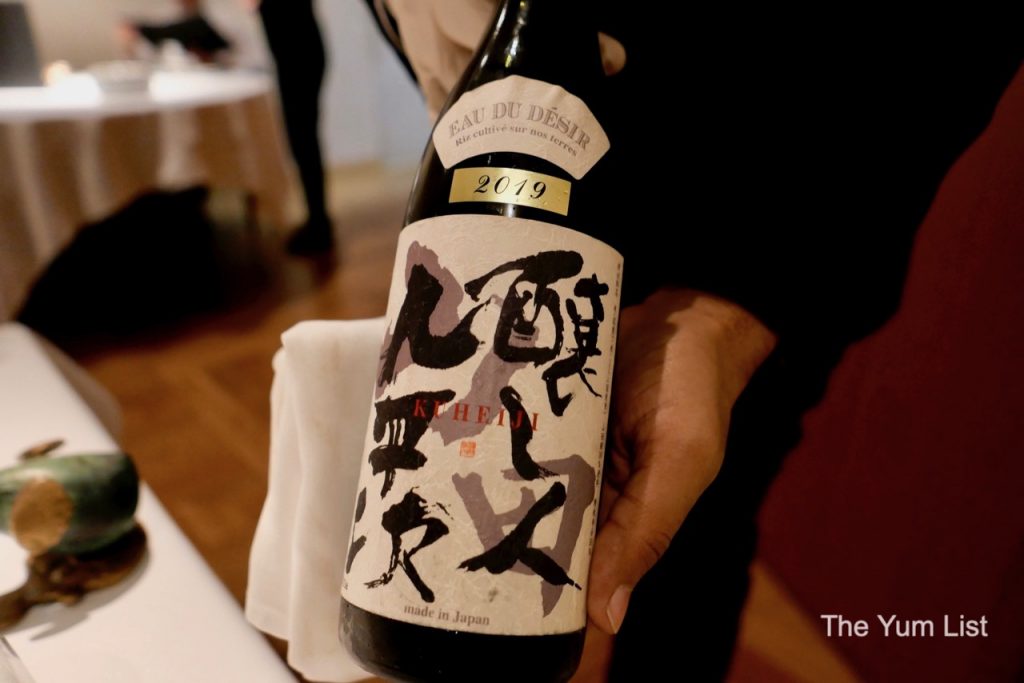 4th Course
In what has become DC Restaurant's signature dish, the "Echo of the Sea" is a must for both newbies and repeat diners. Cold Cappellini is crowned with Hokkaido bafun uni, Alaskan king crab and cured amaebi. Savoury seafood sabayon coats the fine strings of pasta that, even though entwined, seem to enter the mouth as individual strands.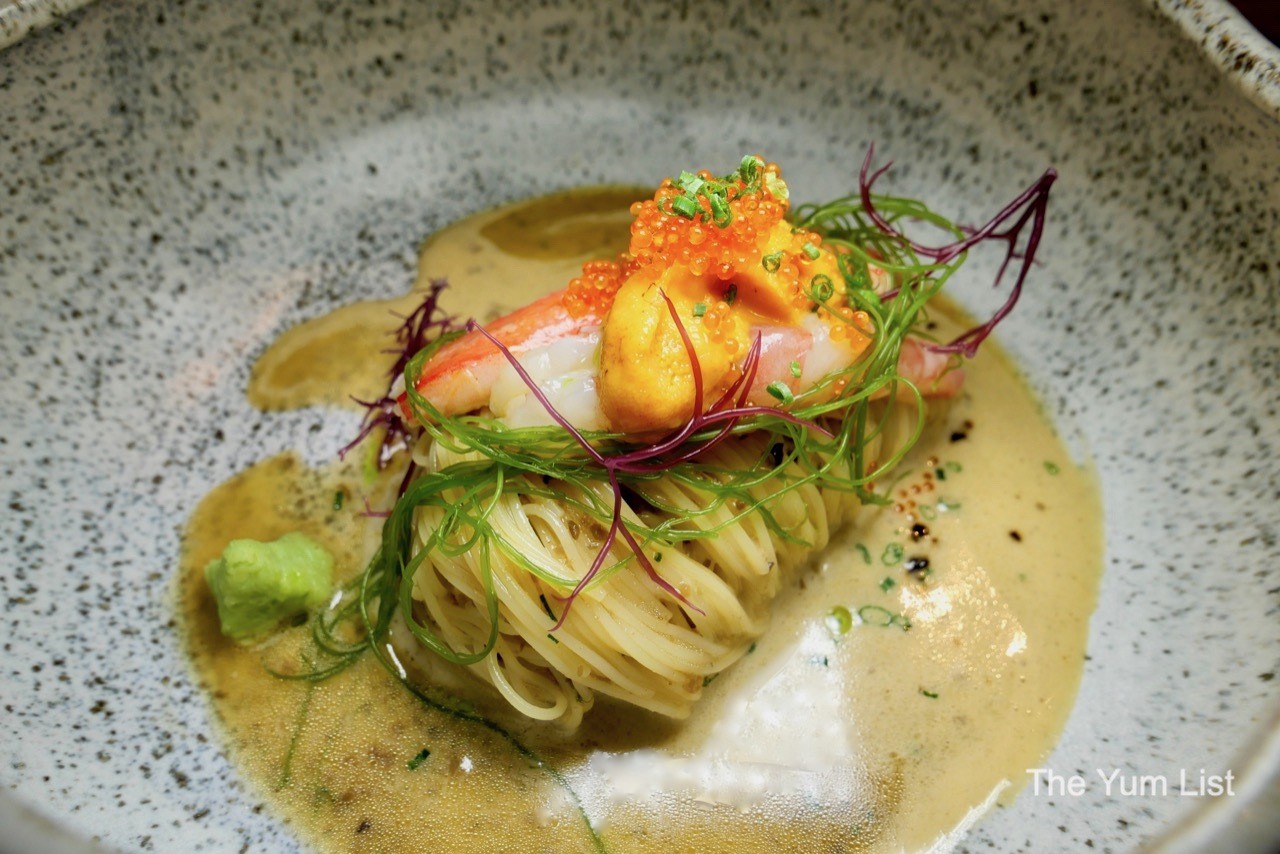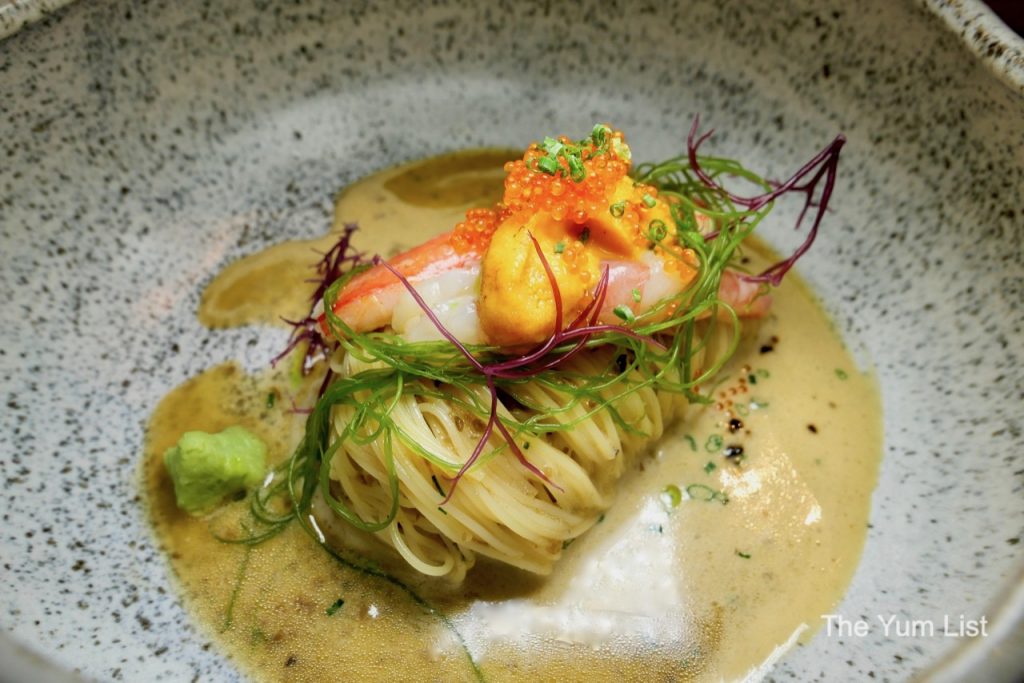 Kuheiji, Human, Yamada Nishiki, Junmai Daiginjo 2019
Kuheiji, Human, Yamada Nishiki, Junmai Daiginjo 2019 is an excellent pairing. Umami flavours are deliberately highlighted in this sake. Yamada Nishiki rice has been polished to 45%, providing a complex structure underpinned by a gentle sweetness. Honey is present on the nose, and sugar carries over to a creamy mouthfeel. Elegant acidity bears freshness in the conclusion.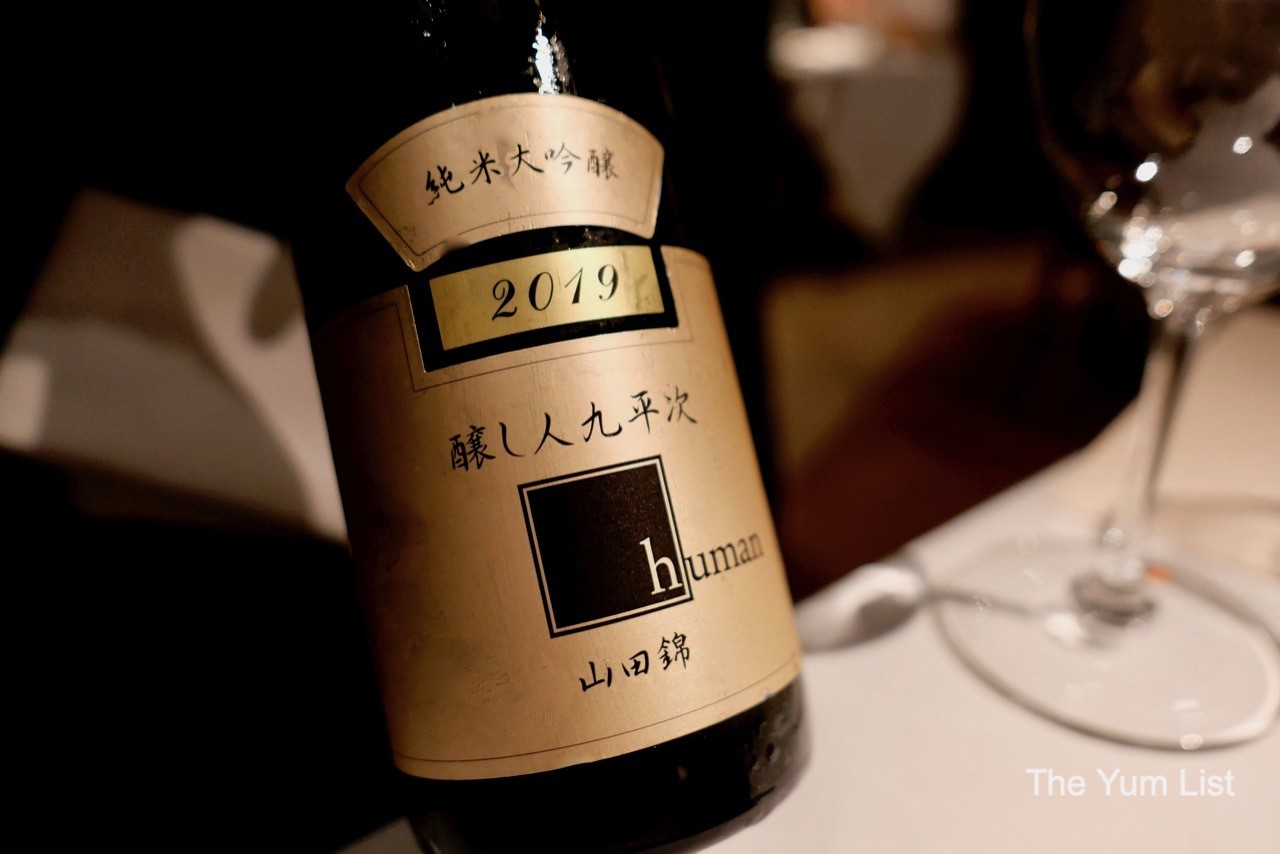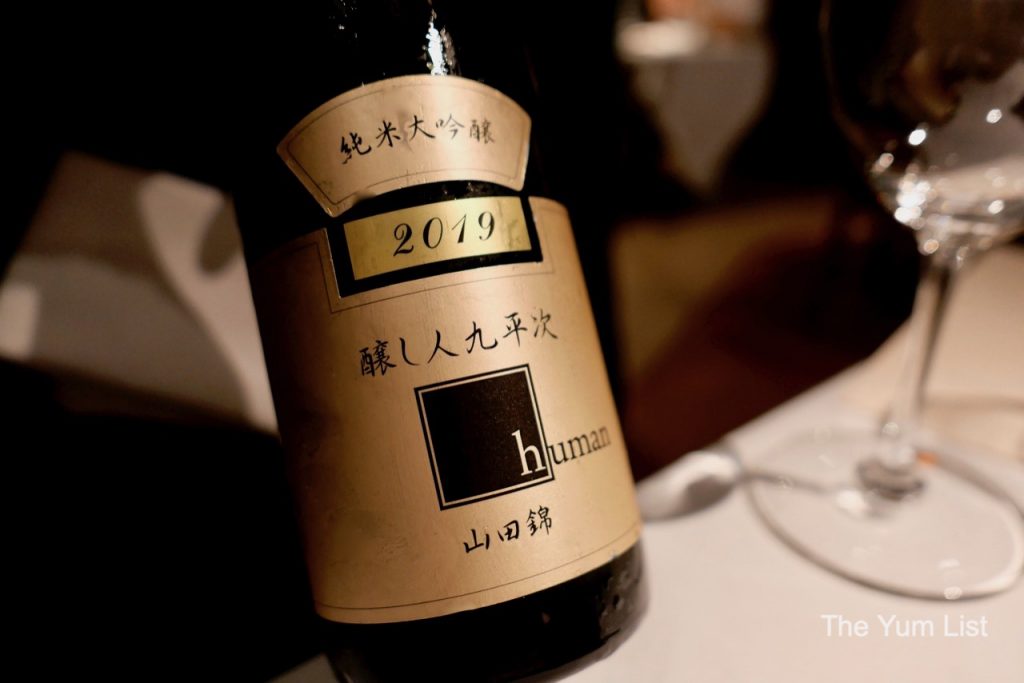 5th Course Main Course
The Kuheiji sake pairing menu comes to a climax with the mains. Seafood or poultry are the choices and continue to be well-matched with the sake.
Alaskan king crab, which arrived at the restaurant only a few hours before our seating, is done two ways. The first preparation with smoked cauliflower cream, fried capers, and umami sabayon affords a lavish shaving of black truffles upon delivery. The second, confit, is complemented with crispy buckwheat and tomato water made from concentrated pizzutello tomatoes.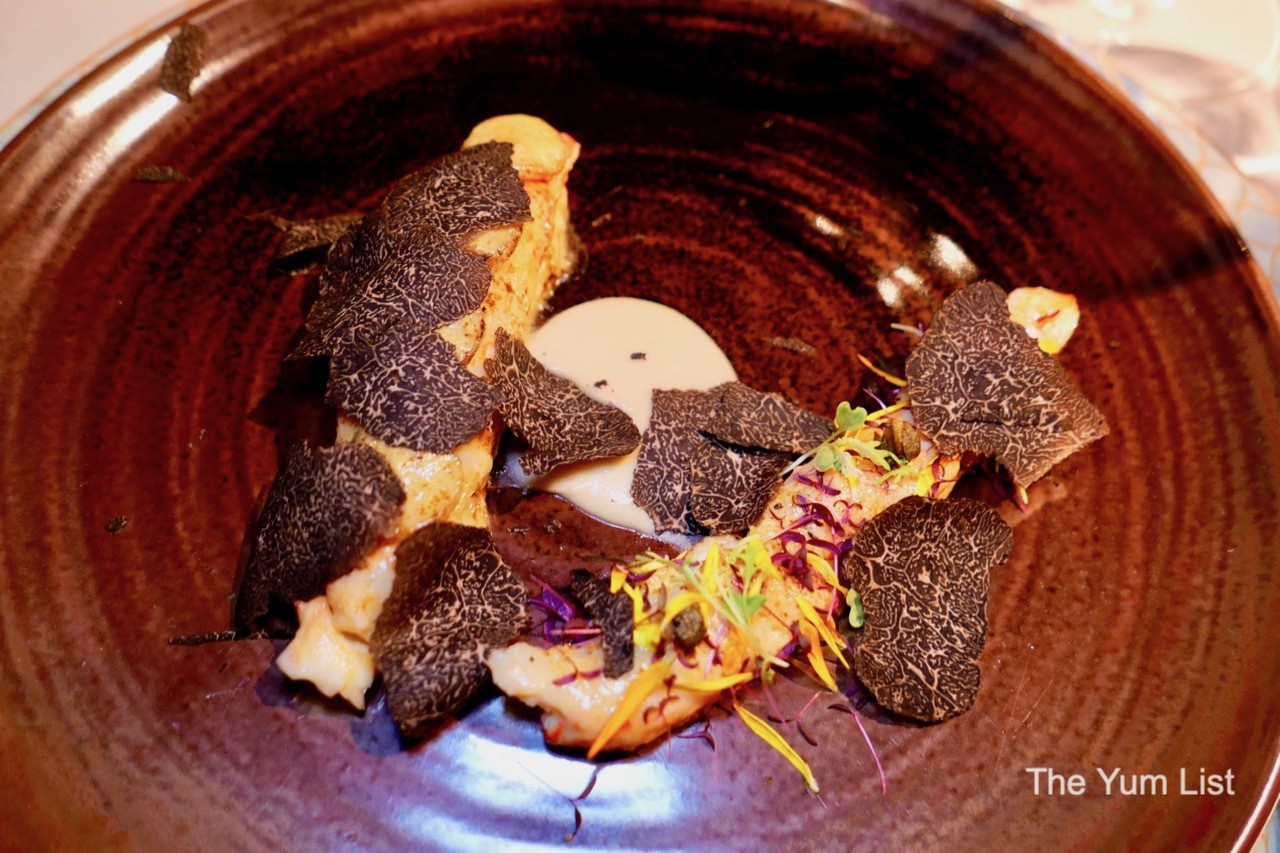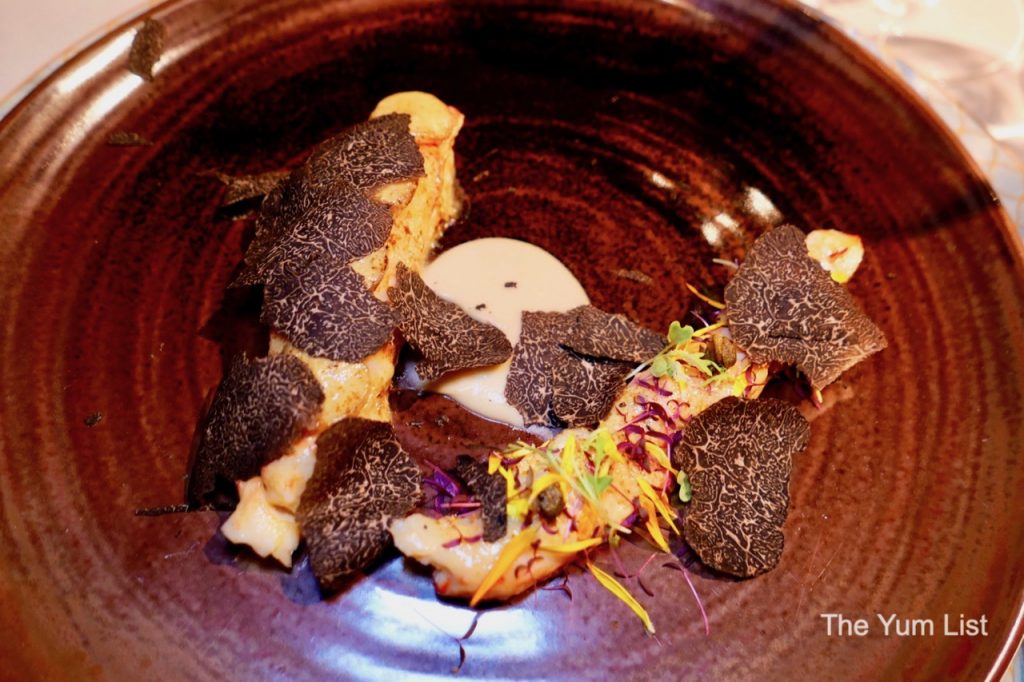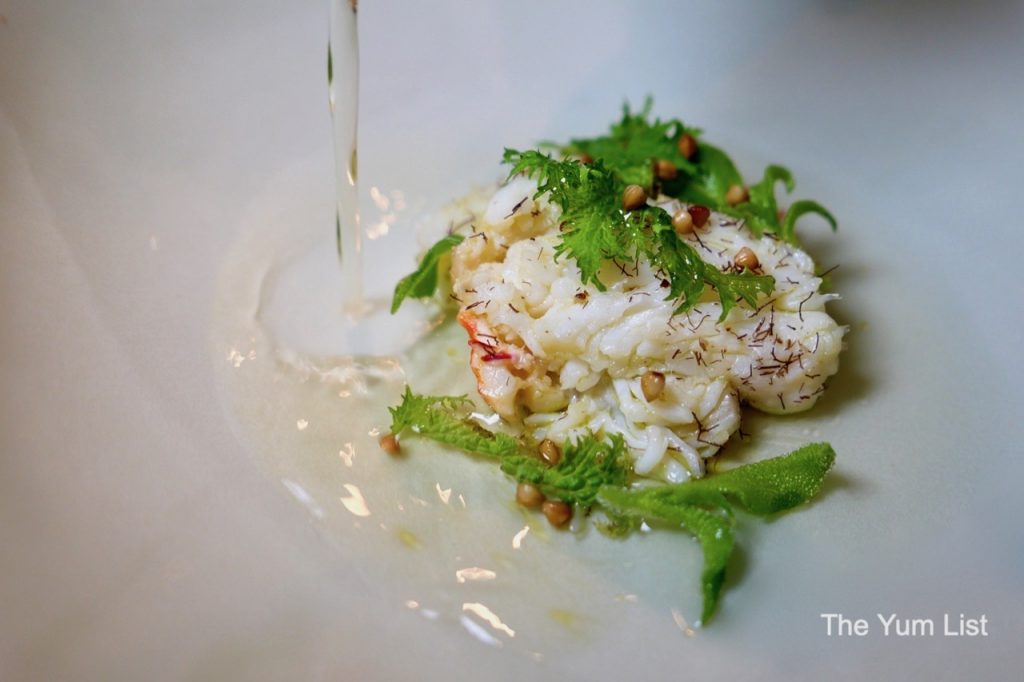 The poultry, Silverhill Irish duck supreme, sports a herb crust assisting to both temper and celebrate the mildly gamey flavour of the bird. Pommes Anna, eggplant, baby carrot and cumin yoghurt are not mere decoration but essential components. It comes together well. We can't help but admire the wonderfully pink and tender flesh of the duck, contrasting the carrot's vibrant orange.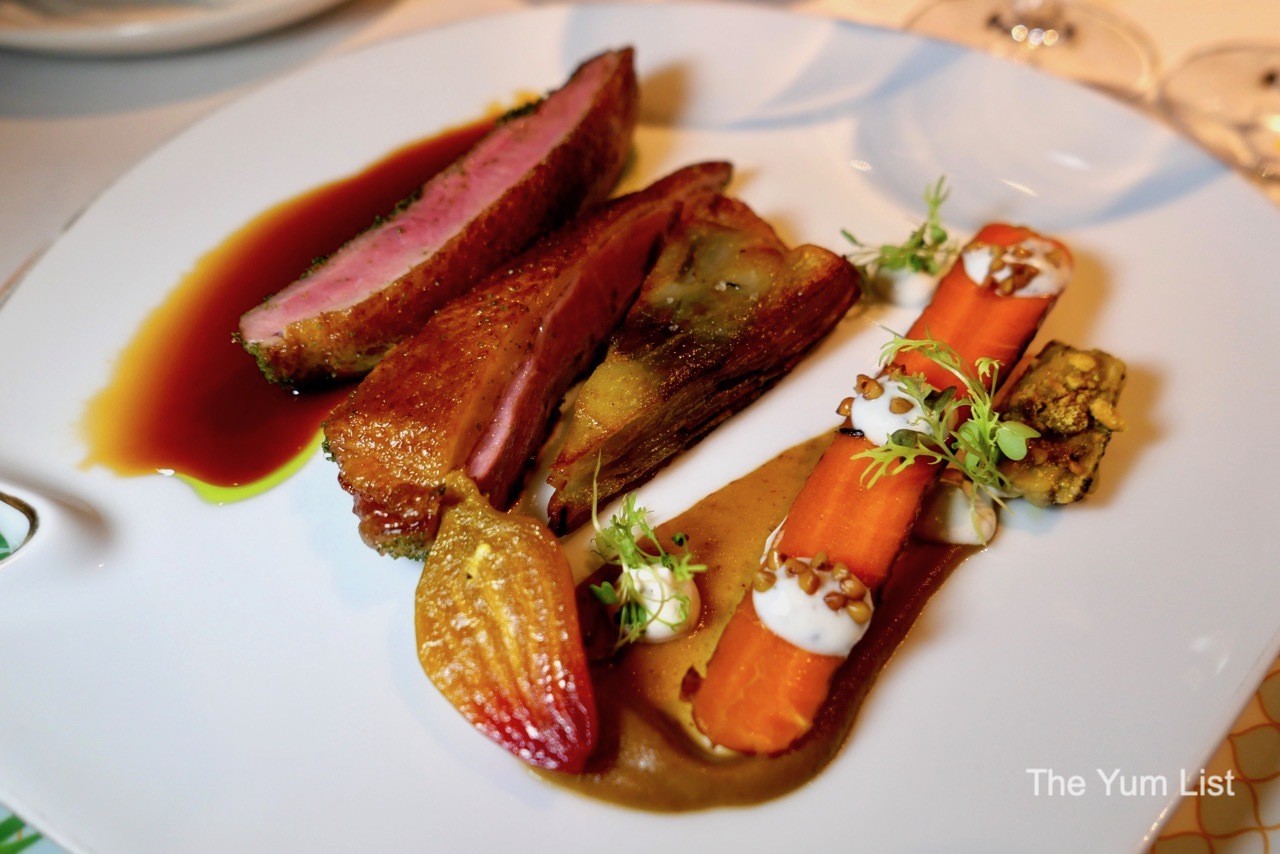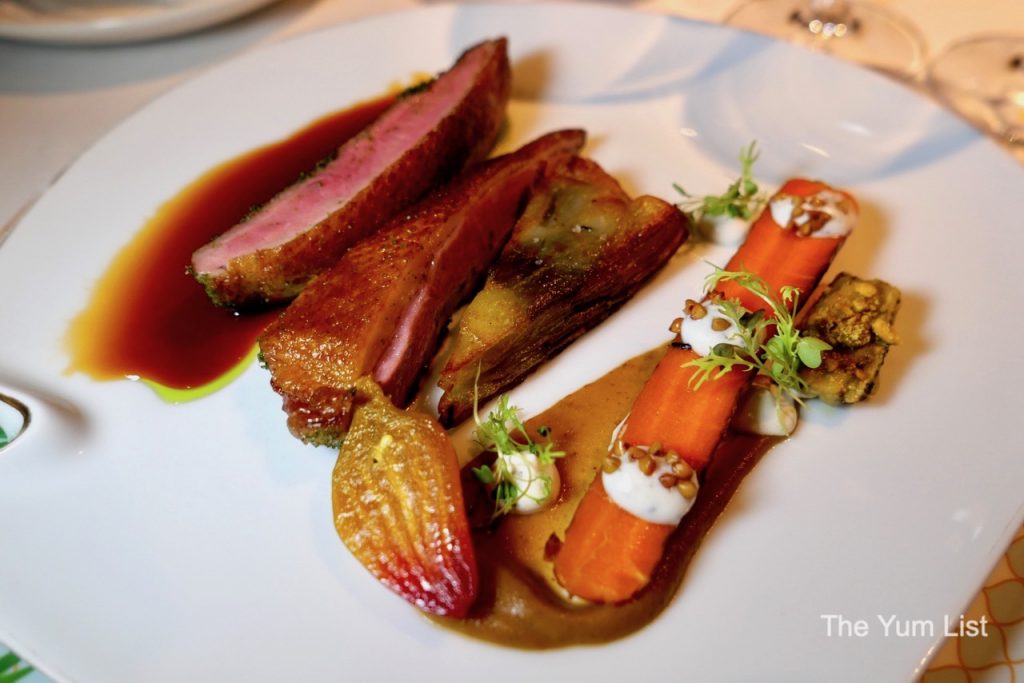 Kuheiji, Betsuatsurae, Yamada Nishiki, Junmai Daiginjo 2019
As the dishes come to a peak, so too does the sake. The Kuheiji, Betsuatsurae, Yamada Nishiki, Junmai Daiginjo 2019 is polished to 35%, producing a balance of sweetness and minerality. It's an educative experience sipping it with both the poultry and the two preparations of crab. In the end, we decide our preferred match is with the crab and tomato water. Tell me what is yours.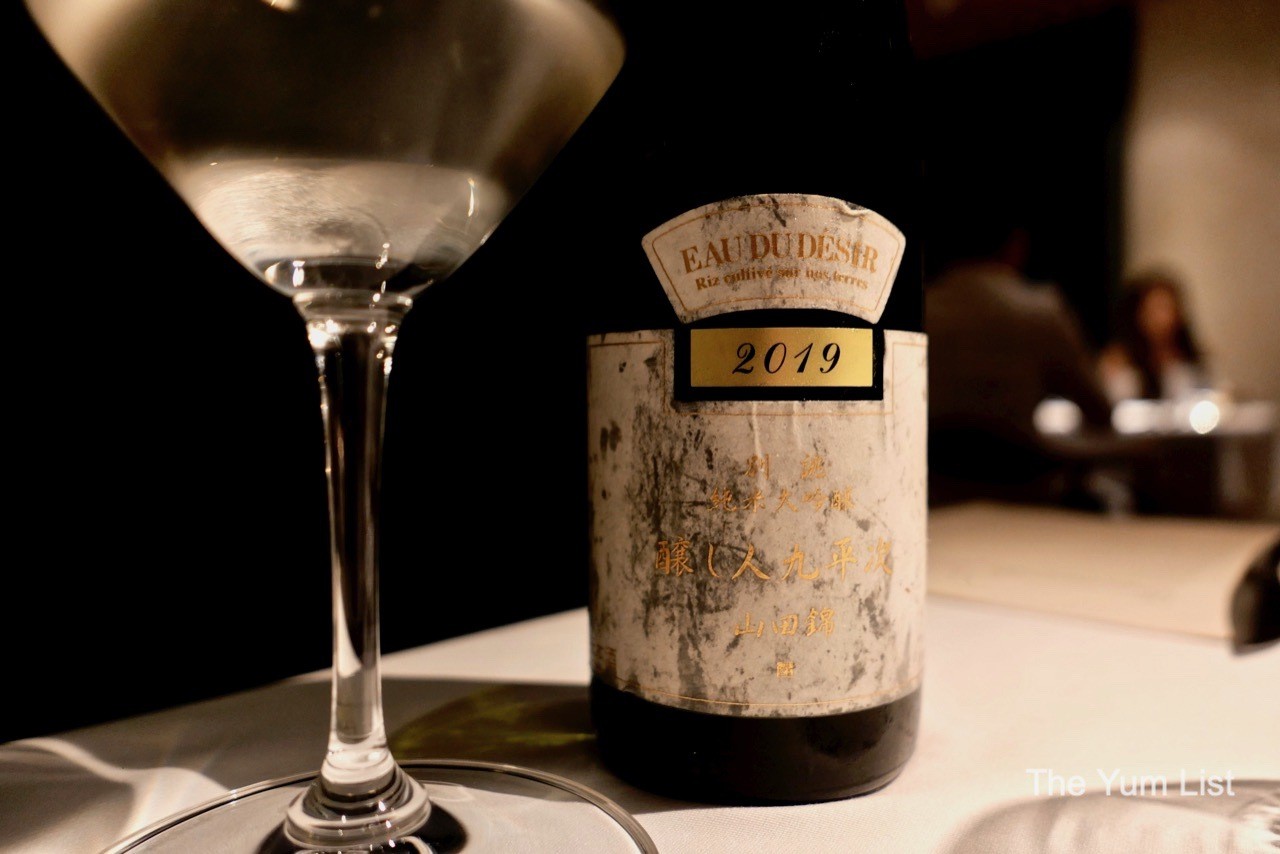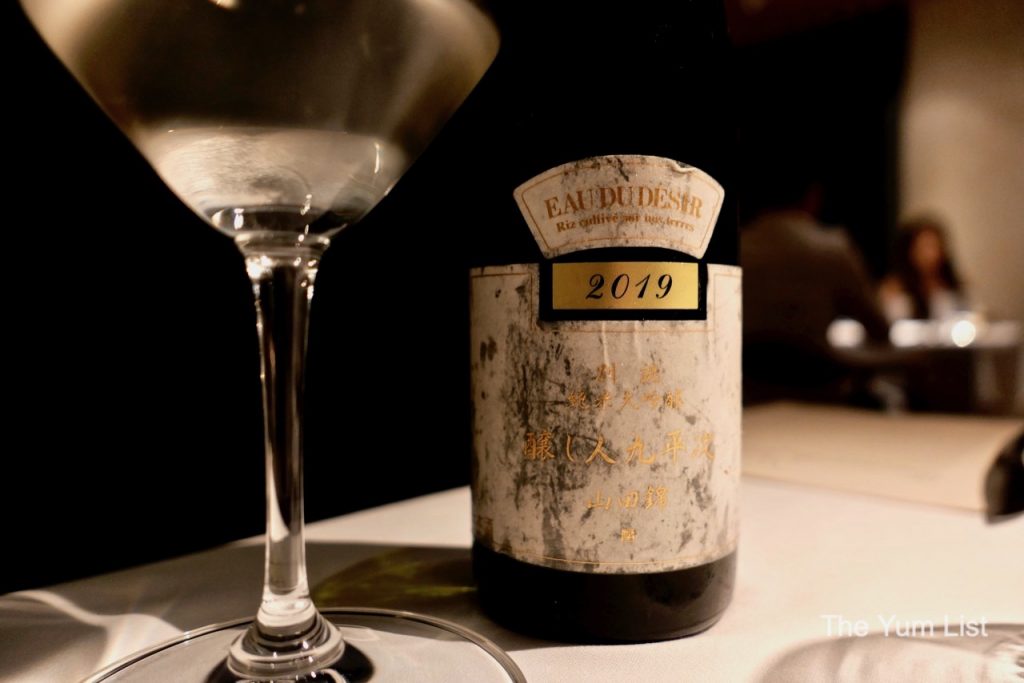 6th Course – Choice of Cheese or Dessert
Bringing the Kuheiji sake pairing menu to a conclusion is a choice of two desserts and cheese. If you are a first-time visitor to DC Restaurant, you absolutely must experience the cheese trolley. Otherwise, sweet tooths can choose from Light Rhum Mousse or Milk & Honey. Today, we wrap up our meal with Milk & Honey and the cheese.
Wild Flower honey from Mae Rim province in Chiang Mai supplies the dominant character in Milk & Honey. It's done as a parfait glace with apple cider gel, caramel streusel and milk ice-cream.
Le Fromage is an experience in itself. A trolley of French cheese is wheeled to the table where guests can goggle the selection. I am definitely better off with the advice of the staff so leave the choice to them. In the end, I have a platter of five types of A.O.P cheese (Fiore di Capra, homemade truffle brie, Fourre Au Bleu D'Auvergne, Pecoretto, Mimolette and a bonus shaving of Brebis) with fresh honeycomb and wildflower nectar again collected from the hills of Mae-rim, Thailand.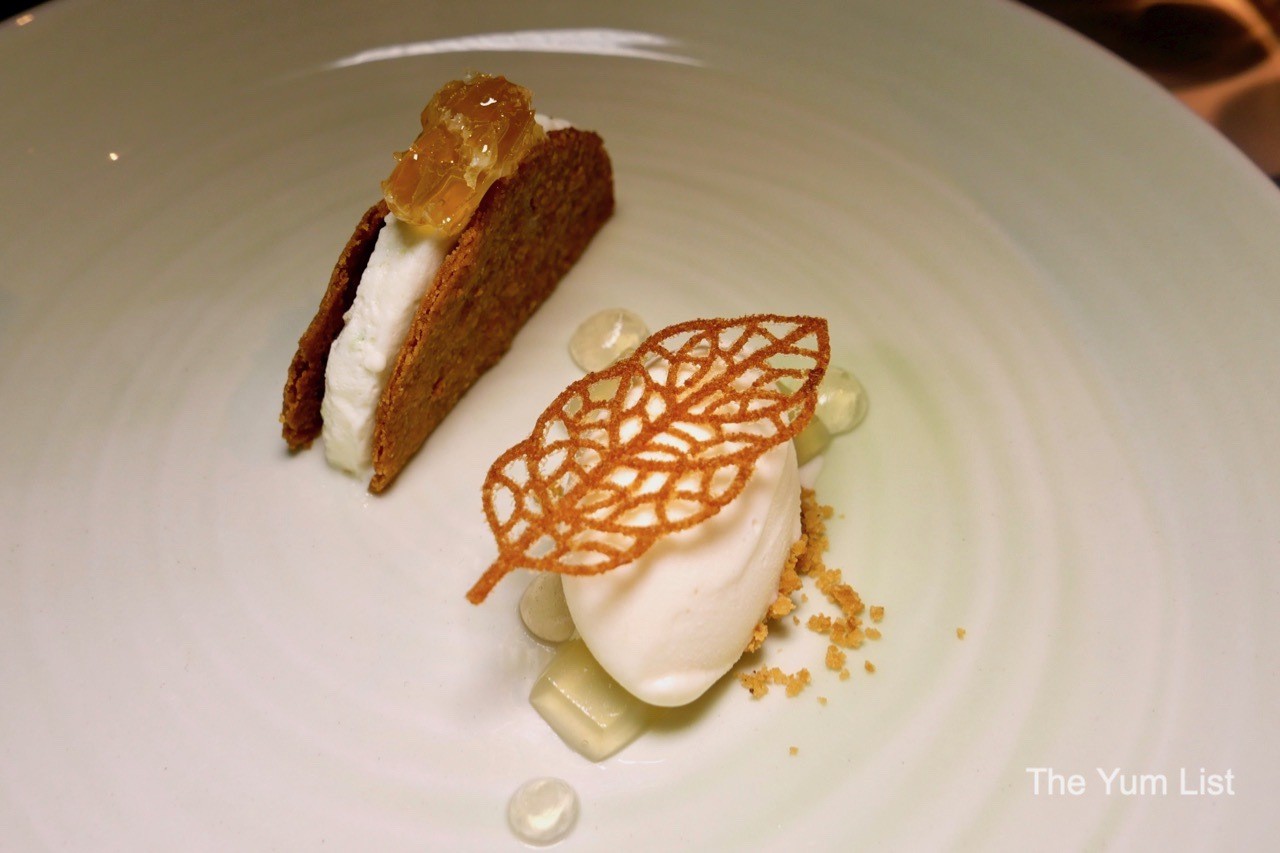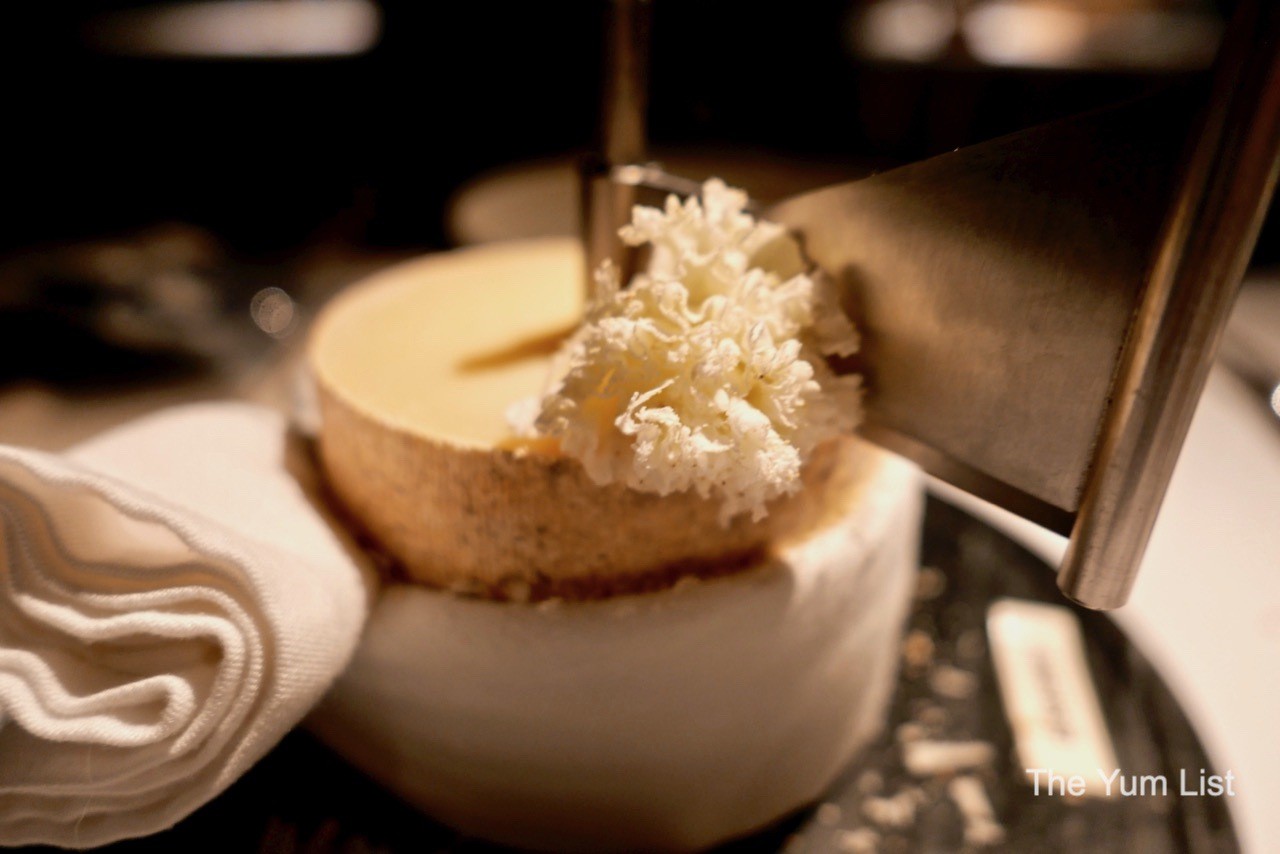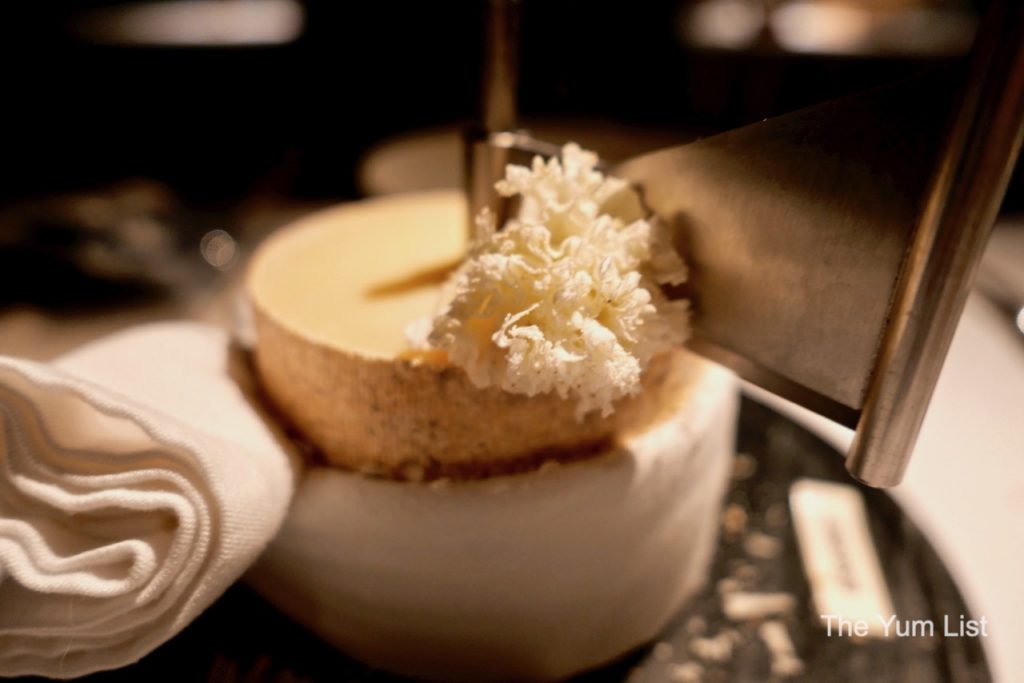 Kuheiji Sake Pairing Menu
DC Restaurant offers one of the most impeccable dining experiences in Kuala Lumpur. The key is an unwavering insistence on sourcing only the highest quality ingredients no matter the cost, near surgical precision in the kitchen and staff pride in running an operation as smooth as clockwork. The Kuheiji sake pairing menu is an expansion on their offerings, proving that whatever the team choose to take on, they do so with 100% commitment to getting it right.
Reasons to try the Kuheiji Sake Pairing Menu at DC Restaurant: an exceptional line-up of flavours; a bridge between the world of sake and European dining; meticulous attention to detail; possibly the best service team in KL.
DC Restaurant
33 Persiaran Zaaba
Taman Tun Dr Ismail
60000 Kuala Lumpur,Malaysia
www.facebook.com/DarrenChinRestaurant
+6 03 7731 0502
+6 012 223 2991
[email protected]
*Reservations are a must.
DC Restaurant CMCO Opening Hours
Tuesday to Sunday from 6 pm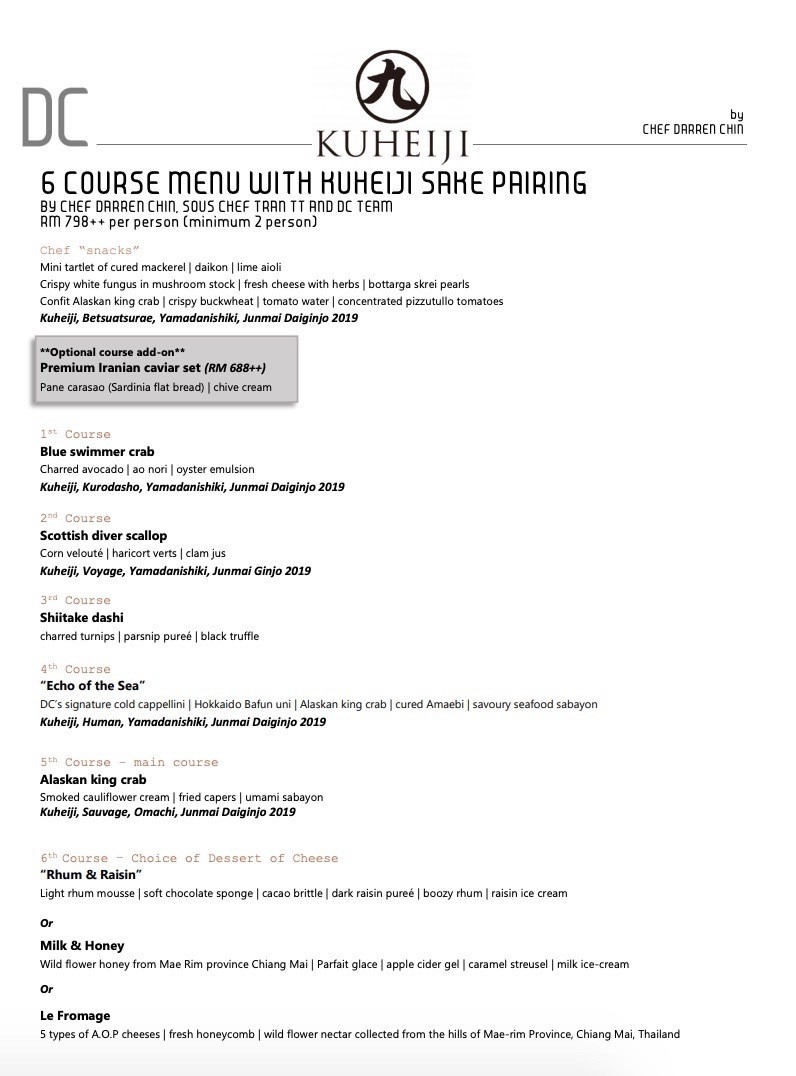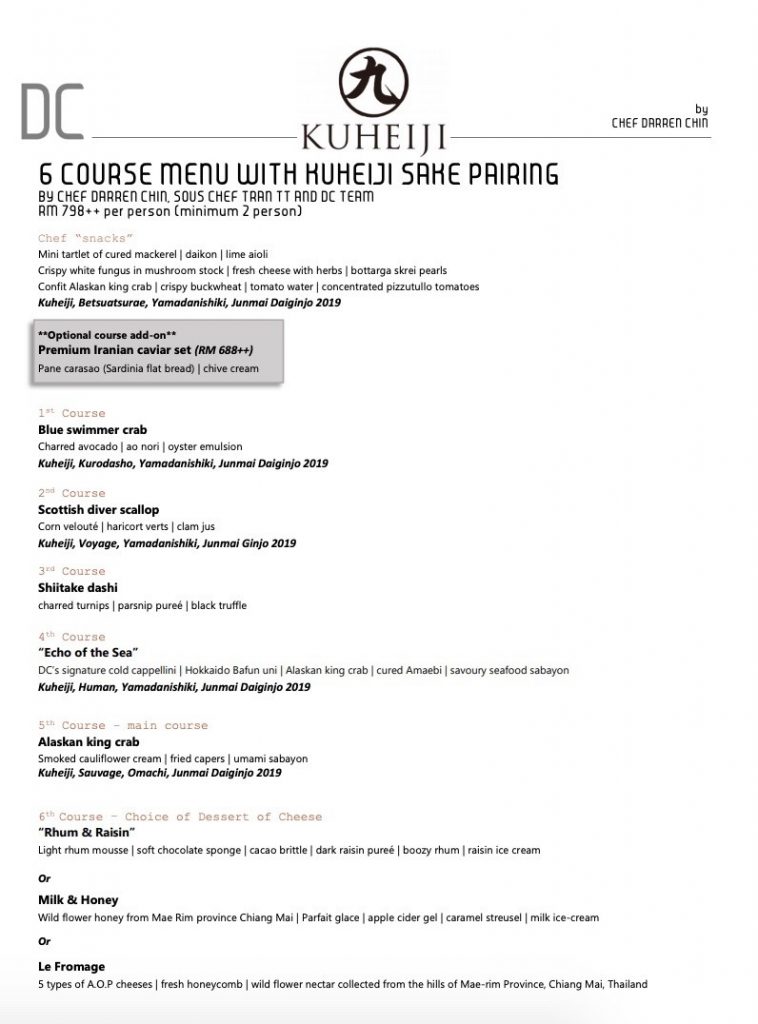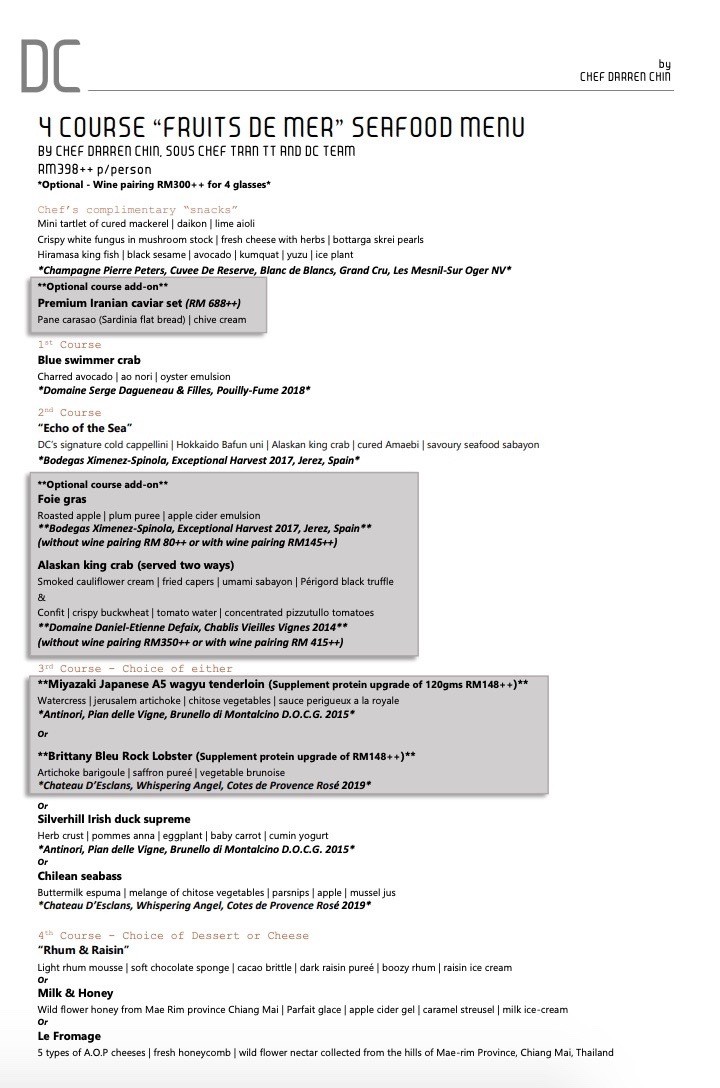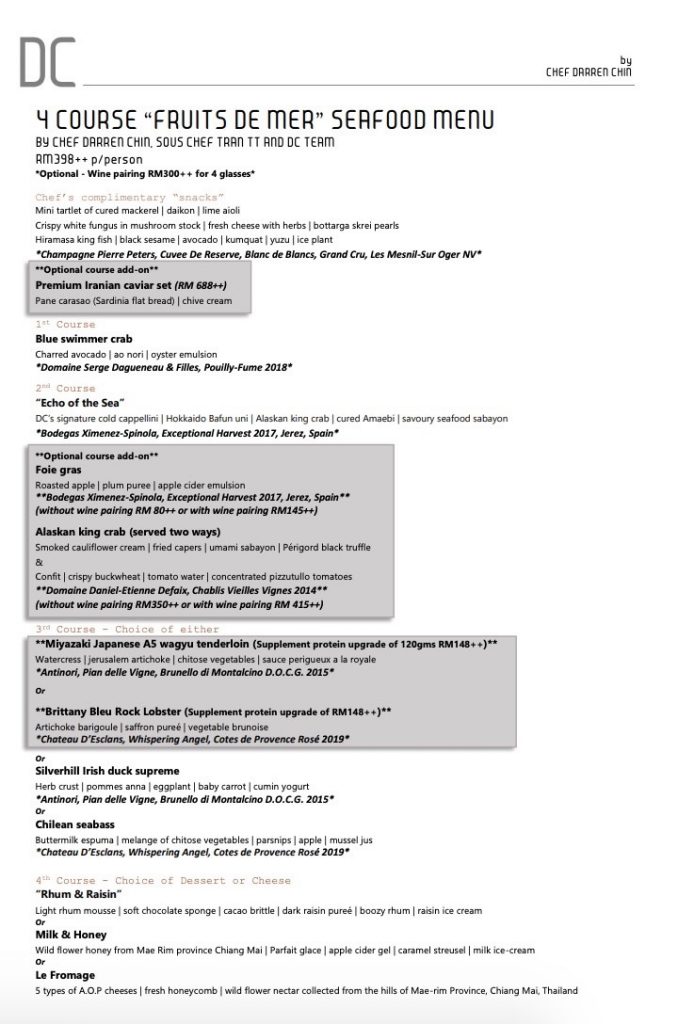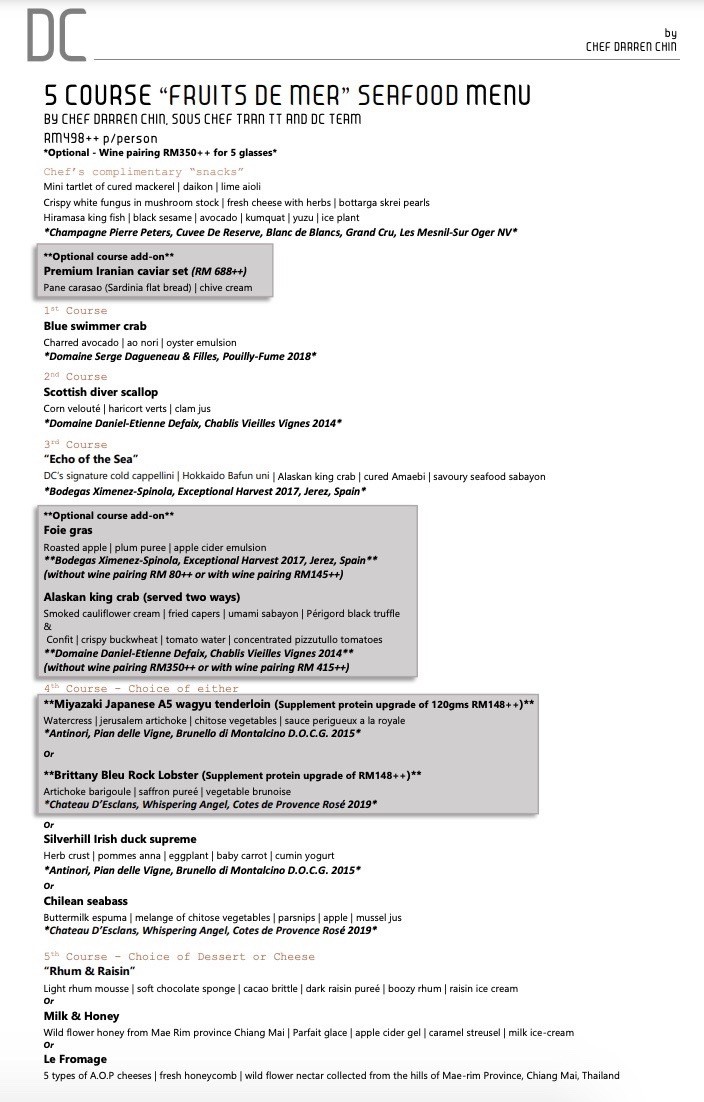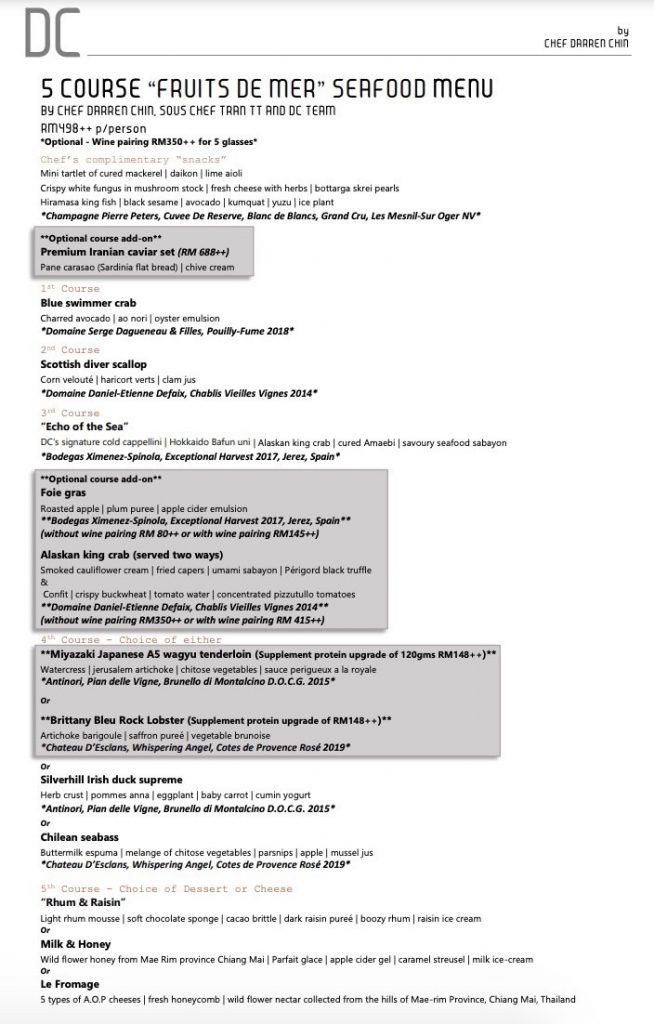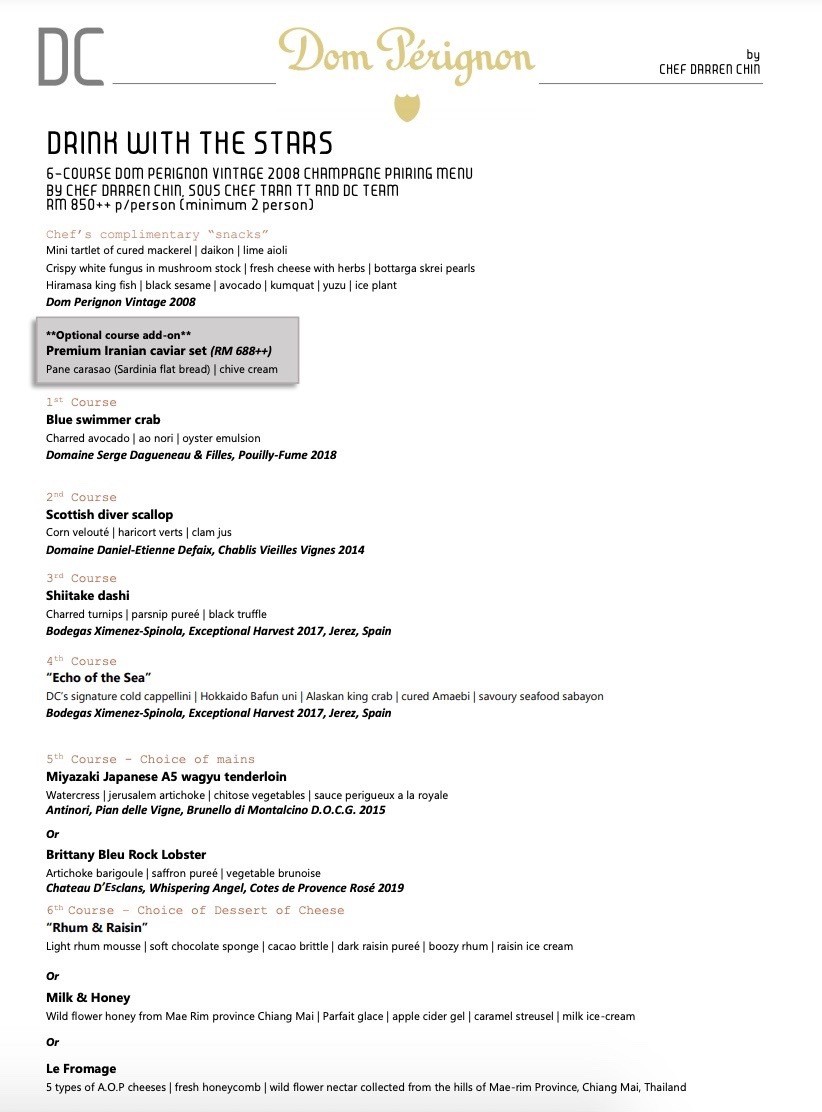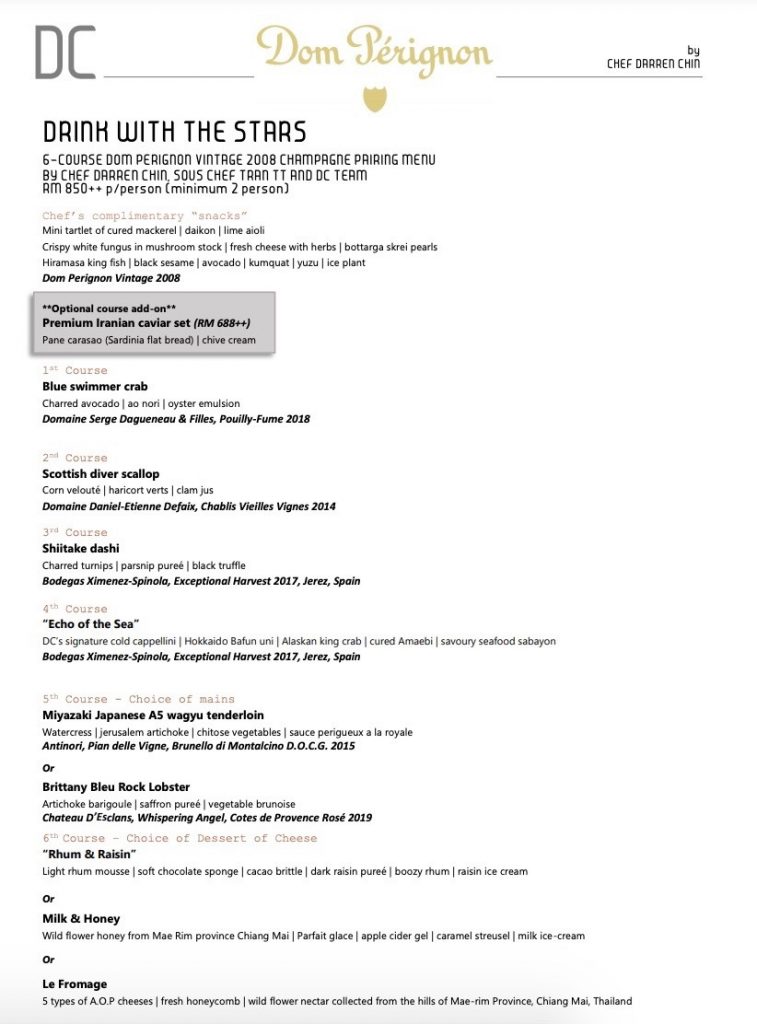 Find more restaurants for special occasions in KL here and stay up-to-date with the latest gourmet and travel recommendations for Malaysia here and here.