Dom Perignon Vintage 2008 Champagne Pairing Menu @ DC Restaurant 2.0
Drink with the Stars
Monica Tindall
"Come quickly! I am drinking the stars!" This exclamation by Dom Perignon when tasting his accidental bubbly wine creation is one of the most well-known Champagne quotes in history. It follows then, that chef ambassador for the brand in Malaysia, Darren Chin, would curate a menu titled Drink with the Stars as a tribute to the partnership.
Coinciding with the opening of DC Restaurant 2.0, the timing could not have been better. A fitting setting for a Dom Perignon menu, the expansion of DC Restaurant spans over the first floor of the lot next door. With a glass-walled kitchen, cocktail bar and private rooms as new additions, regular guests should be pleased with the enhanced ambience.
The design is timeless with a sense of warmth, intimacy, artistic whisper and a touch of class. Style from the original space carries over but has been smartened up, just as you might dress-up nice pants and a collared shirt with a coat and tie. Darren has a reputation for paying attention to the details. This is evidenced in both what is seen, such as rippled copper wall features and contoured ceilings, but also the hidden, including sound-absorbing acoustic paint and panelling. A pervading feeling of safety, comfort, refinement and intimacy fits well with the new norm.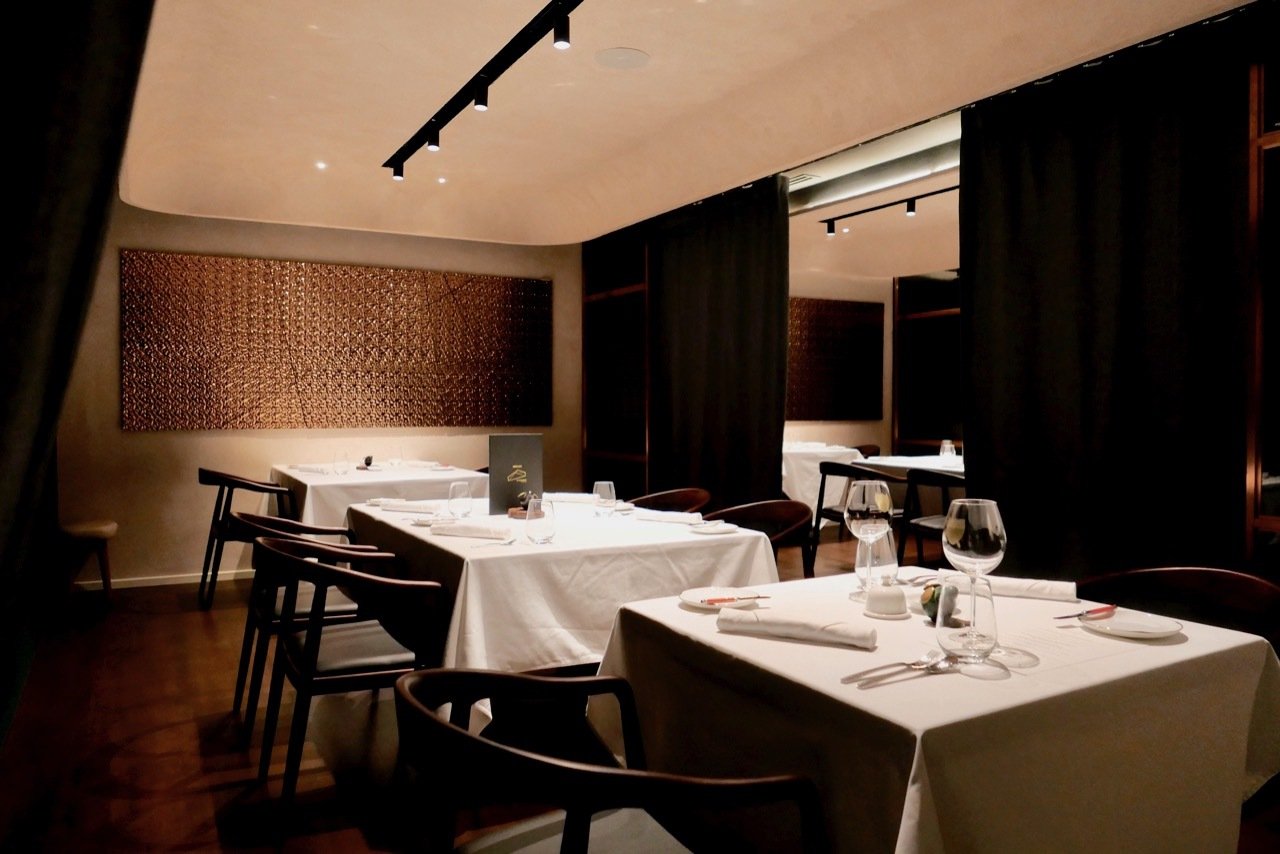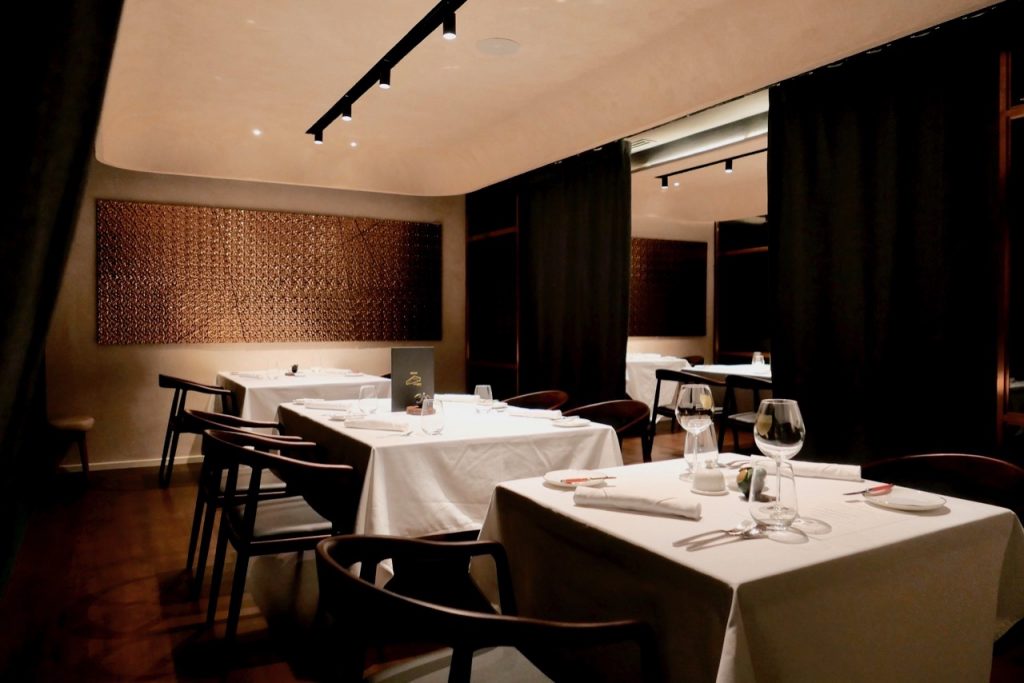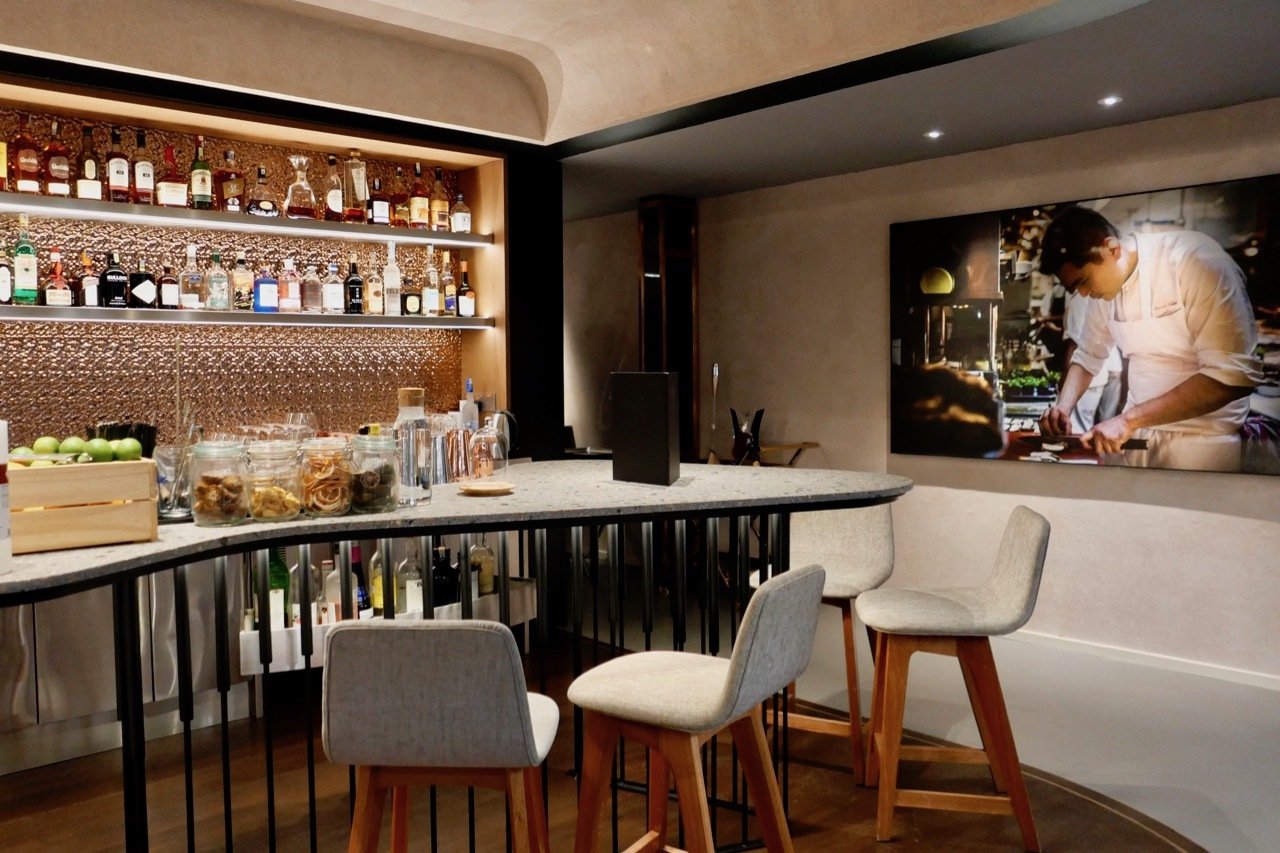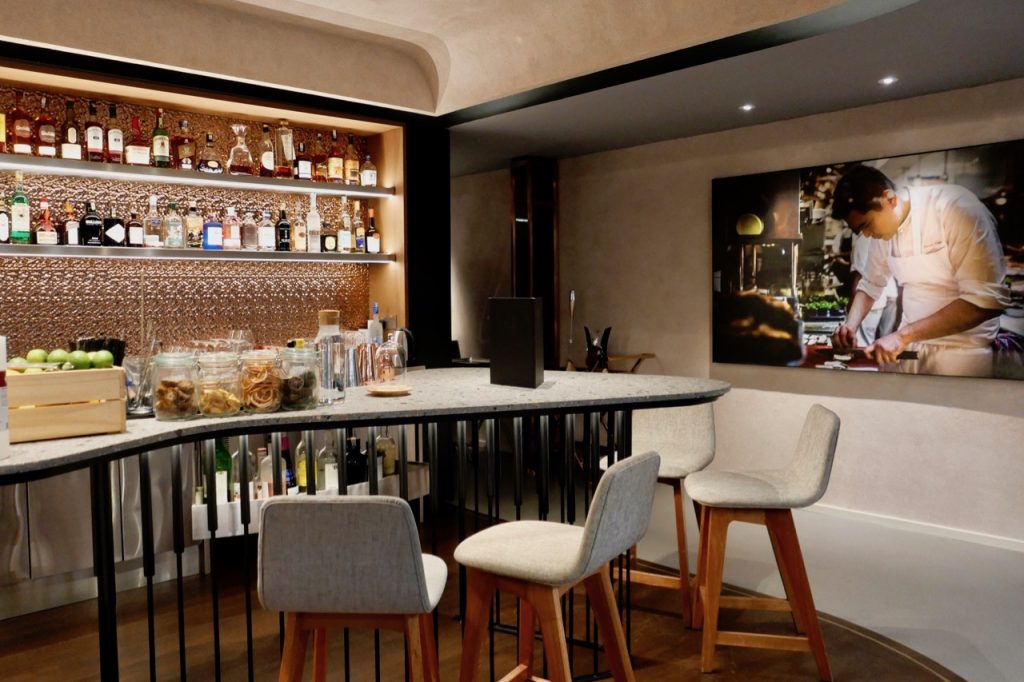 DC Restaurant 2.0 – The Cocktail Bar
Chef Darren Chin has long played a part in developing and growing talent. He sets high expectations but also gives space for his team to grow. The cocktail bar in DC Restaurant 2.0 is a prime example. With the bar specifically designed for DC's mixologist, control has been handed over, and Sebastian Jeremy Edely has crafted cocktails ideal for an aperitif before a meal.
Well-suited to my palate is the Old Man (RM55++). A twist on an Old-Fashioned, it substitutes whiskey with bourbon, complemented by Boulard Calvados, chocolate bitters and an orange peel garnish. Hubby's tastes are for fruitier numbers. As such, he finds the Guardian Angel (RM45++) a good match. A mix of Hendricks gin, rose liqueur and cucumber is easy drinking and pretty too with its soft hue wetting a coupe glass.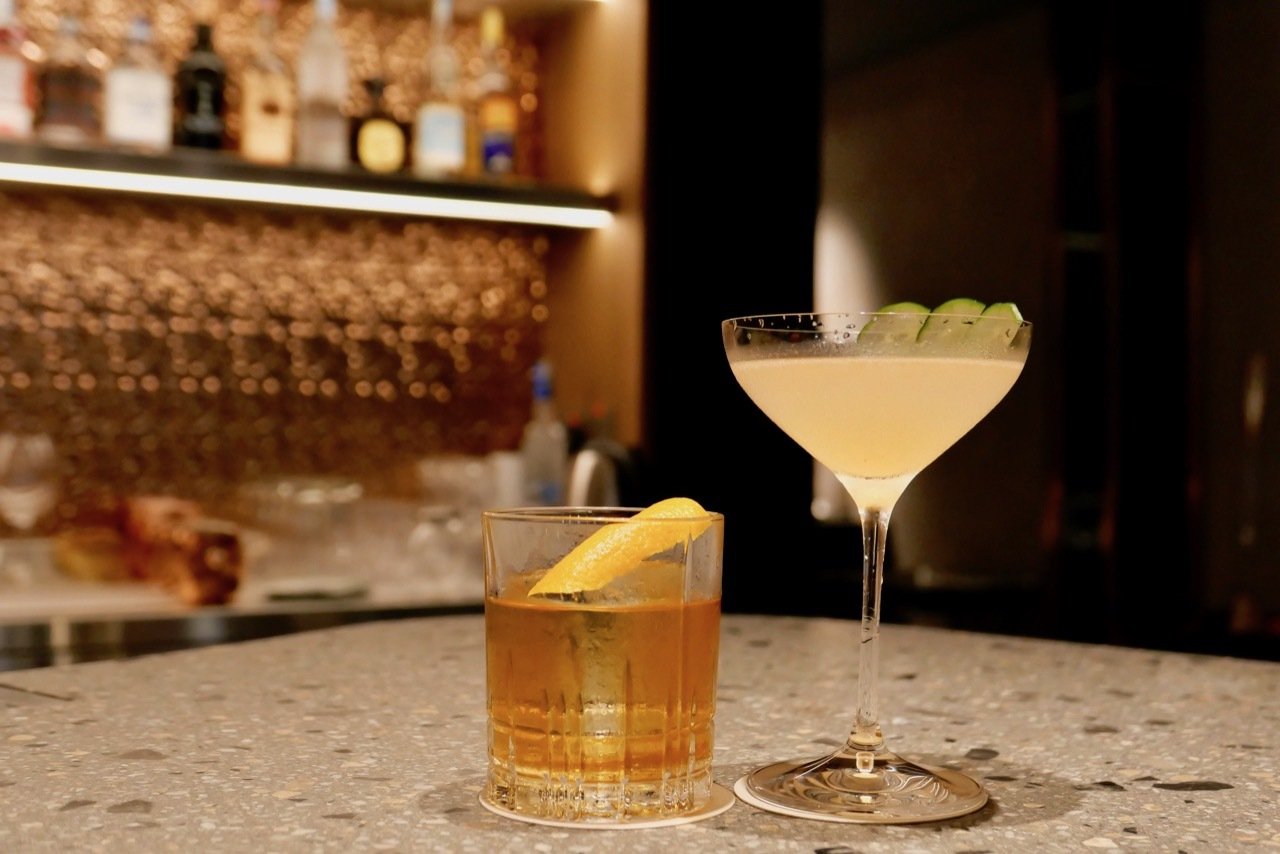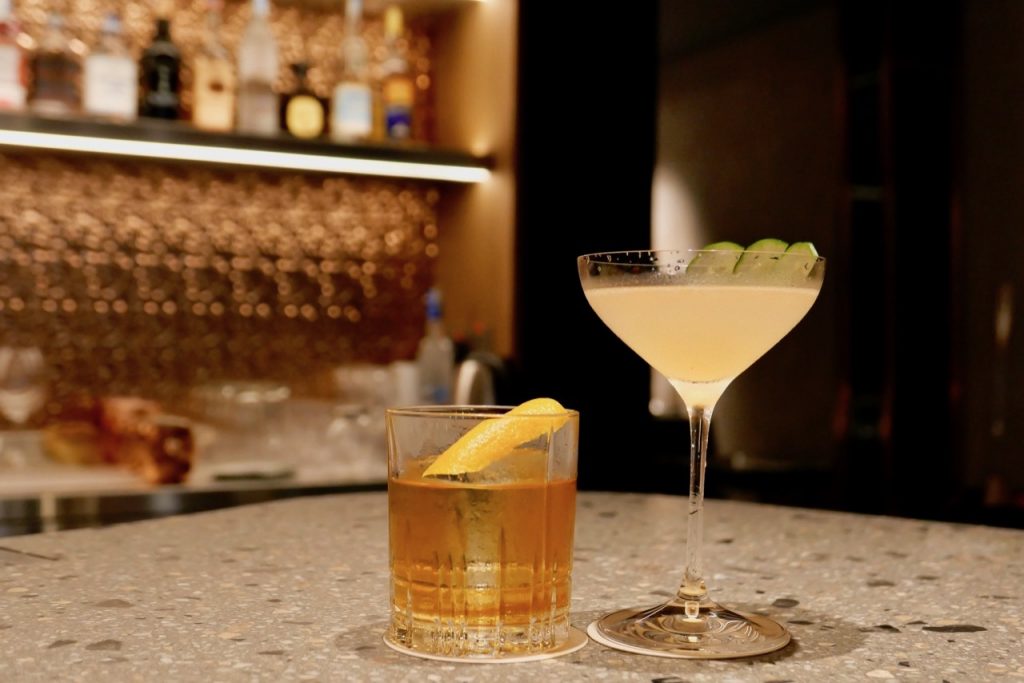 Wine Menu DC 2.0
Cocktails are a fun introduction, but the wine program at DC Restaurant is a multiple award-winner. With the latest in achievements being the 2020 Wine Spectator Award of Excellence, the list features over 250 labels. Personally selected by Darren, the compilation includes Bordeaux crus classés, grower champagnes and wines that not only harmonise with but elevate, the intricacies of the food experience. Despite the list being premium, the prices have not been marked up significantly. Compared to most fine establishments in the city, prices are value-for-money.
Browsing the wine list only serves to augment our anticipation of the stellar meal ahead of us. We're here for the Dom Perignon Vintage 2008 Champagne Pairing Menu "Drink with the Stars" (RM798++), a wine-paired line-up curated in dedication to a partnership with Dom Perignon.
Drink with the Stars – Dom Perignon Malaysia Menu by Darren Chin
Three, four, five and six-course menus plus a vegetarian alternative suit a variety of desires at DC 2.0. The wine-paired six-course Drink with the Stars curation includes two glasses of Dom Perignon 2008 and must be one of the most premium menus currently in KL. This menu pre-Covid-19 would have easily sold for around RM 1200++, so while RM798++ is out of the range of many, fine-dining lovers looking to celebrate a special occasion or impress a guest, should delight in this proposal.
Drink with The Stars
The Dom Perignon Vintage 2008 Champagne Pairing Menu by Chef Darren Chin, Sous Chef Tran TT and DC Team begins with a basket of warm bread and pastries. Unpasteurised salted butter from Normandy and black truffle pate are delicious spreads.
Dom Perignon Vintage 2008 Malaysia
As we nibble on the bread, the legendary Champagne is poured in a wide-rimmed glass fabricated especially for the vintage. An excellent year in the vineyard, 2008 produced ripe, balanced grapes with vines in perfect health. The result was generous aromatics, bracing acidity, depth and complexity only found in great Champagne. We could breathe in the bouquet for an extended period and continue to see different notes. Initially, though we detect floral and citrus tones followed by a freshness and toasted buttery brioche. Elaborated in the cellar for a minimum of eight years, the palate has a fine mousse with pure character developing into a warm expression and finalising with unmistakable acidity.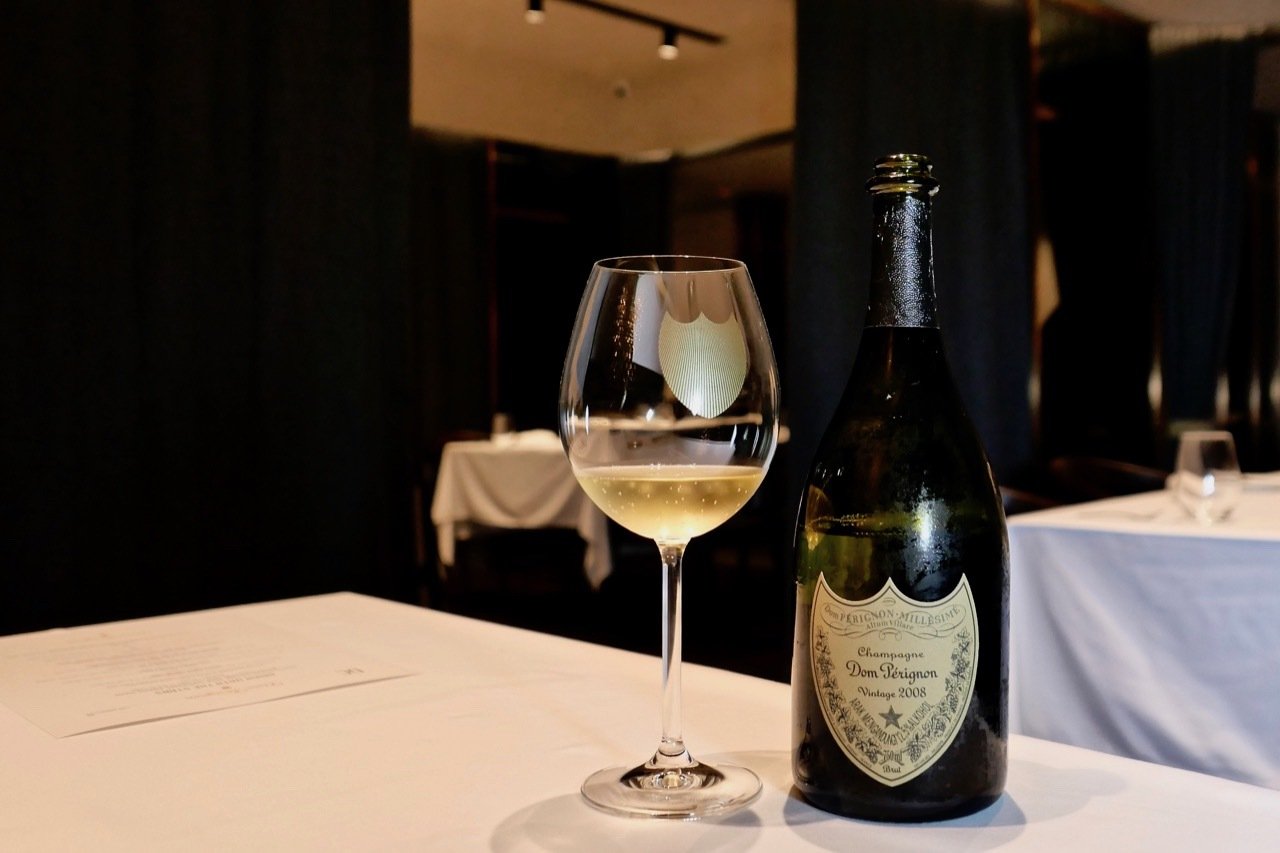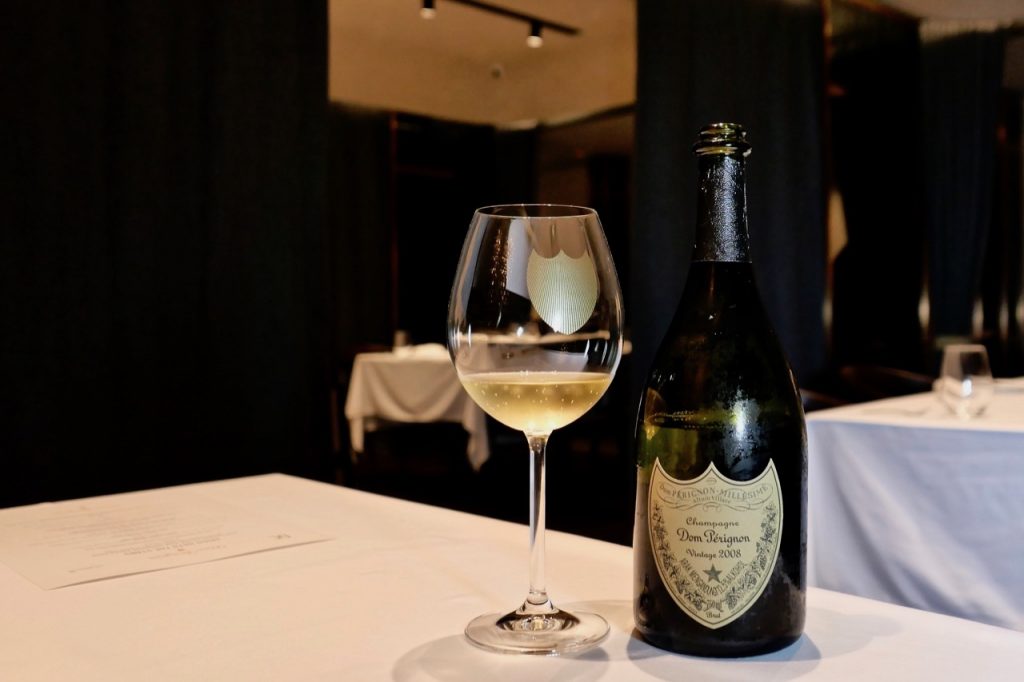 Chef's Amuse Bouche
The amuse bouche is so much more than a simple pleasing of the mouth. We know the Clear Tomato Ravioli from the vegetarian menu. Tonight, we're drinking with the stars, however, and this already excellent recipe is made even more luxurious with Alaskan king crab and caviar. You know I am a veggie-loving gal, but the crab flesh is so fresh, and the caviar offers tiny bursts of pleasure. Only paralleled by the tightly knit bubbles of the Champagne, it's a "wow" introduction.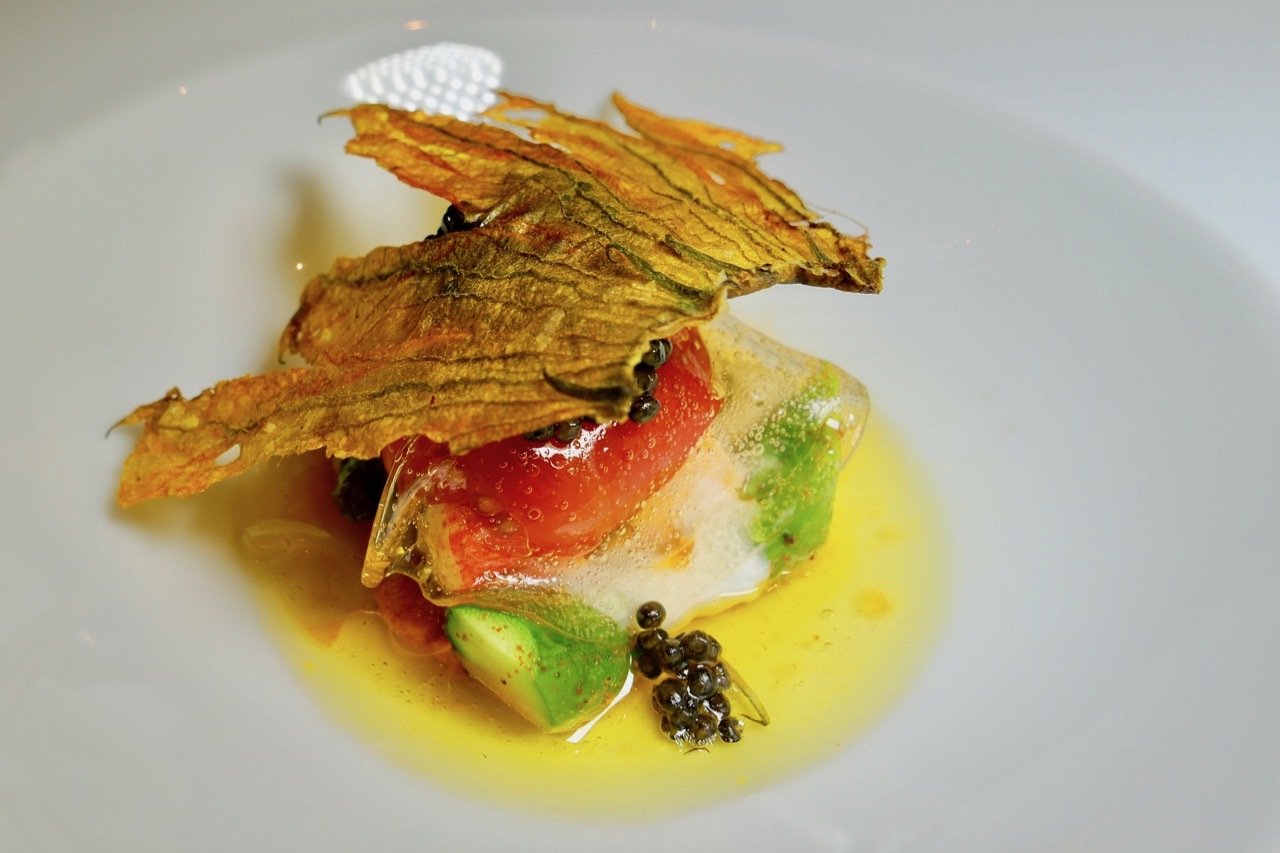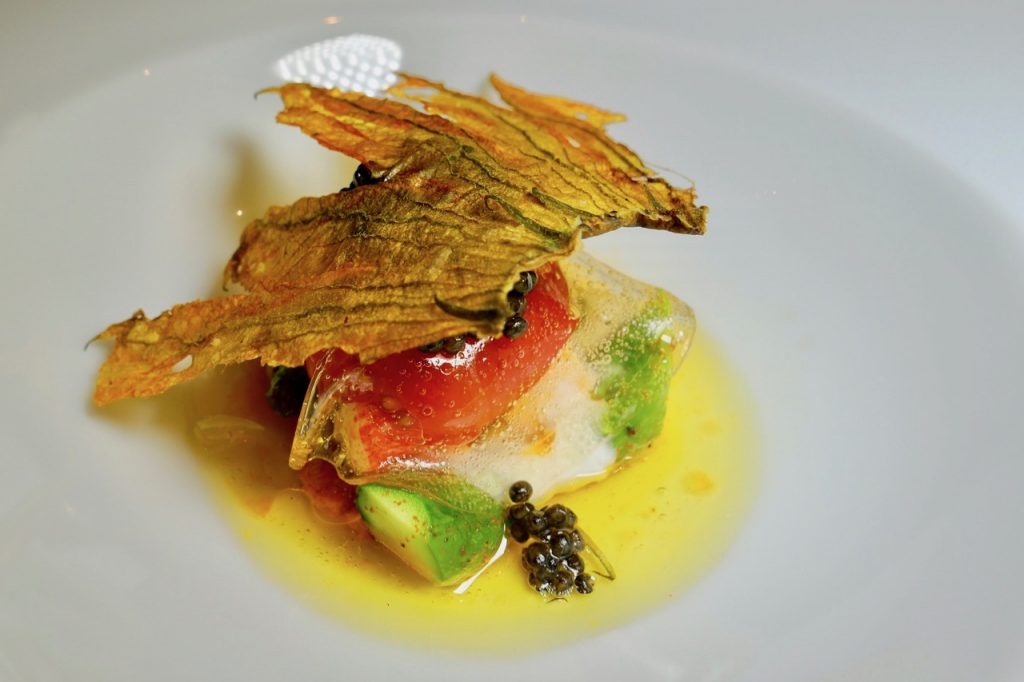 First Course
The aroma of the sea tickles our nostrils as we inhale the scent of Echo of the Sea. DC's Signature cold capellini with cured amaebi (cold water prawns prized for their sweet flesh), Hokkaido bafun uni (Japanese red sea urchin) and savoury seafood sabayon is presented in a bowl resembling a shell. Prawn, uni, seaweed, two types of roe, and the fine pasta ribbons, characterise an elegant yet powerful experience in the mouth. The progression of bubbles refreshes the palate with the larger spheres of salmon roe, followed by the medium-sized tobiko eggs, and lastly the fine effervescence in our second glass of Dom Perignon Vintage 2008.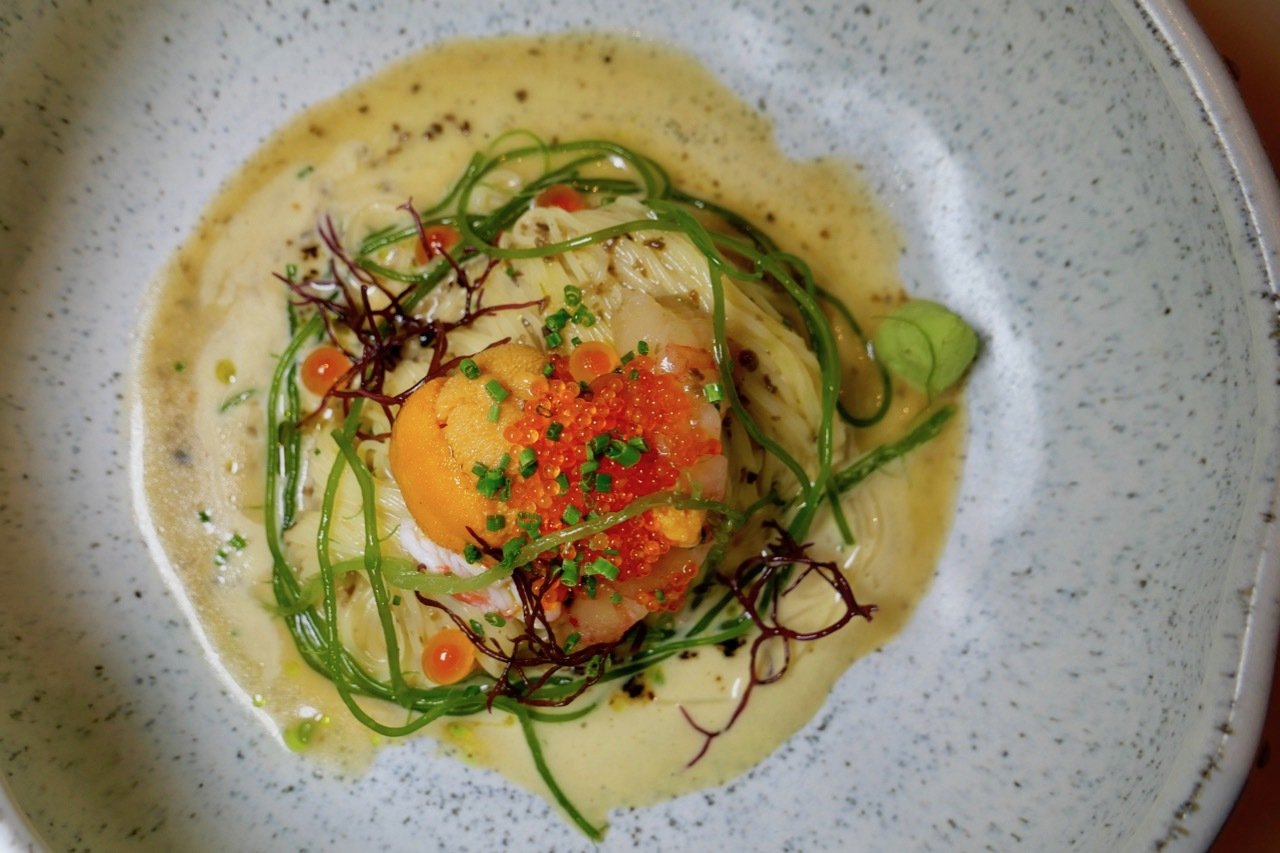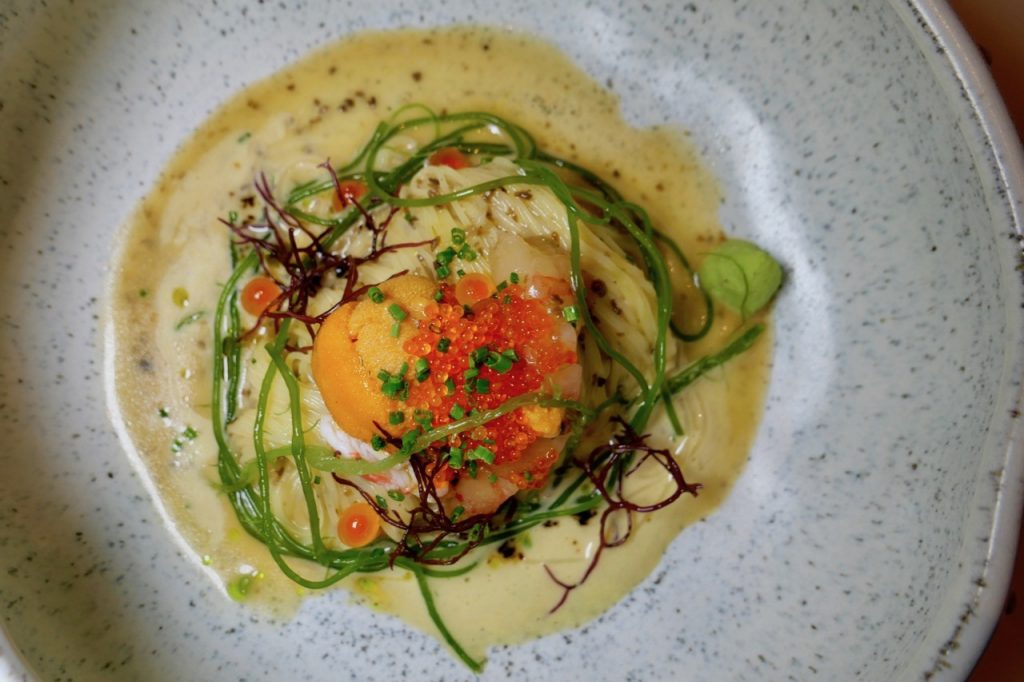 Second Course
The second course increases in intensity with Brittany Bleu Rock Lobster. The crustacean has been lightly poached in sauce Americaine and sided with shiitake potato cake, mushroom cream, and carrot-ginger foam. Something is comforting about mushrooms and potatoes, and the lobster builds on that base. The wine mate, Zind Humbrecht 2011 Riesling, Clos Windsbuhl, deceptively smells as if it might fall on the fruity side. While there is definite fruit in the palate, it is elegant and balanced with mineral threads, excellent structure and a savoury conclusion.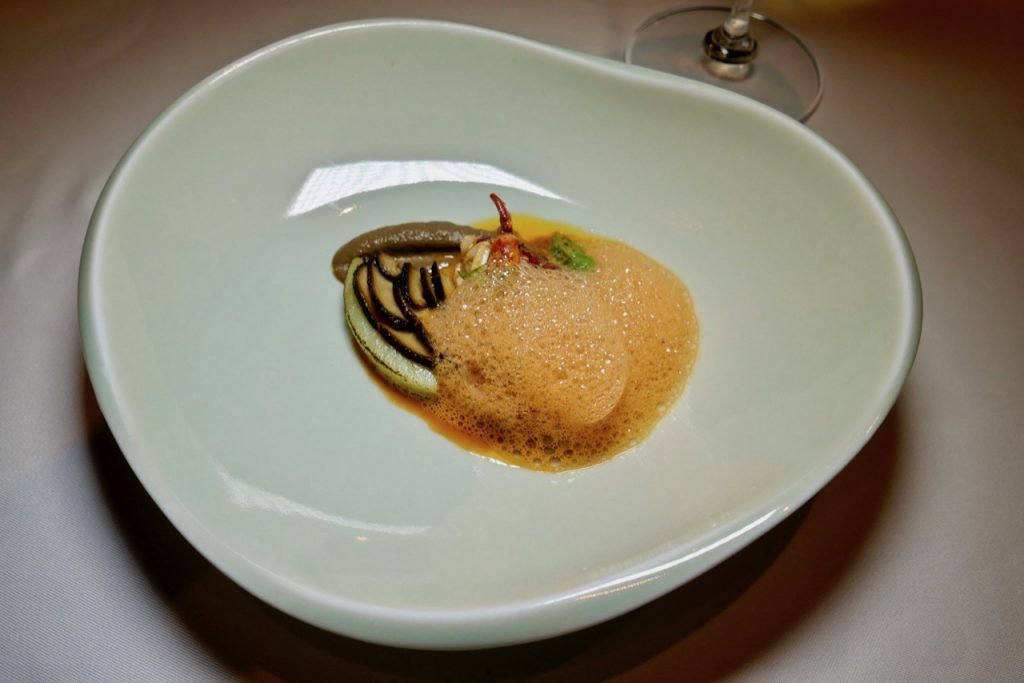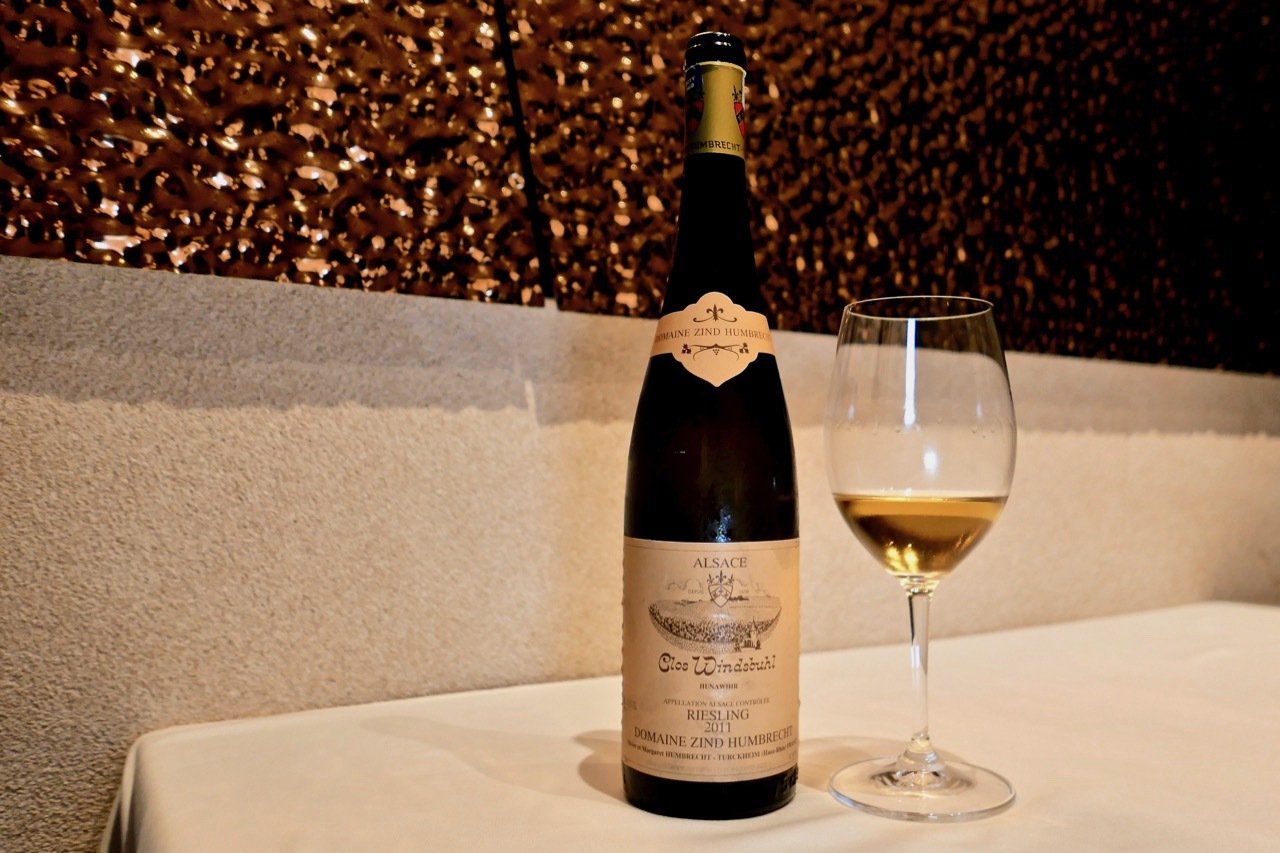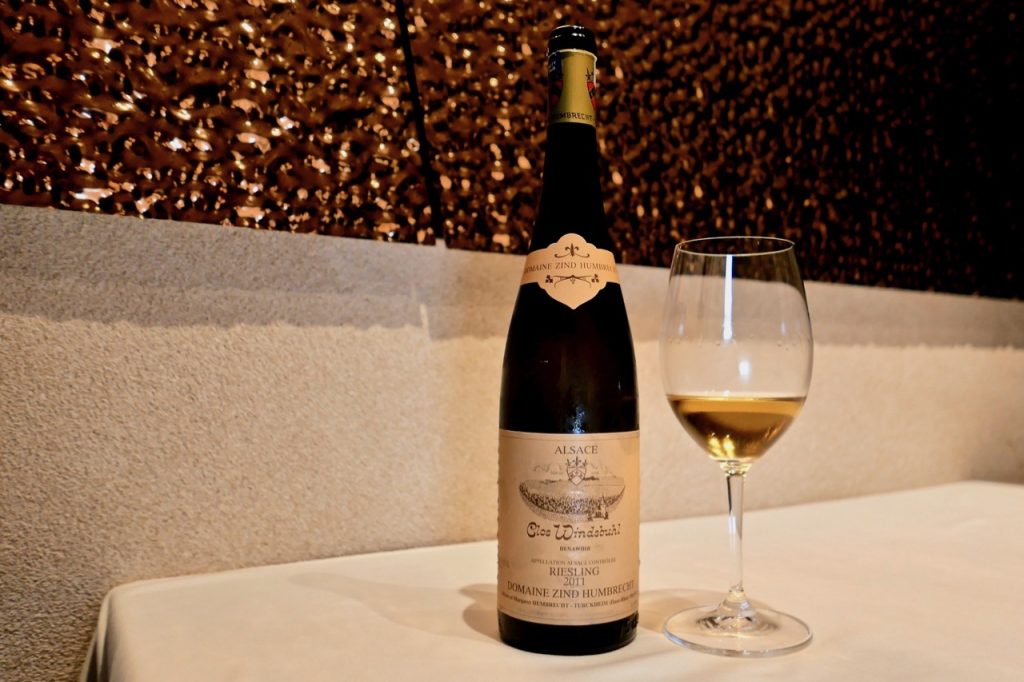 Third Course
Norwegian Skrei Cod is much larger than coastal cod and treasured for its firm, pristinely white flesh and clean finish. I'm positive those proclaiming a dislike for cod will change their mind when trying the skrei. Darren's recipe is encrusted with crispy potato scales and partnered with black trumpet mushrooms, broccoli crème Fraiche and gold standard Osetra caviar. Harvested from sturgeon weighing up to 400 pounds, it is one of the most prized and expensive types of caviar. Do take a moment to appreciate its light, buttery taste and gentle saltiness. There's a dab of wasabi too; just a touch brings a mild string of heat to the profile stimulating the flavours to waltz about on the tongue.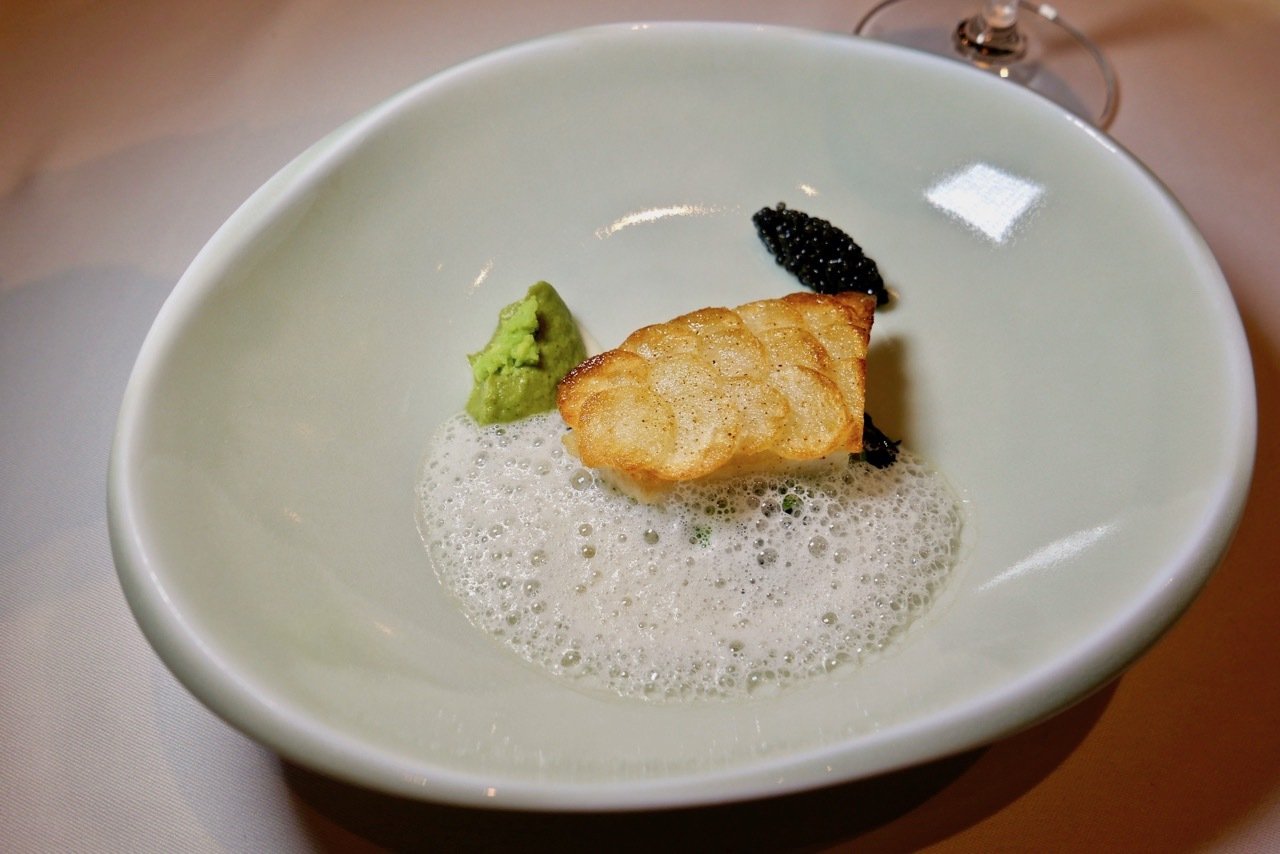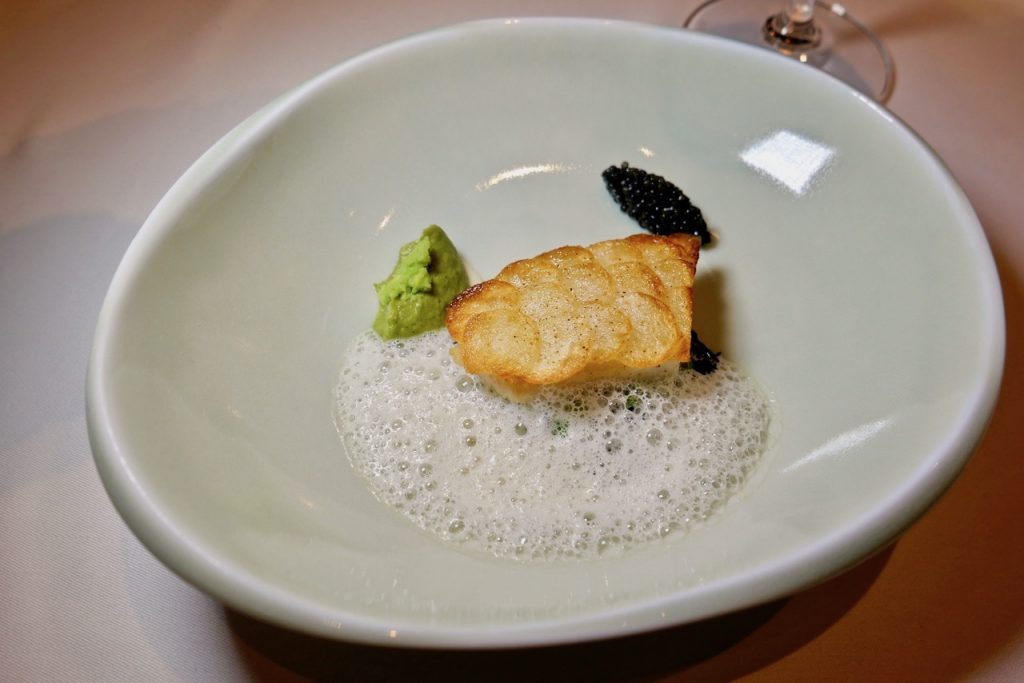 I'm rather fond of the Marchesi Antinori Bramito 100% Italian Chardonnay 2017 and happy to see it on this menu. It's one of the few contemporary productions that I think have achieved the perfect balance of acidity and butteriness. It's a terrific choice for the cod.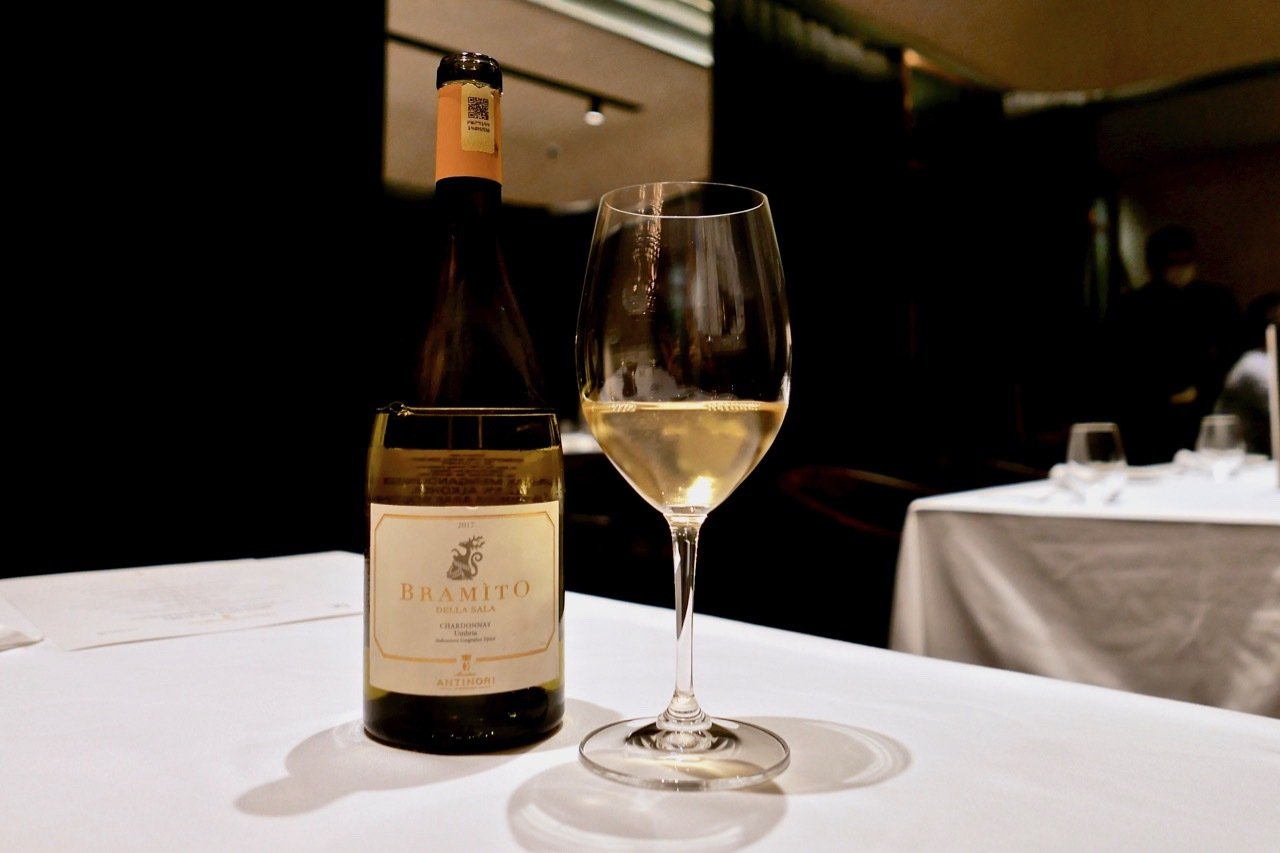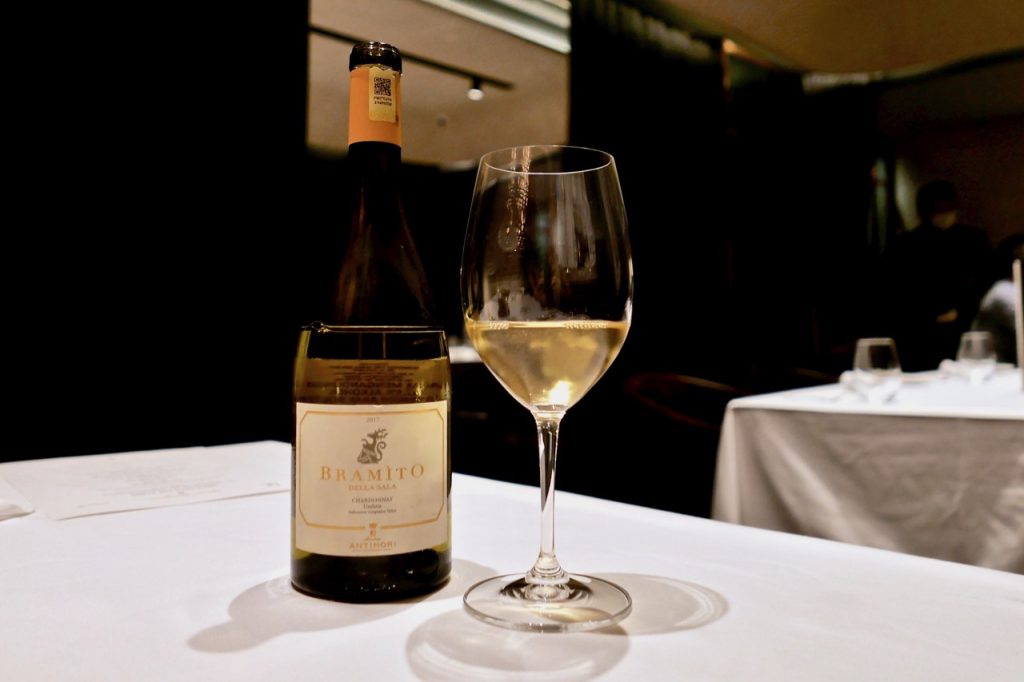 Fourth Course
Hubby literally drools over his first fork of Tokushima Japanese A5 Wagyu. Besides the premium cut of beef, the secret to its seductive taste is Binchotan charcoal. Sourced from the Kishu province of Wakayama, Japan, it has over 300 years of history. Sweet potato coffee cream, roasted sweet potato and nashi pear build on the depth in this course. Optionally, beef jus, wasabi and yuzu koshu make for additional seasoning. We best appreciate the dish in unadulterated format.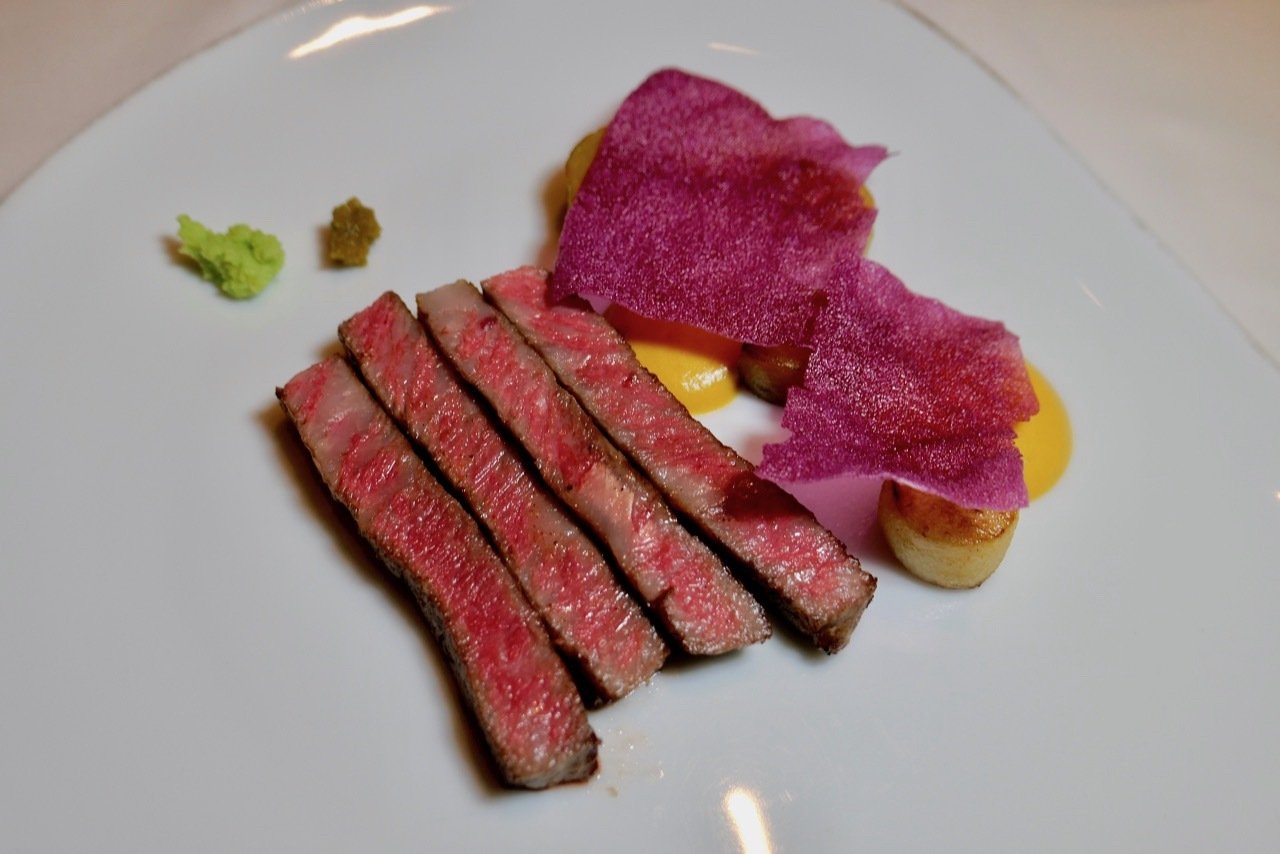 The final wine, Frédéric Magnien Pinot Noir, Cote de Nuits-village Croix Violette 2015, flaunts just the right balance of structure, tannins and acidity making it a flawless match for the sophisticated and elegant cut of meat. The care taken in hand-harvesting, fermenting with indigenous yeasts and gentle ageing in older oak barrels is evident in the finesse it holds in the glass.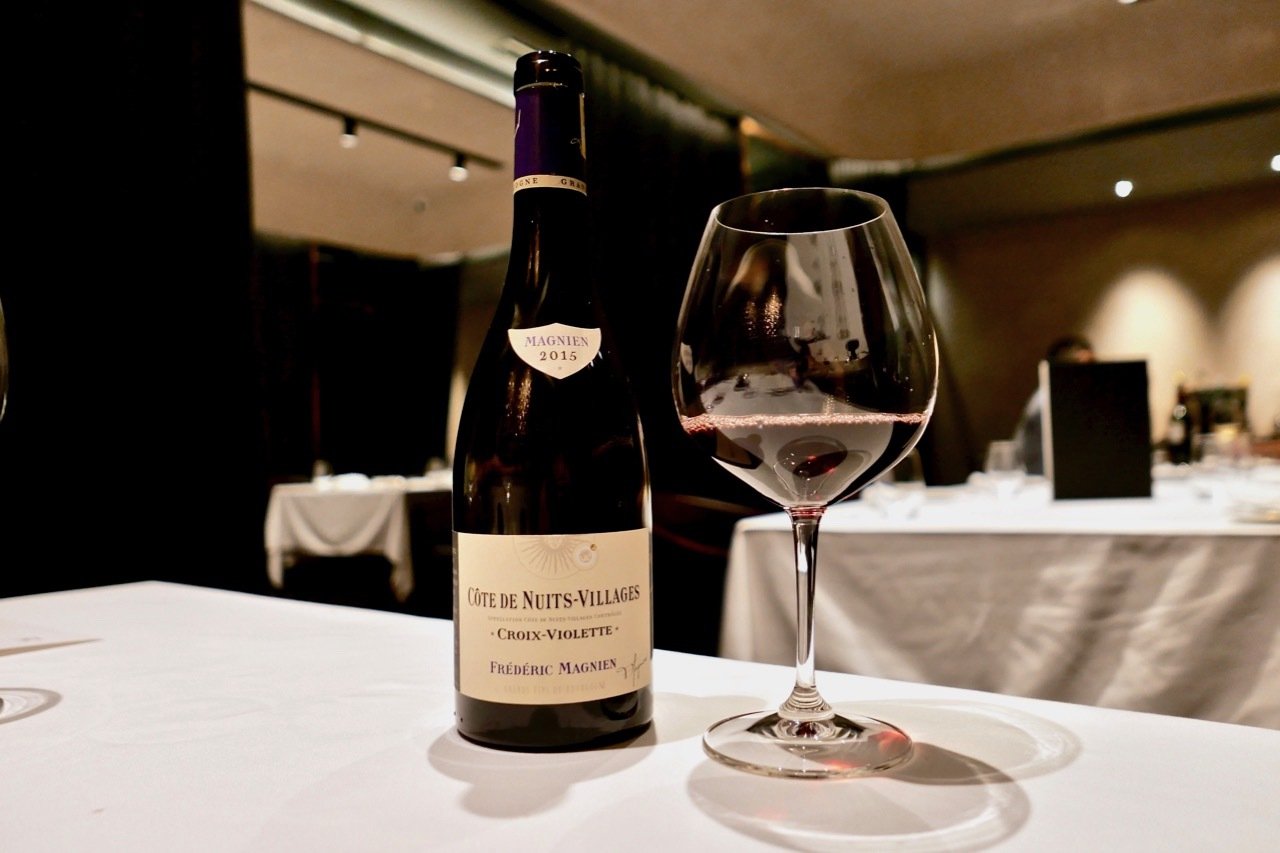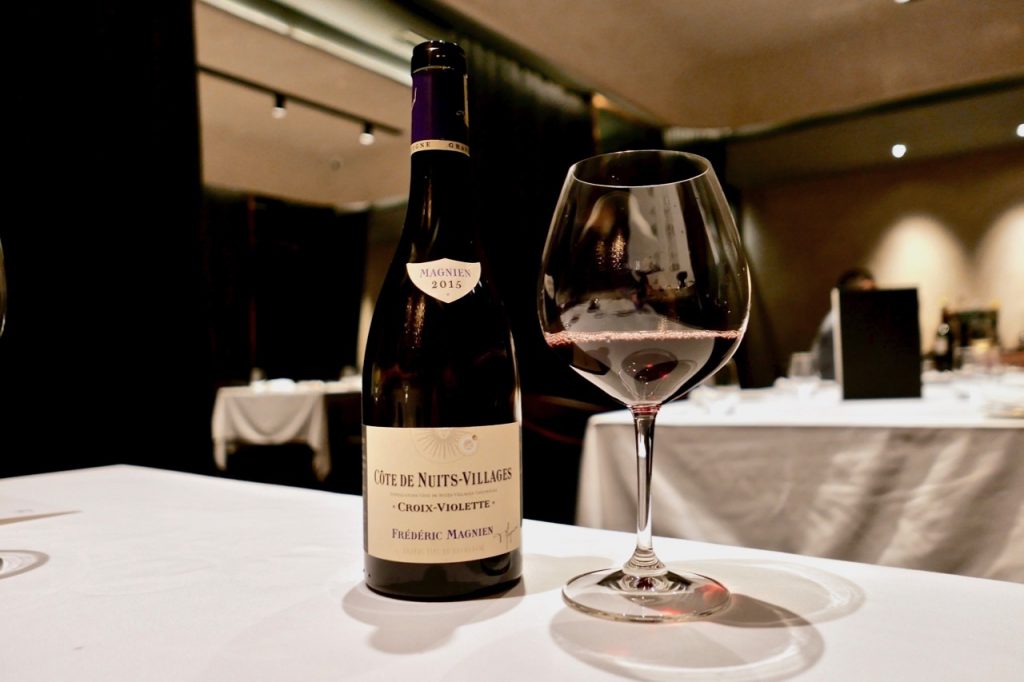 Fifth Course
Guests dining on the Dom Perignon Vintage 2008 Champagne Pairing Menu – Drink with the Stars – have a choice of two desserts or cheese. If you have not had the cheese experience at DC Restaurant, do the cheese! It is a magnificent trolley of mouth-watering French pressed curds of milk rolled to your table. We're up for something new though, so the Classic "Paris Brest" is our order. Hazelnut praline crème au beurre is a scrumptious layering of crunchy nuts, flaky pastry, and hazelnut mousse. Madagascar vanilla ice cream capped with a chocolate leaf is fabulous whirled together with each bite of pastry.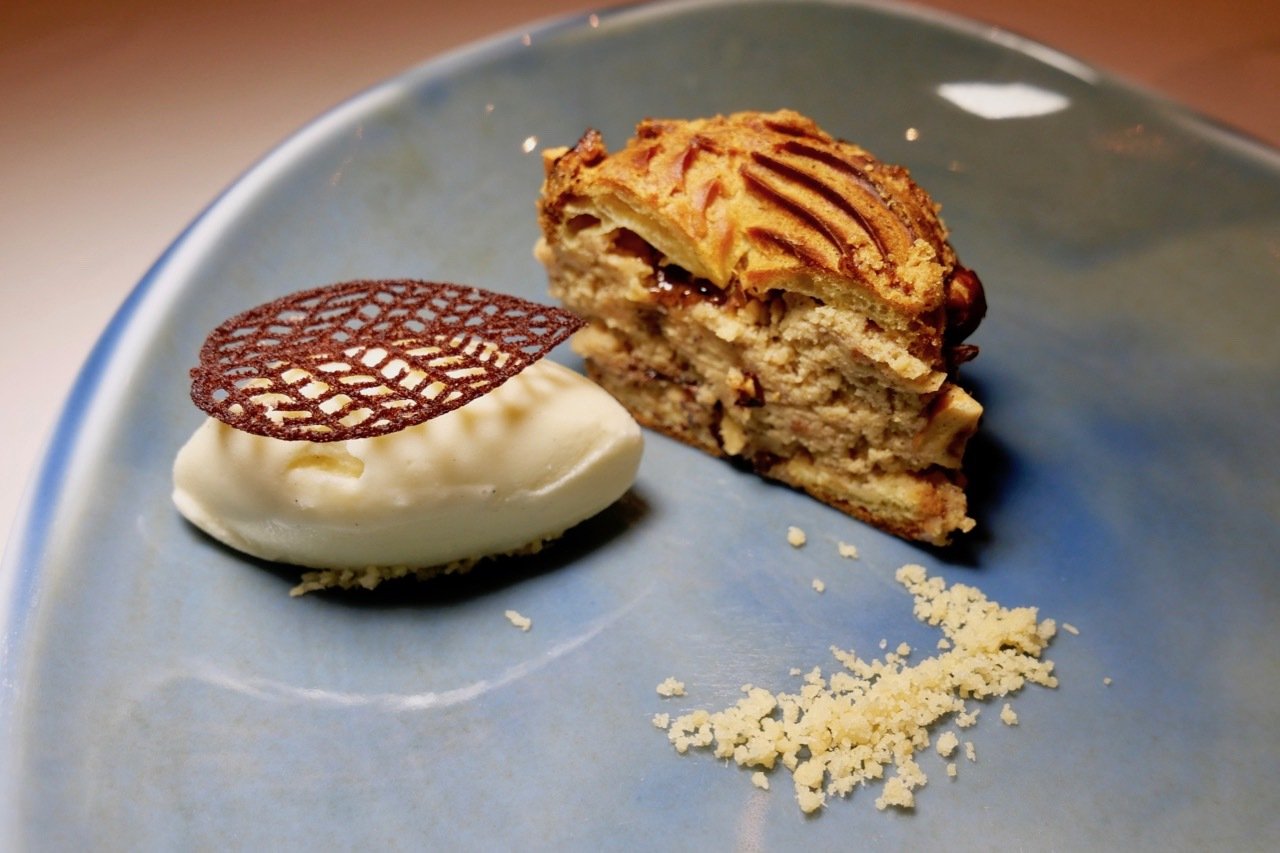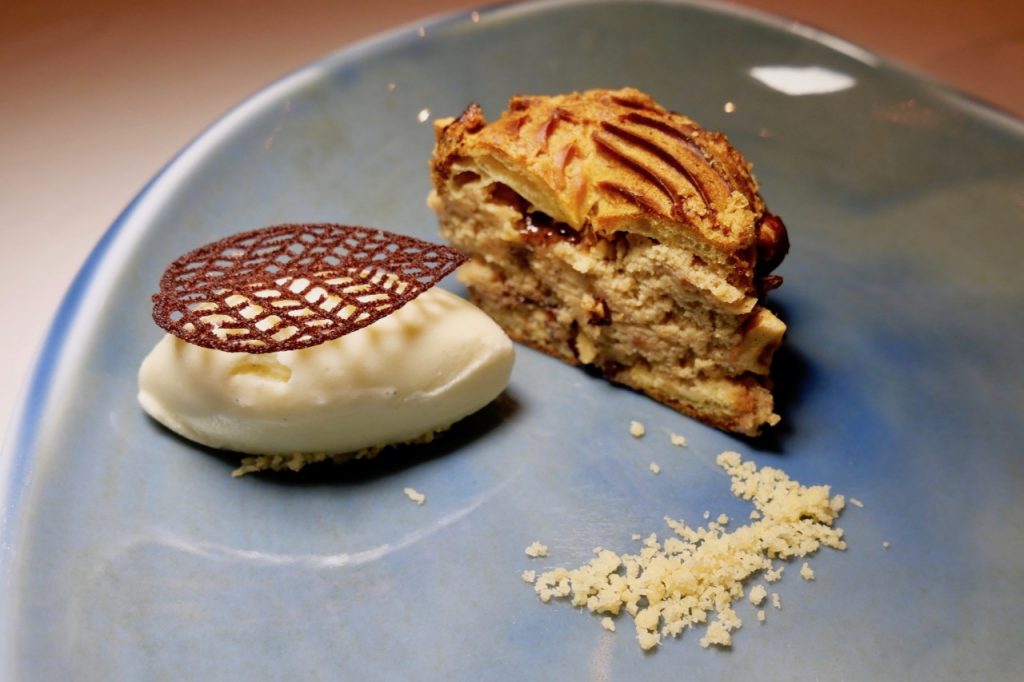 Dom Perignon Vintage 2008 Champagne Pairing Menu – Drink with the Stars – Review
A quote from chef Thomas Keller introduces the menu at DC 2.0, "To make people happy. That's what cooking is all about." And, when we cut through the thrill of Dom Perignon, Osetra caviar and Tokushima wagyu, we find the that is at the core of everything Darren Chin does. He is an exceptional chef, but it's not purely technique that makes him so. It's a constant, fluid interaction between himself and guests. It's a desire to get constructive feedback and build on it. His unwavering desire to always strive for better is a characteristic that will never go out of fashion. As such, the end goal of whatever is laid on the table at DC Restaurant is to satisfy diners, envelope them with a sense of security, and above all, simply make them happy.
Reasons to try the Dom Perignon Vintage 2008 Champagne Pairing Menu – Drink with the Stars @ DC Restaurant 2.0: an exceptional menu for people who take their food and wine seriously; an excellent meal for a celebratory occasion or to knock a particular person off their feet.
Dom Perignon Vintage 2008 Champagne Pairing Menu @ DC Restaurant 2.0
33 Persiaran Zaaba, Taman Tun Dr Ismail
60000 Kuala Lumpur, Malaysia
www.facebook.com/DarrenChinRestaurant
+6 03 7731 0502
+6 012 223 2991
[email protected]
DC Restaurant 2.O Opening Hours
Tuesday to Sunday from 6 pm