Ultime Atelier & Boulangerie
Words: Monica Tindall Photos: Rich Callahan & Supplied
The KL dining scene is unstoppable. Despite the challenges of the pandemic, restaurants continue to innovate and open. We are truly blessed with the variety that the city offers. Building that pool of choice is Ultime Atelier & Boulangerie. Boasting contemporary fine dining with French flair, it's one of the newest additions to the mix. Today Rich and I get a preview of the menu and learn of more exciting things to come.
Ultime Atelier & Boulangerie
Located on the fourth floor of Menara Nobleland, you might not expect such lavish surrounds. The private lobby serves as a place to register guests and invokes a mood of opulence. Bordering on gaudy in design, the holding room features black marble flooring, maroon curtains and an ornate sliding door. Entrance reveals a classier style with formal and smart dining, two VIP rooms, a chef's table, a full bar, a wine cellar and an alfresco patio perfect for pre or post-dinner drinks.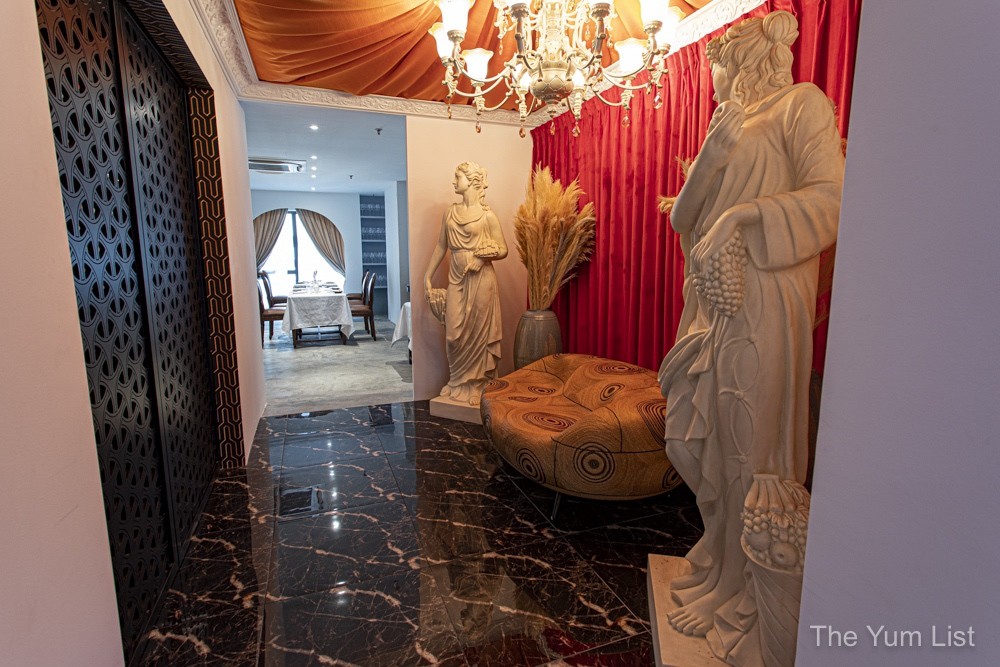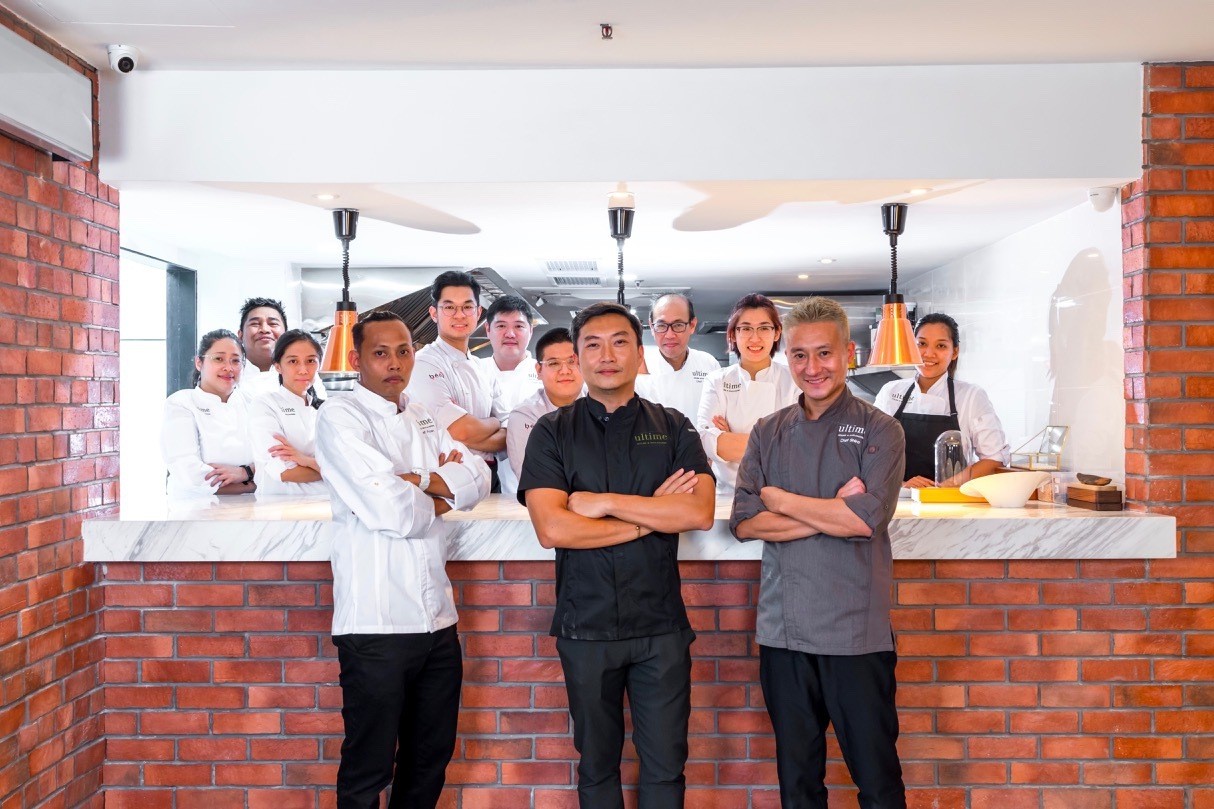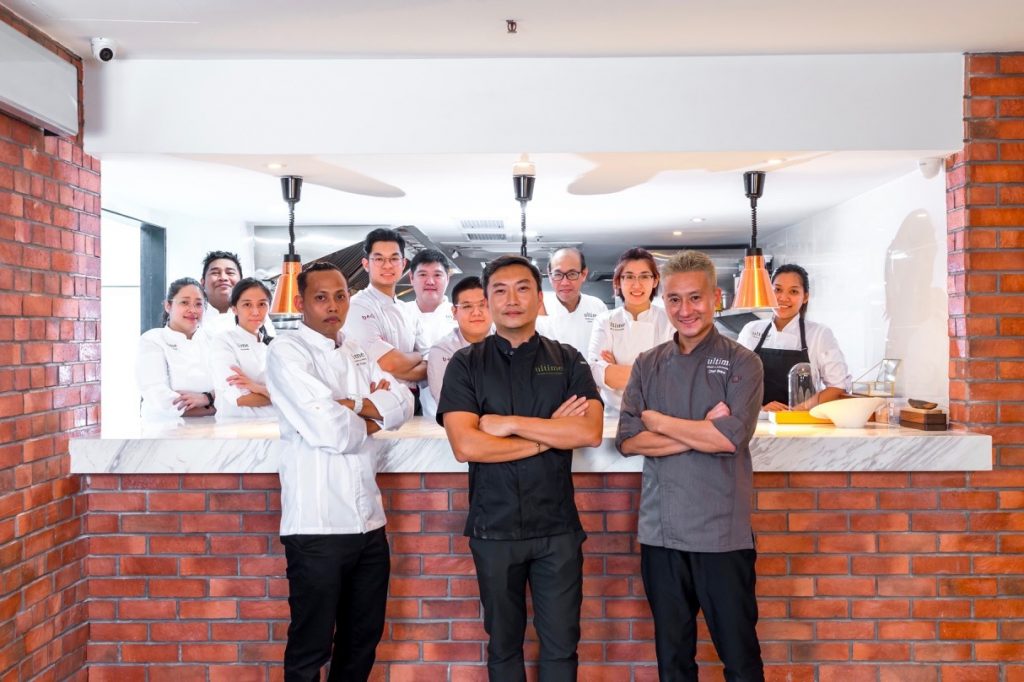 Wine List & Bar
Opened for only a day on our visit, Ultime is building their wine list. Three consultants aim to curate a menu with width and depth to include varietals that suit international and local palates. Even though the French restaurant is still in the soft launch phase, it currently offers an admirable seven wines by the glass. Our tasting menu has some delicious wine mates lined up—more on those to follow.
In addition to the wine cellar, highly-esteemed bartender Ben Ng has developed a cocktail collection for Ultime. And, soon, he will be opening a lounge and bar next door, extending the location as a prime pick for a night out. I highly recommend an aperitif or digestive on the patio in good weather. With the right breeze, it is delightful, and the night views are also enticing.
Tasting Menu – Ultime Atelier & Boulangerie
Degustation menus are an excellent introduction to restaurants, and Ultime Atelier & Boulangerie offers both a dinner line-up (RM380 ++) and a lunch menu (RM 200++). Wine pairing, which I highly recommend, can be added on with two (RM 95++), three (RM 125++) or four glasses (RM 160++).
Choix de Pain – Ultime Atelier & Boulangerie
Possibly the most unique feature of Ultime's menu is the bread selection. Baked in-house, over 15 types with several varieties (EG Sourdough comes in rye, muesli, and wholemeal. Baguette is offered in plain, cheese and sun-dried tomato.) are served to guests as a carbohydrate smorgasbord. Parading basket after basket of freshly baked treats, waiters encourage diners to lengthen their degustation. Furthermore, guests are invited to slather on four types of butter – Brittany, pesto, truffle and porcini – discovering new permutations each round. It's the first step towards fulfilling Ultime's philosophy of extending the dining experience. They want guests to linger for hours over food and beverage.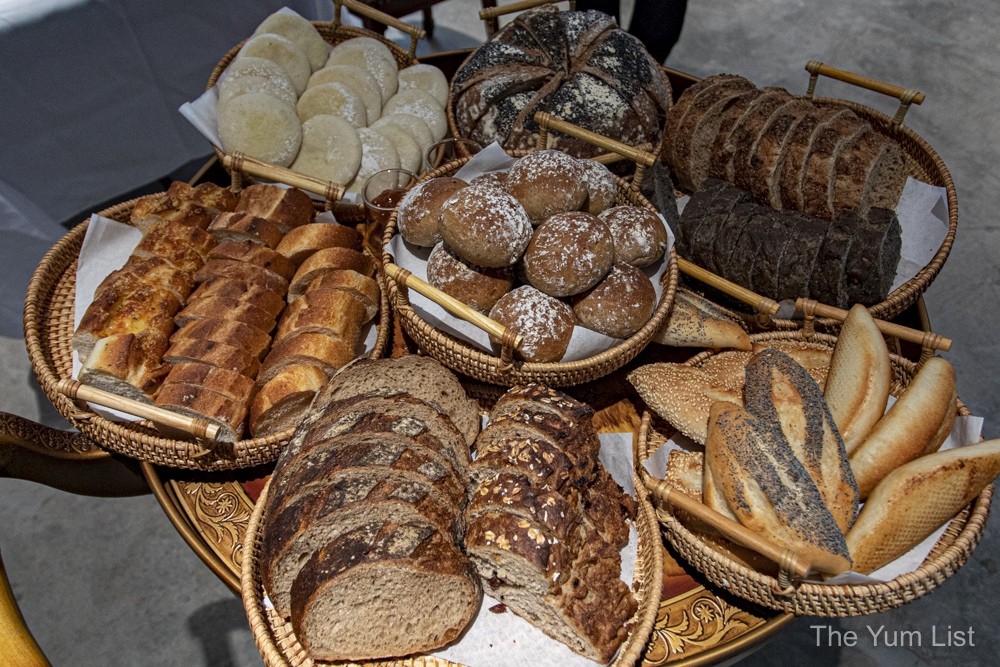 Mumm Grand Cordon Champagne
Vintage Champagne, glasses ornate with gold trim, adorn the white-clothed tables ready for filling with Mumm Grand Cordon Champagne. Quite a special bubbly, grapes are sourced from over 100 crus to make this wine. The power and structure of the dominant pinot noir grape are balanced with chardonnay, which gifts elegance and minerality. Fruitiness is layered in thanks to the Meunier. It's highly appealing with the bread and butter and does well carrying over to the amuse-bouche as well.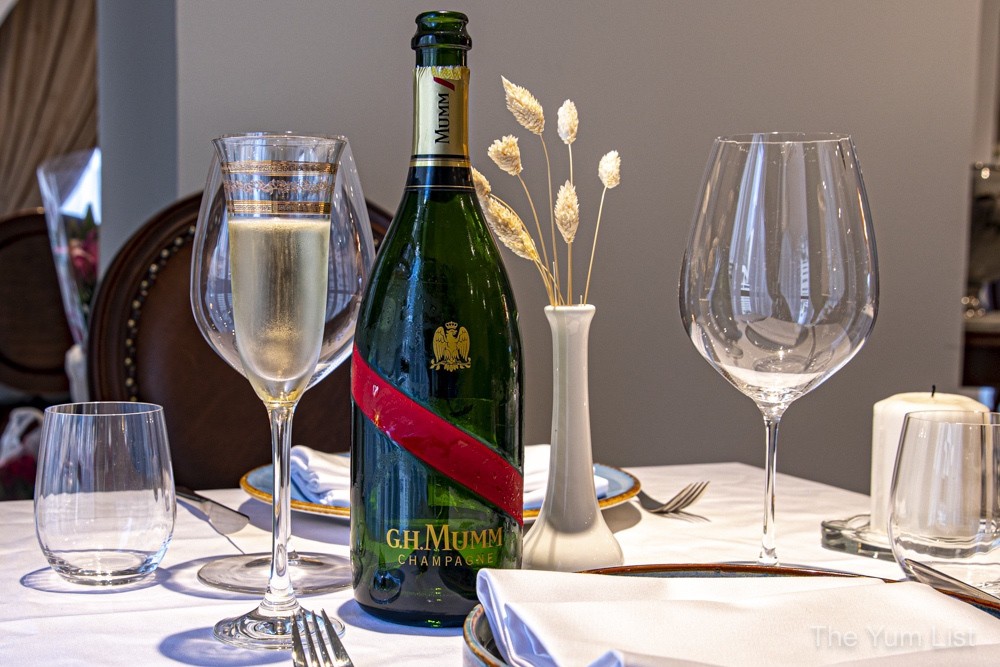 Trio Plein de Saveurs
Executive chef Shirosan appears to introduce the trio of flavours now on our table. He recommends going left to right and taking each one in a single bite. The miso waffle is extraordinarily light, filled with miso Chantilly cream and topped with salmon roe. Croque Madame comes next, increasing the intensity of flavour with black truffle and sea urchin. Lastly, sea foie gras features monkfish liver on a shiso leaf. It's been steamed and seasoned with ponzu jelly. The rich creaminess is cleansed with a sip of Champagne, but the liver also intensifies the bubbly's flavours.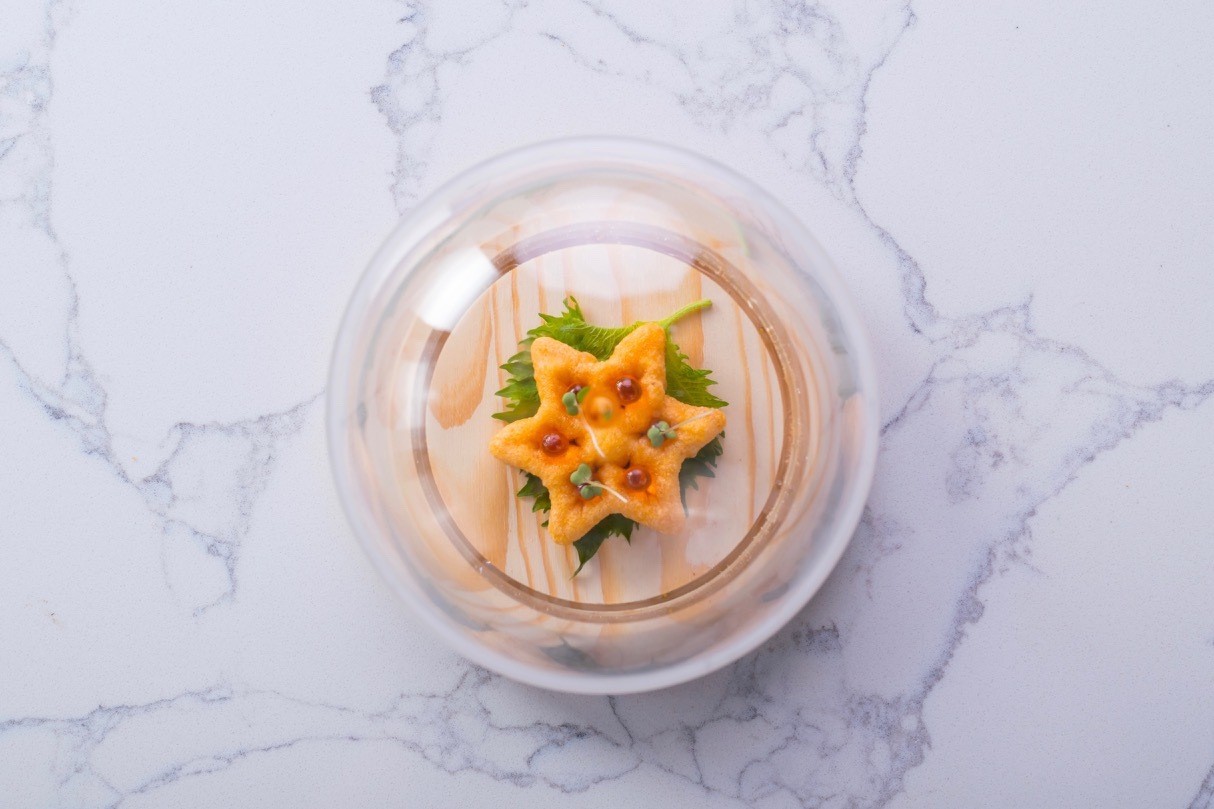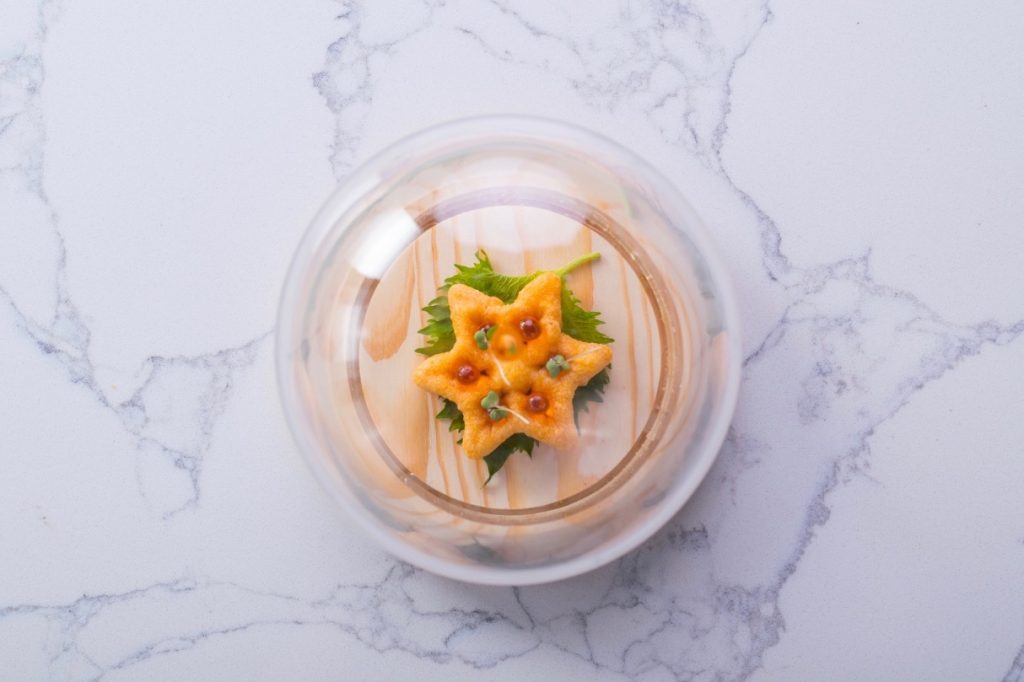 Cold Starters
Imagine those thick Russian fur coats worn during the extreme cold – shubas. Now picture small pieces of fish piled high with a tower of vegetables, much like a fat coat enveloping it from the cold, and you have Fish in Fur. This herring salad is presented in a tower of layers. Vinegared fish, carrot, potato, zucchini, egg white and yolk form the stratum. After you take a snap of the pretty pillar, the chef advises to "Break it, mix it in and enjoy." It's delicious and well-balanced, elegant in the mouth and offers a good variety of texture. It's fresh and clean but has just enough depth to keep lingering after swallowing.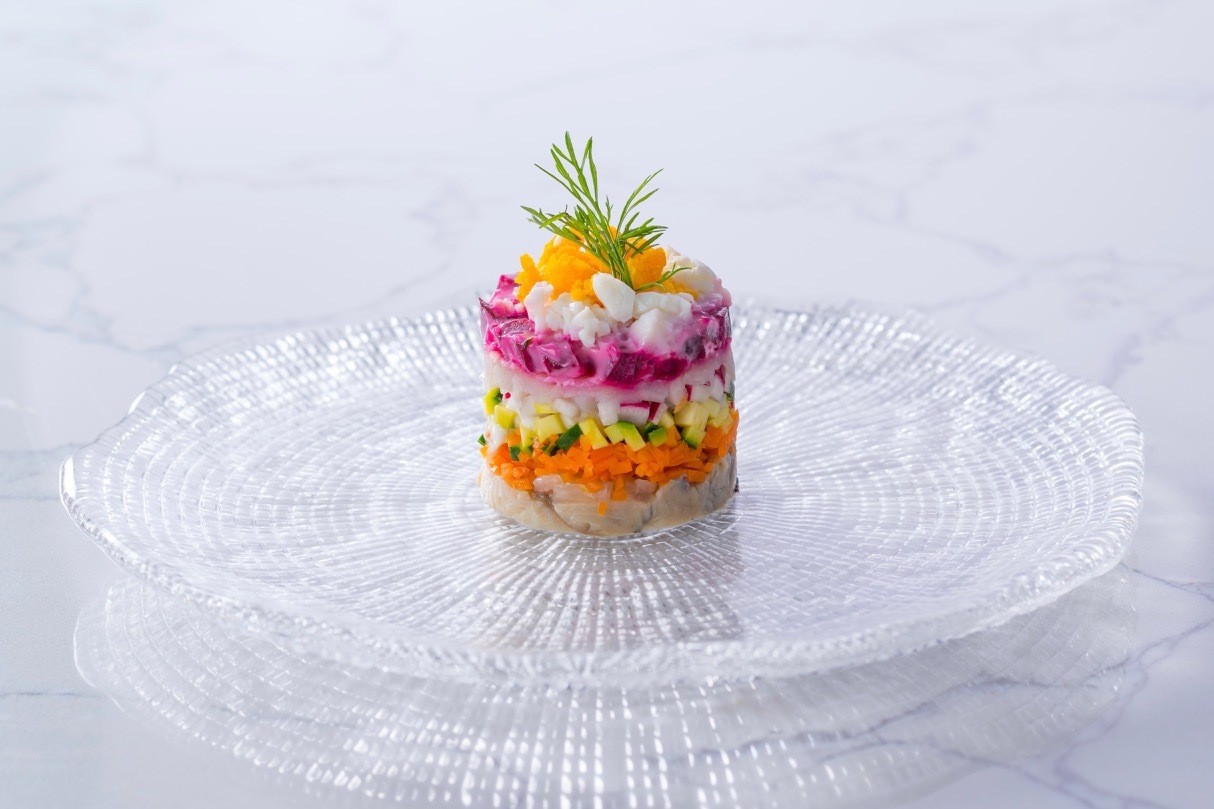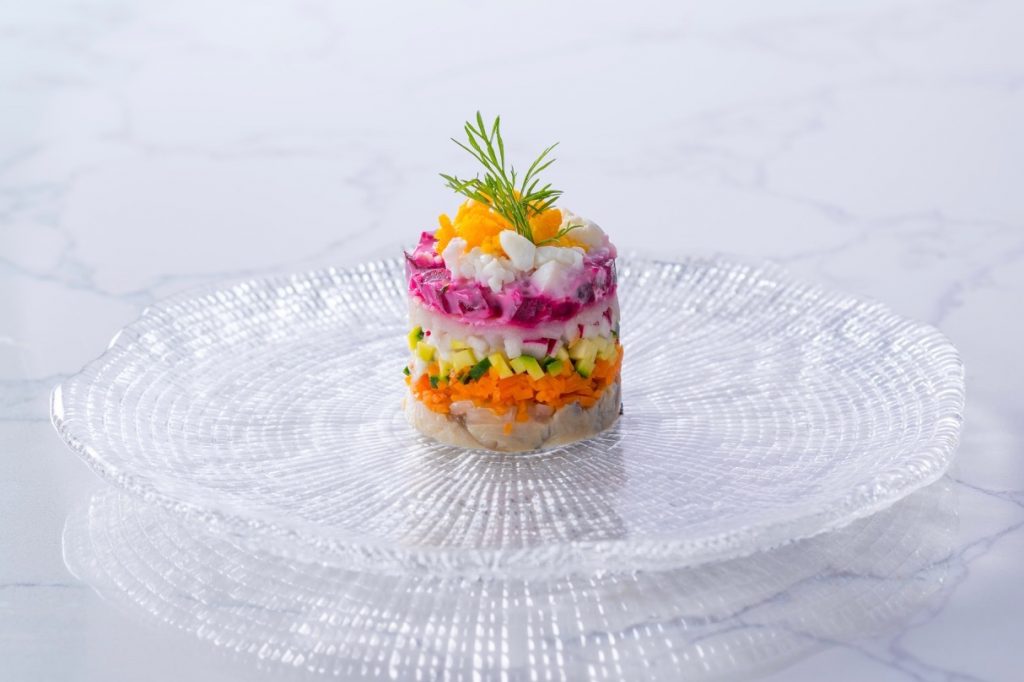 Clarendelle Blanc 2016
The wine mate, Clarendelle Blanc 2016, is an interesting white from Bordeaux. This blend of semillon, sauvignon blanc and muscadelle is inspired by the renowned Haut-Brion. The wine sports an attractive level of fruitiness with a savoury finish. It serves to enhance the acidity in the fish.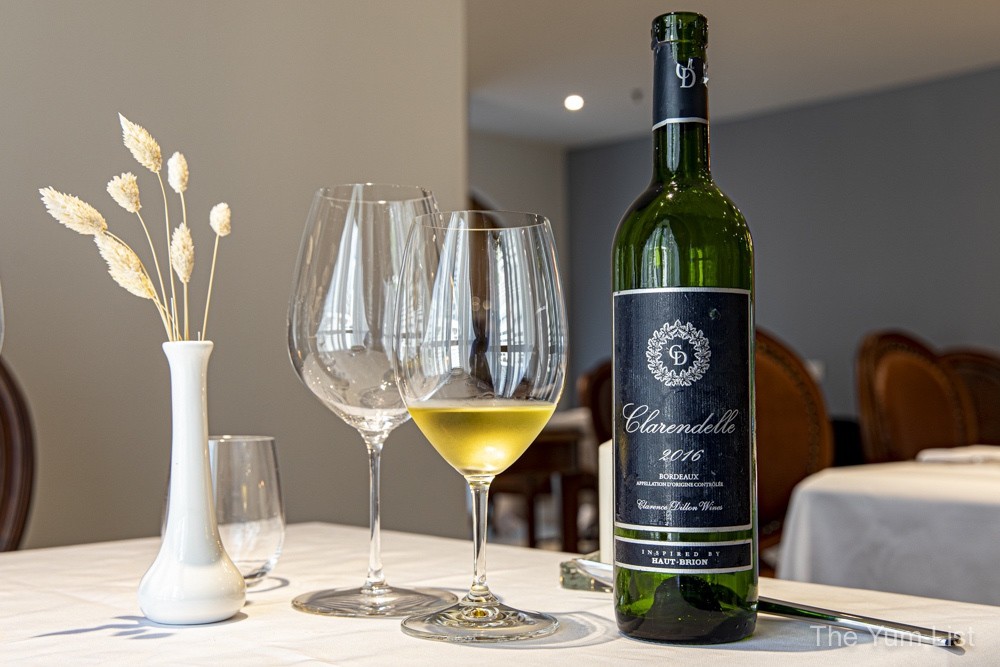 Warm Starters – Ultime Atelier & Boulangerie
We continue with the Clarendelle Blanc for this pairing, and here it increases the sweetness of the crustacean. The langoustine has been flown in from Holland. It's glazed with an oba (green perilla) sauce and sports a fine crisp layer from the char grill. A tangle of cold soba noodles is coated in a savoury sauce and sprinkled with chives.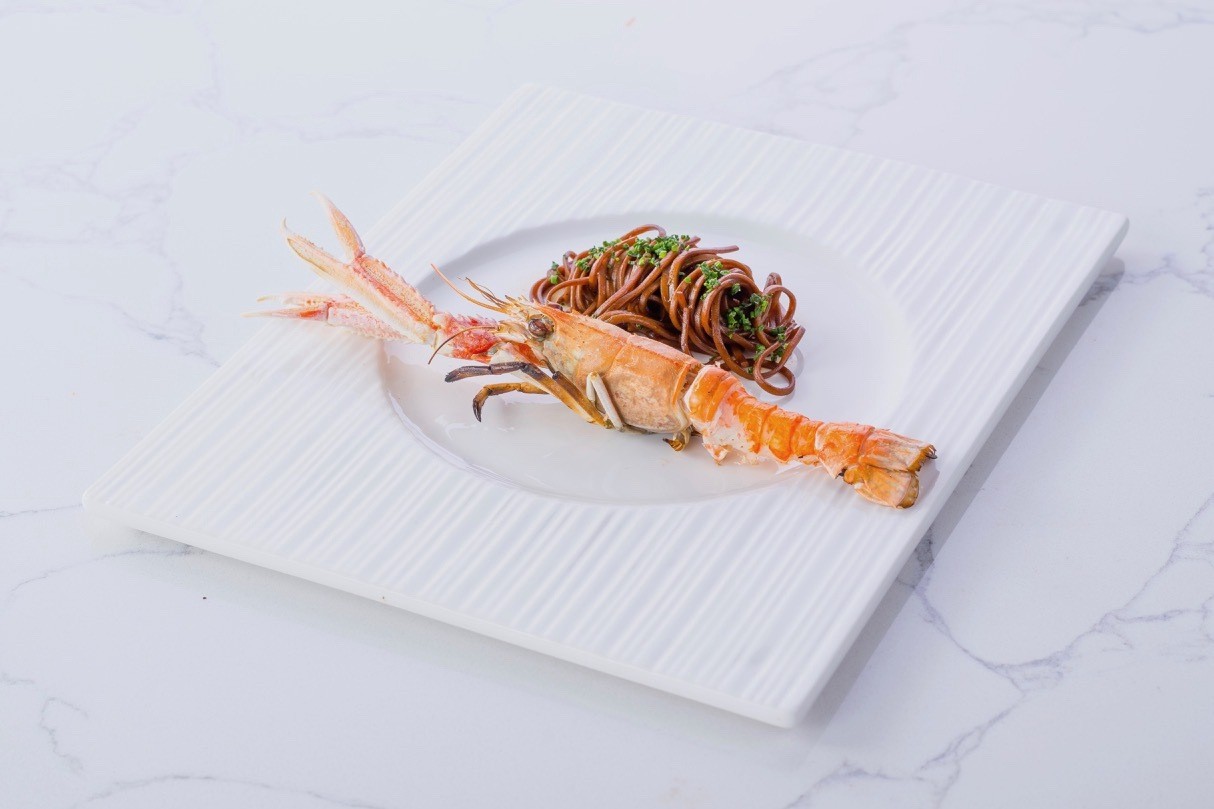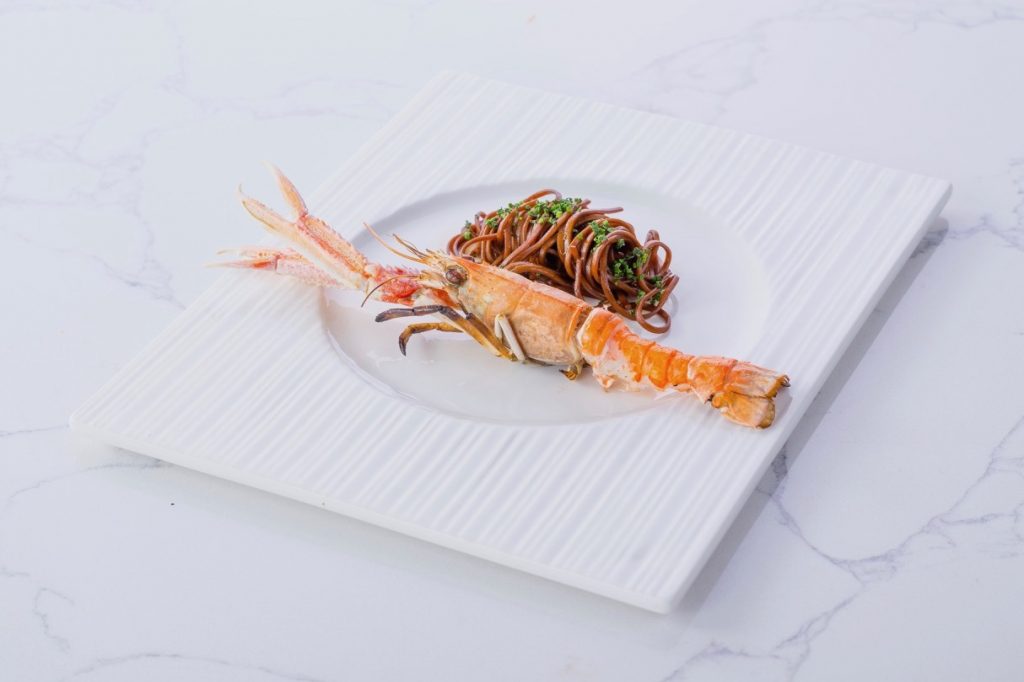 To Foie or Not to Foie
I choose not to foie, so Rich picks up my slack while I opt for a less guilt-ridden course. He reports the foie gras brulee as decadent with its pastry finger and shavings of black truffles. It's charmingly adorned with an edible flower, and I hear other diners happy with the savoury wine pairing. With the sugared top, a typical sauterne is put aside for a Napa chardonnay instead.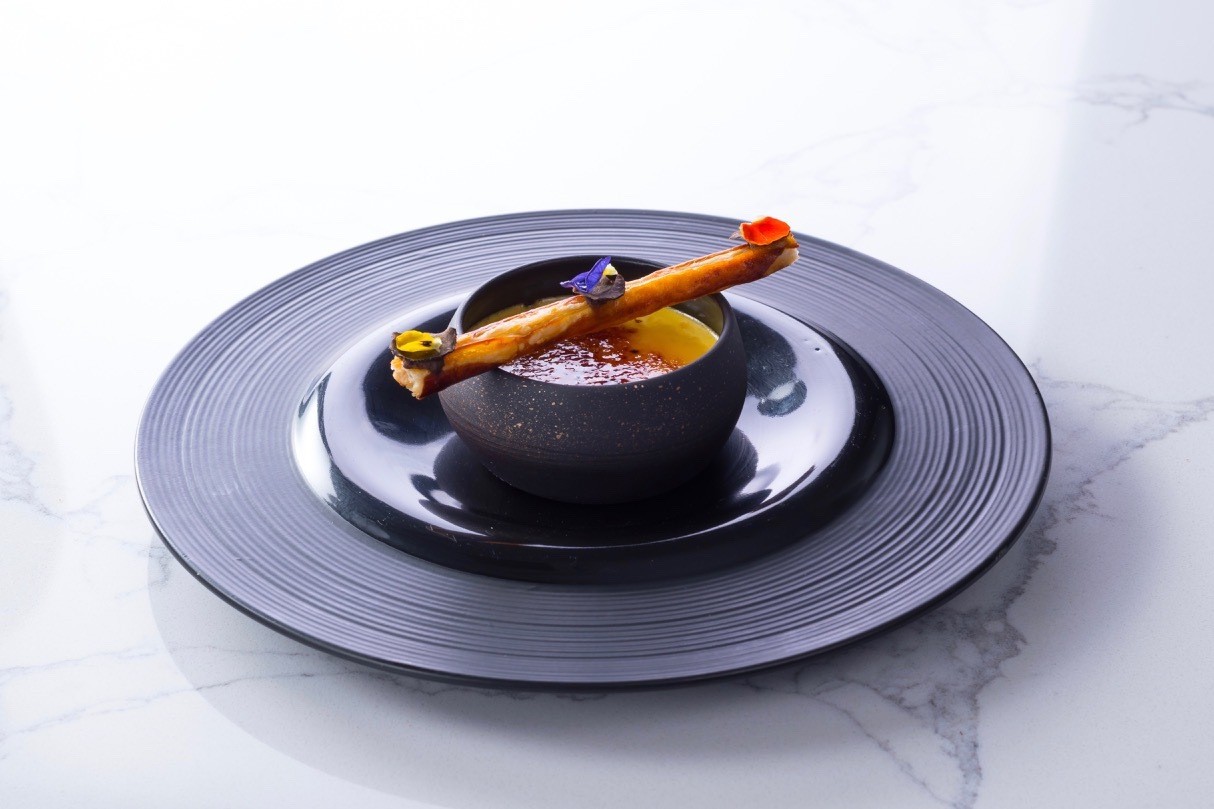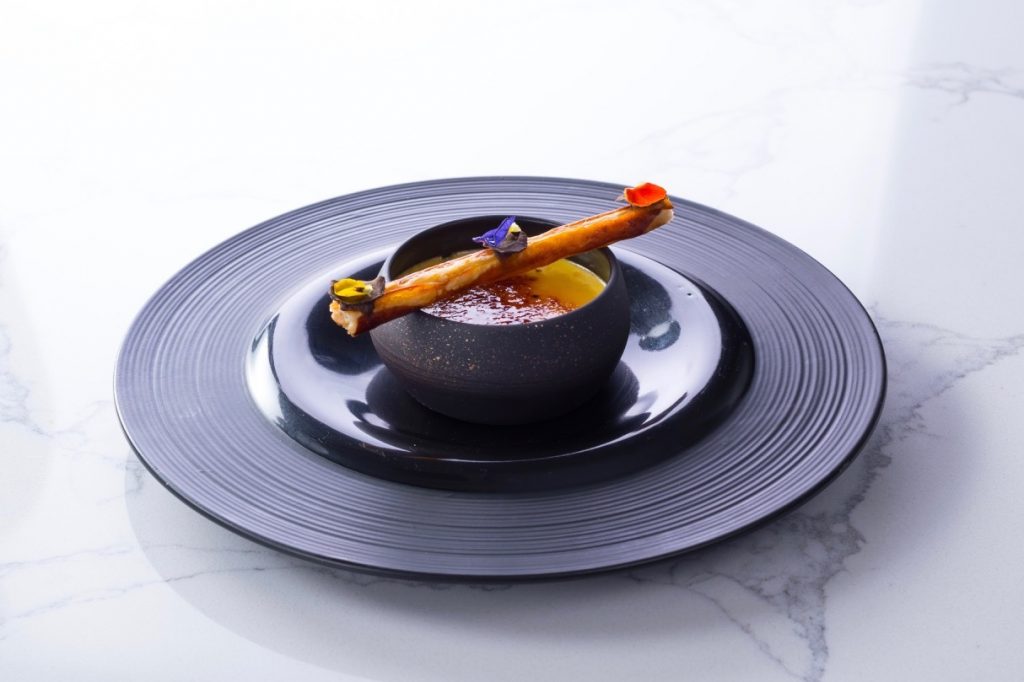 The Hilt Chardonnay 2017 is a small batch production sold in allocations from the same owner of Screaming Eagle. Ageing in 40% new casks, 40% used casks, and the remainder in stainless steel gives a lovely balance to the wine. In a blind tasting, you might believe it to be from the old world or a cooler climate. I find an attractive minerality in the glass and appreciate the equilibrium between creaminess and acidity.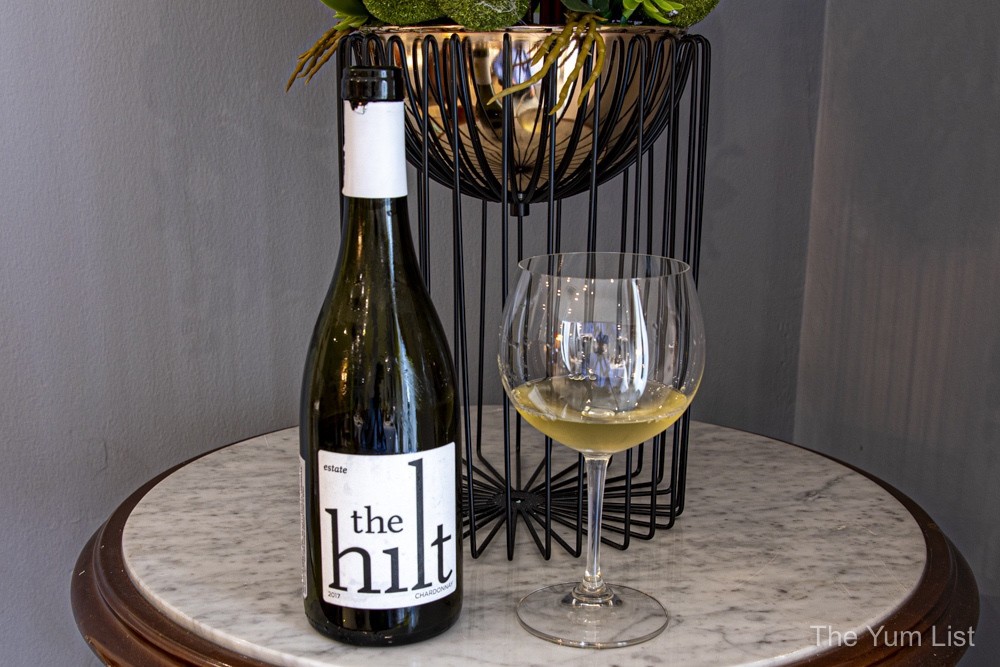 Sorbet
White (sorbet) on white (plate) on white (tablecloth) is presented next with a raspberry and strawberry yoghurt palate cleanser. It's a lovely intermission, and being sweet tooth no more, it would easily satisfy me as dessert.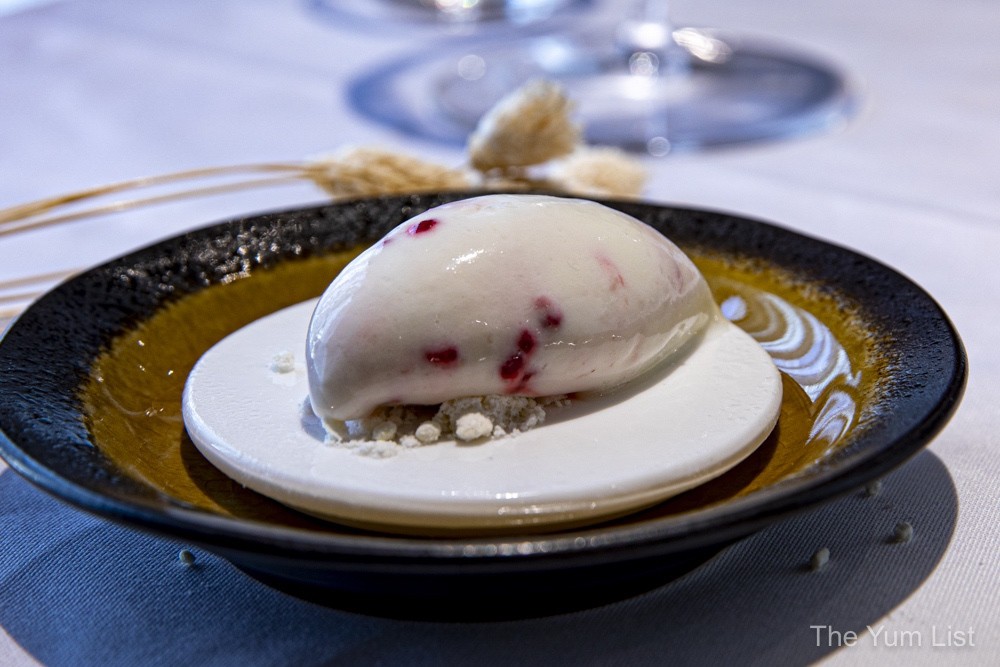 Ultime Atelier & Boulangerie – Mains
Rich has the Aged Smoked Duck as a main, and we admire the smoke-filled glass bell in which it is presented. Infused with hickory, alluring aromas give way to prettily plated slices of meat. The chef hand spoons the sauce at the table, finishing the plate alongside heirloom beetroot.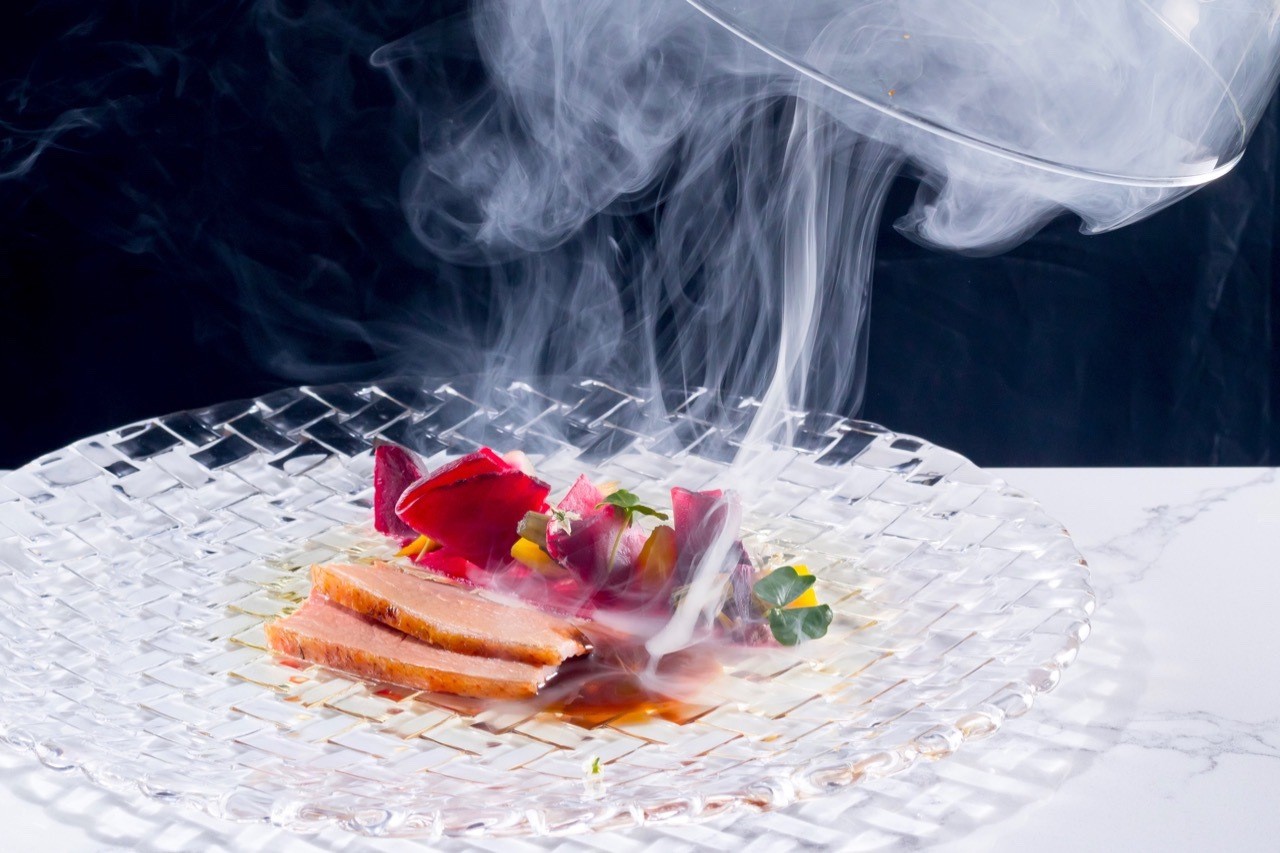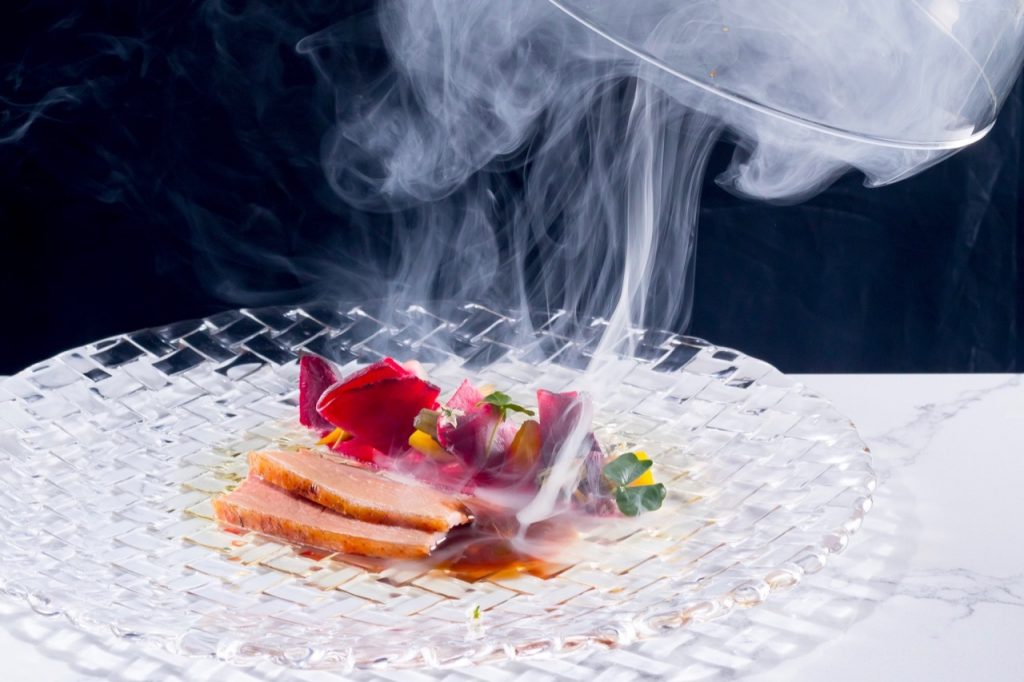 Château Monlot Fronsac 2014
Château Monlot Fronsac 2014's tannic strength but moderate oak matches well with the seesaw of umami and gamey flavours in the poultry. This, too, is a winery with a story. Bought by billionaire actress Zhao Wei, the winery hired top guns Hubert de Bouard, owner of Château Angelus, and Jean-Claude Berrouet, former Petrus winemaker, as consultants.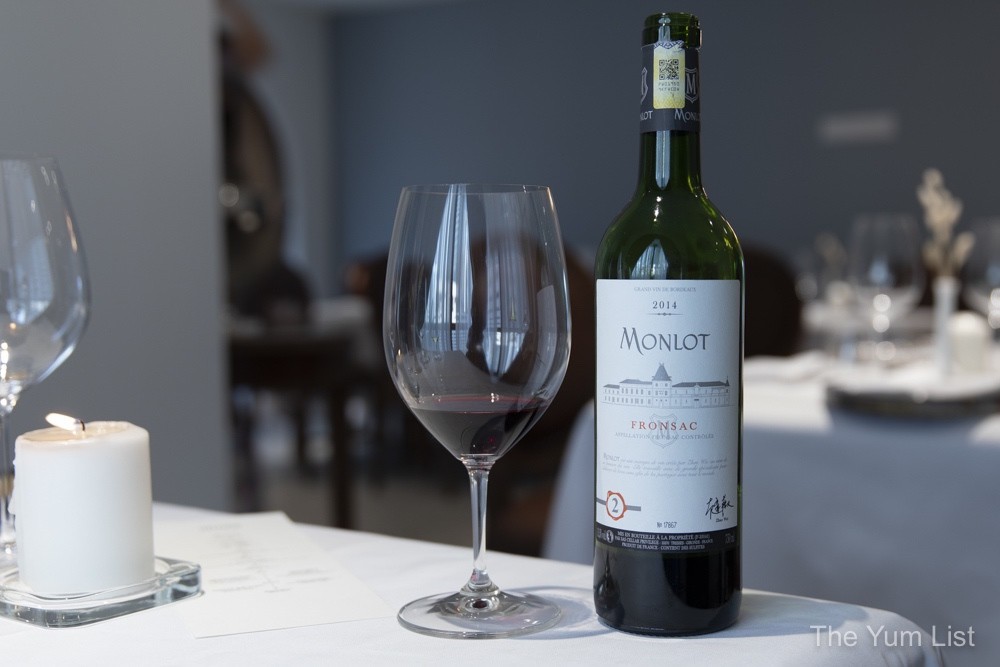 Mains
My French Halibut has been aged for four days, locking in the moisture. It sits with a battered zucchini blossom stuffed with finely chopped tri-colour capsicum. Yuzu kosho and heirloom tomatoes grilled with thyme complete the dish.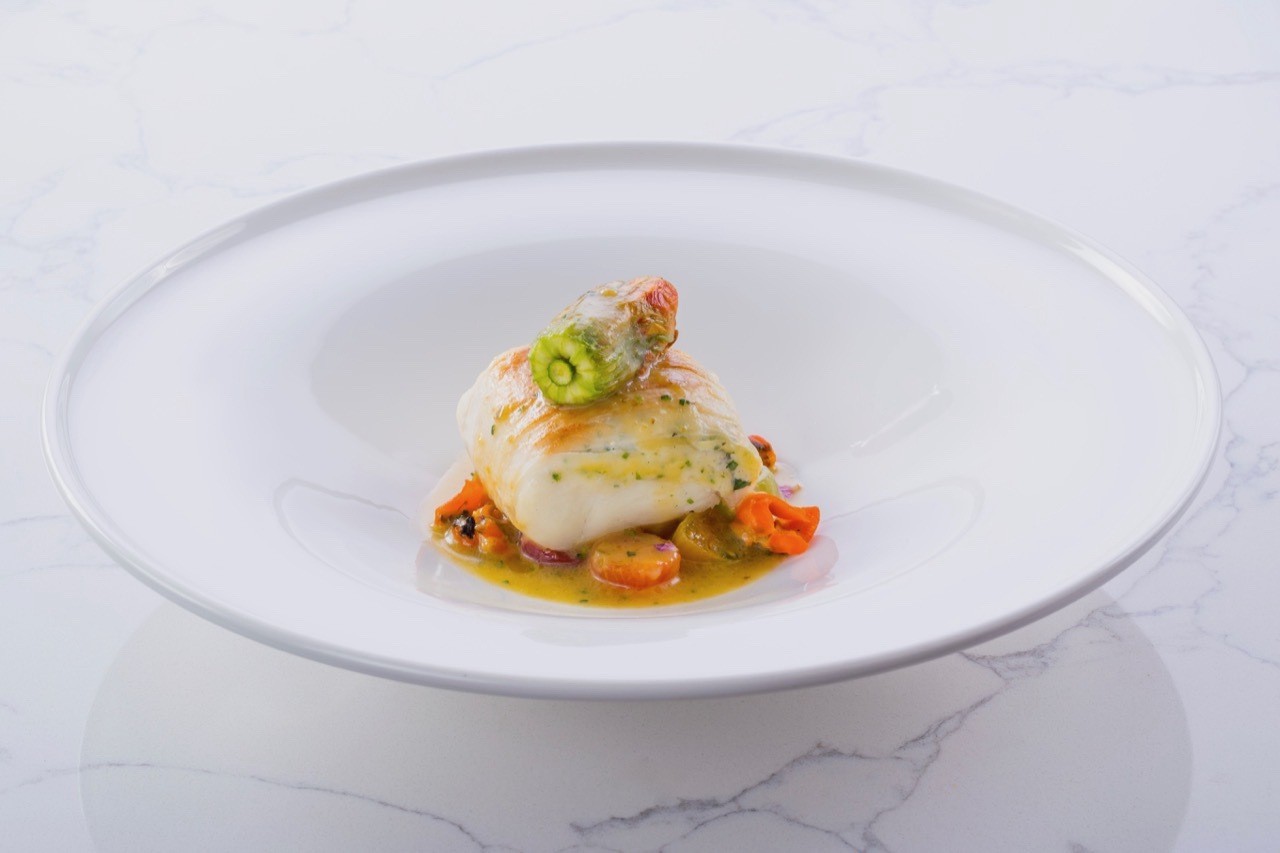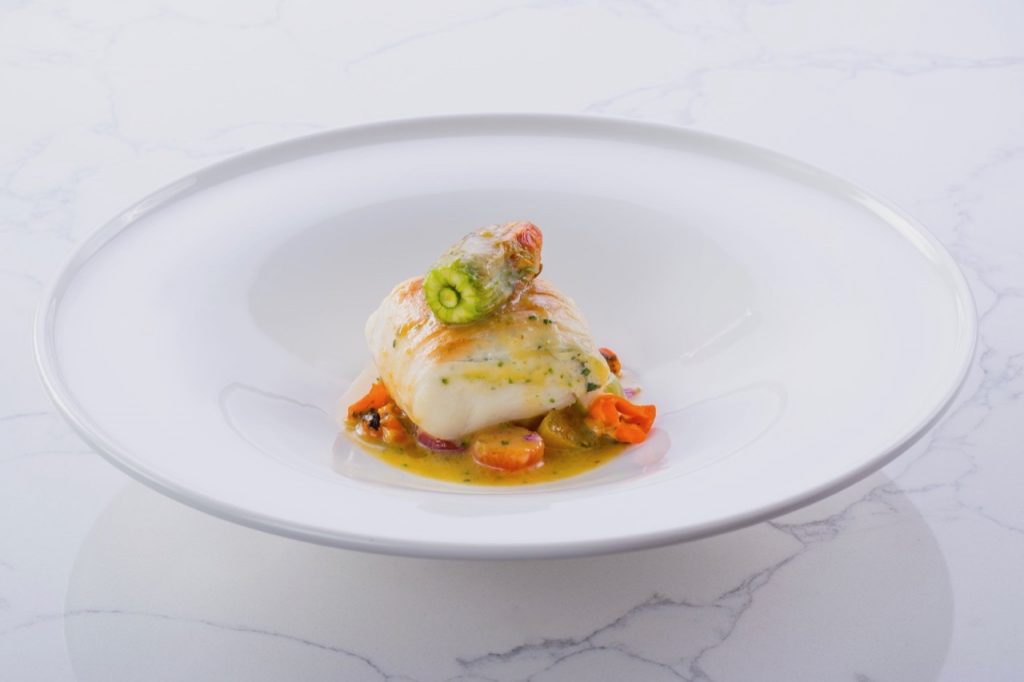 Rimapere Sauvignon Blanc
A fine but reasonably priced Rimapere Sauvignon Blanc 2017 accompanies the fish. Winning Best Sauvignon Blanc in the World by BWW (Best Wine of the World Competition), it certainly has high expectations to live up to. With the names of Terry Peabody (owner of Craggy Wines) and Baron Benjamin de Rothschild behind its production, the high accolades make sense. An expression of its terroir, the bouquet offers citrus, passionfruit and minerality. It's fresh and pure, and at the same time, complex with a lingering conclusion. I enjoyed it with the seafood but would also think it a lovely sip on its own.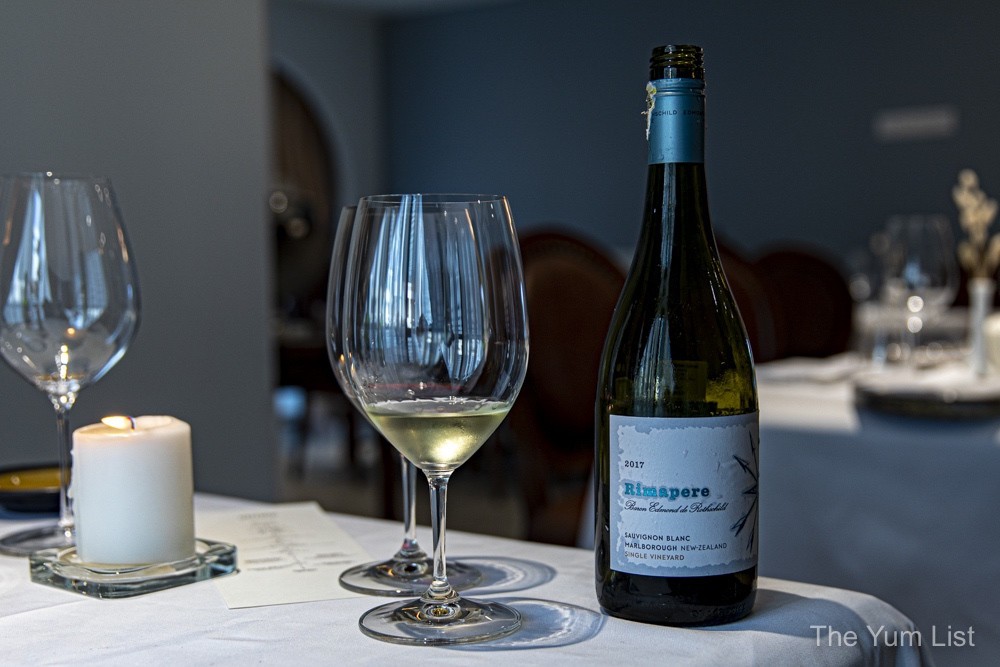 Dessert
Pastry chef Mei Hui wraps up the tasting with a duo of desserts. The first is a Napoleon Millefeuille padded with salted caramel and Chantilly cream. The second, Crazy Hazelnut, is a pretty prism of milk chocolate Chantilly and raspberry gel. Both are elegantly plated, just the right size, and tie off the meal with elegance and finesse.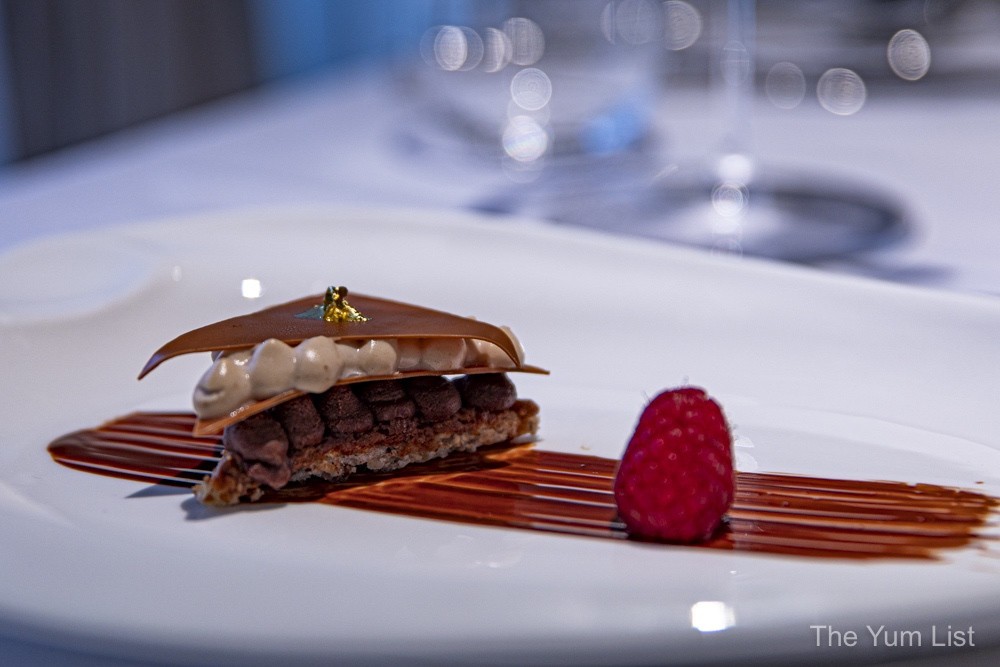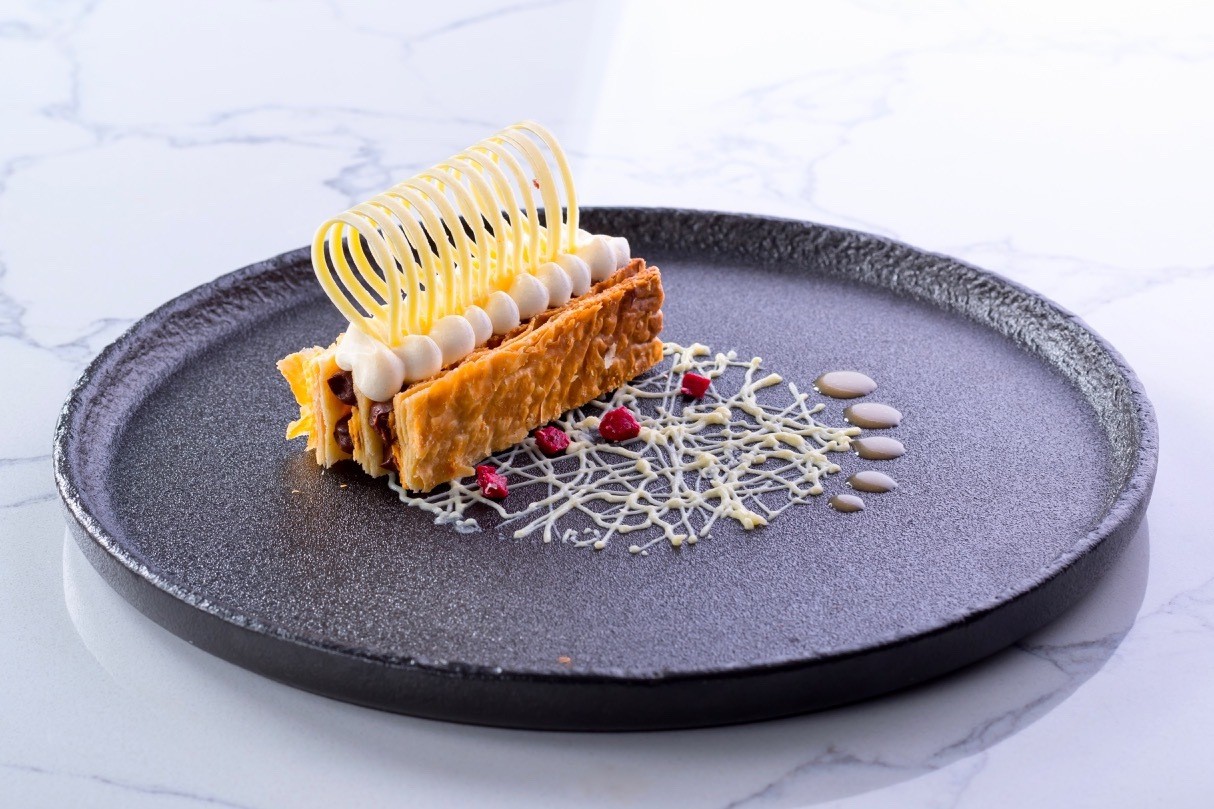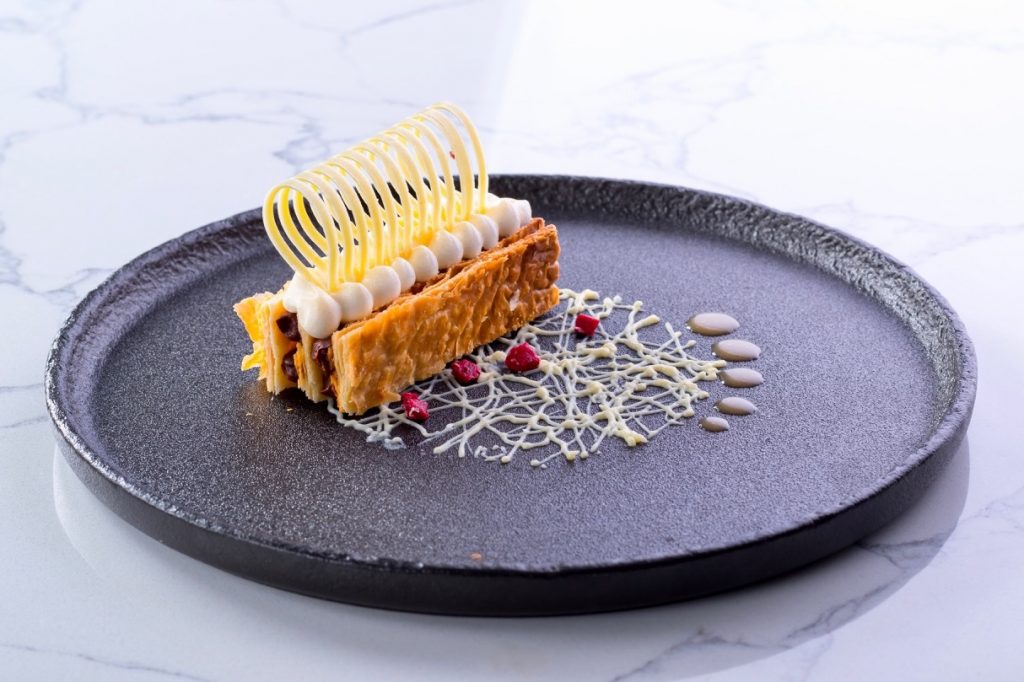 Reasons to visit Ultime Atelier & Boulangerie: great location for a special occasion; various dining settings to suit multiple needs; bread lovers will be pleased; they will soon offer vegan, vegetarian and gluten-free degustation menus; a solid wine list that continues to grow.
Ultime Atelier & Boulangerie
French Restaurant Bukit Bintang
Level 3A Wisma Noble Land
2 Jalan Changkat Ceylon
50200 Kuala Lumpur, Malaysia
www.facebook.com/UltimeMY
+6 012 858 8016 or +6 03 270 40988
[email protected]
Ultime Opening Hours
Tuesday to Sunday: 11 am – 10:30 pm
Find more restaurants for special occasions in KL here.