ADU Sugar Restaurant
Words: Monica Tindall
Photos: Rich Callahan
ADU Sugar Restaurant in Lucky Garden Bangsar makes me yearn to host my friends and family from abroad once again. The Malay restaurant serving contemporary and traditional recipes not only serves delicious food but is jam-packed with character. It's a fun place for date night, a group of friends, and is so vibrant with personality that I can't wait to show it off as a hidden gem to out-of-town guests.
Creative wizard Adu Amran Hassan heads the kitchen and also designed the space. There's so much detail here that I bet you could return several times and continue to find something new on every visit. Walls are painted with vibrant murals, paintings (by the chef himself) fill the room and antique furniture, rugs, and knick-knacks occupy just about every other square inch. An eight-seater glass table, semi removed from the main dining area, would make a fabulous spot for an intimate celebration. Set for the evening to come, fresh yellow blooms punctuate the central runner, and batik napkins complement the tableware.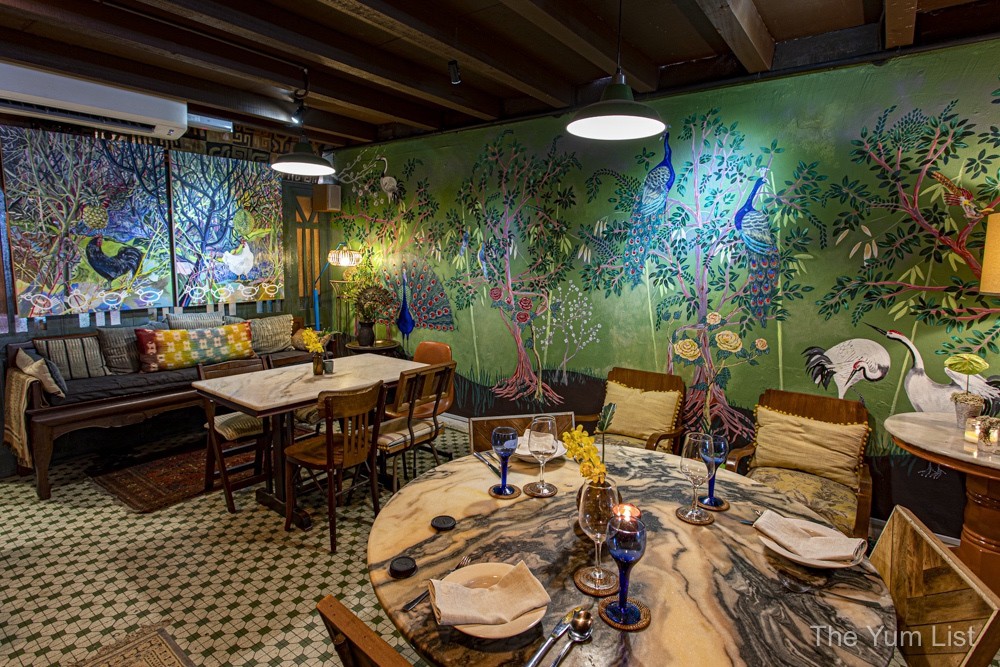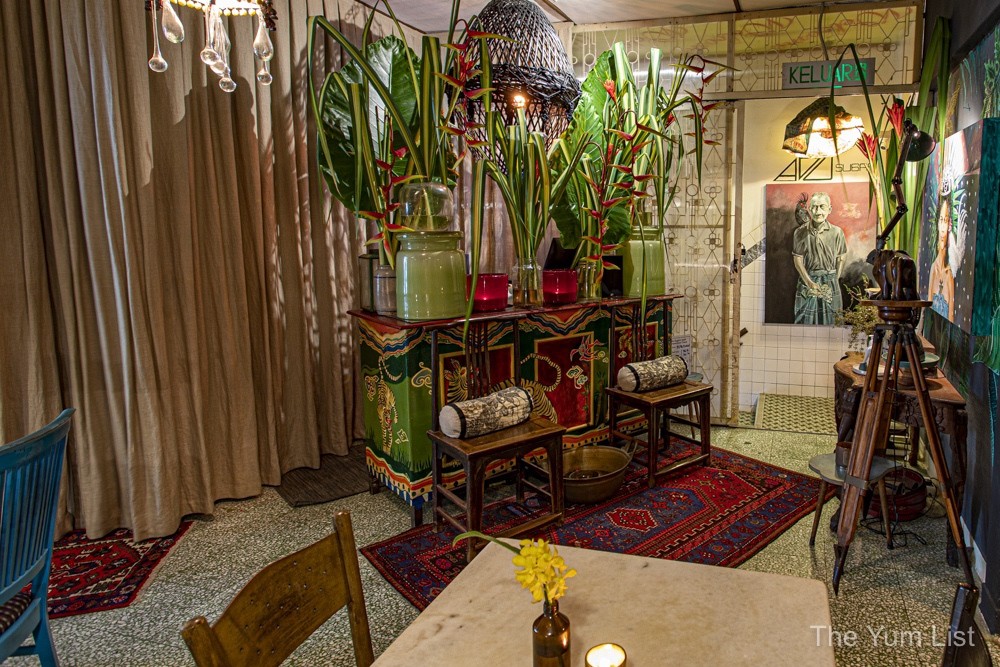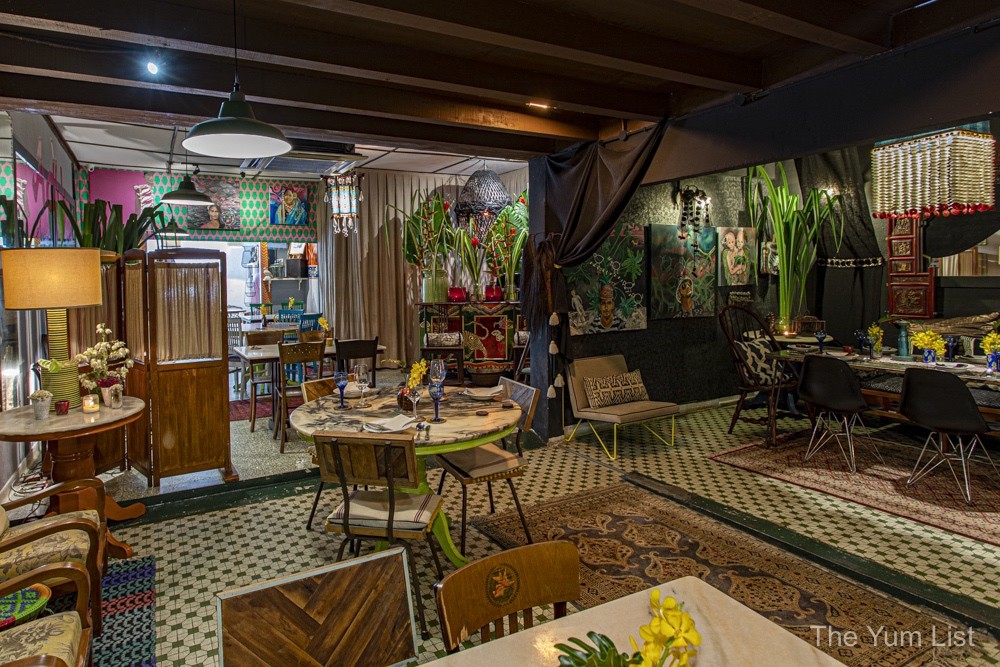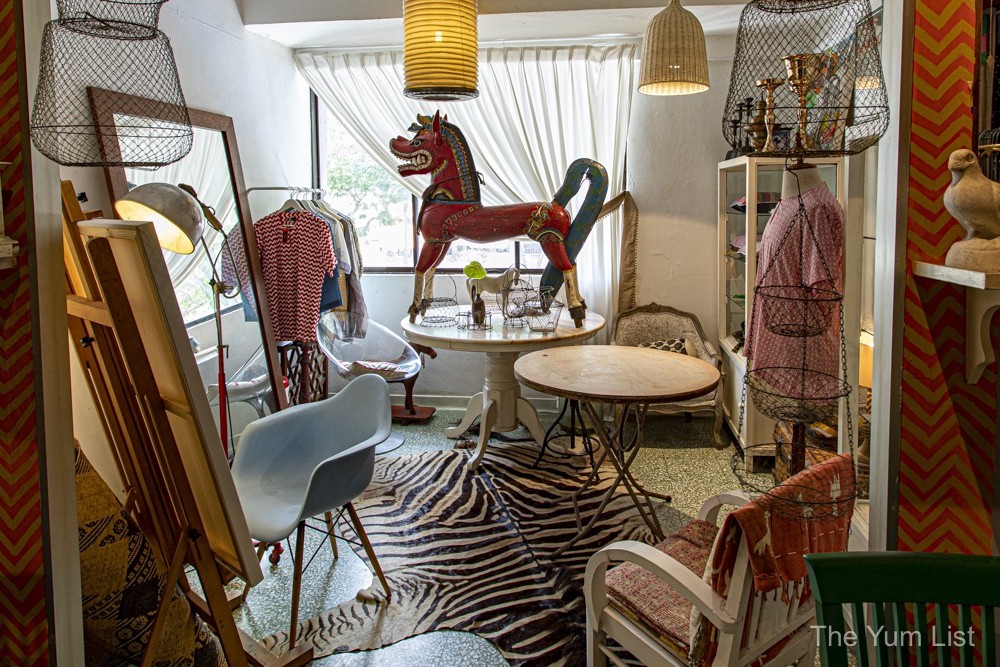 ADU Sugar Restaurant Menu
The menu is conveniently divided into small plates, one bowl dishes, and big plates. There is an impressive range of vegan options. In fact, Adu says that he has always had over a third of his menus celebrating the plant world in his decades in the industry. He continues to compose his menus this way, not because it's now fashionable, but because that is what he has always done. He even keeps cooking utensils and pots separate for the meat and veg dishes.
Small Plates
My first pick is the Wild Rice (Nasi) Kerabu Salad (RM 27.99). I am a huge fan of the diversity of greens that grow locally in Malaysia. This recipe uses well over two handfuls of them in one dish alone. Move aside kale; this is a super-charged super-food recipe. Red grains of rice are mixed with… are you ready… shredded daun selom (water celery), pegaga (pennywort), ulam raja, daun gajus (cashew leaves), snake beans, kacang botor (winged beans), sweet basil, mint, kesum (Vietnamese coriander), torch ginger, lemongrass, kefir lime and turmeric leaf! (Thanks to the gracious help of manager Syahir for helping me to record the names of all of the leaves.) Besides the leaves, there are also bean sprouts, chilli and lightly toasted desiccated coconut. This salad can be made vegan by removing the budu (anchovy paste) and egg. Love it. 
Heirloom Tomato and Red Palm Oil Caprese (RM 28.99) utilizes local produce in a European recipe. Elaiese red palm oil, along with black truffle and mushroom essence, create a highly satisfying dressing. It's prettily adorned with basil and edible blooms, and another order I'd highly recommend.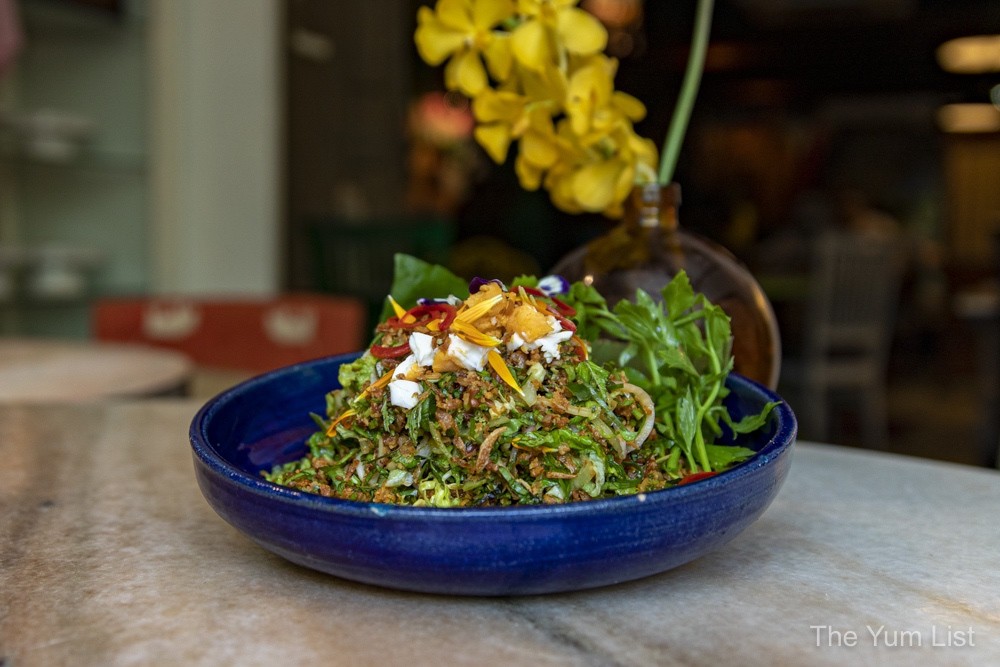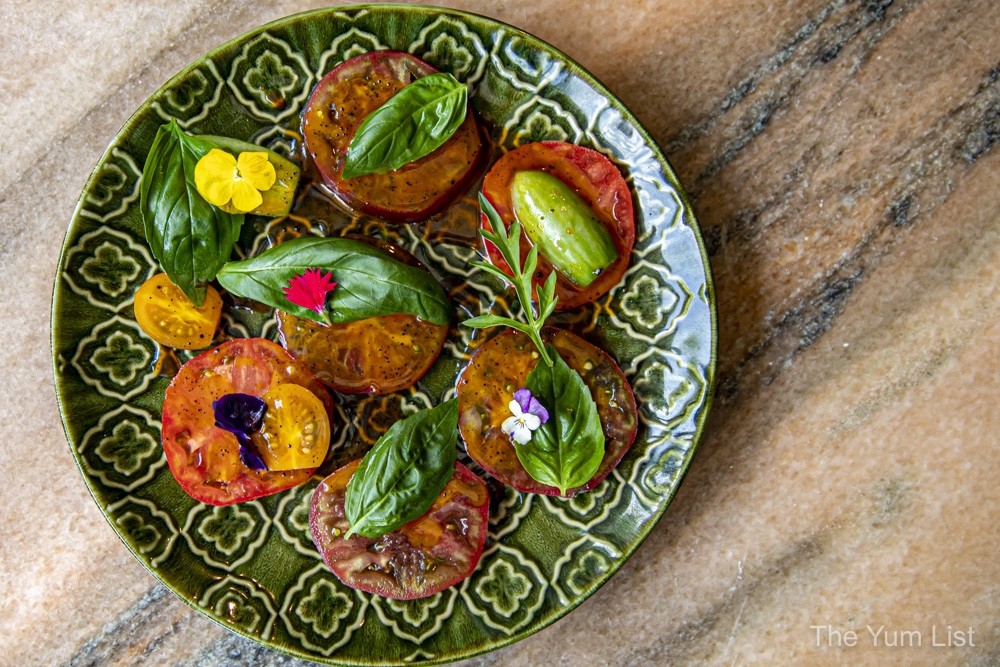 One Bowl Dishes
Originally from Johor himself, chef Adu proposes the Laksa Johor (RM 32.99, add extra gravy for RM 7). With each state claiming their own recipe, the Johor version is distinguished by its use of spaghetti and fish – in this case, wolf herring. Many cooks shy away from this species' use as it is very bony and hence laborious to prepare. In fact, it takes the kitchen team two to three hours just to get the flesh from the bones. Think of this and appreciate every sweet, spicy and flavourful spoonful of the thick gravy. Of course, the sambal belacan that sides it is also the house recipe. This is wonderfully fresh, not only due to the fish's lightness but also because of a pile of shredded veg on top. Cucumber, sweet basil, laksa leaf, bean sprouts and long beans balance the tasty gravy.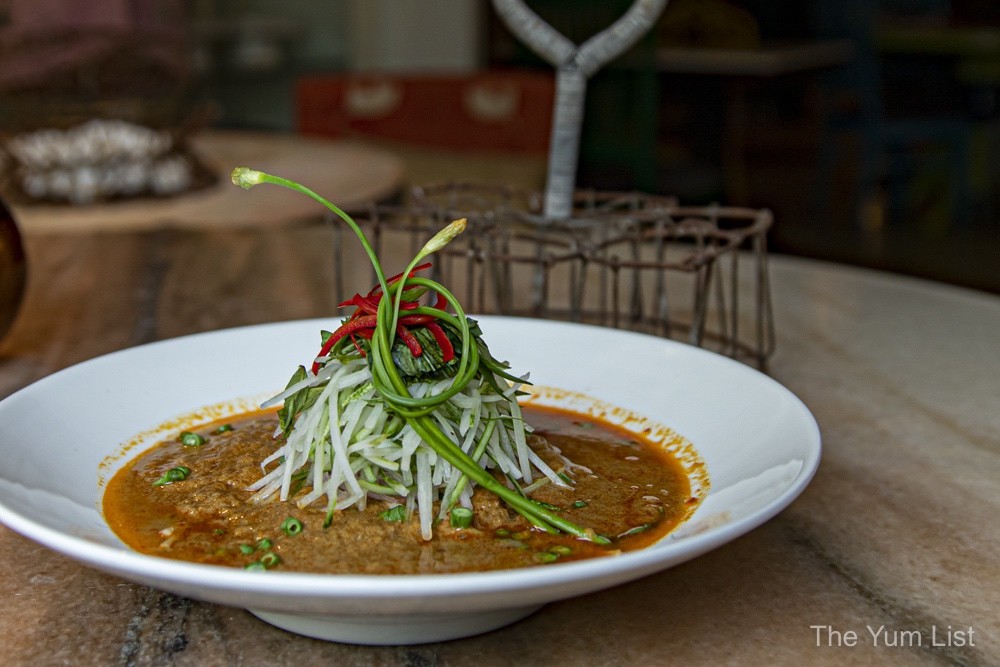 Big Plates – ADU Sugar Restaurant Menu
It's best to order several mains with rice and share with your crew. Big plates are divided into meat and vegetarian/ vegan choices. We find three mains with rice are plenty for the three of us.
Meat
The Grilled Duck Breast (RM 32.99) comes highly recommended. It's been marinated in their house-made red curry paste and sits in a smooth, dried longan curry sauce. The sweetness in the gravy comes from the dried longan, and just a touch of coconut milk is added before serving to thicken the sauce.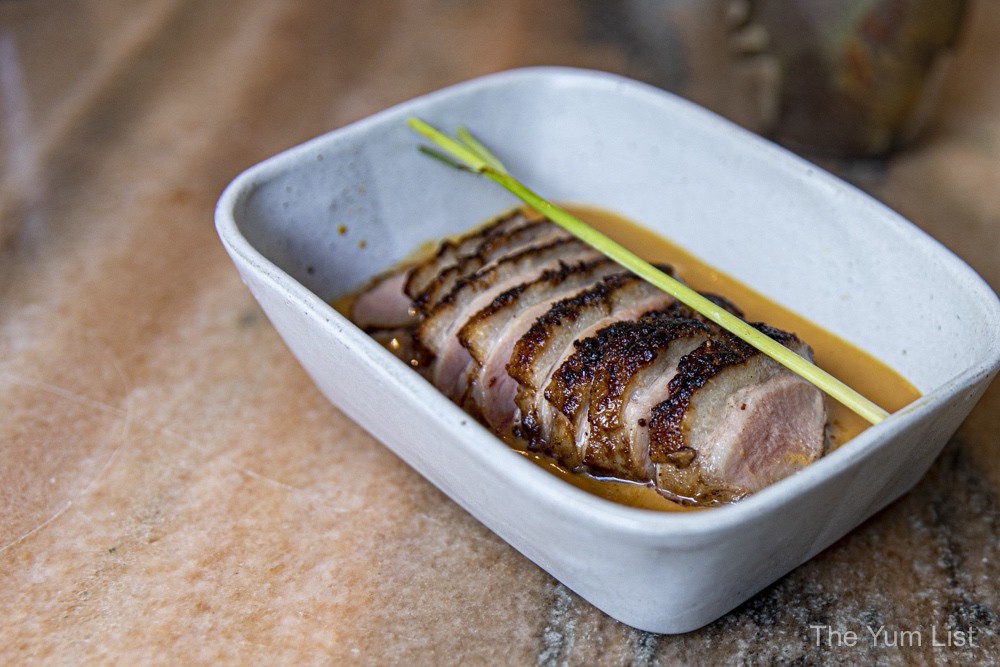 Vegetarian/ Vegan
I have to admit that jackfruit is not my favourite fruit. However, the unripe fruit is used in the Young Jackfruit Rendang (RM 25.99), reducing the ripe fruit's signature pungency. The seasonings are just what you'd find in the traditional beef recipe – coconut, galangal, lemongrass, shallots and garlic. Very good.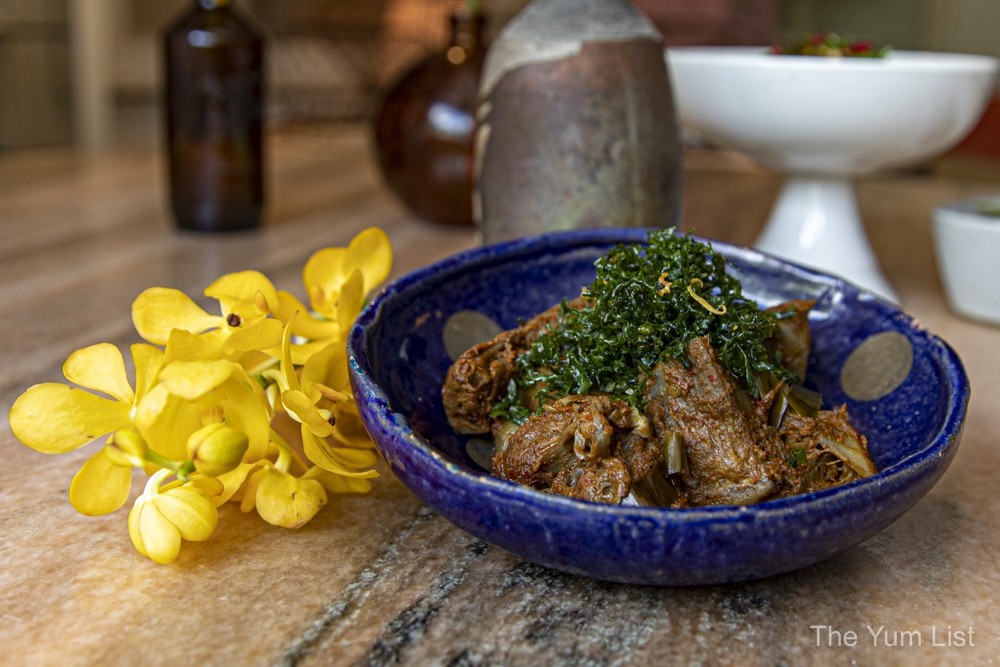 On the other hand, one of my most-loved local ingredients is jungle fern. Pucuk Paku Urab (RM 27.99) sees lightly blanched fern tips tossed with sambal kelapa and pine nuts. The coconut and lime dressing is wonderfully balanced in acidity with bright citrus notes from the lime and a gentle, sweet balance thanks to palm sugar.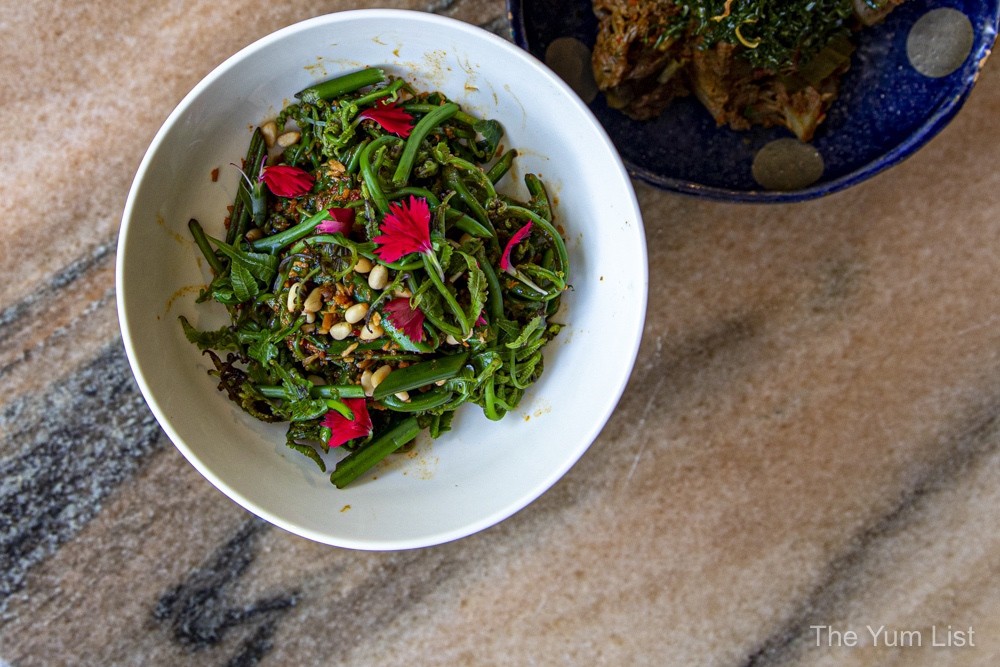 Rice
Four types of rice are on the menu at ADU Sugar Restaurant: Nasi Minyak (RM 12.99), Asian-herb Pesto (RM 7.99), Coconut Blue Rice (RM 6.99) and Steamed Rice (RM 5.99). They're all a good choice, making excellent accompaniments to the gravies. However, the pesto rice is a standout. Made with the same abundance of leaves found in the kerabu salad, it's so tasty, you could have this as a dish all on its own.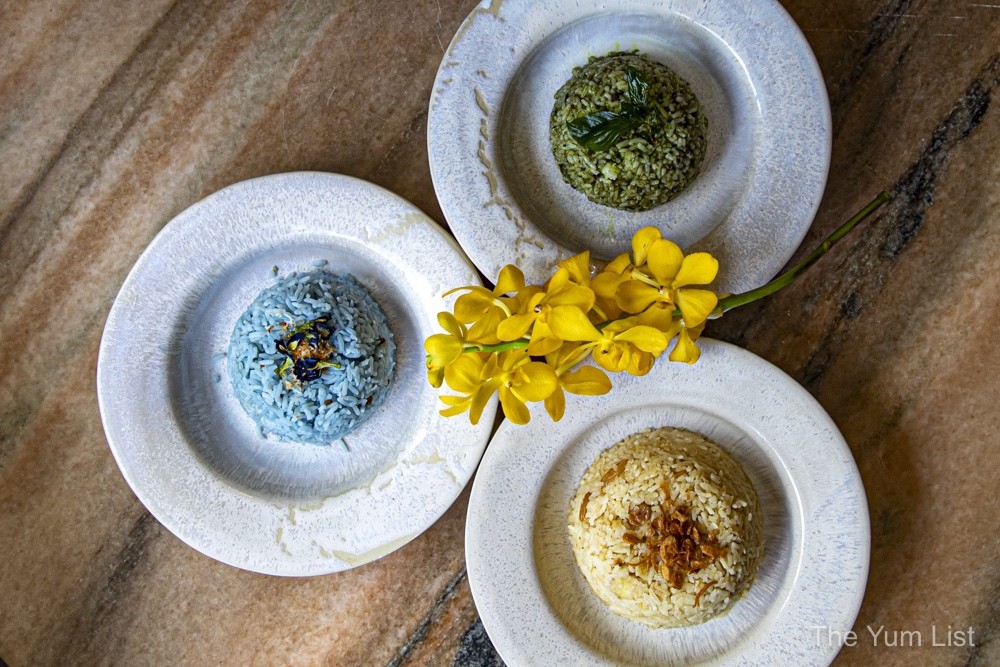 To Finish
To conclude, chef Adu takes a popular but not so attractive-looking childhood snack, pisang salai, and turns it into dessert. These bananas have been smoked until black turning them into tasty but shrivelled, not-so-appealing bites. The Pisang Salai Brownie (RM15.99) cooks them with chocolate and walnuts, adding a sweet, smokey layer to the brownie. Vanilla ice cream is a striking contrast and melts temptingly down the sides.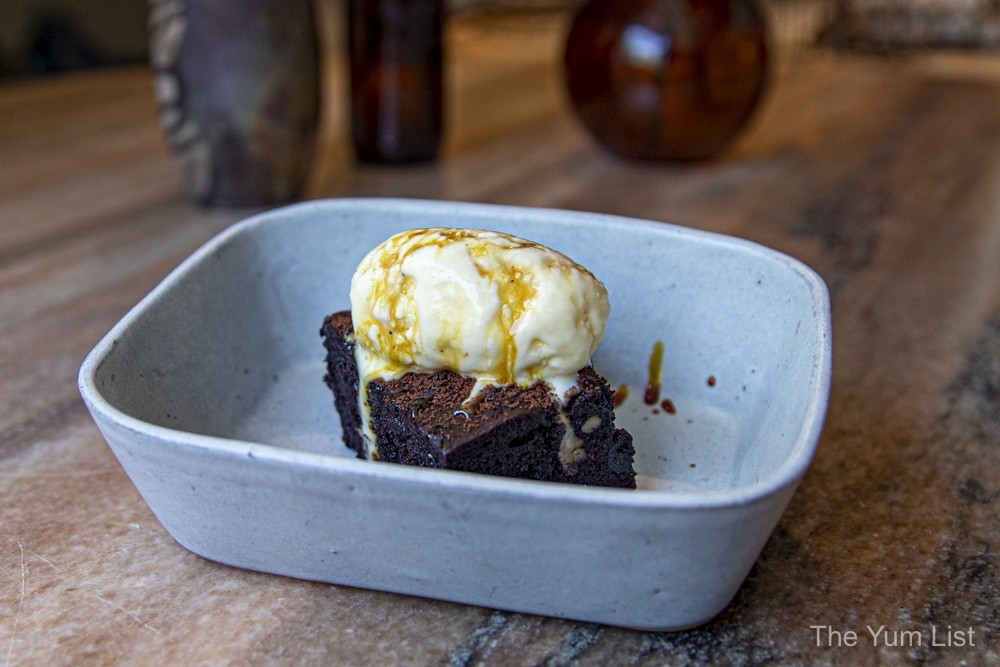 Drinks Menu ADU Sugar Restaurant
We quench thirsts with a trio of refreshments made in house. Lemon Passion Fruit Tea (RM14.99), Lime Juice (RM14.99) and Calamansi Asam Boi (RM14.99) are tall glasses absolutely brimming with fruit. They're all icy cold and superbly fresh. No alcohol is served at ADU Sugar Restaurant. Still, guests are welcome to bring their own with a very reasonable corkage charge of RM 30.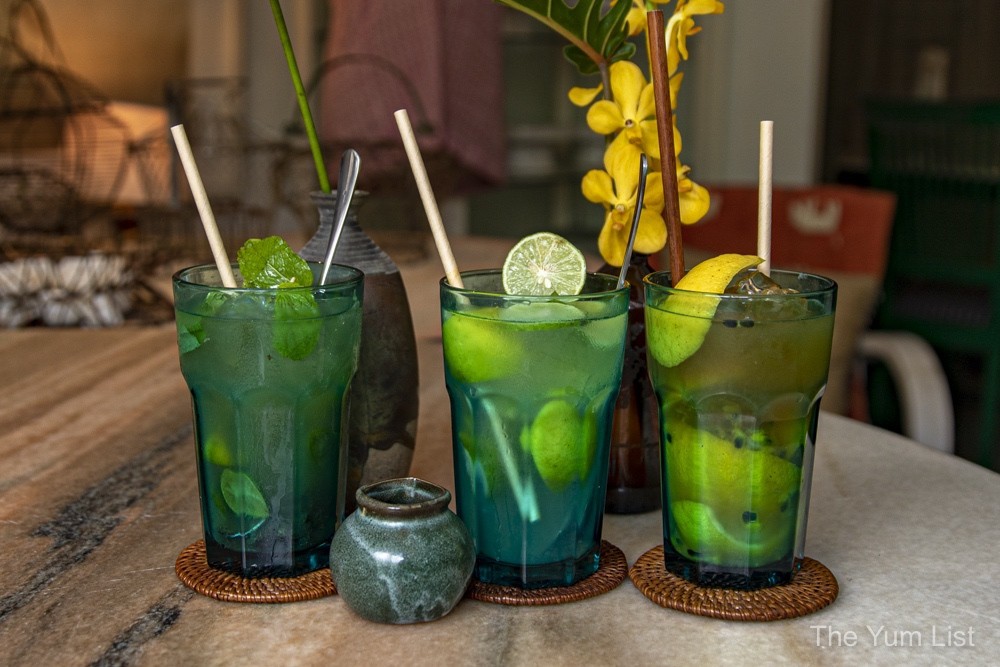 Reasons to visit ADU Sugar Restaurant: a setting that is full of character; superbly fresh recipes; tasty and balanced meals; excellent vegan options.
ADU Sugar Restaurant
10A First Floor, Lorong Ara Kiri 2, Bangsar,
59100 Kuala Lumpur, Malaysia
+6 03-2201 1441
www.facebook.com/adusugar.bangsar
ADU Sugar Restaurant Opening Hours
Tuesday to Sunday
12 pm to 9:30 pm (dine-in)
12 pm to 7 pm (takeaway & delivery)
Find more restaurants in Bangsar here and stay up-to-date with the latest gourmet and travel recommendations for Malaysia here and here.