Kenny Hills Bakers The Greens, TTDI
Words: Monica Tindall
Photos: Rich Callahan
The team behind Kenny Hills Bakers continue to bring joy to the suburbs with their fifth (!) opening. With already established outlets in Bukit Tunku, Ampang, Desa Park City and Bangsar Shopping Centre (kiosk), the latest café in The Greens, TTDI brings the total to a complete handful.
While Kenny Hills Bakers at The Greens, TTDI maintains the charm of warm wood and greenery associated with its more industrial-looking siblings, this outlet has a touch of art deco glam. Shiny surfaces, geometrics in the lighting and a brilliant dimpled-copper espresso machine make it a tad fancier than its predecessors. It fits perfectly within the complex of The Greens with its 270-degree glass walls and slightly upmarket appeal, yet continues to provide the unpretentious, hearty food the brand is known for. Customers are sure to appreciate both the stylish air-conditioned interior and the semi-alfresco tables livened by plants and street views.
The first thing we notice as we enter is the drool-worthy cake display. The hand-crafted wood and glass piece, modelled after a classic French cake counter, gloriously frames row after row of luscious-looking pastries. It's immediately followed by a chilled cabinet holding cakes, tarts and other sweet and wondrous creations. The eye is led further around the space by shelves with loaves of wholesome organic bread. Next, the flicker of the flame from the wood-fired oven draws attention, which mirrors the glow from the dimpled-copper espresso machine.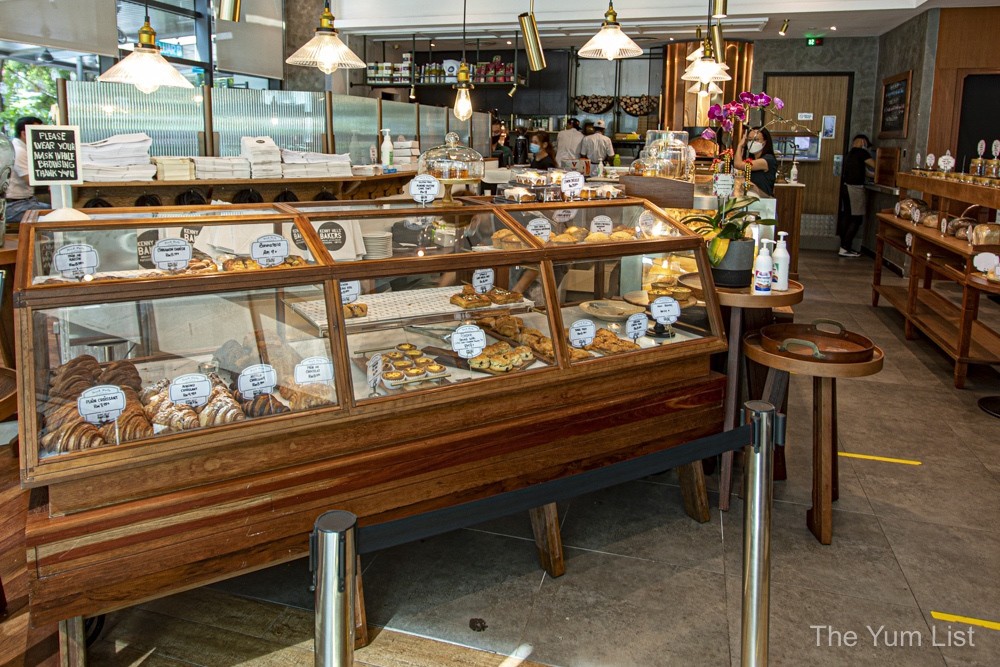 Kenny Hills Bakers, The Greens, TTDI Menu
Of course, baked goods (possibly one of the city's largest ranges) and recipes made with them are the highlights of the menu at Kenny Hills Bakers, The Greens. We find the eye-catching array of pastries a test of our patience and quickly fail, ordering a Peach Strudel (RM 18) and Cappuccino (RM 11) before we even browse the main menu.
The strudel is worth every cent with its layers of flaky, buttery, crunchy pastry sandwiched together with Chantilly cream, thick slices of peach and a dusting of icing sugar. It's fat; I have to cut it in pieces to get it in my mouth. We can see why this in-house craze has quickly spread to other bakers in the city.
A local micro-roaster blends coffee beans for Kenny Hills Bakers using seasonal varieties. "Our coffee is old school. It's thick with a lot of crema," says Tai Hon (founder of the original Kenny Hills Bakers). It has a balanced, chocolatey, nutty finish and goes well with milk.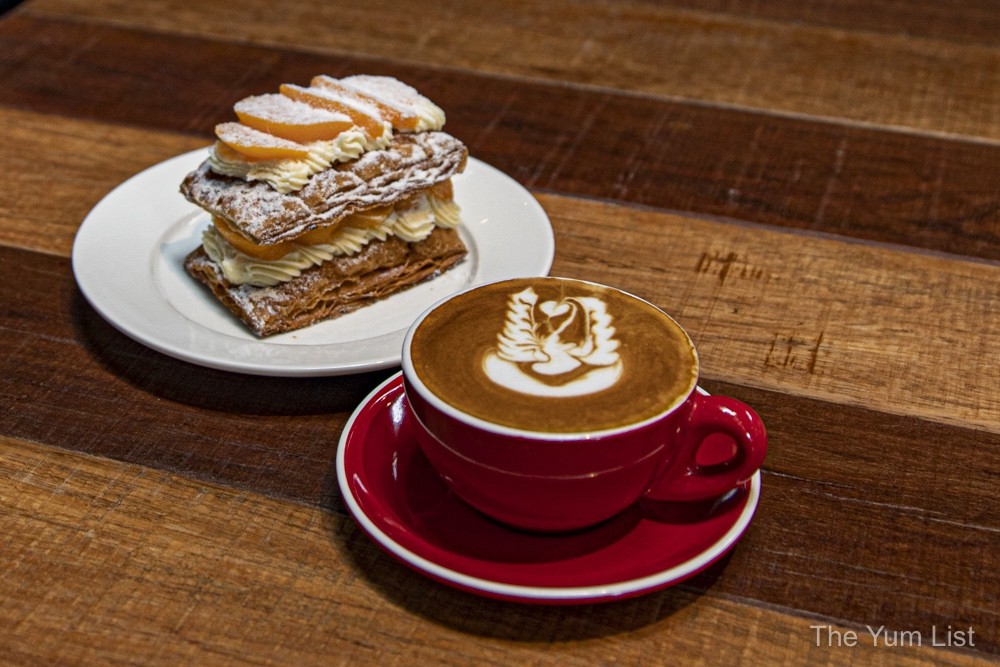 Many might very well stop here and be perfectly satisfied, but I'm guessing you'll want to see more of the menu…
Breakfast
Breakfast is served all day from 8 am until 6 pm. Today we try several satisfying brekkie items.
Vegetarian Eggs Flamenco (RM 26) comprises two oven-baked kampung eggs, chickpeas, roasted vegetables and goat's cheese in a spiced tomato coulis. Baked in a cast-iron pan and served on a wooden board, the presentation is rustic and appetizing. The organic toast soldiers on the side are essential for making sure not a single drop of sauce is missed.
Just by looking at the Truffled Eggs and Smoked Salmon (RM 32) in the photo, you might guess that we caught the scent of the dish before we saw it. The strong-smelling fungus is generous in portion, darkening the eggs and contrasting the pink strips of salmon. Microgreens provide both freshness and a lovely spot of colour on top.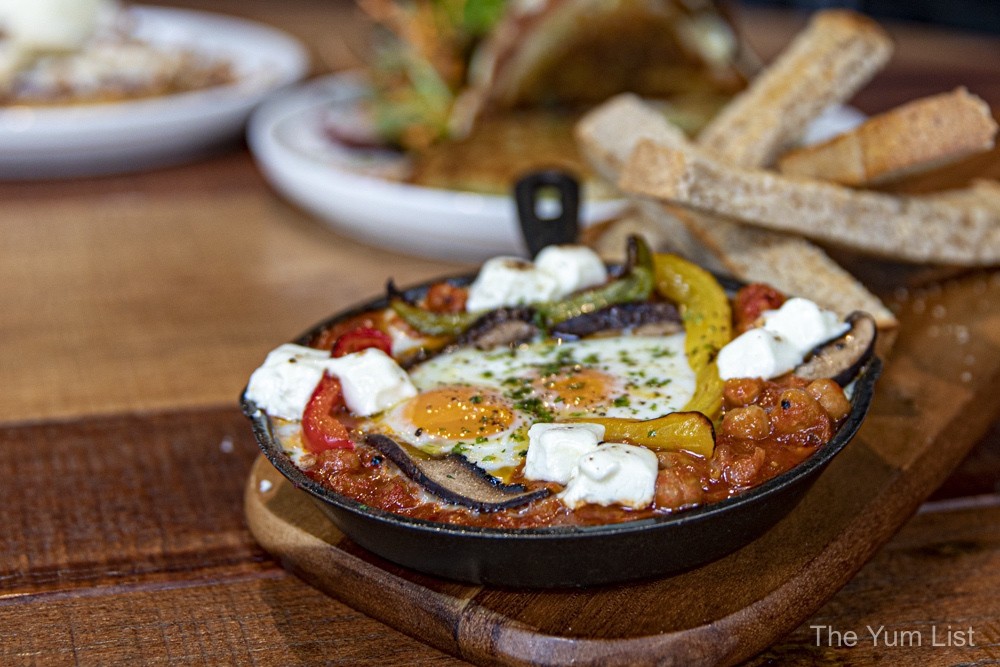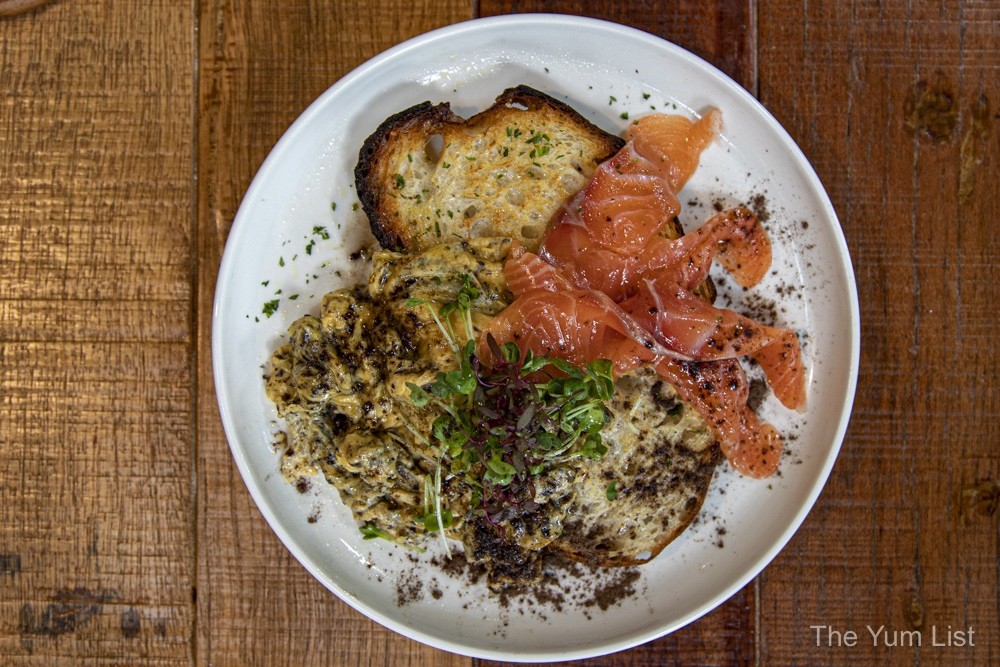 Waffles
Waffles are done in sweet and savoury recipes and made on organic flour (as are all of their bread and pizza). The Bananutella (RM 24) comes highly recommended, with the crowd-pleasing topping of Nutella the primary drawcard. However, my eye fixes in on the stoneground peanut butter. It's made in house, slowly ground, maintaining maximum nutrition. Homemade vanilla ice cream melts into the dents, and caramelized almond brittle bites are sprinkled over everything.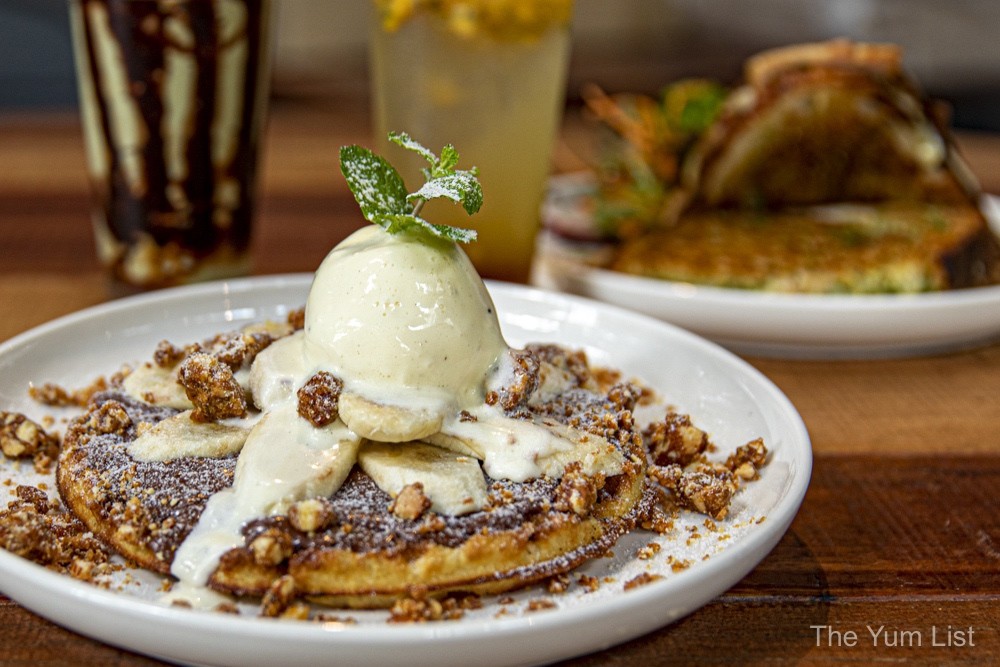 Toastie
I'm pretty sure the secret to a good toastie is spreading both sides of the bread with butter before toasting. That's what has been done with the Smoked Chicken & Pesto Toastie (RM 29) at Kenny Hills Bakers, The Greens. Slices of chicken go with liberal amounts of mozzarella and a little chilli. It's easily a portion for two – two tummies or two meals (I keep half for lunch tomorrow).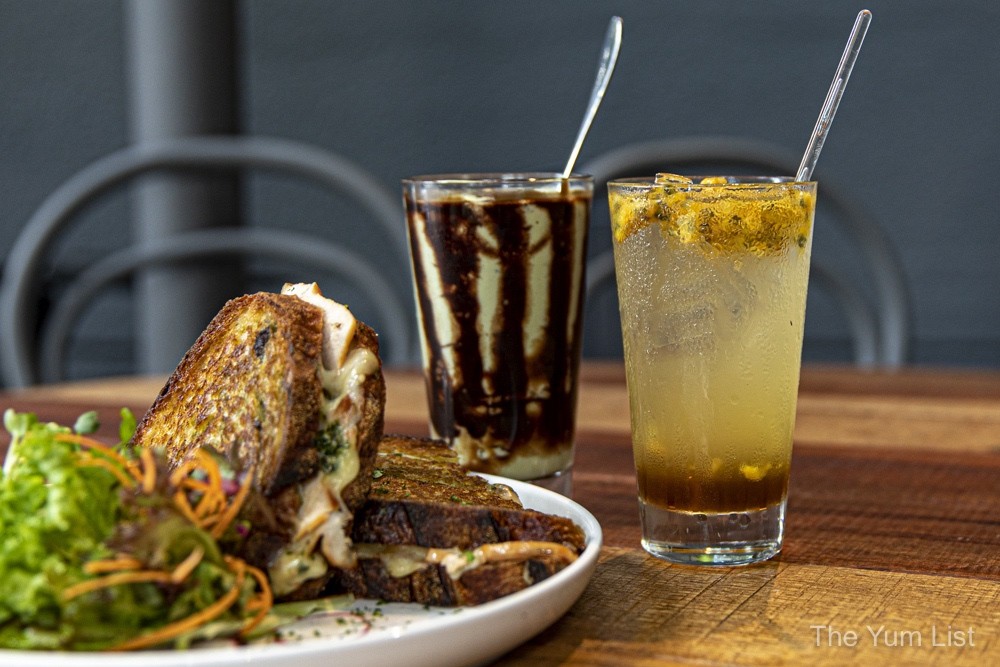 Pizza
As mentioned earlier, all flour for pizza dough is organic. Here the dough goes through a slow ferment for two days before it's ready for use. And, just as the South African biltong is made with so much passion and dedication, the
pizza is made using the same strategies. Cooked quickly in the wood-fired oven, the base is similar to Napoli-style pizza – puffy, leopard-spotted edges and a floppier middle. It's made even softer with the ball of creamy burrata that centres our pimped-up Margherita (with Burrata RM 35, 8 inches).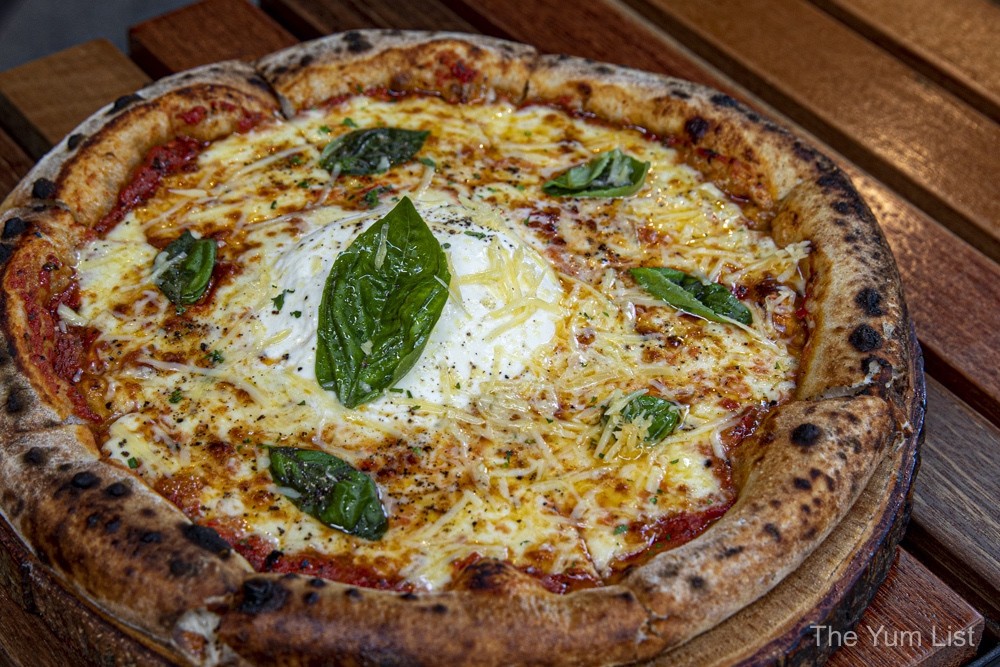 Kenny Hills Bakers The Greens, TTDI – Drinks Menu
We had coffee earlier on and so pair the food with a couple of cool refreshments. The team at Kenny Hills Bakers, The Greens, make their own House Coolers and Superfood Smoothies. One of the former, Fresh Passion Fruit and Wild Organic Honey (RM 15), is a terrific balance of tart and sweet, is light and goes down all too quickly. On the other hand, Avo Control (RM 18) is so thick it could be a meal replacement. Smooth avocado and soy milk blend are sweetened with chocolate drizzle.
Reasons to visit Kenny Hills Bakers, The Greens, TTDI: an incredible range of expertly made baked goods; lovely semi-alfresco patio as well as a stylish air-conditioned interior; all-day breakfast; hearty, wholesome recipes.
Kenny Hills Bakers, The Greens, TTDI
The Greens Terrace, Lot G-2 Taman Tun Dr Ismail TTDI,
60000 Kuala Lumpur, Malaysia
+6 03 2703 7030
www.facebook.com/kennyhillsbakersttdi
Kenny Hills Bakers, The Greens, TTDI Opening Hours
Daily 8 am – 10 pm
Find more bakers in KL here and stay up to date with the latest happenings around Malaysia here and here.