Kenny Hills Bakers Ampang
Words: Patricia Podorsek  Photos: Monica Tindall
Turn the corner off of Jalan Ampang by Hock Choon supermarket onto Lorong Nibong, and you'll immediately see the excitement that the new location of Kenny Hills Bakers Ampang has brought to the neighbourhood. Parking lots and street lanes are full, and pedestrians criss-cross the street; everyone lured by the tantalizing aromas of homemade artisanal bread and delicate pastries.
Kenny Hills Bakers got its start in 2014 when filmmaker Au Tai Hon opened a place in his own leafy neighbourhood of Bukit Tunku. From its inception, the irresistible range and quality of bread and pastries have captured the hearts of Kuala Lumpurians. Sadly, the original location had to close in June. The bakery's reputation, however, has obviously incited pilgrimages from around the Klang Valley to its new location near the city centre, in Kenny Hills Bakers Ampang.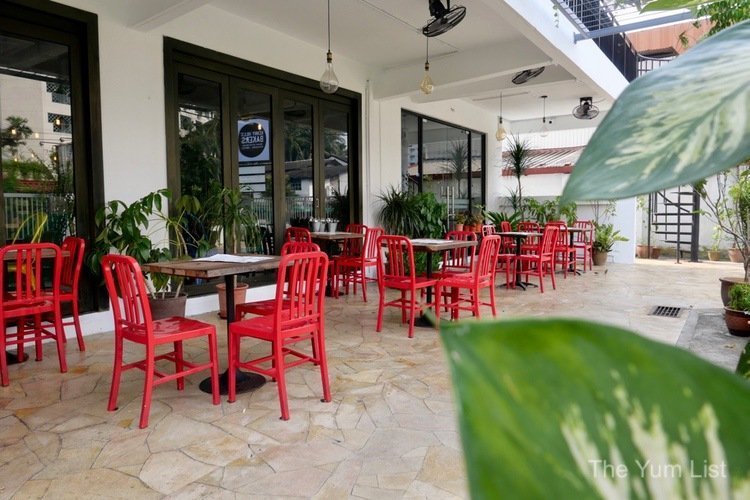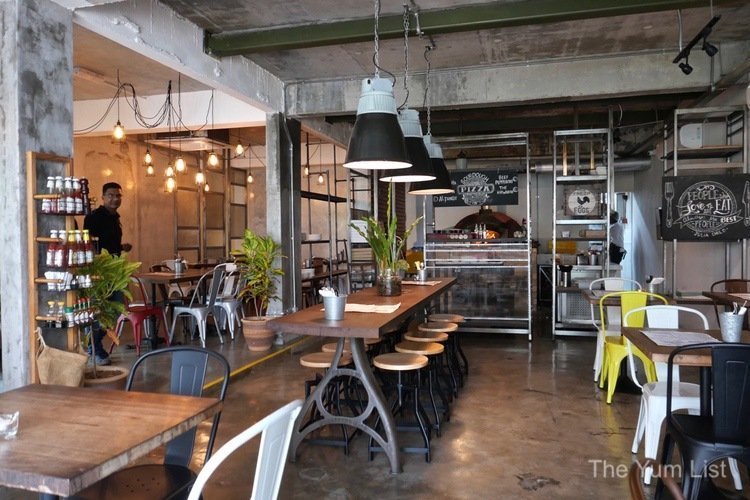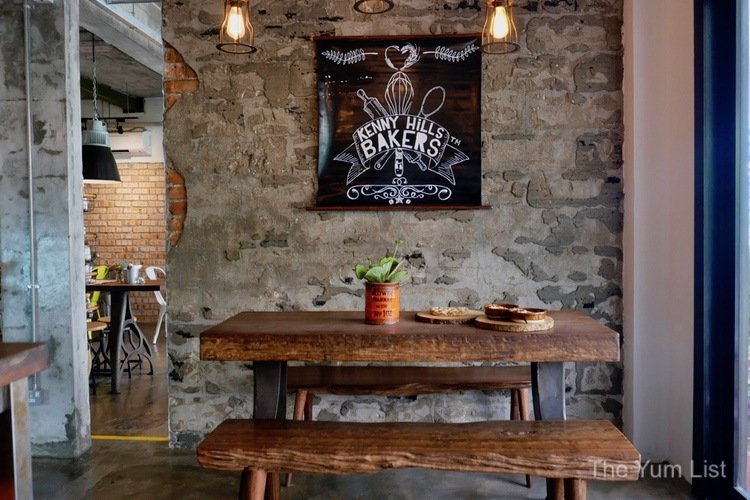 Kenny Hills Bakers Ampang Menu
For those new to the Kenny Hills experience, let me fill you in a bit. The bakers here import high-quality stone-milled organic flour, including such varietals as spelt and rye, for the healthiest and freshest possible base to begin their artistry. Baskets boast wholemeal sourdough loaves and organic bagels. Tables carry delectables like chicken portobello pies and spinach goat cheese tarts. Glass cases display fruit-topped mini pavlovas and toasty lemon meringue pies. Guests can order a slice or a whole cake of chocolate truffle torte or burnt cheesecake. It's endless. The tea selection is also organic, and the coffee is all single-origin.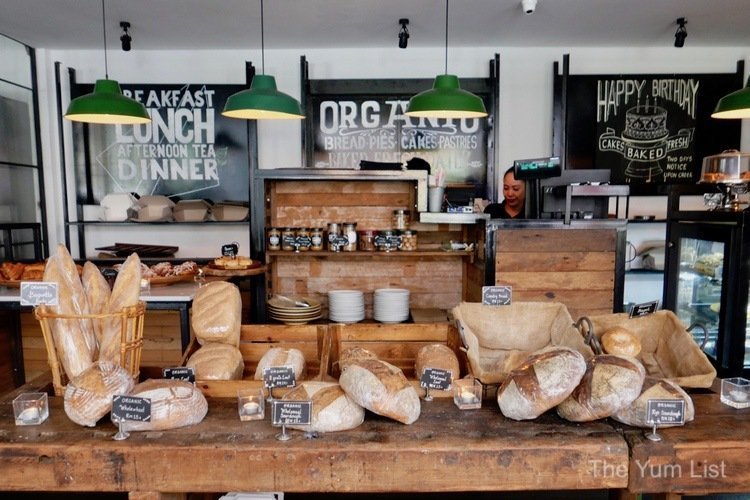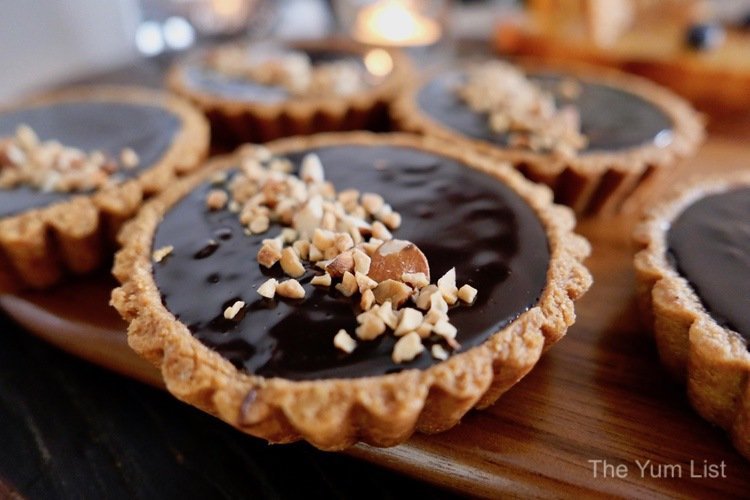 Guests can take away or eat-in, ordering baked goods from the counter, or ordering from a full menu of additional goodies. During our visit, we were lucky enough to try some of both.
Drinks
Thirsty from the afternoon sun and a long day at work, we elect to start with an in-house cold-pressed juice. Odd as it may sound, I love the flavour of celery in juice, so we opt for the Green Apple, Cucumber, and Celery (RM15). Without the ocularity of sugar, tart apple meets earthy celery, with cucumber in the background adding clarity to this super fresh-tasting drink. Similarly, the superfood smoothie called Grapeful (RM18) blends green grapes, blueberries, strawberries, fresh apple juice, and acai into a well-balanced fruit fiesta in a glass.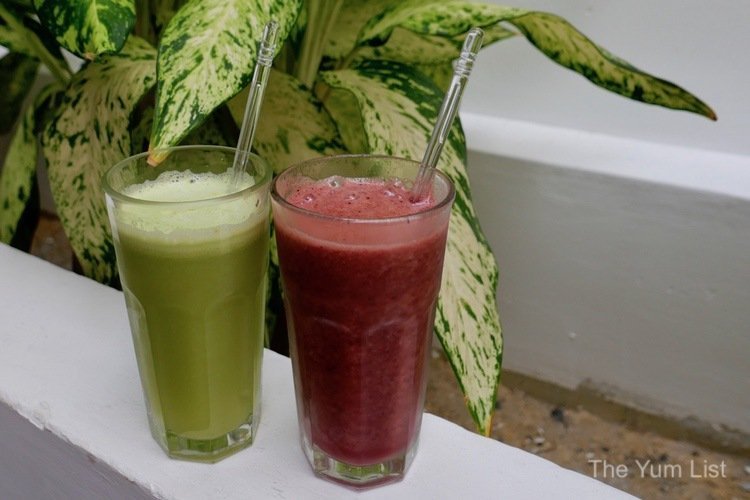 Toasties
Enjoying the rustic look of old wood and exposed brick, we take the edge off our hunger with a taste of the Truffle and Raclette Toastie (RM28). Truffle paste and assorted mushrooms meet oozy raclette cheese inside of perfectly toasted organic brown bread. With caramelized onions on the side, this buttery, cheesy, crispy goodness is earthy and elegant. I can't decide if it is more French gourmet or comfort food, but lick my fingers while I'm wondering.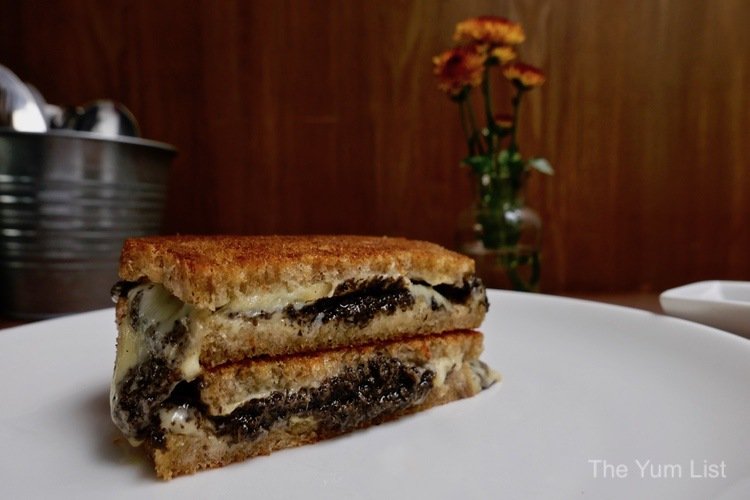 Wood-fired Oven
A wood-fired oven gives the Kenny Hills Bakers Ampang a bit of a "Game of Thrones" home and hearth motif, and also an opportunity to showcase some new flatbreads. Traditional Pita Bread (RM8) arrives full of warm air and laced with black sesame seeds. The Maneesh (RM12) is a thicker flatbread, springy to the touch and lightly browned, with loads of herbs and sesame seeds on top. Its stringy texture makes a delightful partner to one of Kenny Hills's homemade dips. We try the smooth and smoky Baba Ghanoush (RM15) and the Classic Hummus (RM15), a little texture reserved in the otherwise smooth paste. Both leave a lingering zing of garlic.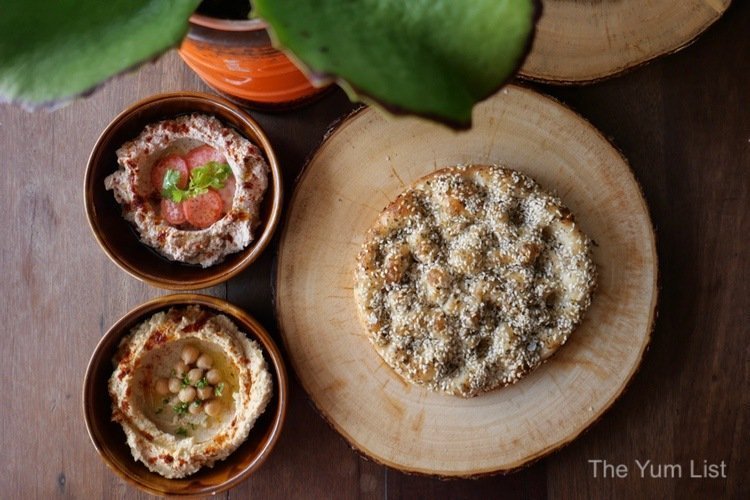 Kenny Hills Bakers Ampang Menu – Mains
A touch of the subcontinent arrives in the form of an Aloo Paratha (RM12), a chapatti style flatbread, stuffed with a spicy potato mixture. This makes an excellent companion to the Tikka Masala (RM28), boneless chicken legs marinated for 24 hours, before getting seared and sauced in curry masala. Aromatic and spicy, you can really taste the coriander embracing the tender meat.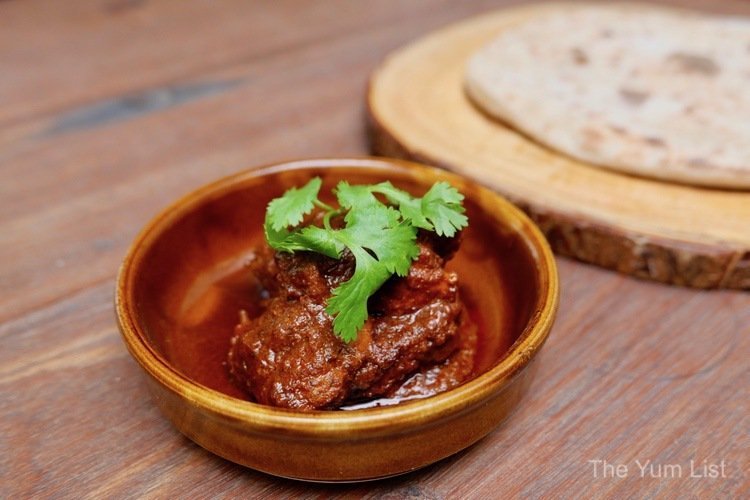 Also excellent for dipping is the gravy from the Slow-braised Lamb Shank (RM42). Slow-cooked for a half-day, after long marination in spices, the meat is falling off the bone and comes bathed in a rustic sauce with bits of soft onions and carrots. I first tried dipping into the gravy with the pita bread, then the paratha, but kept coming back to the maneesh. I just love those herbs!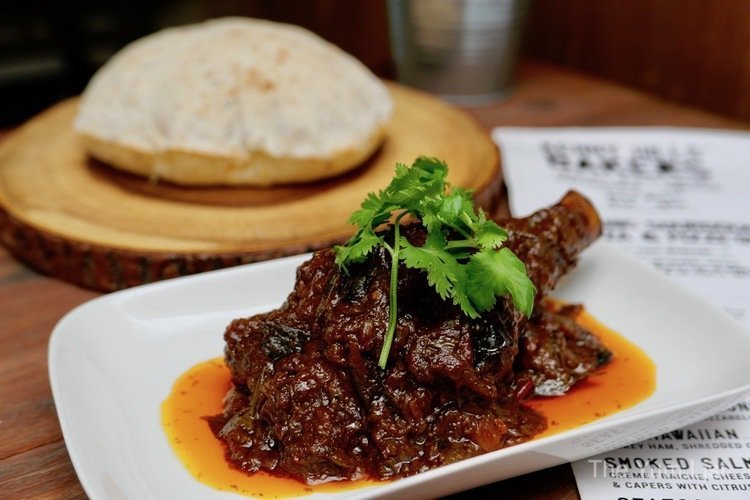 No respectable bakery with a wood-burning oven could exist without that most famous of flatbreads: Pizza! Eight different options line the menu, but our hosts recommend a 'simple' Margherita with Burrata (RM30/45) over more exotic options like The Sicilian or Smoked Salmon. With a bulb of creamy burrata crowning the centre like a topknot, this peasant pizza becomes royalty. One cut into the crown releases white gold over whole basil leaves and hearty tomato sauce. The crust is thin, with a proper edge, and Mon points out the leopard skin underside that signals desirable aeration in the dough.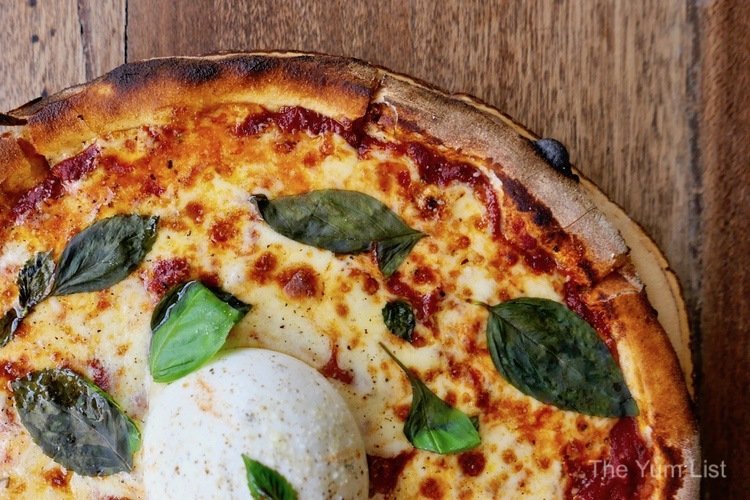 Kenny Hills Bakers Ampang Dessert
From the endless cascade of possible desserts, we opt for something old and something new. The Salted Caramel Cheesecake has been around since the beginning of Kenny Hills Bakers, with its bottom crust of baked apples. The cheesecake interior is creamy and cold, but not as smooth as the whipped creaming topping for a few contrasting textures. Chopped walnuts and pecans provide the crown. I find that my preferred experience is to try hard to get a bit of everything in one bite. No comments about the size of my mouth, please.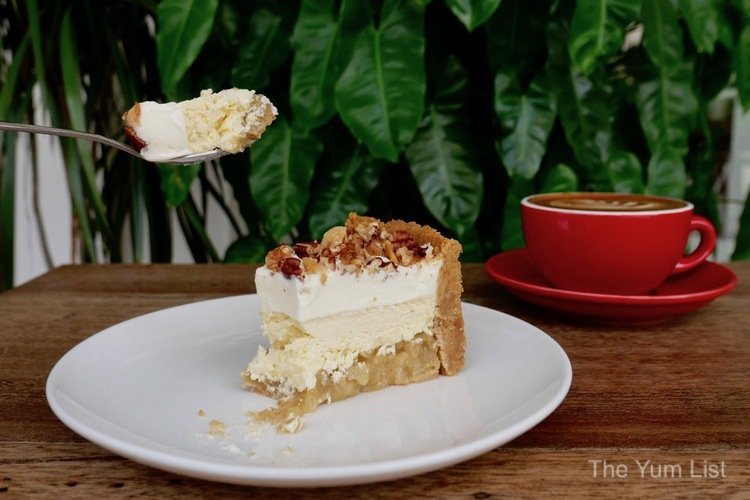 Desserts are always enhanced with a nice cup of java on the side. Kenny Hills serves coffee that is single-origin and wonderfully smooth, as well as blends that go particularly well with milk. We opt to take ours on the richer side with creamy milk and a little foam on the top.
The new dessert (and the mouthfuls that threaten to bust the gut) lie with the Yuzu Tart. A crumbly butter crust is lined with a thin layer of sticky yuzu curd. The result is nothing less than buttery, tart-but-tangy, sweetness that was perhaps not baked in-house at all but sent from the heavens.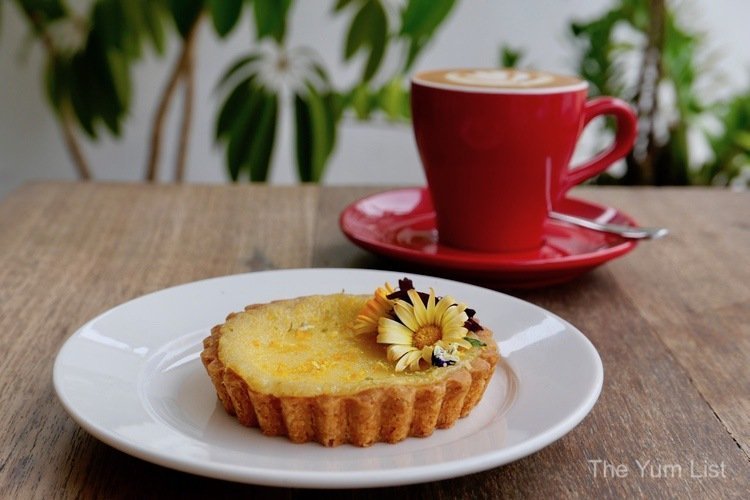 Kenny Hills Bakers Ampang Review
With a style and reputation that is true to its own integrity, Kenny Hills Bakers Ampang has surfaced in a new location to showcase its variety of high-quality bread, pastries, desserts, and meals. The new space is sizeable, and there are big plans for expansion. Stay tuned.
Reasons to visit Kenny Hills Bakers Ampang: To try and give a ranking of one pastry or bread over another would require multiple visits. Many numerous visits. I suggest you try this yourself. (Mon, however, says you must try the Yuzu Tart, take away a loaf of crusty sourdough, and don't miss the maneesh bread from the wood-fired oven.)
Kenny Hills Bakers Ampang
241-B Lorong Nibong, Off Jalan Ampang
50450 Kuala Lumpur
+6 03 4265 2020
www.facebook.com/kennyhillsbakers
Kenny Hills Bakers Ampang Opening Hours
Daily: 8:00 am – 10:00 pm.
* They host a separate baking kitchen for gluten-free items.