Wildflowers KL
Words: Monica Tindall Photos: Rich Callahan
From the same team who brought you, Merchants Lane comes Wildflowers KL – the latest food and beverage opening in the vibrant streets of Chinatown. While the former has reached almost legendary café status, the latter hopes to fill a gap in the restaurant scene. Filled with plants, a polished industrial-feel interior, some craft cocktails and an inventive fusion menu, the concept is promising.
Founding partner, Ken Ho, describes the concept. "We've grown up. It's an evolution of Merchants Lane. Modern Asian dining. There are no rules. If I put it in my mouth, and it tastes good, it goes on the menu. We like to drink and eat, so we have evolved. Just like wildflowers, they grow wherever there are sunlight and rain. Our ideas just form. They are really random. You need to stand out and be a bit different from everyone else." Co-founder, Matthew Goh, joins in, "we're not crazy but very real."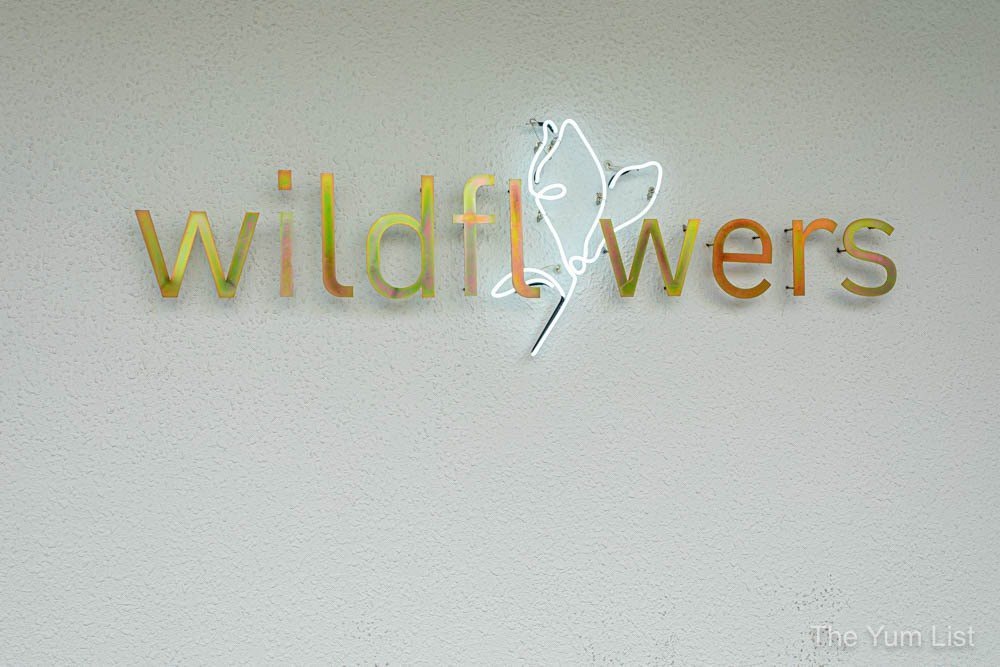 Wildflowers KL Location
Located on a corner lot, the walls of Wildflowers KL open up to the street, making the ground floor a casual, inviting space. Two semi-private dining areas, a bar and tables fill the eclectic space. My favouritism, however, leans towards the upstairs dining area with a massive amount of indoor greenery and a transparent ceiling streaming natural light.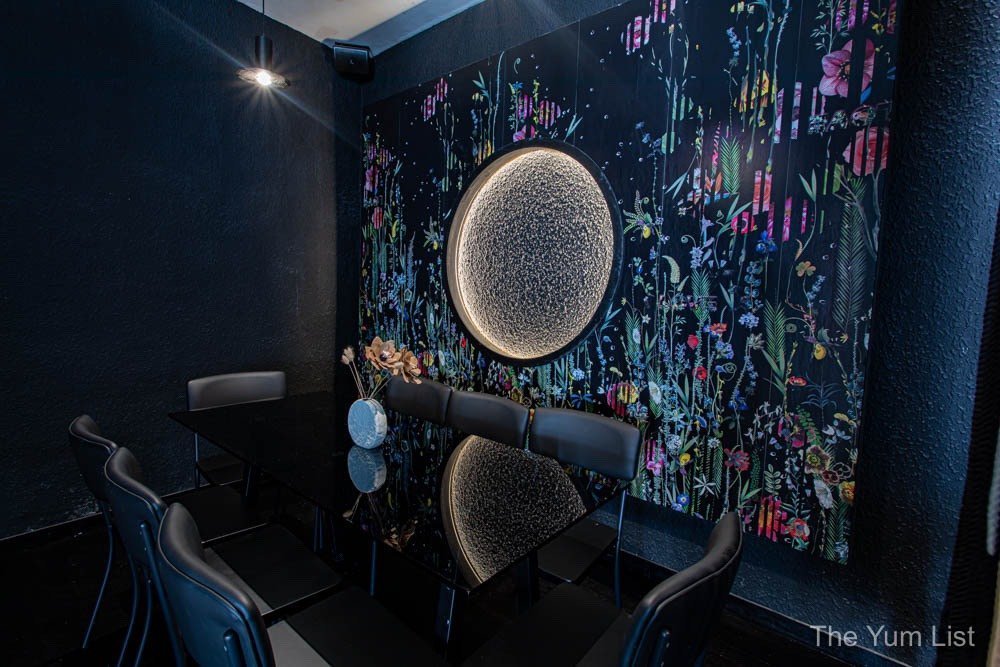 Wildflowers KL Menu
The menu at Wildflowers KL offers sharing plates with a creative melding of flavours and techniques from around the world. It's best to grab a bunch of friends and go wild with your selections. Take on a mixed-up medley of mouthfuls from lands afar with a strong connection to home.
Small Plates
First off, Malaysia meets Japan in the Assam Unagi Nori Sushi Rice (RM32). Japanese eel with assam sauce, pickled onion and ginger torch top the rice. There's a base of seaweed that you use to parcel and put it all in your mouth. I love the ginger torch bite. The assam is lightly creamy. These are delicious mouthfuls.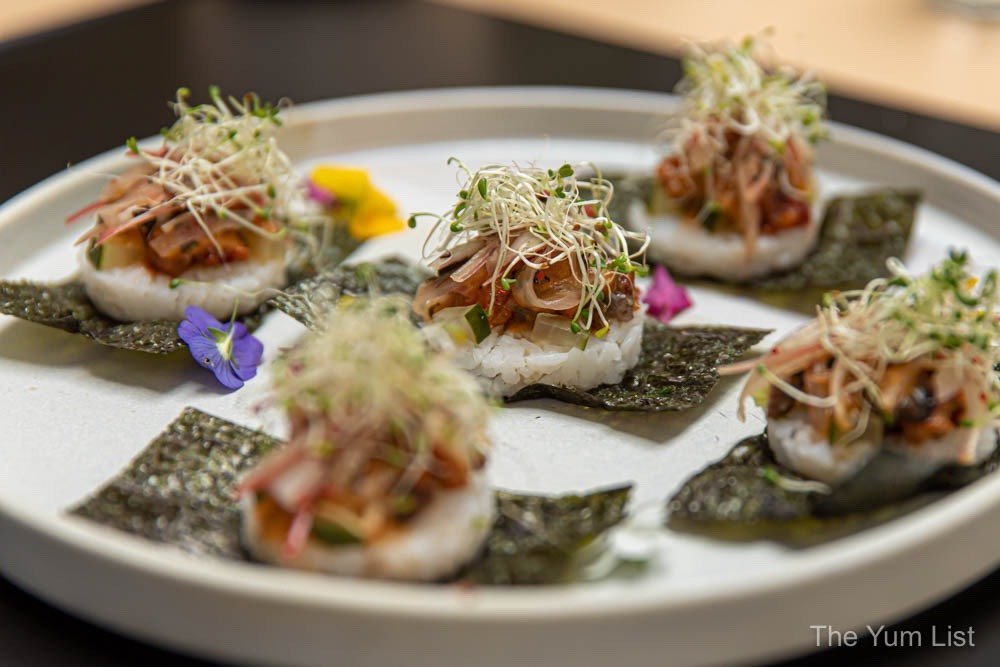 Things sway further north with the Salmon Sashimi with Green Thai Sauce and Coconut Milk (RM34). Inspired by Chin Chin Melbourne's kingfish dish, this recipe is an enticing combination. There's a strong thread of kick from the Thai sauce, smoothed over by coconut, and it departs with a distinctive tang thanks to the Thai fish sauce.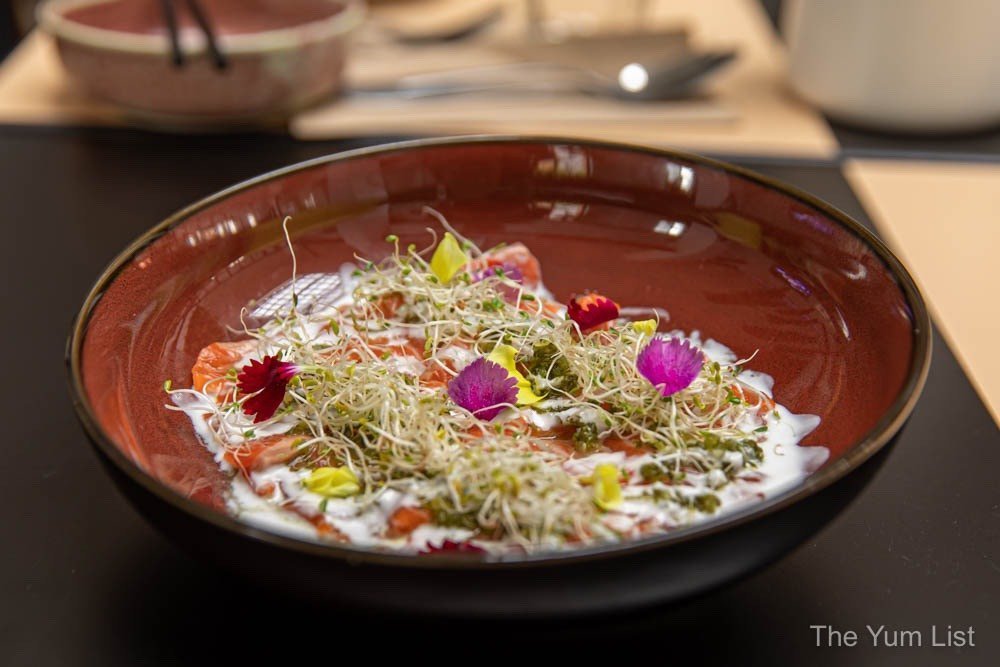 Meat-free Dishes
Gluten-free and meat-free options are available. They are not currently on the menu but can be made upon request.
The home team pimp up an Italian classic with the Sambal Red Wine Risotto. Arborio rice is cooked in red wine with vegetarian chilli sambal. It's topped with fried pieces of tempeh that furnish a fabulous contrast in texture. A tangle of green sprouts break up the red and offer an additional boost of nutrition. It enters gently with the prominent flavour of red wine, and then the heat develops to a steady and burly zing. The rice has a good bite to it.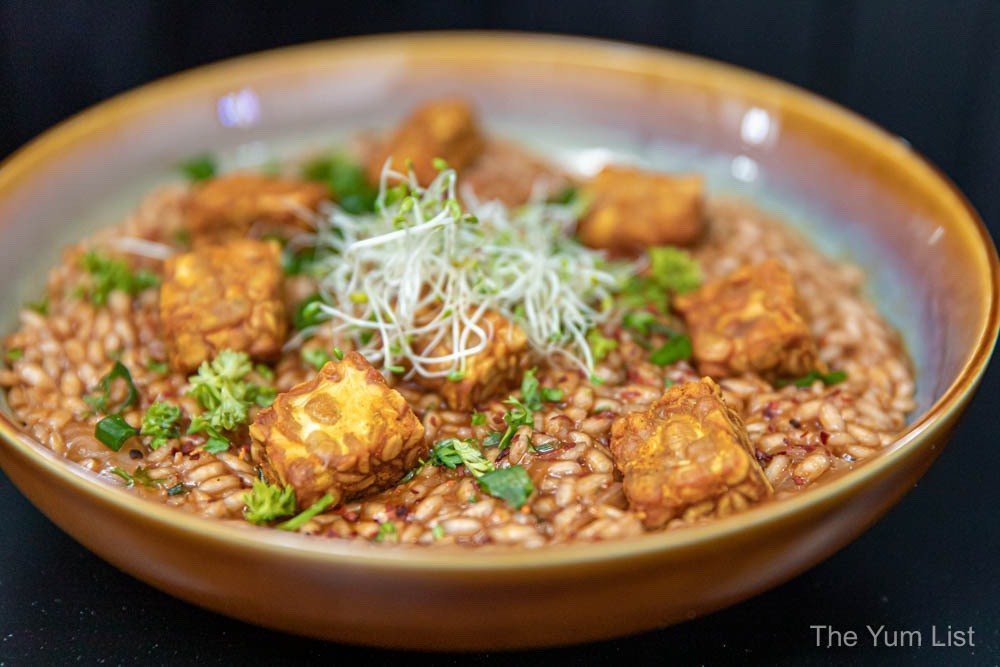 More meat-free options at Wildflowers KL are found in the Falafel Salad and the Falafel Tortilla. Both feature sweet potato and chickpea patties – soft in the middle with a light, crunchy coat. The former comes with an aromatic green Thai sauce along with edamame, baby spinach, rocket, red cabbage, shredded iceberg and slices of radish. The latter is found on flour tortillas with chopped mixed greens, tomato and red onions. Sprouts and edible flowers make a beautiful, messy garnish, and the not-so-chimichurri dipping sauce has an appealing tang.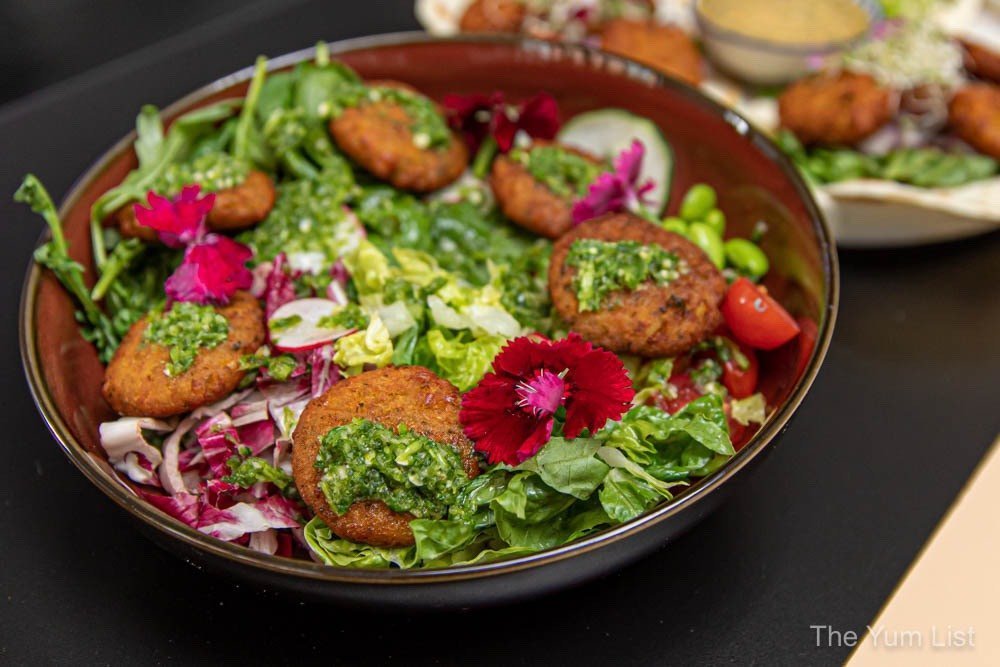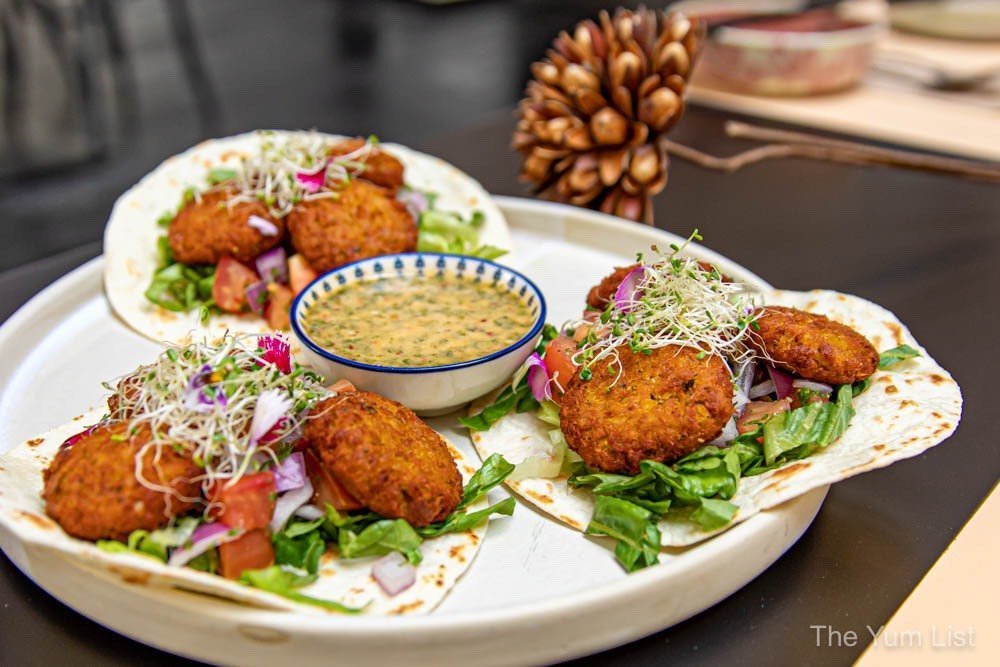 Kimchi Pasta can be ordered as gluten-free and vegetarian. The pasta is cooked al dente, and the sauce offers a good dose of spice with a sour finish. It's tasty, satisfying and a refreshing change from the ordinary, unimaginative spaghetti and red sauce.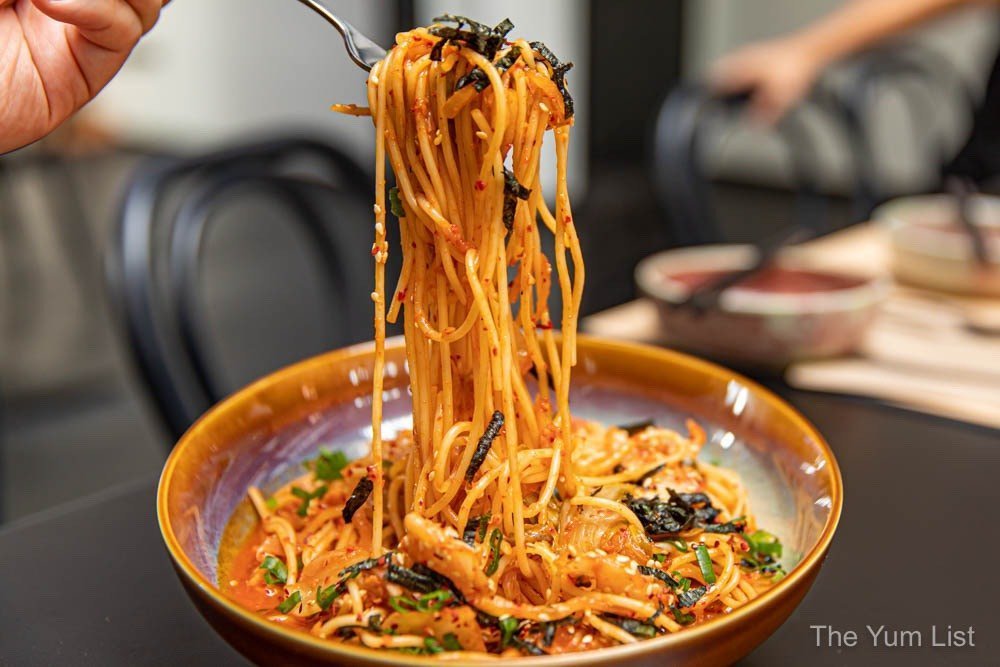 Mains
Getting heavier in the recipes at Wildflowers KL, Stewed Beef Brisket Bourguignon with Shao Xing (Chinese rice cooking wine) (RM 42)makes me think that these guys are all over the place. It must be tried, however, to discover that the flavours really work well together. Hainanese bread with a sprinkling of truffle oil acts as the perfect mop, and we don't let a drop escape.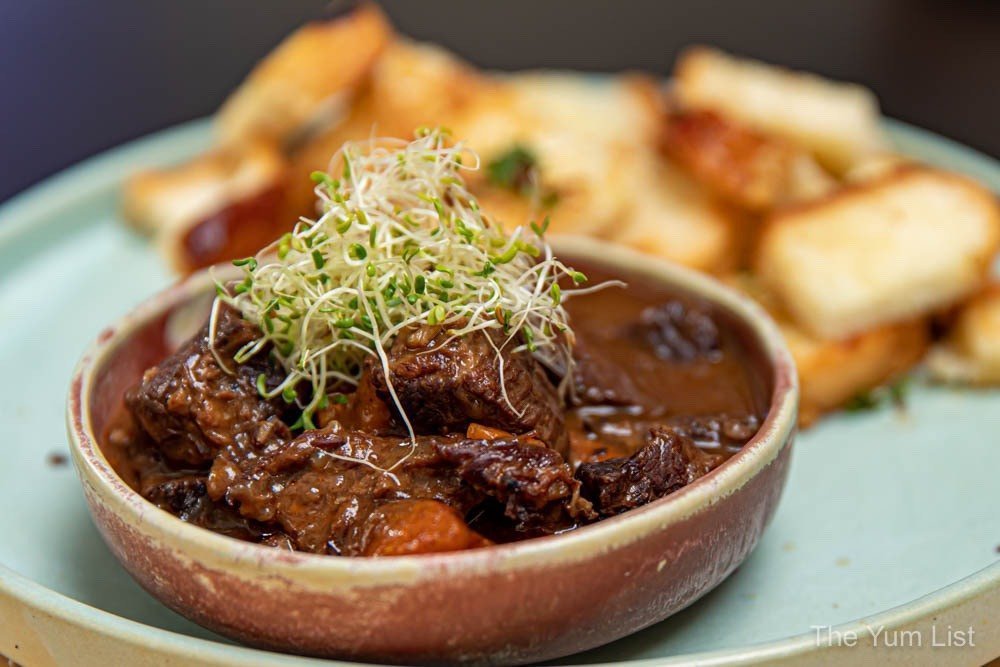 Truffle Fish with Light Herbal Sauce (RM52) is another East meets West union. Sea bass is well cooked; moist in the middle with a light, crisp crust. It sits in a pond of sauce with dominant Chinese flavours and a faint trail of truffle. The daikon and Chinese white cabbage give a bitter finish to the juice.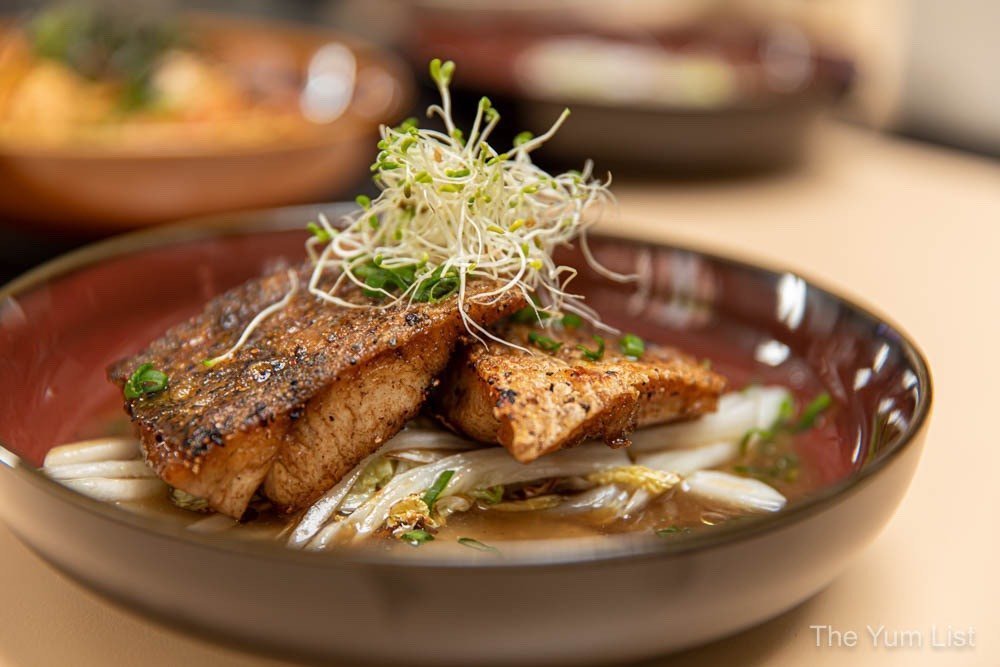 Dessert
The Italian love for dolce cannot be denied, and both desserts today see a twist on the tradition at Wildflowers KL. Coconut Panna Cotta (RM25), as the name suggests boasts a tropical infusion, while Deconstructed Tiramisu (RM25) might have Italian nonnas turning in their graves.
The panna cotta is an eight-month work in progress. It took many adjustments to get it just right, but Ken and Matt tell me that it has now become a blockbuster. Fresh berries contrast the white baked custard. Matt thinks it's good enough to make people want to join a "panna culta." There's an addictive kafir lime and gula Melaka sauce that is drizzled over the tip. The texture is velvety smooth, and a base of Oreo crumbs give just the right amount of contrasting crunch.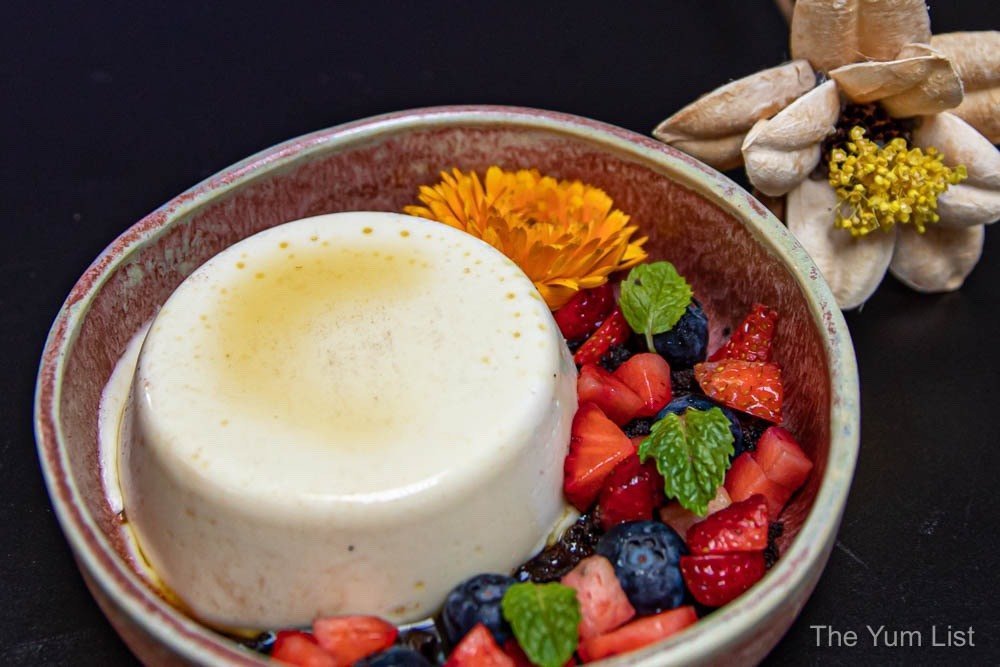 The deconstructed tiramisu is arranged with cream cheese, Ipoh Old Town coffee jelly, chocolate tuile and lady's fingers dipped in soju. It's another combo that balances texture and taste well and is certainly not something you'll find anywhere else in the city, if not the world.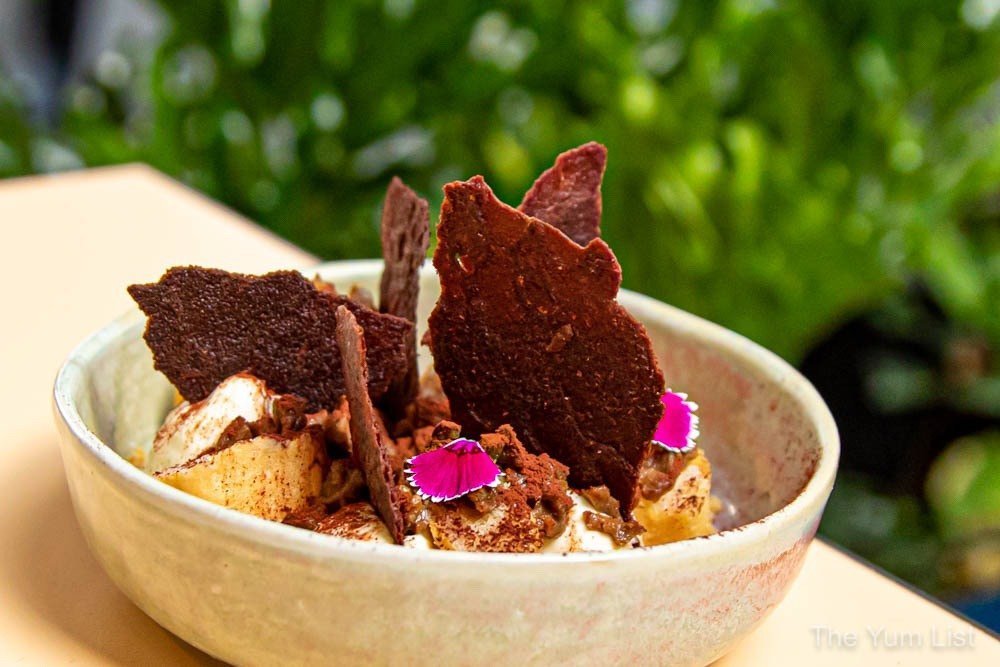 Signature Cocktails
Pairing well with food is a carefully curated list of craft cocktails at Wildflowers KL. Mugunghwa (RM34) is named after the national flower of Korea, due to its soju base. Elderflower liqueur, lemon and lemonade soda top up the spirit making this light and refreshing leaving a pleasant aftertaste that lingers for minutes after swallowing.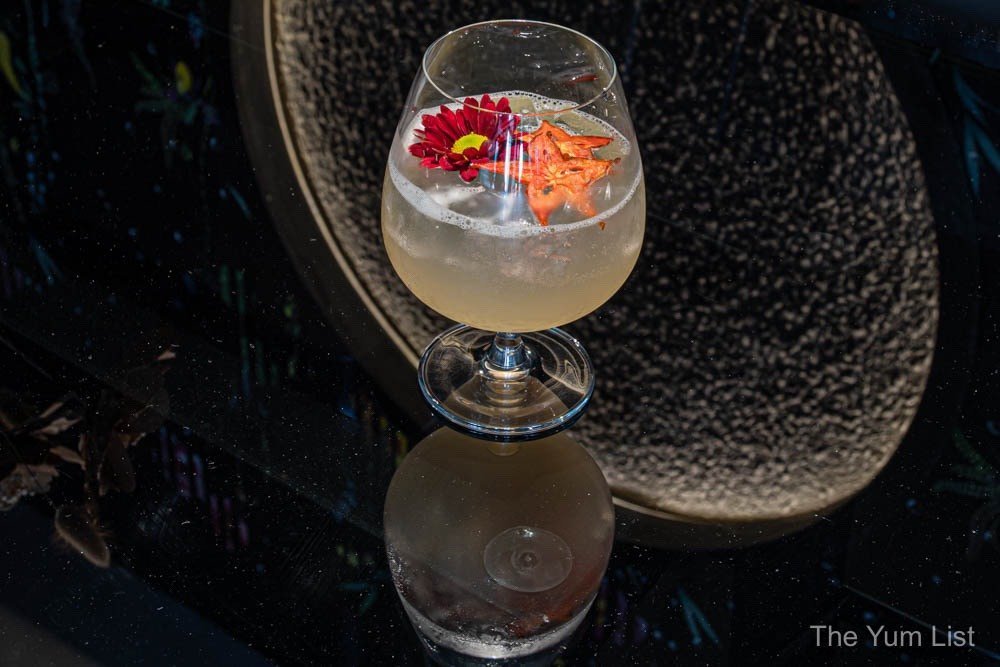 Spirit of Borneo (RM36) uses Sarawak tuak (rice wine) as the base. Violet liqueur, lemon and honey form a pretty blue hue. Garnished with a duo of Maraschino cherries, it's attractive both to behold and to swallow.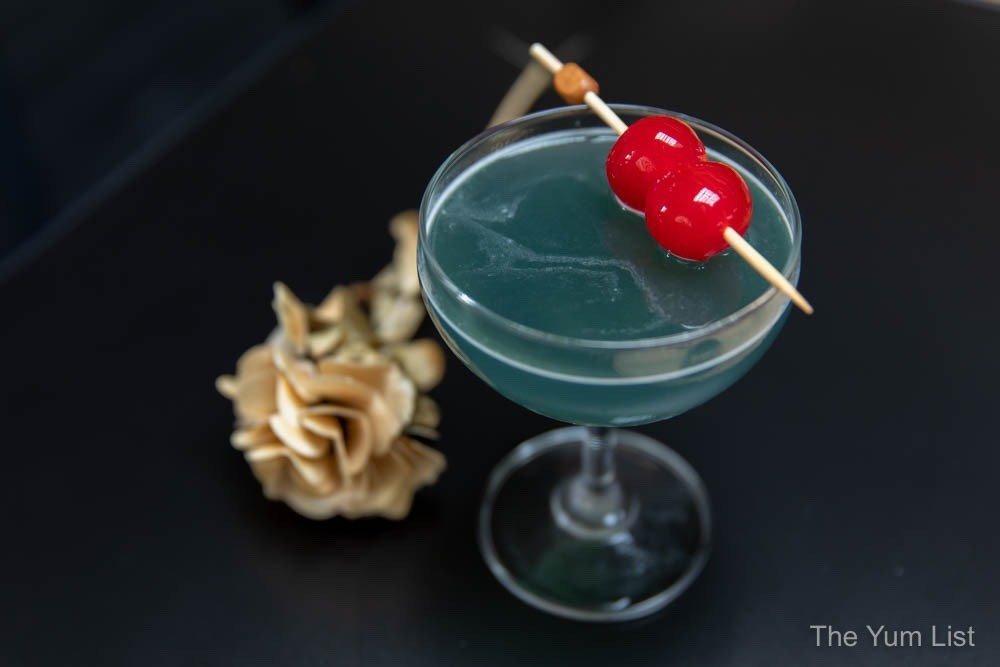 Wildflowers KL Review
It is refreshing to find a restaurant team not bound by the norm; one who grows wildly free in the development of a concept. Wildflowers KL is unlike any restaurant I know in the city. Many will come initially for the design, but even more, will return for the exciting menu of food and beverage.
Reasons to visit Wildflowers KL: value for money; decently sized portions; beautiful setting; refreshingly original dishes; casual fun atmosphere; conveniently accessed by the MRT.
Wildflowers KL
153, Jalan Petaling
50000 Kuala Lumpur
Malaysia
*Five-minute walk from Pasar Seni MRT station
www.facebook.com/wildflowers.kl
+6 03 2856 3369
[email protected]
Wildflowers KL Opening Hours
12 noon – 12 midnight (the last call for kitchen 10 pm, bar open until late)
Closed Tuesdays & Wednesdays