"Bubblicious" High Tea at Hilton Kuala Lumpur
Words: Rebecca Cannon
Photos: Richard Callahan
This was destined to be one of the most exciting days of my life. However, before you think I'm click-baiting, I'll add full disclosure; my life has been pretty dull this past year. I recently moved from the UK, which seemed to be in eternal lockdown, so any chance to step out is a little thrilling. What had me so excited? An invitation to the "Bubblicious" High Tea at Hilton Kuala Lumpur.
I have always had a sweet tooth, and after living several years in the UK, I have learnt to appreciate a good cup of tea. Proper afternoon tea should combine both of these things balanced with some savoury options to not leave you feeling like diabetes is imminent. What's better than an afternoon tea? One in a fancy hotel with Champagne! Hilton Kuala Lumpur – think, a modern Downtown Abbey, the waiters as the butlers. Your company is of the sophisticated society and you the elegant lord or lady. Finally, I had a reason to put on a bra again! Because let's face it, they're optional when you're working from home. I put on my glitzy high heels and, like Cinderella, I headed off to the ball, or the "Bubblicious" High Tea, at least.
Décor and Location – "Bubblicious" High Tea
The Hilton Kuala Lumpur is conveniently adjacent to KL Sentral, making it both accessible and an escape at the same time. Travelling up to the foyer leaves you feeling above all the noise and hustle of the city below. If you are stepping out of your chauffeur-driven car (a Grab totally counts), you will be rewarded with the Hilton's classic sleek interior glamour the moment the doors automatically slide open for you. The furnishings, high-vaulted ceiling, and light streaming in from the floor-to-roof windows opposite made me feel like I was walking into a European concert hall foyer.
The grandiose doesn't end there. As you are shown to your settee, you are handed a copy of the menu, and nothing is ever plain. It's not a lemon meringue pie but a Caramelized Yuzu Citron Tart. The chocolate isn't just from the local supermarket; the berries, purees and chocolates are imported from all over the world. As you gaze over the food that is to come, you have two choices; to go the "Bubbly" option (RM 296 for two) or the alcohol-free option of English Breakfast Tea (RM 250 for two). You decide how you want it.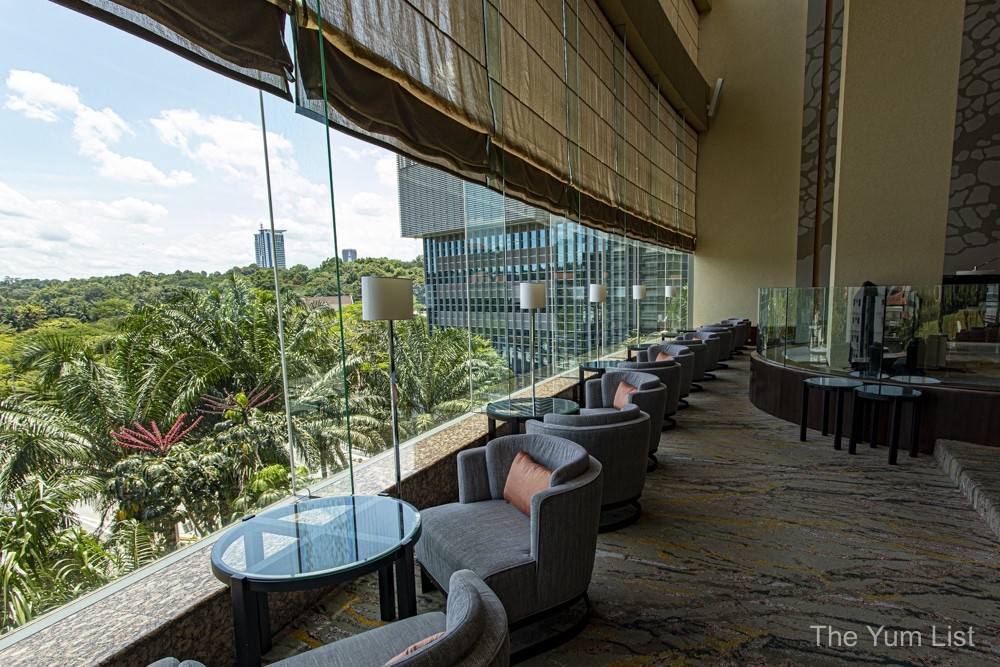 Perrier-Jouët Grand Brut Champagne
Perrier-Jouët Grand Brut is the bubbly on offer. It is a true Champagne, made with all the three varieties of grapes Pinot Noir, Pinot Meunier and Chardonnay. It's a smooth, dry Champagne, with the Pinot Meunier ensuring you taste the fruitiness upfront. It is known for its minute and lively bubbles, which I enjoyed watching almost as much as I enjoyed drinking it. Overall, I found it to be well-balanced with hints of honey and citrus and, of course, wonderful floral notes thanks to the Chardonnay. This festive Champagne was perfect for the occasion when combined with Executive Chef Kazi's and Executive Pastry Chef Akram Ali's culinary mastery. The Cajun Spiced Roasted Chicken and Corn Tart with this Champagne? Insert the sound of a wildly exaggerated chef's kiss here (whose French, of course!)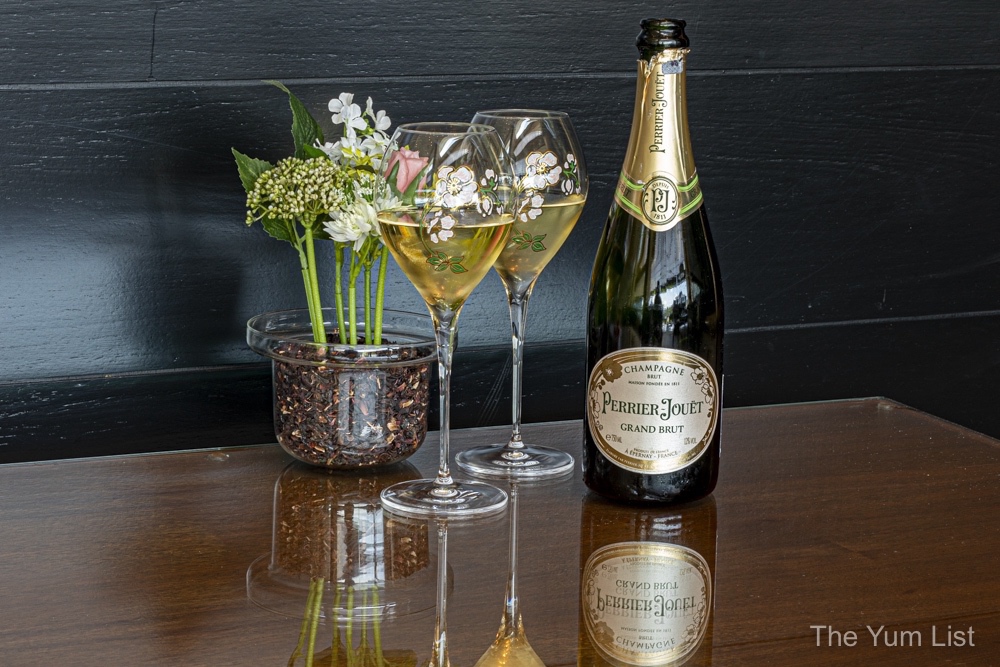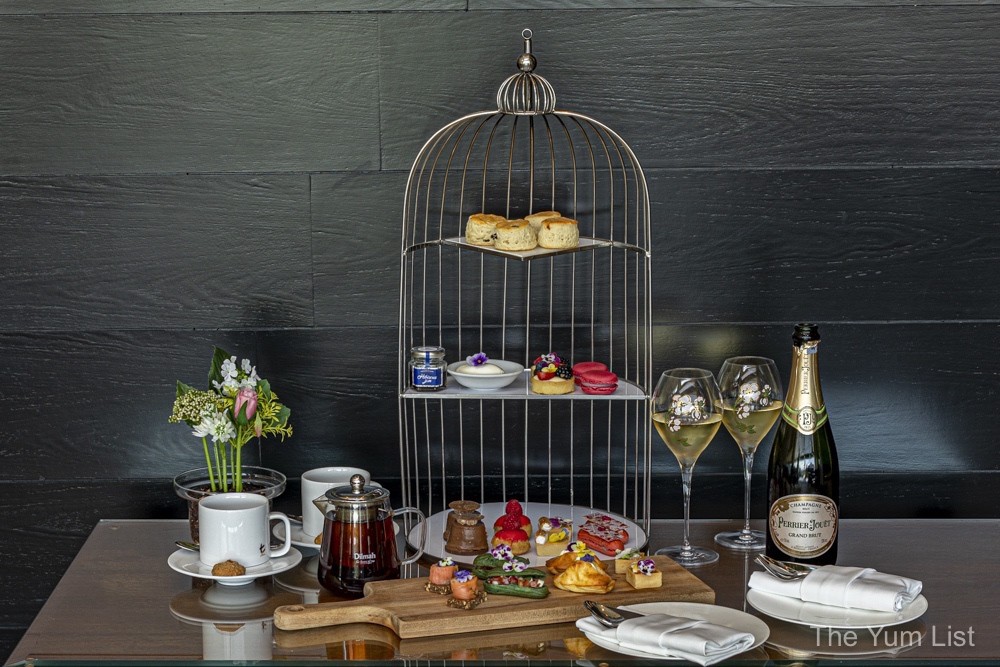 Savoury
The savoury canapes served on their separate board were; Basil Éclair with Semi Dried Tomato, Mozzarella and Fresh Basil, Salmon and Crabmeat Roulade on Toasted Vollkornbrot Crouton with Micro Cress, Cajun-spiced Roasted Chicken and Corn Tart with fresh Dill and Parmesan-Herb Crusted Madeleines. I was curious to see an éclair listed in the savoury section. However, this is accurate. It is a unique mouthful with the airy texture and slight hint of sweetness of an éclair but basil-flavoured, hence the savoury. Its contents are like a bruschetta without the cutting vinegar and oil.
As you can probably guess from its name, the Salmon and Crabmeat Roulade on Toasted Vollkornbrot Crouton is a taste of the sea. The Parmesan-Herb Crusted Madeleines looked ready to burst with their freshly piped in cheese. The Madeleine combination made it the perfect transition to the sweets, cakey yet still savoury. My favourite of this section was the Roasted Chicken and Corn Tart. A perfectly-sized nibble, the pastry was buttery and crumbled as I took a bite. The winning combination of diced chicken and corn was enhanced by the fresh dill.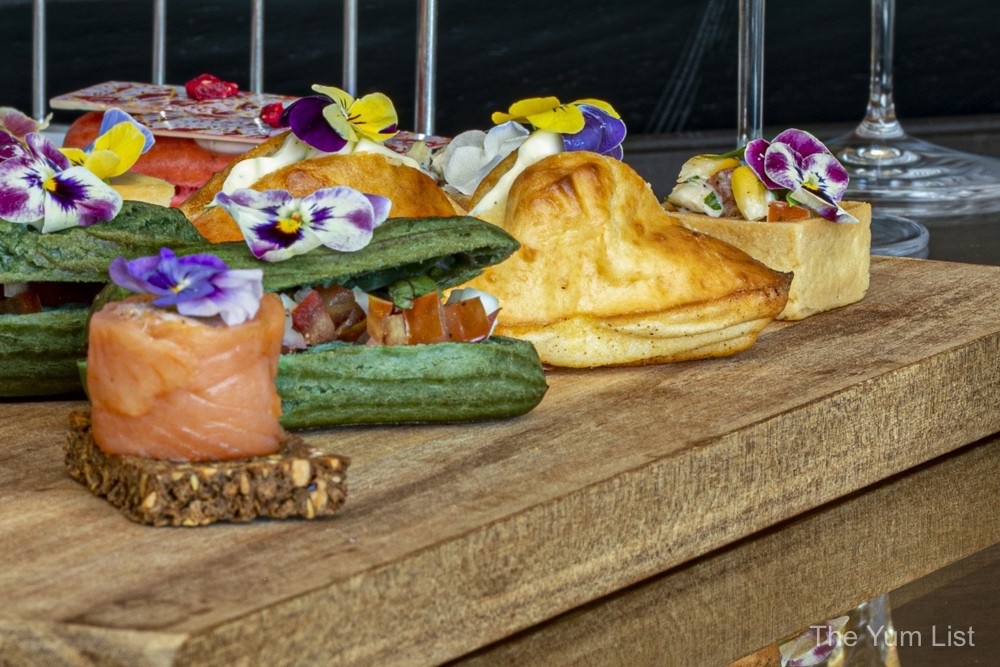 Scones
Is it even a high tea without scones? For the scone devotees among you, here is the information you need to know. There were two varieties served, Classic Plain and Raisin. They come uncut, as is proper, with Devonshire whipped cream and the Hilton's Homemade Hibiscus Jam. I will now weigh in on the centuries' old argument… because the cream is Devonshire, they ought to be eaten with the cream layered first. However, I prefer the jam touching the scone and the cream on top. The cream was like a cloud. There was no resistance or runniness when I put the knife in. It sat there, pure white and fluffy, just waiting to top off the scone. I sat for a long time trying to decide how best to describe hibiscus jam to you. I even ended up eating it straight from the jar! To put it simply, it's still a jam but with a floral rather than fruity taste. The jam lumps are not large and round, but small and stringy; the benefits of using flowers as opposed to fruit.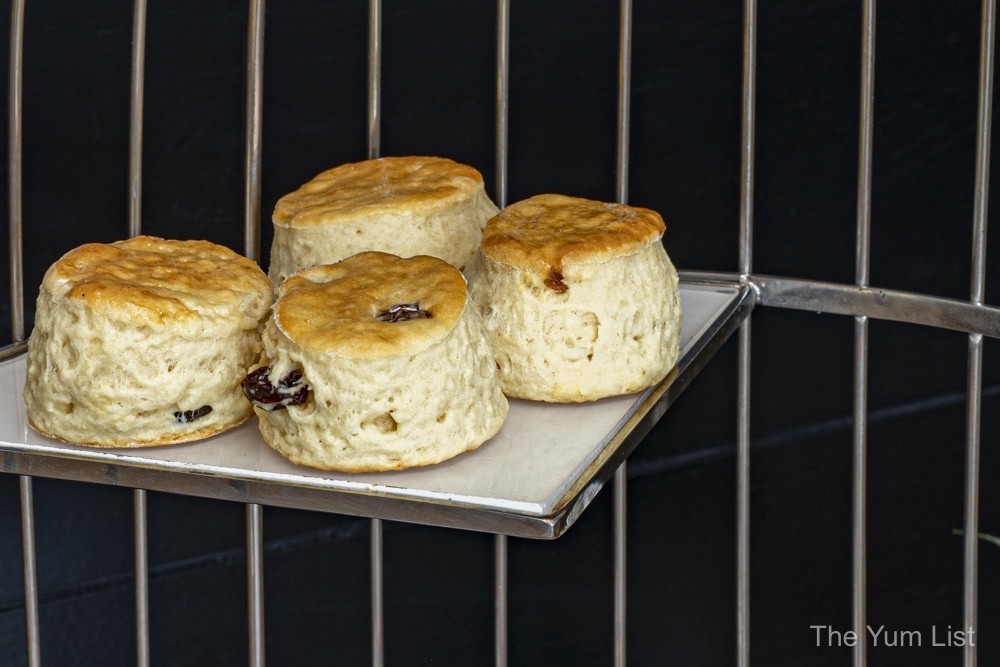 "Bubblicious" High Tea – Pastries
Once finished with the interlude of scones, it was time for the next act; pastries! There were five delectable pastries, and it is now that I recommend you swap your Champagne for the tea. First, cast your eyes over this section in the birdcage. Whilst all the food was presented like individual art pieces, the pastries really shone with their edible garnished flowers and their bright jewel-like or deep chocolatey brown colours. Where to start?
I went for the brightest and started with the Ruby Éclair with Strawberry Mousseline Cream, which had a thin layer of decorative white chocolate on top. And I mean decorative, think your Grandma's flower wallpaper patterned on-top. I stayed on the fruit and was soon taking my first bite of the Luxe Berrylicous Tart. The cream oozed out as the pastry crumbled beneath. Chef Kazi must love all berries equally as there was a fresh one of each on top, perfect to be smothered in the cream below.
The Raspberry Mascarpone Religieuse also included a fresh berry crown with a creamy filling. I saved the best for last. Chocolate lovers will fall for the Milk Chocolate Praline Noisette on Chocolate Sable. This maintained its shape as I ate it. While the filling is intense chocolate with the praline providing a heavenly crunch, the biscuit is drier bitter chocolate. This is masterfully played by the chef. A richer biscuit would send you over the edge from bliss to chocolate overload food coma. A terrible thing when you are trying to maintain a classy princess standard. Though I might have already ruined that by getting some on the milk chocolate dobbed on my nose as I tried to take a bite, I recommend a fork for the rest of you.
Lastly, the Caramelized Yuzu Citron Tart with a crispy meringue was an agreed favourite amongst us. After all, who can say no to sweet citrus with pastry? The curd was fantastic, and the meringue was still soft on the inside with a nice slight burn on top. First the whipped cream and now the meringue! The Hilton Kuala Lumpur chefs definitely know how to aerate.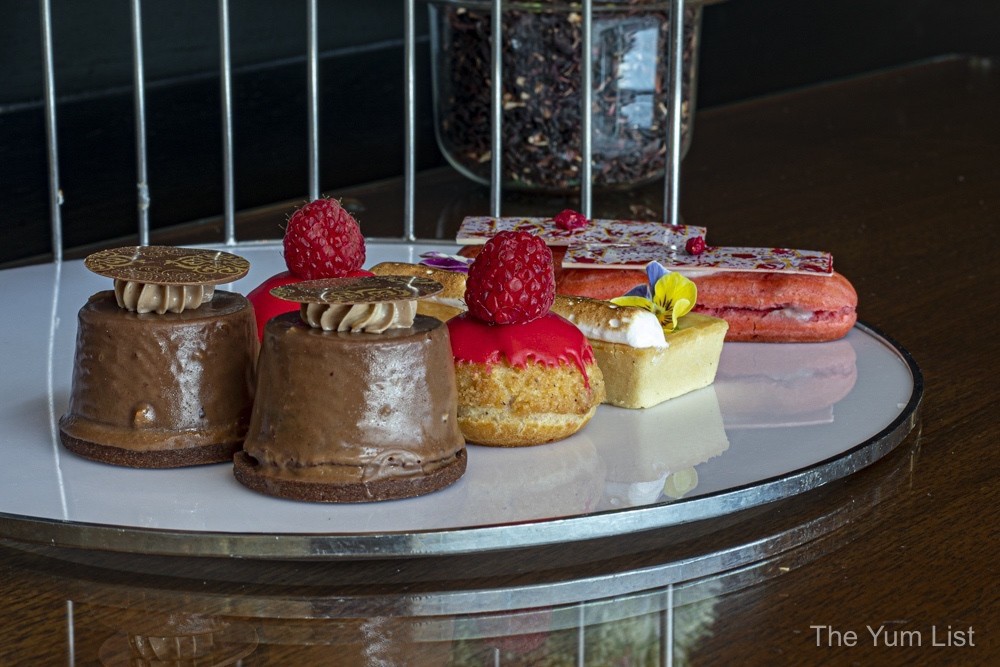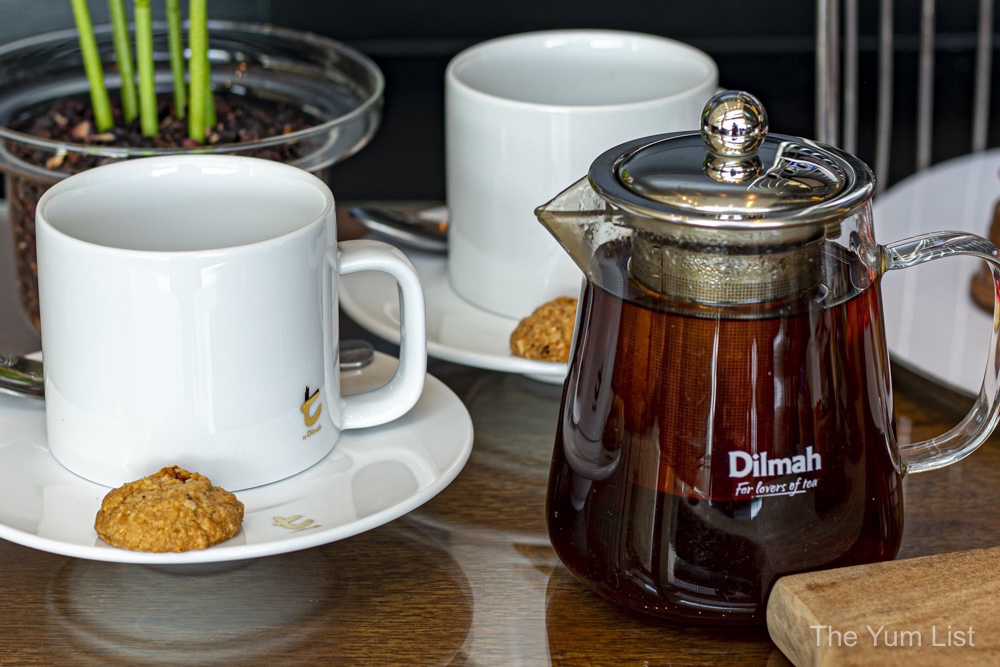 Petite Fours
High tea does not finish with the pastries. There were the petite fours to be slowly enjoyed over the last of the tea. The team's version of Petite Fours is Macaroon Framboise or raspberry macaroon for the English speakers. It is a well-executed macaroon, with a crispy-thin crust, soft centre filled with berry and almond flavour goodness. It had the added bonus of some jam to tie the two slices together.
Bubblicious" High Tea Review
I thoroughly enjoyed my time at the Hilton Kuala Lumpur's "Bubblicious" High Tea. The food is presented artfully with each piece arranged by hand and garnished with individual edible flowers. The setting is both convenient and genteel. I was simultaneously relaxed and awed from the moment I walked through the foyer. I could easily have passed the afternoon in my comfy chair sipping tea, snacking and watching the world go by. The food is thoughtfully prepared to mix well with mutually enjoyable flavours of dill and lemon running through many dishes. As it arrives in one set, you do not have to wait on the staff to serve you. This allows you and your partner the privacy to take it all in. I thought the price was reasonable if you remember that you get value from the quality of the ingredients, not the quantity, the setting and the gracious service that puts it all together.
Reasons to try Hilton Kuala Lumpur's "Bubblicious" High Tea: Recommended for those who want to treat themselves; perfect afternoon for two; Perrier-Jouët Grand Brut Champagne.
"Bubblicious" High Tea at Hilton Kuala Lumpur
3 Jalan Stesen, KL Sentral,
50470 Kuala Lumpur Malaysia
www.eatdrinkhilton.com
+6 03 2264 2264
"Bubblicious" High Tea at Hilton Kuala Lumpur
Available from 12.30 pm – 5.30 pm Saturday & Sunday for April and May 2021
Find more spots for afternoon tea here and stay up to date with the latest culinary happenings around Malaysia here and here.