The Butter Pantry
Words: Monica Tindall
Photos: Rich Callahan
The Butter Pantry in Ampang was born over the MCO. Opening its doors at the end of February 2021, the sister team behind it, Emmy and Evelyn, were previously running an online bakery, The Last Bite. Choosing to embrace opportunities rather than worry over struggles, they partnered up with Min (who owns the restaurant downstairs from the site) to create a brick and mortar establishment. The Butter Pantry not only acts as a real-time store for Evelyn's luscious baked goods but offers a space for people from all walks of life to relax and enjoy the setting.
The Butter Pantry
The Butter Pantry is open and spacious. Clever design, such as open walls and mirrors, further contribute to its roomy appeal. Polished cement and timber panels are enhanced by potted plants, a variety of seating, and hanging lamp shades. A long rectangular window overlooks a row of lush pine trees. Easy-listening music makes it a comfortable place to pass the time. Dotted around the room are people working on laptops, small business meets, solo diners and friends chatting over coffee. Many will feel welcome here.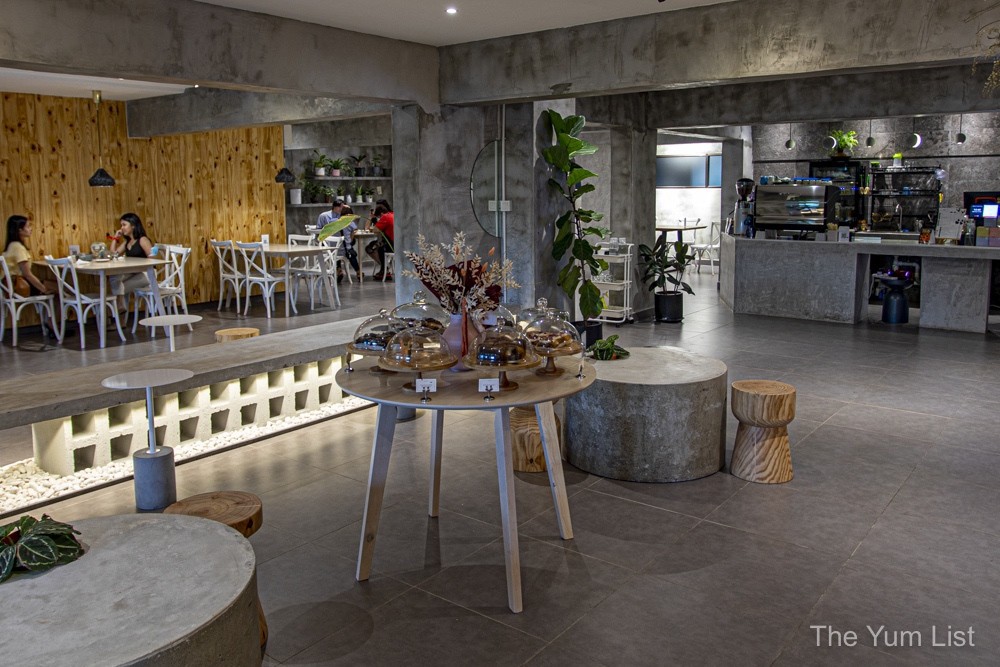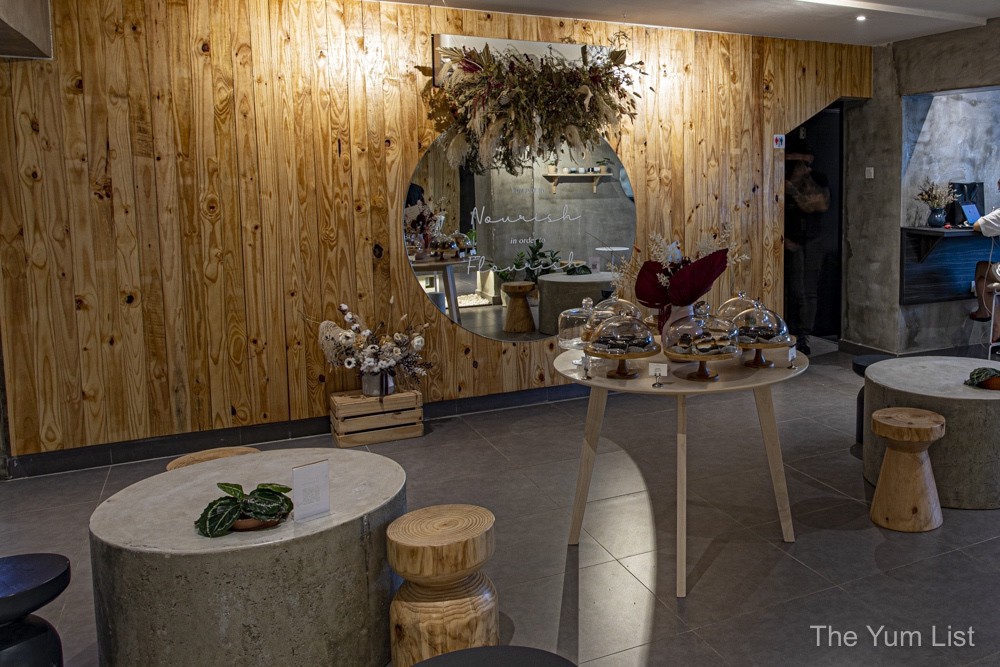 The Butter Pantry Drinks Menu
Hot and cold beverages, caffeinated and not, are all on the menu at The Butter Pantry. We begin with a Hojicha Latte (RM 12) and Cappuccino (RM 12), flawless on this thunderstorm-laden afternoon. Small ceramic cups hold perfectly foamed hot beverages. Sourced from an artisan potter in Thailand, Cone No. 9, the wares are also available for purchase.
We follow with a cool Yuzu Matcha (RM 12) featuring two of my loves – the citrus and intense powdered green tea. In an original presentation, yuzu marmalade layers the bottom. The matcha is topped up with soda making a refreshing, light drink. Kombucha (RM 13.5) also makes me happy. Two local fermenters provide a handful of flavours. We're tempted by the latest by Wild Kombucha, Lychee Rose. The bubbles are fine, and the floral and fruity notes elegant. Yum.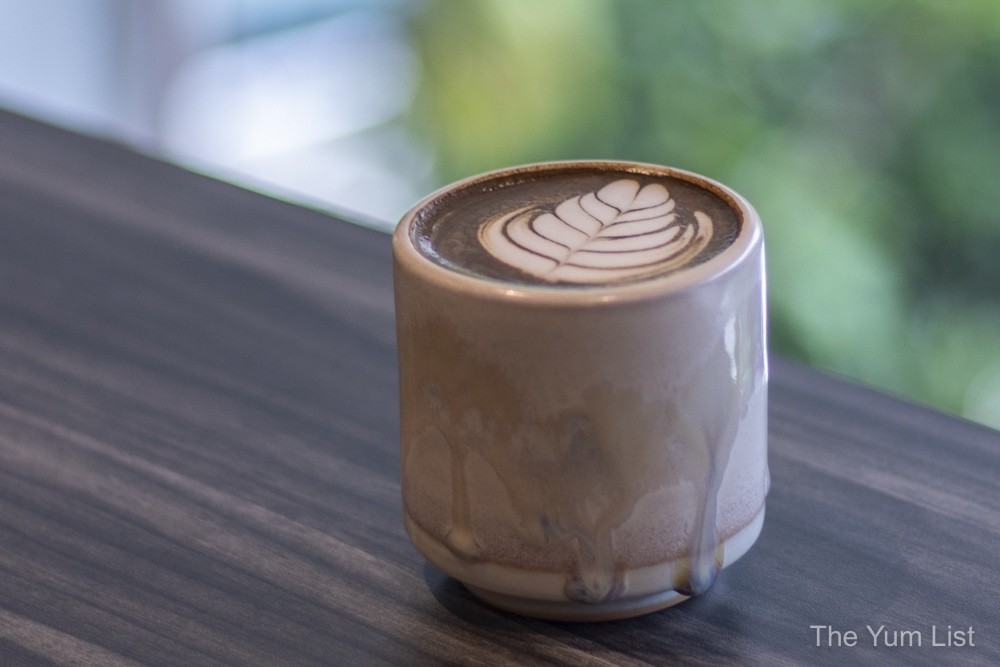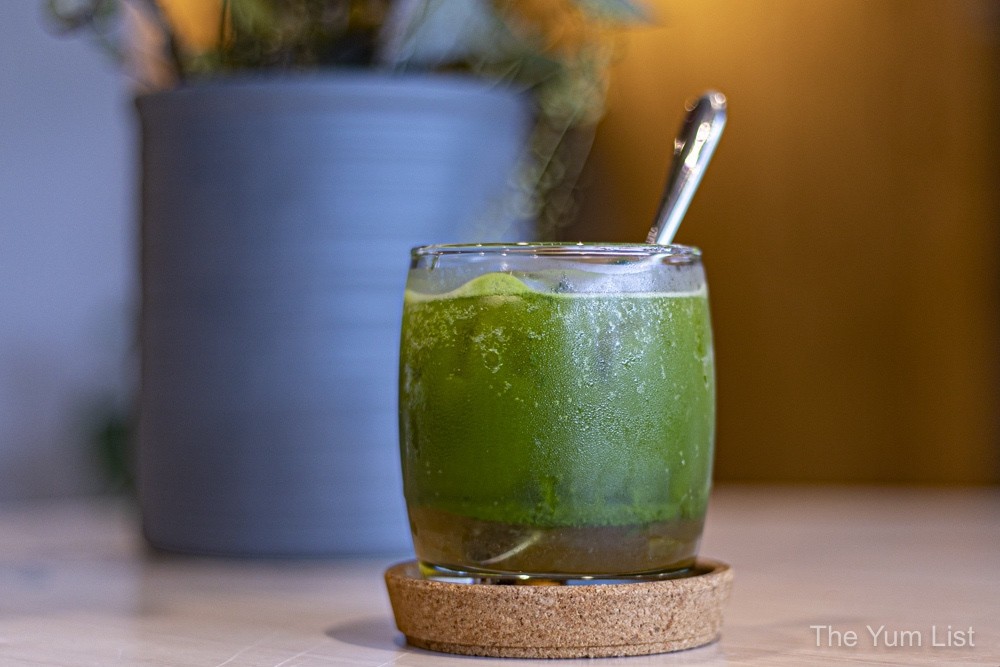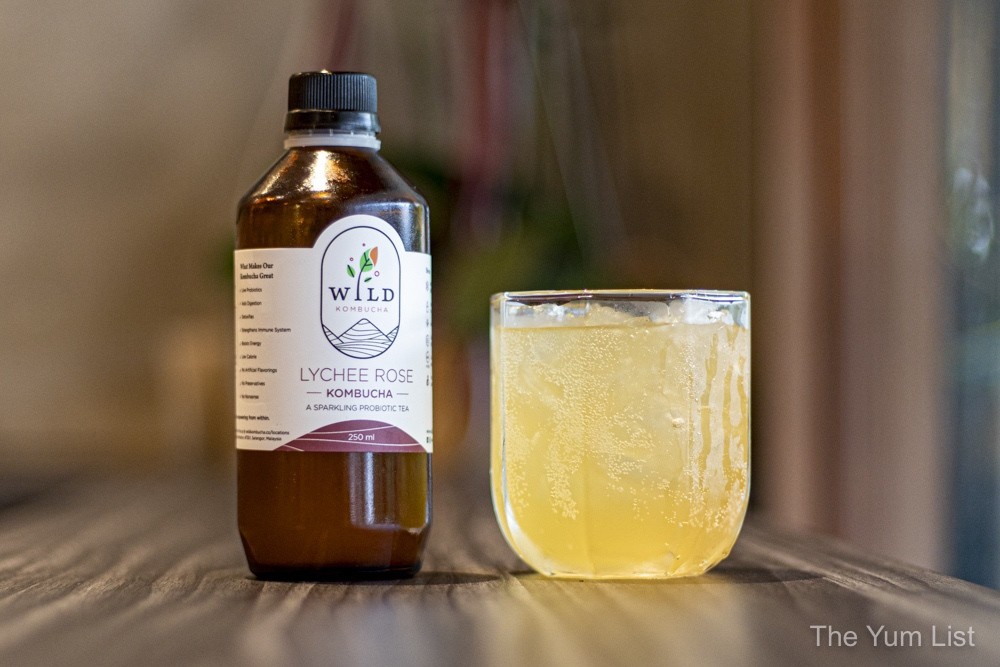 The Butter Pantry – Cakes & Pastries
Cakes and pastries compose an enticing sweet selection, and given the owners' background are a must. They're reasonably priced, starting at RM 6.50 and going up to RM 18. However, most hover around the RM 10 mark. Two people could dine with a drink and snack for around RM 50 here. Their gluten-free range is also appreciated, with some luscious looking varieties on display.
S'mores Brownie (RM 10, gluten-free) was the first to catch our attention. A torched marshmallow centred by a square of milk chocolate rests over a thick, dark, intense chocolate square. Forks are rewarded with a sticky, sweet goo when slicing through the marshmallow. In a direct colour contrast and a must on café menus, it seems this year, is Burnt Cheesecake (RM 16). The Butter Pantry's edition is smooth and creamy with just the right amount of sweetness. We also try a little square of Carrot Cake (RM 10), which is prettied up with cream cheese and a fetching sprinkle of rose petals. There's substance beyond looks too. We find a moist cake loaded with walnuts underneath the pretty veil. Lastly, a plump Scone (RM 8.50), well made, comes with butter and strawberry jam.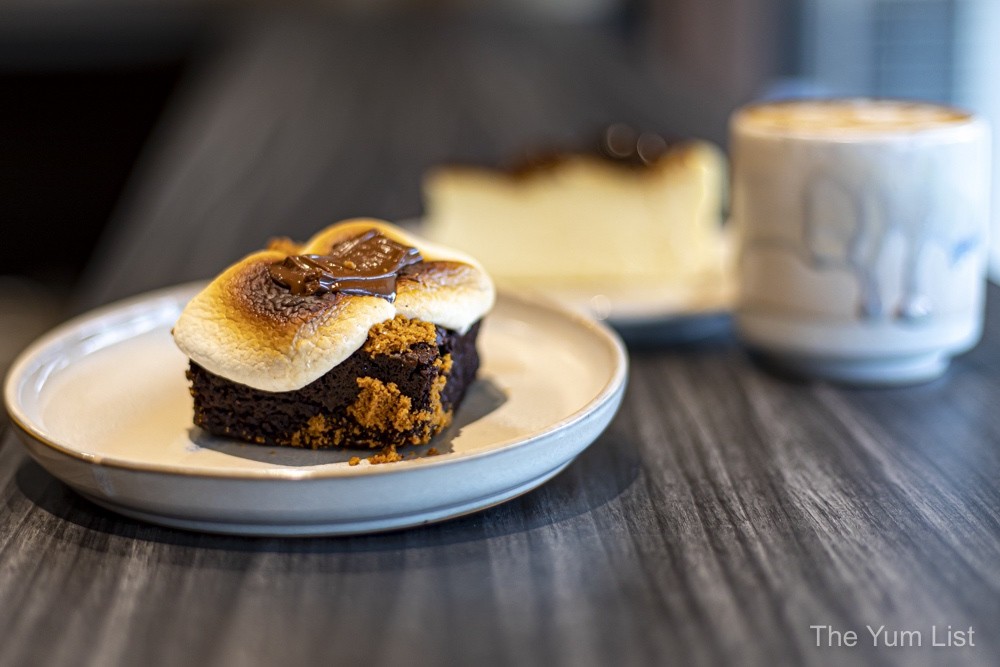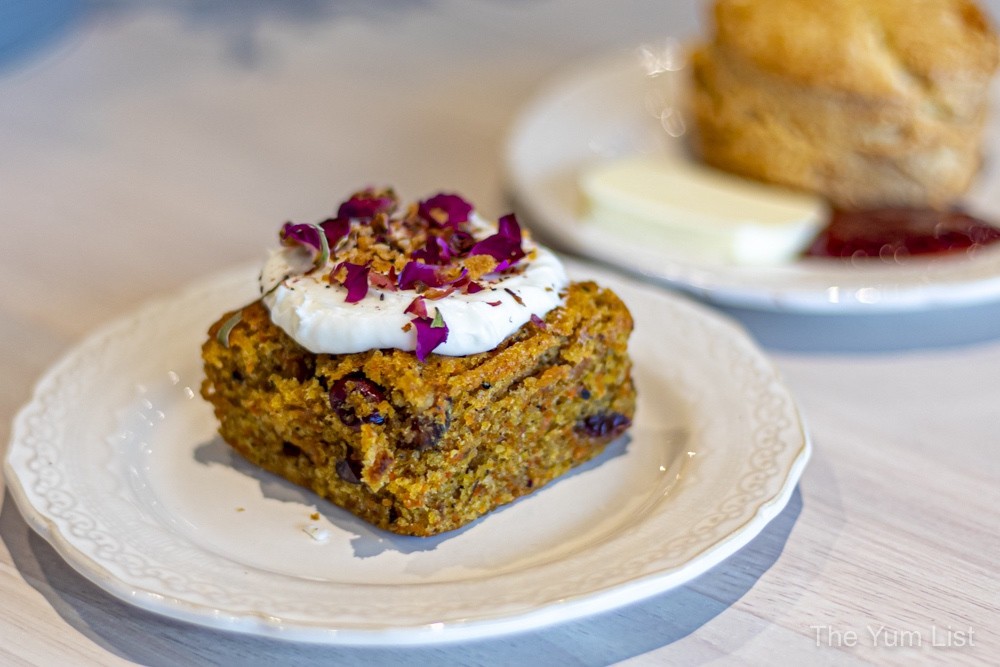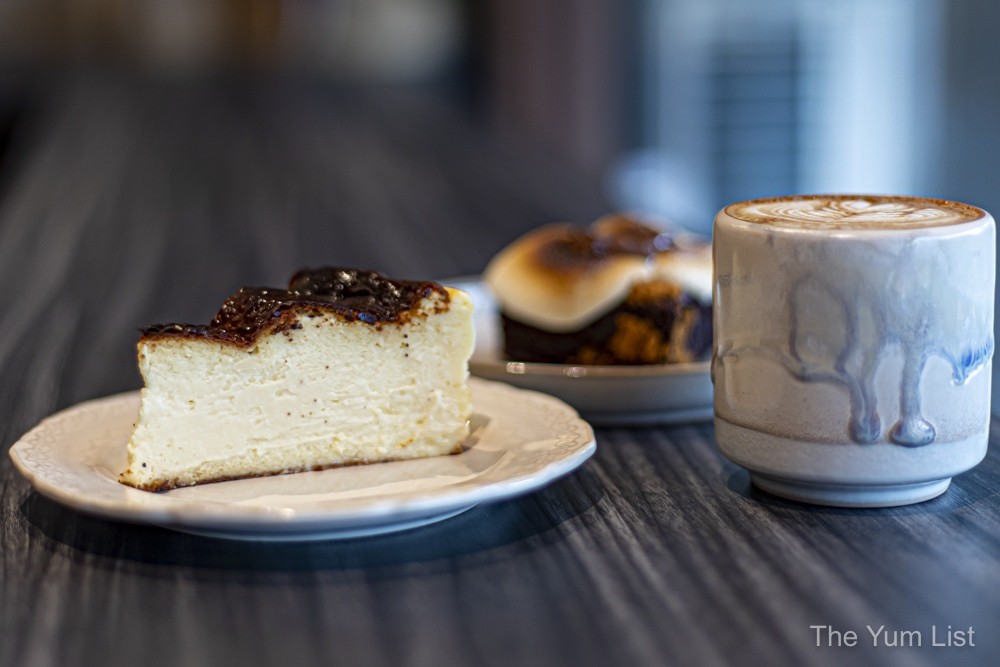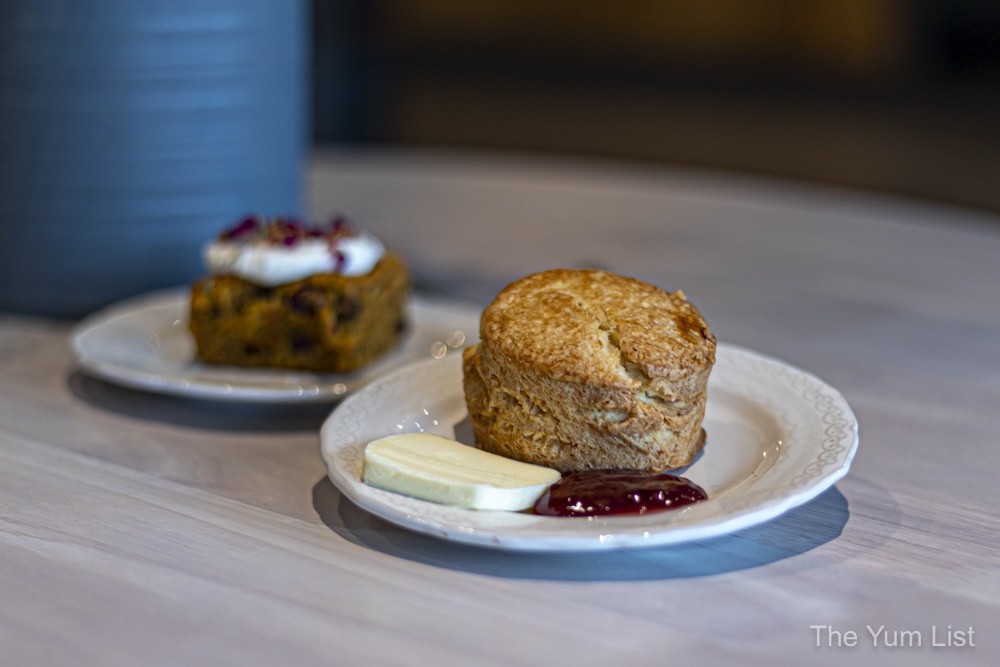 Food Menu
A drink and a slice of something sweet would be enough for many. That, combined with the enchanting setting, makes for a pleasant afternoon. However, the team at The Butter Pantry do offer meals on their menu too.
Light Nibbles
Butter Pantry Chicken Wings (RM 20) are gluten-free. Handily, the menu is marked with vegan, vegetarian and gluten-free choices making choosing easy. These wings are a nicely balanced recipe marinated in the chef's secret sauce and served with sriracha mayonnaise. They're excellent: moist in the middle with a thin crisp coat.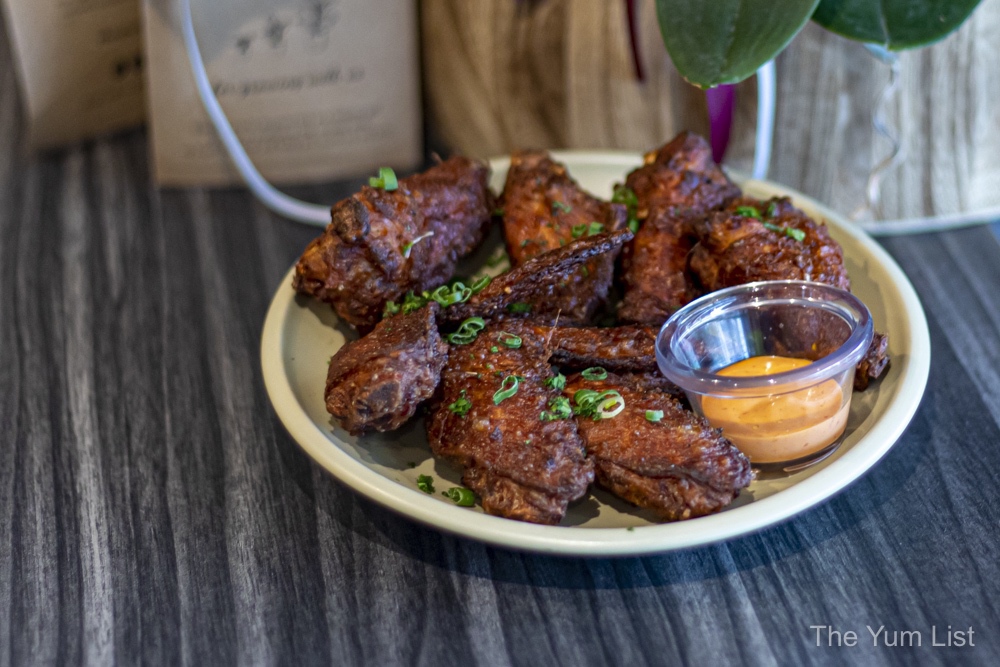 Tartines & Sandwiches
With baking being the chef's speciality, you can't go wrong with sandwiches. Mushroom & Miso Tartine (RM 19) showcases the chef's expertise in making fantastic spongy sourdough. The seeded loaf has a good chew to the middle and a firm crust. A medley of sauteed mushrooms, spinach, miso cream cheese, and honey roasted seed mix top the slices. It's a vegetarian choice and packed with flavour.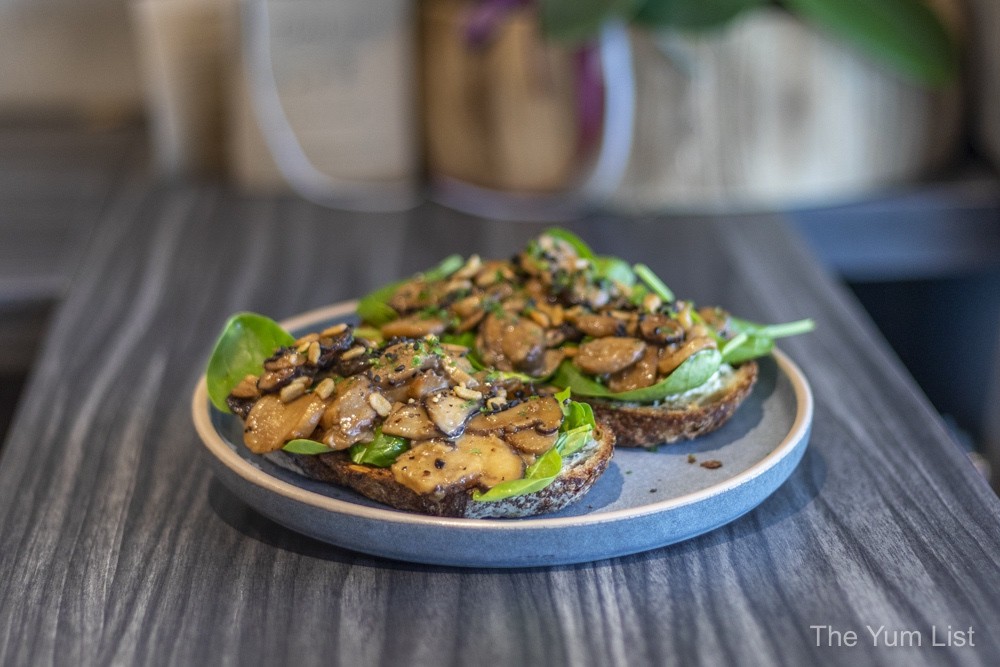 Another veggie option, the Avocado Toast (RM 25), is a popular pick for good reason. Smashed avo is gifted a touch of spice with chilli flakes. It's made into a complete meal with scrambled eggs, mixed greens and a sprinkling of sunflower seeds.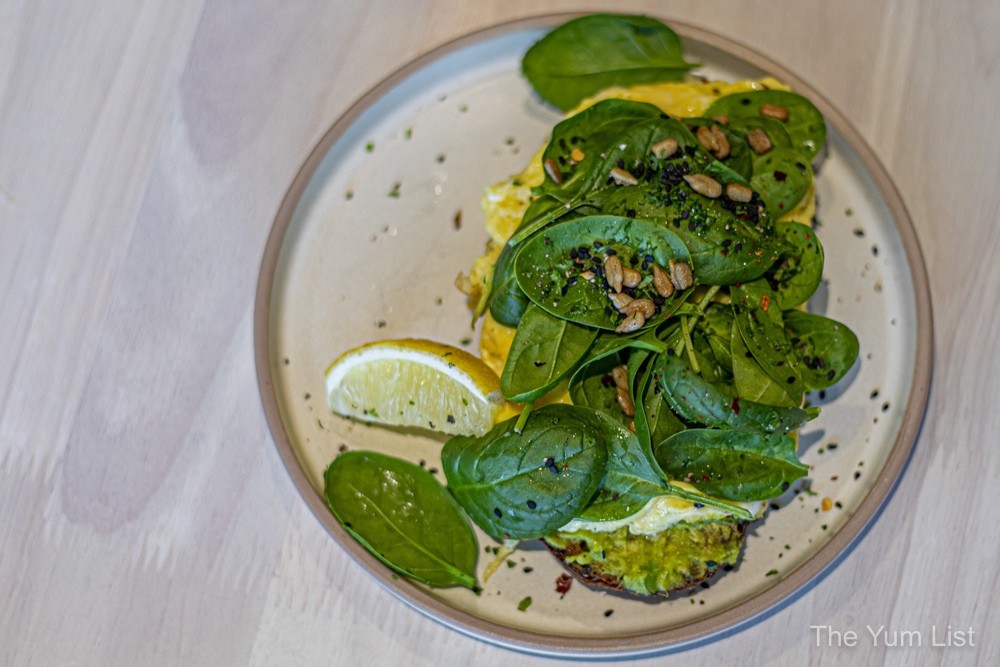 Arriving well-toasted, thick slices of the house-made sourdough envelope the Gyutan Grilled Cheese (RM 25). While the melted cheese oozing from the sliced middle is the immediate highlight, there's something exciting hiding on the inside – grilled thinly sliced beef tongue. They have not been stingy with the butter either. Spread on both the inside and outside of the bread, enhances the grill and leaves a richness in the mouth.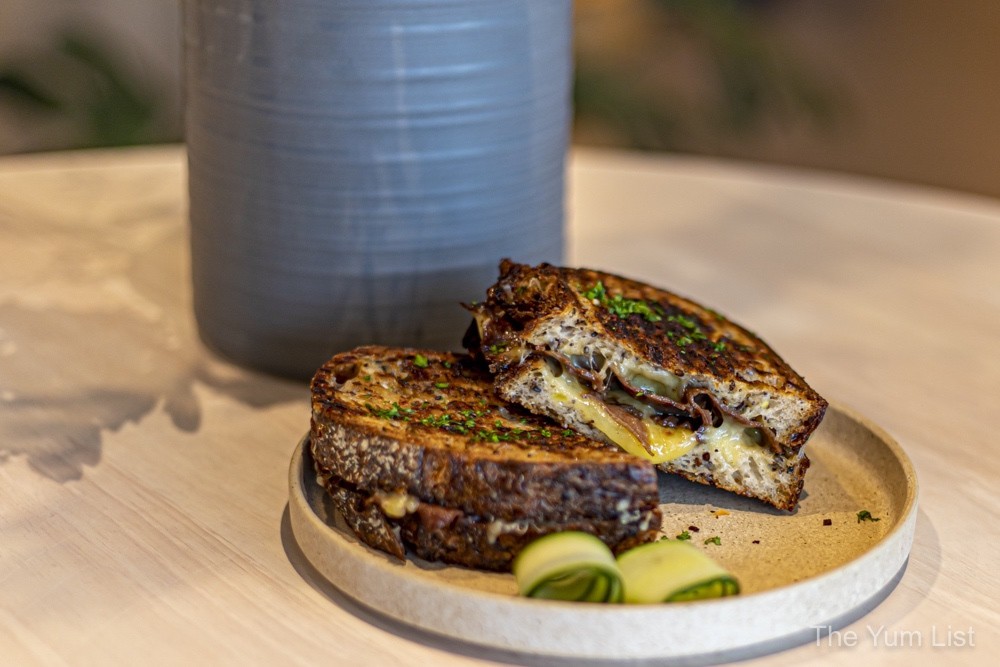 Mains
Penne Alla Vodka (RM 25), a meat-free option, can be topped up with house-made ricotta cheese (+ RM 5) if you so choose. It's a warm, comforting bowl of pasta barrels covered in a creamy and mildly spicy sauce. I don't taste much spice at all. I imagine this being a highly satisfying order for a few children I know.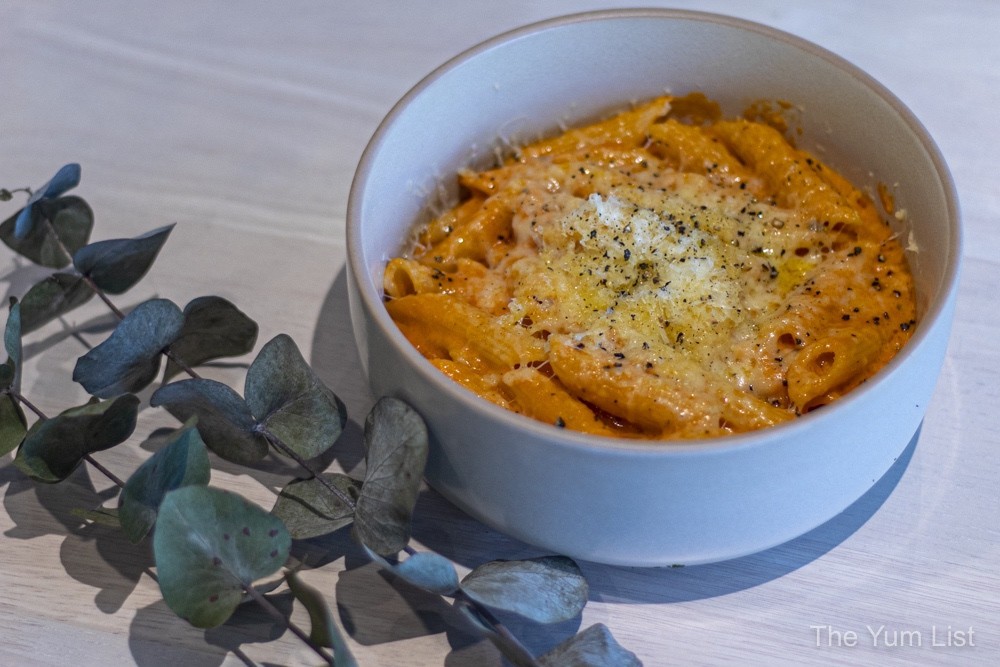 Reasons to visit The Butter Pantry: charming setting; heaven for the sweet tooth; decent coffee; pretty views; I'd return for the avocado toast and kombucha while Rich would be back for the carrot cake in a heartbeat.
The Butter Pantry
C6-M & C7-M, Jalan Ampang Utama 1/1
One Ampang Avenue, 68000 Ampang, Selangor, Malaysia
+6 03-4266 5502
www.facebook.com/thebutterpantrykl
The Butter Pantry Opening Hours
Monday: closed
Tuesday to Sunday: 9:30 am – 7 pm
Check opening hours as they have plans to open later until 10 pm on weekends.
Find more of our favourite cafes in Kuala Lumpur here and stay up-to-date with the latest gourmet and travel recommendations for the country here and here.