Eat and Cook – Bukit Jalil
Words: Claire Matheson
Photos: Monica Tindall
Trust in Lee – A Malaysian Omakase Adventure
According to the Michelin Guide, "Few formal dining experiences are as revered or as intimidating as omakase." It takes an experienced diner with a sense of courage and adventure to place themselves fully in the hands of an omakase chef. Newly opened in 2021, Eat and Cook is a Malaysian gourmet omakase experience, where the chef's artistry and craftsmanship will guide you through an odyssey of courses. Each plate brings new twists and revelations, filled with wonder.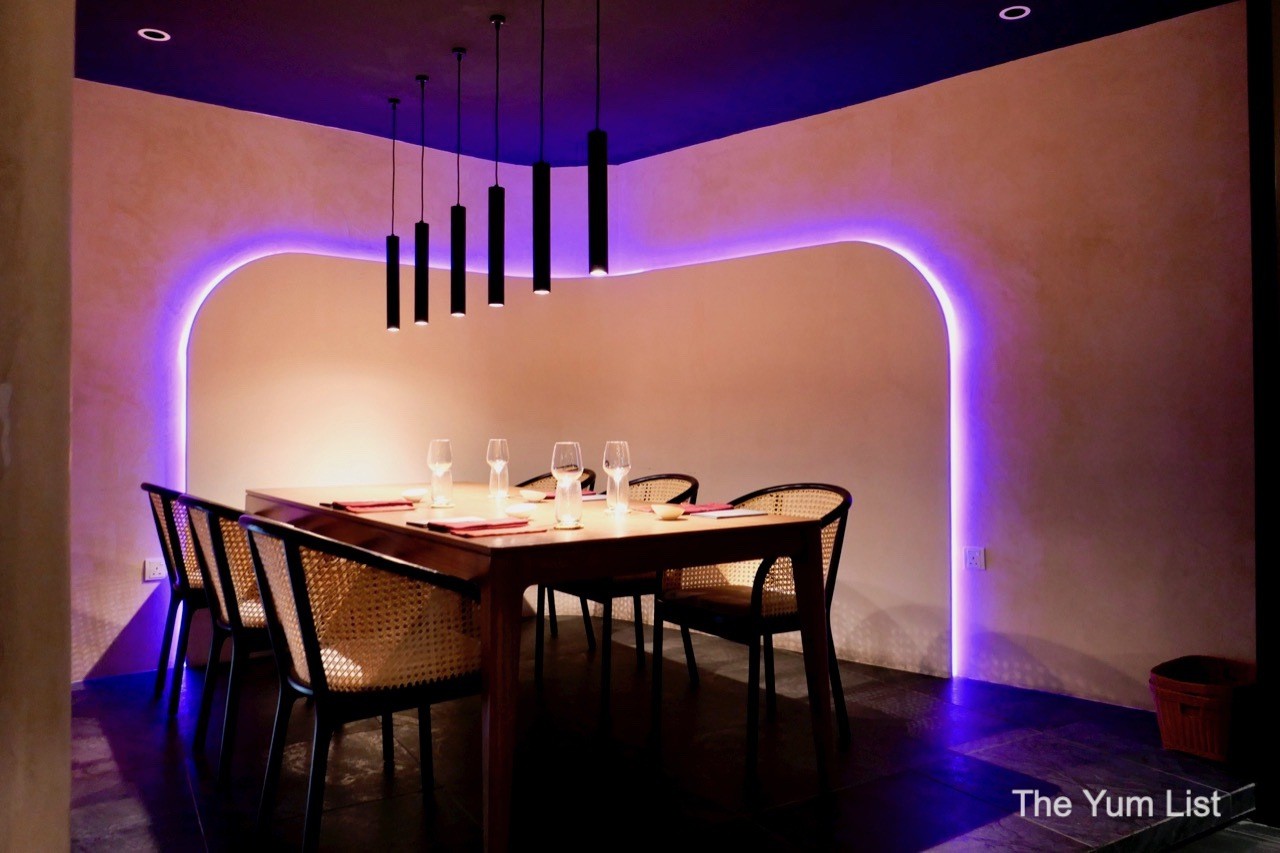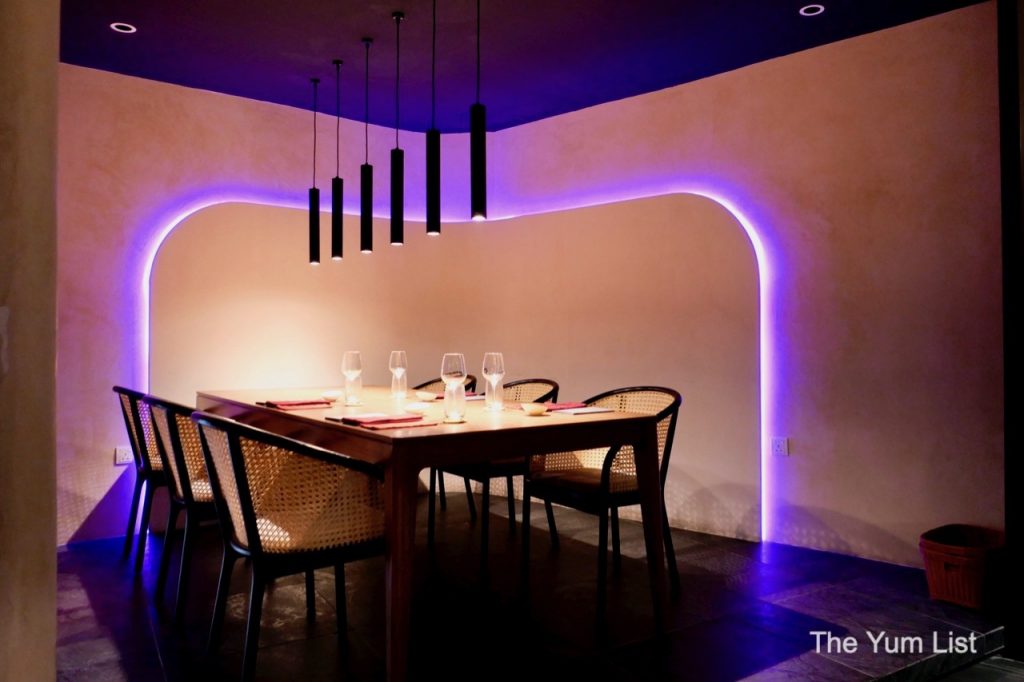 Eat and Cook, Bukit Jalil
To truly appreciate omakase-style dining, you need to bring an open mind and take a leap of faith. Tonight we place our trust in Chef Lee Zhe Xi and the team at Eat and Cook. They seek to tell each ingredient's story, creating a tasting menu expedition to surprise and delight. Dishes are highly creative, elegant and of the highest quality and may change based on ingredient availability and seasonality. Lee and his team are not averse to snap swap-outs depending on the quality and the freshness of new and interesting local produce. Menus are temporary and shifting, which is half the fun.
Entering through Eat and Cook's black curtain, you are greeted by a small intimate space. A stunning black and tan marble chef's preparation island is the spotlit stage for gastronomical drama in the centre. Encircling the island space on three sides, a long low wooden bench seats thirteen, with additional seating for a table of six in an alcove off to one side. The black lacquered and natural Malaysian woven cane dining chairs accentuate the black and natural spacial theme.
On the walls, black glass mirrors are low lit, and your eyes are drawn to the curving navy blue ceiling, giving the impression of a secretive cave – a cavern of delights. More black glass overhangs the wooden bar, mirroring the plates of food, allowing you to drink in the experience from every angle. The atmosphere of Eat and Cook is one of electric anticipation.
Chef Lee crouches down in front of us and chats to us about tonight's experience. He's warm, affable and excited to share his creations throughout the evening, true to the omakase experience. Chef Lee takes the time to honour the journey behind each dish before we eat. He explains individual ingredients, where they have been sourced from, and how the flavour elements combine and play off each other. The talent and innovation of Eat and Cook's chefs are already humbly apparent.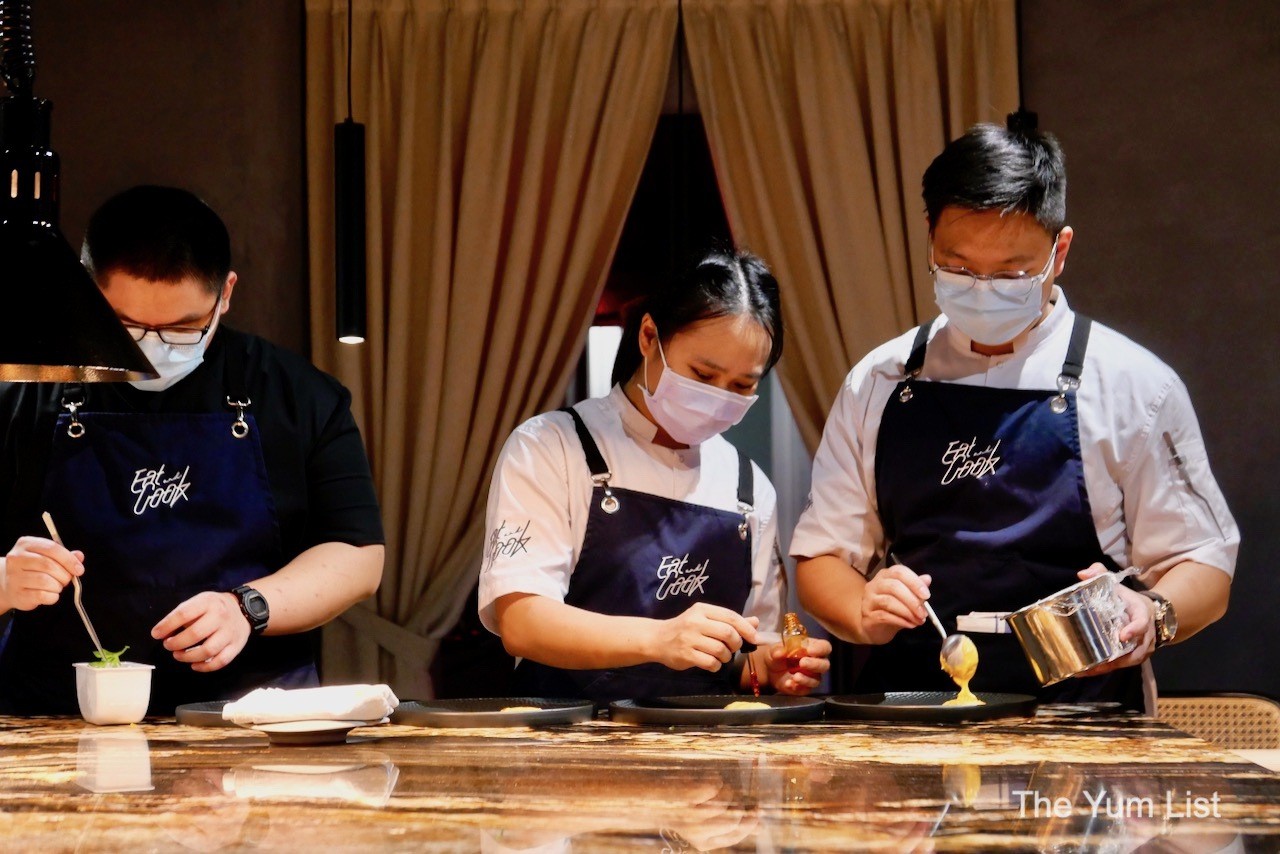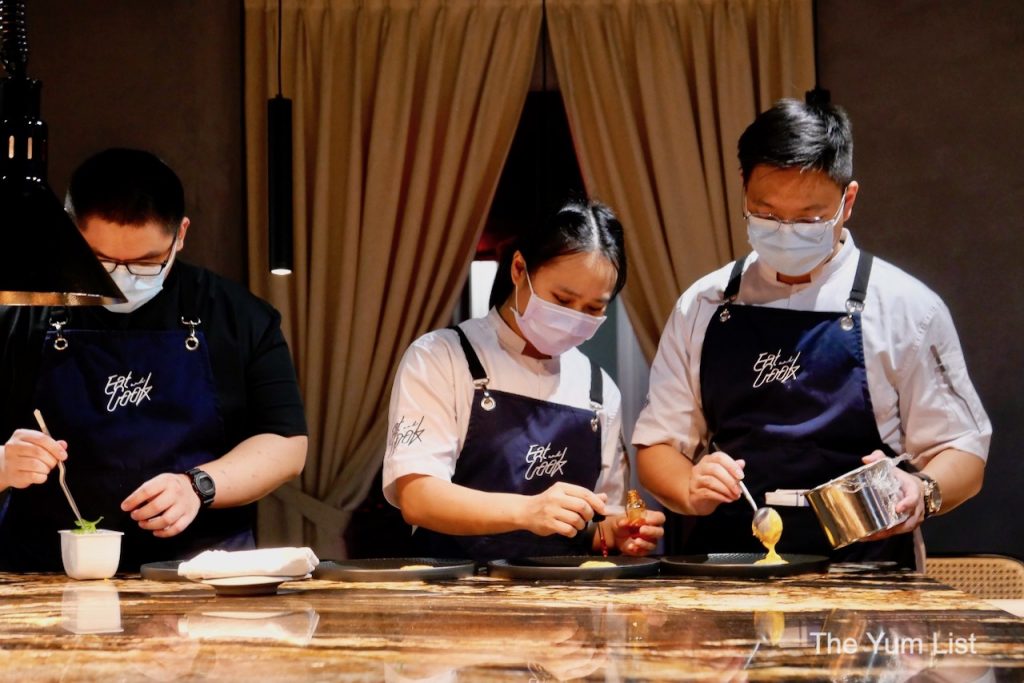 Eat and Cook Omakase
This highly personalised service is echoed throughout, and each Eat and Cook guest is honoured with shared storytelling. Chef Lee and his exceptional team guide you through the adventure of dishes. Tonight our odyssey encompasses eight courses (RM380++) with a wine tasting selection. The hieroglyphic menu provides only a hint of a single hero ingredient. At the end of the evening, it will make perfect sense, but at the beginning, its cryptic clues add to the woven sense of mystery.
Bread
We begin with a reimagining of Tom Yum flavour. Homemade ciabatta rolls break open to reveal a soft pink tinge to the warm, doughy interior. Served on rough-hewn wooden bowls with an accompanying paste in a small coral shaped bowl, the sauteed tomato base is cleverly evident in the bread, further enhanced in the creamy spread. Suggestions of galangal, kaffir lime, lemongrass, fish paste and acidity are all present. There is a faint waft of chilli at the end rounding off the profile, though not enough to indelicately damage the taste buds for the ensuing dishes.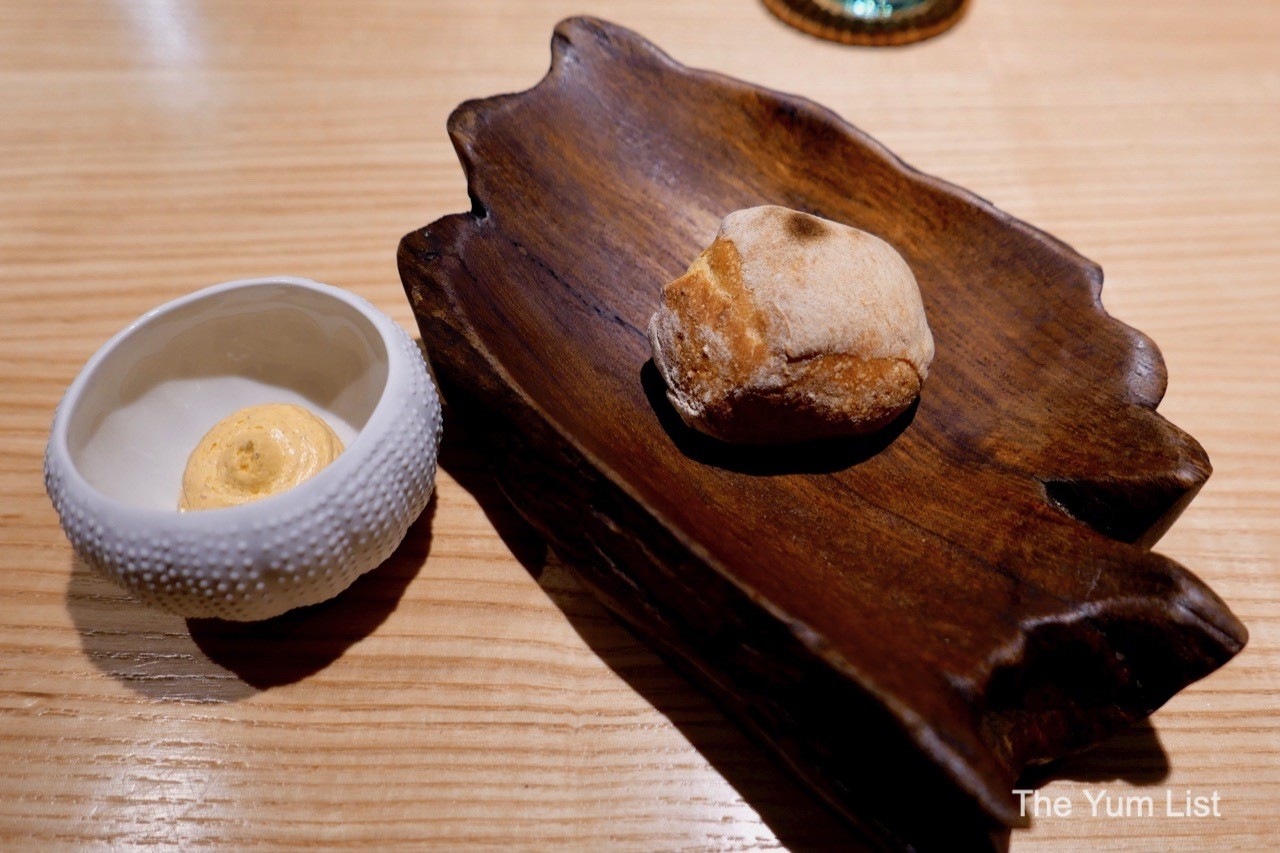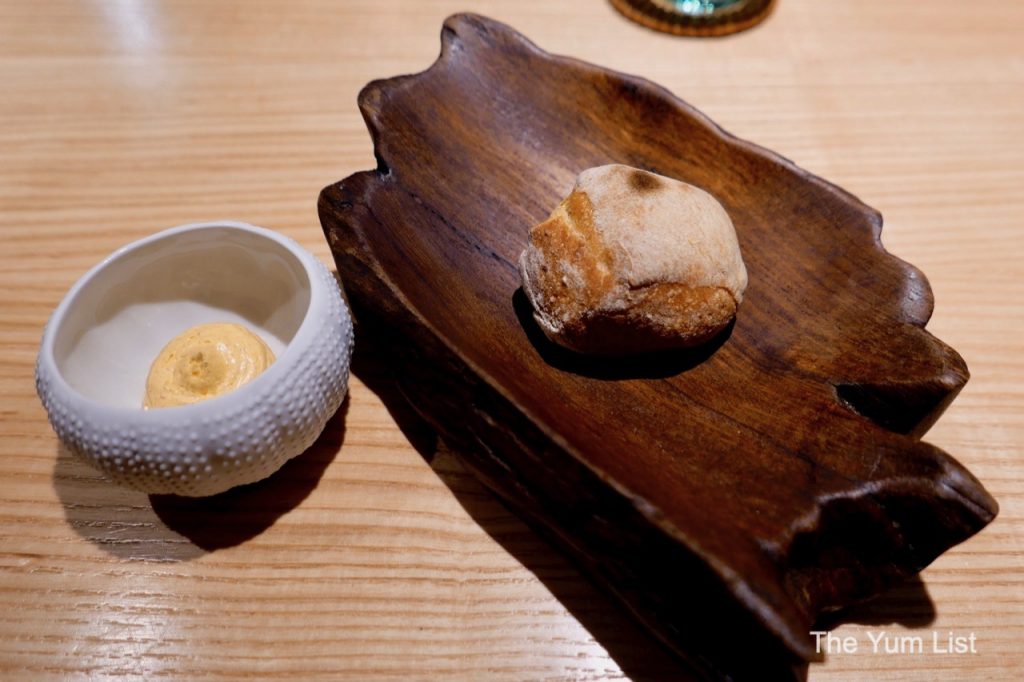 To Begin
Two mini tarts are the first dish proper on Eat and Cook's Eight-course Journey. The first is everything carrot, with fresh carrots boiled down for six hours with milk to form a caramelised, creamy carrot puree on a bed of crispy carrot shavings, topped with hay-smoked carrot chips. The flavour is intense, smokey and sweet. The second tart is made from sayur manis, or sweetleaf. Poisonous in large quantities, sweetleaf is packed with nitrogen, protein, antioxidants and vitamins. Commonly used in Vietnam's famed Banh Mi sandwiches, it is a more complex version of spinach. Chef Lee prepares different layers of creamy, foaming sweetleaf, bitter, sweet and light with playful textures. An entire salad in a single mouthful.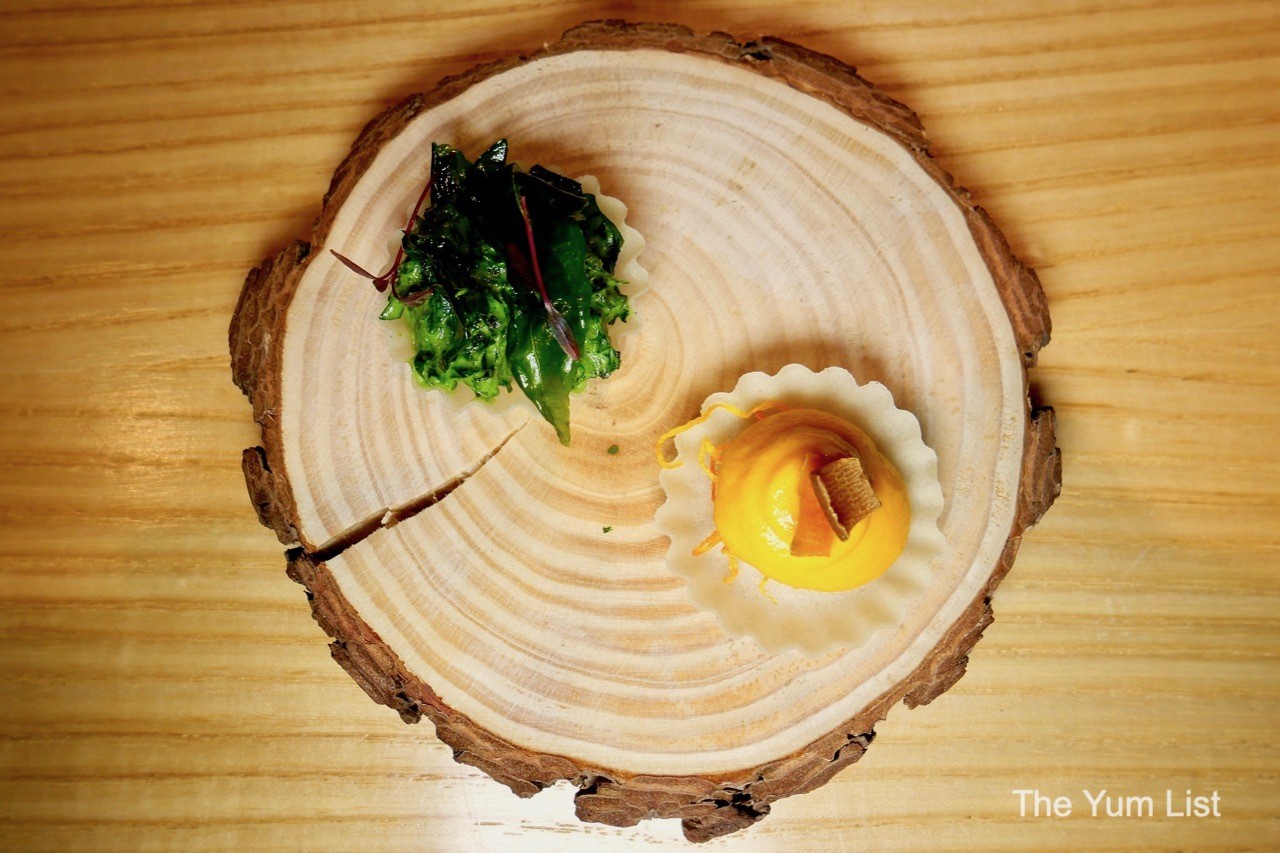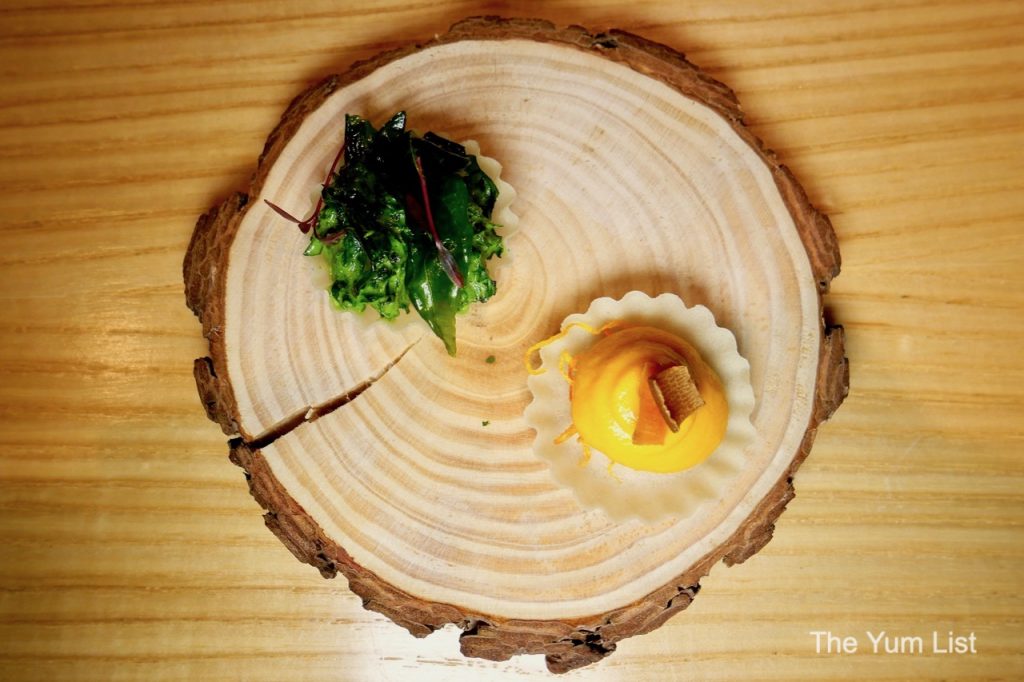 Next
Next is a fresh take on assam laksa. Fine noodles of raw tuna are intermingled with strips of kesum or laksa leaf. Forsaking the stem's bitterness, Lee uses only the leaf to bring the Penang and Peranakan flavour to the fore. An accompanying foam is made from boiled down tuna stock with touches of calamansi and torched ginger flowers.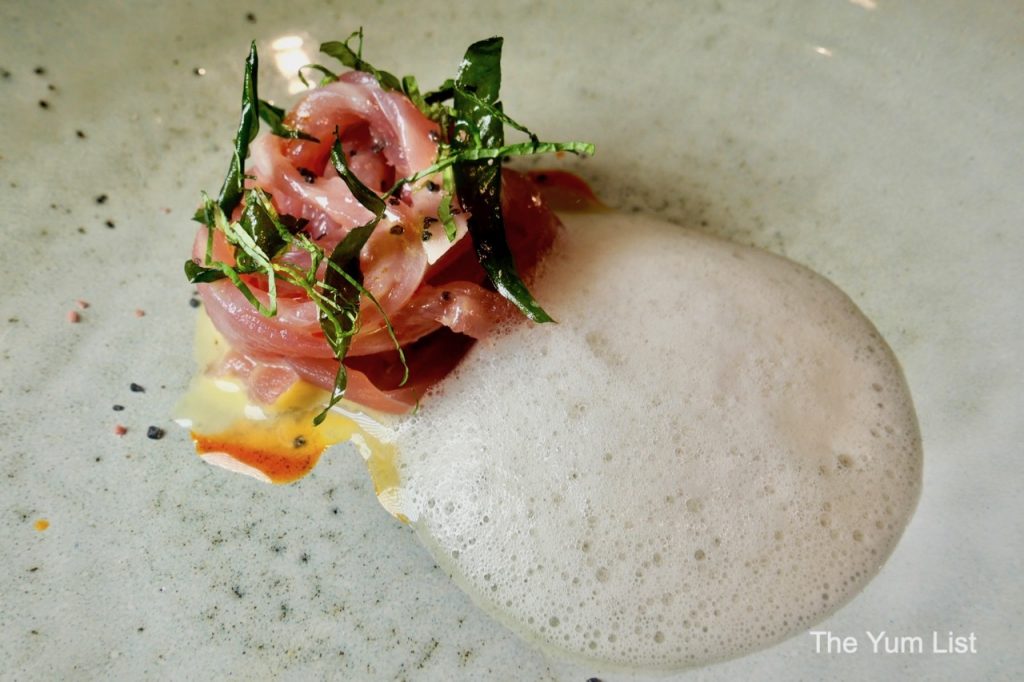 Wine Pairing – Eat and Cook
To elongate and exaggerate the kesum leaf and calamansi, we are served a glass of Drappier Carte d'Or Brut Champagne (RM469/bottle). A majority of pinot noir grapes blended with smaller amounts of chardonnay and Meunier, the Drappier estate produces authentic boutique organic wines low in sulphites. Cultivated in Urville, an area of Champagne with a viticulture history dating back two thousand years to Roman times, the profile begins with crisp apple and orange zest, melding into a medium-bodied creamy vanilla, with a yeasty biscuit tail. As with all good pairings, the laksa flavours bring forth different qualities and starring roles in the Champagne, and vice versa – honeyed spice and astringent salt.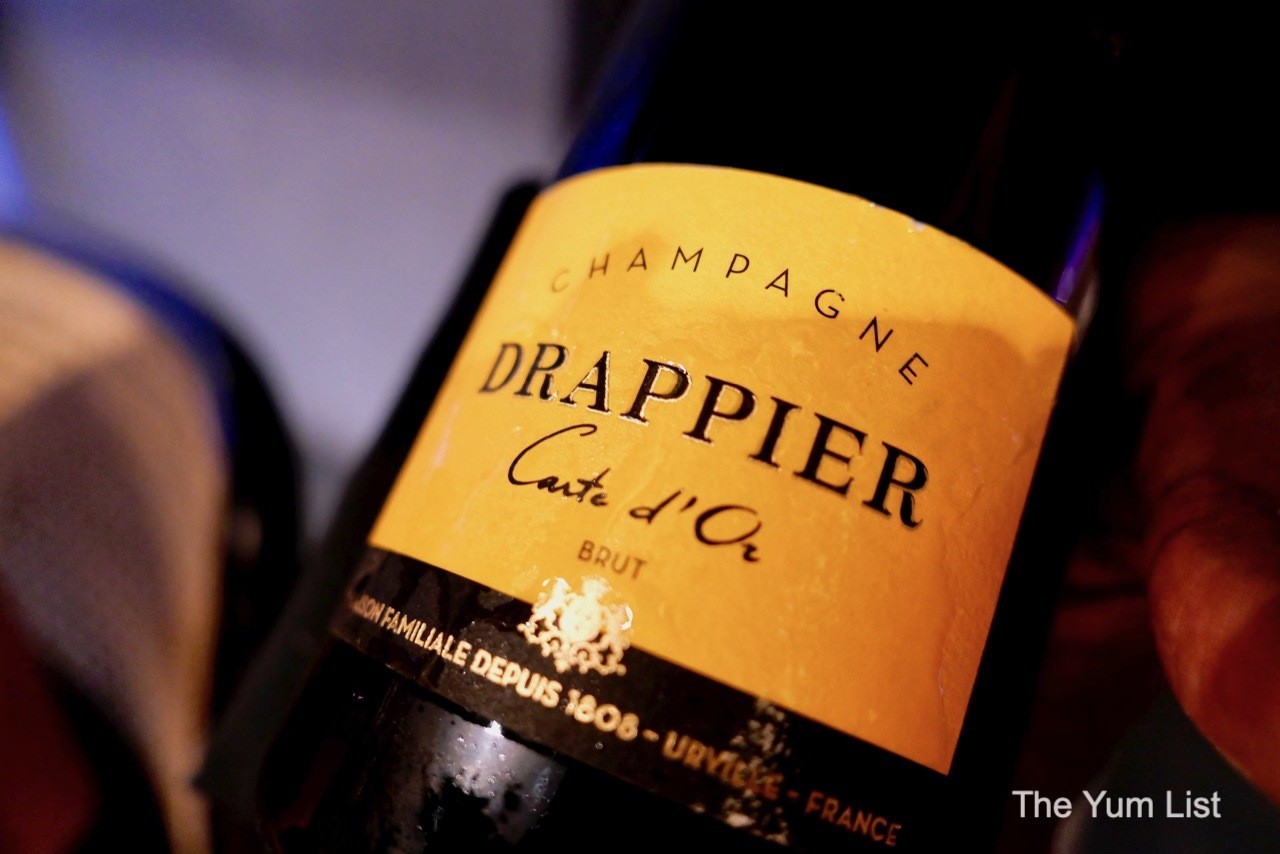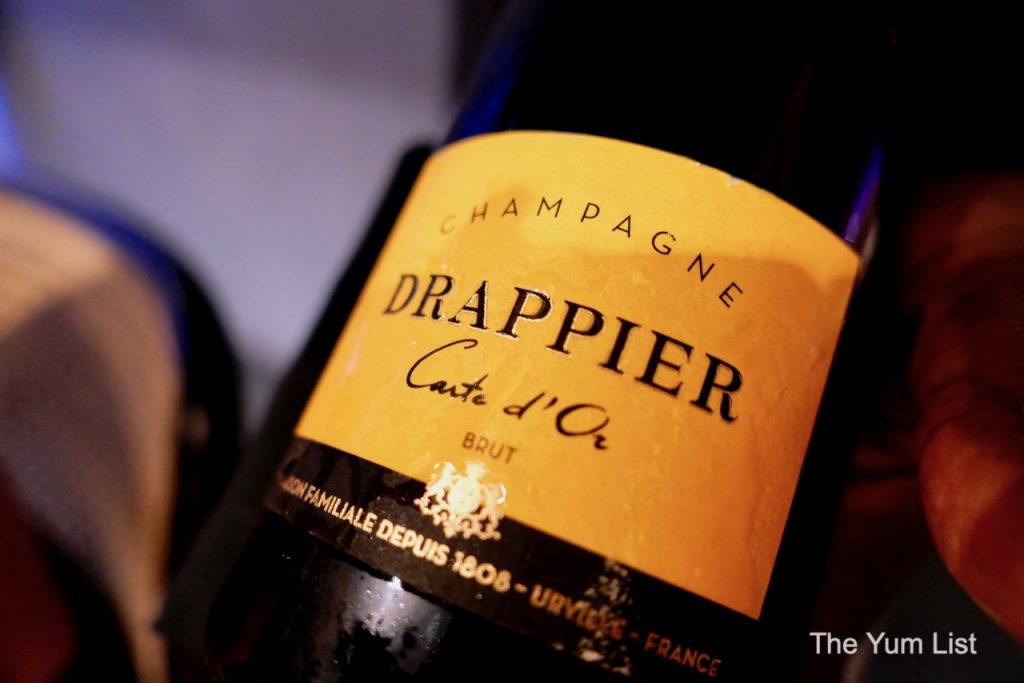 Talking us through our wine pairings this evening is Head Sommelier Mr Agnel Sathiananthan. The wine list is a tight, beautifully selected bouquet of mainly French small, yet well established, production specialists. Wine critic ratings are included to aid in your decision. Biodynamic, organic and sustainably farmed labels feature heavily, not as nouveau greenwashing, but as long-held traditional practices to retain the varietals' charm, staunchly unchanged through winemaking eras. Agnel has focused his choices on character and intensity, providing the options of a three glass pairing (RM170) or four glass pairing (RM210) based on your tasting journey. Like all the staff at Eat and Cook, he is happy to quietly appear and disappear at the elbow when needed or charmingly linger to speak in reverent tones about each glass, dispensing a welcome and impassioned education for guests.
Prawn
Unexpectedly, Chef Lee next asks us our feelings towards sambal belacan. He awaits our ready acquiescence before presenting us with giant king prawns on matt black honeycombed plates. Prawn shell oil is intensified through slow-cooking and then converted into a dusting powder using maltodextrin, containing the flavour of a thousand prawns in a single bite. Pearls of barley pop in the mouth, harmonising with the smokey char of bursting buttery grilled prawns. A gooey bearnaise sauce deceptively hides a wave of sambal flavours – raja ulam leaf, mangosteen and Malaysian herbs build to a crescendo before fading. The sambal spice is at once intense and then parts, leaving only an impression. It is unlike any other sambal experience – familiar yet marvellously unconventional.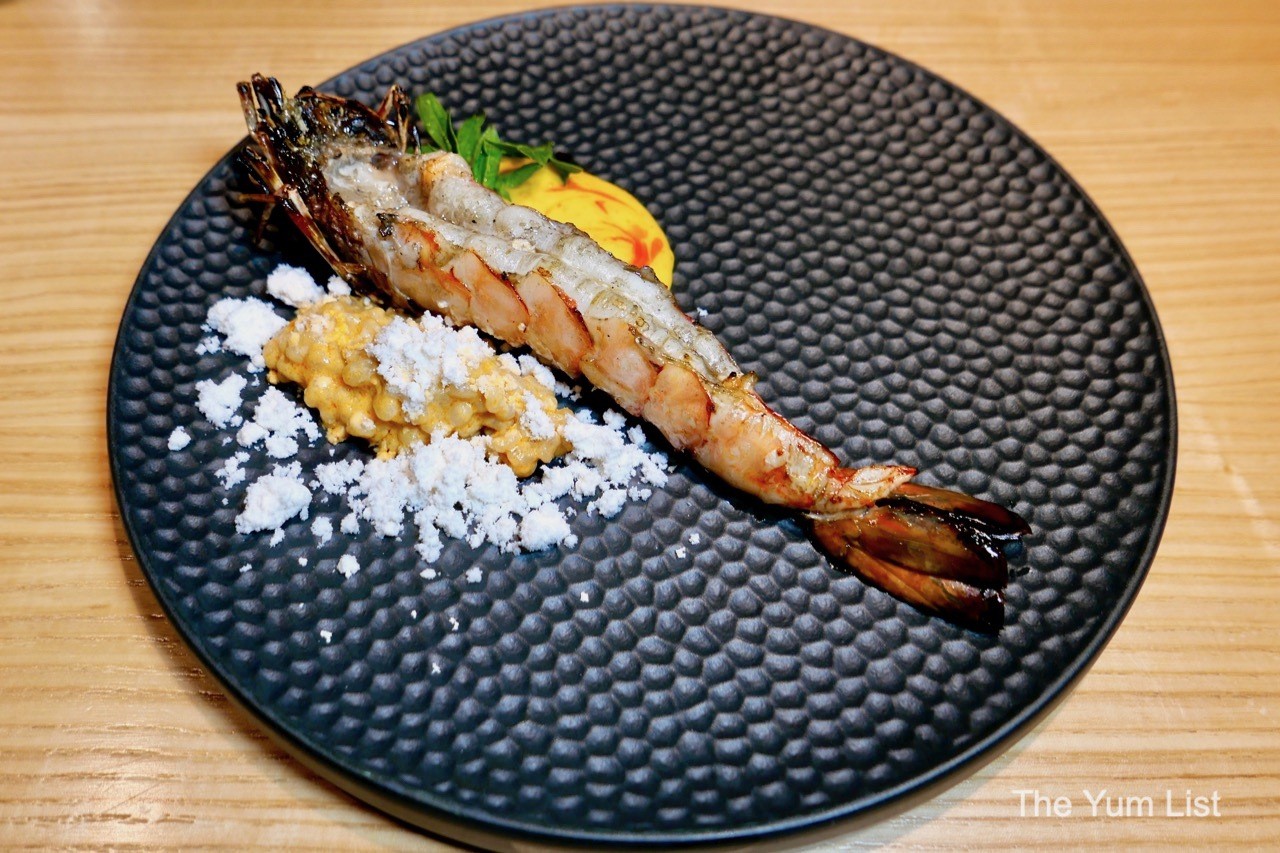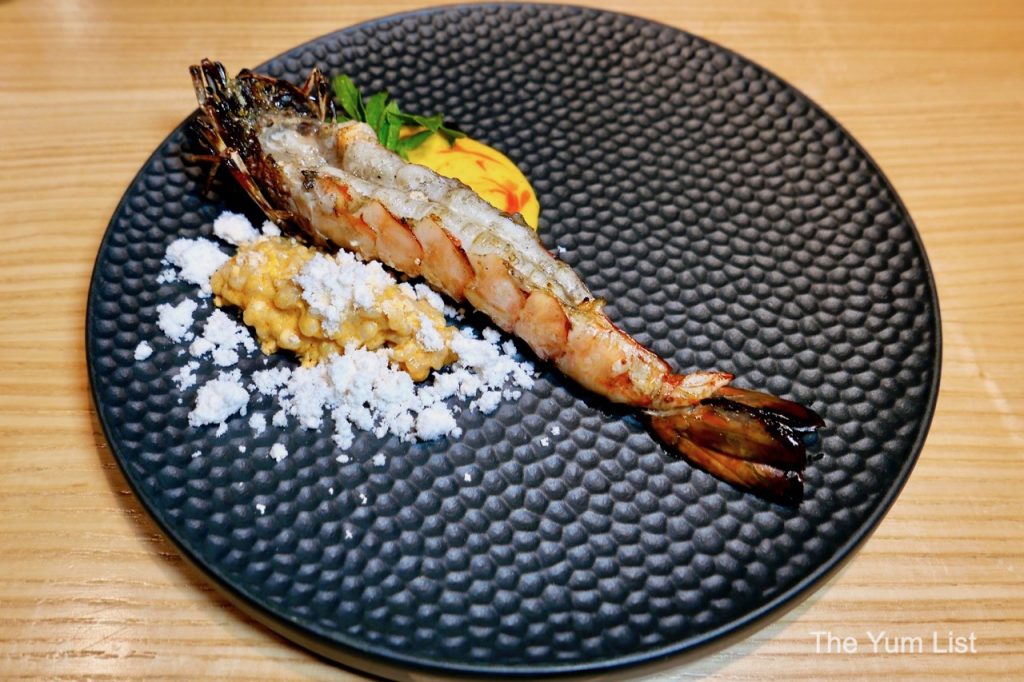 Riesling
To pair, we drink a glass of the Weingut Max Ferd. Richter Graacher Himmelreich Riesling Kabinett from Germany (RM289/bottle). Hailing from the slate hillsides in Graach, Mosel, this off-dry Riesling is full-bodied and well-balanced. When taken with the king prawns and sambal bearnaise, it highlights the raja ulam leaves against a backdrop of creamy egg yolk, lemon, slate minerality and a light breath of summer stonefruit.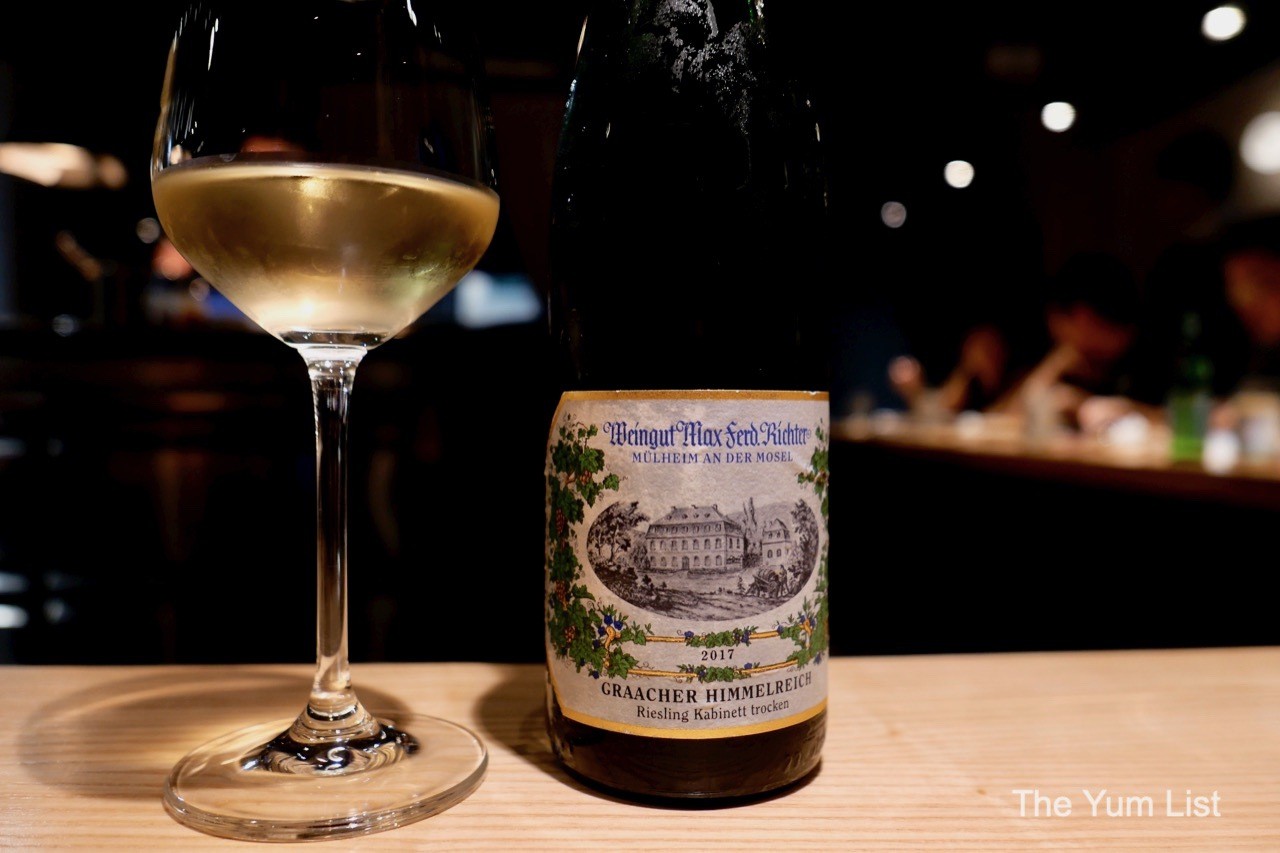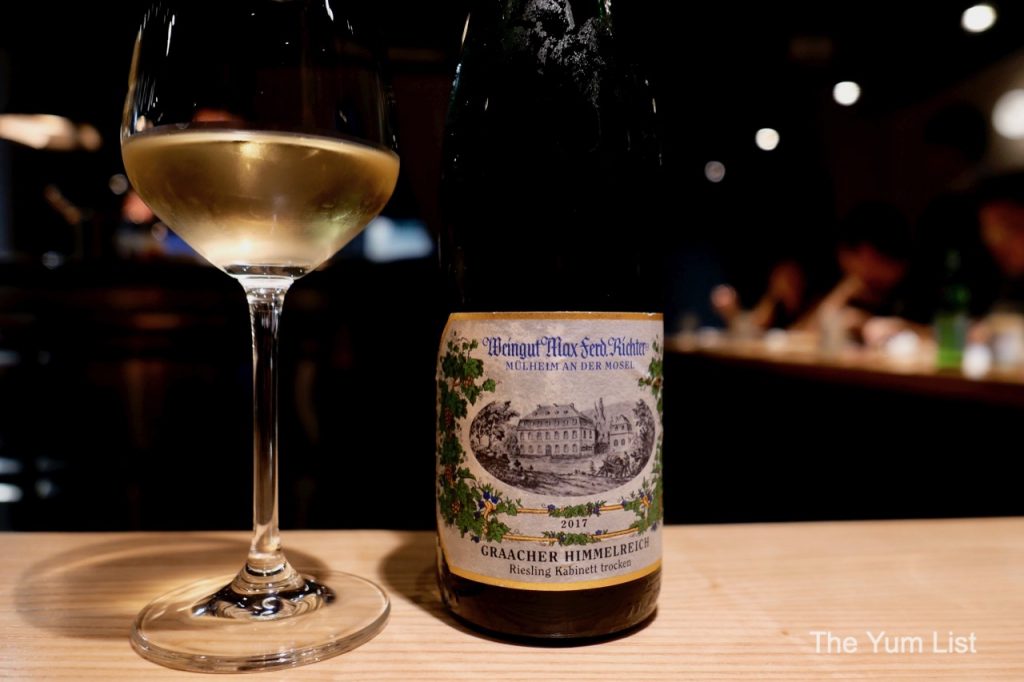 Fish – Eat and Cook
Inspired by Kalantan's Ikan Bakar, the next dish on Eat and Cook's menu features sugar cane and cognac-wrapped grilled sea bream. Encapsulating the smell of traditional Malay street food stalls, there are combined elements of smokiness, sugar, charcoal and saltiness simultaneously. Dehydrated sugar cane provides a woody caramelisation, like burnt gula without acridity. A concentrated tomato and fermented anchovy sauce with starched ginger and pickled onion are topped with sago and red seaweed in a balsamic and budu glaze to provide complexity and depth. A final garnish of ulam has been fried to bring out the salad leaf's sweetness and nuttiness. For a final wow factor, the dish is topped with wafting dry ice, preserving flavours perfectly from the grill to the fork.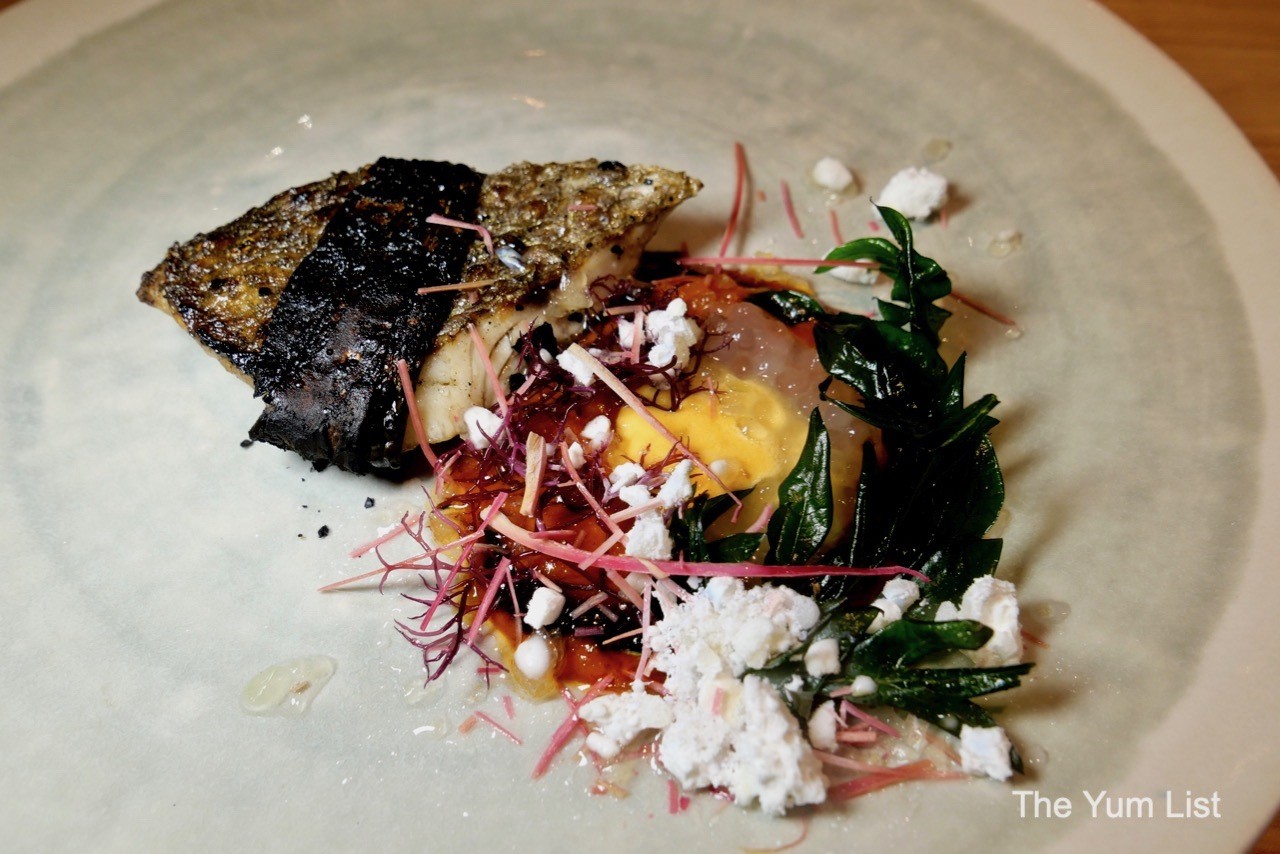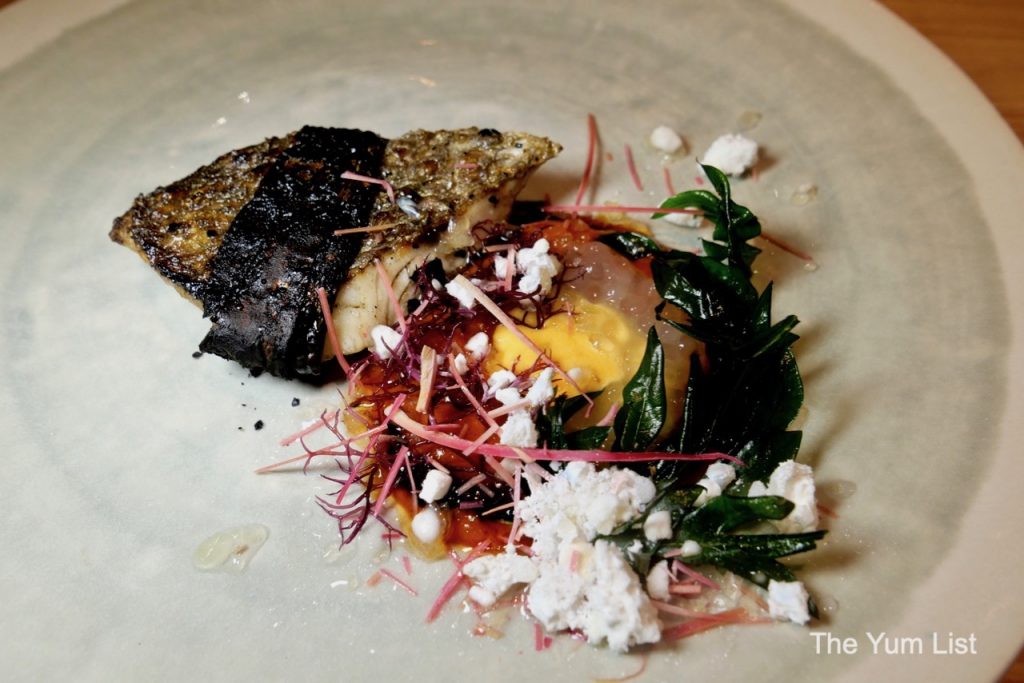 Viognier
A glass of the 2018 La Forge Estate Reserve IGP Pays d'Oc Viognier (RM239/bottle) makes for a beautifully chosen pairing. Hailing from Languedoc, France, the La Forge Estate winery produces small-batch bottles by winemaker Jean-Claude Mas as part of the Domaine Paul Mas label. Perfect with spicier foods and Malay-style fish, this cold climate aromatic varietal has intense florals and chamomile notes. When sipped between mouthfuls of sea bream, anchovied tomato and bursting sago there is a dance of textures, bringing the minerally florals, lime, pepper and chamomile of the Viognier to the front.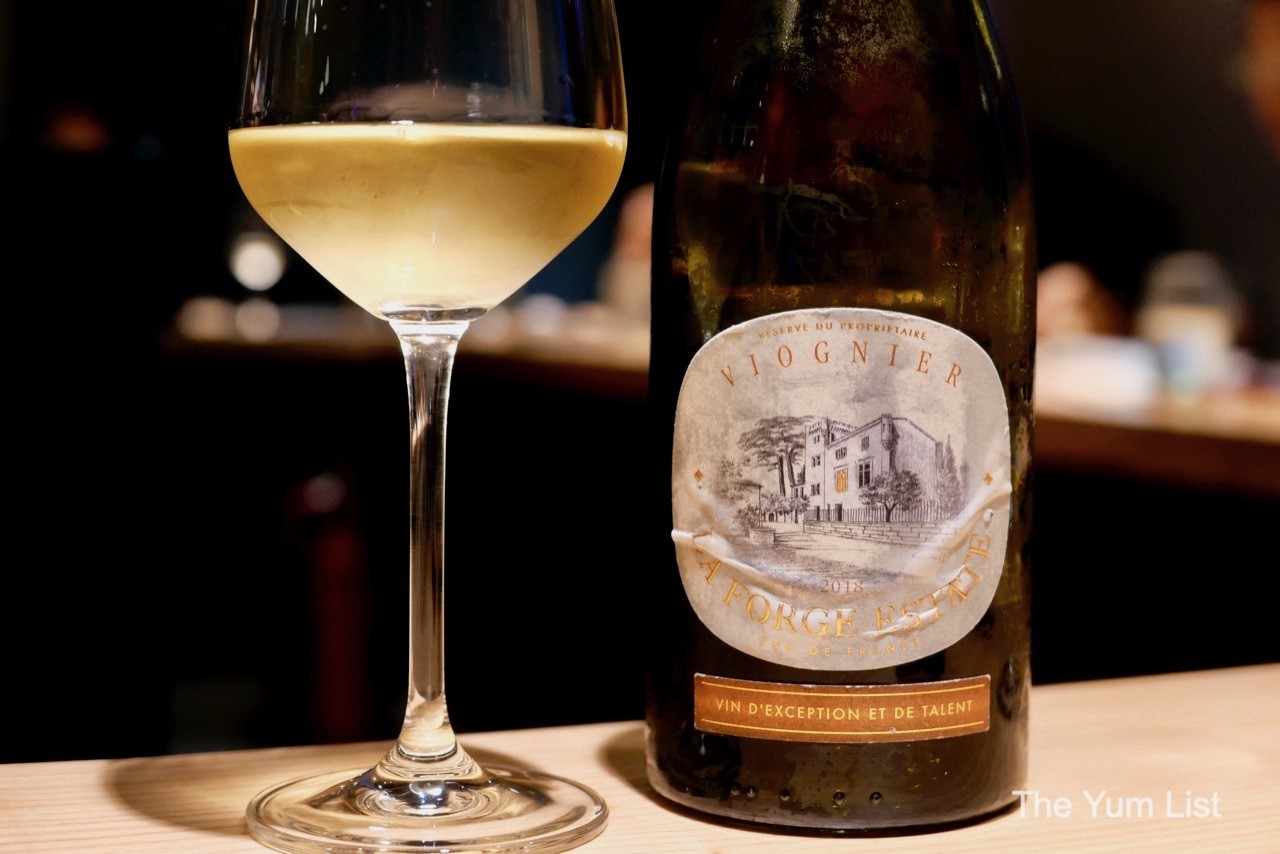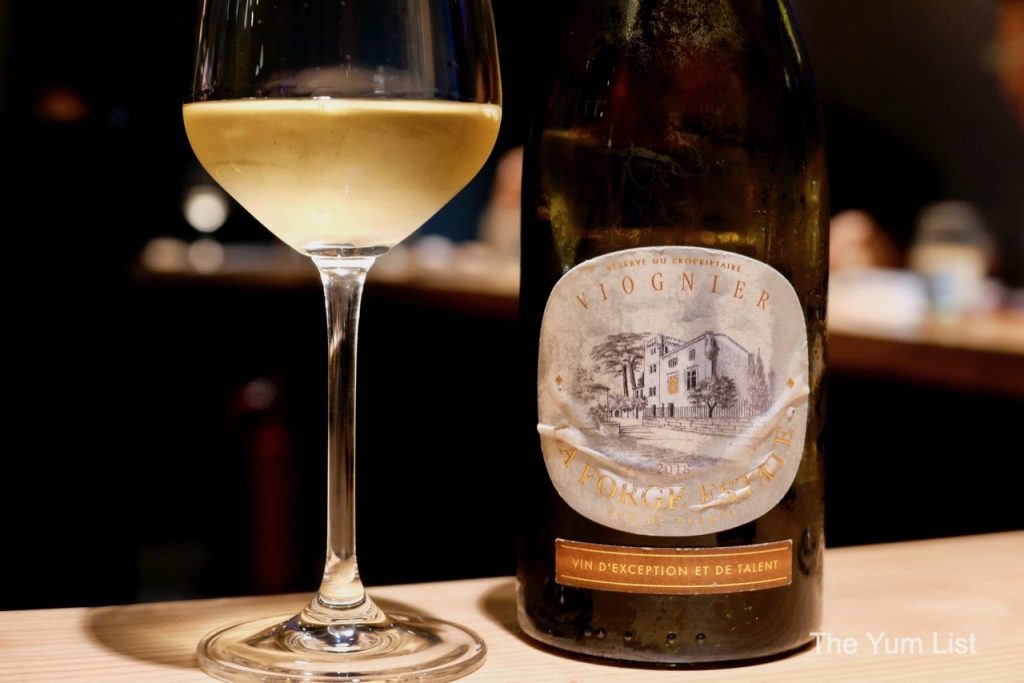 Pâté
Viognier is also a good match for more robust poultry dishes. Chef Lee next explains his intense exploration of fermented purple sauerkraut fried with cornstarch to add crunch atop slices of kampung corn-fed chicken liver pâté. A pillow of delicate puff pastry soaks up a creamy dehydrated shitake mushroom jus. The dish is an explosion of French and Malaysian influences. The richness of the organic local chicken liver is a better alternative for those who love the taste of foie gras but may not be able to ethically reconcile with the production methods. The flavour is magnified from the corn fed diet and further accentuated by the decadent sweetness of individually harvested dried monk fruit membrane. The final plate is a riot of flavour, texture and colour.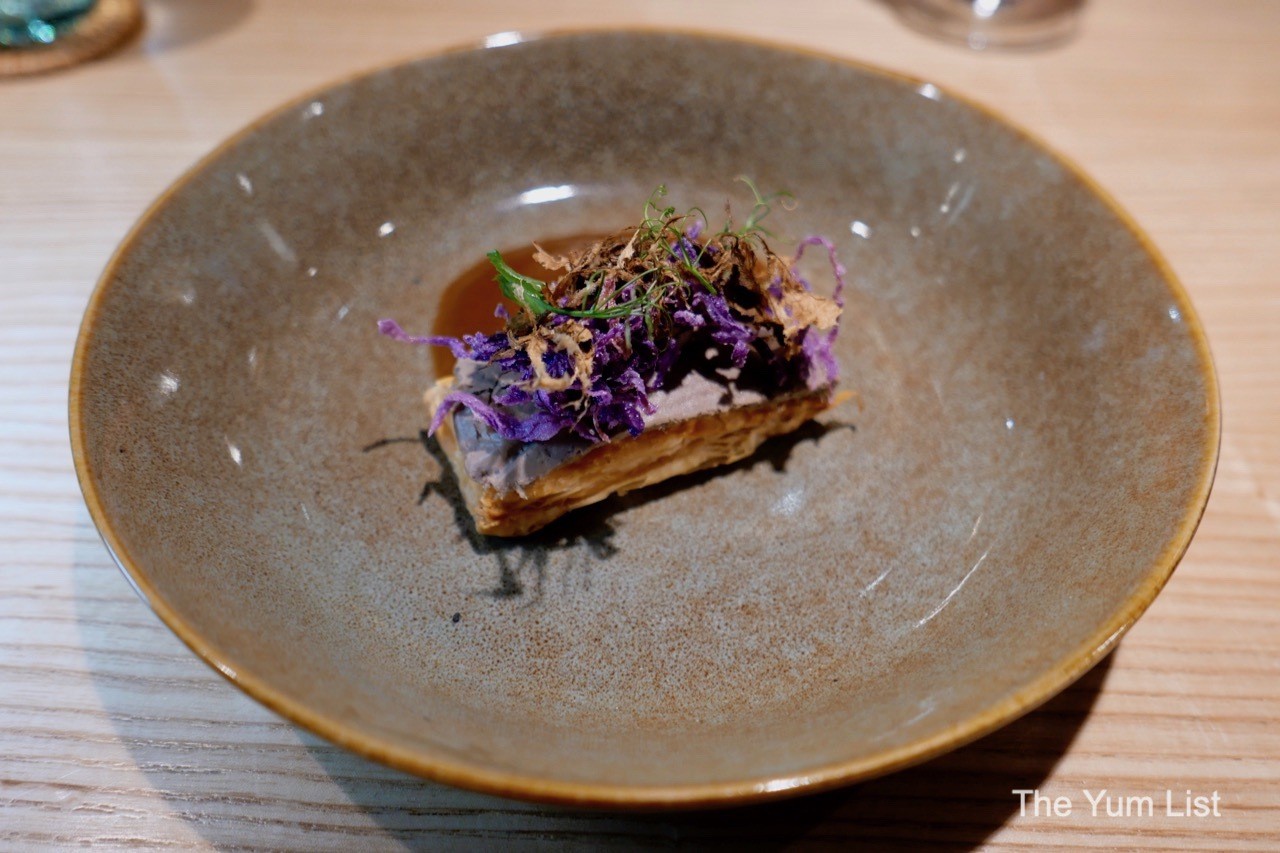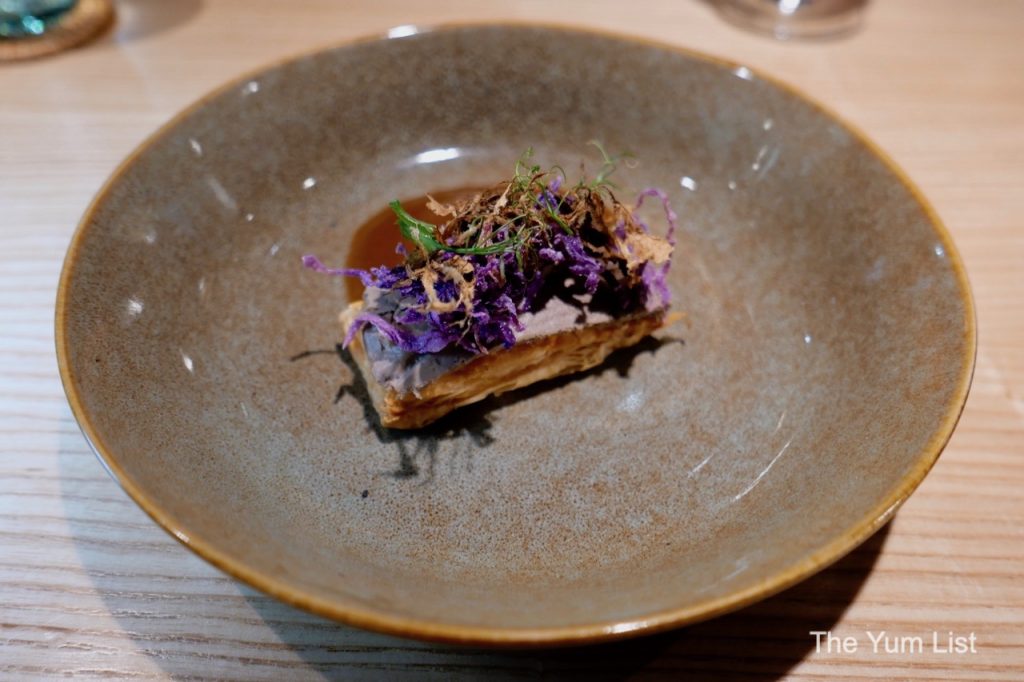 Ais Potong
To cleanse the palate before darker meats and wines, we are given an asam boi ais potong lollipop. Refreshingly cold and bittersweet, the ice ball on a stick can be alternately rolled in sherbert-like dipping powders of kaffir lime leaf or concentrated sour asam boi. The experience is a nostalgic moment of childlike joy, eliciting reminiscence for shared memories of childhood sweets across cultures.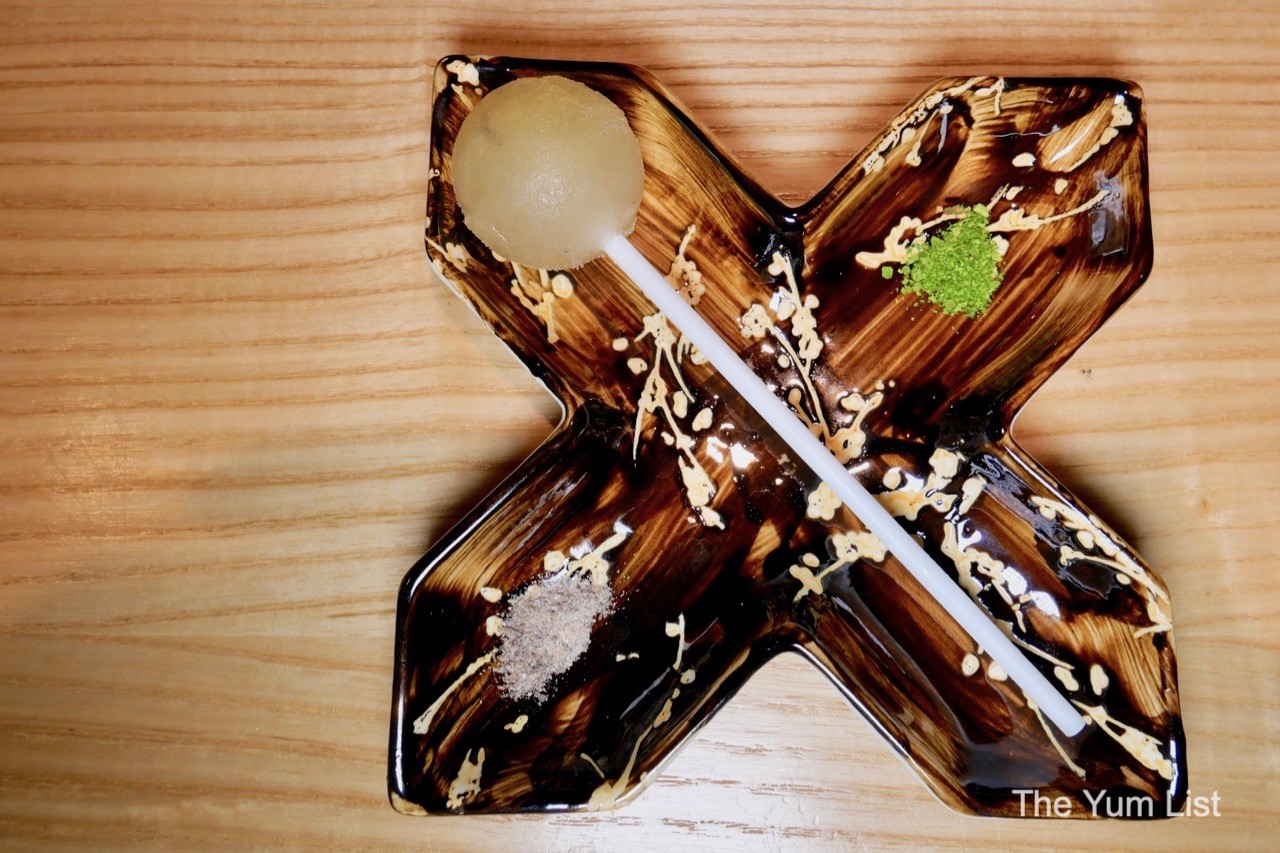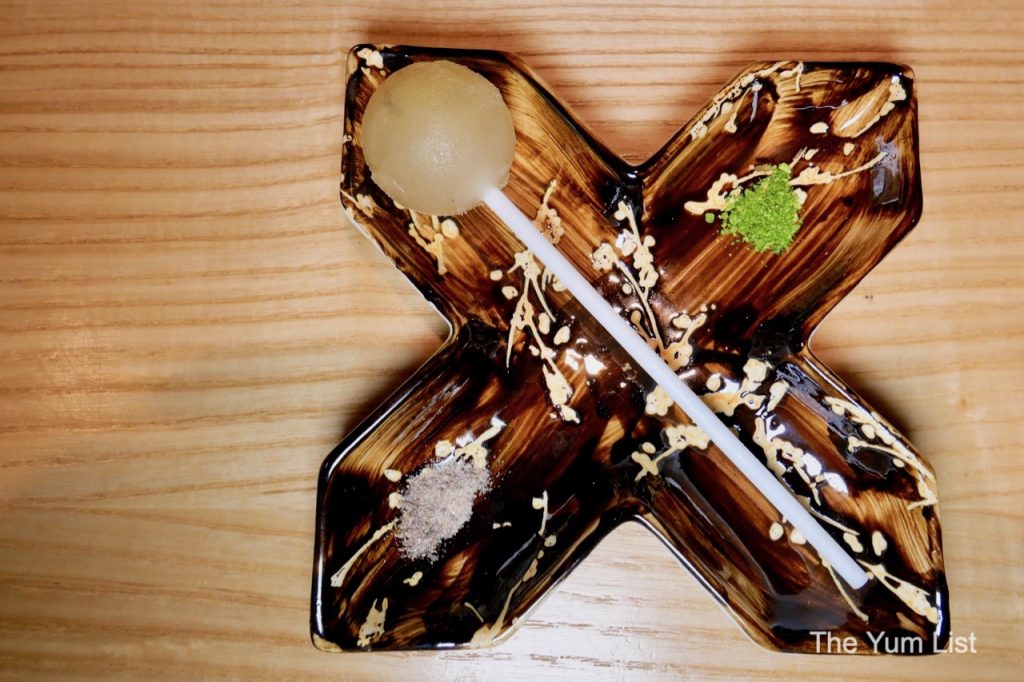 Mains – Eat and Cook
Chef Lee is too excited to choose a single dish for us to taste for the main, asking instead if we might share two different meat dishes between us. We enthusiastically agree. Lee worked beside globally renowned Argentinian Chef Ramiro Moya, famed for his signature red meat masterpieces. In unison, Agnel approaches with two accompanying reds to match the dishes. Our next adventures are the ones we have been most looking forward to.
Duck
On the first plate, nineteen-day dry-aged duck from Penang is served with pomelo, crunchy pastry, and a spiced mole sauce. Sweet little irresistible morsels of turnips cooked in duck fat round out the plate. The duck's smokey, nutty, fatty flavour is further lavished with shavings of chocolate as garnish. To accompany, we partake of a glass of the Italian Prunotto Fiulot Barbera d'Asti 2018 (RM269/bottle). Silky tannins and a smooth, dry finish offset dark plum and cherry fruits. Youthful and fragrant, there are hints of earthy tobacco in this uncomplicated red.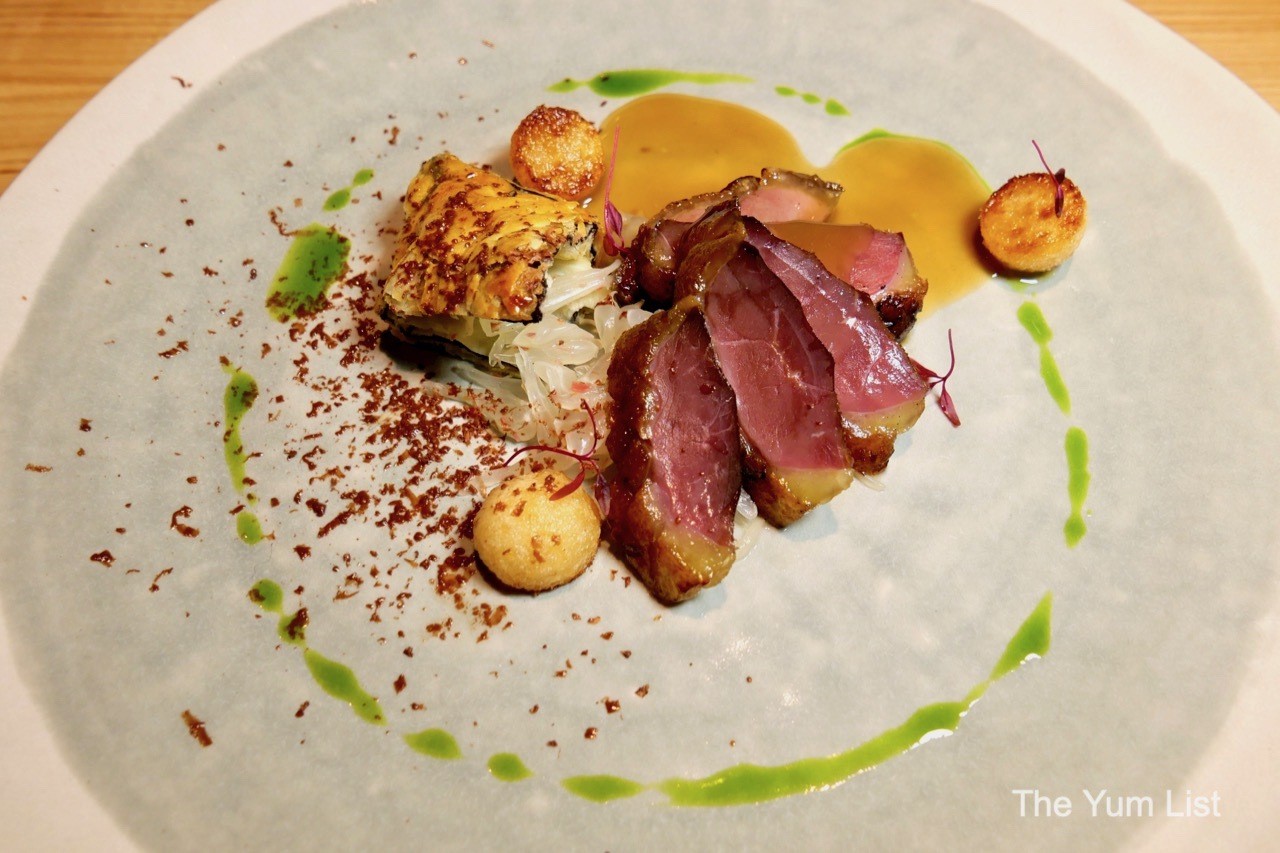 Beef
On the second plate, thick cuts of Australian Sanchoku wagyu beef, sous-vide are served with sweetleaf in a creamy sauce and Malaysian kulim, or wood garlic. Unique to Malaysia, kulim has strong natural flavours of garlic, mushroom and truffle. Having never eaten kulim before, I immensely prefer it to a traditional garlic. Rich, earthy, smokey and umami, it brings forth a natural complexity to suit even the most sophisticated palate.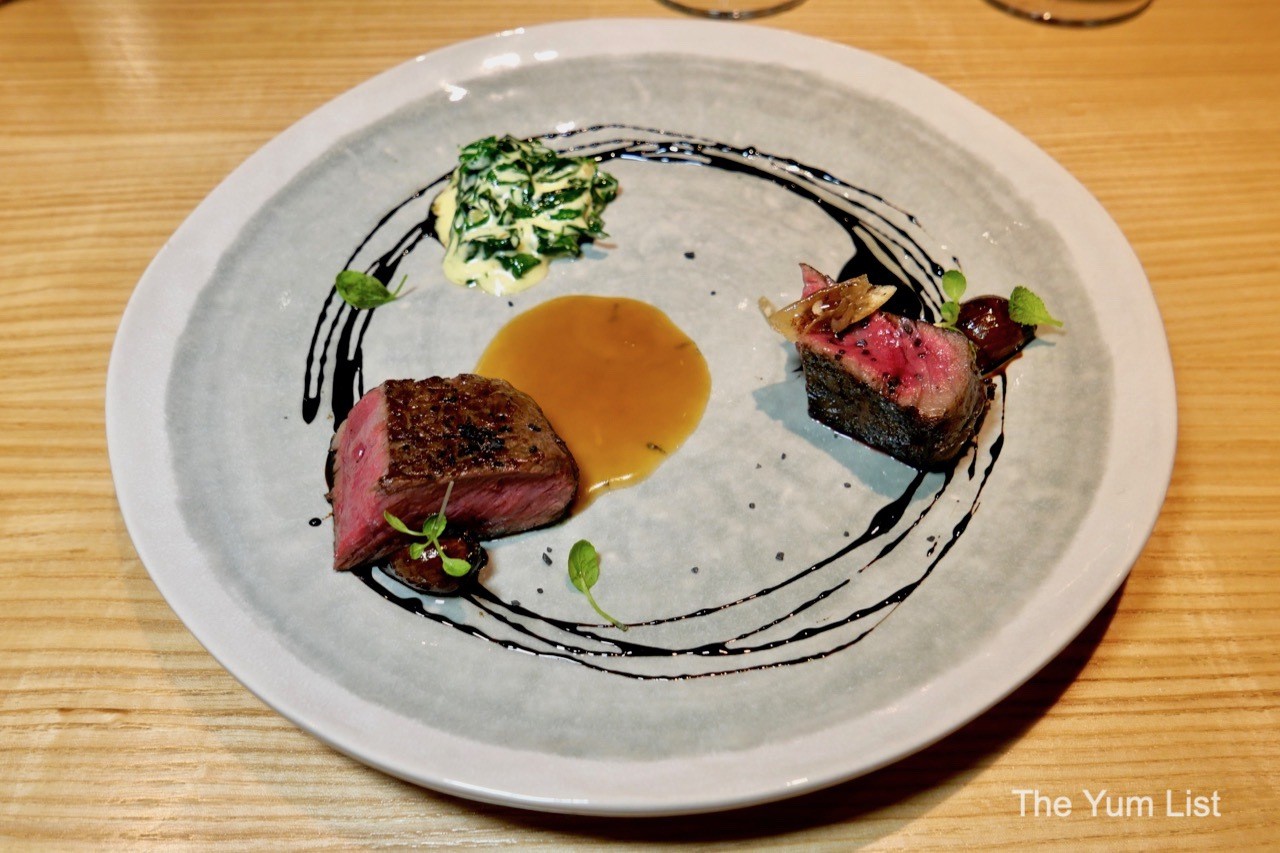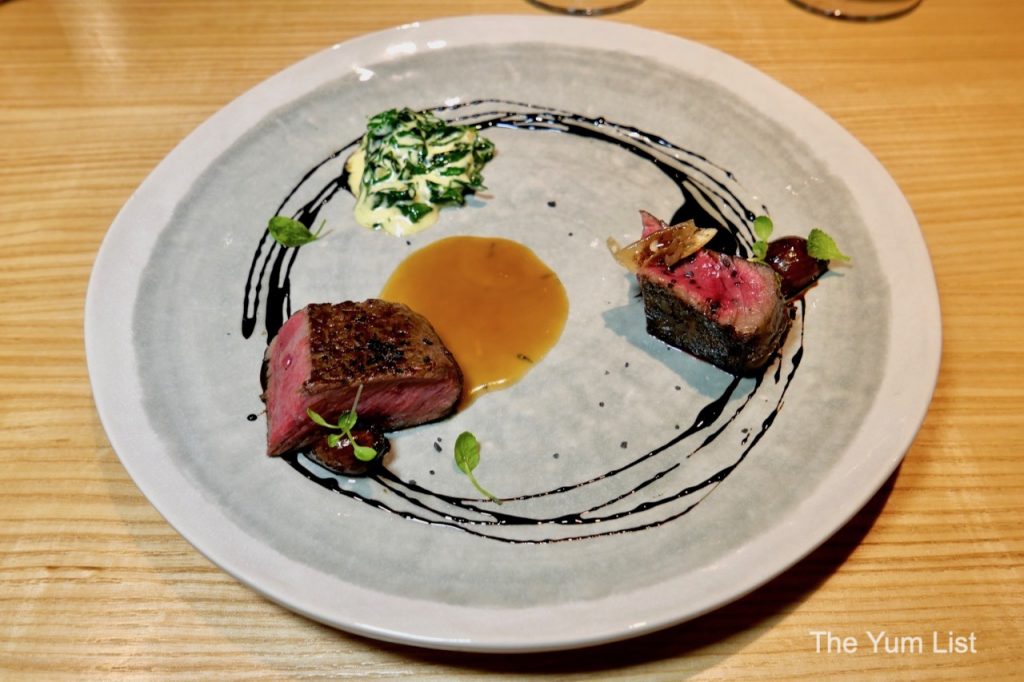 A glass of the Domaine Anne Gros & Jean-Paul Tollot La Ciaude 2018(off-menu, price upon enquiry) hails from the French Minervois Languedoc region. Made by a French husband and wife winemaking team, each with their varietal specialties, this red is almost equal parts Carignan, Syrah, and Grenache varietals. It has fierce earthen characteristics of portobello mushrooms balanced with dark raspberries, violets and velvety spices. Smoky and mysterious, it is a bold match to a bold dish.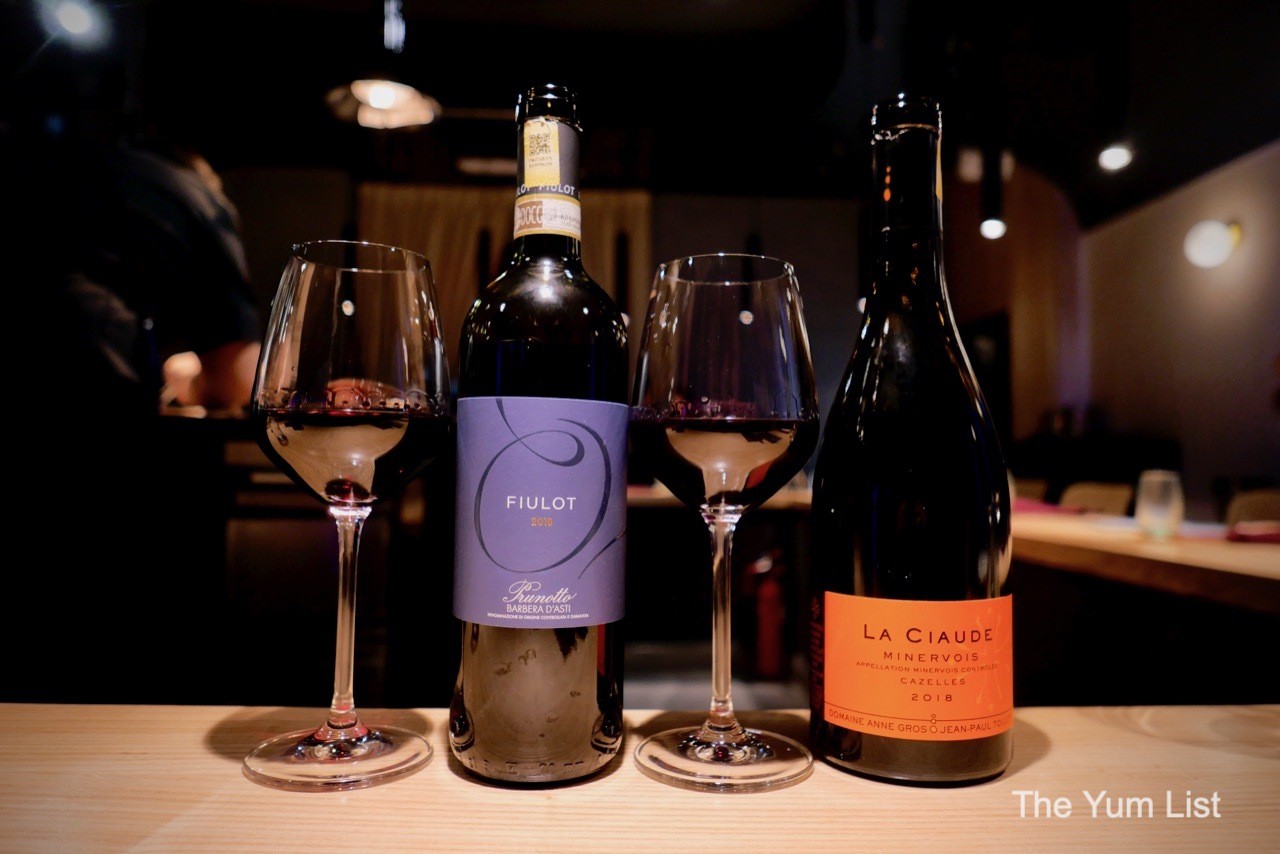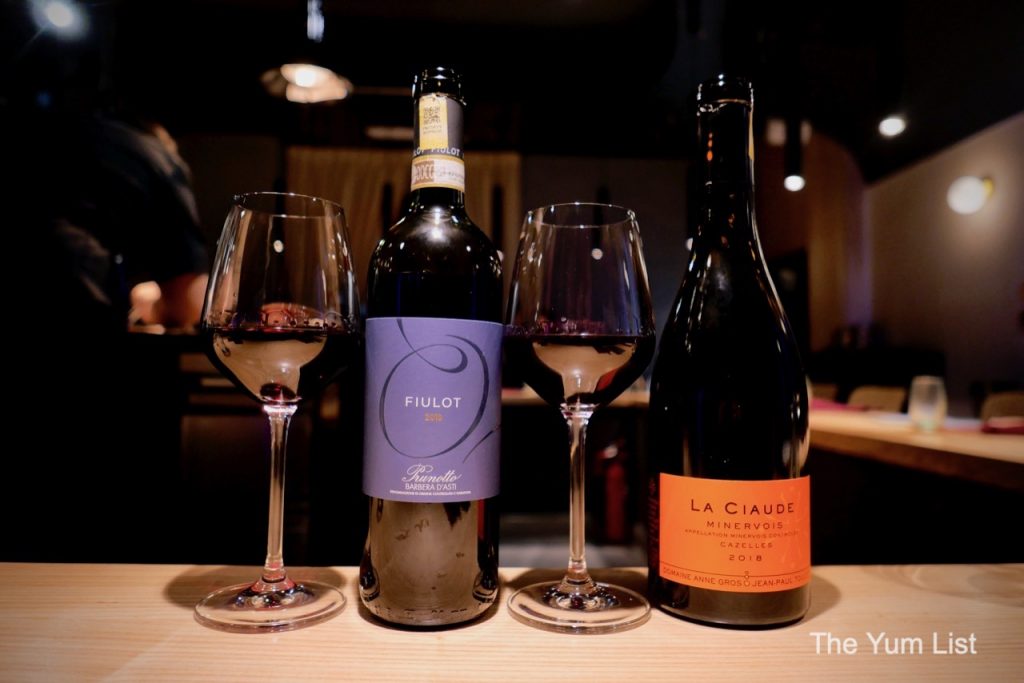 Watermelon
Our final palate cleanser for the evening is in the spirit of Malaysia's tropical heart. A pineapple sherbet made from the juice of fresh Sarawak pineapples is topped with clear citrus calamansi jelly and watermelon sashimi. The sashimi-disguised fruit is almost meaty, with compressed and grilled watermelon sliced into translucent pink slivers.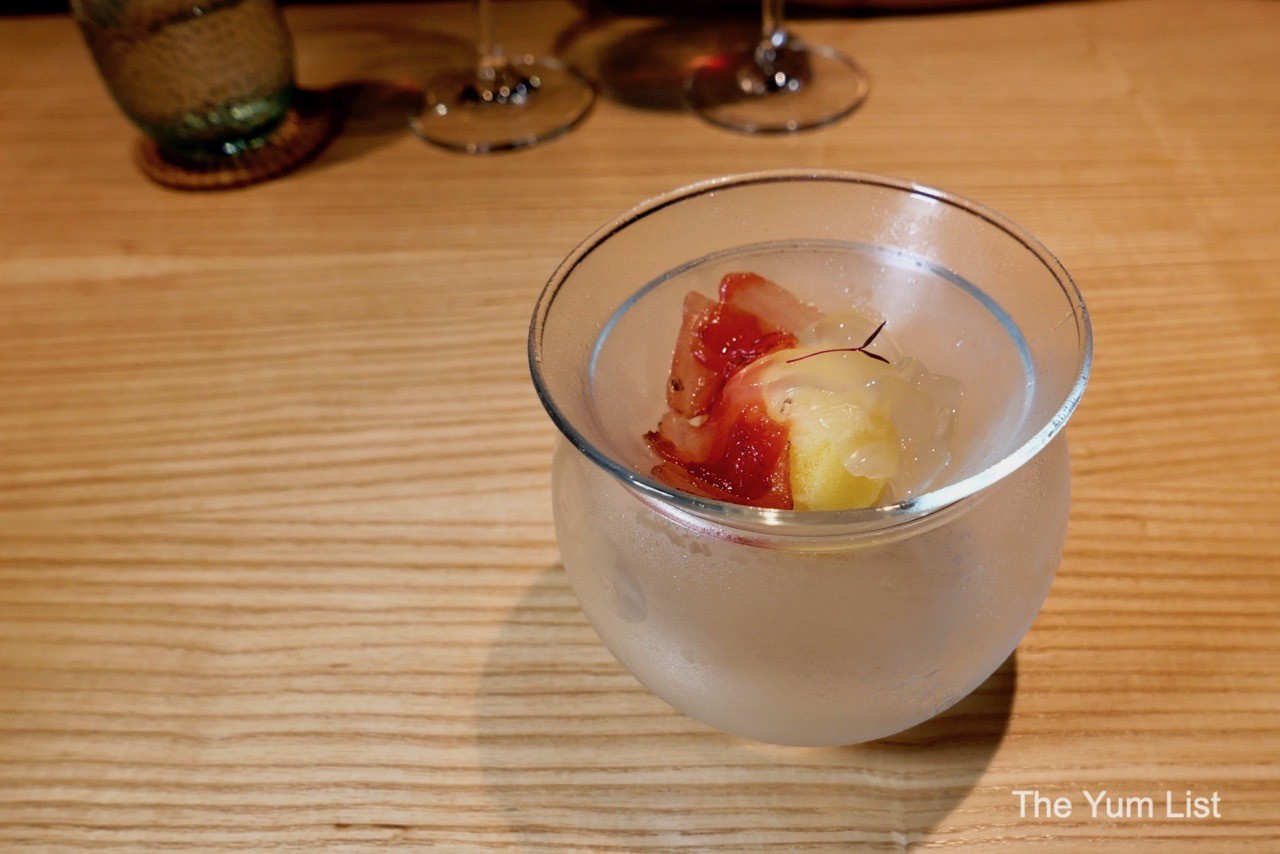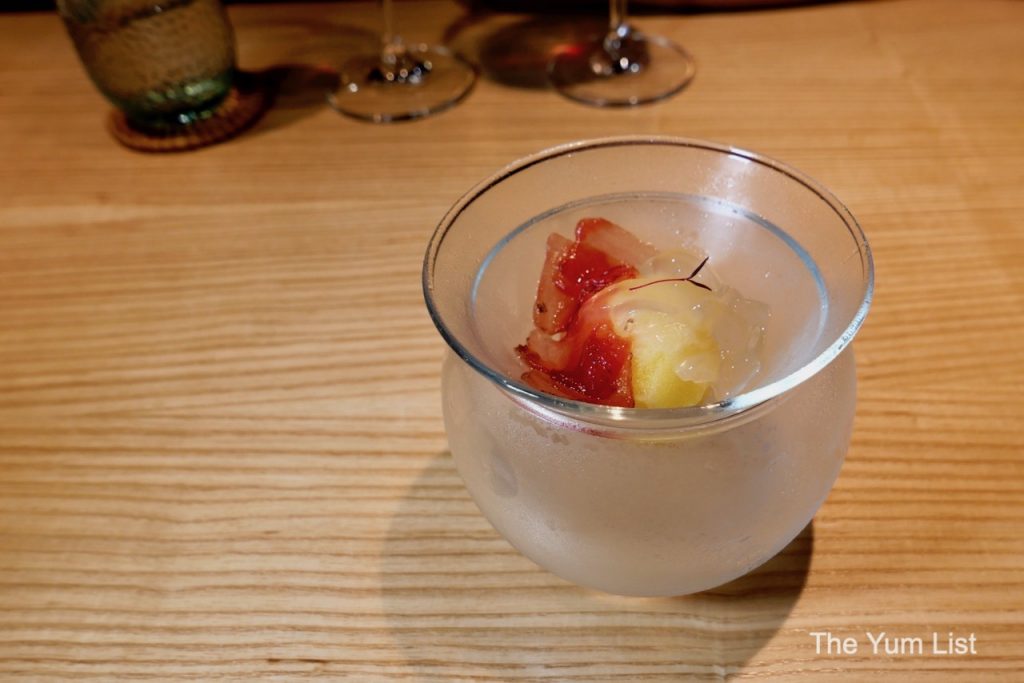 Dessert – Eat and Cook
Our dessert for the evening is deconstructed apam balik featuring locally grown organic red corn from Seri Kembangan. Three layers of crispy coconut flour wafers are stacked with thicker sponges of honeyed pancakes, decorated with flourished dollops of pureed red sweet corn, fresh corn kernels, and Lee's house special peanut butter. Tendrils of desiccated red corn husk hair spiral outwards from the sideways stack. To the side is a generous serving of old and young coconut ice cream with toasted shredded coconut. Each mouthful channels the traditional flavours and ingredients of Malay street stall apam balik. A reimagined celebration of the old and the new. Like a crunchy taco, the flavours of Chinese peanuts, juicy sweetcorn, creamy coconut and honeyed pancake form a symphony of flavours.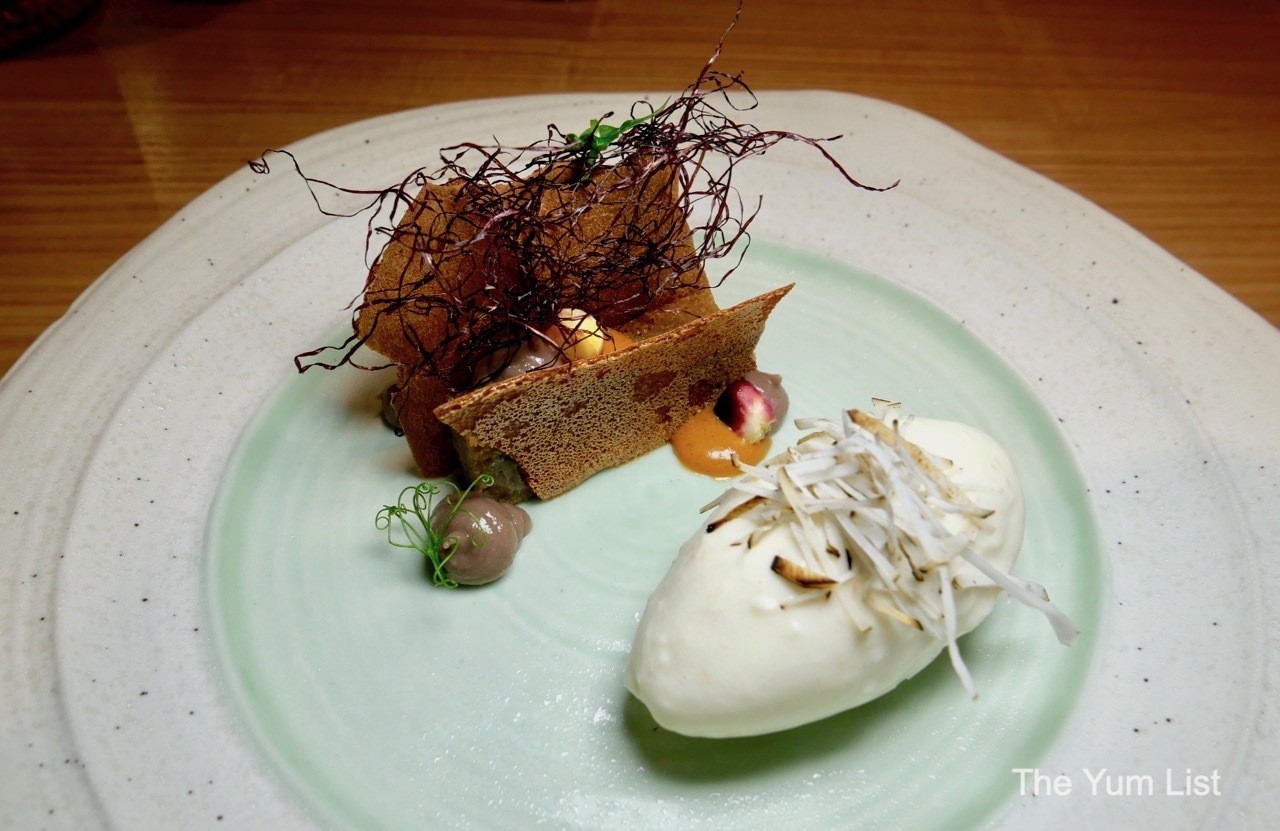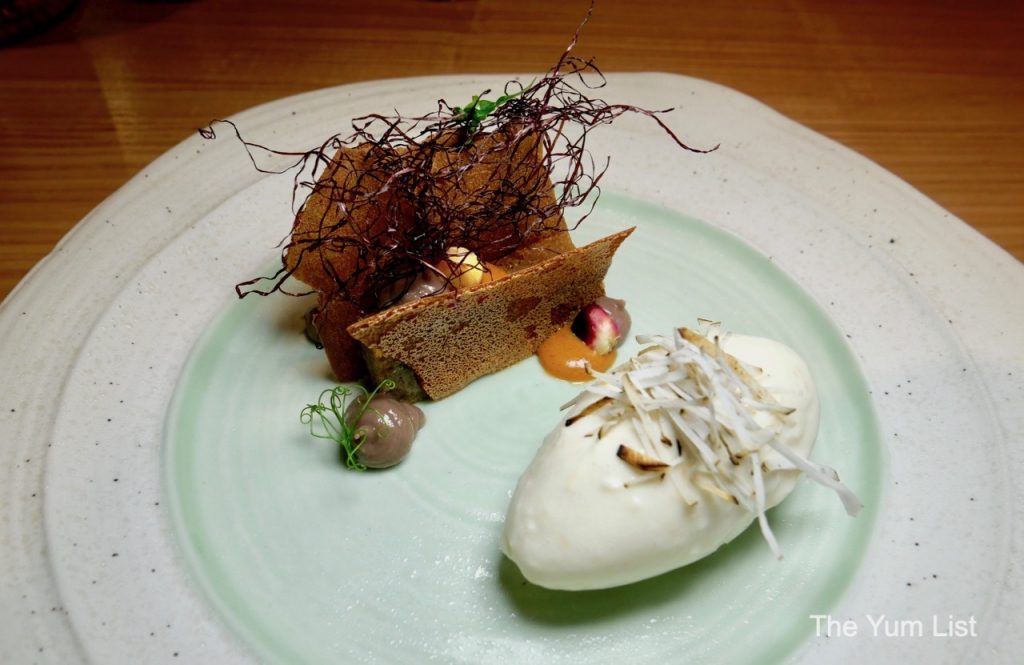 Petit Four
Our journey is coming to an end, and Lee comes to share some final stories with us. He brings us two chocolates made from Choc Concierge's famed organic cacao beans grown by Orang Asli farmers. The first is a bitter cacao powder-coated morsel. Super dense on the inside, the umami taste brings forth a strong mouthwatering sensation. The second is a red, and green Szechuan crushed peppercorn coated truffle, also with a strong cacao bean flavour. All true chocolate lovers can appreciate the intensity of flavour elicited through the addition of spiced heat. Ning's chocolate is well known to Kuala Lumpur residents for a good reason. It is hard to accept the superiority of any other nation's cacao beans after tasting organic Malaysian grown beans, transformed through founder Ong Ning-Geng's passion and knowledge. He is to chocolate what French vintners are to wine.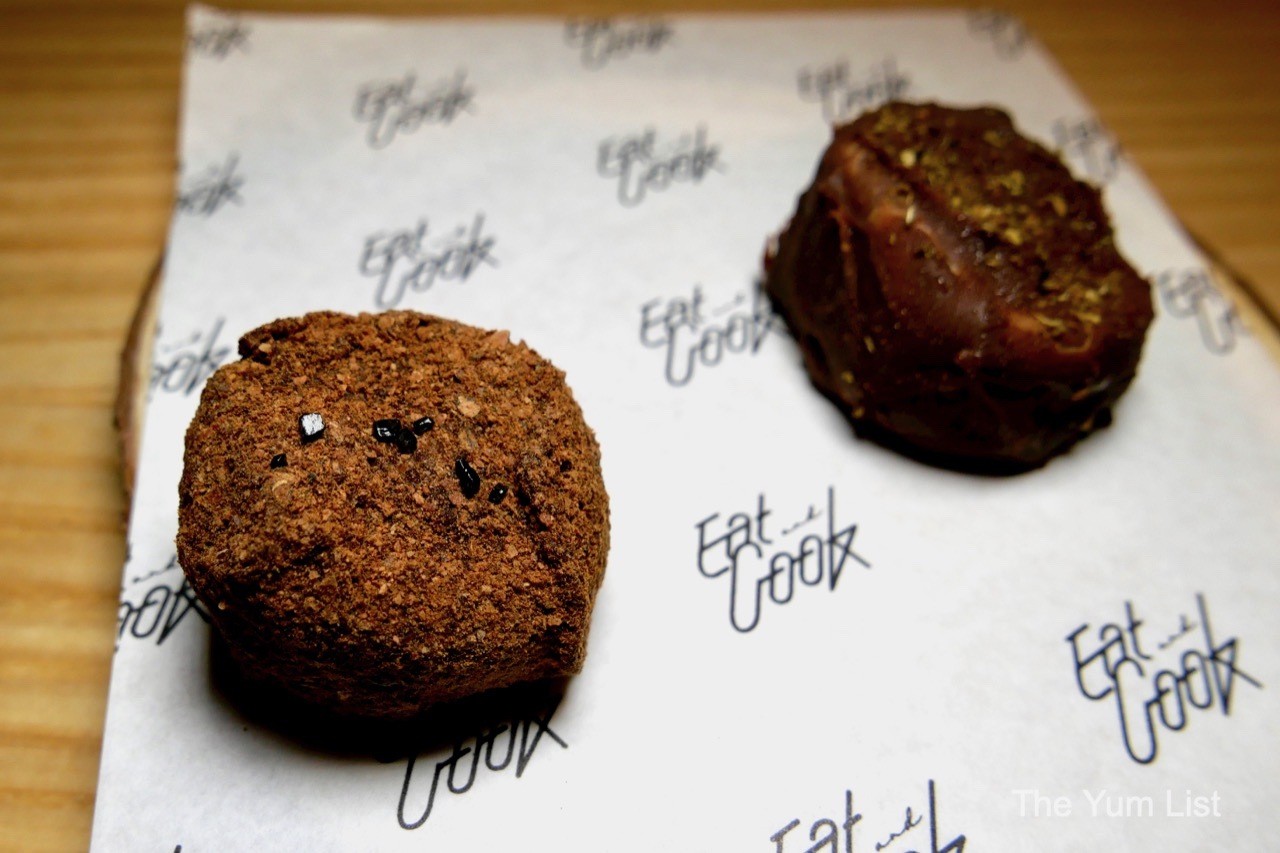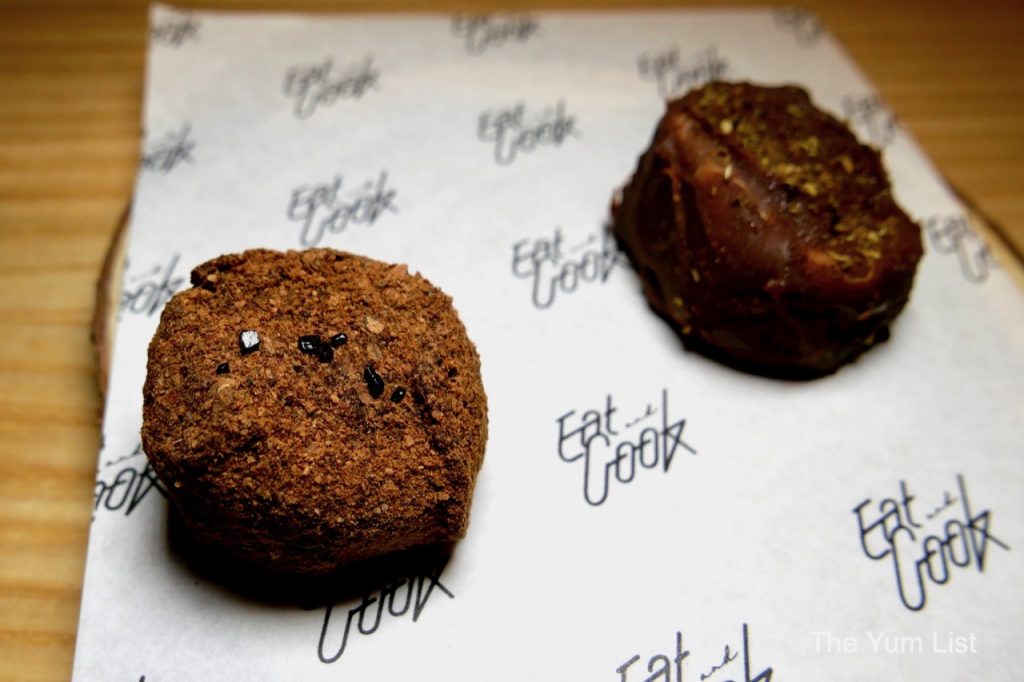 In this passion, Ning and Lee have much in common. Lee prepares a pot of earthy cacao bark tea and shares his views on zero-waste cooking and fermentation processes. Sustainability is more than just a mindset in the Eat and Cook kitchen. It is a central principle that sits in balance with the honouring of Malaysian ingredients and cuisine. He urges us to try some of his other recent experiments, namely his double-fermented kombucha, as well as his tepache – an almost alcoholic month-long fermentation of pineapple peelings. Each is effervescent, acidic and incredibly refreshing. Combined, they form the consummate digestif. Slightly sour with a touch of longan, Lee adds chunks of green chilli flesh for green vegetable notes.
Eat and Cook Review
The passion of Chef Lee, Agnel and all the staff at Eat and Cook is palpable. They love what they do, and this is translated into their food journeys. The Eat and Cook menu is not simply an incorporated fusion of Malay cuisine, an abridged nod to Malaysian culture. Instead, it is a joyful festival of local production, exceptional ingredients, flavours and history. Before each menu change, Lee takes his staff on tasting expeditions. Here they research, source, experiment and play in homage to the best of Malaysian food. There is pride in all elements of the process, from primary growth to creative workshopping, to the exploration of possibilities. Innovation and fun are in harmony with the traditional rites and rituals of Malaysian heritage.
In the words of Paulo Coelho, "The danger of adventure is worth a thousand days of ease and comfort." Only when we step away from our comfort zones, do we genuinely embark on experiences worth having, worth sharing. Eat and Cook's shared joy of Malaysian omakase cuisine is an adventure worth having.
Reasons to visit Eat and Cook in Bukit Jalil: All dishes have their hero ingredients. On our journey, we particularly enjoyed the reimagining of assam laksa, sambal belacan, ikan bakar and kulim. All wines were standouts, but if after something particular, we recommend asking Agnel for his suggestions.
Eat and Cook
H6-1, Pusat Perdagangan Bandar Bukit Jalil, Persiaran Bukit Jalil, 57000 Kuala Lumpur, Malaysia.
+6 03 9765 6898
https://eatandcook.asia/
The menu changes regularly with the next update happening in mid-May.
Eat and Cook Opening Hours
Monday: Closed
Tuesday to Sunday: 6 – 11 pm
Find more restaurants for special occasions in KL here and stay up-to-date with the latest gourmet and travel recommendations for Malaysia here and here.