Imola L'nop Café Ampang Hilir
Words: Monica Tindall
Photos: Rich Callahan
Imola L'nop (like no other place) Café certainly lives up to its name, being one of the most surprising finds we've come across this year. Housed inside Imola Automotive, this charming café with unexpectedly excellent food allows you to caffeinate and savour while your car is being serviced.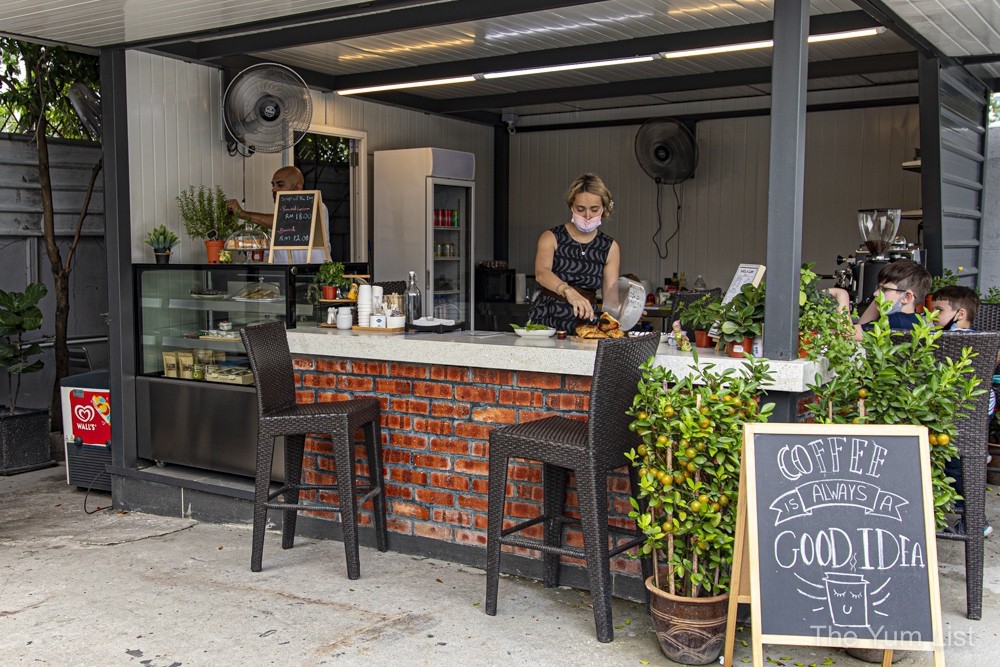 Don't go imaging some disorderly, greasy mechanic shop, though. Imola is quite the opposite.
Lending its name from the town Imola in the Metropolitan City of Bologna, the café and automative shop gives a nod to the home of the Autodromo Enzo e Dino Ferrari. Playing host to the Formula One San Marino Grand Prix, the motor racing track is also the site of one of the most shocking accidents in sporting history. The deaths of Ayrton Senna and Roland Ratzenberger at the circuit during the 1994 San Marino Grand Prix led to increased Formula One safety standards. Perhaps taking inspiration from this event, regular visits to Imola Automative should, in turn, heighten the safety of your driving experience. And, with a coffee kick to boost, you're bound to be more alert on the roads.
Home to a workshop, showroom and car wash, Imola focuses on exclusive high-performance and luxury vehicles. Besides several other services, the carwash resembles more of a spa experience than a rough-and-ready rub down. A separate cloth is used for different car surfaces, and only biodegradable products are used in the clean. In fact, they are so gentle that the workers don't need to use gloves. Additionally, the water residue from the wash is filtered before being disposed of, meaning no grease ends up in the drain or our precious waterways. Our little Axia looks a little out of place next to the Bentley and Mercedes also in the lot. This, however, doesn't stop us from taking advantage of the car wash service and dreaming bigger over a meal at the Imola L'nop Café.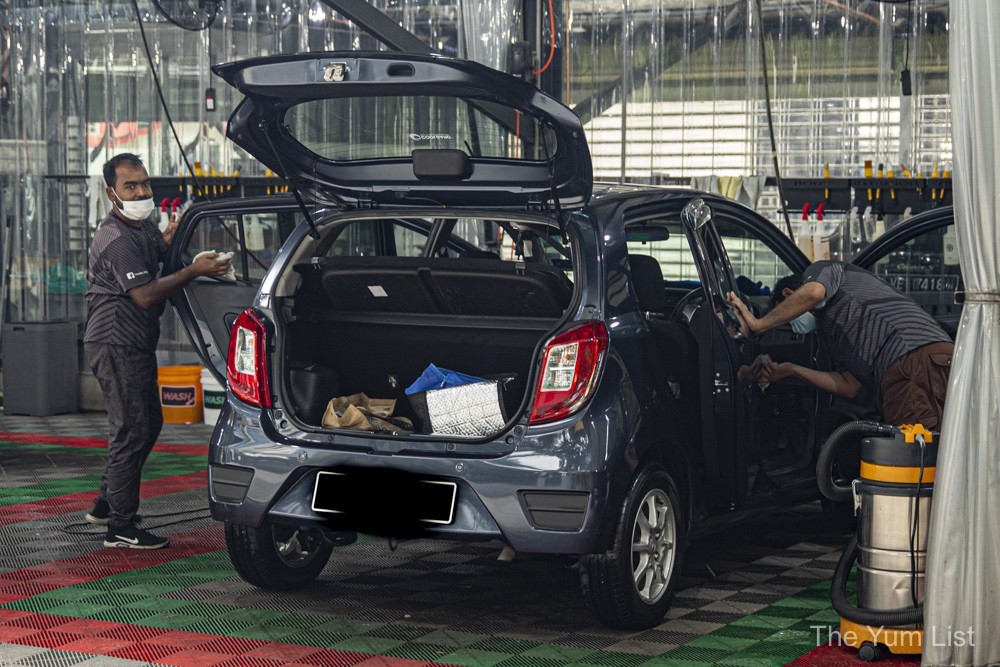 Imola L'nop Café Ampang Hilir
As its name suggests, L'nop – like no other place, the café offers something different. It's designed to provide car enthusiasts with a place to chat with like-minded souls. While your car is being serviced, pampered or pimped, the café furnishes a comfortable setting with homemade cakes, coffees and healthy meals to chew the rag over. The team pride itself in keeping things cosy, welcoming and offers a wholesome menu including gluten-free and keto-friendly menu items. Everything in the café is made from scratch without the use of preservatives or MSG, and you'll undoubtedly find nothing that has come from a can.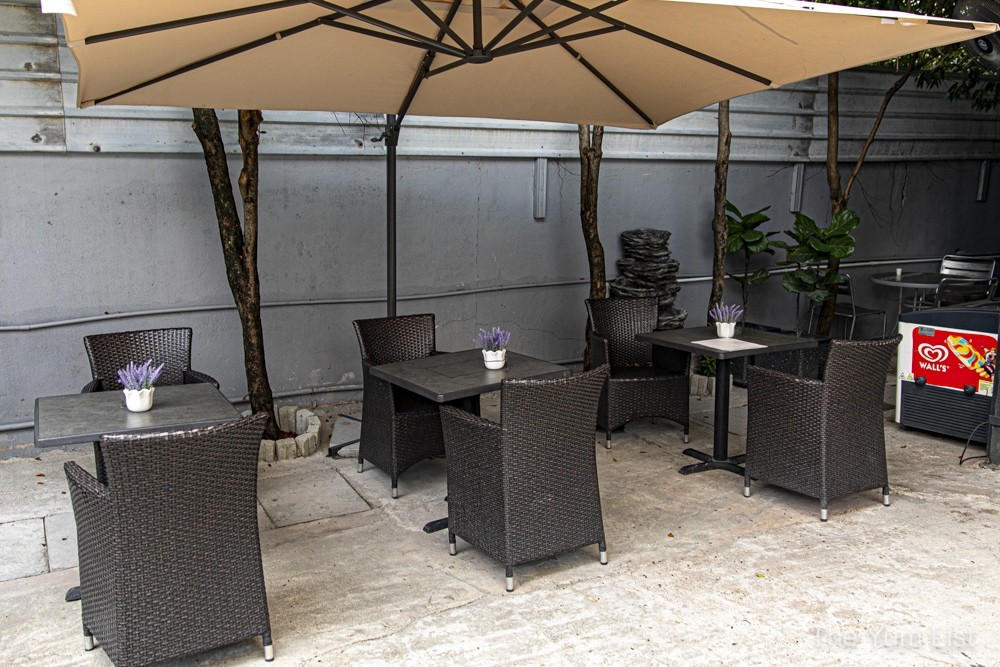 Soups
Blackboard items change regularly and, on our visit, Smoked Capsicum (RM 18) and Broccoli (RM 12) are the soups of the day. Right from the start, the food stands out from what you might expect from a café in an automotive shop. Just look at how beautiful the presentation is. There's not just cream on top of the soup capsicum recipe but also a goats' cheese and lemongrass foam. It's finished off with fresh herbs and a purple bloom, and served with a delicious pretzel bun on the side. It's just the right amount of thickness and absolutely delicious.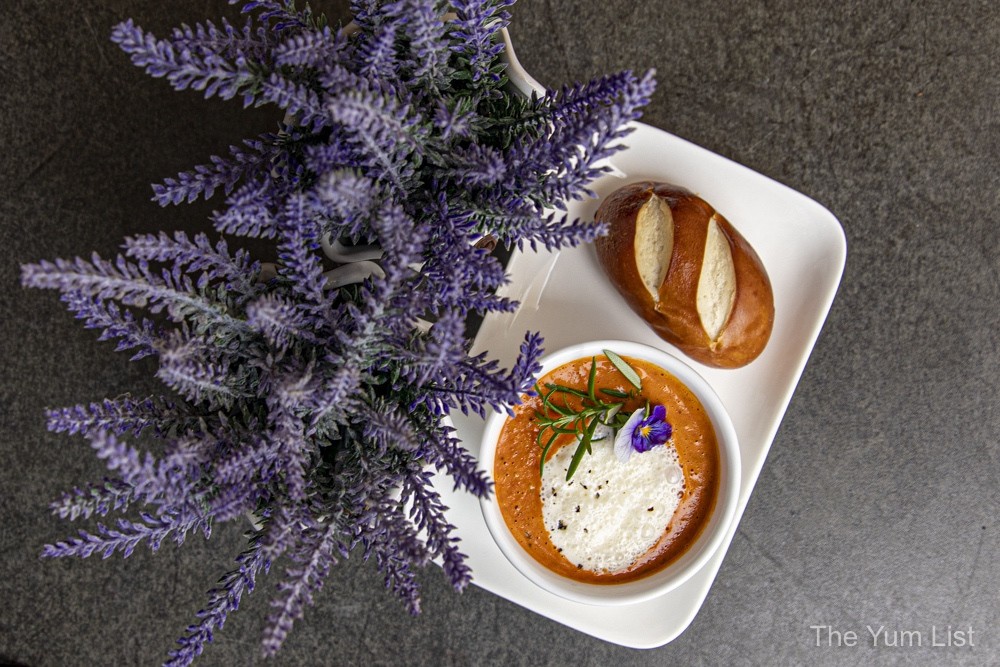 Breakfast
You can't ask for a much more attractive breakfast than Imola L'nop Café's Poached Egg (RM 28). An English muffin holds mashed avocado and lime, layered with crispy beef bacon, Turkish string cheese (such a nice touch) and a soft-poached egg. On the side, there's baby spinach, sauteed mushrooms (so tasty) and charred tomatoes. The hollandaise sauce is balanced in acidity and creaminess and ideal in its amount. I'd happily return just for brekkie.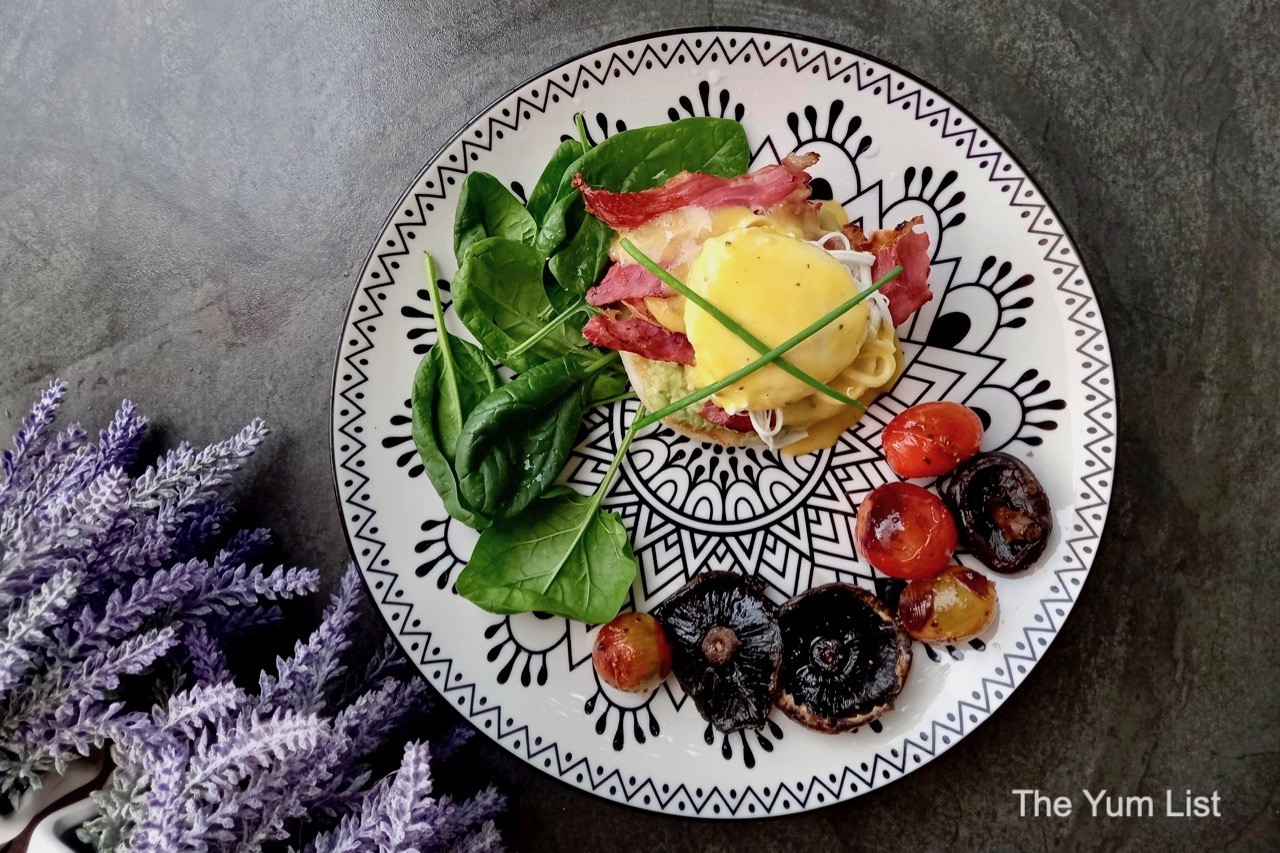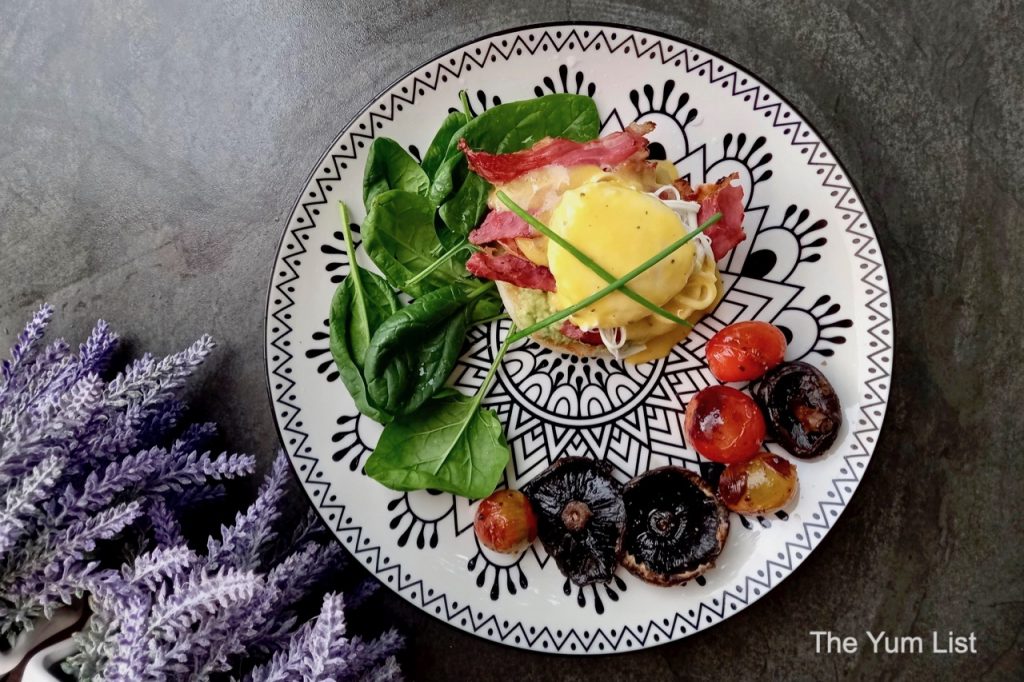 Imola L'nop Café Menu – Sandwiches
Large panini squares wrap the Gourmet Chicken Sandwich (RM 28) in a warm, herby embrace. It's spread with mashed avocado, sliced tomato and mixed lettuce, and chock-full of slices of grilled chicken. Additionally, greens and heirloom tomatoes are accompanied by the most scrumptious passionfruit dressing. Please, Chef Hossein, may we take some of this home?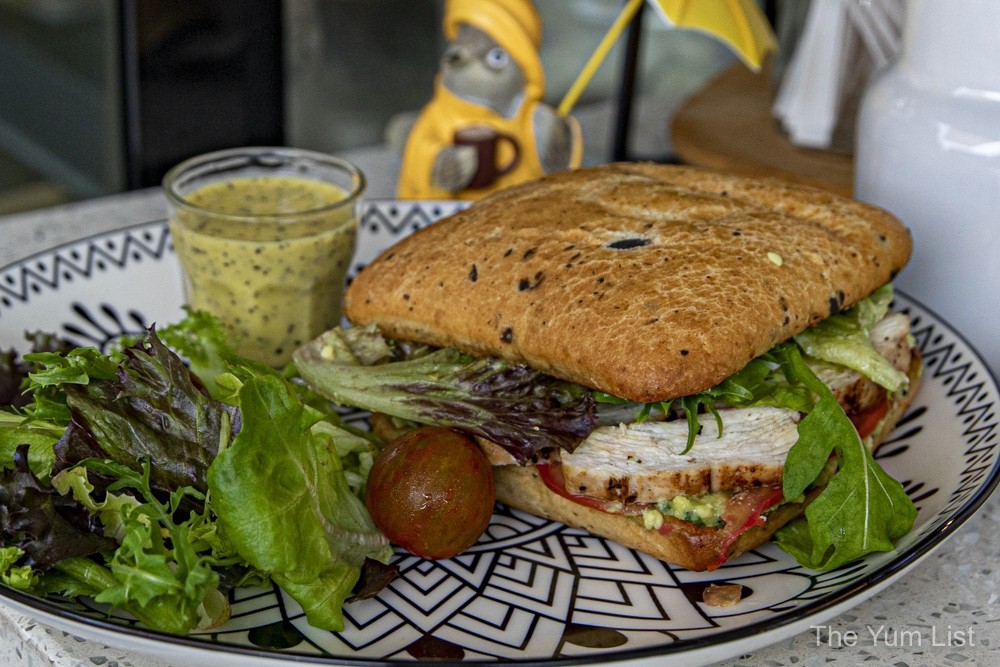 Pastries
Once again, I'm surprised by the quality of the menu in Imola L'nop Café with the Chicken Samsa (RM 10). Not only is this pastry light, flaky and buttery, but it is packed with quality filling. Chopped chicken and caramelized onion complement the case. Sprigs of herbs finish off the plate with a vibrant note of green and crisp, fresh contrast to the pastry.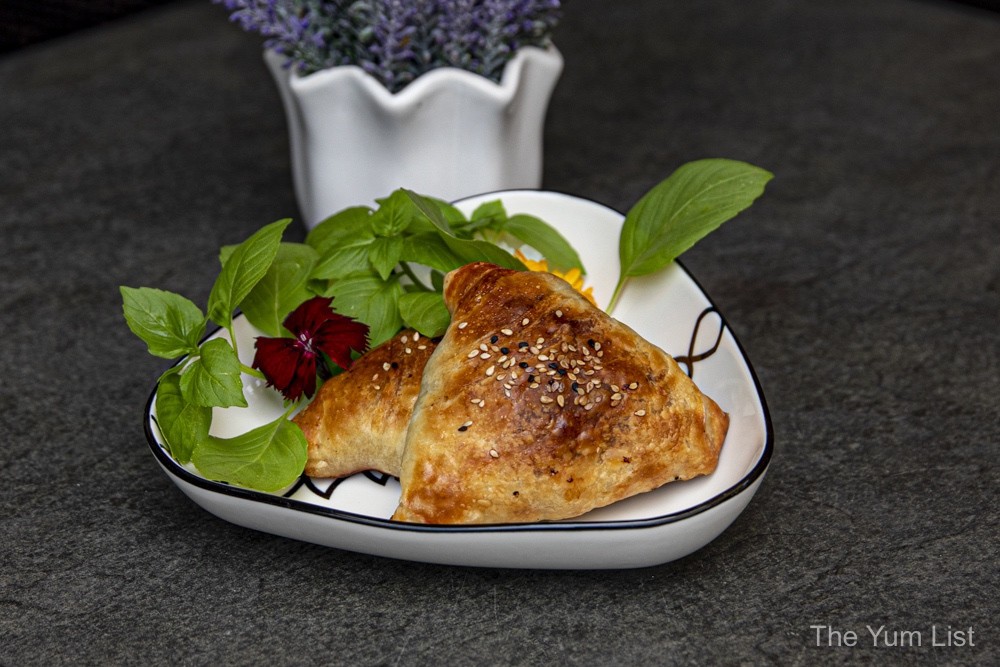 Desserts
One of the highlights of Imola L'nop Café is its homemade low-carb, gluten and sugar-free, keto-friendly cakes and muffins. The ladies behind the café, Madina and Shirin, make them all from scratch. The Carrot Cake (RM 16) is both sugar and flour-free. It's prettily decorated with a luscious top of icing and an edible flower. Wonderfully moist with a crunch from walnuts, I might not go back to eating the regular recipe ever again.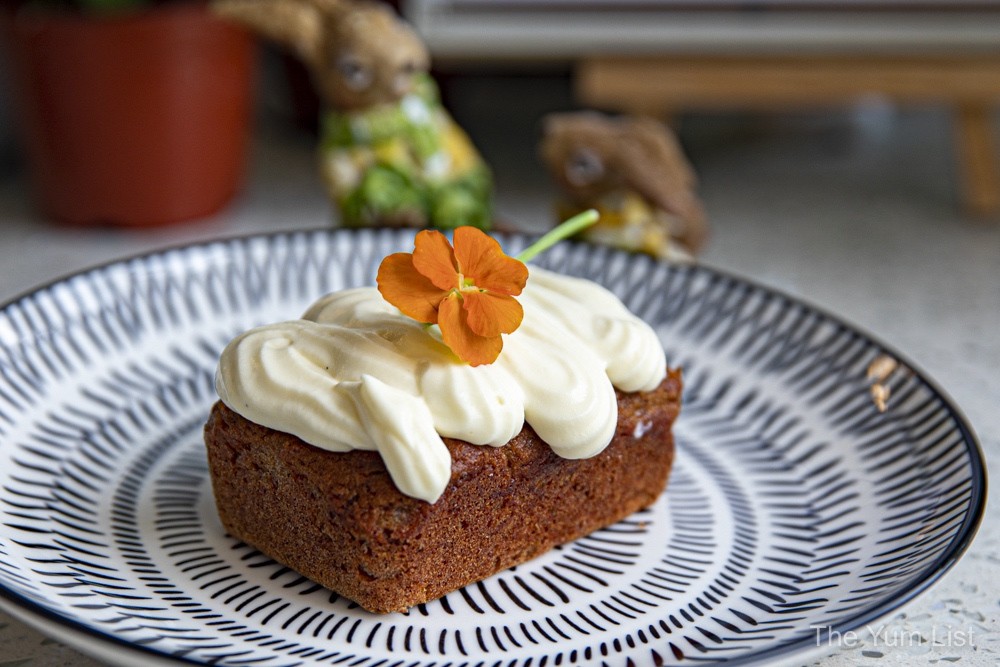 The Burnt Cheesecake (RM 18) is equally pleasing. I'm not a dessert-eater in general, as I've lost my sweet tooth in recent years. However, this gluten-free, sugar-free recipe is perfectly suited to my tastes with its creamy middle and barely-there sweetness.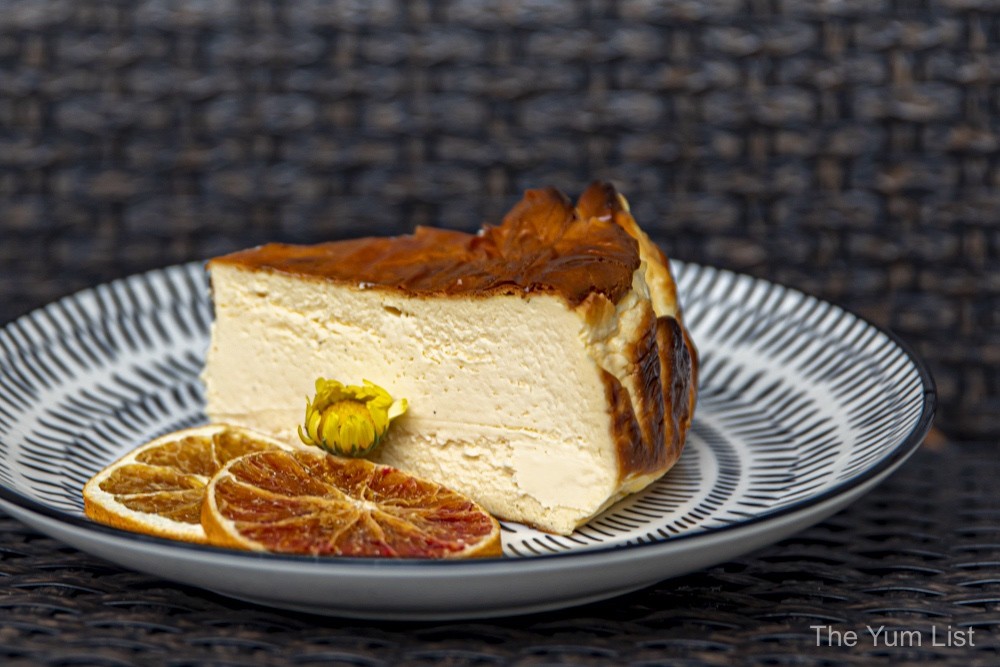 I don't know how they make the Black Brownie with Ice Cream (RM 15) so darn delicious without the use of sugar and gluten, but I'm glad they do. The cold scoop of ice cream on the side is also sugar-free. Currently, it's sourced by a local supplier, but the ladies are hoping to make their own in-house soon as well.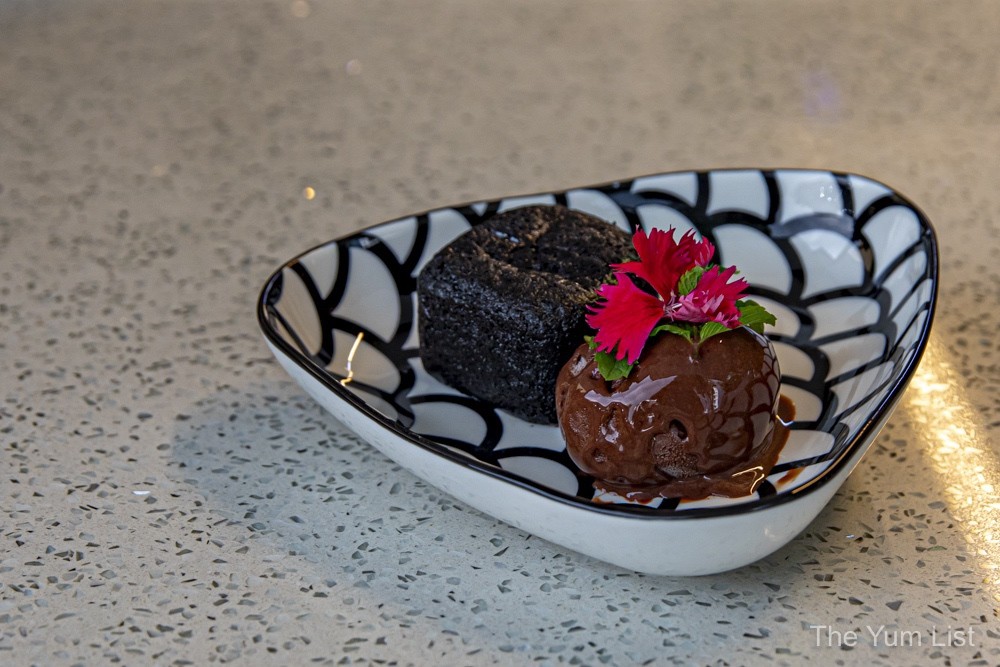 From their regular cake selection and something you don't often see in KL is the Medovik Torte (RM 15). This Russian honey cake features sheets of honeyed sponge layered with sour cream. It's a time-consuming recipe to make. So, as tempted as we may be to gobble it all up, it's worth extending the experience by allowing the almost stroopwafel-tasting bites to melt slowly in the mouth.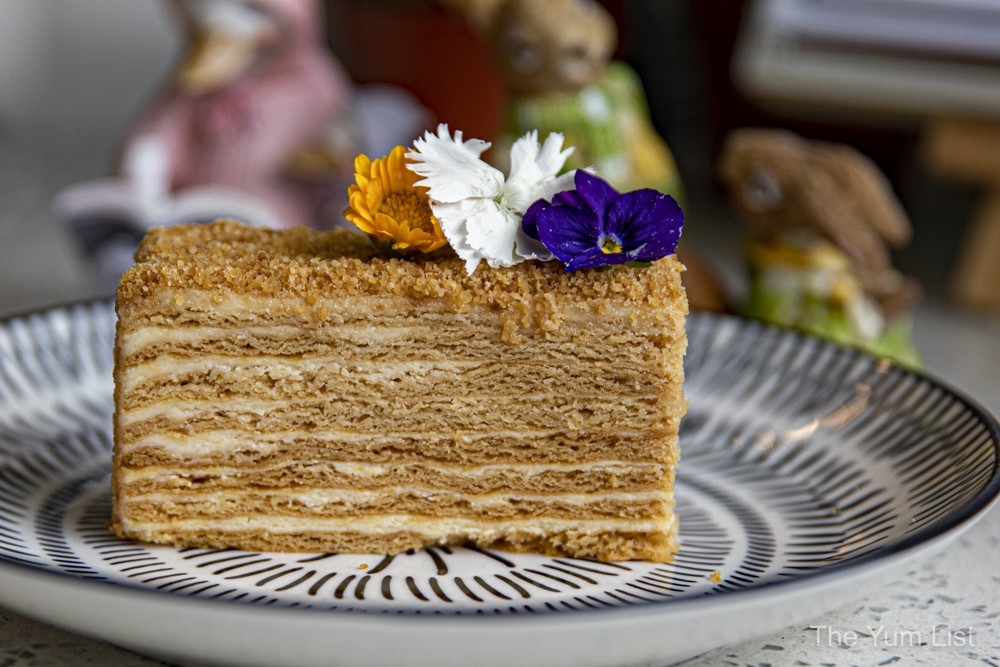 Drinks Menu Imola L'nop Café Ampang Hilir
Brazilian coffee beans, locally roasted, are an excellent choice for the café. Balanced in acidity and bitterness, they go well with milk, making a very approachable cup. Pay RM 8 for an espresso and RM 13 for a coffee with milk. And, do note that almond and oat milk are also available.
Juices are also freshly squeezed. Currently, there's Apple (RM 12) and Orange (RM 12) on the menu, and the sizing is well-portioned for the price.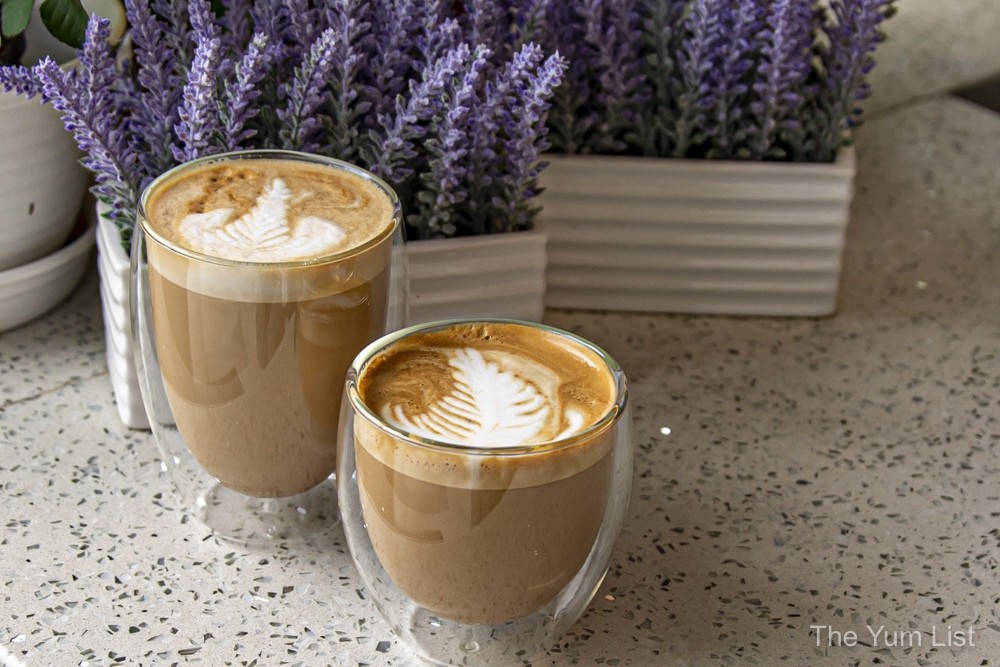 Reasons to visit Imola L'nop Café Ampang Hilir: get your car taken care of at the same time as your stomach; green practices in the car spa; homemade low-sugar, gluten-free and keto-friendly cakes; beautiful food very reasonably priced; a lovely, friendly team behind the café.
Imola L'nop Café Ampang Hilir
Inside Imola Automative
5 Jalan Ampang Hilir
55000 Kuala Lumpur, Malaysia
www.facebook.com/Imola.my
[email protected]
+6 012-211 1585
Imola L'nop Café Opening Hours
Monday to Sunday: 9 am – 7 pm
Find more of our favourite cafes in Kuala Lumpur here and stay up-to-date with the latest gourmet and travel recommendations for the country here and here.