Rockafellers Kitchen + Bar Changkat
Words: Monica Tindall
Photos: Rich Callahan
Rockafellers Kitchen + Bar in Changkat Bukit Bintang proposes a hearty menu of British and Irish recipes in a sports bar setting. The restaurant is just over two years old. Following the pandemic, it has revamped its menu to offer more original recipes. The founding burgers, pizza and pasta remain, but executive chef Yogi has added Rockafellers' originality with his unique creations.
On the popular eating and drinking strip of Changkat Bukit Bintang, Rockafellers Kitchen + Bar opens to the street with some alfresco seating. Inside, red leather-studded lounges form booths, and wine barrels make the base of high tables. There's a decently-sized stage hinting at former fun. Outside of COVID SOPs, the bar was known for having a different live band every night of the week!
Enormous screens show the latest sports competitions from around the world. Rockafellers subscribes to a vast number of providers, so you can find just about any match here that you are interested in. Under normal circumstances, whatever games within their operational hours (11 am – 3 am) will show.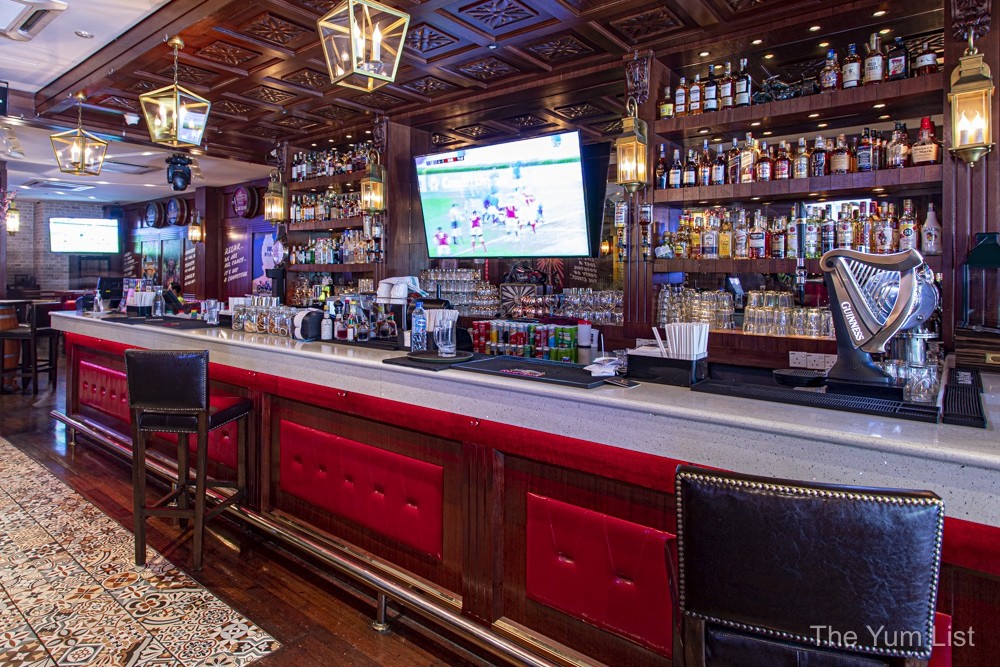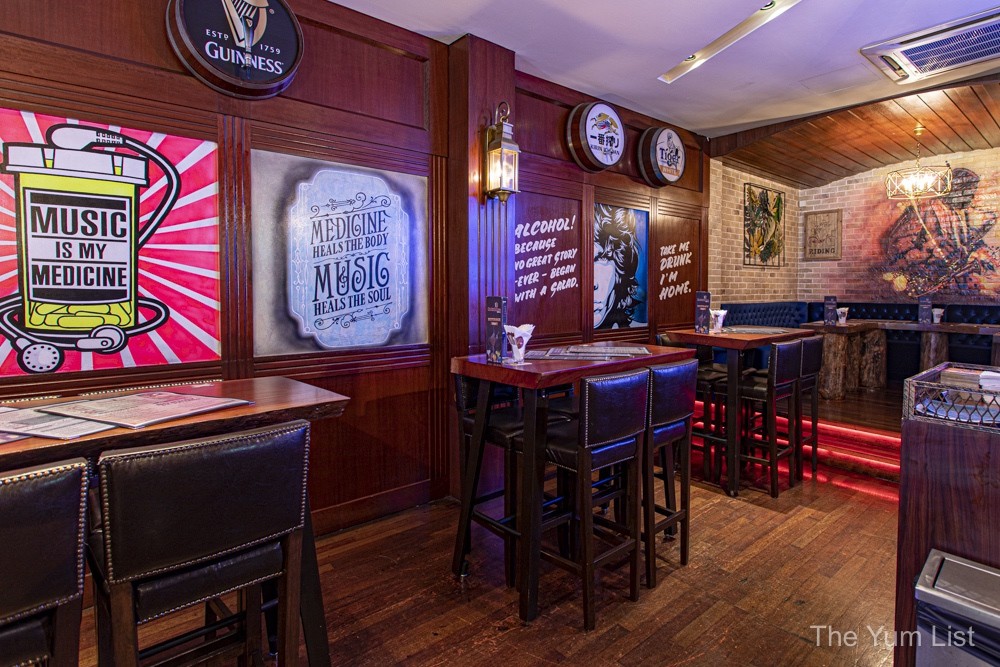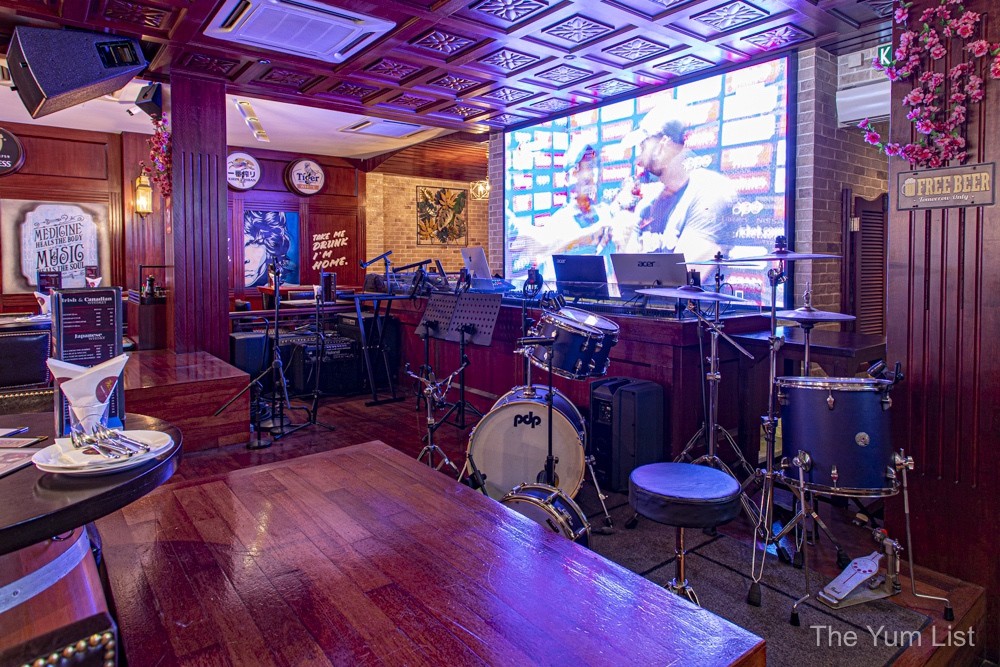 Rockafellers Kitchen + Bar Menu
The menu at Rockafellers Kitchen + Bar holds over 100 items! When I comment on everything being so "hearty," the management joke that they use the term "Yogi style" to describe the same thing. Recipes are big and bold, just like the style of the chef who created them. Marketing manager Satish says, "We want to fill everybody and make them happy. We want to satisfy their souls."
Soup 'N' Salad
With such an extensive menu, we are glad to find several vegetarian choices. Roasted Asparagus & Onion Soup with Barley (RM 24+) is a wholesome mix of asparagus, onions, barley and garlic in vegetable stock. Worcestershire sauce adds an element of tang, bringing oomph to the overall flavours. I'd order this again in a snap.
Another healthy choice is the Smoked Duck Breast with Pomegranate Spinach Salad (RM 30+). Sliced breast meat crowns a tangle of sauteed spinach. Walnuts, feta cheese, pomegranate and alfalfa sprouts are tossed through, providing crunch and freshness.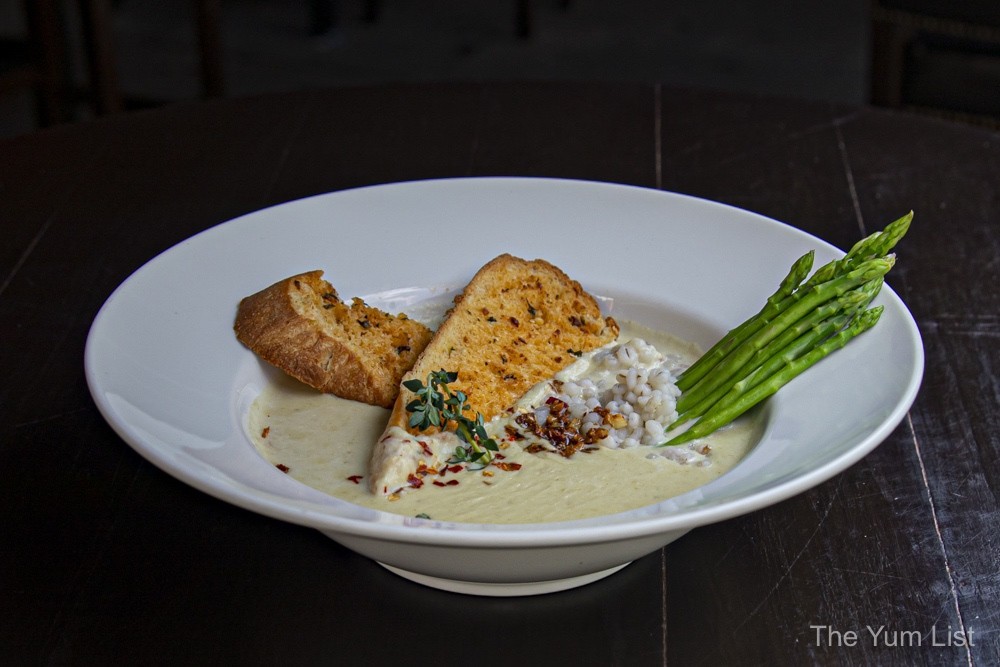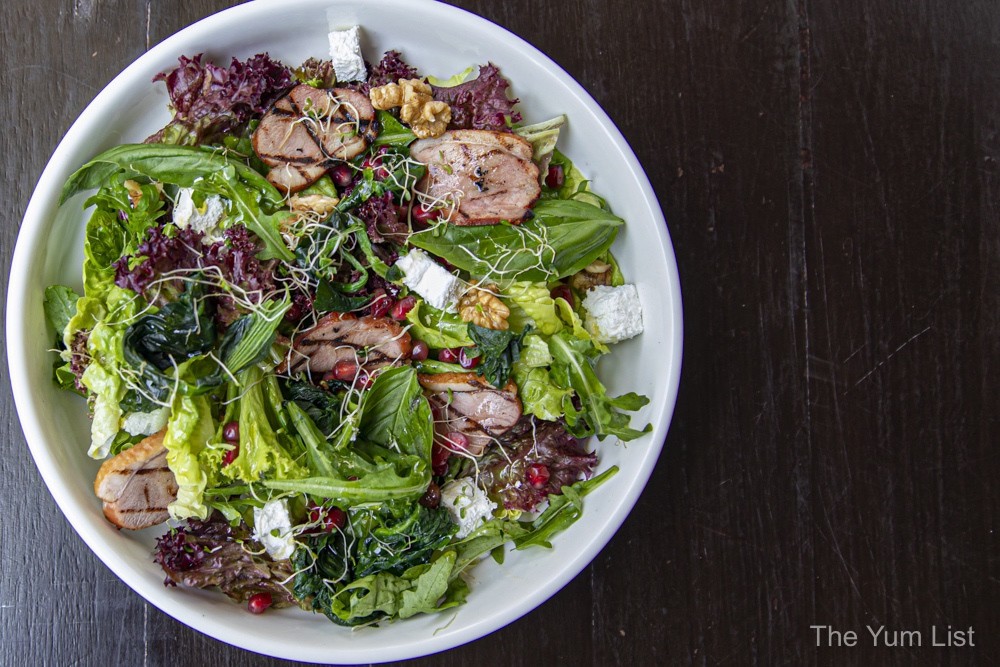 Pastry & Rolls – Rockafellers Kitchen + Bar
We quickly move to "Yogi style" with the pastry section of the menu. I like Yorkshire pudding, and I like shepherd's pie. I'm intrigued to find them together in Rockafellers' Stuffed Yorkshire Pudding with Shepherd's Pie (RM 48+). Three pud pieces are filled with minced beef in roasted gravy, melted mozzarella and creamy mashed potato. The pastry is fantastic. Coming as three, and each a rich bundle on its own, this dish is ideal for sharing.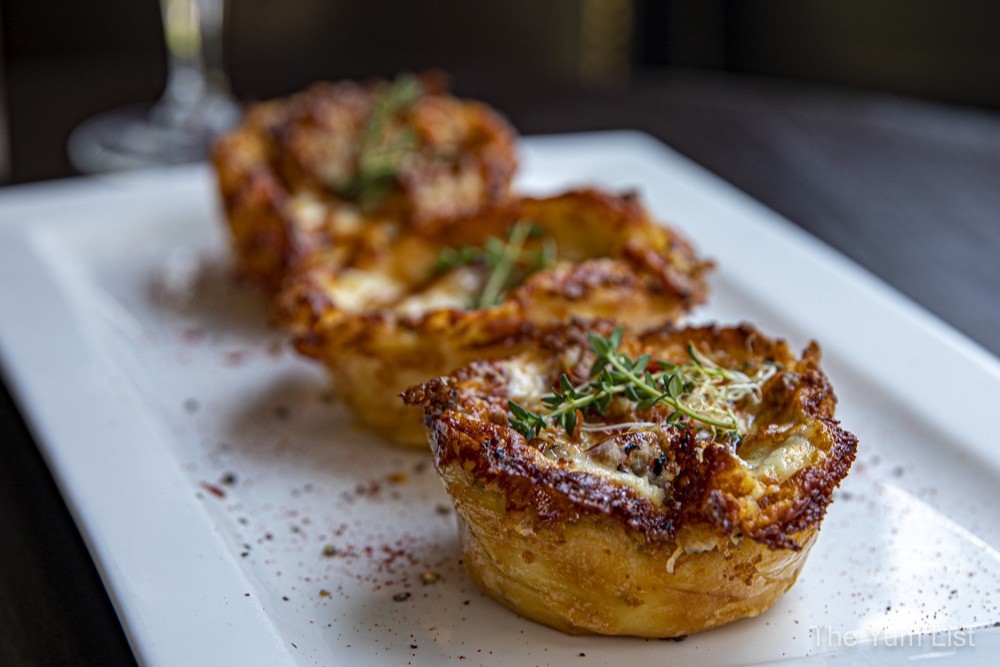 Wood-fired Pizza
You know we love our meat-free options, so we go with the Authentic Margherita (RM 38+, 12 inches) when it comes to ordering pizza. The typical toppings of buffalo mozzarella, basil and tomatoes are almost thicker than the thin wood-fired base.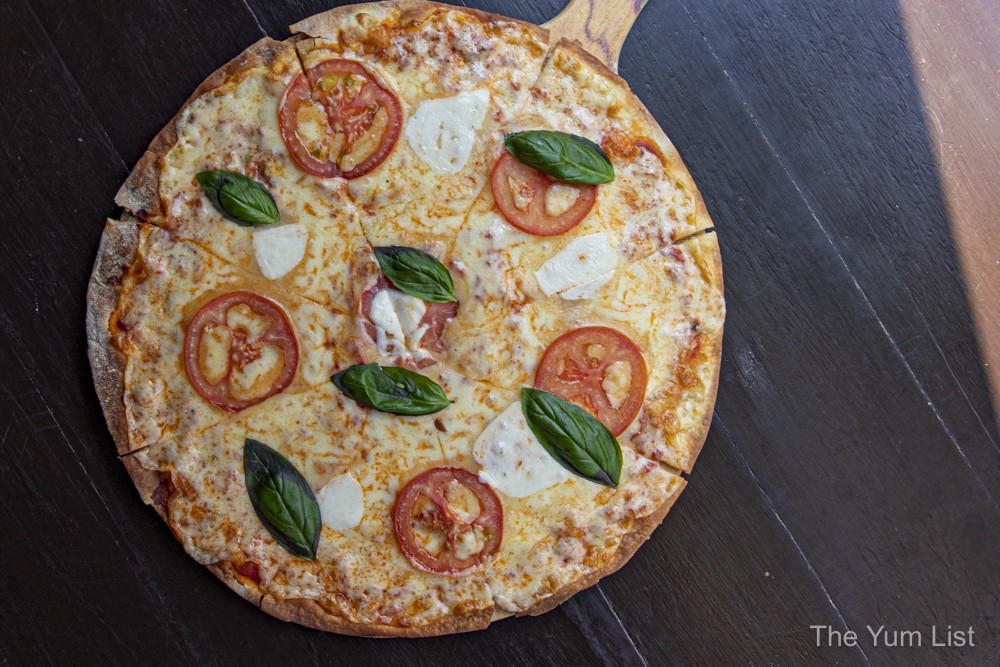 Pies & Stews
Pies and stews are known as hearty Irish and British fare – perfect for energizing in chilly European temperatures. Either at Rockafellers Kitchen + Bar s guaranteed to fill a hungry tummy. Just sit in the cool air-con, or be sure to go for a run before your visit to fit them in.
Hickory pulled-pork ribs are the primary filling in the Barbecue Pulled Pork Pie (RM 49+). Caramelized yellow onions and capsicums add sweetness to the pork, and roasted barbecue gravy can be added to your liking. A tray of mixed greens contrasts the buttery, flaky pastry top and intense wadding.
With the local fruit's inclusion, the Tamarind Beef Mushroom Casserole (RM 45+) sounds intriguing. Ribeye cubes, mushrooms, carrots, coriander and beef stock, are slowly simmered together. The broth is thin but extremely flavourful, and the tamarind lifts the conclusion with a more-ish acidity.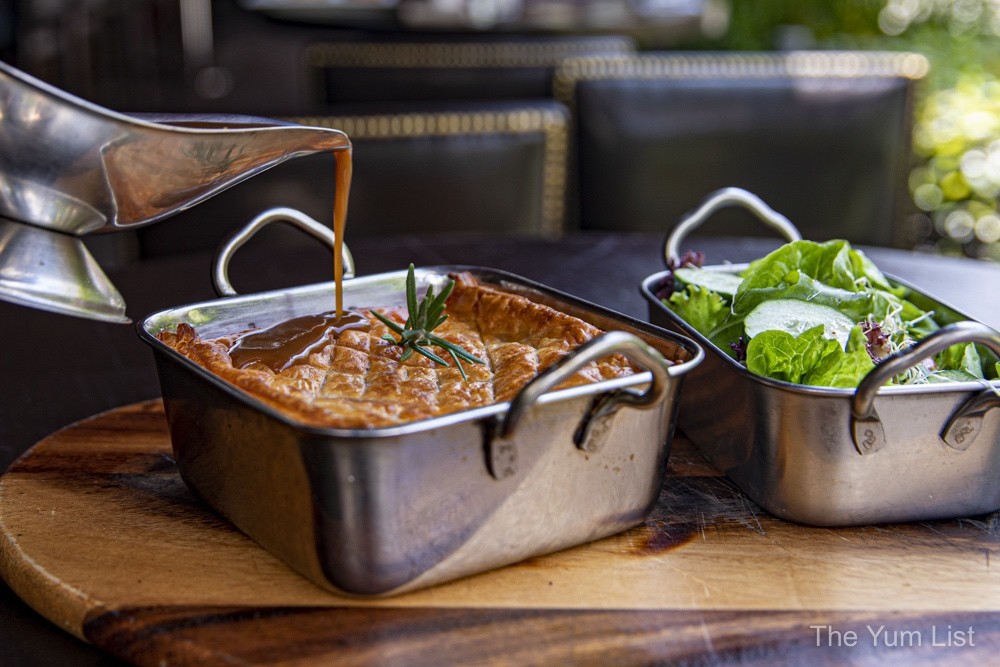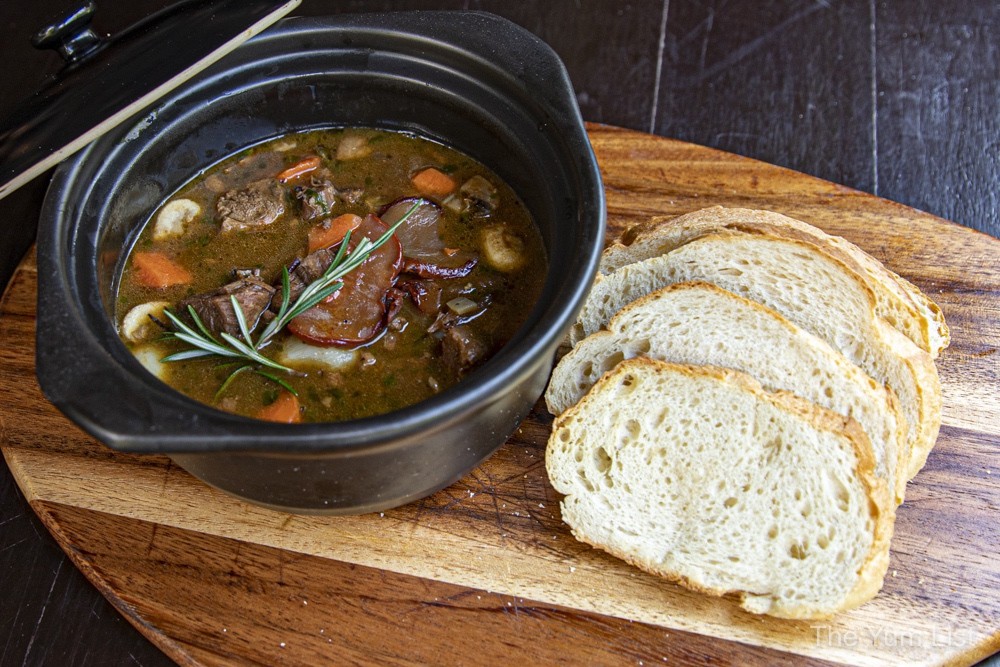 Burgers
Again, paying attention to vegetarian choices, we opt for the Aubergine Spinach Burger (RM 46+). A vegan patty (soya beans ground and made in-house) is supported with a hash brown, spinach, cheese, eggplant, mixed lettuce, tomato and mushrooms. It's a tower of a meal. Not even hubby's mouth can fit around it. A basket of fries sprinkled with Cajun seasoning could be a meal on its own.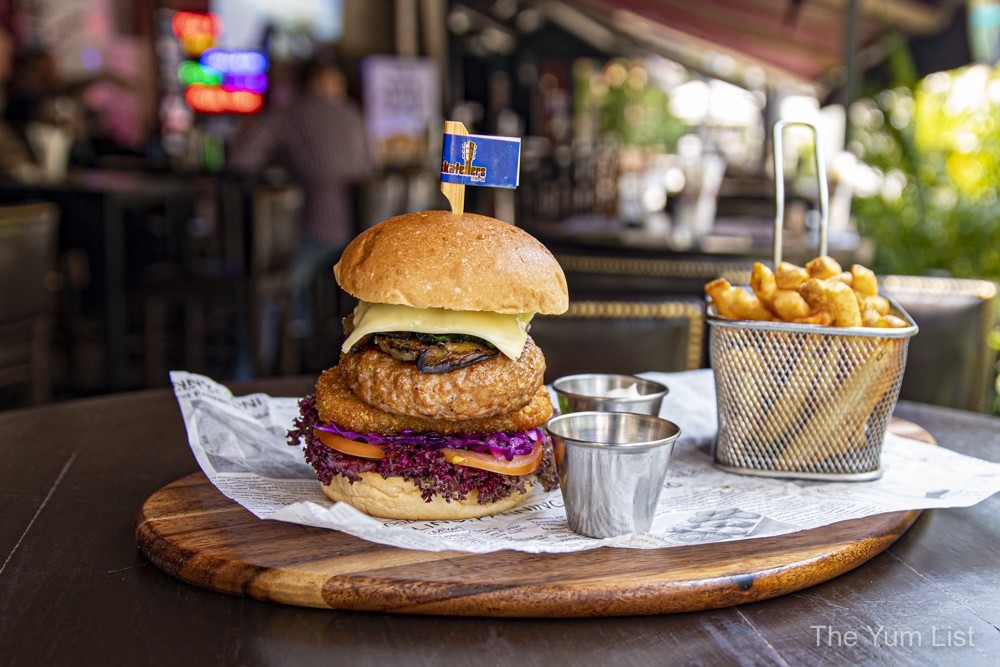 Main Menu Rockafellers Kitchen + Bar
You might not believe it, but we are only just now reaching the main menu of Rockafellers Kitchen + Bar!
Mediterranean Style Braised Lamb Shank (RM 65+) is done in red wine and served with baby carrots, roasted garlic and chat potatoes. It's another enormous portion, easily shared. The secret to the shank's tenderness is a slow-braise for two to three hours, and the key to its tasty gravy is cumin, red wine, tomato puree and fennel seeds.
Coming highly recommended, the Apple Cashew Nut Pork Collar (RM 57) is an Irish speciality. Mashed potato is a plate-filling base, but it's the coriander, apple-glazed cashews, pickled shallots and mustard gravy that really give this recipe some liveliness.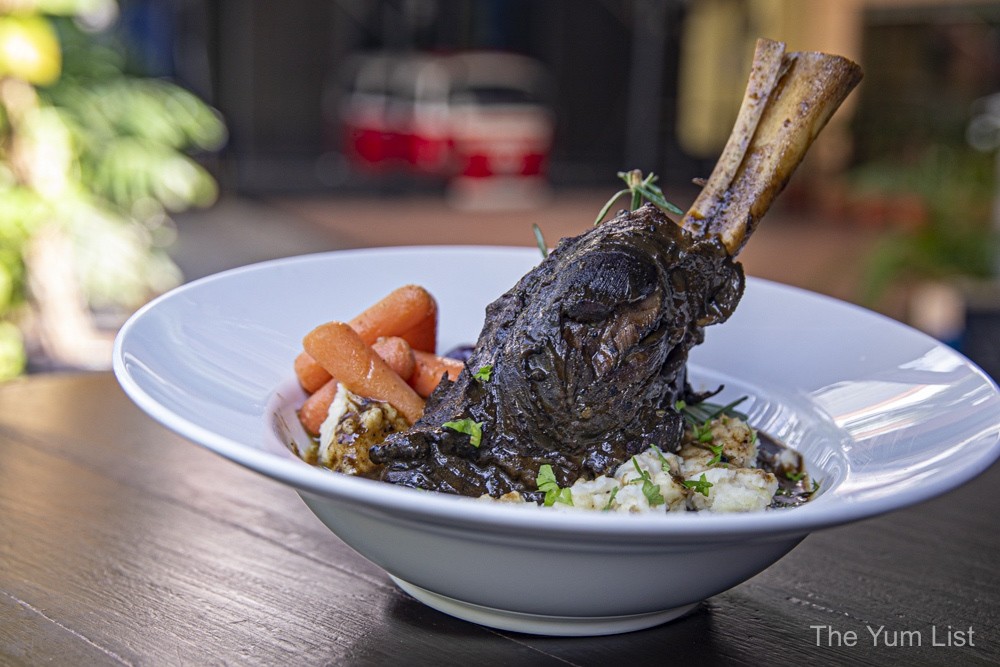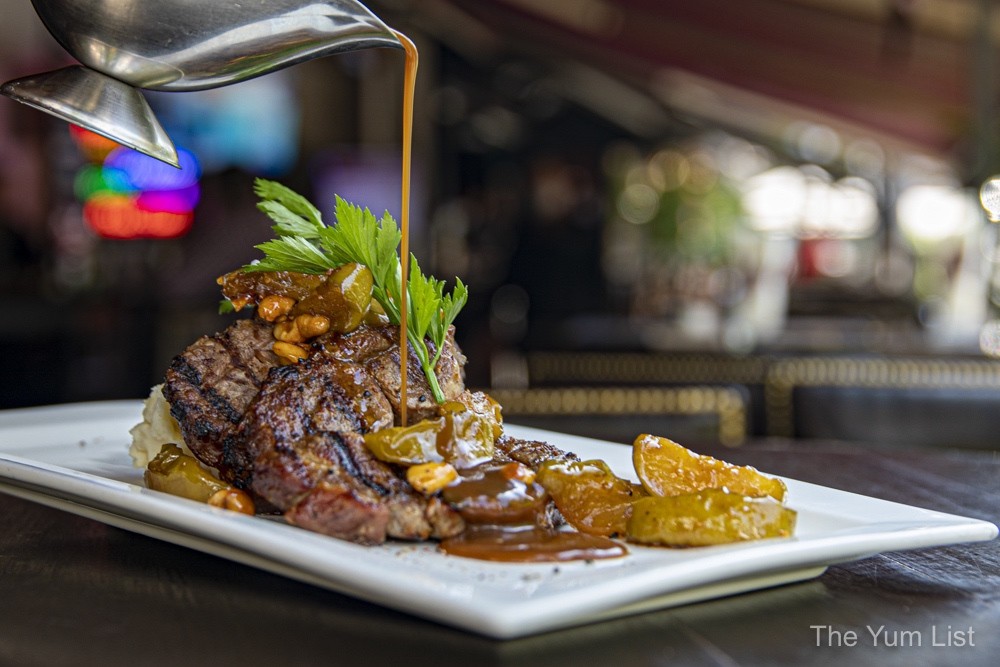 Drinks Menu Rockafellers Kitchen + Bar Changkat
The drinks menu is extensive, including wine, beer, cocktails and over 100 labels of spirits. A double-page of happy hour specials shows seriousness in pleasing all desires. Currently running is a cocktail promotion where eight recipes are being sold, two for the price of one (before 10 pm: RM 55+, after 10 pm RM 65+). As you might well know, I am not a fan of complicated concoctions or sugar syrup, so ask the bartender for some help in choosing.
The first two shaken are bright, well-chilled and highly refreshing. I Love Soul Room is a tiki-style presentation made with vodka, elderflower liqueur, passionfruit puree, pear puree, lemon and cranberry. Named for its bright-red hue, Santa Sour is a combination of gin, orange liqueur, lemon, peach tea and peach tea foam. Both are suited to my taste for something not too sweet with a lingering tang.
The following duo is sweeter and fruitier in nature. Soul in Herbs is another rum-based beverage, but this time with spiced liquor. It's given piquancy and earthiness with betel leaves, lime and tamarind. Continuing the 'soul' theme (named after the hidden bar next door), we finish with the Soul Taker. A vodka blueberry fruit mix is combined with guava juice, lemon and elderflower liqueur. This is very fruity and to hubby's liking.
If you'd prefer a classic, Rockafellers Kitchen + Bar in Changkat offers classic Martinis and Mojitos from 11 am until 8 pm for RM 25+ per glass.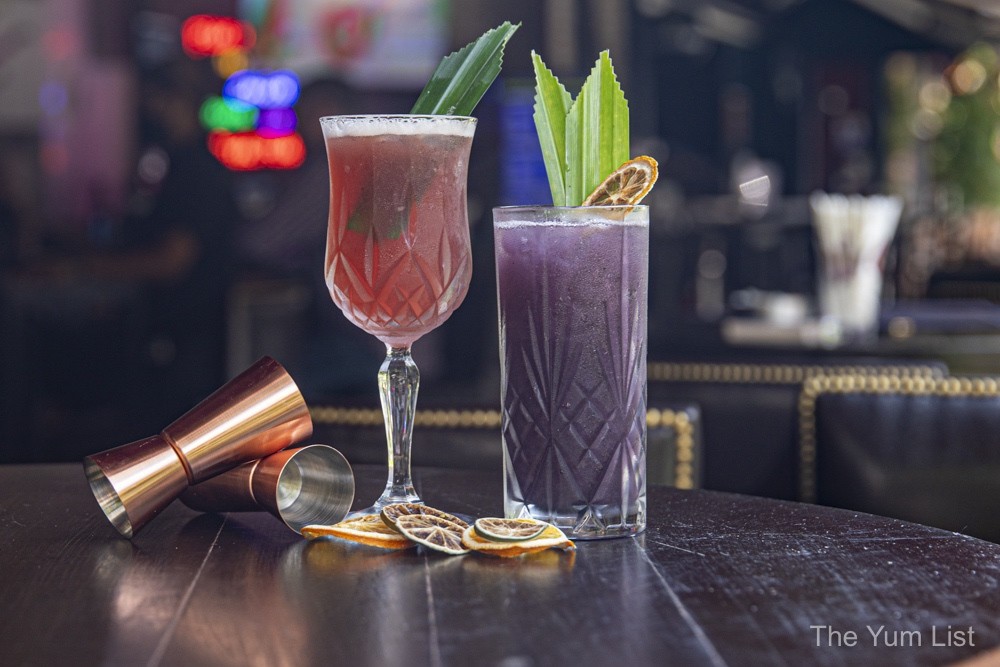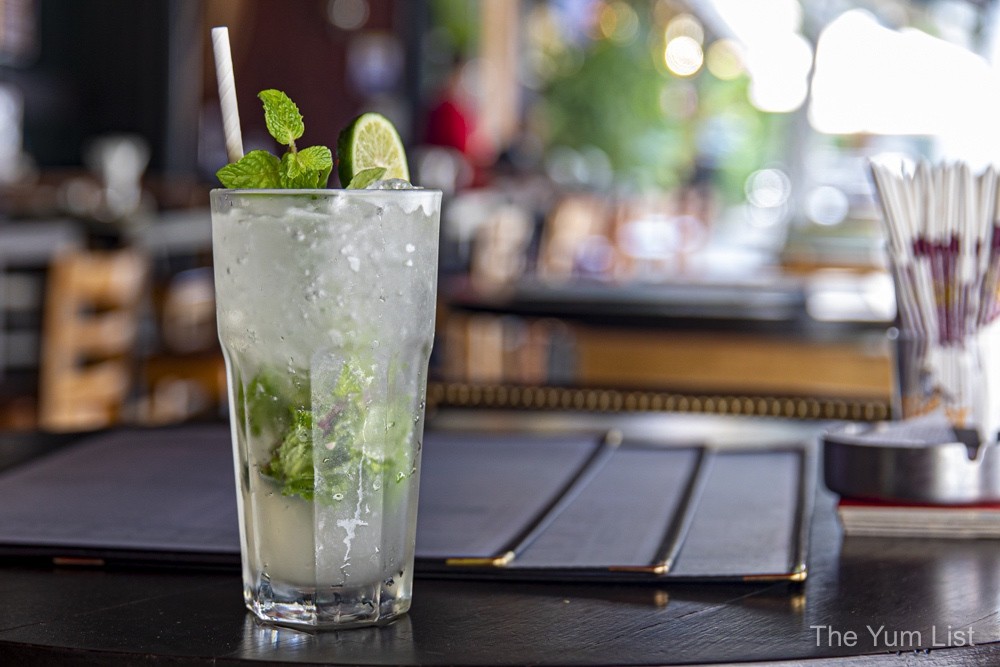 Reasons to visit Rockafellers Kitchen + Bar: extensive food and drinks menu; generous portions; no-one should leave hungry or thirsty; giant screens and comprehensive subscriptions to sports channels.
Rockafellers Kitchen + Bar
37 & 39 Changkat Bukit Bintang
50200 Kuala Lumpur, Malaysia
www.facebook.com/RockafellersChangkat
Rockafellers Kitchen + Bar Opening Hours
Daily: 11:30 am – 11:30 pm
Find more restaurants and bars in Bukit Bintang here and stay up to date with the latest happenings around Malaysia here and here.