Sipping Corner Café
Words: Monica Tindall
Photos: Rich Callahan
Plants filter the air, produce oxygen, cool a space and offer aesthetic beauty. I can't imagine a much more relaxing yet invigorating setting than one filled with nature's verdant foliage. Well, maybe a spot that provides coffee and cake too! Sipping Corner Café at Ampang Waterfront ticks all of the above with its charming digs housed within a plant-packed studio.
Sipping Corner Café at Ampang Waterfront
Part of Plant and Pot Studio, Sipping Corner Café sits directly above the plant shop. It's a welcome contrast to the concrete surroundings. The strip is filled with shop lots selling hardware and furniture supplies and runs adjacent to the main road of Jalan Ampang. However, once inside, it is literally a breath of fresh air.
The ground floor is jam-packed with plants of countless varieties and sizes. Pots, soil, seeds, tools and more are all available for purchase. Each plant comes with a handy care guide, so even newbies to gardening have a good chance of keeping them alive! Upstairs, the greenery continues with a little space set aside for tables and chairs amongst the vegetation.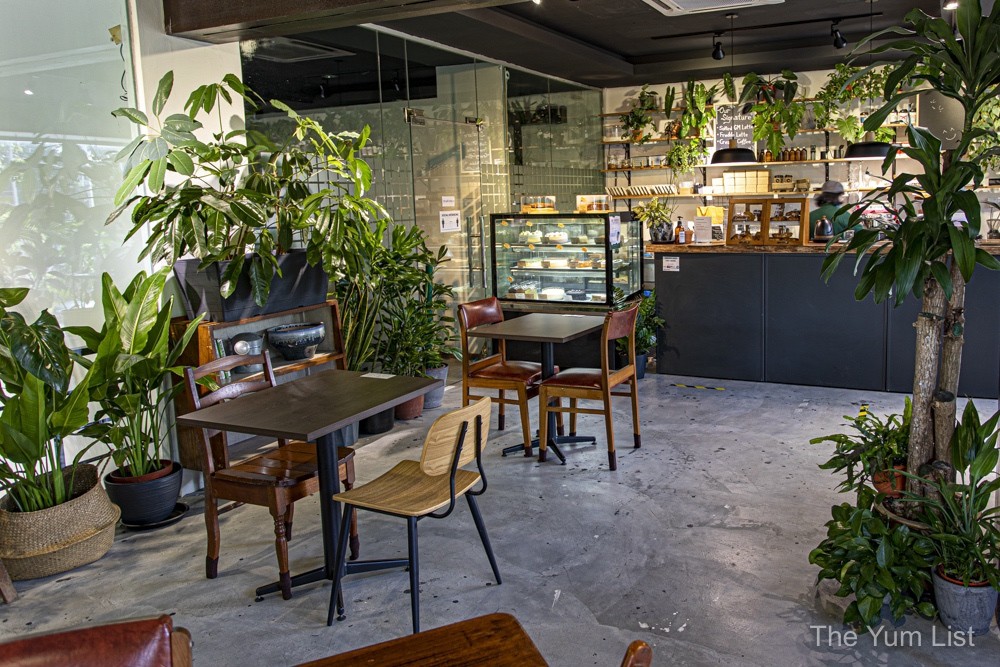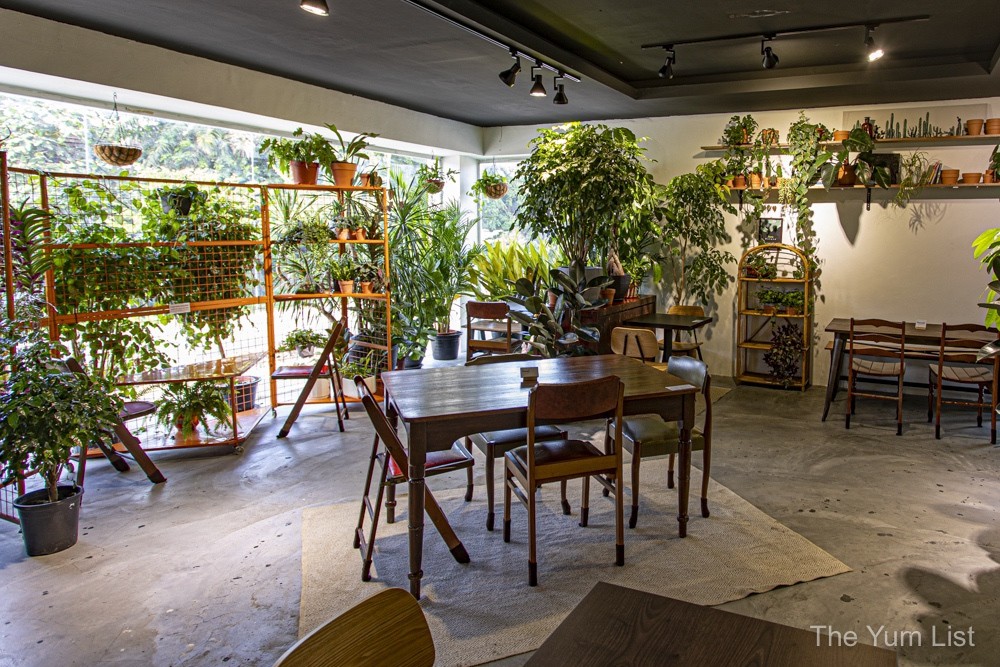 Drinks Menu Sipping Corner Café
The coffee and cake counter is where the action is at. A Synchro double-boiler espresso machine brews locally-roasted seasonal beans. Currently in the hopper is a blend of Colombian and Brazilian beans. We ensure a happy start to the morning with a Latte (RM 12) on Oat Milk (RM 2) and their signature cold Salted Gula Melaka Latte (RM 15). The coffee is well-balanced, with a nice seesaw between acidity and astringency. It does well with milk, which is perfectly textured and finished off with some creative latte art. The signature is best ordered chilled to appreciate the layers of gula Melaka (palm syrup), coffee and milk. I recommend first sipping and then gradually stirring in the syrup from the bottom to adjust the sugar-kick to taste.
For non-coffee options, the team at Sipping Corner Café also make a decent Matcha Latte (RM 13) that offers a nutty, mildly sweet finish. I'm also happy to see kombucha. Brewed locally, three flavours are on display today. Coffee, Mint & Apple, and Lemongrass & Chamomile Kombucha (RM 15). We choose the third and are happy with how both the herb and the tea temper the sharper edge of the fermented tea drink.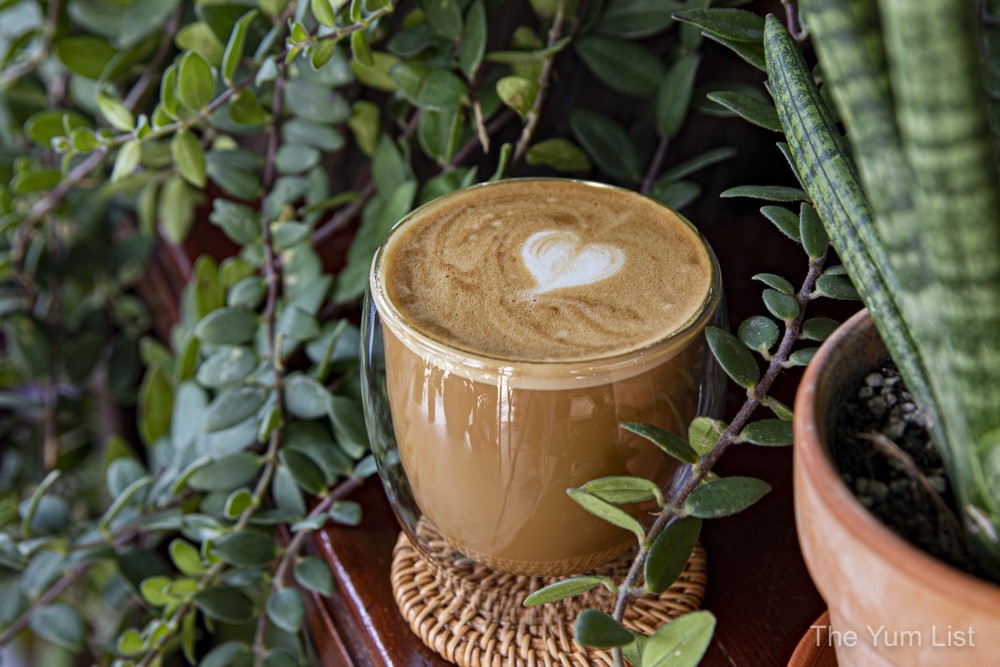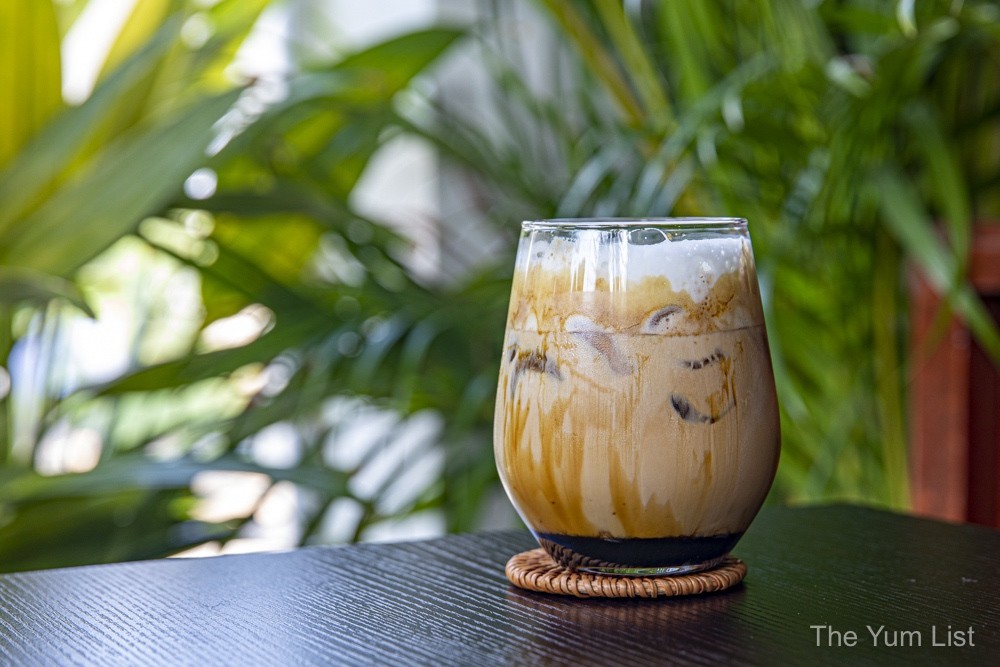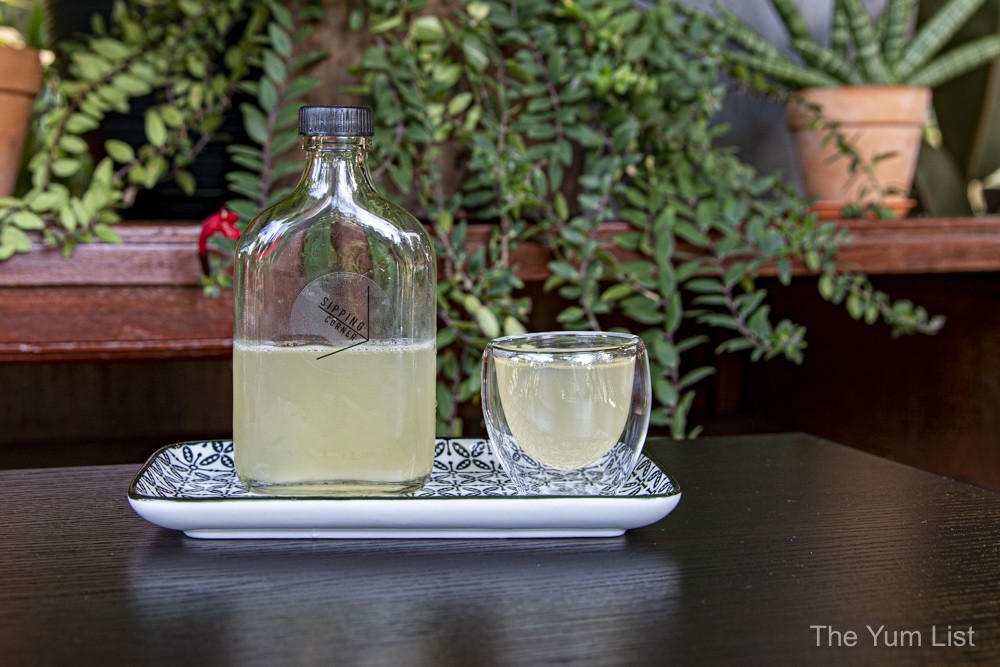 Cakes and Pastries
Sipping Corner Café's menu is a selection of cakes and pastries from home-bakers around KL. Sometimes there are vegan options such as the Avocado Mousse (RM 15), but this is not yet consistently available. Today we start with two savoury items in the French Butter Croissant (RM 7) and Chicken Ham & Cheese Croissant (RM 11). Both are large pieces and have been heated just before serving. They're flaky, buttery and go well with milky coffees.
I confess that we chose the Mix Salted Caramel (RM 14) and Rosemary Roselle (RM 15) cakes based purely on appearance. If you're not so concerned with capturing a picture, the Mango Shortcake (RM 15) comes highly recommended – layers of sponge, cream and fresh mango.
Our first slice of the Mix Salted Caramel is an explosion of sweetness. Vanilla and chocolate cake are stuck together with cream cheese and caramel and topped with chocolate icing, a biscuit crumble, and a decadent drizzle of caramel.
The Rosemary Roselle is indeed pretty with its combination of lavender and cream. Apple jam is infused with red roselle making deep red-pink layers between soft sponge. Mild acidity and herbaceous in the lemon rosemary icing elevates the flavours and lightens each forkful.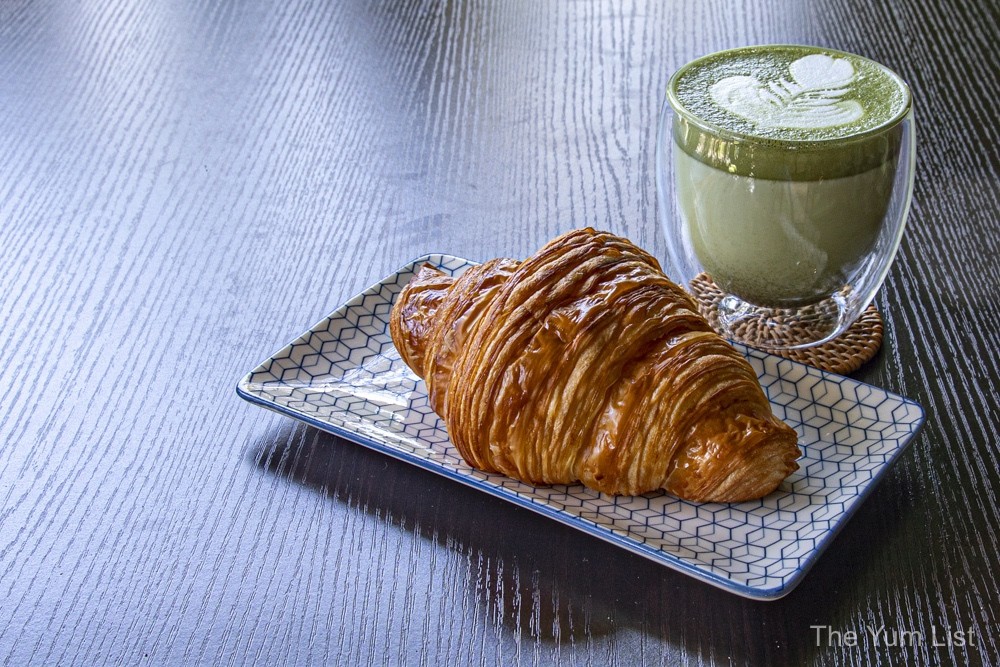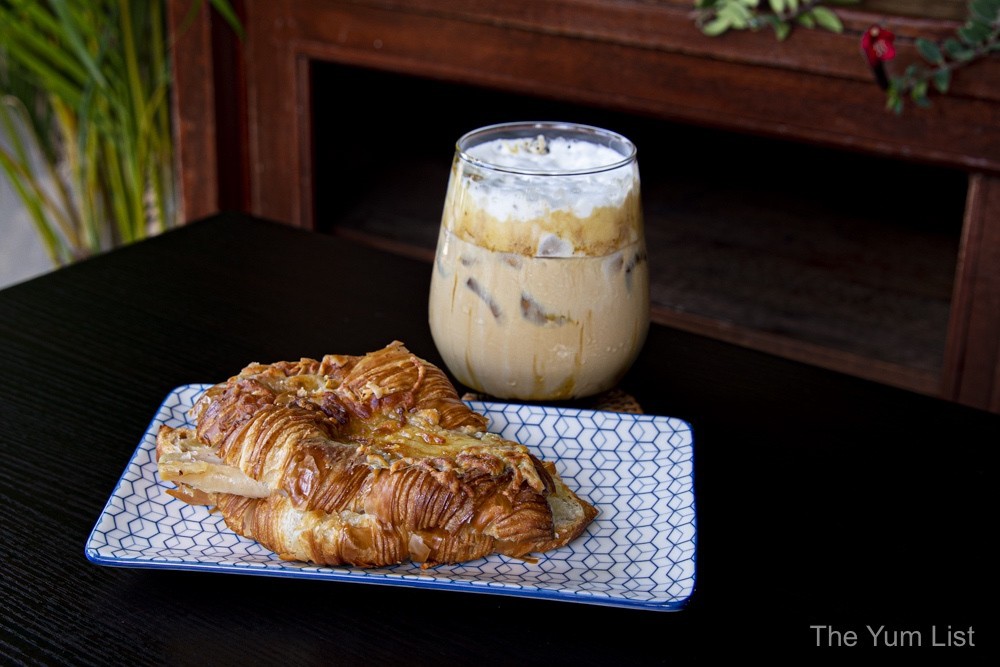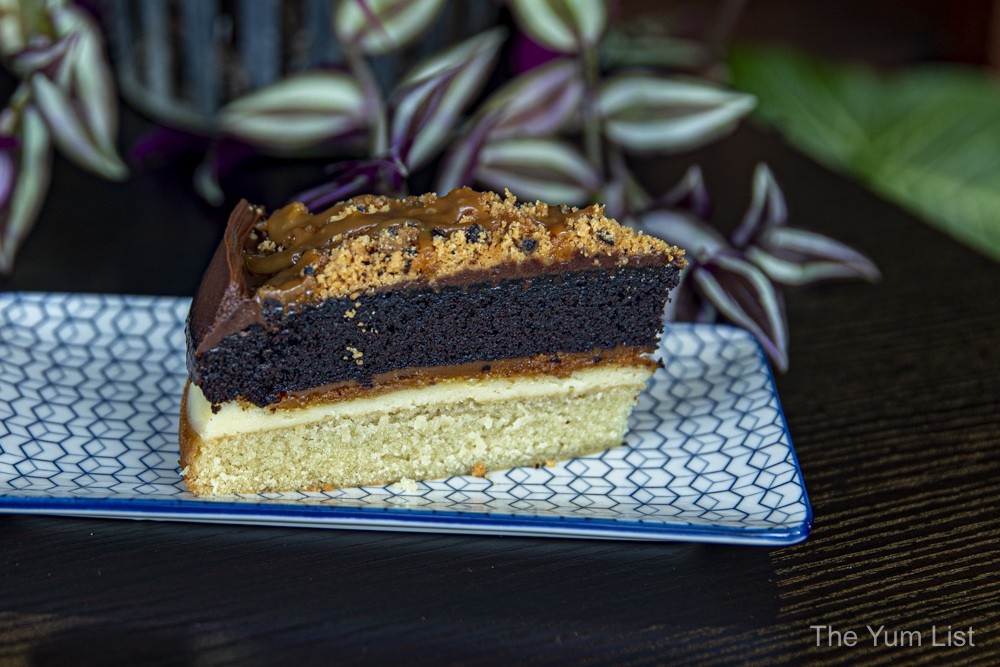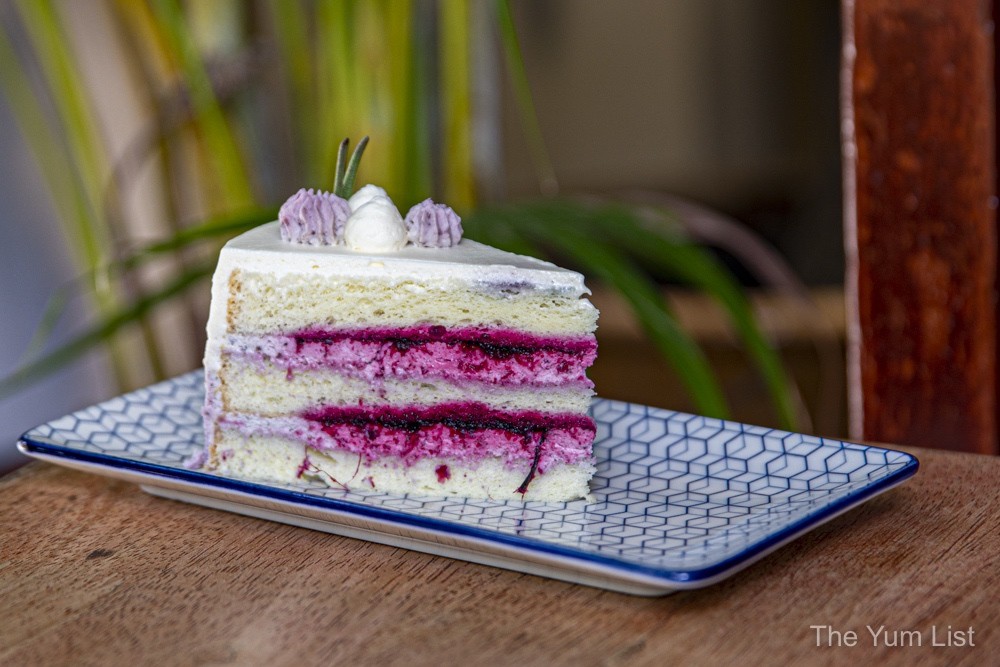 Plants To-go – Plant Pot Studio Ampang
Before we head out, I can't resist a little plant shopping. While the prices for potted plants are not the cheapest in the suburbs, the service and information shared in caring for each plant is excellent and worth a few additional Ringgit. Plants, soil, pots, seeds, tools and nutrition are all available and organized in such a manner that makes the experience very pleasant. I am happy to bring home a little piece of Sipping Corner Café to add to my home jungle.
Reasons to visit Sipping Corner Café: awesome green space that is literally a breath of fresh air; well-made coffee; changing selection of cakes; plants to-go!
Sipping Corner Café
Plant and Pot Studio
1-1, Jalan Awf 3a, Ampang Waterfront
68000 Ampang, Selangor, Malaysia
+6 018-9746311
www.plantandpotstudio.com/pages/sipping-corner
Sipping Corner Café Opening Hours
Daily 9 am – 6 pm
Find more of our favourite cafes in Kuala Lumpur here and stay up-to-date with the latest gourmet and travel recommendations for the country here and here.