Skillet KL – Spring-Summer Degustation Menu
Words: Monica Tindall
Photos: Rich Callahan & supplied
Spring and summer evoke images of flowers in bloom, fresh produce and visits to the farmers' market for Chef Raymond Tham, co-owner and chef of Skillet KL. His formative years as a chef were spent in Europe, and it's the seasonal change in that part of the world that has inspired the latest menu.
Chef Raymond recalls the cheery feel of the warmer months, especially after miserable winters. Happy faces are common, and the joy of foraging for wild ingredients is relived. The recipes curated for this Spring/ Summer collection are vibrant and honour local and international in-season produce. With the prevalence of flowers and celebration in the theme, Perrier-Jouët is a natural Champagne partner.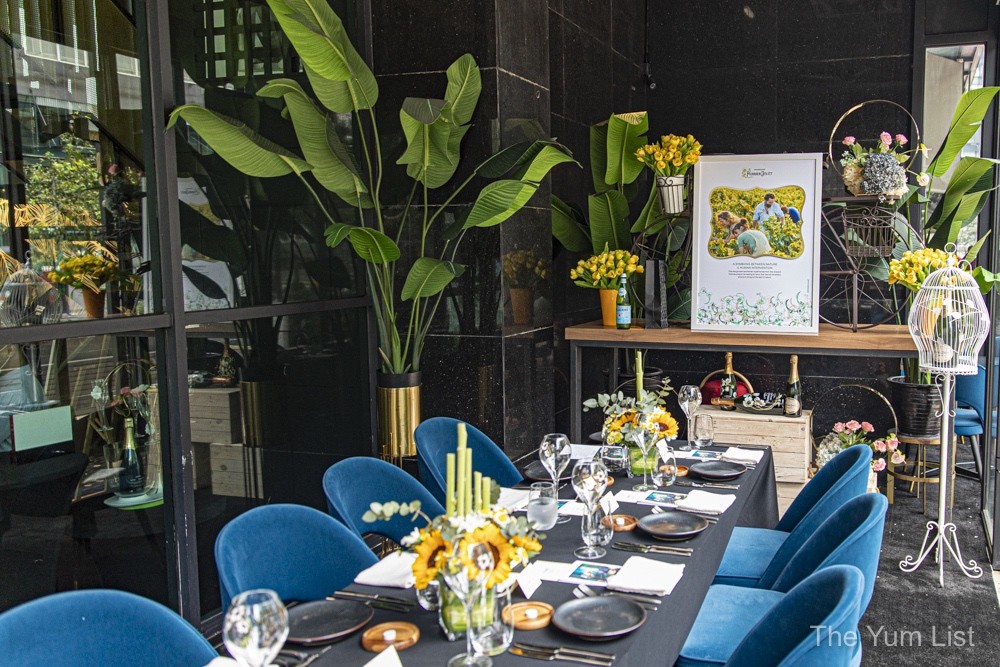 Champagne Perrier-Jouët
Perrier-Jouët was founded in 1811 by husband and wife, team Pierre-Nicolas Perrier and Rose Adélaide Jouët, as a commemoration of their union. The bubbly is vivacious with a bouquet of blooms and fruit. This, combined with the striking floral label and glass design, proves a well-suited match to the menu's essence. And, it's with a glass of Perrier-Jouet Grand Brut NV that we begin.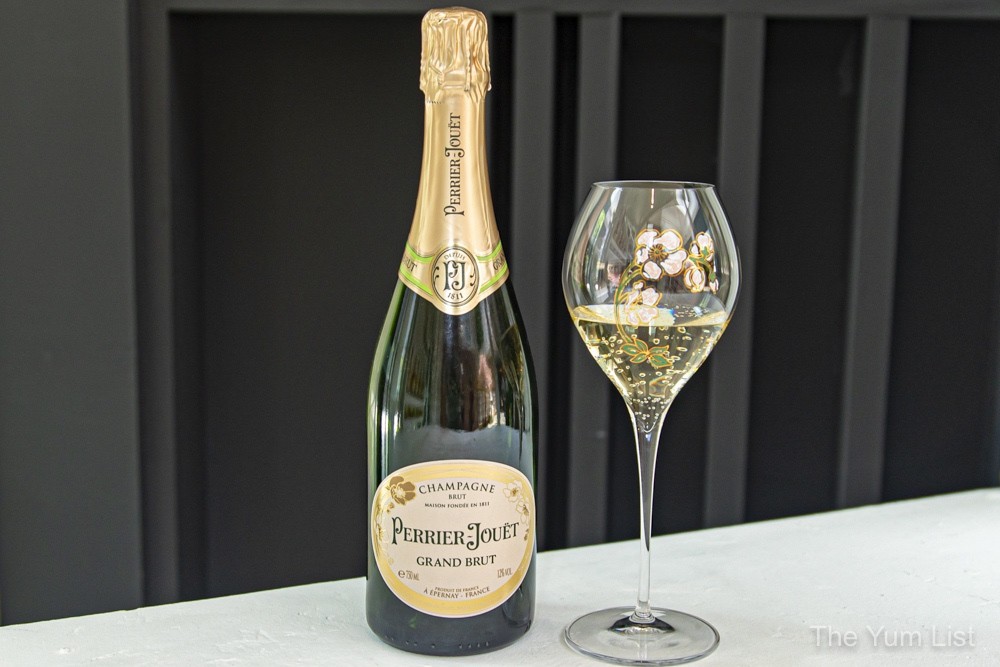 Skillet KL – Spring-Summer Degustation Menu
Amuse Bouche
The amuse bouche is presented with house-made sourdough and truffle butter on a tray of textured stones. Ratatouille pinwheels are formed with thin bell peppers, zucchini and fermented tomato on a puff pastry base. Mysterious in hue, the black charcoal cannoli are filled with seaweed and dried mussel cream. A savoury twist on the Sicilian sweet, the roll is full of umami flavours, and the dark black roll is contrasted with gold leaf.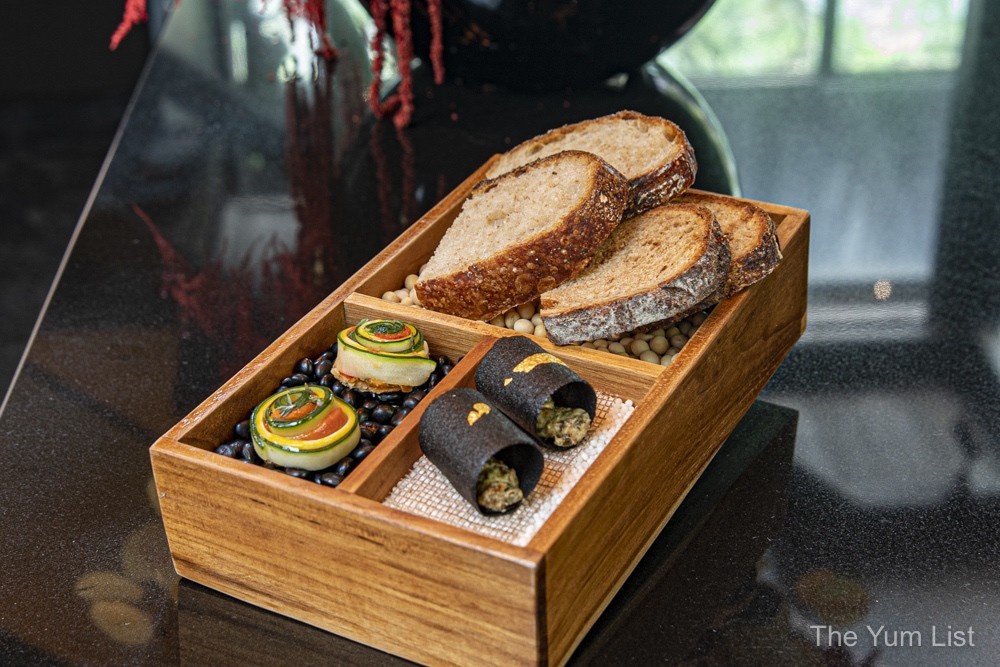 Miyagi Oyster
A cloud of dry-ice smoke surrounds the second course, Miyagi Oyster. The large mollusc is covered with kedondong granite. The brininess pairs well with the Champagne, and the fruit refreshes the palate. Pretty mini yellow flowers, dill and sea lettuce, garnish the crown.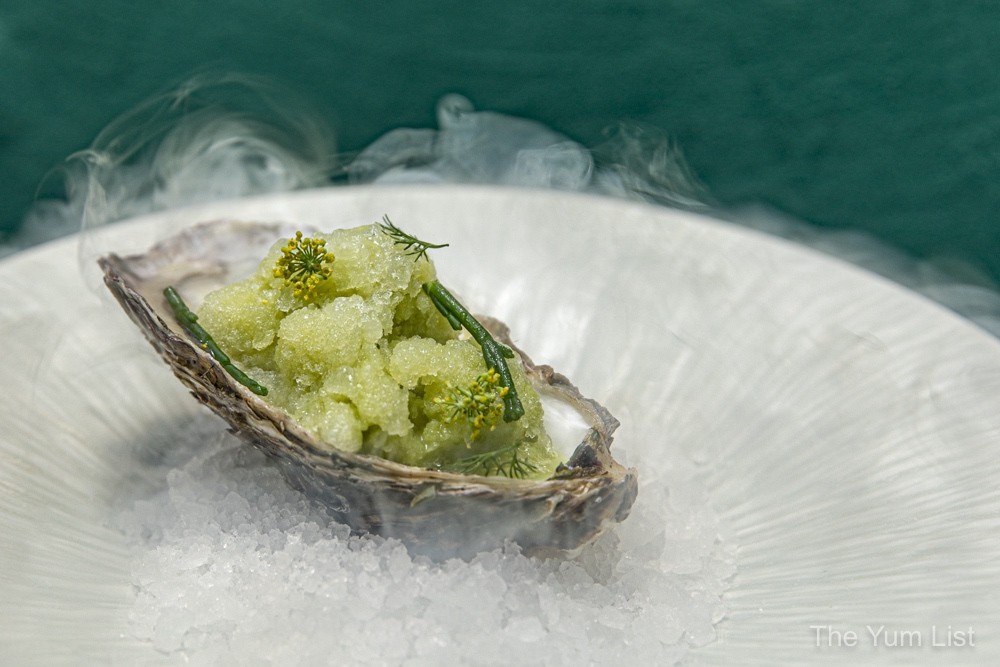 Asparagus
Chef Raymond announces that for the next course, we're moving to Germany with Riesling and asparagus. Asparagus is a tricky vegetable to pair wine with. The biodynamic-certified Sybille Kuntz Spatlese Riesling 2011 was chosen for the challenge. Full of fruit but not sweet, it does well with the umami flavours in the recipe. The plump green spears are accompanied by Japanese uni, home-made duck bacon, polenta, smoked koji and black garlic cream. Additionally, puffed quinoa adds crunch and nuttiness to the picture.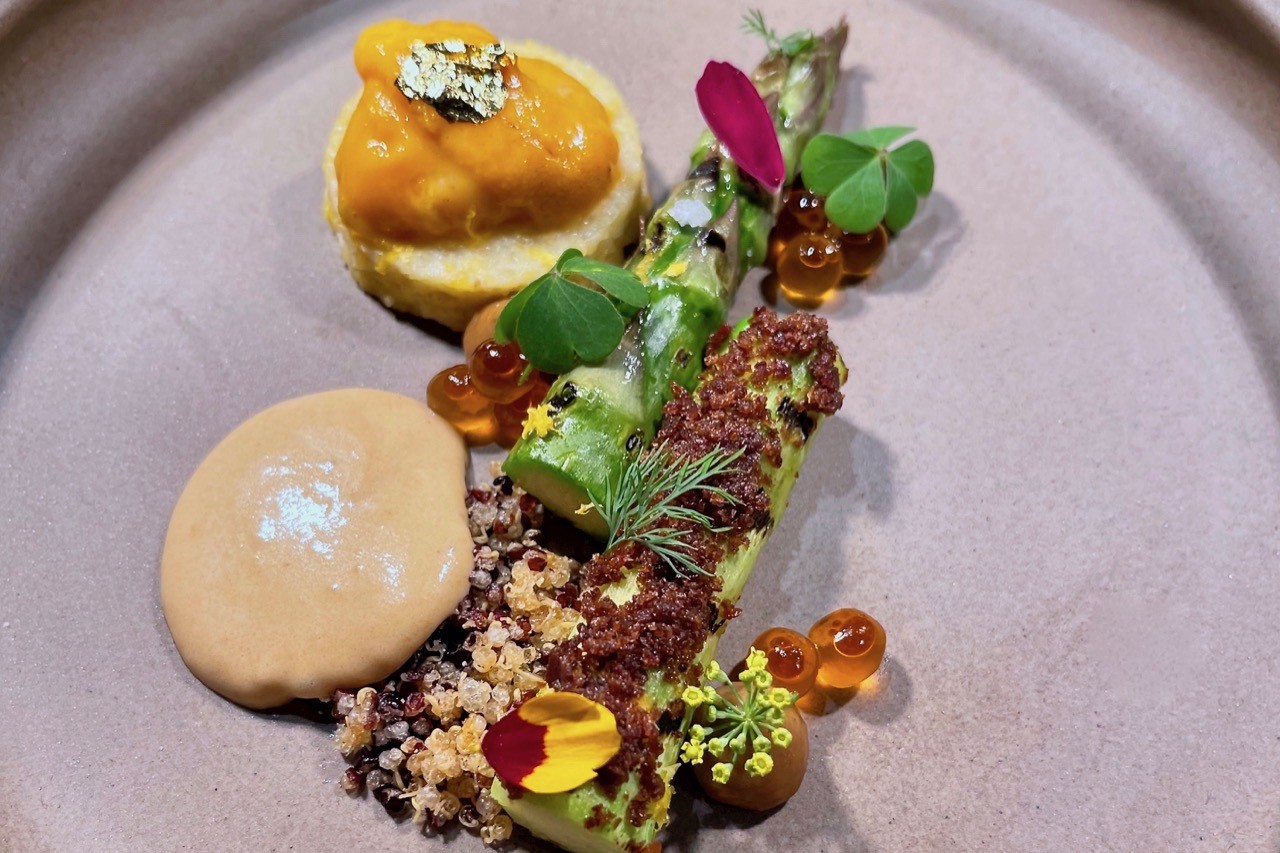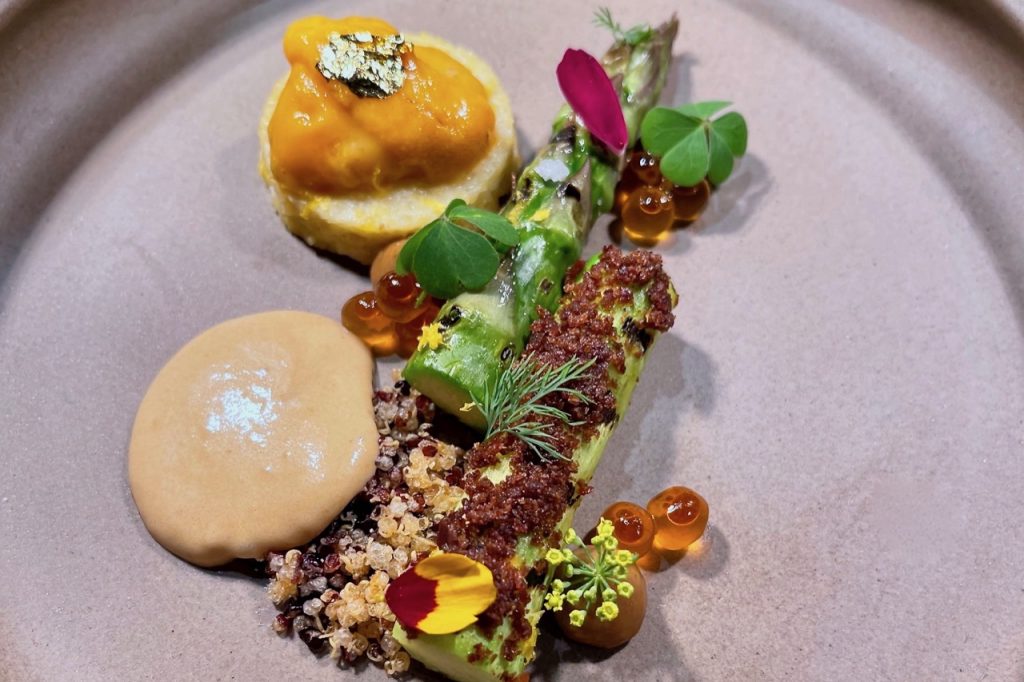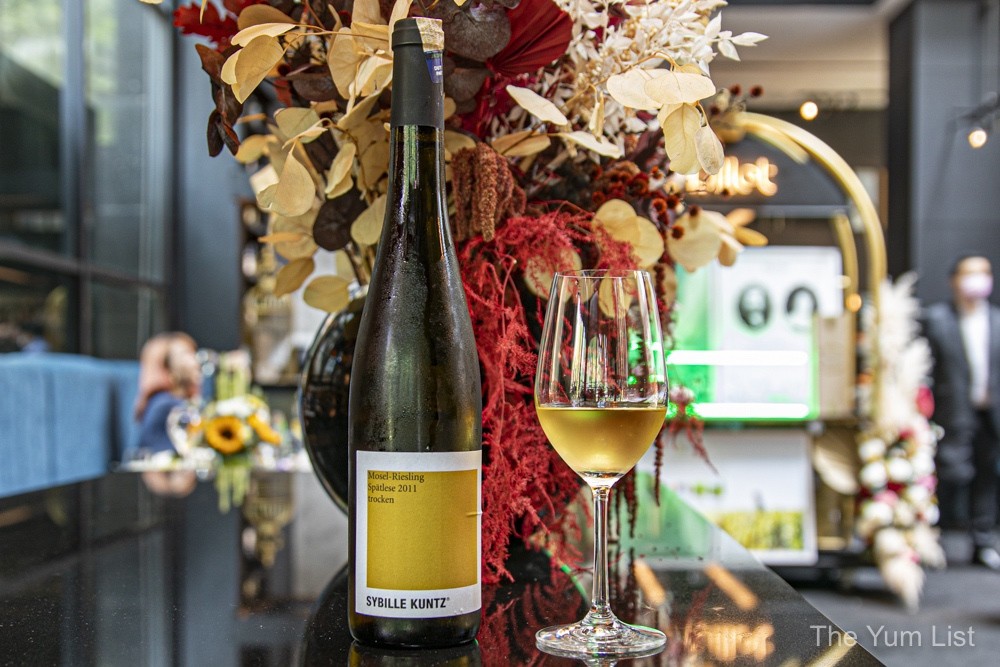 Escargot
The escargots in the fourth course were raised in the south-west of France, in Poitou-Charentes. Based on the Burgundy recipe, there's plentiful parsley in the dish. Strong garlic overtones come from the Malaysian ingredient kulum – a wild hard nut foraged in the tropical jungle. Parmesan foam is spooned on tableside, adding another layer of complexity to the recipe.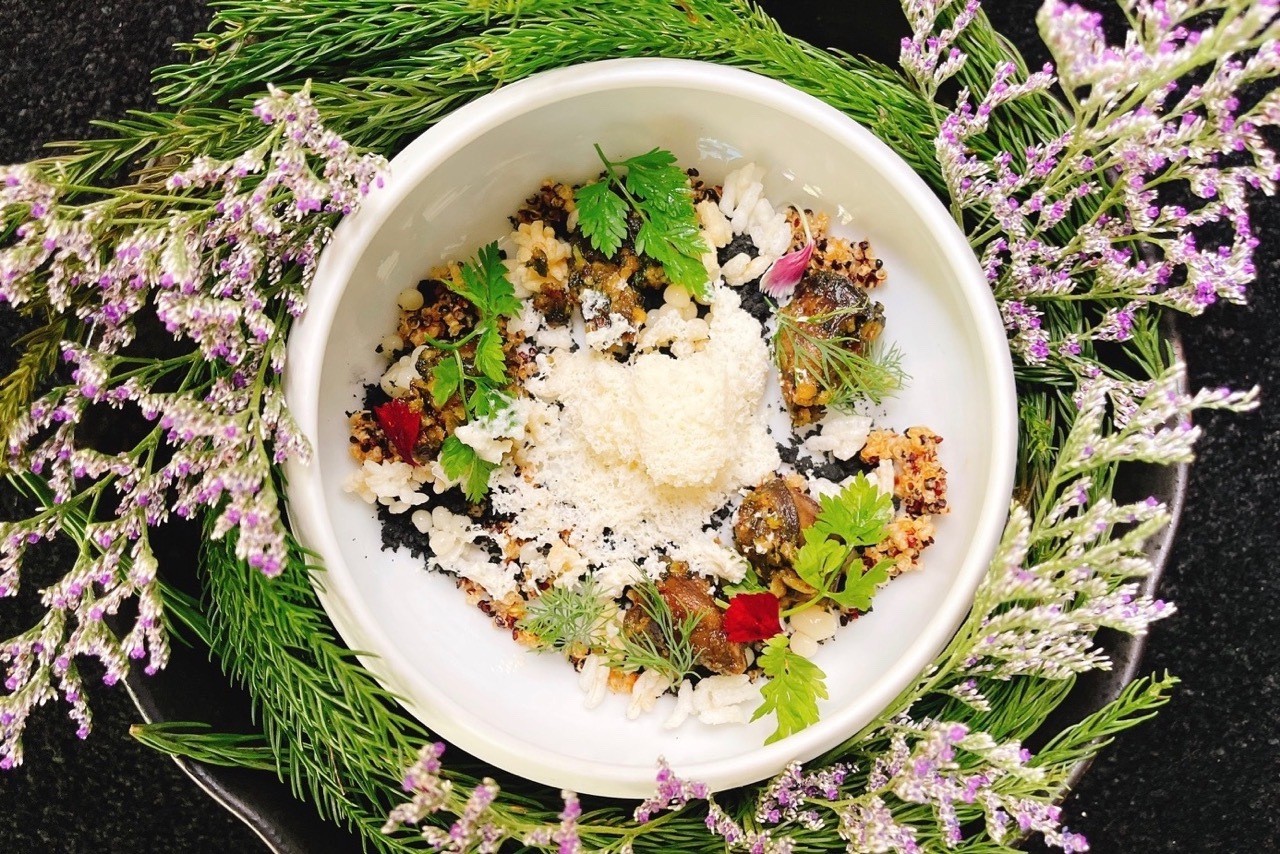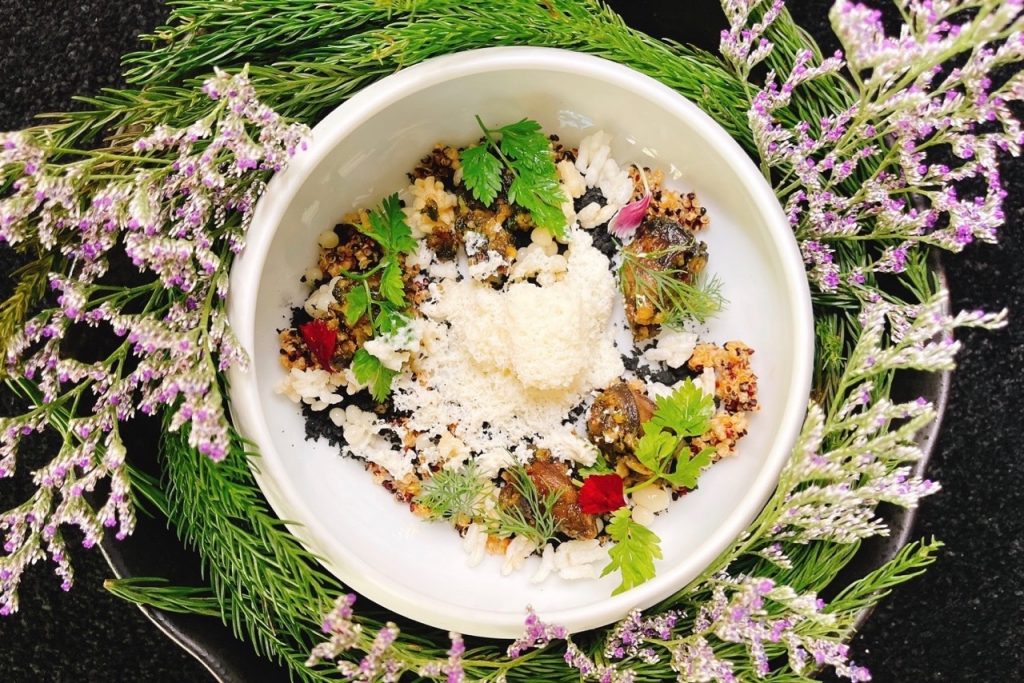 Sunflower
Inspired by Van Gough and his sunflower paintings representing friendship, the Sunflower course is adorned with a shredded pastry dusted with curry powder resembling the bloom. I don't eat foie gras, but Rich reports the preparation as superb. The brioche escort with longan compote provides texture and sweetness.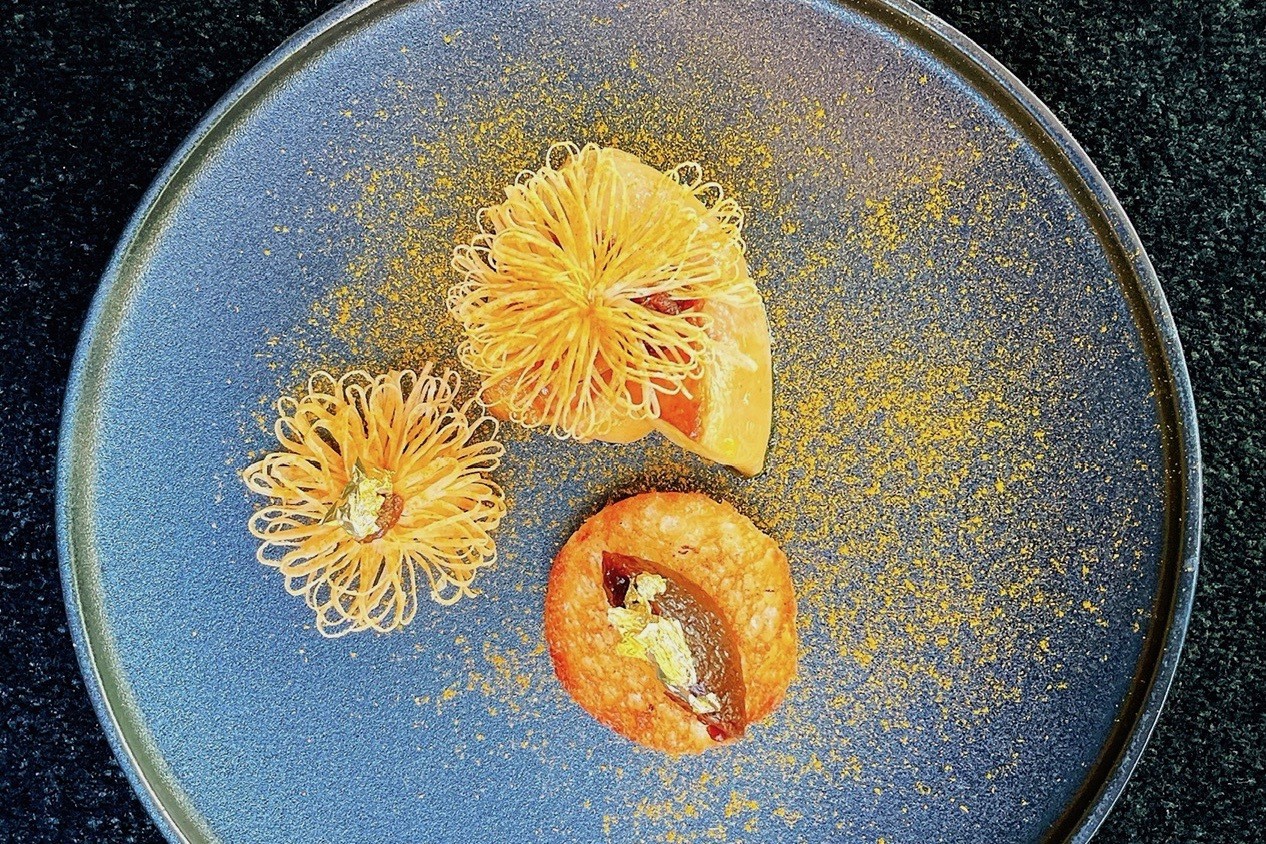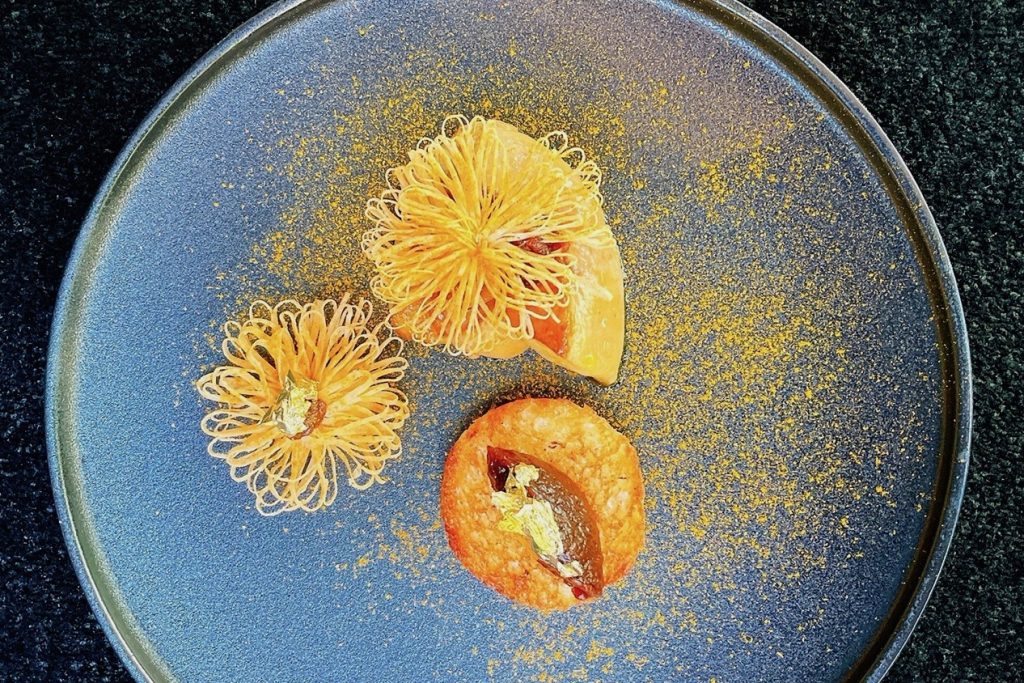 Skillet KL – Spring-Summer Degustation Menu – Main Course
Guests have a choice of seafood or meat for the main. I go with the seafood with the Canadian lobster. It's a beautiful specimen topped with shredded Cameron Highlands kale standing out against the orange shell. Potato dauphinoise heartens the course, and crustacean aioli is a delicious seasoning. Garlic, chilli, torch ginger, parsley and walnut compose a tasty sauce for dipping. It's unnecessary as there is plenty of flavour already, but gee, I would like to take a jar of it home. Lastly, spring white truffles are shaved on tableside just before serving – resembling snowflakes falling from the sky. The aroma is more delicate than black truffle, well-suited to the gentler character of seafood.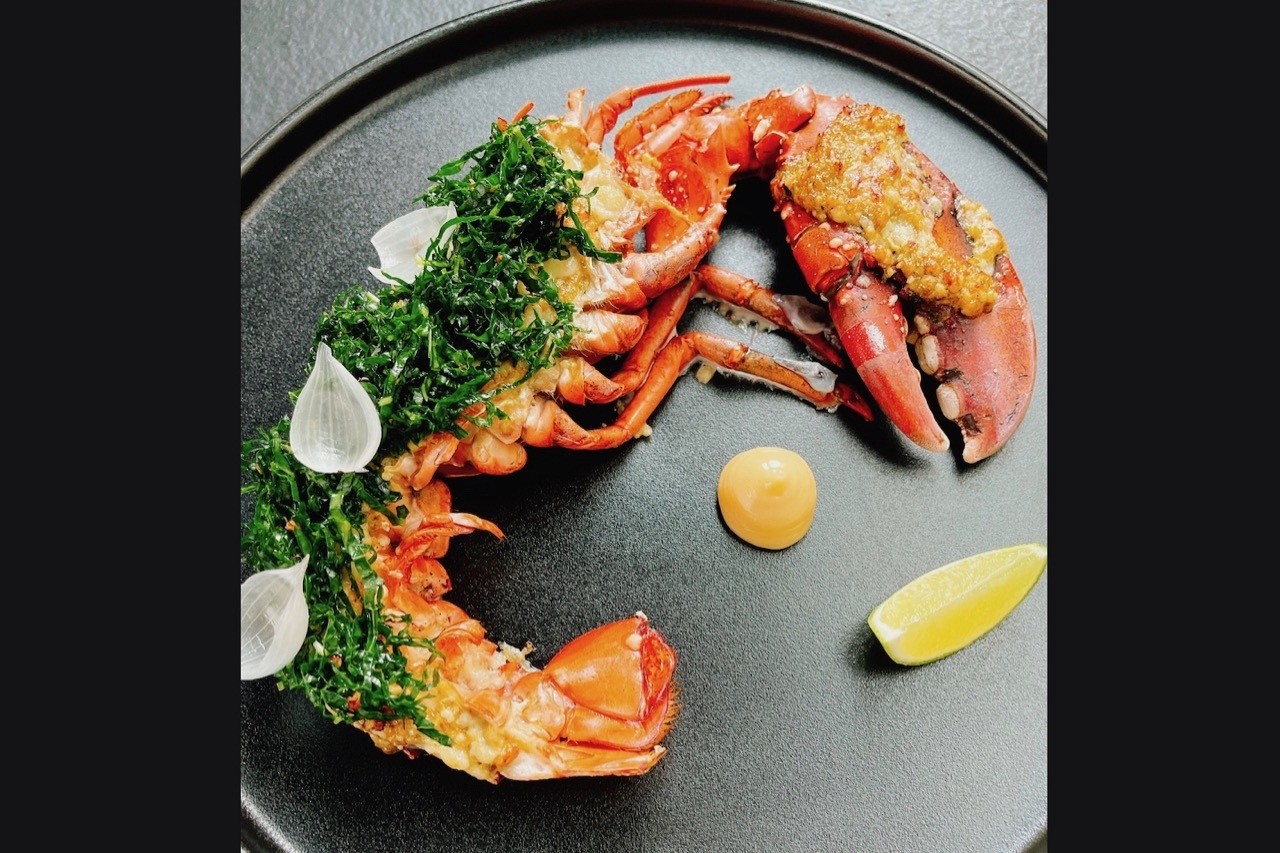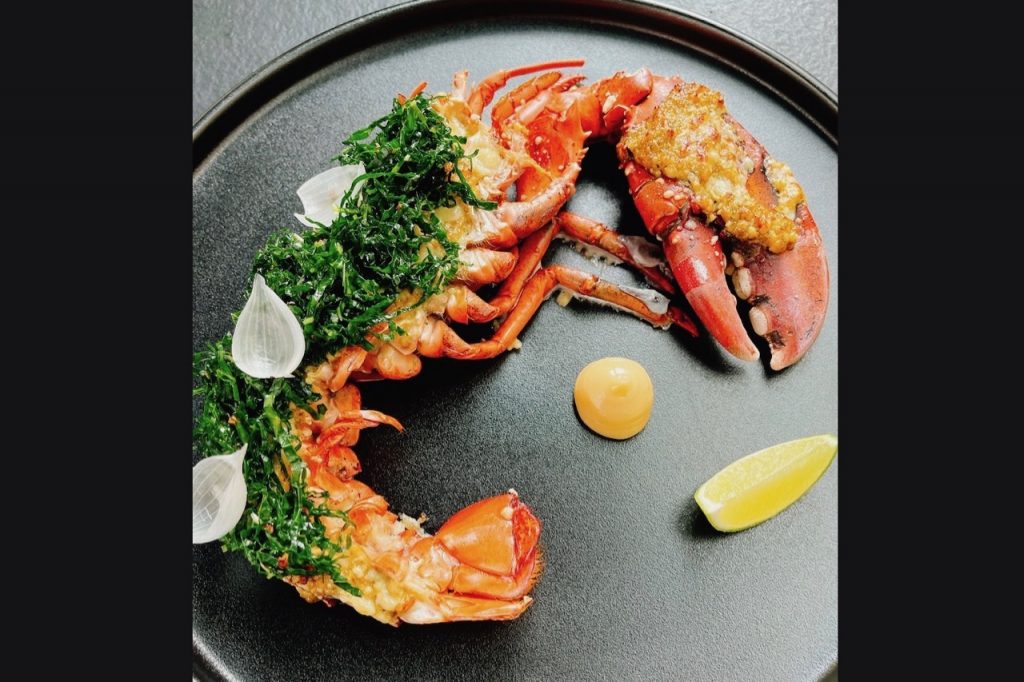 The lobster sees a return to Champagne Perrier-Jouët as a beverage mate, but this time in Blason Rosé form. While I could contentedly sip this on its own, the wine is made with food in mind. Pinot Noir is the dominant grape here, providing richness and structure. Chardonnay contributes floral notes, and the Meunier offers fullness. It's sophistication in the glass, and while it serves the lobster well, it could just as easily go with a starter or dessert.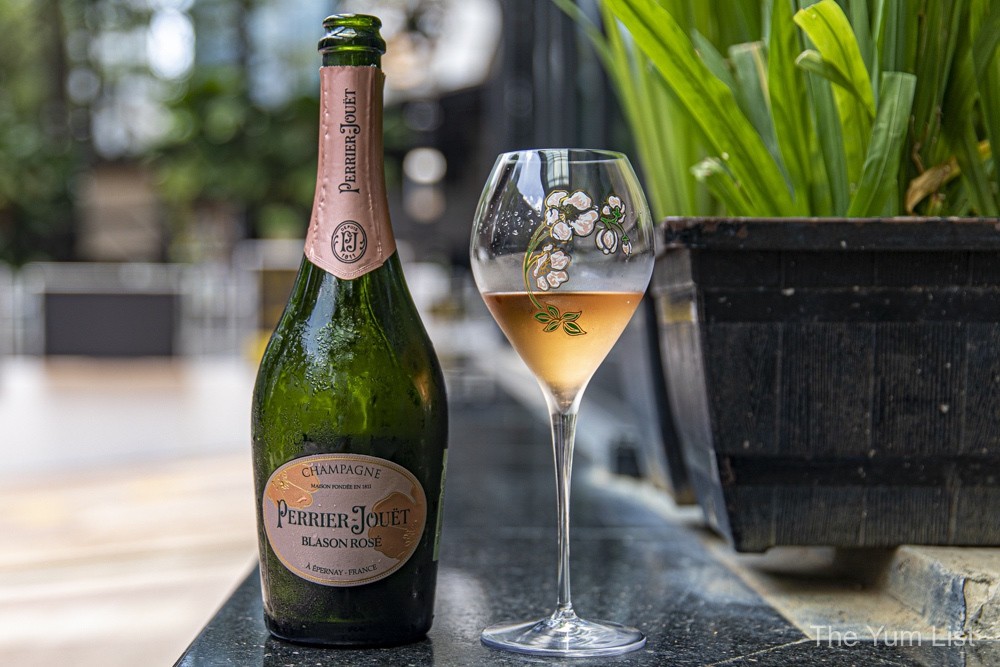 The beef course is equally decadent: an incredibly buttery and tender cut of Japanese Omi Beef Striploin A5. It's said to be served to the Japanese imperial class and even samurai; we're in terrific company. On the side, there's sweetbread wrapped in potato, and underneath a potato mash with garum powder and beef jus. It, too, gets a luscious shaving of truffle.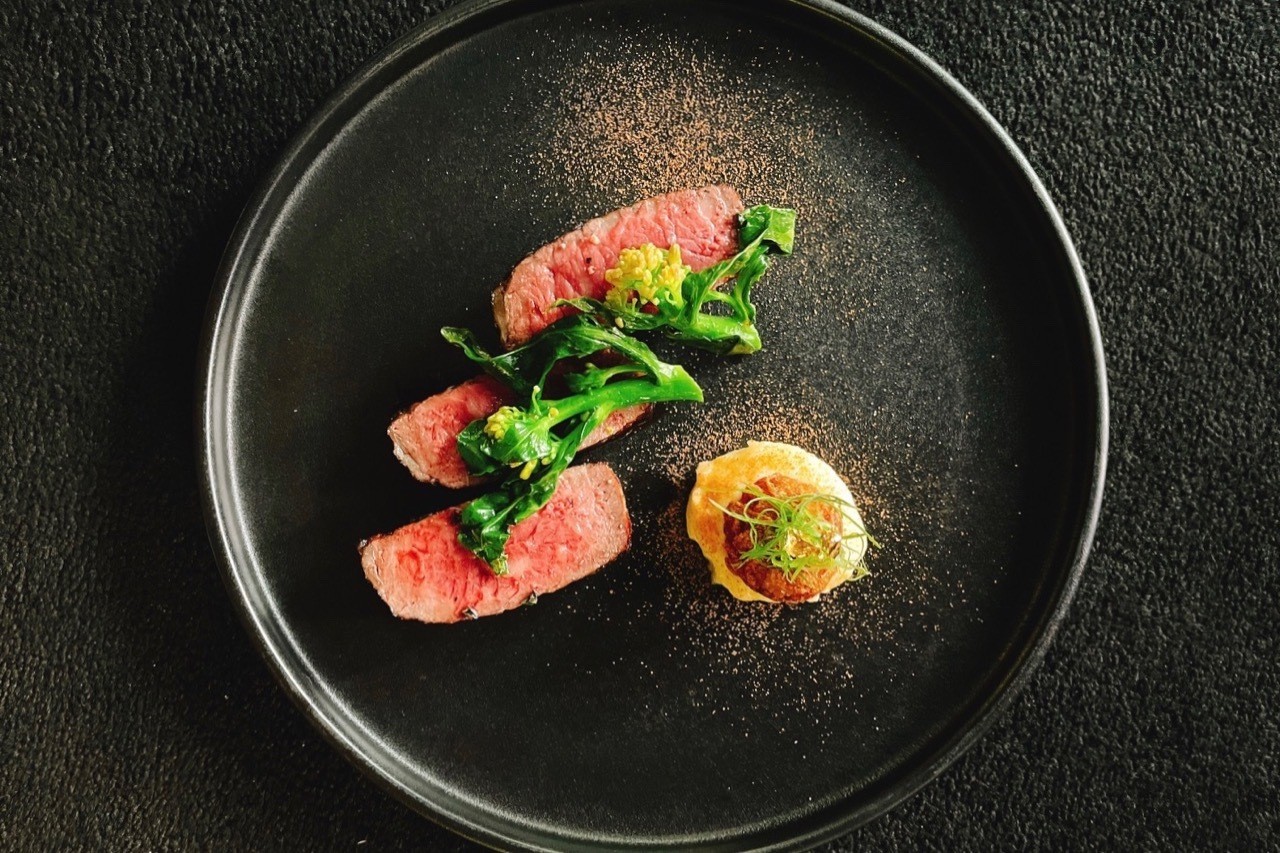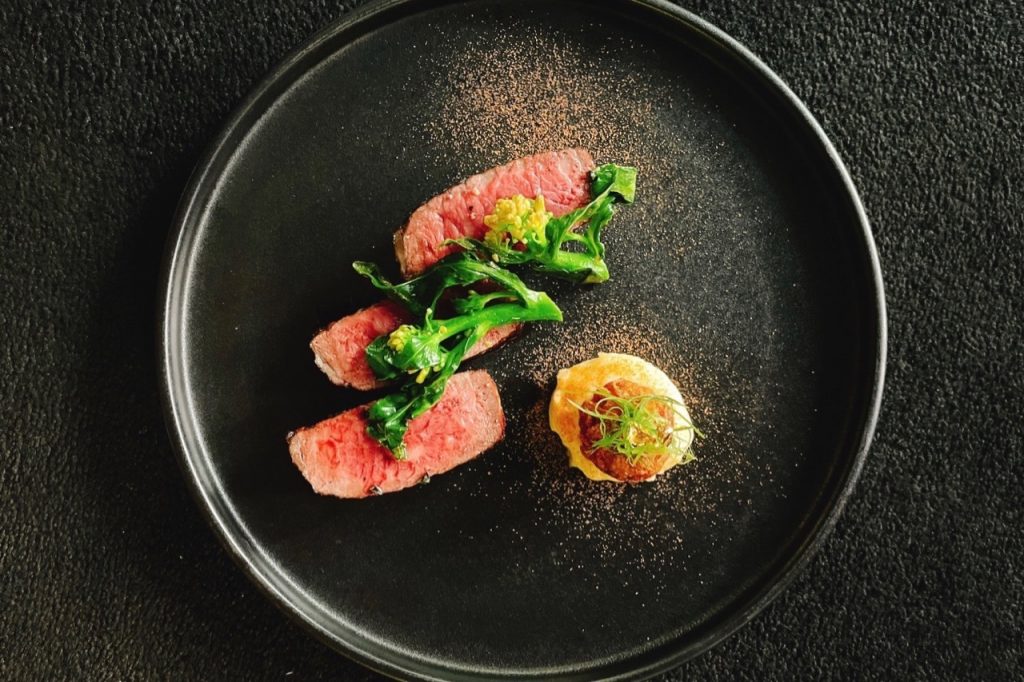 One of the goals for the Skillet team this year is increasing and strengthening the wine list. A well-chosen new addition to the collection is Château de Fonbel, Saint Émilion Grand Cru 2012. This blend of Merlot, Cabernet Sauvignon and Petit Verdot is deep ruby-red in the glass with a bouquet of cherries, vanilla and maybe some leather. Straightforward, fresh and lively, it partners well with the beef, not overpowering it with complexity but instead complementing it with fruit and spice.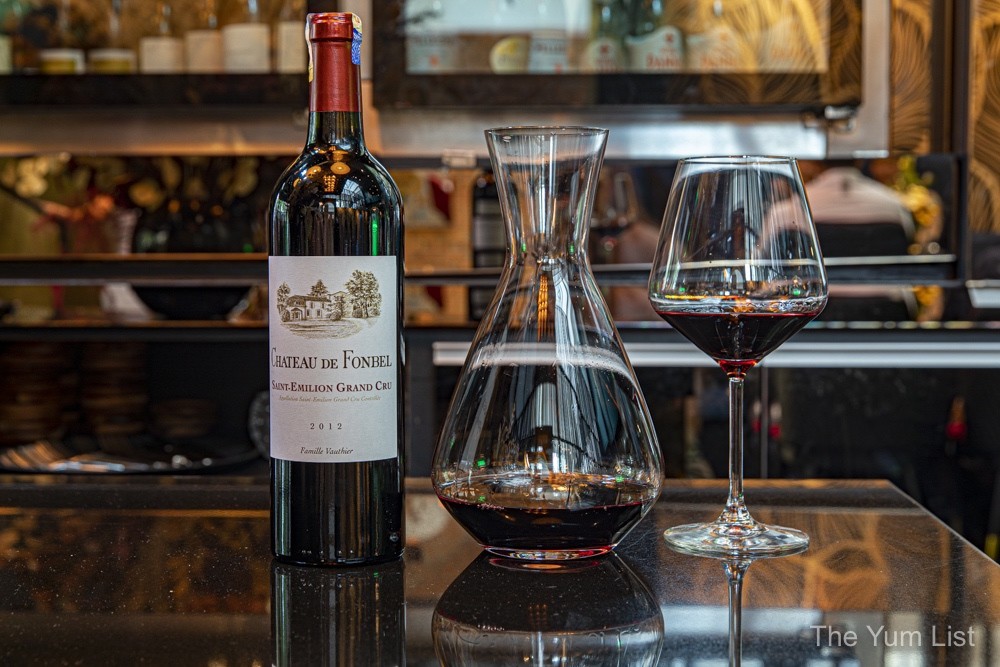 Skillet KL – Dessert
Even if you don't have a sweet tooth, dessert at Skillet is a must. Chef Raymond spent years specializing in chocolate in Europe. As such, it would be remiss not to try something cacao-based. Today it's Mocha with salted macadamias and Belgium chocolate. The base is smooth and dreamy, with sea salt balancing the mild sweetness and encouraging repeated spooning.
Martell Cordon Bleu provides the final pairing. It's an attractive golden copper in the glass with a complex nose of stone fruit, coffee and marzipan. Spice harmonizes nicely with the chocolate, and a lengthy finish concludes with fruit and more spice.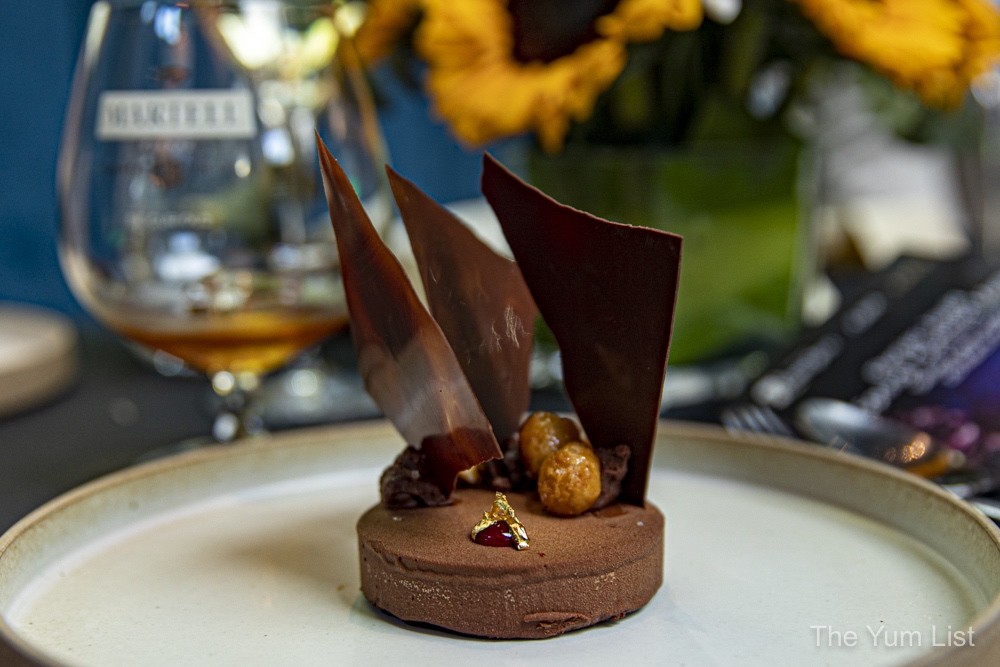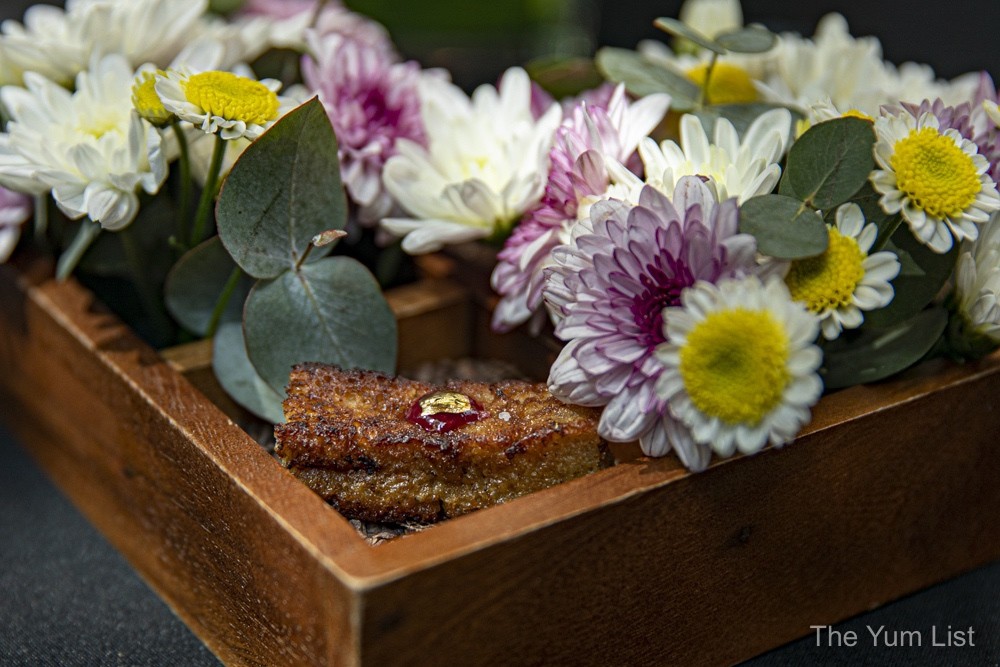 Reasons to visit Skillet KL: their new spring-summer degustation menu; stylish contemporary setting; modern European cuisine accented by local ingredients; beautifully plated food; don't miss dessert!
Skillet KL
163, Fraser Place Kuala Lumpur
10, Jalan Perak, Kuala Lumpur, 50450
+6 03 2181 2426
www.facebook.com/skilletat163
Skillet KL Opening Hours
Daily: 12 pm – 3 pm & 6 pm – 11 pm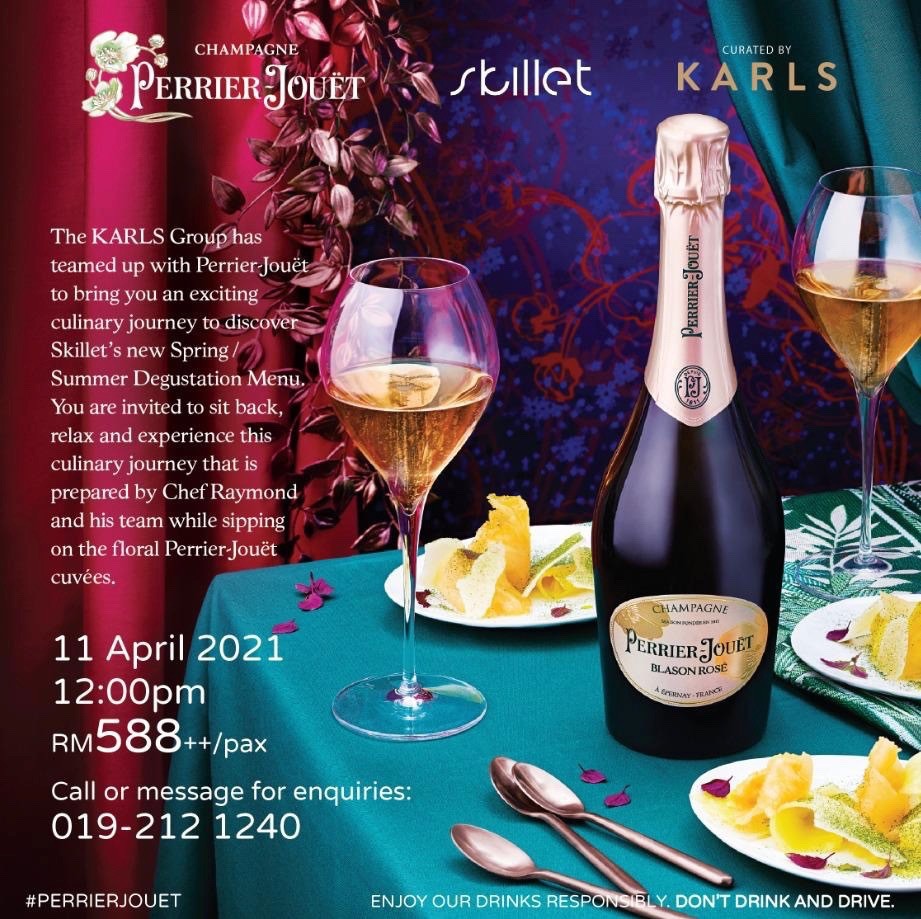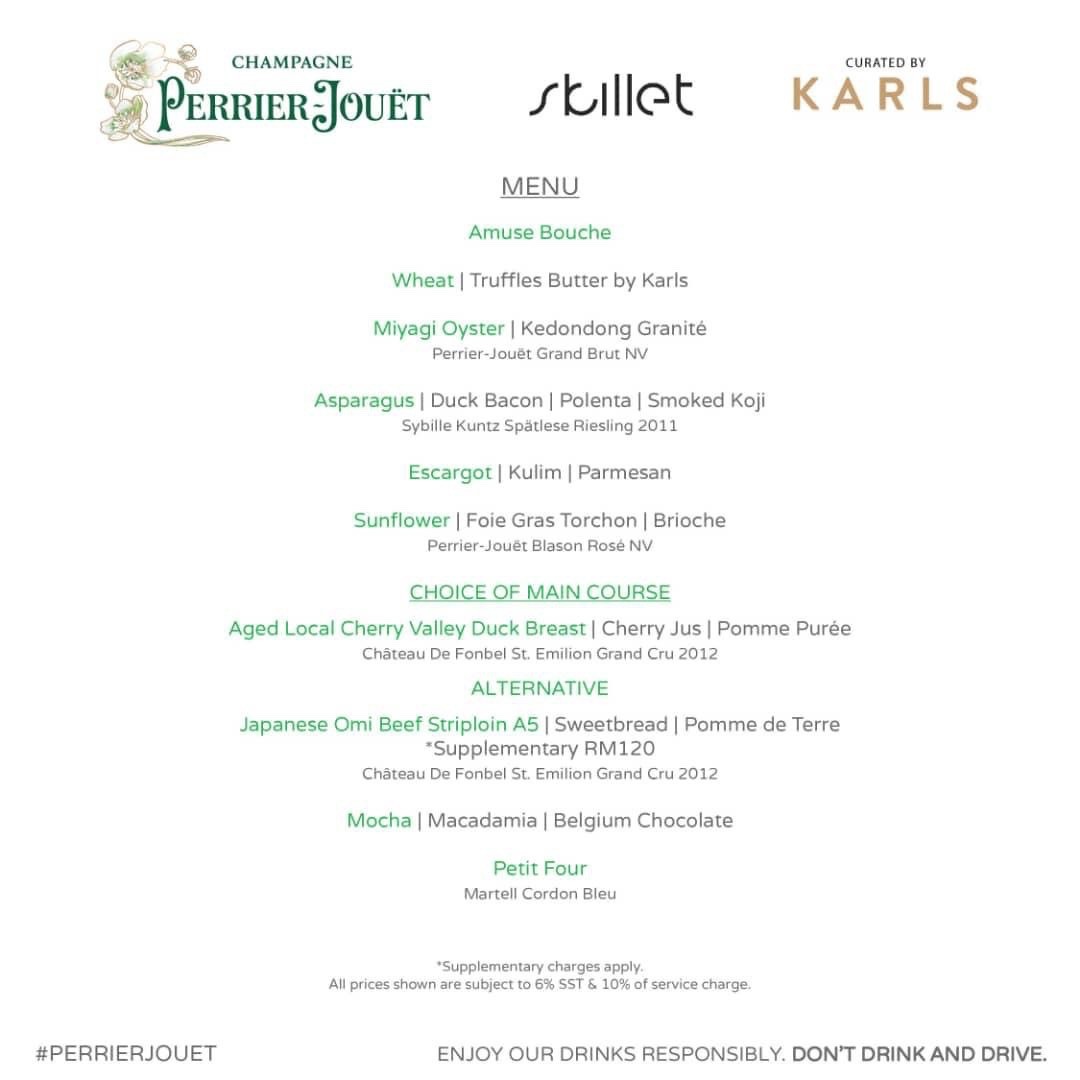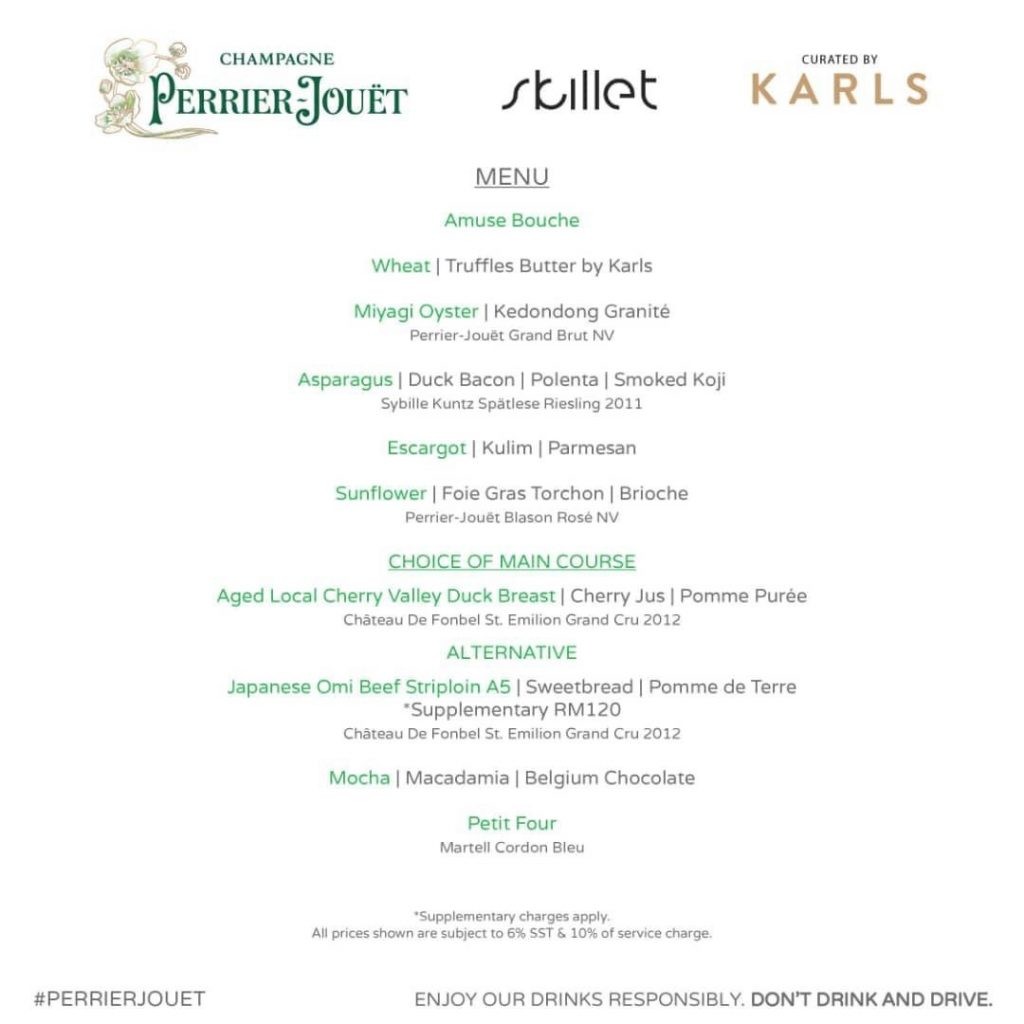 Find more restaurants for special occasions in KL here and stay up-to-date with the latest gourmet and travel recommendations for Malaysia here and here.