Modern European Cuisine KL
Words: Monica Tindall
Photos: Rich Callahan
Skillet at 163 has reopened after a month of renovations. While the interior is friendly and familiar, it has been given new life with splashes of glam and cool contemporary components. Along with the physical facelift, the menu too has undergone a revamp.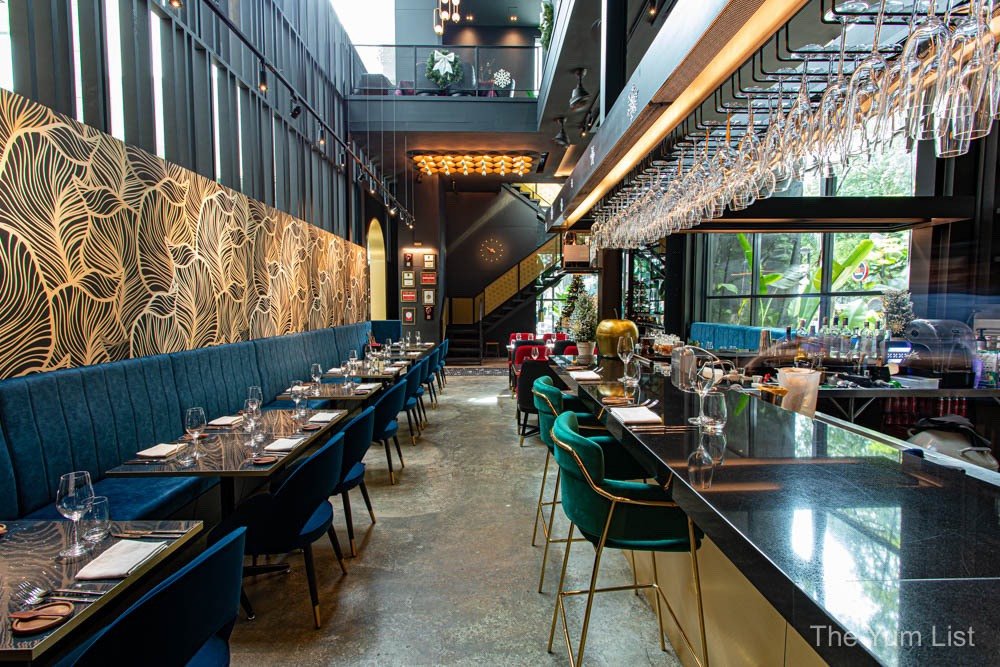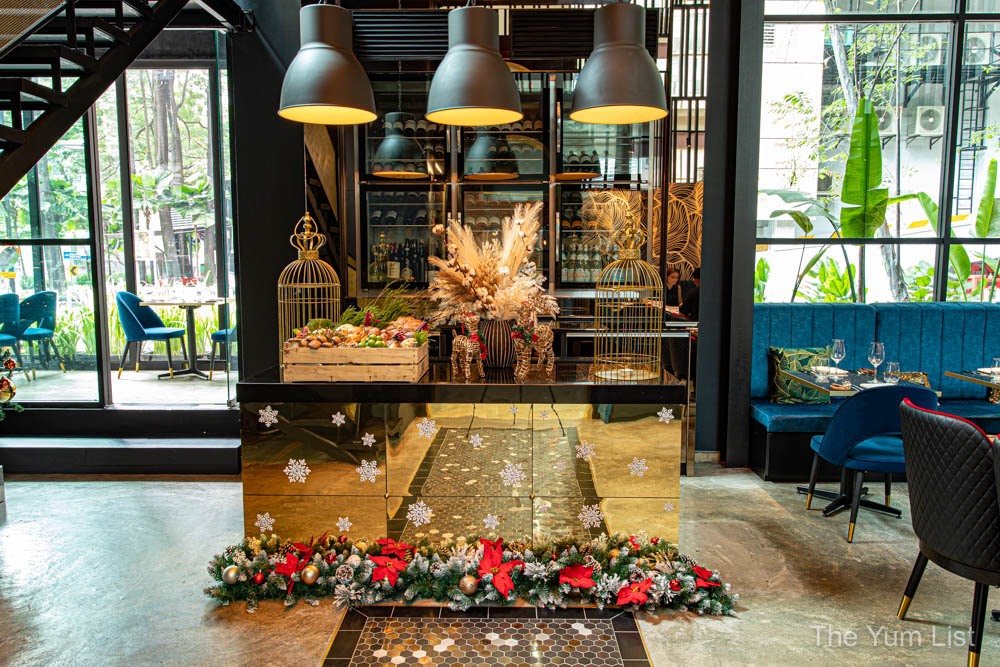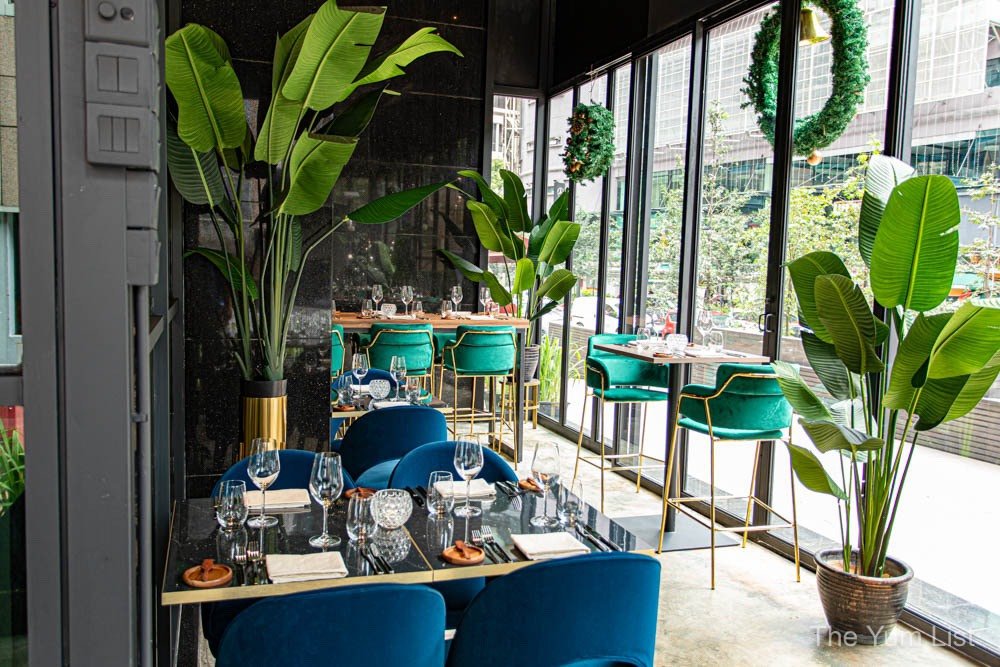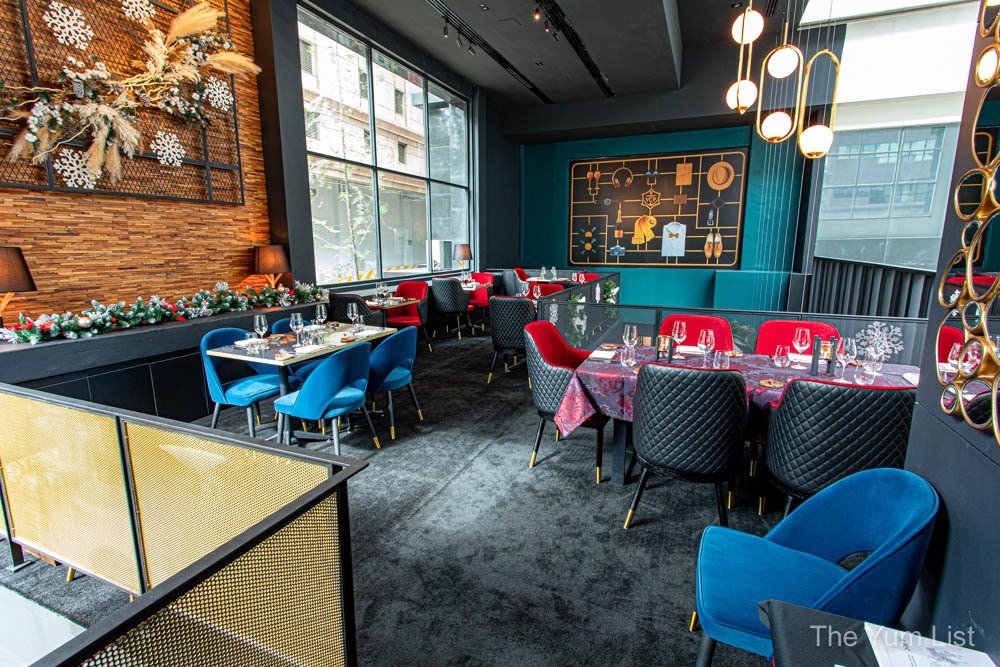 Reopening of Skillet at 163 – Modern European Cuisine KL
Chef Raymond Tham reveals that the new menu places a firm emphasis on the seasons. Not only do the recipes change with the availability of ingredients but so too does the décor. Serving modern European cuisine, the bill of fare features a hand-drawn sketch of the primary countries of focus. Shading of the regions indicates the origin of the principal ingredients that were the inspiration for each menu.
We're here for the winter line-up, and hence the restaurant is adorned in a Christmas theme. A giant trolley at the entrance holds dried plants typical of the season. Indoors there's a basket of produce that we can expect to find in this month's recipes.
The modern European cuisine menu at Skillet at 163, KL is offered in three-courses starting from RM128++ and a degustation, beginning at RM400++. Supplementary dishes, such as caviar, can be added on, as too may a wine pairing for RM250++ or a juice pairing for RM130++. Curious about how on earth a juice pairing could come to RM130? Follow this link to find out more.
A glass of Veuve Cliquot kickstarts the experience in a bubbly celebration of the new opening. This Champagne is an excellent aperitif and also fares well with canapes and seafood.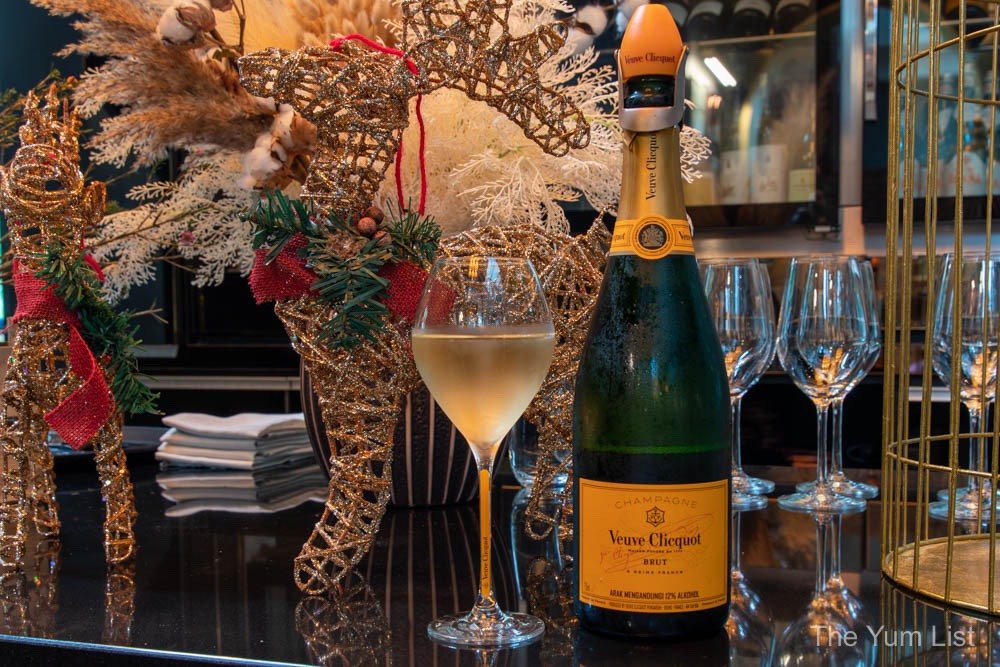 Amuse Bouche
The amuse bouche immediately charms with its plating atop a wooden box filled with herbs and flowers. Potato Salad and Ikura introduce the menu with a German-Austrian inspired salt-baked salad. A wafer-thin cracker holds the delicate mixture, and the pop of colour with ikura (fish roe) contributes juicy bursts of moisture to the bite. The second mouthful is Duck Prosciutto, cured in-house for 150 days. This shows the dedication this team has to make things themselves; every day, it must be turned to create consistency across the cut. Endives, and 25-year-old balsamic hand-carried from chef's recent Europe trip are delightful complements. Just a few drops of the rich vinegar cover the entire palate. The story behind balsamic from Modena goes that every time a new baby girl is born, a balsamic is made. 25 years later, it's her dowry!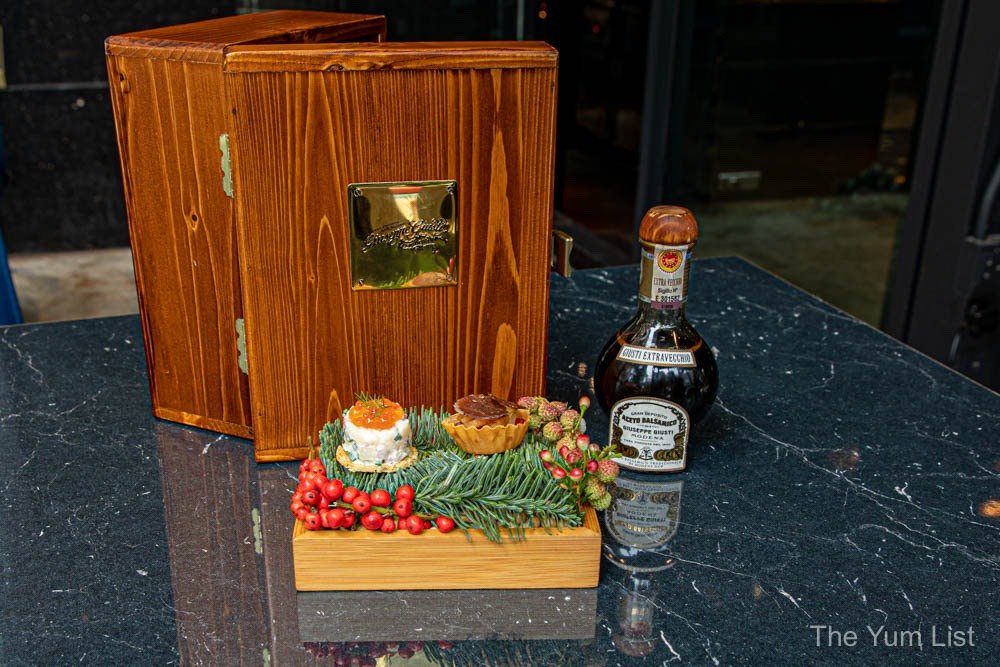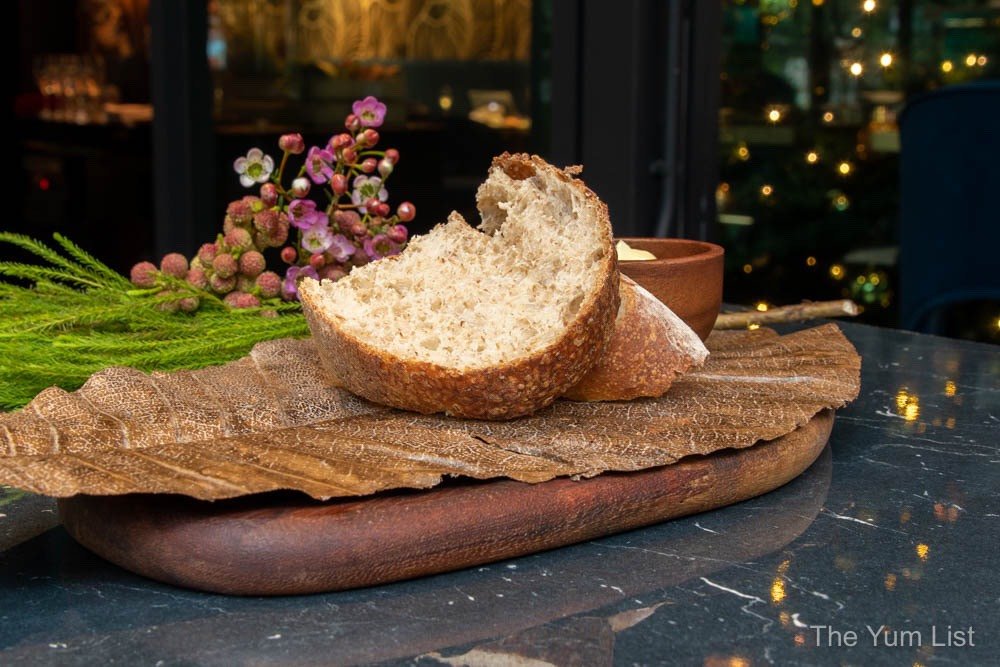 Appetizers
Poached Lobster makes a luscious appetizer. Another idea stimulated by Chef Raymond's recent travels, this recipe draws on the Nordic love of fermentation. The flesh is a seductive pink and lays across a bed of finely chopped pickled carrot, apple and celery. Shaved celery garnishes the top along with dill and edible flowers. Dumplings of swede filled with mascarpone are so tiny that I need my glasses to realize that they are actually handcrafted parcels. Tableside, fermented apple juice and fish broth are poured on the edge of the plate giving an umami oomph. Lastly, it's finished with drops of seaweed oil. The recommendation is to grab a bit of everything in one forkful. It's fresh, light and a great segue to the next vegetarian dish.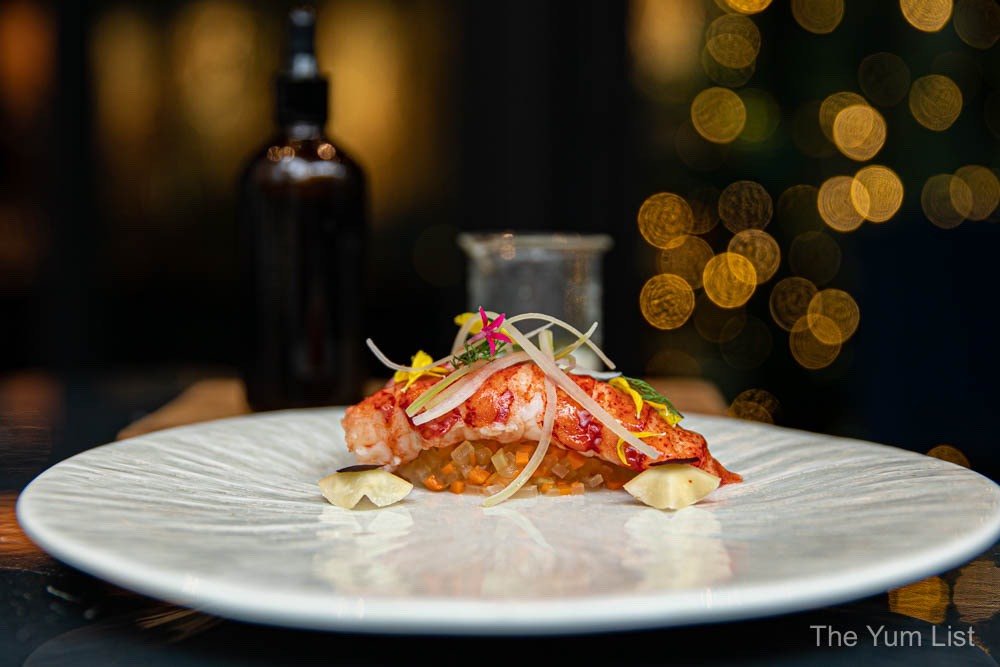 Pierogi, Polish-style dumplings, are an intriguing black hue due to charcoal in the skin and an excellent example of modern European cuisine. They're stuffed with soy meat and accompanied by pumpkin puree, roasted pumpkin (giving sweetness) and pickled kombu. The cheese foam highlights the kitchen team's attempt to produce zero-waste. Instead of throwing out the rind of the cheese, they infuse it into milk to make a foam. This all works very well together.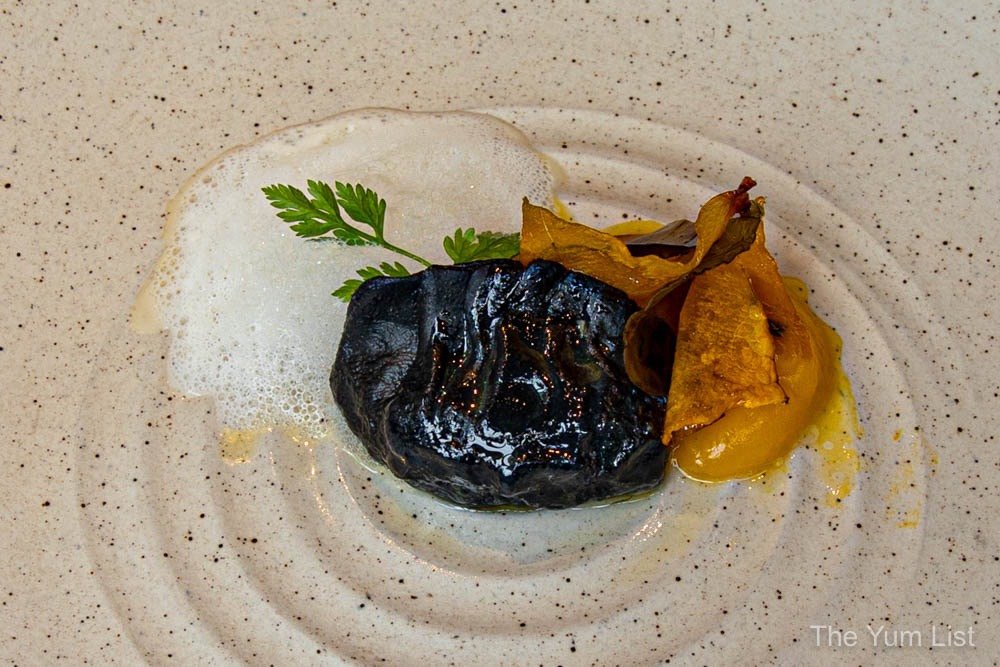 Mushroom and Porcini Foam with Hazelnut presents an almost-soup course. It's basically porcini three ways – dust, foam and slices of sautéed mushrooms. Comforting and warm, I imagine sipping it on a crisp winter's night. Shaun, the assistant manager, describes it as walking in the forest in Switzerland. Sometimes you kick up the snow with your boots and the dirt (dust) powders on top of the snow (foam) and underneath you uncover the mushrooms. It sports an excellent balance of earthiness without being too heavy – a pleasant connection to the main courses.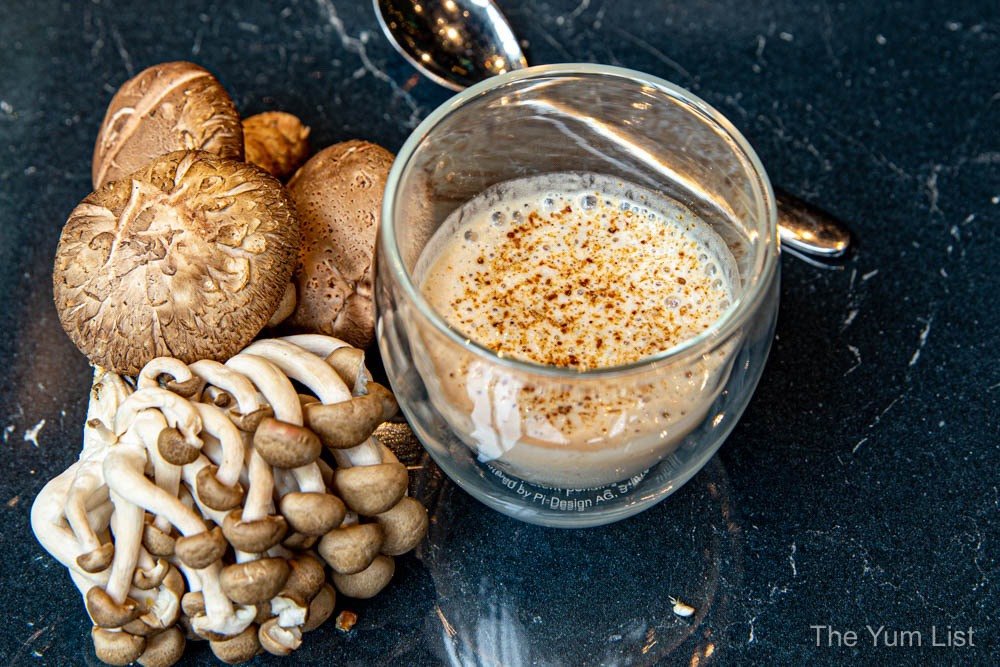 Main Courses – Modern European Cuisine Kuala Lumpur
A generous hunk of Chilean Seabass is white as snow with German egg noodles, spätzle, and an umami broth. The technique to make the broth is rather interesting. It's frozen, condensing the flavours into an ice block. The drops are then collected as it sits slowly dripping in the chiller. The process filters out impurities and creates a clear stock. The fish is similar to cod in texture, sporting a good moisture level due to its decent fat content. Pan-searing of the skin makes an attractive crunch on the top. In the base of the bowl are four large rounds of cooked daikon radish giving a slight sweetness and juicy bite.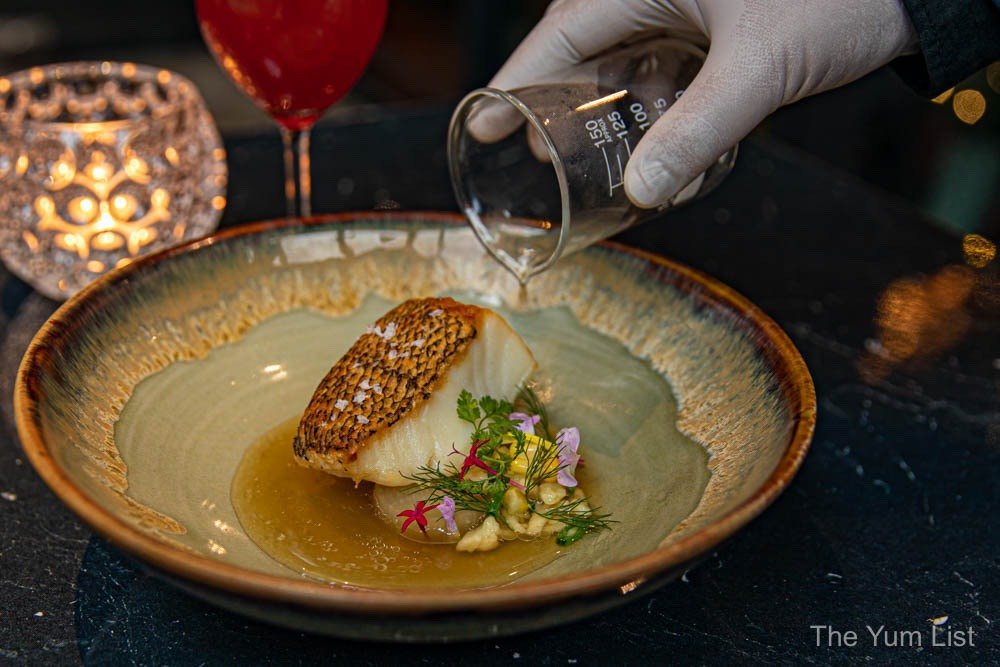 More tableside interaction is found in the plating of the Venison Pithivier. The dome-shaped pastry is sliced in half and carefully arranged with fermented cranberries, cep jus, and caramelized Brussels sprouts. This is a take on the traditionally sweet Pithivier, or king's cake, typical in France and often served on the twelfth night of Christmas, Epiphany. Whereas custom sees it filled with almond pastry cream, Skillet at 163's version celebrates hunting season with a filling of deer meat and mushroom duxelles. The house-fermented cranberries that have been brewing since 2015 break up the richness of the pastry and meat.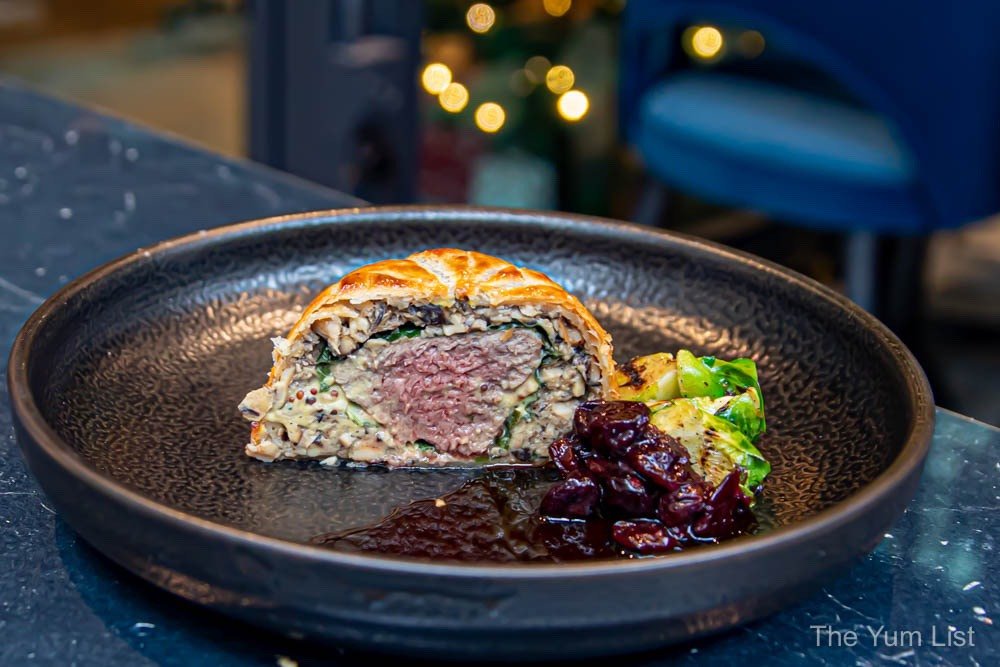 Russian Wine
Skillet at 163 has a wine menu well-chosen for modern European cuisine with labels that guests will be familiar with, and also some boutique wines personally chosen by chef Raymond. Too intriguing to turn down is a Russian wine; a 2016 Cabernet Sauvignon by Kuban Angels and Demons, Kpachodap. It is unlike most reds from this grape as the body is light. It continues to offer green capsicum notes with plenty of fruit in the palate. Still, the overall weight resembles more a pinot noir than a cab sav. It's not something I'd order regularly, but worth a try, especially for those who like to expand their palate.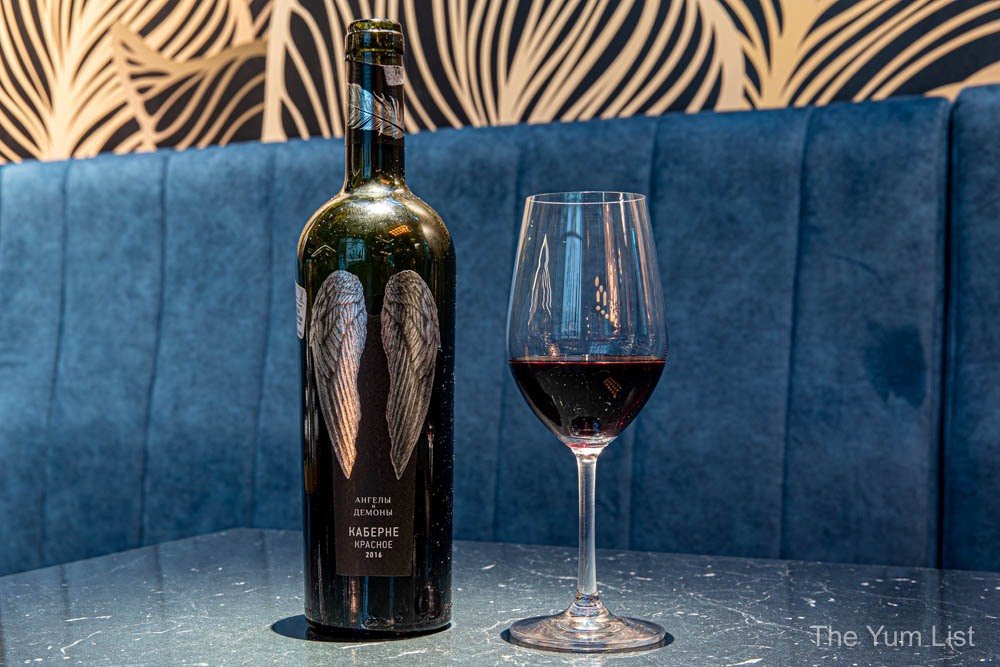 Pre-Dessert
The pre-dessert is a fascinating combination of textures and flavours. White chocolate and cream cheese form an extremely light mousse. Tiny cubes of pickled beetroot and prune granita break the white. Micro thyme and an edible petal further splice the colour on the milky base. There's sweetness, earthiness, bitterness and creaminess in every bite.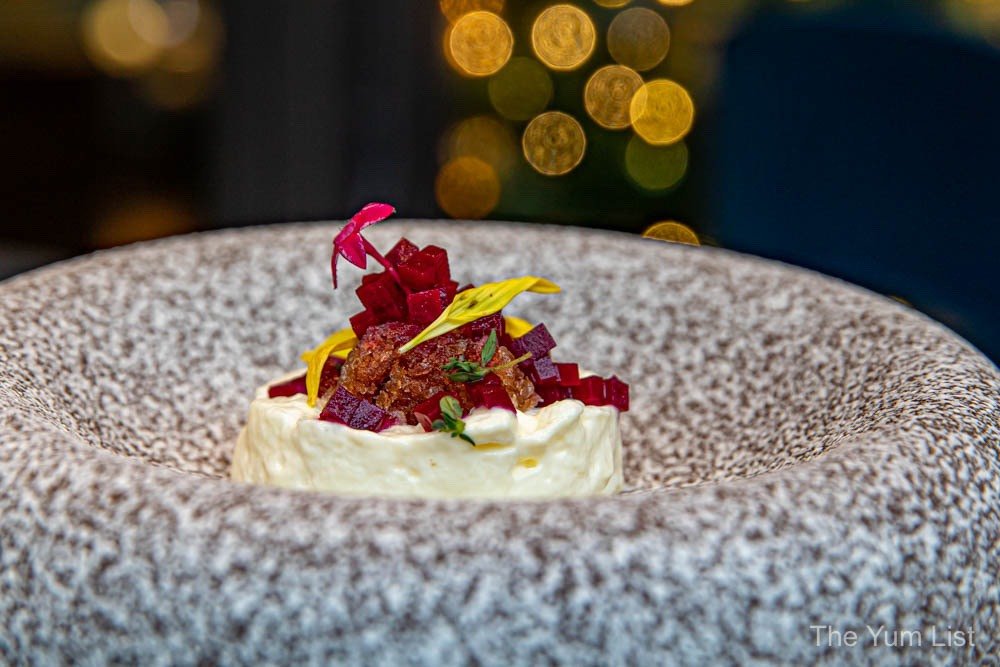 Dessert
Dressed suitably for the season, Signature Texture of Chocolate: Christmas 2019 Edition comes on a round board surrounded by a Christmas wreath. A single-origin Venezuelan chocolate sphere is barely visible as a cloud of dry ice mists around it. Guests are invited to crack the ball with a hammer and, lastly, a warm chocolate sauce is swirled over, warming the plate and tempering the fog.
As the smoke clears, and spoons dig in, we find a filling of butternut squash "popcorn" – the vegetable with cream charged as espuma, then sprayed with liquid nitrogen freezing it instantly and forming a pebbly, popcorn effect. Underneath is chocolate soil, cocoa nibs and blonde chocolate balls. Hiding in the base, and only found if you forcefully dig all the way to the bottom, is fermented and spiced butternut squash. Do beware: many might consider this discovery a little treasure, others may think they've unearthed death with its resemblance to stinky tofu.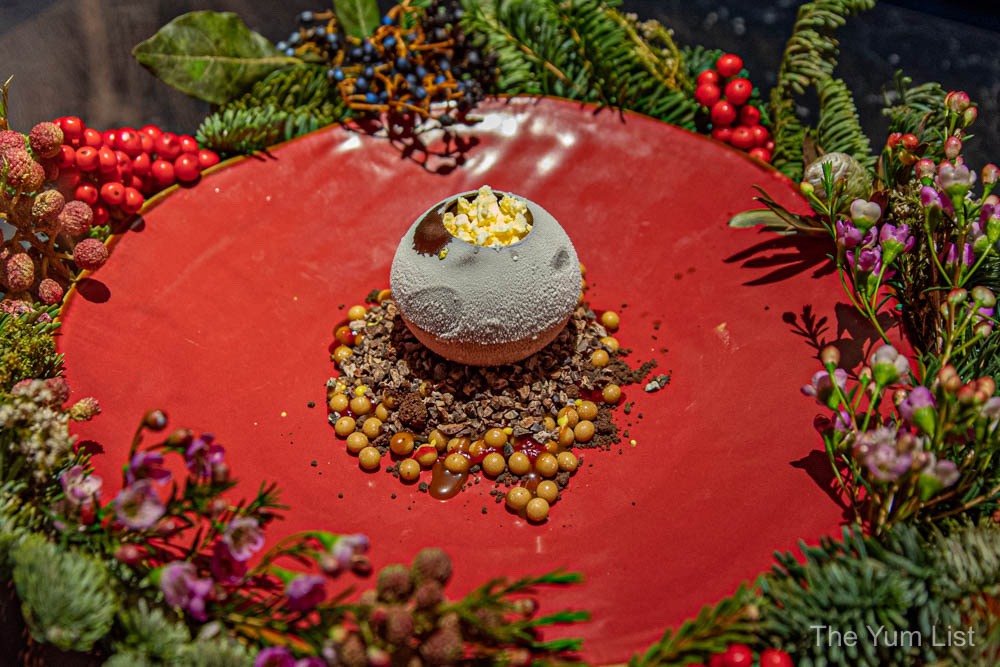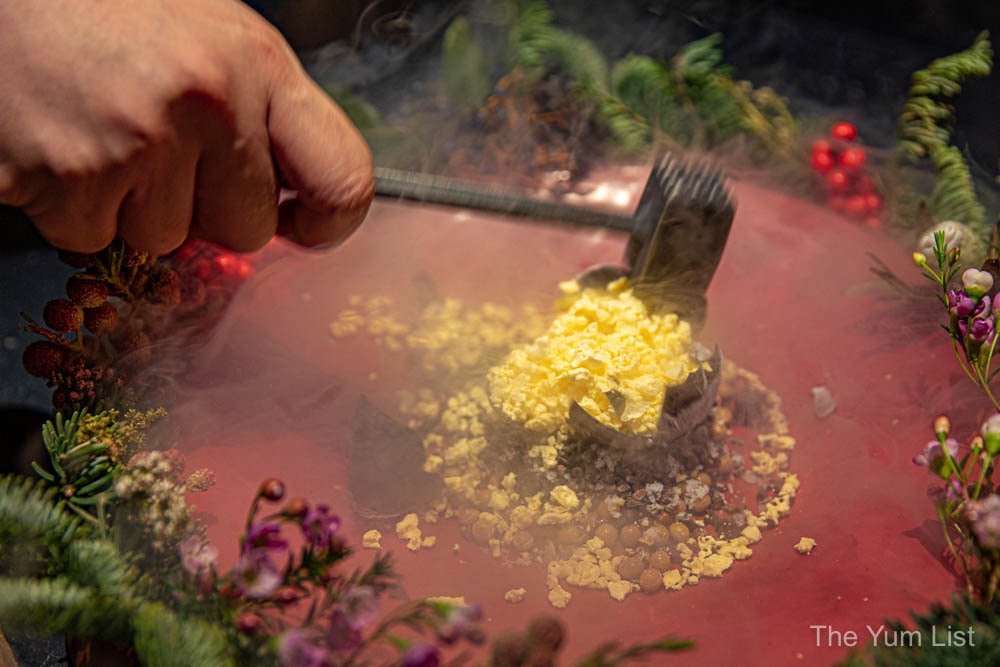 Petit Four
Petit four presents a cheeky version of an apple pie (apple parfait and apple jelly on a cookie base), and a return to simplicity with dark chocolate praline.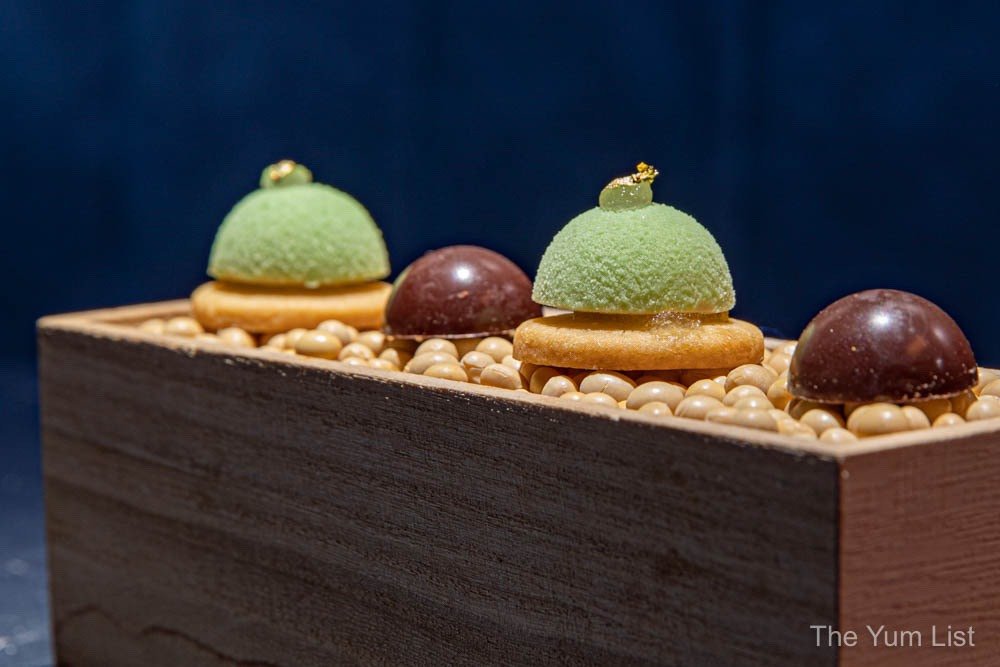 A Final Cocktail
Not quite ready to leave the pleasant environs of Skillet at 163, we opt for a final drink, the Floral Symphony (RM42). This beautiful purple beverage is given its colour with the local butterfly pea flower. Lavender vodka and earl grey kombucha are topped with egg white, integrating smoothness with a touch of tannins and hint of tang. (If I were typing on a smartphone this is where I would insert the A-OK finger symbol).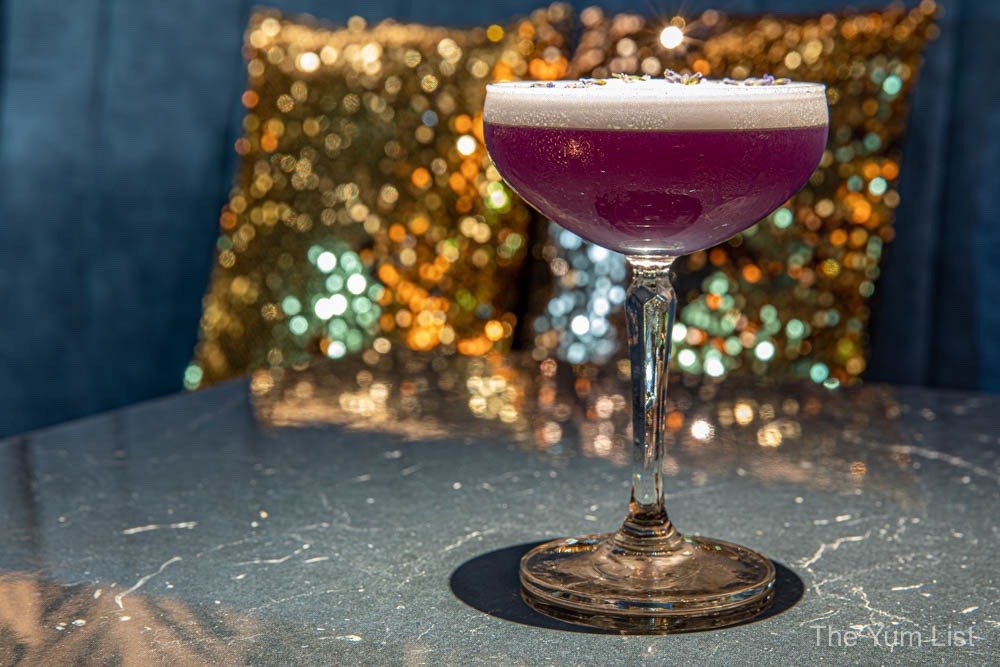 Reasons to check out the reopening of Skillet at 163 KL and their modern European cuisine menu: exciting seasonal menu; contemporary and stylish setting; beautifully plated food; must try the Venison Pithivier and do have a look at their juice pairing by Chris Chung here.
Modern European Cuisine KL
Reopening of Skillet at 163
Skillet at 163
163, Fraser Place Kuala Lumpur
10, Jalan Perak, Kuala Lumpur, 50450
+6 03 2181 2426
www.facebook.com/skilletat163