Waves Café KL
Monica Tindall
The longer we stay at home, the more I want healthy meals that I don't have to prepare myself. I'm increasingly asking regular restaurants for more nutritious options and actively seeking places that solely provide nutrient-dense recipes. I recently came across Waves Café in Mont Kiara. It's another place I have not had the chance to visit in person. Still, their whole foods menu with additional Keto and Vegan collections grabbed my attention. Today, we try some items from their extensive delivery collation.
Waves Café Menu – Keto Meals
The team at Waves Café are serious about providing options for differing dietary needs. On top of a diverse regular menu, they also offer complete keto and vegan menus. A good variety of Asian and western flavours are found in the trio, with dairy-free substitutes also available upon request on the drinks list. As everything is made fresh, it is best to order a day in advance to ensure the availability of all ingredients.
From the keto options, Broccoli and Spinach Soup (RM 12) is full of green goodness. It's a nice thick consistency with a warm thread of spice balancing out the earthiness of the veg.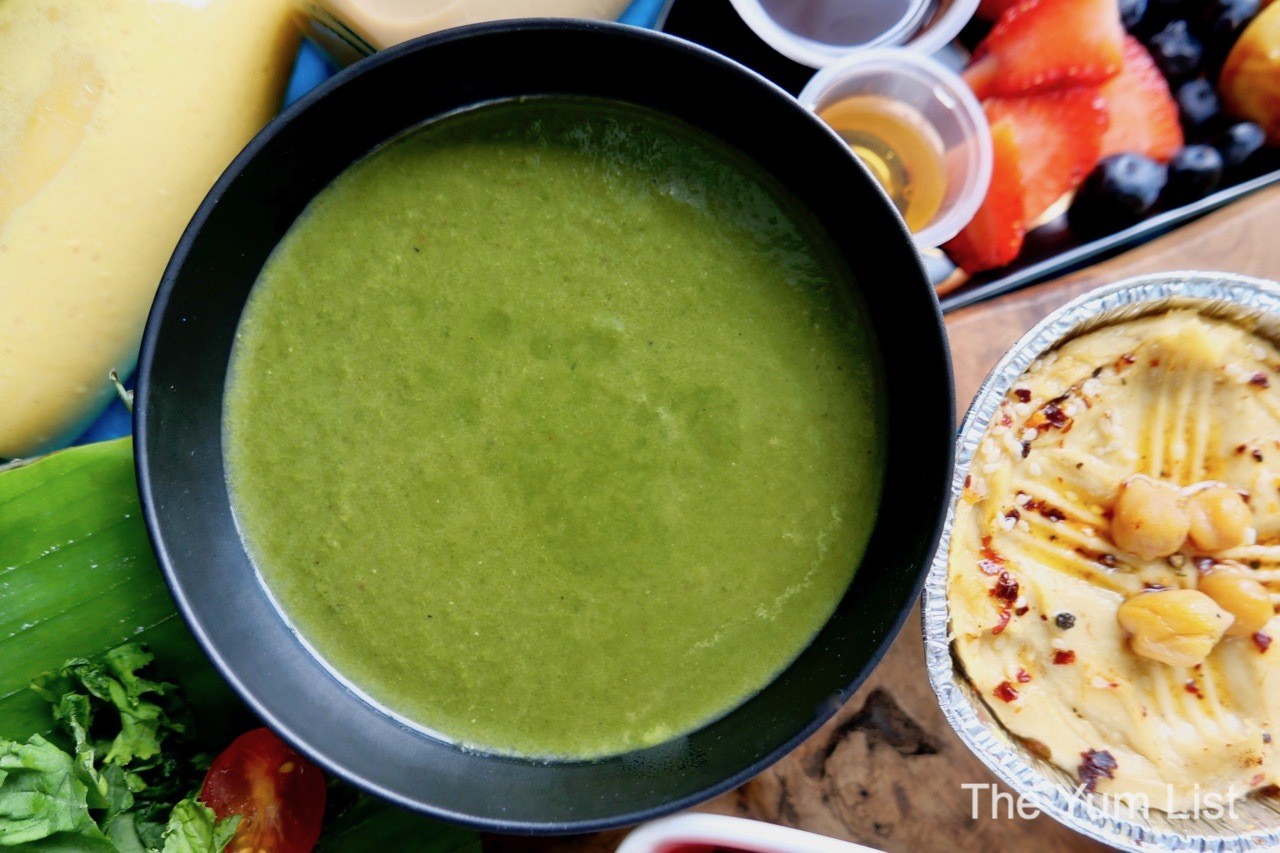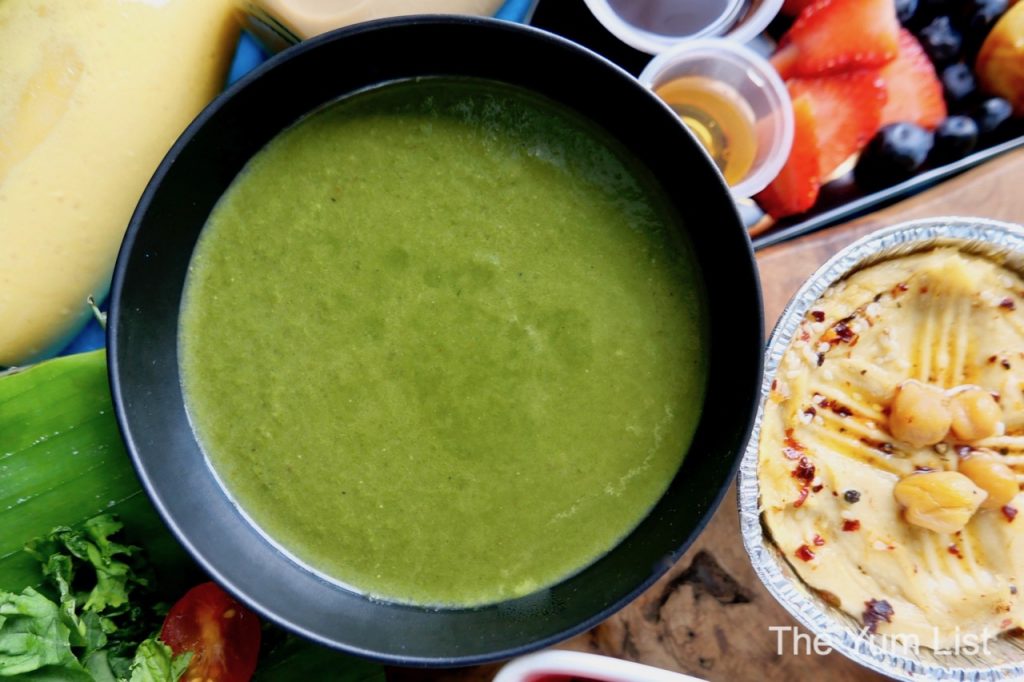 I appreciate that many of the meals at Waves Café are available in small and regular-sized portions. I prefer the small option both for the price point and because they enable me to try more things. For example, Grilled Salmon (RM 12, small) with a side of Cauliflower Rice (RM 5) and Kale Salad (RM 5) comes in a steal at just over RM 20, including the two sides. The fish is juicy and pink in the middle with a delightful char on the edge.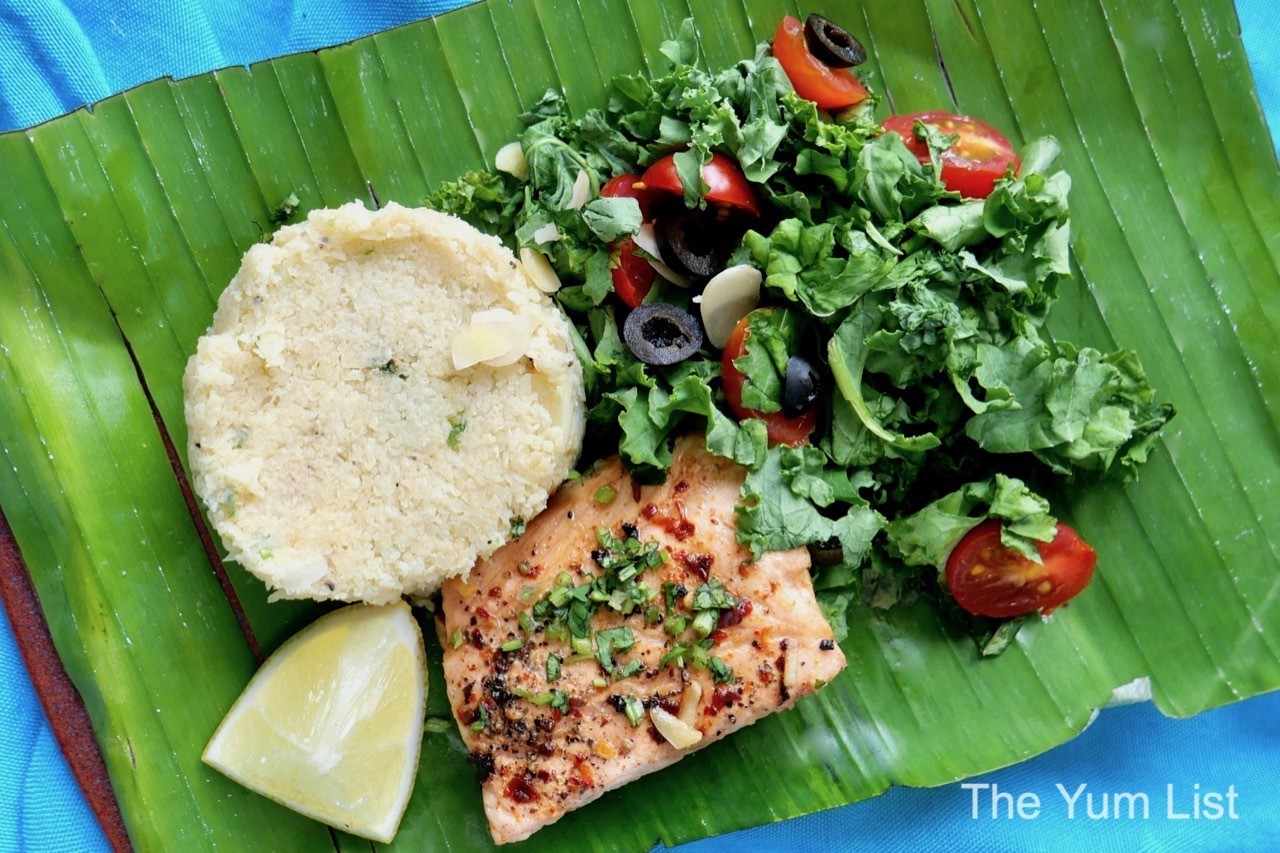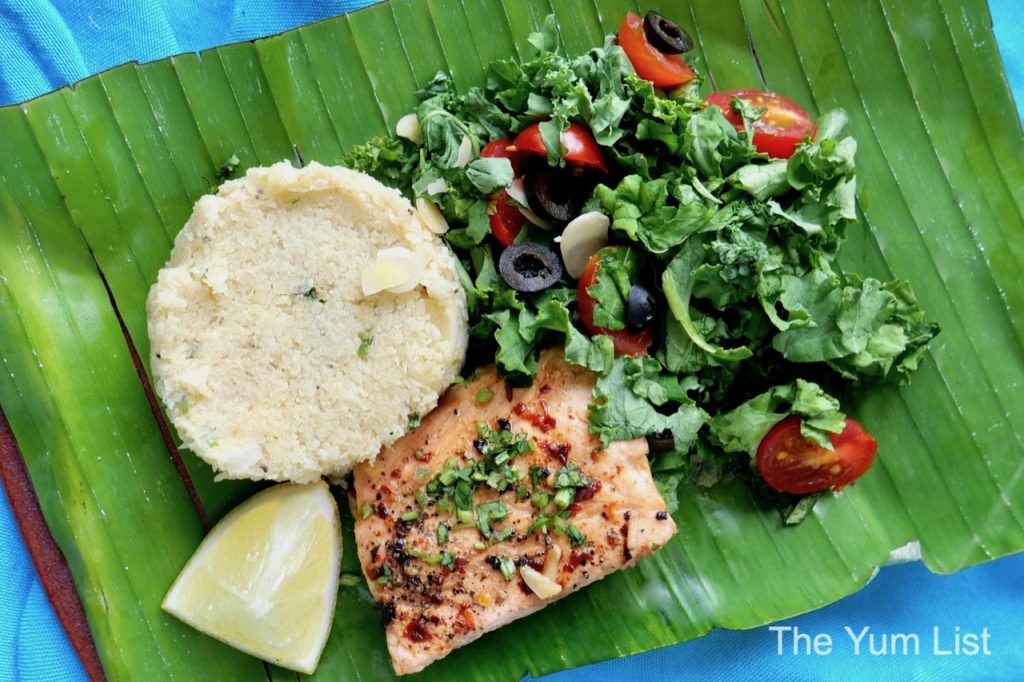 Vegan Menu – Waves Cafe Mont Kiara
There are many meat-free options on the regular menu. Still, the vegan selection ensures no animal products are used in making the dishes.
I love a good smoothie bowl and am happy to read that Waves Café offers a vegan version on top of their vegetarian (with added yoghurt) recipe. The plant-based Sunshine Bowl (RM 16) is a smoothie of tropical fruits topped with granola, nuts and fresh fruit. It's simple, naturally sweet and easily serve as breakfast, a snack or a dessert.
The Hummus Platter (RM 25) makes excellent mid-meal snacking. Alongside the homemade dip, there are veggie sticks and pita bread. The hummus is a good thickness with a balance of tahini, garlic and lemon.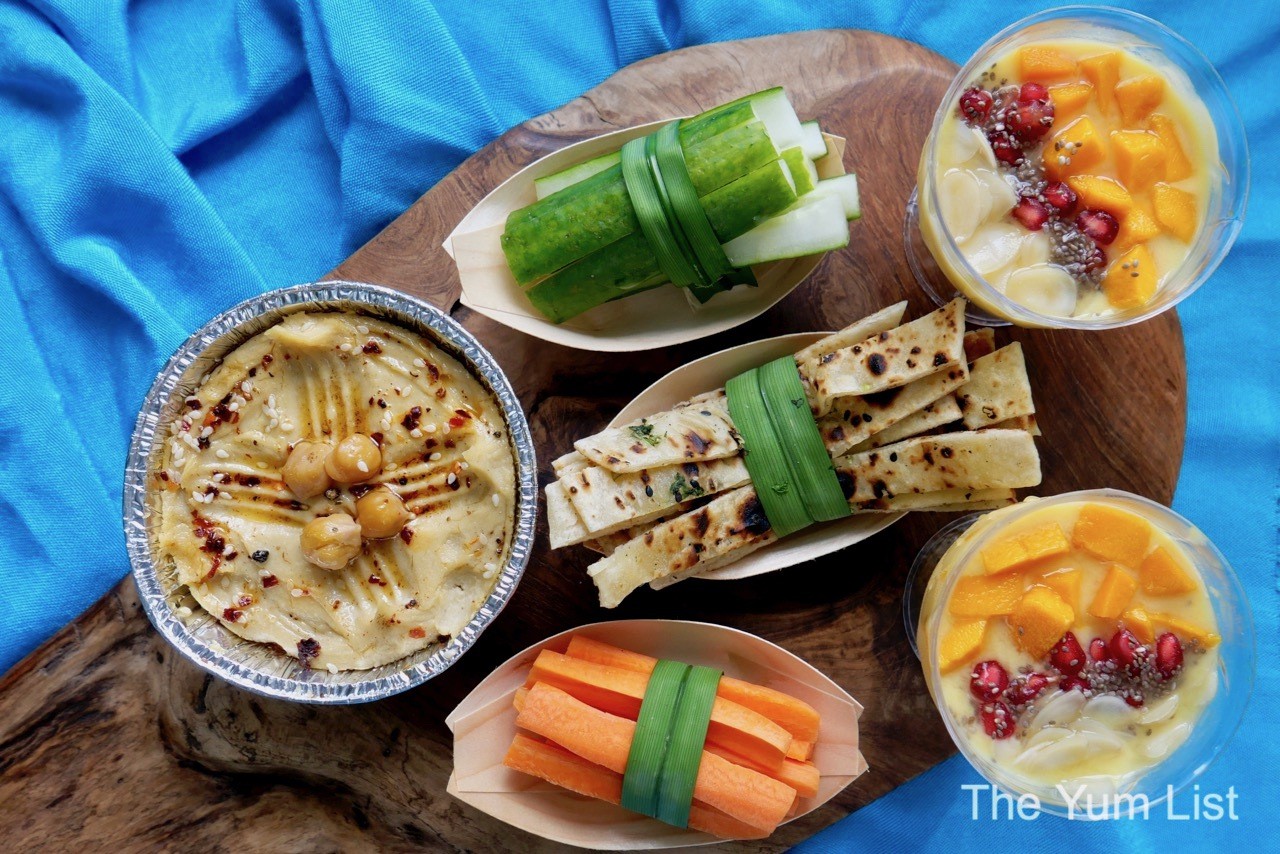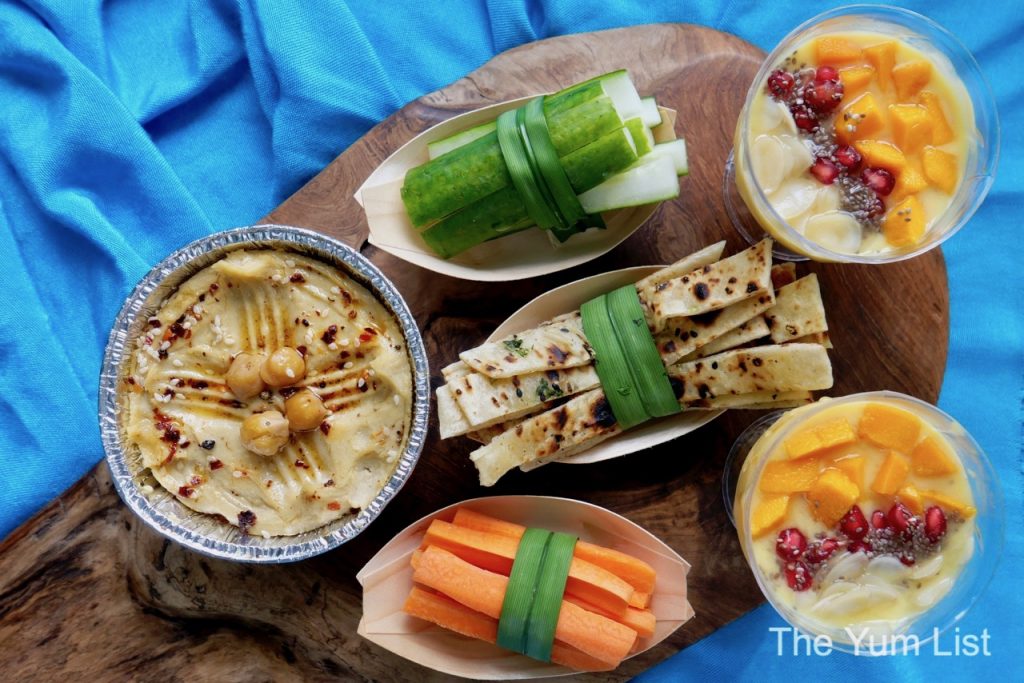 Watermelon and Basil Salad (RM 12) is just as the name suggests – a vibrant mix of red and green. Juicy, sweet cubes of the tropical melon are tossed together with fresh herbs. Finely sliced black olives give a little savoury note to the dish.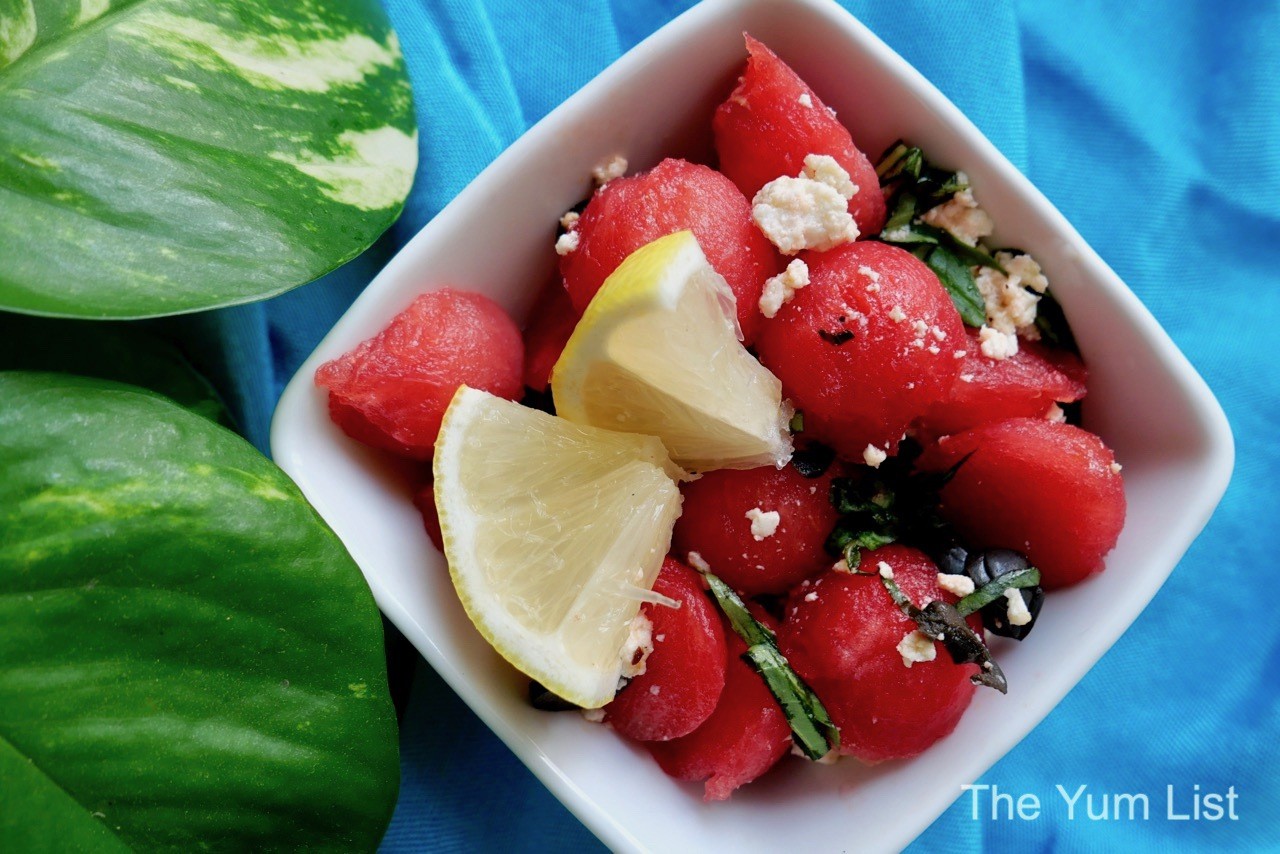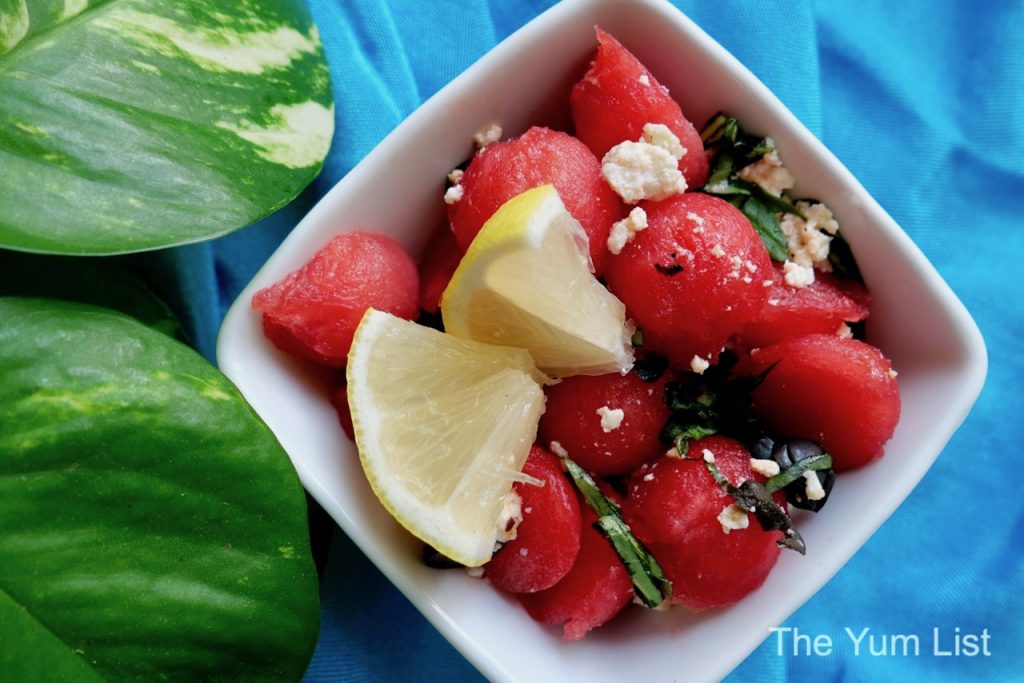 All Day Menu
Breakfast is my favourite meal of the day, hence my biased order towards morning goodies. On top of the smoothie bowl mentioned above, we also try Wave Café's Pancakes (RM 16) and their Scrambled Eggs on Sourdough Toast (RM 12). The former is a collection of miniatures served with honey, chocolate, whipped cream and fruit. The latter is a nice creamy scramble atop a deliciously chewy slice of sourdough. The side of grilled mushrooms and tomatoes makes me happy too.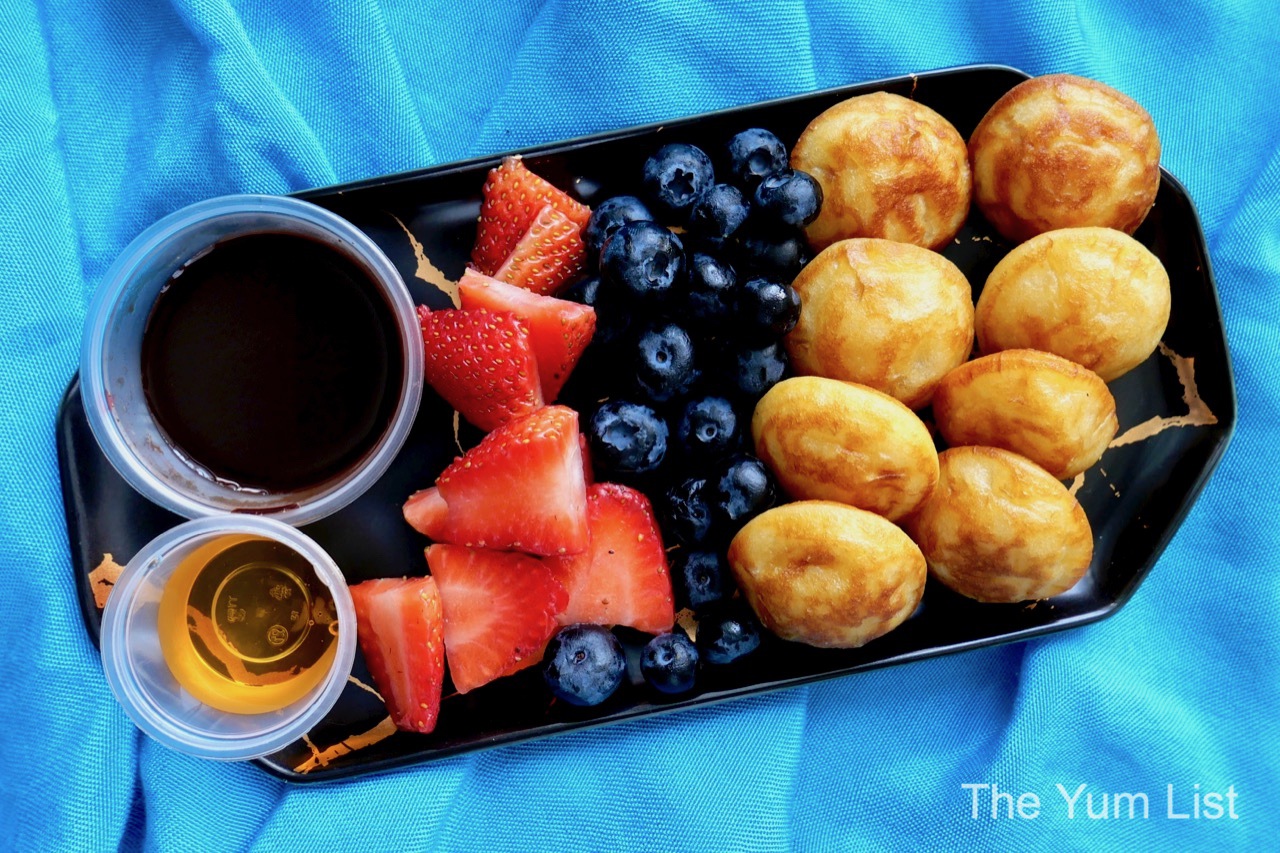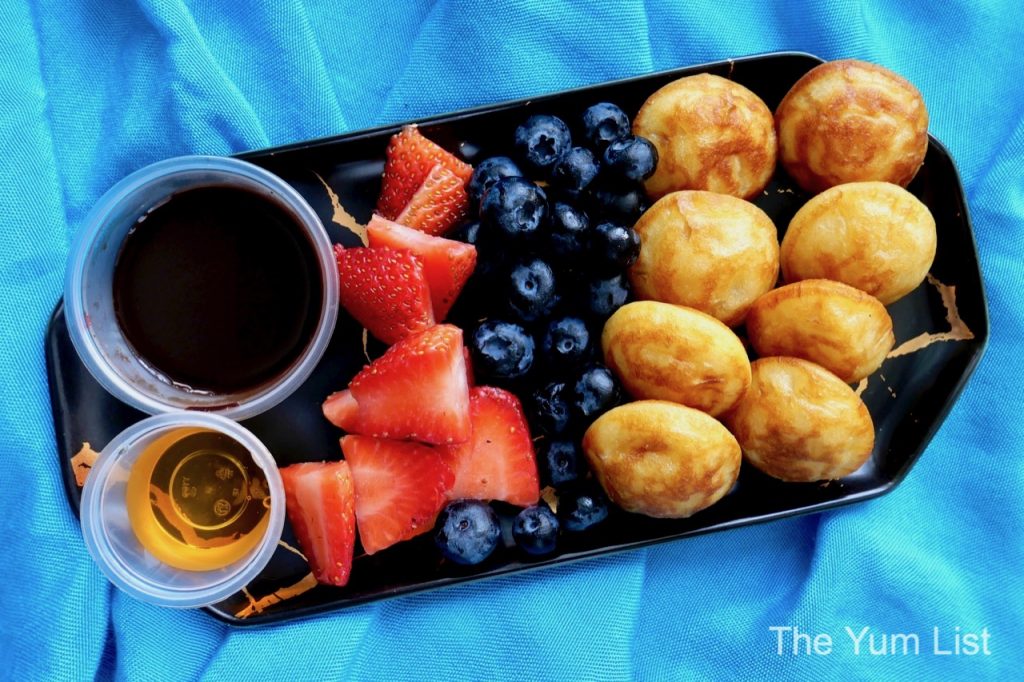 Sandwiches in all forms – on sliced bread, as tacos, in wraps – make excellent lunches. Both taco options – a soft wrap or hard shell – are gluten-free. The soft tortilla is made of chickpea flour, and the hard shell is on corn. You've probably already guessed that I'd choose the Vegetarian Taco (RM 16). It's stuffed with paneer in a light gravy and complemented by salsa, sour cream and chives.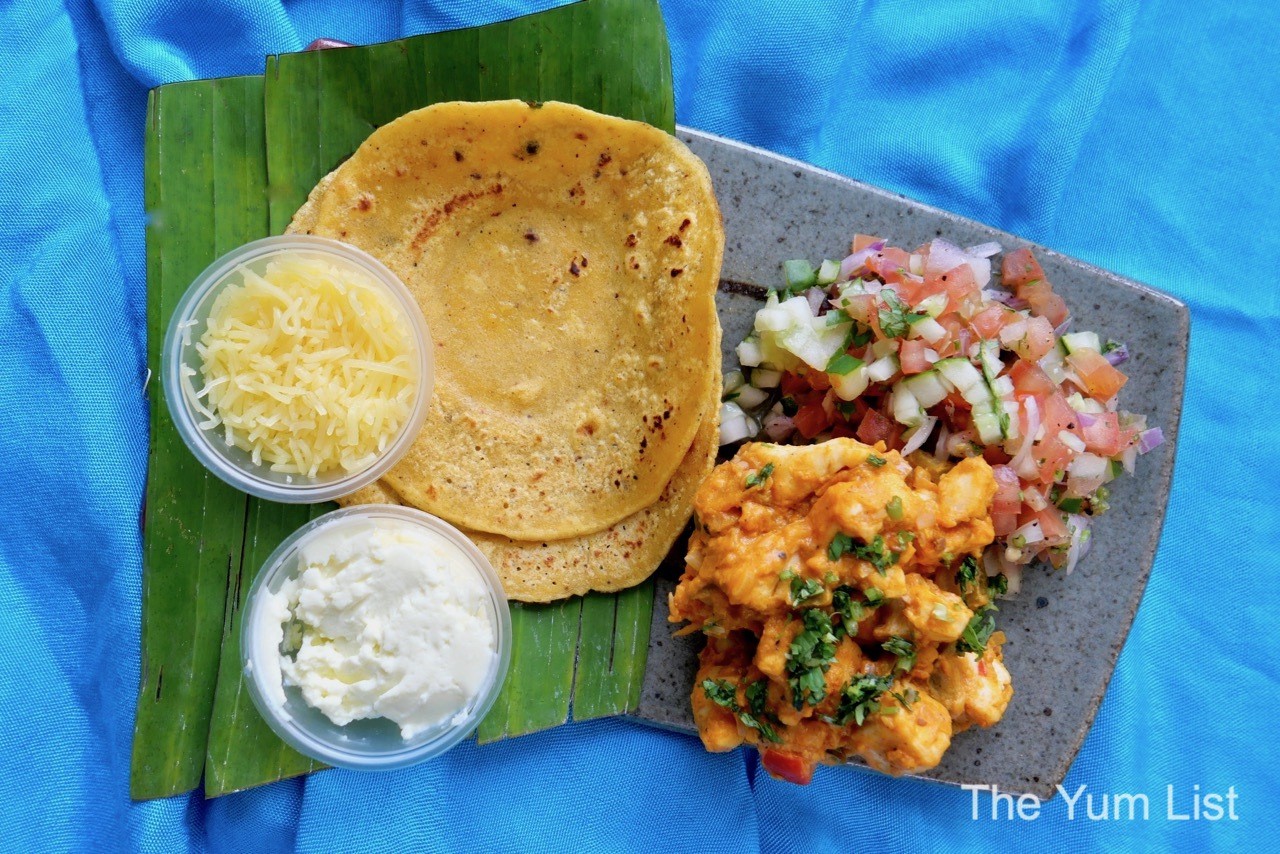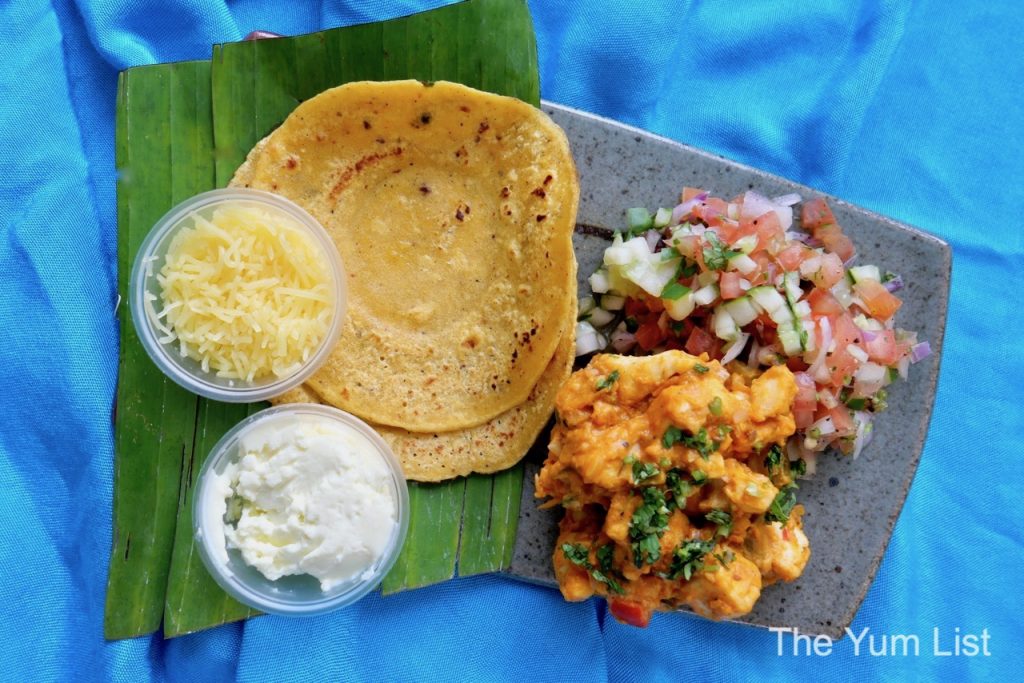 A great plate for sharing is the Kebab Platter (RM 40). Minced chicken and herbs are given a light char over charcoal. They come with a spicy green dipping sauce, homemade flatbread and salad. It's one of their best sellers.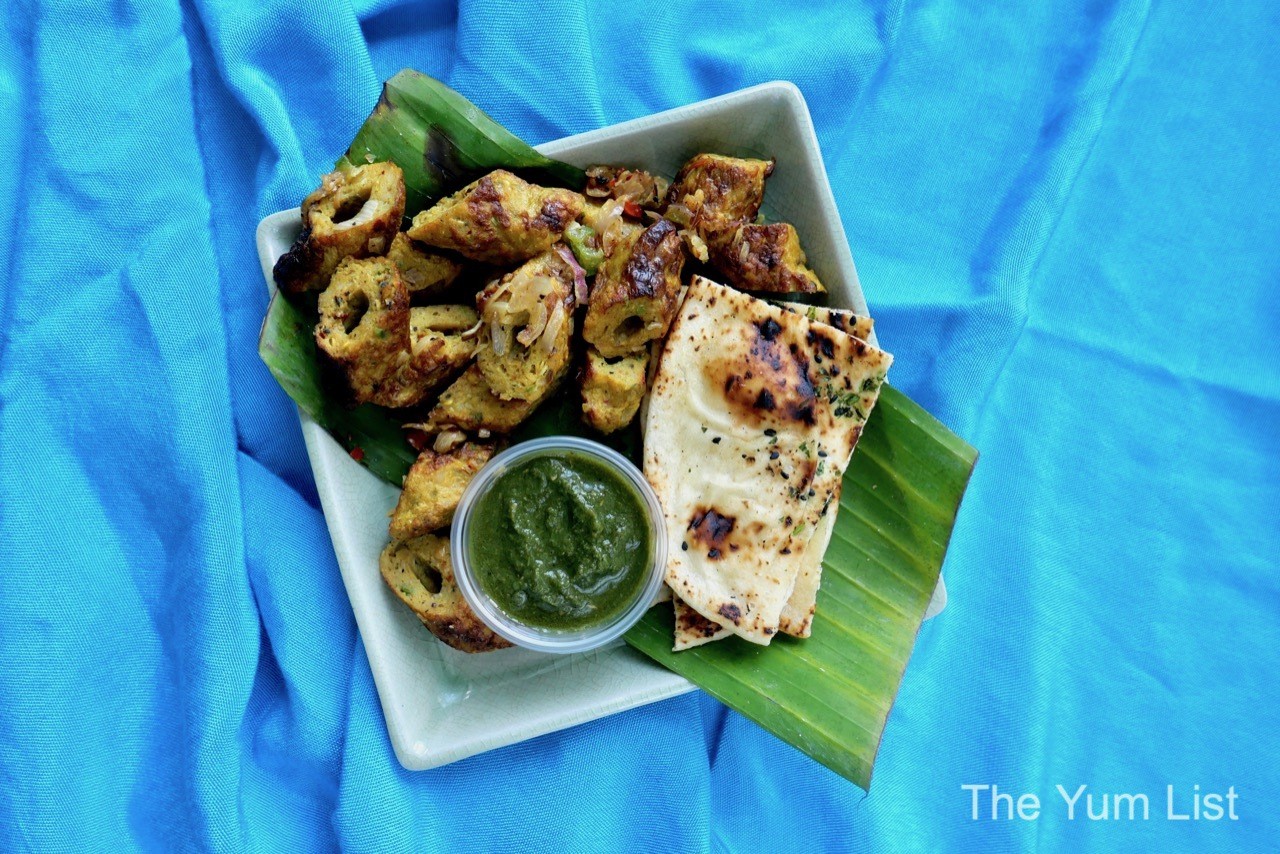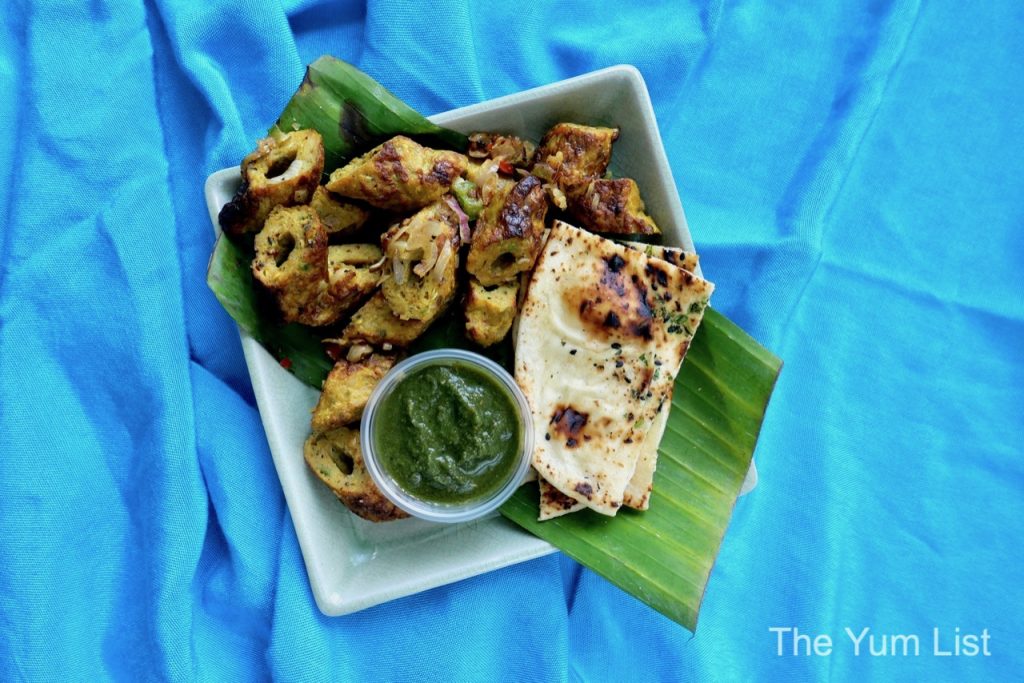 Drinks
We accompany the meal with a cool Mango Lassi (RM 15) and coffee. The lassi is thick and has a wonderful tang to its finish. Our Latte (RM 12) and Hot Cappuccino (RM 10) are made on a blend of beans from around the globe and can also be made using a dairy substitute such as almond milk.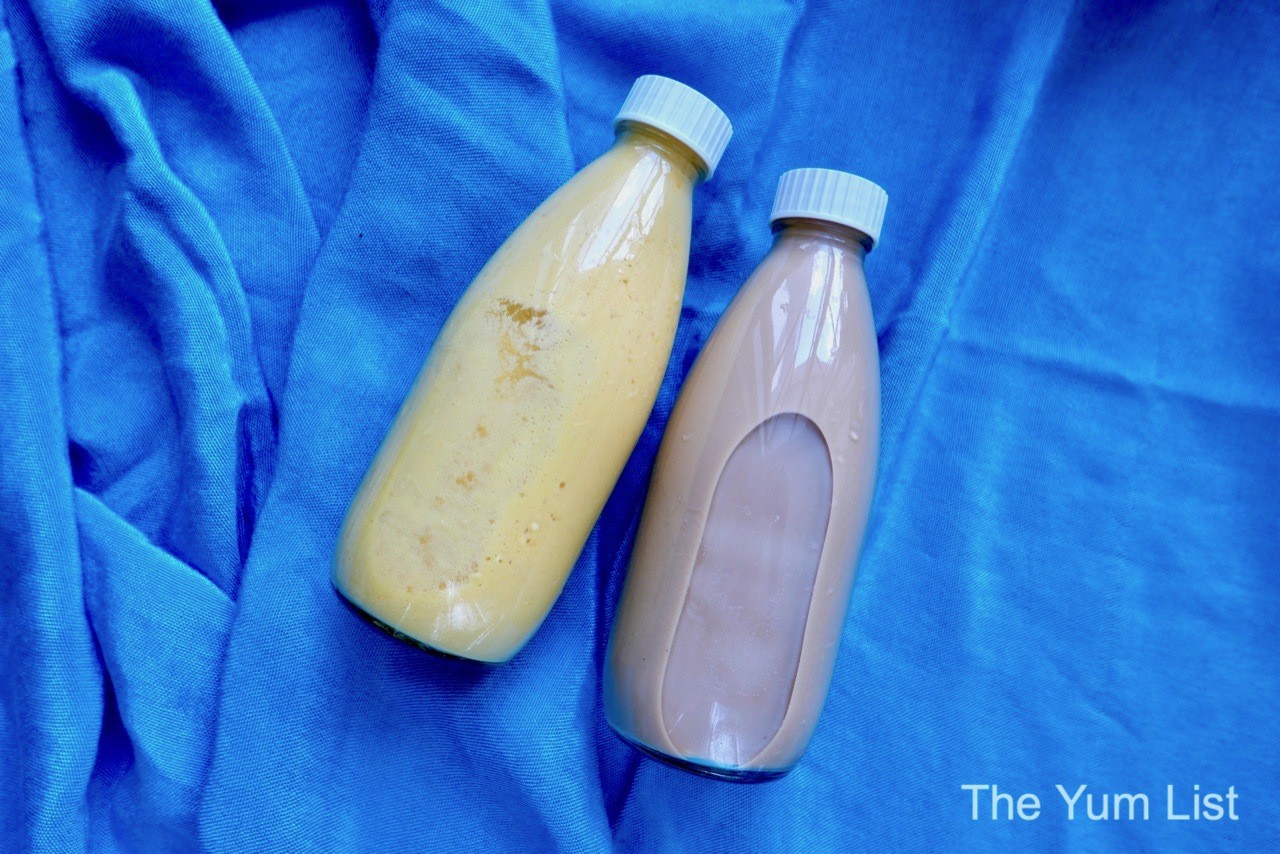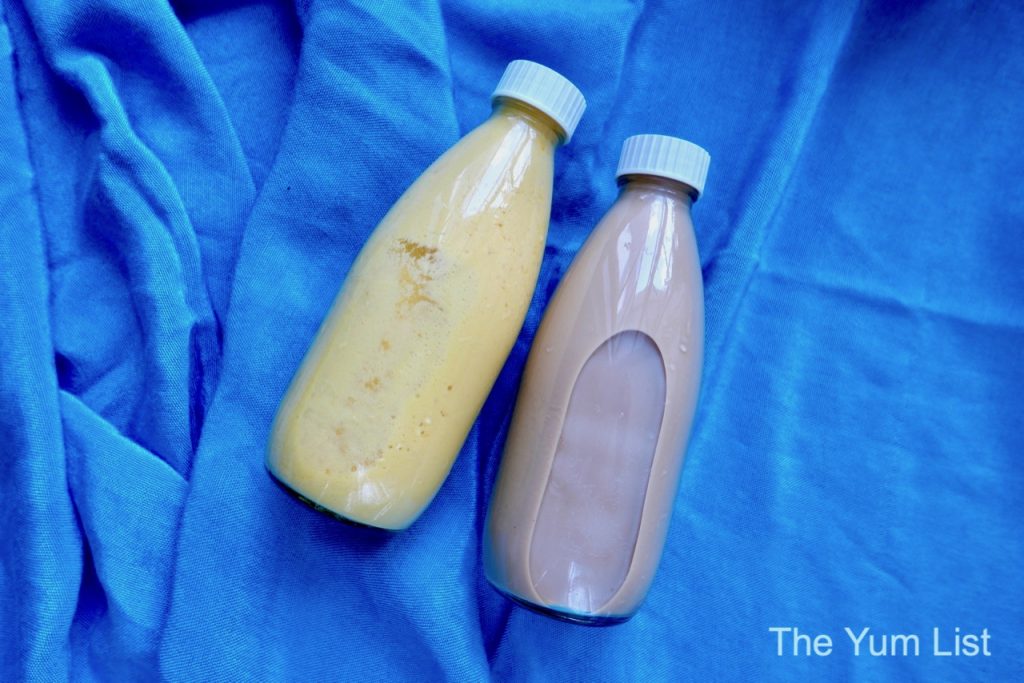 Waves Café KL
Do note, my comfort food is predominantly western. My choices make the menu look like it leans this way too. However, do be assured that Waves Café offers a good balance of local flavours as well. I've included their menus below so you can see the variety for yourself.
As mentioned earlier, it's ideal to order food a day in advance to ensure all ingredients are available. Bring your own takeaway containers and get RM1 off your order – great to see businesses trying to reduce single-use packaging. Visit their Facebook page for further details or call or WhatsApp them directly on +6017 260 8693.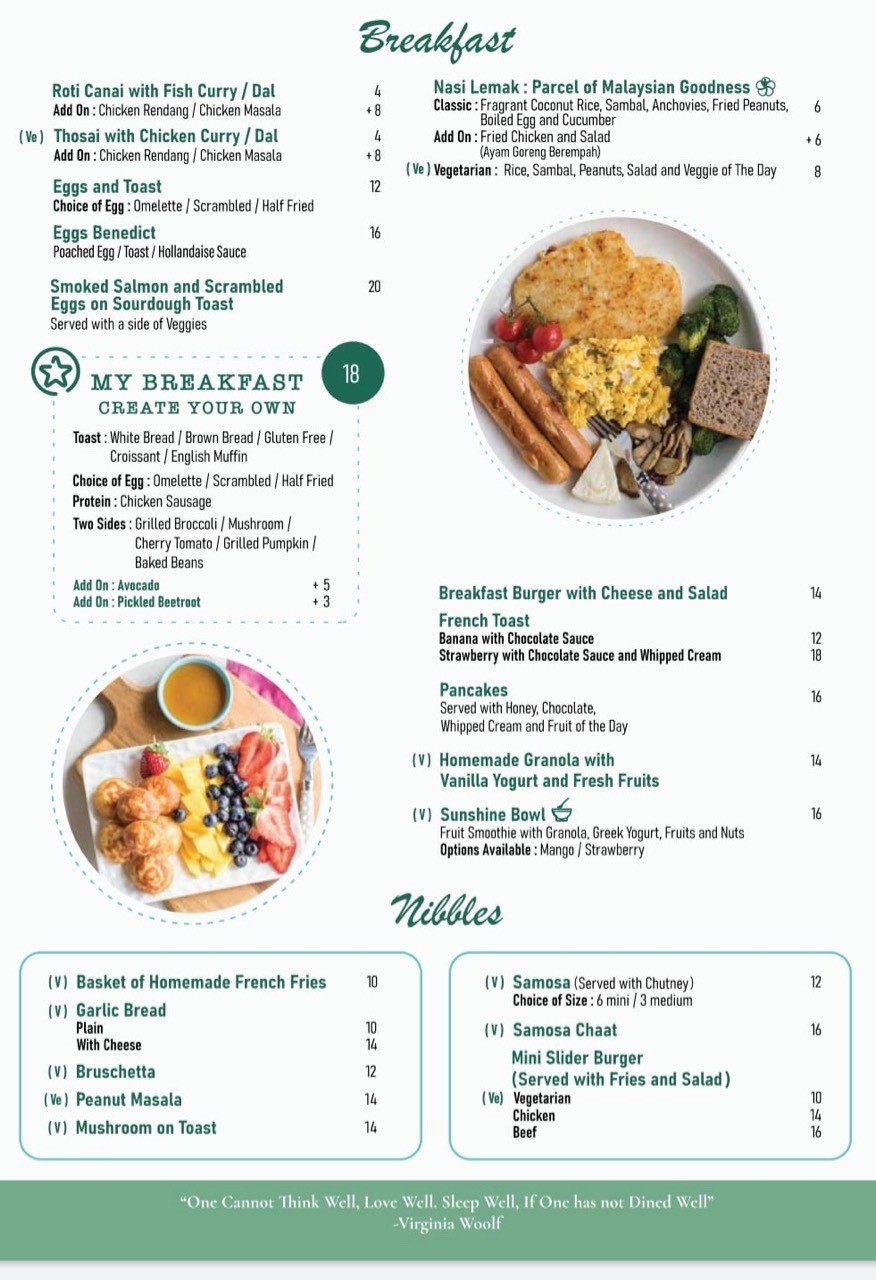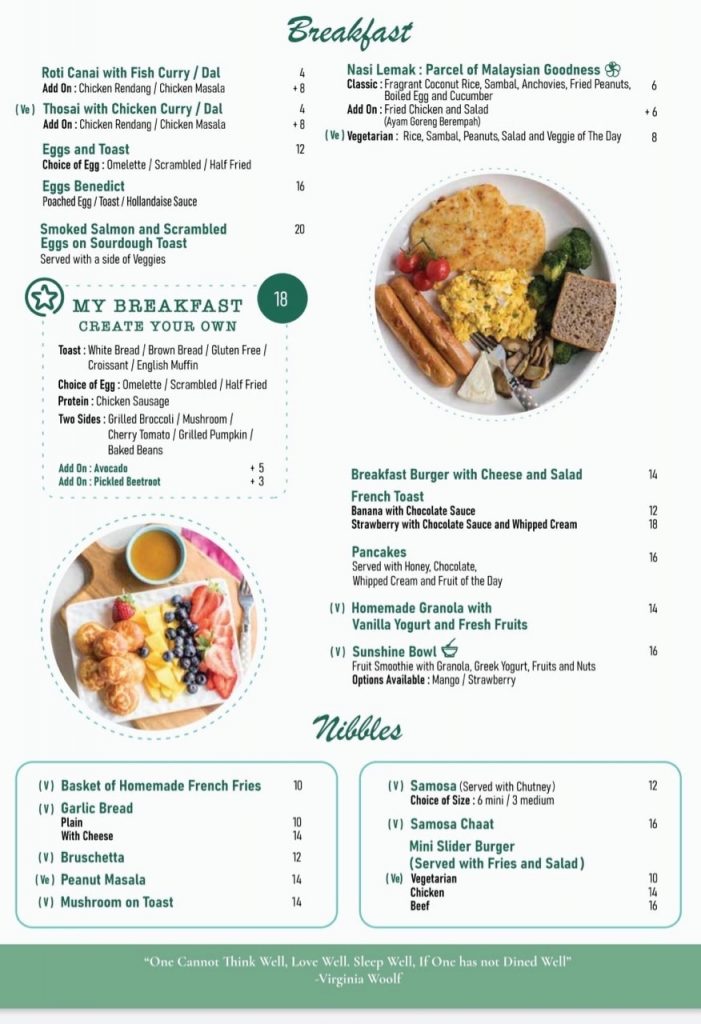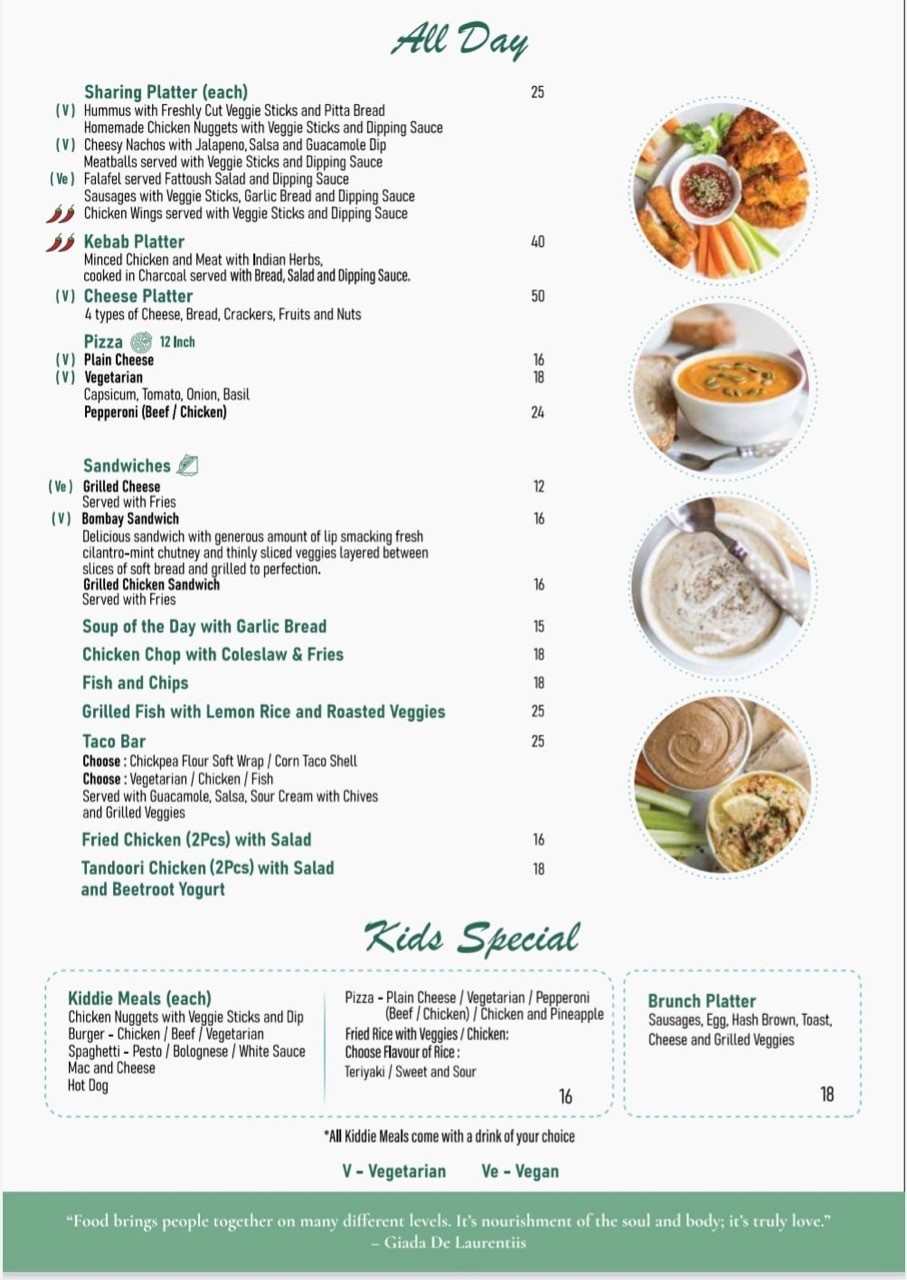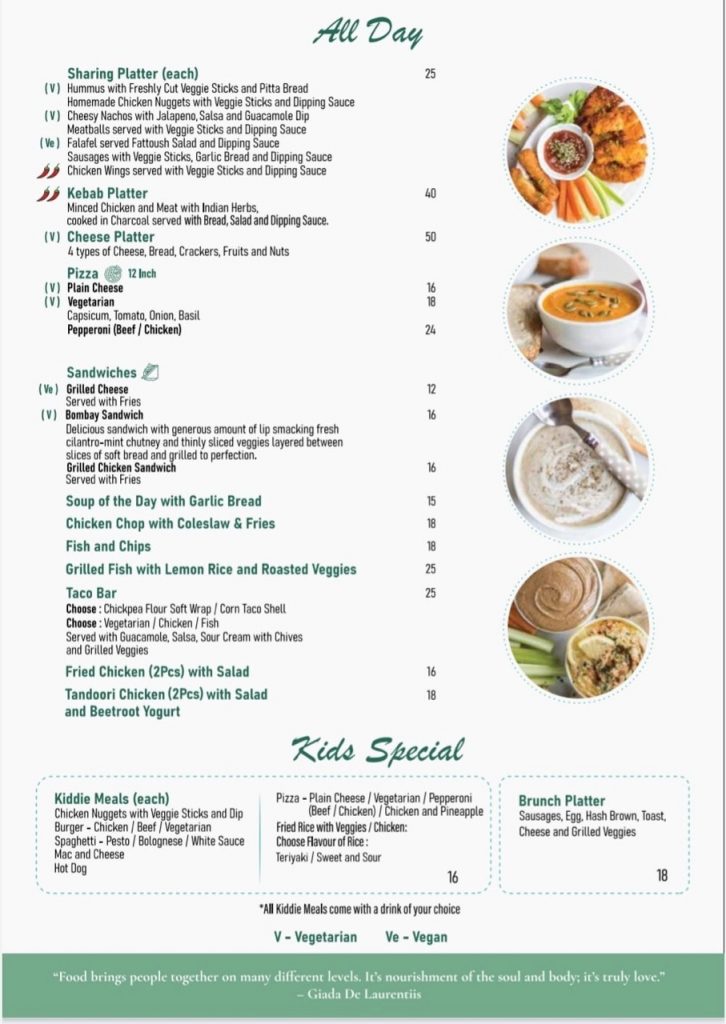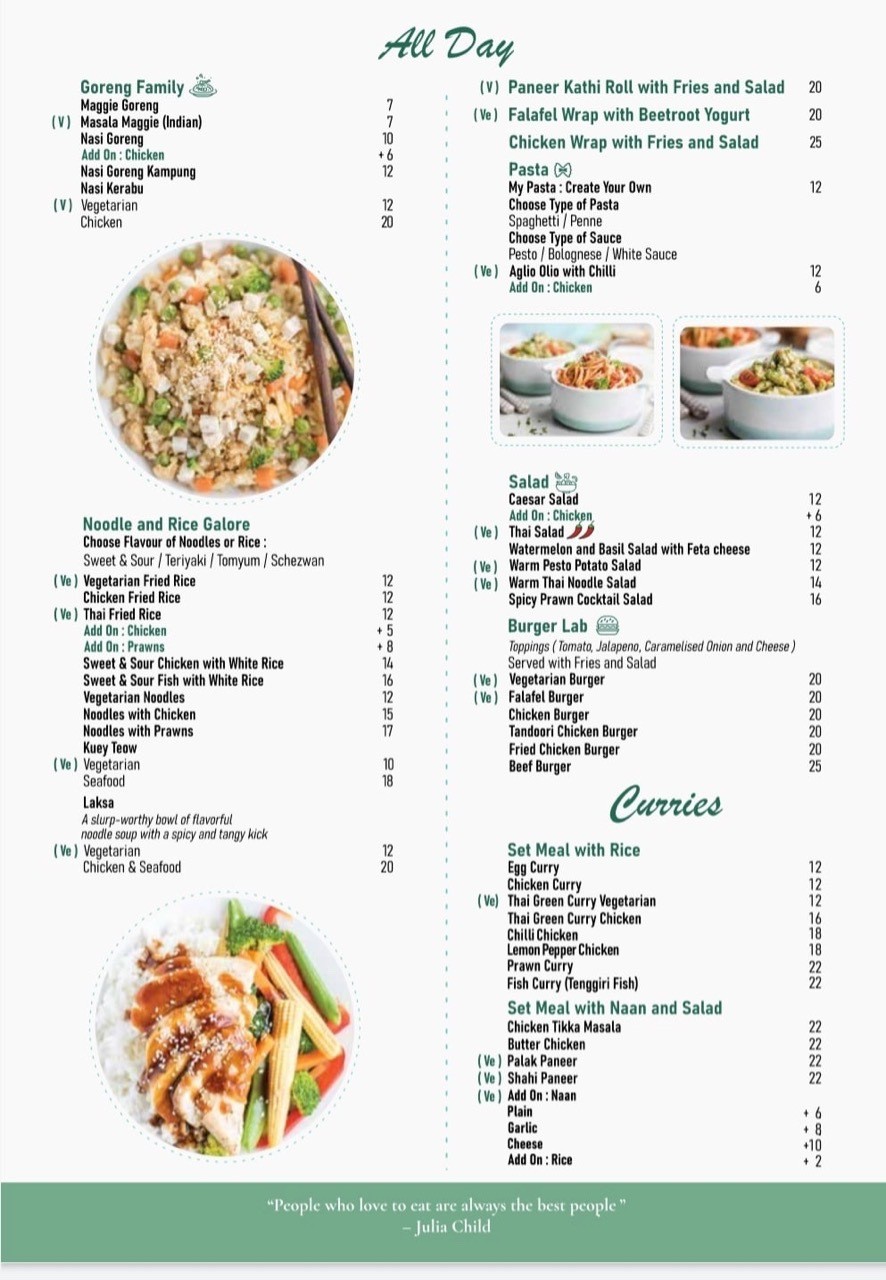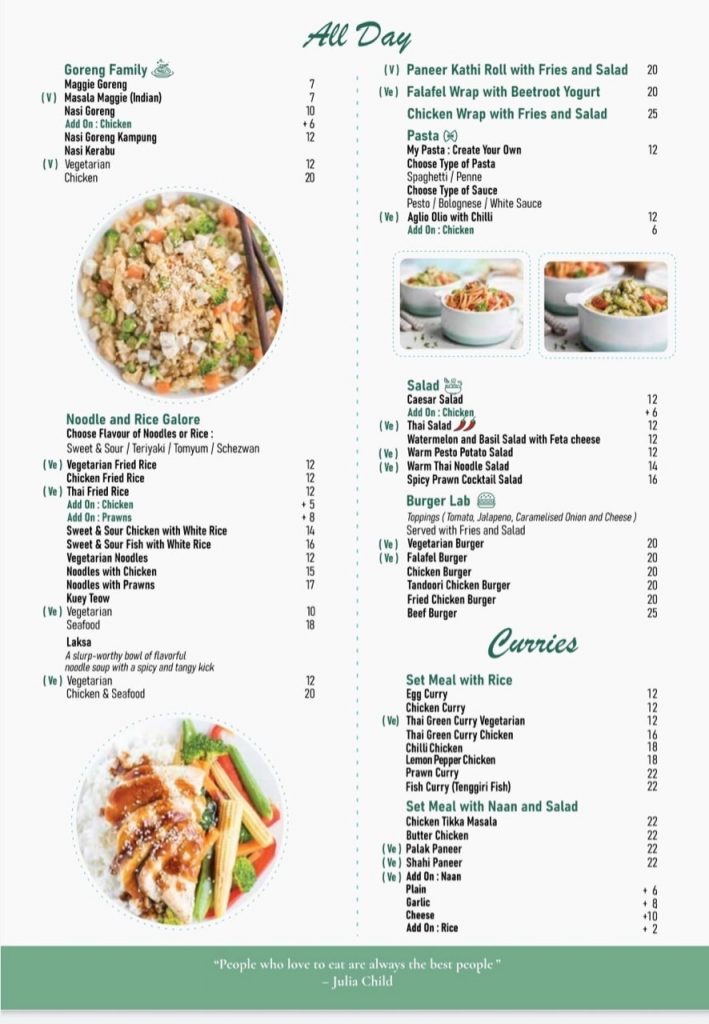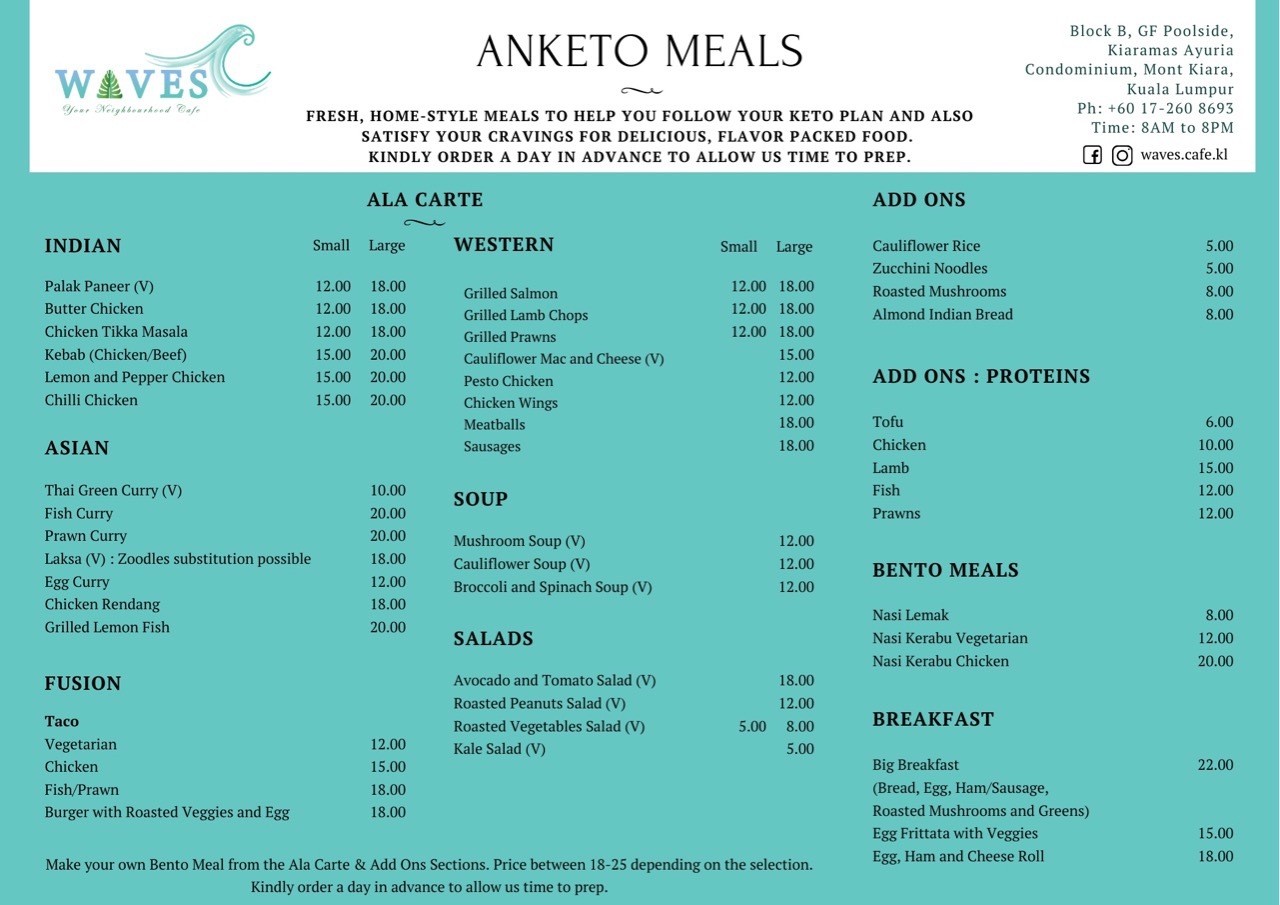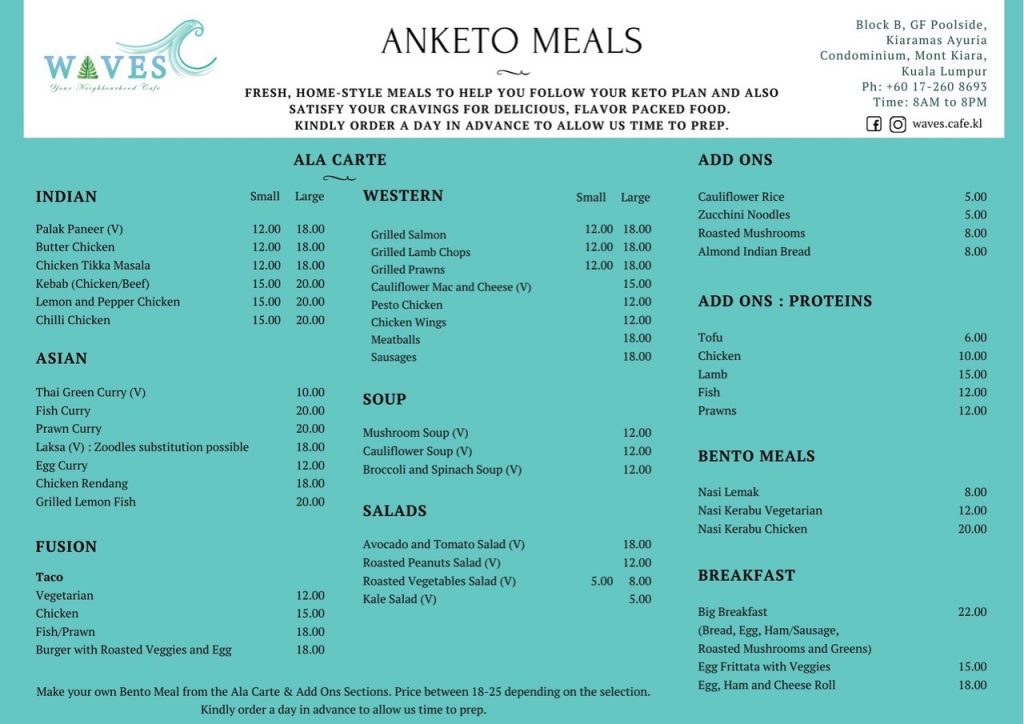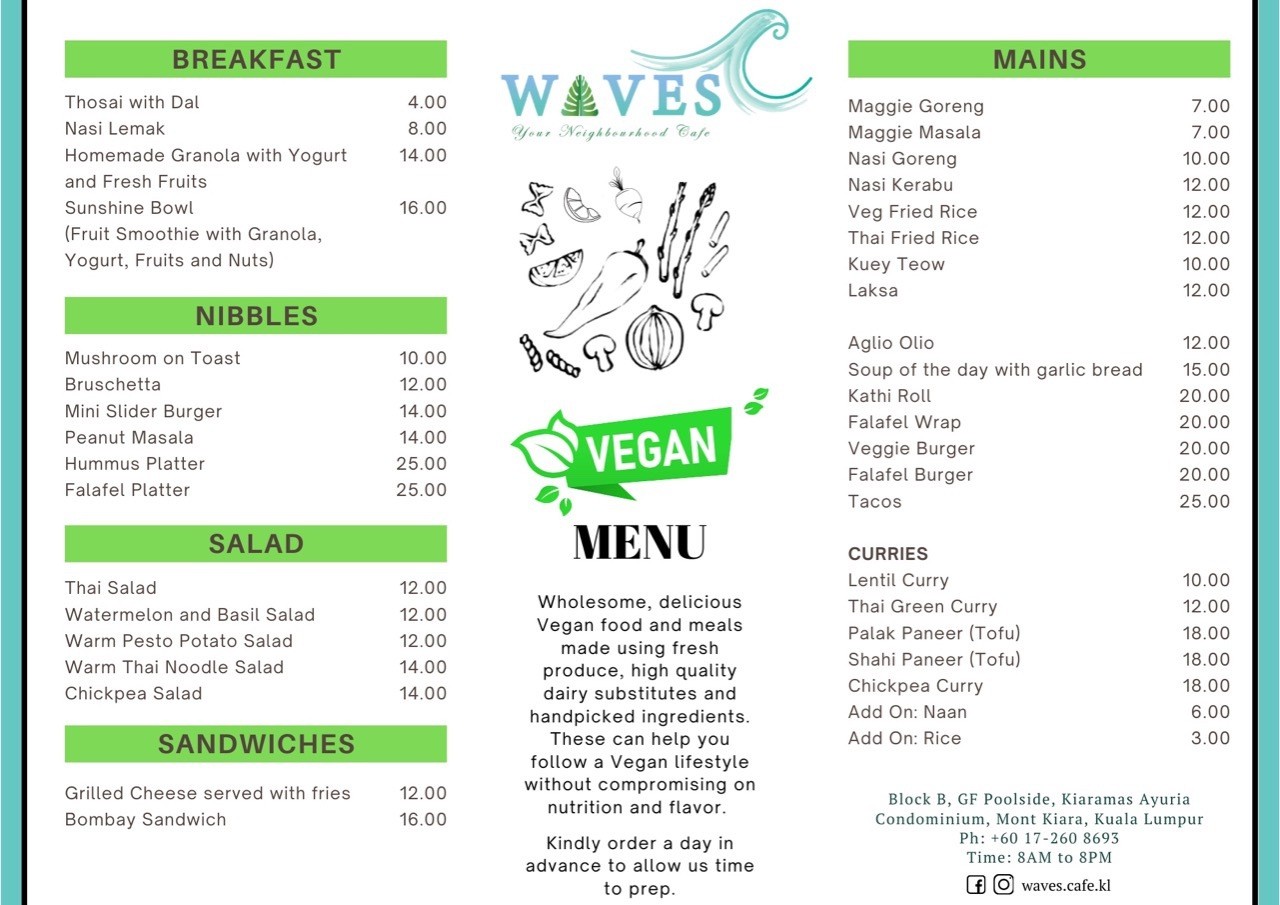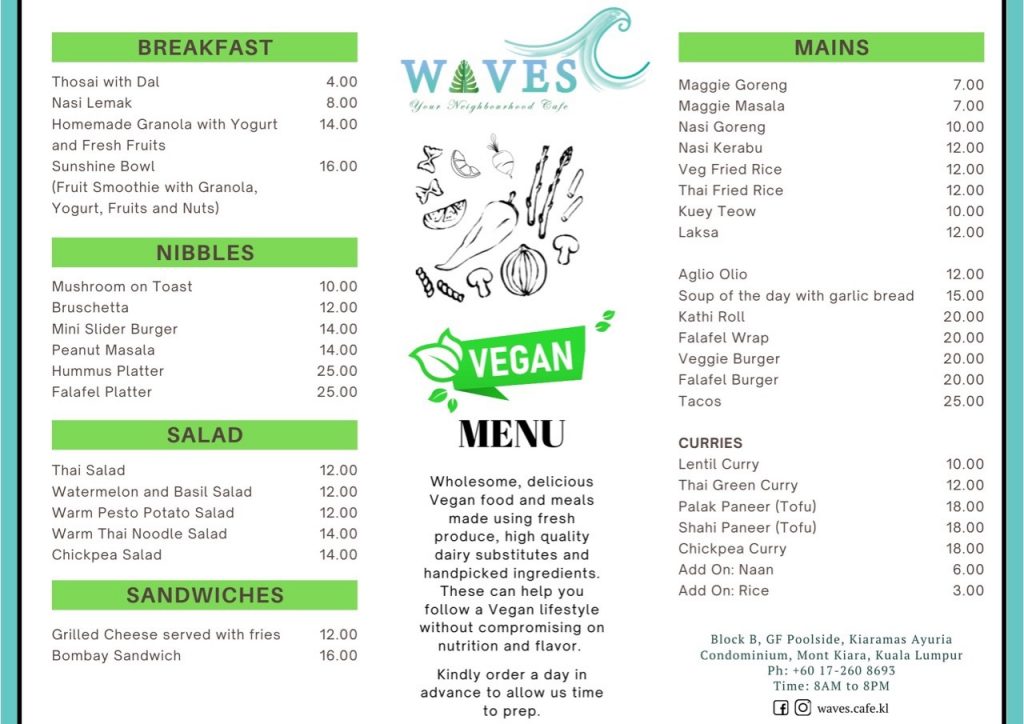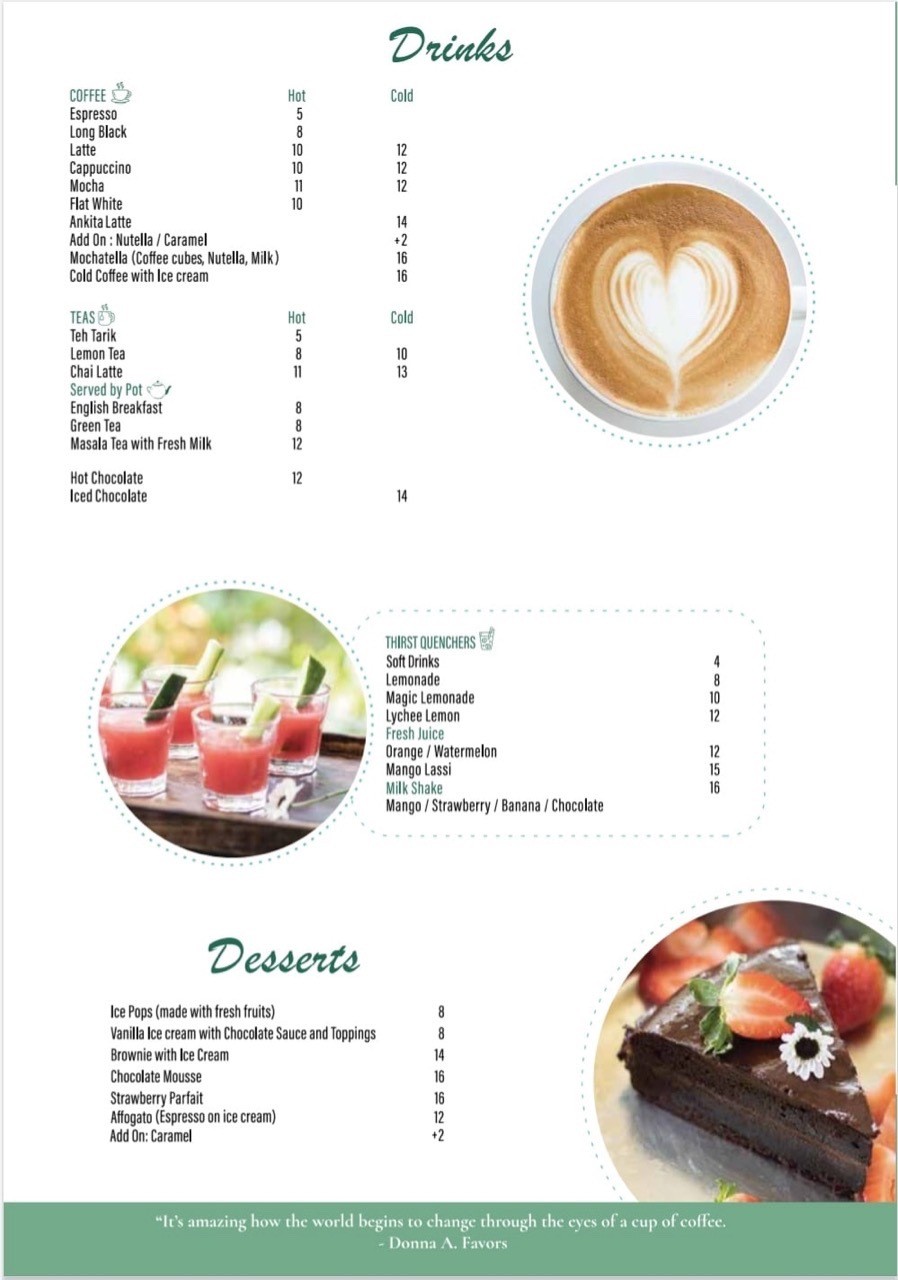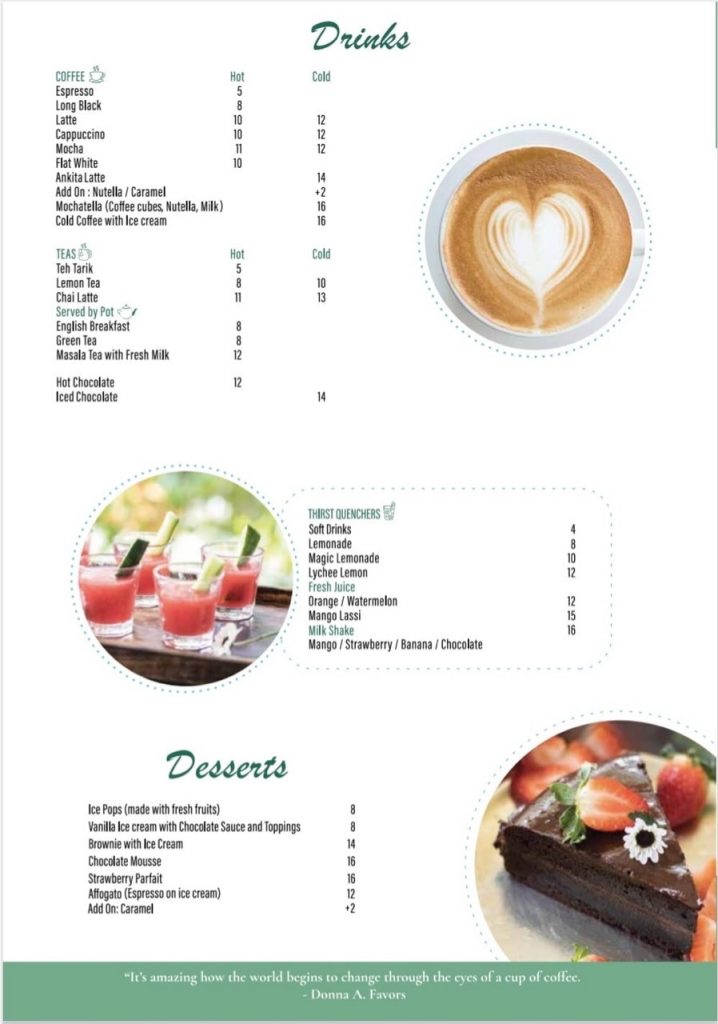 Find more healthy food options in KL here and stay up-to-date with the latest gourmet and travel recommendations for Malaysia here and here.