Healthy Food Kuala Lumpur
Monica Tindall
You may have noticed I'm trying to find more healthy food options in Kuala Lumpur for delivery and takeaway. Some of you might say it would be better to cook meals myself at home. Under different circumstances, I might agree. However, I am deeply concerned for our food and beverage friends. Unless we keep them going with meal orders, I'm afraid many of them might not be around when we can finally return to visiting them in person. So, to share what we have with small businesses and keep ourselves well, we order from La Juiceria Superfoods today.
Healthy Food Kuala Lumpur
La Juiceria Superfoods is no newbie to the healthy food scene in Kuala Lumpur. In fact, many might attribute the business to contemporizing nutritious eating and even making it trendy. With attractively designed cafes in hot spots around the city, and a delicious menu providing for diverse tastes, it's easy to see why it has maintained its popularity.
I must admit I am a big fan of cauli rice and order it every chance I can. La Juiceria Superfood's Pesto Cauliflower Rice Bowl (RM 19.90, 350 kcal) is a delicious nutrient-packed bowl. House-made pesto sauce made from fresh herbs and pine nuts season shredded cauliflower along with sautéed mushrooms, cherry tomatoes and mixed salad leaves.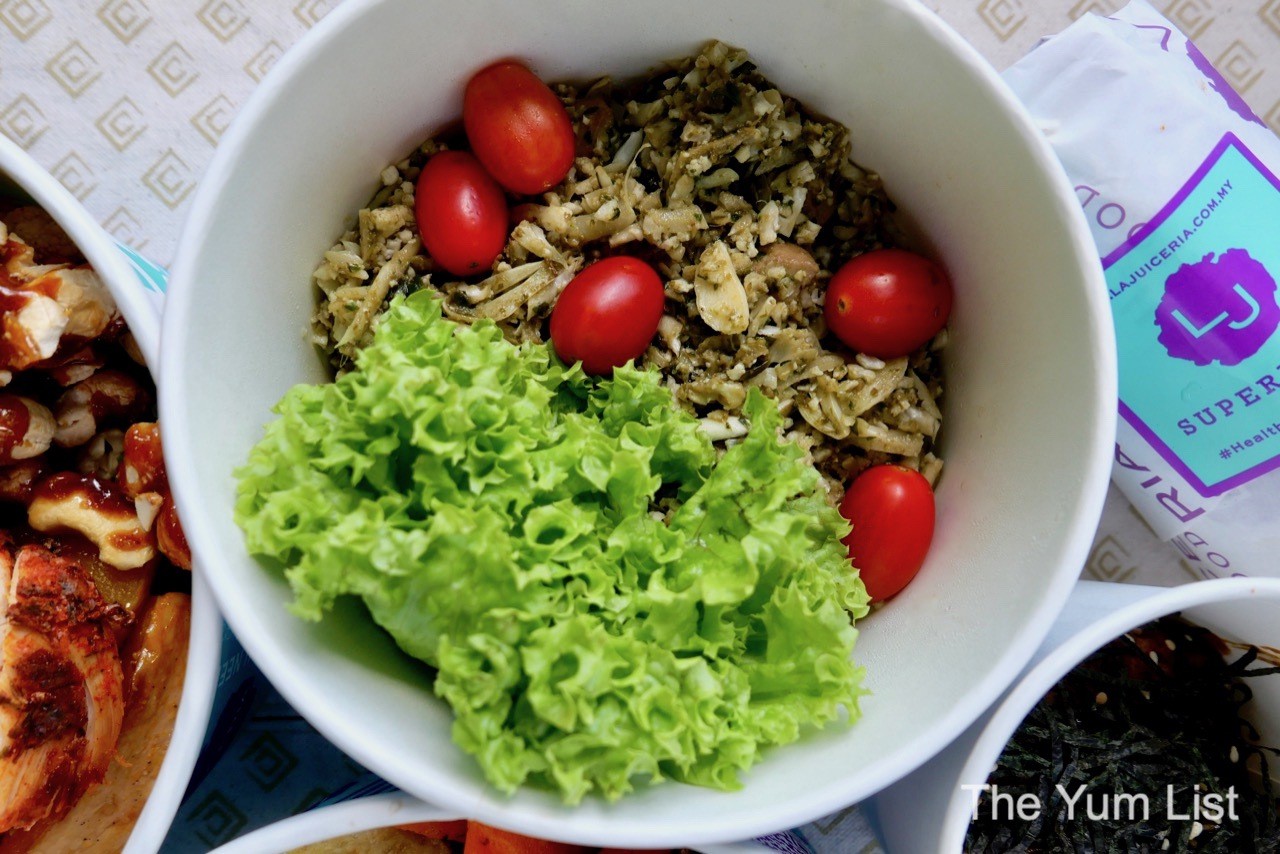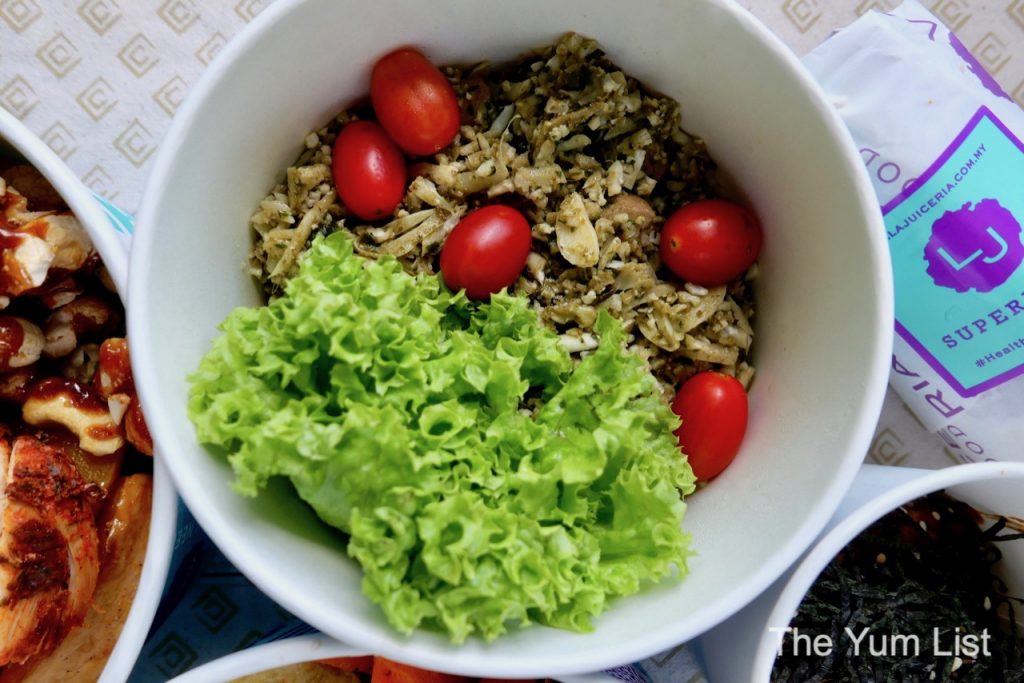 The Lean n Green (RM 20.90, 377 kcal) wins hubby's affection with two pieces of grilled chicken breast, roasted seasonal veggies, broccoli and a lime wedge. It's a simple yet tasty combination.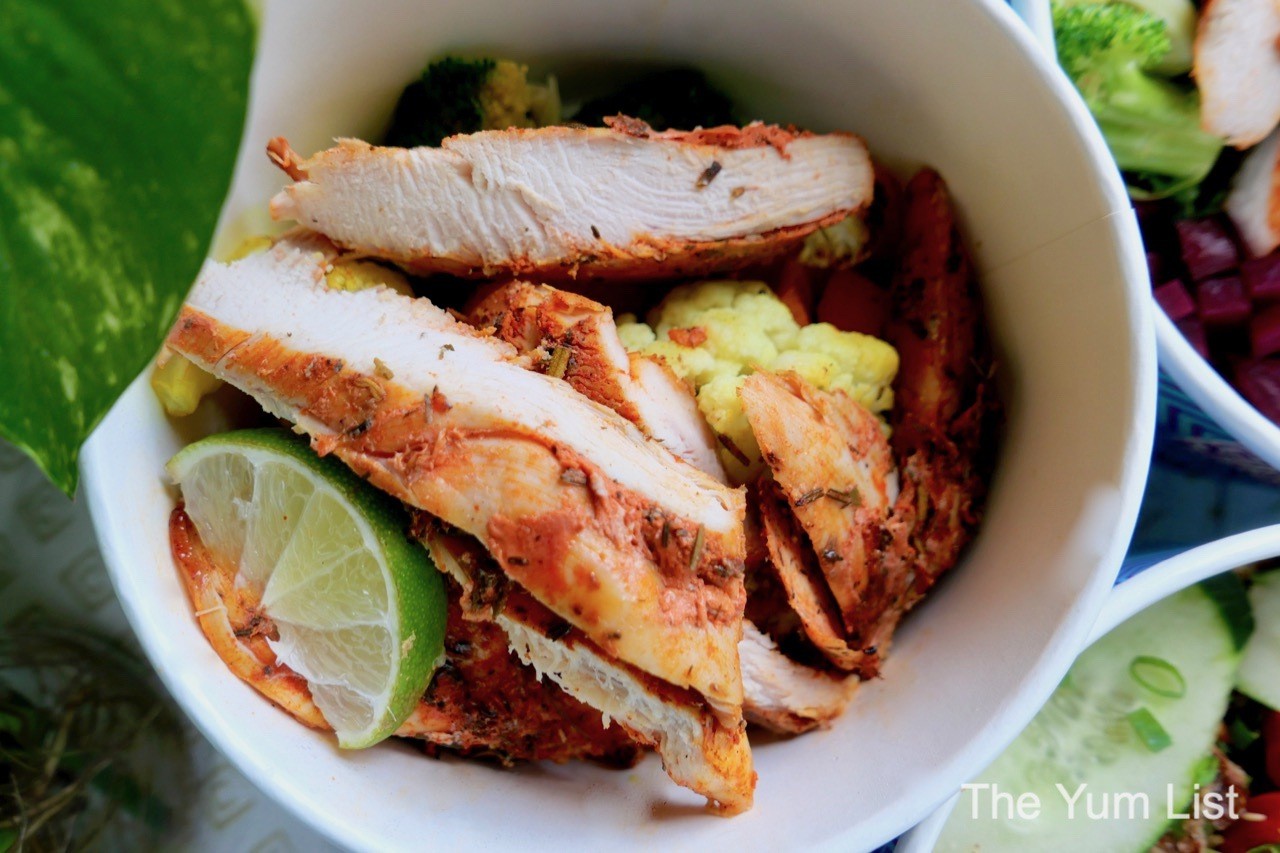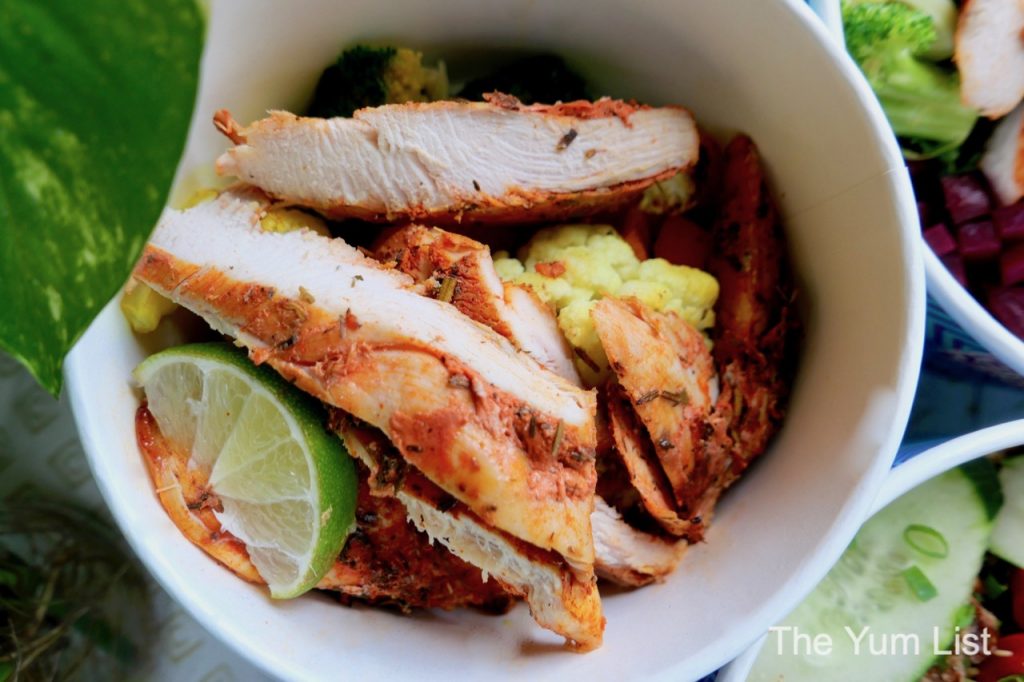 Avocado Wrap with Chicken (RM 22.90, 502 kcal) makes a great lunch. I find the portion large enough to cut into two meals. Moderate eaters could easily be satisfied with half a wrap, some salad and a juice. Grilled chicken breast, avocado mash, lettuce, Japanese cucumber and tomatoes are bundled tightly in a soft tortilla.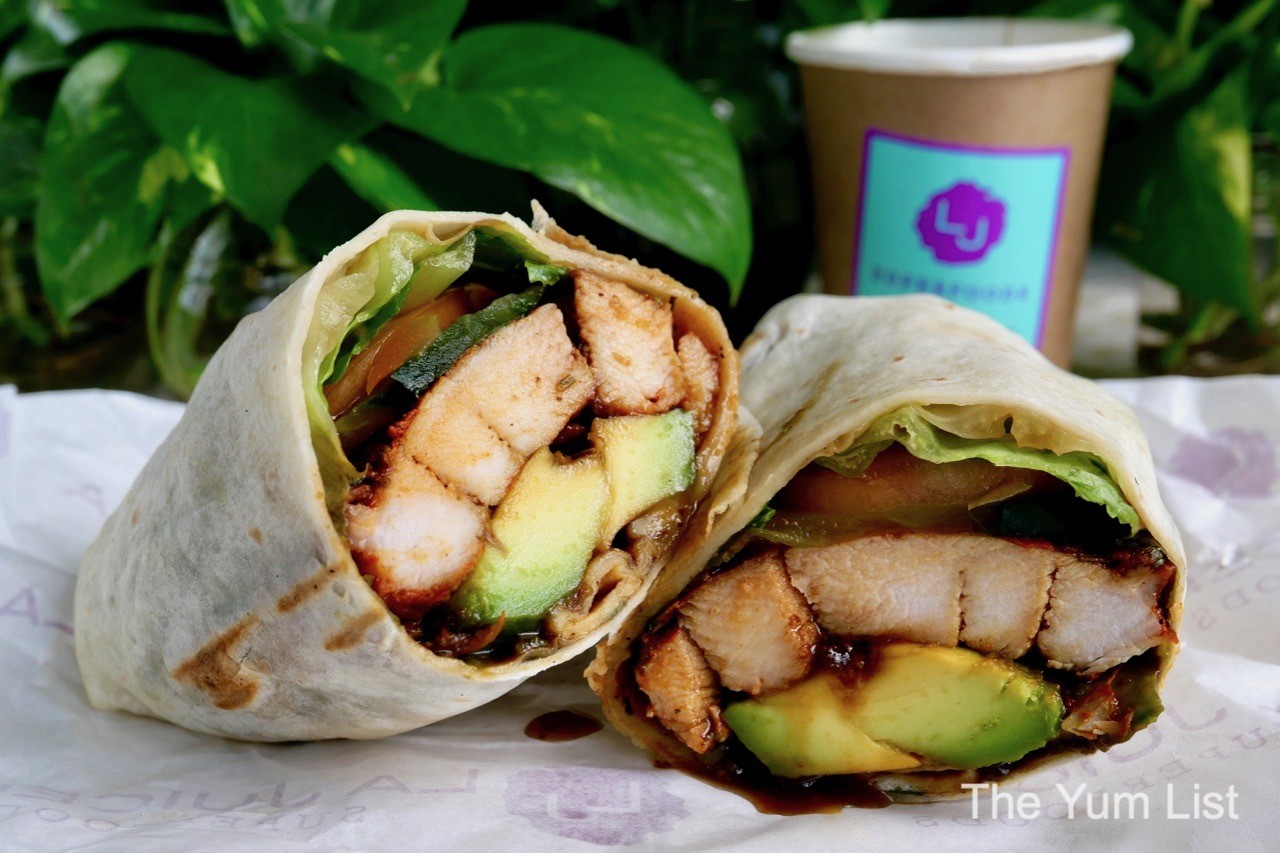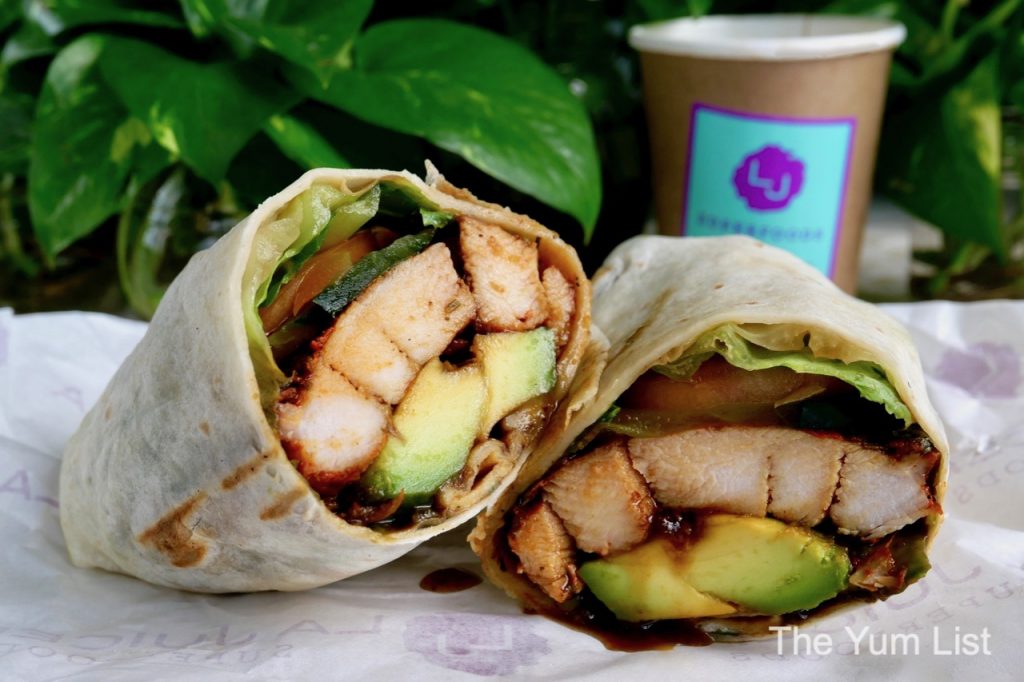 The Buddha Bowl (RM 20.90, 592 kcal) is a recipe that has long been a favourite. Japanese turmeric pearl rice makes a colourful mound in the middle of roasted pumpkin and seasonal veggies, tofu and grilled mushrooms. Temptingly caramelized cashew nuts, a lime wedge and crunchy tortilla chips top the lot, and Thai coconut curry sauce is served apart for your own addition.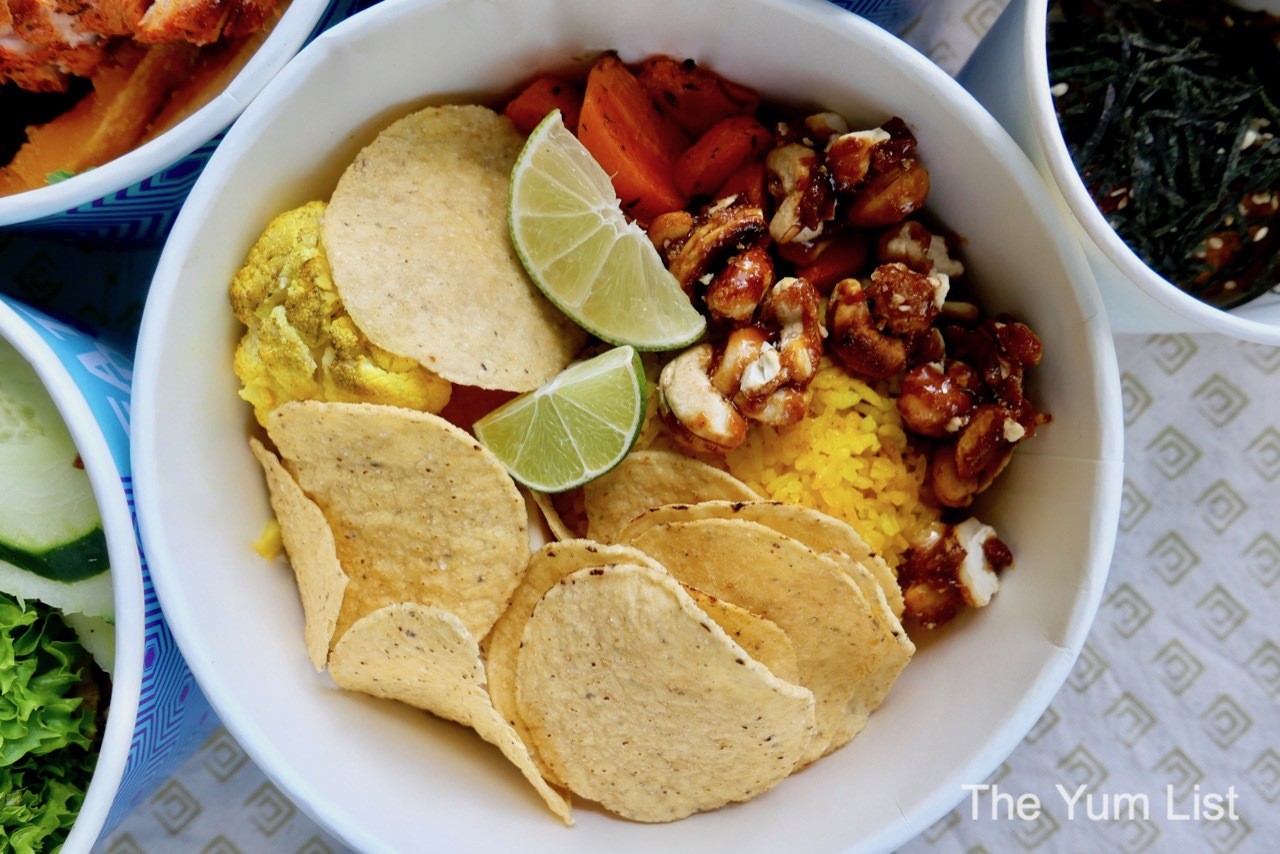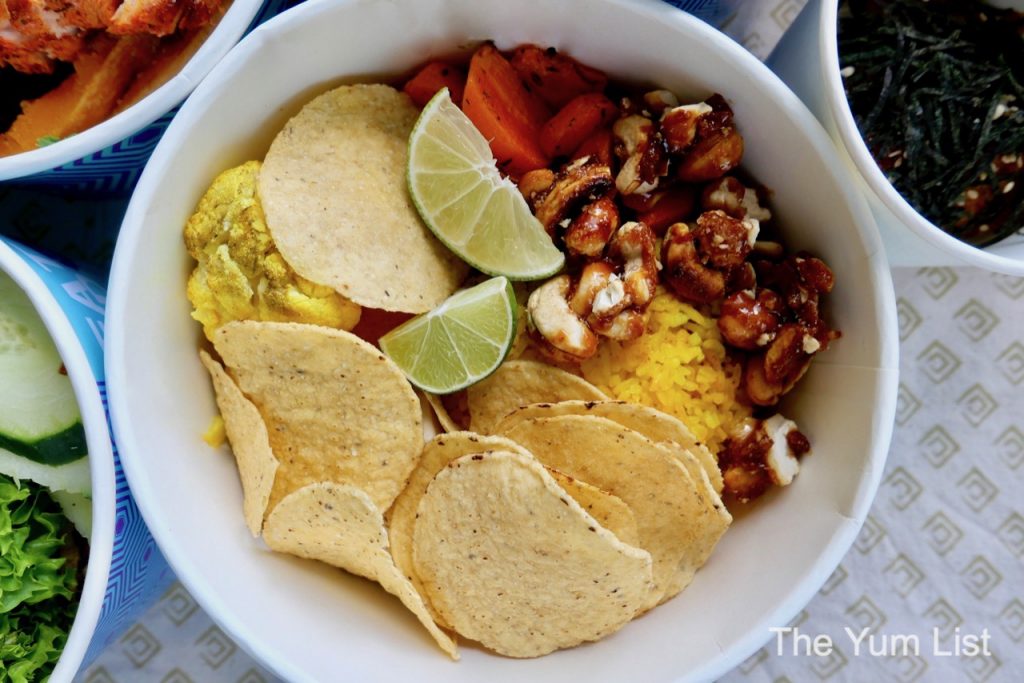 I like those caramelized cashews so much that I order them again in the Build Your Own Salad (RM 21.90, medium). The medium size allows you to choose one base, four mains, one supplementary, one dressing and one protein. My combo is a rainbow with those yummy nuts, chicken breast, beetroot, pumpkin, broccoli, cauliflower, kale and maple balsamic vinegar (served separately).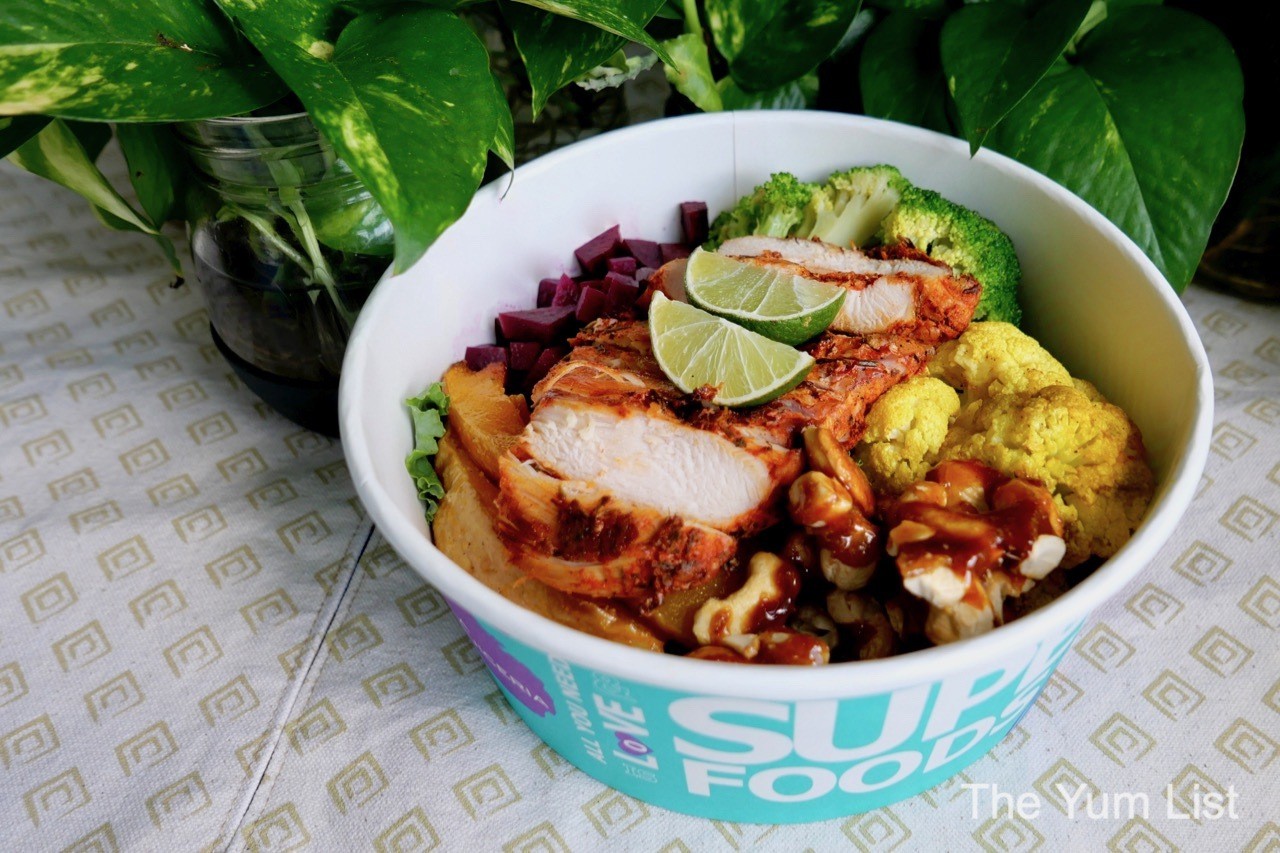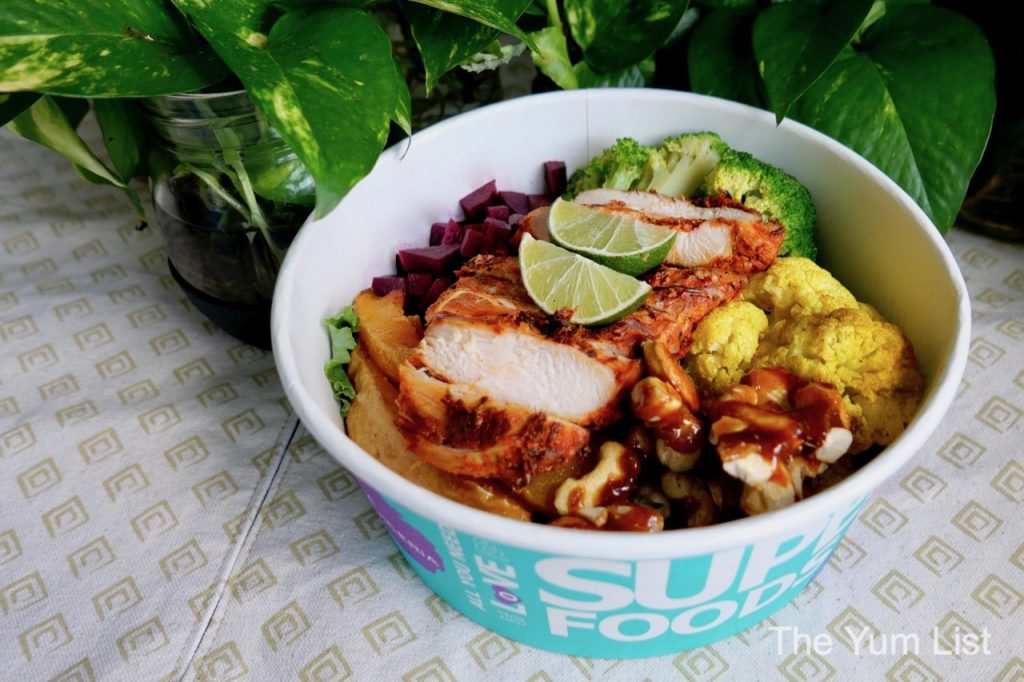 Ancient grains are also high up on my love list, so it's no surprise that Fried Rice Quinoa (RM 20.90, 389 kcal) also got an order today. Quinoa is tossed with sauteed mushrooms, a fried and chopped omega egg, fried shallots, spring onion, cabbage, shredded carrot, coriander, mixed salad leaves, Japanese cucumber and chilli. The fine, nutty grains are an excellent base holding a texture and flavour of their own but allowing other ingredients to join the party.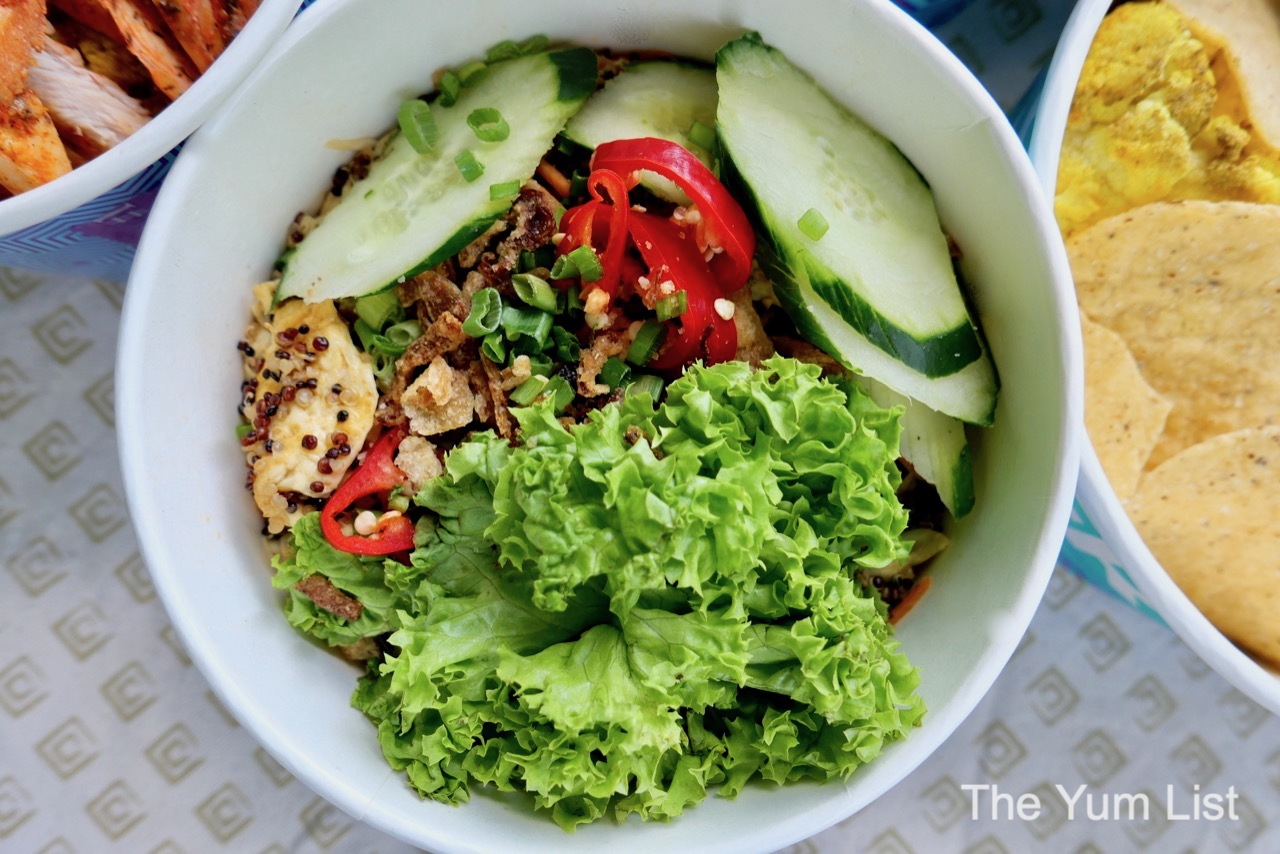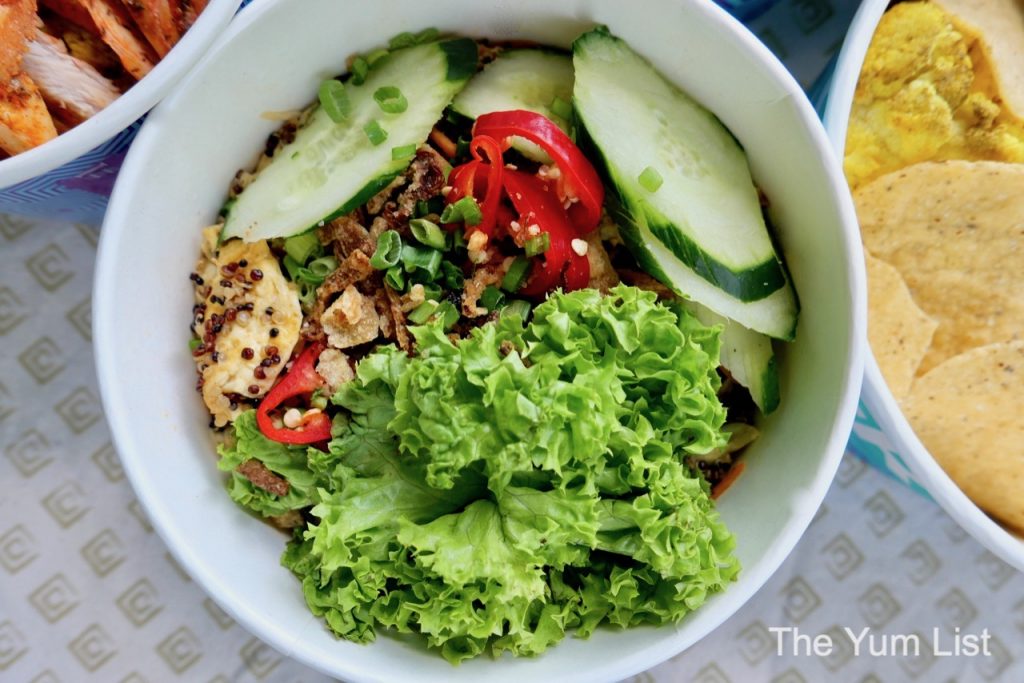 Drinks
It's not only healthy food that you can order from La Juiceria Kuala Lumpur but also a bunch of nutritious drinks. Matcha is known for being high in antioxidants, so you can dose up on these free-radical scavengers with a tall Niko Neko Matcha Iced Yuri Matcha Latte (RM 12). I prefer my unsweetened, but you can tick that box online if you'd like a sweeter drink.
Of course, cold-pressed juices should be high on the agenda here. We can't go past the Goodness Greens (RM 12.99, 69 kcal). Its mix of kale, spinach, celery, kyuri cucumber, parsley, apple and lemon has remained on the menu since inception for good reason.
Power Shots (RM 6) are perfect for keeping in the fridge for a daily immune boost. My two favourites are The Defender (11 kcal) – turmeric, lemon, wildflower honey, cayenne, pepper and ginger (spicy!) and Green Booster (32 kcal) – papaya leaves, green apple, lemon, honey, ginger and chlorophyll.
Lastly, but ordered every time, is a Vatte (RM 11, 118 kcal). Its repeat request status is not only because it's made with almond mylk but also because it contains a double shot of espresso. It makes a happy start to any day.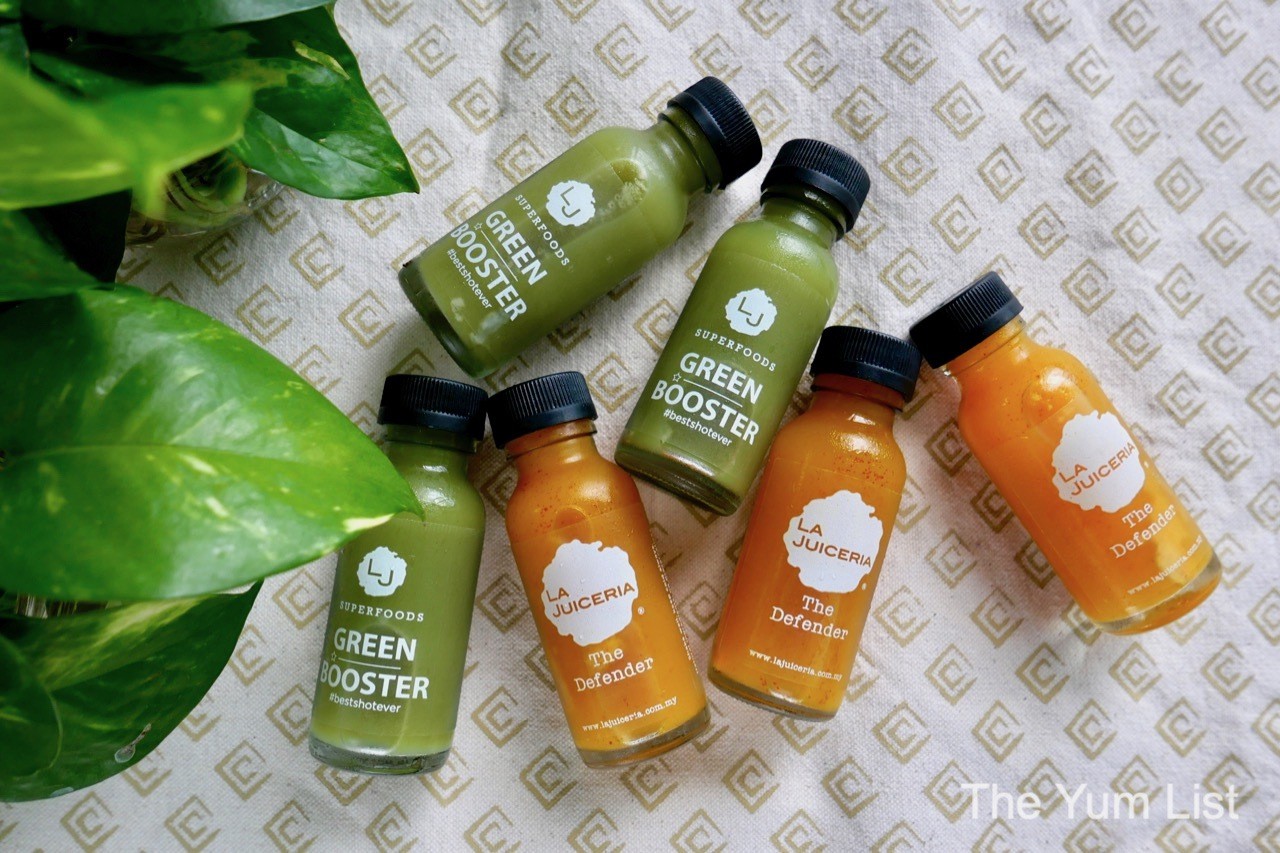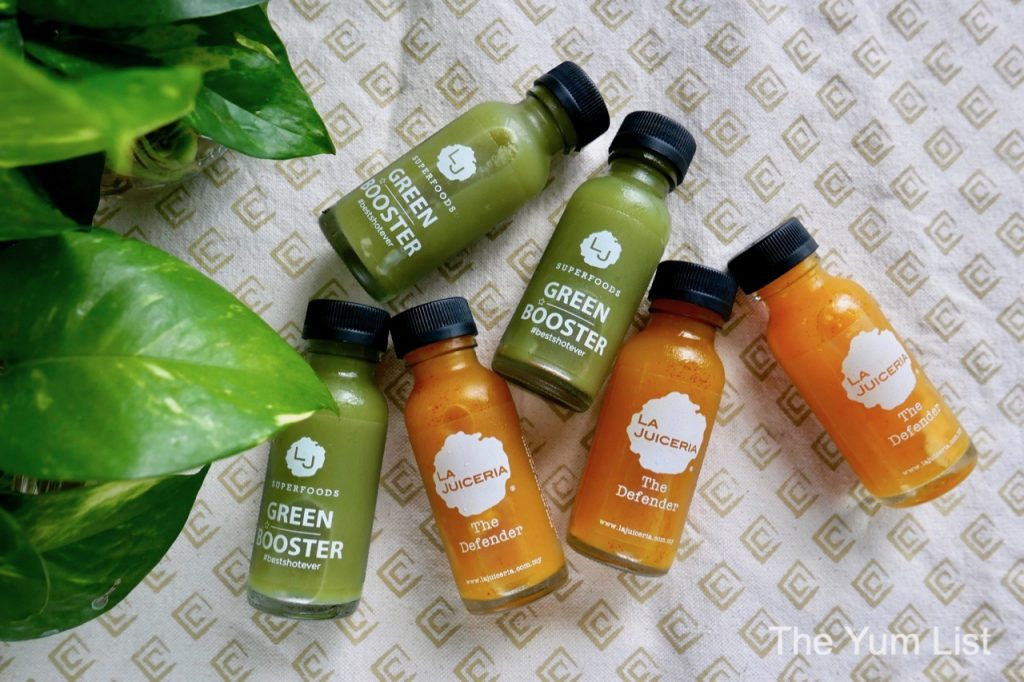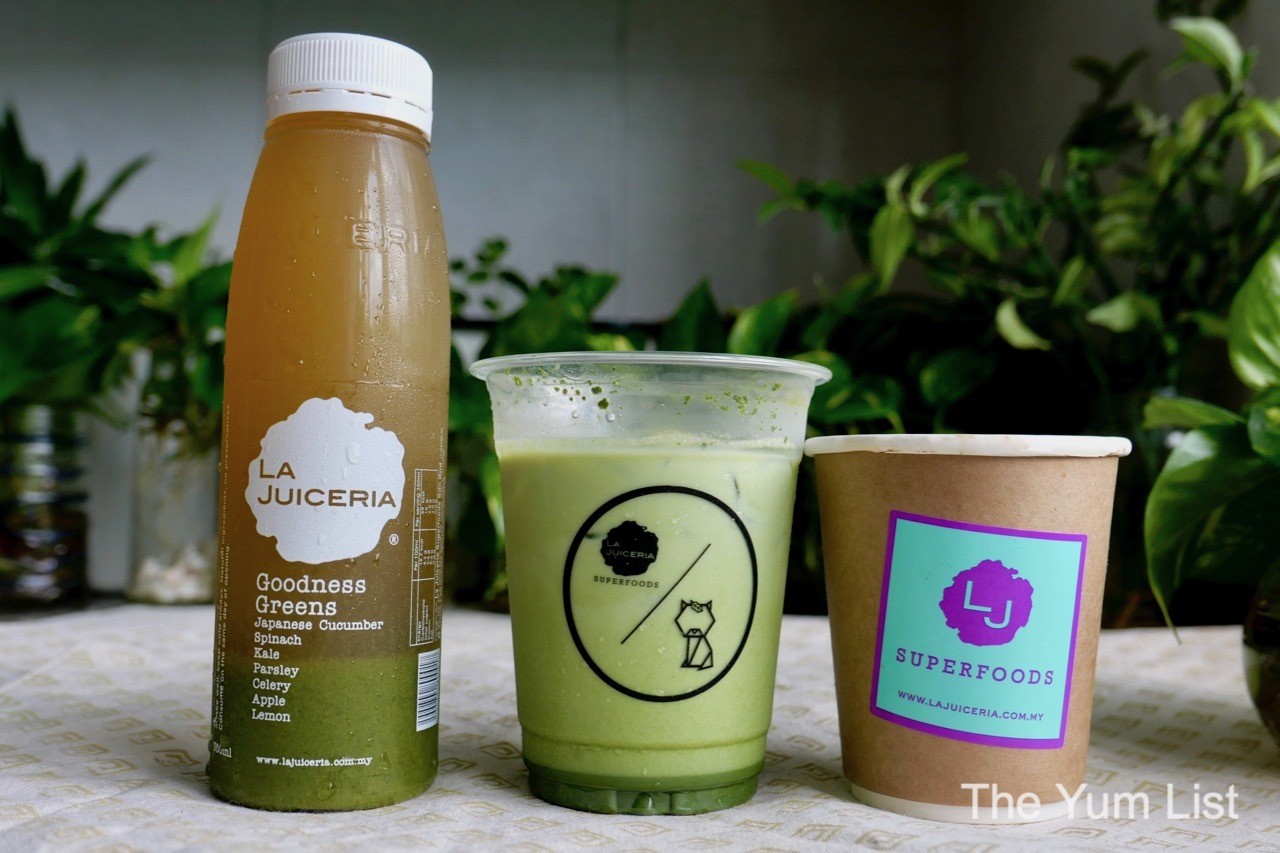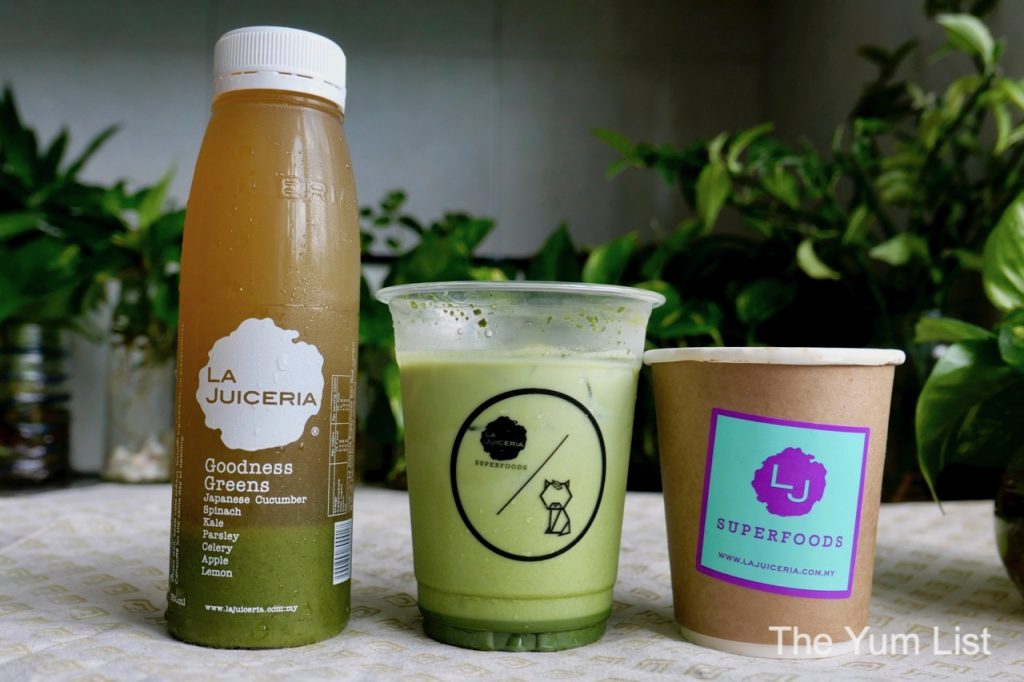 How to Order Healthy Food Kuala Lumpur from La Juiceria Superfoods
Visit La Juiceria Superfoods online to order your healthy food for just about anywhere in Kuala Lumpur.
Find more healthy food options in KL here and stay up-to-date with the latest gourmet and travel recommendations for Malaysia here and here.