Rum Cocktails & Pastries KL
Monica Tindall
In continual need of ways to distinguish weekdays from the weekends, we spice up our Saturday with a delivery of rum cocktails and pastries from JungleBird KL. There's nothing like the distilled sugarcane juice to say "fiesta," even if that party is just the two of us sipping sundowners at home. Besides a wonderful collection of rum cocktails, the team has also been busy developing recipes that travel well and are guaranteed to help keep you on your feet after a libation or two.
Rum Cocktails KL
The comprehensive list of rum cocktails at JungleBird could see you ordering for days in a row and still not make a dent in the list. Today we try three, and that barely scrapes the surface of what is on offer.
Venezuela and Malaysia say hello in the Strawberries & Cream (RM 50). Diplomático Planas rum is combined with Cameron Highlands black tea, strawberry, lemon and whey. Hints of herbs and spice in the rum are complemented by the tea's tannins and smoothed over in the finish with the berries and whey.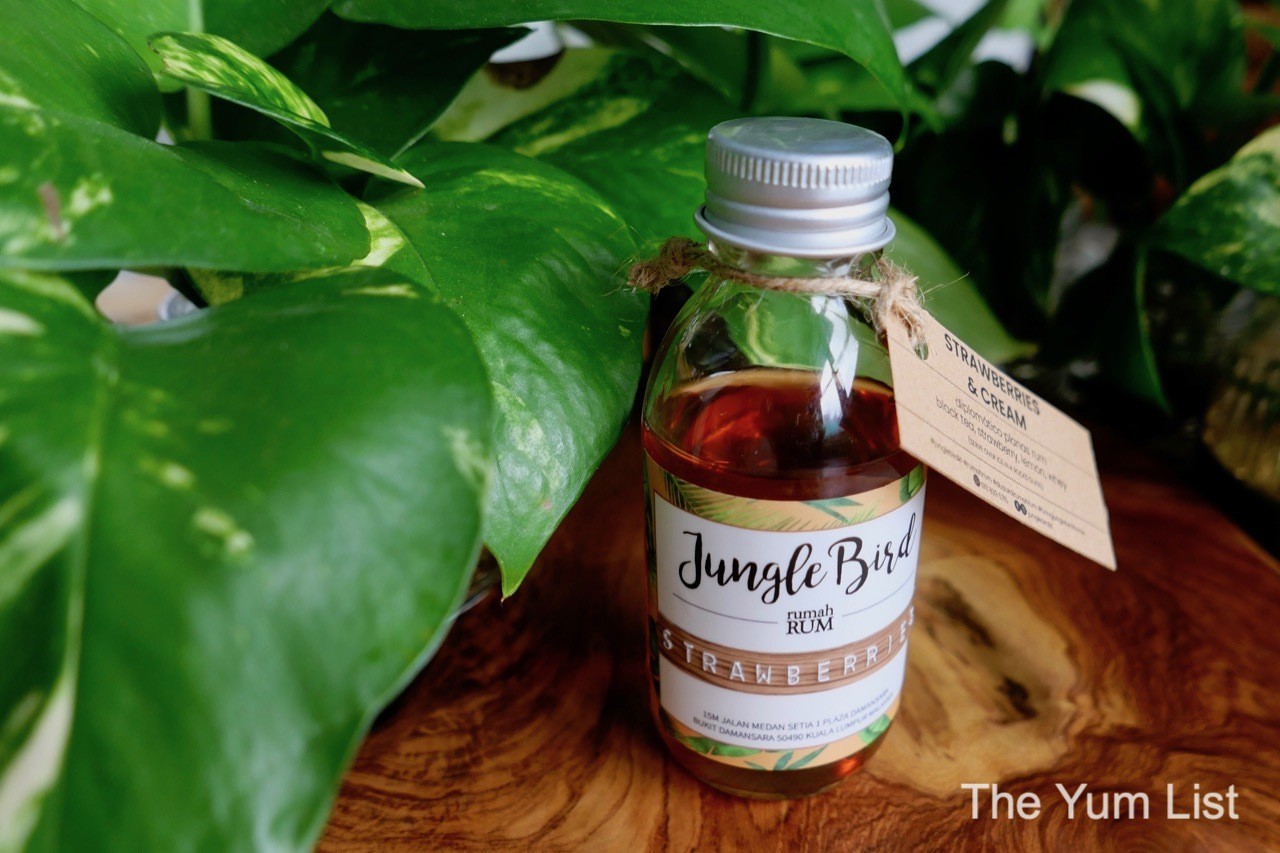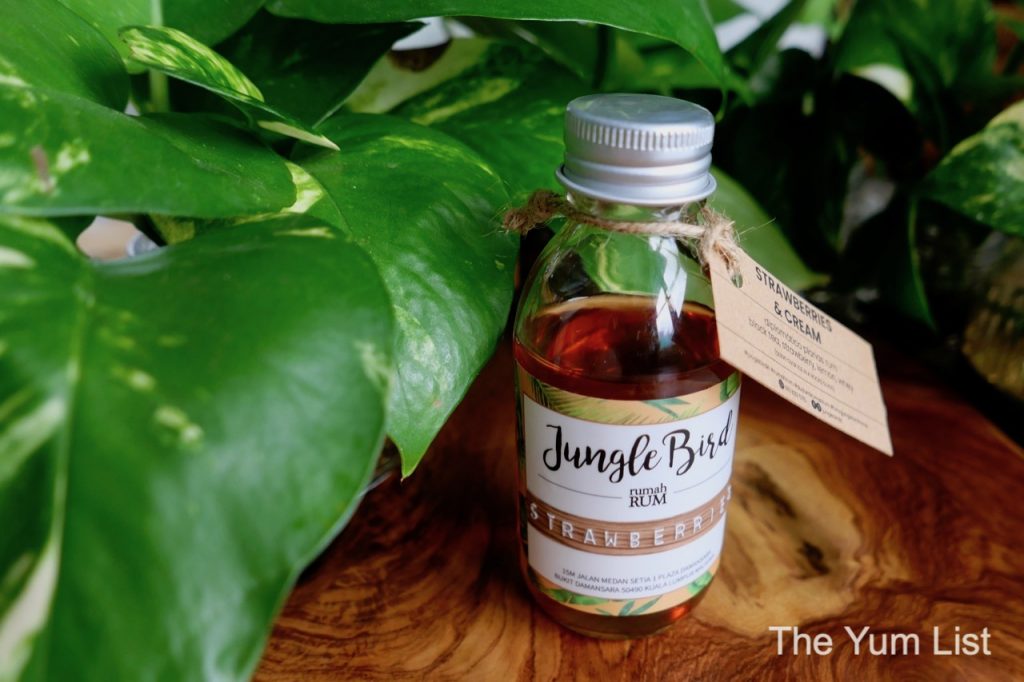 Perhaps the warmth of the next cocktail, 63 Degrees (RM 60), would be called for if in need of the perfect sous-vide egg. However, sitting on the equator, I recommend turning up the air-con and sipping s-l-o-w-l-y. Wray & Nephew rum weighing in at a hefty 63% ABV is sure to take the edge off a chill (or make a superb onsen egg). Aperol bitters, Punt e Mes vermouth and orange and grapefruit bitters add some citric vibrancy to the drink.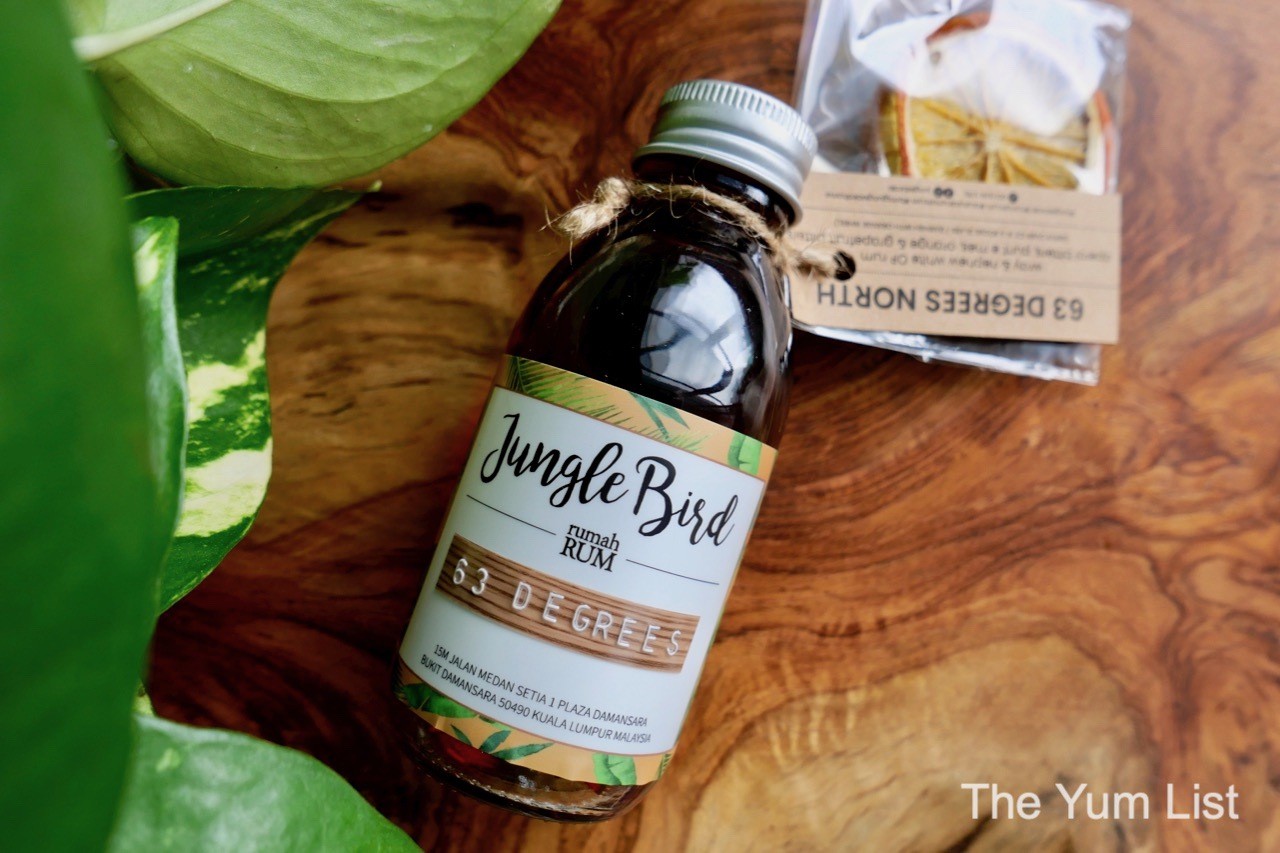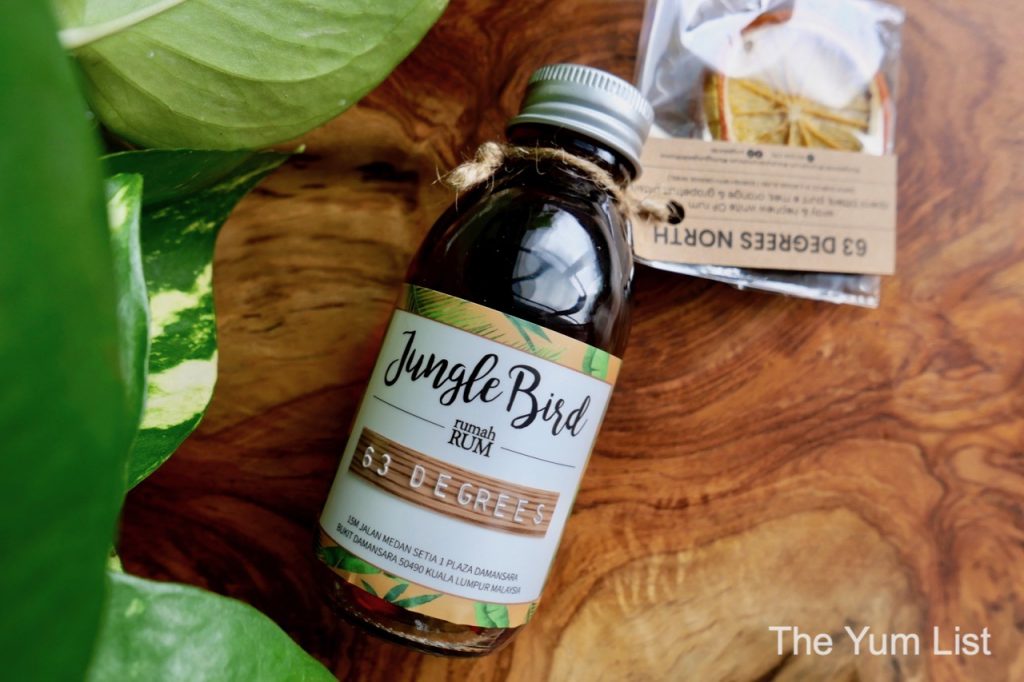 'La Giraldilla' (RM 55), named after the lady on the Havana Club logo overlooking Havana, Cuba, symbolises hope for sailors and fishermen to return safely home from sea. We're hoping to just be near the sea in the not-too-distant future, let alone be in need of her safety. So, for now, we have oceanic dreams with the flavours of Havana Club and Diplomatico Planas rums combined with cardamom, white pepper, citrus and whey.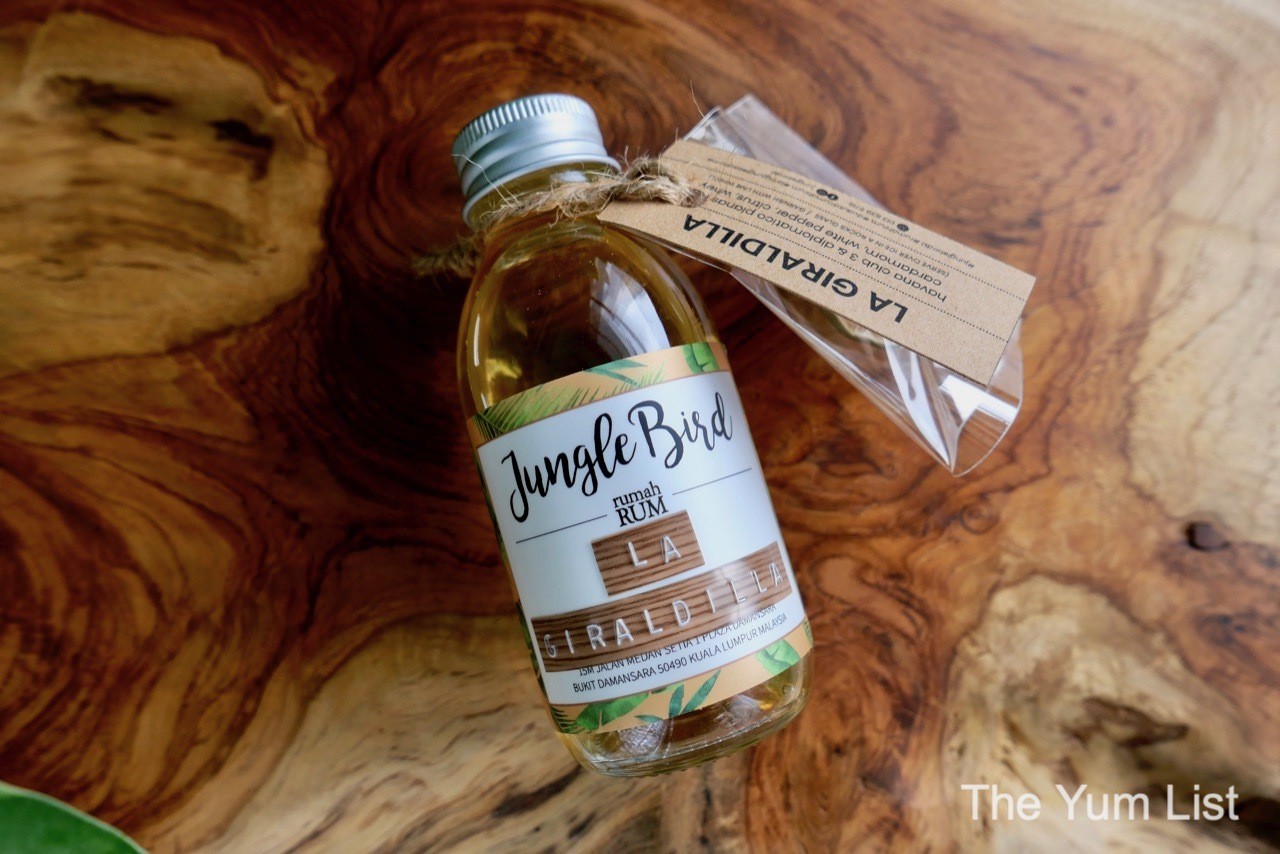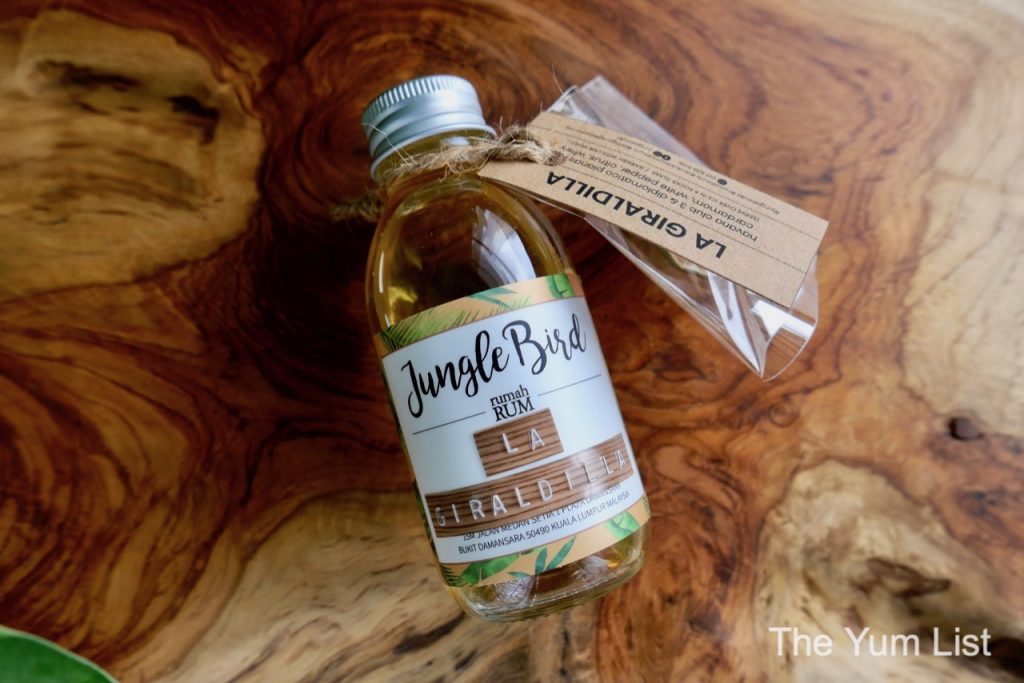 Savoury Pastries
It's not solely a liquid diet that fills our tummies. JungleBird KL has created some easy-to-handle pastries that make perfect partners for rum cocktails.
Just introduced to the menu, the Aussie Smoko Pie (RM 30) is a mighty handful. Australian minced beef brisket, onion, carrot, herbs and spices plump up the pork lard shortcrust pastry. It is filled to the brim, and the butter puff pastry top flakes in seductively to mix with the mince in every bite. Two delicate appetites might share this monster.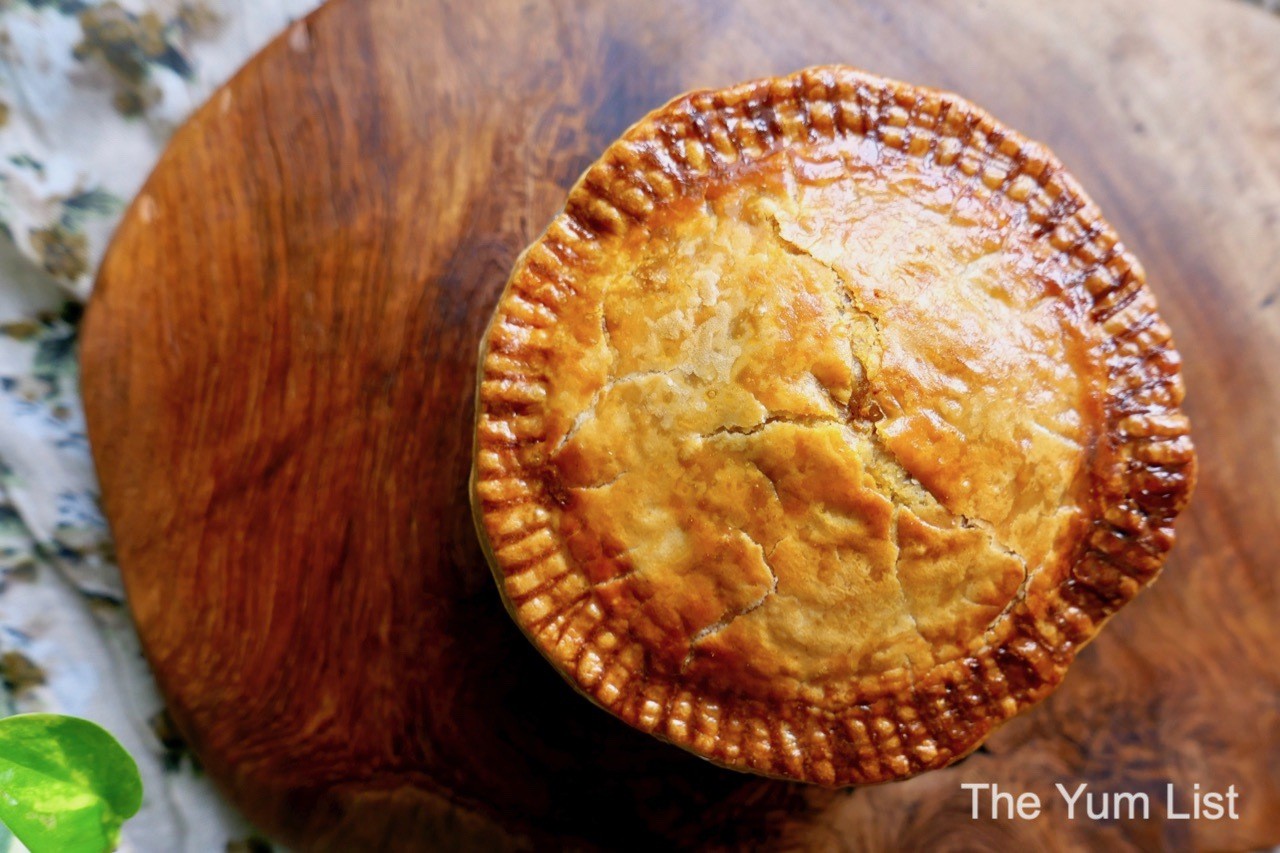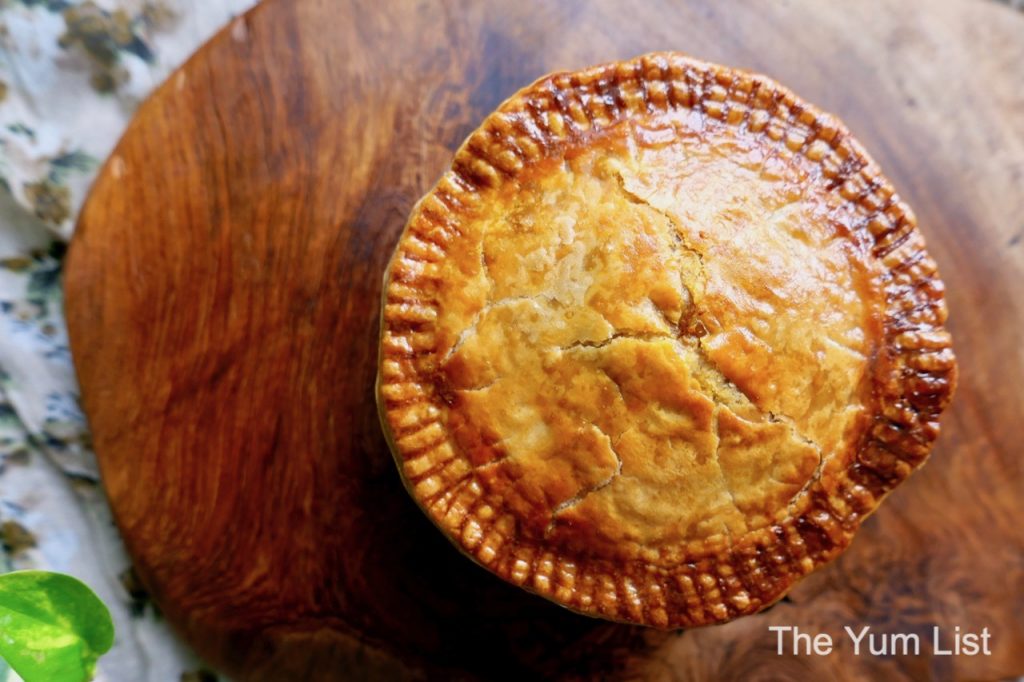 The Sausage Roll (RM 15) is another new addition. Butter puff pastry wraps the sausage of minced pork, herbs and spices into a handy parcel. Dab the end in tomato sauce, and it's a winning snack. You might consider ordering two.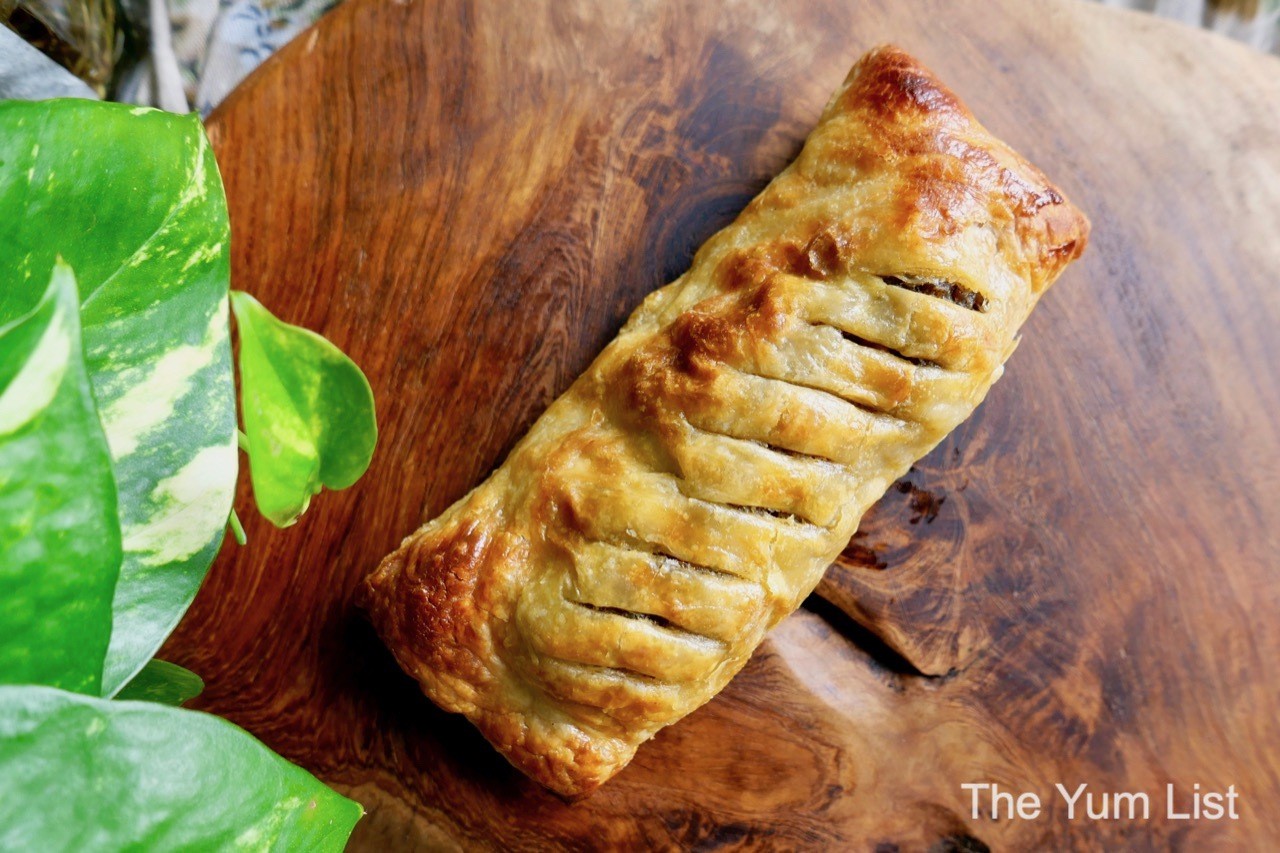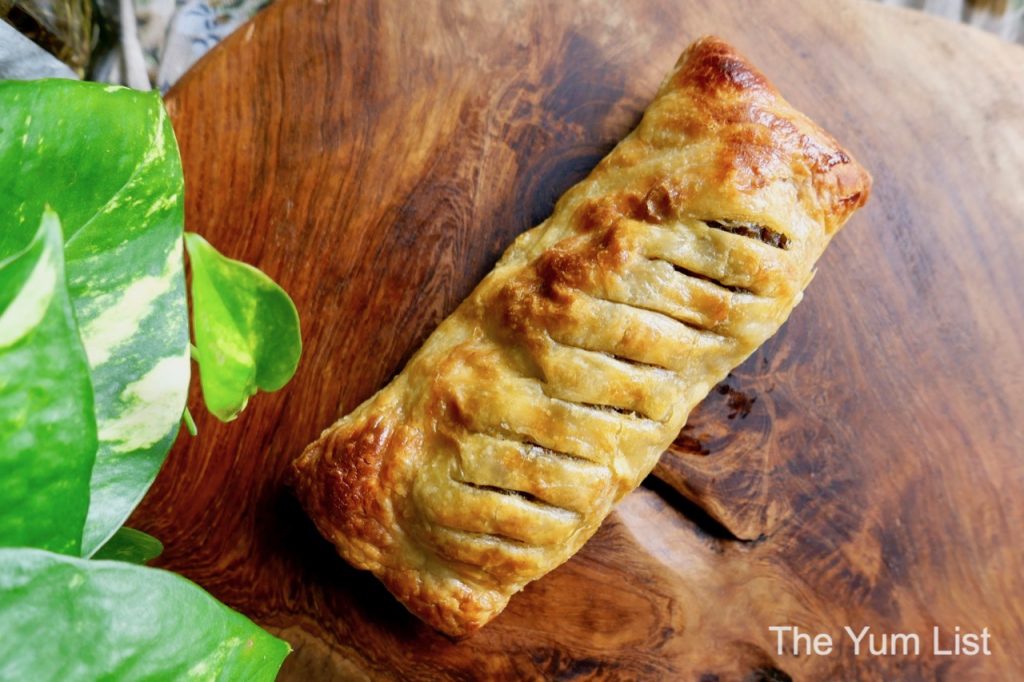 Another manly mouthful, the Traditional Cornish Pasty (RM 25), features Aussie beef striploin steak, wagyu fat, potato, onion, turnip and spices in a pork lard shortcrust pastry. This has potential as a substantial dinner. Add some salad and you might consider it a balanced meal.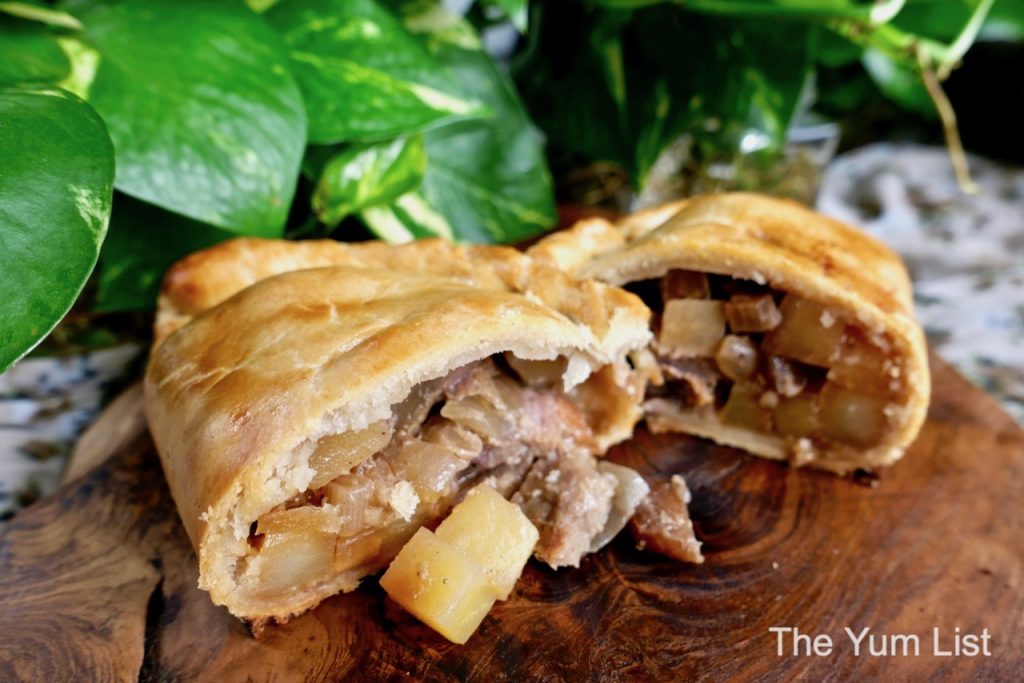 Rum Desserts
And, as a sweet conclusion, what's better than tiramisu? JungleBird TiRUMisu (RM 68)! This traditional Italian dessert of mascarpone cream cheese, Italian espresso, pasteurised eggs, sugar and Valrhona cocoa has been given a good dose of deliciousness with some seriously boozy additions. Diplomatico Reserva Exclusiva rum, Remy Martin VSOP cognac and Caffè Borghetti coffee liqueur take the dessert to new depths with the warm, rich aromas of the dark spirits. It looks big enough to serve two, but I advise keeping your spoon at the ready before it all too quickly disappears.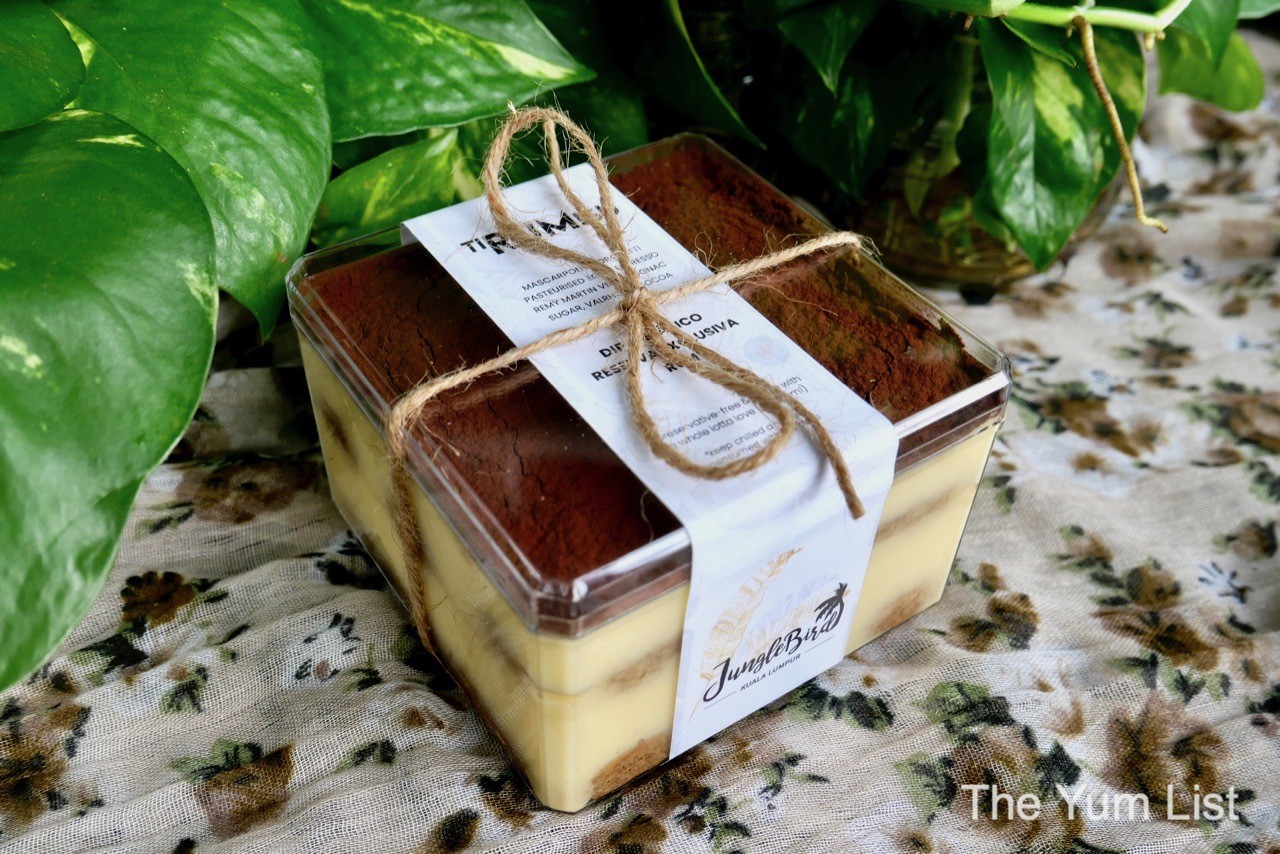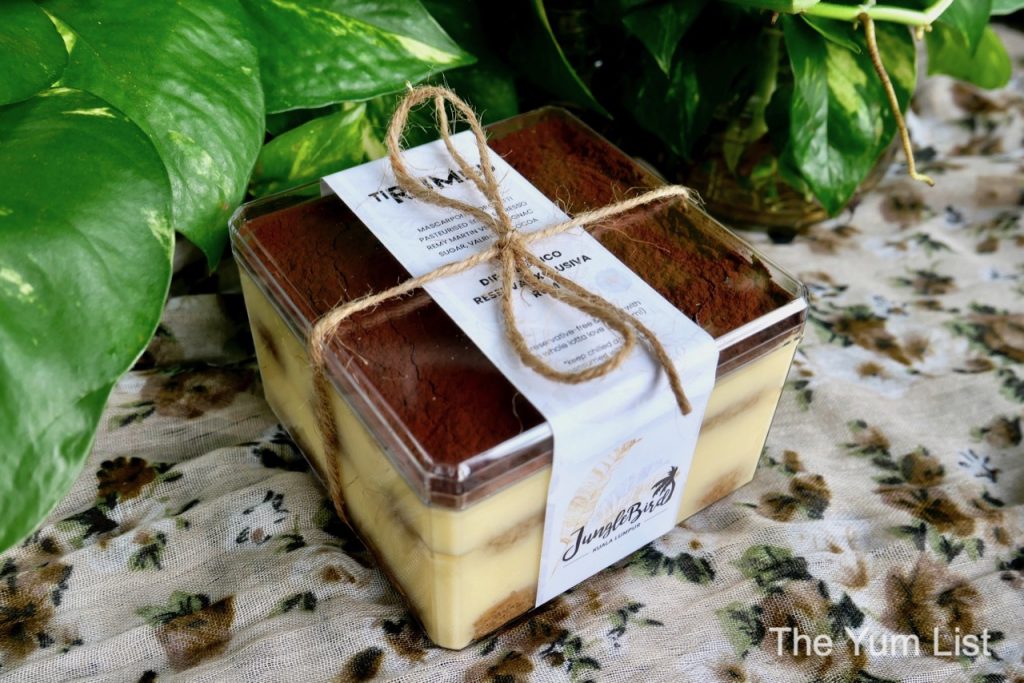 Rum Cocktails & Pastries KL – How to Order
To ensure freshness, JungleBird's pastries are made to order. Call or WhatsApp +6 013 839 5715 to reserve some of these beauties for yourself. Otherwise, browse more food items and JungleBird's fantastic selection of rum cocktails here.
JungleBird KL
61M, Jalan Medan Setia 1, Bukit Damansara,
50490 Kuala Lumpur, Malaysia
+6 03-2011 5715
www.facebook.com/junglebirdkl
Operating Hours
11:30 am – 9:30 pm (with changing SOPs, it's always a good idea to call ahead to check)
Find more KL bar recommendations here, and stay up-to-date on the latest gourmet and travel happenings around Malaysia here and here.