Argentinian Steakhouse Mont Kiara – Don Julio KL
Words: Rebecca Cannon Photos: Rich Callahan
I'm dreaming. It must be because I'm standing in Don Julio, an Argentinian Steakhouse Mont Kiara, and SOPs says I can't leave the house. The interior of the restaurant supports my belief. It's a place of contrasts. I'm inside, yet there's an actual palm tree in the room. It's cool, yet I can see several wood fires in the kitchen flaring away as meat is cooked over them. The interior walls are red brick, yet it's set against black iron structures, juxtaposing industrial materials. Soon I'm escorted to the private dining room, which seems to hang from the top of the restaurant. Inside I can gaze down at the restaurant floor and alfresco below, people-watching like some evil villain in her domain. Hmmm, this also allows others to admire my nice dress that has been hung in the wardrobe for months on end. Or perhaps I should just close the blackout curtains and surround myself in silky blackness, mood lighting and the company of my friends, who have now all joined me.
Mon informs me of the calibre of the restaurant. It's the brainchild of Argentinian chef Ramiro Moya with strong Italian connections. He calls his dream steakhouse Don Julio. The chef himself appears to point out the fine features of his restaurant. It's not a decorative campfire downstairs but the charcoal wood grill on which the world-class steaks are cooked. He only sources the best cuts by flying the beef from South America, where the meat is tender whilst still halal. The mozzarella and flour he imports from Italy, ensuring the quality of European food protection standards. The bread, whether for the pizza bases or focaccia, comes from their own cultivated sourdough, which is left for a minimum of 36 hours fermenting to pure goodness. I'm salivating.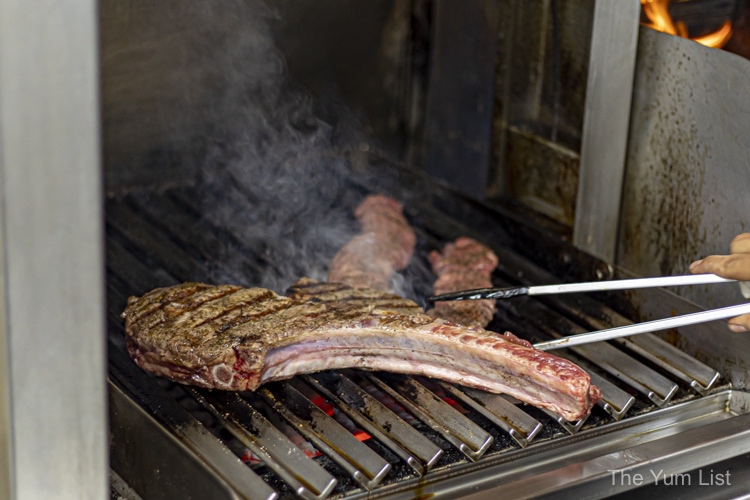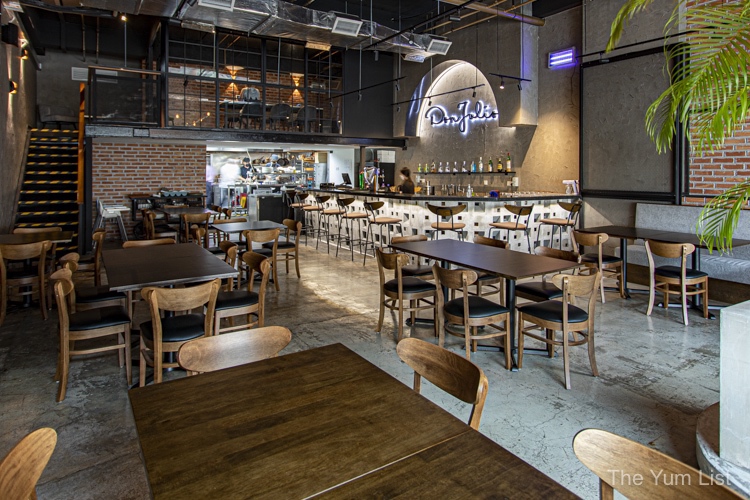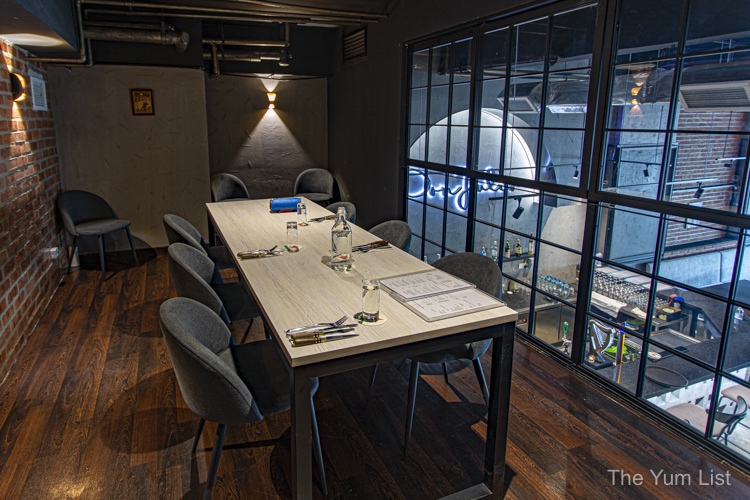 Argentinian Steakhouse Mont Kiara – Don Julio KL Menu
Entrees
The food begins arriving – Empanadas (RM50 for ½ dozen), Baked Provolone Cheese (RM36) and Focaccia as our breadbasket. The beef empanadas are some of their best sellers for a reason. In this surreal world, the expression 'to sell like hotcakes' shall be changed to 'to sell like Don Julio's empanadas'. The focaccia meets my very high anti-keto standards; the crust crunches ever so slightly as you tear into and through the air bubbles. It's flavoured unapologetically with rosemary and coarse ground sea salt. I manage to extract some of the baked provolone cheese into my mouth. Head explodes. What flavour is it? I think it's simultaneously salty, sweet and spicy. How is this even possible? It's a stretchy firm baked cheese. I'm eating it like a slice of pizza and fighting my friends for more. Which is dangerous given the number of Argentinian steak knives on the table. It's the cheese that brings the texture and saltiness, whilst the honey sweetens it, like the Ambrose nectar of Greek gods, and the chilli flakes bring the heat because we're in Malaysia, after all!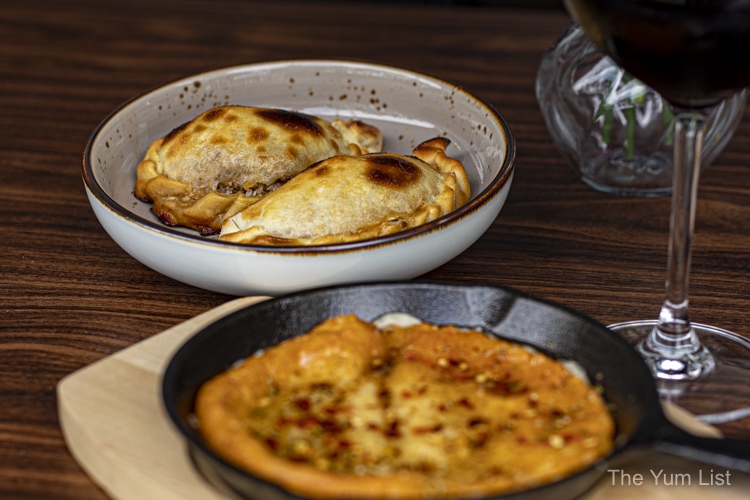 Mains
I'm done. I've been to heaven. I prepare for the vision to morph into its usual slowing running away from a big wave or standing naked in front of a class. But this dream is a long way from over. The plates are quickly cleared, and a new variety of dishes grace the table; Black Cod Fish (RM89), Homemade Ricotta and Spinach Ravioli (RM38), Smoked Duck Salad (RM35) and Margherita Pizza (RM32).
In summary, all are fantastic. The sauce in the ravioli and pizza is just like my Nonna's, bold claim, but I'm saying it, and it's definitely ricotta cheese. The Margherita is made in the Tonda Romana style, meaning thin but structurally sound crust with lots of cheese. The cod would put the British to shame. It's oily and creamy, just like fish and chips, but without the 'I will shortly die of obesity' feeling that comes from their fried fish. The smoked duck salad is a salad trifecta. It's filling, it has a large variety of greens, and the duck and orange slices bring a hint of fresh sweetness.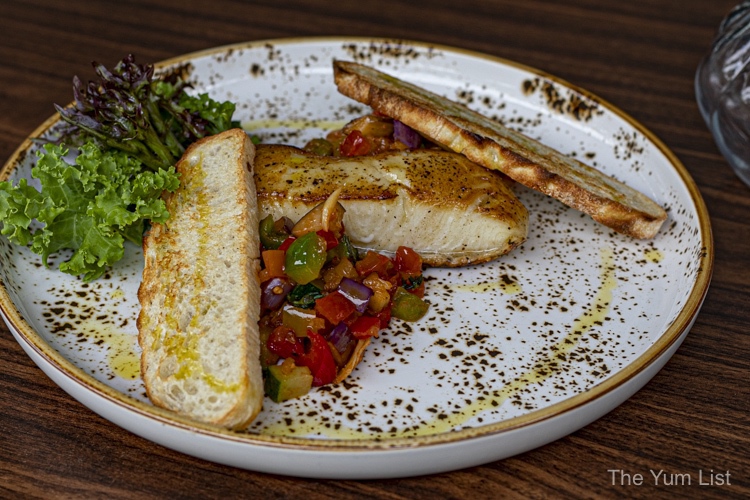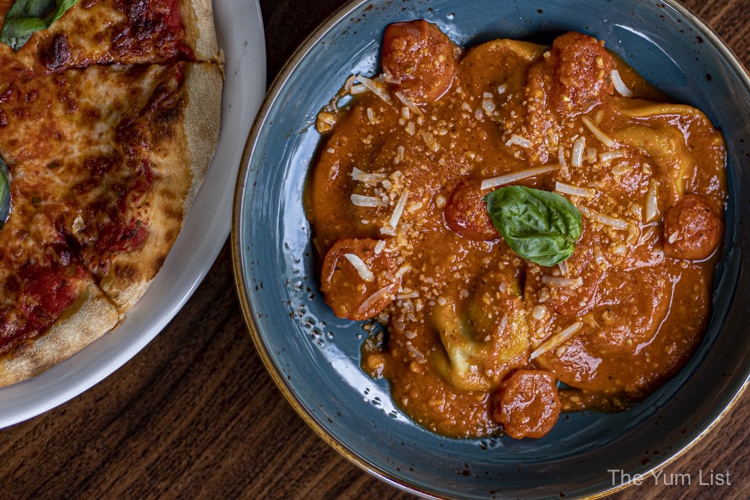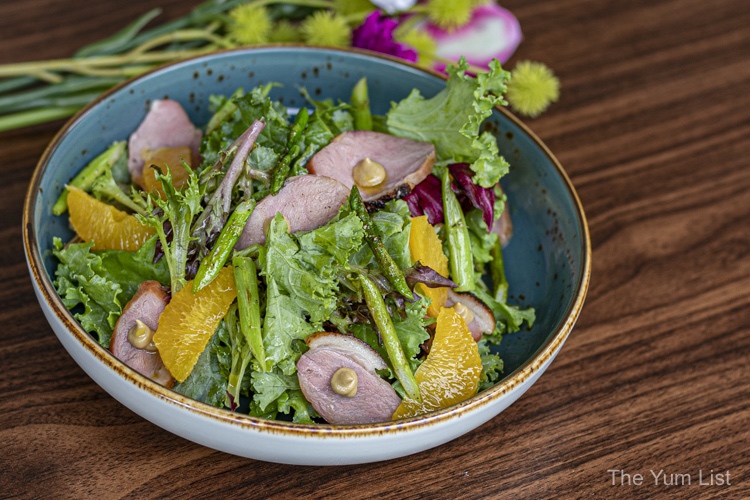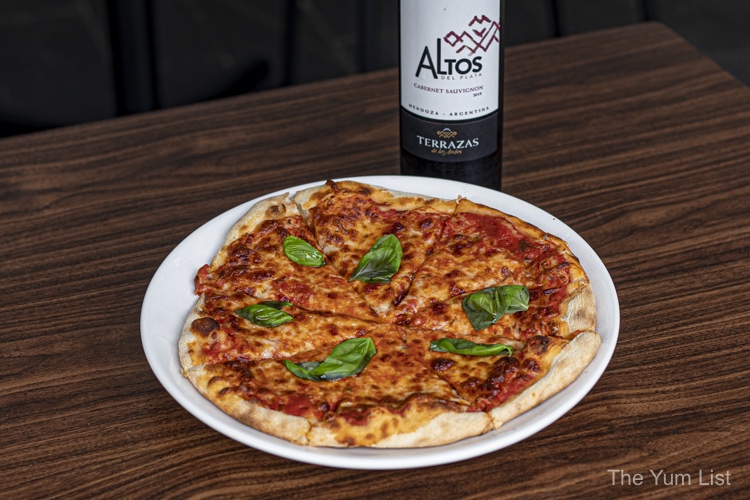 But, It's All About the Steak
Ah, I see the steak knives have a logical purpose. There is an endless variety of top-notch steak, from either corn or grass-fed cows, all sourced from Devesa meats, pure Argentinian beef. In my mind, I'm roaming the famous grassland Pampas of Argentina as a Devesa agent. Moving between the gentle giants, selecting only the finest breeds of all cattle, and then the best of each of these breeds. Only these cows will do for the sophisticated clients of Devesa meats. If you're going to dream, dream big.
Due to Don Julio's choice to only use Devesa meats, you can truly understand the saying 'you are what you eat.' The corn-fed cows produce steaks that are slightly sweeter with the fat invisibly marbled through. The grass-fed steaks are leaner inside and, in comparison, taste less sweet and more 'like real meat' to quote a friend. Regardless of the cows' diet, all steaks are aged for 120 days for maximum flavour, which only the top restaurants care enough to provide. Heaven. I'm in Heaven.
Of the grass-fed steak, we sample the Sirloin (RM40/100g) and T-bone (RM39/100g) and the corn-fed Picanha (RM39/100g). As always, I leave it up to the chef to decide how well done (or rare) the steaks should be done. The T-bone memorably arrives, spitting steam like a dragon on its sizzling plate. It is as juicy in my mouth as it is on the plate as I cut through the thick slices. The Sirloin is the tenderest of them and less rare than the T-bone, which is good for the squeamish. The Picanha is, of course, the sweetest tasting and is also the thinnest slice. A glass of good red wine is a must with such a calibre of steak to complement the dining experience. Don Julio's thoughtfully provides a comprehensive list. We settle on the Terrazas Altas del Plato, Cabernet Sauvignon 2019 (RM140 bottle).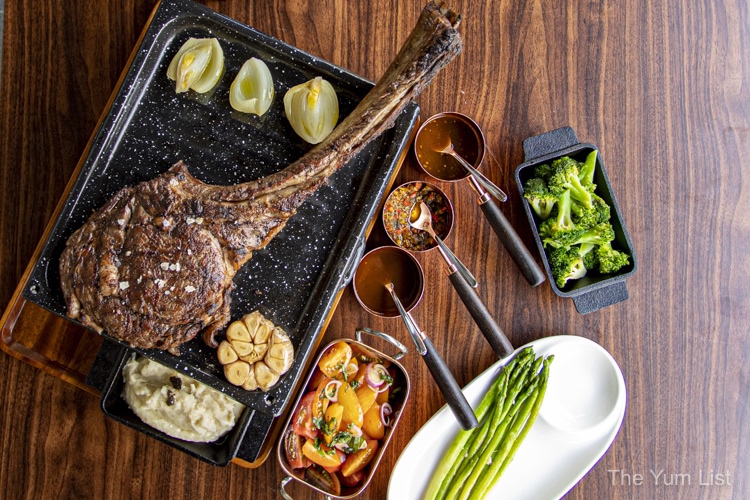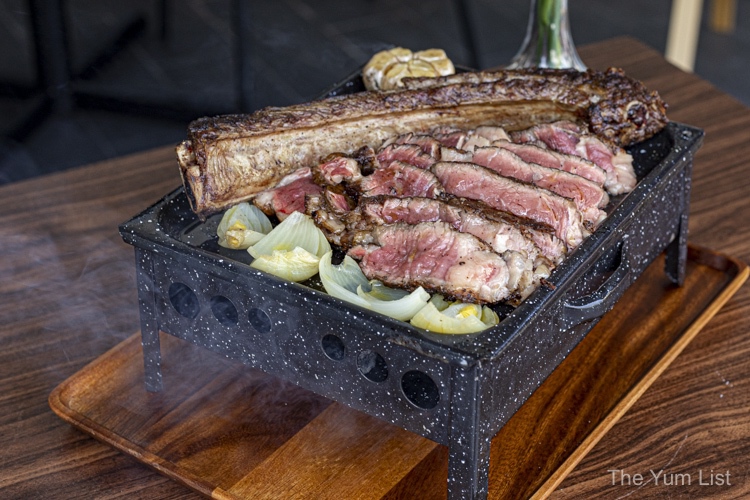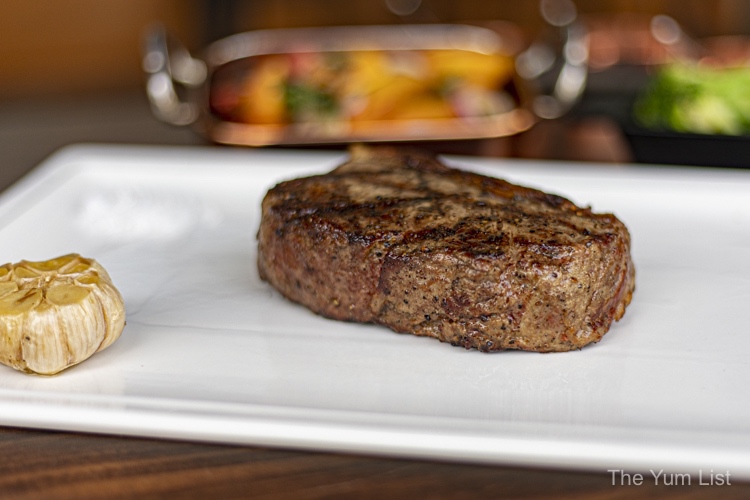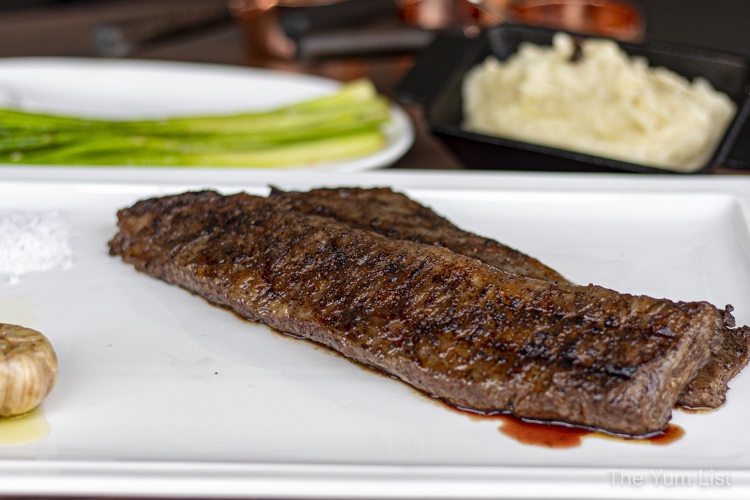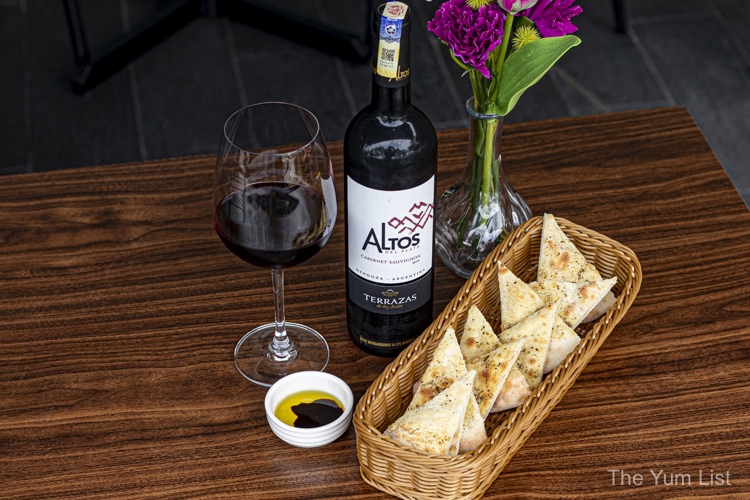 Argentinian Steakhouse Mont Kiara Don Julio – Dessert
You haven't gone out for dinner if you aren't at least offered dessert. According to the universal restaurant rules that still apply in dreams, we have Tiramisu (RM25) and Hazelnut Truffle Cake (RM30). The tiramisu is fluffy like a cloud. I don't think I'm eating anything until my tongue discovers the spongy savoiardi biscuit with its stronger coffee flavouring. The hazelnut truffle cake is the dessert winner for this table.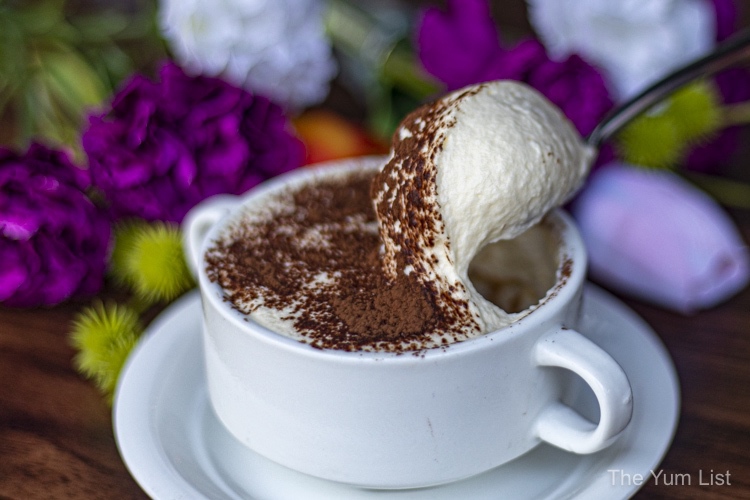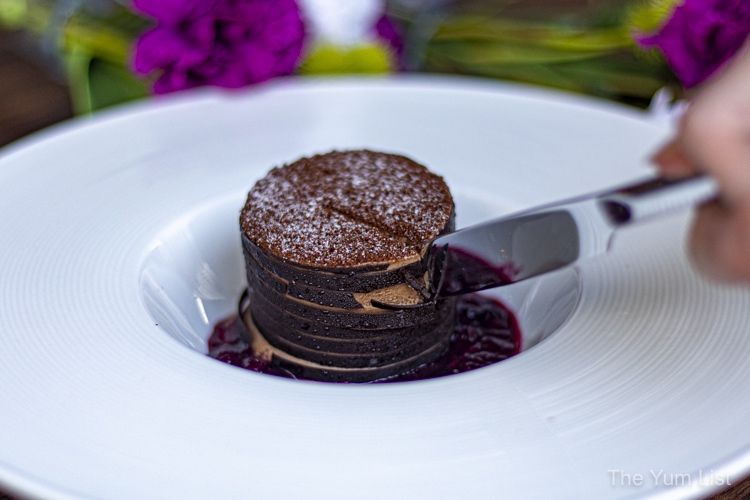 Tapas
Time jumps. We are now outside in the alfresco area, under the steady stream of swirling air, mercifully provided by the fans. It's a perfect setting to relax in the afternoon heat and watch the sky change colour from golden to red to navy if you stay late enough. There is a wide variety of tapas to enjoy – Marinated Olives with Pickles (RM9), Spanish Beef Cecine Pizzetta(RM6/pcs), Boquerones with Piquillo Pepper (RM5/pcs), Risotto Arancini (RM5/portion), Pulpo a la Gallega (RM10/portion), Baby Sardine Pizza (RM5/pcs). The pizzas are as nice as their full-sized counterparts, and the arancini are divine with its dipping sauce. But it's the olives I find myself favouring again and again as I allow my body to unwind from the day with a glass of dry white wine (RM130/bottle).
Argentinian Steakhouse Mont Kiara – Don Julio KL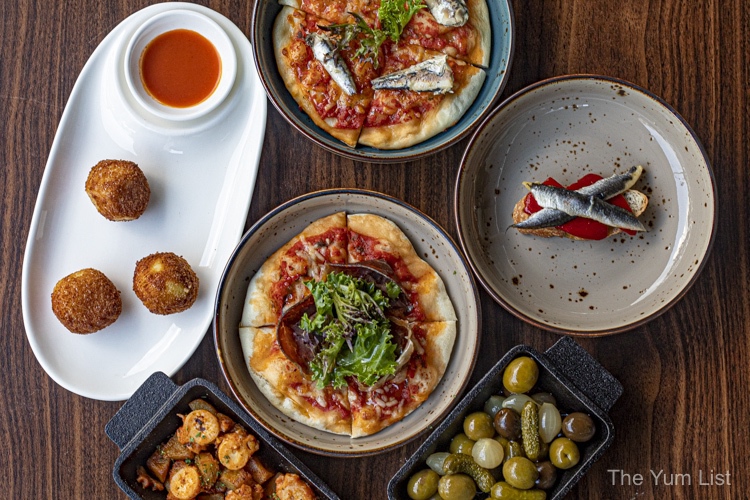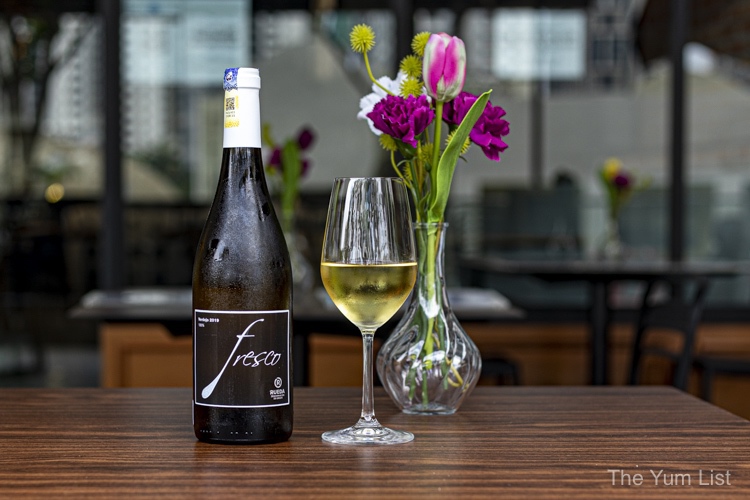 It's time to settle the bill, but I still believe myself in a dream, so I don't need to pay that! However, it turns out, 'I have not but slumbered here. 'The world in Kuala Lumpur has opened up. Restaurants are operating with easy dine in. I have reason to and so am wearing my nice clothes. The décor and the food were not' visions that did appear', and they were far 'more yielding than a dream', AND Robin (the liar) is most definitely not restoring amends. So alas I must pay the bill.
Reasons to visit Don Julio, Argentinian Steakhouse Mont Kiara: premium cuts of Argentinian steak prepared by a master; excellent support menu; must try the empanadas, provolone cheese, and, of course, the steak!
Don Julio KL
Argentinian Steakhouse Mont Kiara
G-3 Verve® Shops, No. 8, Jalan Kiara 5,
Mont Kiara, 50480 Kuala Lumpur, Malaysia
+60 12-380 8139
Find more steak restaurants in Kuala Lumpur here and stay up to date with the happenings around Malaysia here and here.