Chikungunya – A Personal Horror Story
Monica Tindall
Earlier in August this year, within 12 hours of each other, both hubby and I became very unwell. We had fever, chills, a rash that covered our entire bodies, every lymph node swelled (I didn't realise we had so many!), we had severe, disabling pain in every joint and muscle weakness.
We were so crippled from the pain that we were near bedridden for over a week. We were too unwell even to consider leaving the house (unless someone carried us out in an ambulance). Instead, we consulted a doctor online. He suspected dengue. He told us to get bed rest, stay hydrated, couriered us pain medication and told us to get blood tests ASAP.
Mosquito-borne Virus
The following morning we went to our local clinic for a blood test, where the doctor again told us we had dengue. She said it was too early for it to show up in blood tests, but given all of the symptoms, low platelet levels, and that we'd reported an obscene number of mosquitoes in our condo, it was the most likely diagnosis. They also carried out a Covid-19 test – negative as well.
We continued with the daily platelet tests. They kept dropping, and then finally, on the seventh day, they began to rise again. At this time, my rash was severe, covering my entire body. Another dengue test came back negative, as did tests for chikungunya, rubella and measles. The doctors said it could be a new strain of dengue or any number of unidentified viruses. No matter, there are no cures for viruses other than just treating the symptoms – rest, hydration and pain medication. On the ninth day, we were able to waddle around, the rash went away, the fever and chills diminished, but the joint pain remained.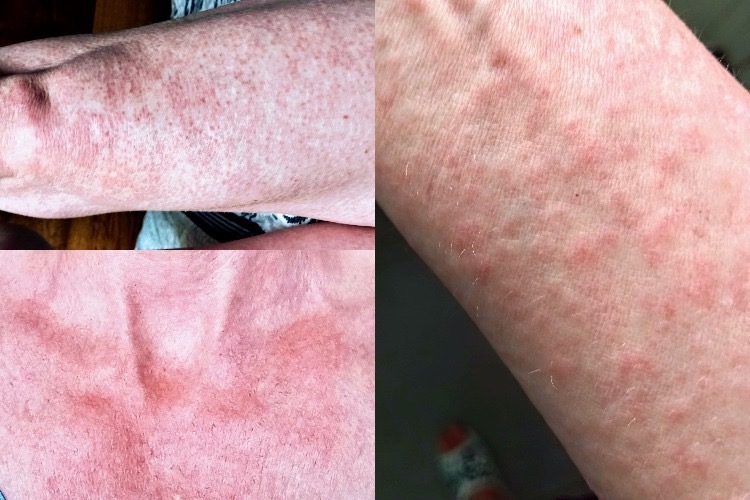 Severe, Disabling Joint Pain
For me, the joint pain and muscle weakness continued to be crippling. I was unable to kneel on the floor and get up again without assistance. I couldn't open bottles, turn doorknobs, wash my own hair or dress completely, and my body aches prevented sleep. The pain, inflammation and stiffness were generally worse in the morning, easing later in the day with gentle movement. I had gone from intense daily exercise – kickboxing, yoga, HIIT training and Latin dance, to not being able to lift my shoulder high enough to brush my hair.
Hubby had less joint pain, but the virus has affected his heart. He felt constant pressure, shortness of breath, and discomfort in the chest in general. Hubby (who generally avoids doctors and hospitals) visited the emergency room on several occasions, worried about what was happening. Doctors confirmed that his heart had been affected by a virus and was inflamed. They gave some medication for the inflammation but said it should self-resolve in a few weeks.
By this time, the feeling of being disabled started taking its toll mentally. Exercise is a huge stress relief for us both. Not being independent, being sorely reduced in the number of activities we could carry out daily, and having no release through exercise left us in tears on more than one occasion. At work and with friends, I tried putting on a happy face and pushing through, but inside, I wondered if this would affect the rest of my life (I know, drama queen).
Chikungunya
Six weeks on and with our daily activities still severely limited, I returned to the doctor and this time tested positive for chikungunya. Apparently, tests in the early stages of infection can be inconsistent. It's generally at three to five weeks that IgM antibody levels are at their highest.
Although, like most viruses, there is little that can be done other than rest, drinks lots of fluids and take medication for the pain, it was a relief to have a name for what we had. Now we had something to work with, documented research to investigate, and experiences from others to offer comfort.
What is Chikungunya?
Chikungunya is a viral infection transmitted through the bite of an infected mosquito. Similar to dengue, the Aedes aegypti and Aedes albopictus (the mossies with white dots on their legs) are the primary carriers.
Chikungunya Cases in Malaysia
The most recent outbreak I found reported in the news in Malaysia was March 2021. However, recently, we've also seen posters up around the Ampang Hilir area warning of the dangers of chikungunya, and our condo was visited by the Ministry of Health this week. They checked for possible breeding spots for mosquitoes (both in common areas and inside our apartment) and fogged the entire property. The Ministry of Health's most recent report seems (translated from Bahasa) to indicate that they have recorded 968 cases this year.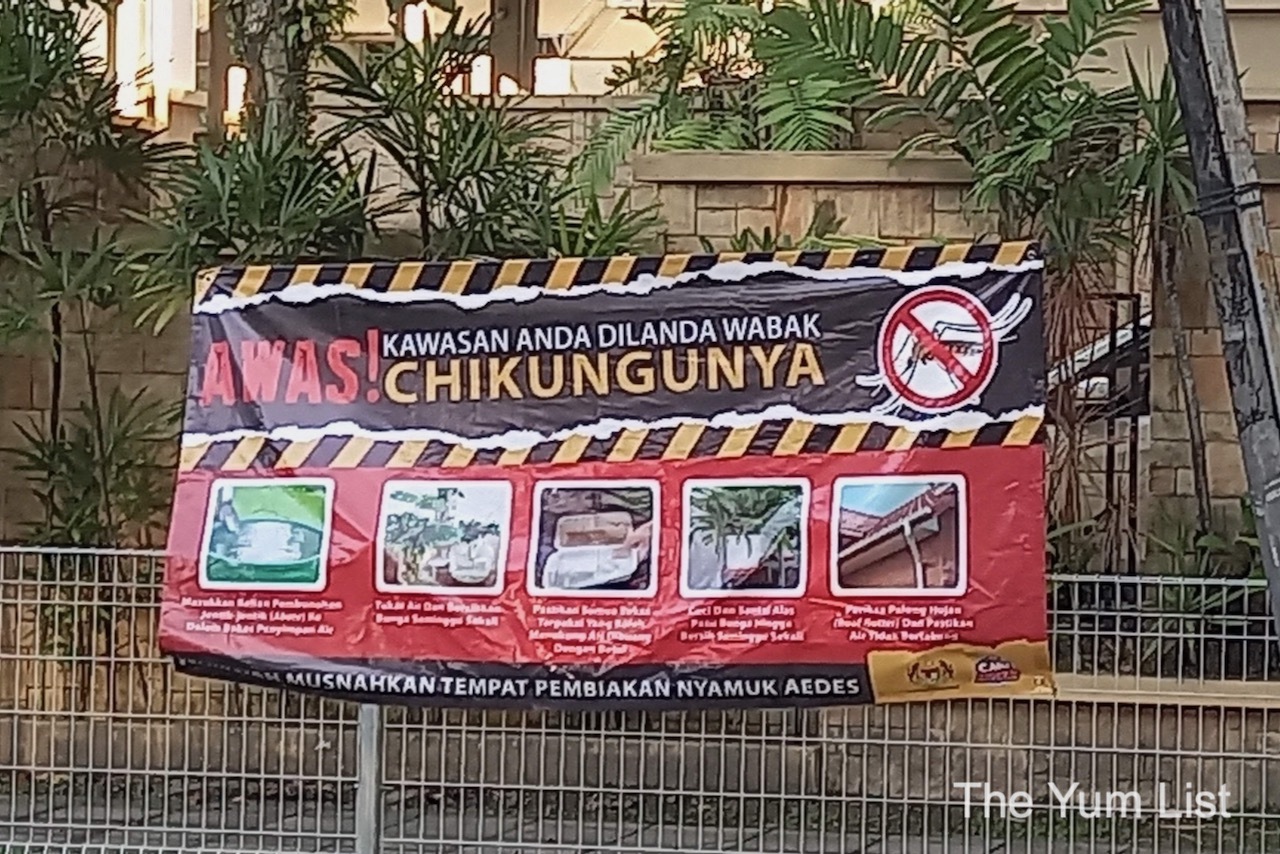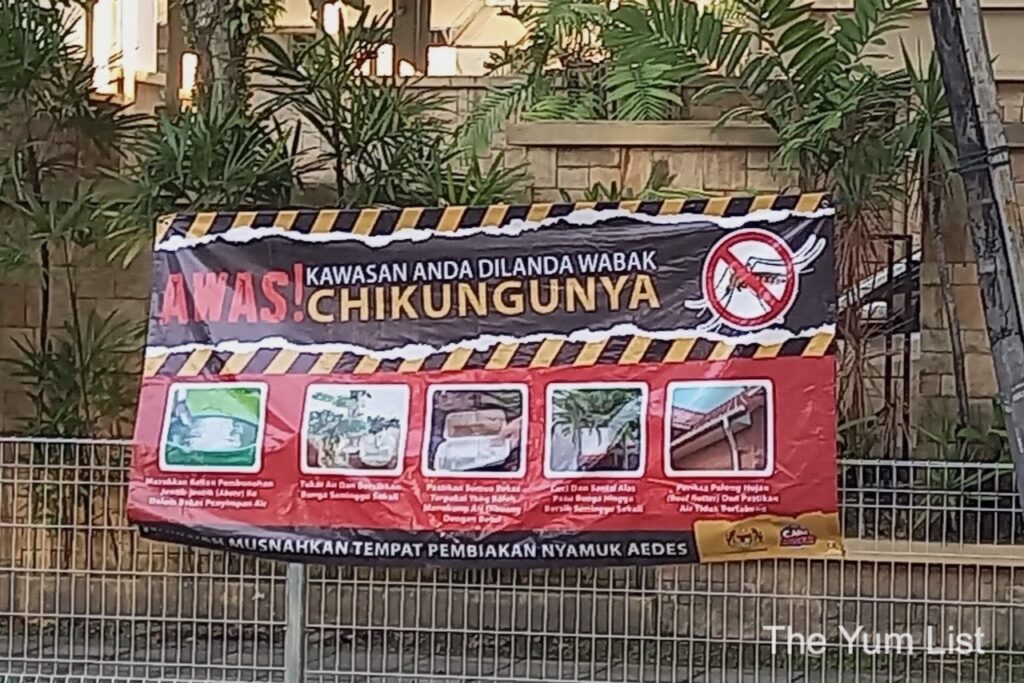 Chikungunya Symptoms
The main symptoms of chikungunya are fever and joint pain. They can also be accompanied by headache, muscle pain, rash and inflammation around the joints. Less common, conjunctivitis, nausea and vomiting may also be present. The name means "to walk bent" due to the posture often caused by severe joint pain. A systematic review of clinical findings also indicates cardiovascular compromise, which explains hubby's chest concerns. The reviewers found cardiovascular manifestations such as hypotension, myocarditis, murmurs, heart failure and more, common.
Treatment & Length of Illness
Medical News Today reports that "The virus is rarely fatal, but the symptoms can be severe and disabling. Most patients recover from the fever within a week, but the joint pain has been known to persist for months. Even after 1 year, 20 per cent of patients report recurring joint pain. There are no specific drugs to treat chikungunya; doctors simply recommend rest and plenty of fluids."
In two large-scale studies in the Americas, 25% of patients reported joint pain 20 months post-infection. A study carried out in Southern Thailand says 1.7% of cases continued to report persistent arthralgia five years after the disease onset. Additionally, several studies found depression and anxiety symptoms higher amongst those with post-chikungunya chronic disease.
Prevention
The only prevention is not to get bitten by virus-carrying mosquitoes. In and around your home, watch for and remove any still water mosquitoes breed in (EG garden pots, blocked drains etc.). Get mosquito netting for your home. Cover up and use repellent when in areas prone to mossies.
Quality of Life Seven Weeks On
It's now been seven weeks since the onset of symptoms. My days of kickboxing and yoga seem like a distant memory. I wake daily with joint stiffness, pain and muscle weakness. I do light stretches and mobility exercises in bed before putting my feet on the ground, but it takes great determination to get moving with the pain. I force myself to stretch and do very slow movements. Lifting my shoulders above my head now takes the same effort it used to take to do burpees or push-ups. I feel stress hormone from the action shooting up my body, but I know I will lose mobility if I don't work through it.
General pain medication such as Paracetamol does not work for me. I have had some success with Prednisolone and Celebrex, but neither of those can be taken for extended periods. I already lead a very healthy lifestyle eating loads of whole foods, a mostly plant-based diet, drink lots of water, value rest and early bedtime, don't smoke, and I've barely had a sip of wine in two months. I'm trying homeopathic remedies to reduce inflammation, such as ginger and turmeric shots, and am doing gentle movement and stretching morning, noon, and night.
Once I'm moving, I can hobble quite quickly. I embarrassingly look like I'm 90, going downstairs sideways and taking a full minute to get into or out of a car. I'm trying to stay positive, but it's challenging. The pain, disturbed sleep, and sense of loss of my previous rich, active, movement-filled lifestyle is taking a toll. I'm trying to intellectualise it and find some opportunity in the experience – a lesson for future-proofing our retirement strategy, gaining compassion for those with arthritis or restricted movement.
It's not working, so the best I can do is raise awareness and hopefully prevent you from being bitten by a virus-carrying mosquito too.
References
Overview
https://www.scielo.br/j/mioc/a/JqRqyjsdtdVJrYSPwcrs9Tz/?lang=en# Excellent review of research.
https://www.medicalnewstoday.com/articles/306828
https://www.cdc.gov/chikungunya/index.html
https://www.who.int/news-room/fact-sheets/detail/chikungunya
https://www.iamat.org/country/malaysia/risk/chikungunya 
https://www3.paho.org/hq/index.php?option=com_content&view=article&id=8303:2013-hoja-informativa-chikungunya&Itemid=40023&lang=en
Chikungunya Cases in Malaysia
https://www.moh.gov.my/index.php/database_stores/store_view/17
Long Term Effects
https://www.ncbi.nlm.nih.gov/pmc/articles/PMC5405794/
https://pubmed.ncbi.nlm.nih.gov/31976828/#:~:text=Long%2Dterm%20persistence%20of%20chronic,occasional%20joint%20swelling%20(16.9%25).
https://www.pasteur.fr/en/medical-center/disease-sheets/chikungunya-0
https://www.sciencedaily.com/releases/2019/08/190829150818.htm
https://www.amjmed.com/article/S0002-9343(19)30911-8/fulltext
https://www.rheumatologyadvisor.com/home/topics/pain-management/chronic-joint-pain-may-persist-for-years-after-chikungunya-infection/
Mental Health
https://academic.oup.com/ofid/article/5/suppl_1/S161/5206994
https://ard.bmj.com/content/76/Suppl_2/989.3
https://www.longdom.org/open-access/psychiatric-symptoms-in-patients-with-chikungunya-fever-2157-7609-1000e141.pdf
https://www.ijidonline.com/article/S1201-9712(18)34341-8/fulltext
https://www.omicsonline.org/open-access/depression-anxiety-and-hopelessness-in-patients-with-chikungunya-fever-in-brazil-2314-7326-1000236.php?aid=84326
Treatment
https://www.ncbi.nlm.nih.gov/pmc/articles/PMC6771335/
Have you heard of or had any experience with chikungunya? I'd appreciate reading your stories in the comment box below.
New to KL? Find our top tips for expat newbies to settle in here.