Brix. Restaurant Ampang
Words: Monica Tindall
Photos: Rich Callahan
It's rare for us to come across a casual fine dining restaurant that is (or is in the process of being) certified as Halal. Even rarer is the chance that it would be in Ampang. However, Brix. surprises us on both accounts, and we're excited about this new find in our hood.
Chef Rexxa helms the Brix. kitchen. He describes the restaurant's cuisine as "inspired modern European." Absolutely everything is made from scratch and the team makes a concerted effort to source ingredients locally.
Matching the elevated gastronomy is a contemporary setting. The sleek interior is hidden behind a giant wooden door and double-glazed windows. The thick insulation means a quiet environment inside, even though the ramp to the Ulu Klang highway is directly in front. Walnut tables and stools with a contemporary curve draw attention to the window into the kitchen at the back. Staff look sharp in uniforms and black and white photos celebrating the unity of the entire team are proudly hung on the walls.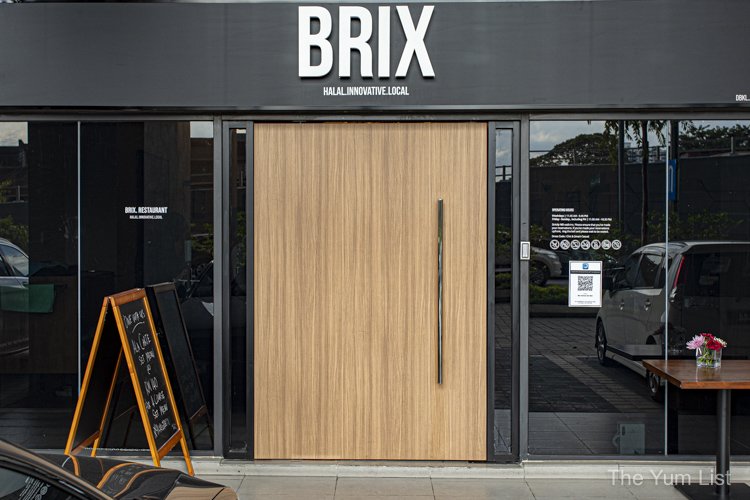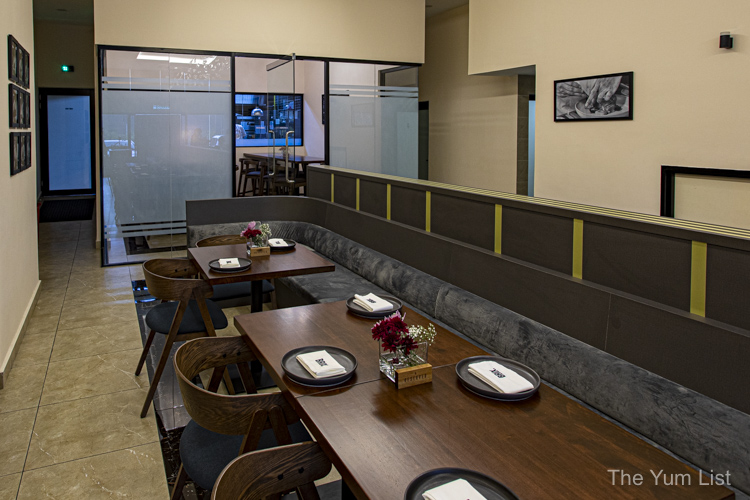 Brix. Menu
As mentioned, the food at Brix. is halal. The menu, including drinks, is a delight to read in a simple format on a single page. Today we're ordering ala carte but do look out for some great three and four-course set meals too.
Bread or Not
Chef Rexxa presents guests with financiers instead of a breadbasket. He reasons that bread can spoil your appetite and that these finger-like loaves make for a lighter beginning. The flavour depends on the whim of the chef. Today the slender buttery, mildly sweet slices are laced with orange. I know many who will smile at the possibility of having "dessert" first.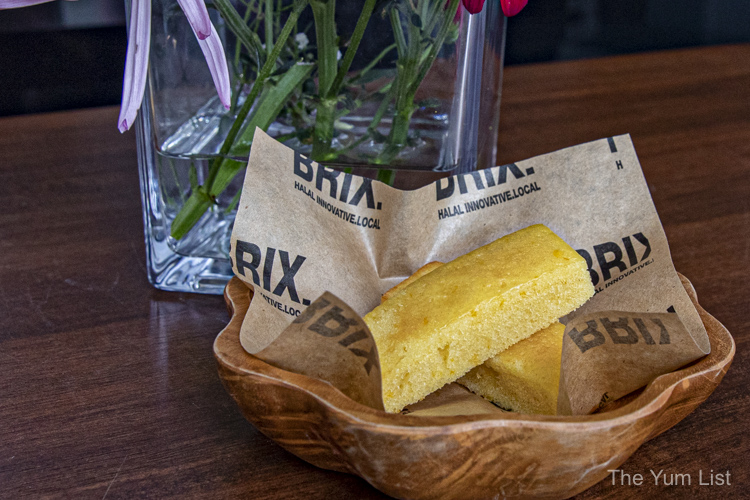 Starters
Afiq delivers our first course and shows up just how exceptional hospitality is at Brix. Between every course, cutlery is changed. New sharing plates arrive and our comfort level is frequently checked in on.
From the starters' menu, we try seafood and a vegetarian recipe. First off, it's Salt and Pepper Squid (RM 35). The squid has been soaked in fresh milk for 24 hours to rid it of any ocean scent and soften it before cooking. It's then sous-vide for an hour, and lastly deep-fried. It's a quick fry in a tempura batter with the chef's own blend of ginger and chilli powder. Coriander aioli and lemon puree (so you don't have to squeeze the fruit yourself!) complement the light crispy coat and tender squid wonderfully.
Chef Rexxa introduces the Glazed Eggplant (RM 30) as "a simple dish with nothing to hide." It is inspired by his time in Japan and the popular street food snack of eggplant and miso. Here, instead of miso, he has used a soy glaze and accompanied the fleshy veg with a caramelized onion sauce, a sprinkle of salt and butter. It's exquisite.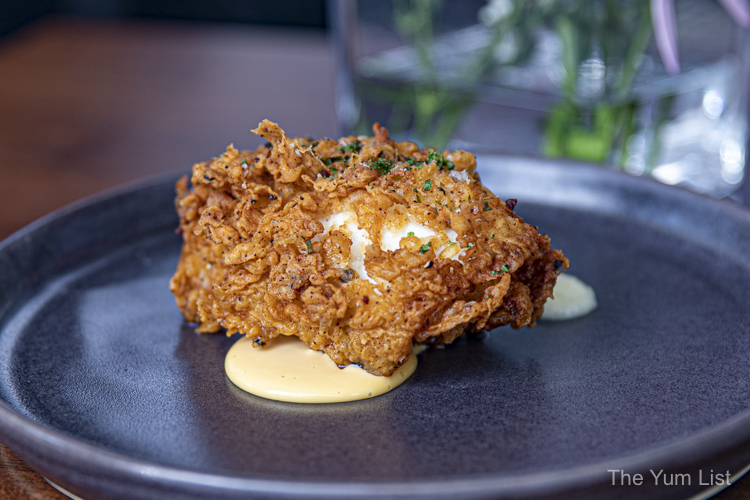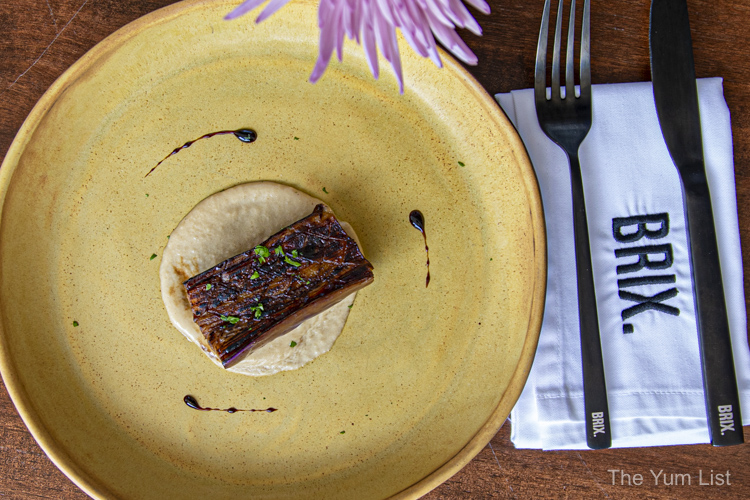 Handmade Fresh Pasta
For me, pasta is a must if it's handmade, and the kitchen team make bundles of Pappardelle (RM 40) daily. The sauce today is a duck ragout and pepperonata. Two types of bell peppers have been cooked until smoky and are added to the sauce just before serving, elevating the flavour of the duck. The poultry has been confit in its own fat for about 48 hours before being shredded and cooked in a tomato sauce. A splash of vinegar, grape juice and orange juice gift the recipe what wine may have otherwise contributed and Parmesan crisps on top add another layer of texture.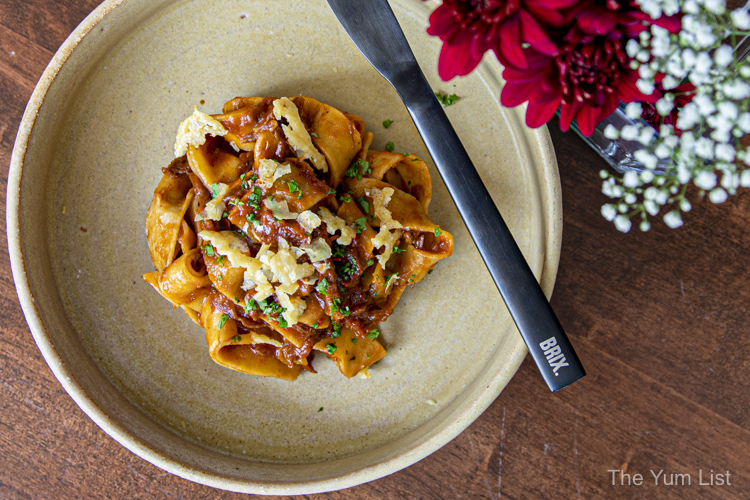 Mains
We try both chicken and beef as mains, and we're impressed that both are sourced locally. Chicken does seem to be in abundance in Malaysia but organic poultry is a little rarer. And, beef? I've only seen imported cuts in fine dining restaurants in the country.
Firstly, the Brix. Organic Roast Chicken (RM 40) from Nilai has been brined for 24 hours, sous vide for three hours, glazed in vanilla and honey butter, and finally baked at three different temperatures. The slow finish serves to lock in the juices, keeping the meat moist. The team know that the mashed potato piped with truffle cream and chicken jus is super popular, so they thoughtfully bring an extra serve.
I am surprised at just how good the Beef Short Ribs (RM 70) are. As mentioned, this is the first time I've come across local beef used in a fine dining setting. Chef Rexxa has braised the meat for two days, which is possibly the secret to its fall-off-the-bone-ness. Roasted apple, onion soubise and a peppercorn sauce are delightful complements to the rich meat.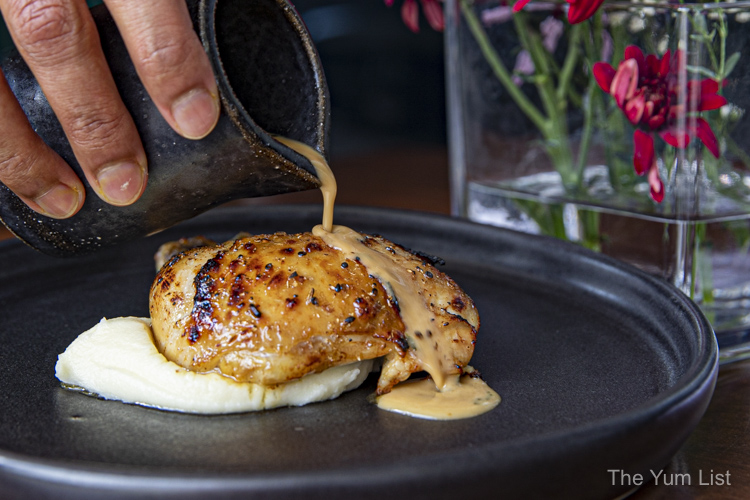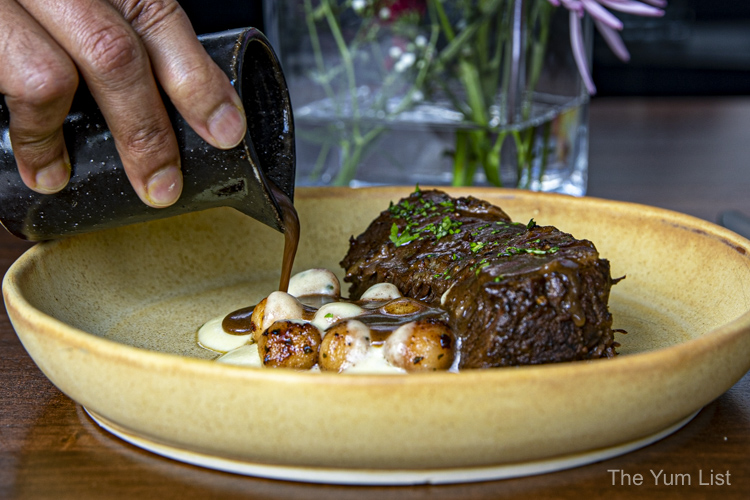 Dessert
A fitting ending for such a meal is with a carefully crafted dessert, of which Brix. has a complete handful. All sound enticing, but it's the Popcorn Panna Cotta (RM 28) that first grabs our attention. Caramelized popcorn has been soaked overnight in milk, and then that same milk is used for the panna cotta. The firm custard is covered with salted caramel, a handful of popcorn and a slice of dehydrated orange. This is delicious and makes us curious about the other sweets.
Fortunately for us, we get a sneak peek of a dessert due to be launched in the January 2022 menu. White Chocolate Mousse is certainly something to look forward to, especially when paired with fresh passion mousse and jelly, a crunchy oat biscuit and drizzling of strawberry sauce.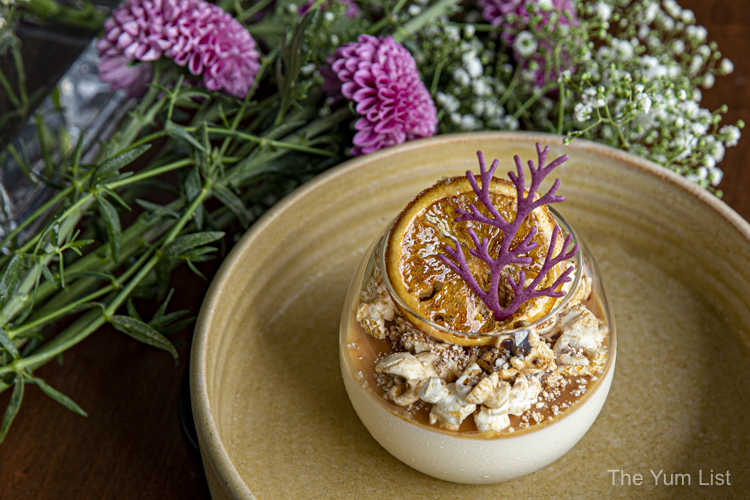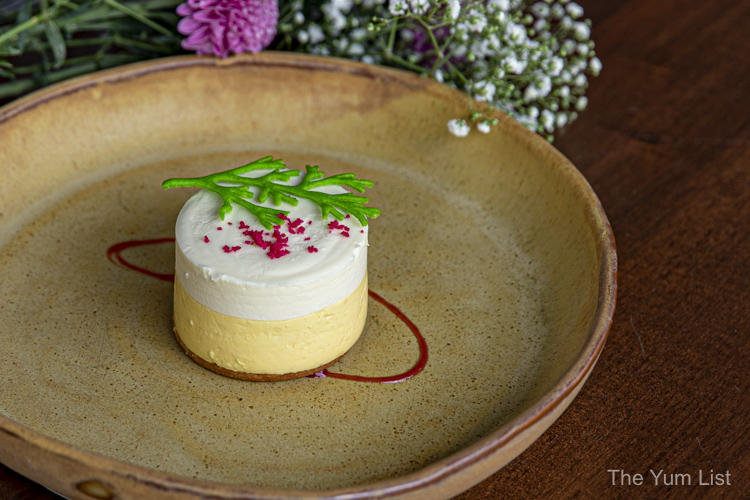 Brix. Drinks Menu
While many Yum List readers might appreciate a glass of wine with such find food, Brix., being halal, instead serves a range of mocktails (RM 22 – 25), coffee and tea (RM 20), and soft drinks (RM 8). The restaurant's signature beverage is the Brix. Classic (RM 25), featuring chamomile tea, lemon and honey. Another popular pick is the Fragaria (RM 22). Sought after for its pretty red hue, it combines strawberry, mint and soda water. Monin syrups form the flavour base for these cold refreshments but they're not overly sweet. Rich finds them both agreeable and thirst-quenching.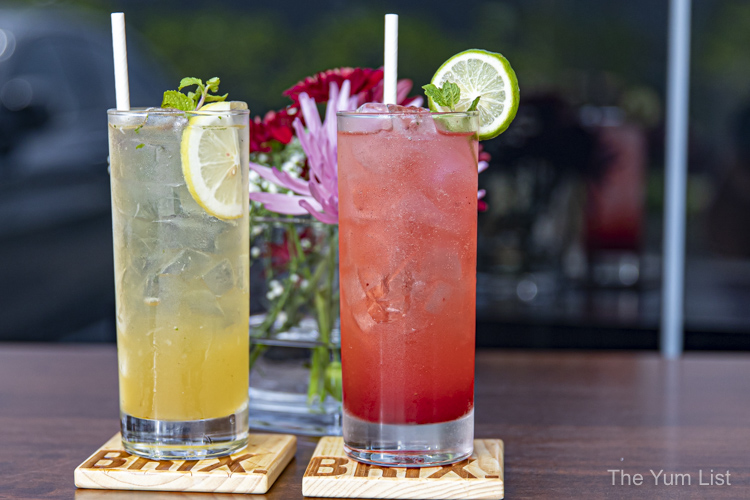 Brix. Review
Chef Rexxa says, "we only use fresh, seasonal ingredients, local wherever possible, and the menu will change roughly every three months with the seasons." With less than a handful of ingredients in every dish, he wants to celebrate the natural flavours of produce. The European technique of reducing ingredients for hours on end can be costly but it sure does intensify flavours. Chef adds that he wants guests to enjoy, "fine halal food at affordable prices." He certainly seems to have achieved this on our account and provides a lovely setting and capable staff to enhance the experience as well.
Reasons to visit Brix. Ampang: A calm, stylish setting in Ampang; glass-walled kitchen allowing a glimpse of the action; Halal menu; fine food made from scratch using quality ingredients.
Brix.
R-6-G, Ground Floor, M City Ampang
326, Jalan Ampang, 50450 Kuala Lumpur
+603 – 42669492
www.facebook.com/brixkitchen
*Soon to be Halal certified
Brix. Opening Hours
Monday to Thursday: 11:30 am – 9:30 pm
Friday to Sunday: 11 am – 10:30 pm
Find more halal restaurants here and stay up to date with the latest happenings around Malaysia here and here.