Nobu KL's Festive Menus – A Holiday Trifecta
Words: Meg Alice
Photos: Monica Tindall
Monica and I had the pleasure of returning to Nobu Kuala Lumpur to test portions of its three December holiday menus. From 1 to 23 December, Nobu is serving its monthly 2-for-1, five-course menu called "Delectable December." On 24 and 25 December, Nobu will showcase the Six Plates of Christmas menu. Finally, on 31 December and 1 January, diners can enjoy another six-course menu tailored to help promote a prosperous New Year with ingredients like mochi and gold leaf. As you will see by the pictures, all three menus are rich in holiday colours and vibrant ingredients.
The Yum List and Nobu KL have shared values of taking care of people, using high-quality ingredients and celebrating the art of food because food can elevate the conversation and the bonds between people. Nobu and head chef Philip Leong run a class-act establishment with waitstaff who operate like an Olympic team. Some of the servers have been at Nobu KL since it opened in 2015, like Leela Thomas, who walked Monica and me through these menus. Leela is a trained chef herself (and dancer) which means she's not just delivering plates, she is the narrator of our meal. There are plenty of restaurants that The Yum List reviews where the waitstaff have no agency, but that's not Nobu. We dedicate this review to Leela.
Nobu KL's Festive Menus
Moriawase (Christmas Menu)
We start with Moriawase (assorted cold dishes), the first of the Six Plates of Christmas menu. We are presented with an oyster, bonito, and salmon. The Japanese oyster is decorated like a Christmas tree with green wasabi salsa and red raspberry sauce establishing the mood for a festive meal. The bonito fish comes with amarillo jalapeno salsa and shitake mushroom crisps. Our salmon sashimi is served with a rich black goma (sesame seed sauce). While Malaysia is tropical hot, Nobu KL is minimalist and cool inside (ladies bring a sweater). The goma warms us up. This is a hearty and satisfying way to start the meal.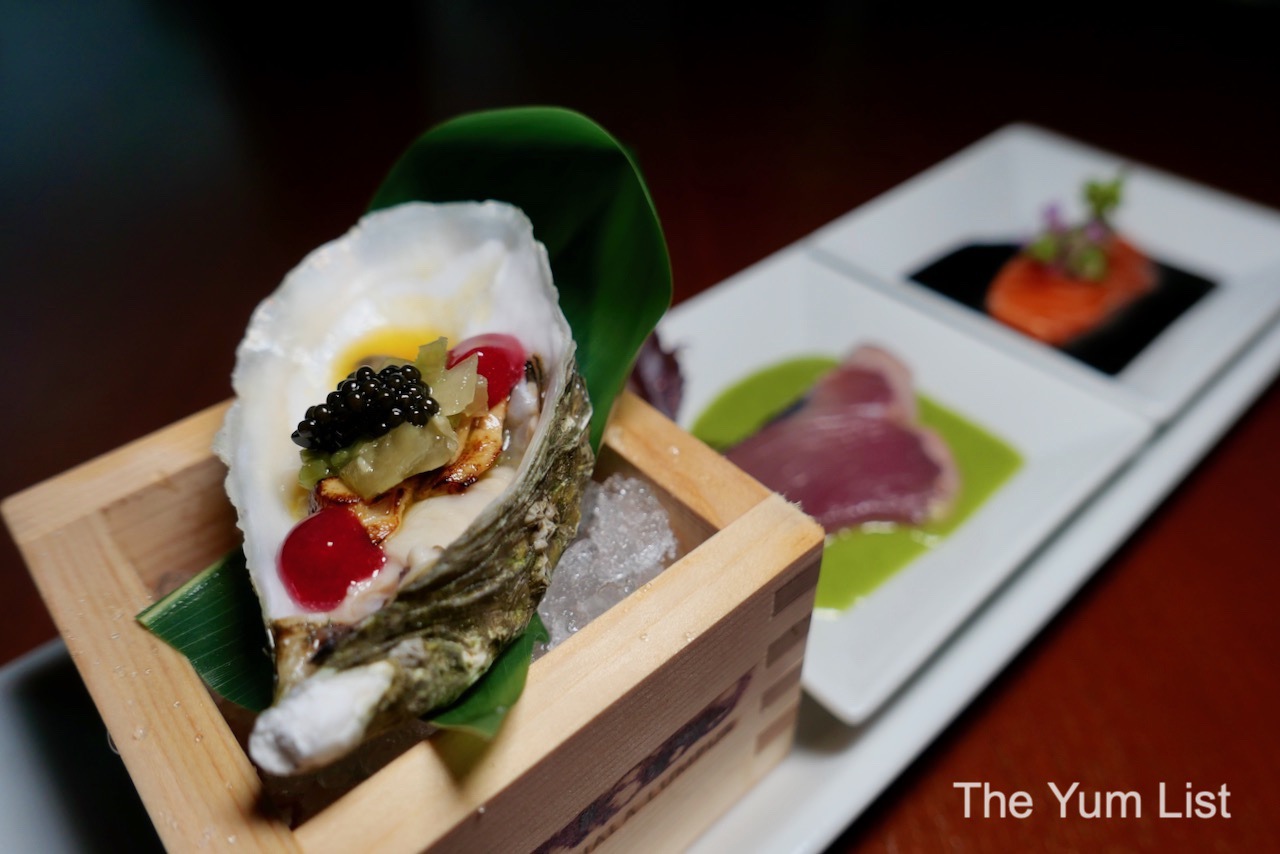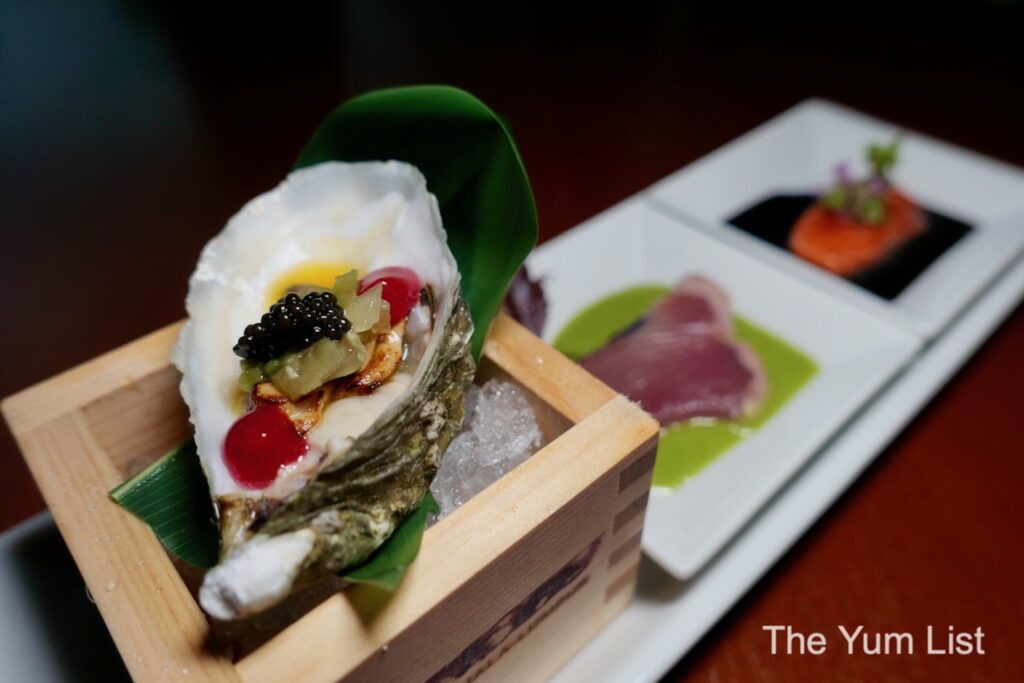 Chef's Sushi Selection (Delectable December, Christmas, and New Year's Menus)
Your chef's sushi selection will be different than ours as it rotates depending on what's fresh and best for that day. We enjoy tuna belly, mackerel, Japanese snapper, and salmon roe. One of Nobu's signature touches is the sauces and accompanying flavour bites with its sushi. Tonight, the mackerel is adorned with garlic, ginger, and scallions. The roe served is served in a cup, another unique Nobu touch.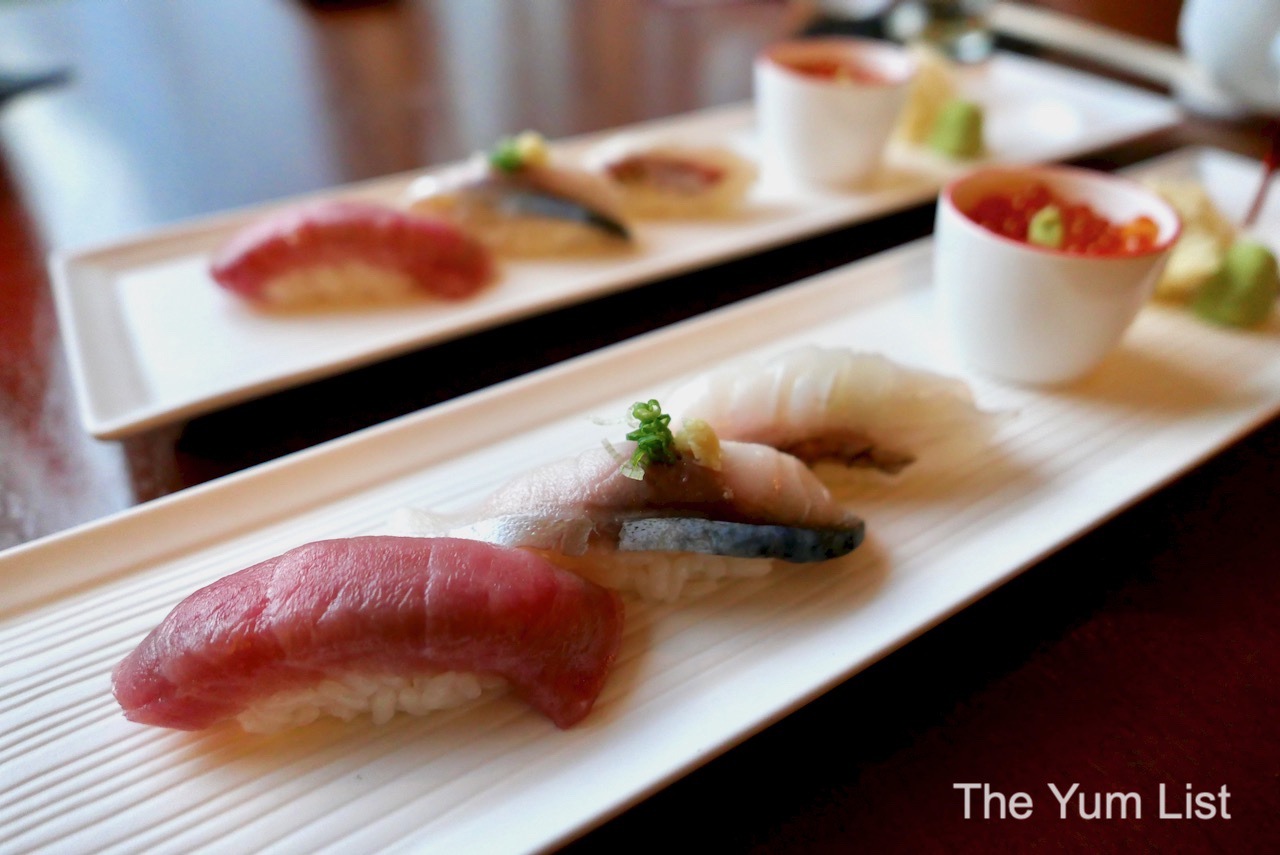 Nobu Style Seafood Ceviche (Christmas Menu)
Hailing back to Nobu's Peruvian roots, the third course is a punchy ceviche that knocks me off my feet. The seafood options will rotate but ours is comprised of sashimi-grade shrimp, salmon, and white fish. The ceviche sits abed yuzu shaved ice which melts as we make our way through the dish. Leela pours over the special Nobu sauce which is comprised of more than 16 ingredients including soy sauce, red pepper oil, garlic, rice vinegar, and lemon. We try to deconstruct each flavour, but there's too many to identify all 16.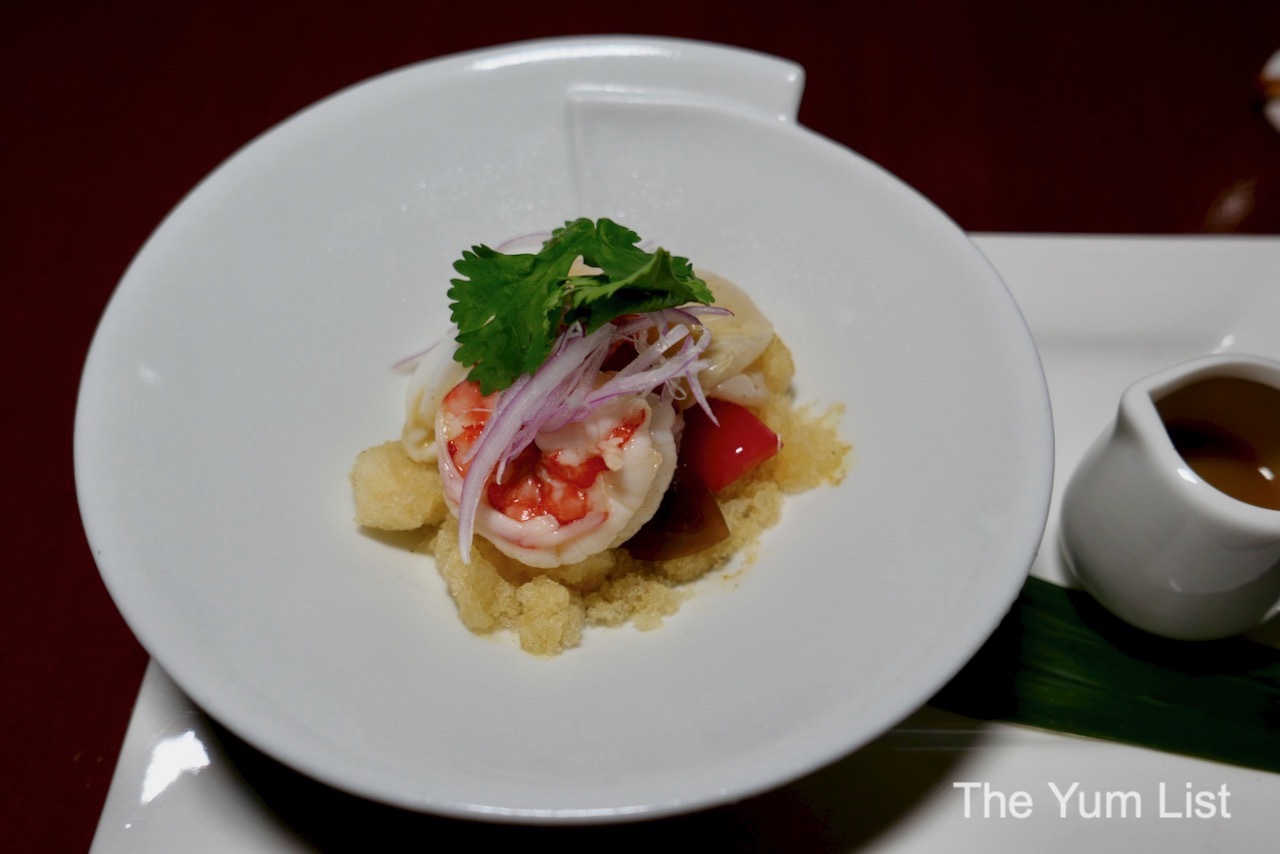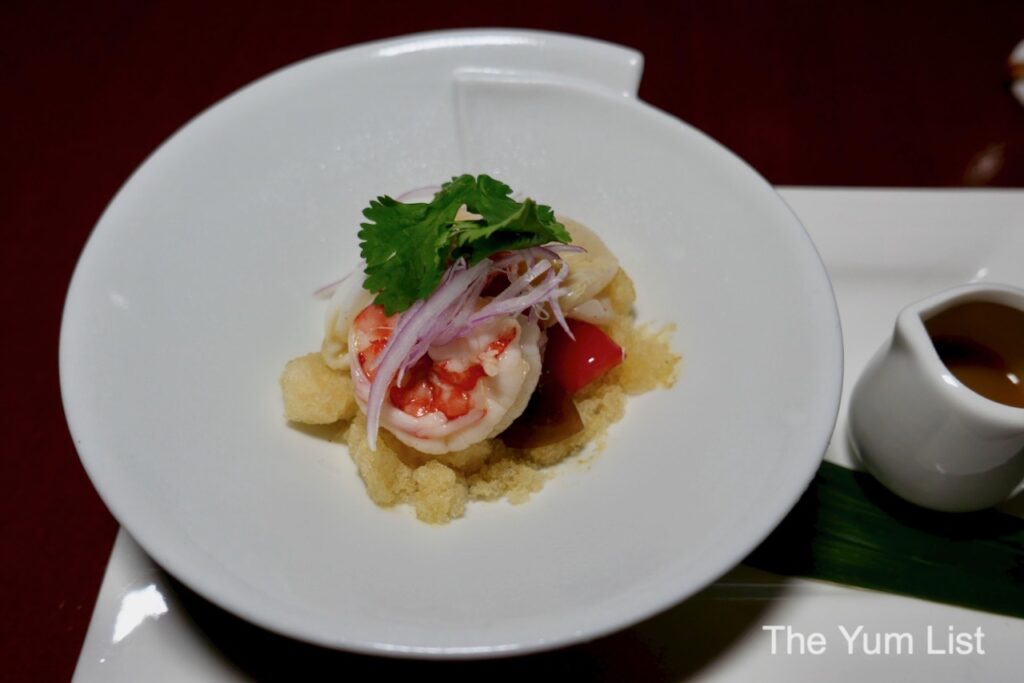 Chilled Homemade Tomato Pudding with Caviar (Palate Cleanser from New Year's Menu)
We need a palate cleanser after the electrifying ceviche course as we move into the Delectable December and New Year's menus. This palate cleanser is an unusual tomato puree with soymilk pudding. On top sits caviar and gold leaf. While this is not something that you might think to put together, there is science happening here. This umami-rich bite resets the taste buds on my tongue and in my mouth like windshield wipers as we move into the hot courses.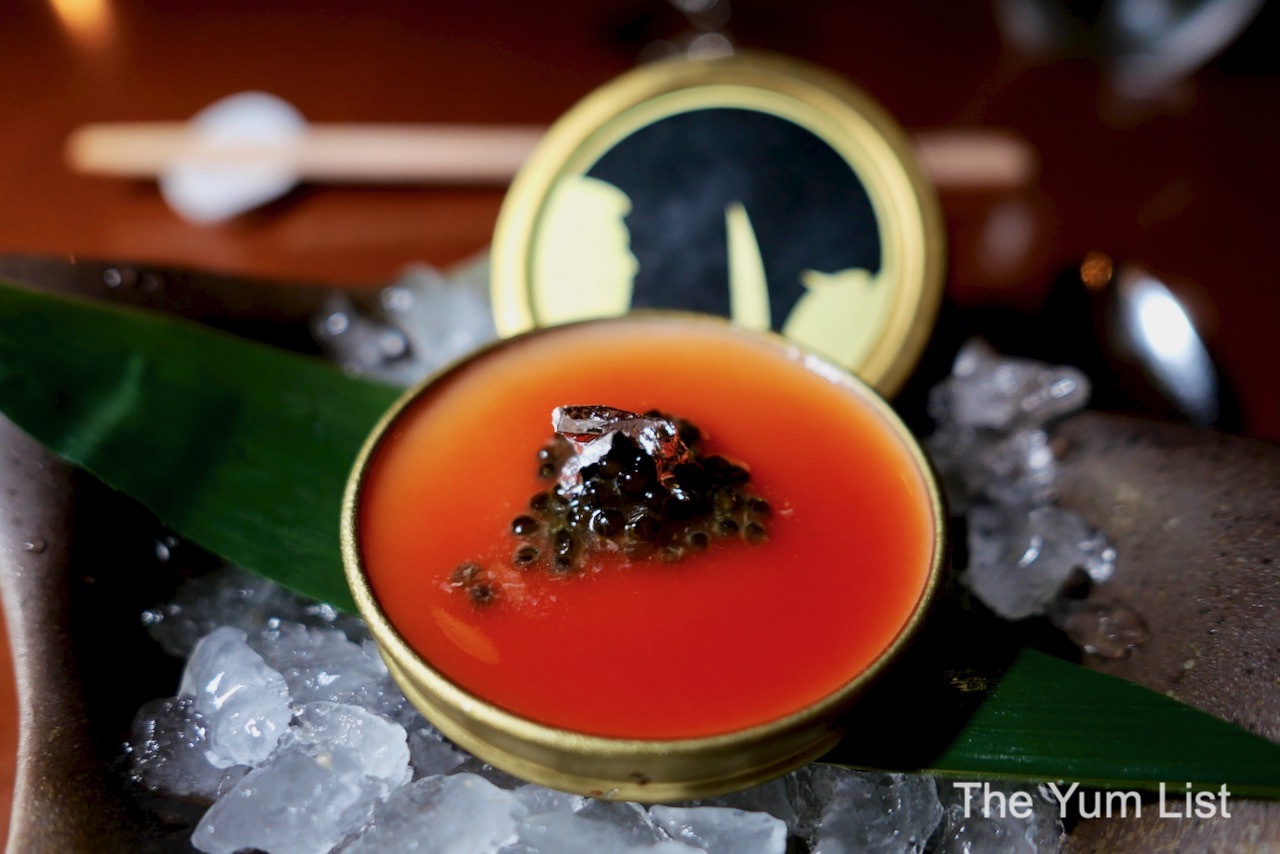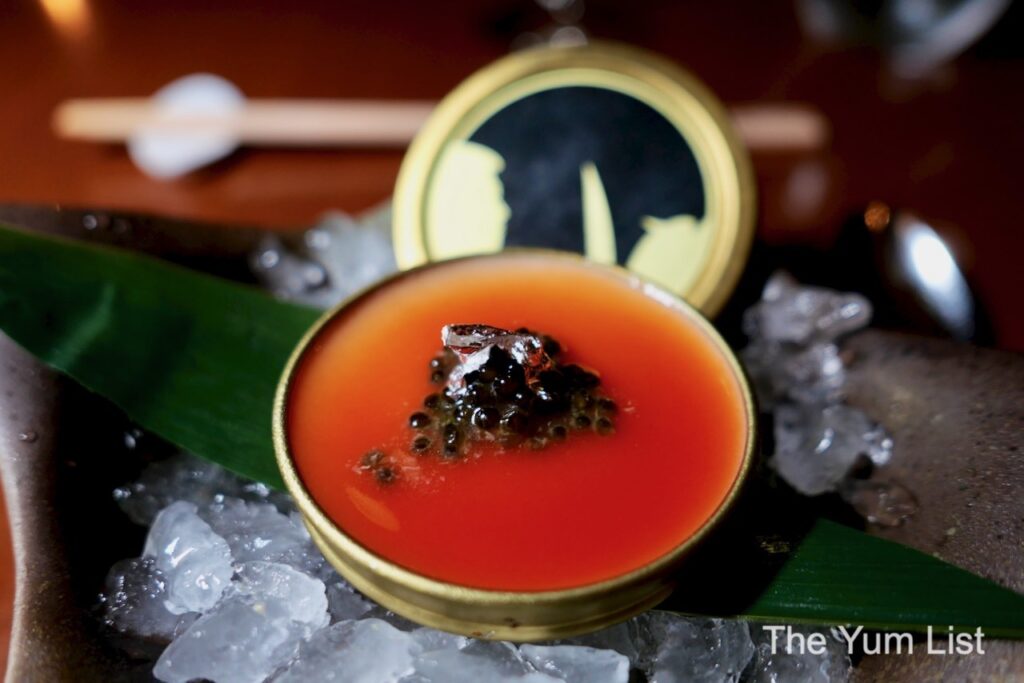 Coral Group Karaage with Shisho Chimichurri Salsa (Delectable December Menu)
The fourth course is from the Delectable December 2-for-1 menu. The fried grouper is delicious but upstaged by the succulent ice plant which is crunchy and moist. The ice plant reminds me of cactus in winter. Coupled with the hot karaage, the two contrasting elements are brought together by the herbaceous chimichurri. Add some red and yellow bell pepper in the mix for colour. There is an upgrade option to Alaskan King Crab for RM 70.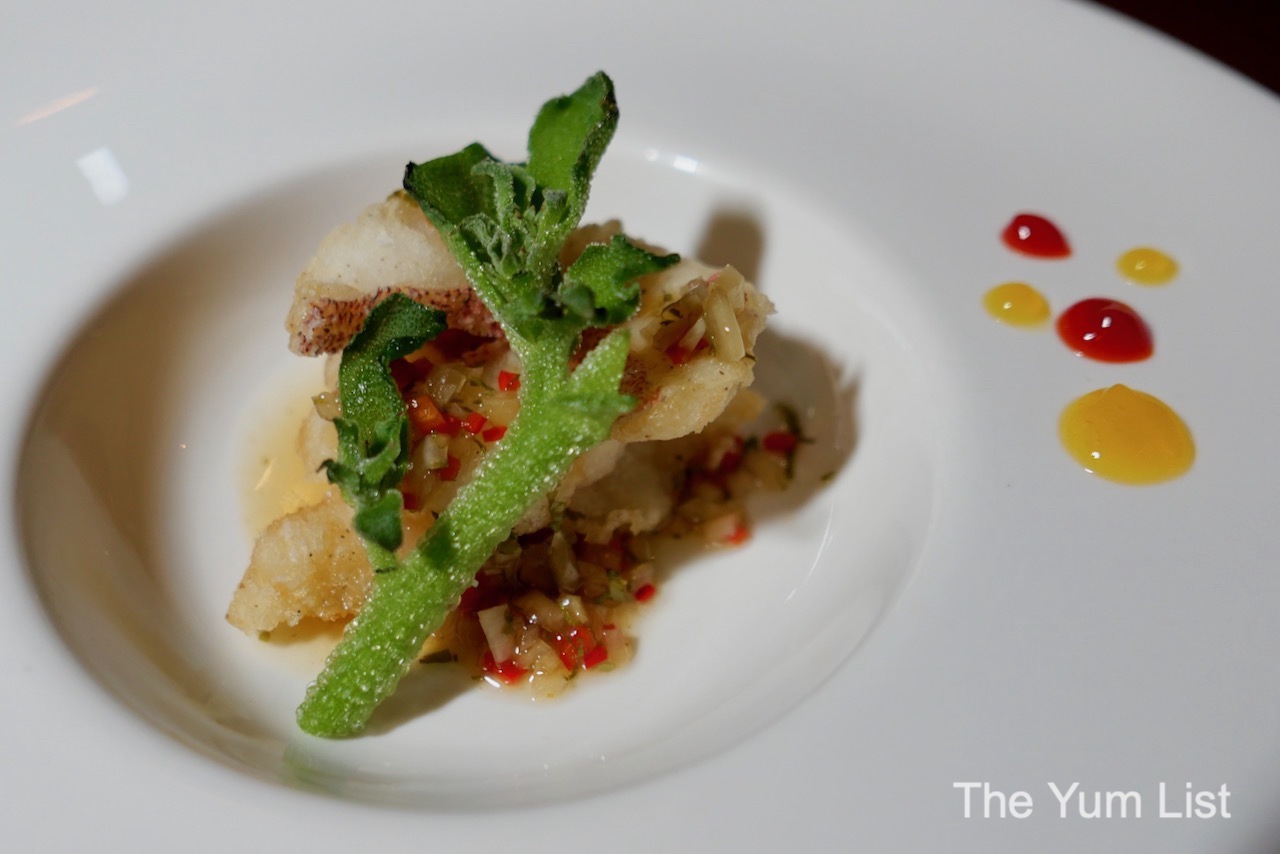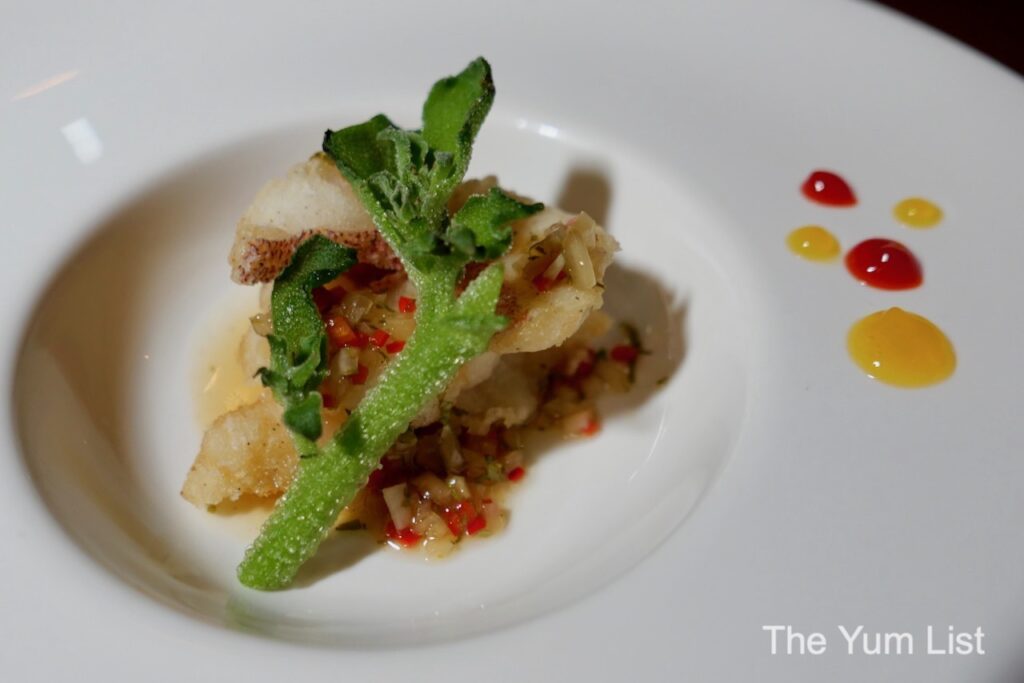 King Crab Yuzu Truffle Butter Sauce with Crispy Kale (New Year's Menu) and Alaskan King Crab with Cha Soba (Christmas Menu)
Our fifth course is a bonus for Monica and me as we experience crab two-ways from both the Christmas and New Year's Menu. The Christmas crab is comfort food featured with soba noodles which is a welcome hit of carbohydrates. The sauce includes soy cream and prawn oil which are particularly memorable. The New Year's crab comes with truffle butter and crispy kale which reminds me of the November premium menu also featuring the crispy kale but with lobster. We love crab, but like the ice plant, the neon-green crispy kale steals the show. Its translucent freshness is perfectly paired with the rich crab and citrussy truffle butter.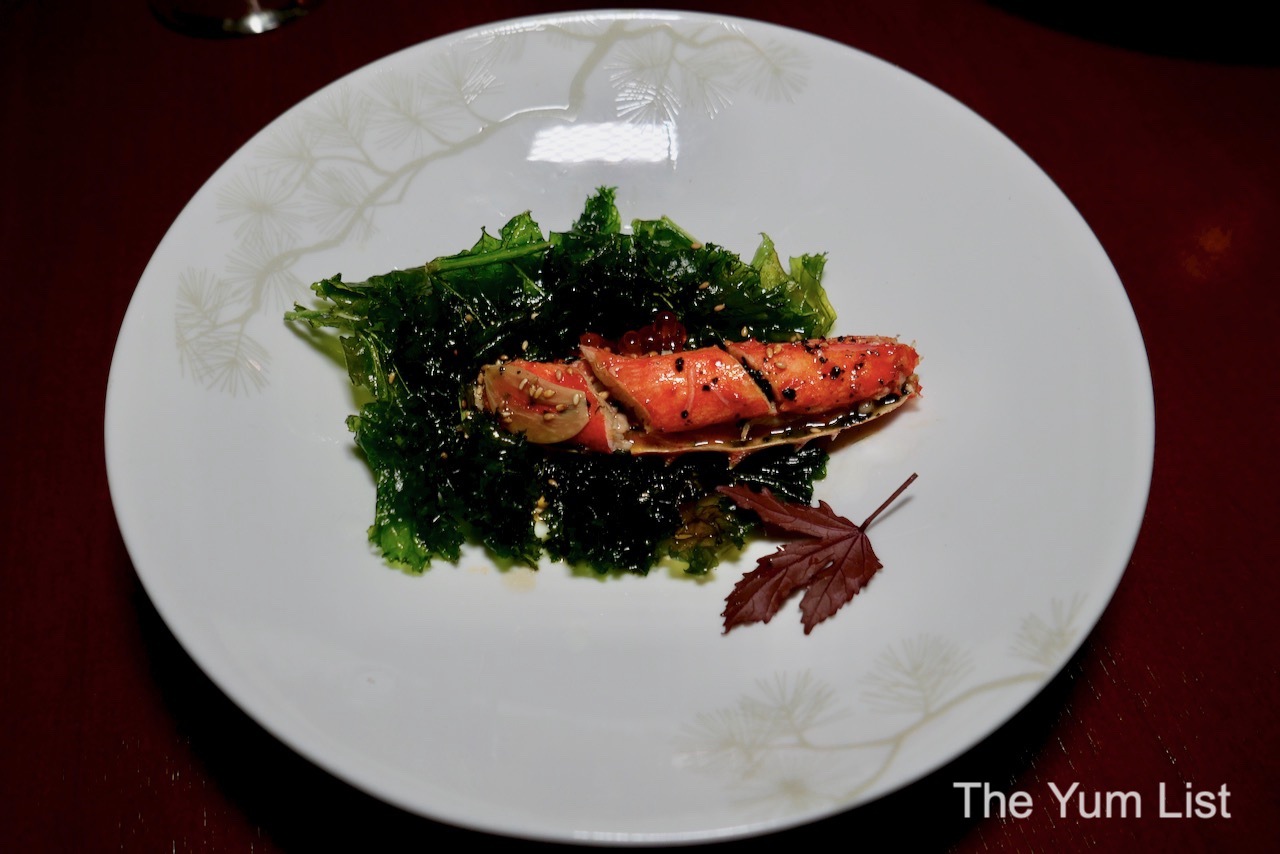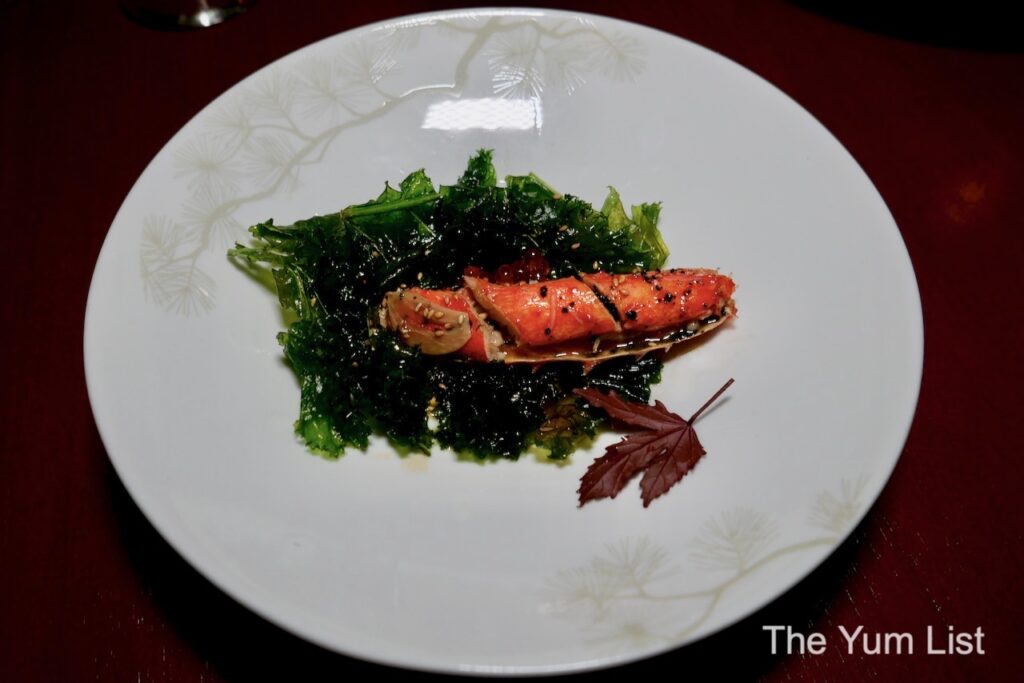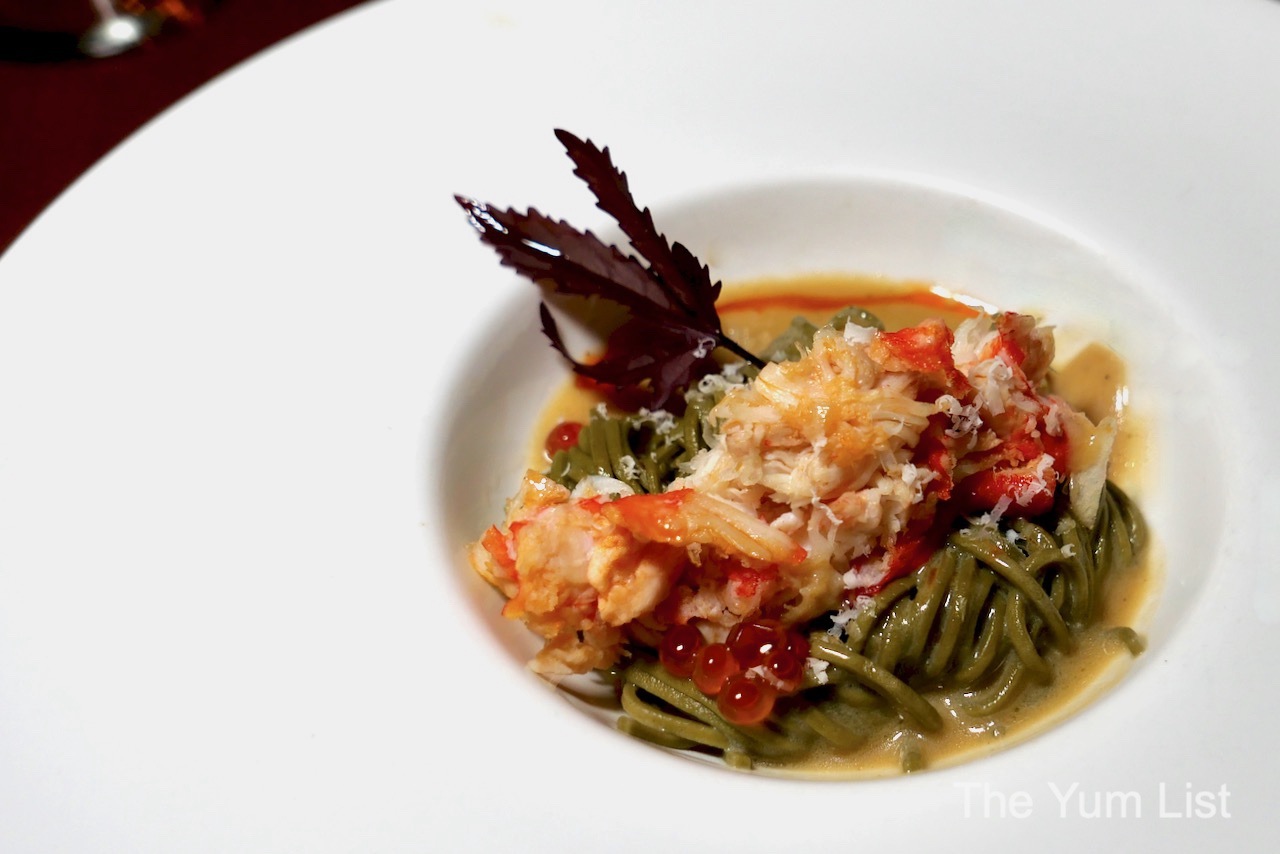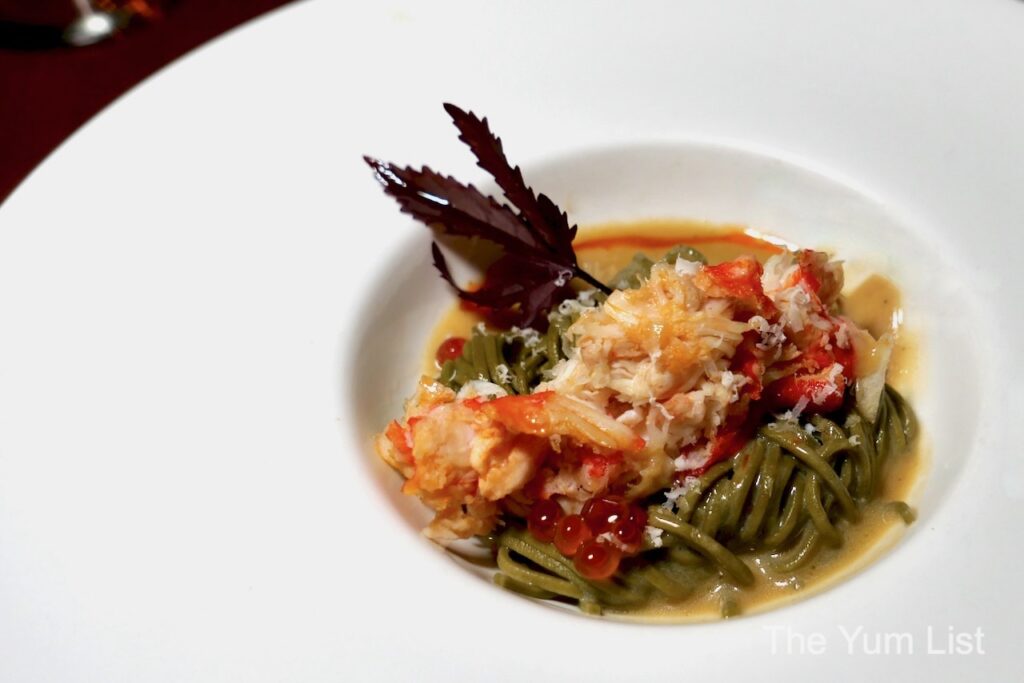 Wagyu with Bottarga Sauce (New Year's Menu)
Our final course is meat but with a twist as Nobu pairs it with bottarga sauce, which has a wonderful fishiness due to the roe which bottarga is known for. The wagyu also comes with savoury mochi rice. The jus includes roasted beetroot and artichoke which feels appropriate for a final course in wintertime. While the wagyu assumes itself to be centre stage, it's the charred mochi that speaks to us most even though it's essentially of vehicle for the bottarga and bacon-like wagyu flavours.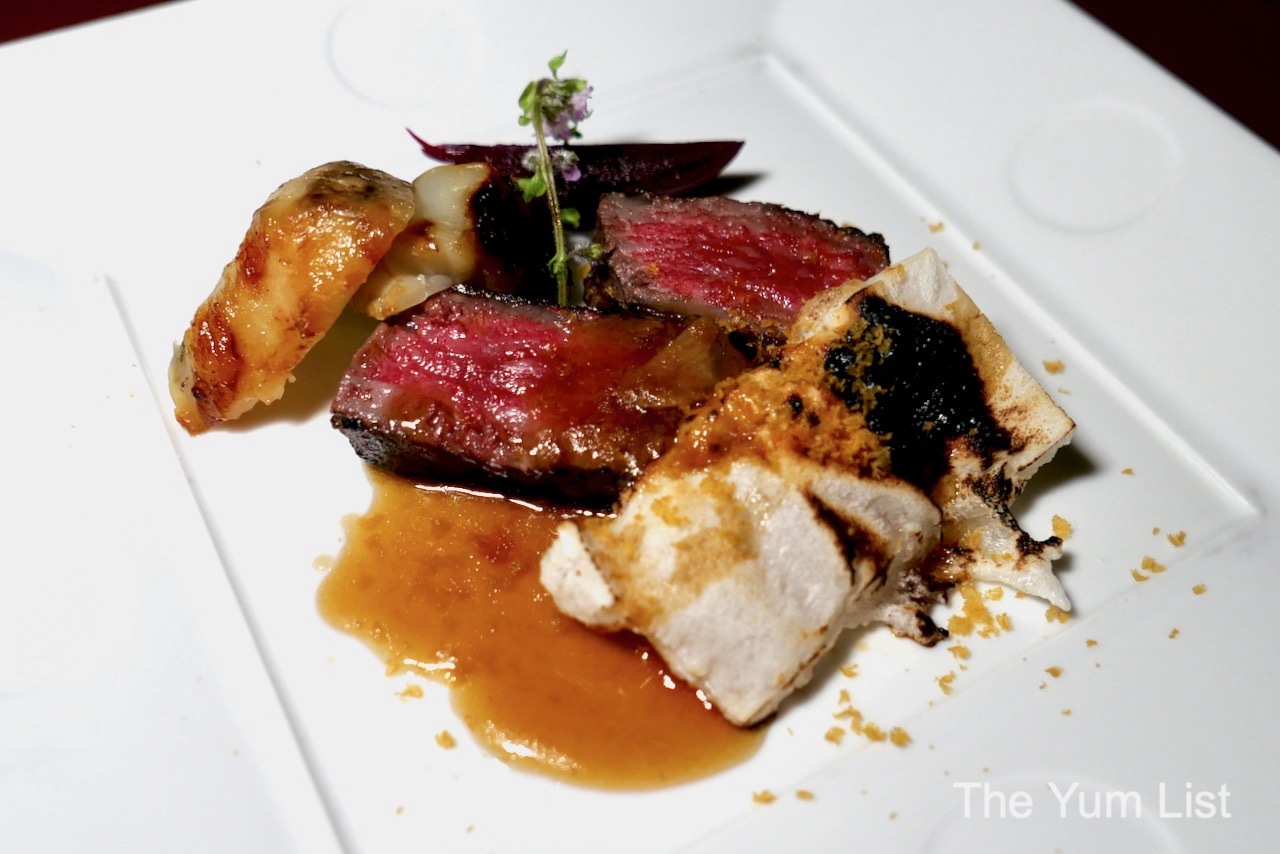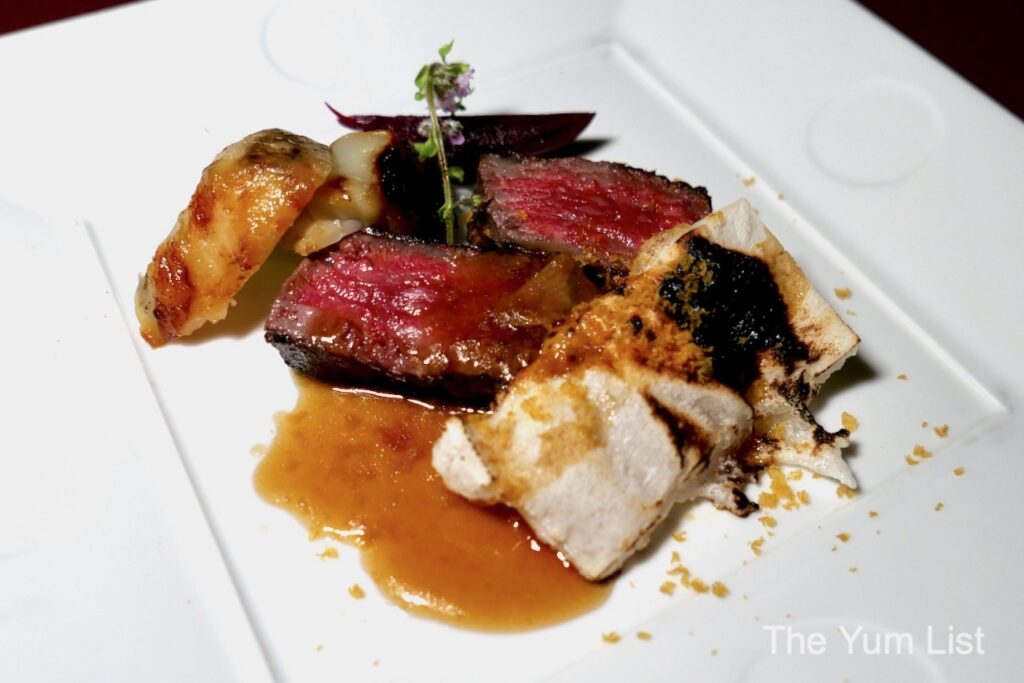 Yuzu Chocolate Mousse with Black Goma Mochi (New Year's Menu)
The desserts from Nobu's October through December menus have a common thread of playfulness and whimsy. There are many different parts to these desserts–a playground of options. Here we work our way through a dim sum style-mochi pastry filled with black sesame, a joconde sponge (moist almond cake), vanilla ice cream, black sesame crumble, yuzu pearls, chocolate wedge, and gold leaf on top. We learn that eating mochi is a Japanese tradition to usher in good fortune for the New Year.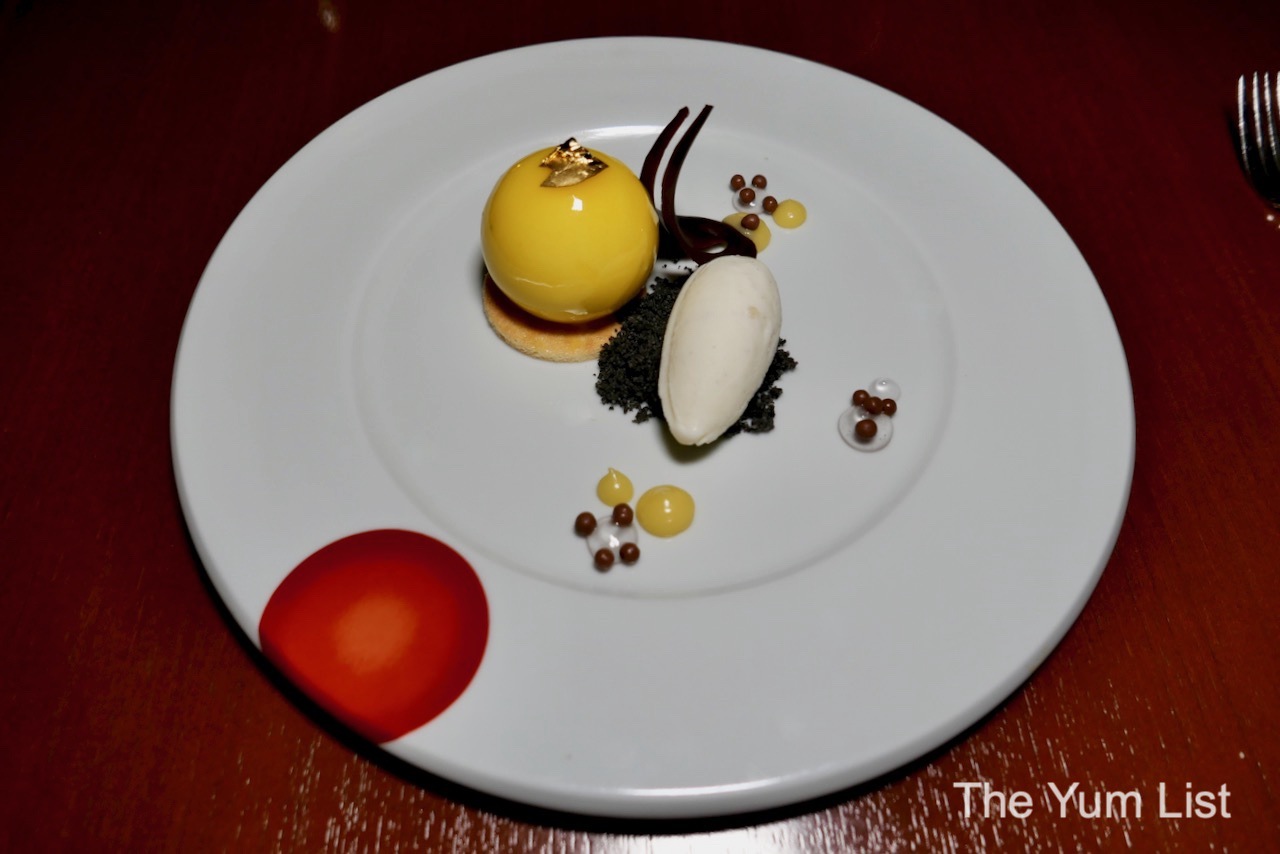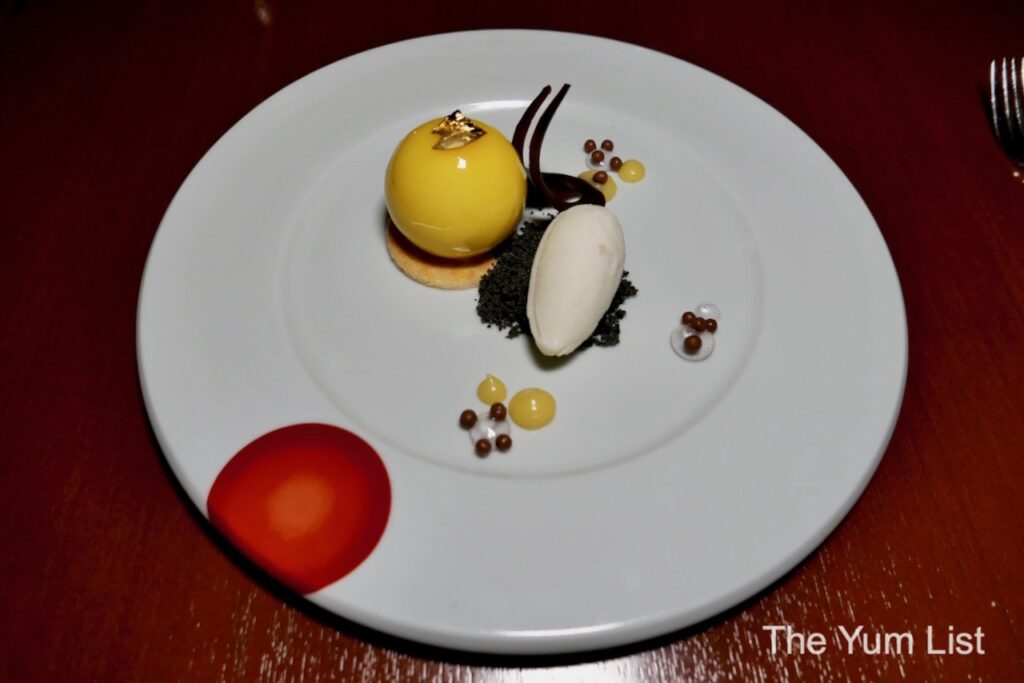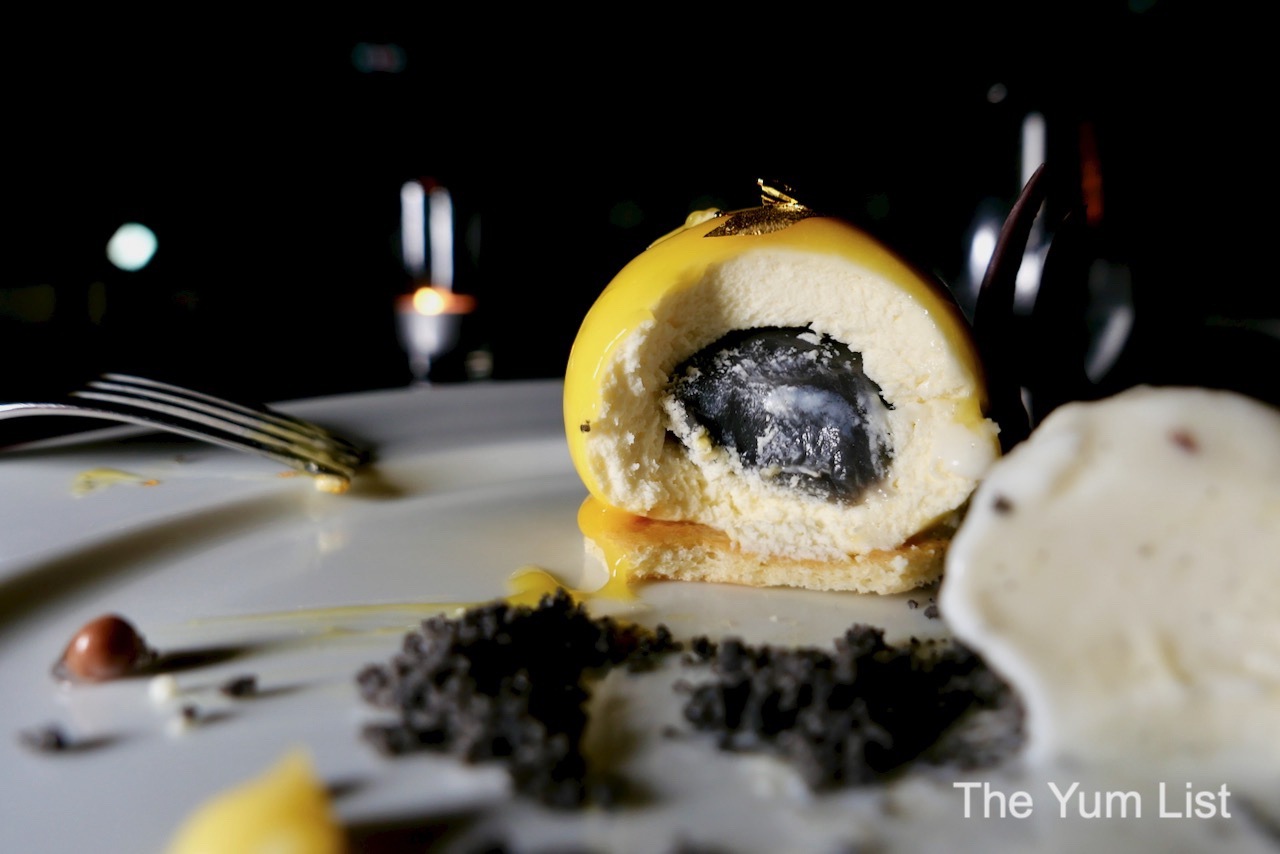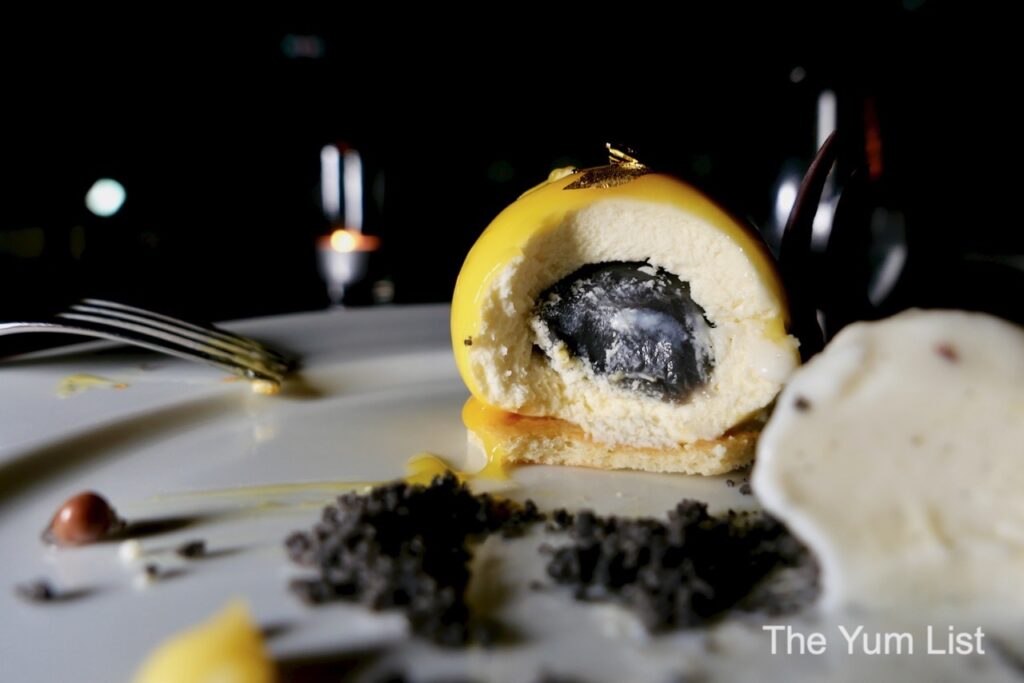 Drinks
Our favourite cocktail at Nobu is the ultra-clean Matsuhisa Martini including Ketel One vodka, Hokusetsu sake and ginger. Monica opts for this Robert De Niro classic while I decide to venture out. I try the cucumber cocktail which is similar but includes fresh cucumber, lychee, and lemon juice. It is soothing and spa-like but with alcohol. For the first three courses, Monica enjoys a glass of the 2013 Rene Mure Riesling from France. I opt for a lighter red wine, the 2018 Escale Pinot Noir, also from France. We both enjoy the heartier 2020 Bodega Collecion Norton Malbec from Mendoza, Argentina to accompany the wagyu. These informed wine choices are the recommendations of Leela.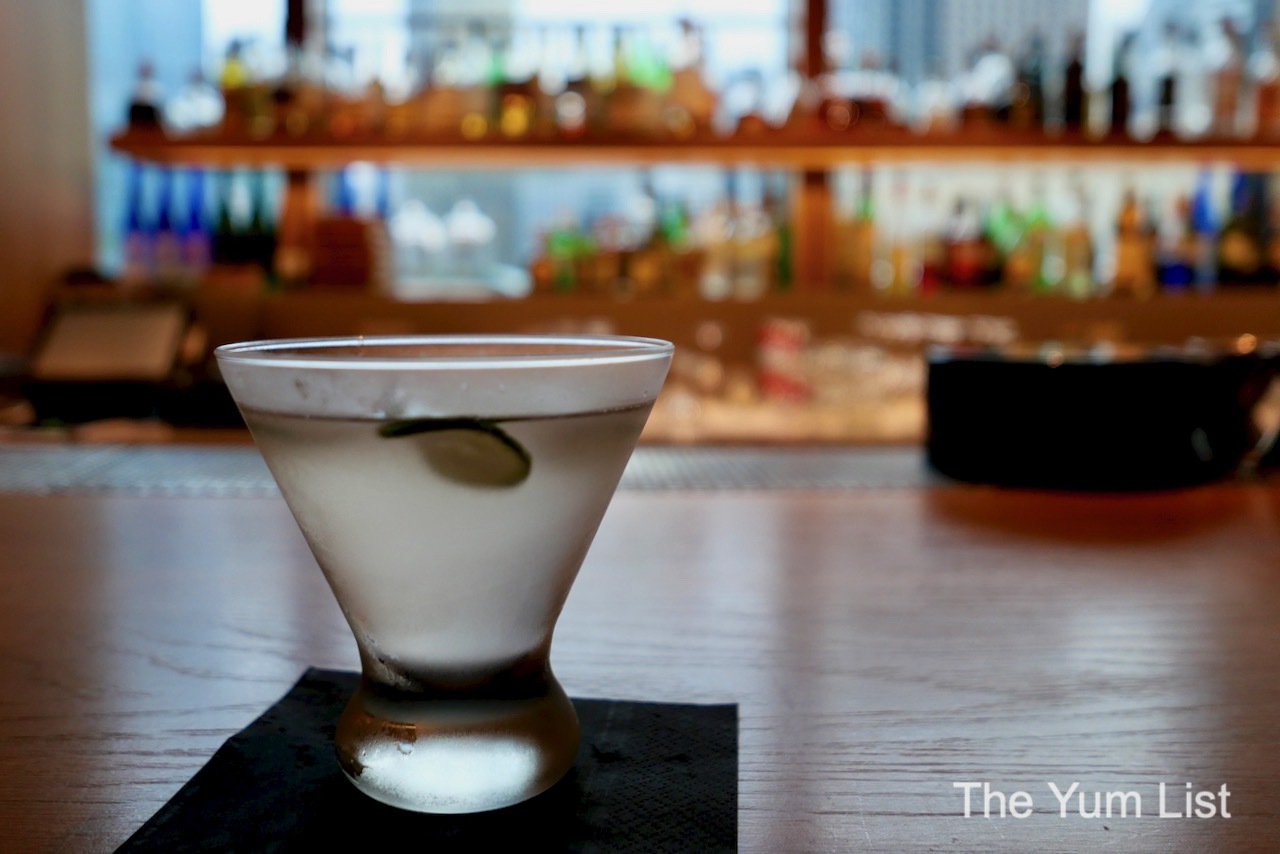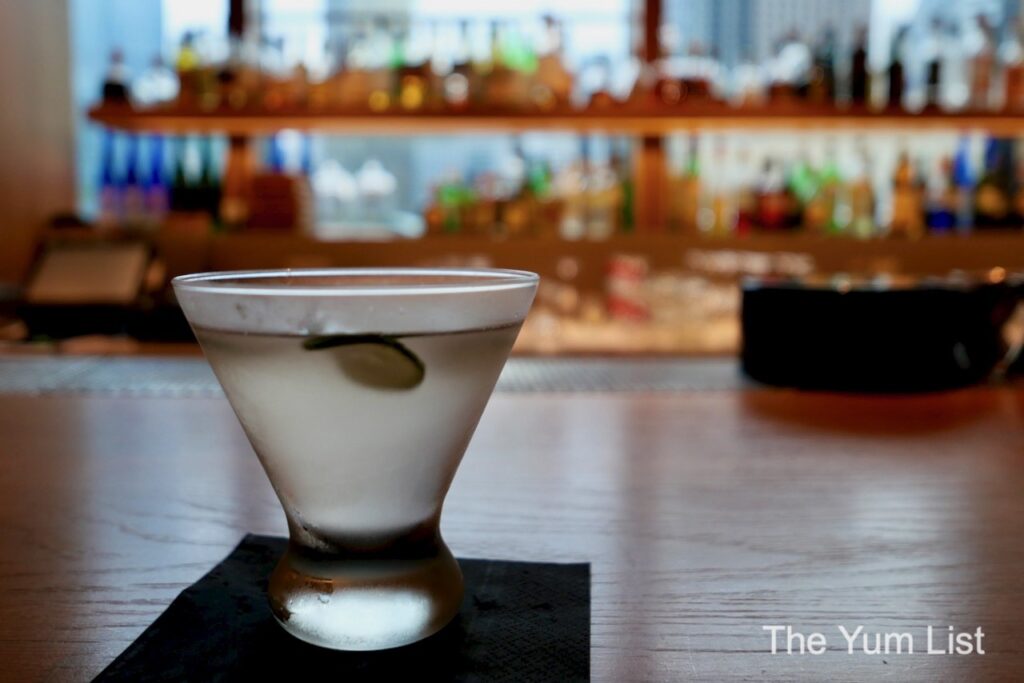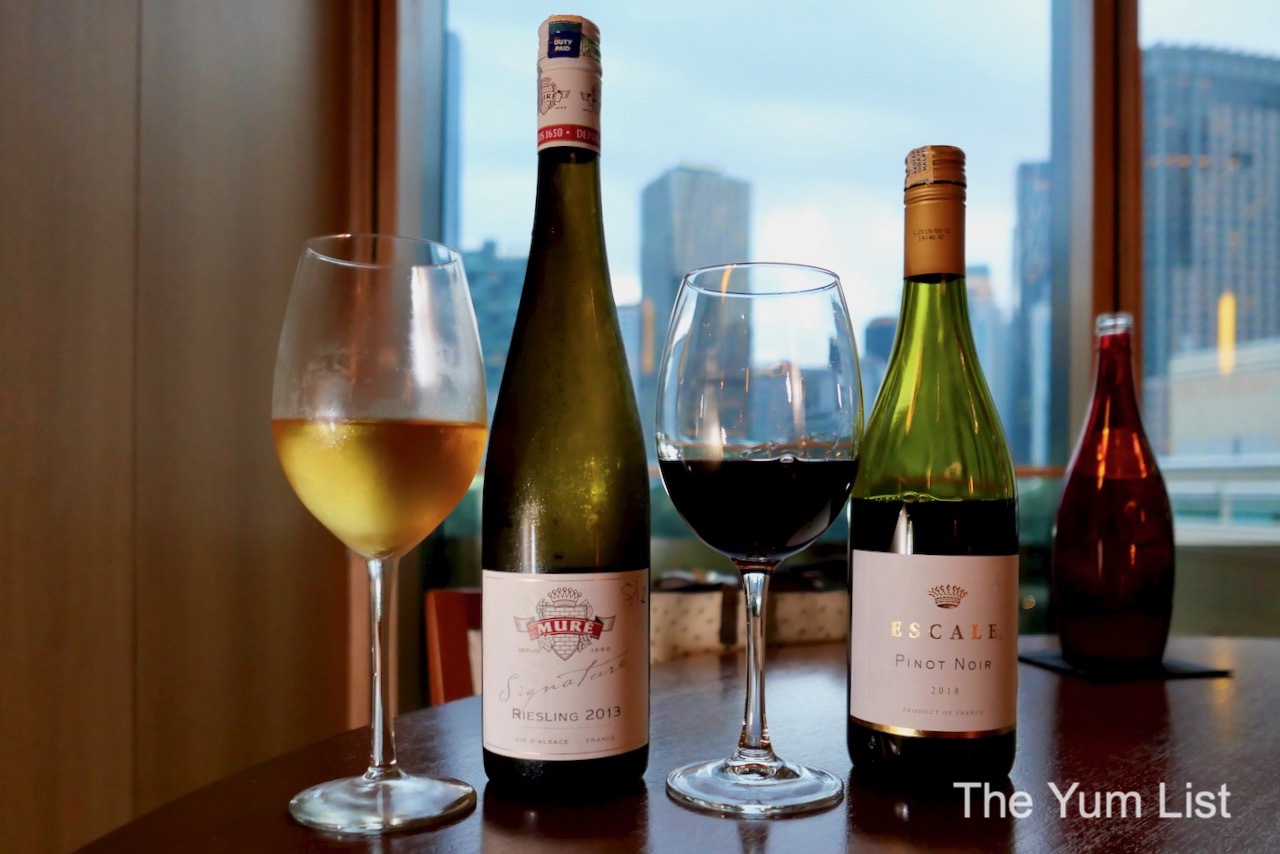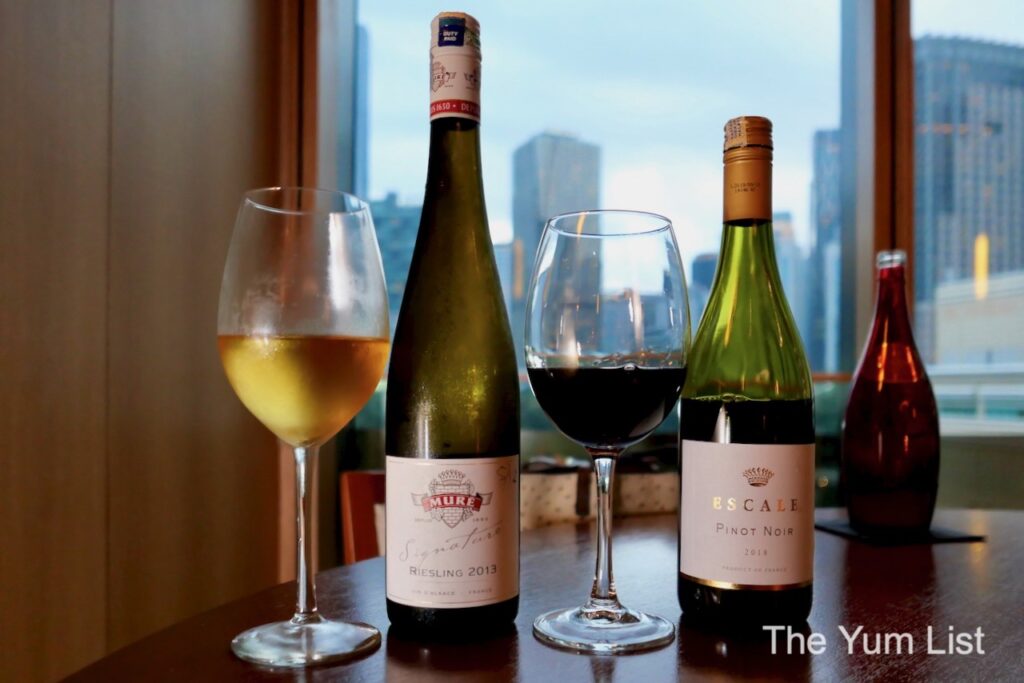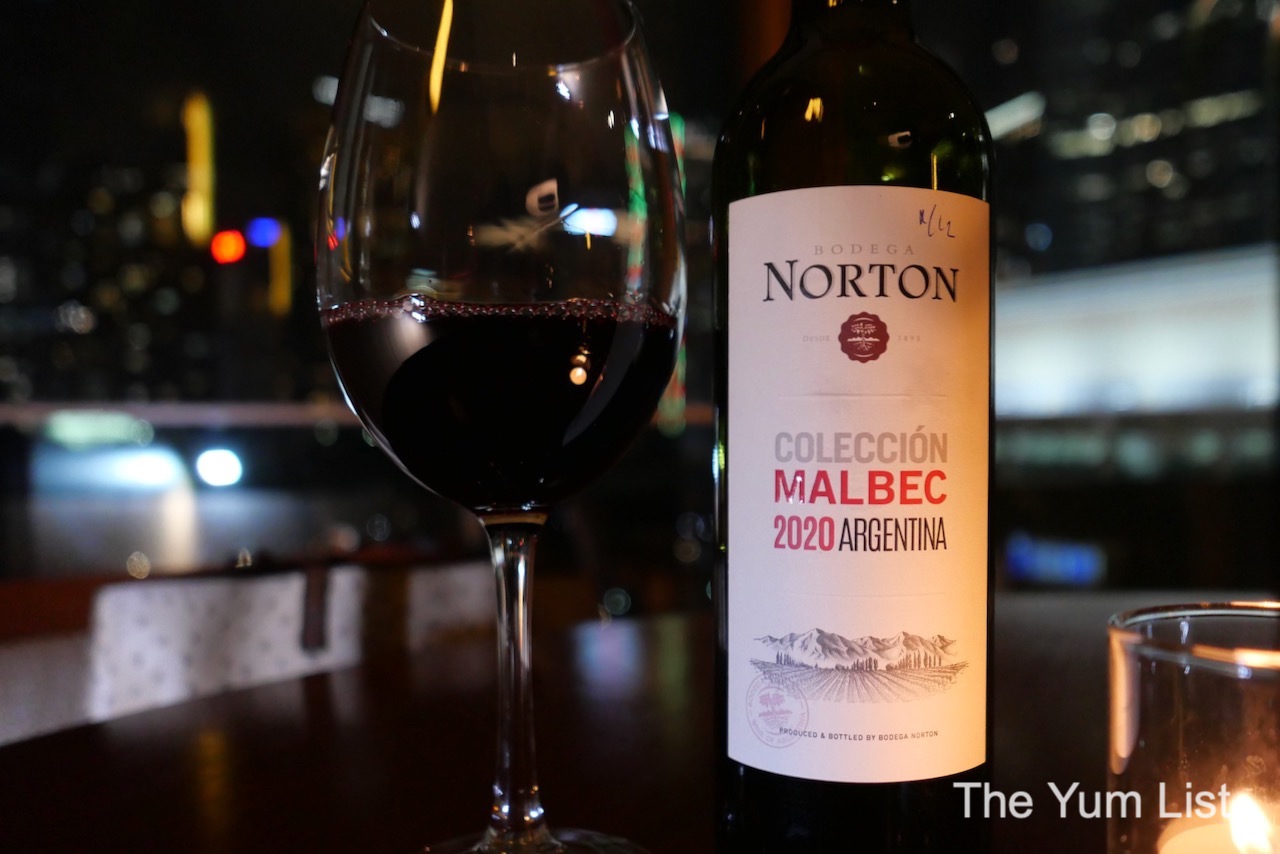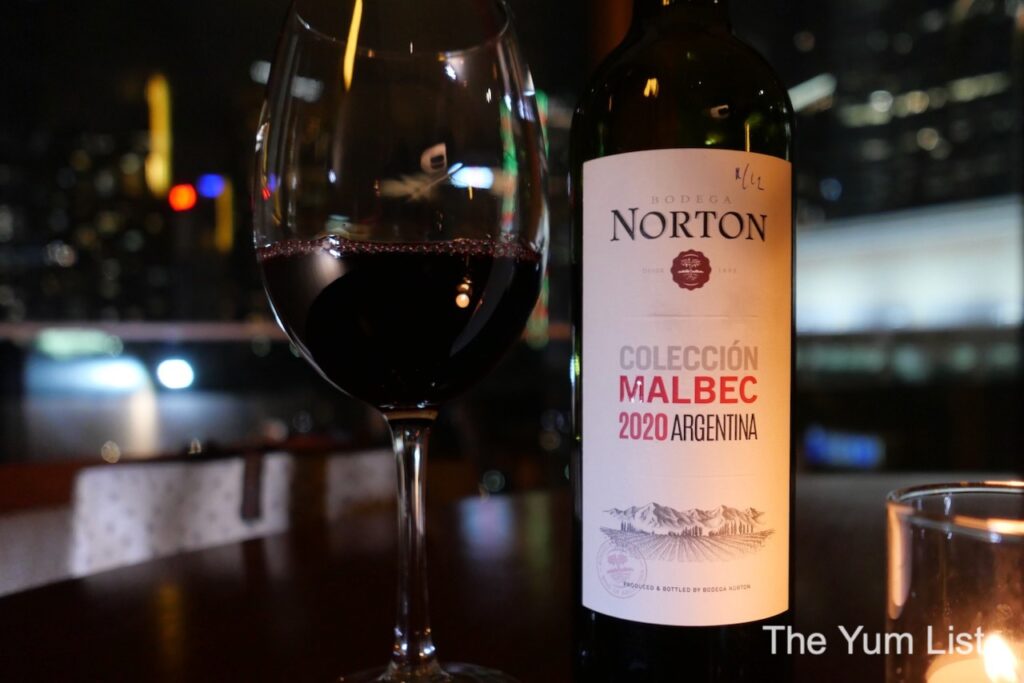 Final Call for 2021 with Nobu
Nobu has endured many changes with its move to the Four Seasons in March 2021 and bringing onboard Chef Masa as the head sushi chef in fall 2021. Gopi Kanala, Nobu's general manager, has also talked about the training of new staff and various challenges throughout the MCOs in 2021. Despite all this, Nobu remains a well-oiled machine upholding the strict standards of the international Nobu chain while remaining attuned to local preferences and taking care of its staff. Sometimes it's the stability and consistently high standards that makes a restaurant worth returning to over and over again.
Nobu KL's Festive Menus
The Delectable December 2-for-1 menu is RM 528 for two persons offered through 23 December on Sundays through Thursdays. The 2-for-1 menu is one of the best fine dining values in Kuala Lumpur. If you feel inclined, it comes with upgrades from grouper to lobster for an additional RM 70, or ribeye to wagyu for RM 165. The six-plate Christmas menu is RM 658 per person available on 24 and 25 December. The six-course New Year's menu is RM 758 per person available on 31 December and 1 January.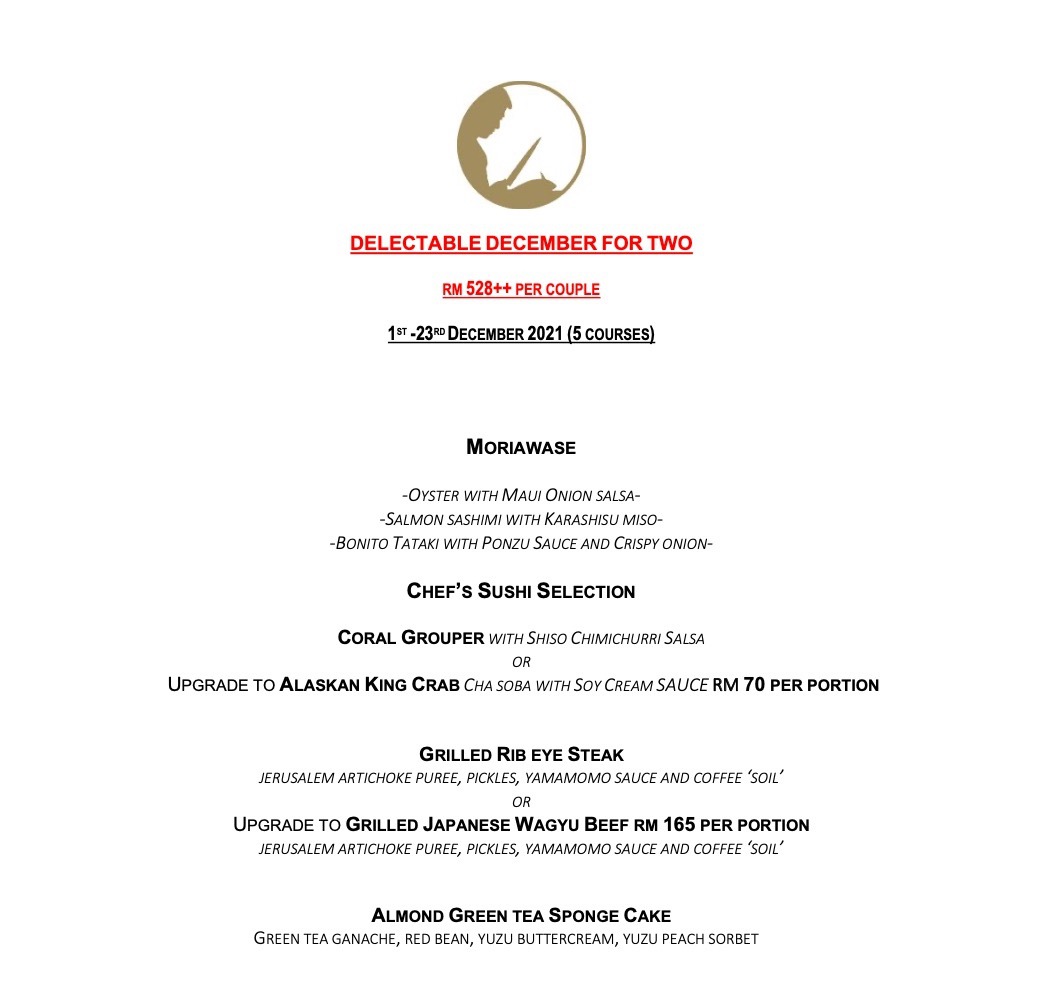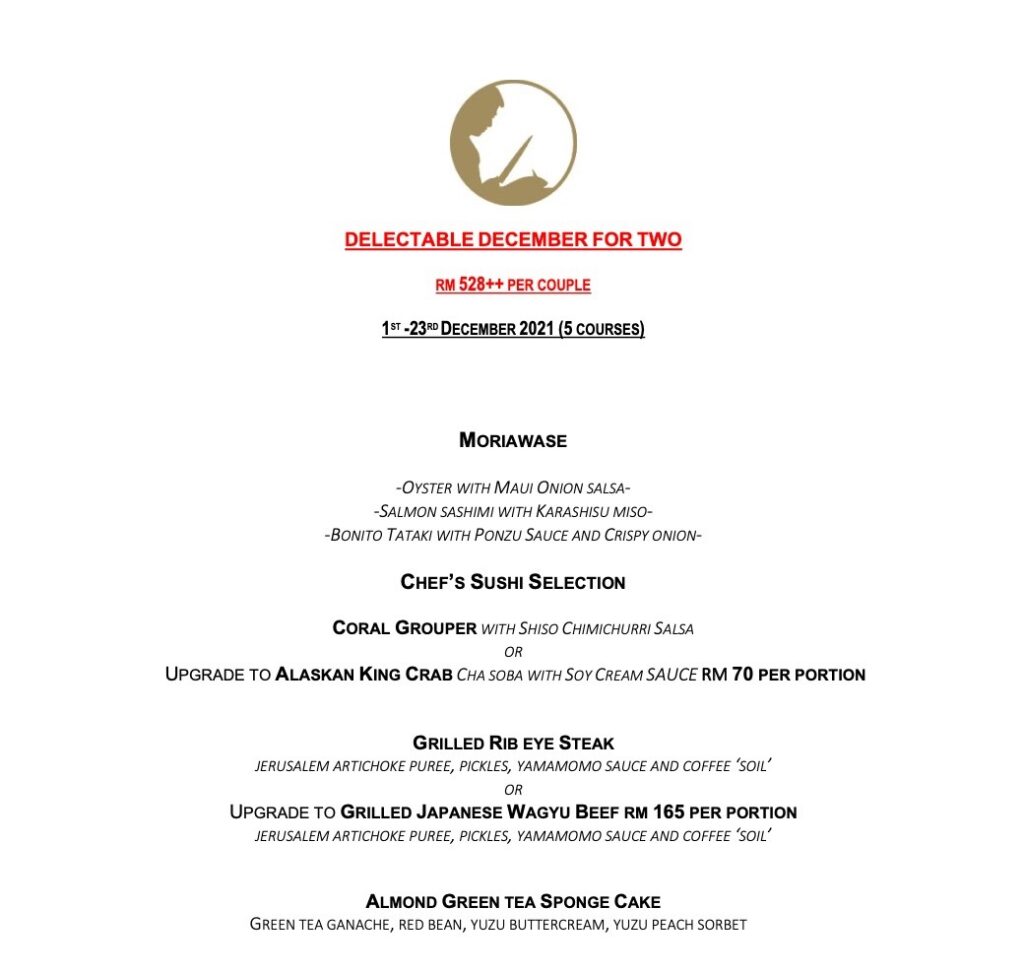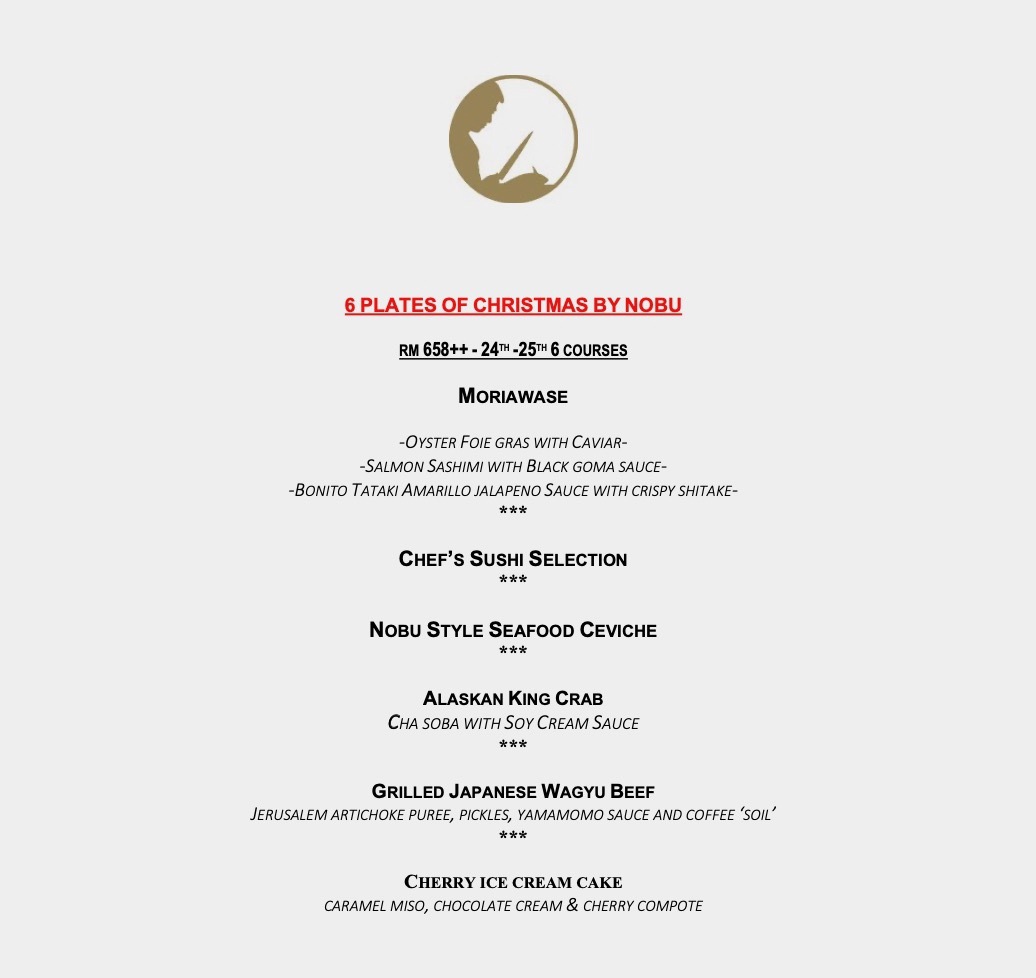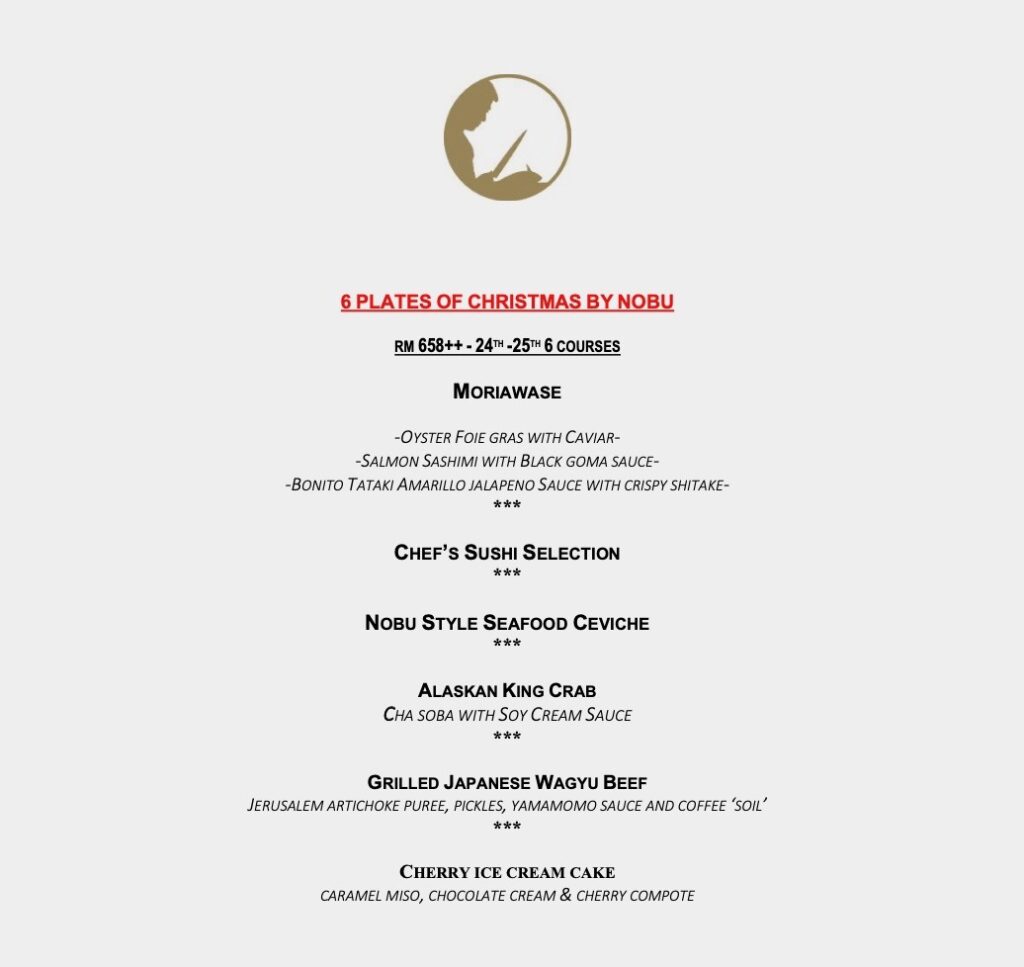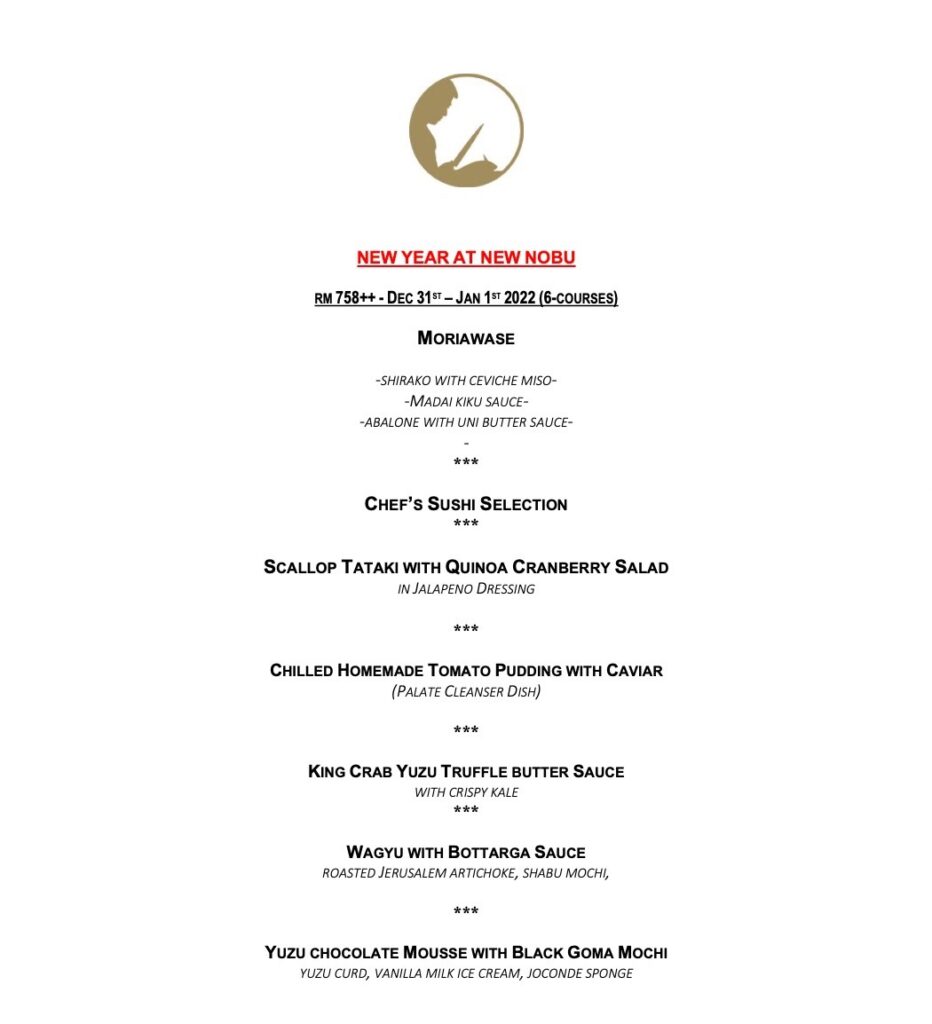 Nobu Kuala Lumpur
L4A-05, Level 4A Shoppes at Four Seasons Place KL
No.145, Jalan Ampang, 50450 Kuala Lumpur, Malaysia
+603 2380 0028 or WhatsApp +6019 389 5085
[email protected]
Nobu Kuala Lumpur Opening Hours
Dinner: 6.00pm – 10.30pm (Daily)
Lunch: 11.45am – 2.00pm (Monday – Friday)
High Tea: 1.00pm – 4.00pm (Saturday – Sunday)
Find more Japanese restaurants in KL here, and stay up-to-date with the latest gourmet and travel recommendations for Malaysia here and here.