S+I – The Proper British Restaurant, Bangsar
Words: Meg Alice
Photos: Rich Callahan
Self-dubbed "the proper British restaurant," S+I opened its door barely two weeks ago located on the popular Jalan Telawi 2 in Bangsar. The "S" stands for head chef and UK native Simon Stevens, and the "I" is for Intan Yusoff, the Malaysian-born established marketing executive. These co-owners are also newlyweds with a whirlwind COVID romance which you can ask them about yourselves. Opening a restaurant was a leap of faith and love as we come out of the pandemic.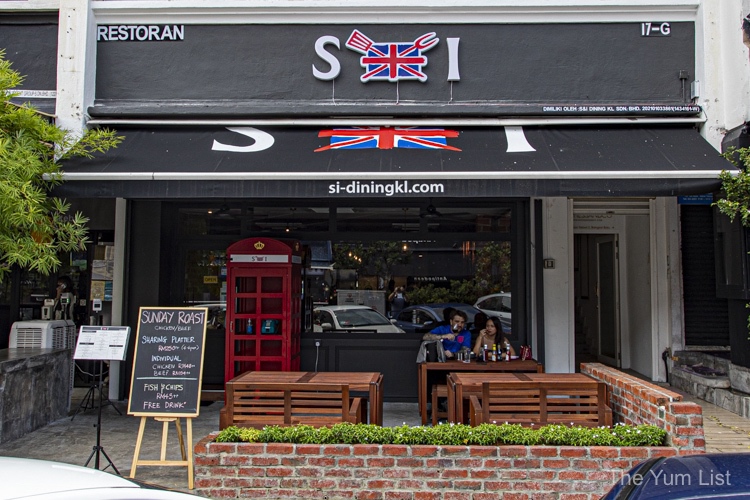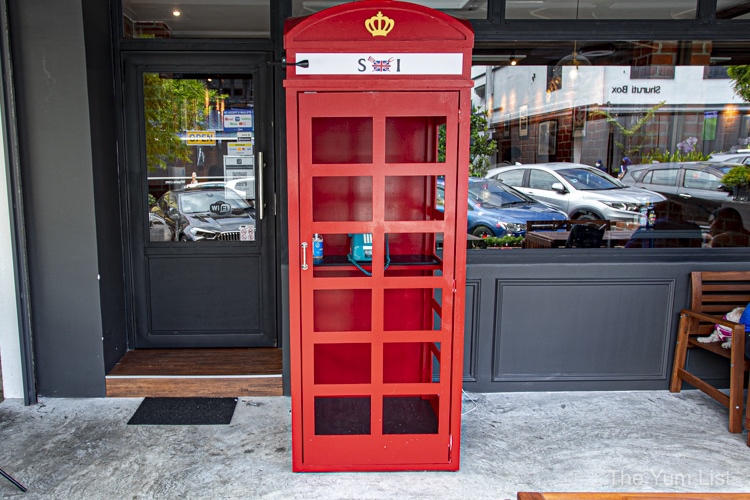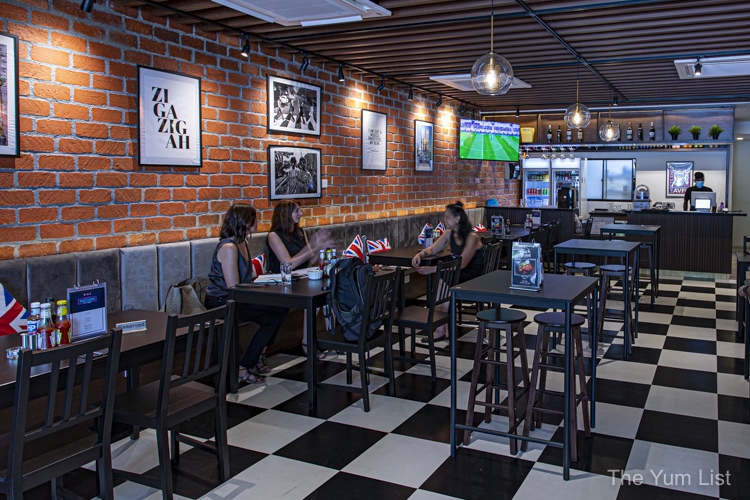 S+I Restaurant Bangsar
Their charming creation comes with a traditional British phone booth, homemade British pub fare, and football matches on the big screen. S+I ambience captures the old-style pub quality feel but is also clean and new with a black and white chequered floor, and cheerful UK flagged pillows. We are greeted by the friendly Omar at the door, and our server Atek is highly knowledgeable in everything he serves us. Simon and Intan have made a friendly neighbourhood joint in this readily accessible location with their multinational staff.
S+I Restaurant Food Menu
The S+I menu is ambitious. The main menu offers traditional appetizers like spicy chicken wings as well as bar snacks such as homemade sausage rolls. The main courses include your traditional British pub cuisine such as fish and chips, but also burgers, falafel burgers, and sausage and mash. There's an entire section dedicated to savoury pies, mashes, stuffed baguettes, and "jacket" potatoes.
Intan and Simon recognize that Indian dishes like chicken tikka are as much a traditional dish in London as shepherd's pie and wanted to capture these adopted favourites. Simon, therefore, devoted an entire portion of the menu, called the BIR (British Indian Restaurant), to tikkas, kebabs, masalas, and vindaloos. This is a risk as Malaysia offers amazing local Indian food, but what separates the BIR menu is that it is the British interpretation of these classics. Intan explained that some of her customers have raved about these classics because they can't find British-Indian food in Malaysia.
Finally, the menu offers a daily full brunch menu and, best of all, a Sunday roast special menu after the breakfast service. The roasts are sizable in portion and a great value (roast sirloin of beef at RM 54 and a half roast of chicken for RM48 with abundant sides). Monica, Rich, and I were able to sample a bit of everything from all the menus except brunch, which could be an entire review on its own. Our strategy of visiting S+I on a Sunday paid off as the roast was especially delicious.
Homemade Sausage Roll (RM 18)
We start our British culinary journey with the homemade sausage roll and gravy. We can immediately tell that the flakey pastry is not out-sourced, and neither is the sausage. This is homemade goodness like everything we try. I picture Simon perfecting the sausage rolls throughout COVID. The gravy is buttery brown, loaded with layered meaty flavours. The same gravy is repeated for the roast sirloin, which was a relief because I wanted more. Intan says that the sausage rolls have been an instant hit for takeaway.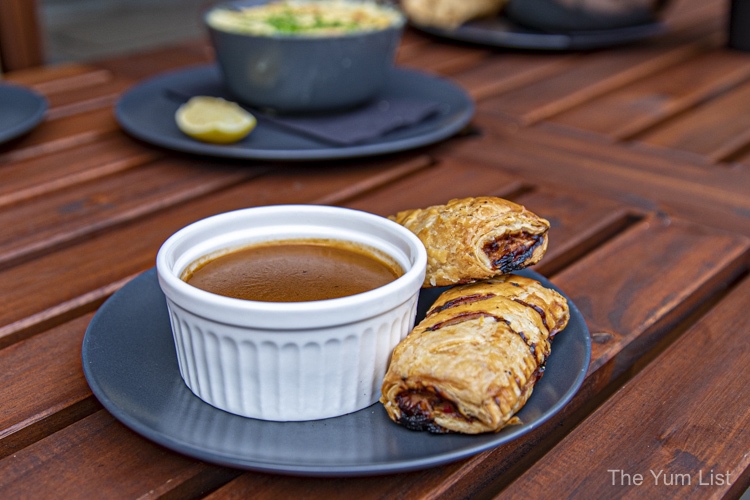 Fish & Chips (RM 43)
The fish and chips are a tie for my top pick, along with the roast sirloin of beef. The fish is good quality cod. This is a must, according to Simon. The batter has a special punch that I cannot pinpoint but later learn is the addition of ginger beer, a signature move by Simon. The chips are hand-cut to perfection with as much vinegar as you like. Simon also includes homemade tartar sauce, which is another standout. He could jar and sell the gravy, tartar sauce, and dessert custard (more on the custard to follow) and do pretty well, I bet.
A surprise addition to the fish and chips is the neon-green coloured mushy peas with mint and garlic. Not being able to find the traditional ingredients for mushy peas in Malaysia, Simon innovated with what was available. We recommend that he offers the peas as a side dish on the menu. It would be delicious with the chicken tikka and roasts.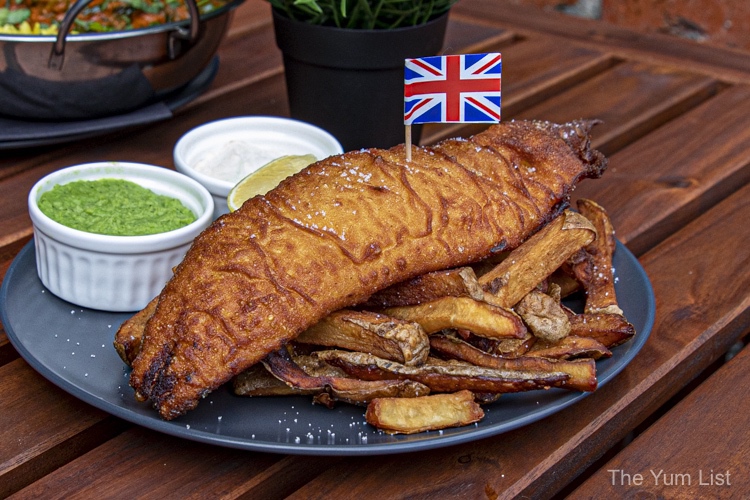 Creamy Fish Pie (RM 38)
The fish pie is hearty and aromatic, loaded with potatoes, salmon, cod, and prawns. Balanced with the creaminess and melted cheddar, this is a filling and nourishing dish. We are a disappointment to our server Atek because we could barely make a dent. The portion sizes are enormous. This is a pie made with love.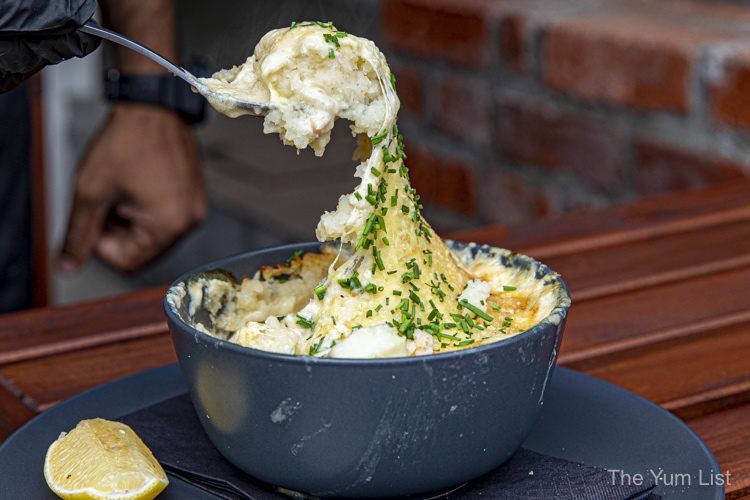 Chicken Tikka Vindaloo (RM 34)
Chicken tikka or chicken tikka masala are national dishes in London now. Both are offered on S+I's BIR menu. Why not try chicken tikka with a vindaloo? The vindaloo is not like the Indian profile that I've had in Malaysia before. It's fresh, simple, and surprisingly good with chicken tikka.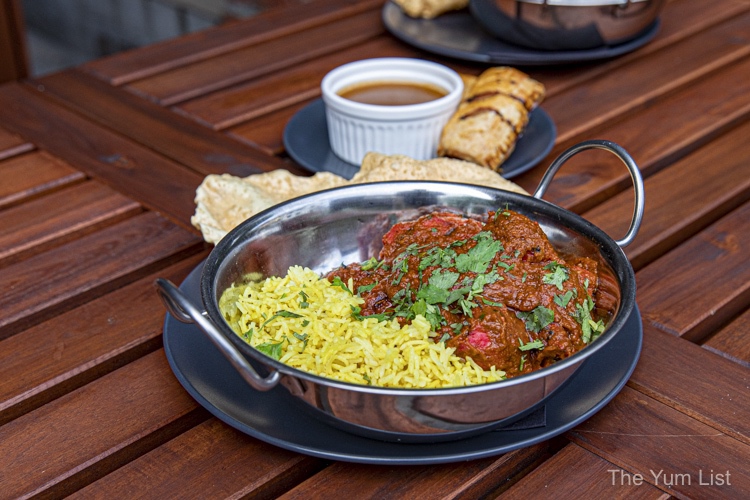 Saag Allo (RM 32)
We want to try one vegetarian dish and opt for the saag aloo (spelled allo and aloo on the menu). Like the vindaloo, this a fresh profile and departure from the Indian food that I've had in Malaysia. It's clean and bright with lots of ground spices. I would have liked more spinach, but I got my greens from the mushy peas instead.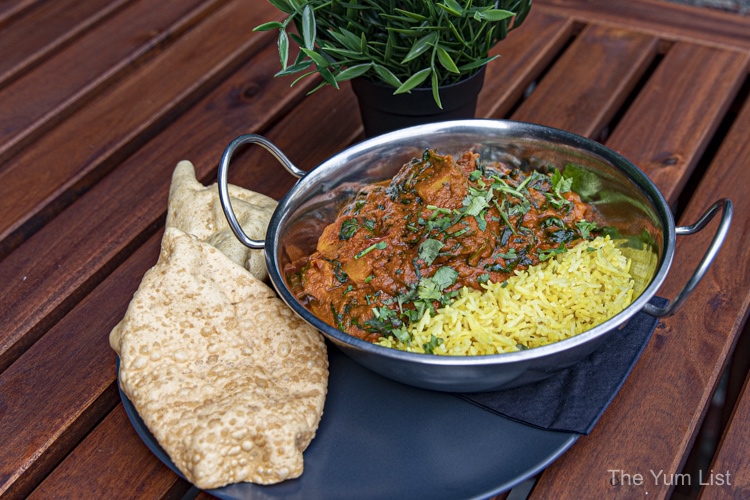 Sunday Roast Sirloin of Beef (RM 54)
Ending the main meal on a very high note, we indulge in the Sunday roast sirloin of beef and two boats of gravy. The sirloin is high-quality meat cooked to juicy pink perfection. We need the two boats of gravy to put the overflowing Yorkshire pudding to good use. We appreciate the braised cabbage side which is tangy and not too sweet and also the long-cut, roasted carrots that I eat like French fries dipped into the gravy. This delicious and very reasonably priced dish also includes a side of cheesy broccoli and cauliflower which are also best dipped into the gravy. (Did I mention that I like the gravy?)
S+I also offers a half roast of chicken (RM 48) or a family sharing board for both roasts (RM 250). We see some happy customers sharing the family platter this Sunday afternoon.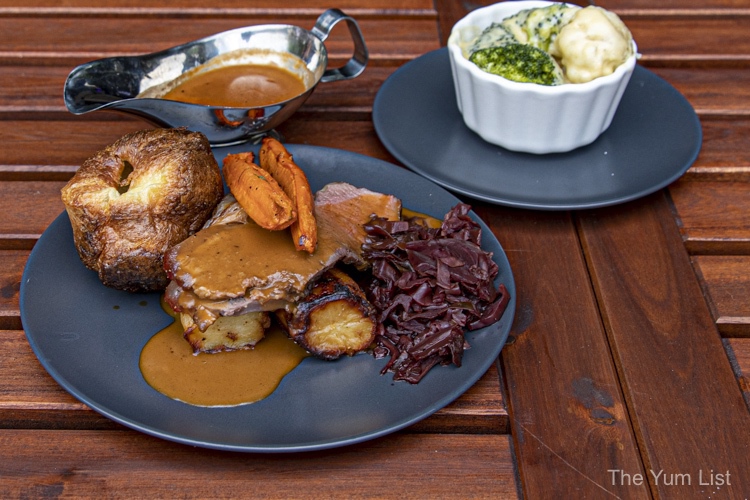 Chef's Beautiful Bread & Butter Pudding (RM 18)
Starting with a fresh croissant base and chocolate bits, and then loaded with vanilla custard and a dash of ice cream, this dessert earns the "beautiful" in its name. This is better than my idea of bread pudding as it's lighter, and the custard is not overly sweet. The custard is outstanding, leading us to discuss why it has not caught on in the US. Mon assures us that custard fandom reached Australia long ago, around the same time as the convict ships.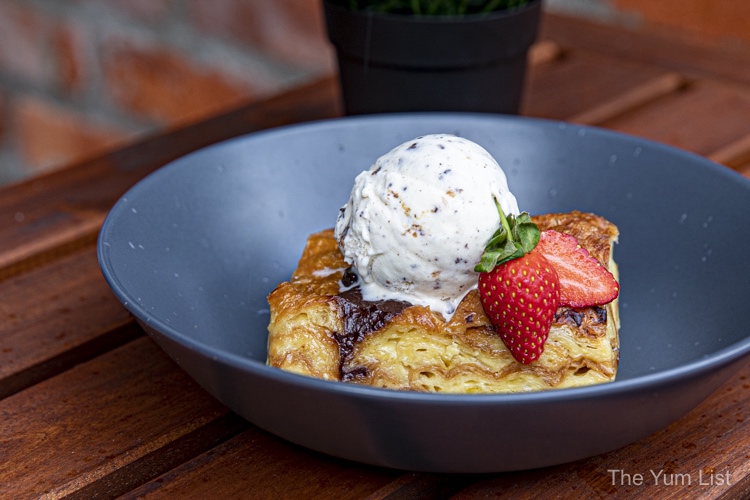 S+I Drinks and Other Pub Chat
S+I offers a full range of British/European style beers, including Little Creatures IPA, which I appreciate. It also offers Magners ciders in multiple varieties such as berry and pear (we often only see the original). The house red and white wines are from Australia's Harbour Winery. I don't know if this is a British tradition, but S+I also serves chocolate, strawberry, and Madagascar vanilla milkshakes (RM 19 each).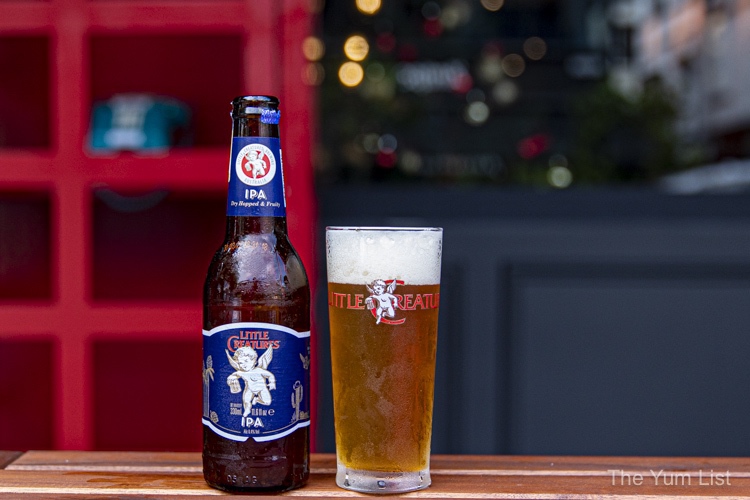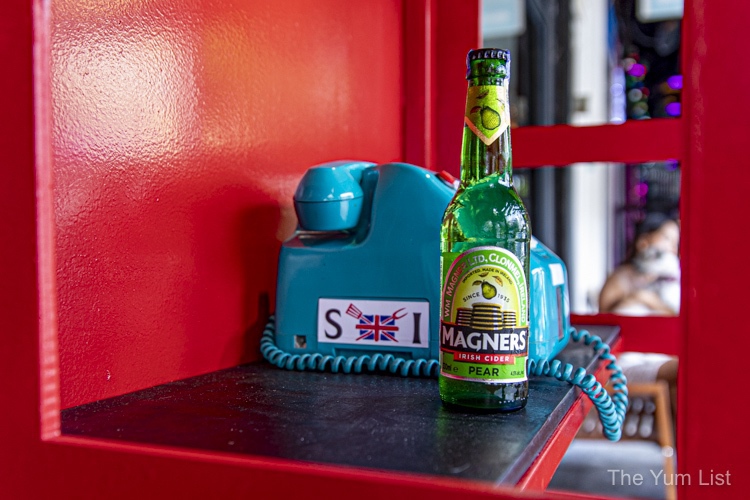 Simon says that hands down, the fish and chips are the top seller. Almost every order includes fish and chips plus something else. I will go back try to try the roasted chicken along with another helping of fish and chips. I also want to try the sausage and mash–the sausage from the sausage roll suggests the homemade lamb sausage will be exceptional.
S+I offers takeaway orders and is finalizing a relationship with Grab food delivery. Come check out your British favourites whether it be the fish and chips or classic British-Indian dishes like the chicken tikkas. If you try the brunch menu and recommend it, leave comments, and we'll try to make it back.
Reasons to visit S+I Restaurant: the fish and chips, Sunday roast, friendly staff.
S+I Restaurant
17-G, Jalan Telawi 2, Bangsar**
59100 Kuala Lumpur, Malaysia
(**S+I does not populate in Grab yet. Try entering Antipodean Bangsar next door for the nearest Grab drop off point.)
+60-3-2201-6051
[email protected]
https://m.facebook.com/si.dining
S+I Restaurant Opening Hours
Monday: CLOSED
Tuesday to Sunday 8:30 am – 10 pm
Find more restaurants in Bangsar here and stay up-to-date with the latest gourmet and travel recommendations for the country here and here.