Charcoal Winter Menu – FLOUR
Word: Meg Alice
Photos: Monica Tindall
There are rich people who you think are rich because of their flashy cars and branded handbags. Then there are rich people who are REALLY rich and drive old pickup trucks because they live beyond money. There are fine dining experiences that are the requisite foie gras-to-wagyu five courses and then there are fine dining experiences that take your breath away because they live beyond. Chef Yogesh ('Yogi') Upadhyay's restaurant Flour lives beyond. It's a transportive experience leveraging all your senses, it's a love letter to India, and it's an artist's promise.
I had no idea what I was getting into when Monica asked me to write the review. I thought I was going to a check-the-box fine dining restaurant. I didn't know that the Flour-kind of dining experience existed in Malaysia. I screwed up when I arrived because I sat down and asked for the menu to order a drink. I didn't know the menu was chiselled into the marbled placemat, which our waiter Elton flipped over when the journey began.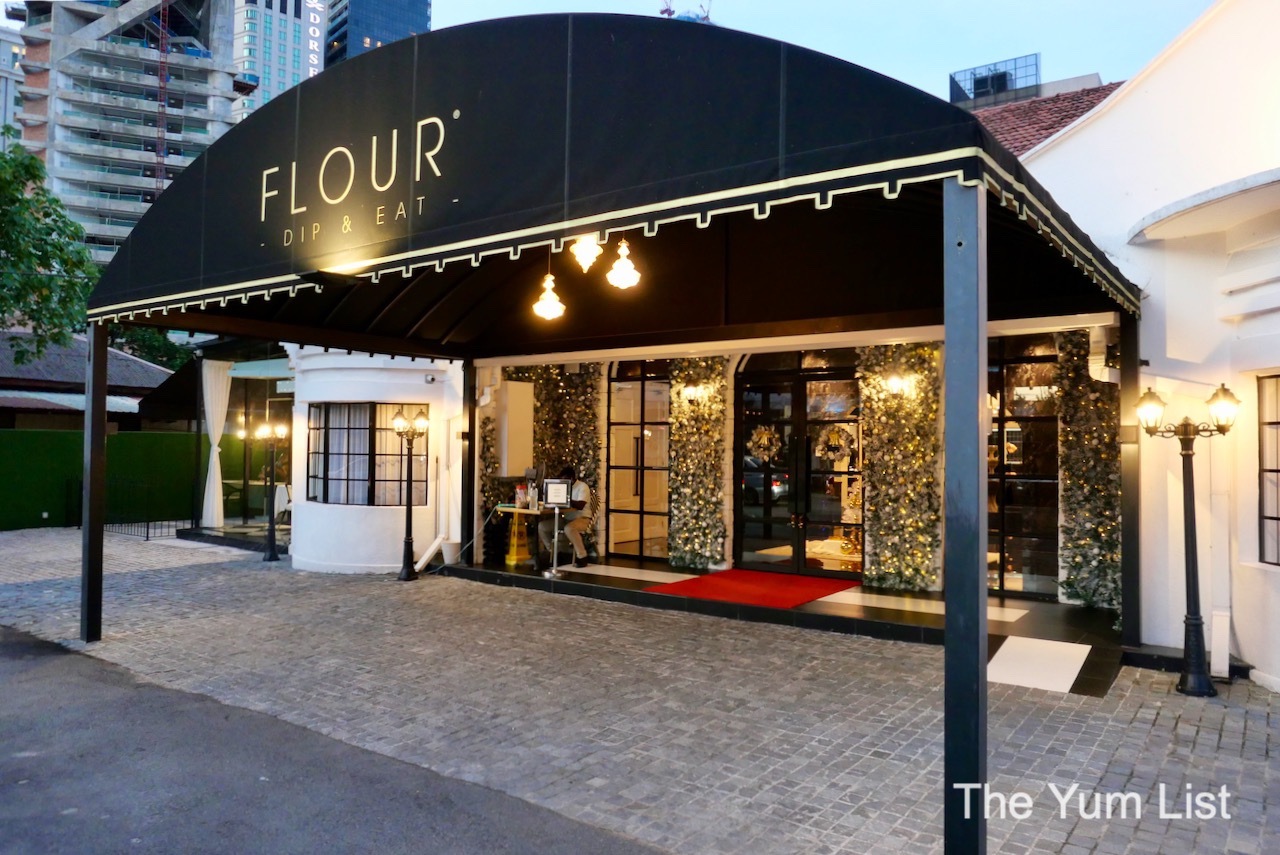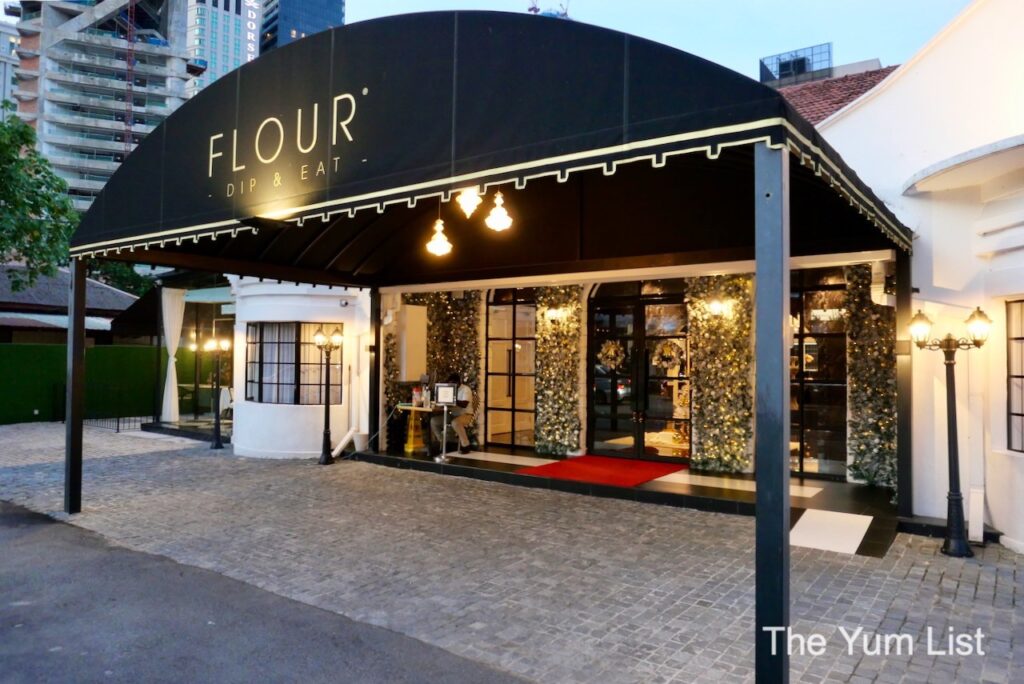 Charcoal Winter Menu – FLOUR KL
Having the menu literally set in stone is emblematic of the overall Flour experience. You cannot deviate from Chef Yogi's vision. It's unapologetically rigid, but it's the only way for Chef Yogi to ensure you will experience his creation completely. He starts the meal by asking that you have an open mind. Still, I think this mantra is more of a calling for the diner to see, taste, smell, feel India through Chef Yogi's cooking and storytelling.
Forget saag paneer and chicken tikka. Grab your map of the Indian subcontinent and proverbial hiking boots. It's cold and wintery in the Himalayan mountains, and there's a chill by the sea at this time of year. The only means of cooking you have is Malaysia's famous Taiping charcoal or black binchotan charcoal. Let's begin the 11-stop degustation journey across India.
FLOUR's Winter Degustation
Bread
The pre-journey bread course consists of a croissant and a simple flatbread, both of which are elevated versions of these staples. The butter is invitingly warm, which is part of the winter tale that Chef Yogi is starting to unfold. Instead of salting the butter, it is infused with cumin. I don't let the waiter staff take it from me even though I'm breaking the rules again, but it's only because I want to savour it. The croissant is the only overt reference to Flour's French cooking techniques. This menu is heavily tilted toward Northern India.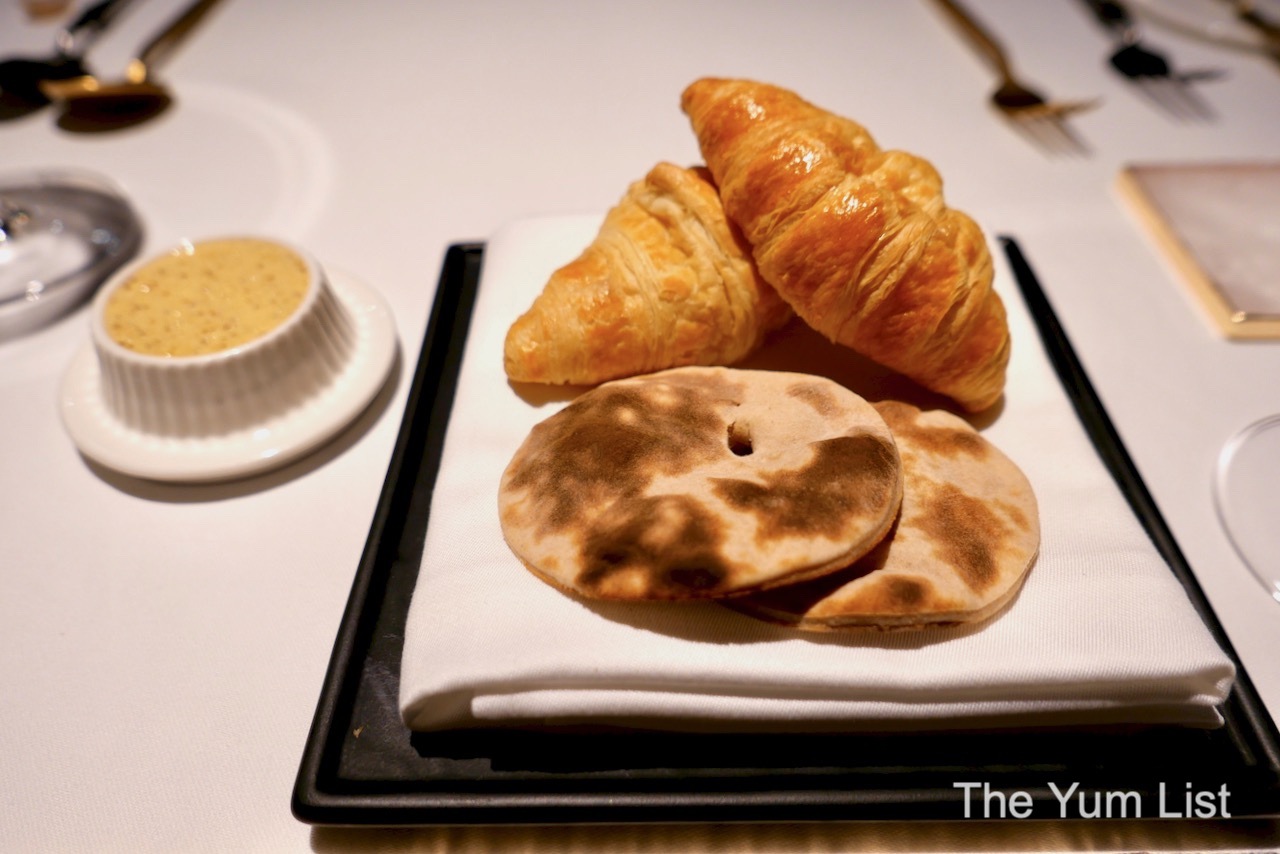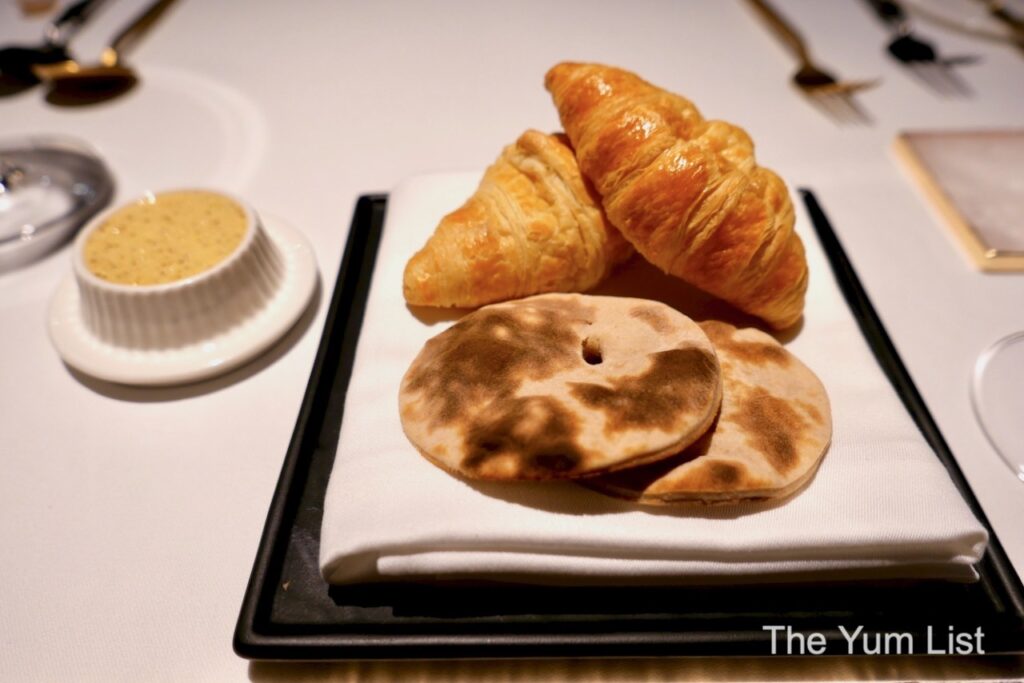 Earth & Sea
The first chapter of this charcoal tale starts with beluga caviar hailing from the Huso huso sturgeon and 3.6 mm in size. The caviar is floating on espuma (foam), which is ever so slightly sweetened from the addition of jaggery, a cane sugar consumed primarily in India. Instead of blini, the vehicle for the perfect bite is a buckwheat galette grilled in charcoal. The buckwheat and curry leaf create earthiness. For an additional RM 695, you can upgrade to the 60-year-old Almas beluga caviar.
Needing no introduction, this dish is paired with a Dom Pérignon Vintage 2010.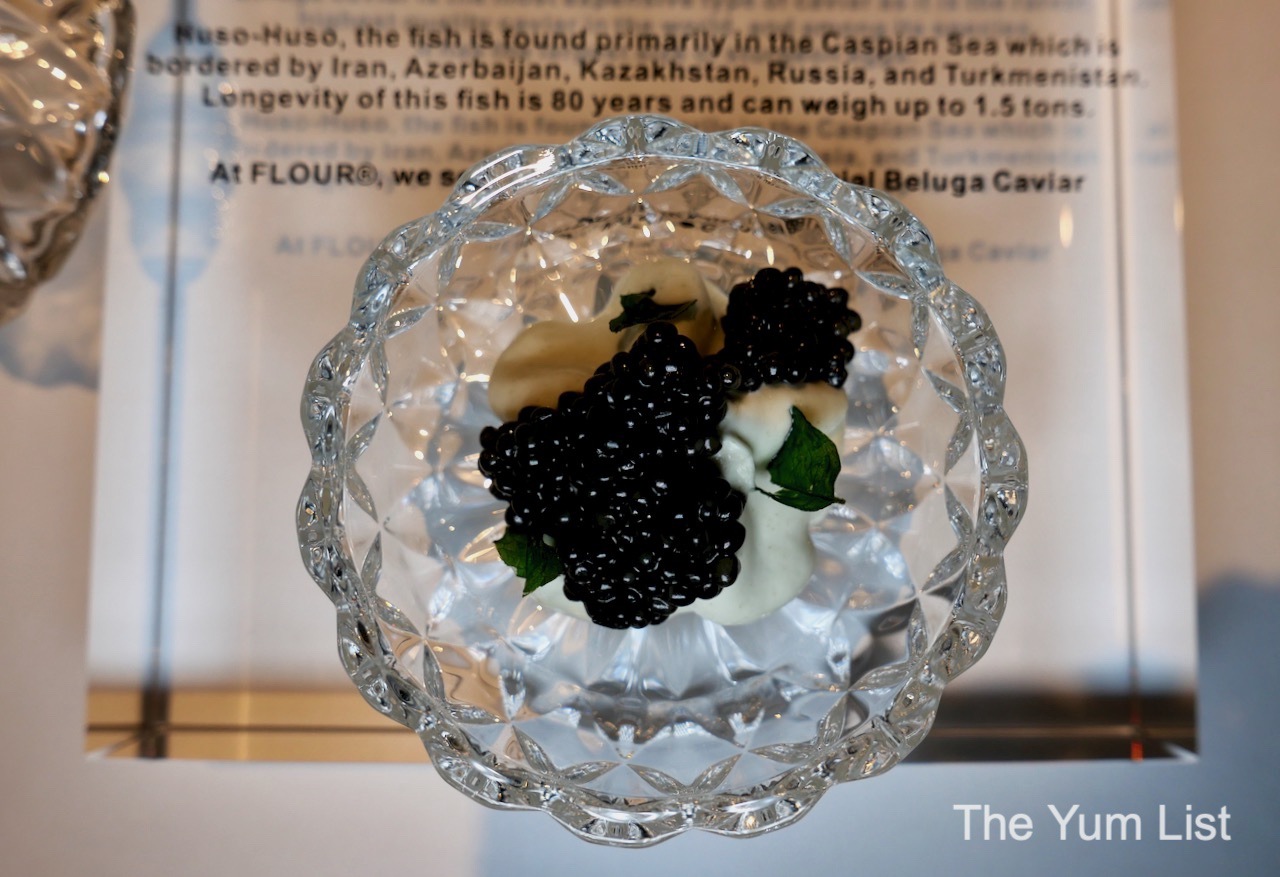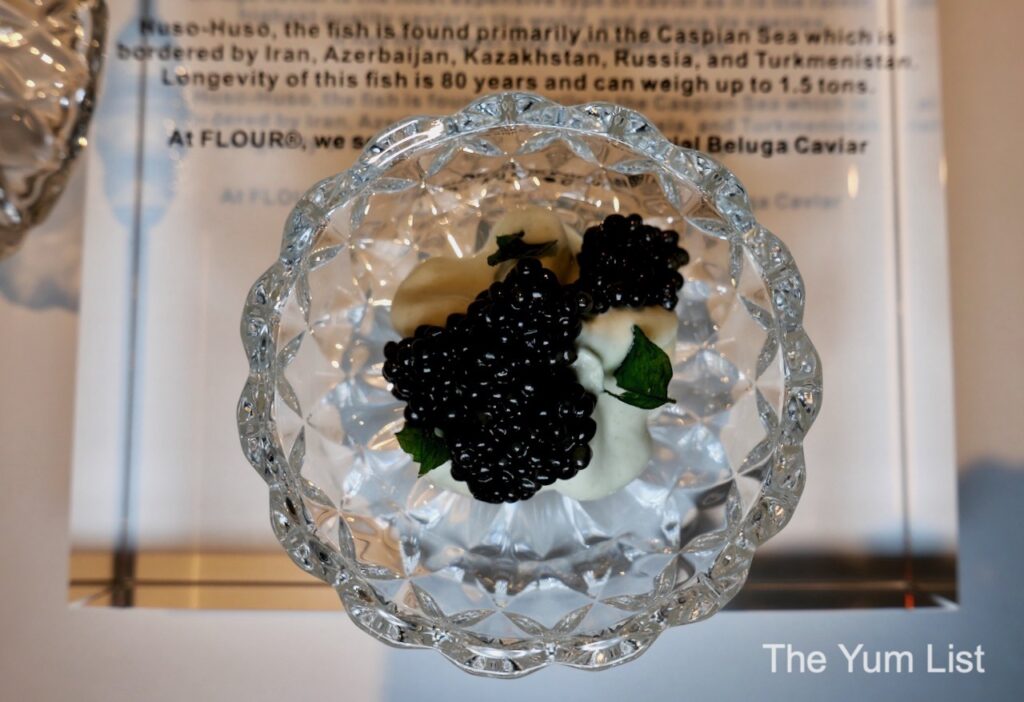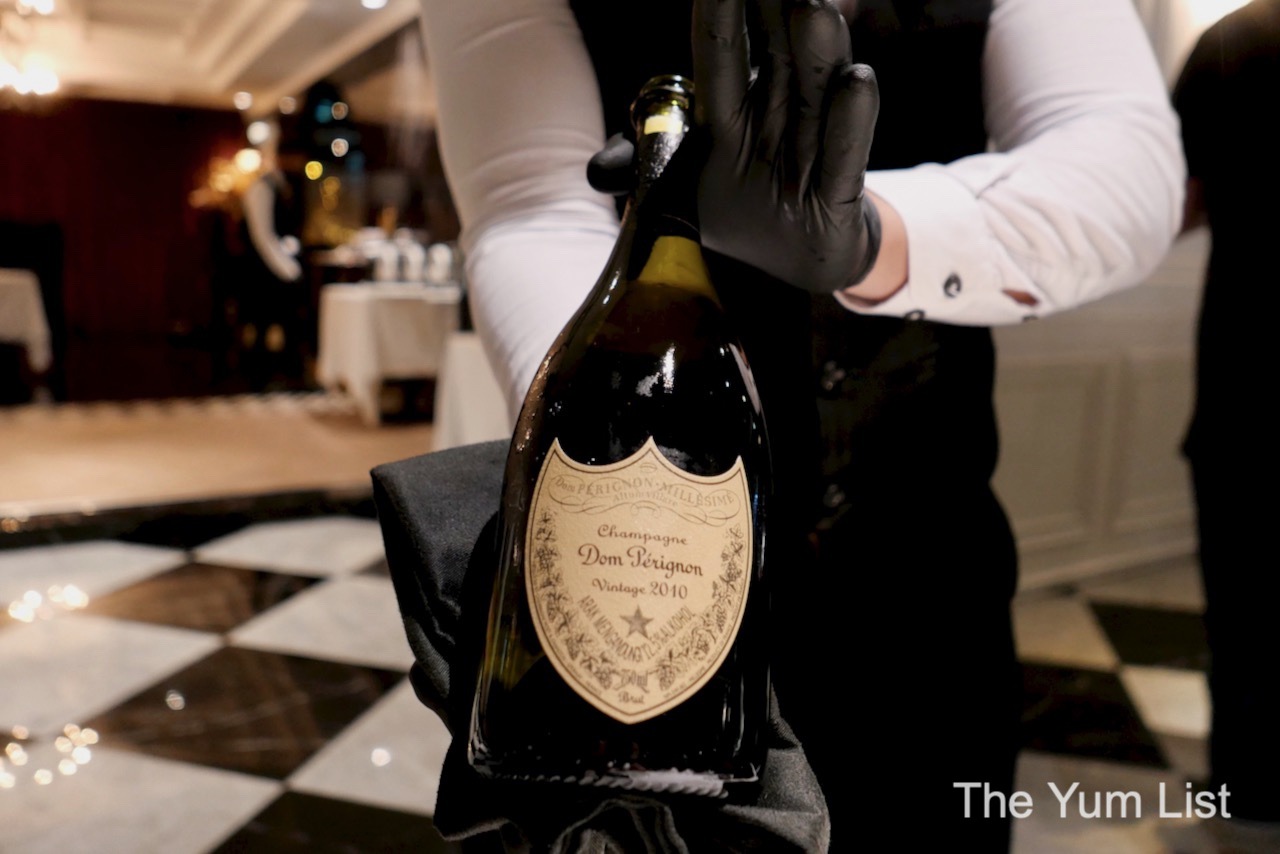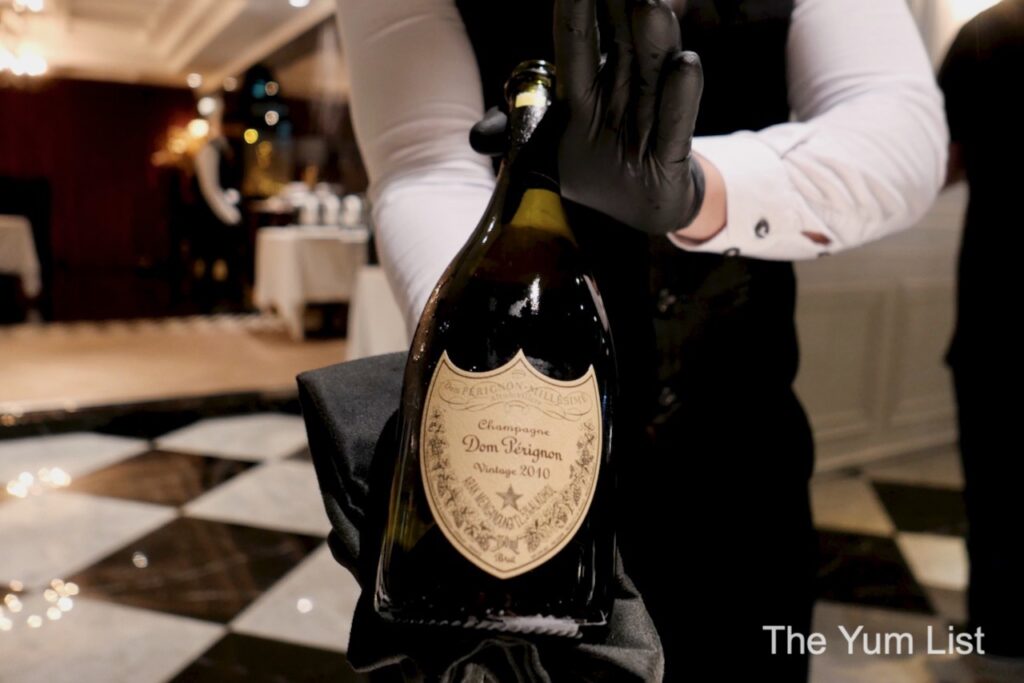 Eggs Must Be Crazy
I didn't come up with the names of the dishes. These are Chef Yogi's words to transport you to his Indian fairytale. This course is whimsical and breakfast-for-dinner. Here's the craziness: an omelette with pineapple sauce, mimolette cheese (Google it to learn about the cheese mites), radishes, shimeji mushrooms, and truffle on top shaved tableside. On the side, we enjoy a zucchini flower stuffed with blue cheese, but the blue cheese is integrated into the dish such that you can't taste it in its original form. The dish is cooked on an iron plate placed on the charcoal grill. This is Chef Yogi's Dr Suess moment. I love the zucchini flower most.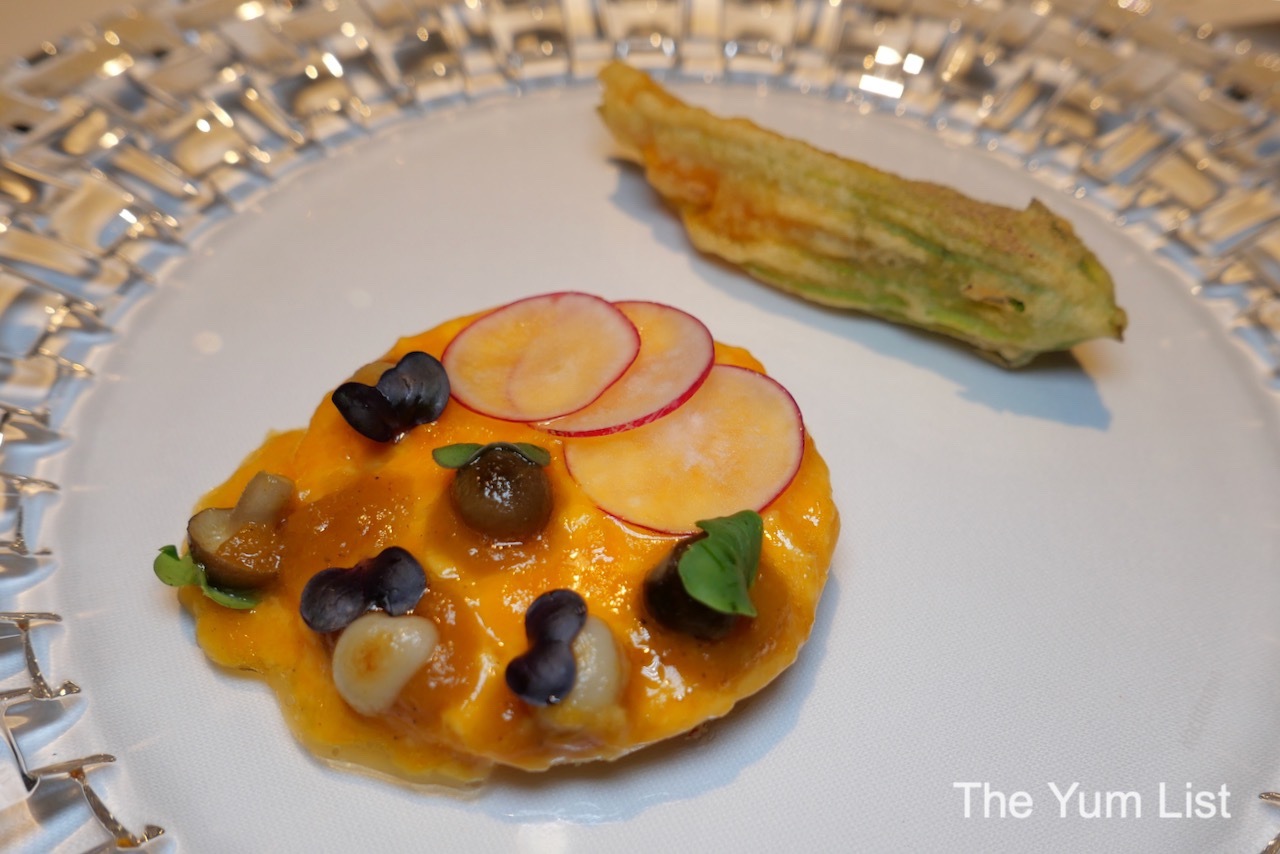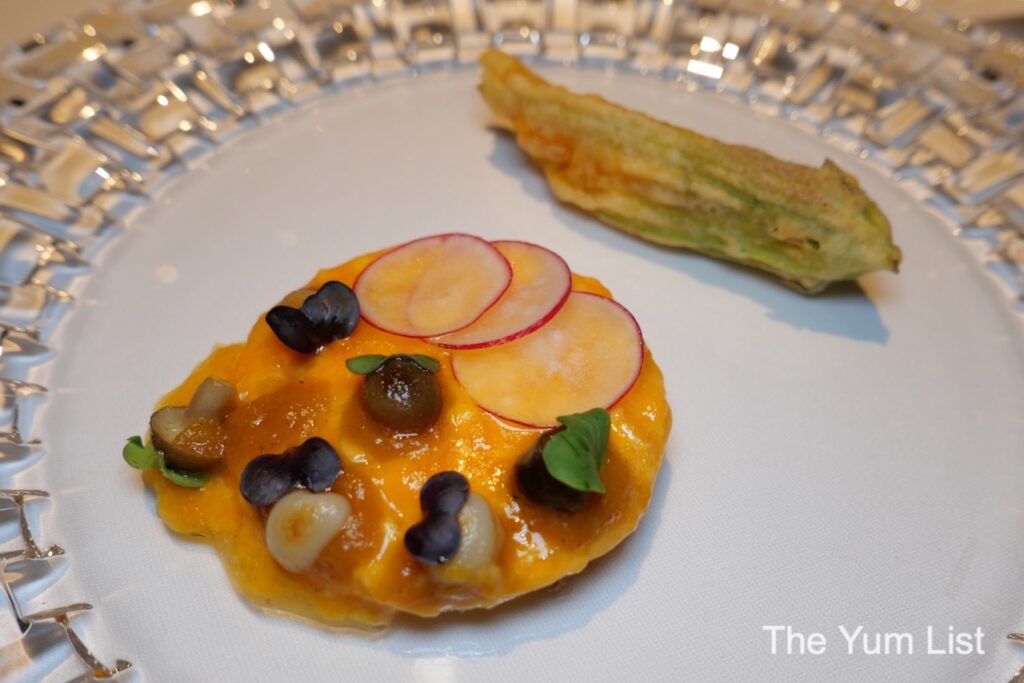 This is Not a Soup
Imagine hiking all day in the jagged Himalayan mountains and craving the most nourishing, warming food to replenish your depleted energy reserves. Just when you can go no further, you come to a Nepalese village where a family offers you a soup that has been simmering all day. Chef Yogi interprets traditional thukpa noodle soup into his version of this spicy, root vegetable soup-that-is-not-a-soup poured over charcoal-grilled portobello mushrooms. The charcoal is also smoked into the broth. Let the portobello marinate in the spicy liquid for a few minutes before digging in. There is a science to this spiciness. It starts in the front of your mouth a then moves back to your throat.
The omelette and soup are both paired with an easy-to-drink 2018 Jean Javillier & Fils Burgundy. This white wine is especially well paired with the soup and helps take the edge off the jolt of unfamiliar spices.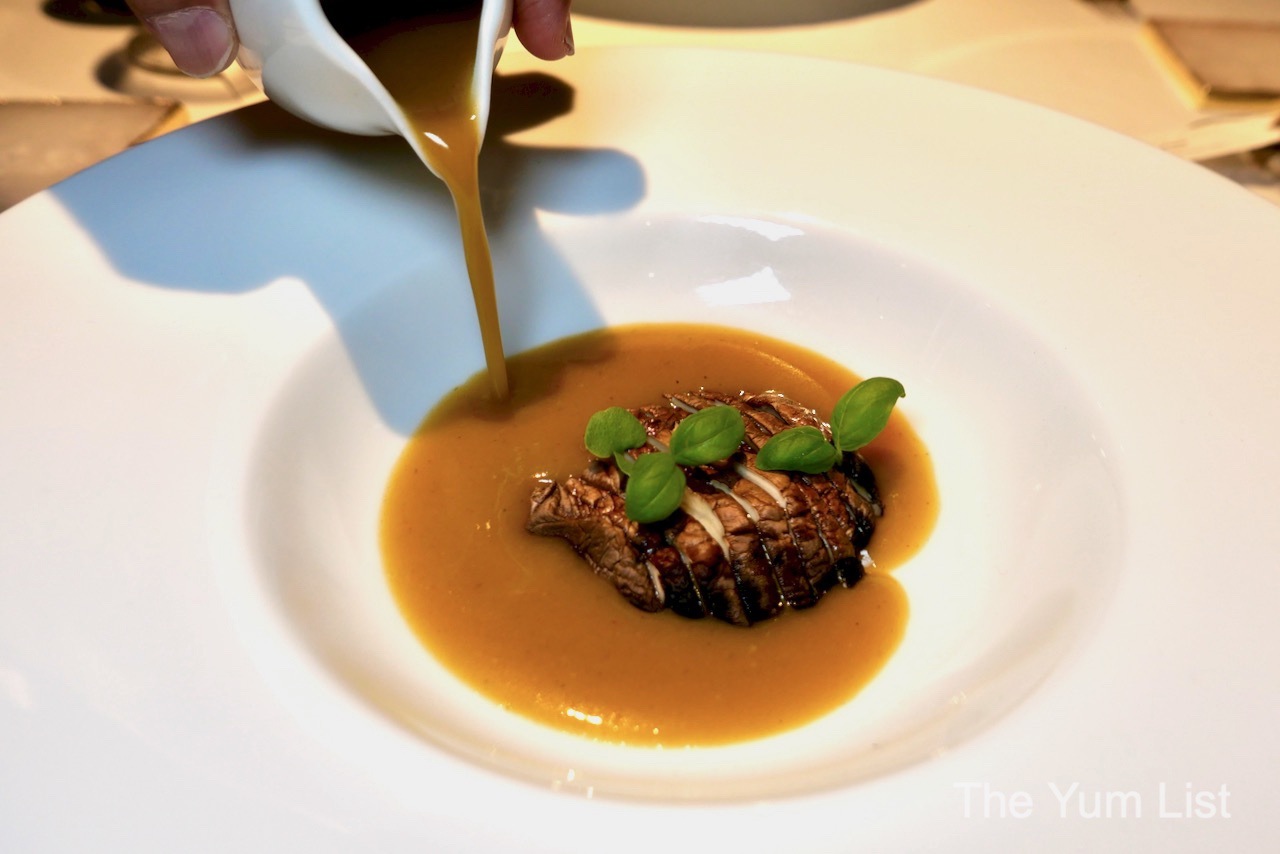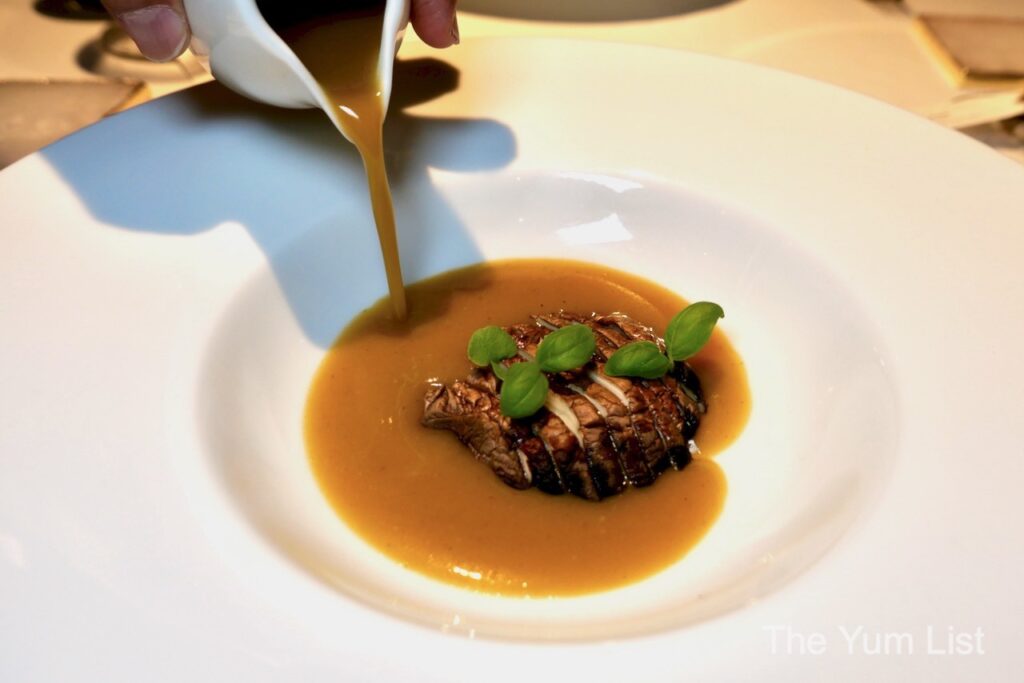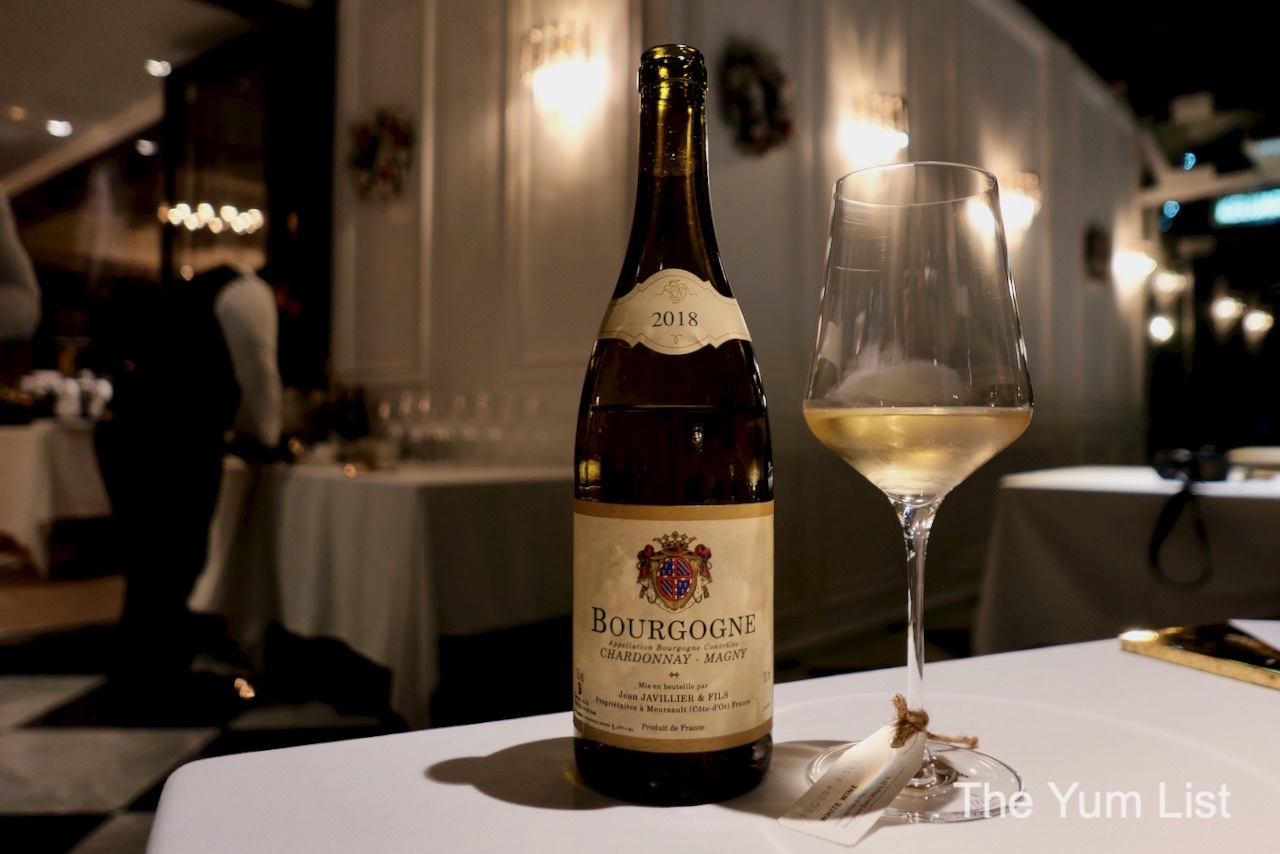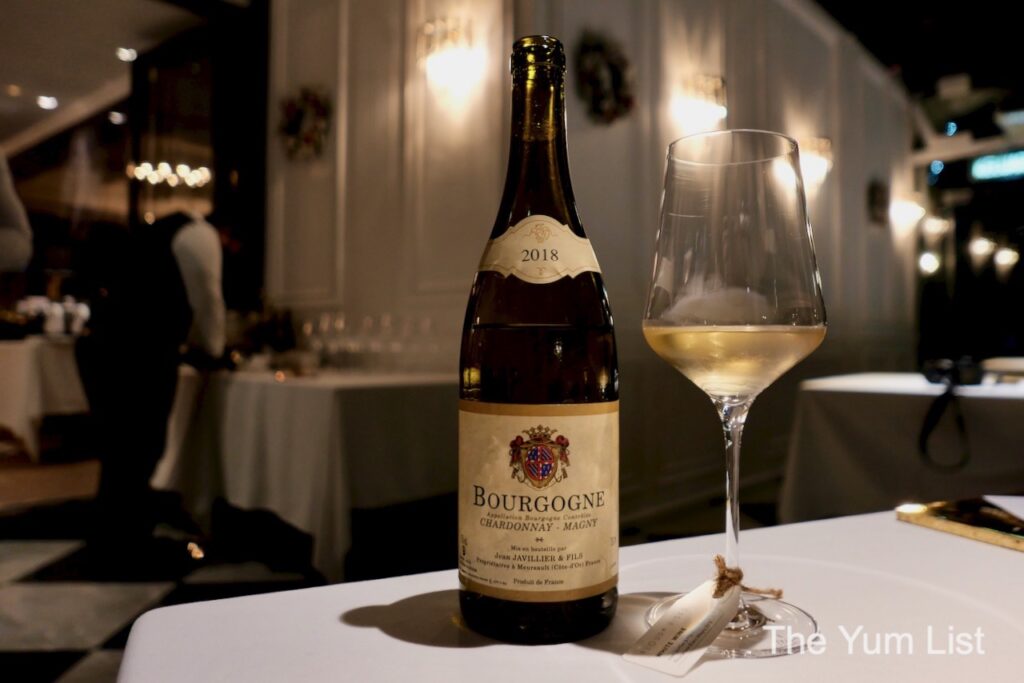 Sun-Dried Tentacles
Moving out of the mountains, the octopus course puts us in the middle of the sea. The tentacle is cut into coin-shaped medallions cooked over the charcoal grill. These techniques lend it to being one of the most tender versions of this protein that I have experienced. The octopus is accompanied by a cauliflower mash and bursting with other flavours like red capsicum and foam green peas, which stand up to the intense sea profile. There is no added salt to this dish. The octopus comes with its own salt from the ocean.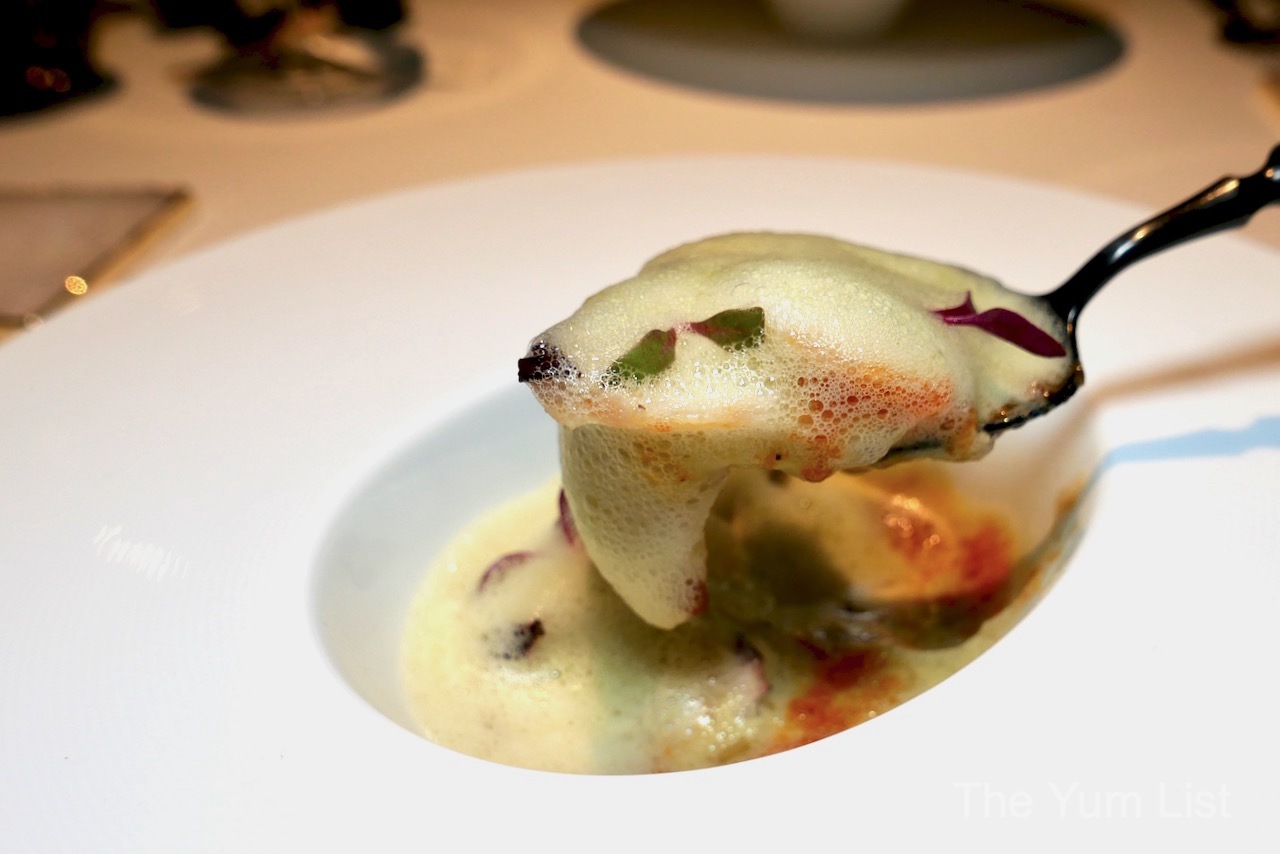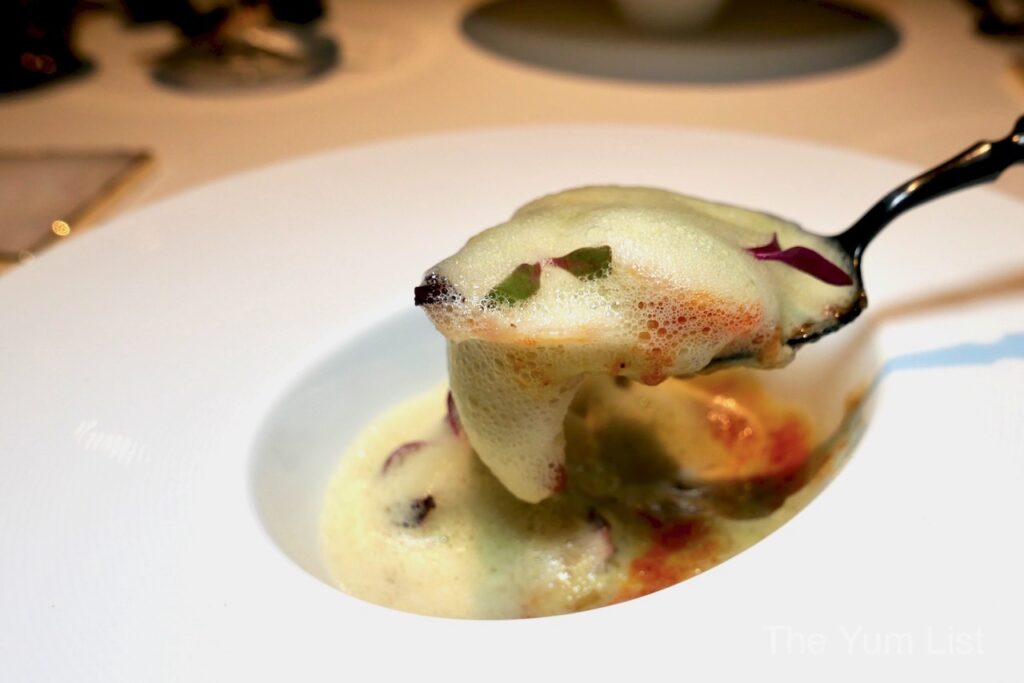 Monk with an Apple
The next stop on the journey is an apple orchard in Kashmir during the fall harvest season. Chef Yogi has magically flown in fresh monkfish to this orchard setting and prepared it on a binchotan charcoal grill. Monkfish is often referred to as the poor man's lobster because of its similar consistency. The monkfish sits abed a Kashmiri green apple curry sauce with a hint of mint. Kashmir is known for its wide variety of apples we learn. You will not find these flavours anywhere except travelling in Kashmiri villages which Chef Yogi has done to discover and bring us these combinations.
The octopus and monkfish are paired with a clean, crisp 2018 Jean Javillier & Fils Meursault. The citrus and minerality are excellent with these sea-based dishes.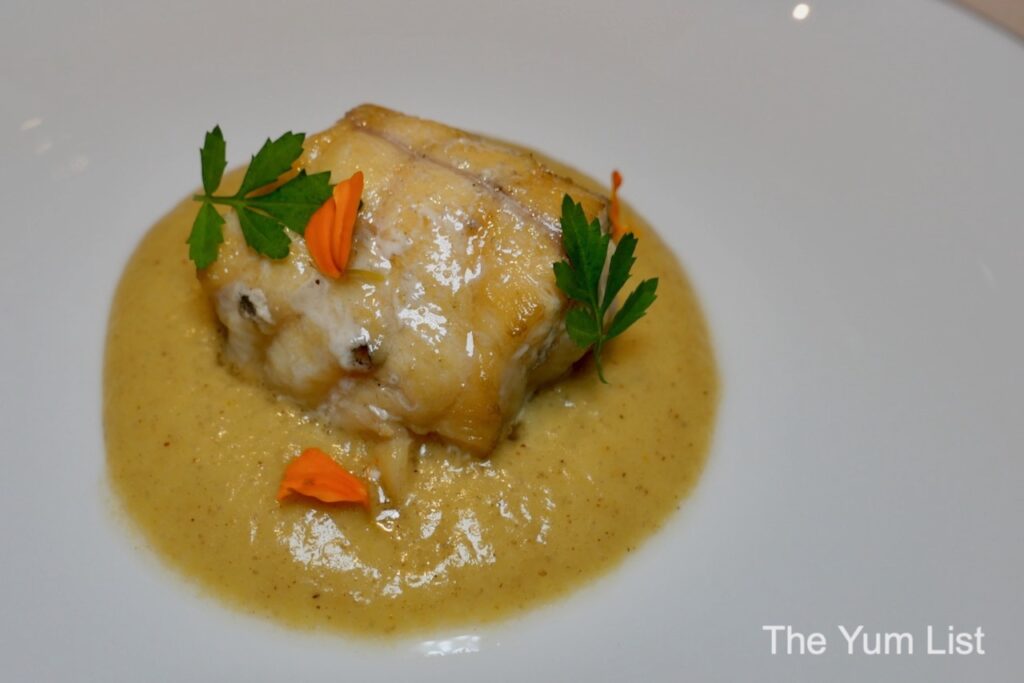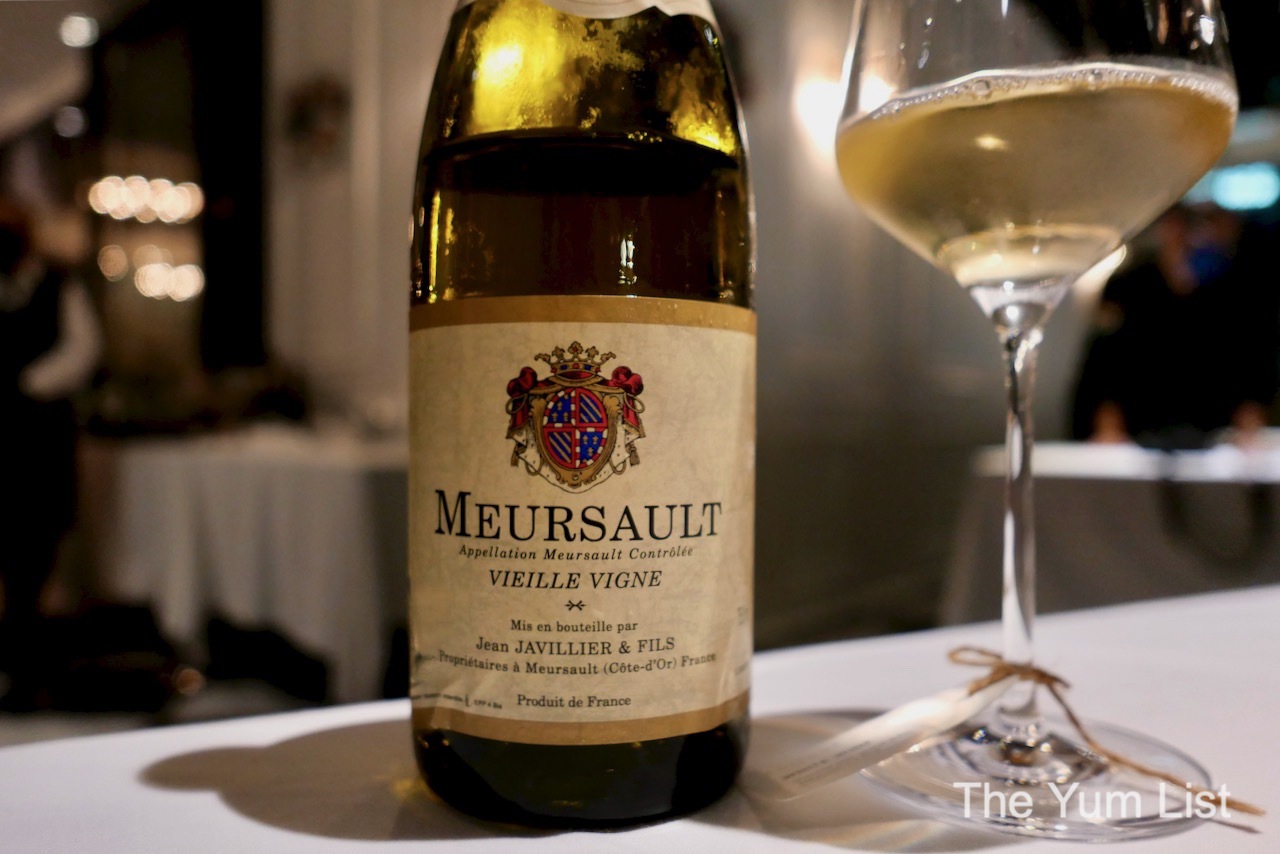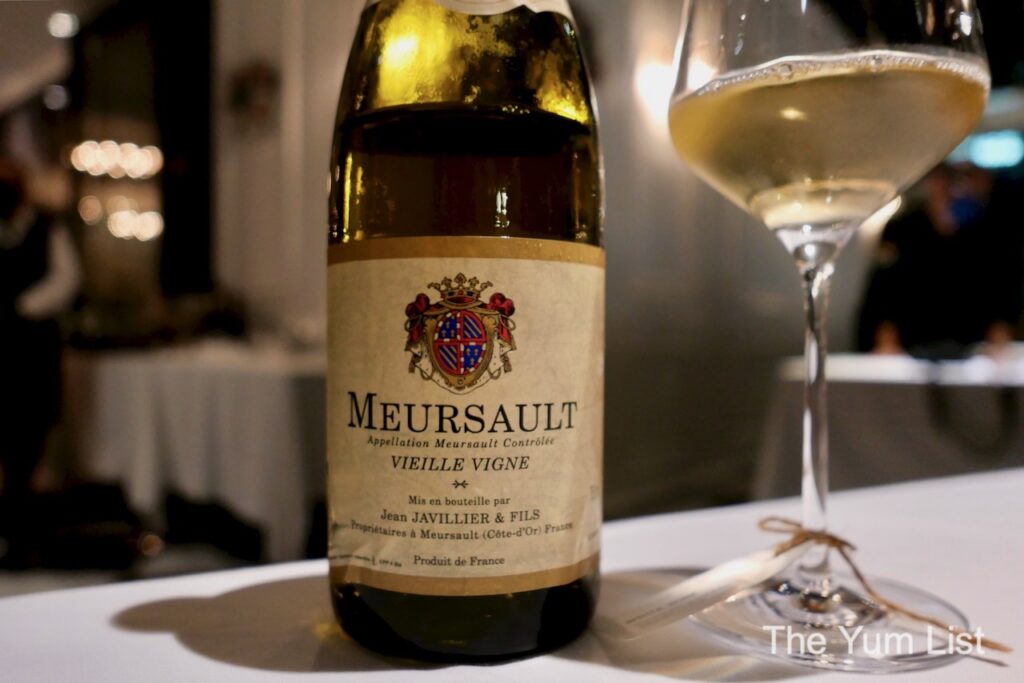 Indians Make Pasta?
We next visit Ladakh, a disputed territory bordering India, Pakistan and China. It is one of the most isolated and least visited places on the planet. What are we served? Wait for it… pasta. Chef Yogi makes pure barley wheat pasta. I had to do some research to understand this dish. One of Ladakh's most prized dishes is skyu, a soup with vegetables and dough kneaded into thumb-sized balls. It is designed to be high in calories and consumed in the heart of winter. Armed with this information on Ladakh cuisine, the dish comes into focus. The pasta sauce includes celery, carrots and artichoke. This dish and the soup course are the most emotional, transportive, and have the least common flavour profiles for me.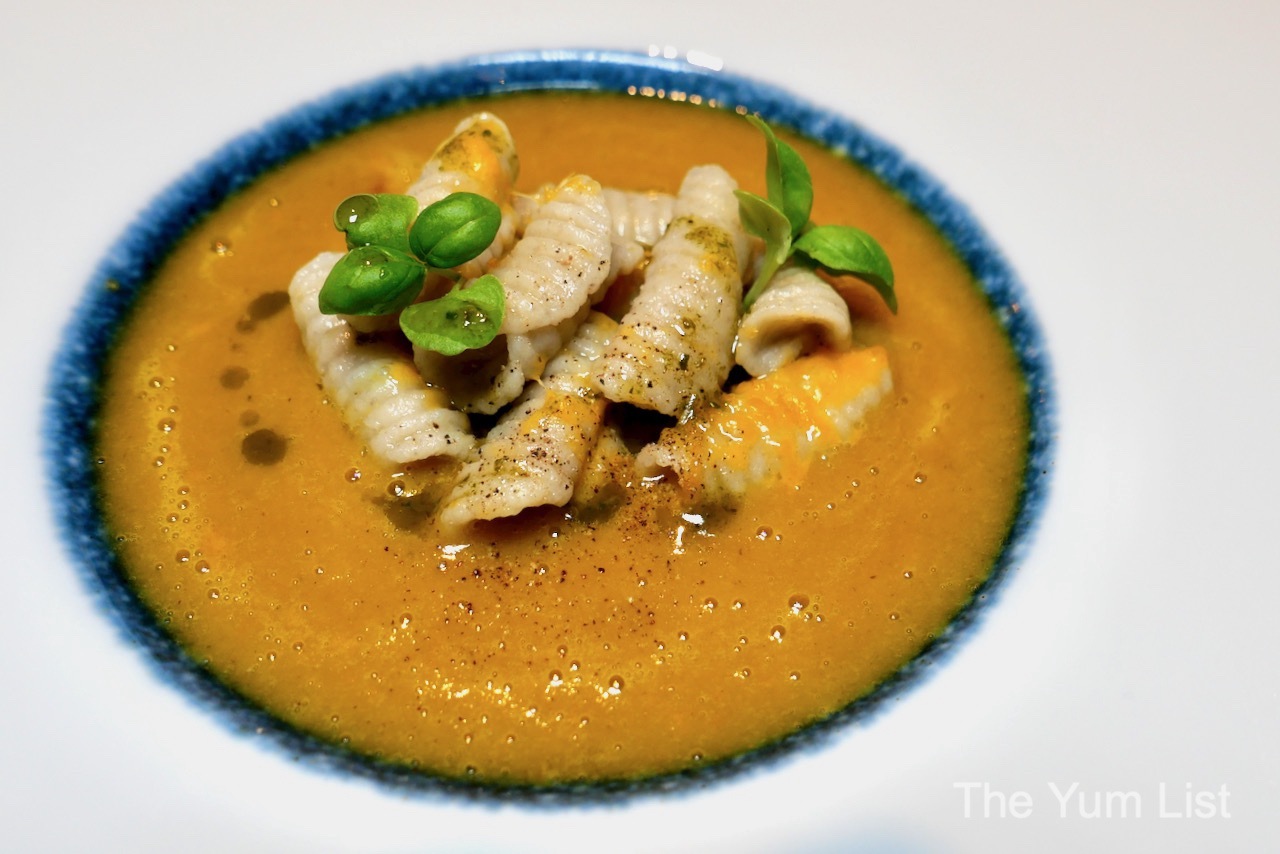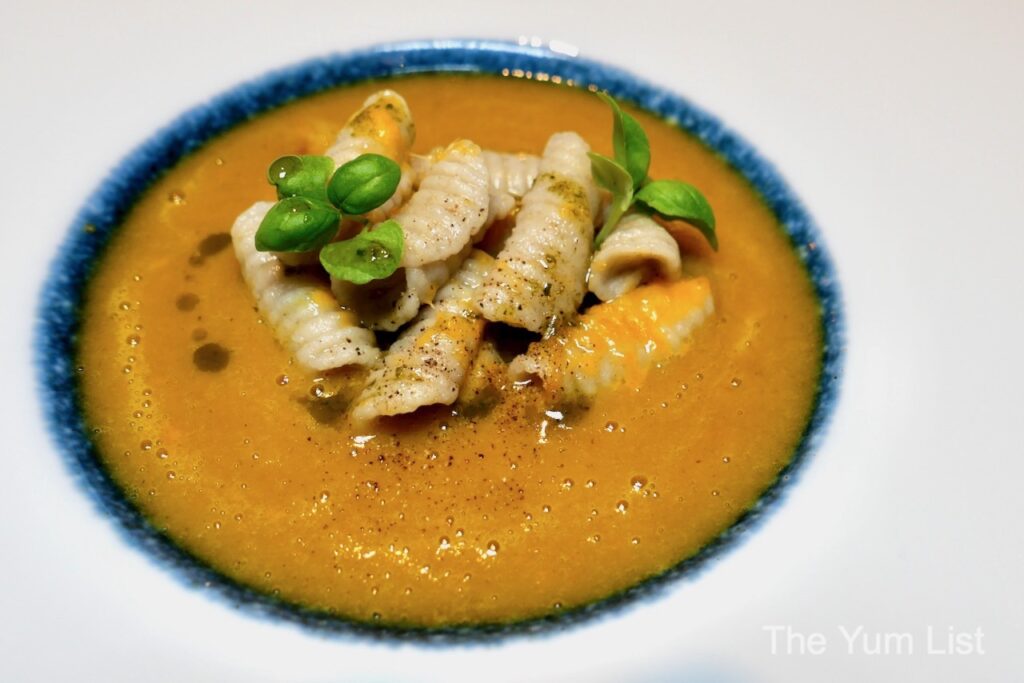 Charcoal Winter Menu – Comfortably Numb?
Next, we are taken into the farmlands to eat suckling, barbecued goat. This is a whole-of-animal experience where every diner is served a different piece of meat from the same goat. We find out our cut when our servers Elton and Khairul simultaneously lift a glass lid holding the remainder of the smoke, which takes a moment to clear. Chef Yogi insists we eat the goat with our bare hands. It looks like a chicken tikka spice, but this comment gets me in trouble as Flour is not your Passage Thru India. The spices include cloves and star anise. The smoke from the Taiping charcoal is a component also. We lick our fingers to savour every morsel. Khairul brings up several rounds of wet wipes.
The pasta and goat are paired with 2018 Domaine Forey Père & Fils Nuits-Saint-Georges (pinot noir grape). It tastes like the forest and mushrooms, which is lovely with both the pasta and goat.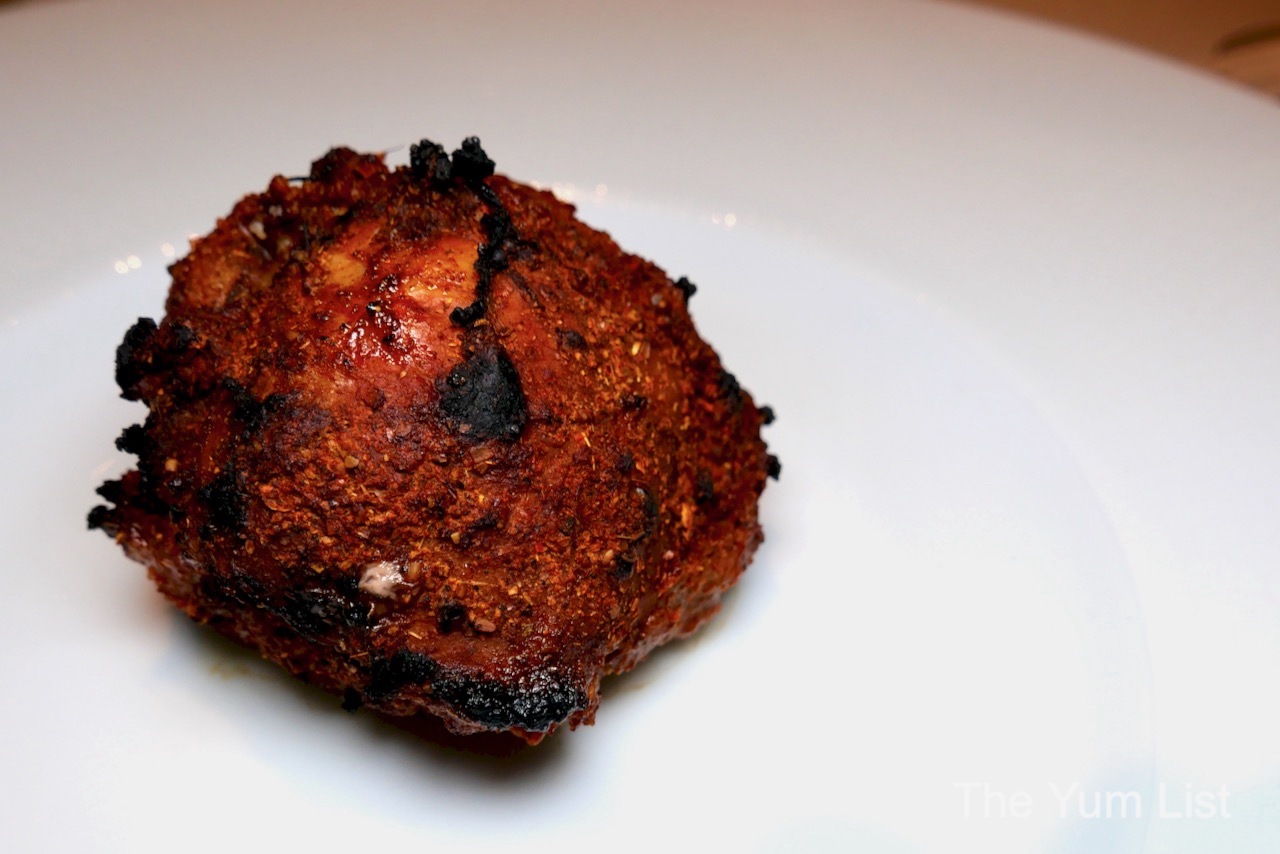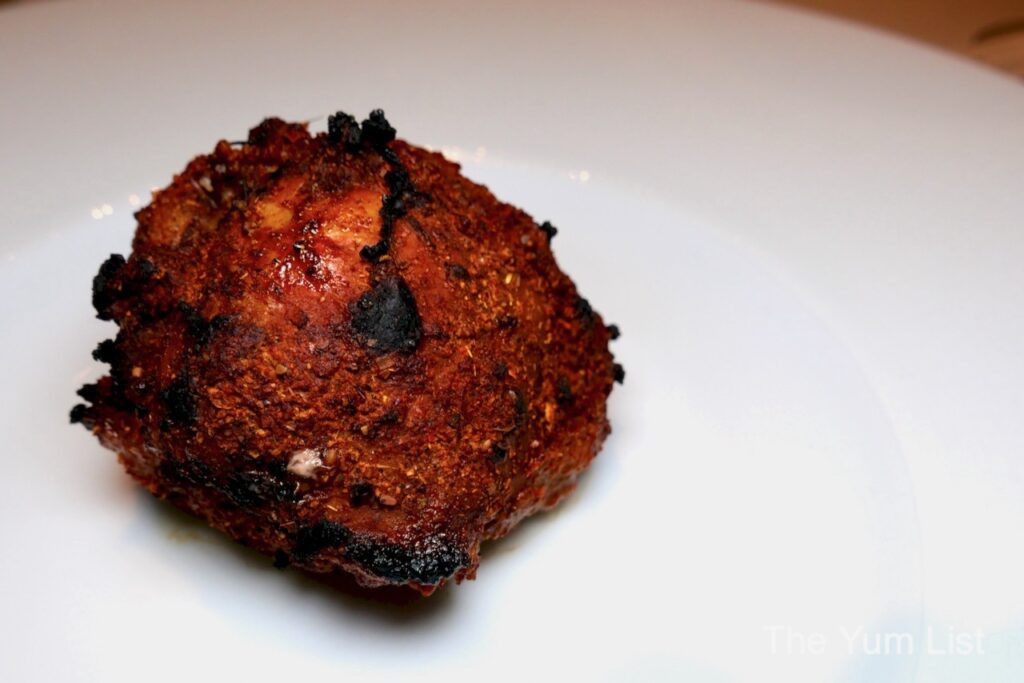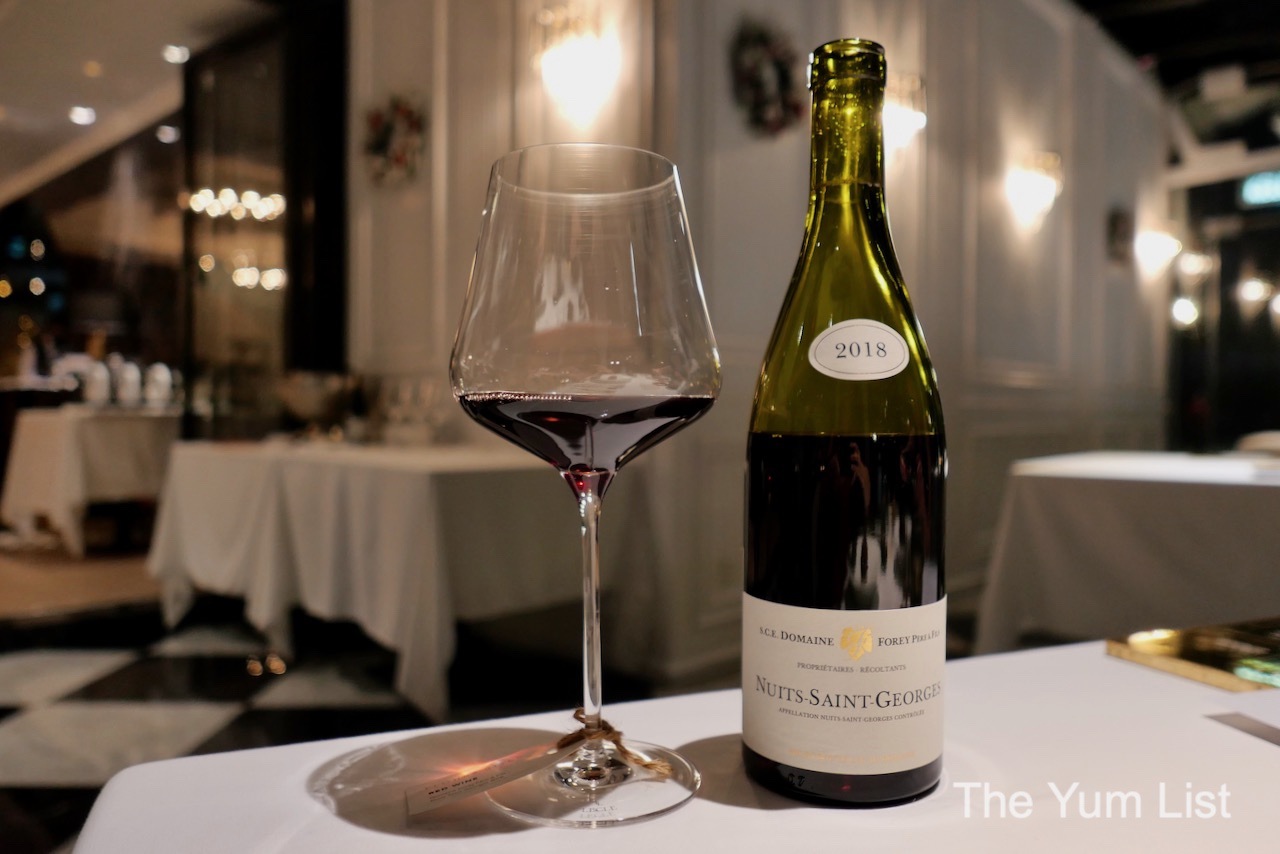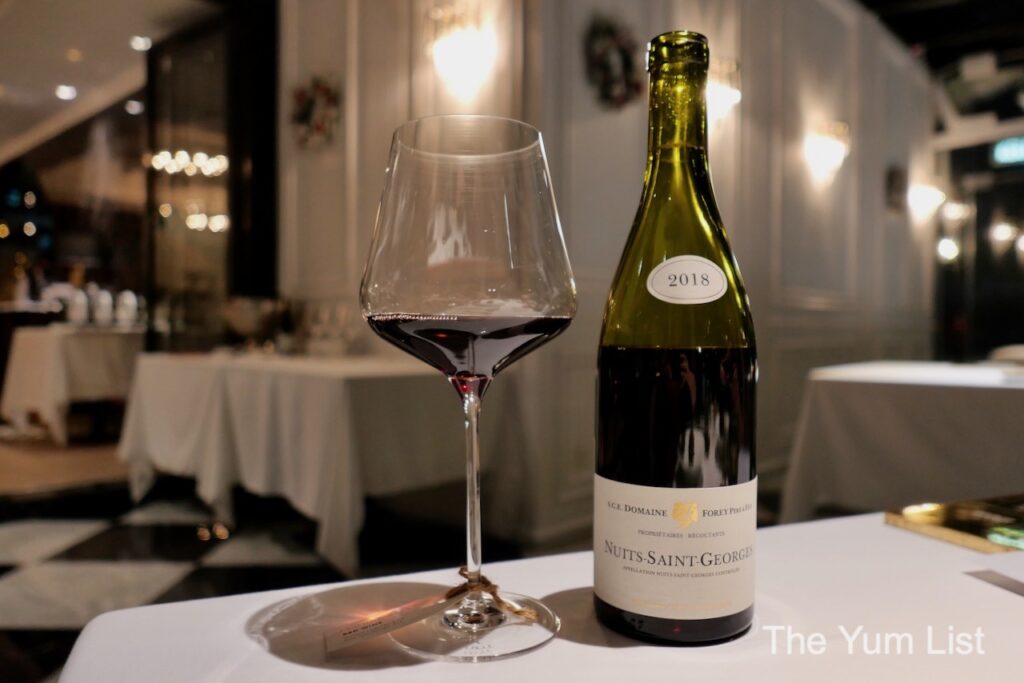 The Hunt
We must earn the climax of our meal by hunting deer. I believe hunting is now banned in India, but there is a long history of the practice there, according to Chef Yogi. The venison is grilled to a radiant pink and served with a yellow chilli, black pepper sauce. This is gamey in all the right ways and different from the prior dishes. I saved some of the cumin butter to use as an additional sauce. We have travelled across India and end this journey like carnivore queens with our hunted meat.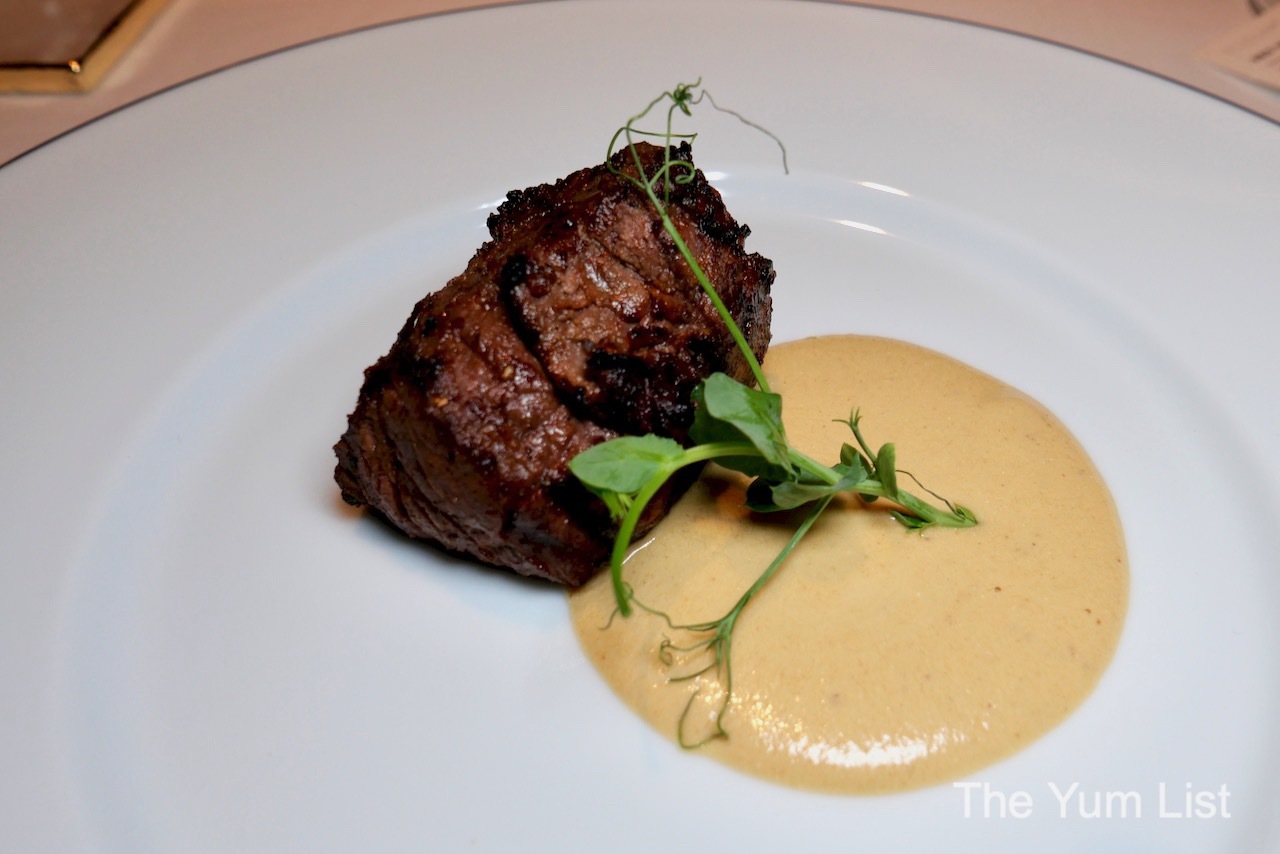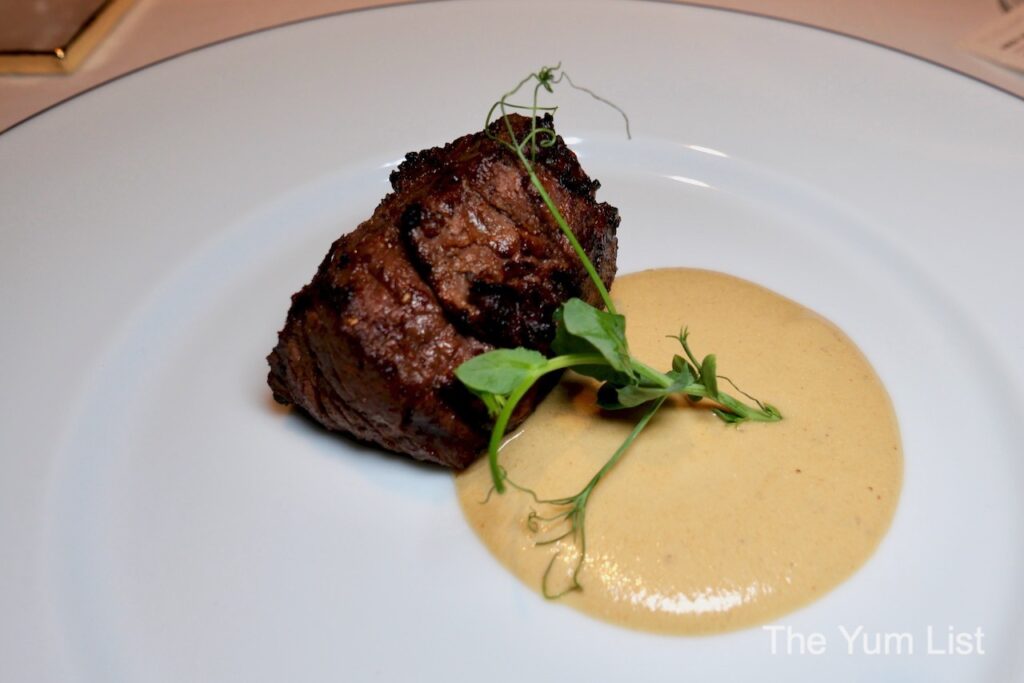 The final wine pairing is the Domaine Joseph Roty 2018 Marsannay (also pinot noir grape). It is light, fresh, and easy to drink. My research indicates that it is a perfect match for venison. This is the last wine of the night so stretch it out with the desserts.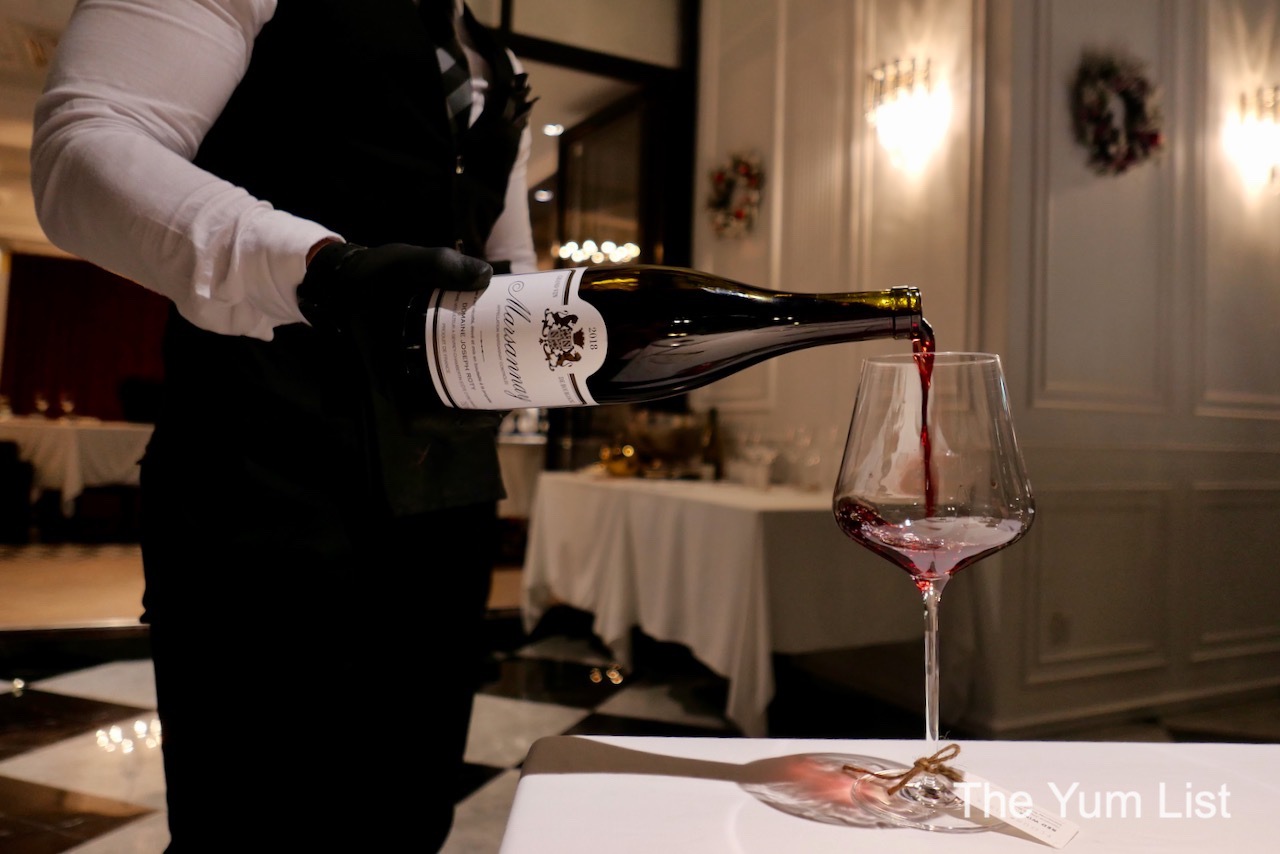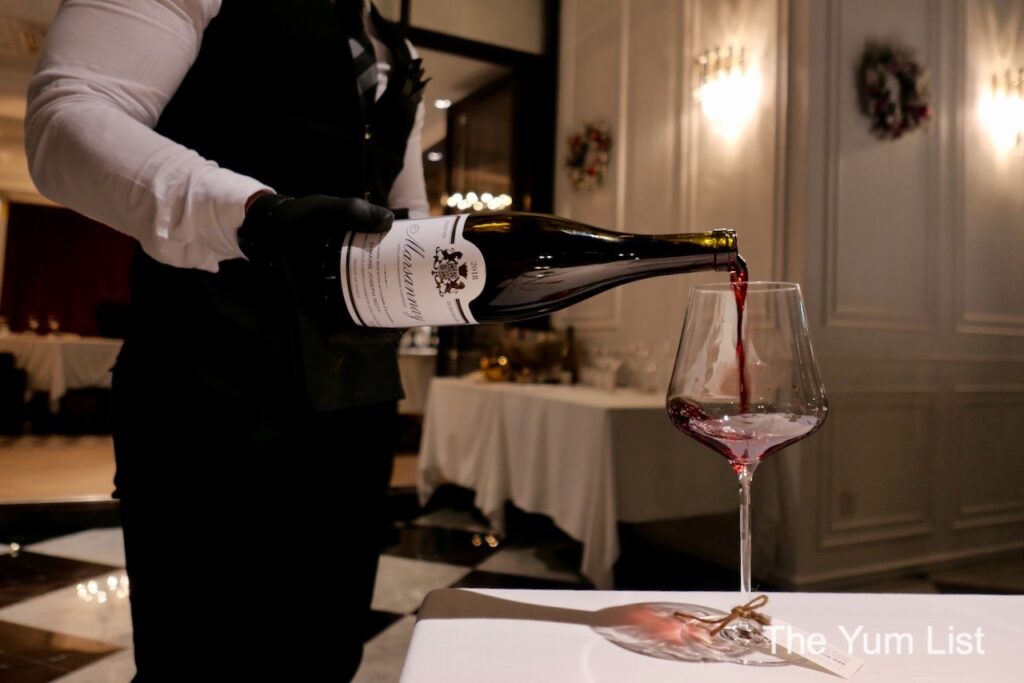 Charcoal Winter Menu – Now We Are Free
Our first dessert is a deconstructed rum cake with sultanas (raisins). There is a hint of strawberries and Champagne in the sauce. The dish is paired with music. The wait staff give us headphones to listen to "Now We Are Free," the Gladiator movie theme song. Monica is momentarily transported to another world – perhaps with a very fit fellow Australian, Russell Crowe, in the golden wheat fields. It takes a few minutes before she comes back to me.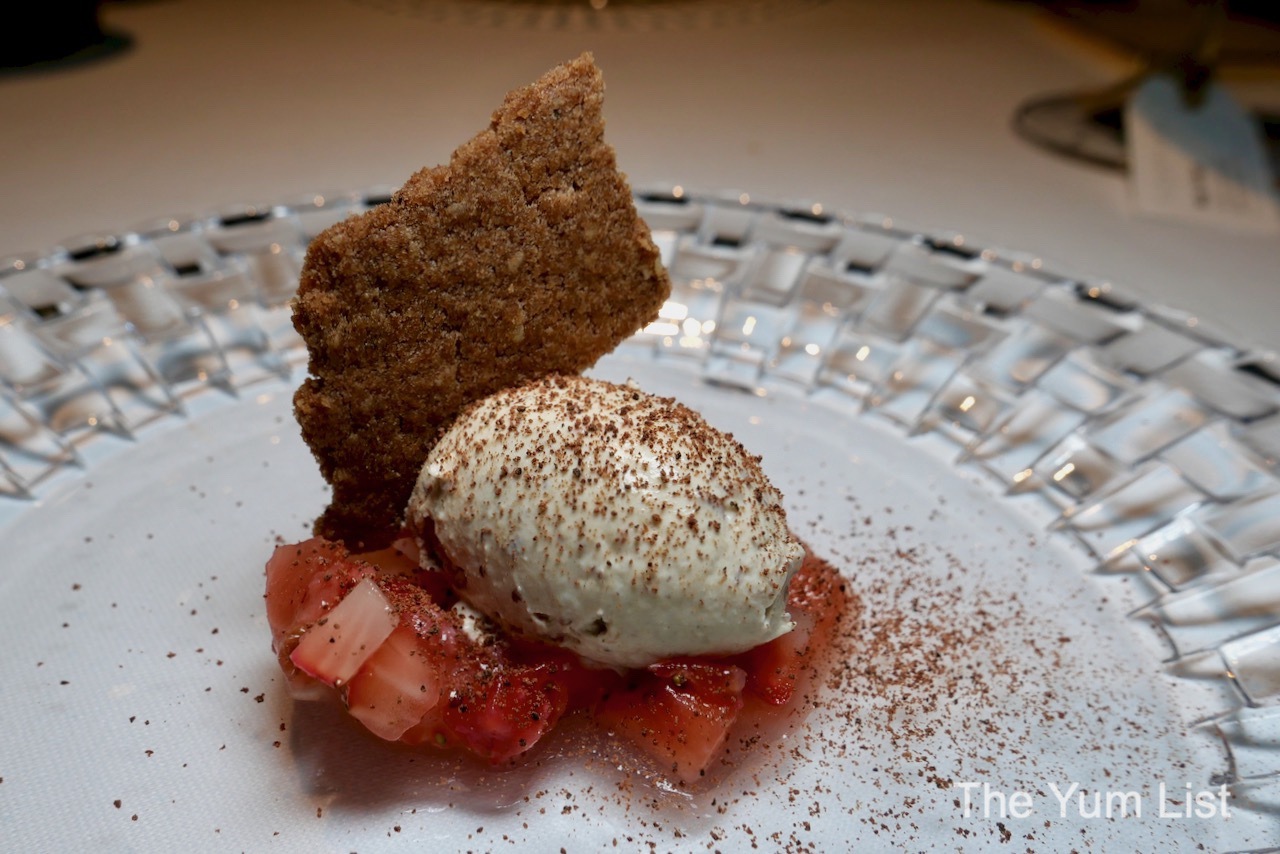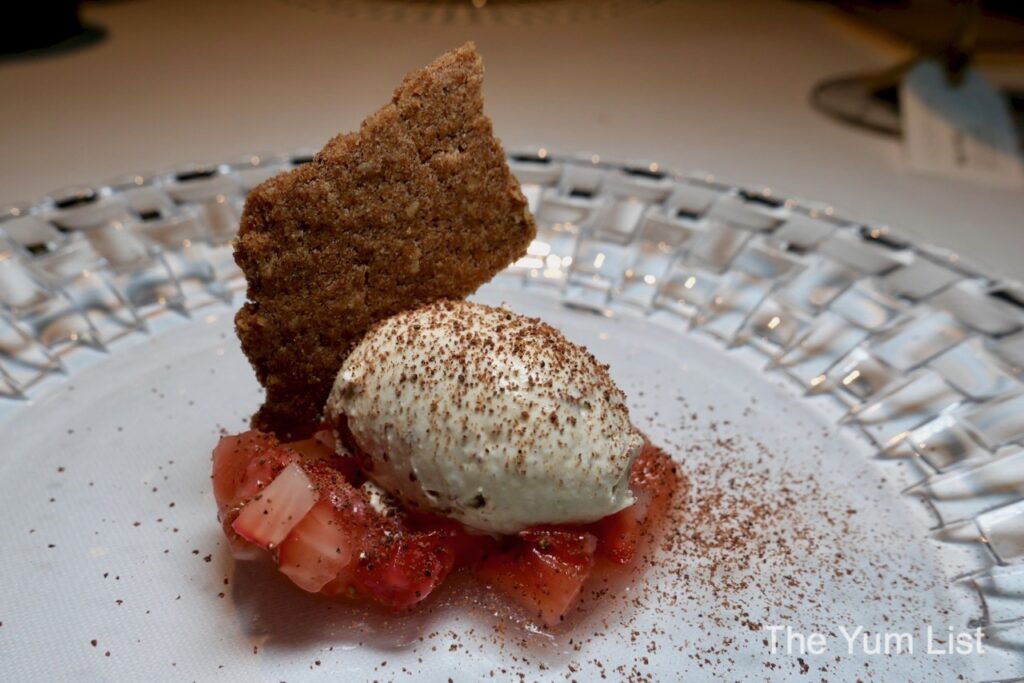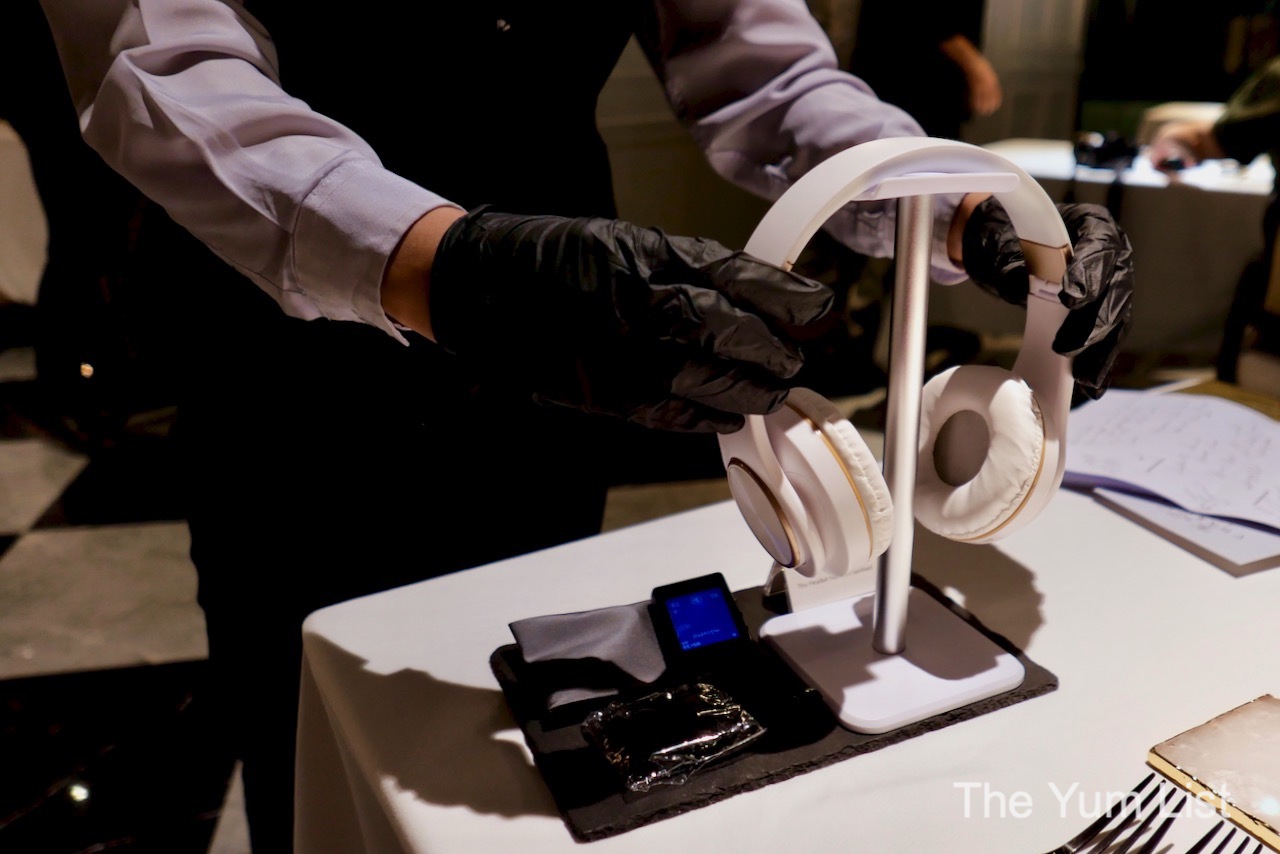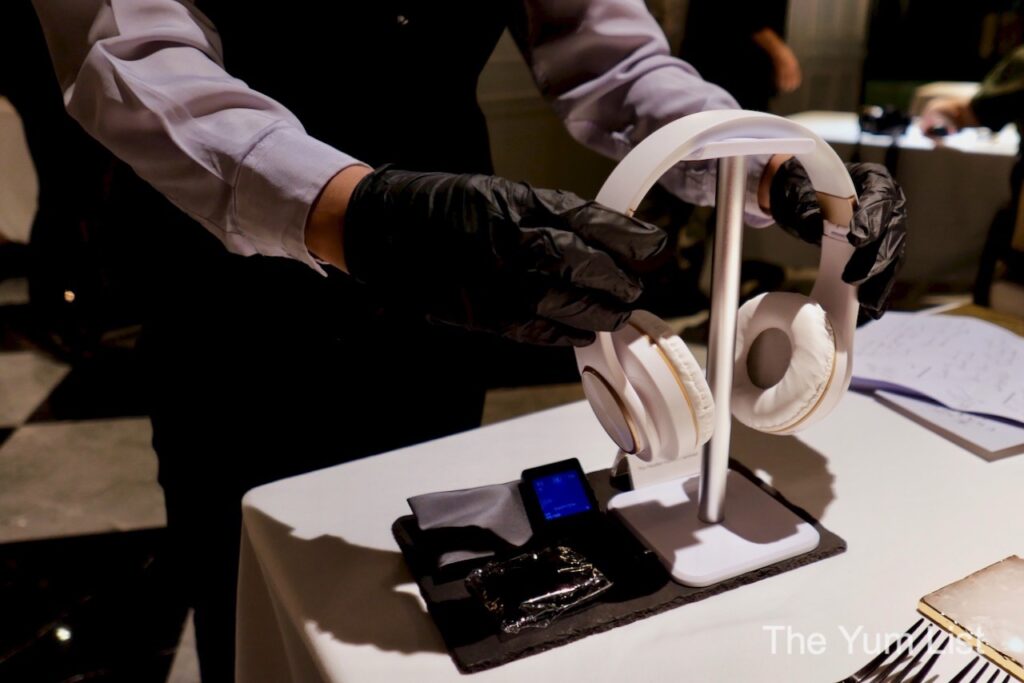 Really?
Really? A second dessert?! The second dessert is my kind of dessert—not sweet, although there are sweet potatoes. The sweet potato pudding or halwa is served with a sesame praline wafer to give texture and crunch. I favour this dessert over the rum cake because the root vegetable base feels more consistent with the menu's storyline, but the music pairing with the first dessert is experimental and special.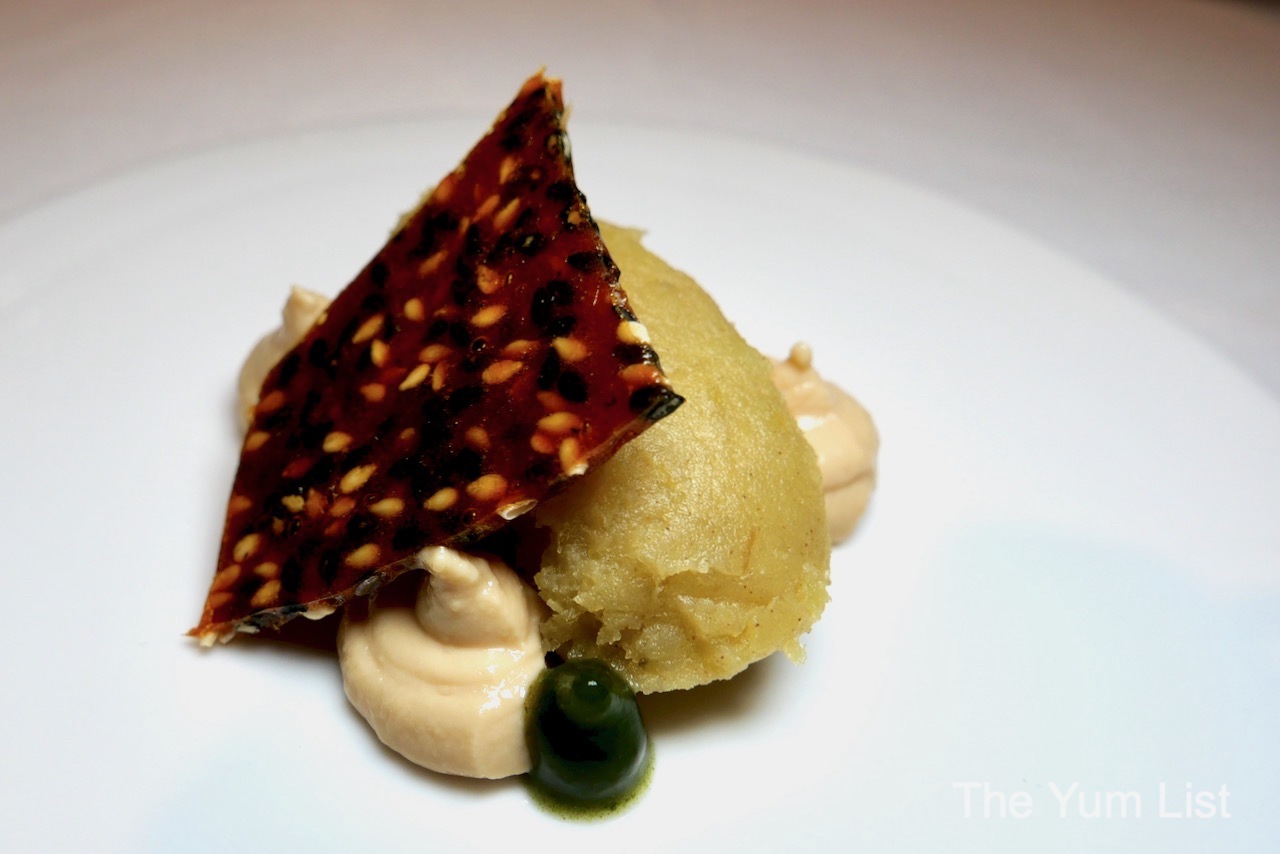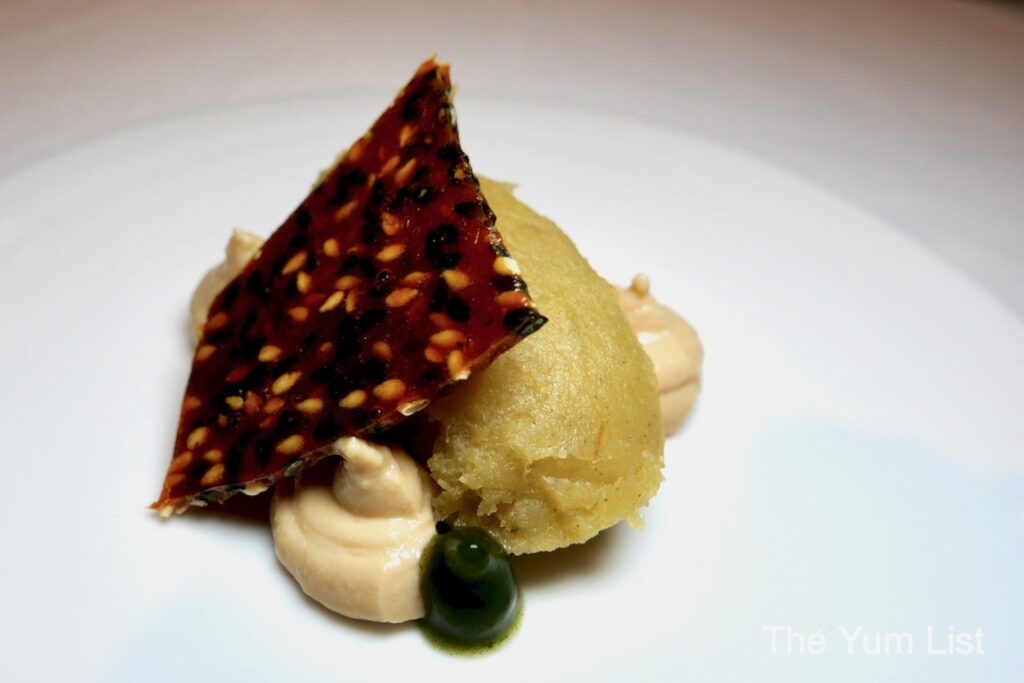 Charcoal Winter Menu – Digestive
We leave India and return to Malaysia with a piece of award-winning Kelantan chocolate and a sip of Hennessy XO cognac. Thank you, Chef Yogi and your entire team, for the magical tour of India in winter.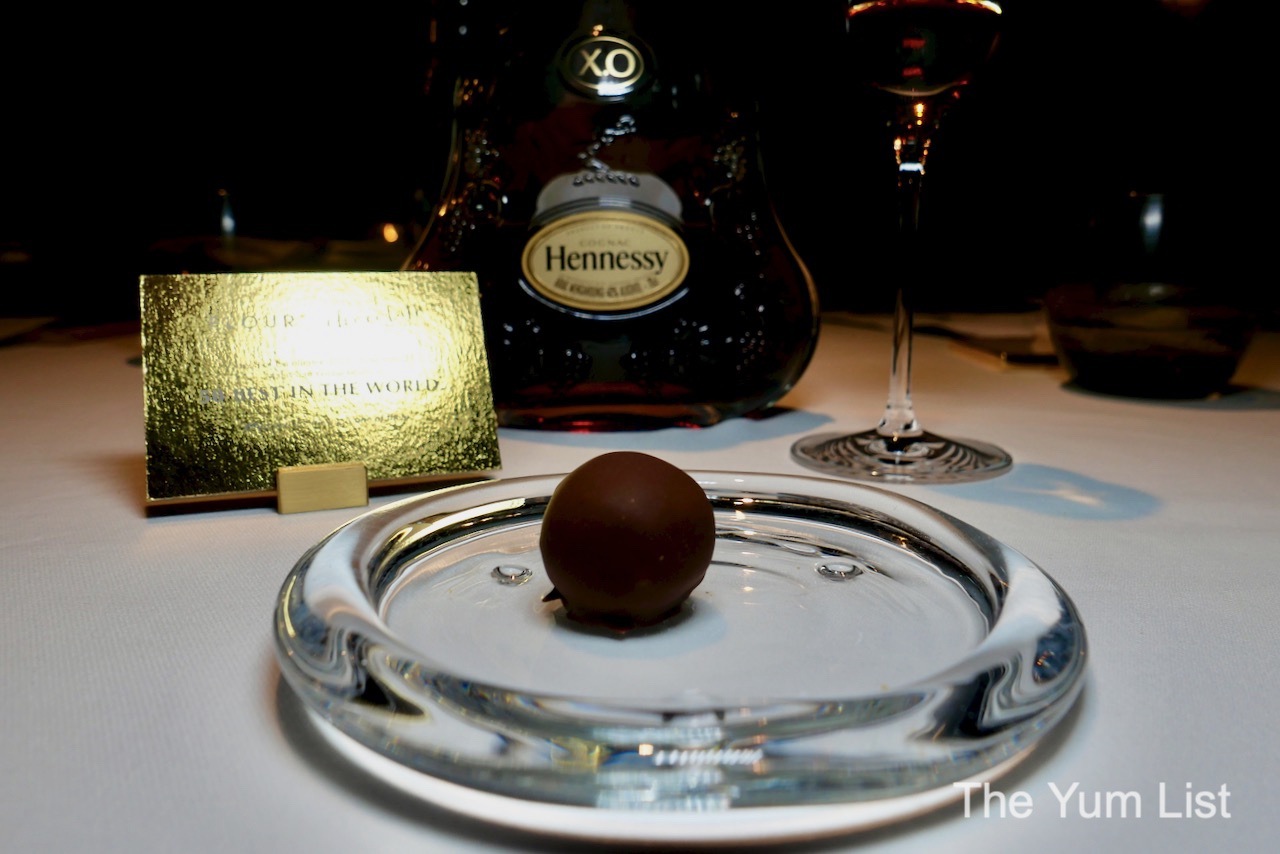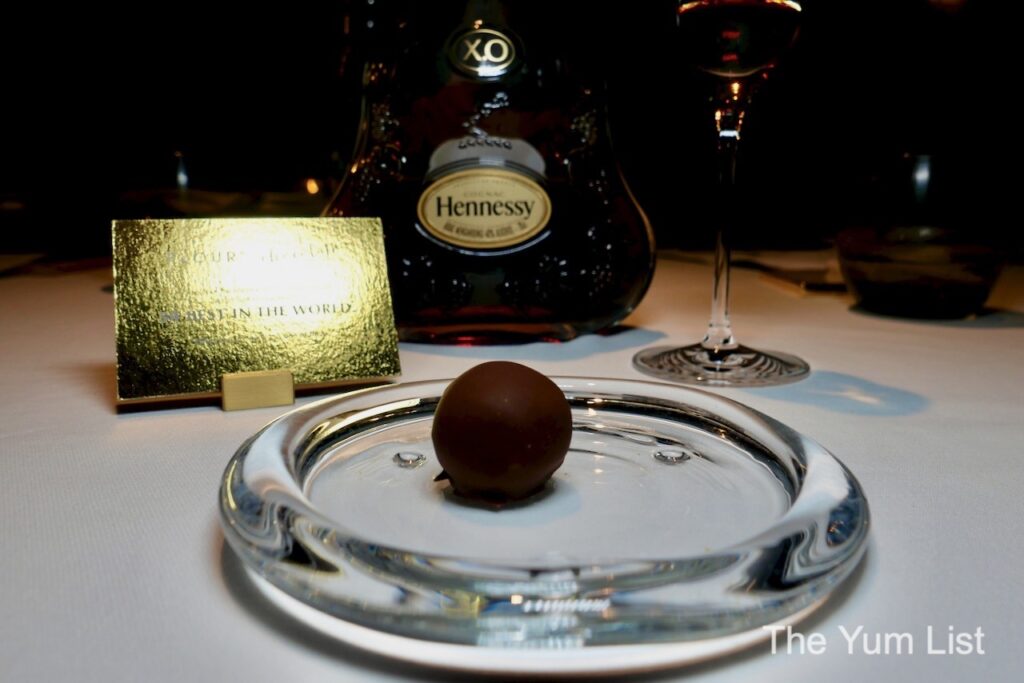 Ambience
I stand by my opening salvo on wealth and fine dining, but ironically, the outward display of FLOUR has a flair for bling. The gold décor (including gold toilets) doesn't correlate with the humble name of the restaurant or showcasing of simple, centuries-old village food. The gold décor, however, does ring true with the healthy and refreshing ambition of Flour. Chef Yogi is aiming high and has achieved it. He also knows that Flour's price point is high, and this meal is a special occasion for diners. He is working in another stratosphere with a golden-winged horse in the restaurant foyer to help him get there. Actually, the horse has temporarily been replaced by Christmas décor.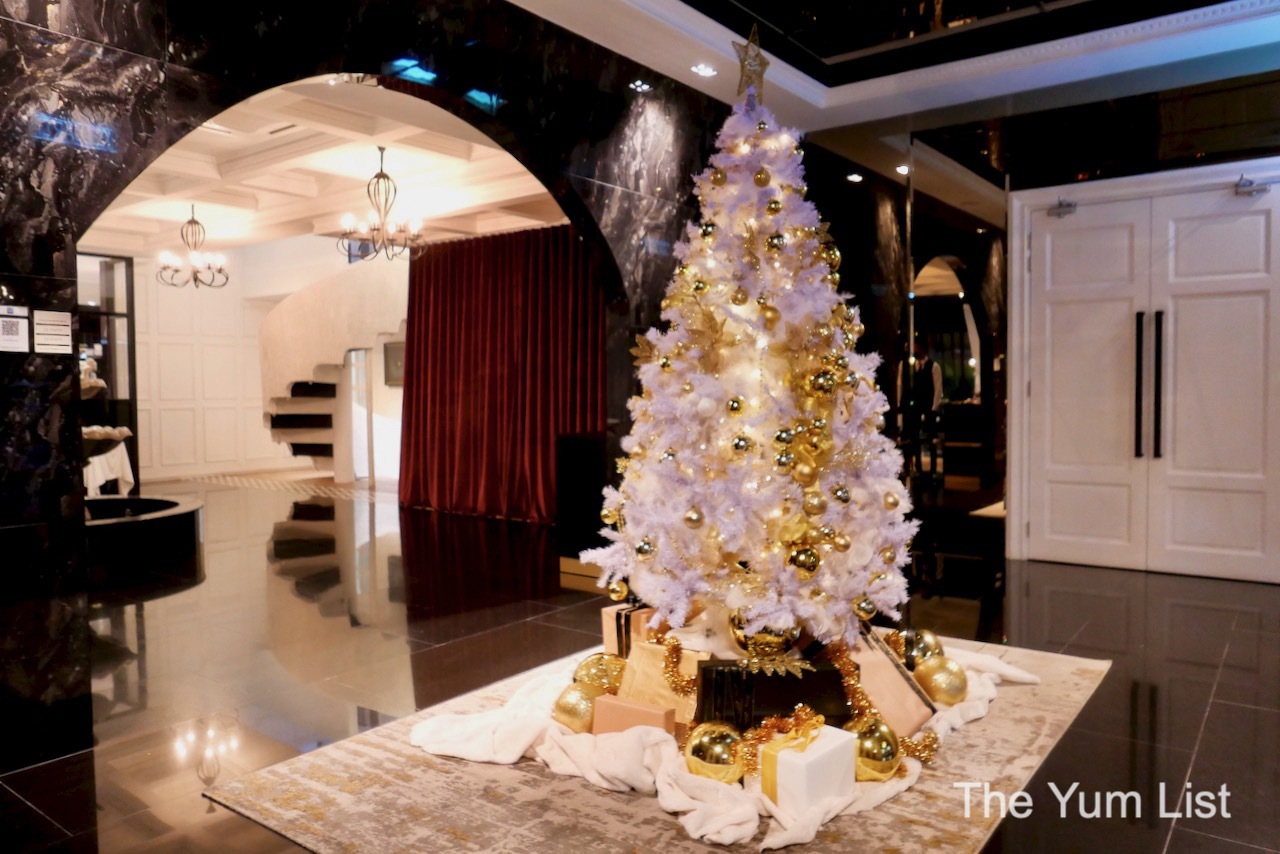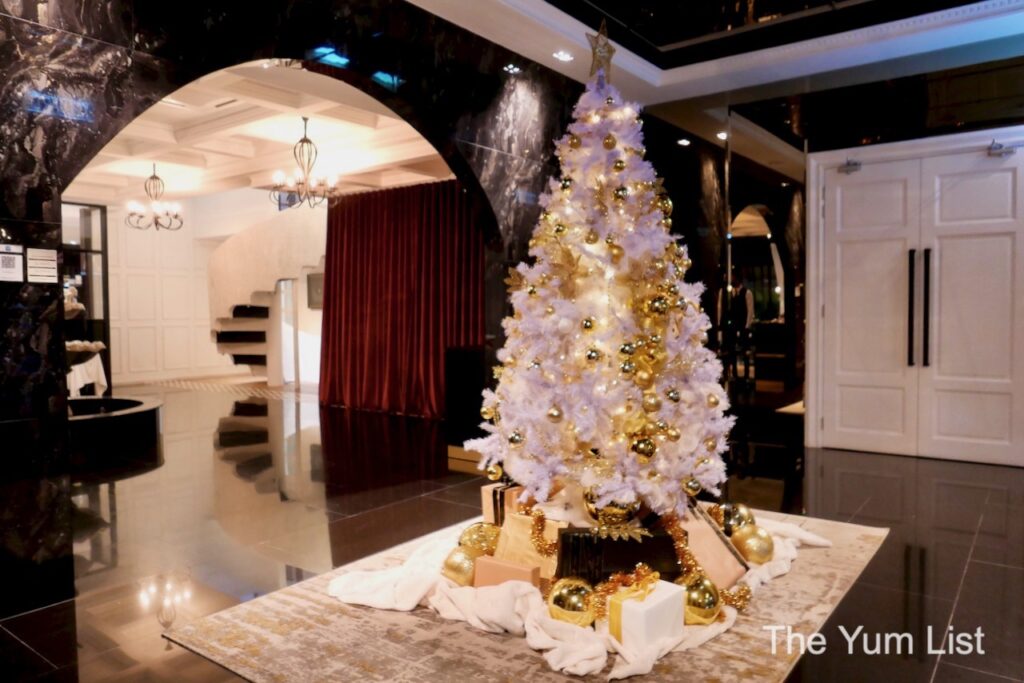 How to Book Your Charcoal Winter Menu Trip
This 11-course degustation menu costs RM 880 per person with a six-glass wine pairing for RM 495. This is a steep cost but remember you are being served caviar, shaved truffles, and a menu that has taken years to curate through Chef Yogi's extensive travels in his home country. There is also a performance aspect to this dinner through Chef Yogi's presentation of each dish, surprises like the smoking goat, and the music course. Because of the personal attention to each guest by the chef, dinner is limited to 20 persons per night. Flour only uses premium ingredients, no preservatives, and nothing artificial.
FLOUR Rises
No. 12 & 14, Jalan Kamuning (off Jalan Imbi)
Kuala Lumpur, Malaysia 55100
+60 12-960 0053
www.flourrestaurant.com.my
[email protected]
FLOUR Opening Hours
Flour is open from 6 to 10 pm nightly except Tuesdays. Make reservations in advance. There is a non-refundable reservation booking fee of RM 75 per person, which is applied to the meal.
Find more restaurants for special occasions in KL here , see past visits to FLOUR here, and stay up-to-date with the latest gourmet and travel recommendations for Malaysia here and here.