Soul Byrd Section 17
Words: Monica Tindall
Photos: Rich Callahan
Soul Byrd, serving southern USA-style fried chicken and hot sauce, is primarily a take-away business with the option for dine-in. As chirpy as the sounds of morning bird song, it's a cheery spot of colour in a low-key street in Section 17. Composed in a palette typical of the Deep South, humming with a playlist of soul and funk, and scented with that just-out-of-the-fryer aroma, the overall ambience is bound to incite a trip down memory lane, whether it be from your own past or those found in movies.
The mint blue walls, complemented by canary yellow and orange, is often seen on patios in the south of the US. It's thought to keep away both birds and bad spirits (we hope it doesn't scare away any of the poultry here, though). Ornate railings present a touch of New Orleans at Soul Byrd, and the semi-open space offers cross ventilation, which should appeal to many post-pandemic.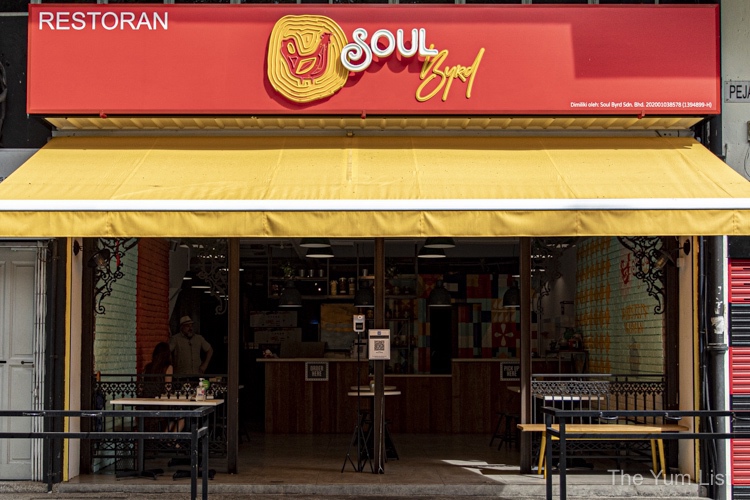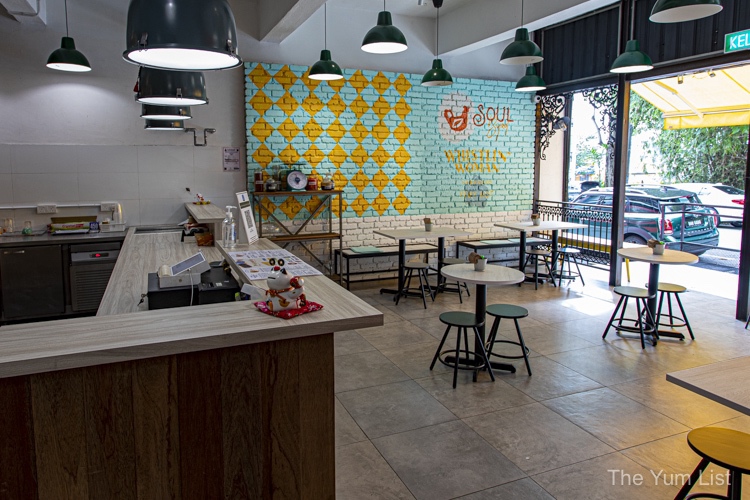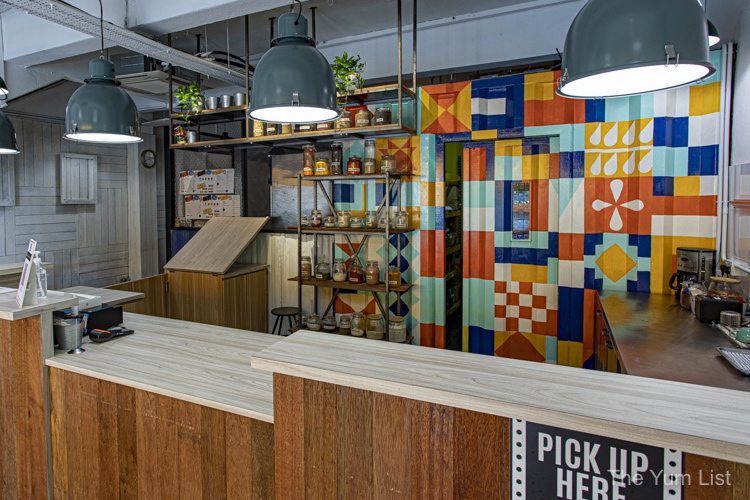 Soul Byrd Section 17
Chef Tim, looking the part in his smart Panama hat, describes the concept as American fried chicken and hot sauce. The idea came about by thinking about the latitudes of the world. If you make a loop just north of the equator, you find lots of similarities in ingredients and flavour profiles. Chef Tim dubs his hot sauces American "sambals." He thinks they'll appeal to local palates while offering some zest from his birthplace.
Soul Byrd Menu
Soul Byrd's menu is simply fried chicken. You might think that makes ordering easy, but when you get to choose the cut, seasoning and sauce, things become a little more complicated.
1-2-3 Classic Fried Chicken
Step 1
Choose your cut of chicken from wings, whole leg, tenders, sandwich or sliders.
Step 2
Next, select the seasoning from a choice of Naked, Country Salt & Pepper, Mild (mix of herbs and spices), Hot (a complex mix of herbs and spices), Soul Byrd (20 herbs, spices and chillies) or Nashville (for the chilli heads – stays in your mouth for a very long time).
Step 3
Take your pick of dipping sauces, listed from no heat to the hottest – SB Ranch, Amba (very mild lightly pickled mango), Green Sauce (mild coriander and lime), Going Bananas (hot, banana and lychee), Red Hot Mamma (very hot, orange, chocolate, smoky) or Whistlin' Woman (very hot habanero sauce). Additionally, you could take Buffalo (medium, vinegar, chilli, butter) + Ranch Combo for an extra RM 4. Rich (on camera today, and also a chef of 17 years), confirms the claim of "most authentic buffalo wing sauce in Malaysia." Based on cayenne pepper hot sauce and butter, it has tang with substantial heat in every bite. To cool it off, follow up with the ranch.
Fortunately for us, Chef Tim has arranged a platter of tenders with each seasoning and sauce, so we can experience all of the flavours. The chicken has been brined in buttermilk for 24 hours, softening the flesh and keeping it extremely moist. Each cut is coated in a special flour mix and fired to order every single time. The result is a fantastically crunchy coat and superbly tender middle.
We love all of the seasonings and especially enjoy mixing and matching them to the sauces. Rich dives right in with the Whistlin' Woman on the naked seasoning. I don't even have to question its heat. His face shoots from white to red in seconds as if a pucker shooting up the high striker towards the bell in a carnival game. As if an act of pure crazy, he goes back for more! This time with the Nashville seasoning. The bell is surely struck in the carnival strength machine as his face elevates to a deeper shade of red. I take a more cautious approach beginning with the naked seasoning and SB ranch, and gradually work my way up.
It's challenging to pick a favourite combo. Still, if I was forced, I'd probably order the Naked seasoning with the Going Bananas sauce or the Soul Byrd seasoning with the Ranch SB. Rich reckons the Red Hot Mama and Buffalo sauces are his top two.
If you like the sauces, three of them are for sale in bottles (RM 15 – RM 18 for 85 ml), with more to soon be released.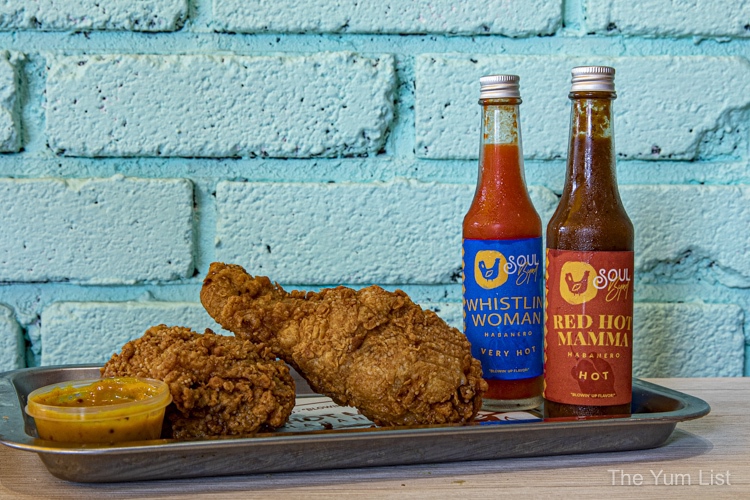 You can also eat your fried chicken on a sandwich (RM 25.50) between house-baked Soul Byrd white buns. The coleslaw filling is excellent, and the Comeback Sauce of mayo, mustard, lime and chilli offers a great tang that balances the fried thigh.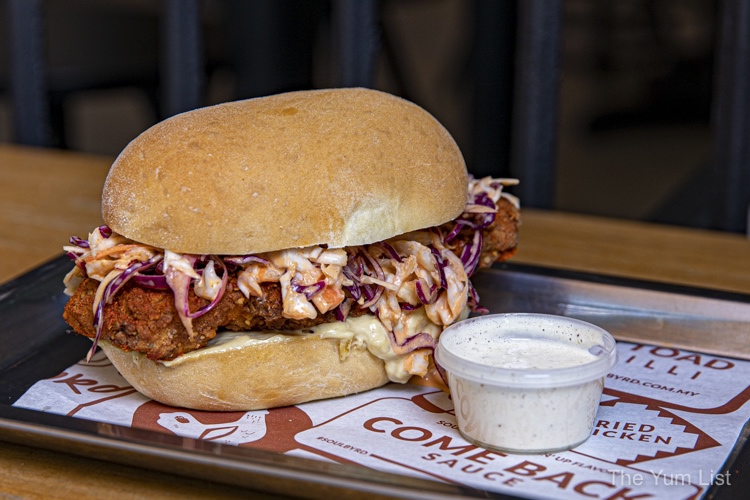 Soul Byrd Snacks & Bites
While Soul Byrd is indeed all about the fried chicken and sauces, several small bites are worth a second look as well. Cheesy Chicken Rice Bombs (RM 10) are like arancini on steroids! These fat balls are plump with Thai fragrant short-grain rice, mozzarella and cheddar cheese. Get your camera ready for a fab cheese pull when you break them apart.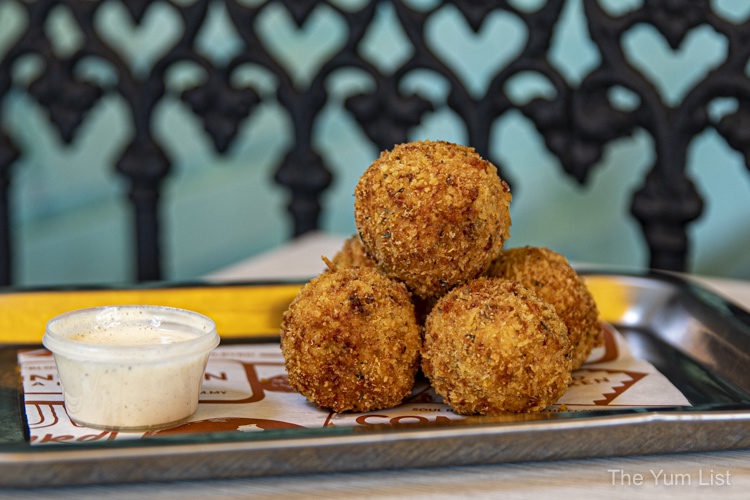 Pineapple Hush Puppies (RM 6) also merit consideration. Urban legend has it that these fried dough balls got their name from cooks frying up seafood in the South. To hush dogs barking at them while working, they'd throw balls of deep-fried dough, hence quietening the hounds. Chef Tim gives the savoury cornmeal fritters an edge by including pineapple and drizzling of hot habanero honey.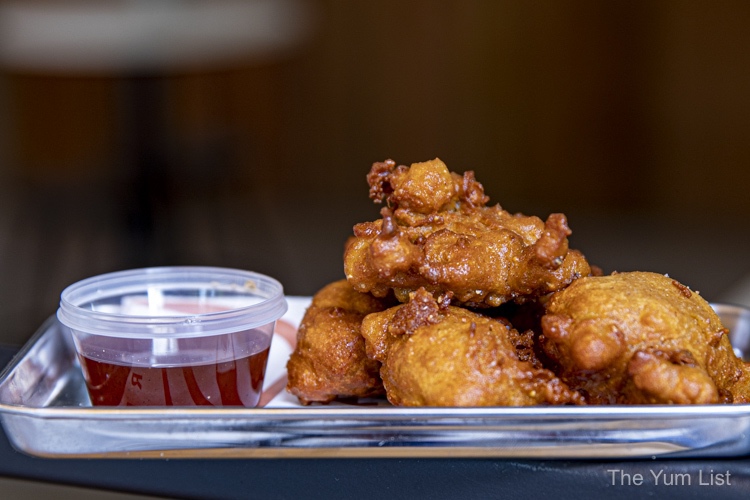 I didn't think mac 'n' cheese could get any more unhealthy, but when you fry it, anything is possible. Soul Byrd's Fried Mac n Cheese (RM 13, 3 pieces) are perfect little squares with a moist middle and perfectly thin, crisp coat. The key to their cheesy goodness is a blend of mozzarella, cheddar, cream cheese and parmesan.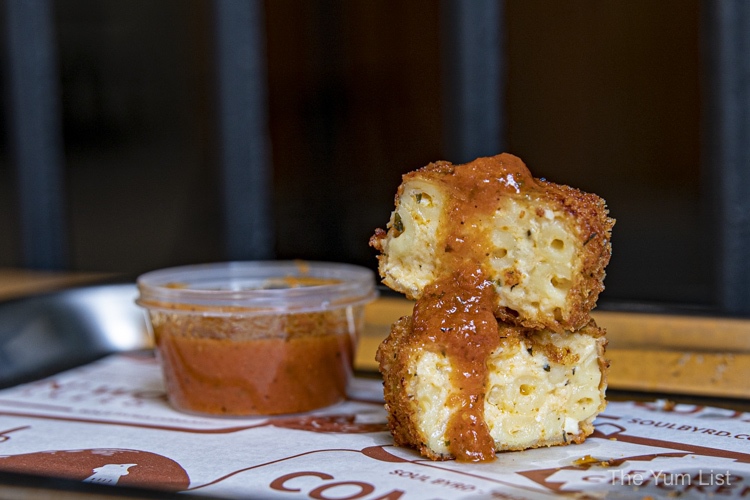 Lastly, from the savoury menu, we nibble on Cornmeal-battered Cauliflower (RM10) with comeback sauce. They sport a golden case and crisp veggie interior. A sprinkle of Cayenne pepper, onion, garlic, white pepper and ginger make the batter tasty enough to enjoy on its own but dipped in the sauce, it's something special.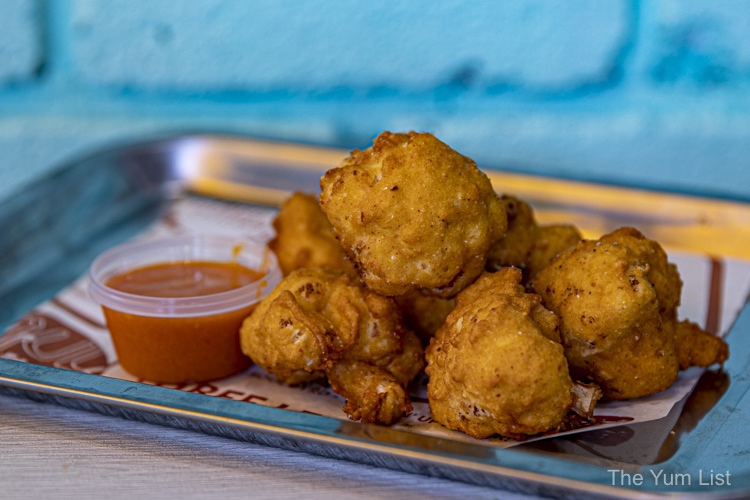 Desserts
It would only be right to conclude such a meal with sweets, and the Soul Byrd menu offers a trio. The most popular is the Valrhona Chocolate Cake (RM 17), a hunk of cake that's dense and moist. And, something newly added is the Coca Cake (RM 11). More like a brownie in consistency, it's the sweetest of the desserts and topped with desiccated coconut and crushed walnuts. Rich gives a thumbs up to both.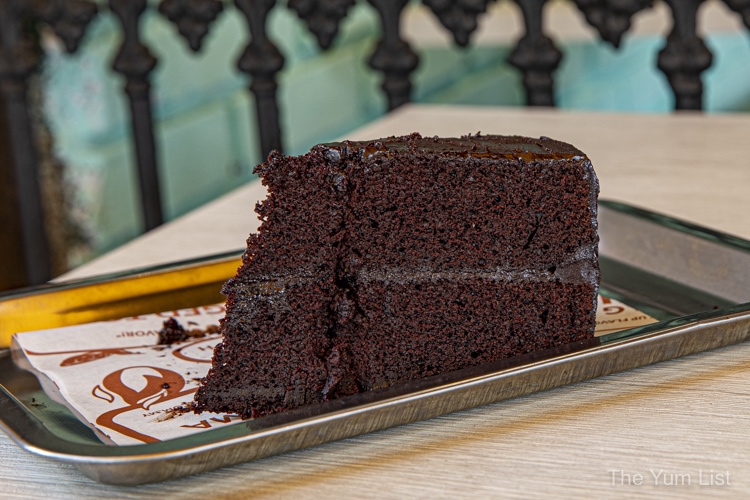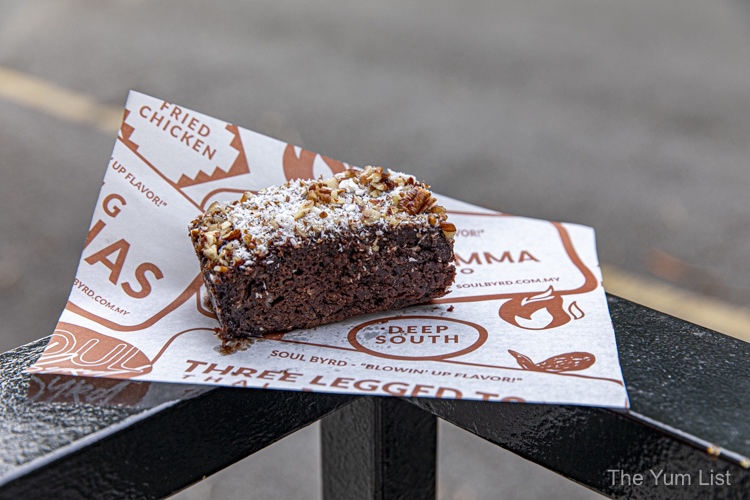 Drinks
We keep our drinks to the Deep South theme with two gently sweet beverages. Named after the famous US golfer, the Arnold Palmer (RM 3.50) was noted as his favourite non-alcoholic drink. It's a mix of tea and lemonade and incredibly refreshing on a hot afternoon. A&W Sarsaparilla (RM 3.50) is slightly medicinal tasting but serves to soften the heat on some of the more intense sauces.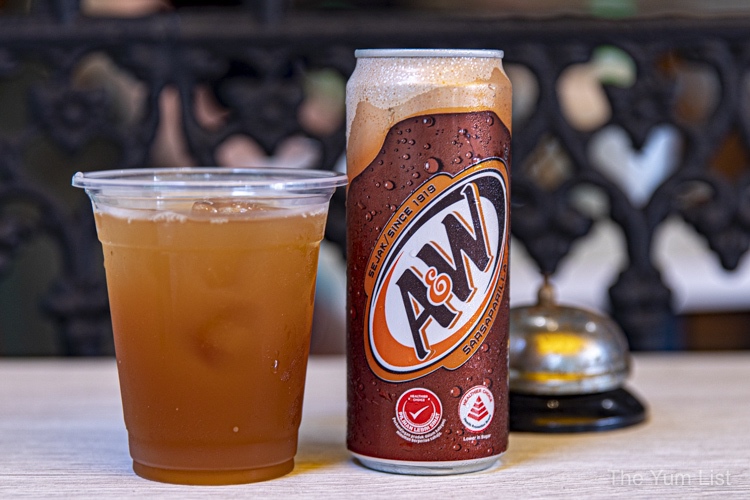 Soul Byrd
Chef Tim leaves us with these final words, "We make everything fresh and from scratch from the mayonnaise to the spice blends to the sauces. Each order is made on the spot, guaranteeing the best quality possible. We'd love you to come to try our sauces and spice rubs and get a taste of the South."
Reasons to visit Soul Byrd: affordable menu; great fried chicken with a variety of quality seasonings; a fantastic range of hot sauces; we dare you to try them all.
Soul Byrd
19, Jalan 17/45, Seksyen 17
46400 Petaling Jaya, Selangor, Malaysia
+6 03 7931 2202
+6 010 216 7931
www.facebook.com/SoulByrd.my
Soul Byrd on Beepit
Soul Byrd Opening Hours
Tuesday to Sunday
Lunch – 11:00 to 14:30
Dinner – 17:30 to 2100
Find more restaurants in Section 17 here and stay up-to-date on KL's food and beverage scene here and here.