Finch KL
Words: Rebecca Cannon
Photos: Rich Callahan
Once upon a time, there lived a not-so-young girl in a concrete jungle. She longed to escape from the place she lived and would often daydream as she did her work of slaying monsters, flying dragons, finding exotic living things and casting spells. Her life continued in this tedious manner until she dared enter Finch KL and her world was changed for the better.
The journey to bliss began with a Grab ride, transporting her from outer desolate suburbia to the lights and sounds of the inner-city below The deluxe Westin Kuala Lumpur hotel.
It was amazing what a stroll down a small side street could do to this bustling area. The pace and noise level dropped drastically, bringing with it a perfectly relaxed ambience with the assurance that anything was possible.
After walking through a lush garden, we entered through a glass door to a welcome area, and then to the other world. In this realm, trees are made of ostrich feathers and wisteria not only grows inside but rains down from the ceiling forming lush curtains. It became a choose-your-own-adventure. For those in a romance novel, pink flowers grow in abundance from walls, and roses climb up to the sky. Others, who prefer Ketterdam Girshaverse, can stay inside by the well-stocked bar, complete with tequila in bottles that you can literally ring like a bell. For folk who would rather read Japanese fiction, like 'Tales of the Otori', the upstairs is a sushi bar. There are private rooms up there too for you to pen your own story. Finally, we ventured outside to sit in giant birdcages, hug the glowing sakura tree and find some greenery to surround ourselves with like Totoro. The staff were all very accommodating. I could feel a good character transformation coming along.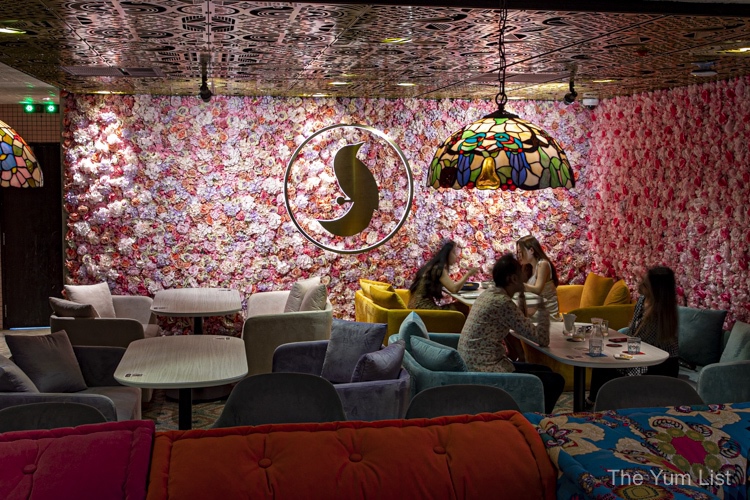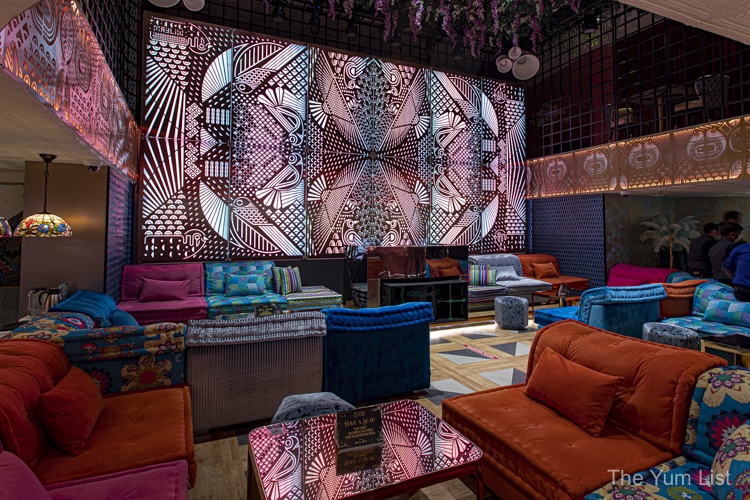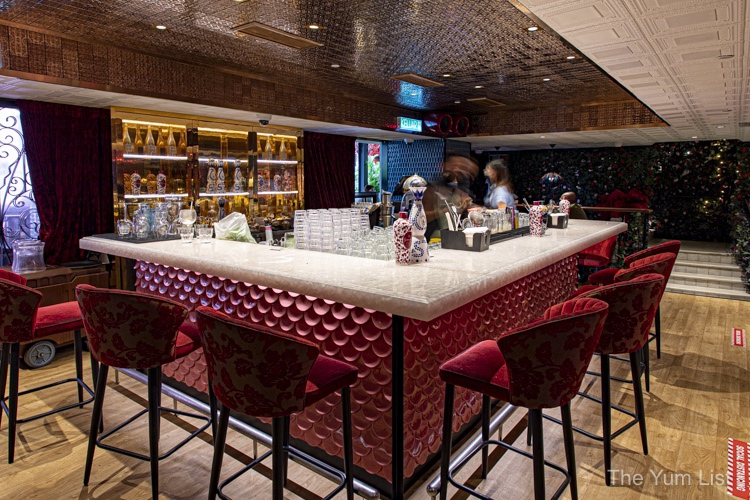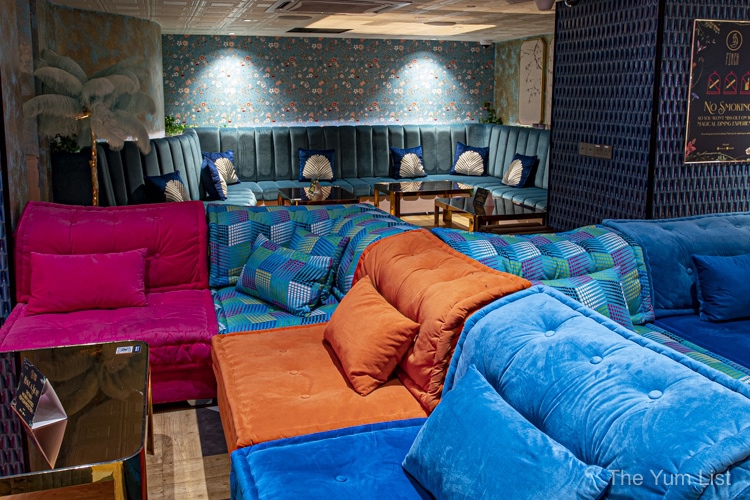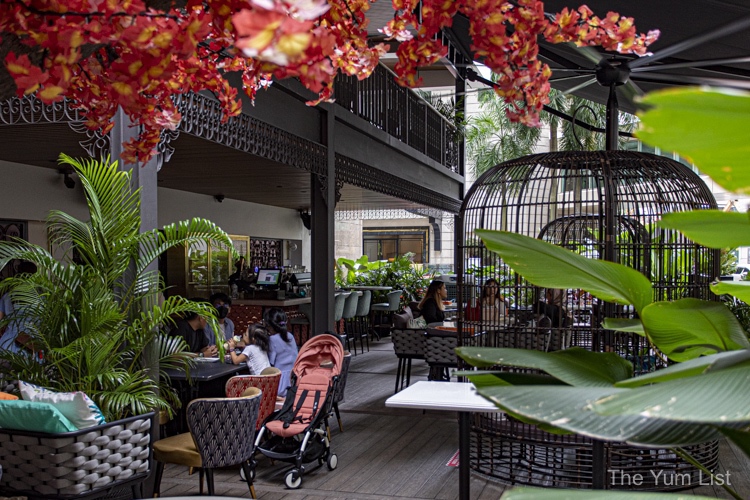 Appetizers
It took us a while to decide on food. Not only were we enjoying the feel of the place but all the dishes were those we liked and could understand. The food doesn't overwhelm you with its complexity, or confusing names and ingredients. Instead, it provides a lovely anchor to the world we usually inhabit. What makes it intriguing though is its hints of fusion with the favoured local dishes and the importation of some ingredients, particularly the drinks.
For appetizers, we ordered Magic Mushroom Brew (RM23) and Finch KL Jungle Crab Salad (RM33) – dishes we are familiar with and love. Finch KL has taken them to the fanciful domain by using fresh top-quality ingredients such as roe in the Jungle Crab Salad and additional flavours that meld well, like truffle in the mushroom soup. My favourite was the mushroom soup. It was nice and thick with tiny bits to chipmunk on, and the truffle was to die for.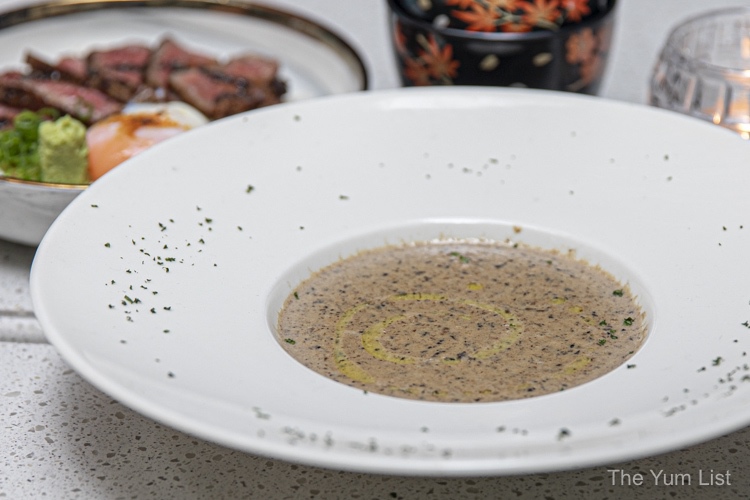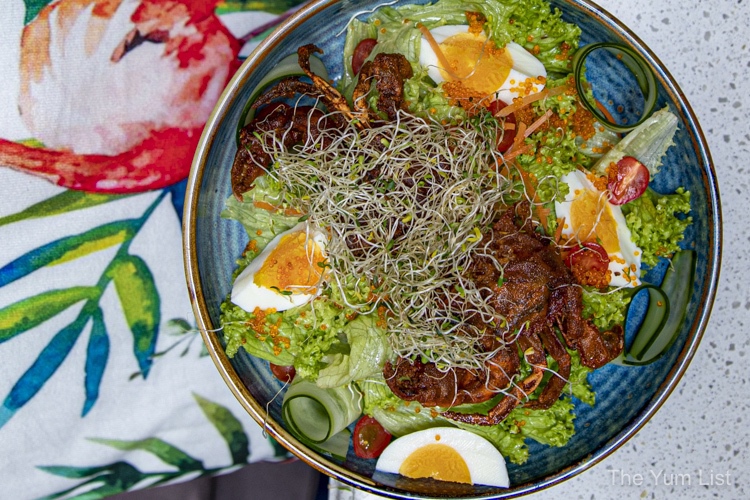 Mains
Mains offered us another variety of selections that didn't distract us from the décor; Trio Mushroom Truffle Pizza (RM 38), Chicken Gyoza (RM 18), Halibut with Kombu Butter (RM 55) and Wagyu Don (RM 80). All fantastically cooked, and with a slight tasty twist on the traditional. The mushroom pizza was again paired with truffle oil. The Waygu Don had nose-clearing wasabi and the beef was seared to medium-rare so we could fully enjoy its tender flavour. The halibut fish disintegrated in our mouths, with a slight outside char to keep it in place on our forks. The twist was the butter, seaweed butter. By the end, we were comfortably full and our stomachs were as happy as if we'd finally gotten to eat our mother's home cooking again.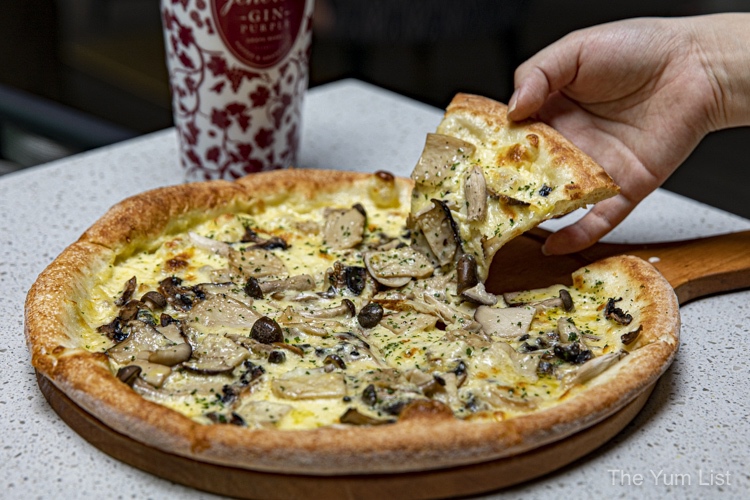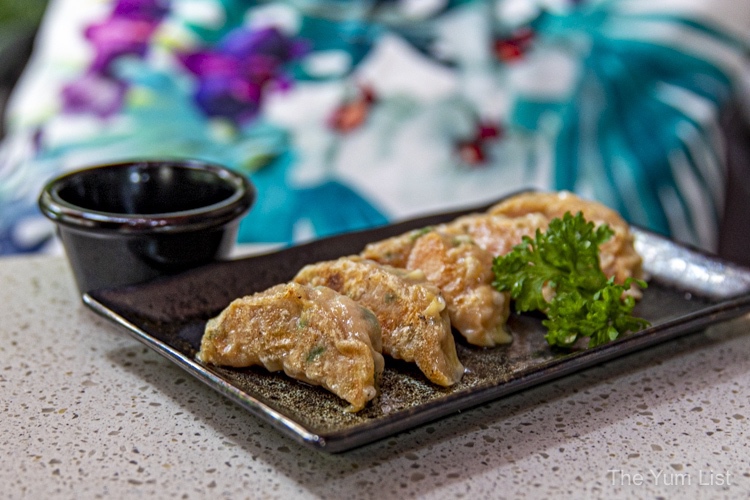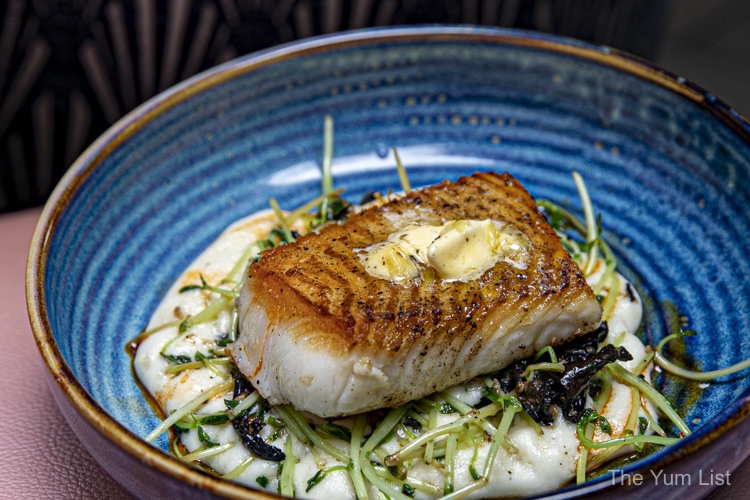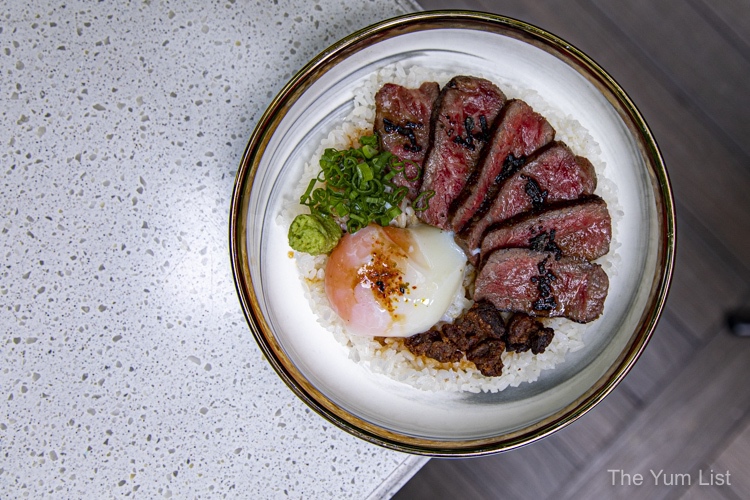 Desserts
If you are seated outside you get to goggle at the deserts in their glass cabinet counter. Even though we thought we only had room for one, it was too hard to decide. In the end, we got a selection to share; Chocolate Brownie, Pandan Crepe Cake and a Mango Raspberry Cake (all RM 20). It gladdens my heart to see and taste the cooked walnuts in the brownie. I love the additional texture they contribute.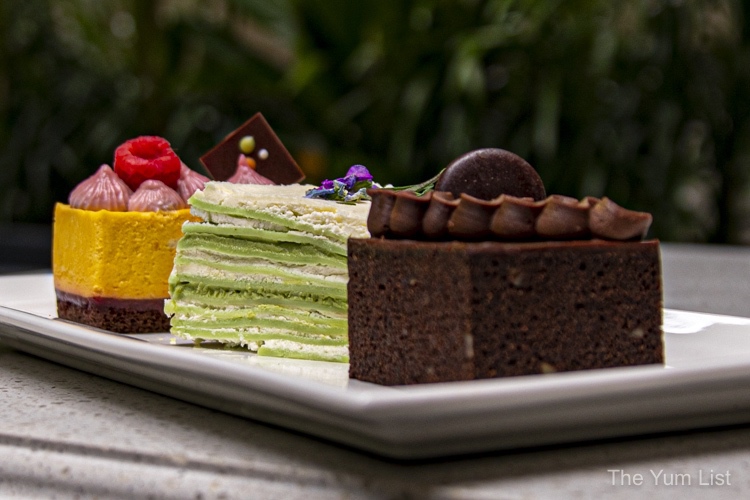 Further Exploration
While providing a space between the mains and dessert, we decided to explore the rooms some more. The fantasy decoration continued all throughout the restaurant, including in the bathrooms, a favoured selfie spot. It turns out all wait staff are selected not only for their hospitality but also their photography skill. A huge shout out to Riez for turning our average selfie into a professional photoshoot.
Drinks Menu Finch KL
It doesn't matter what world you are from, there is nothing better than ending a nice meal under the stars and glowing lanterns with a drink as you reminisce and wind down from the week with friends. There are a variety of drink options at Finch KL; hot drinks, non-alcoholic and a fully stocked bar.
Mon is our maestro of tipples, so I pass the pen to her for this section…
The managing company of Finch KL imports many of the more special beverages directly, making a distinctive selection only available in outlets under their group. A complete list of reds from Bordeaux is the envy of many but I was keen on a white for the warm evening and relaxed vibe. Cuvée Clémence, also from Bordeaux, is produced by Cheval Quancard with the 2017 vintage harvested from the Entre-deux-Mers appellation. I appreciated the vibrant aromatics, floral and fruit on both the nose and palate and the thread of minerality in the finish. The Finch House Premium Pour (RM 40) premium pour changes seasonally to allow customers to explore more wine labels.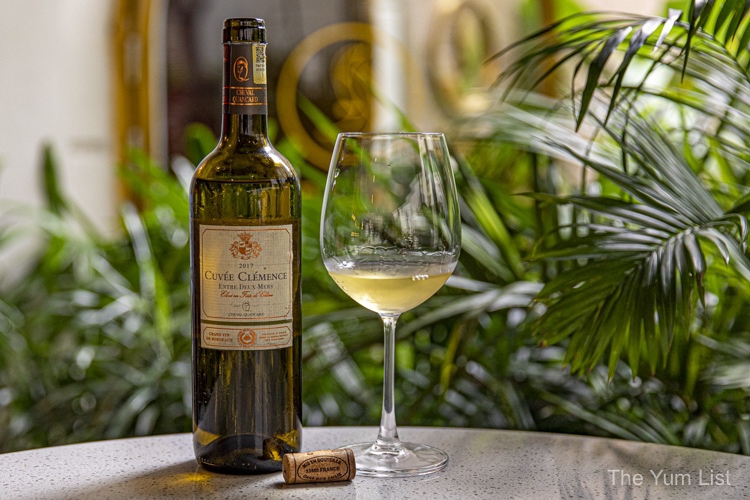 Additionally, Finch KL has a trio from the Generous Gin range. Matching the setting without flaw, the French gin was conceptualized around a garden of Eden. Distilled in small pots, the result is an easy-to-drink and wonderfully aromatic product. The bartender suggests half soda and half tonic so as not to overpower the elegance of the spirit. I try the Original (RM 32), which is fresh and aromatic, and the Purple (RM 35), sporting a lovely violet hue with pepper and grapefruit.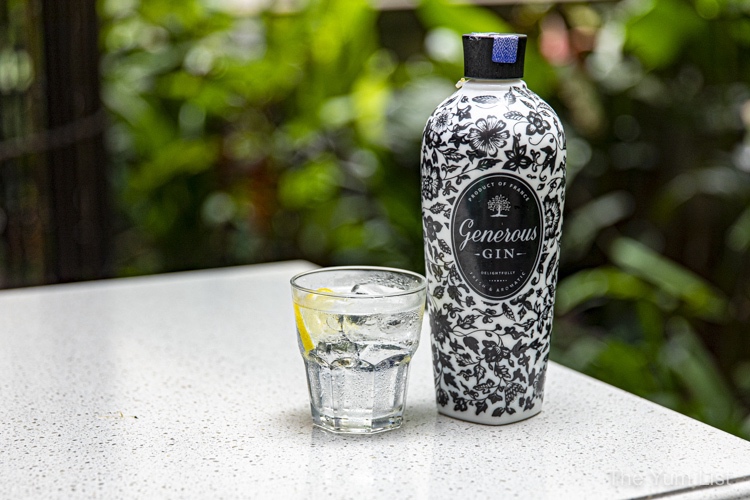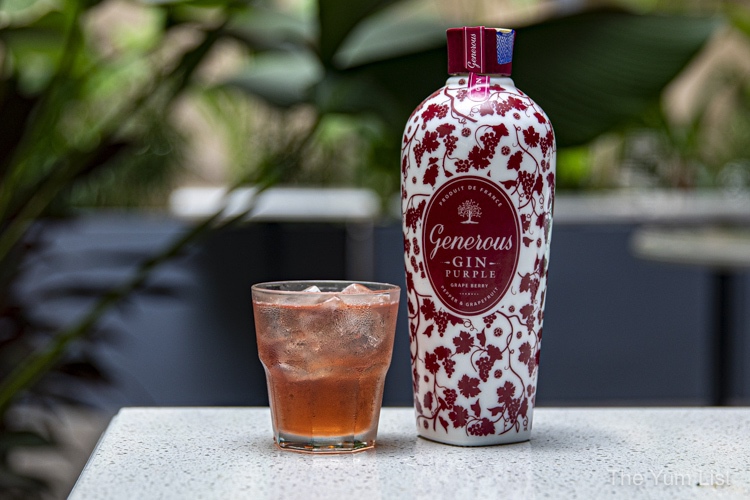 And last, but certainly not least, Finch KL also stocks the premium label of Tequila, Clase Azul Reposado (RM 2600 bottle). When Rebecca mentioned you could ring the bell earlier in this article, she wasn't joking! Trying to make their packaging more sustainable, the cap was redesigned using metal. It was pure accident that it rang when struck, but the sound fast became the symbol preceding the "unleashing of the magic inside the bottle." Just like their current home, the bottles are pieces of art individually painted with the classic cobalt-blue feathered leaf.
Aged for eight months in bourbon barrels, this Clase Azul Reposado possesses a depth of character not usual amongst brands commonly found in Malaysia. Expect an exceptionally smooth sipping experience with notes of nuts, spice and a whisper of agave leading out the conclusion.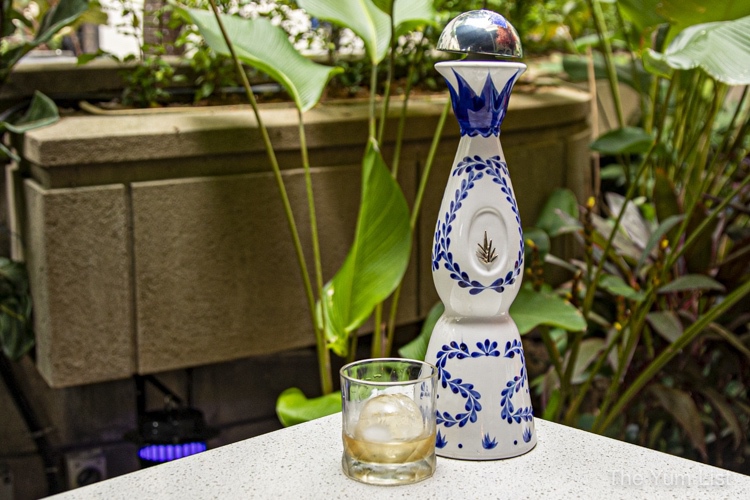 Back to Rebecca…
Finch KL Review
Overall, I left Finch KL feeling like Cinderella caught in Limbo. I've been to a ball but I've still gotten to eat and enjoy life, like an everyday girl.
Reasons to visit Finch KL: a unique setting that is guaranteed to transport you to another realm; boutique selection of wine and spirits with some quality house pours that don't disappoint; must try anything with mushroom and truffle, the wagyu don and chocolate walnut brownie.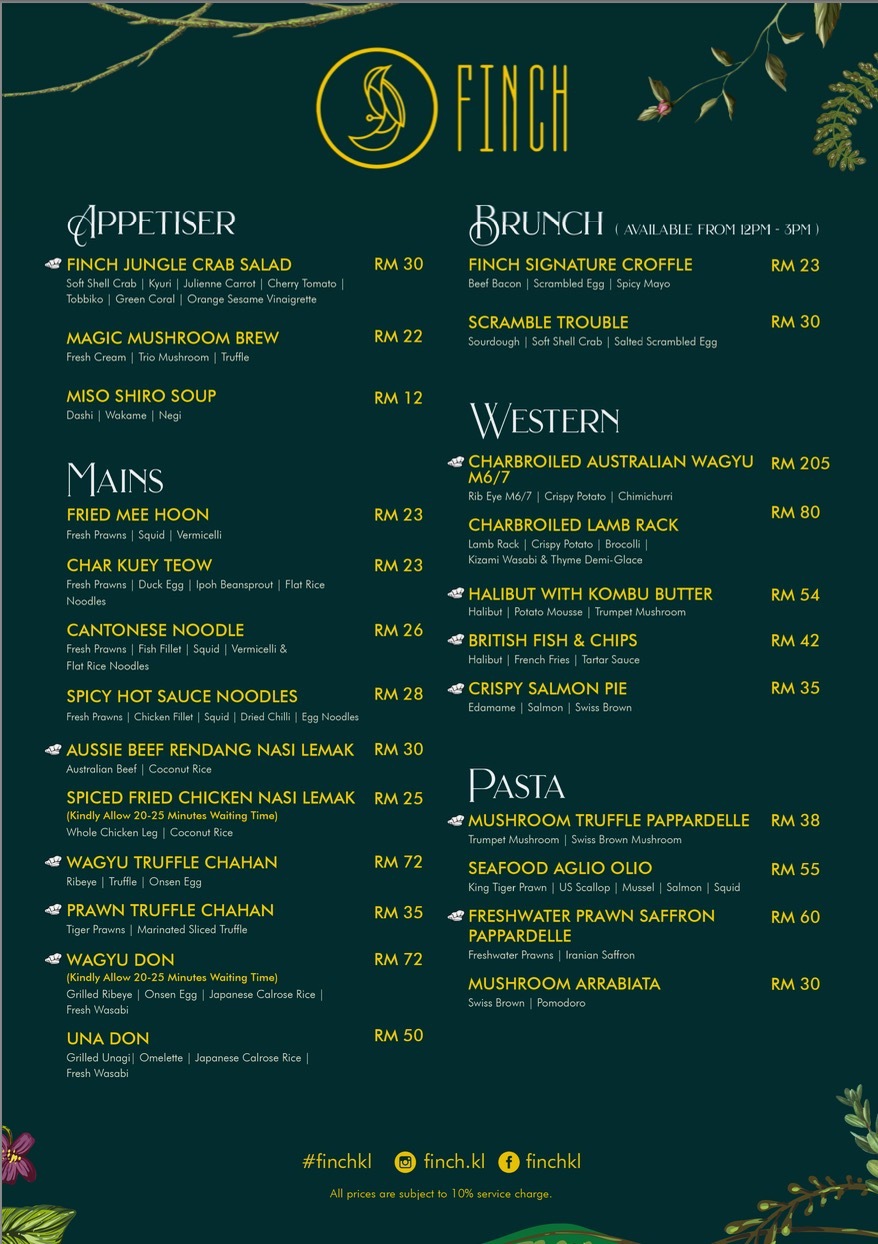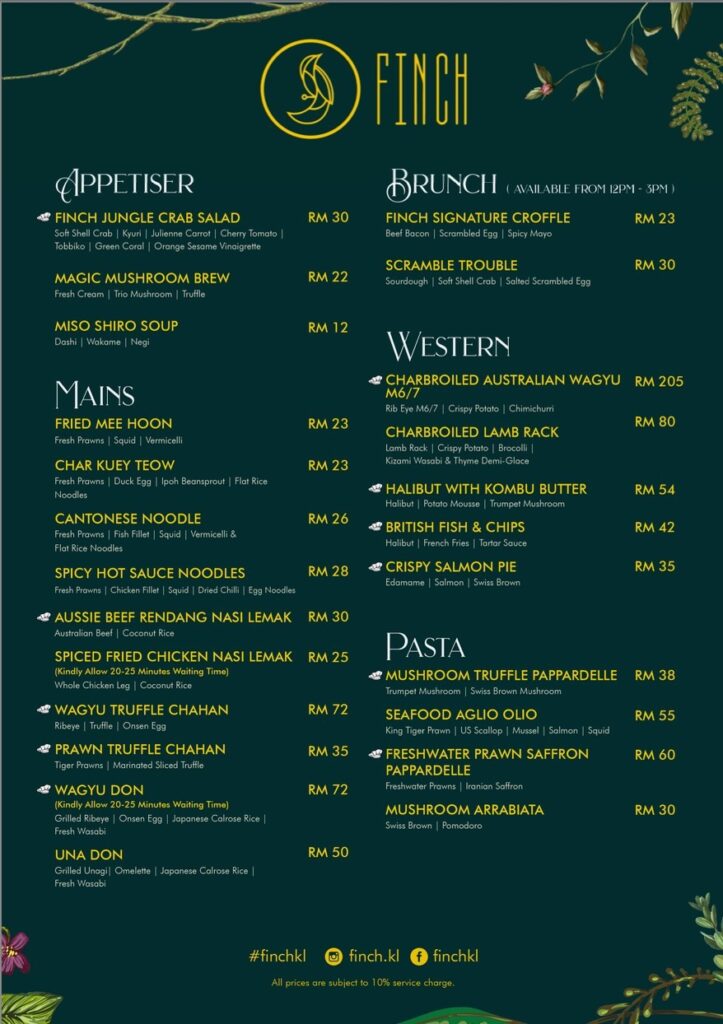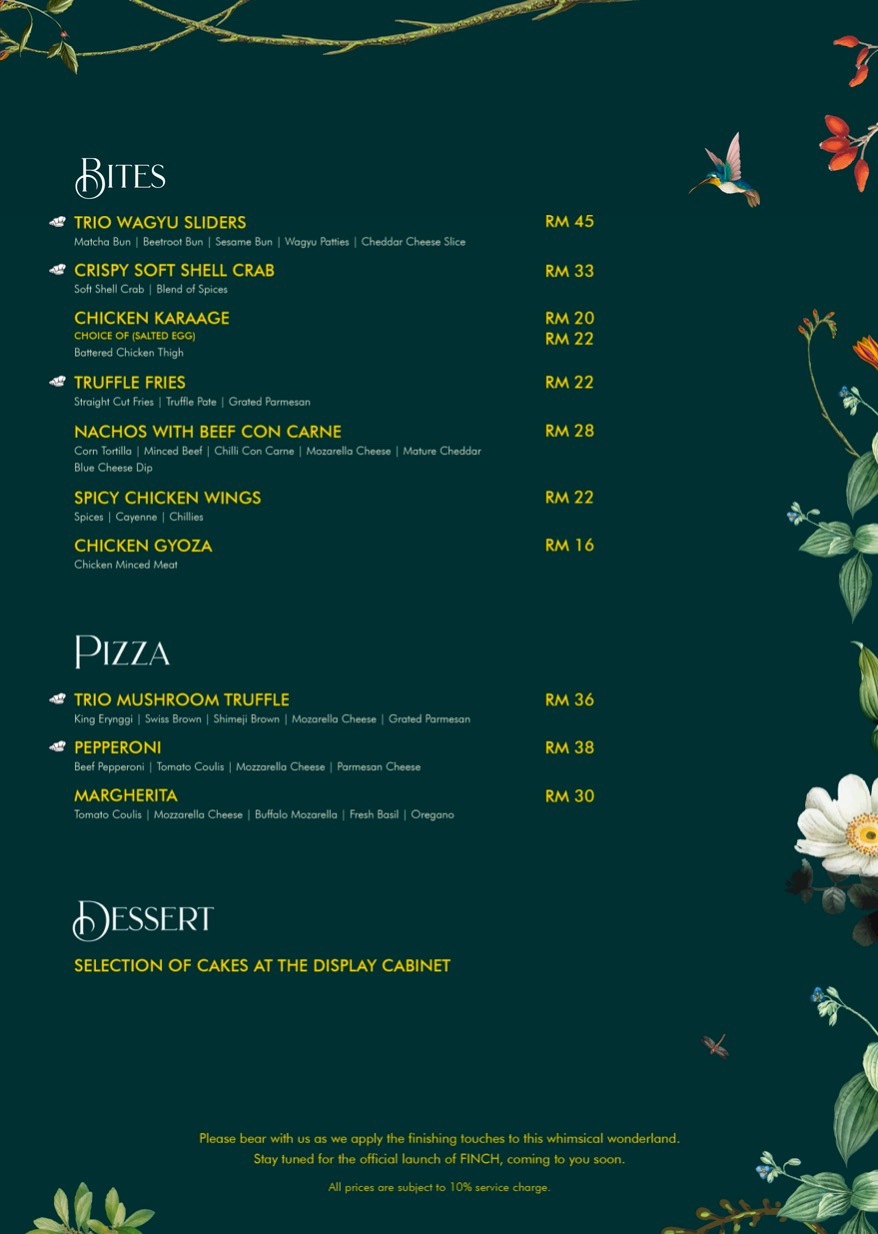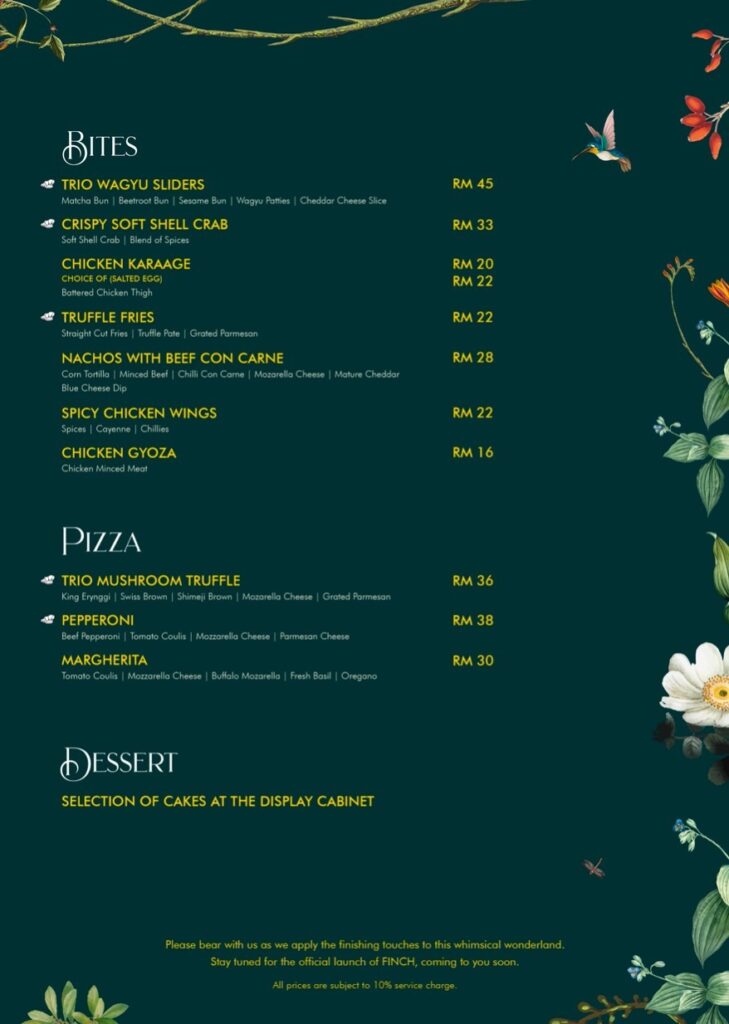 Finch KL
Lower Ground, Level 1 & 2, The Westin
199 Jalan Bukit Bintang, 55100 Kuala Lumpur, Malaysia
+6 010 308 0888
www.facebook.com/finchkl
Finch KL Opening Hours
Daily 12 pm – 12 am
Find more restaurants with unique settings here and stay up-to-date with the latest gourmet and travel recommendations for Malaysia here and here.