Luretta D.O.P. Lot 10
Words: Meg Alice
Photos: Rich Callahan
Monica, Rich, and I were delighted to dine at the newly opened Luretta D.O.P. deli tucked in the basement of the gourmet Lot 10 food court in Bukit Bintang. Luretta D.O.P. shares the same name as the biodynamic Luretta winery, located in the northwest province of Piacenza, Italy. This Italian deli nestled amongst the sea of Asian food stalls serves Luretta's organic wine. It is also the second branch to open in KL with the other operating at 1 Utama Shopping Centre since 2015.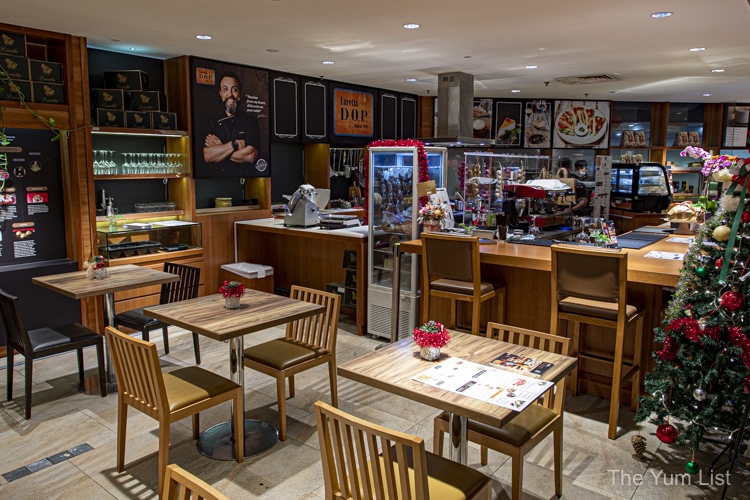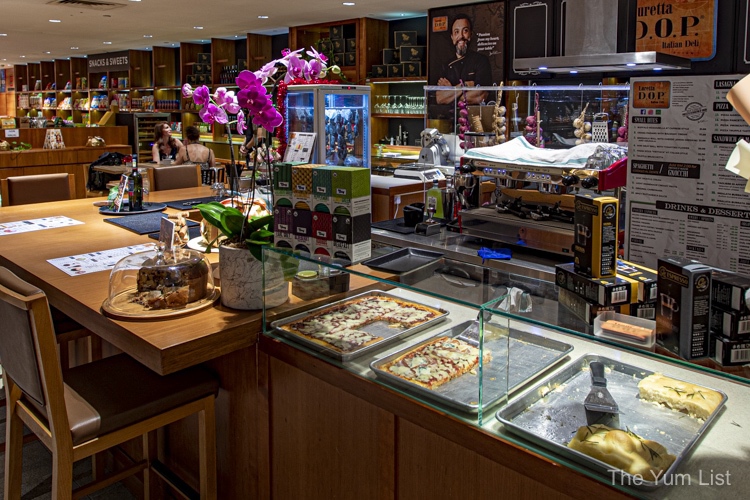 Luretta D.O.P. at Lot 10
Luretta D.O.P. is the vision of Chef Emil Sassolini, one of three brothers in Malaysia from Italy and whose family runs the winery of the same name. We had the pleasure of speaking with Chef Emil's brother Nico who is not a chef or winegrower, but he is an ambassador for the Luretta vision. He explained that he loves living in Malaysia but missed Italian food and wine thus insisted on the Italian deli coming into existence. He described his brother Emil as unbending in upholding original Italian recipes. "Fusion" is not a word in Chef Emil's food vocabulary which seems to be fine with Nico and Simone, the third brother who works at 1 Utama branch.
For a short food lesson, "D.O.P." means Denominazione d' Origine Protetta, or in English, Protected Designation of Origin. It is a geographic indication by the European Union and the United Kingdom to preserve the origins of food-related products. Luretta D.O.P. uses this designation in its title because Chef Emil imports D.O.P. products from Italy on a biweekly basis.
This was a lively Italian experience for The Yum List reminding us that la vita è bella. We are greeted by Andrea, the manager, from Italy (he's also a professional photographer). At first Chef Emil was supposed to join us, but then the Italian Ambassador needed him–così è la vita–and then Nico joined us instead opening his favourite bottles of Luretta wines while Andrea explained the food. We were educated in squacquerone cheese, indulged in D.O.P. porchetta, and relished in the simplicity of quality Italian ingredients.
Small Bites
We start with three dishes from the Small Bites section of the menu. Appropriately, our first dish is the best cold cuts that I've experienced in Malaysia. I have become so accustomed to pre-packaged prosciutto from supermarkets that I forgot what the real thing tastes like. We enjoy razor-thin Parma ham and coppa. Both melt in your mouth. The Parma ham is almost translucent. The accompanying bread is toasted and salted. There is a depth to this simple plate with every ingredient having been made with love and having had a long journey to Malaysia. Even the olives are delicious in their own right.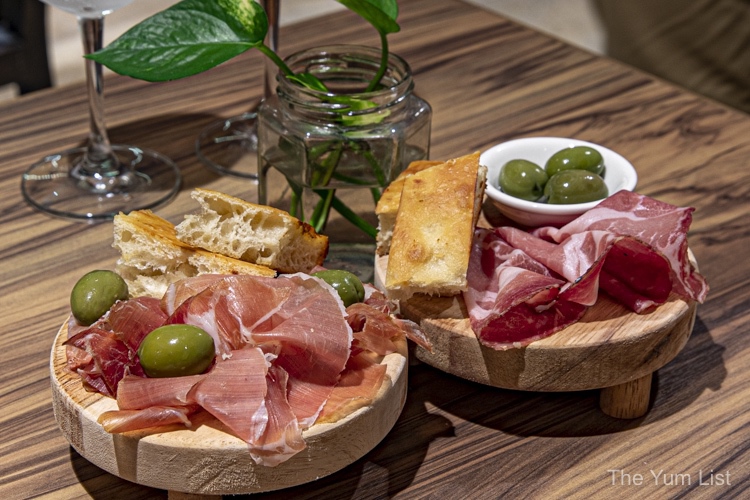 Next, we enjoy the bresaola (air-dried salted beef) rolled with squacquerone cheese (RM 22), which has the texture of cream cheese but is fresher, lighter, and creamier. Interestingly the etymology, "squaglia," meaning "melts," refers to the consistency of the cheese. It's extremely soft and spreadable with a sweet-sour finish.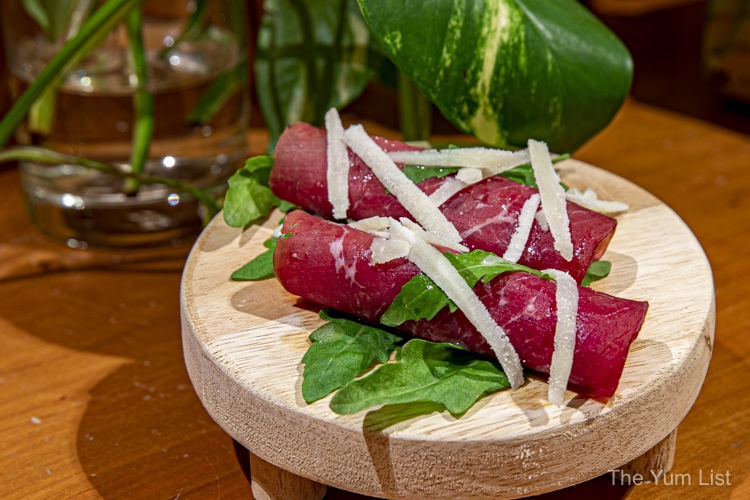 Last, we taste the mini meatballs which are moist and complex (RM 20). The texture of the ground pork mixed with herbs is on the course and looser side which works well to let the tomato sauce penetrate it. The tomato sauce is worth buying if they sell it in a jar. This is a great dish especially during this rainy, "cold" winter that we're experiencing in Kuala Lumpur this season.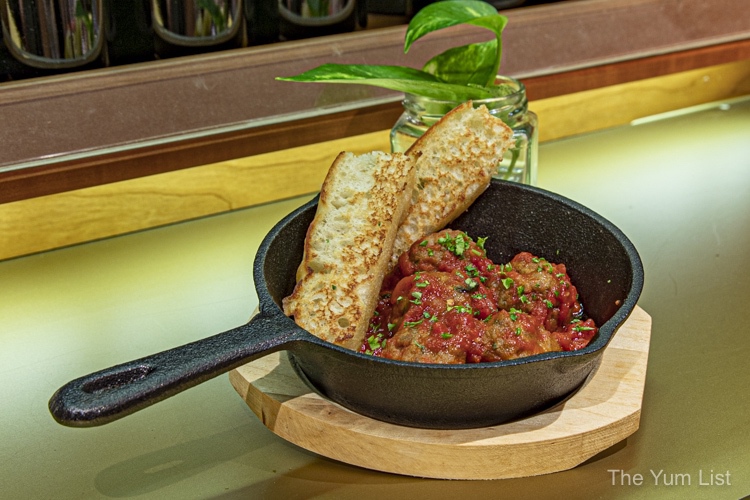 Luretta D.O.P. Pasta
Chef Emil arranges for us to taste three of his pasta creations. We first test the homemade gnocchi with D.O.P. truffle cream sauce (RM 39 + RM 2 extra for the gnocchi upgrade), which you can also buy in jar form. The dish includes almond slices to give a crunch. I would not have thought to order this but am glad to have tried it. This is the homiest dish of the night and the epitome of comfort food.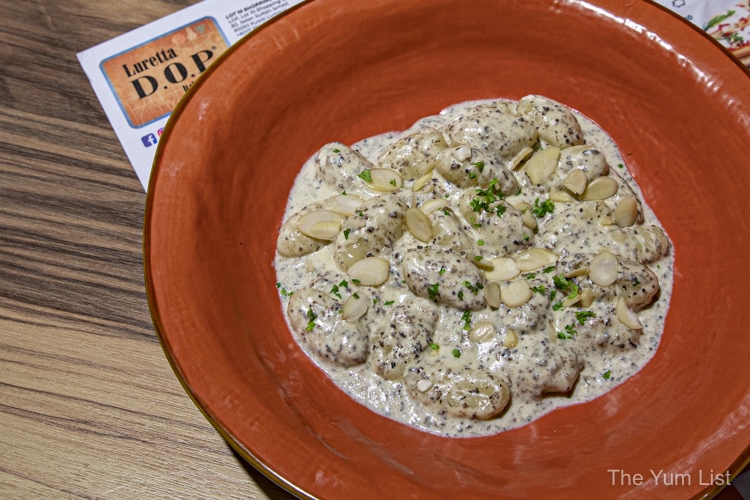 We also try spaghetti with pesto sauce (RM 28). Organic spaghetti is imported from Italy and is available for purchase. The pesto is herbaceous and bright green. We are surprised to find green beans in the dish which are camouflaged by the colour of the pesto and blend in shape with the thick strands of pasta.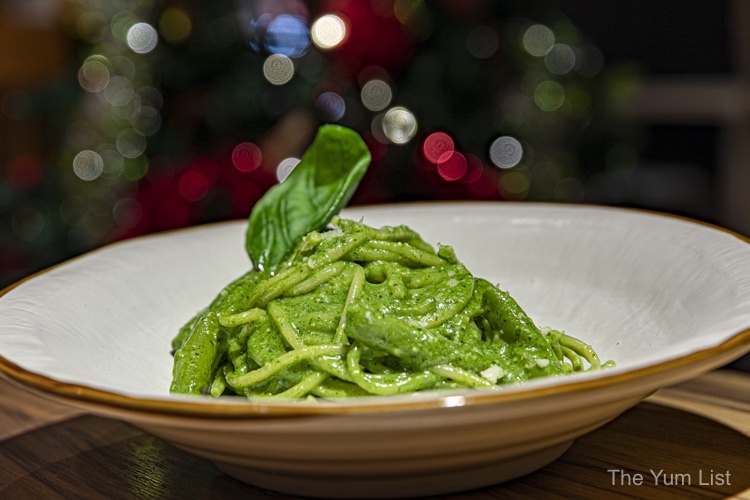 Carbonara is one of my all-time favourite dishes which seems to vary hugely in interpretation. Luretta D.O.P.'s carbonara (RM 32) is focused on making the egg yolk the star ingredient. There is no cream and little cheese, but the dish is extremely rich and deep yellow in colour. The bacon cuts are large, distinct, and proud.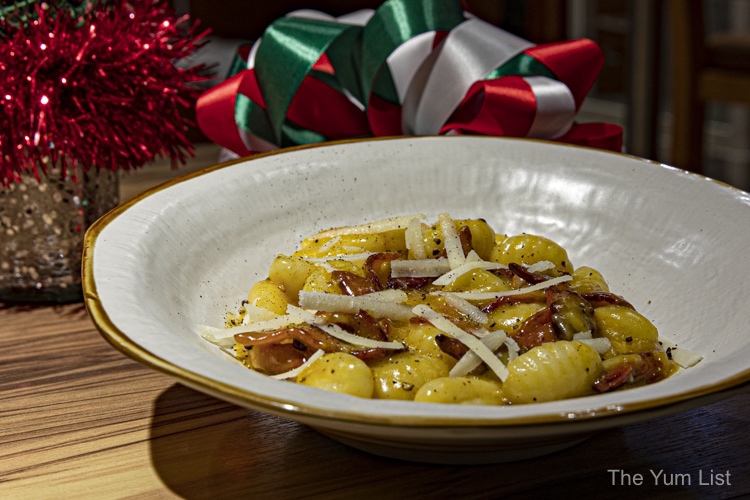 Sandwich and Main Course
From the "Sandwich and Main Course" menu, we test the focaccia saporita (RM 22) and porchetta burger gourmet served two ways (RM 32). Starting with the focaccia saporita, this is another revelation in simplicity. It's comprised of homemade focaccia with honey ham, provolone, and thinly sliced zucchini. The only other ingredient is Chef Emil's special white sauce which is like a cross between mayonnaise and ranch salad dressing. Hairdressers and clothing designers say that the simplest styles are the most difficult to execute because there's no hiding the flaws. That sentiment reminds me of the execution of this sandwich.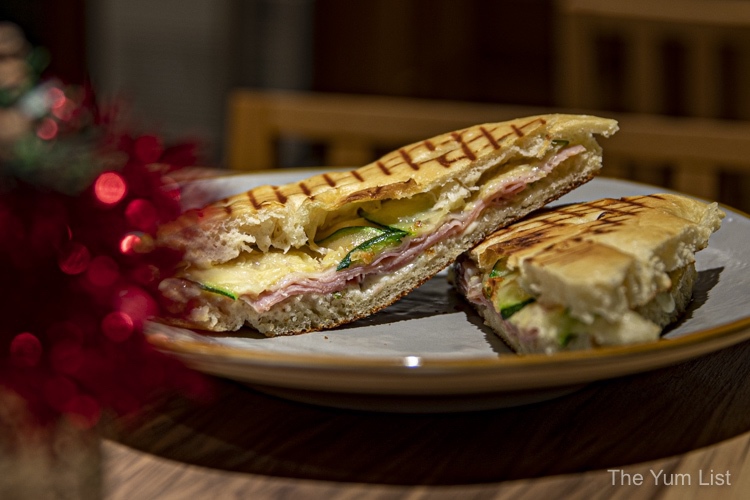 The first of the porchetta sliders are served with D.O.P. porchetta, D.O.P. sauce (the same as from the focaccia saporita), rocket salad, and a hint of truffle. This is Rich's favourite while I prefer anything with gorgonzola. The second burger is served with the same porchetta, caramelized onion, rocket, and melting gorgonzola cheese. The porchetta is sliced like the cold cuts–ultra-thin and piled up. The bread for the bun is a fresh brioche.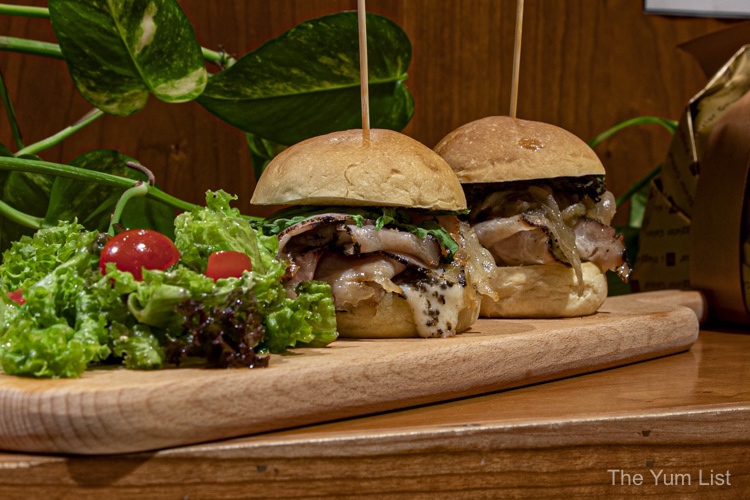 Dessert
Our dessert, the original tiramisu (RM 20) is a generously large cut and everything that I want in an "original." The proportion of mascarpone to the coffee is just right and the lightness is welcome after the heavier items in the meal. Andrea, overcome by his Italian roots to feed us, wants to serve us Milano cheesecake too but one thing we've learned from the Luretta D.O.P. experience is less is more. I don't want another dessert memory to distract from the delicious tiramisu.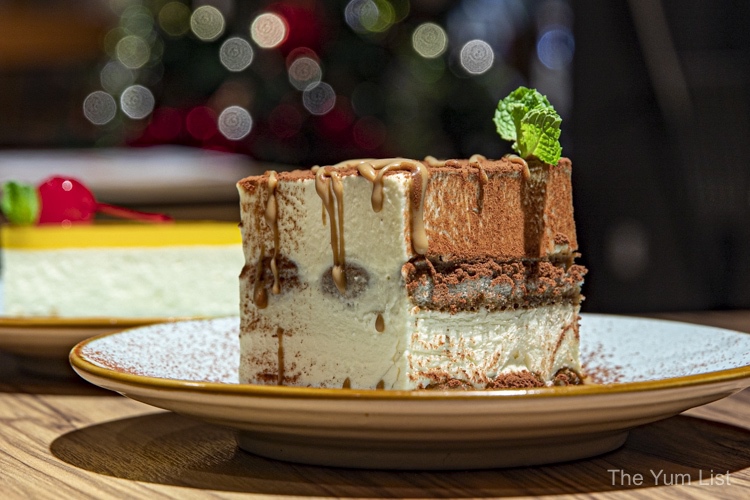 Luretta D.O.P. Drinks Menu
As mentioned, the highlight of Luretta D.O.P's drinks menu is their own wine label as well as several direct imports of gin. I start off with an off-menu creation by Andrea: a spritzer with Campari, sparkling wine, and soda water. It's akin to the Aperol Spritz which is on the menu (RM 34). I savour its bitter coolness and aperitif qualities. Monica opts for a gin and tonic made from Johnsen's organic bio gin which is exclusive to Luretta in Malaysia. The bottle sells for RM 310.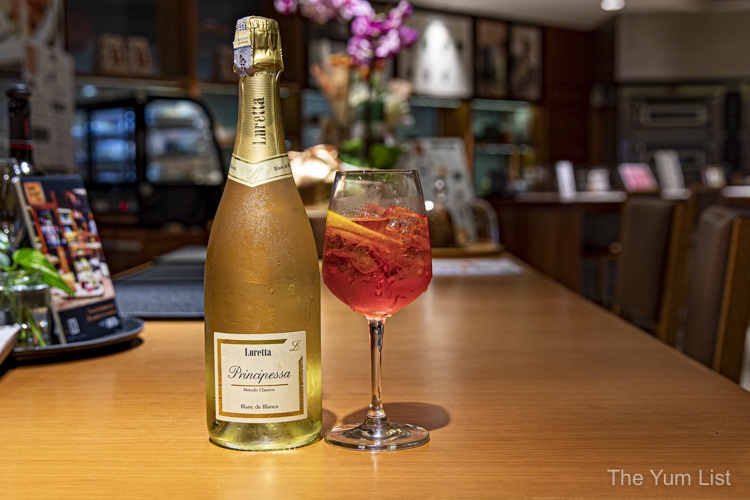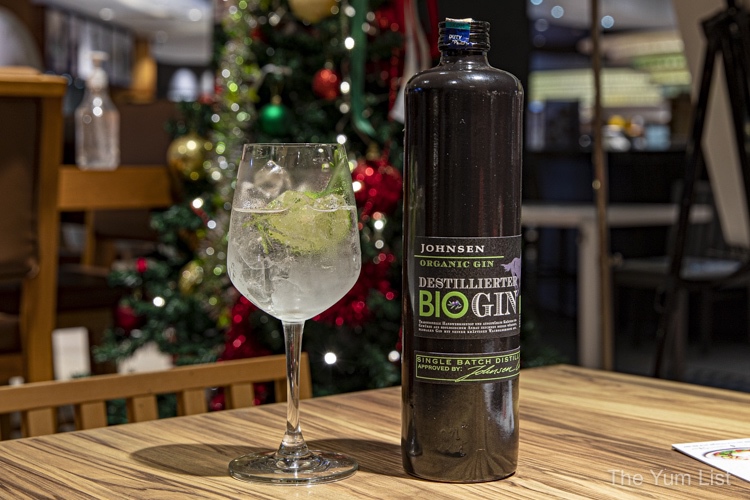 Since the sparkling wine is already opened, we sample it standalone. It's the Principessa sparkling wine with grapes planted in 1992. Monica comments that it's the best version of Luretta's sparkling wine that she's had so far. We are also lucky enough to try the Selin Dl'Armari chardonnay and L'ala del Drago red blend selected by Nico. The chardonnay has a hint of vanilla and is quite oaky.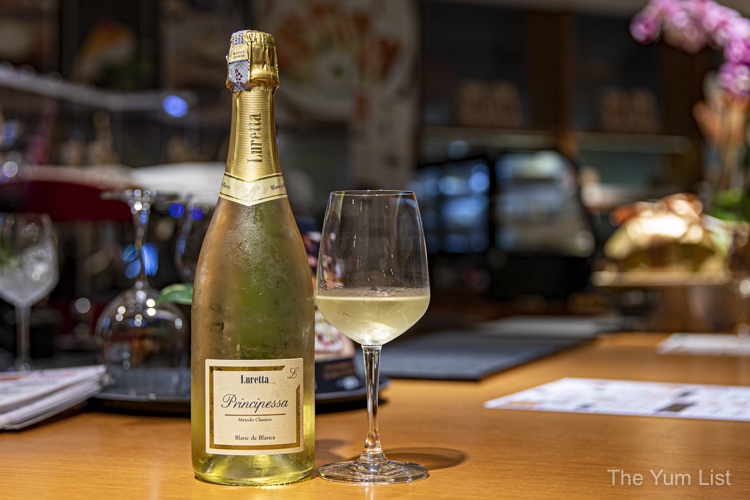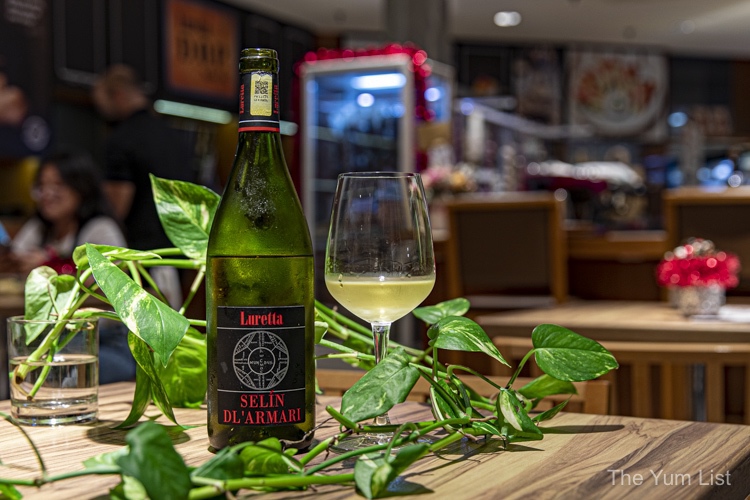 The L'alo del Drago is special as seldom does a two-grape varietal – barbera and bonarda – receive the D.O.C. designation. With my novice wine vocabulary, all I can think is that it's the exact wine I would want if I stopped for lunch in a village outside Milan while travelling to the coast. Monica likes the green pepper in the bouquet.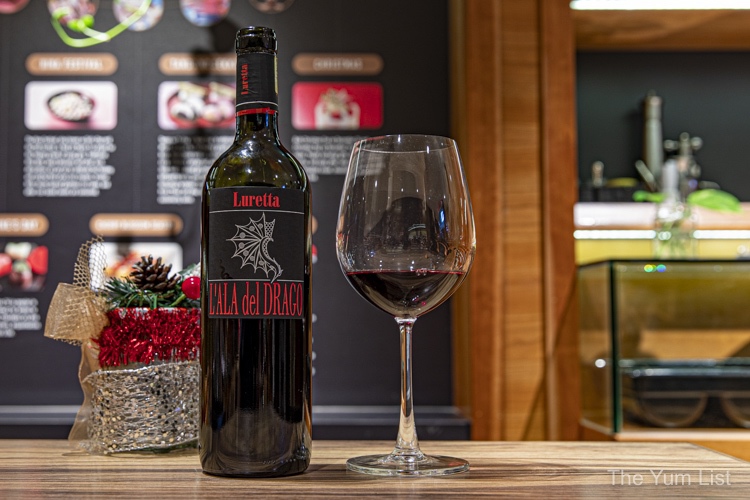 While Andrea could not convince us to overindulge in a second dessert, he did get us to try the Villa Massa limoncello which he serves in ice-cold liqueur glasses. It is worth a few sips to end the meal on this clean, crisp essence of lemon. All of the wines are available for purchase by the bottle for taking home. They range in price from RM 100 to RM 300. Luretta D.O.P's wines rotate regularly depending on what is imported by the family.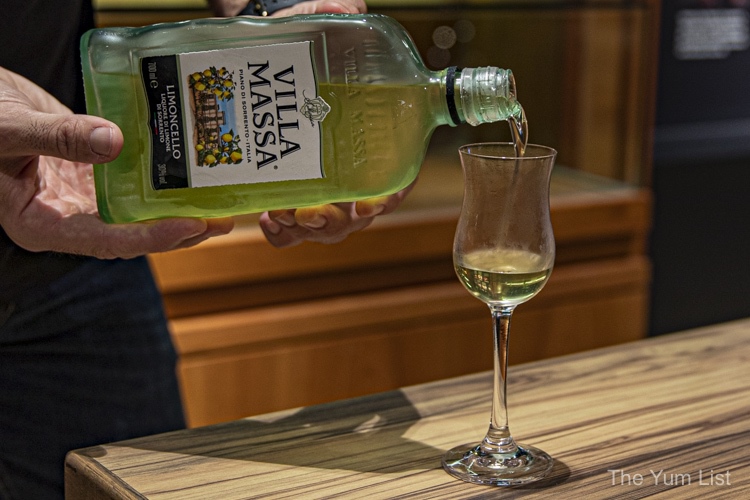 Luretta D.O.P. – The Details
Luretta D.O.P. is an ideal stop when you're in Bukit Bintang to drop by for a cappuccino, drink, snack, meal, or to buy items from the deli. The draw is the quality of the ingredients which you won't be able to find elsewhere in Malaysia. The D.O.P. designation is the real deal, not a marketing gimmick. While we didn't have a chance to try everything, they also serve pizza, lasagna, and various cheeses like buffalo mozzarella and burrata. The Italian deli is reasonably priced with the most expensive food items on the menu being RM 39 or less barring the burrata and larger sharing platters of cold cuts.
Reasons to visit Luretta D.O.P.: a unique place to experience Chef Emil and the Sassolini family's ethos of bringing authentic, quality Italian food to Malaysia.
Luretta D.O.P. Italian Deli (Lot 10)
Lower Ground Floor Isetan
Lot 10 Shopping Center
50, Jalan Sultan Ismail
50250 Kuala Lumpur, Malaysia
+60 17 294 6173
Luretta D.O.P. Lot 10 Opening Hours
Daily 10 am to 10 pm
(Luretta D.O.P. at Lot 10 is not on food delivery platforms like Grab or Foodpanda yet, but they are exploring these options.)
Find more Italian restaurants in KL here and stay up-to-date on the latest happenings in KL's food and beverage scene here and here.