V's Lounge
Words: Monica Tindall
Photos: Rich Callahan
V's Lounge is the stylish new bar above Zenzero at Menara Amplewest. It's the latest star of Petra Lifestyle, the food, beverage, hospitality and entertainment division of the Petra Group. Designed as a space for quality drinks, food and cigars with live entertainment, it has already become the place to be even though it's less than a month old.
The attraction is undeniable. Located on the corner lot of Amplewest, the sophisticated lounge overlooks treetops offering a green outlook in the late afternoon. In the evening as daylight fades, warm lighting illuminates a shiny bar with accents of sage green and gold. A small stage provides a space for live entertainment and the food and beverage menu is exceptional. There's even a private room with a secret entrance, perfect for small events and intimate dinners.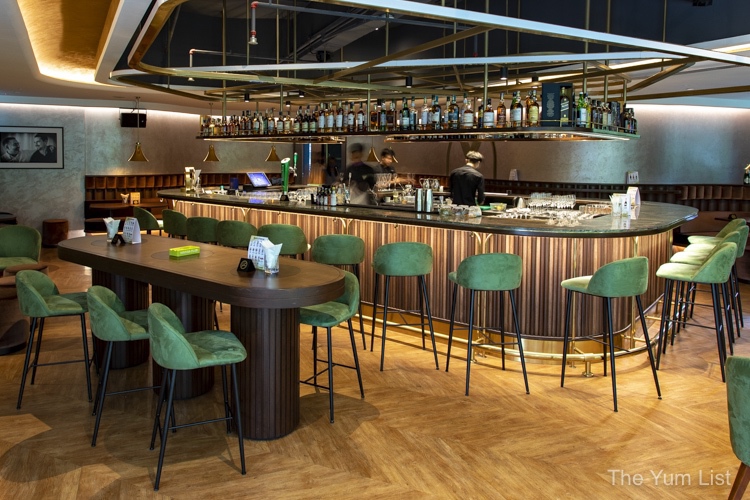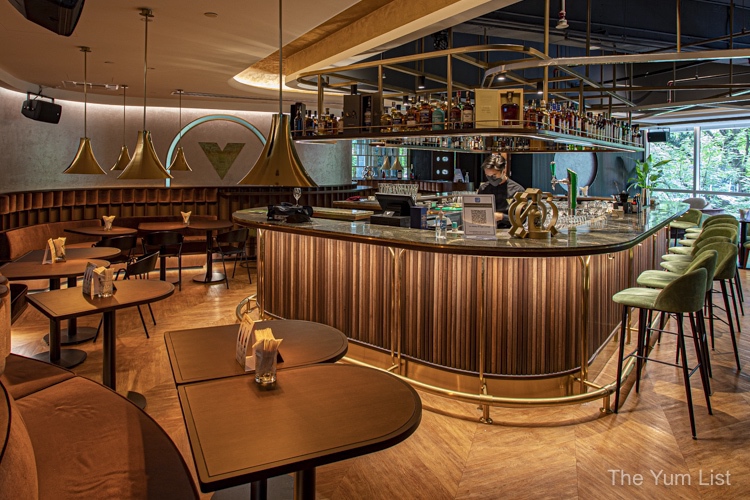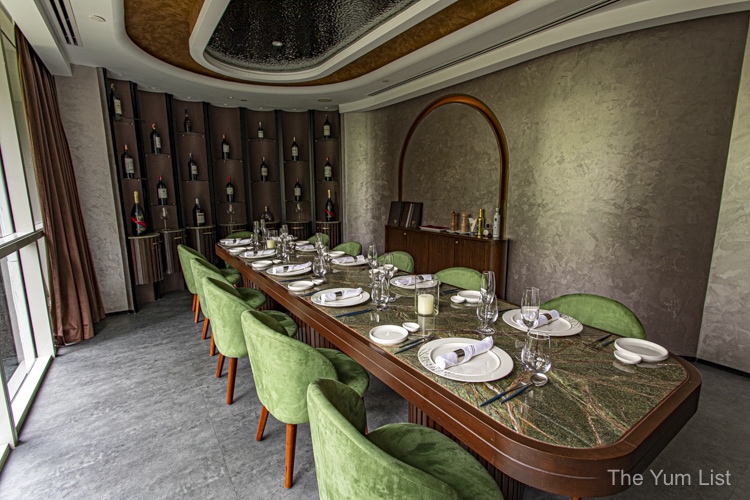 President of PETRA Lifestyle, Roberto Guiati, joins us for a meal and is humbly pleased with the immediate success of V's Lounge. "It's been full-house since we opened," he shares. "I think people appreciate having live entertainment in a nice setting." We're here early and don't stay for the music but do enjoy the chic vibe and quality food and beverage.
V's Lounge Wine List
V's Lounge has a quality selection of Italian, old and new world wines. A quick look inside the cellar will make any wine aficionado drool. Additionally, several well-chosen wines are available by the glass.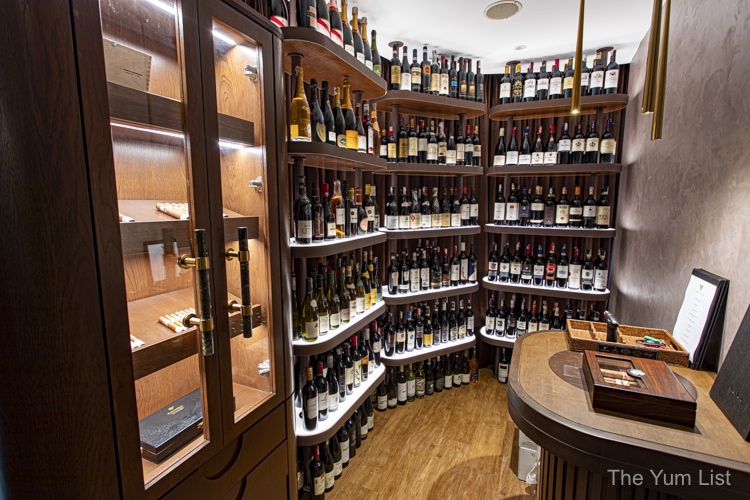 Pinot Grigio tends to have a bad name outside of Italy. As one of the country's most-produced wines, it tended to be exported en masse and some of the poorer quality drops reached palates overseas. However, with the number of lesser quality labels comes an equal amount of fine producers. Grown in the northeast of the country, in higher altitudes, the wine tends to be bright, zippy, savoury and often has a mineral thread in the finish. V's Lounge's list offers Pinot Grigio Prestige DOC, Grave San Simone, Italy (RM 37) by the glass. It's well-chosen and the latter in quality.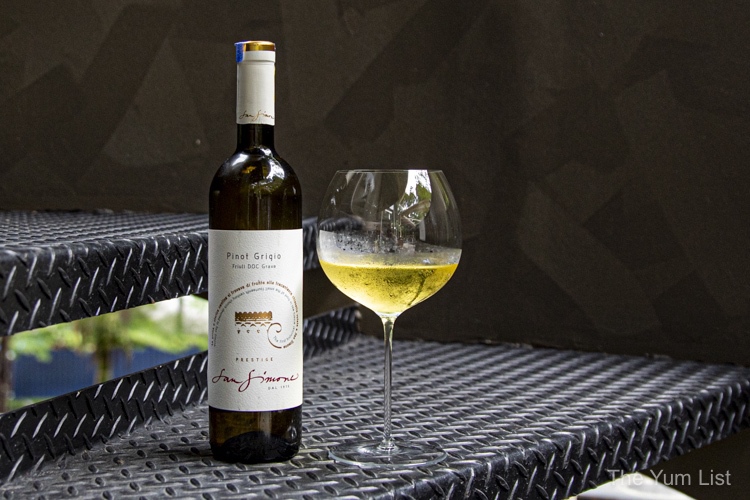 Later in the meal, I move to a red, Sangiovese Tizzonero IGT La Carraia from Umbria (RM 39). It's a blend of Sangiovese and Montepulciano getting its name thanks to its dark hue. There's plenty of fruit in the bouquet with a little chocolate and anise. It's soft and juicy in the mouth with a persistent finish. It's great with our pasta dishes with meat sauce.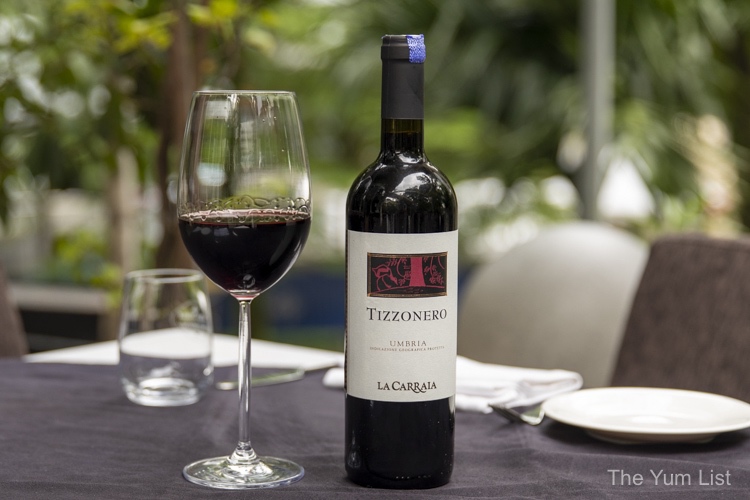 Antipasti & Bar Snacks
Great with an aperitif, Chips & Dip (RM 18) are easy munching while browsing the menu. These are no ordinary chips, though. They're slenderly sliced roots vegetables – purple and yellow sweet potato – alongside semolina bread and a Parmesan crepe. Mayonnaise arrabbiata is a tasty and familiar dip with a light whisper of spice making our mouths water.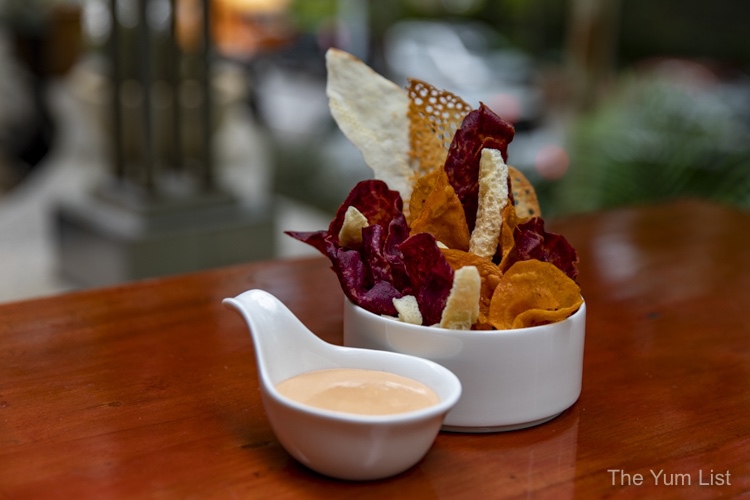 The Caprese Guacamole Salad (RM 84) works marvellously well together. The creamy guacamole is a mound on the side. Eggplant pesto is mixed with quartered heirloom tomatoes. Lastly, fat slices of buffalo mozzarella grace the top. It's delicious.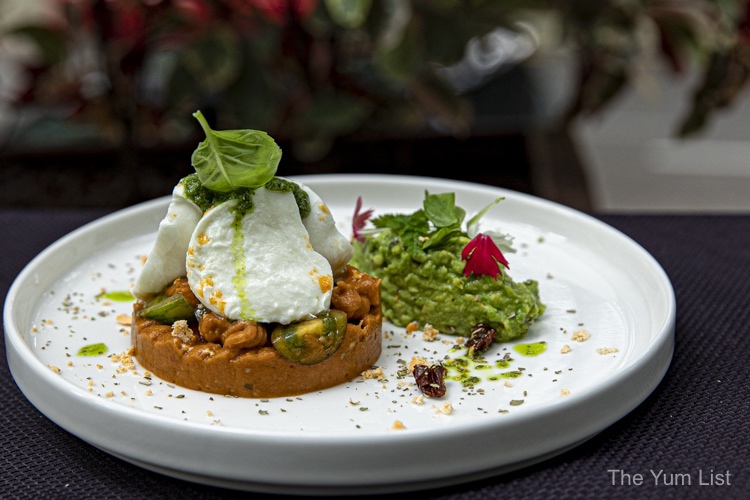 Oysters
Irish Oysters (RM 18 per piece) are absolute beauties. They come with a tasty sauce and slice of lemon but with specimens this good, I'd rather appreciate them naked savouring the brine, slippery meaty texture and taste of the sea.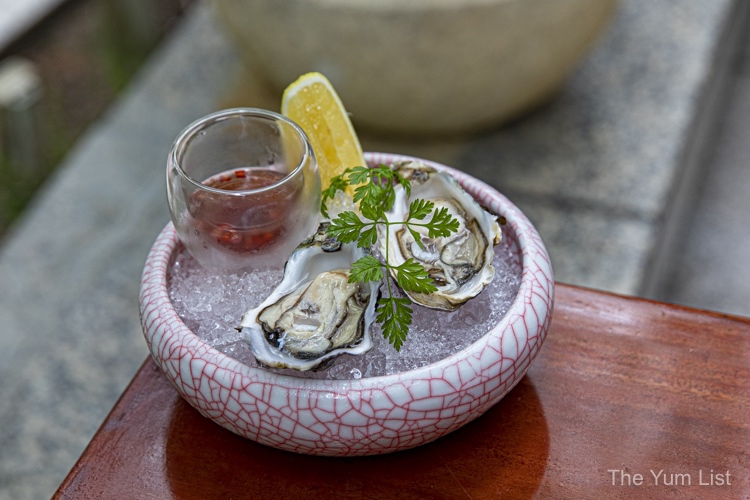 Pasta
Executive chef Paolo Petris' skill is evident in the Strozzapreti Pasta (RM 72). Each type of handmade Italian pasta requires a different movement of the hand to get the shape just so. This one results in elongated, twisted tubes that cup small amounts of the rich lamb sausage ragu and Calabria sauce. It's accompanied by cherry tomatoes and pecorino cheese. If you speak Italian you might be smiling at the name which translates to "priest strangler." The story goes that years back the church removed eggs from the food supply forcing people to make pasta on flour and water alone. In response, women named the pasta the "priest strangler" in hopes that he would choke on a piece of eggless pasta. Thankfully, there's no choking here, only enthusiasm to try another handmade pasta, Pappardelle al Ragu (RM 72). This time wide, flat ribbons are coated in lamb and beef ragu and topped with crumbled salted ricotta. It's also a fine order.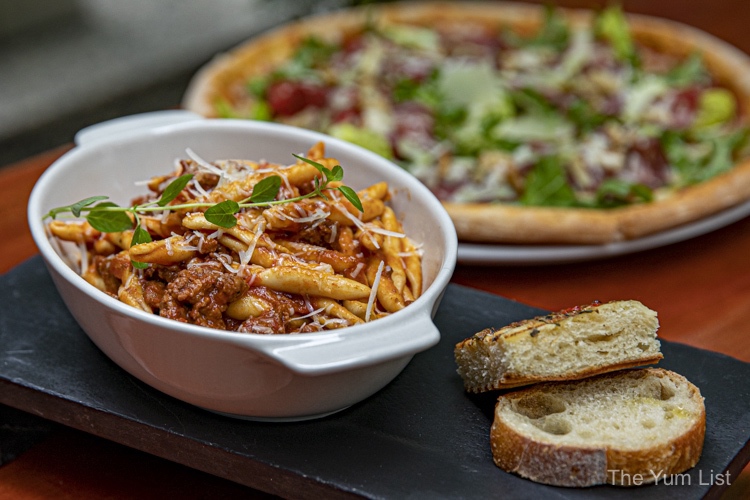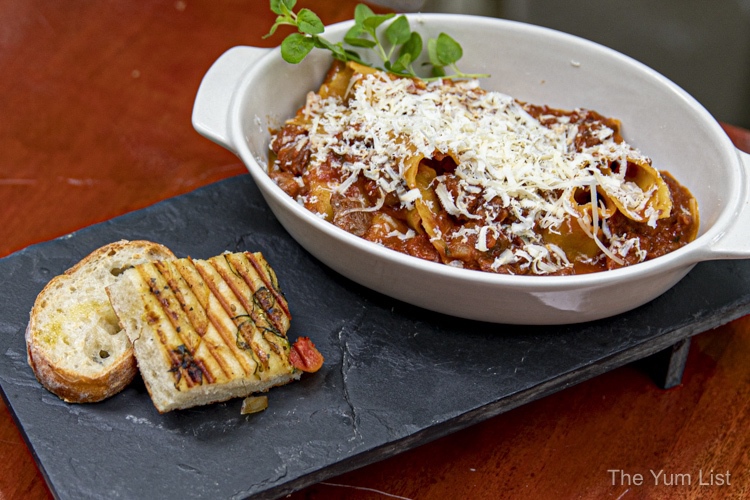 Pizza
Great for sharing (or not depending on your appetite), the Pizza Reale (RM 118) is a beauty with tomato sauce, mozzarella, Black Angus beef carpaccio, arugula and celery, Grana Padano, gorgonzola, pecorino Romano, drunken cheese and walnuts. Rich sums it up nicely, "What's there to say. It's perfect. The crust is nice and firm. You pick it up and the ingredients don't fall off. I don't know what other compliment I could give them. They do it right. When I go get pizza, this is what I want."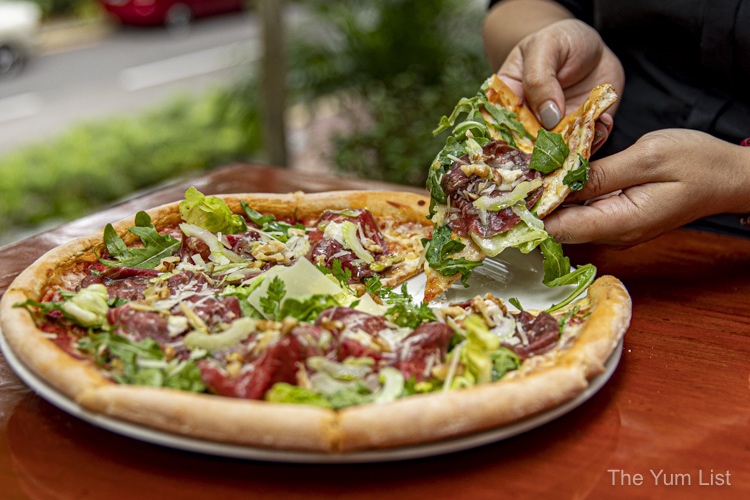 V's Lounge Cocktails
The food is "phenomenal" in Rich's words and the cocktails hold their own too. Bartender Affie has curated several signatures that are both enjoyable and photogenic. Affie recommends the Wintermilan (RM 39) as light, refreshing, floral and easy to enjoy. Chrysanthemum-infused white wine combines with Campari (hence the "Milan" in the name), wintermelon and tonic. It's presented in the most unusual of vessels. We imagine the glass would be perfect for also holding a snack.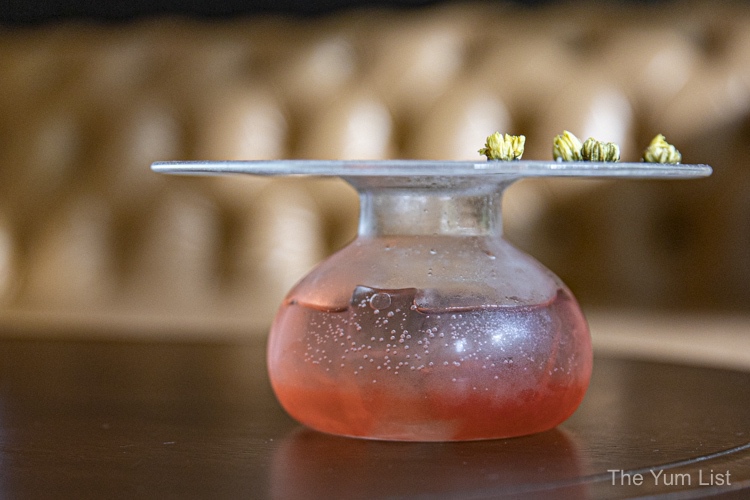 In a more straightforward white ceramic cup, Stay Wheat Me (RM 48) reminds me of wheatgrass shots, only much more fun. Agricole rum is the base with wheatgrass syrup, jasmine tea and lime offering layers of fresh grass and a sweet finish. Green tuile covers the lid again making for a striking presentation.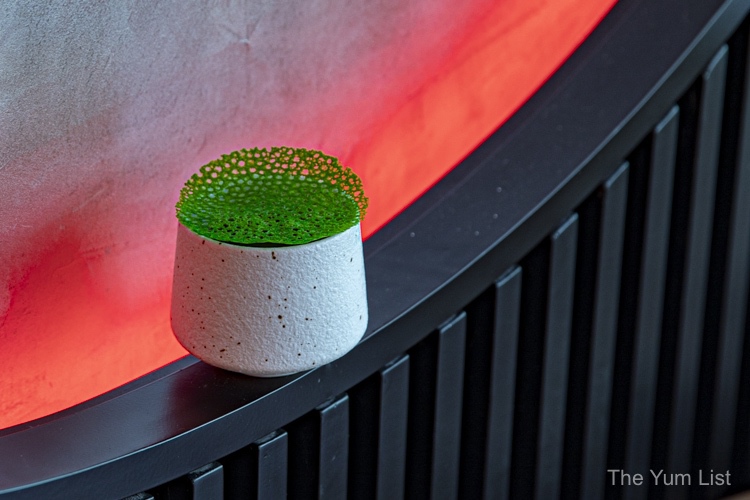 Entertainment Venue KL – V's Lounge
With a small stage, V's Lounge is increasingly adding to its entertainment line-up. Wednesdays are salsa nights with a DJ, while Friday and Saturday showcase a resident live band. On Sundays, there's an acoustic performance with all kicking off around 9 pm.
Reasons to visit V's Lounge: stylish setting; quality food and beverage options; must try chef Paolo's handmade pasta dishes and Affie's Wintermilan cocktail.
V's Lounge
Lot AG1 Menara Amplewest (Above Zenzero)
6 No, Jalan Puncak,
50250 Kuala Lumpur, Malaysia
+6 0192023800
www.facebook.com/vs.lounge.kl
V's Lounge Opening Hours
Daily: 5pm onwards
Find more Italian restaurants in KL here and stay up-to-date on the latest happenings in KL's food and beverage scene here and here.