The REX Bar KL
Words: Alison Christ
Photos: Rich Callahan
REXKL is a community-based cultural and creative hub in downtown Kuala Lumpur. There's something for everyone here including many food options, natural wine, cocktails, beer, coffee, live music, DJs, shopping, art installations, and now an awesome brand new book store. I've been a huge fan of REXKL since the first day I came here a few years ago, and it is one of the places I missed the most during the lockdowns. It's amazing to see the buzz that's happening here now, with people from all walks of life enjoying the space and activities.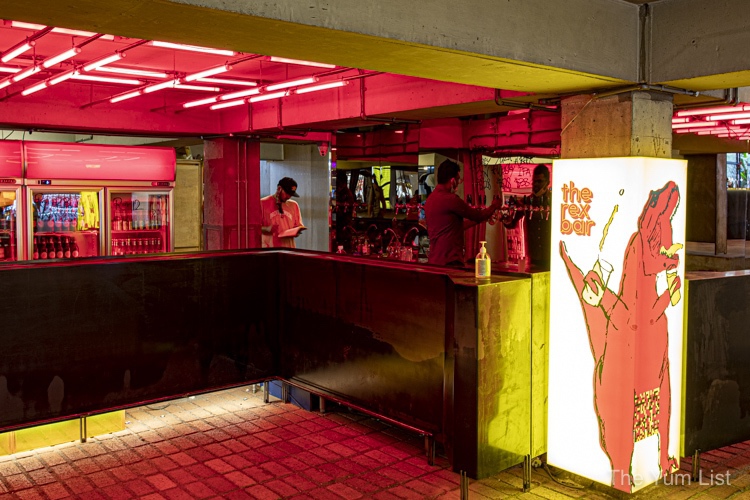 The REX Bar KL
The team at REXKL is always busy crafting new ideas, events, and concepts. Monica and I are happy to meet with general manager, Angel Ng, to try all the new highballs featured in the relaunch of The REX Bar. The REX Bar initially was just for craft beer, and then the famous Angel Ng of PS150 teamed up with REXKL to help them invigorate the selections. 
Angel says sometimes it's tricky when it comes to drinking alcohol as many locals go flush, so she's created a highball menu that's easy to enjoy so you don't get drunk too easily. Lower alcohol drinks seem to be a trend for the younger generation these days so I'm sure the highballs are going to have a lot of fans. She continues that moderation is key to the success of the alcohol business; we don't want to become the tobacco industry. Highball bars are popping up everywhere in Asia and other parts of the world.
Angel's motto for her 30's is "Keep it simple – keep it coming". Life is complicated enough so let's keep it easy. In sticking with this motto Angel has curated four hand-crafted highball drinks and four drinks on tap. All the names of the highballs are names of human beings or characters because every drink is temperamental just like a person.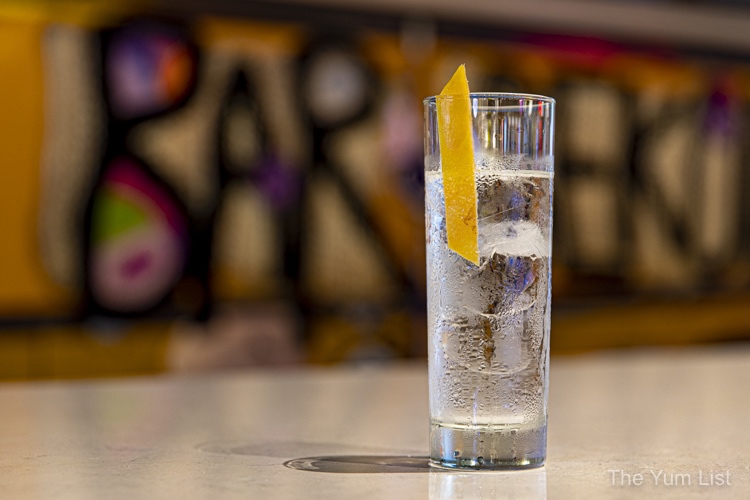 The REX Bar KL Menu
We start with a hybrid of a Paloma & Michelada the Mdm. Taka Blanco. Instead of using Bloody Mary, Angel adds spicy miso. The drink has a nice umami taste, is pleasantly salty and I get notes of chocolate. Angel says the chocolate is coming from the family-owned Tequila brand Don Julio Reposado. The word Taka is a light-hearted Mexican slang for the Japanese. This drink is easy to like, won't make you crazy, and the price is nice RM32.
We move on to the Jacky Joseph Junior (RM35), which is Jameson Black Barrel Whisky, Jackfruit Tea, Orlean Bitters, and Club Soda. JJJ is balanced with notes of sassafras and vanilla bean, it reminds us of a root beer float with vanilla ice cream. Angel loves to hear this because this drink is a tribute to Angel's son that she created on a guest shift in Dublin while she was pregnant a few years ago.
The Tales of Kopitiam Uncle is Sake, Salted Mandarin, and Sonic RM 30. I learn something new here that sonic is an industry term for 1/2 soda ½ tonic. I love sake and the dominant flavour comes from the sake. Monica suggests it tastes like asam boi and Angel says that's from the salted mandarin. The drink's namesake is Kopitiam Uncle, a famous Chinatown Uncle that represents bringing hope to the people. Monica and I are indeed hopeful and the drink is going down easily, we are three cocktails in and can still hold an intellectual conversation!
Absintha Rai (RM 35) is our next libation of Vermouth Blanco, Absinthe, Black Lemon Bitters, and Elderflower Tonic. It's stimulating on the palate and offers a little a pick me up. The Absintha Rai is named after the daughter Angel never had. Easy going, light with a let's do it attitude, while also being sexy and a little dangerous. The perfect Female! This drink represents what she feels the next generation of females will be.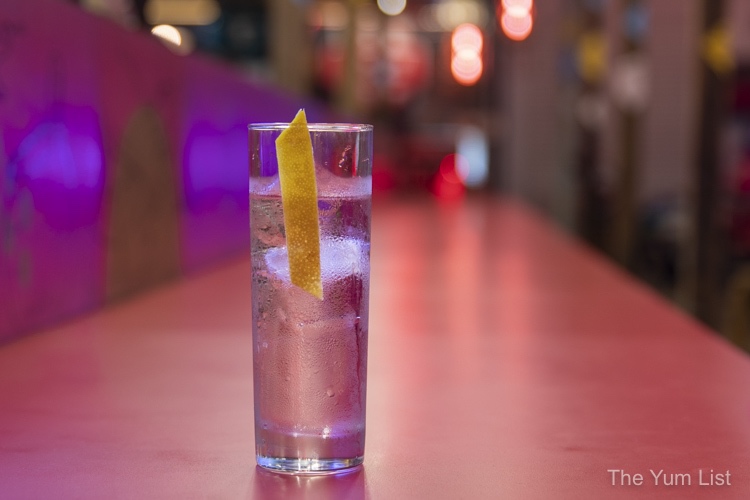 Cocktails on Tap
Next, we move on to the drinks on tap. Which are super fast to prepare so no one will ever have to wait a long time for a drink at The REX Bar, even on a busy night. The Rising Sun Highball (RM 28) is Chivas 12 Whisky, Yuzu, and Carbonated Water. It's delicate, refreshing, and perfect for drinking in the Malaysian heat.
The Dublin Highball (RM 28) is Jameson Irish Whiskey, ginger, and carbonated water. It's nicely balanced with the ginger and is sure to make any Irish Whiskey fan happy.
As English As You Get is Beefeater London Dry Gin, Earl Grey Tea, and Carbonated Water. The tea is cold steeped to keep the tannins low; it's a combo of a U.S. southern tea and a British version. It reminds me of an iced tea you get at a deli in NYC or Long Island, New York. I love it and now I really want a Ruben (a famous NY deli sandwich).
This last drink has made us hungry and it's awesome to see almost a dozen food options right in front of us. Angel is encouraging all the food purveyors to offer snacks all night so you can keep nibbling while you're enjoying all the highballs. Angel has also become a fan of low abv. beer. So if you're feeling like a brew, Pernod Ricard has sponsored the tap system to support the community centre at REXKL. Right now Chill Bill craft beer is on offer – the only place in Malaysia where you can find it on tap. It's a handcrafted South East Asian micro-brewery.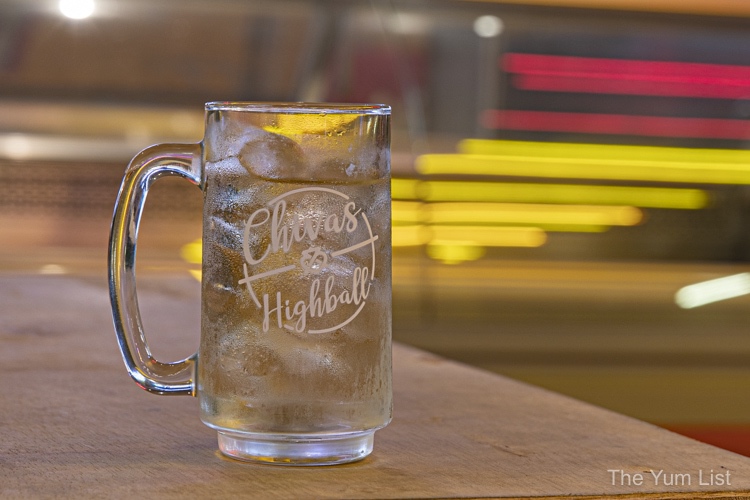 REXKL
Monica and I have had seven drinks and still feel great. We are also very happy to hear that The REX Bar has a full-on recycling program and everyone can help by putting his or her waste in an appropriate bin. All the vendors are required to do so. Angel takes great care in creating as little waste as possible while crafting the drinks, for example, none of the drinks has lime or lemon; she's using citric acid to help the environment (lemons and limes create a huge amount of waste).
On your next night or afternoon out make sure to pay The REX Bar a visit. Plan to stay awhile to enjoy all the fun things available. It's even dog (and cat friendly), so bring your well-behaved furry friends along with you.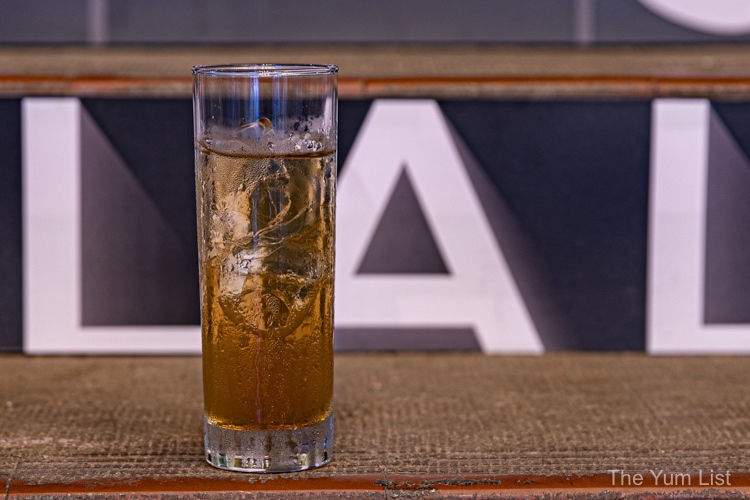 Reasons to visit The REX Bar: tons of choices, fun vibes, great community, awesome highballs, free entry, pet friendly, great location.
The REX Bar at REXKL
80, Jalan Sultan
Kuala Lumpur, 50000
https://rexkl.com
[email protected]
The REX Bar Opening Hours
Tuesday to Sunday from 10 a.m. to 10 p.m.
Find more KL bar recommendations here, and stay up-to-date on the latest gourmet and travel happenings around Malaysia here and here.