New Food and Beverage Outlets at REXKL
Words: Monica Tindall
Photos: Rich Callahan
Constantly evolving, The Background at REX KL has brought in some new food and beverage outlets with a clear focus on creating unity. Wanting to celebrate the diversity of Malaysians, they choose to foster an inclusive setting where everyone can find something to enjoy.
As part of this vision, they have balanced food offerings with three halal, one vegetarian, three non-halal, and three drink outlets. They have space for one more tenant (if you're a good fit), and there's one more due to arrive shortly (Licky Chan fans can celebrate!). 
New Food and Beverage Outlets at REXKL – The Background
Named quite literally, The Background is so titled because it's on the ground floor at the back of REXKL. General manager, Angel Ng, says, "We want to make sure there is something for everyone here – walk the talk of being multi-racial. We aim to create spaces where everyone can come. We favour new companies and start-ups, and we're happy to support and give advice. One grows, we all grow."
Today we sample from three of the new food and beverage outlets at REXKL, Lauk Pauk, Fake Bro Real Pork and Barbacoa KL. In the dining hall, diners are asked to be mindful of preventing cross-contamination. As such, each outlet has its own cutlery for exclusive use. Vegetarian forks don't touch the barbecue and halal spoons will see no pork.
Lauk Pauk
Lauk Pauk is The Background's plant-based outlet offering vegan and vegetarian recipes. I do love my veg and so this stall is an easy-win for me. Asam Pedas (RM 18) has grilled sweet corn, cauliflower, okra, eggplant and zucchini sauteed in a sour and spicy gravy. It's garnished with chilli, cilantro, Vietnamese coriander and torch ginger. The veggies are nice and crunchy with mildly smoky undertones.
Fiddlehead ferns are the stars of the Kerabu Paku Pucuk (RM 12). They're accompanied by tomato and bird's eye chilli, tossed in toasted desiccated coconut and drizzled with a squeeze of lime. The entrance offers some heat but it dissipates quickly.
Angel says that the team at Lauk Pauk actively seek to use veggies from the "olden days," things that are traditionally found in the kampong, cooked by our grandparents. She thinks it's time to change our perspective of kampong vegetables; it's time for them to make a comeback.
www.facebook.com/laukpaukREXKL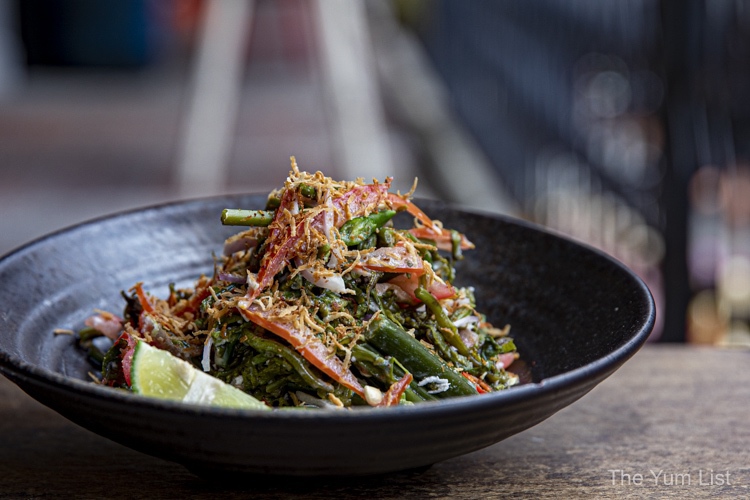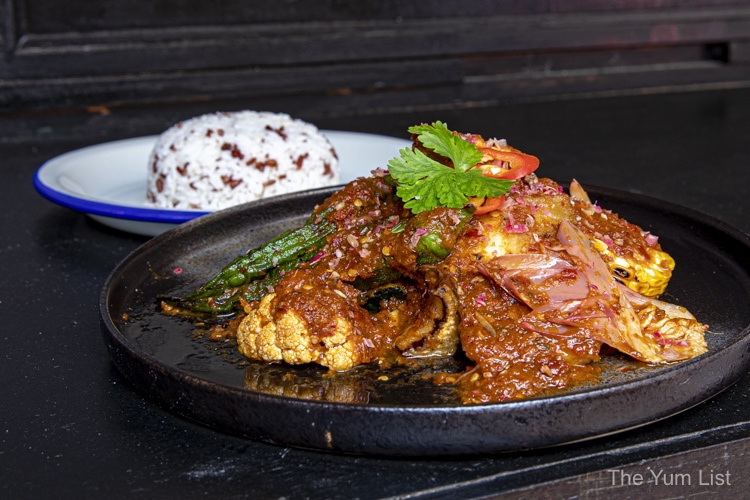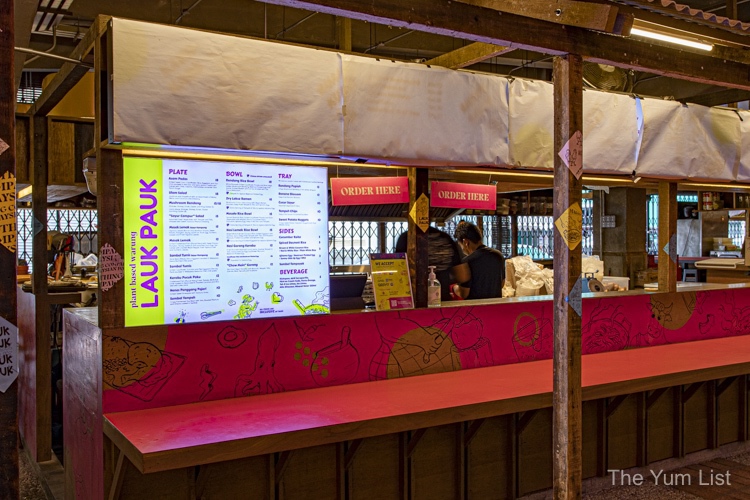 Fake Bro Real Pork
Fake Bro Real Pork is run by the grandson of the original recipe creator. The story goes that the grandfather was a pretty nice guy. Unfortunately, his kindness didn't work out for him as when he stepped in to try to break up a fight between two friends, he ended up dying. So, while friendships might be fake, the pork recipe is real and enduring.
I know I just declared my love for veg, but Fake Bro's Curry Mee (RM 18) is so incredibly delicious, I might be encouraged to eat pork more often. It's absolutely loaded with ingredients – char siew, roast pork, bean sprouts, green beans, eggs, bihun (can choose your noodles), bean curd, and deep-fried bean curd skin. Fragrant, spicy, mildly creamy and with a whisper of acidity, this is a seriously satisfying bowl.
Fake Bro Special (RM 18) is a mound of rice ringed by greens and the most delicious char siew we've eaten in a long time. It's not oily nor too sweet and it has a good meat-to-fat ratio of around 7:3. Again, this balanced recipe encourages me to go back in for seconds.
www.facebook.com/fakebrorealpork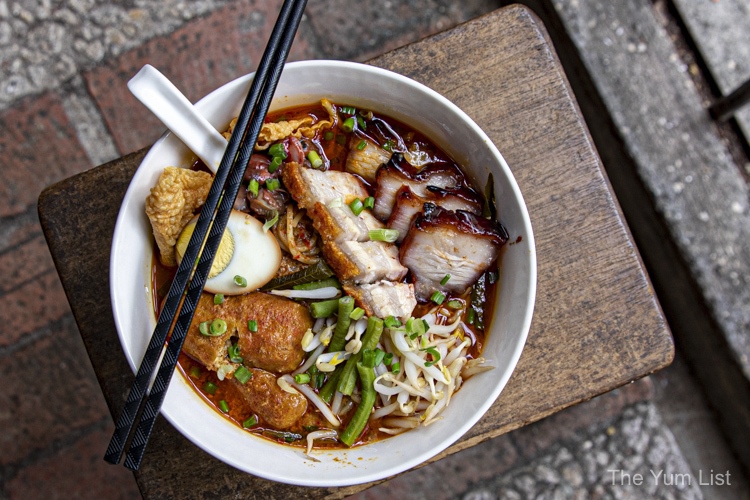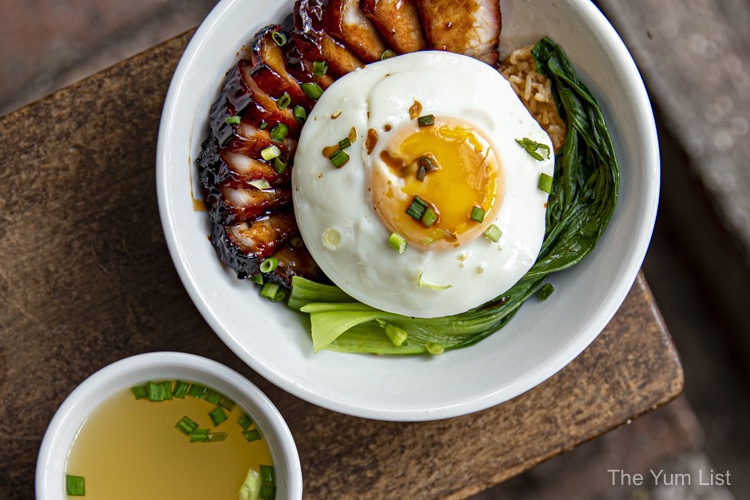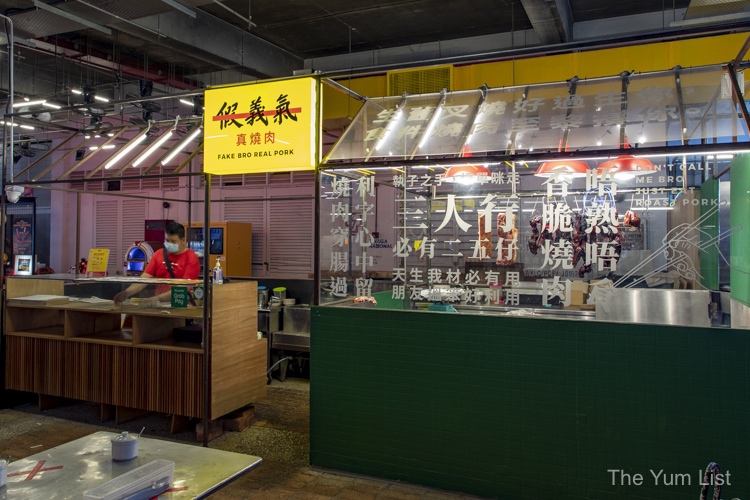 New Food and Beverage Outlets REXKL – Barbacoa
Lastly, two items from Barbacoa, Smoked Beef Brisket (RM 27, 100g) and Classic Cheese Burger (RM 21) ensure no one leaves here hungry. As you may have guessed, Barbacoa KL specializes in smoked meat. The chef opened a small outlet in Bangsar during the pandemic and now has his second at REXKL.
The brisket is a complete meal with generous slices of the brisket, mashed potato and gravy, coleslaw, lightly pickled veg, extra gravy and a soft white bun. The tender slices have been "smoked low and slow with rambutan wood." I'd say it's more than enough for two.
The Classic Cheese Burger (RM 21) is a straightforward combo of beef patty, yellow cheese, tomato, lettuce, pickles and red onion between a white sesame-seeded bun. Tomato sauce, mayo and a side of fries finish it off.
www.facebook.com/barbacoabbqkl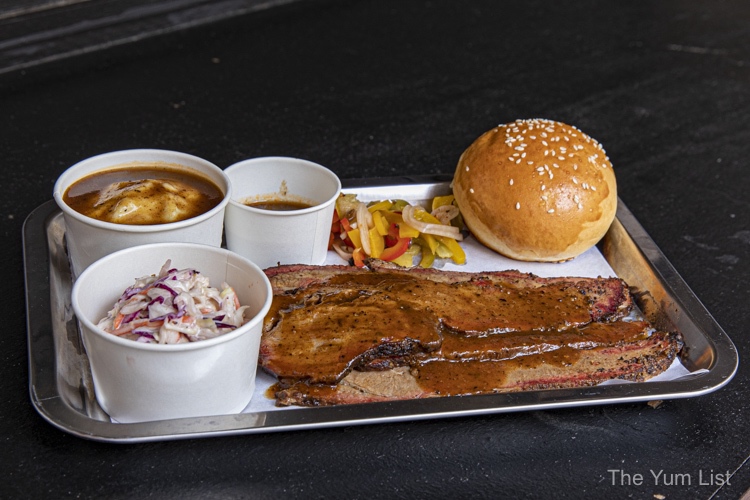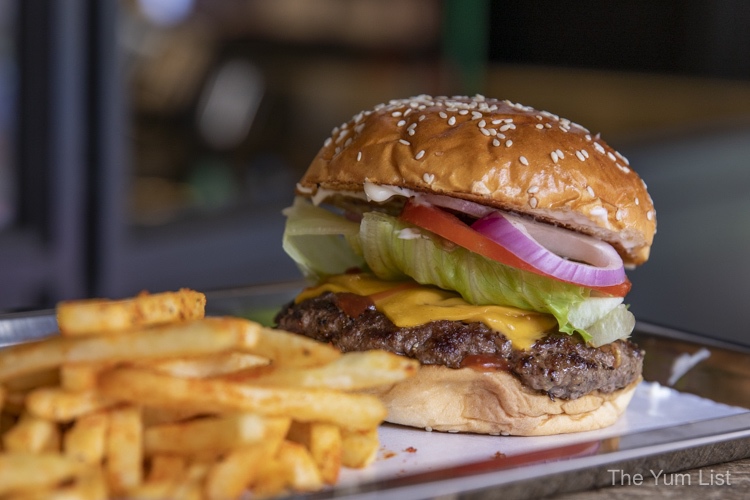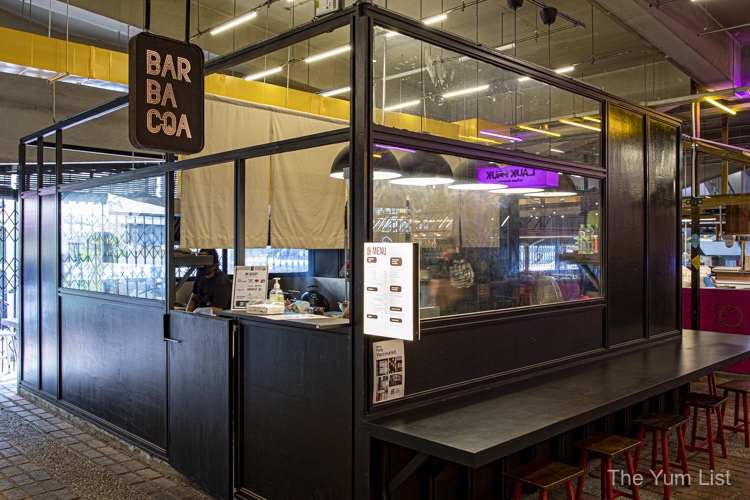 Events
Besides being a great space to connect with all of your friends, you can also book out The Background for events. One way of doing it is to give everyone coupons for each outlet. It sure would put some fun into tired old work dinners. People could mingle, swap coupons and generally have a deliciously good time in a relaxed setting.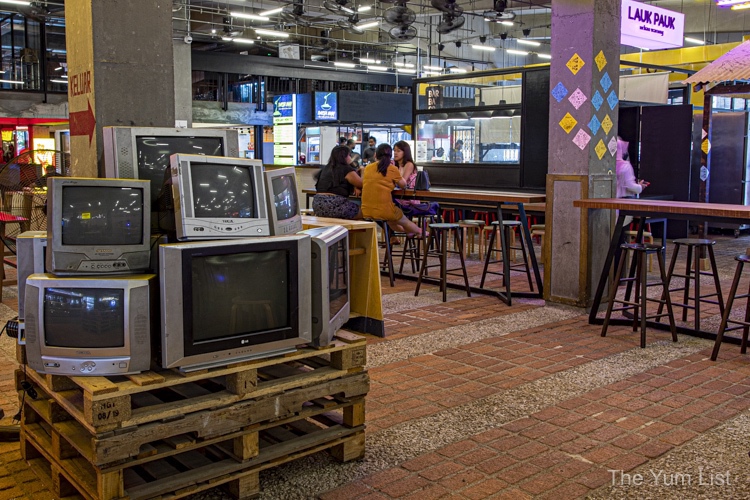 Reasons to visit the new food and beverage outlets at The Background: options for everyone; an inclusive space; must try Fake Bro Real Pork's curry mee!
The Background at REXKL
80, Jalan Sultan
Kuala Lumpur, 50000
http://rexkl.com
[email protected]
The Background at REXKL Opening Hours
Tuesday to Thursday: 10 a.m. to 10 p.m.
Check out The REX Bar revamp here, find more cool spots in Chinatown KL here and stay up to date with the latest food and beverage happenings in KL here and here.