Magazine 63 Penang
Words: Claire Matheson
Photos: Monica Tindall
One of Georgetown's most established and loved cocktail bars, Magazine 63 is still one of the best places for laid back cocktail coolness in the foodie haven of Penang.
For lovers of martial arts cinema, there's one location that any good kung-fu movie must have – a traditional Chinese Inn. An essential setting, it's where the best mass fight scenes take place. In honour of the original Chinese Inns iconic to old school martial arts films, Magazine 63 in Penang's Georgetown caters to all kinds and all tastes. Everybody is welcome. Though you'd be more likely to find Jet Li, Ip Man and Bolo Yeung throwing down cocktails than throwing punches.
For years many said Penang's food scene had no market for high-end, gourmet cocktail venues. Drawing people from all over the world for its mixing pot of multi-cuisine street food, for decades the nighttime scene in Georgetown was limited to venues serving cheap, bottom-shelf rocket fuel aimed at a backpacker audience. But the team behind Magazine 63 have left any contenders in their dust, providing a go-to space for a laid back atmosphere, great food, and incredible cocktails. A not-so-secret favourite for locals, Magazine 63 is a must for any visiting alcohol-inclined gastronomists.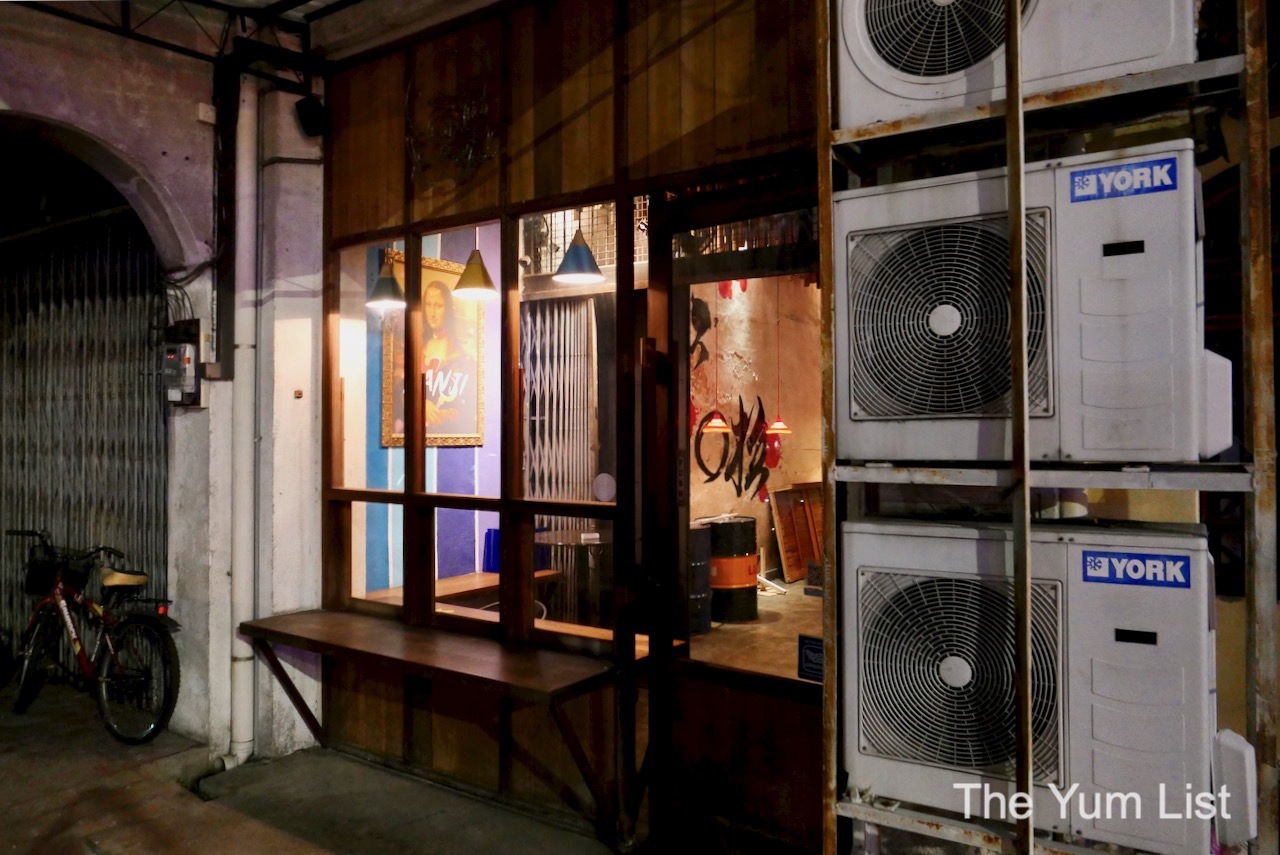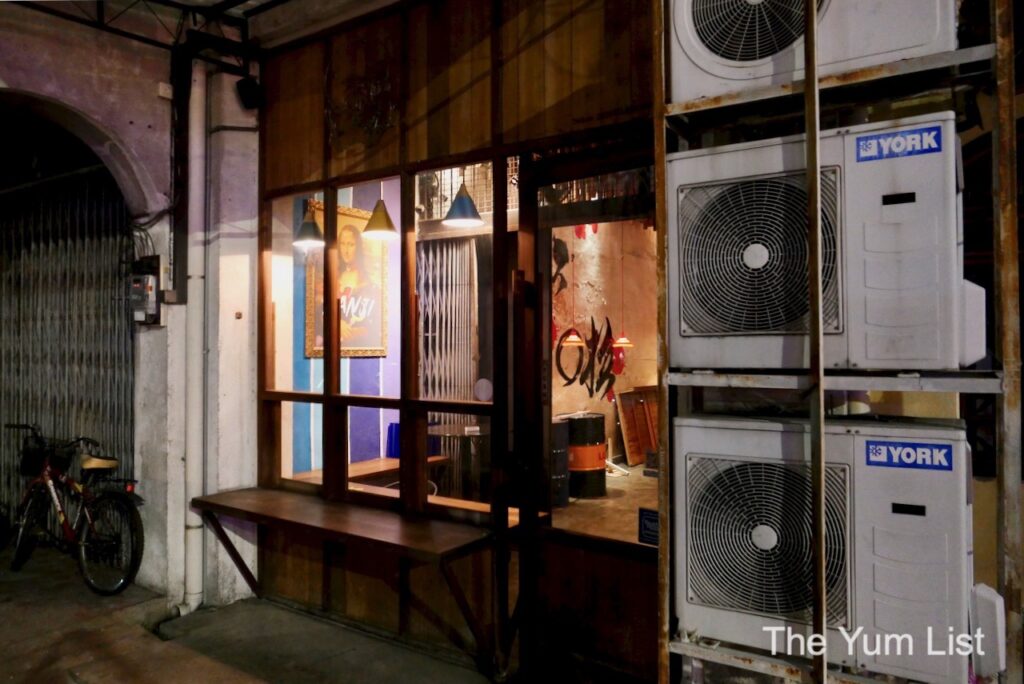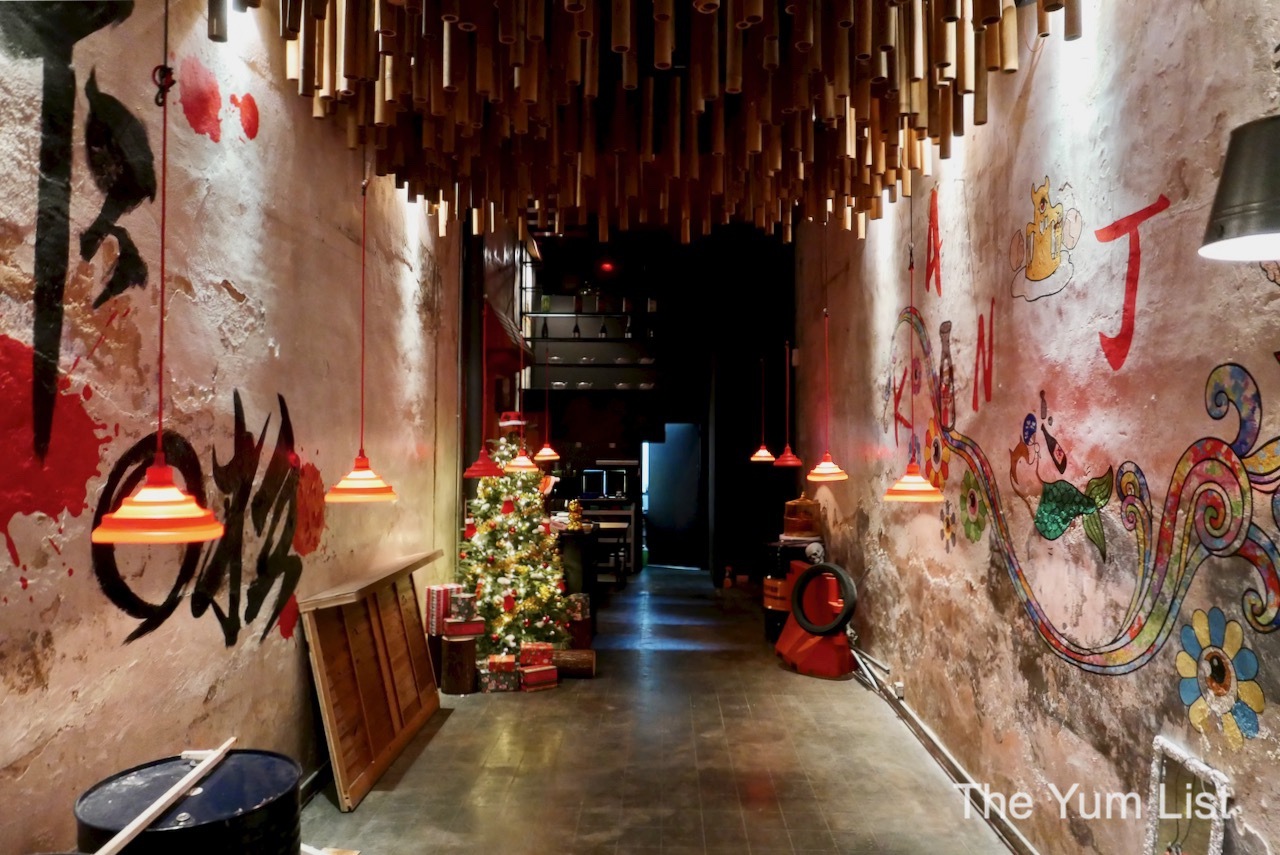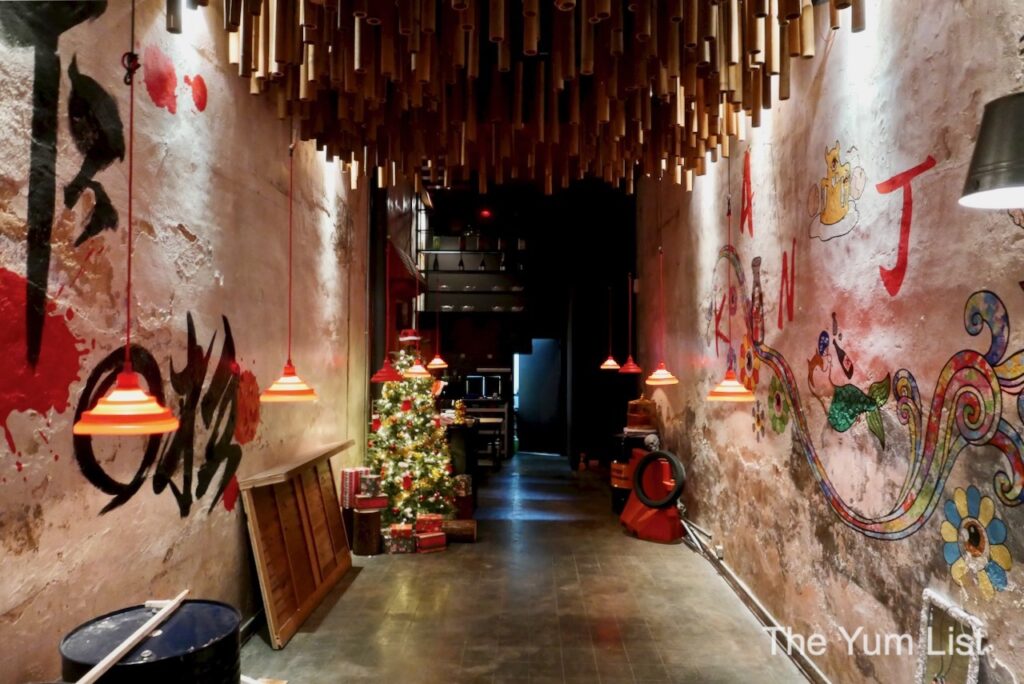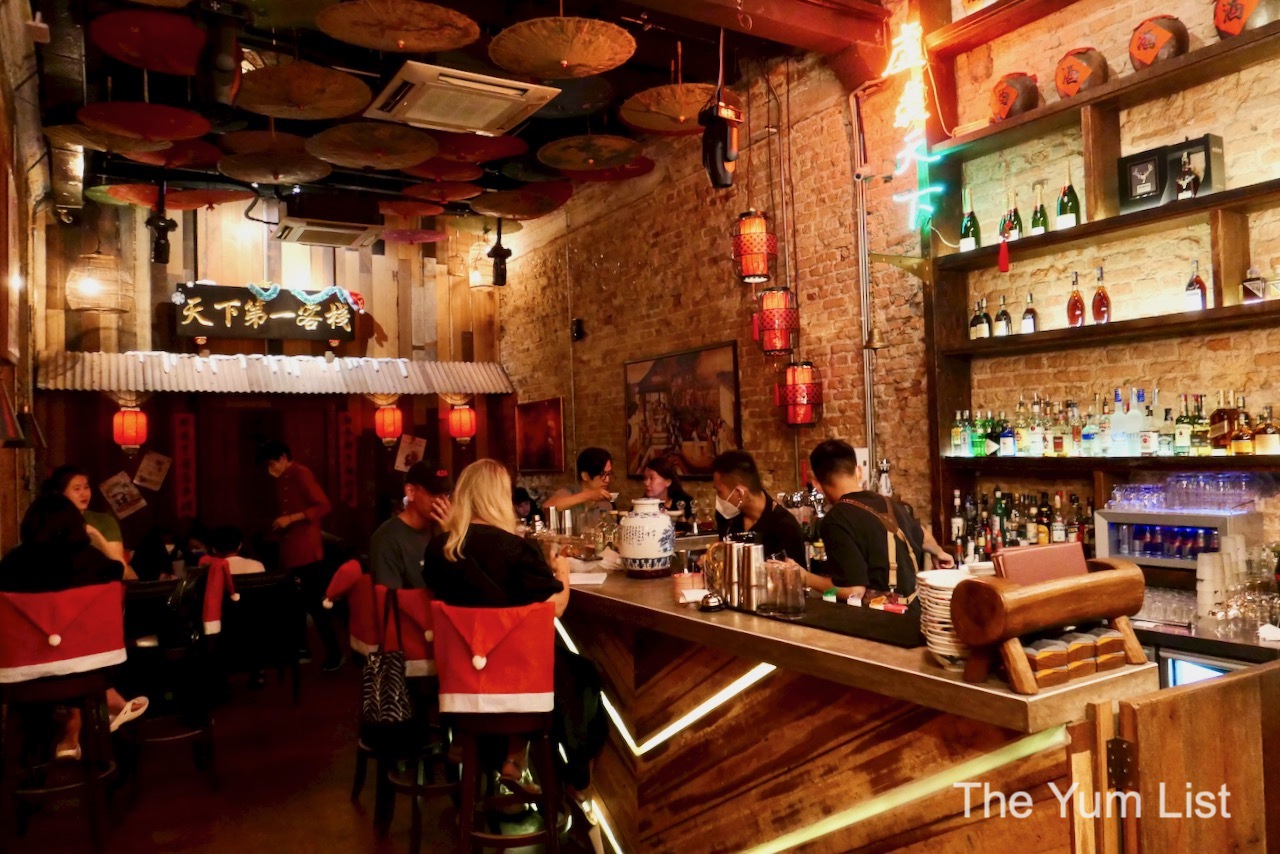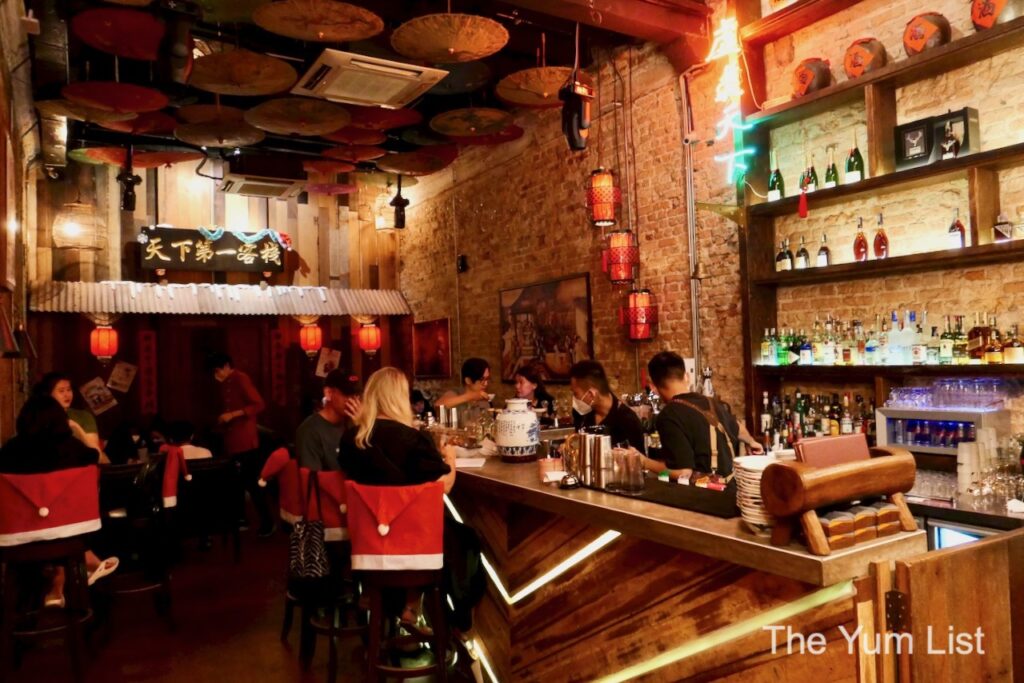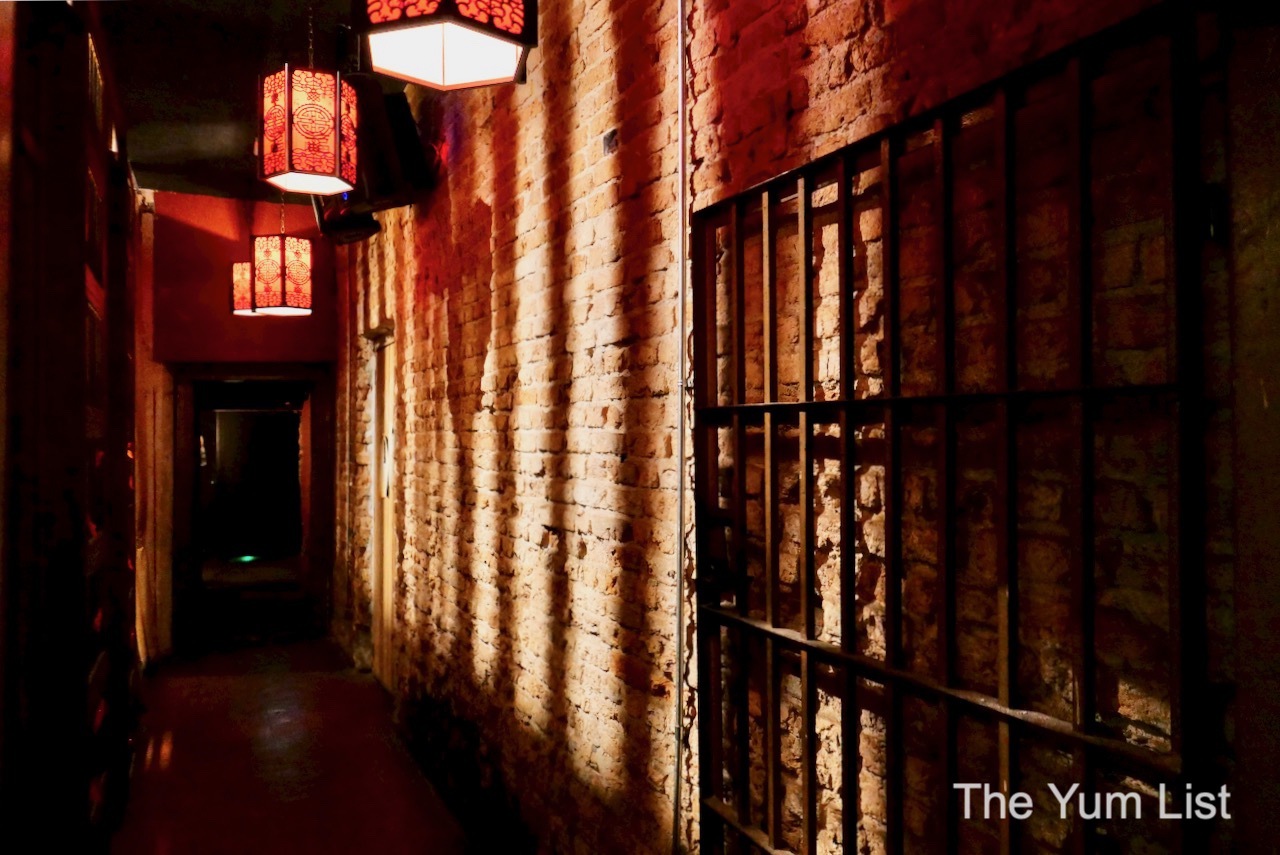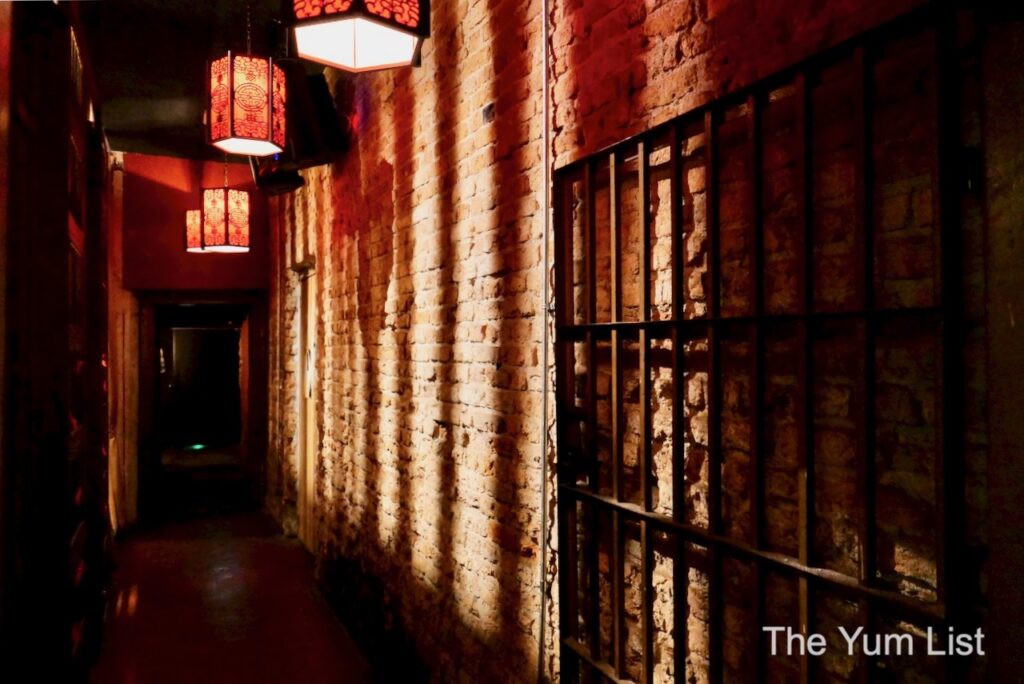 Magazine 63 Penang
Once you manage to find the entrance, the kung-fu film set vibes continue with reclaimed timber feature walls complete with a weathered corrugated iron roofing, red lamps, exposed brick and neon lighting. Artwork and traditional Chinese umbrellas in keeping with the theme are hung throughout. In the middle of the space, a glass mezzanine level for live music hangs suspended. Tonight, house music plays the perfect soundtrack for creating chilled, indie, house vibes whilst still allowing guests to maintain a good conversation.
Magazine 63 has a feeling of staged authenticity. I can't decide if I want to lounge around on one of their comfortable sofas or come back in full costume ready to practise some Wing Chun fists of fury. Bartenders and wait staff are dressed in traditional hanfu style garments, and behind the bar is an array of unique and interesting glassware, china and painted ceramics to serve different concoctions. Half the fun is guessing what container your drink will end up being served in. Regardless, it is guaranteed to be beautifully presented. Remember to tag them in your Instagram post!
Originally started by a group of mates with a crazy idea to take over an old furniture shop in 2016, the team of co-owners quickly grew to include 13 partners. So how do you get a team of 13 people to agree when it comes to making big decisions? The answer is you don't. Instead, each contributor brings their strengths and expertise in a certain area. Whether their specialty is cocktails, culinary and cuisine, business savvy, music, or creating a strong aesthetic that draws the crowds, the partners' collaboration has allowed them to flourish where others have failed.
Magazine 63 Penang Cocktail Menu
Spicy Grave
Joining us tonight is one of the partners, Nick Lee, who chats openly with us about the six-year strong focus on delivering excellent and innovative cocktails to both George Town locals and out of town visitors. Behind the bar, young gun Richmond shakes up our first cocktail. A Magazine 63 signature: The Spicy Grave. An iconic take on a margarita, with a chilli flake-dusted rim and dehydrated whole chilli garnish, a pure agave base is created from Ocho Blanco Tequila. Yet more agave is added to embolden the flavour over the heat from Firewater Cinnamon Whisky. Lemon juice and bitters balance out the elements, resulting in a fresh, spicy and clean taste. This is a sophisticated margarita with a distinctly Malaysian affectation.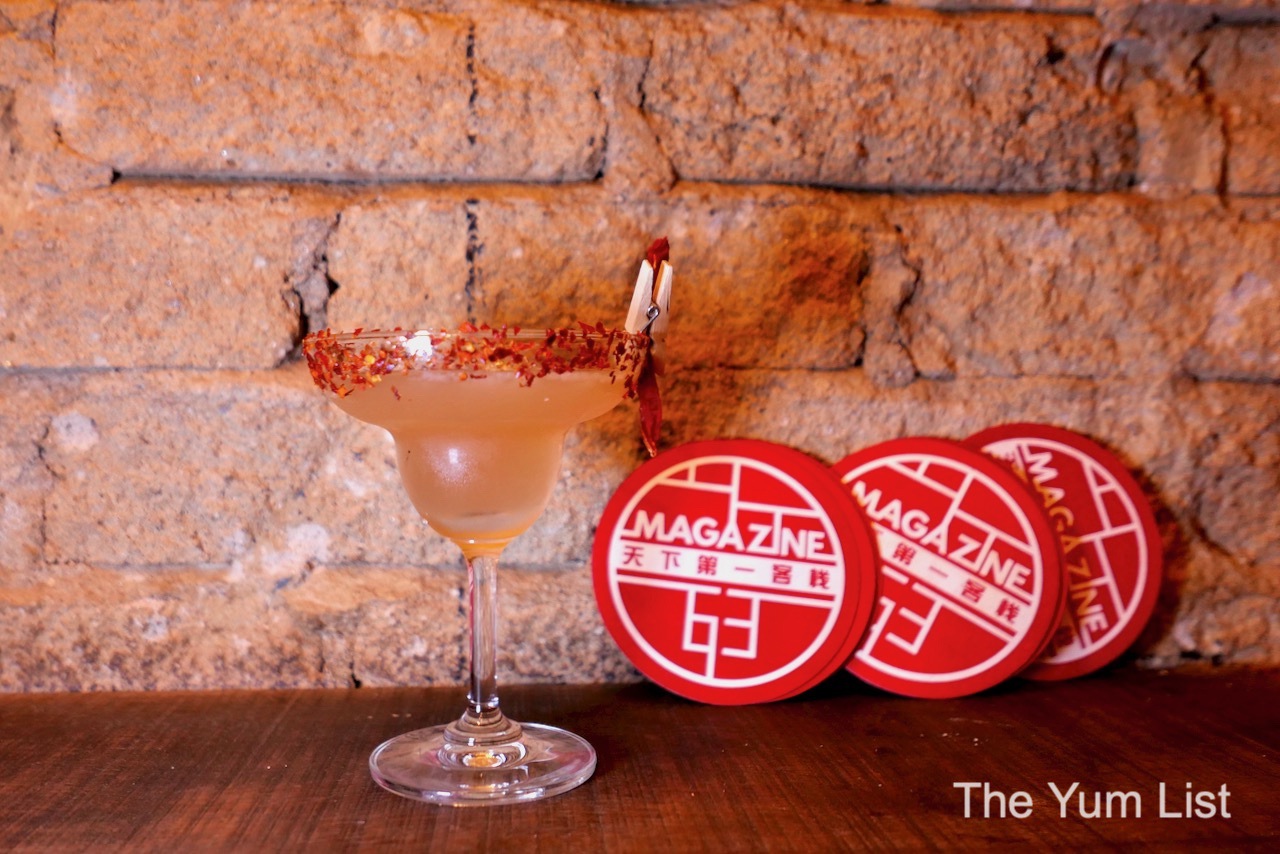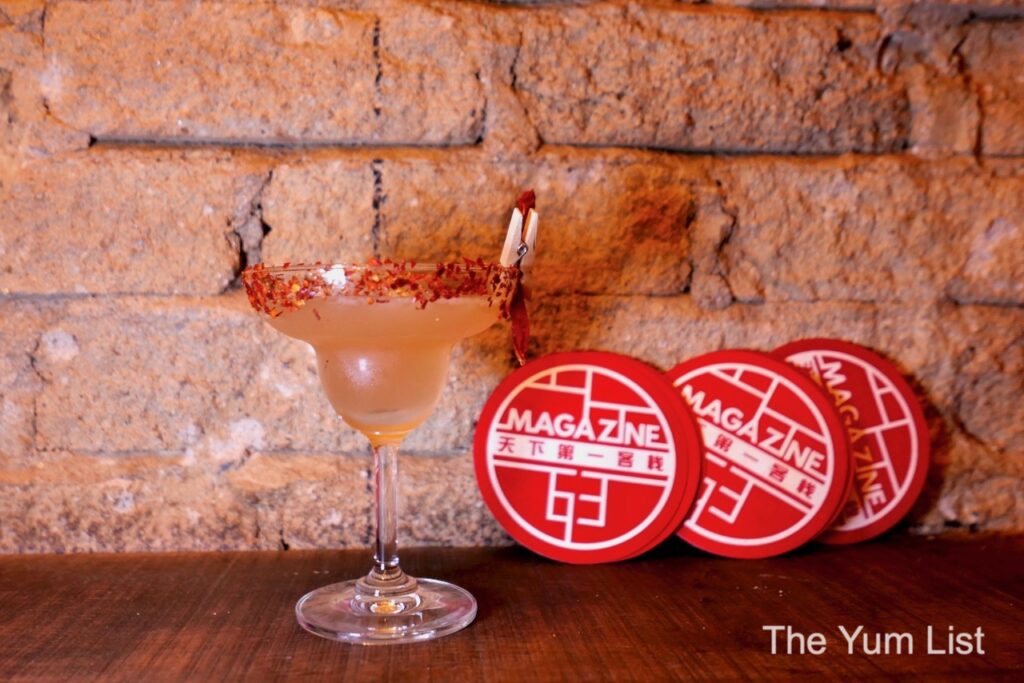 Gin & Tea
The Gin & Tea is a twist on a whisky sour, with a Bombay Gin base, Osmanthus syrup, lemon juice and an egg white foam, topped with a cross of earl grey tea leaves. The cocktail is slightly sour with a layer of natural sweetness. The aromatic earl grey tea fills the olfactory senses before each sip, each mouthful perfumed with floral and herbal notes.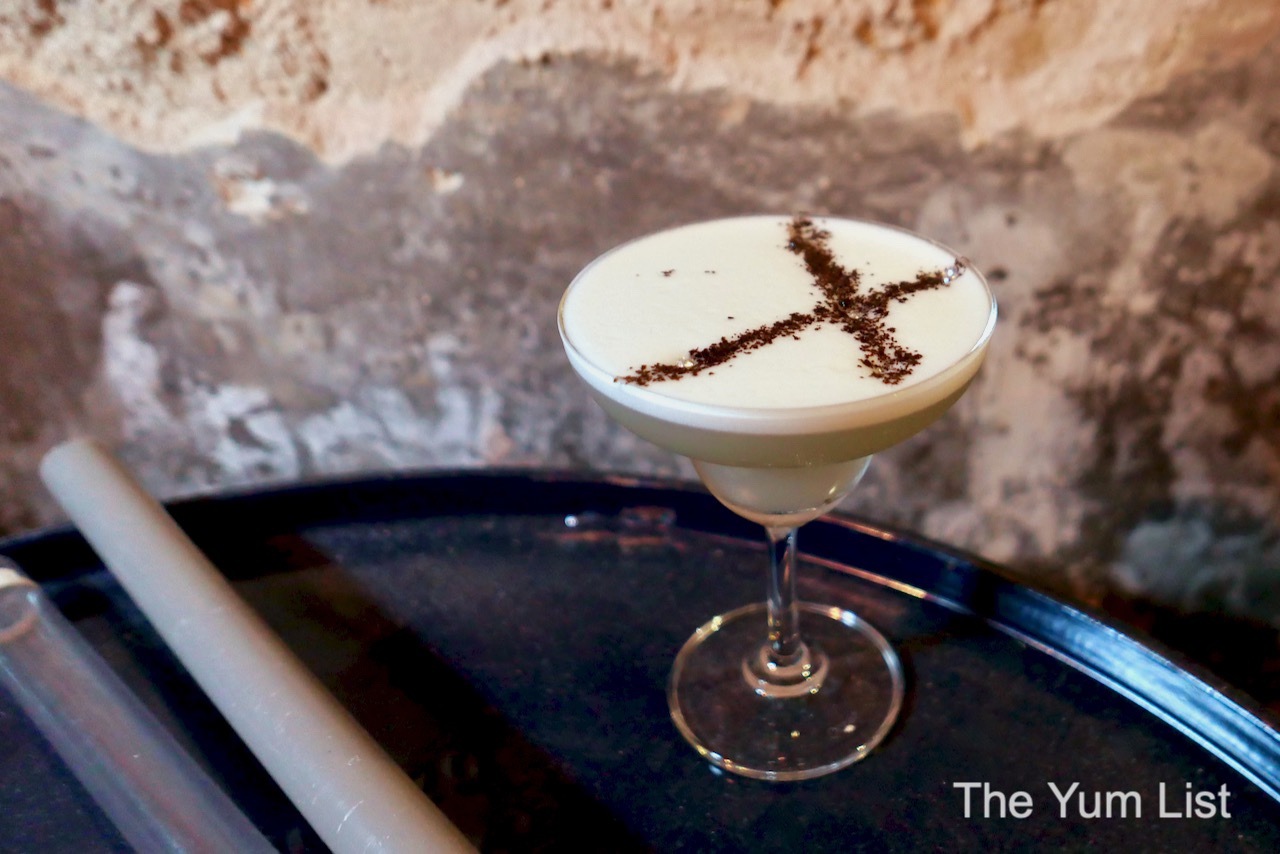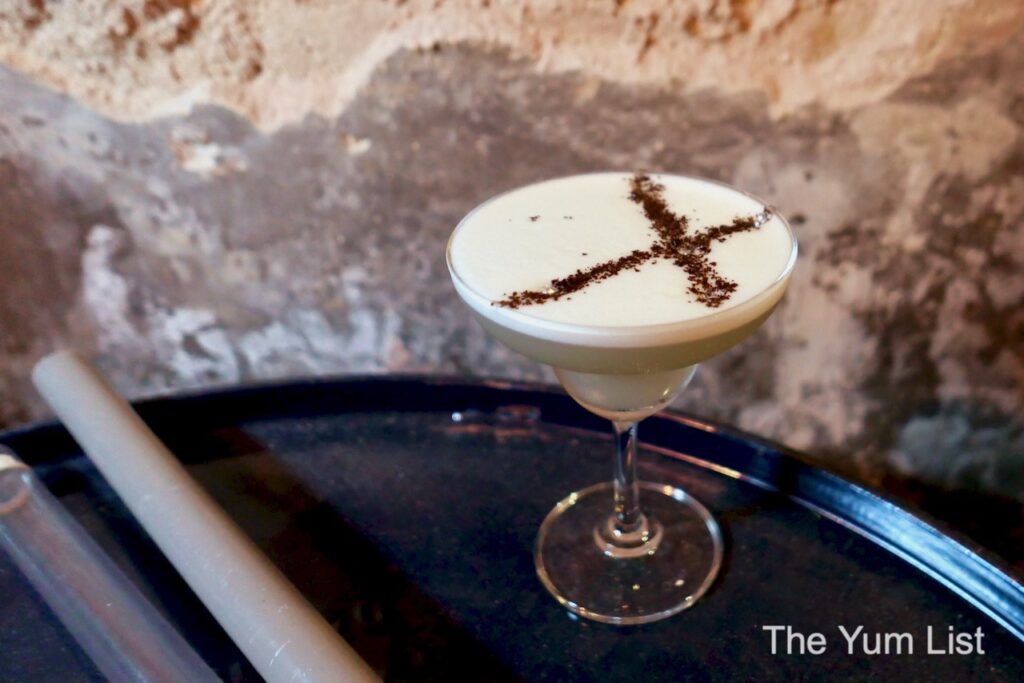 Sultan Negroni
A true test of a bartender's ability, the humble negroni is given a spruce up at Magazine 63 in the Sultan Negroni. Richmond uses premium spirits for a purer, more well-balanced flavour. With Tanqueray No.10 Gin, Dolin Vermouth, and bitters, this glass is clearer, crisper and smoother than the many made on lesser-quality ingredients. Like putting on a pair of glasses for the first time, the flavours come into sharper focus.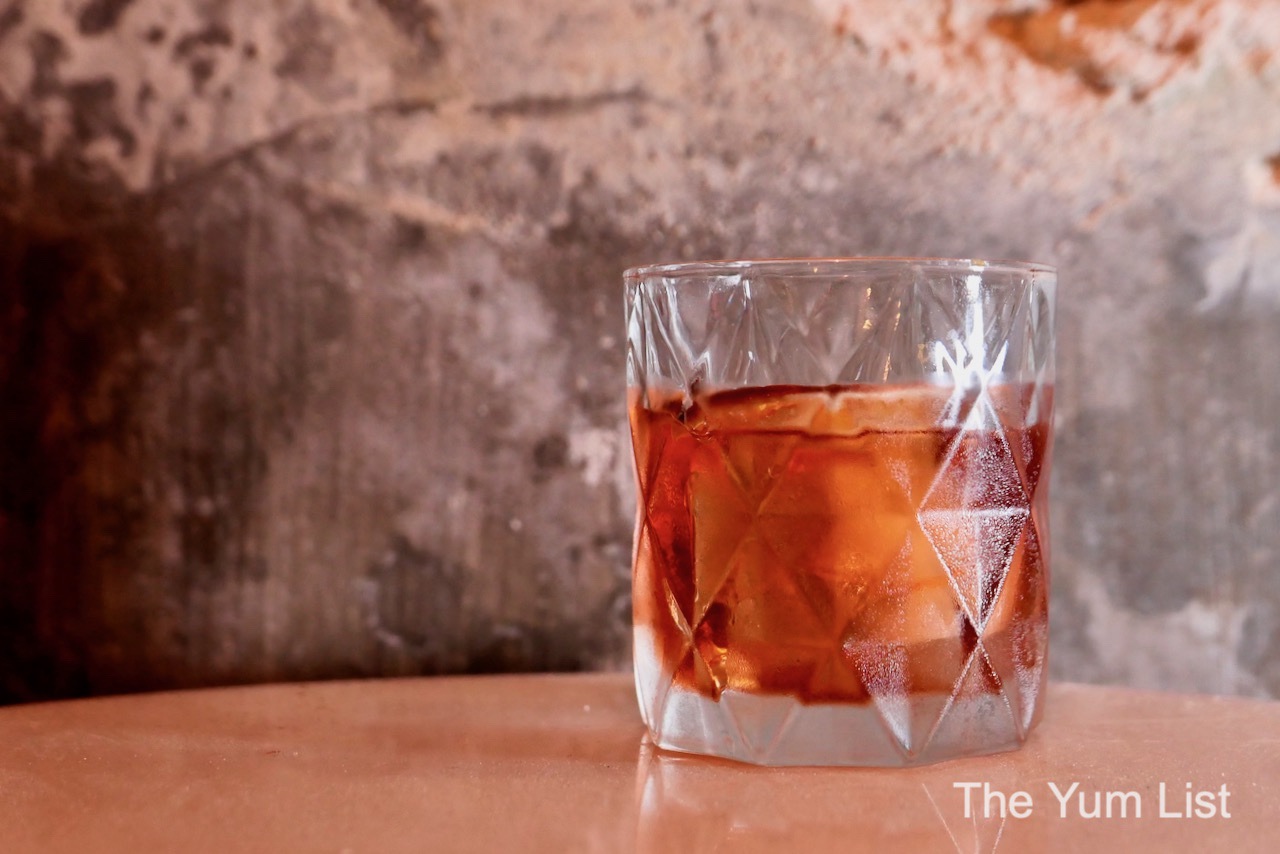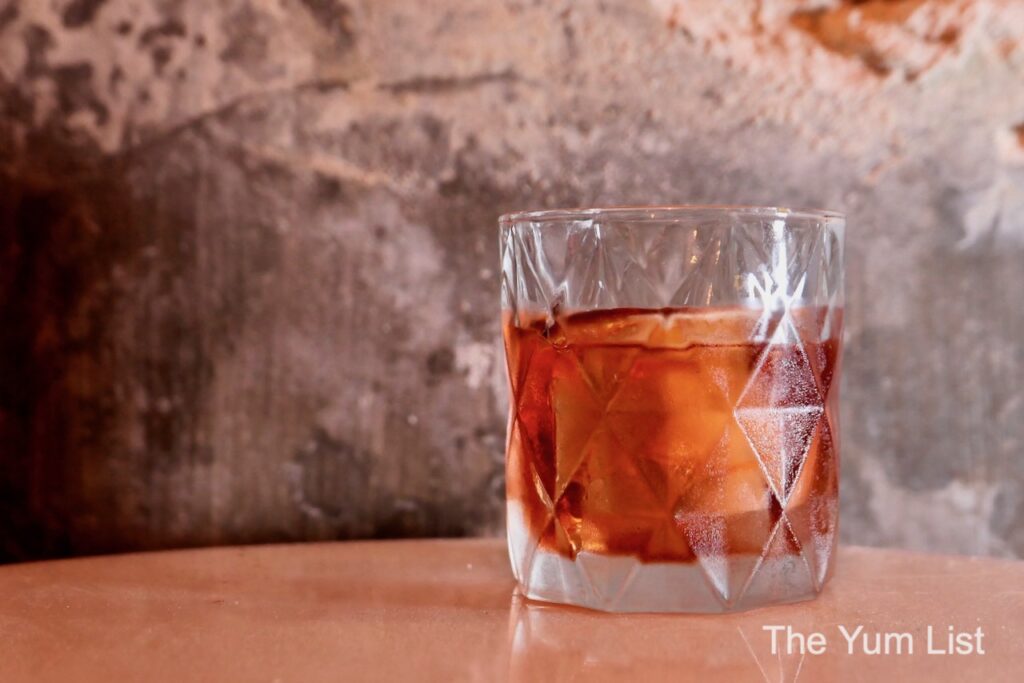 Swedish Apple
For something a little sweeter, the Swedish Apple is made from Italian Luxardo Sour Apple Liqueur, with cinnamon, a saline solution, and an egg-white wash. A delightfully nostalgic nod to the sour lollies from everyone's childhood. There is something joyful in this cocktail, the warm cinnamon a comforting yet unexpected addition. A great choice for the sweet-tooths out there who have an occasional partiality to a sour spin.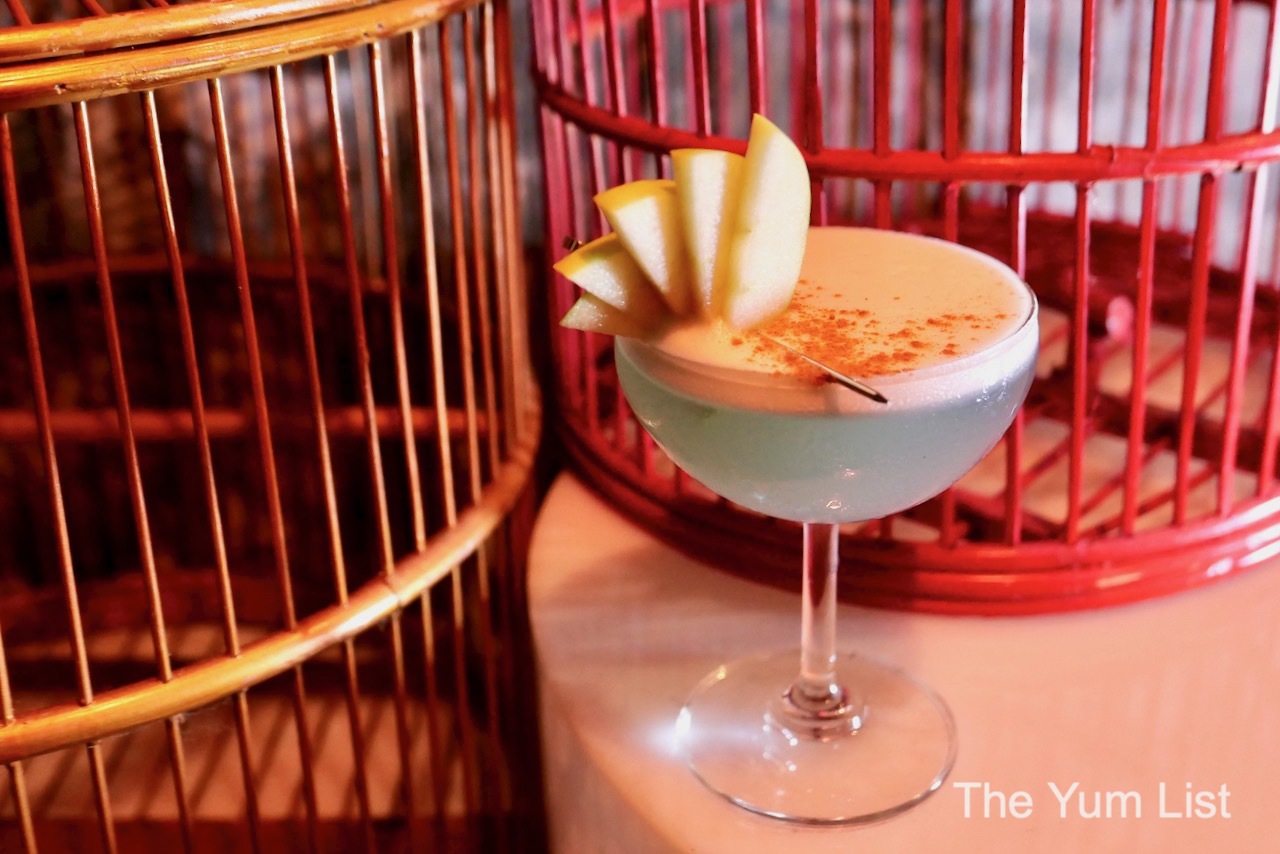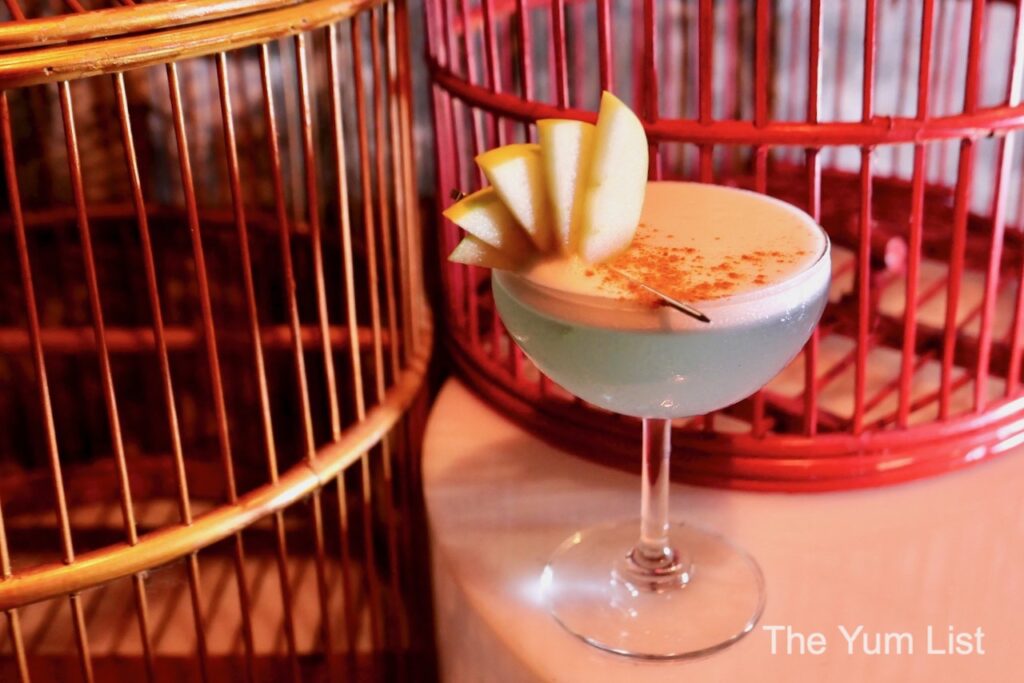 Magazine 63 Food Menu
In the midst of the pandemic, Magazine 63 had to make the difficult decision to close down their adjoining restaurant in order to concentrate on keeping the bar going. However, the culinary skills of key members of their team have not gone to waste. The team brings out three of their best-selling bar snacks. The Crispy Fried Pork is sweet, savoury, salty and juicy. The outer crust is deliciously crunchy – the ultimate bar snack to accompany your beverage. The Smoked Duck is succulent and silky, well-marbled with fine ribbons of fat, and glazed in a black pepper sauce. Lastly, the Pan Fried Squid is spectacular on the plate, and even more so in the mouth. With a healthy dose of chilli, the springy seafood tendrils pack a punch that will have you reaching for another mouthful, then another.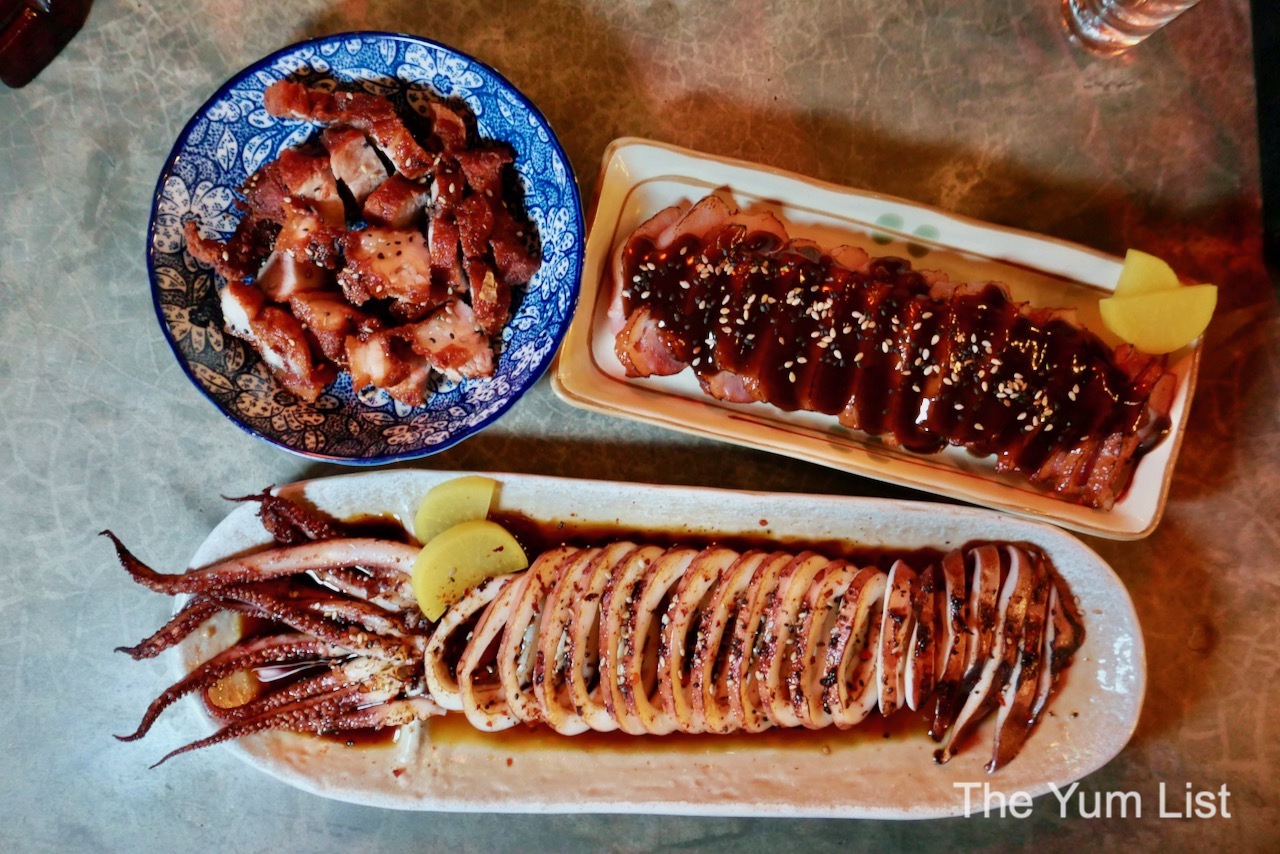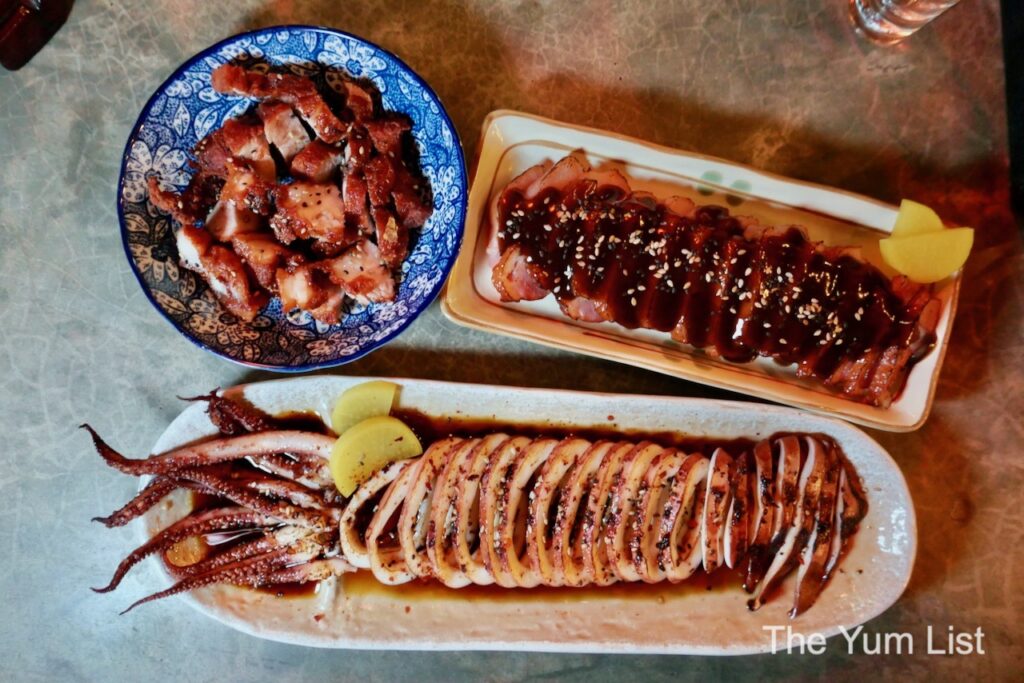 More Cocktails – Oriental Voyage
Working in partnership with the esteemed house of Martell Noblige, Richmond has created an incredible and unique cocktail called the Oriental Voyage. With origins in Indonesia, and culturally iconic to South East Asia, nutmeg was grown in plantations in Penang in the 1800s for the East India Company. Richmond explains to us that Penang is the only place in the world known for drinking nutmeg, and Magazine 63 features his very own, original, pickled nutmeg syrup. French Martell Noblige Cognac carries vanilla, caramelised grape and myrrh characteristics – a superb pairing with Dolin Dry Vermouth, chocolate bitters, orange and Golden Falernum Liqueur – an aged rum with allspice, ginger and heat. Richmond's nutmeg syrup is vital in weaving together and binding these complex flavours. This is a cocktail that can only be found in Penang, and only in Magazine 63. It is like nothing either of us has ever tasted!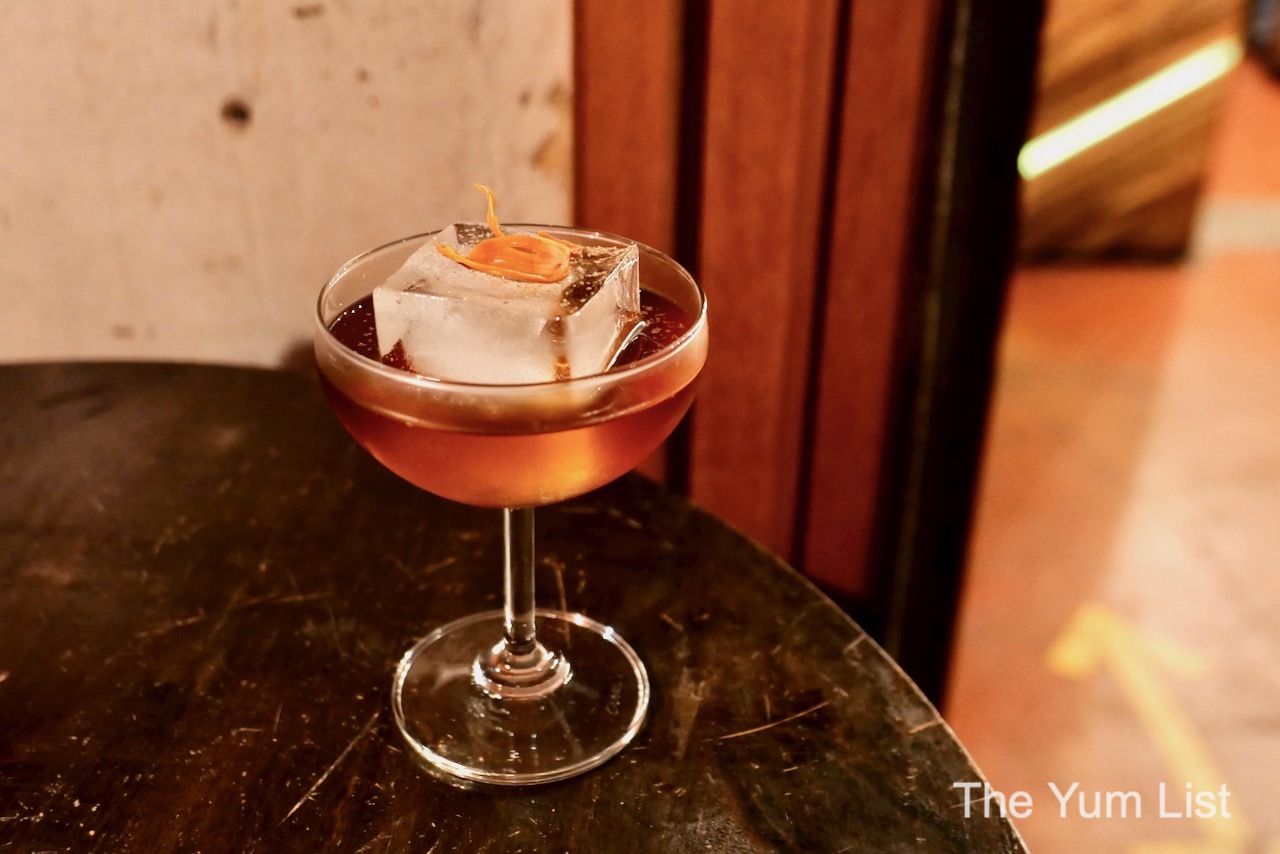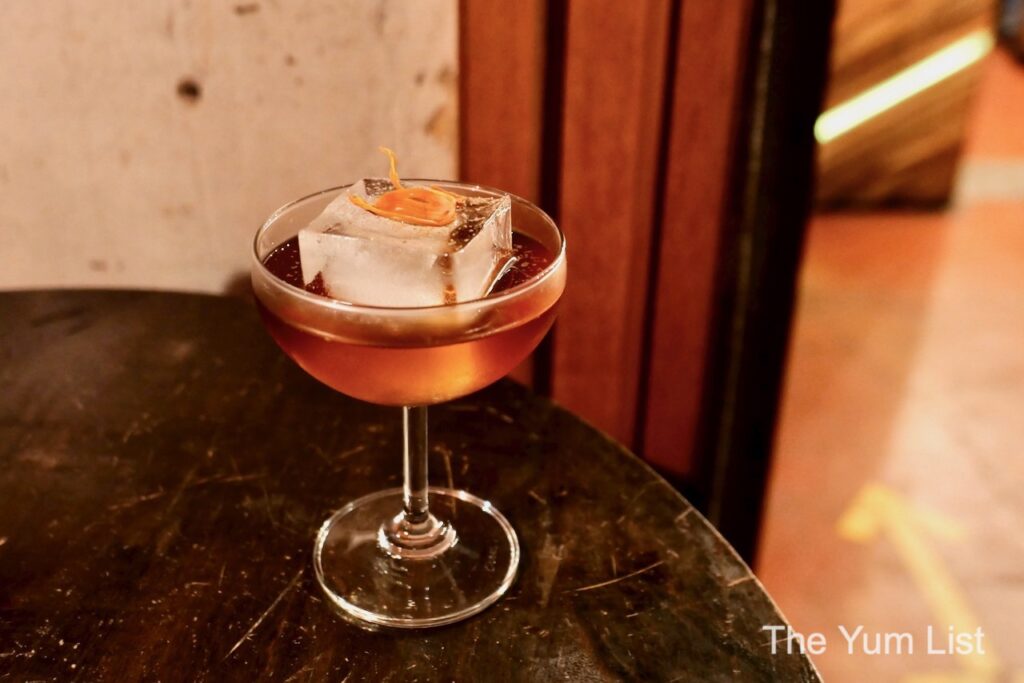 Jungle Bird
Already a few cocktails in, Nick and Richmond decide to challenge Monica and me with their version of a Jungle Bird. Being the professionals we are, we gladly accept the thrown down gauntlet and adopt a fighting stance. A Malaysian must, at Magazine 63 they use overproof Diplomatico Reserva OFTD rum as the key ingredient. Standing for Old Fashioned Traditional Dark, this rum is the choice of true aficionados, with ginger, cinnamon and clove notes. The much higher alcohol content is (somewhat) disguised by bitters, pineapple, lime and simple syrup. Intense and dark, it is the taste of Malaysia. The drop does its work quickly, and we think it might be time to call the fight! Magazine 63 are the clear victors.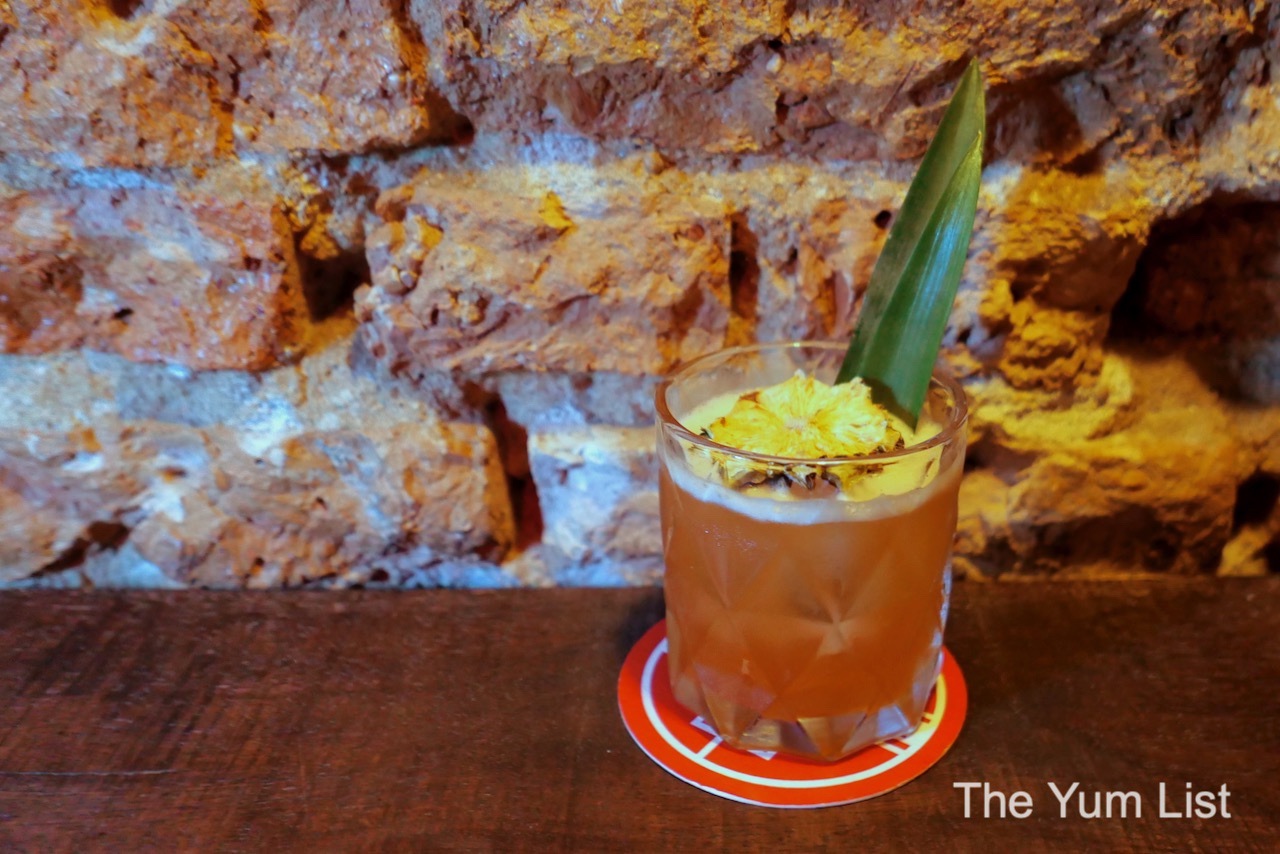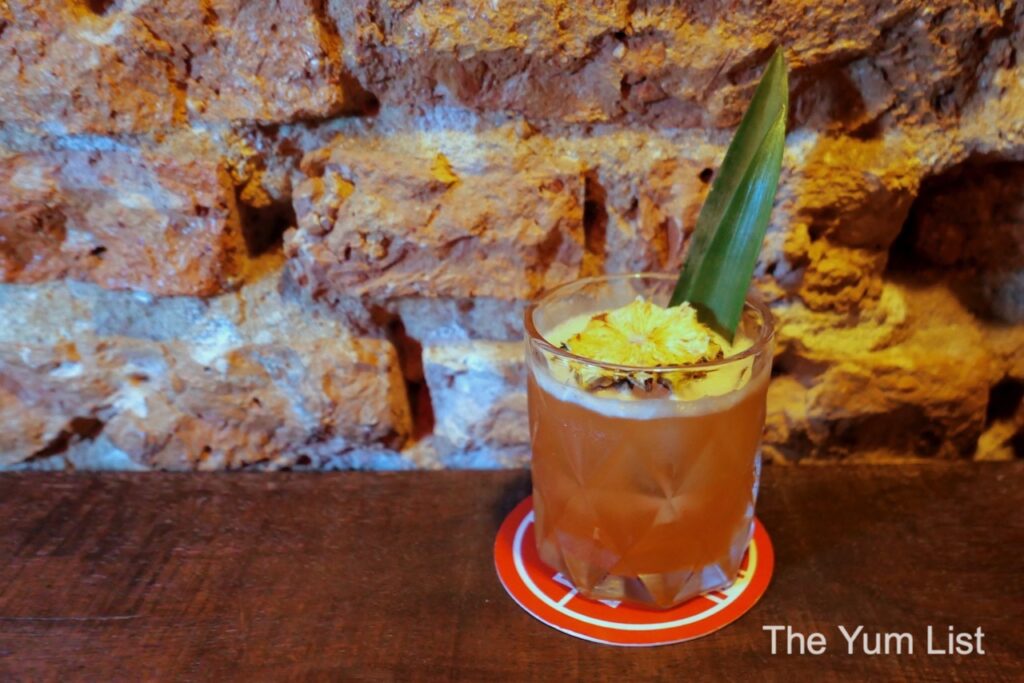 More on the Menu
Magazine 63 houses an impressive curation of small-batch gins alongside their whisky menu and wide range of other spirits. The Malaysian bar scene has become increasingly aware of beautifully made craft gins as an alternative to harder, darker liquors. The huge variety of floral, citrus or herbaceous undertones means they make a perfect cocktail base or are great for drinking neat, on the rocks, or with tonic.
Magazine 63's shelves evolve and change with availability, but today they have some superstars lined up. Porter's Orchard from the UK is modelled after the French Champagne's regions chardonnay grape finish, with butter and biscuit notes, best garnished with apple and pear fruits. The Elephant Gin Shingwedzi 525 is no longer in production and is now a super rare collector's item. Bottled in Germany, it features African superfruit baobab, African wormwood and buchu. Well known among gin connoisseurs, Alkkemist Gin is a biodynamic bottle with over 21 infused botanicals and is the only gin in the world to include muscat grapes in its making. Yet taking pride of place is an entire shelf of small-town made Swedish Hernō gin. The world's most awarded craft gin distillery, this label is frequently dubbed the world's best gin. Many of these labels are very hard to find in Malaysia and are one of many reasons to visit Magazine 63.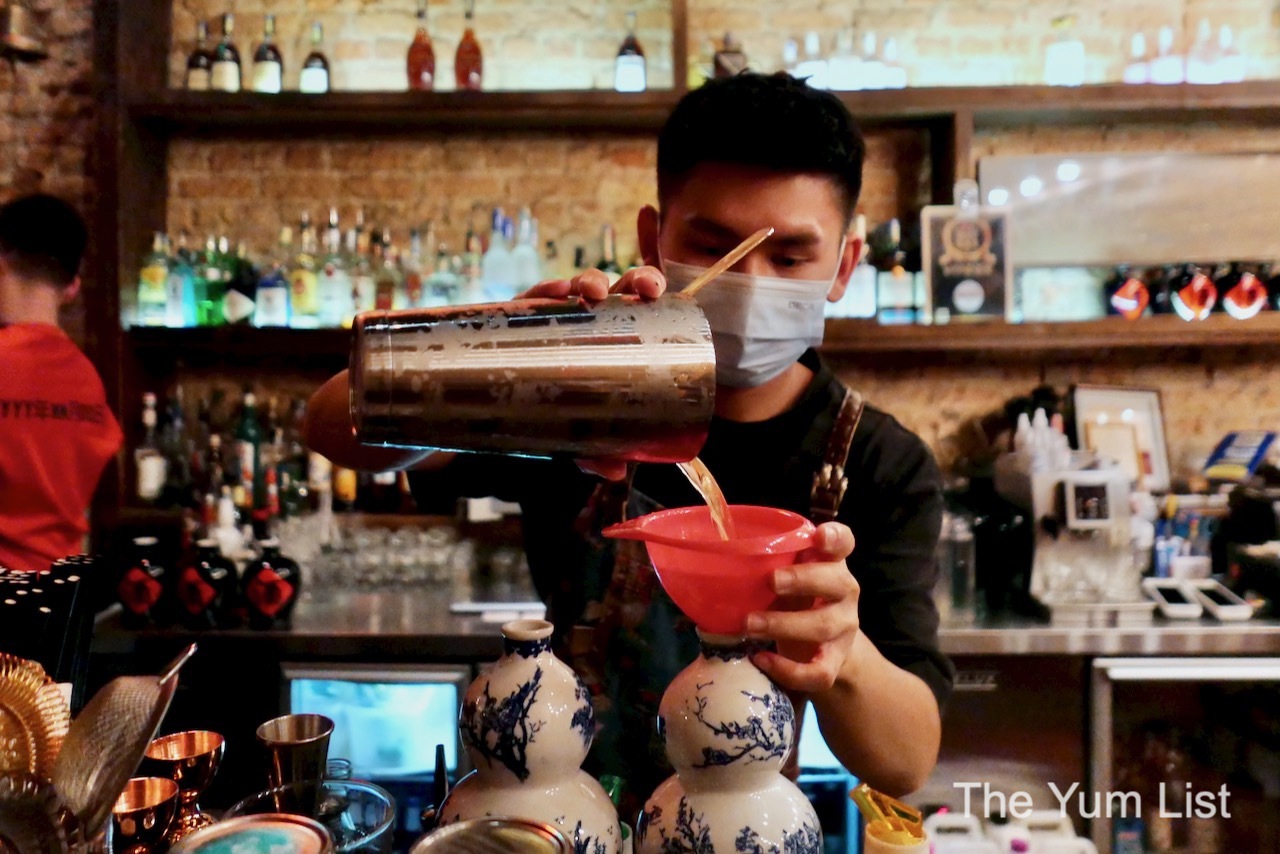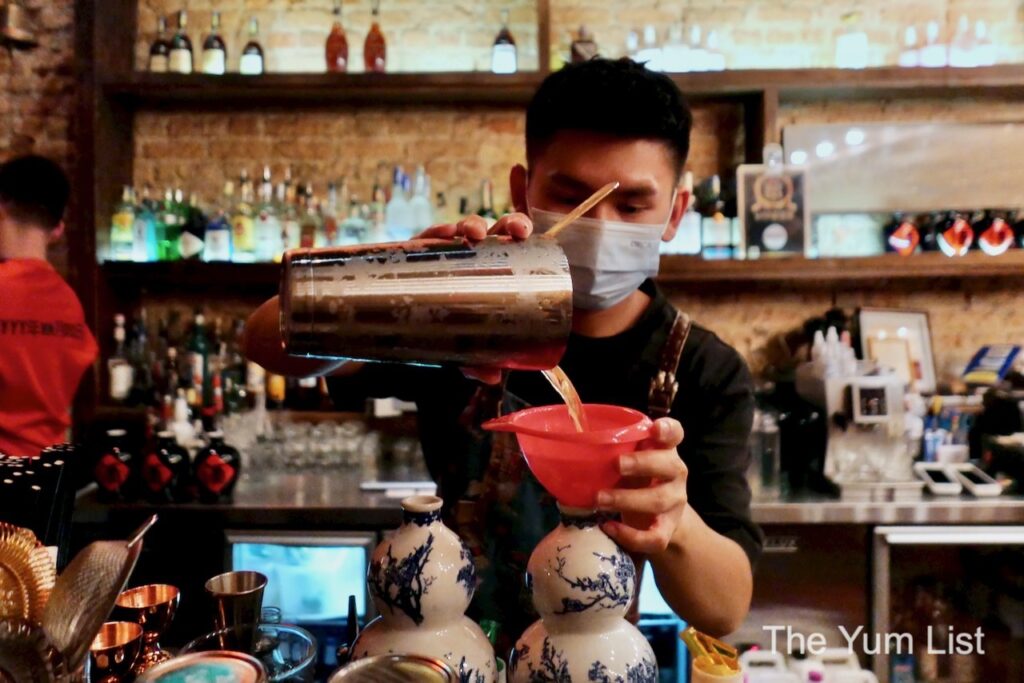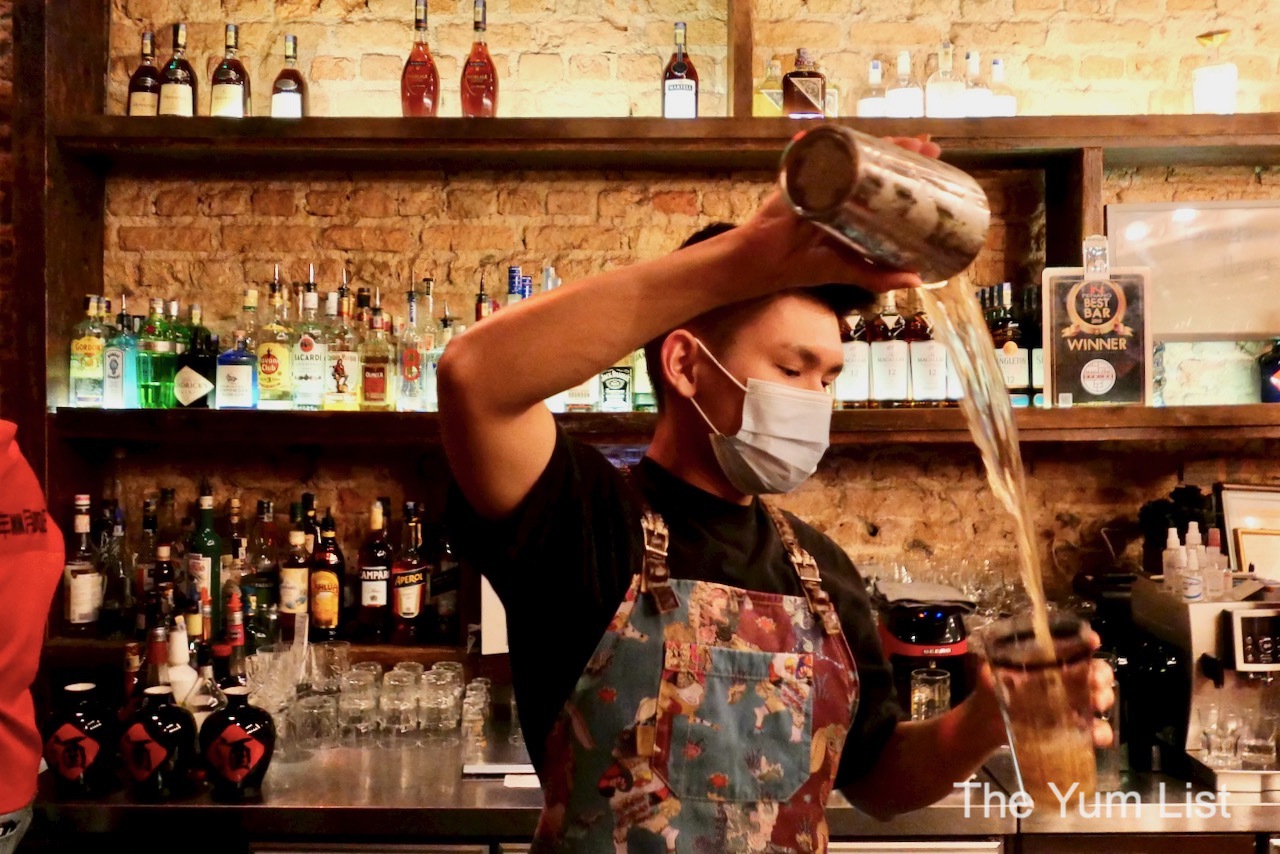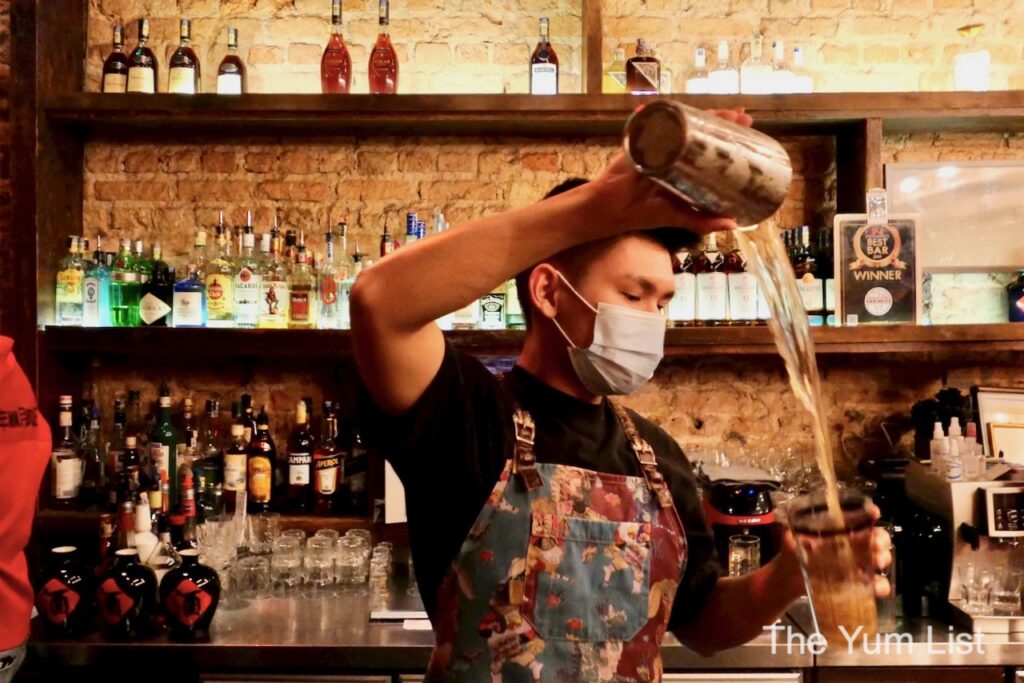 Magazine 63 Penang Review
The thirteen-strong collaboration behind Magazine 63 was instrumental in the survival of this famed local hangout during the pandemic. While many other well-loved establishments across Malaysia had to sadly close their doors permanently, the shared wealth of knowledge from the Magazine 63 team kept them afloat and allowed them to come back with a vengeance. Their doors open again, they are once more flourishing. Their menu might list Drunken Master and Not Shootable cocktails, and be lacking in praying mantis and white crane fight techniques, but these guys sure know how to deliver a strong one-two punch combo.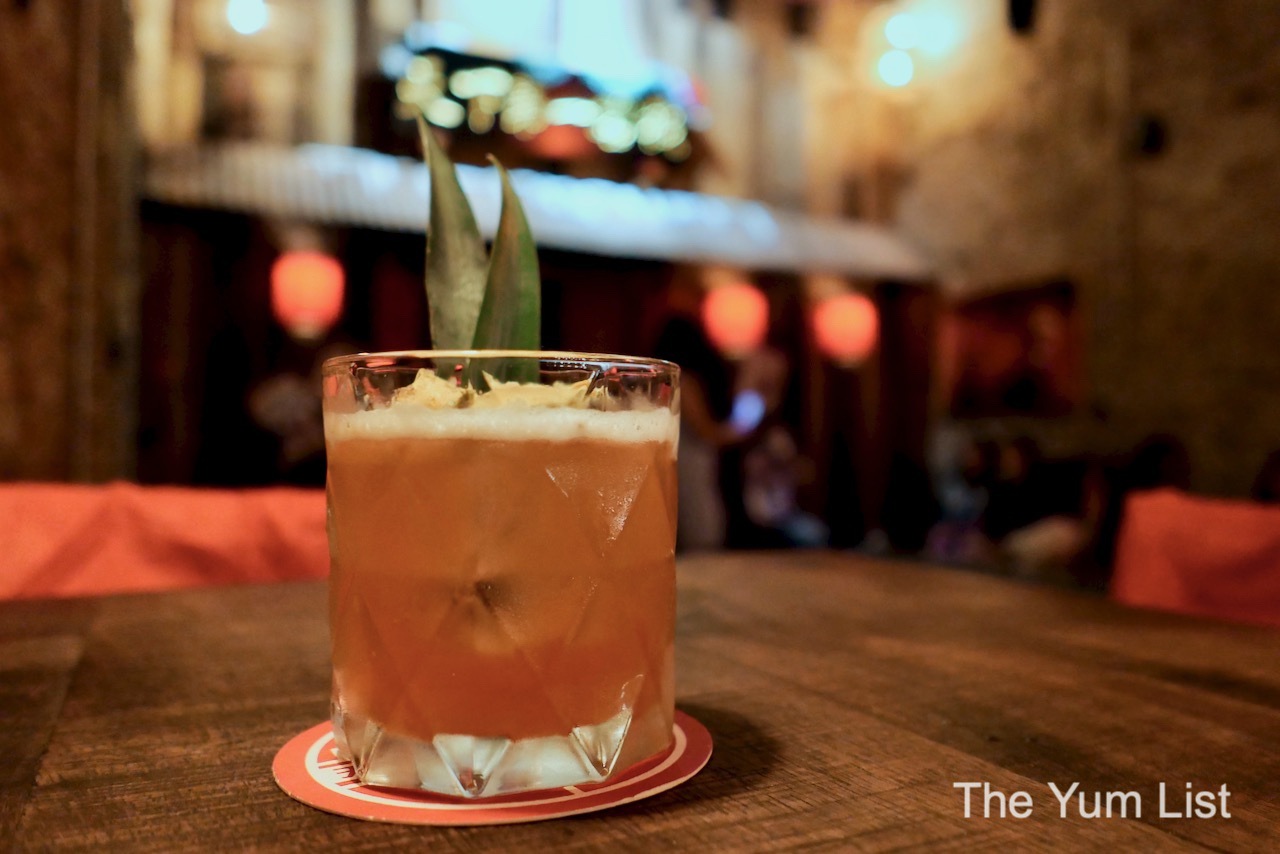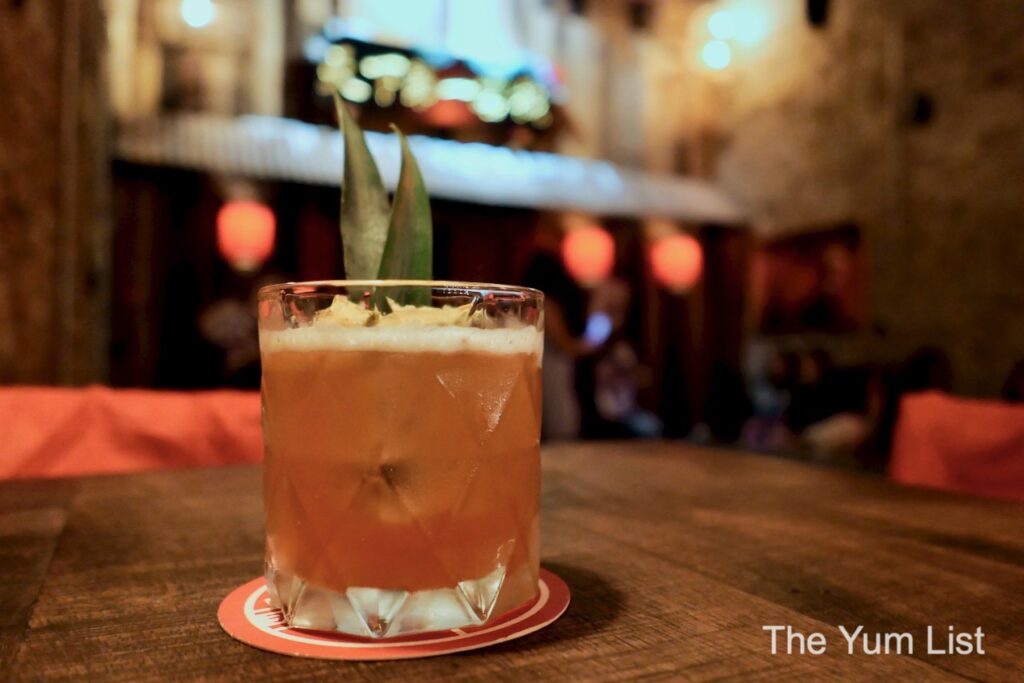 Reasons to visit Magazine 63 Penang: If you don't live in Penang, The Oriental Voyage is worth the trip to Georgetown alone. The Sultan Negroni is an absolute must, and the Spicy Grave was also a stand out for us. All cocktails at Magazine 63 are exceptional in quality, taste and originality. We also recommend the Crispy Fried Pork and the Pan Fried Squid.
Magazine 63 – Hidden Cocktail Bar Penang
63, Jalan Magazine, 10300 George Town
Pulau Pinang, Malaysia
+6017 636 3551
www.facebook.com/magazineM63
Magazine 63 Opening Hours
Daily: 7 pm to midnight
Find more recommendations for travel to Penang here and stay up to date with the latest gourmet happenings around Malaysia here and here.