Treasure Menus 2022 – CNY & Valentine's at Nobu
Words: Rebecca Cannon
Photos: Monica Tindall
You might have noticed it; rows of lanterns hung in the streets, the colour red everywhere, and the main clue – Happy Chinese New Year signs – all over the place. The Year of the Tiger is fast approaching and so too is Valentine's Day. Taking advantage of the upcoming celebrations, we headed to Nobu Kuala Lumpur to sample their specially curated menus for the occasions.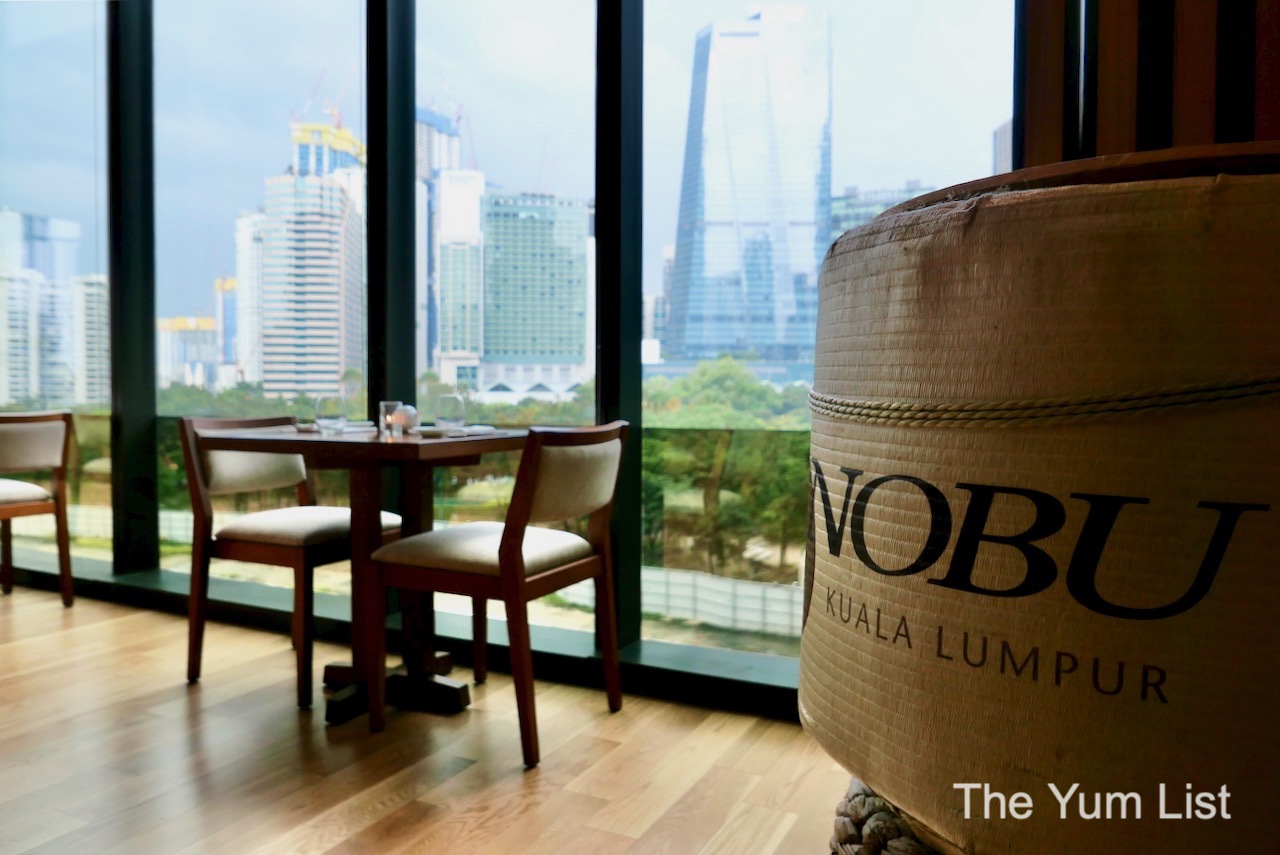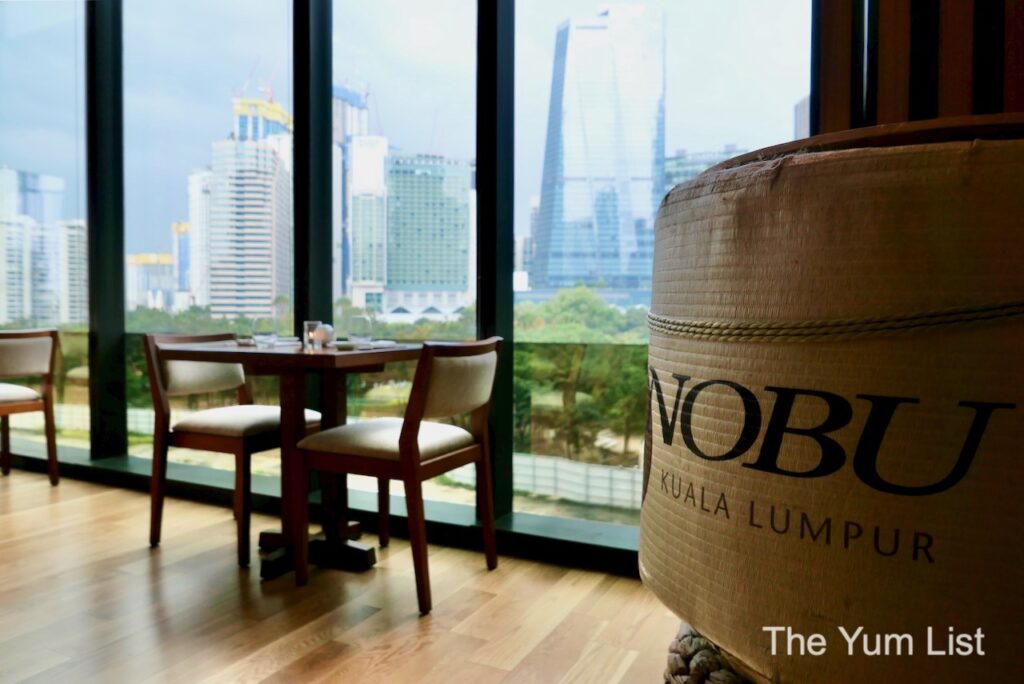 Treasure Menus 2022 at Nobu
Chinese New Year Menu at Nobu
In Chinese culture, tigers are known for their bravery, competitiveness, confidence, and being well-liked by others, with the occasional overindulgence. The CNY menu at Nobu Kuala Lumpur strikes all of these chords with two incredible recipes the highlight of the offerings.
Nobu Style Fortune Platter
Nobu Style Fortune Platters come as both cold and hot choices – Sashimi Fortune Platter (RM 188++) and New Year Nabemono (RM 288++). The menu says each is the perfect serve for two but Mon and I think we could happily share with another person and still have plenty to go around.
The Sashimi Fortune Platter, Nobu's pimped version of yee sang, is light yet nourishing. Tender strips of tuna and salmon sashimi, as well as beautiful botan ebi (clear water shrimp), sit alongside individual piles of ao tosaka (Japanese green seaweed), shredded carrots, halved grapes, pomelo segments, and pistachio nuts. We pour on the plum sauce and toss high for prosperity.
I think though it's the freshness and presentation of the ingredients that are the real Nobu touch. The sashimi is added to the dish rolled like orange and maroon roses and is firm yet tender and sweet. I wonder if I could count the minutes rather than days since the fish were last swimming in the ocean. The vegetables and grapes provide a crunch that the sashimi lacks and the pomelo bursts with sweetness. The kelp in particular keeps your mouth occupied as you try to pace yourself.
The Nabemono (hotpot) is warm and rich, and it will stay that way for a long time with the foie gras chicken dashi broth base and a flame-powered serving huogou, which was melting my heart with its beauty and practicality. The New Year Nabemono has plenty of protein varieties, containing wagyu short rib cuts, scallops, and sea cucumber! Everything is up to the usual high standard of Nobu, each cooked to capture the perfect texture of each. The wagyu needs no knife, as it's lightly seared and melt-in-the-mouth in quality. The scallops are buttery and the sea cucumber is soft with a light springiness. Crunch is provided by the Chinese cabbage and crispy noodles positioned like a bird's nest on top.
The Nobu Style Fortune Platters will be available from January 15 until February 11, 2022, on an ala carte basis.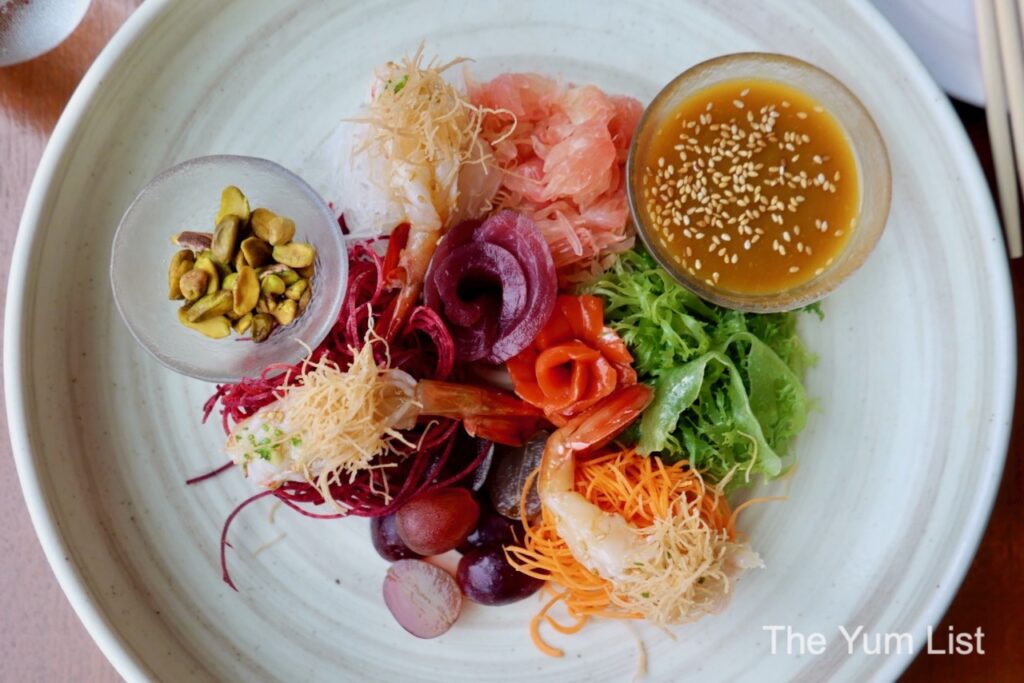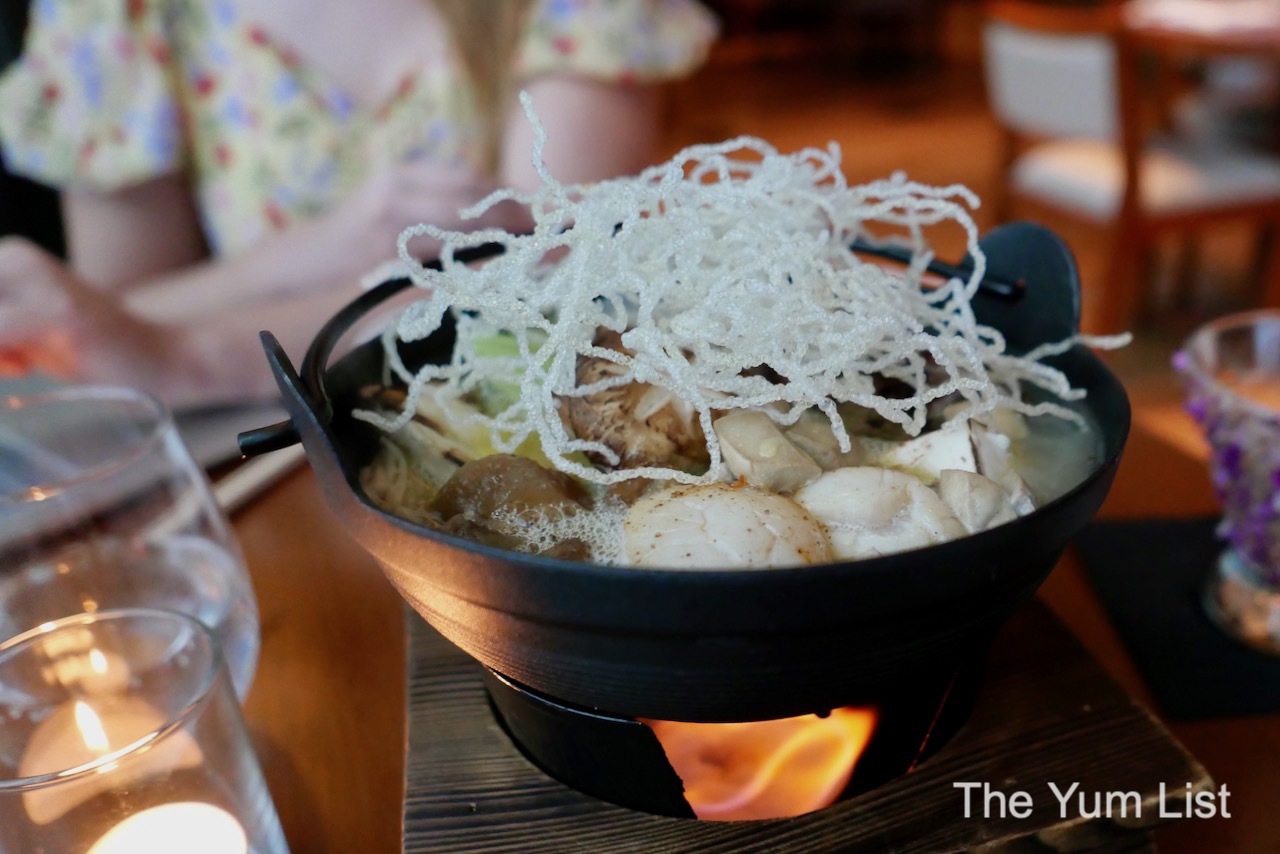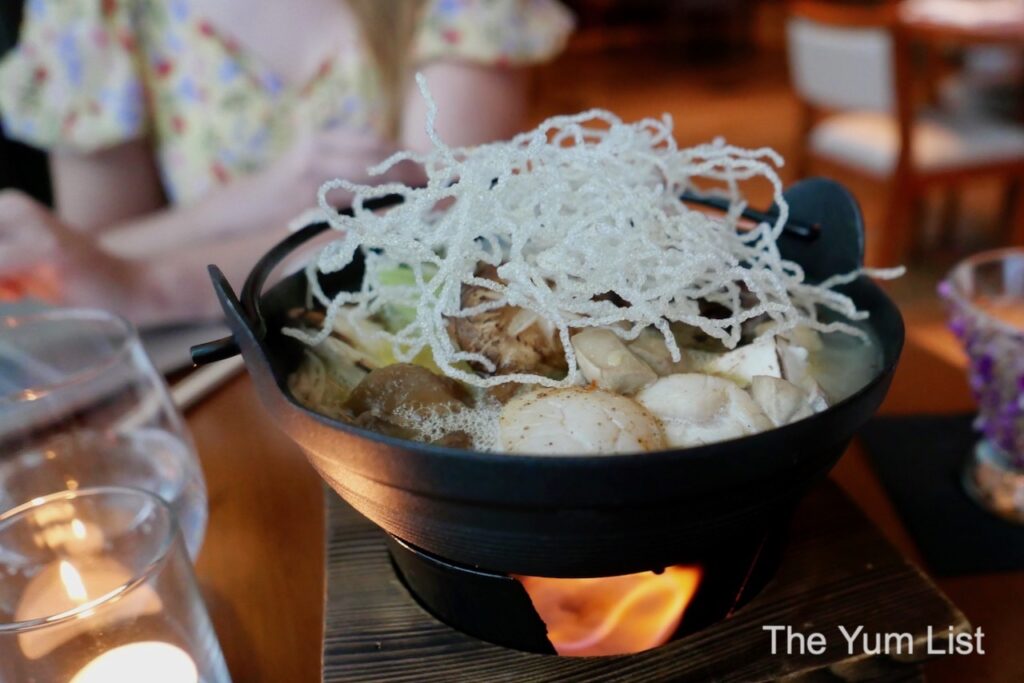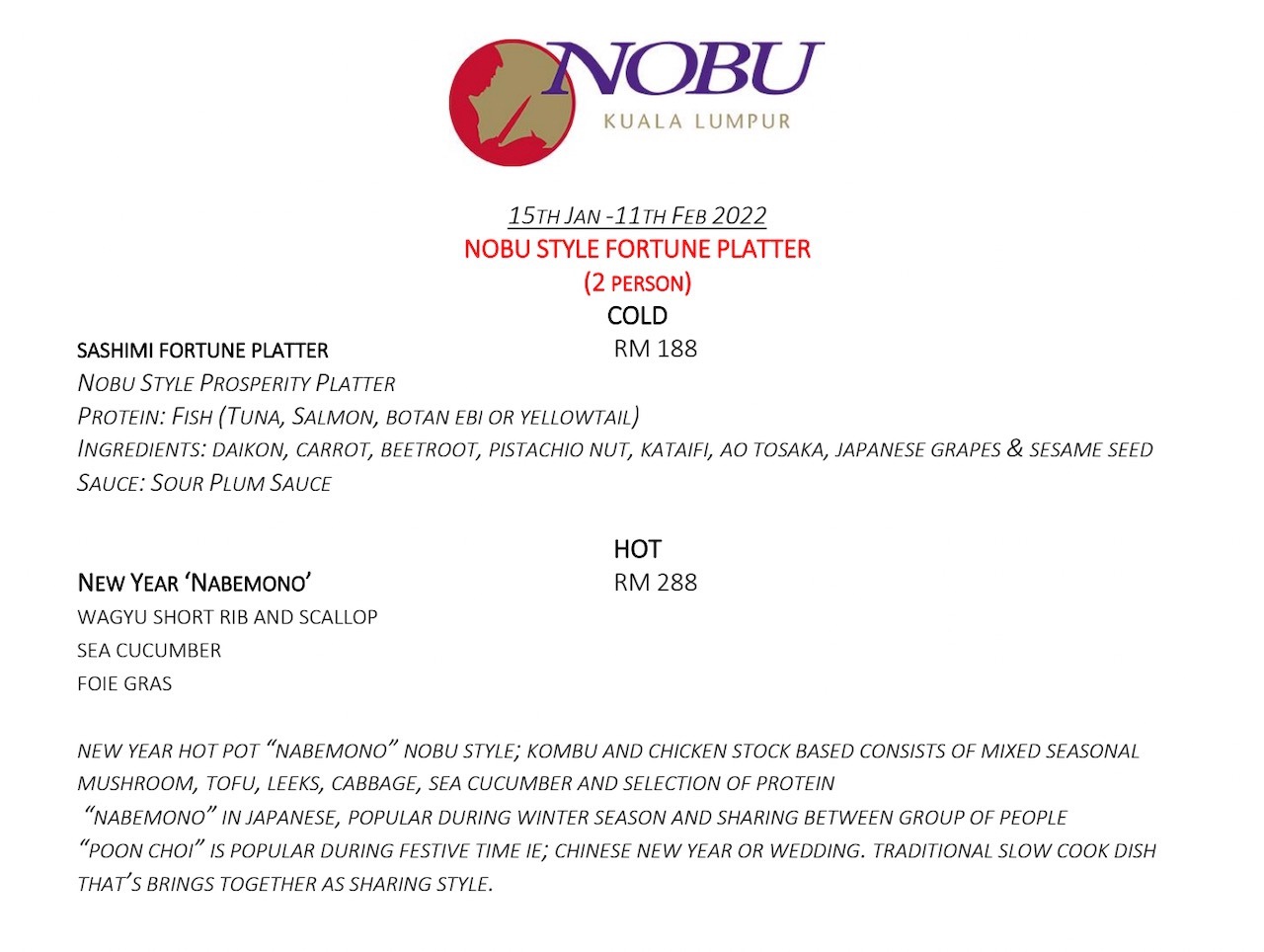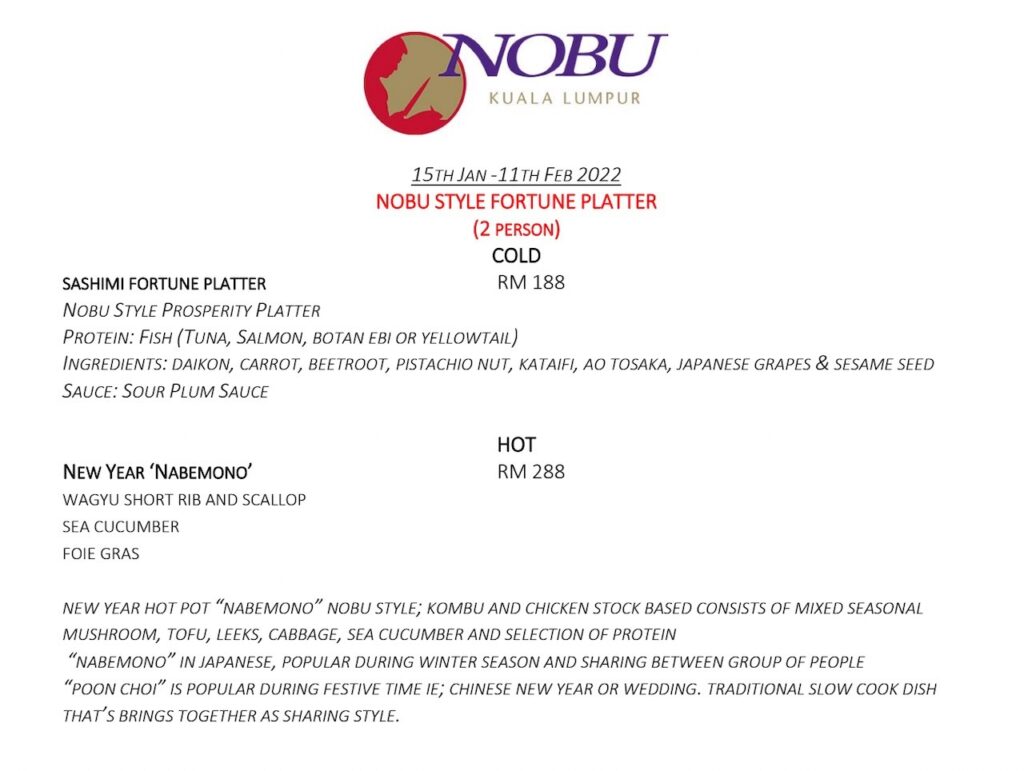 Valentine Omakase Love Affair at Nobu – Treasure Menus 2022
The Valentine's Day menu, Omakase Love Affair at Nobu (RM 550++), is carefully crafted to leave you feeling completely sated, yet not so full that you cannot continue with your evening. The menu itself is six courses, starting with tuna, working your way through the ocean with sushi and steamed coral grouper, before becoming land-based with waygu and a mushroom foie gras miso soup before a yuzu raspberry tart for dessert. We sampled everything other than the sushi selection and mushroom foie gras miso soup; there is only so much room in our stomachs after all the Chinese New Year menu.
The tuna is tataki is seared so lightly it might as well be called sashimi. As with everything Nobu serves it was well-plated above cucumber ribbons with mushroom and red onion slices on top. It is topped with a truffle tofu sauce and a sprinkling of miso. The sauce took me back to my childhood with its savoury snack-like flavour, but it is tataki, there's nothing child or snack-like about this appetizer. It's an innovative twist worth celebrating.
For the steamed coral grouper, I recommend requesting a spoon. This is because it's not just fish set on top of sea grapes, but rather it's bathing in wasabi oil and a fantastic wasabi corn salsa. Using a spoon rather than your chopsticks allows you to get all the juiciness with the kick from the wasabi in each bite. The coral grouper arrives still warm with the smell of umami spiralling up into the air. The grouper is thick, moist, and flaky enough that despite appearances you can cut it with your chopsticks or spoon. It's another satisfying but not belly-heavy meal.
The main on the Valentine's menu at Nobu is none other than wagyu, served to the chef's recommendation of medium-rare. It worked well with radish, carrot puree, and black bean miso, which helps cut through the wagyu's richness but are also tasty in their own right. In keeping with the Valentine's theme the radish was served as spirals that resembled roses, or to someone with a marine degree and love of the ocean- cup or lettuce coral. Whatever you see, layer it on top of the wagyu with the black bean miso and a dab of puree; it'll make your tastebuds sing.
No Valentine's meal is complete without dessert. This year's Nobu offering is titled Yuzu Raspberry Tart, but we agree with our server, Leela, and prefer to think of it as the "Taco of Love." The tart pastry or shell is made from almond and is wafer-thin, with a small chocolate stamp on each side. Inside it is the yuzu raspberry ganache. The yuzu is a light citrus fruit that pairs beautifully with raspberry. To the side are tiny squares of jasmine tea jelly and a fold of beetroot sorbet with miso curd and vanilla soil. The beetroot sorbet continues with Nobu's emphasis on fresh-tasting and is a sweet flavour that's not over the top, perfect for non-dessert lovers and people with a sweet tooth alike.
The Omakase Love Affair at Nobu menu will only be available on the 12th, 13th and 14th of February, 2022.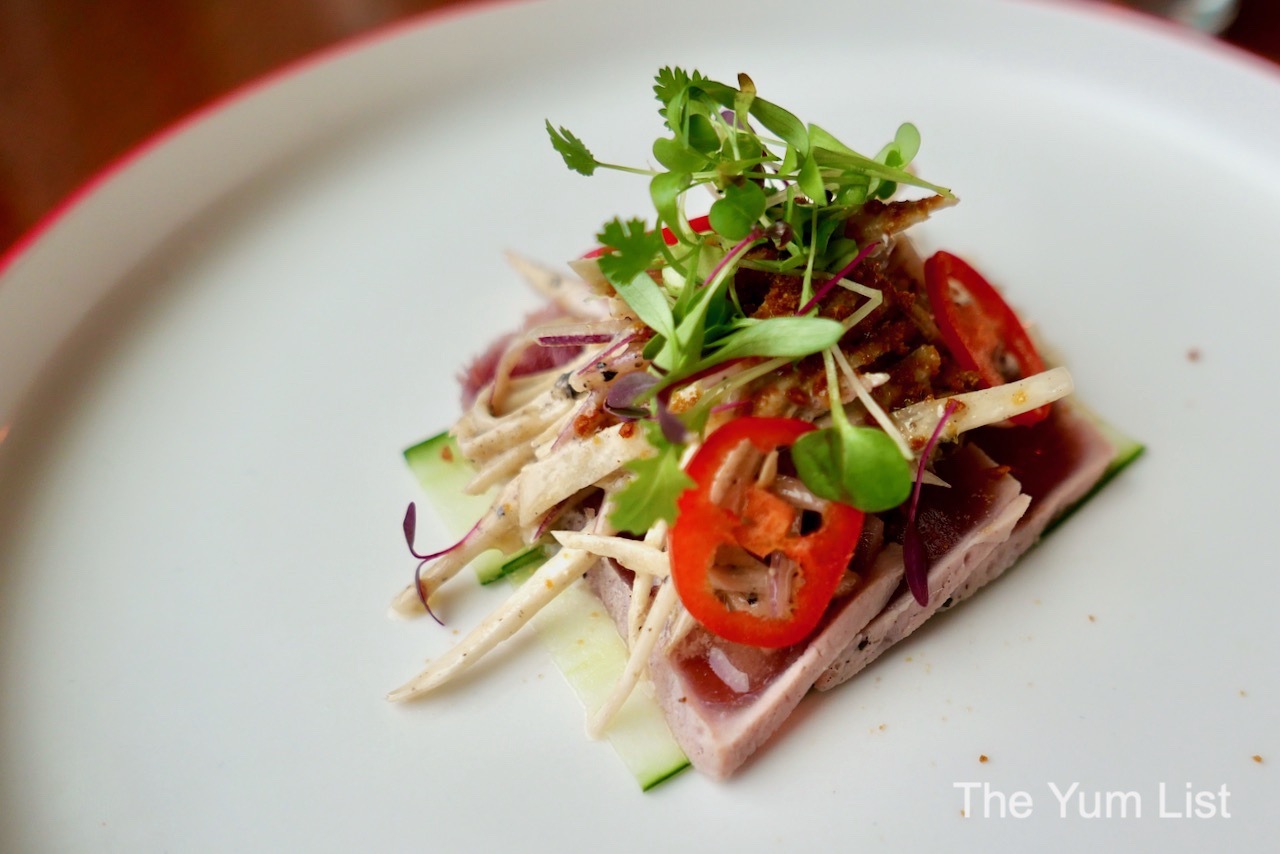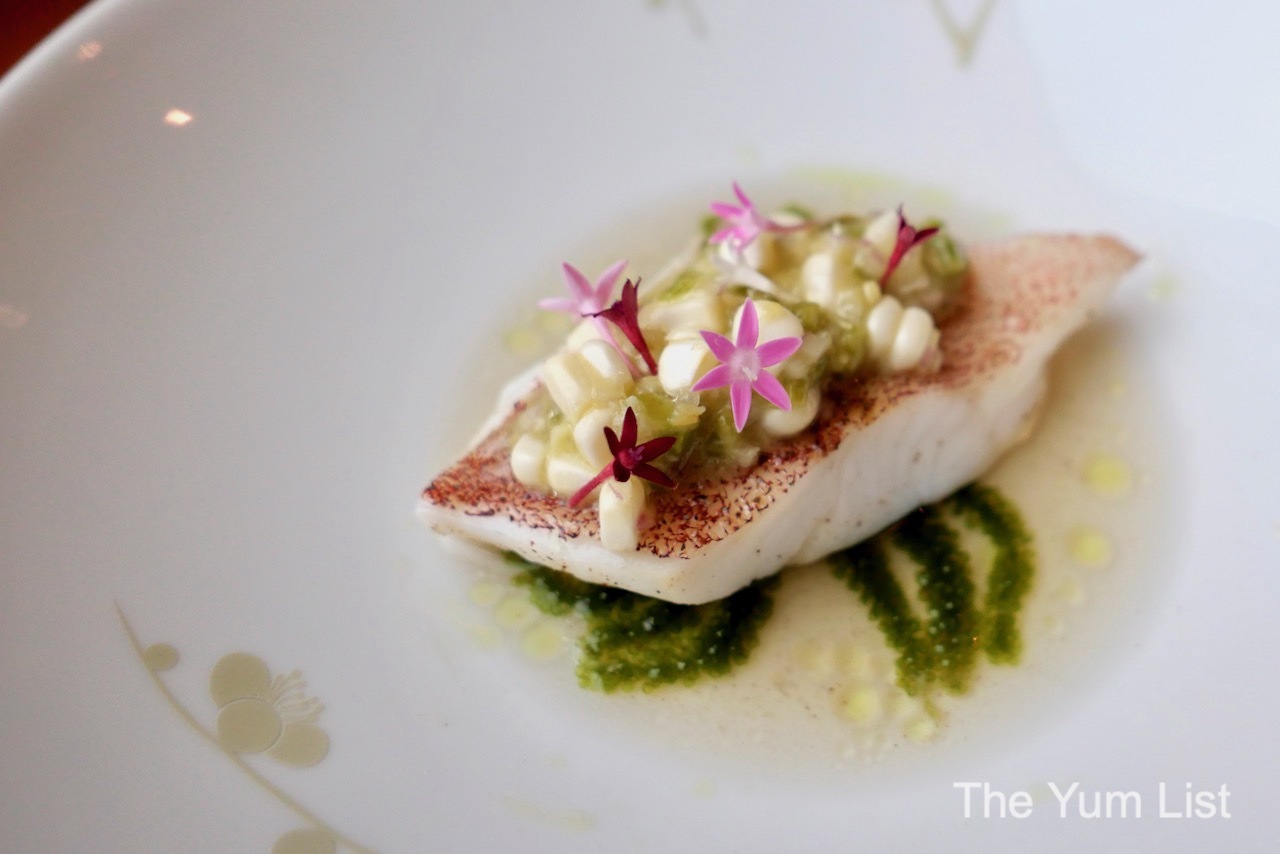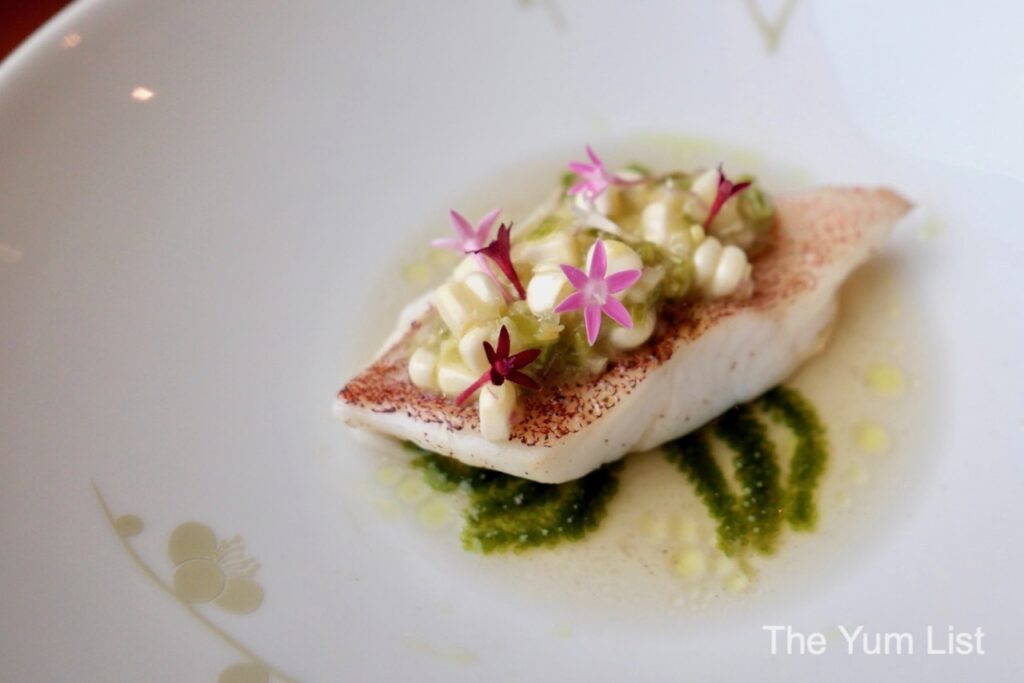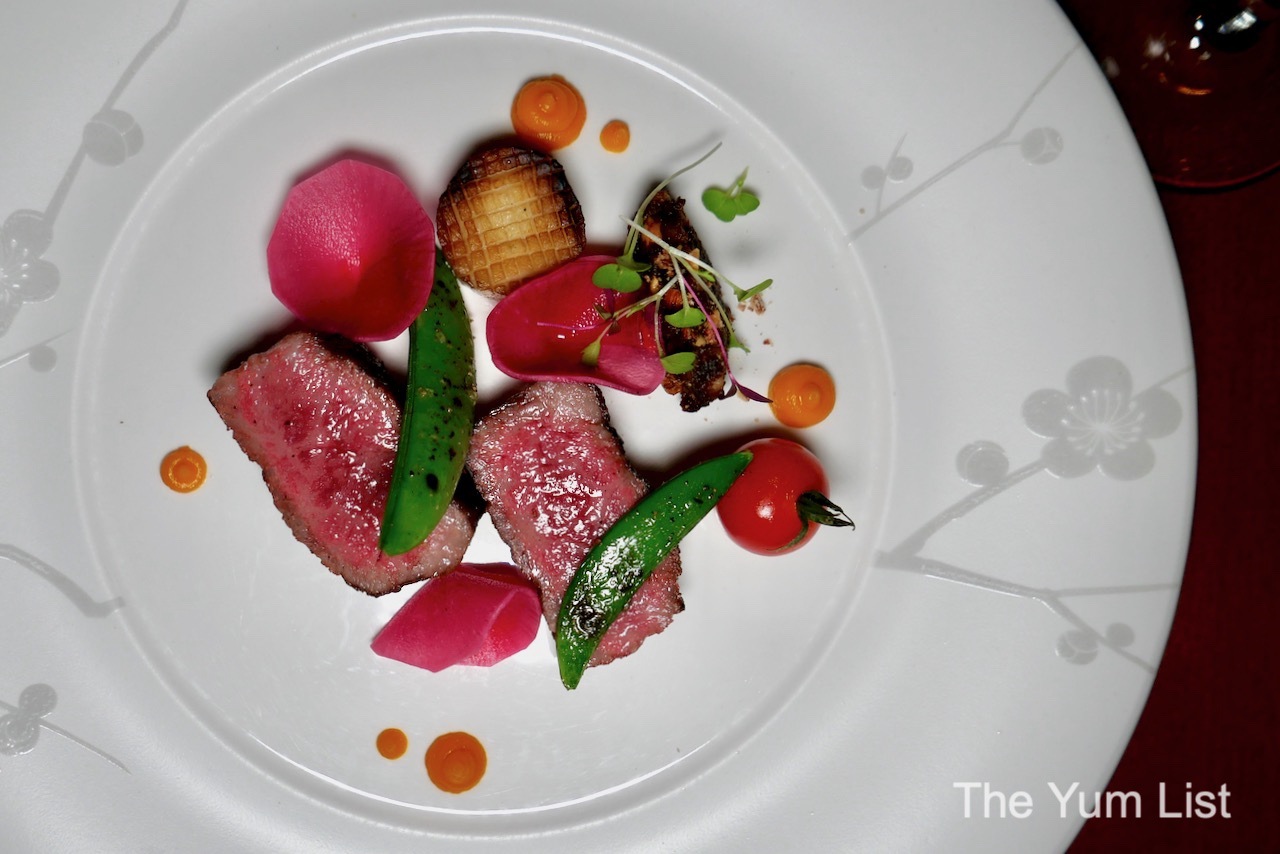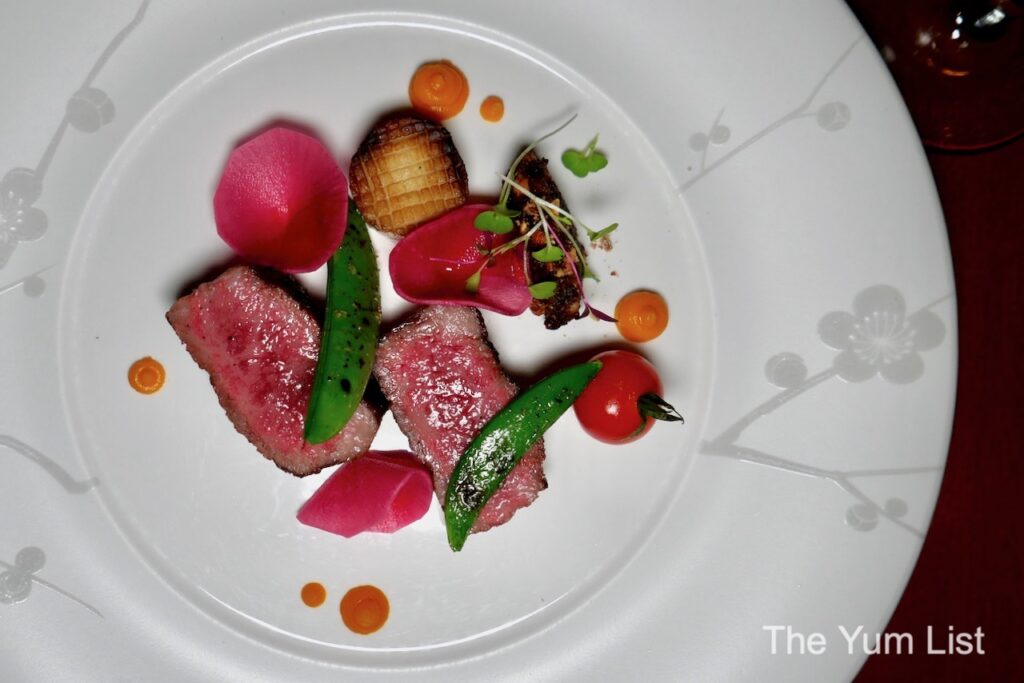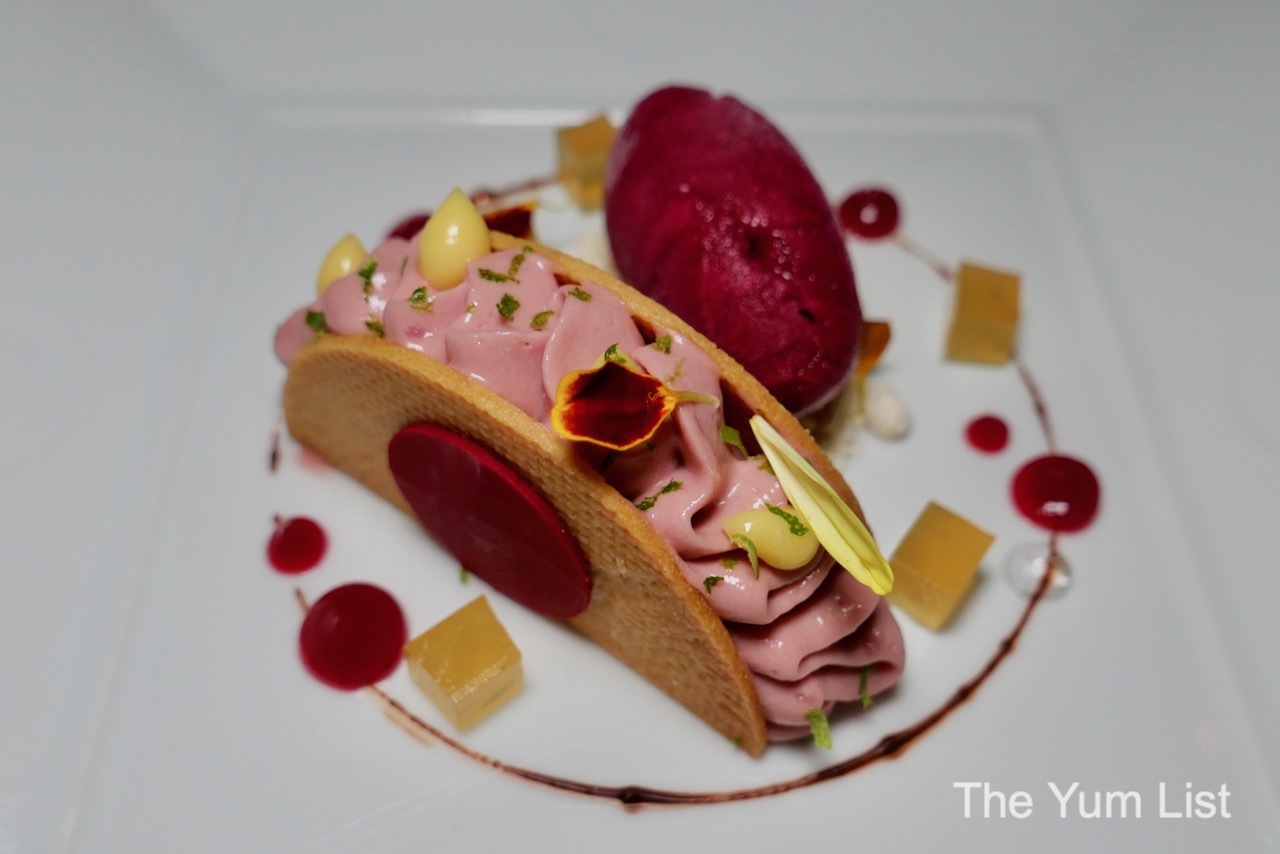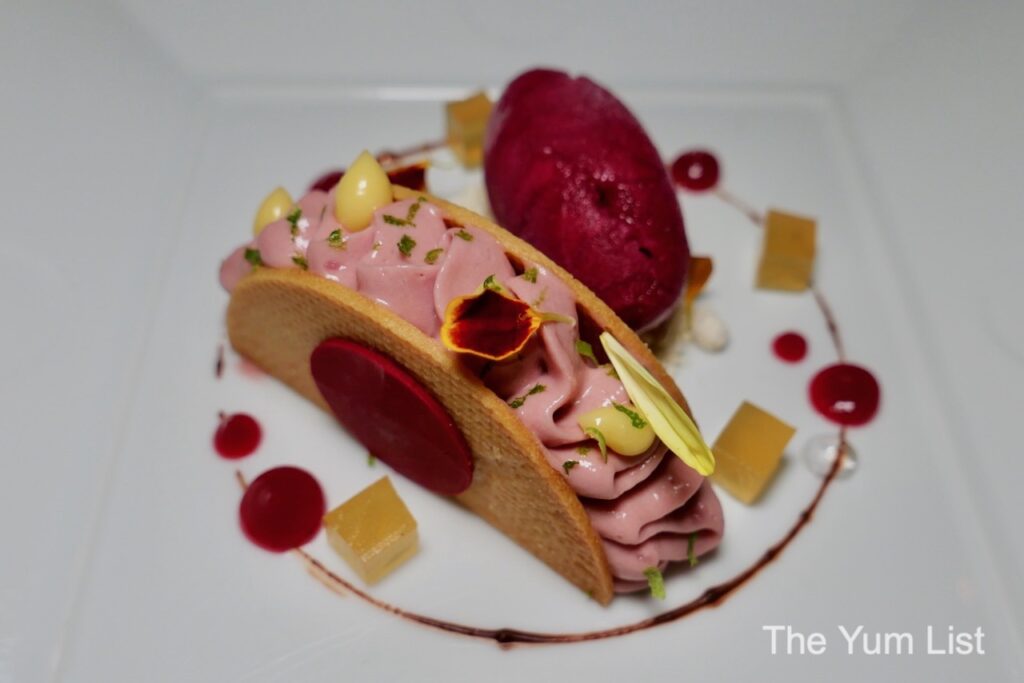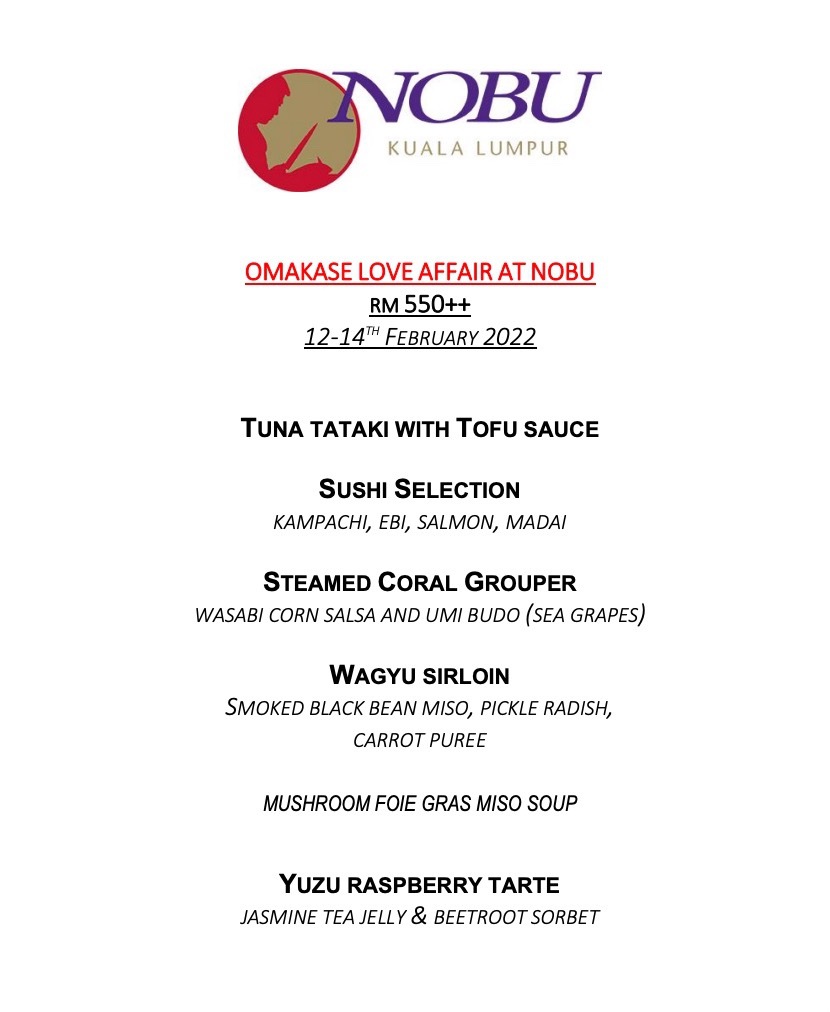 Treasure Menus 2022 at Nobu – Seasonal Cocktails
To complement the Treasure Menus for 2022, the talented bar crew have crafted two speciality cocktails. The Valentine's Day cocktail, Jin to Bara, which means Gin & Roses (RM 65), is a rose and vanilla-infused gin, with an appropriate amount of Campari, mixed with lychee and lemon juices, elderflower cordial, and an egg white foam. The glass is decorated in a way I can't imagine how with a side of rose petals, hovering against the glass as they defy gravity. If nothing else I can guarantee the flowers are fresh, I could smell the cocktail coming. The first sip is ye olde fashioned candy, before the balance of alcohol kicks in. It doesn't matter if you do or don't like the taste of alcohol, as long as you enjoy sweet floral notes, this cocktail will keep you coming back for more.
The Tiger's Tail (RM60) is more up Mon's alley, a sophisticated-looking vodka cocktail served in a martini glass. The liquid is a delicious combination of strawberry puree, yuzu juice, homemade ginseng-monk fruit syrup, egg white and Absolut mandarin. The name reflects the attractive chilli kick from shicimi powder sprinkled over the top just before serving, which is the final lingering flavour after every sip.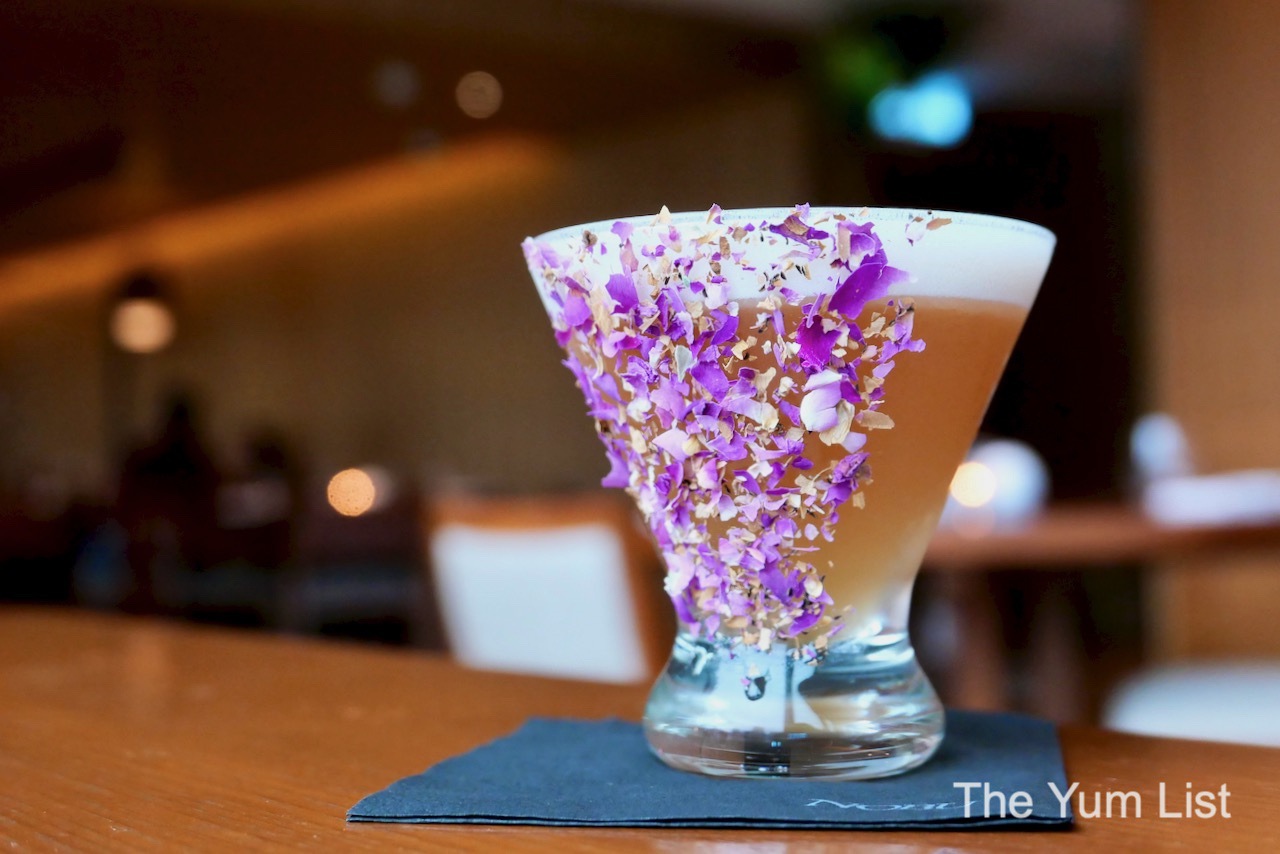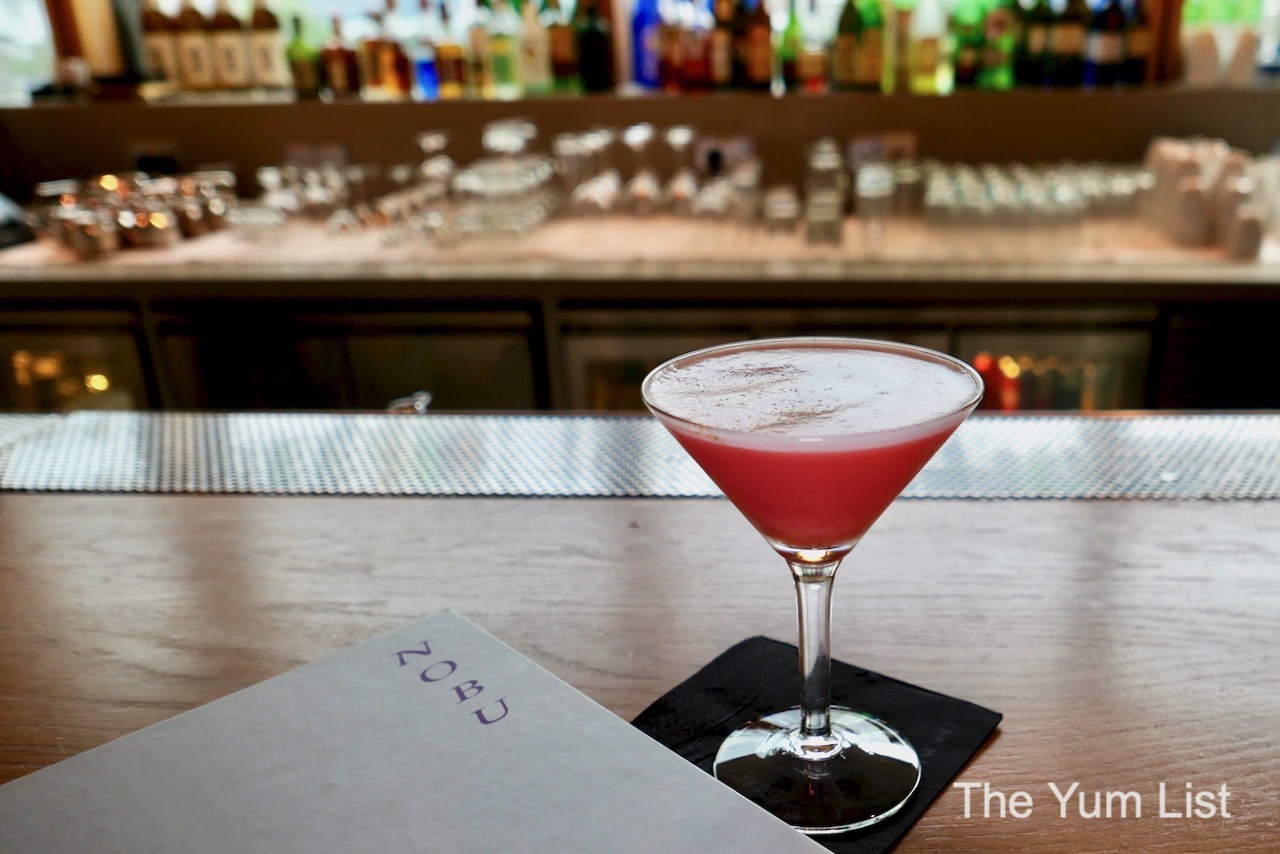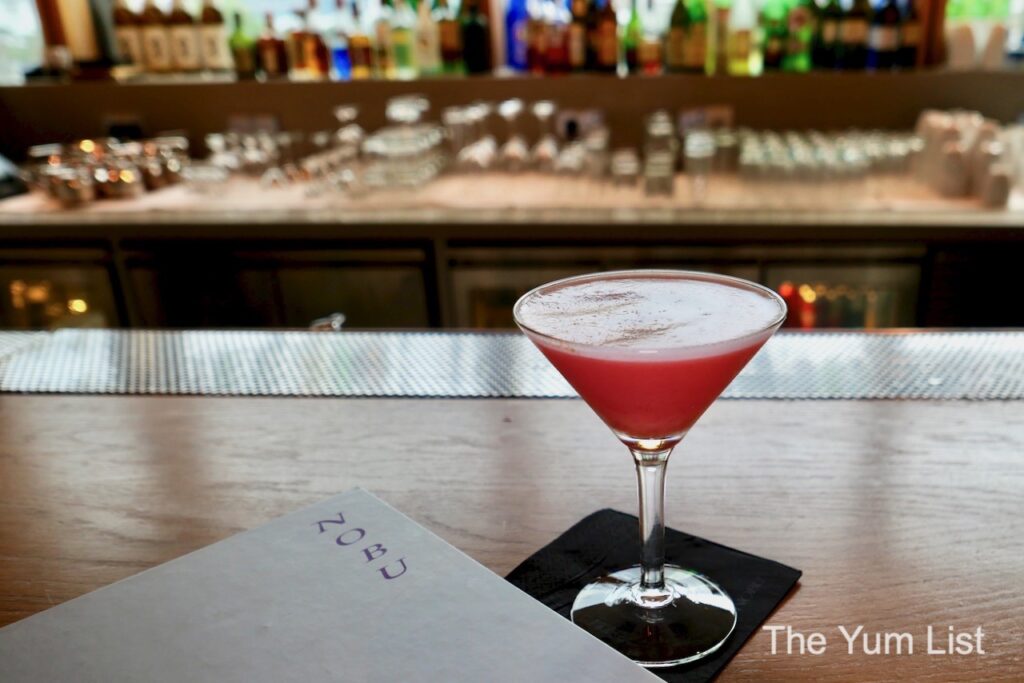 Reasons to try the Treasure Menus 2022 at Nobu Kuala Lumpur: the Valentine's menu builds its courses carefully with a balance and theme of flavours ensuring your stomach and taste buds are always joyful. The CNY menu has one of the freshest and tastiest yee sangs of the season, and the hotpot is absolute decadence. As, always, fab service.
Nobu Kuala Lumpur
L4A-05, Shoppes at Four Seasons Place, No 145 Jalan Ampang
50450 Kuala Lumpur, Malaysia
+6 03 2380 0028 or +6019 389 5085
[email protected]
Nobu Kuala Lumpur Opening Hours
Weekends: 1-4 pm & 6-10:30pm
Weekdays: 11.45 am -2 pm & 6-10:30pm
Find more Japanese restaurants in KL here, and stay up-to-date with the latest gourmet and travel recommendations for Malaysia here and here.