Shangri-La Rasa Ria
Words: Claire Matheson
Photos: Monica Tindall
A resort destination for families, nature lovers, beach lovers, golf lovers and romantic lovers, the Shangri-La Rasa Ria is a paradise on earth. Throughout time, great poets have told us of Kubla Khan's Xanadu, the Garden of Eden, Avalon and the island of Aeaea. But unlike these mythical utopias of nature found in fiction, it turns out the haven of Shangri-La is real and can be found in Rasa Ria, Sabah.
While all Shangri-La properties are famed for the luscious and extensive landscaped gardens, the Shangri-La Rasa Ria is on another level. Its 400 acres encompasses a seemingly endless stretch of wide, flat beach, a 64-acre nature reserve, and an 18 hole golf course – the Dalit Bay Golf & Country Club. A veritable army of gardiners keeps the grounds immaculate, verdant and healthy.
Throughout the grounds, a huge array of biodiversity has been purposely cultivated, with vast quantities of flowering trees and shrubs extending in every direction, creating a wonderland for native birds and wildlife, a core focus for the resort. Even while relaxing on your balcony, you can use the handy birdwatching guide provided to spot and name the half a dozen endemic species flitting about or singing to each other, within mere metres of your day lounger.
However, the biggest drawcard of Shangri-La Rasa Ria is its pristine, private beach. Extending for three kilometres in length and about half a kilometre in width, this unspoiled stretch of coastline is sheer bliss. There is enough beach frontage for every single resort guest to simultaneously have their very own exclusive patch. During our stay, North Westerly swells drive directly perpendicular to the beach, meaning there are decent waves for surfing and bodyboarding, with perfect peeling tubes extending for hundreds of metres. Watching the sunset paint the sky in golds, pinks, oranges and reds, with the sound of crashing surf, you too will feel like you've stumbled into paradise.
If you are looking for the ultimate private, luxury, nature-based beach retreat, your next holiday of choice should be the Shangri-La Rasa Ria. And best of all, it's more affordable than you think.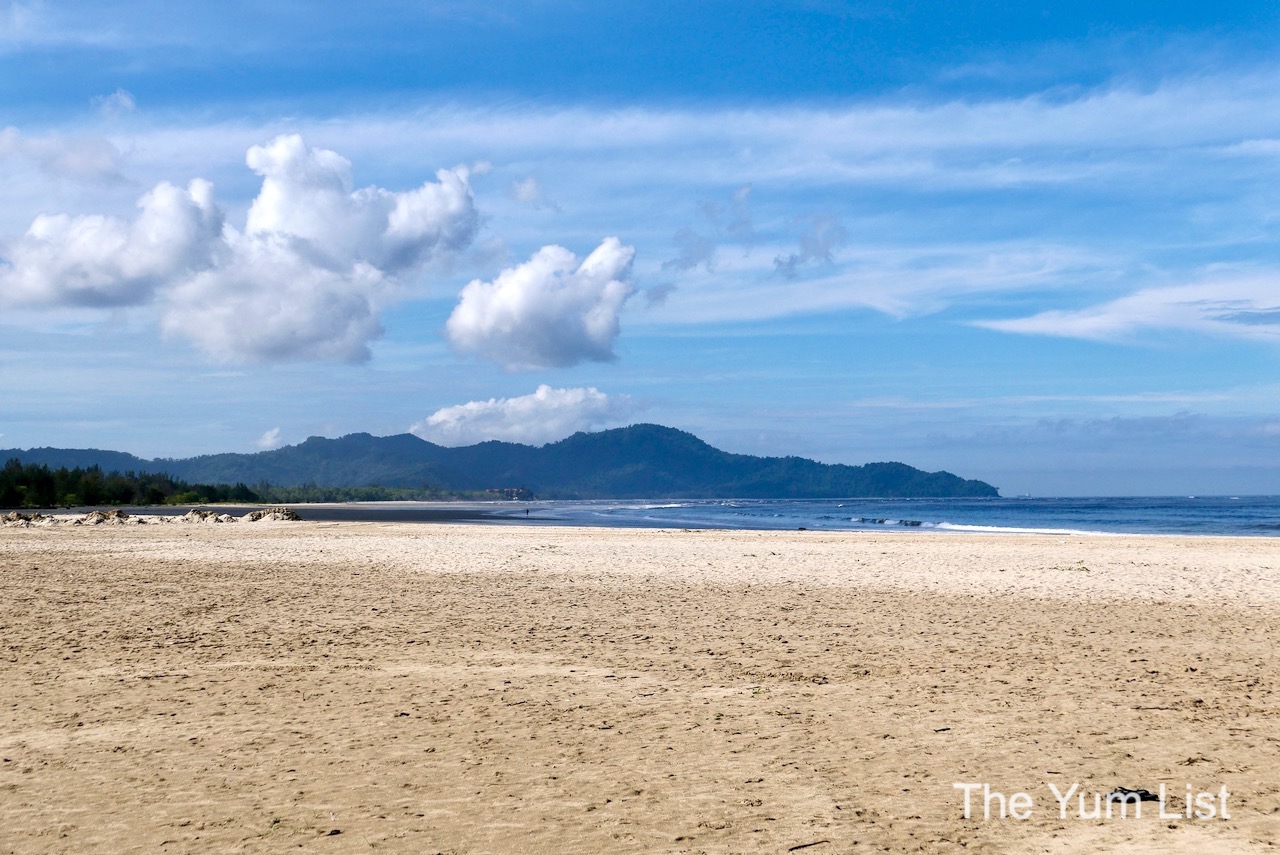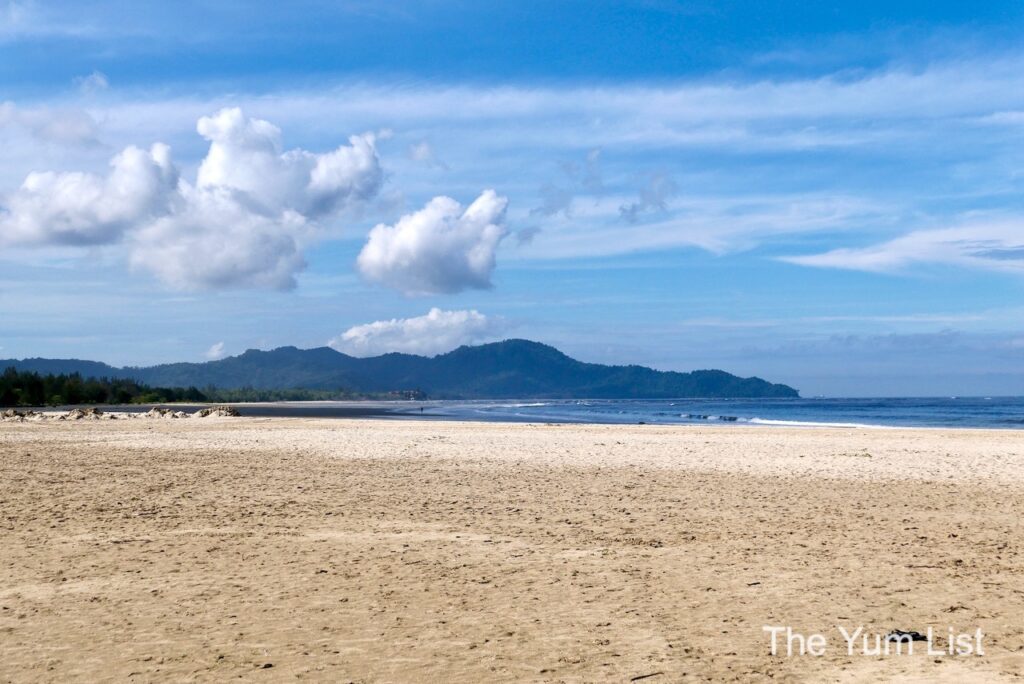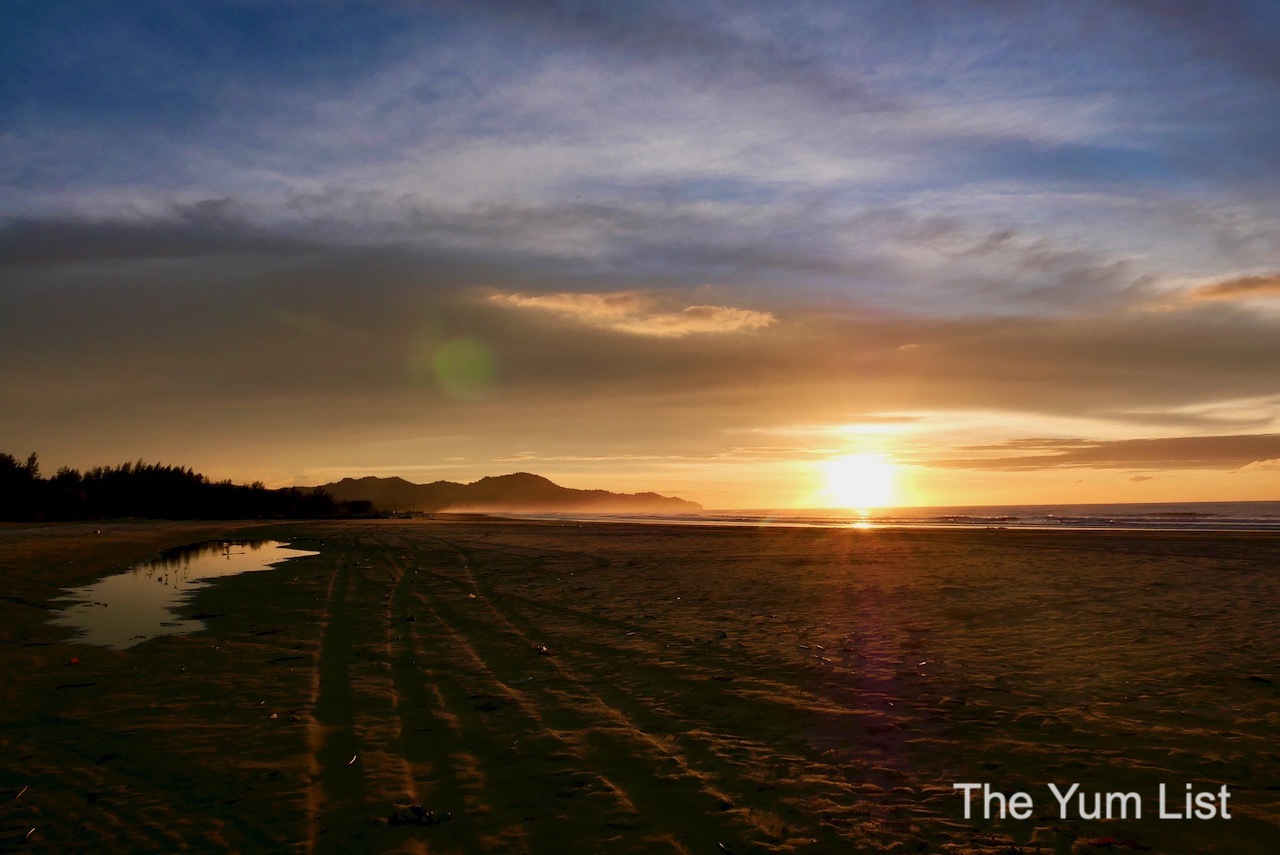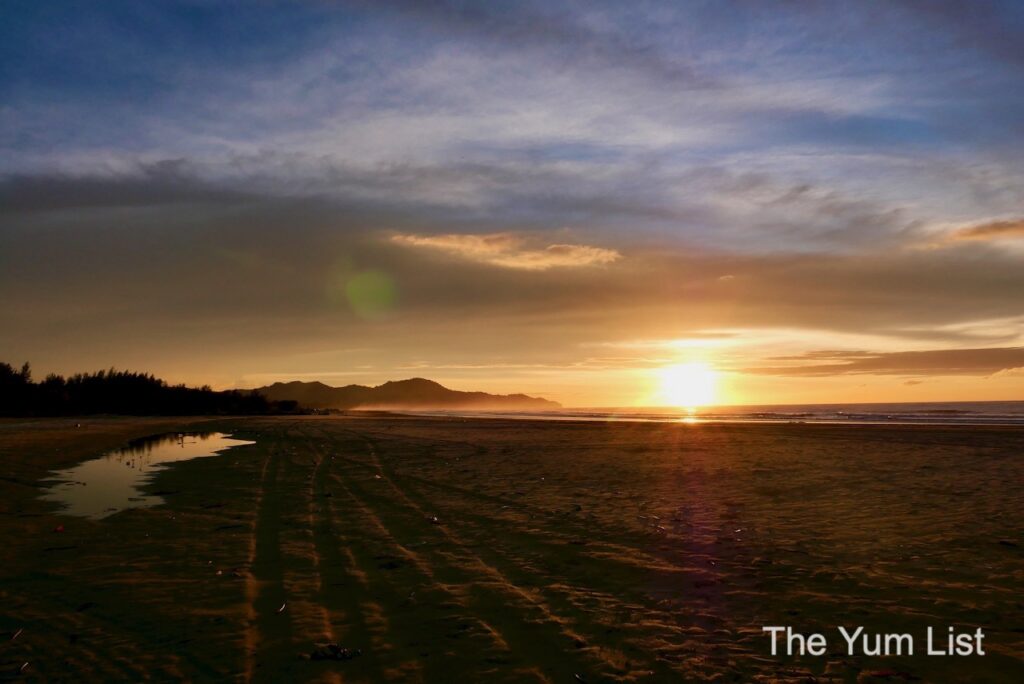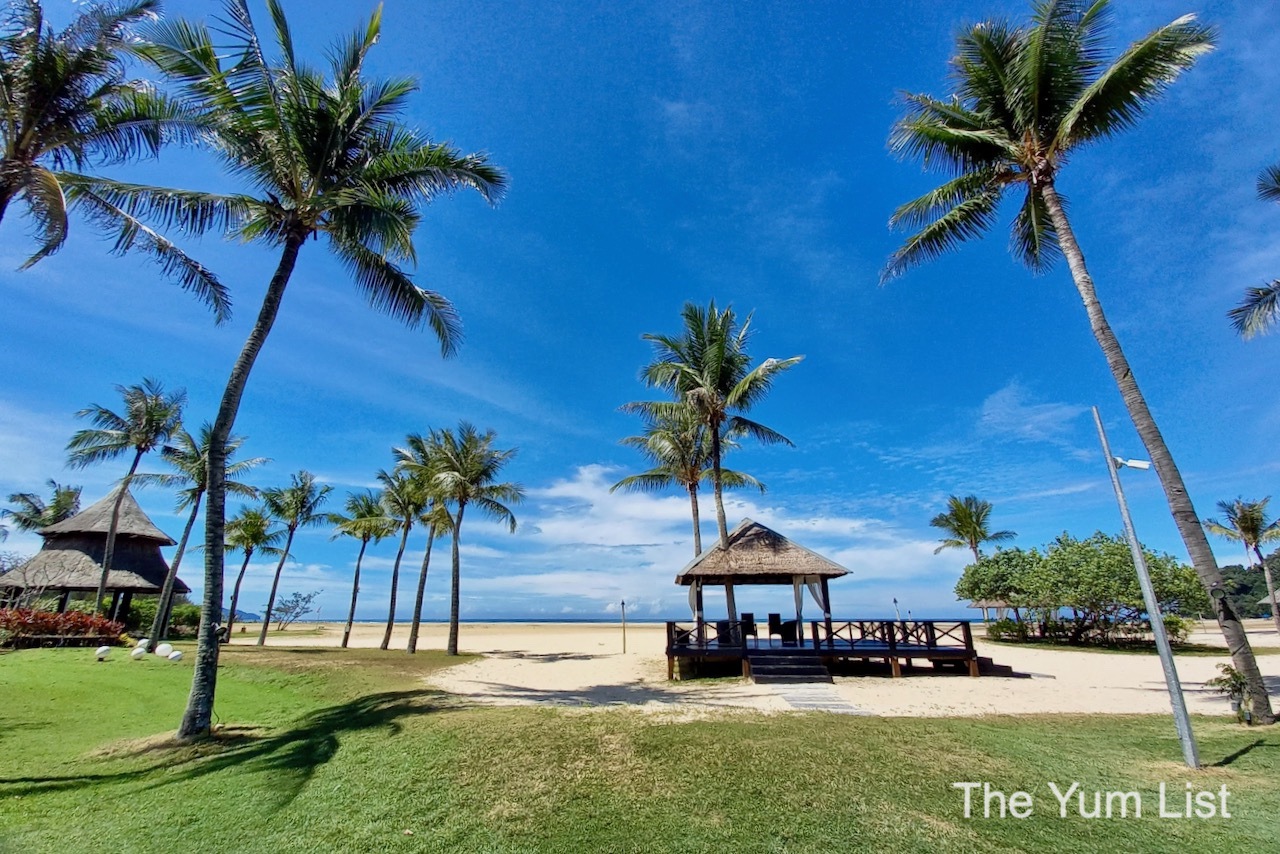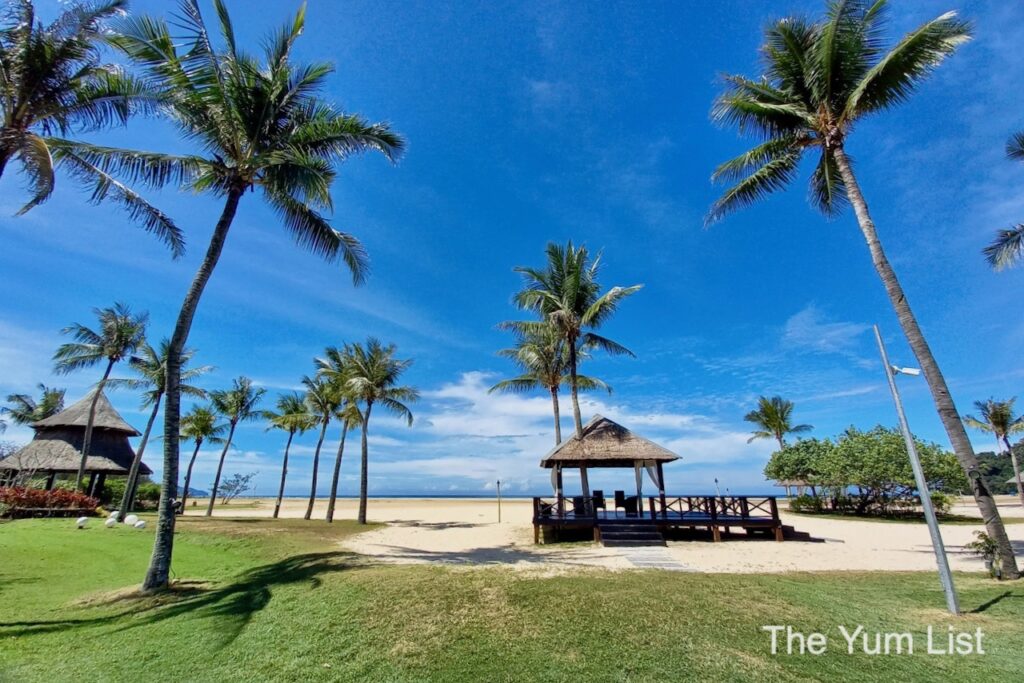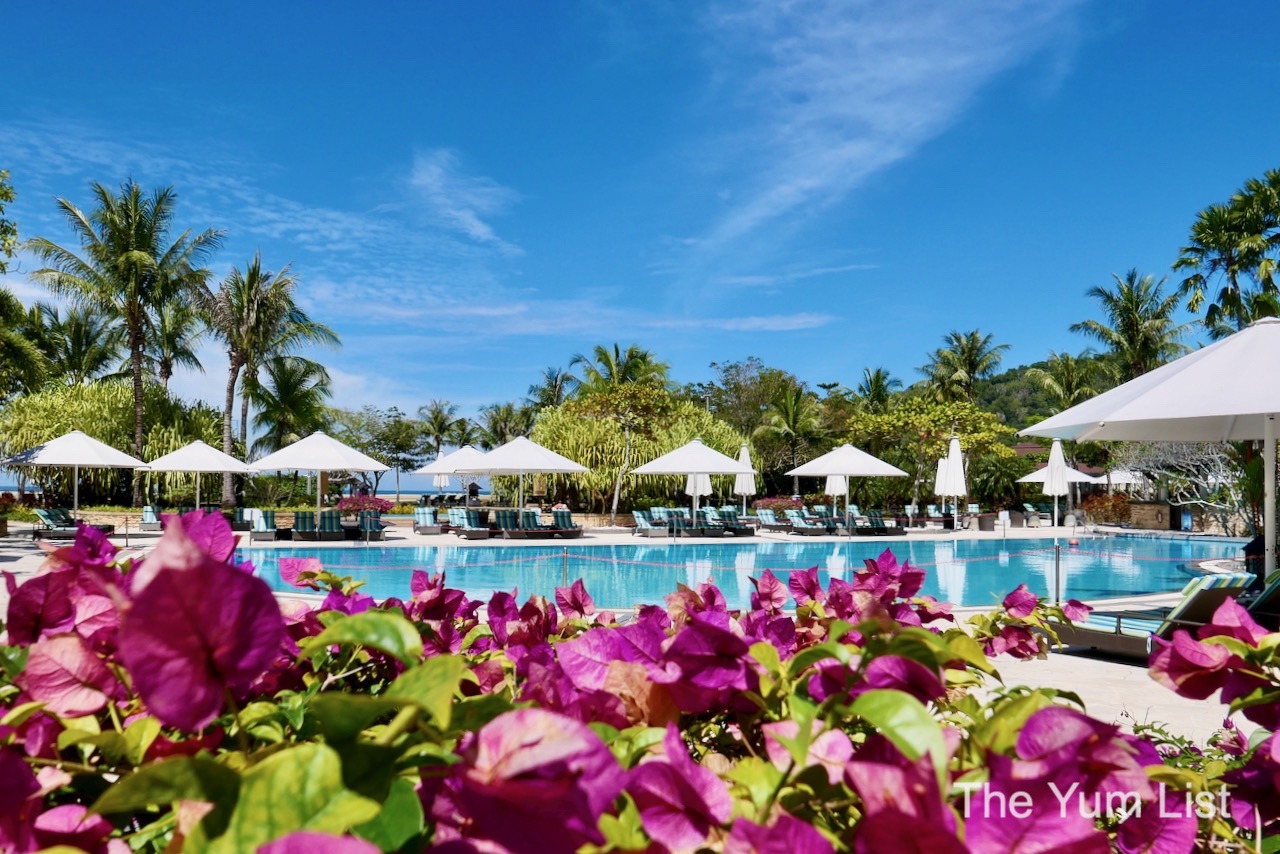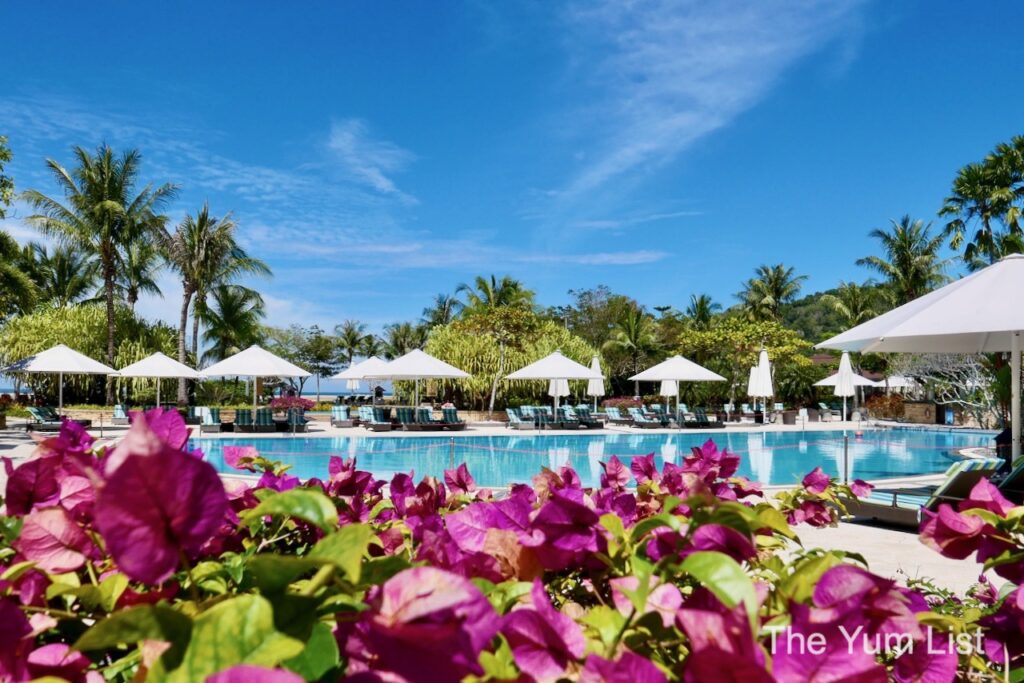 A Room in the Ocean Wing Shangri-La Rasa Ria
In each wing, grand, high ceilinged, open-sided lobbies bring the outdoors inside. Setting the tone for arriving guests, the entryways are breathtakingly beautiful with an underlying serenity. Tastefully appointed in natural weaves and threads, each lobby space plays on its name, with accents of nautical highlights and sea-based artworks in the Ocean Wing, and deep forest greens and wood carving art in the Garden Wing. Looking out onto a vista of curved pathways and manicured, leafy gardens, the calm atmosphere is enhanced by the gentle, welcoming nature of the Shangri-La team. Walking in, we are greeted by name by a handful of team members, who bestow us with hand-beaded, Sabah tribal patterned necklaces in vibrant hues.
Rooms are divided into the Garden Wing and The Ocean Wing. Each is newly refurbished and come with all the trimmings. The Garden Wing has a range of ocean and rainforest facing rooms and suites ranging between 36 and 108 square metres in size. Family rooms are available with a combination of sized king beds and bunk beds in the room. Young guests are even given their very own plush toy on arrival.
We are staying in the Ocean Wing, in a 90 square metre Junior Suite with a sea view. Also available in this wing are family rooms with a king-sized bed and additional bunkbeds, as well as interconnected Garden facing and Sea View Suites. Staff have thoughtfully arranged a welcome sign on our bed using freshly picked flowers and leaves from the bountiful gardens outside. They have also provided us with Shangri-La Rasa Ria's signature non-alcoholic drink, Sparkling Calamansi (RM8 per glass or three for RM20 at Tepi-Laut) and a generous serve of Pandan Coconut Cake (RM20). It is quite something when such an incredible room is outshone by the impeccable and generous hospitality of the staff.
The room is magnificent and spacious, with a sumptuous king-size bed, four-seater dining area, floor to ceiling windows with cushioned bay window, a huge double sink marble bathroom, and a beautifully appointed walk-in-wardrobe with a well-lit dressing vestibule. The truly expansive balcony looks directly out onto the gardens below and the beach and ocean beyond. It is large enough to house a table and chairs, a massive circular day bed, and a completely extravagant, double person, private outdoor jacuzzi spa bath.
The jacuzzi is ridiculous! And by that, we mean ridiculously luxurious, ridiculously alluring, and we are ridiculously spoiled. Two cushioned headrests, a waveform base for greater comfort, powerful jet action, and the ultimate sea view – could this be the best jacuzzi in South East Asia? We think so! It's so big it takes quite some time to fill, despite turning on both the retractable handheld showerhead and the wall-mounted waterfall feature. Beautiful polished wooden stepped decking surrounds the tub, allowing for easy access and a handy place for your towels, bathrobes and drinks while you soak away any worries. Did I mention we are on the fifth floor? Yes, you read that correctly; our jacuzzi, which can easily hold one literal ton of water, is on our balcony. I'll pause while all the engineers and architects nod in appreciation.
If you can tear yourselves away from the balcony and the view, the suite has many small touches which reflect the thoughtful attention to detail of the Shangri-La team. L'Occitane Jasmine and Bergamot Toiletries smell divine. The shower has continuous hot water with excellent high pressure. The bathrobes are luscious and absorbent, made from 100% cotton. A powerful Vidal Sassoon hairdryer means you can spend the day in the pool, at the beach, and in the jacuzzi and still have a well-coiffed hair-do for dinner. None of this attached to the wall, 600 wattage nonsense at the Shangri-La! The king-size bed guarantees the best night's sleep with a deep, comforting mattress topper and a range of feather pillows of different thicknesses for side, back and tummy sleepers. Accurate temperature controls are also key for sound sleep, although if you're like us, the chance to sleep with a sea breeze and the sound of the ocean in the background is an easy decision. Back out on the balcony, mosquito coils are provided in cute ceramic holders, and an extendable drying rack means you never have to put on wet swimsuits for your next trip to the pool or beach. They really have thought of everything.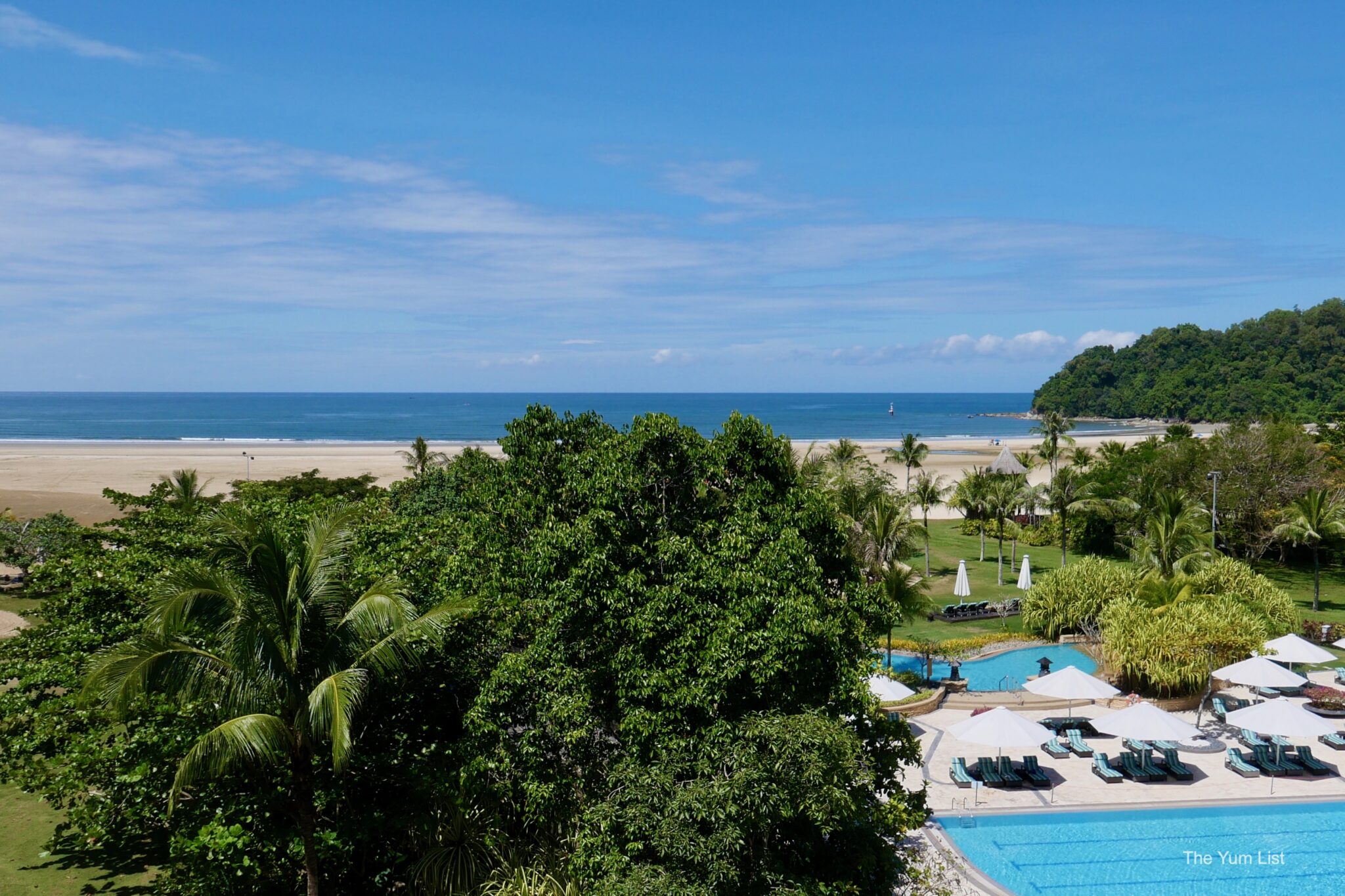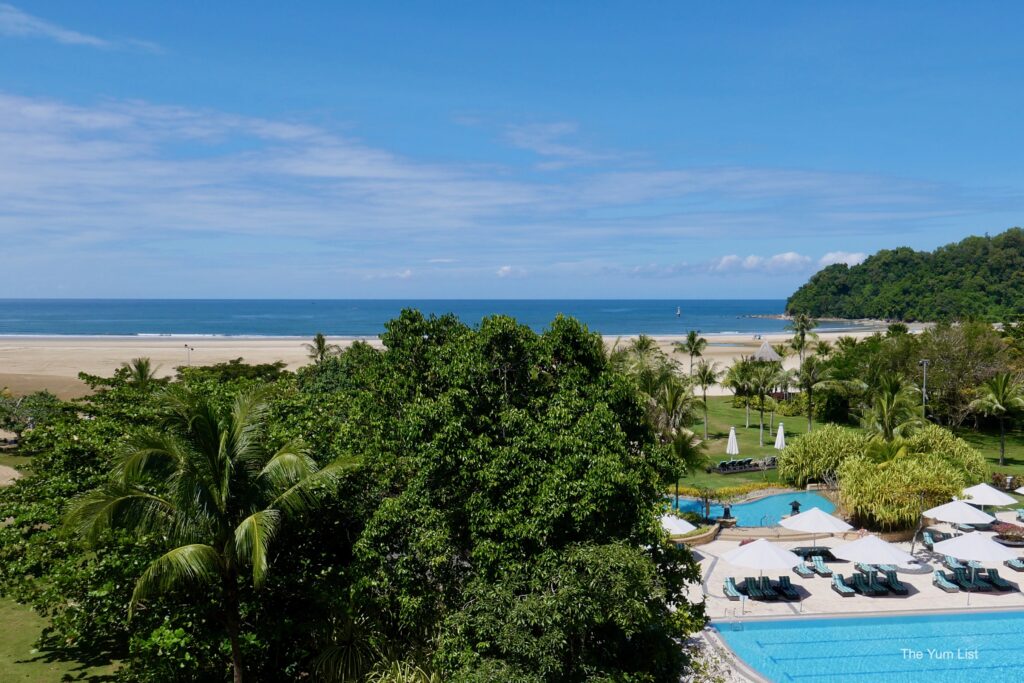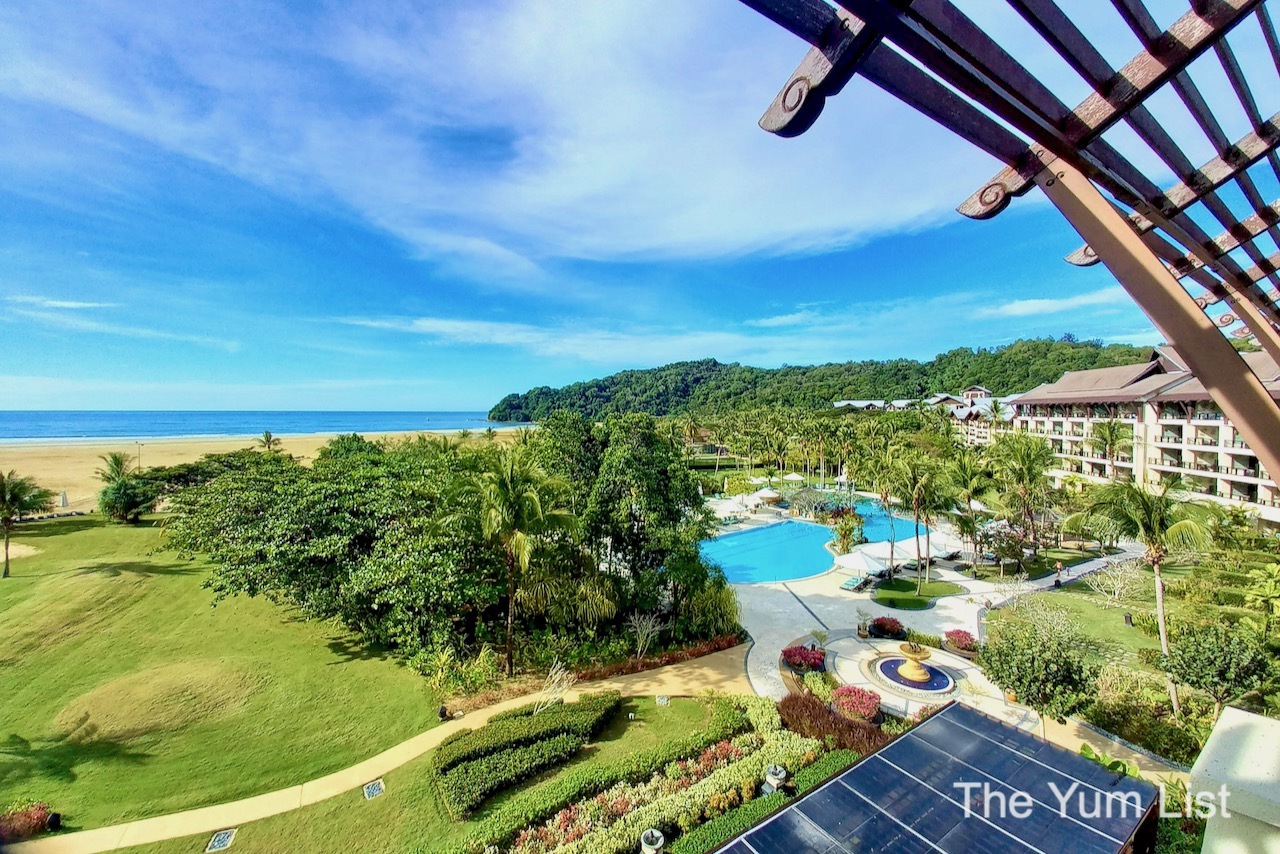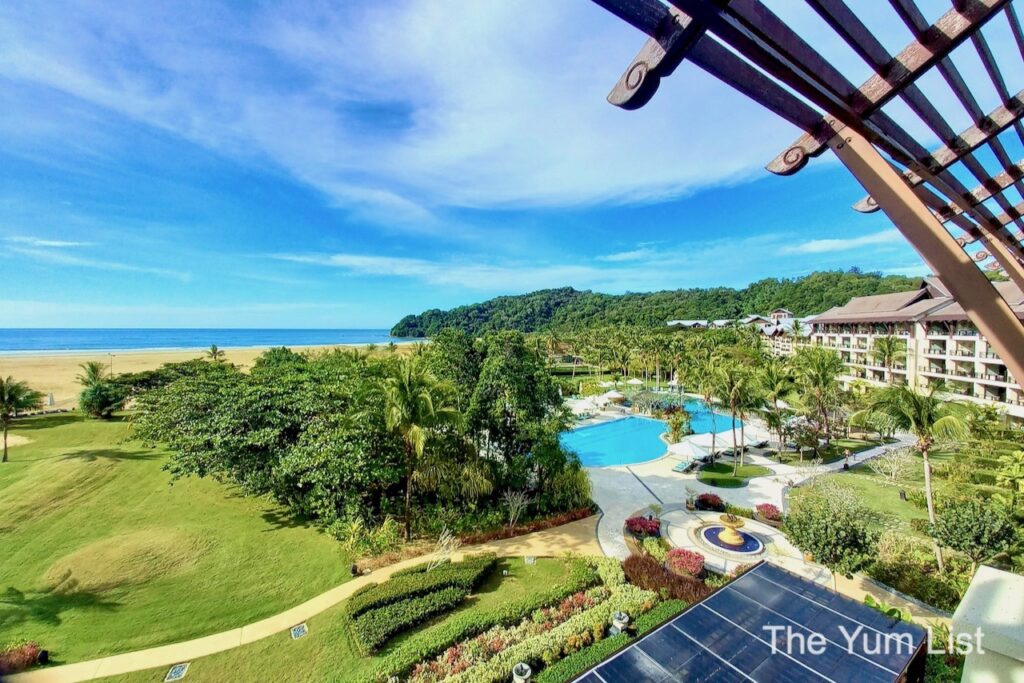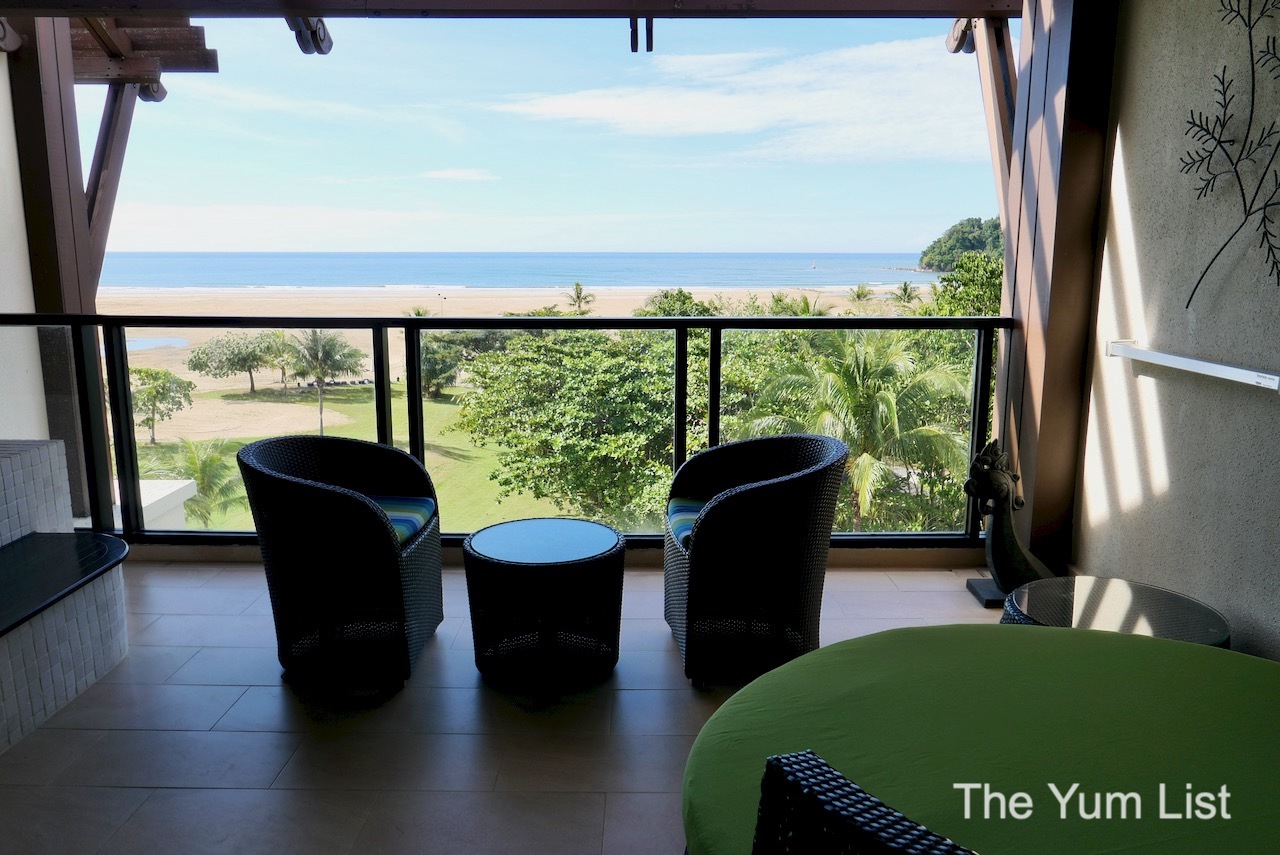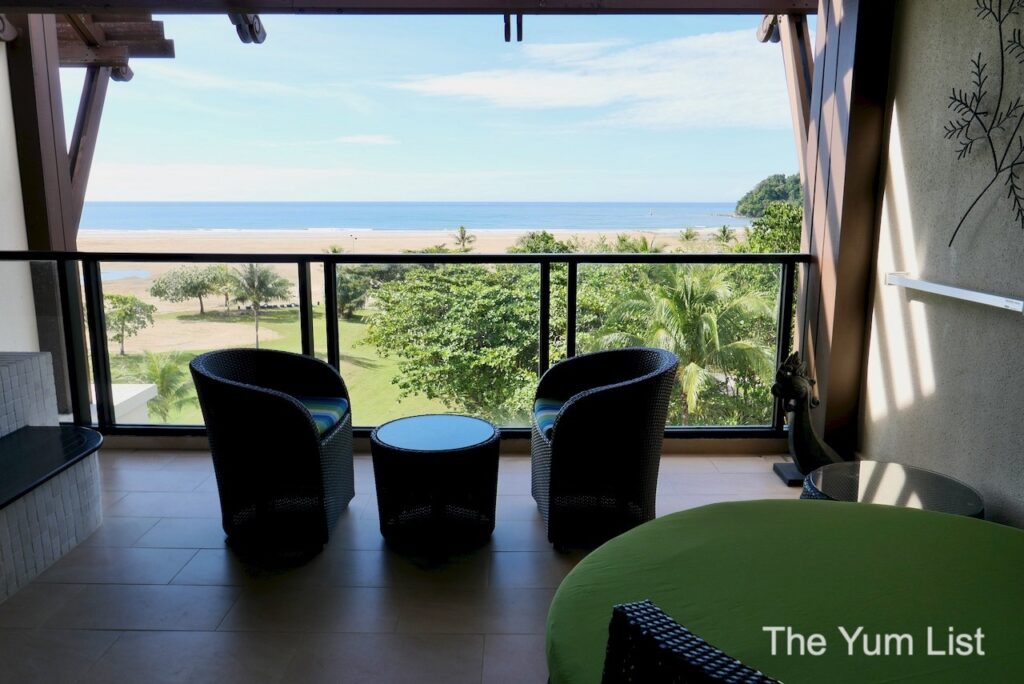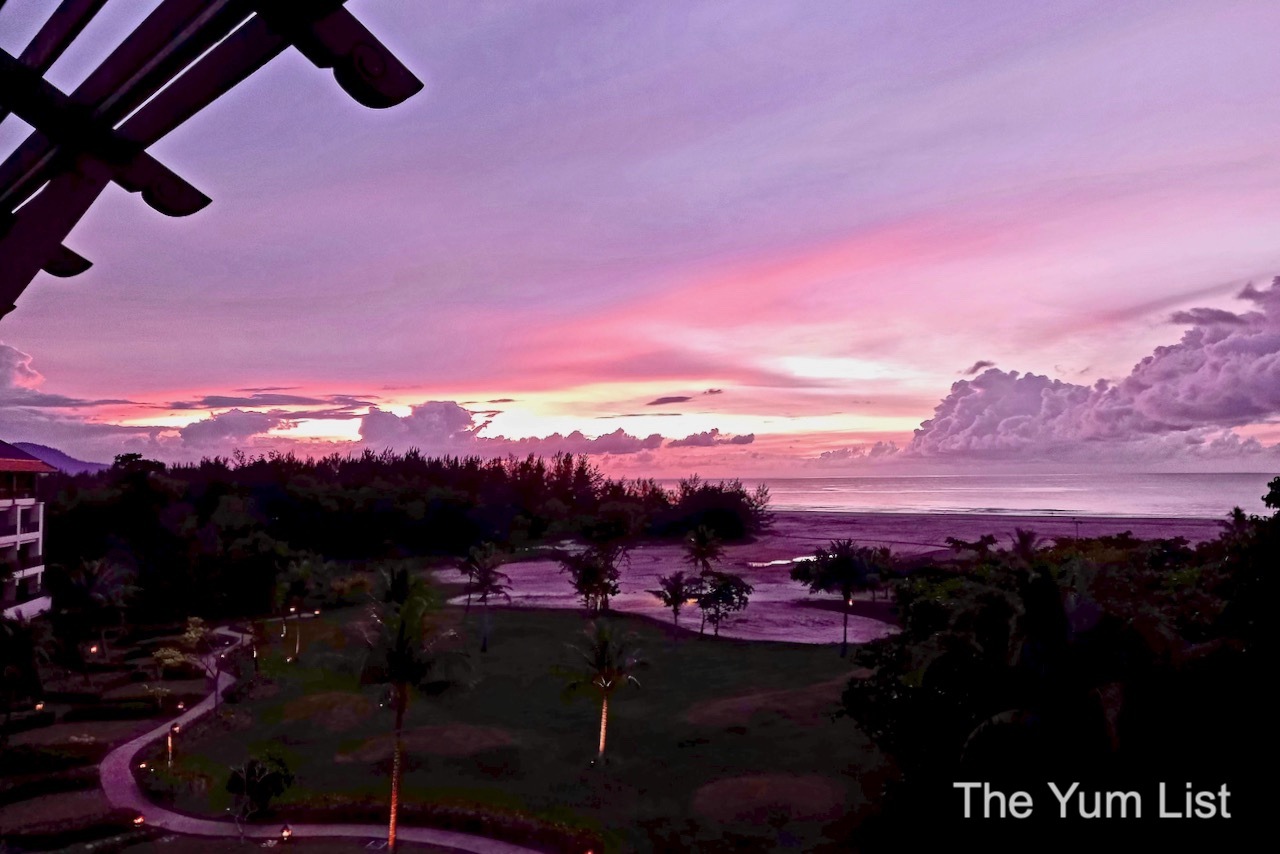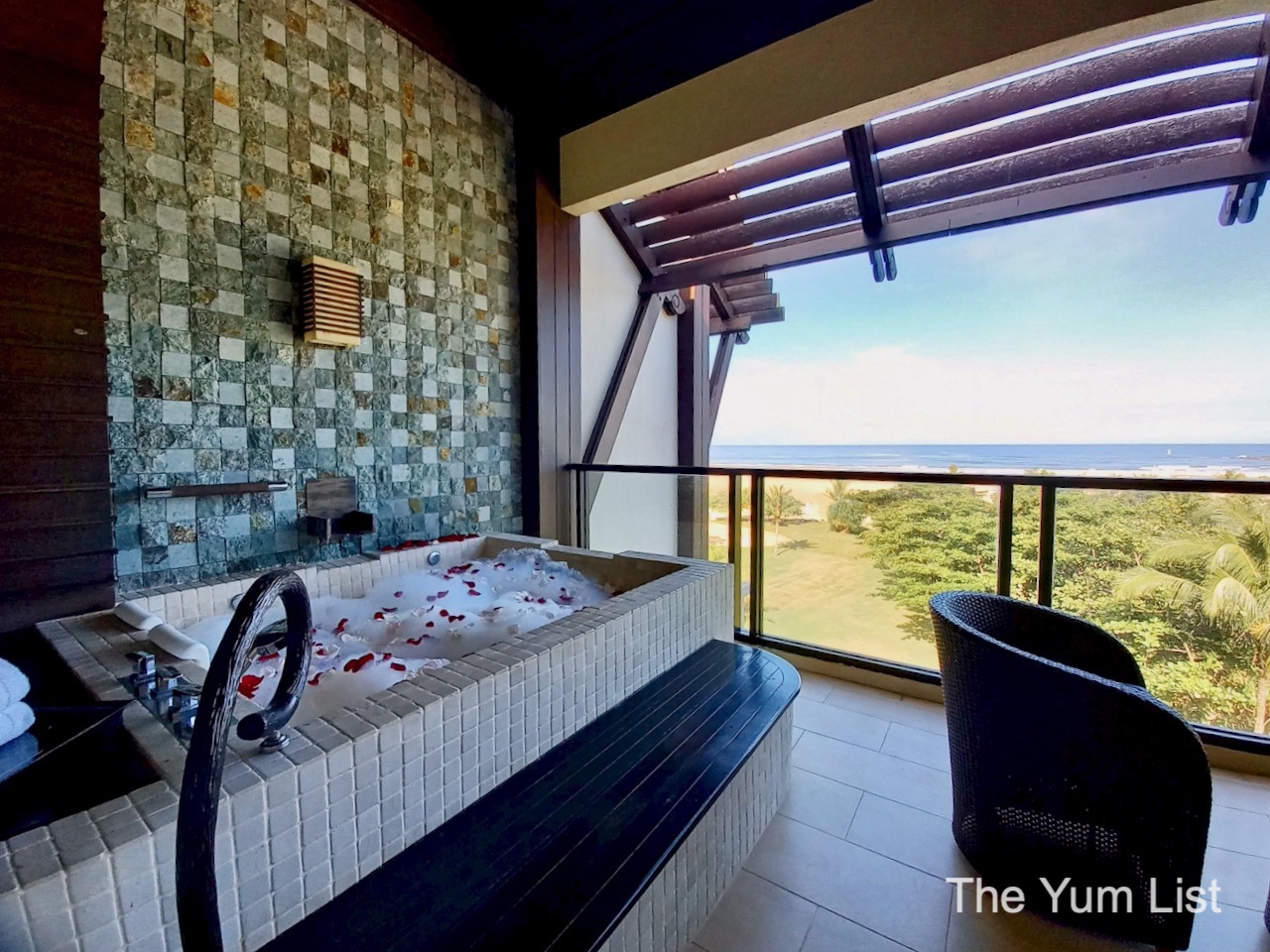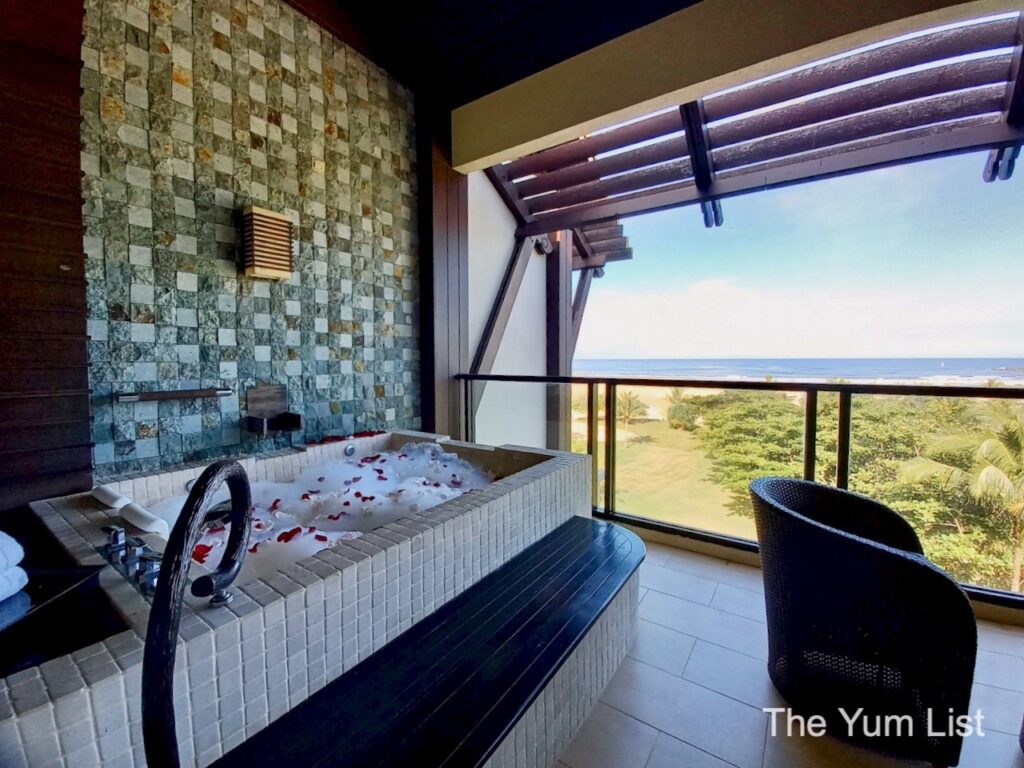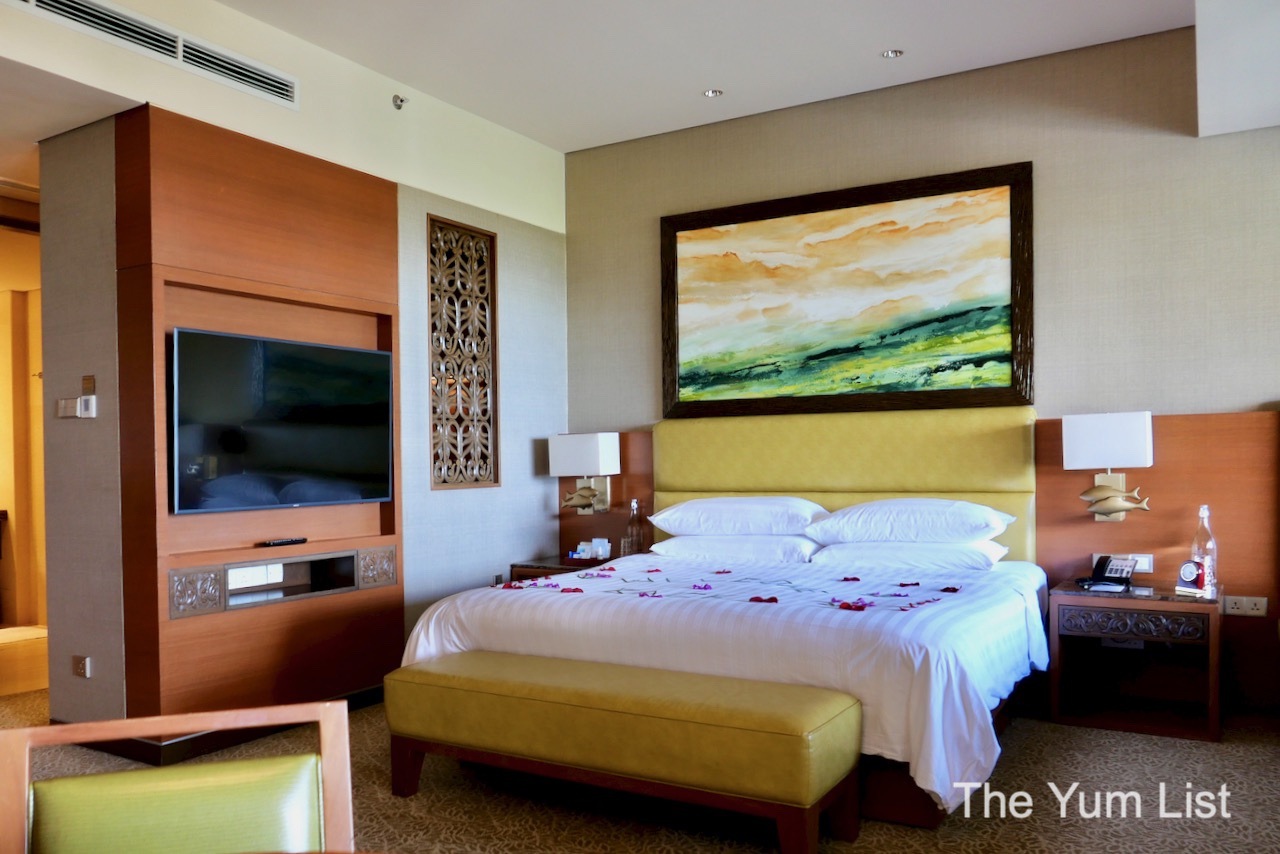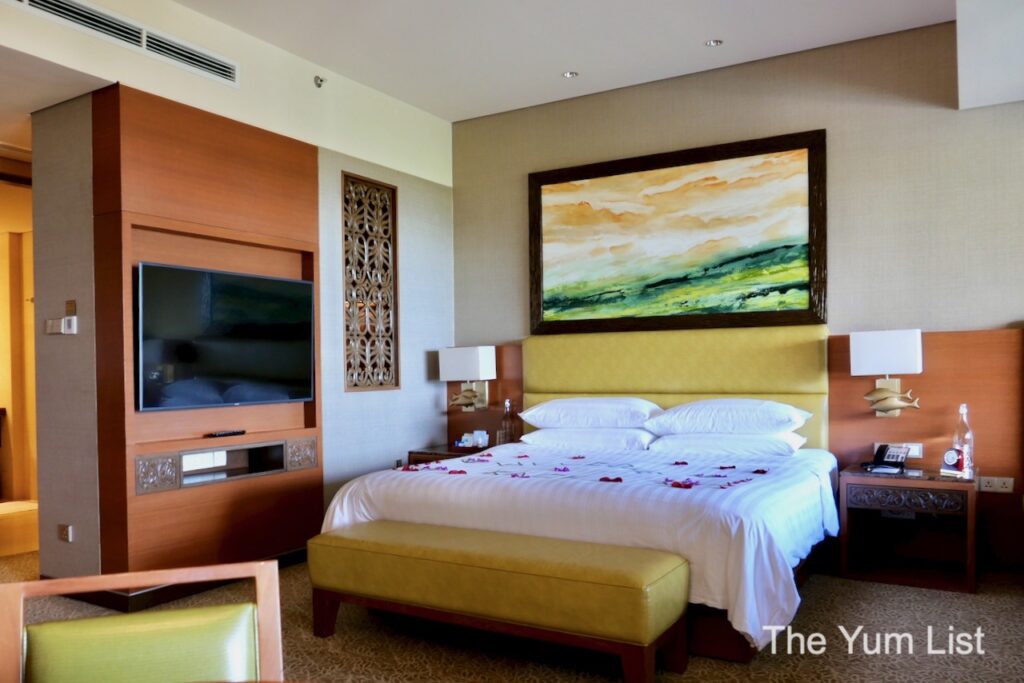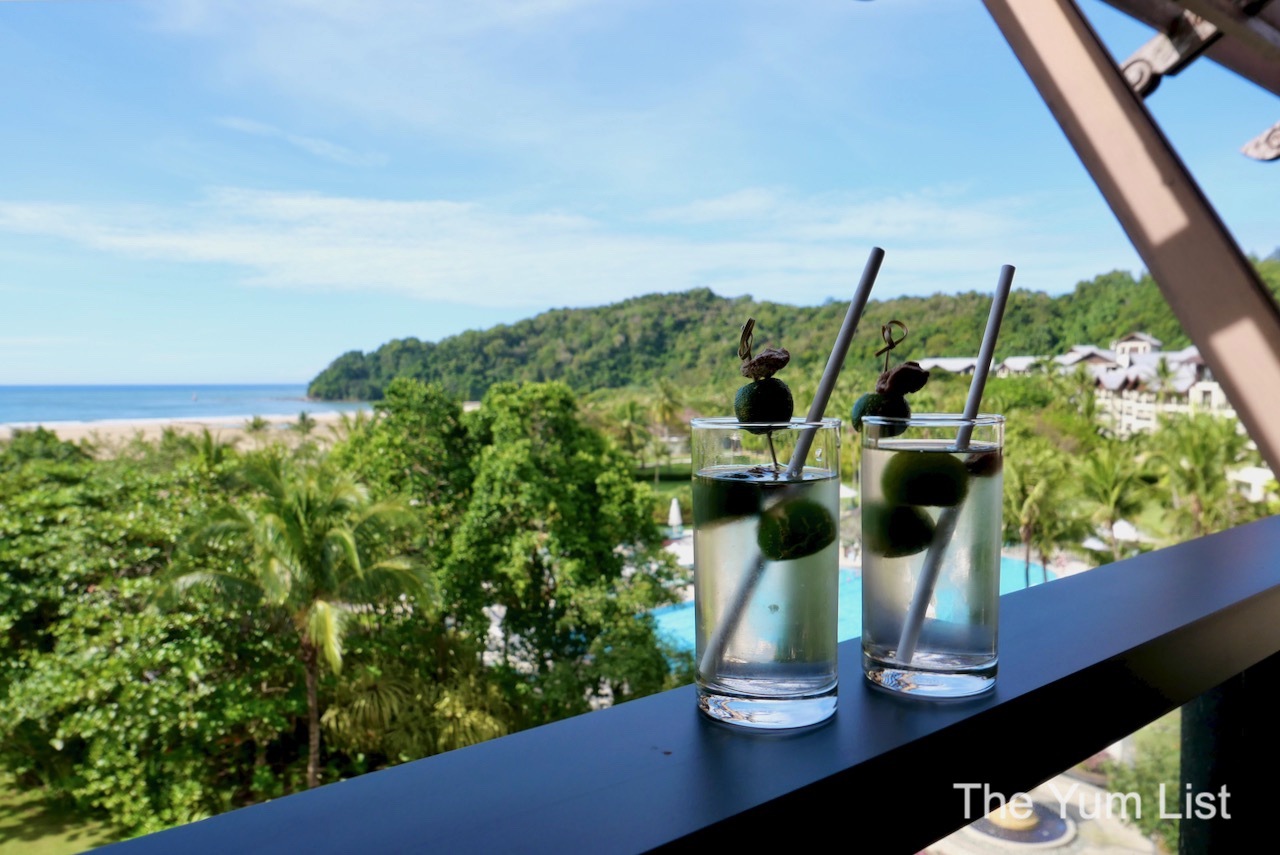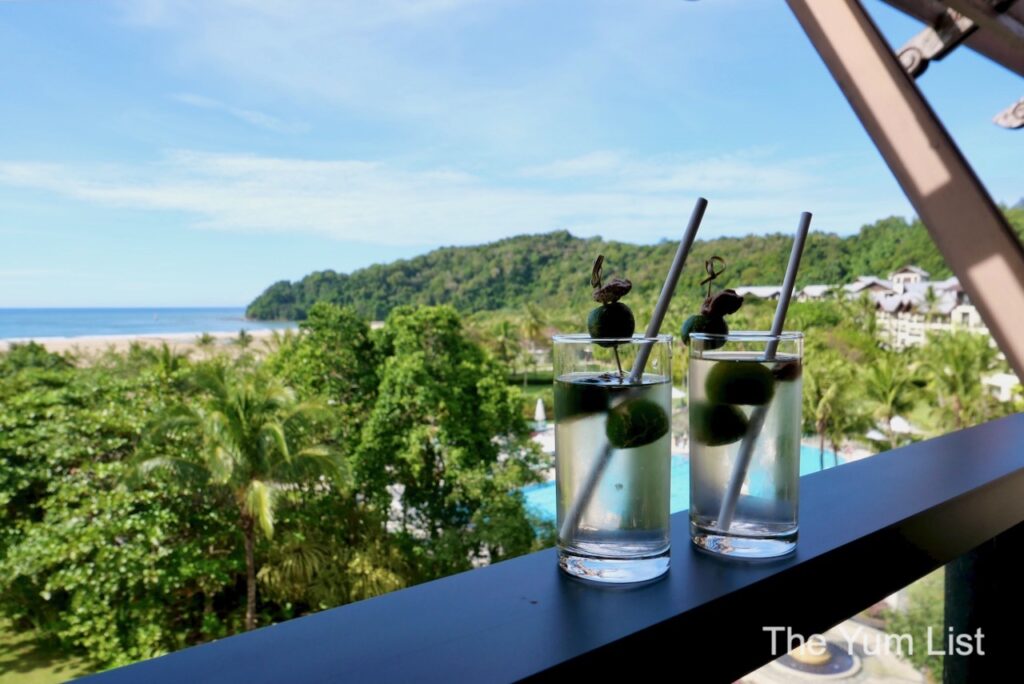 Grounds, Facilities and Activities – Shangri-La Rasa Ria
The Shangri-La Rasa Ria has pools, pools, and pools for days! Both the Garden Wing and the Ocean Wing have their own pool areas, both closely watched by dedicated lifeguard personnel. The Ocean Wing area is reserved just for Ocean Wing guests and has a multi-lane 25-metre lap pool, as well as an additional curving large pool area with different depths suitable for a range of swimming abilities. It also has the largest jacuzzi either of us has ever seen, with enough jet seating for at least 20 people and views straight out to the beach and ocean beyond. Rows and rows of colourful striped loungers and white umbrellas stretch in every direction. Even when the resort is at capacity, you will never have to reserve a lounger ahead of time. There are simply too many to choose from, all in fabulous surroundings. From what we observe, the guests in these pools tend to be childfree. While not stipulated, the allure of waterslides further down is perhaps more tantalising to the younger ones, leaving the lap pool and gorgeous views to the couples, singles and older groups.
The Garden Wing pool also has several pools of varying depths, widths and lengths, centred around a water slide tower with an open-topped looping slide and a shorter speed slide. This pool section is available for all guests from both wings to use. The jacuzzi here is a little smaller but has equally beautiful views looking out over the pools and gardens. Its close proximity to the Tepi Laut restaurant and bar area may be more of a drawcard for many. Larger shaded circular day beds, and even more loungers with umbrellas, allow families to set up camp for the day, ordering drinks and food to be delivered directly to your loungers and giving parents the ultimate relaxing vantage point to watch their kids tire themselves out on the waterslides. Parents can chill out, look out over the ocean or the spectacular gardens, or even have a nap, safe in the knowledge their kids are being kept safe in their waterplay by the attentive lifeguards. All pool areas have equal amounts of the open sun for the sun-worshippers, and strong shading, provided by umbrellas, mature pandanus palms, rain trees, tall palms, and too many other plant species to name.
Extending out from the Garden Wing is a section of the grounds specially dedicated to families. The Adventure Point Playground offers numerous Sabah wildlife-themed play structures, balance beams, slides, swings and a mini flying fox. Loungers in this part of the grounds are shaded by rainbow-painted umbrellas, and brightly coloured bird statues are arranged around colossal tubs of flowering bougainvillaea. Nearby, the minds of budding pirates and ship captains will set sail in a spectacular rainbow-painted pirate ship. The Shangri-La Rasa Ria Kids Club provides a full hour of qualified child care for parents wanting some quality time with each other and only each other. Meanwhile, loads of scheduled activities will appeal to active young minds, including arts and crafts, treasure hunts, storytelling and dance classes, teaching them about the surrounding environment and the traditional culture of the region. There is a miniature race track complete with traffic lights and speed bumps and a half-sized basketball and tennis court. Your little treasures won't even miss you. They'll be too busy learning new things, tapping into their creative sides, and having fun!
Throughout the grounds, there are plenty of little spots providing yet another breathtaking view, relaxing lounger setups, or games to play. Cabanas dot the edge of the sand, with wafting white curtains beckoning you to come, sit, relax, and enjoy the view. The Sampan Boat Bar has not reopened, but its shaded tables are as close to the sand as you can get without feeling compelled to take your shoes off. A perfect location to sit and do some writing or reading and look out over the waves. When it reopens, it looks to be the best beach bar in Sabah.
Like at Shangri-La's other Sabah resort at Tanjung Aru, here at Rasa Ria, numerous outdoor games sets are available for guests to play, including a giant chessboard, a jumbo snooker ball with colourful stripes and solids soccer balls, and best of all, croquet set on an elevated manicured pitch. Somebody hold my coconut and hand me a mallet!
The team at Shangri-La Rasa Ria also have a dedicated watersports staff. Sign some forms at the on-grounds general store, and you're ready to hire out surfboards, windsurfing equipment, stand up paddleboards, kayaks and catamarans. Though please be mindful that nature doesn't always respect your plans! All ready for a morning of kayaking around the point and up the estuary, we are disappointed to learn a rogue crocodile has put a necessary hold on beach activities for the next few days. As we look longingly at the beautifully maintained rows of kayaks and catamaran sailing boats, we agree that a three to four-metre long saltwater croc is a very good reason not to enter the water today.
When one door closes, another one opens, and to replace our water sports plans, we are hard-pressed to pick from the seemingly endless list of alternatives. All available at different times during our stay, we can choose from yoga classes, kickboxing, tabata fitness classes, golf putting, a mini-futsal game, or even a Nerf gun challenge. There are tennis courts and bicycles available for hire for those wanting to explore the area properly. The gym is well laid out, with various machines and accessories to suit your latest favourite workout regime. Nature lovers can head to the Rasa Ria Reserve, with dedicated guides and seven different trails of varying lengths and difficulty available for the most ardent nature lovers.
We decide to replace our kayak adventure with beach horse riding and agree this might actually be a trade-up on our original plan. Dedicated staff look after several mares, all of whom are former racehorses. These beautiful girls have put their racing days behind them, content to be fussed over, stroked and ridden by their handlers and all horse keen guests, young and old. With a bit of experience as a stock rider in my past, I gently encourage my mare to go for a bit of a gallop. She politely agrees to a short trot in the waves before resuming her preferred moderate pace, picking out a path across the sand as I chat to the Shangri-La staff about the horses' histories and personalities. No wonder these beautiful horses are suitable for riders as young as eight years old. Their peaceful nature will make even the most nervous rider feel relaxed and comfortable. We won't reveal any spoilers about which horses were our favourites – instead, we'll let you make up your own mind when you book a stay.
We are lucky enough to be staying between Christmas and Chinese New Year and are delightfully surprised by the Shangri-La Rasa Ria Vivid Light Show. Taking place every year, an entire section of the extensive gardens is decorated with a stupendous amount of lighting running through trees, garden beds and along pathways. Three times every evening, guests can watch the Vivid Light Show – a dynamic spectacle where towering Rain Trees dance to accompanying music, their trunks and branches illuminated top to toe. Tables and chairs are provided, and an expansive grassy area is perfect for picnic blankets, cartwheels and tumbling. In case you don't have enough picturesque unfiltered photos on your Instagram stories by now, a rainbow glittering light tunnel leads out to the beach and looks directly onto where the sun sets. Silhouettes of palm trees add a dash of magic to any background. If we weren't already convinced we were in a utopian paradise, the Vivid Light Show provides a last sprinkle of festive spirit and cheer to erase any lingering doubts.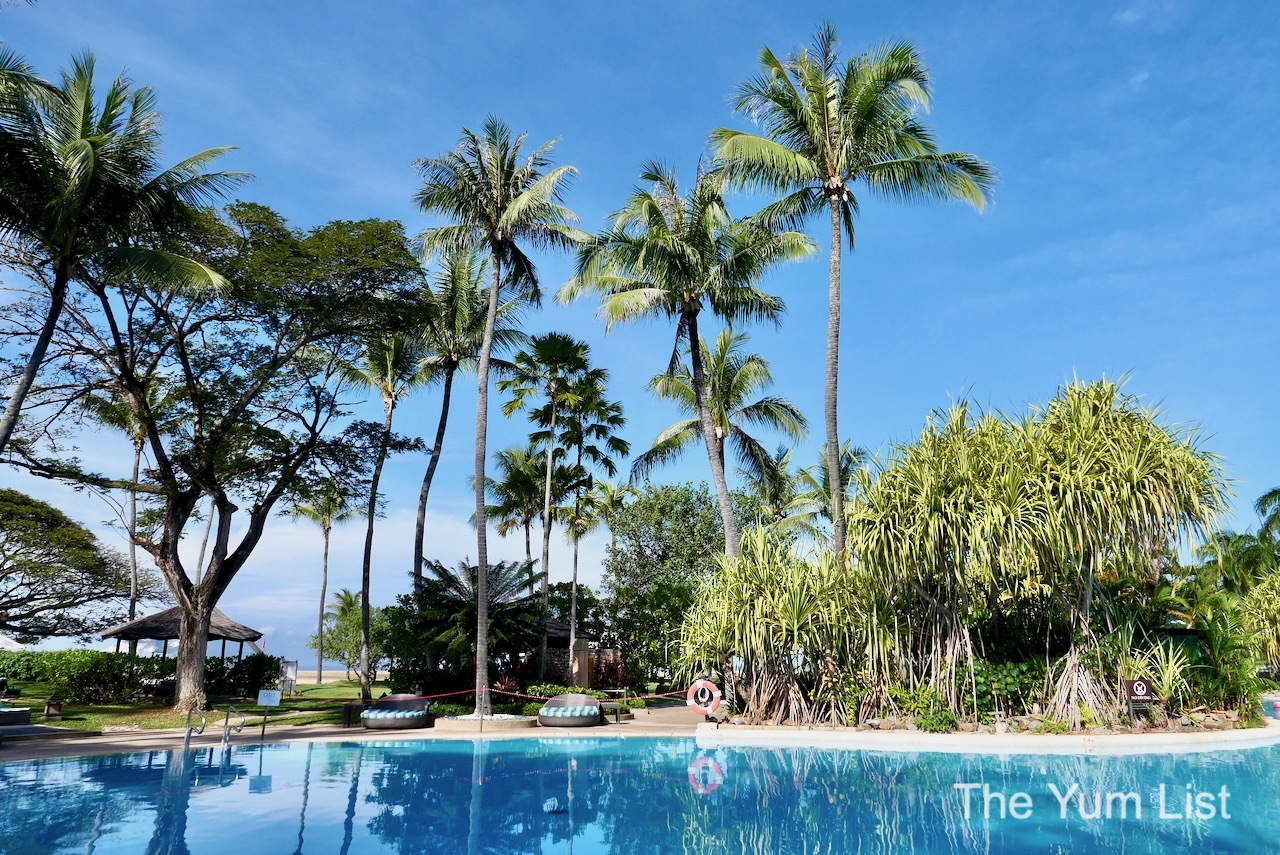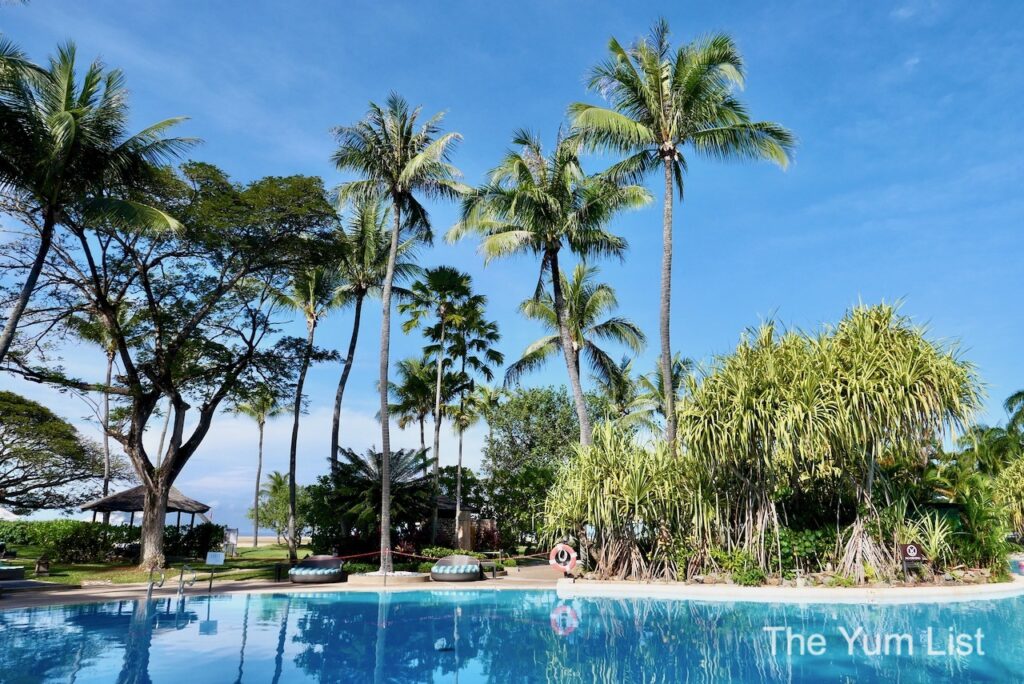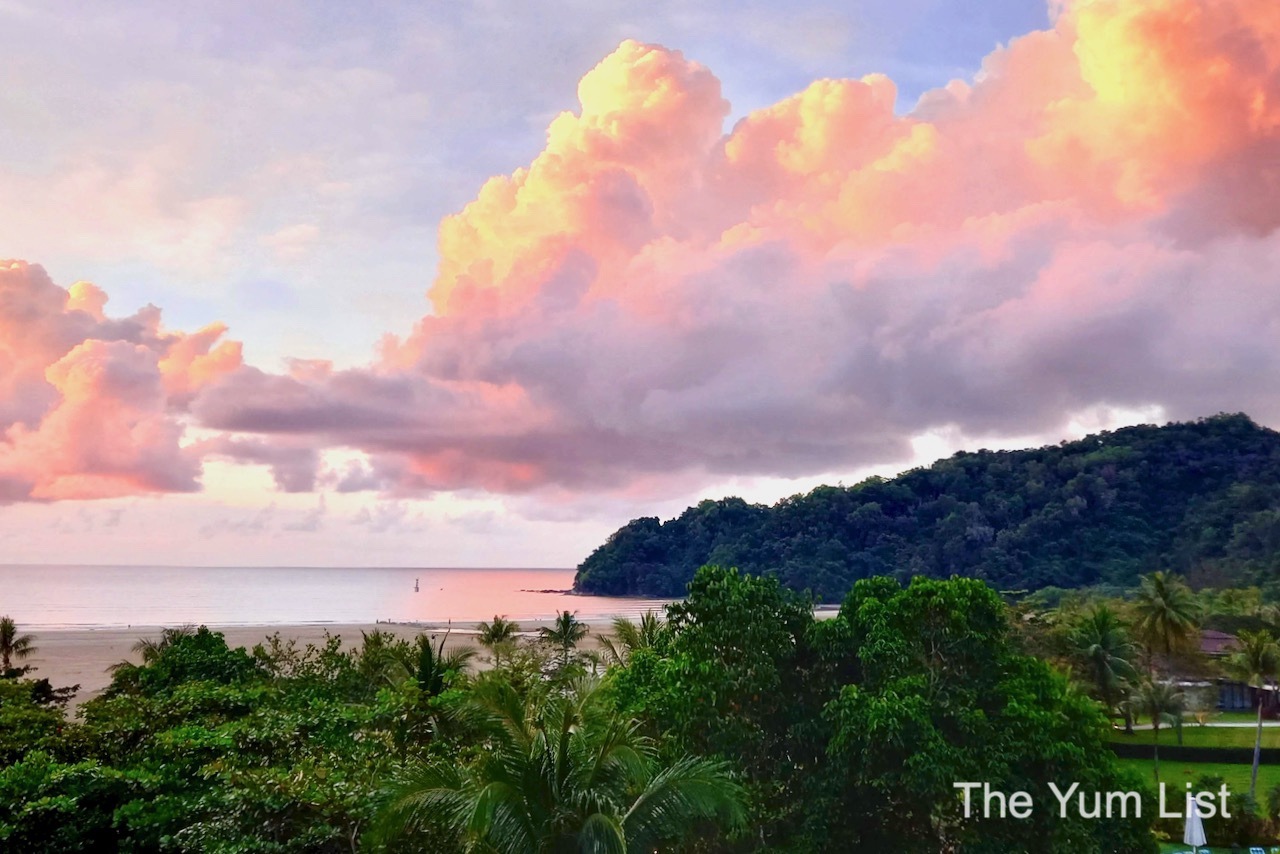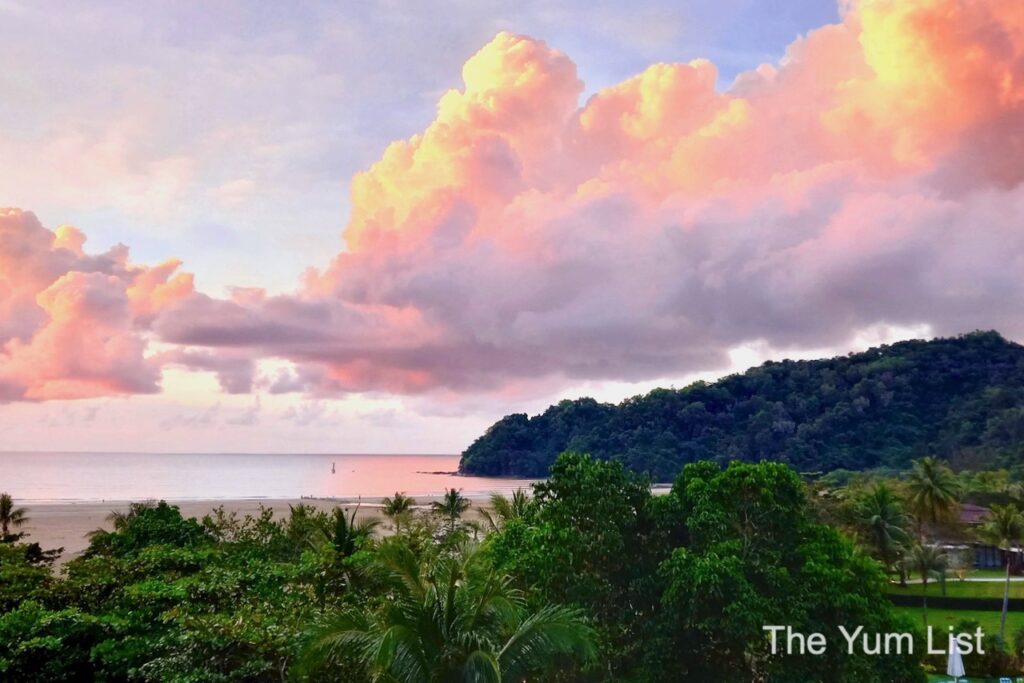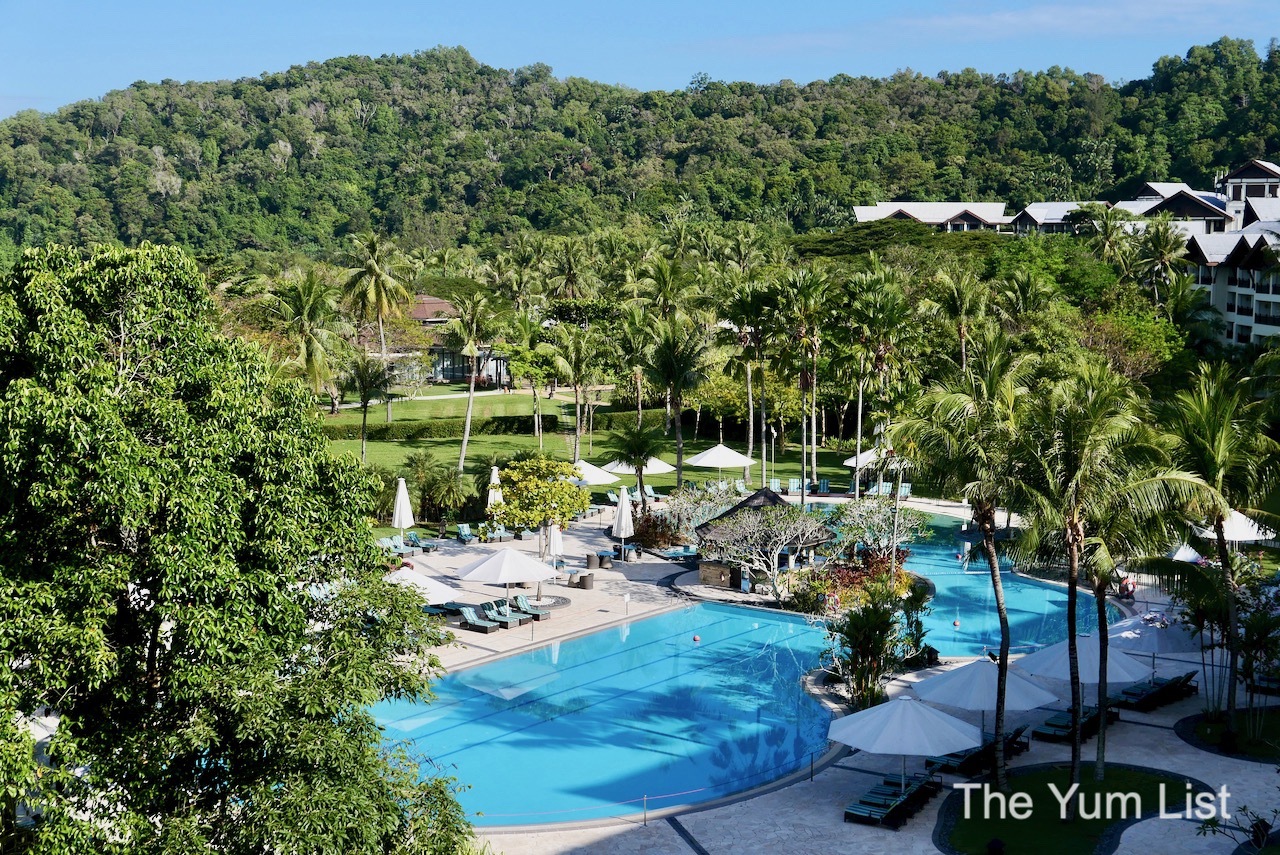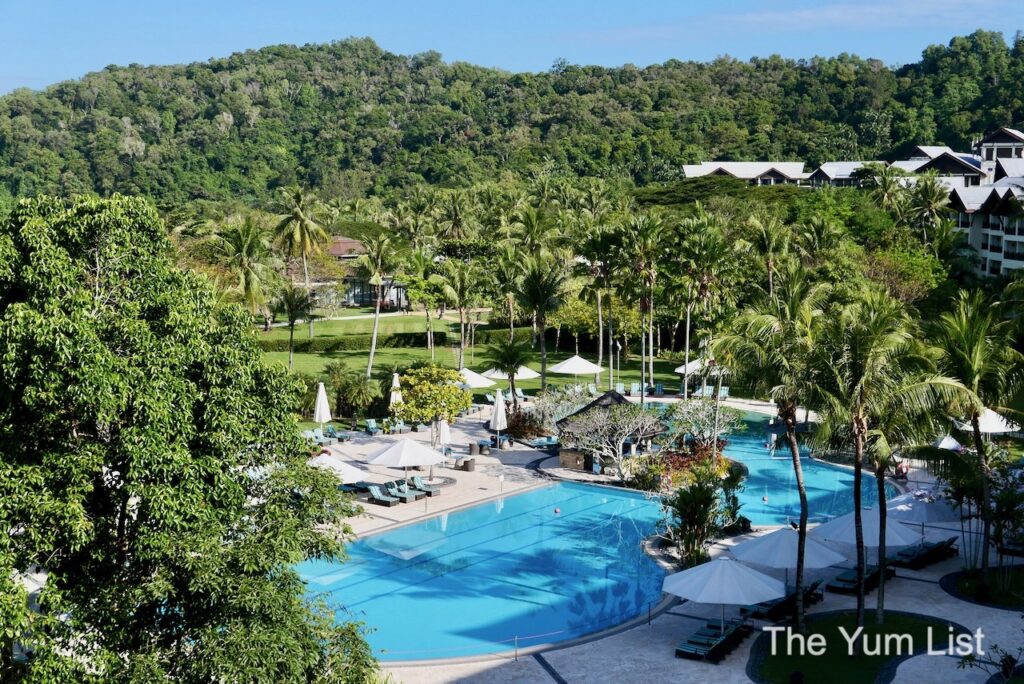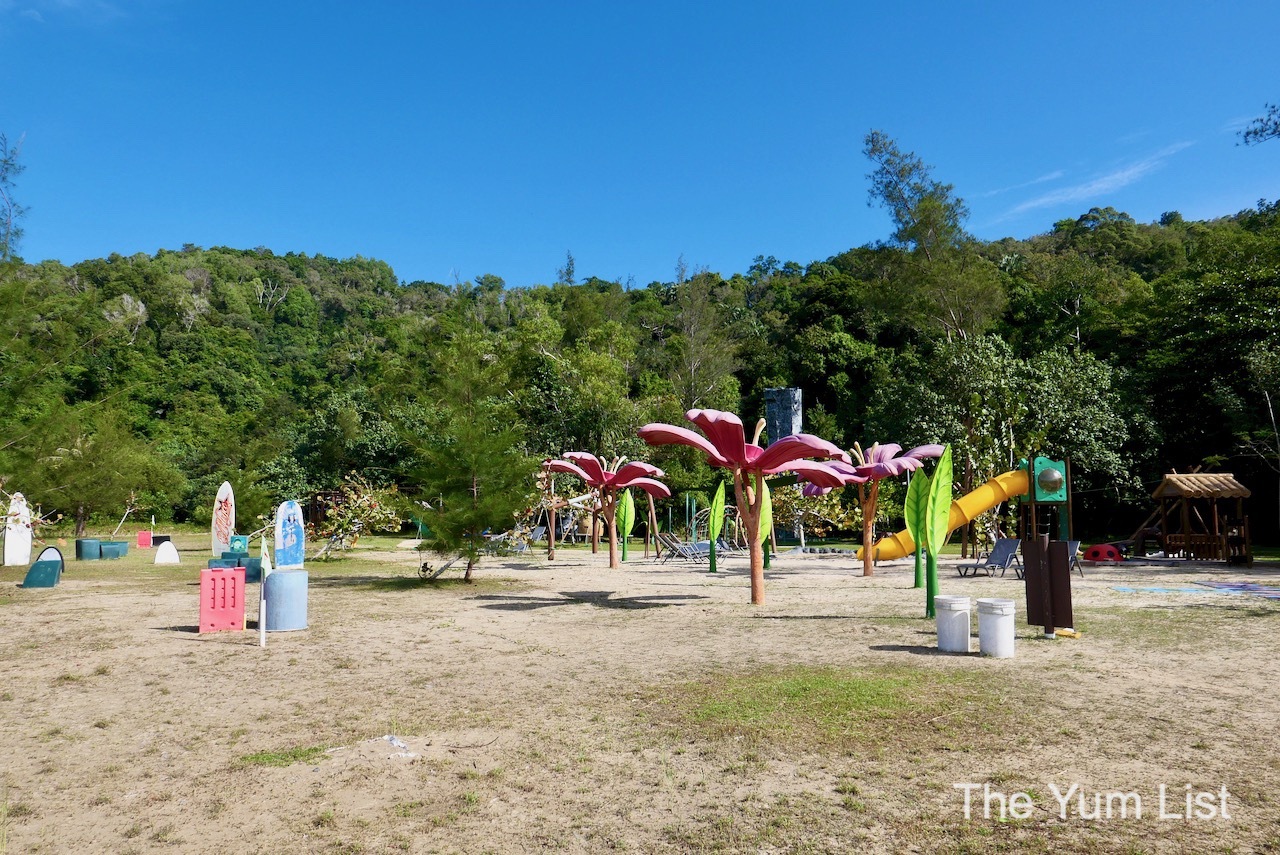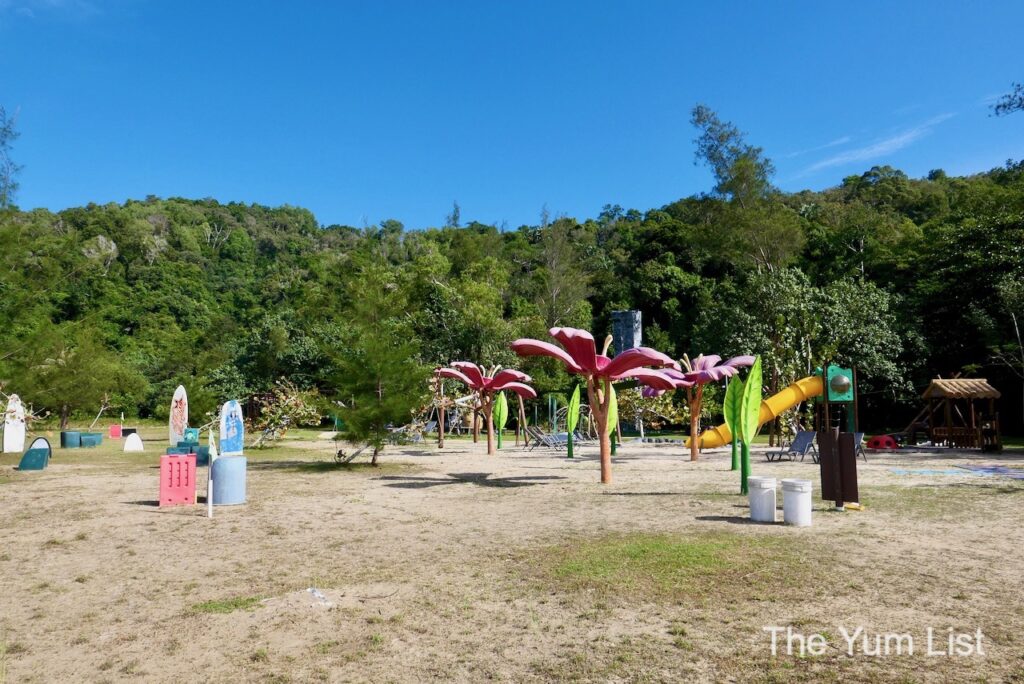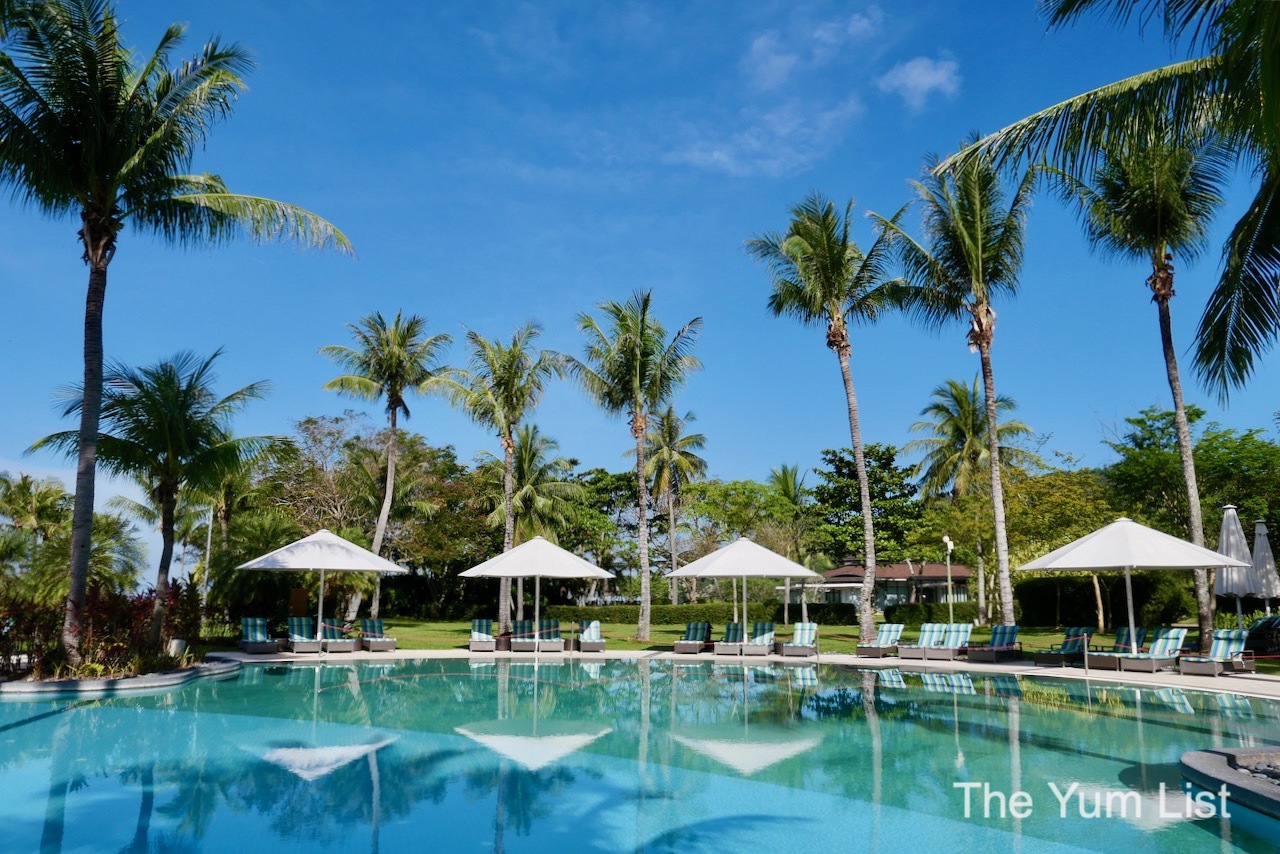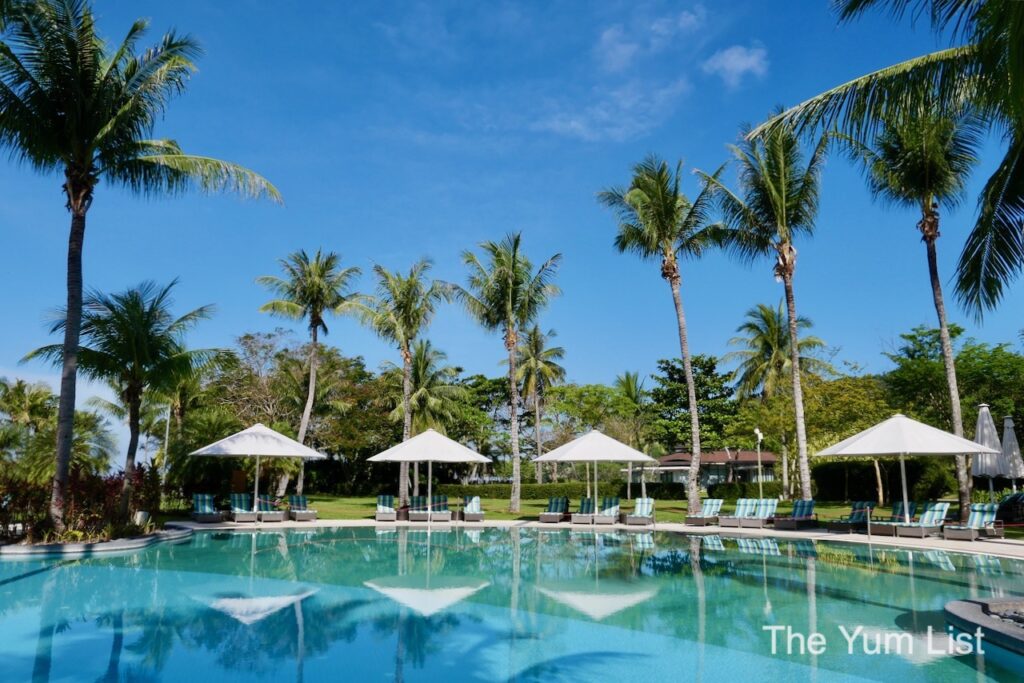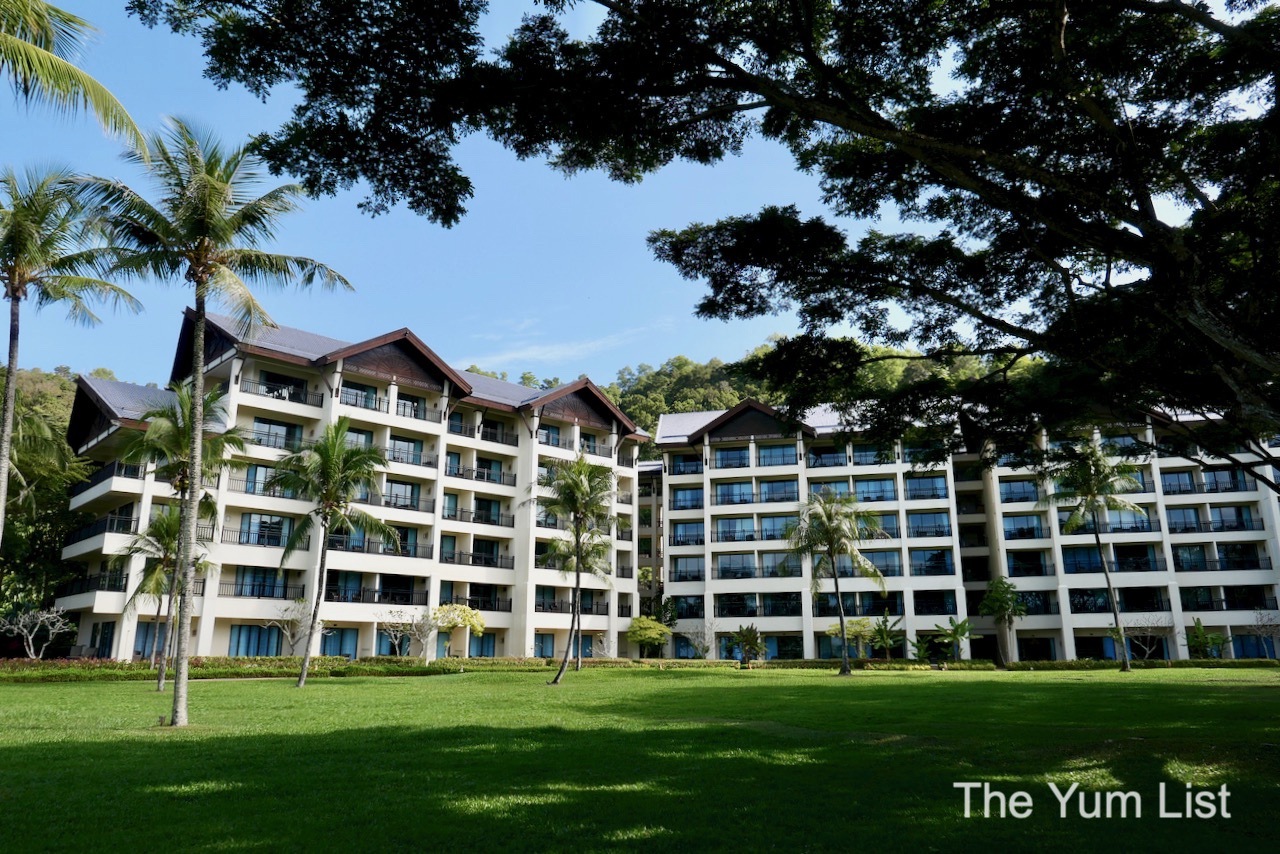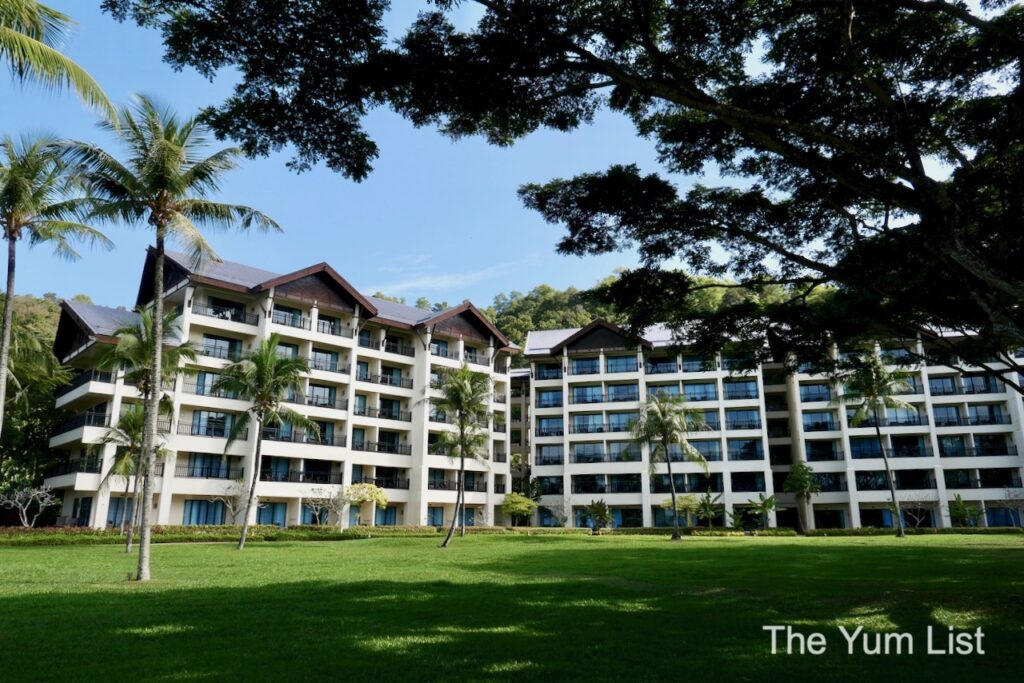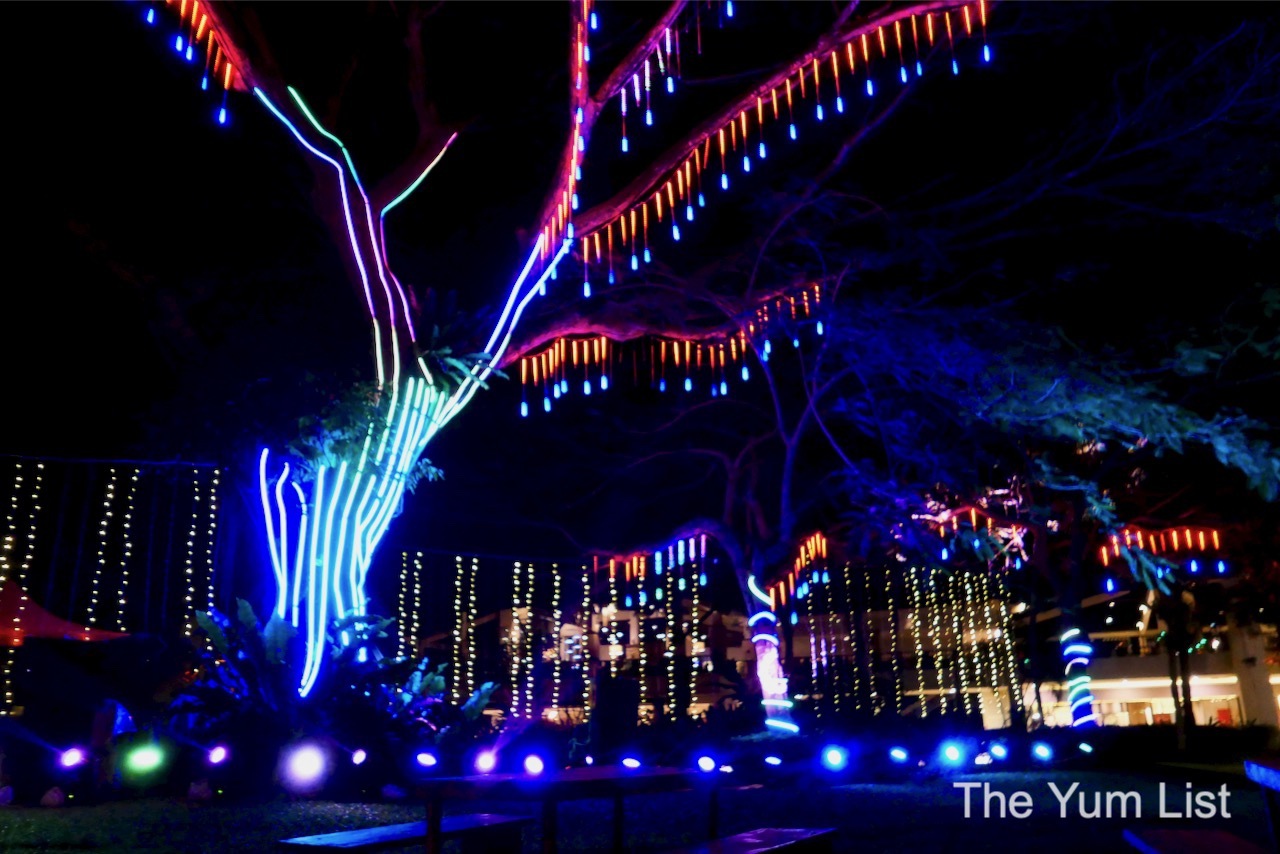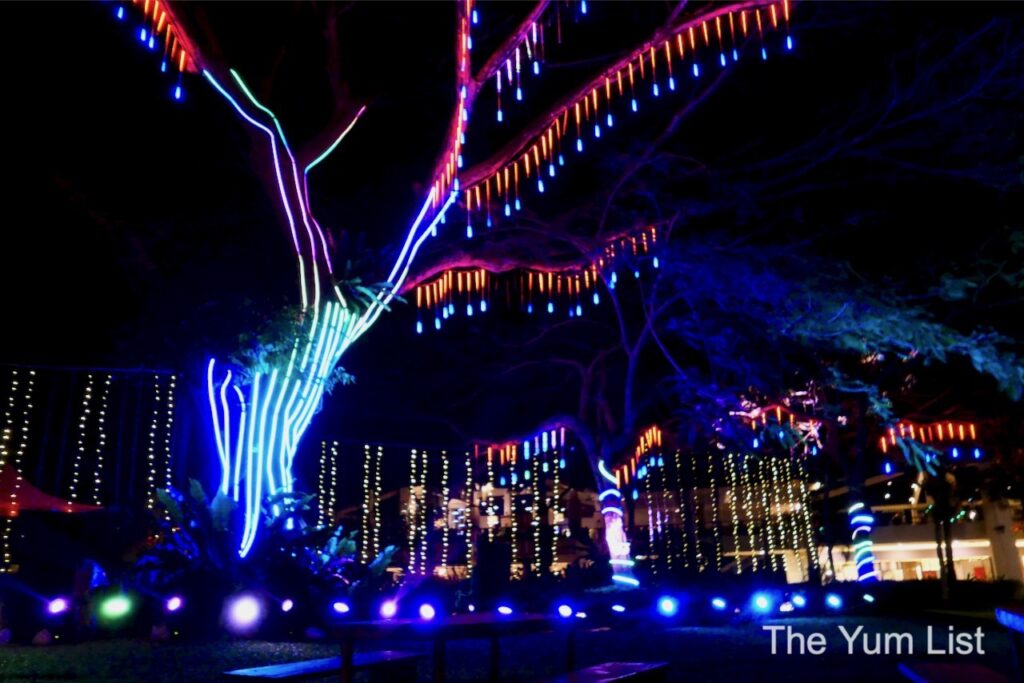 Kozan Teppan-Yaki
Greeted by calls of 'Hajimemashite!' Kozan is decked out in black marble counters, red wooden armchairs, and no fewer than five front row cooking spots, where chefs prepare meals with theatre and guest interaction.
Our chef tonight is Thaedus, who will be preparing the Sea Set Menu (RM297) for us. A little shyer than your usual Teppan-Yaki chef, Thaedus has a self-deprecating, affable charm, frequently apologising for his cheesy puns and one-liners, which makes us love them all the more. He wets the hot plate first, using a touch of oil, but mainly leaving the high-quality cuts of fish and seafood to speak for themselves. The hot plate is heated to around 300 degrees, meaning oil used to cook burns off almost completely by the time the food is ready.
We are equipped with a trio of dipping sauces: Japanese pepper, chilli, and wasabi with soy sauce. For appetisers, we are served a satana ball of sweet and sour fish, topped with carrot and onion. As well as a potato croquette with a hint of smoky crab on a thick-cut slice of cucumber topped with bonito flakes.
The Hokkaido Scallops are gorgeously thick, the size of a small steak. Thaedus sears them, gently rolling each supersized scallop across the hot plate to seal in the juices from every angle, giving them a flawless, springy texture. A splash of cooking sake releases a cloud of steam and a heavenly aroma. To finish, he pours on a little melted butter mixed with four types of herbs: chives, dill, Italian and English Parsley. Each scallop is then topped with a salsa made from tomato, onion and Japanese vinegar, with garnishing slivers of deep-fried seaweed.
Sabah Slipper Lobster is a locally caught specialty. Tonight Thaedus prepares it alongside some king oyster (eringi) mushrooms. He delicately slices each slipper lobster to access the best searing side for each piece. Every movement is efficient, precise and measured. The lobster curls slightly as it takes on the flavour of the sake splashed grill. The plump morsels burst open in your mouth. A red miso paste with white sesame adds a deeper flavour, while pea sprouts give a smatter of green.
The Norwegian Salmon has a deep, rich, pinky-orange hue. Thaedus explains this dish will be prepared with shitake mushrooms and served with a more subtle white miso. He lightly peppers the salmon steaks, making sure each edge is seared but takes care to cook the centre per each guest's request. I choose mine medium-rare, while Monica opts for well done. The dish is garnished with pea sprouts and white sesame. The crisped skin adding texture.
Our final main is the Black Codfish, thick-cut with skin on. Thaedus chooses a teriyaki sauce, which he professes to be his personal favourite. Again, his deft movements quickly flip and move the fish to allow for even heat distribution. The skin reveals a beautiful cross-hatched pattern when cooked. Finely diced salsa is again used here to highlight the sweetness of the fish, pairing delightfully.
As the final main dish for the evening, Thaedus prepares a traditional Japanese yasai itame or stir-fried vegetables with carrot, onion, cabbage, bean sprouts, black fungus, ginger with garlic and olive oil. It is taken with a bowl of rich, smoky miso soup. Making a last garlic fried rice, he is a flurry of activity, cracking eggs and flourishing his spatulas. Thaedus' wok hei game is strong enough to impress any Malaysian. He explains these dishes signal goodbye, so are traditionally served at the end of the meal.
We cannot leave without trying a dessert, and while we are taking a breath, Thaedus prepares a steak at our station for another guest. Warming a pot of brandy while the steak sears, he then pours the brandy over the top, setting it alight in a spectacular flambe, flames reaching high above our heads and a wall of heat hitting us fully in the face. Everyone in the restaurant cheers at the display and then dissolves into laughter, yet we all keep our eyebrows. For dessert, we indulge in a creamy mango panna cotta. Despite our full stomachs, we leave our glasses empty.
At Kozen there are also Teishoku Set Menus, A La Carte Menu, and Kid's Bento choices available. All the chefs are endearingly spellbinding, but we highly recommend being seated at Thaedus' station!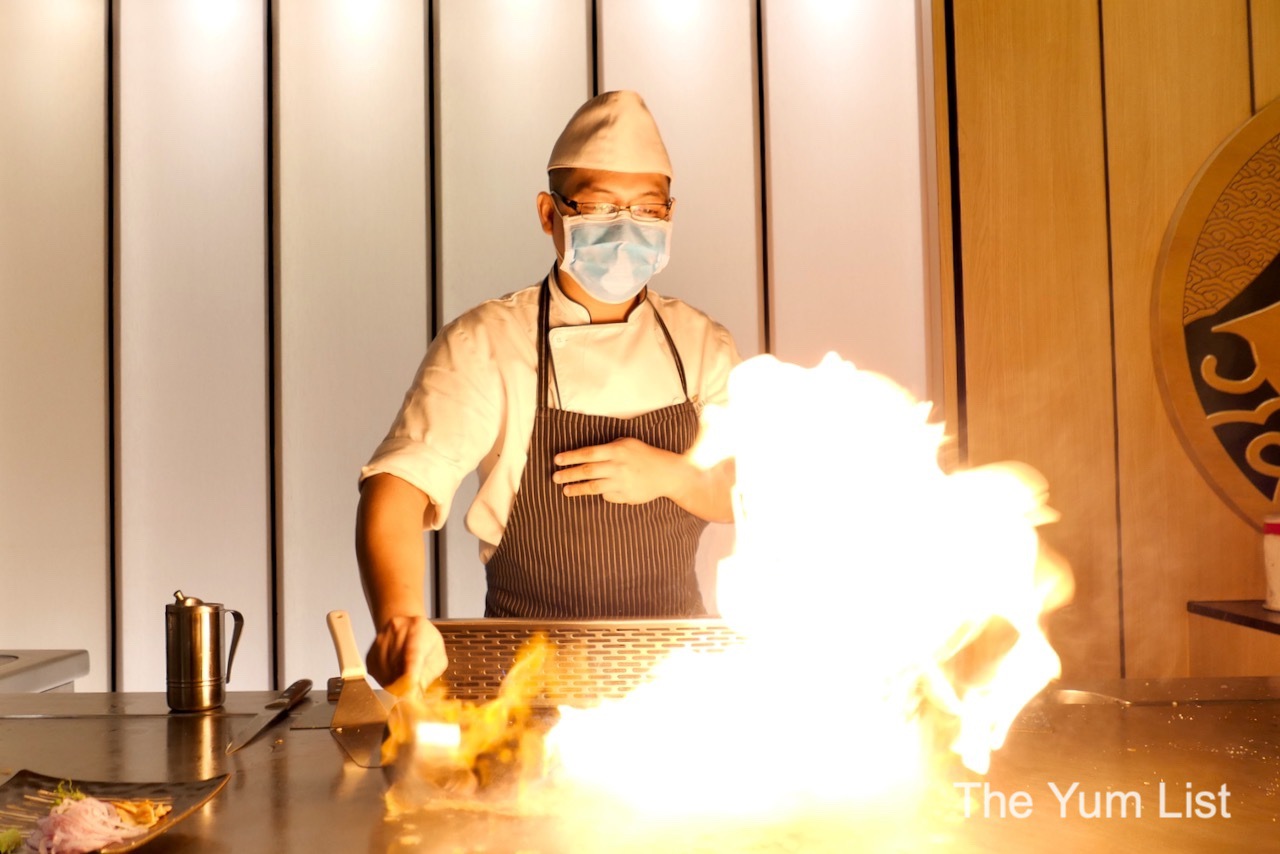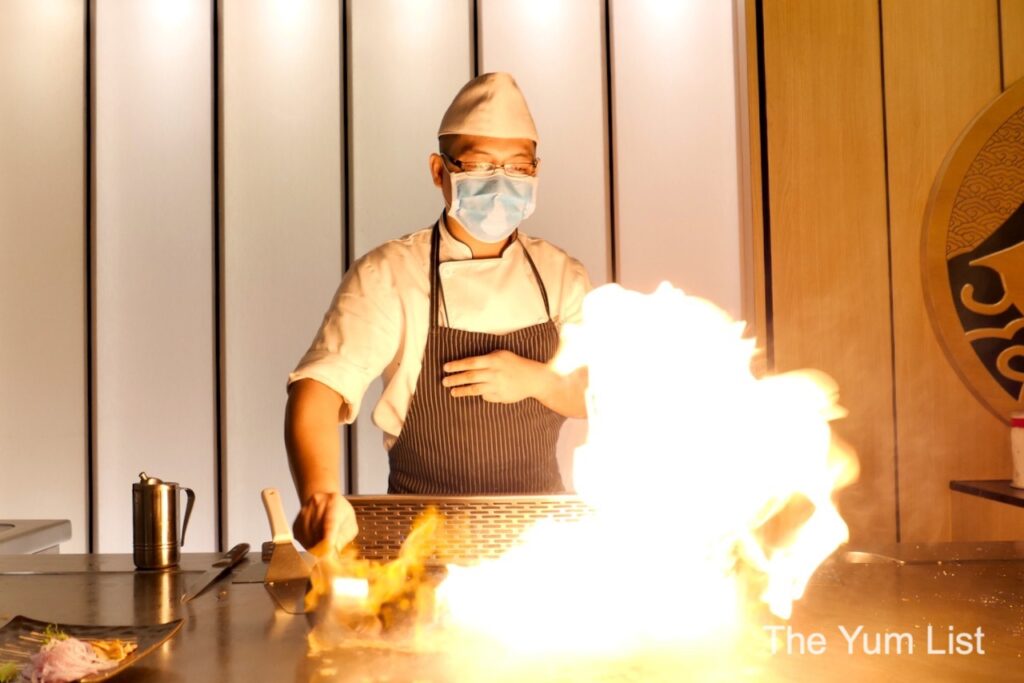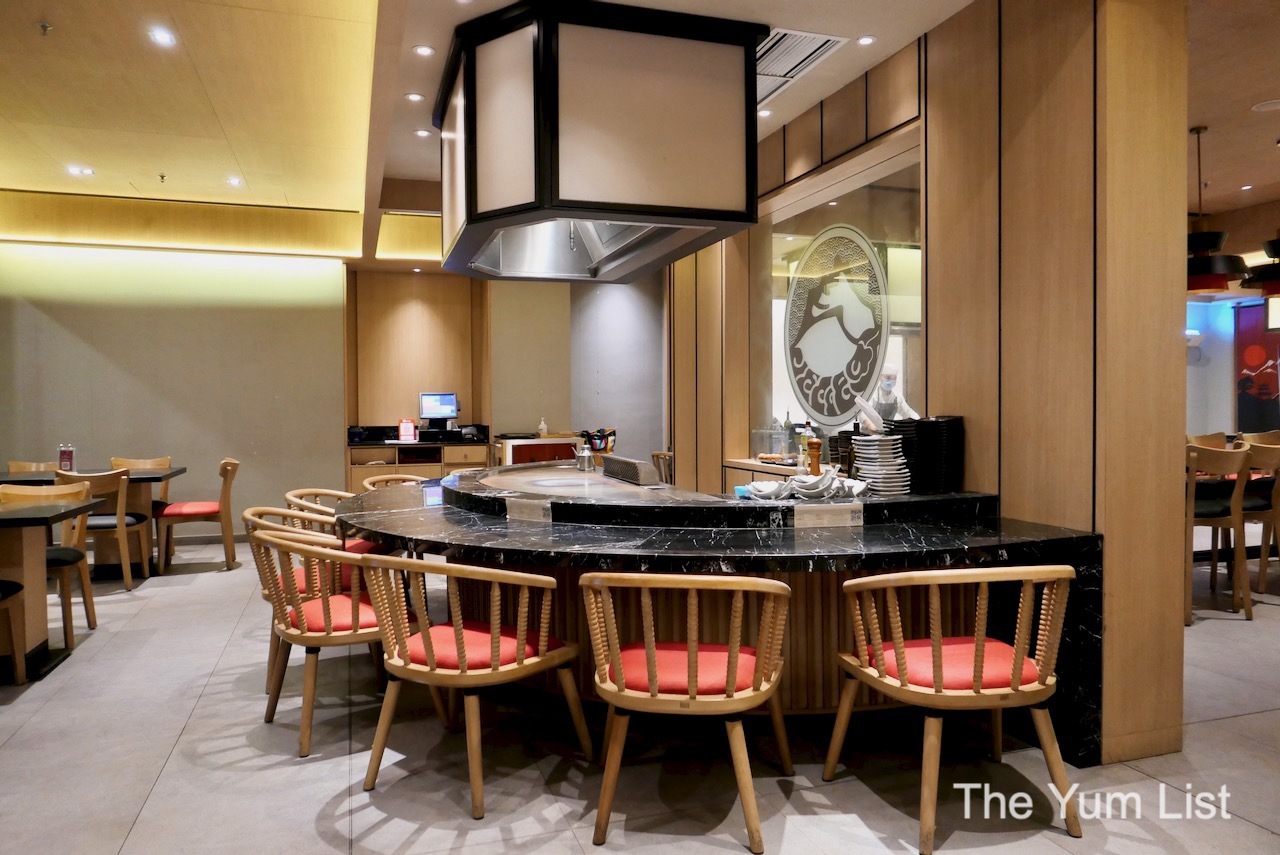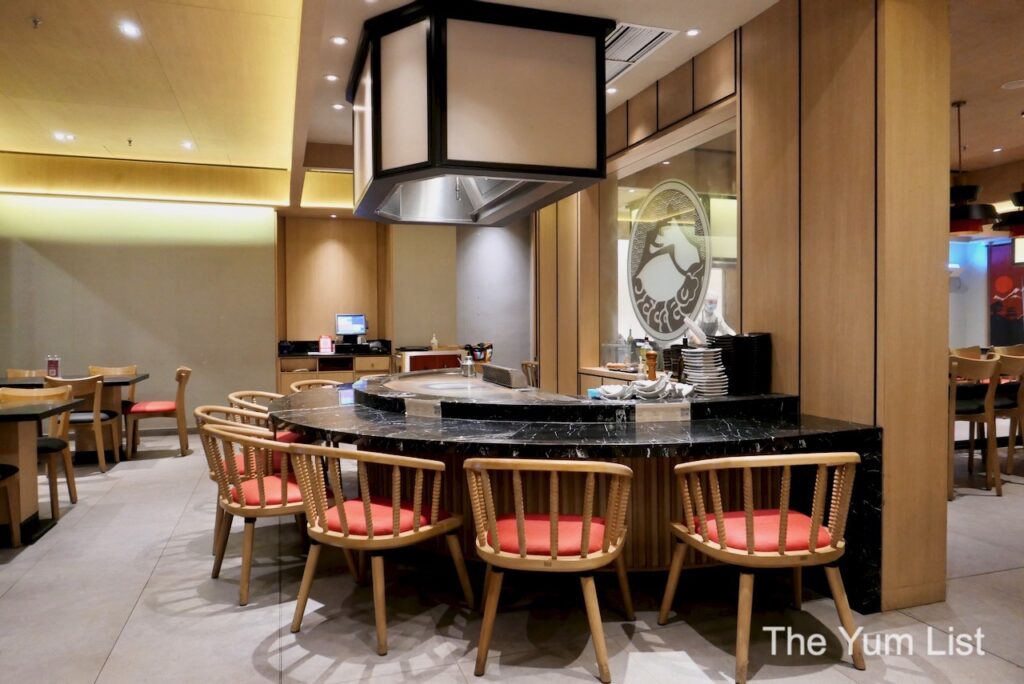 Borneo Sunrise Walk at Rasa Ria Nature Reserve
Setting our alarm clocks extra early, we don athletic wear and plenty of insect repellent and head out to meet guides Laslie and Dino for an early sunrise hike up to the top of Shangri-La Rasa Ria's own Nature Reserve. Established in 1996 in collaboration with the State Wildlife Department of Sabah, the Reserve covers 64 acres, offering 6 trails ranging between 1km and 4.8km in length. Proper footwear is needed, and some tracks do require a reasonable level of fitness. Going with a guide is highly recommended, as their knowledge is immensely rich and diverse.
The information centre is equipped with well set out educational boards and displays, providing informative and reliable information on a wide range of native birds, mammals, reptiles, amphibians, plant life and endangered species. Wildlife that passes through the area include macaques, mouse deer, civets, porcupines, slow loris and pangolins. On our way up the 98m summit, Laslie stops to point out monkeys, birds, and various creepy crawlies. Joining us on our hike, a lovely couple from KL told us they did the night tour the previous day and were lucky enough to spot a binturong.
At the summit, we watch the breathtaking sunrise over Mount Kinabalu and Kellybays Beach, listening closely as Dino regales us with tales of working with baby Orangutan rescues. Even if you are not a morning person, the view is absolutely worth getting out of bed. When we've finally taken enough pictures, we are refreshed with freshly squeezed orange juice and tropical fruit skewers before heading back down from the headland summit to breakfast.
Each of the guides at the Rasa Ria Reserve is expertly versed in different specialist areas. Whenever you come for a visit, you will learn so much from their wonderful knowledge and expertise. The reserve is also available to visitors from outside the resort, with a booking and package payment.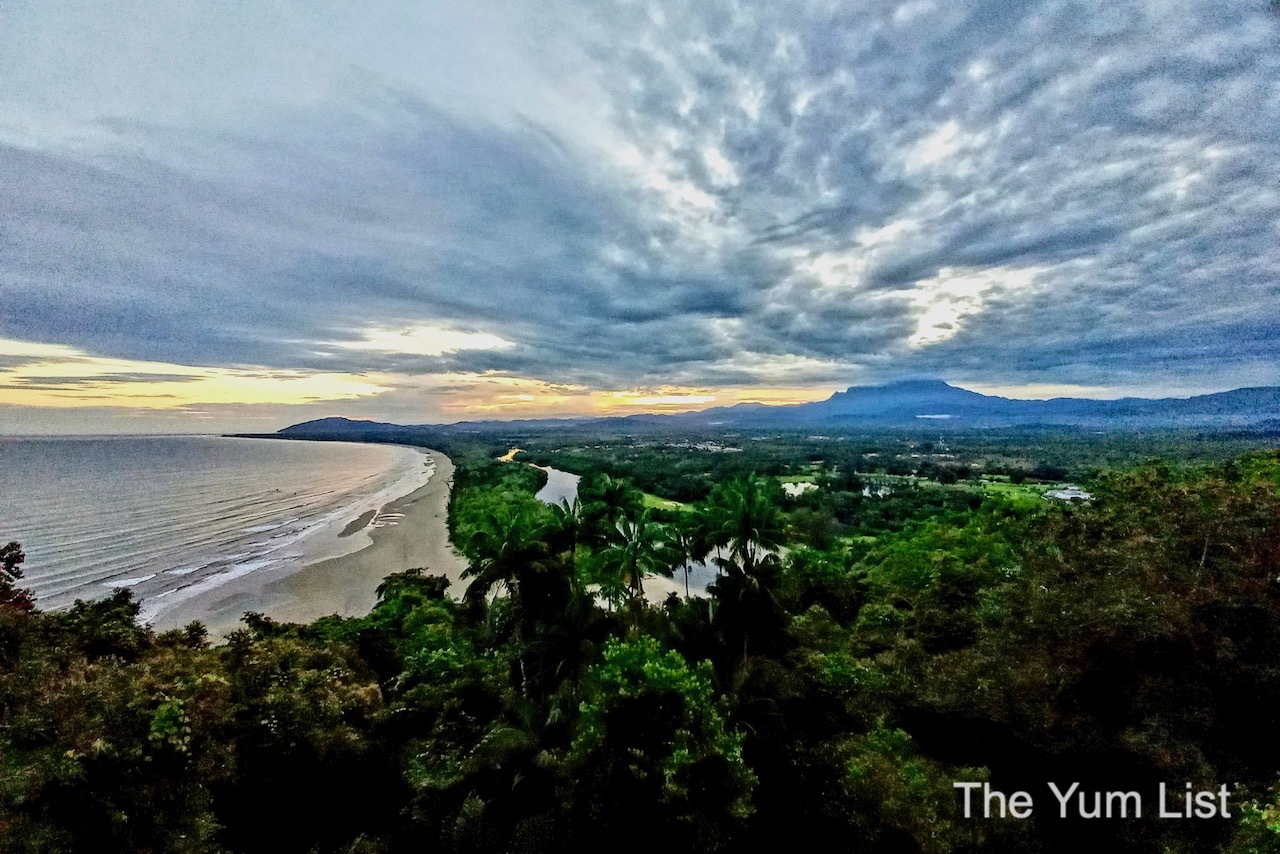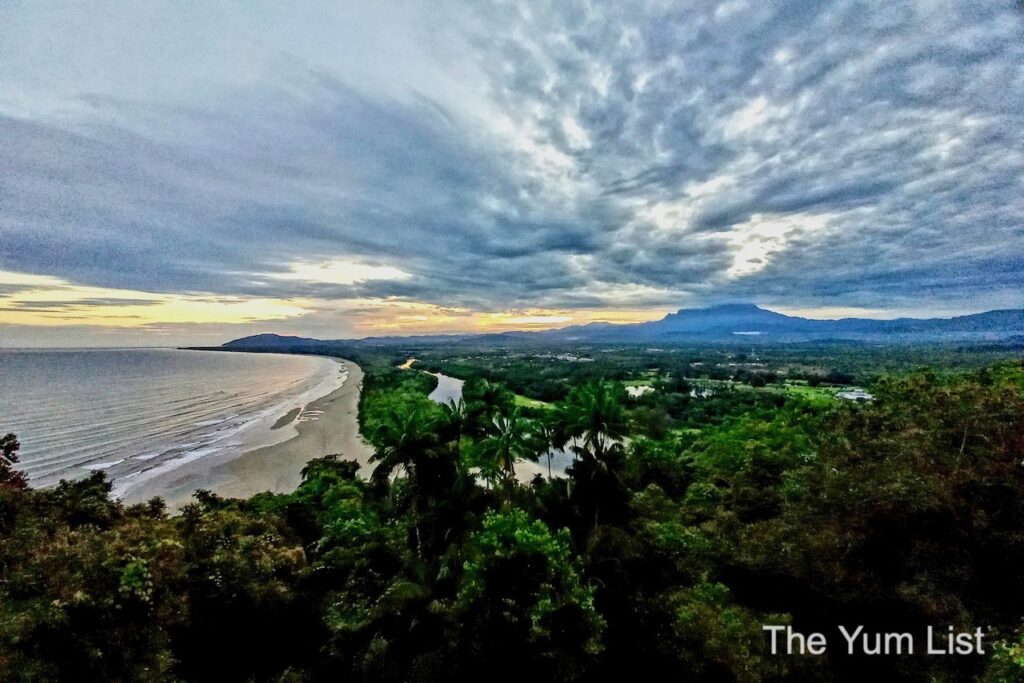 Breakfast at Oceano Modern Grill
In the Ocean Wing of the resort, breakfast is served at the Oceano Modern Grill, where guests can sit indoors or outside in the garden patio surrounded by lush foliage, darting birdlife, and with a view of the pools.
The buffet has been converted to adhere to SOPs, meaning each station is well manned with plenty of staff ready to take your order. A range of pastries, bread, cereals, yoghurts, oatmeal and fruit is on offer at station one, while station two will make a range of noodles and soups to order. Their specialty is Konlo Mian with chicken. A range of dhal, curries, paratha flatbreads, and congee with toppings is also offered. Station three provides french toast, pancakes and even some fresh-made cinnamon churros that smell oh so tempting. A range of juices, teas and excellent espresso coffees are available. The beans are a more elegant dark roast with plenty of punch, so we, of course, need to have a second cup while we finish our breakfast.
If you cannot find what tickles your fancy at the buffet stations, wait staff are quick to take your order for a range of a la carte options, including eggs florentine, smoked salmon omelettes, breakfast burgers, nasi lemak, and chicken karaage rice bowls. There is even an 80-gram Australian beef striploin steak available for the carnivores and keto enthusiasts. Like all the restaurants at Shangri-La Rasa Ria, we are spoiled for choice. Every whim is catered to.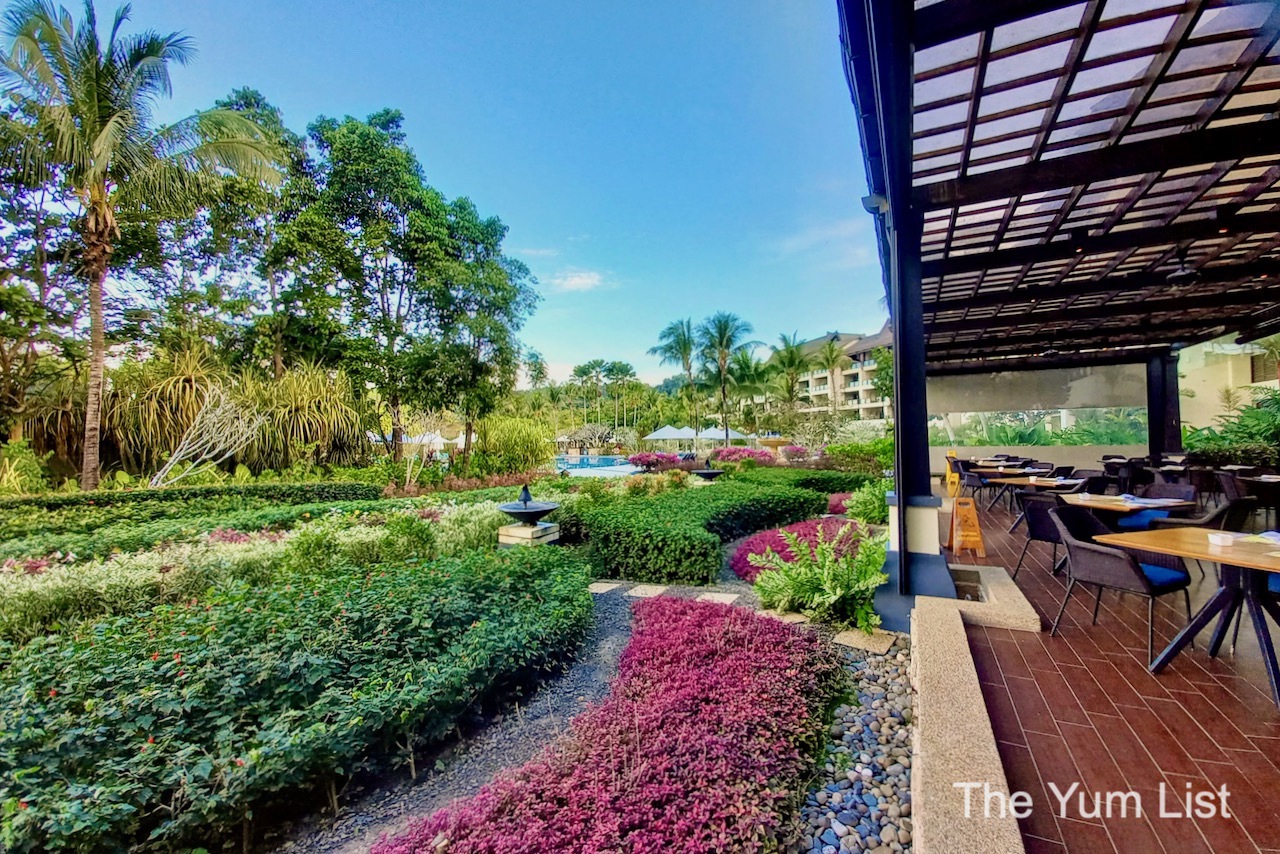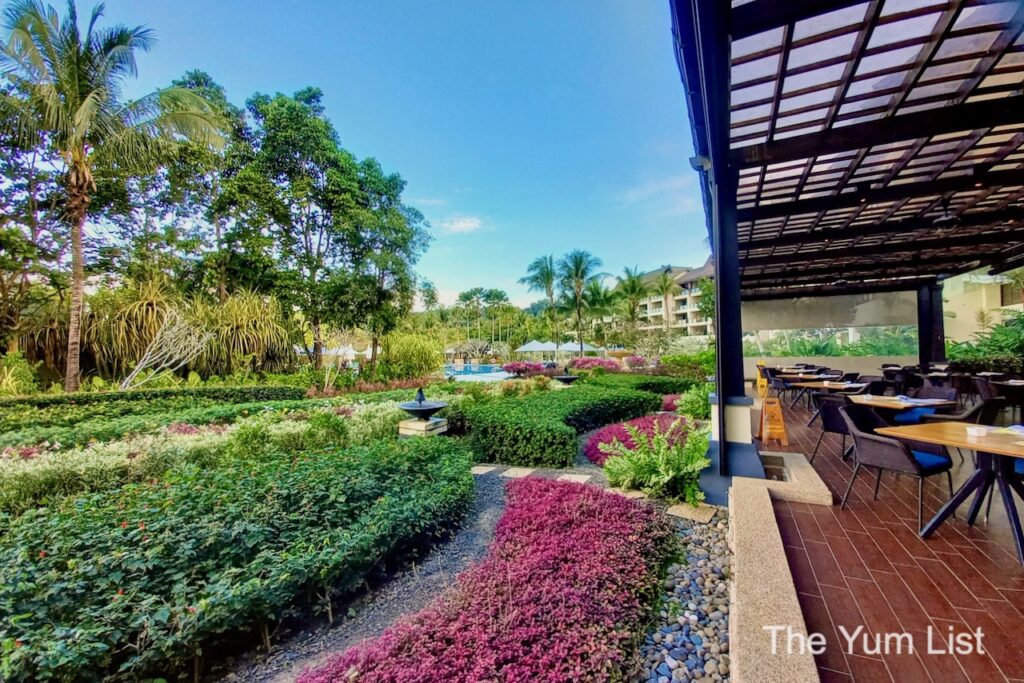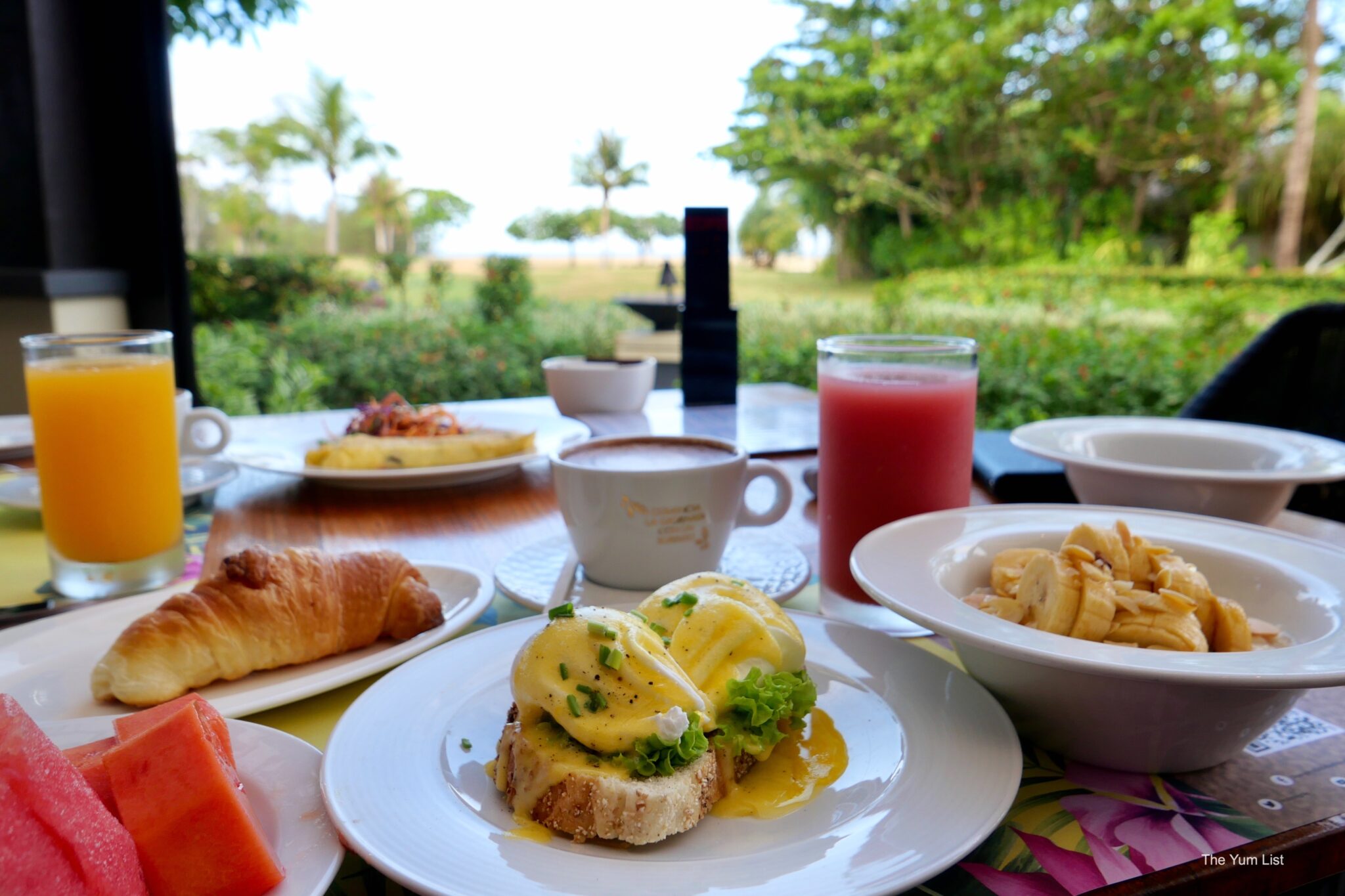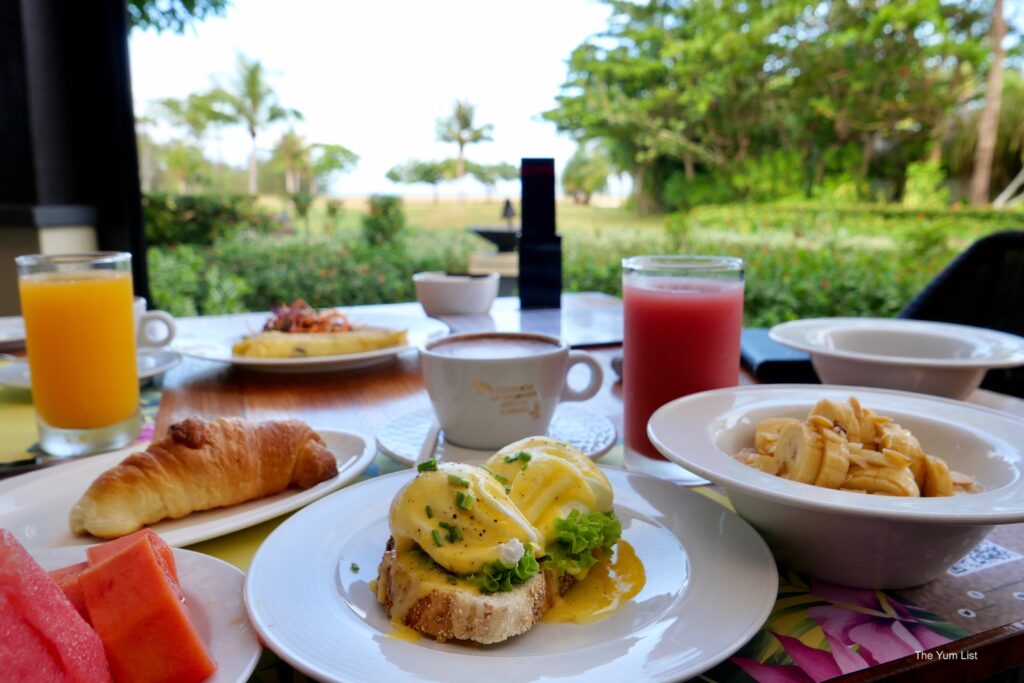 Tepi-Laut Dining Precinct
Tepi-Laut offers poolside dining with a difference. Located directly adjacent to the Garden Wing pool and waterslides, Shangri-La Rasa Ria brings iconic Malaysian street food and Western cuisines together with multiple 'store-fronts' serving a huge variety of options. Evocative of Malaysian hawker stalls, the live cooking stations mean guests can have a more interactive experience, and a little touch of theatre when ordering their lunch or dinner. Storefront stalls include specialist vegetarian stations, an Asian grill, a roti house, a curry house, a wok fry house, and a noodle and Chinese BBQ stall. You'll be overwhelmed by choices.
The centre service bar is jaw-droppingly impressive. Giant wooden poles nearly a metre in diameter hold up the high ceiling, accented by natural woven grasses. Rattan lanterns hang between trees, illuminating the area after dusk with an ethereal tropical paradise atmosphere. Seating can be poolside, barside, or beachside, with sunny, white, wide umbrellas large enough to cover many tables during the day. Around the courtyard, spotlit trees offer added shade and greenery. The restaurant has been built to embrace the natural elements, with the aim of celebrating Malaysia's traditional dishes, cooking methods, ingredients and rich flavours.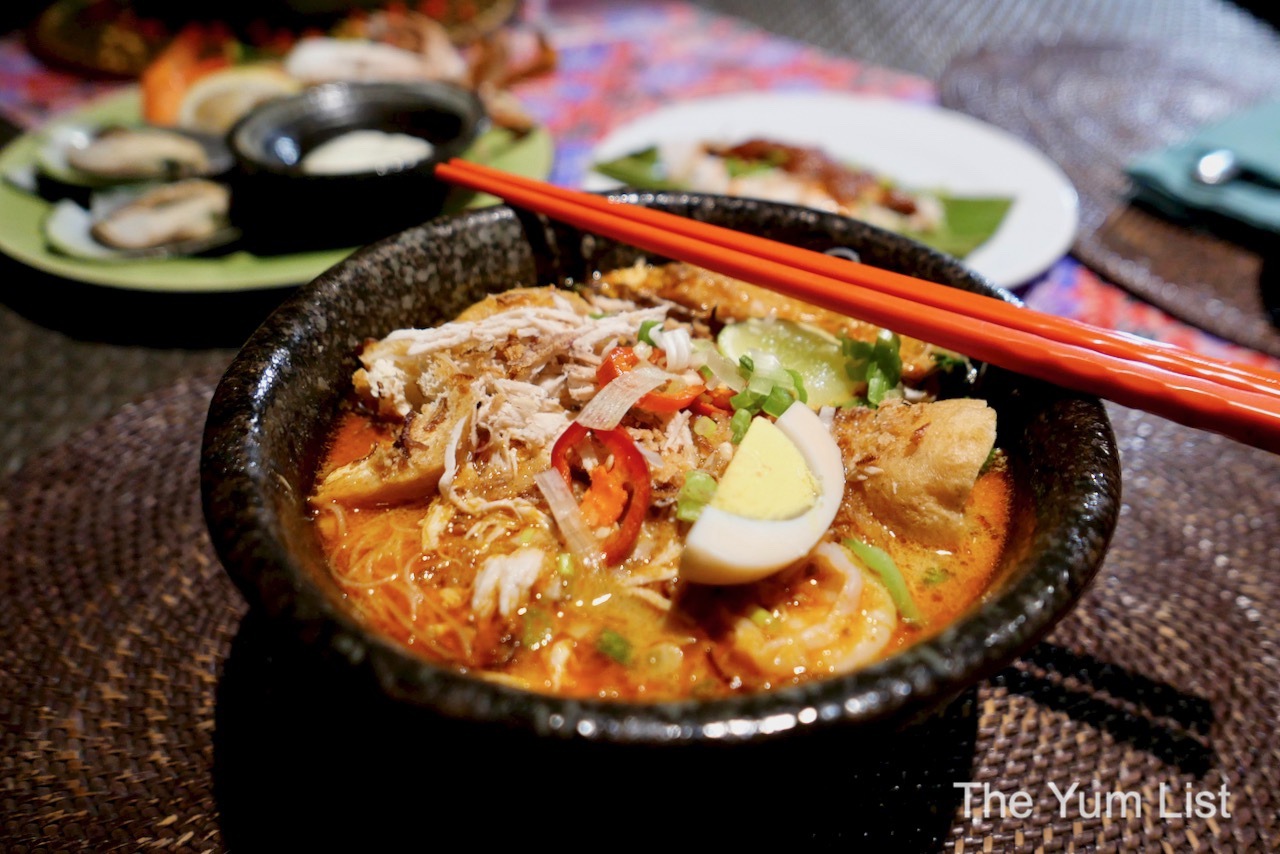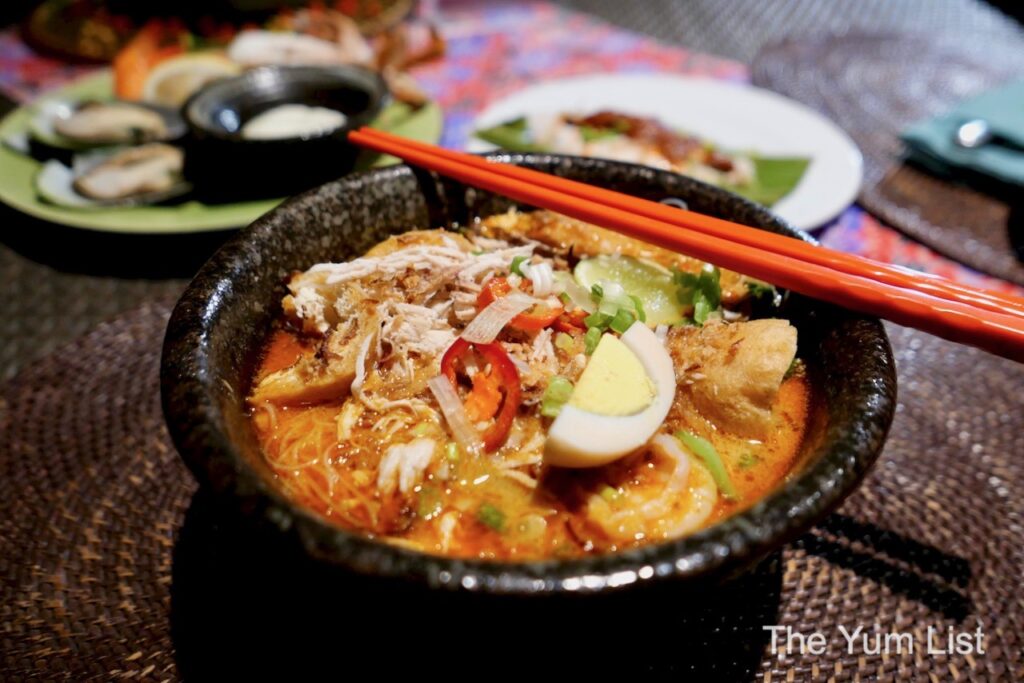 Lunch Menu
Spanning pages and pages, we have difficulty picking from the huge amount on offer. We decide on a Prawn, Papaya & Mango Salad (RM25). Packed with super fresh fruits and fat prawns, the juice dribbles down our chins, and we relish the lashings of chilli heat. We drink deeply from Fresh Whole Coconuts (RM10 each or three for RM21) to quell the fire in our mouths. Spoonfuls of coconut flesh beautifully accent all of the lunchtime dishes we have selected. A Grilled Chicken Avocado Salad (RM22) is a healthy and delicious option. Lush salad greens are enhanced by thick slices of perfectly ripe avocado and strips of seared, moist chicken. A tangy light glazed brings out the citrus from segments of fresh oranges.
The Fried Tuaran Noodle with Chicken Char Siew (RM28) is a specialty of the Tuaran district community in Sabah. More rustic and not as dense as a normal egg mee noodle, they are almost fluffy in texture. The barbequed char siew chicken adds a rich smokiness. We see numerous families noshing on Purple Sweet Potato Fries (RM20), and have to give them a go. Sweet and salty, they are super long, their soft interior encased in a crunchy outer shell. Heavenly and very gratifying!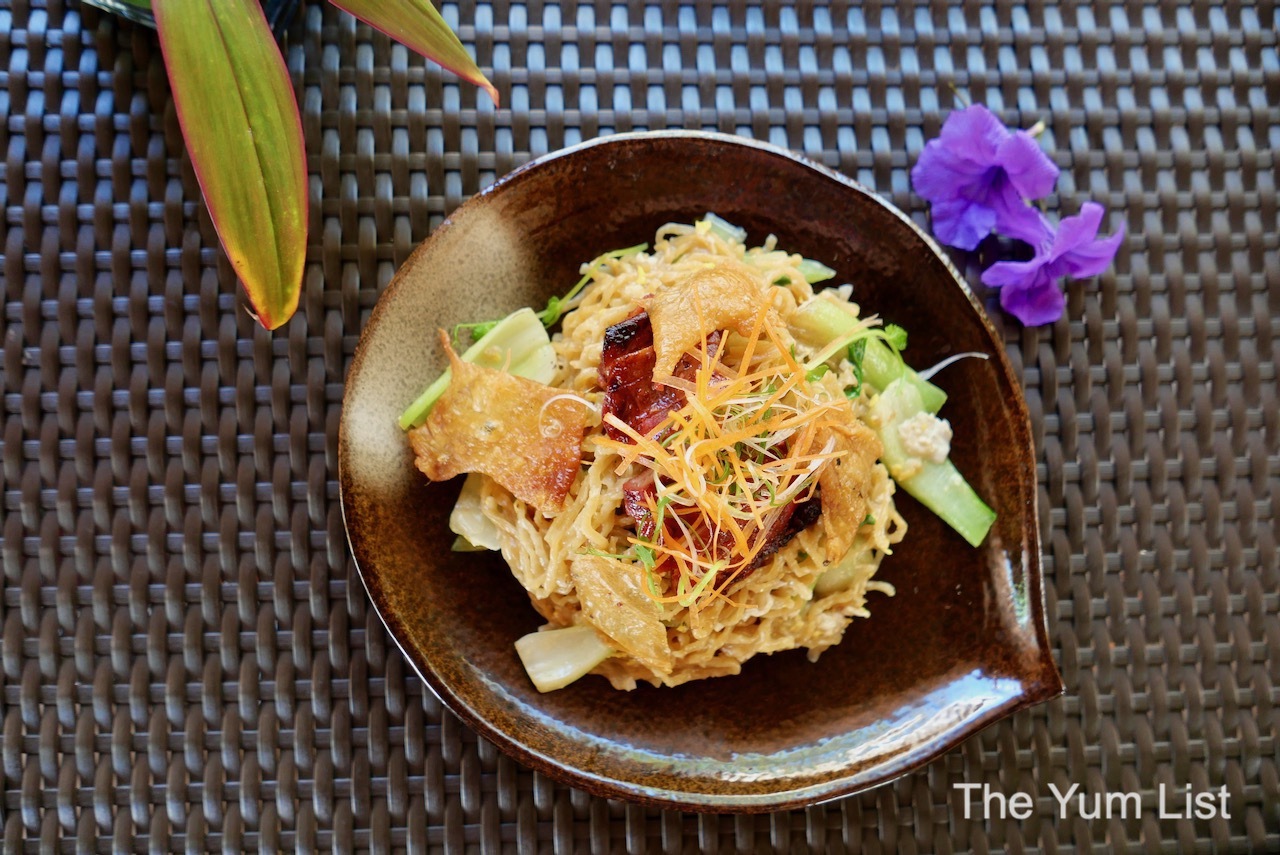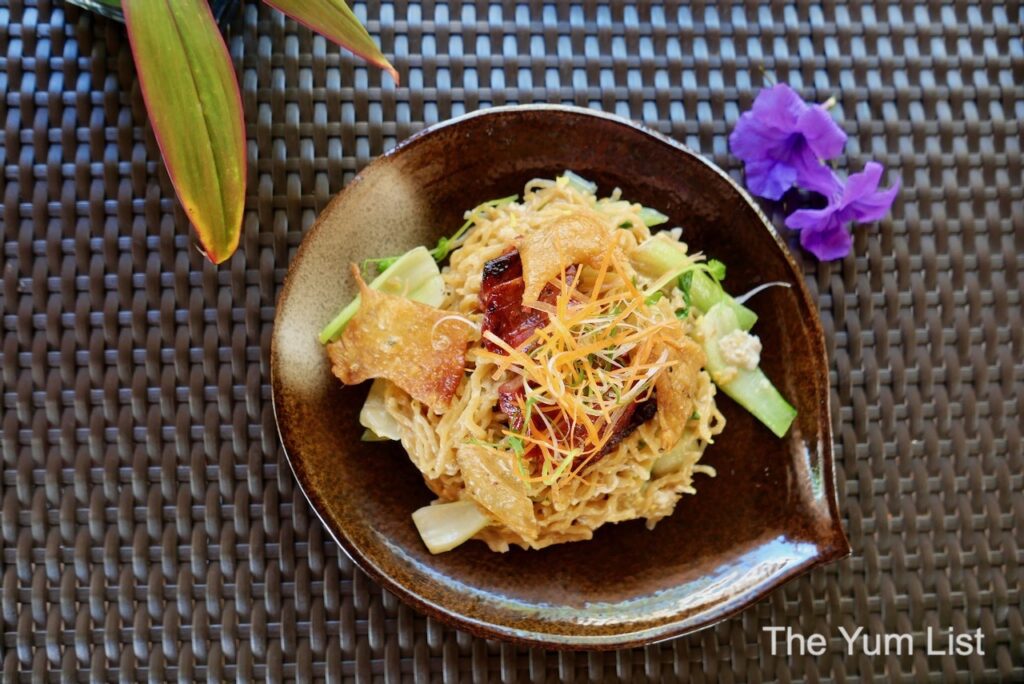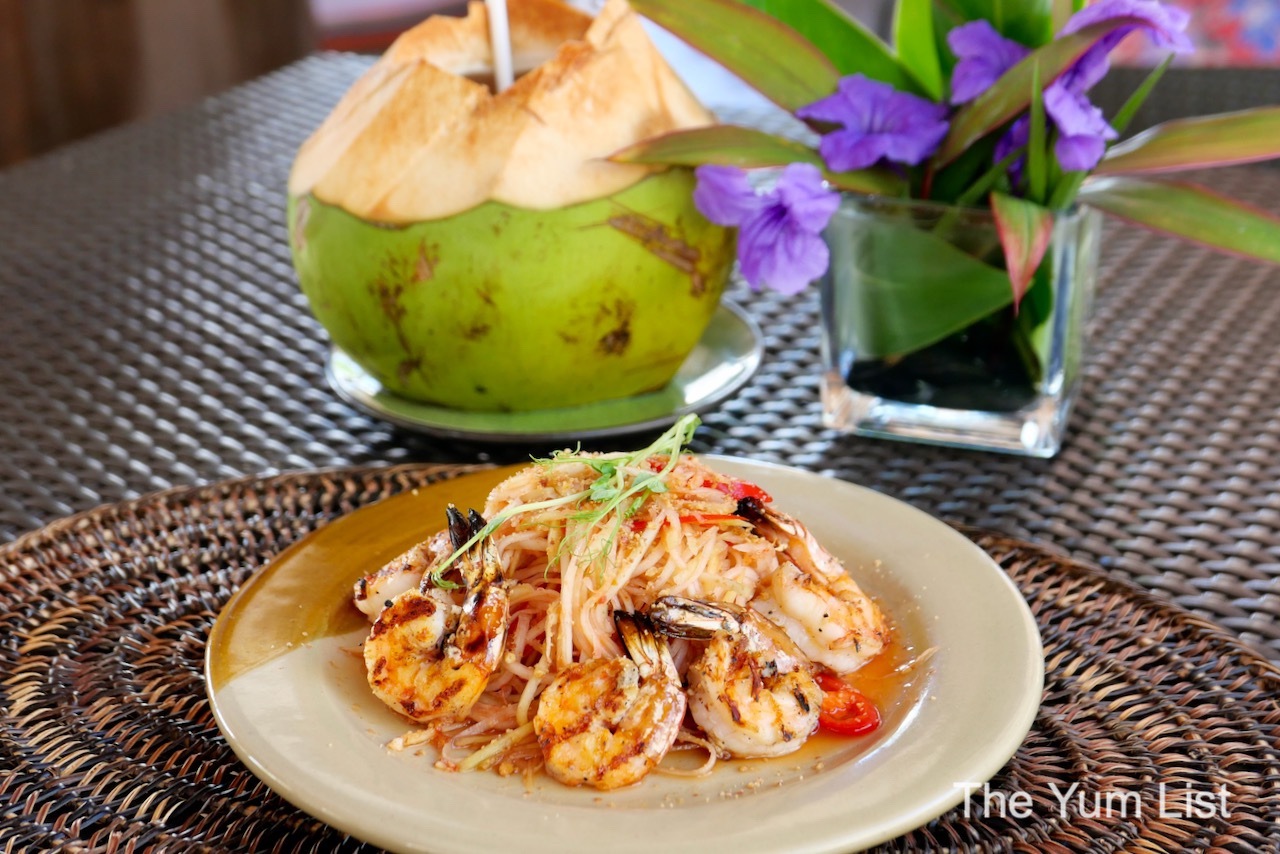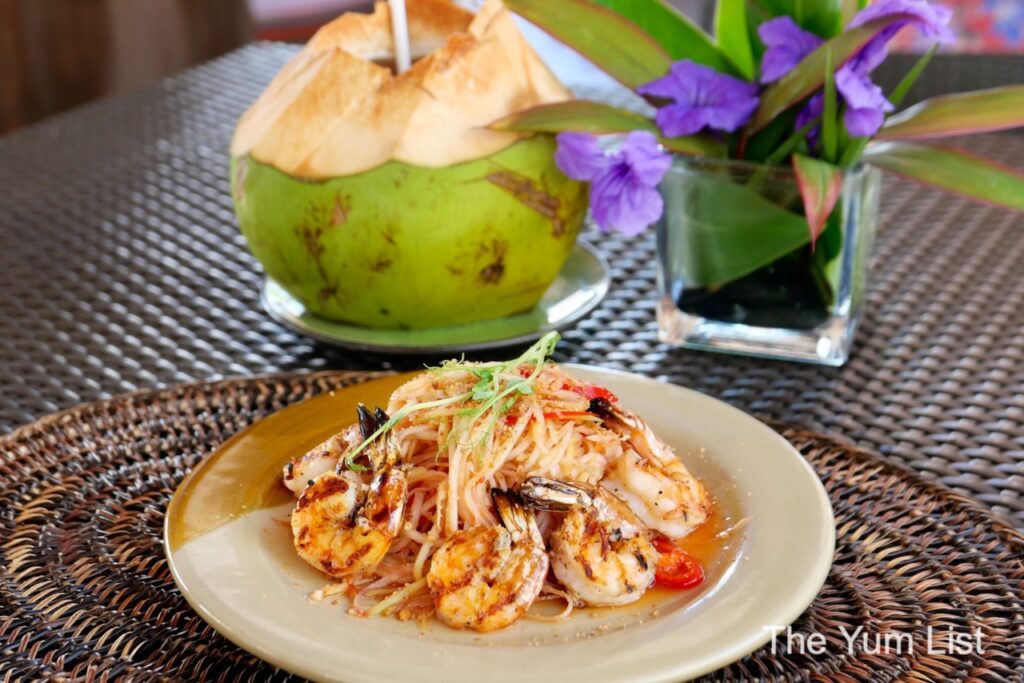 Dinner Buffet
In the evening, the entire Tepi-Laut precinct is transformed. Each store front becomes packed with woven baskets of fresh ingredients and uplifting smells. Eager staff stand by, ready to chop, fry, flip, sear, and stir whatever you wish. All the shop-fronts are in full swing, giving the feel of a bustling street market festival. Traditional Malaysian open-air grills packed with skewers of satay and grilled fish are attentively rotated by Tepi Laut chefs.
Around the central towering pillar, plexiglass encased stations packed with ice cushion stacks of monstrous poached crabs, mussels and prawns. Walking around the expansive circular island, we see a range of fresh local and Western-style salads, a well-stocked sushi bar where sushi can be made to order, and a vast counter of desserts, with cute little cakes, pastries, tarts, puddings and kueh lined up in neat little rows
We are kids in a candy store, wide-eyed and giddy with all the choices. We begin with a round of fresh seafood, cracking into long crab legs and peeling an impressive mound of fresh-caught prawns. A traditional Sabah dish, the Fish Hinava reminds us of a light, refreshing ceviche, with fresh caught raw Mackeral, mixed through with lime juice, birds eye chillies, a splash of ginger and bitter gourd. We also try a portion of bakar bakar, grill cooked catch of the day in a banana leaf parcel to seal in the juices, topped with a thick tomato sambal, more bird's eye chillies and slivers of onion. The flavours of all the seafood here in Sabah are so much richer and more intense than any I've had back in the Western Malaysian Peninsula. If you love your seafood, this truly is your haven.
To balance out our gluttony, we order plates of stir-fried local vegetables, wok tossed with garlic and oyster sauce, and partake of some of the leafy salads on offer. We opt for an alcohol-free evening and order more fresh coconuts, reasoning that this healthier choice will allow us to indulge in a greater number of main dishes and desserts. Moving around the Tepi-Laut stalls and speaking with the cheerful and chatty Shangri-La team, we are tempted by hanging whole roasted ducks, aromatic curries, and the smell of wood-fired pizzas. I can't resist some Greek Lamb Koftas, seductively satiating in their grilled juices, accompanied by chilled cucumber tzatziki.
The winning dish for us is, however, a fragrant, creamy Laksa, packed with fried bean curd, shredded chicken, a boiled egg, three kinds of noodles, lime, lemongrass, galangal, turmeric, and too many other herbs and spices to name, all swimming in a spicy coconut milk curry broth. We are both fans of good laksa, and this surprises each of us with its complexity and balance. It is a sheer mastery of this ultimate Malaysian dish.
It's a wonder we have any room left for dessert, yet we somehow manage. The Kueh Lenggang are a favourite of ours – small coconut-pandan pancake parcels filled with sweet palm sugar, more coconut and a hint of finely diced peanuts. Delightfully pink cubes of Kueh Sago Kelapa are too good to resist, offering more sticky sweet coconut with an almost gooey, glutinous centre. For our last choice, we make the impossible decision to forego the platters of chocolate cakes, red velvet cakes, cream puffs, egg tarts and creme brulees, and settle for a coffee pannacotta. The first mouthful confirms we choose well. The creamy, tangy espresso infused silken pannacotta is topped with buttery biscuit crumbs and a sculptural swirl of dark chocolate.
Guests could dine at Tepi-Laut every evening for a week and still not taste all that is on offer. Although we have given it our best shot, we finally admit we cannot fit in another morsel. With farewells from the smiling staff, we begin the stroll back to our rooms, very full, and very happy.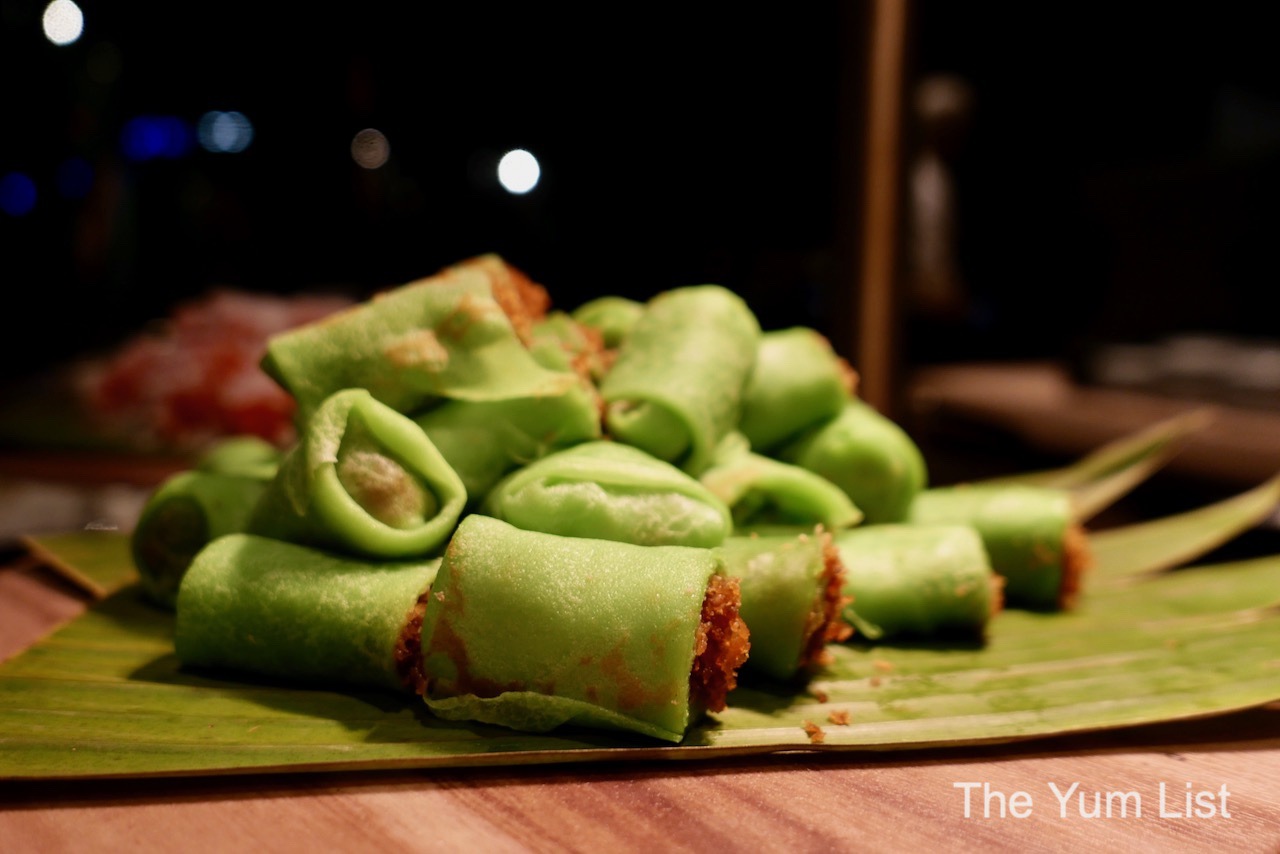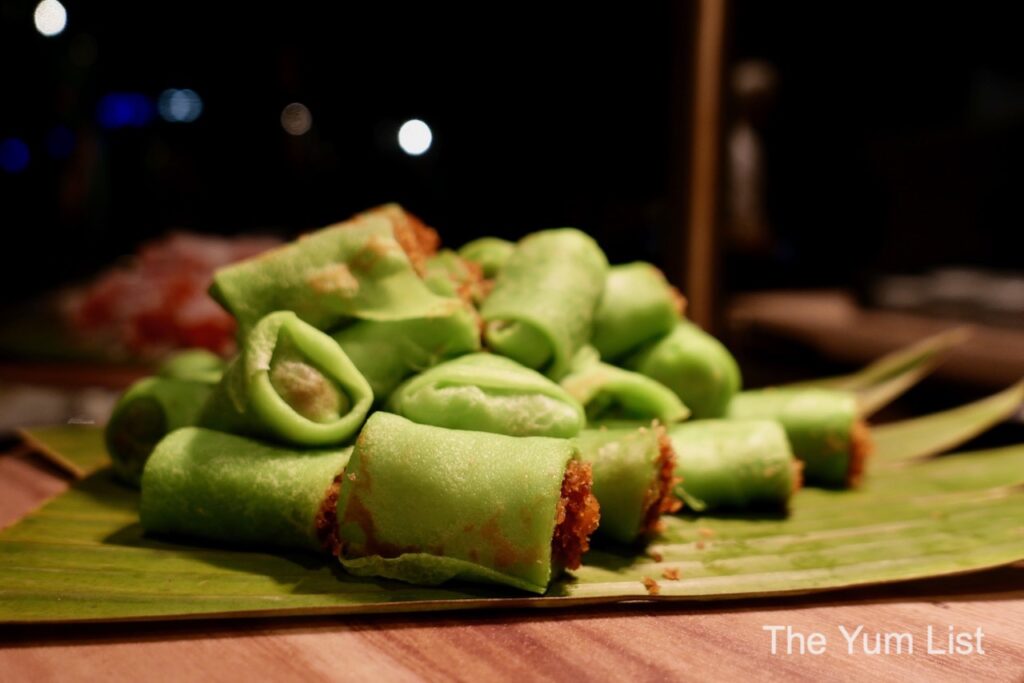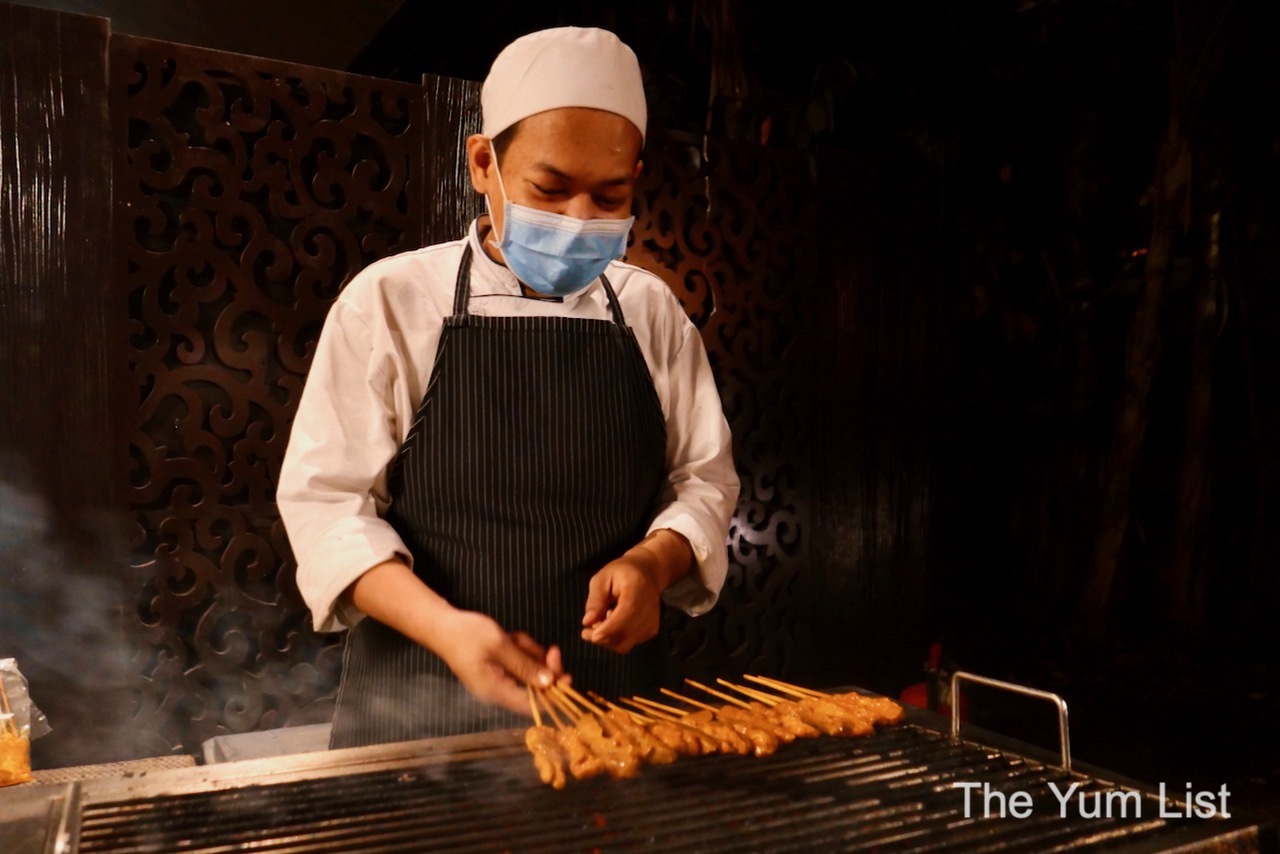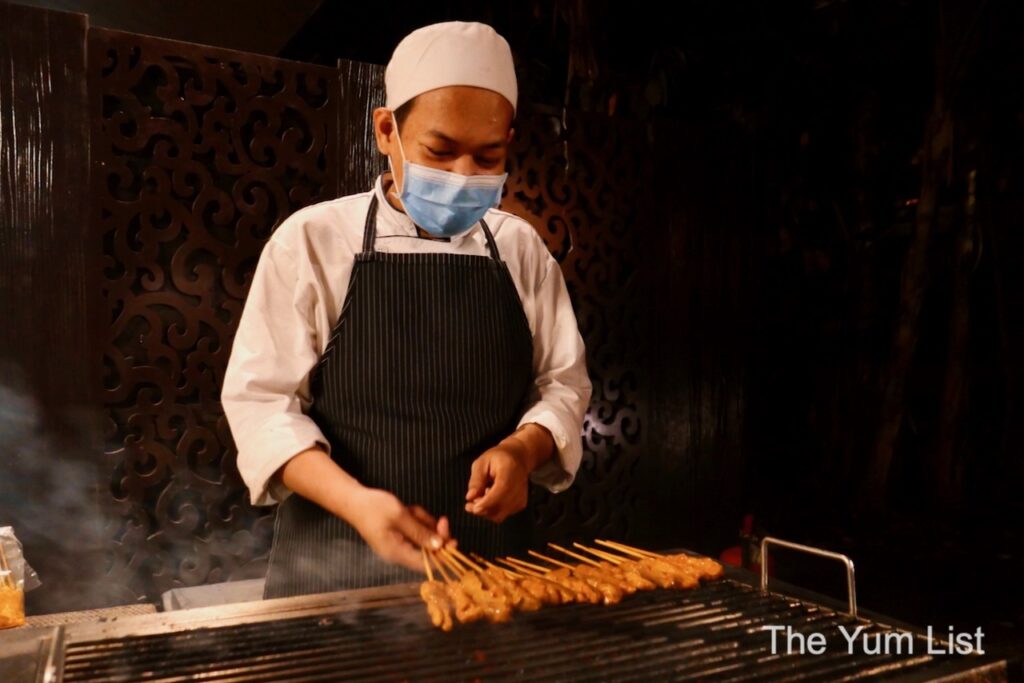 The Spa at the Dalit Bay Golf & Country Club
Having already alleviated any stress during our stay, there is no harm in making sure we are as relaxed as we could possibly be. A 60-minute massage session at the Shangri-La Spa is, therefore, a must-do. We are chauffeured over to the Dalit Bay Golf & Country Club, where we are greeted by more warm and welcoming staff before being ushered into the Ginger room. Each private room in the spa is equipped with its own shower, bathtub, dressing space, and windows overlooking the resplendent greens.
Selecting from a choice of different aromatic oils, each with its own restorative properties, we both settle on a relaxing blend. Our therapists are confident and sure of hand, expertly navigating any knots or points of tension. And so we both sink deeper and deeper into a fog of released pressure and calm tranquillity. In the end, we feel renewed and restored, especially after a pot of tea featuring botanicals from the local surrounds.
After peak relaxation has been achieved, the incredible team who have spoiled us so much during our stay take us on a golf buggy tour of the 18 hole golf course. Winding its way around the bends and tributaries of the estuarine river system, quaint little wooden bridges join together the pristinely manicured greens. From almost every hole, there is an unobstructed view of Mount Kinabalu. Her jagged crowned summit rose far above a far off layer of cloud. We marvel at the abundant birdlife throughout the stunning course, our guides pointing out the numerous species along the way. Even if you are not a keen golfer, each hole is a marvel of landscaping and prodigious views. Ornithologists and nature lovers alike will be in heaven.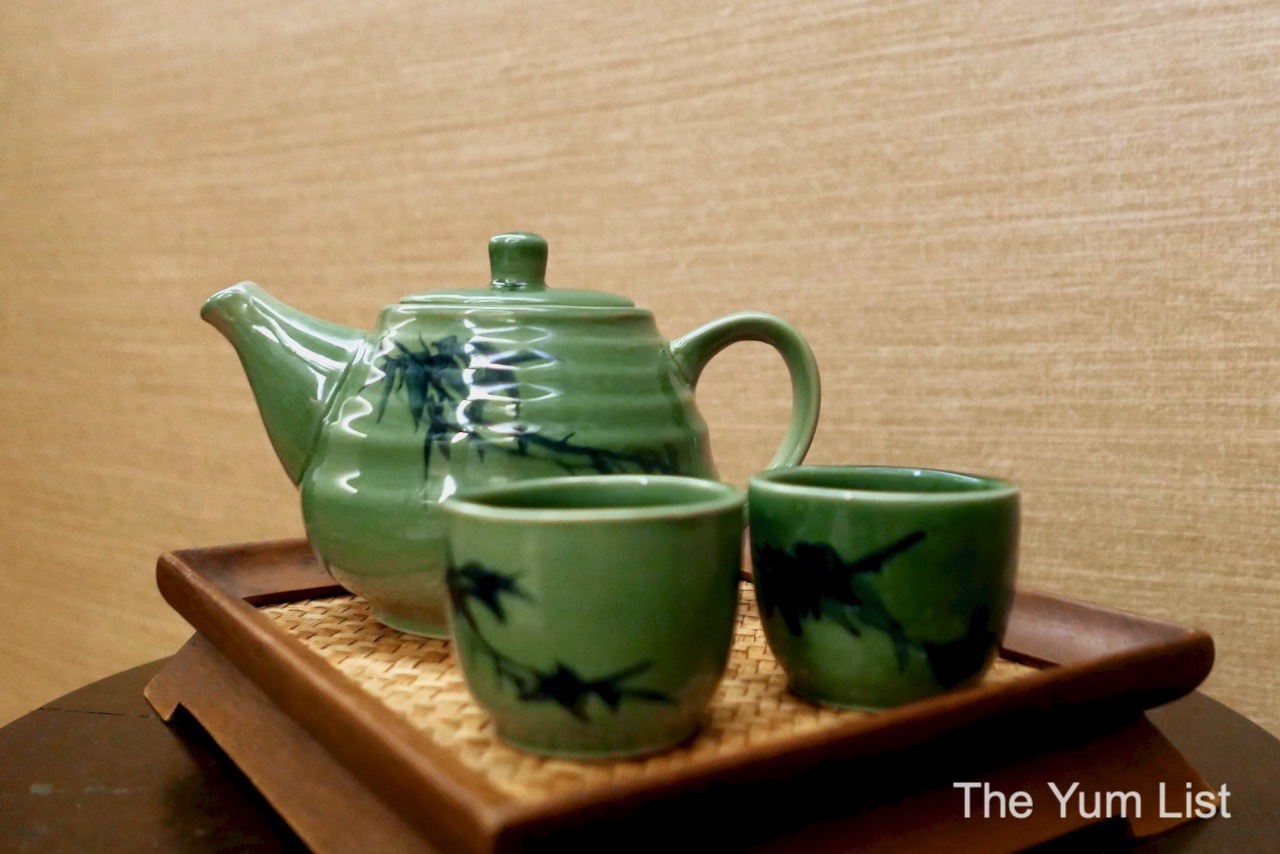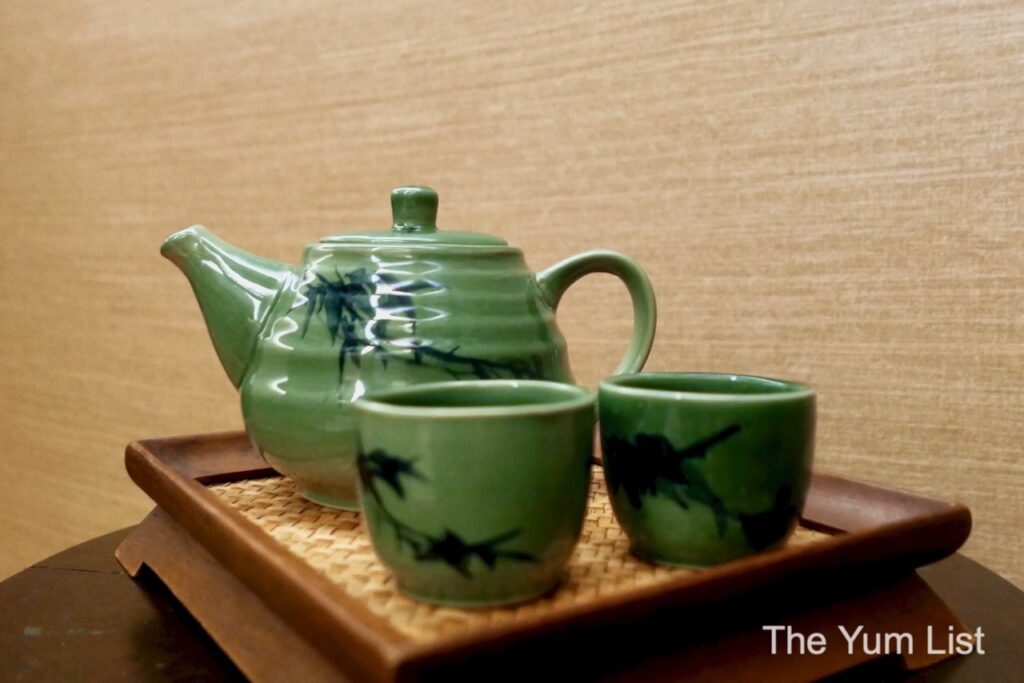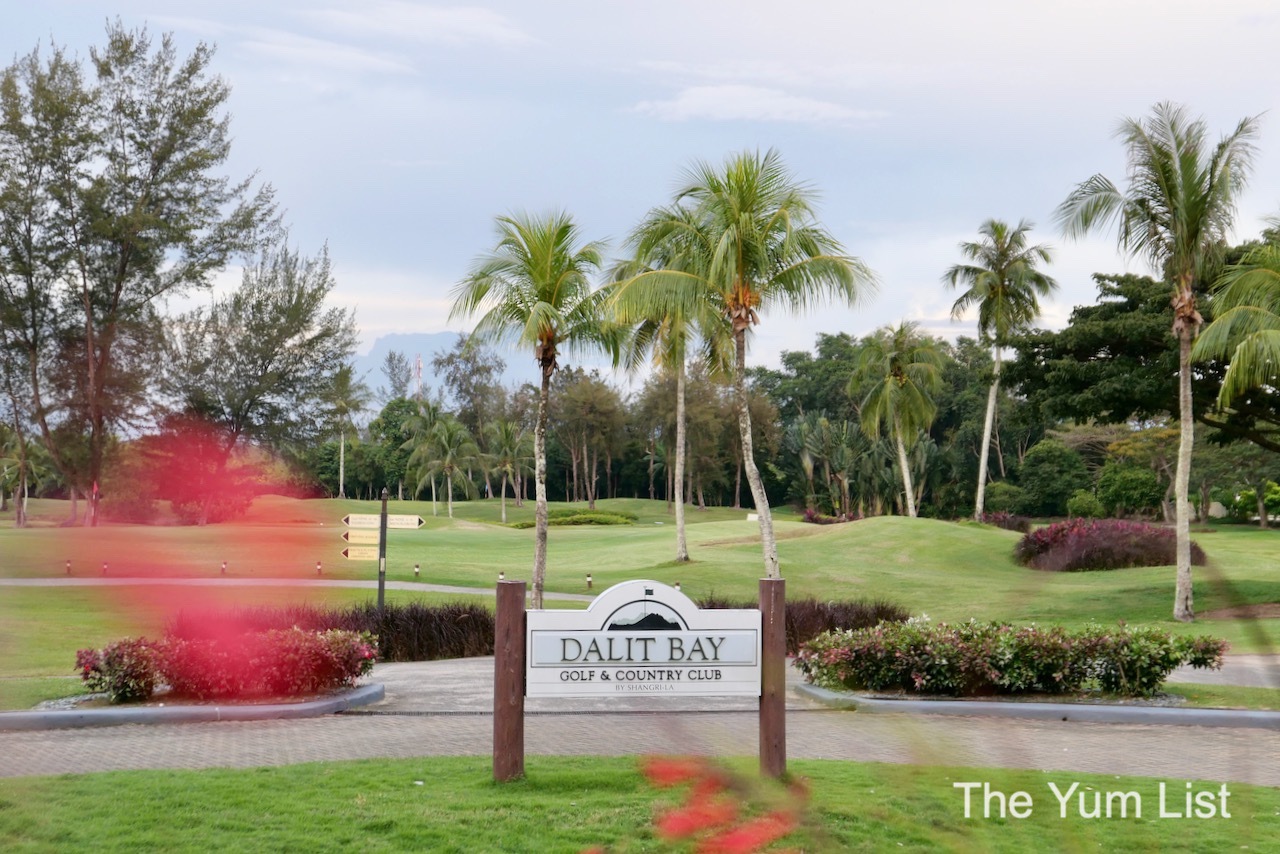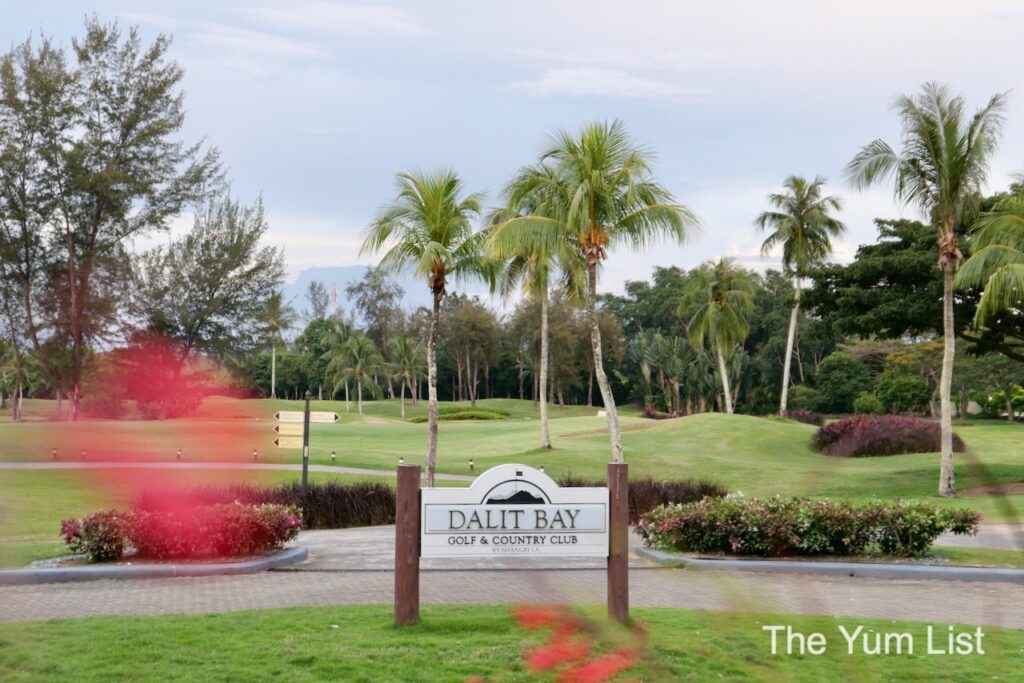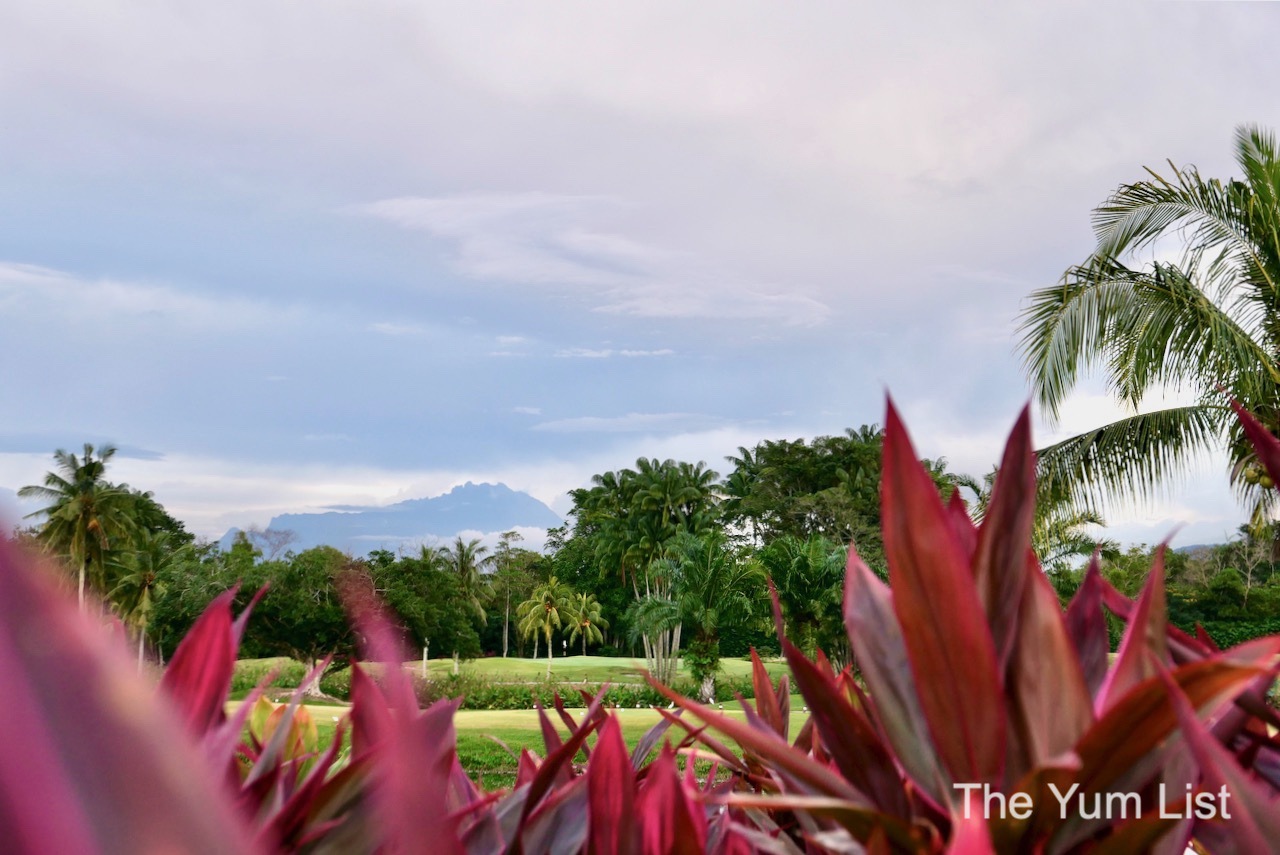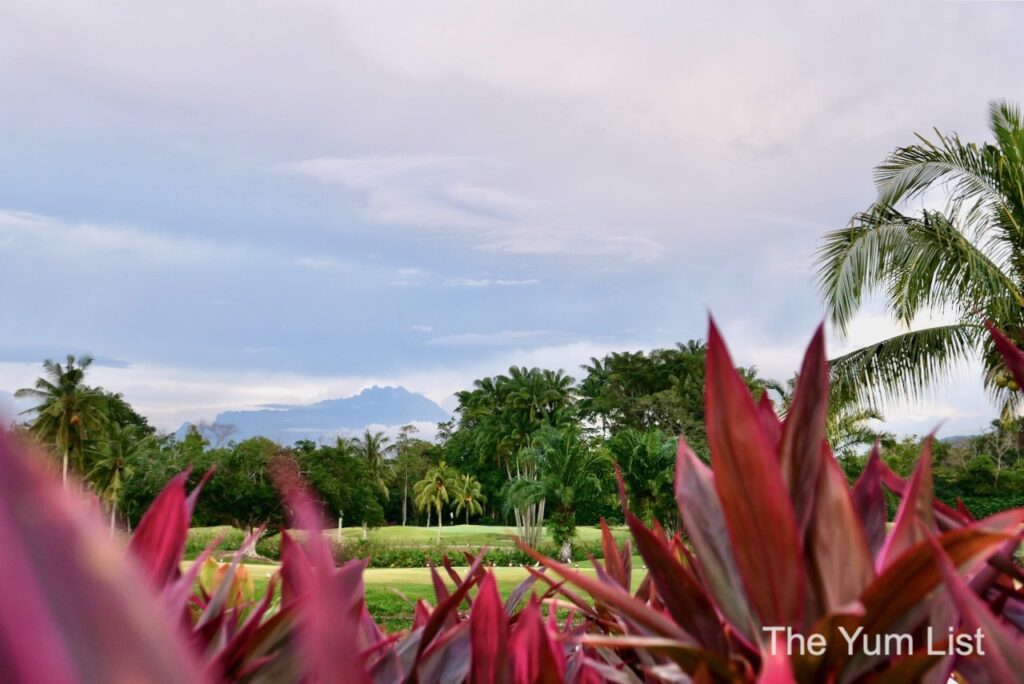 Packages and Deals – Shangri-La Rasa Ria
The Shangri-La Rasa Ria has several special offers available at the moment, which are surprisingly accessible considering return flights from KL start from as low as RM300. Staycation packages start from as little as RM378 per night, with various dining, golfing and adventuring packages ranging between RM473-770 per night. They also have special offers for romantic getaways, family fun, and Weddings. Golden Circle club members can also be awarded eyebrow-raising children's dining packages. Up to 2 children under the age of 6 eat for free at buffet dining options, and half-price discounts are applied for children aged 6-12 when accompanied by paying adults.
As we bid farewell to the Shangri-La Rasa Ria, we feel buoyed by the harmonious tranquillity this garden paradise has enlivened us with. From the wonderful, genuinely caring, and uplifting staff to the spectacular, capacious and enchanting grounds and gardens, our experience has surpassed every expectation. The poets can keep their dreams of exotic yet intangible utopias. We have found a genuine, incomparable Shangri-La.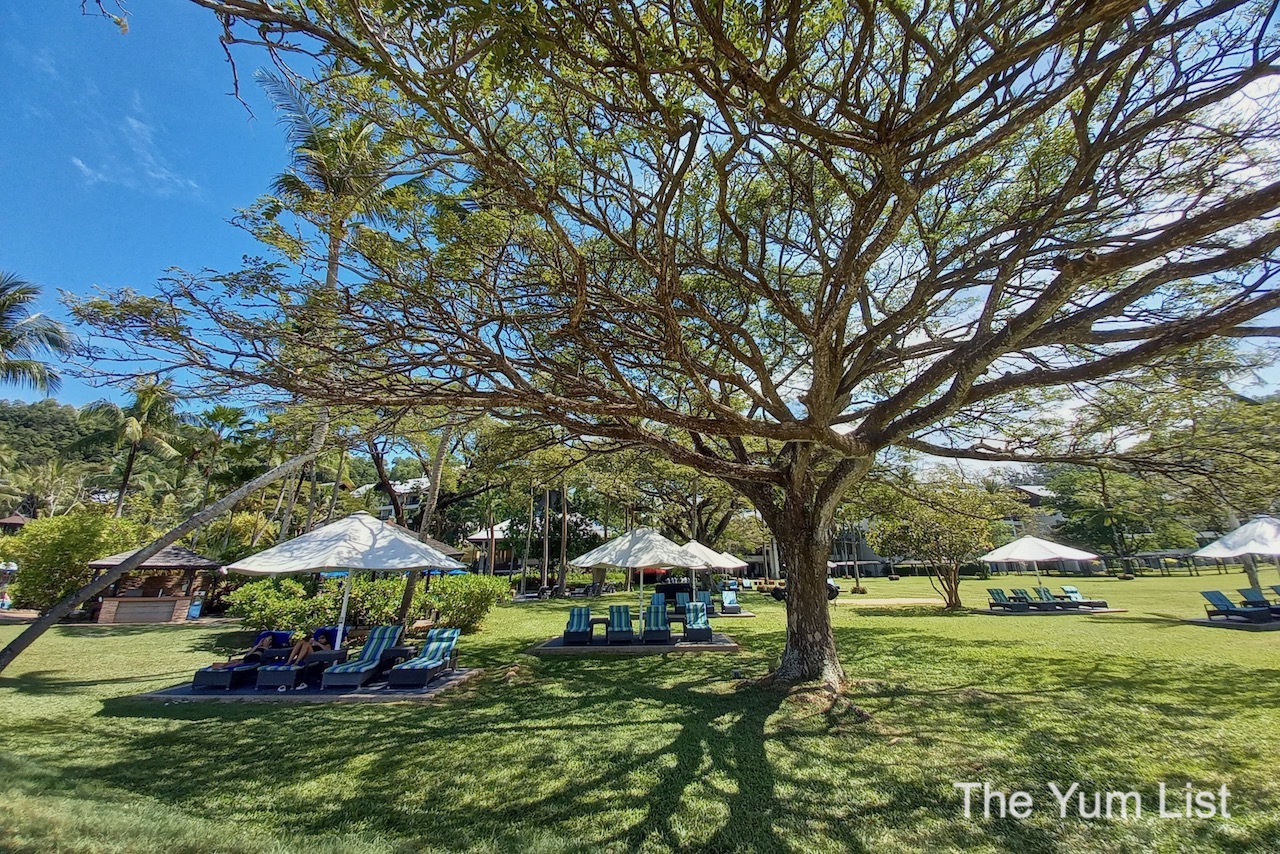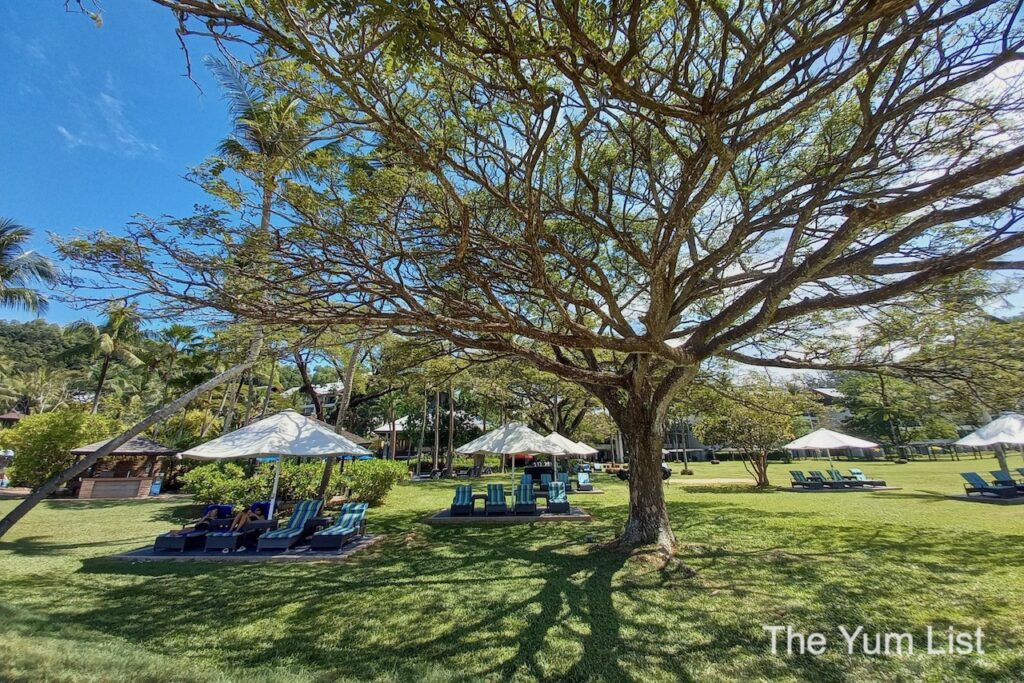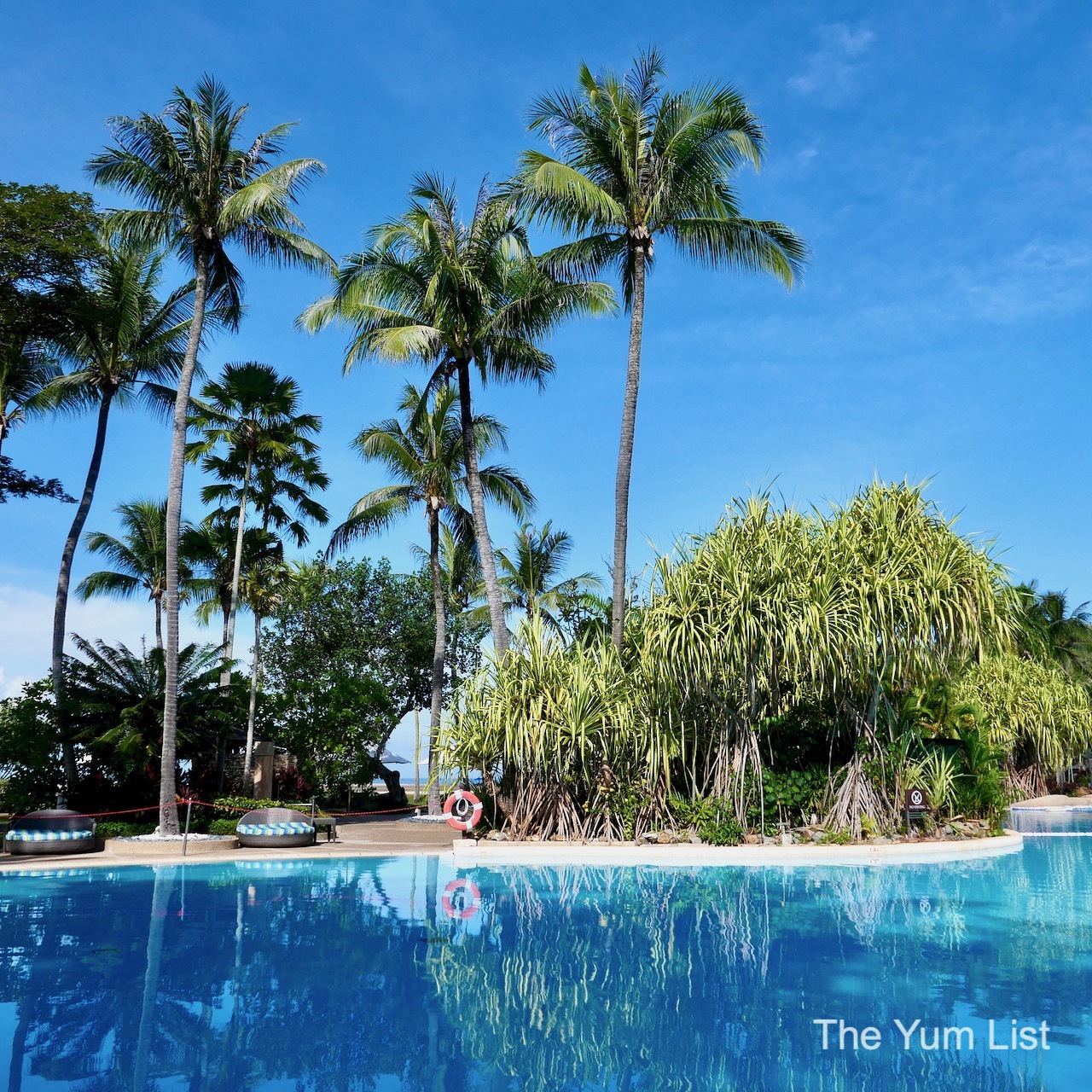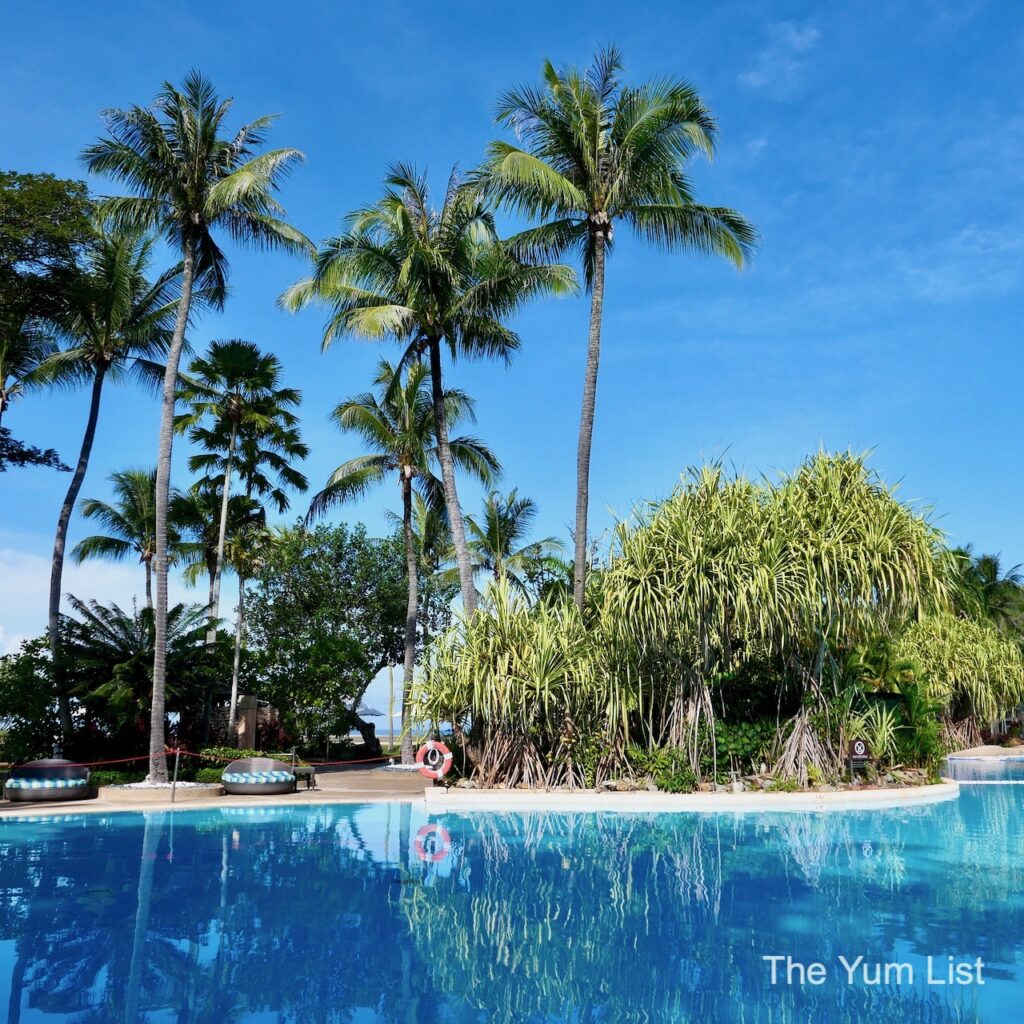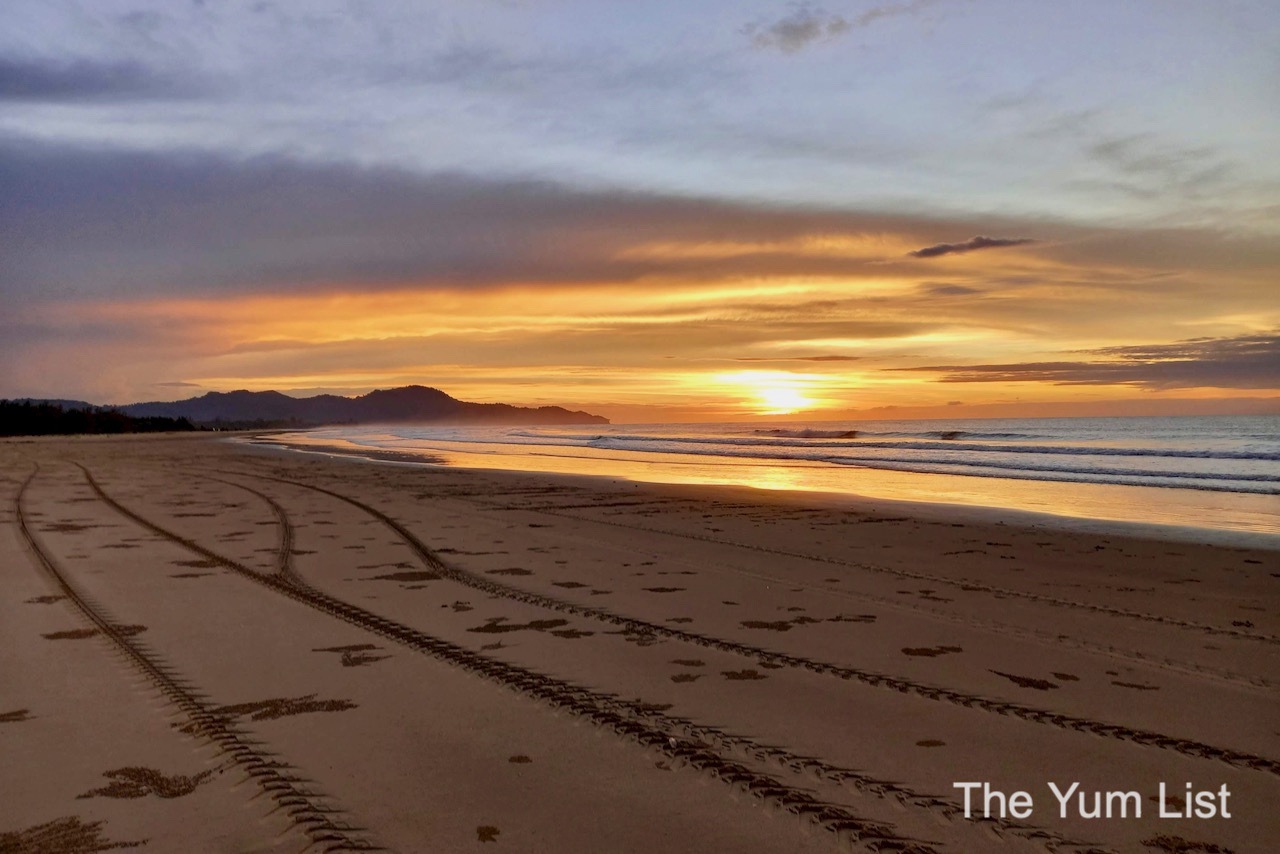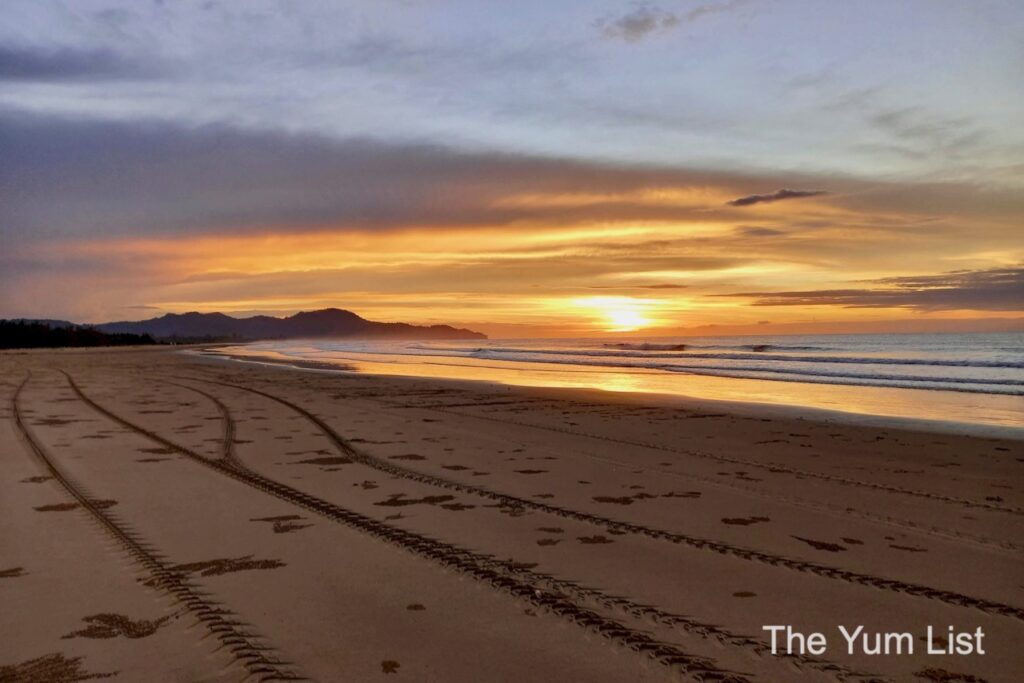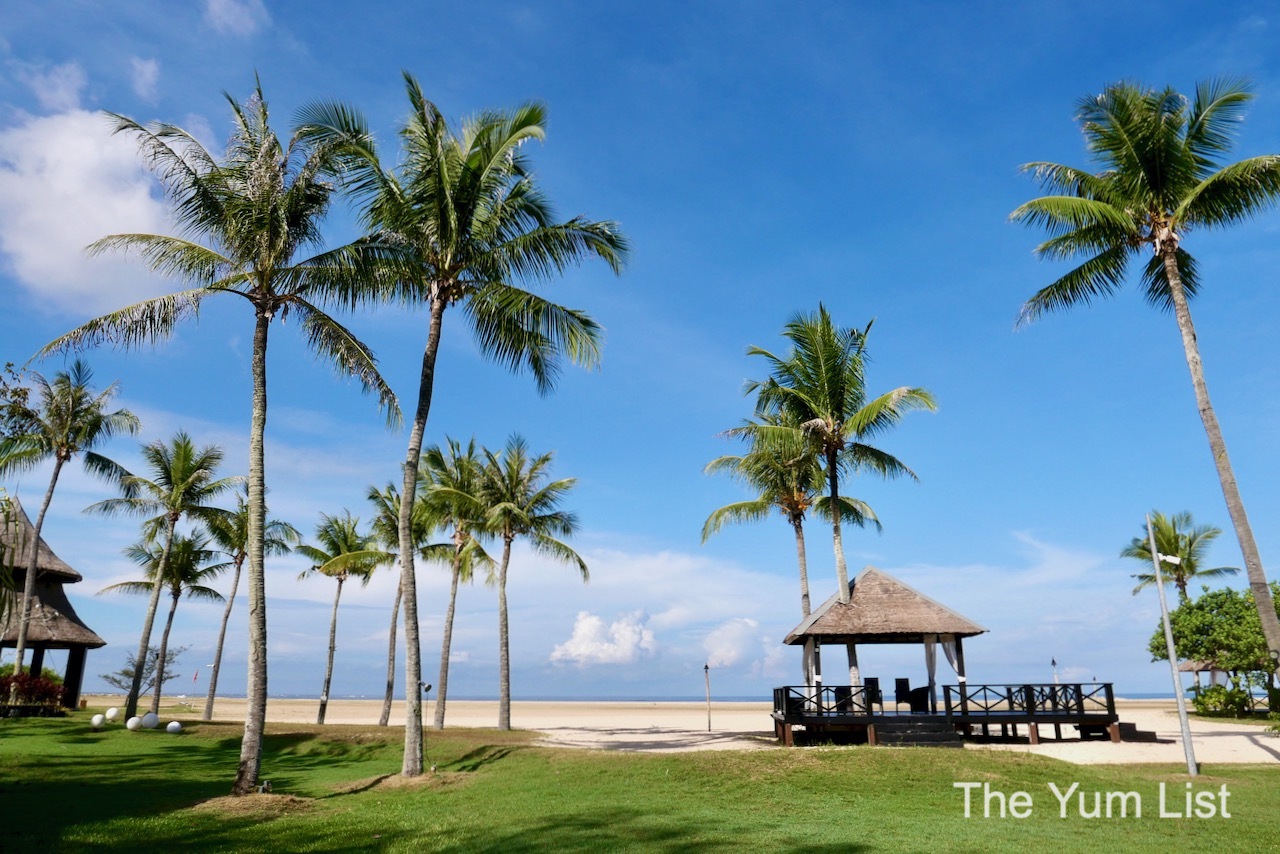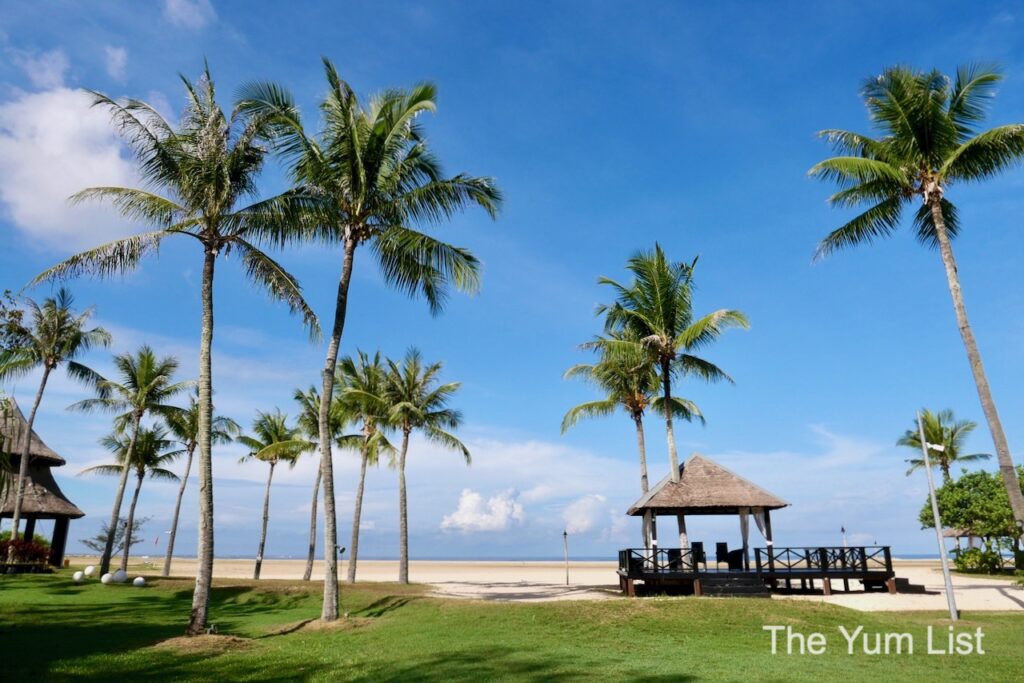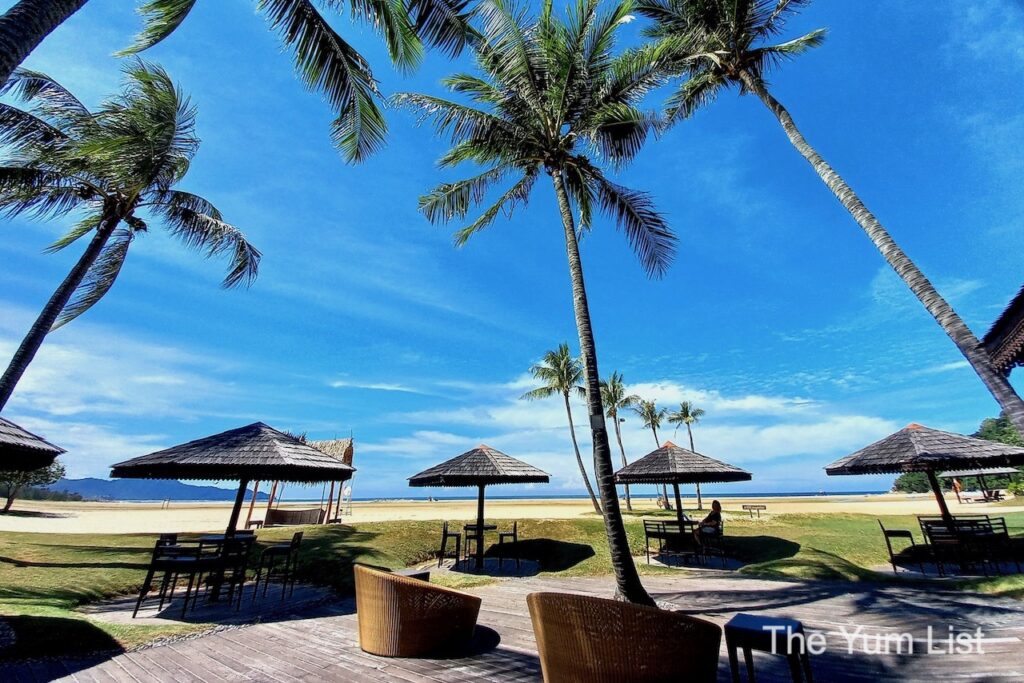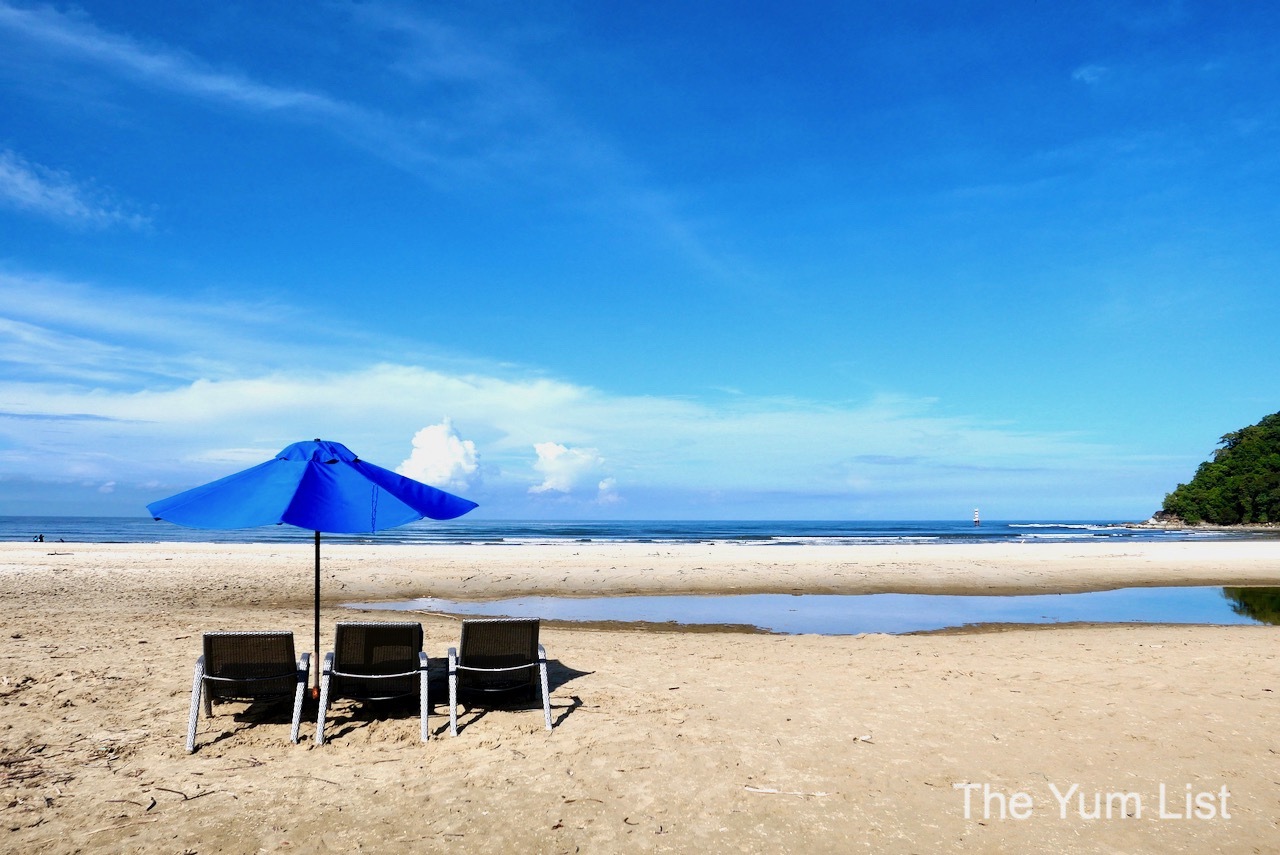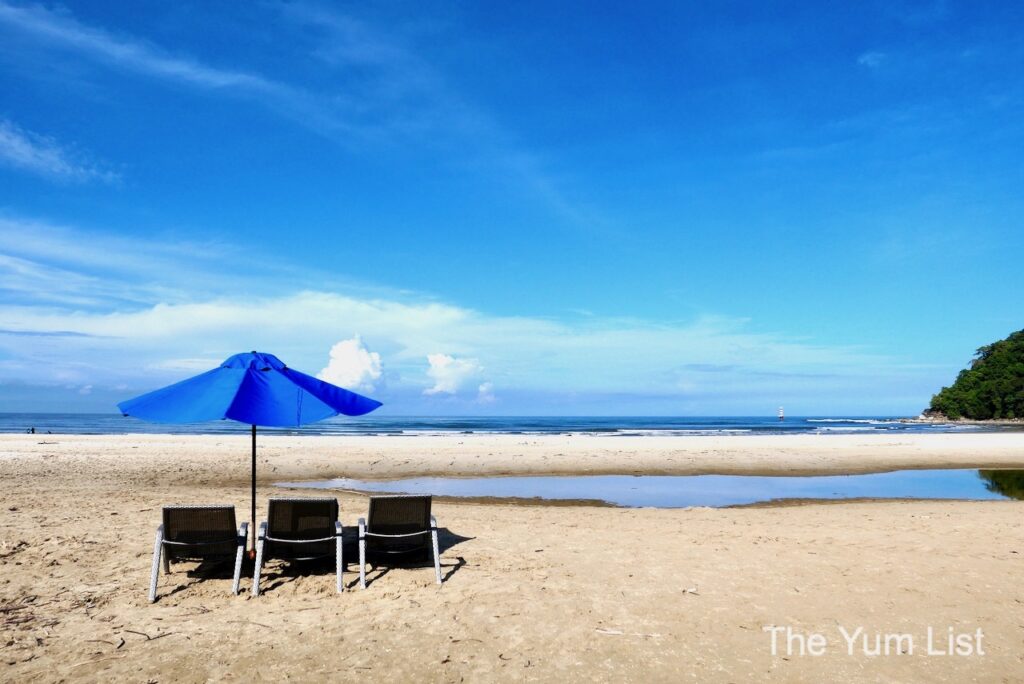 Shangri-La Rasa Ria
Pantai Dalit Tuaran, 89208 Kota Kinabalu,
Sabah, Borneo, Malaysia
+6 088 797 888
Find more travel recommendations for Sabah here and stay up to date with the latest gourmet happenings around Malaysia here and here.