Tana Restaurant Kota Kinabalu
Words: Claire Matheson
Photos: Monica Tindall
What do you get when you cross a restaurant, rooftop bar, affordable youth hotel, and accessible shared working and hangout space, with bright colourful street art celebrating Borneo's heritage? The answer is Tana Restaurant, Tamu Rooftop Bar and Toojou Hotel – a fabulous, quirky all-rounder concept in the same building, with an effortless cool factor. They have a little bit of everything available here, with brilliant coffee, drinks and food.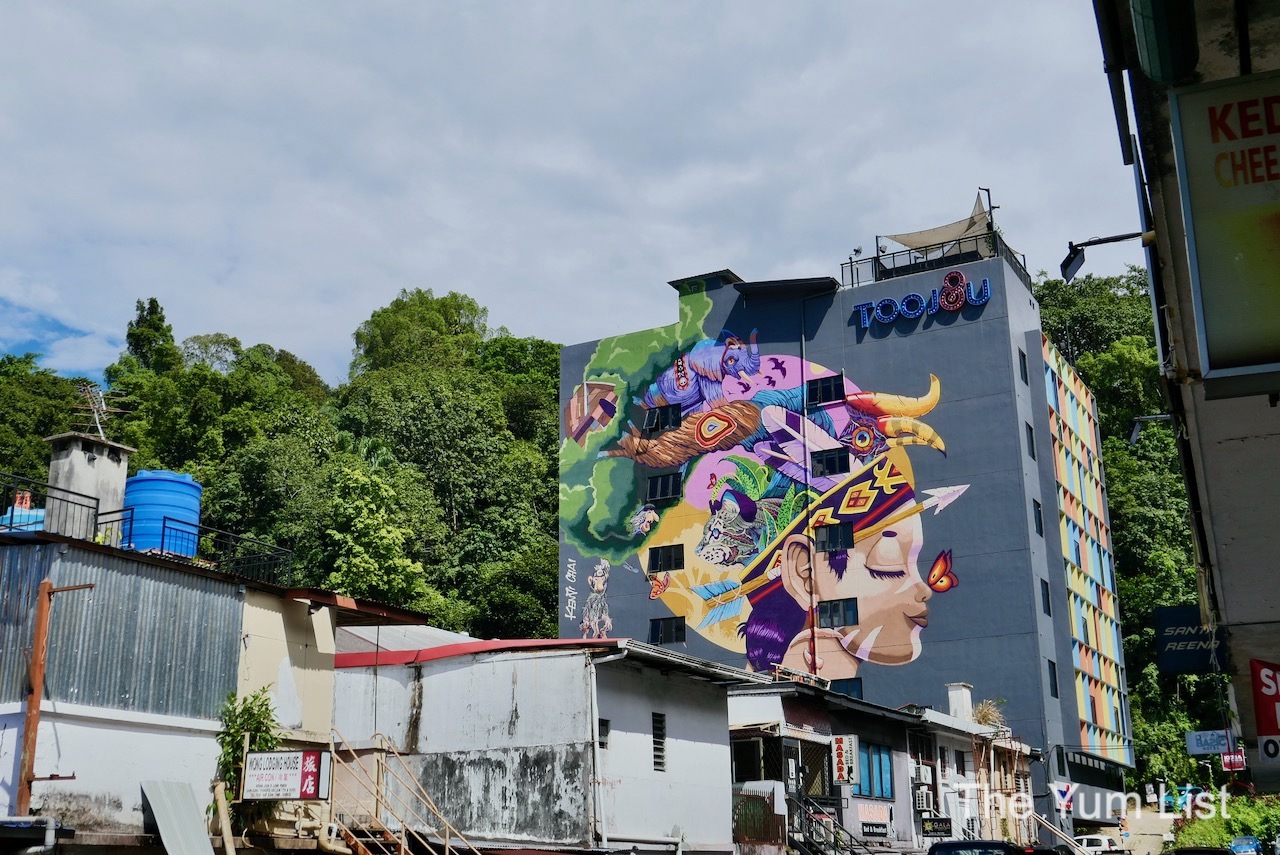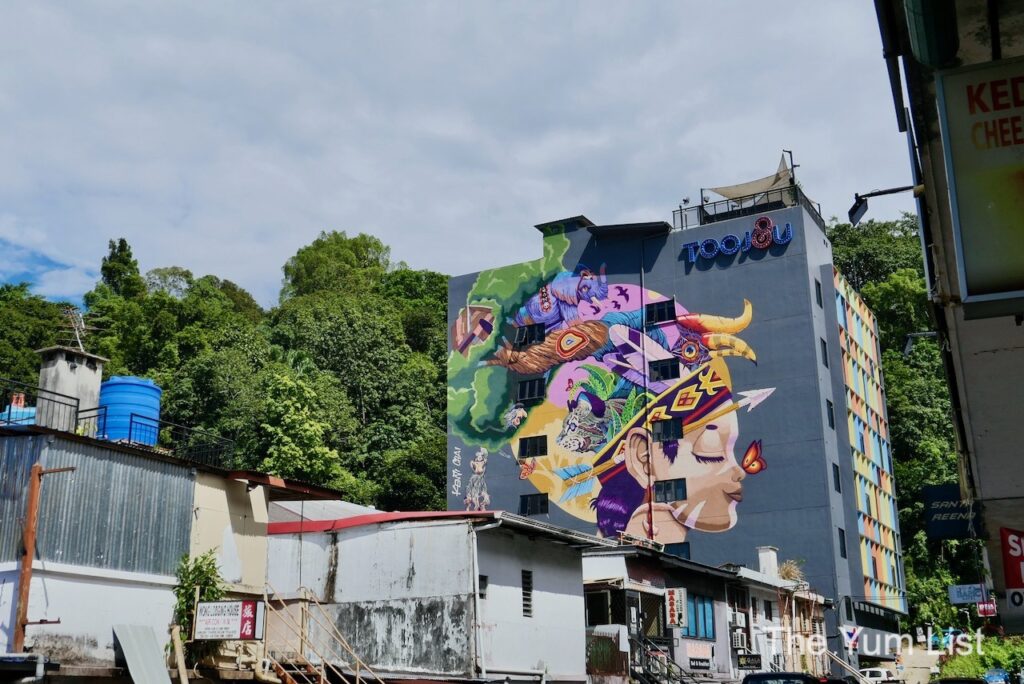 Tana Restaurant & Tamu Rooftop Bar at Toojou Hotel KK
The entire building is a homage to art that celebrates local traditions and cultures. On the building's exterior is a sensational, multistory mural by Kenji Chai depicting a girl with a tribal headdress, made up of notable Bornean mammals, primates and birds. The detail is incredible, and a must for your photo collection. Wilson Ng was commissioned to create the internal stairwell artwork, with each of the six floors dedicated to a key aspect of Borneo's tribal mythology, oceans, animals, plants, food and language. Even if you are not coming To Tana Restaurant for the food, to Tamu Rooftop Bar for the drinks and views, or to stay at Toojou, you must come to see the incredible talent and beauty of the mural artworks.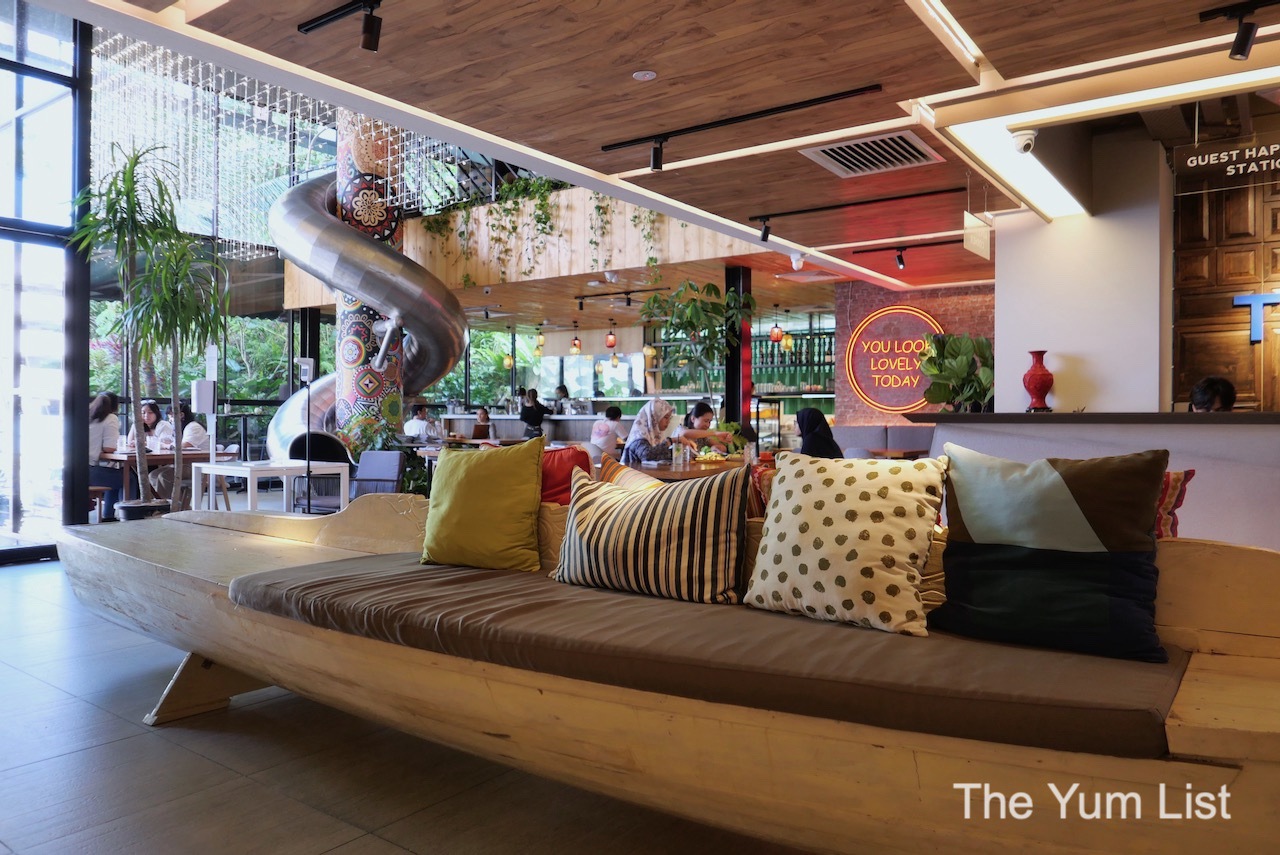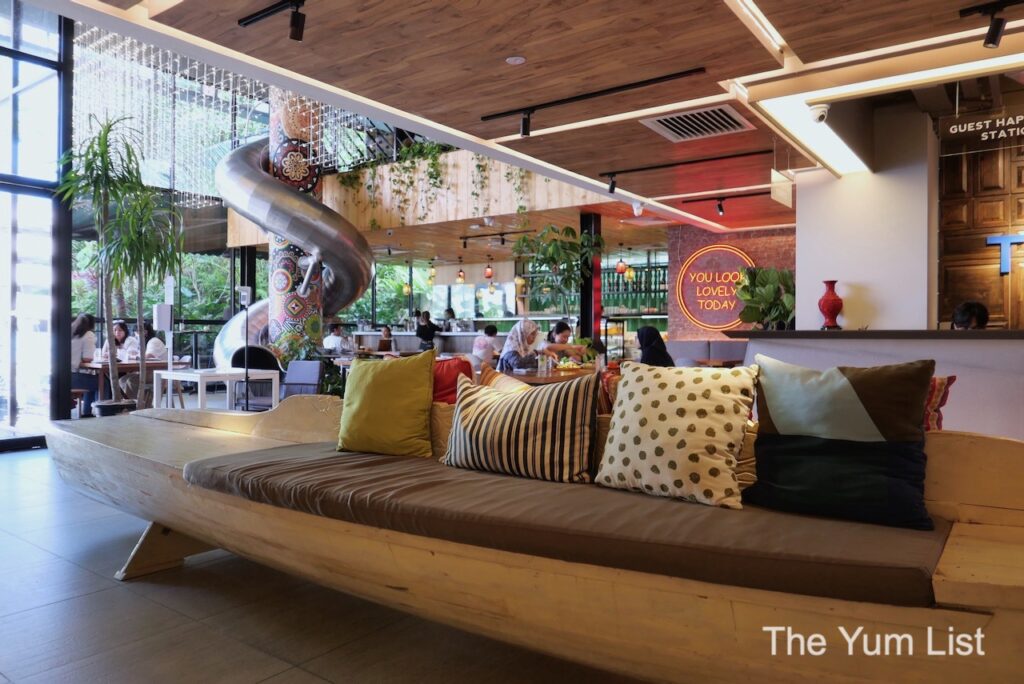 Toojou Hotel Kota Kinabalu
With chilled house vibes, and adapted paintings of traditional Borneo tribal murals on most surfaces, there are so many bright, shiny elements to snare the senses at Tanu Restaurant. A curling slippery slide joins the working spaces above, to the restaurant below, and a restored sampan boat makes a brilliantly converted couch with character. The gang are laid back, and on hand to help. Cheerful smiles and affable openness allow for fantastic, yet chilled service.
Hotel Manager Tea Chua takes us on a quick spin of the floors, showing us the spacious working lounge, with relaxed seating, recycled timber tables with ready power supplies, well-lit cubicles and plenty of options for you to move around and get comfy while you work. At night the area plays host to live bands, and the air hockey table gets more use. At between RM20-30 for a full day of excellent wifi access and a productive atmosphere, it's a great choice for a new generation of digital nomads.
On the hotel floors, cozy yet well-appointed studio rooms offer comfortable beds, more colourful murals and a private ensuite for only RM135 a night, while capsule beds have plenty of safe storage, heavy-duty privacy curtains, comfy mattresses and clean crisp linens and your own powerpoints. At only RM35 a night with shared bathrooms, it's one of the most luxe hostel-style accommodations I've seen. Shared bathrooms are spacious, well lit, with lots of cubicles, sinks and mirrors, and most importantly, they are very clean. Even the most budget traveller can have moments of splendour here.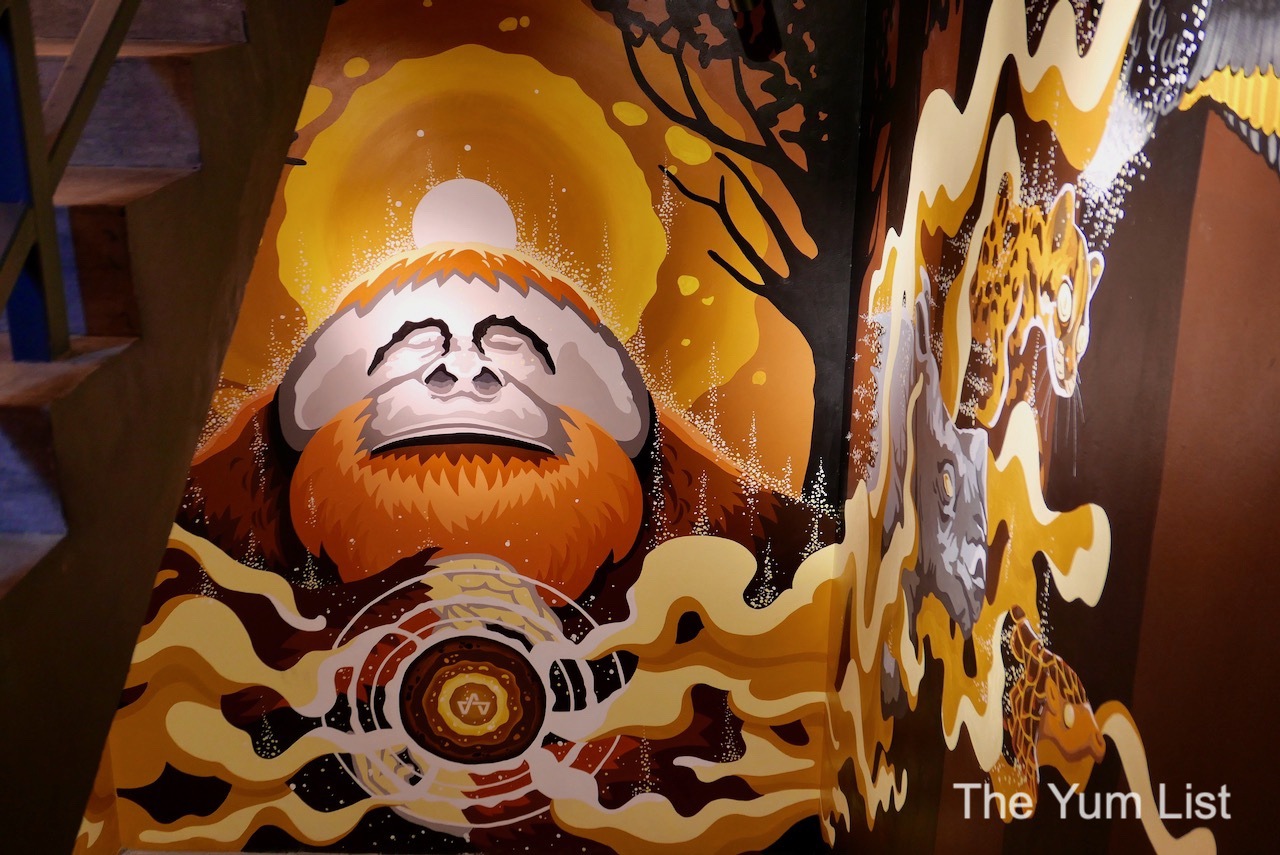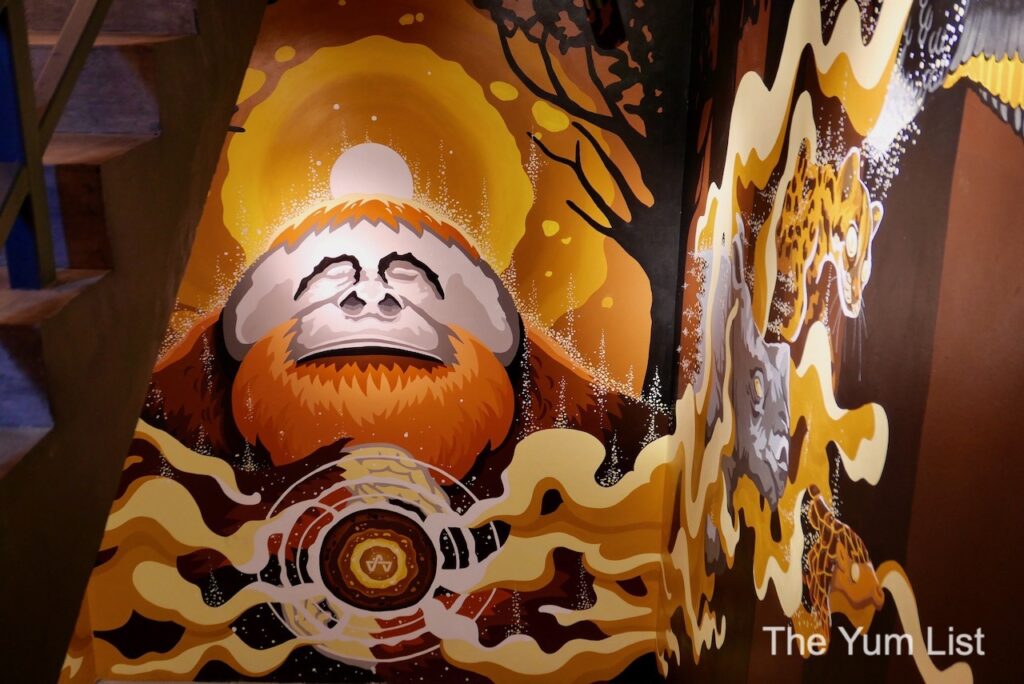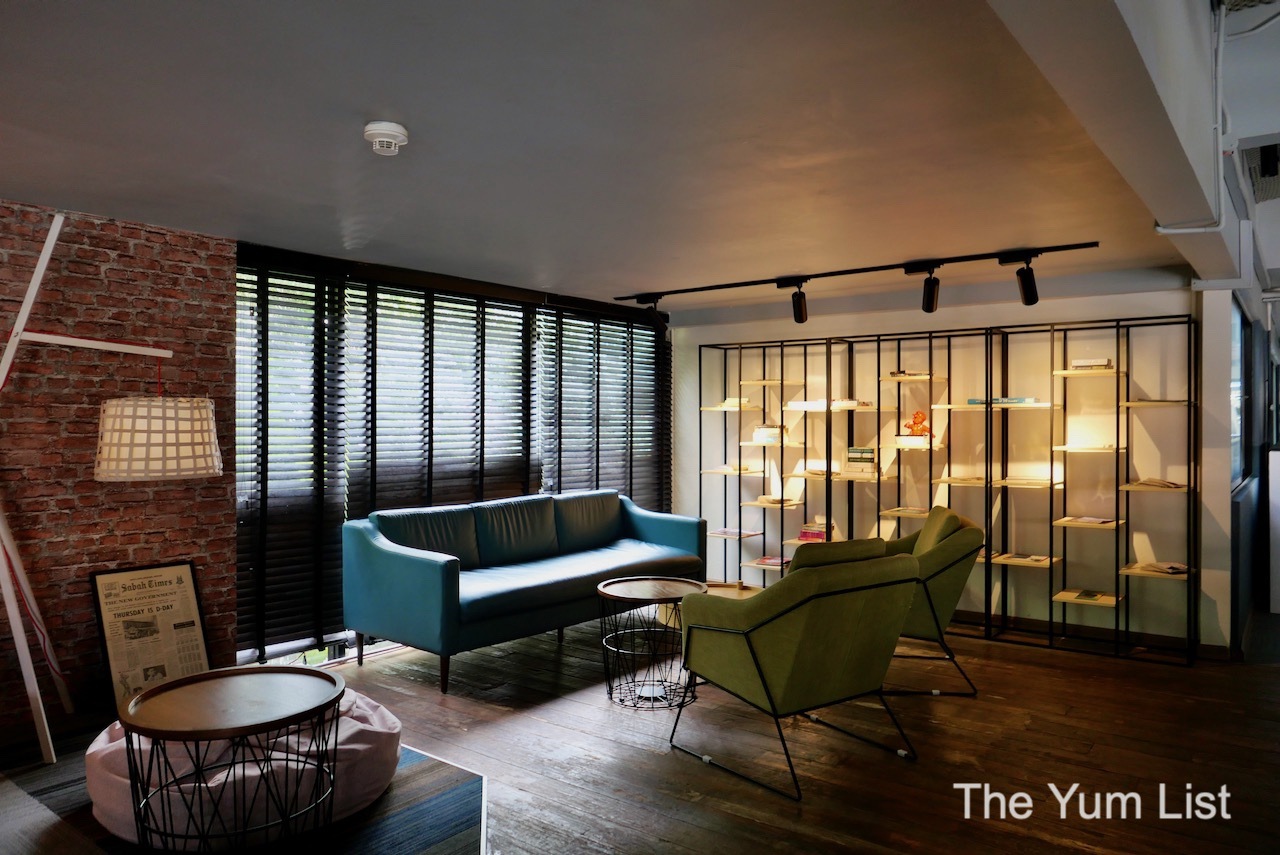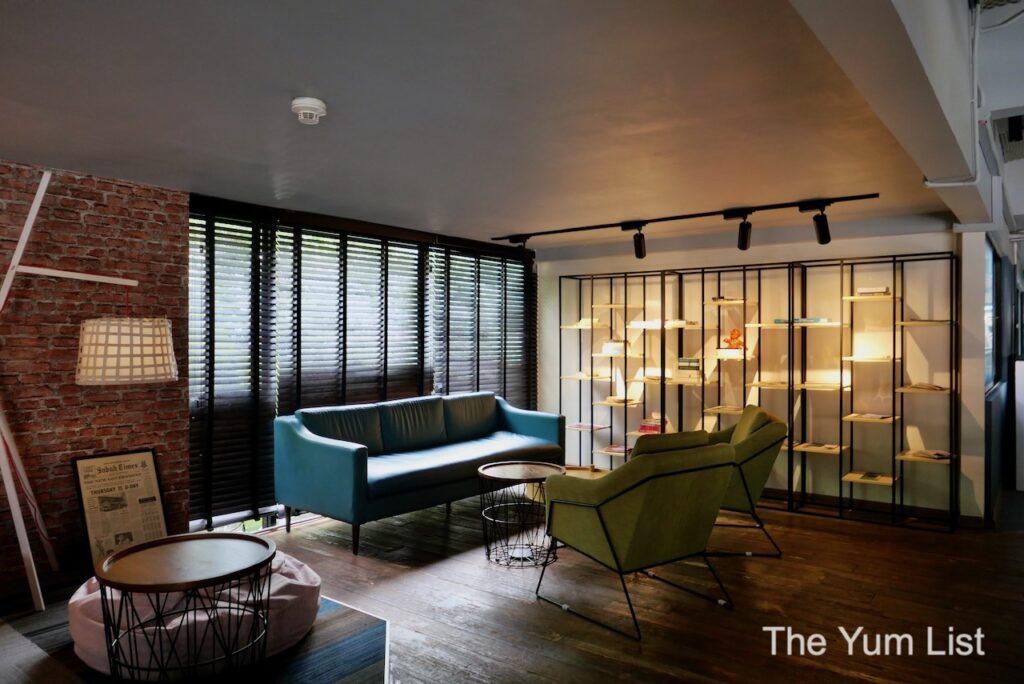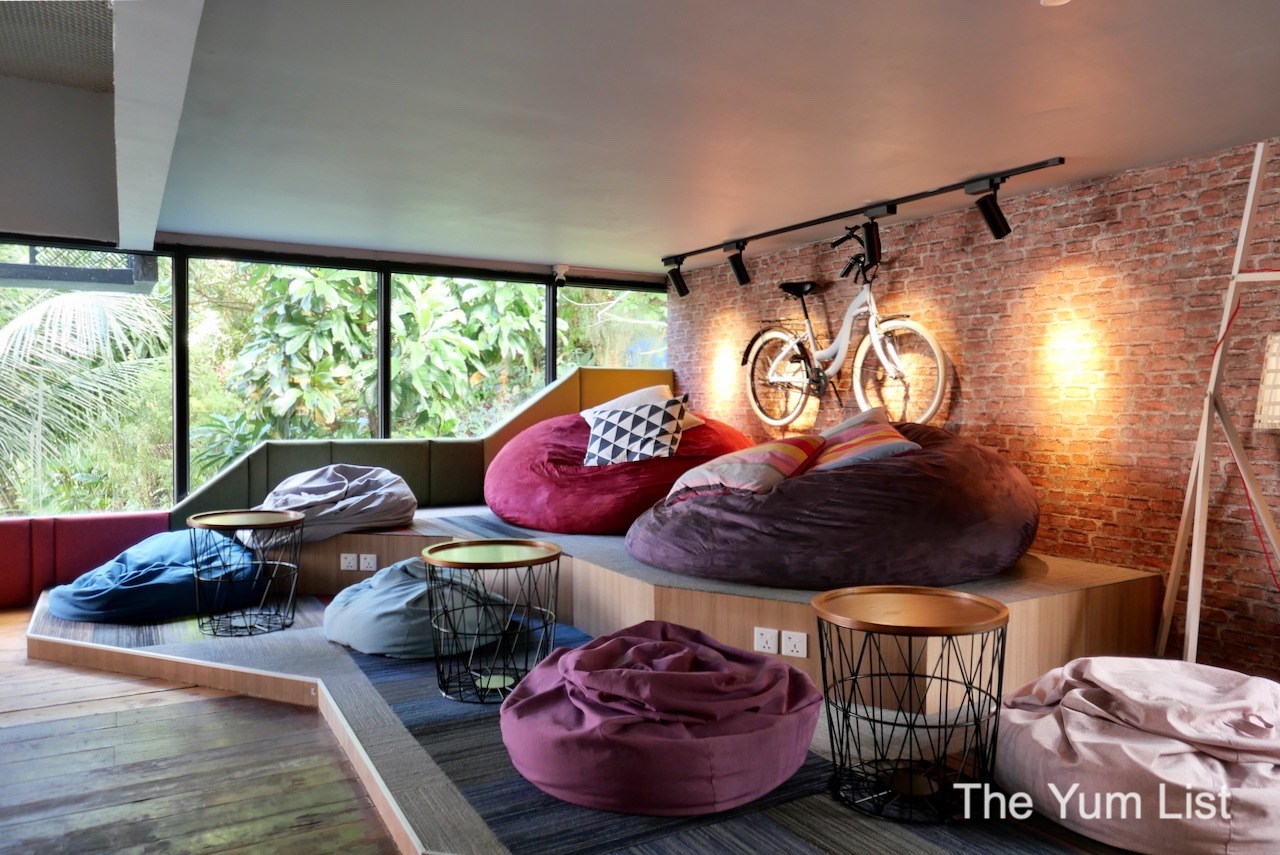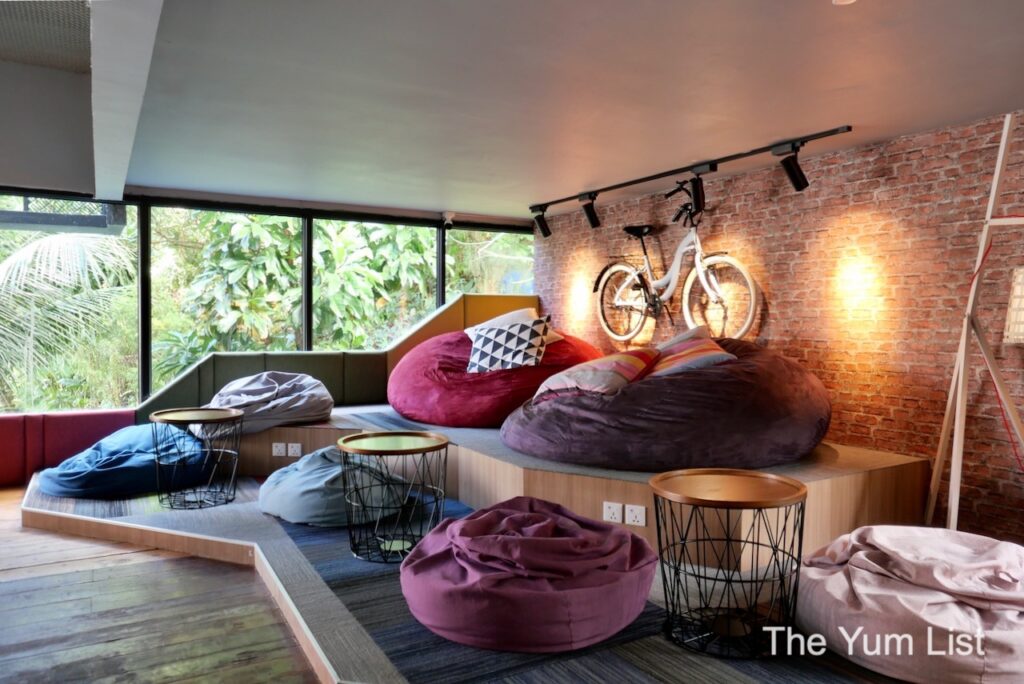 Tamu Rooftop Bar Kota Kinabalu
On the top floor, Tamu Rooftop Bar is an explosion of colour with prime jungle views. A great place to see the burning sunset sky, they offer Sunday free-flow cocktails for only RM60 for guys, and at no cost at all for girls from 5-7 pm. Spacious and Inviting corner couches are the best place to view the glow-in-the-dark mural and twinkly lights as the sun goes down.
Tana Restaurant Kota Kinabalu
We are dining at Tana Restaurant at Toojou for lunch today. The menu is designed by fine dining Sabahan master chef Raphael Lee. Nordic-inspired dishes featuring local ingredients bring Raphael's lofty goals of taste sensations to the masses. Meals at Tana Restaurant are humble, yet high achieving.
Welcoming staff serve us with a glass each of Chrysanthemum and Osmanthus, and Starfruit Kombucha (RM13). Effervescent with a pungent zip to the finish from the fermentation, both of these flavours are moreish and extremely thirst-quenching.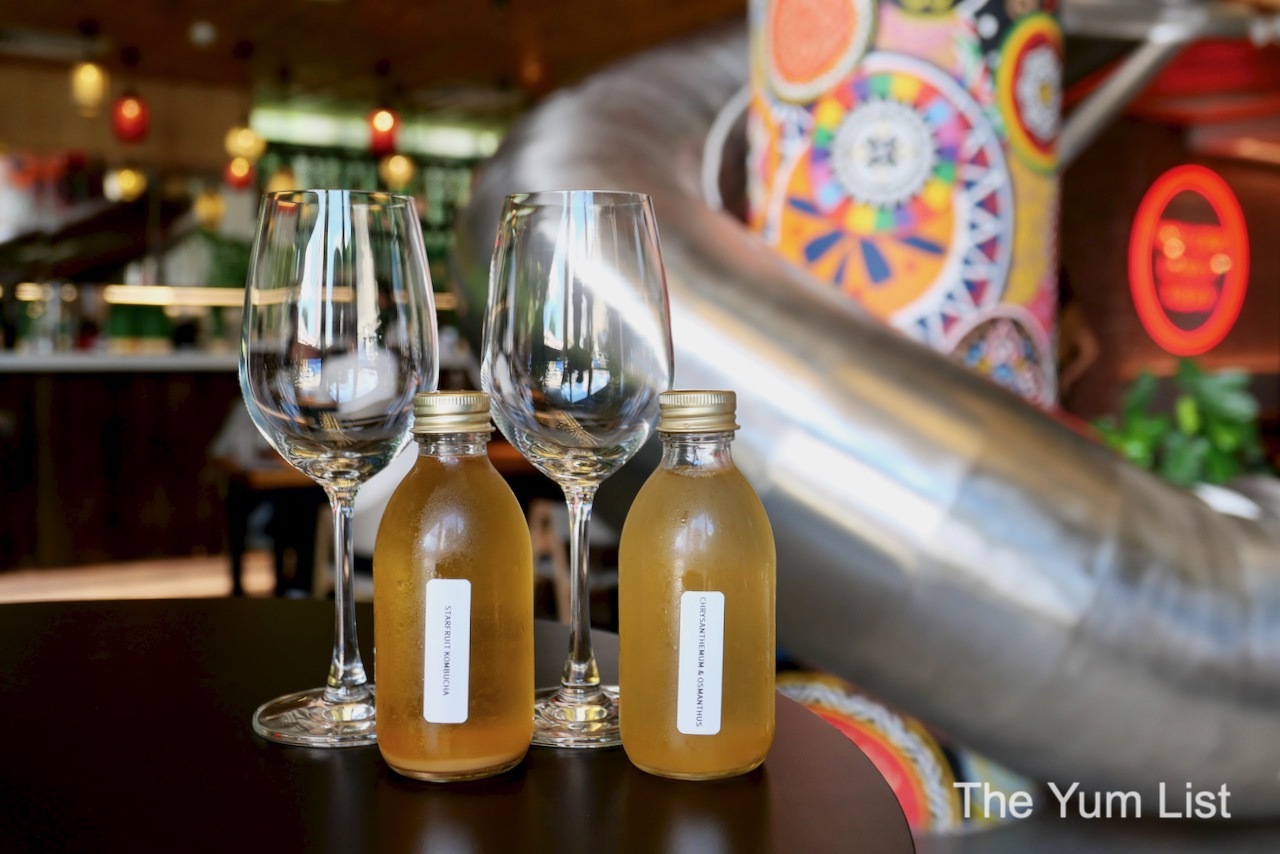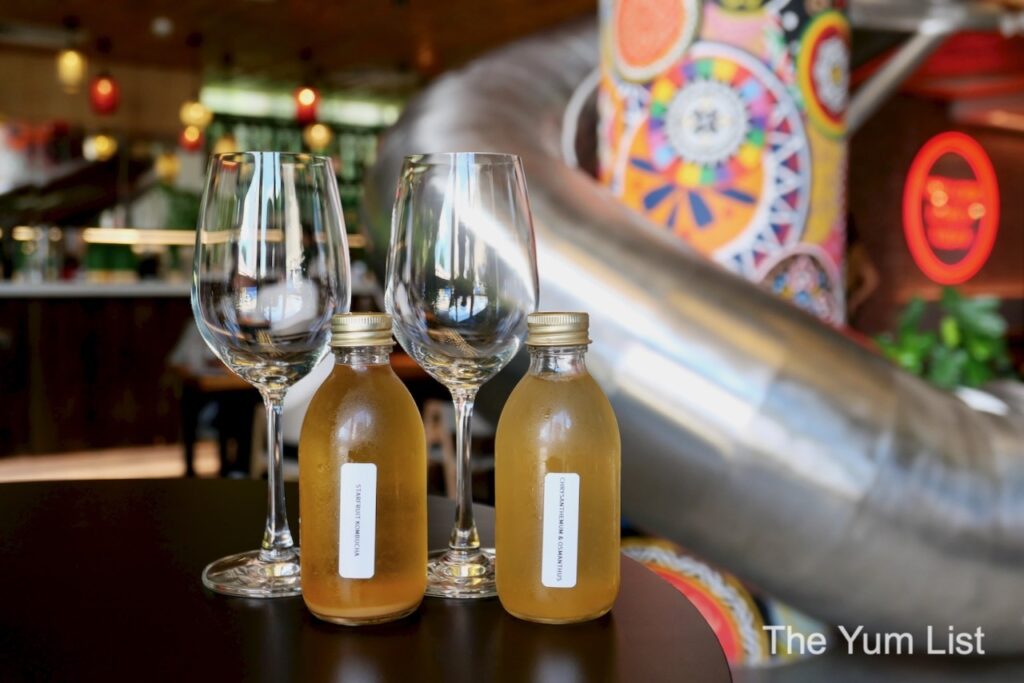 Smørrebrød (Danish Open Sandwiches)
The menu has a range of smørrebrøds available or Danish open sandwiches. Using a fresh-baked, rustic sourdough bread base, the Four-hours Roasted Beetroot & Brown Butter (RM 17) Smorrebrod is slow-roasted sweet veggie goodness. The beetroot is cooked with a balsamic glaze for a caramelised finish and served with microgreens and dots of creamy smooth creme fraiche. A vegetarian option, it is still filling and packed with flavour.
We also try the Grilled Chicken Breast & Fried Spinach (RM 16). The grilled chicken has an unexpected smoky taste from the grill, while still retaining its succulent juiciness, thanks to the shio koji flavour. The dish is a full meal with a layer of cured egg yolk, which flops over the edges like melted cheese. It also comes with spring onion and local greens.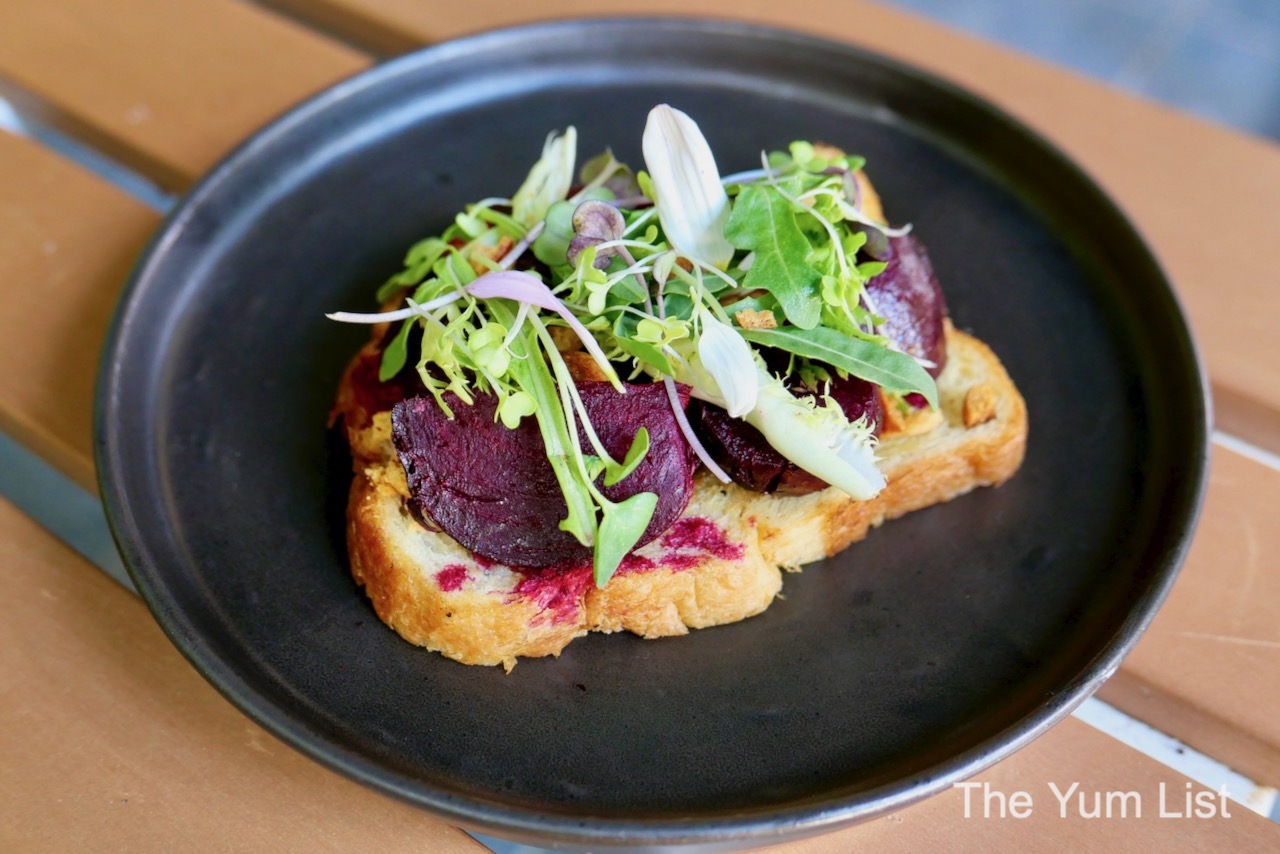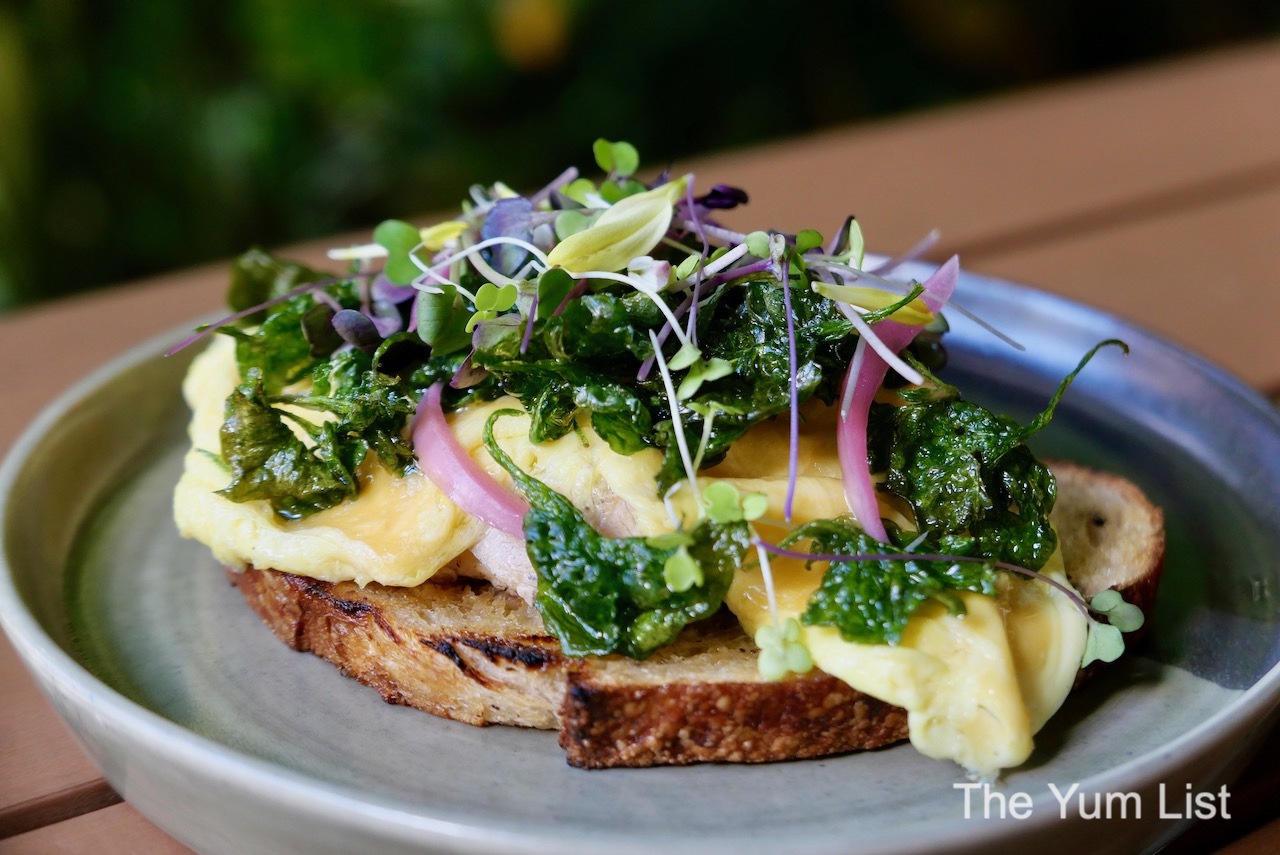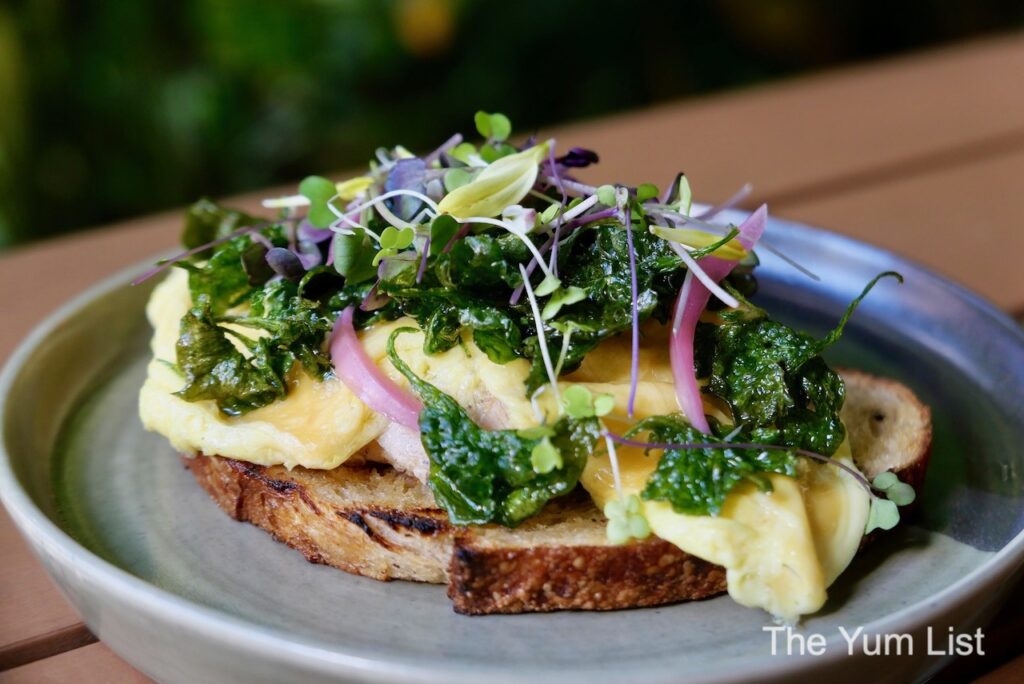 Mains
The Scandinavian Style Rosti (RM 25.3) comprises thinly shaved potato, crispy fried with butter to retain its inner softness. A softly scrambled egg is accented with a dollop of tangy creme fraiche and a twist of lemon. A side salad of mesclun lettuce, cherry tomatoes and pickled onion counteracts the naughtiness of the fried potatoes.
A whole Roasted Chicken Leg Marinated in Shio Koji (RM 27.8) infuses an element of herbaceous green within the chicken itself. Cooked with skin on, it is completely mouthwatering. A vibrant stalk of rosemary adds its earthy aroma to both taste and smell. A generous portion of shitake mushrooms and grilled pickled cabbage is reminiscent of sauerkraut but with a more gentle, approachable flavour.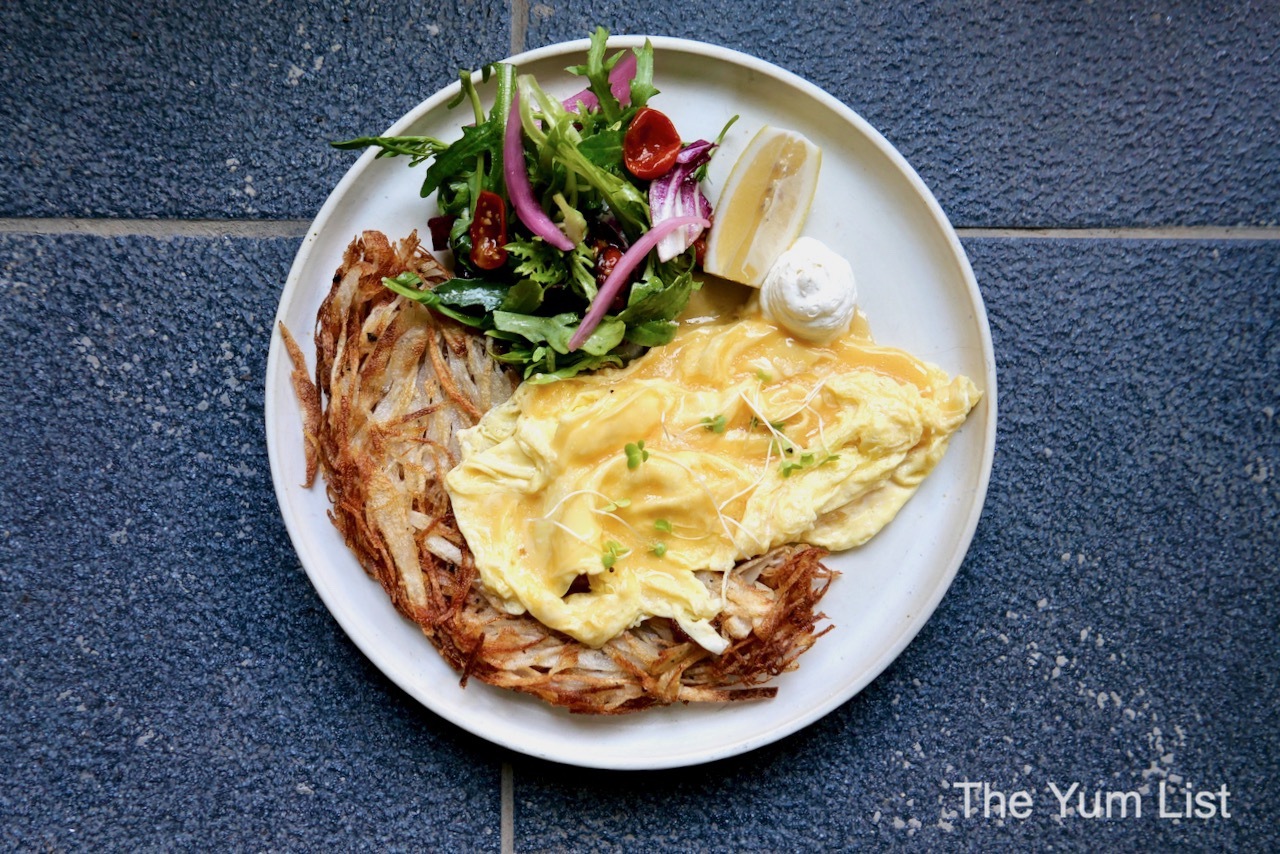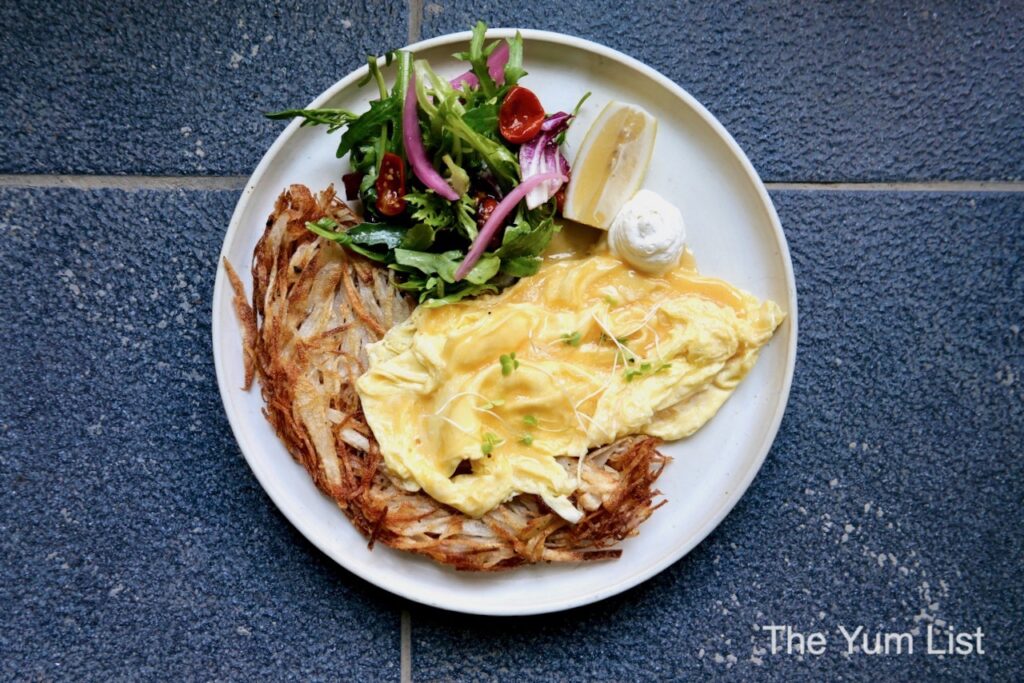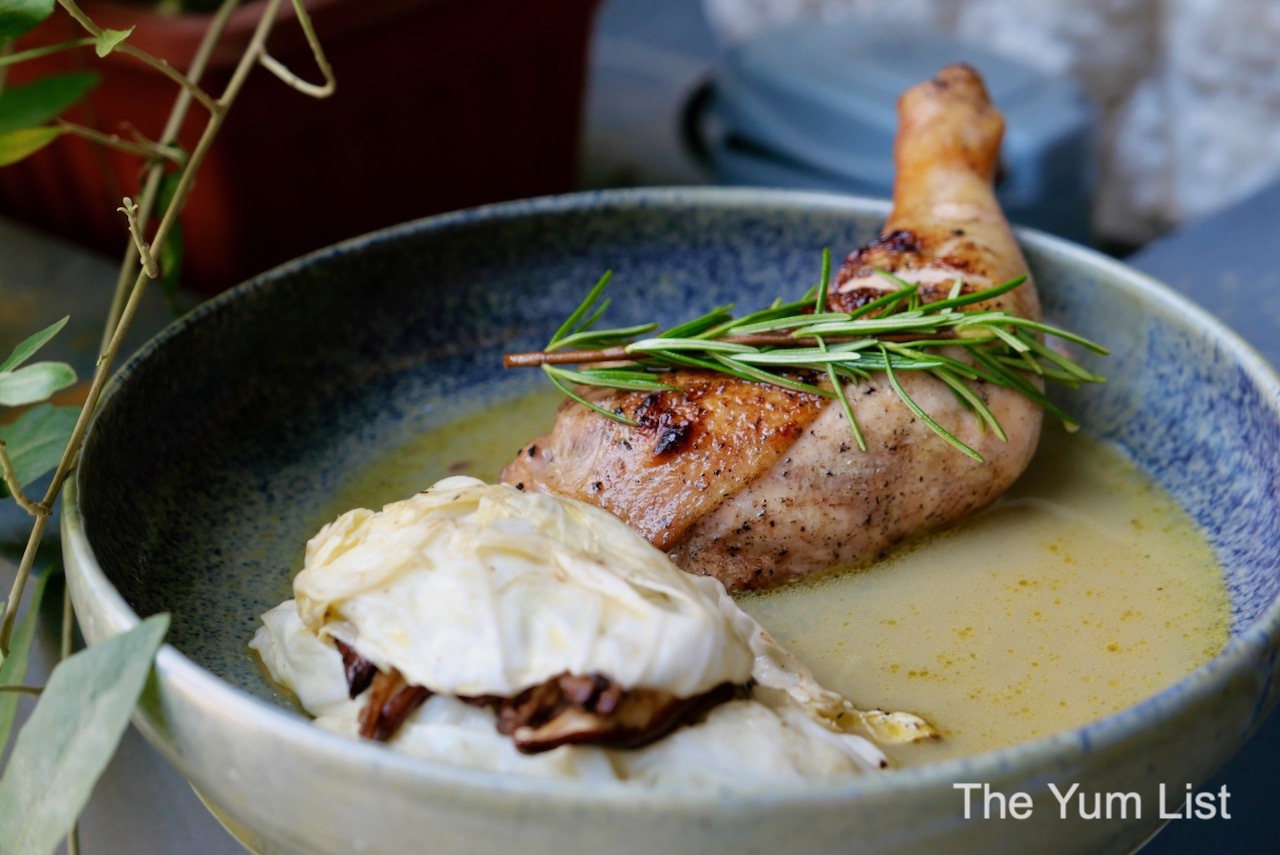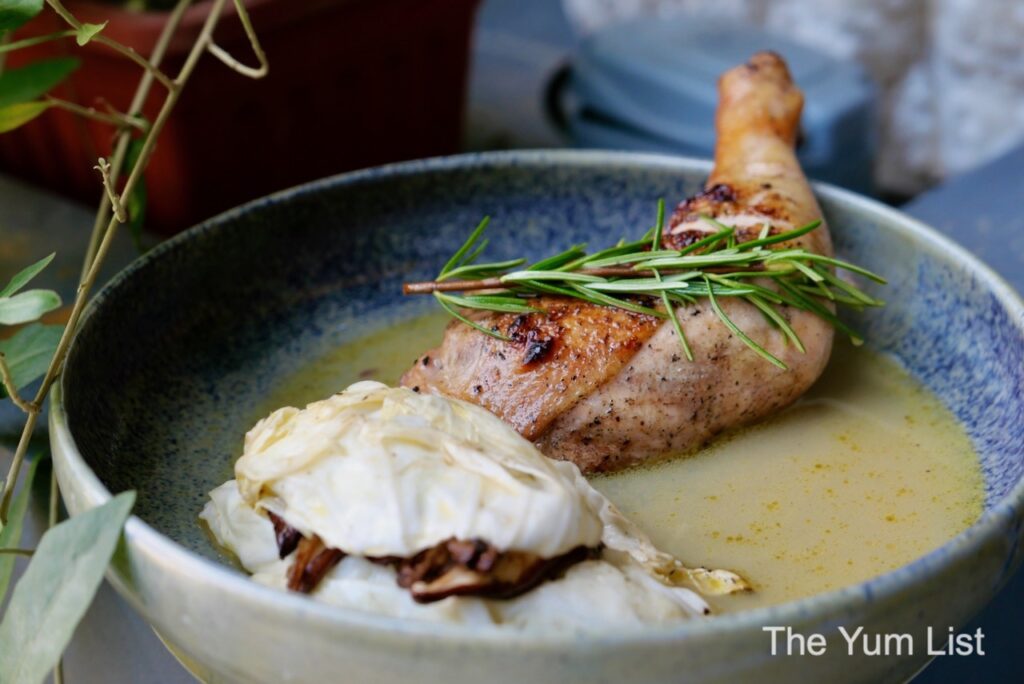 Dessert
A selection of desserts is available on rotation. Today there is a selection of Swiss rolls in keeping with the Scandinavian theme. With strawberry, mango, coconut pandan and yoghurt grape available, the decision is not an easy one. We select one mango and one coconut pandan and have them with a well balanced, expertly poured latte from their espresso machine.
Topped with cute dollops of sweetened cream icing and fresh chunks of mango and pandan gelatine. The soft, fluffy sponge roll hides a treasure trove of more sweet cream and further chunks of mango or coconut pandan inside. Tea tells us the coconut pandan is his favourite, and I have to agree with him!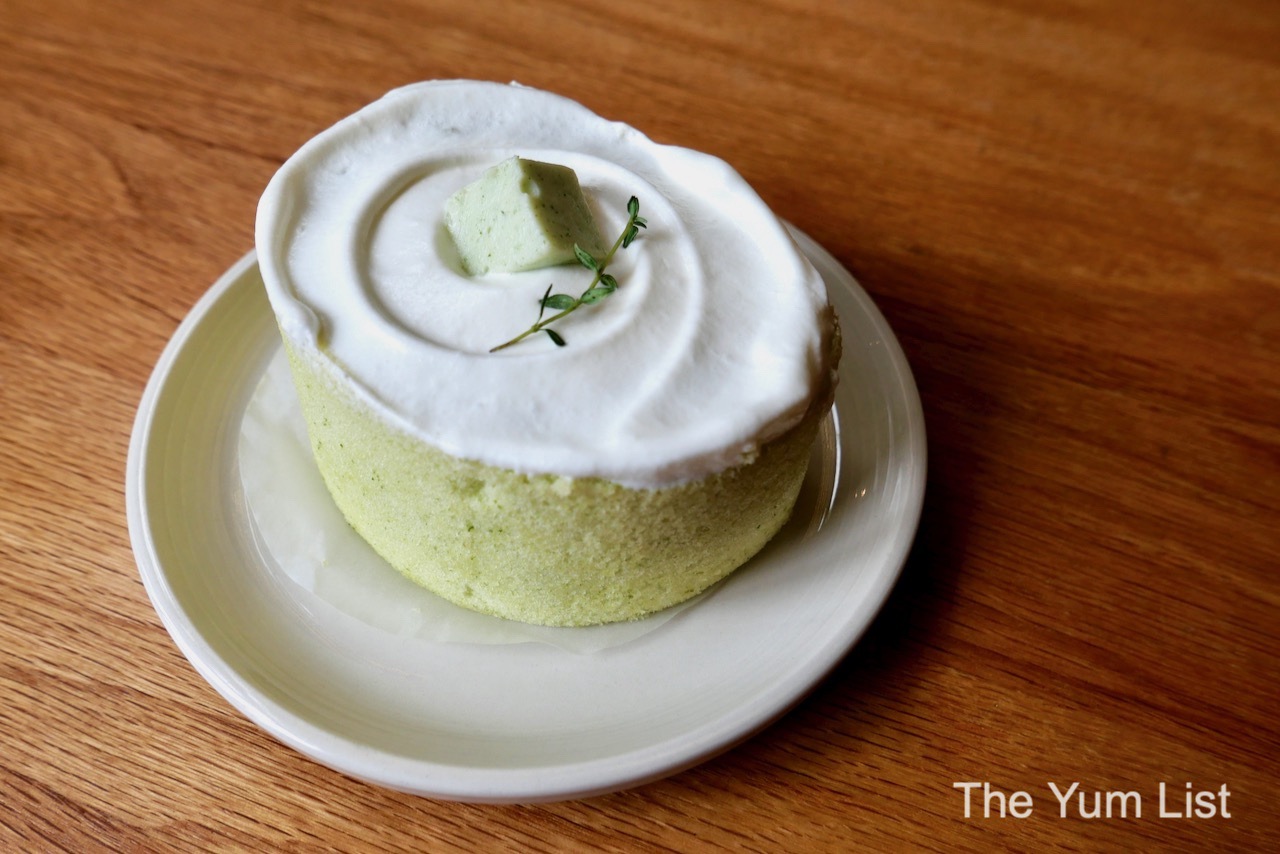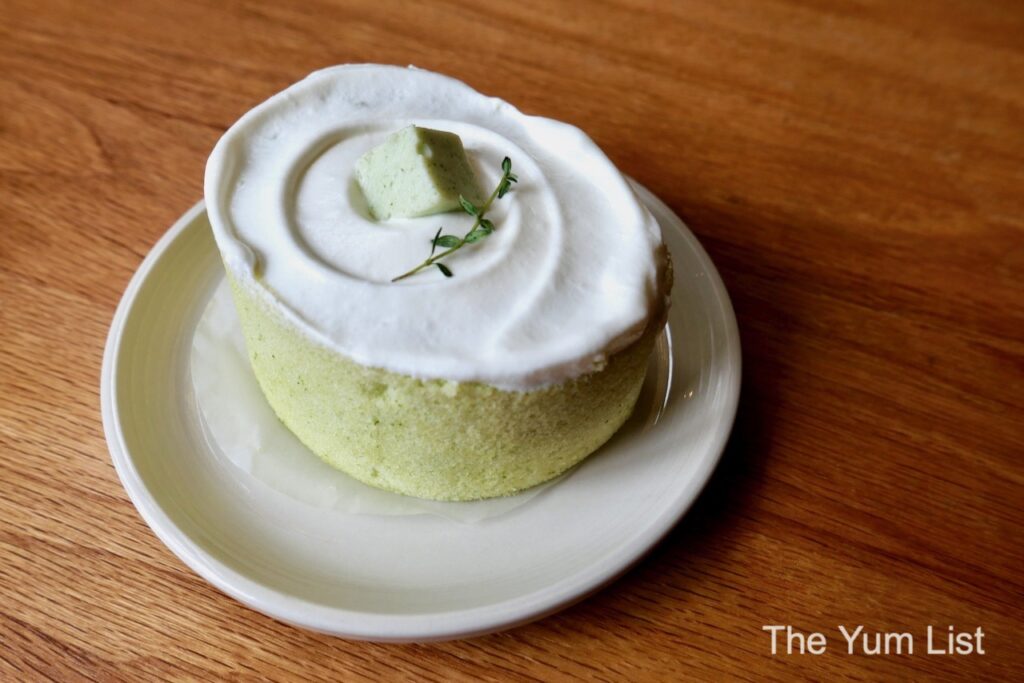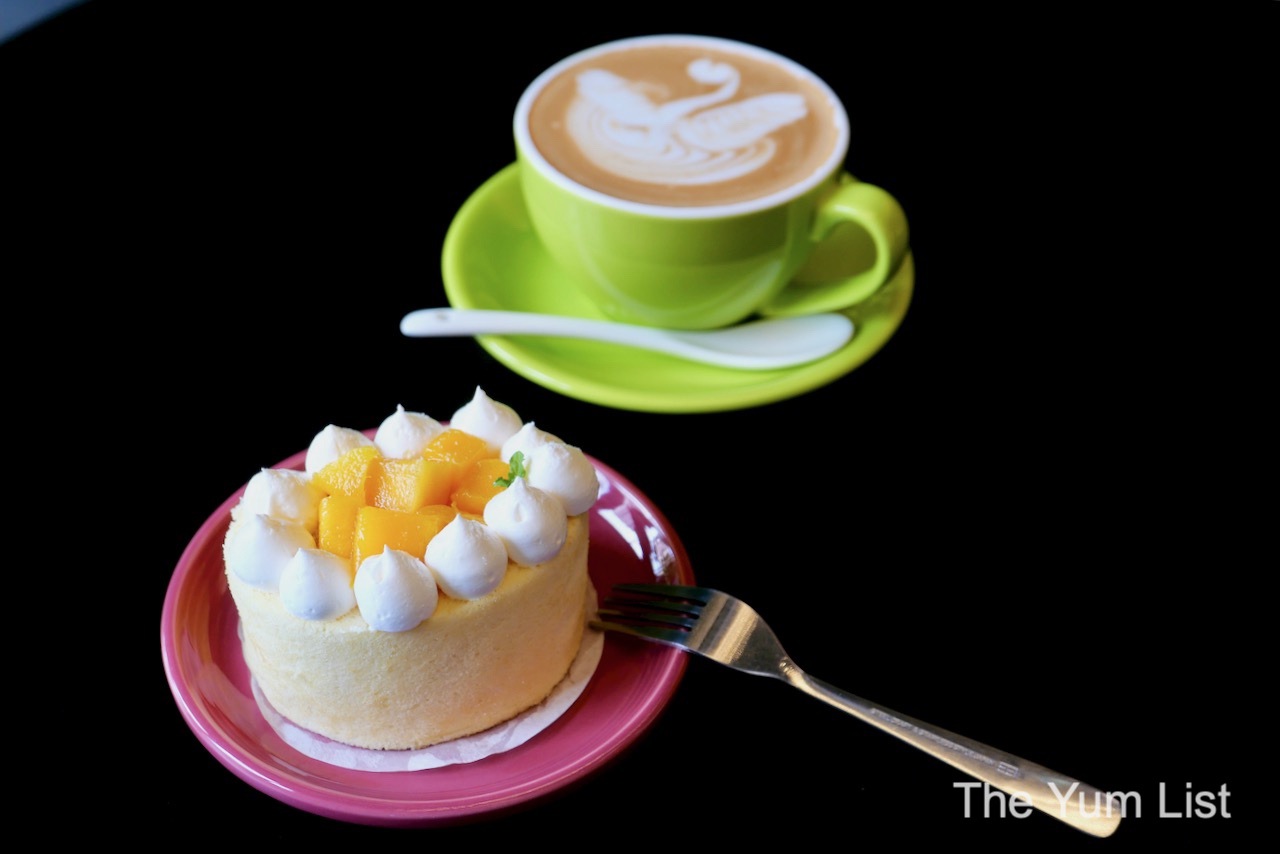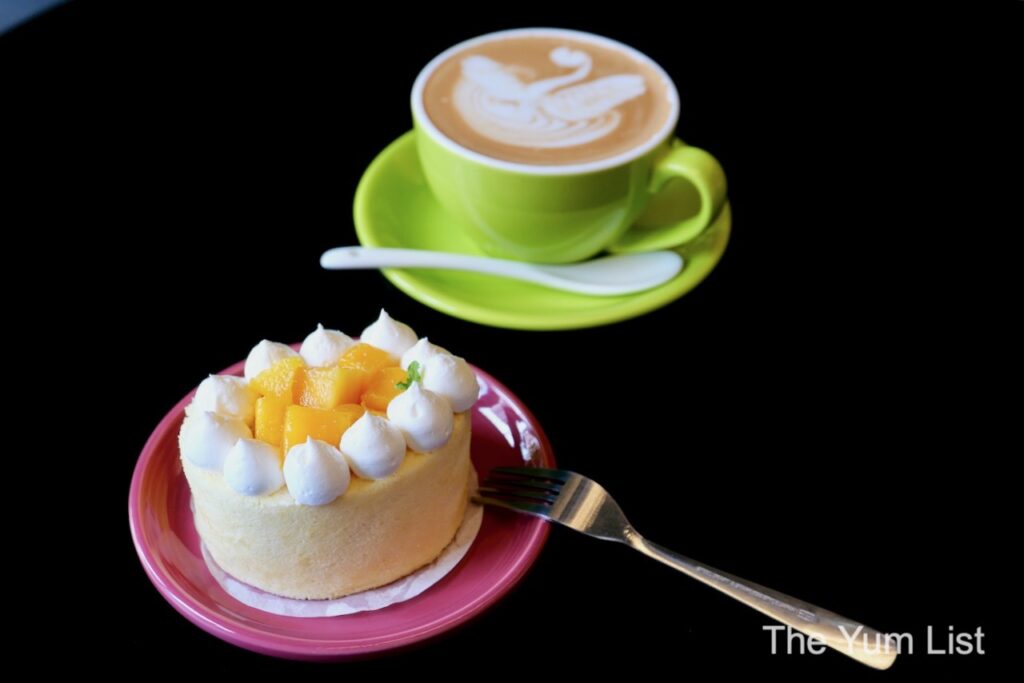 Tana Restaurant Drinks Menu KK
It's 5 o'clock somewhere in the world, so we outrageously order some cocktails to go with our lunch. Tana Restaurant has four signature cocktails available for RM32 each, as well as some spirit pours for RM25, and some reasonably priced bottles of red and white wine.
The Espresso Martini is lush and rich with coffee. Easy to drink, it's the perfect afternoon pick-me-up. The Mojito is punchy with mint and lime, and a decent amount of white rum. For well known classic cocktails, both of Tana Restaurant's versions are high quality, strong, and smooth. Very easy drinking.
The menu also has a range of teas, mocktails, and ice blended drinks if you don't feel like an alcoholic beverage.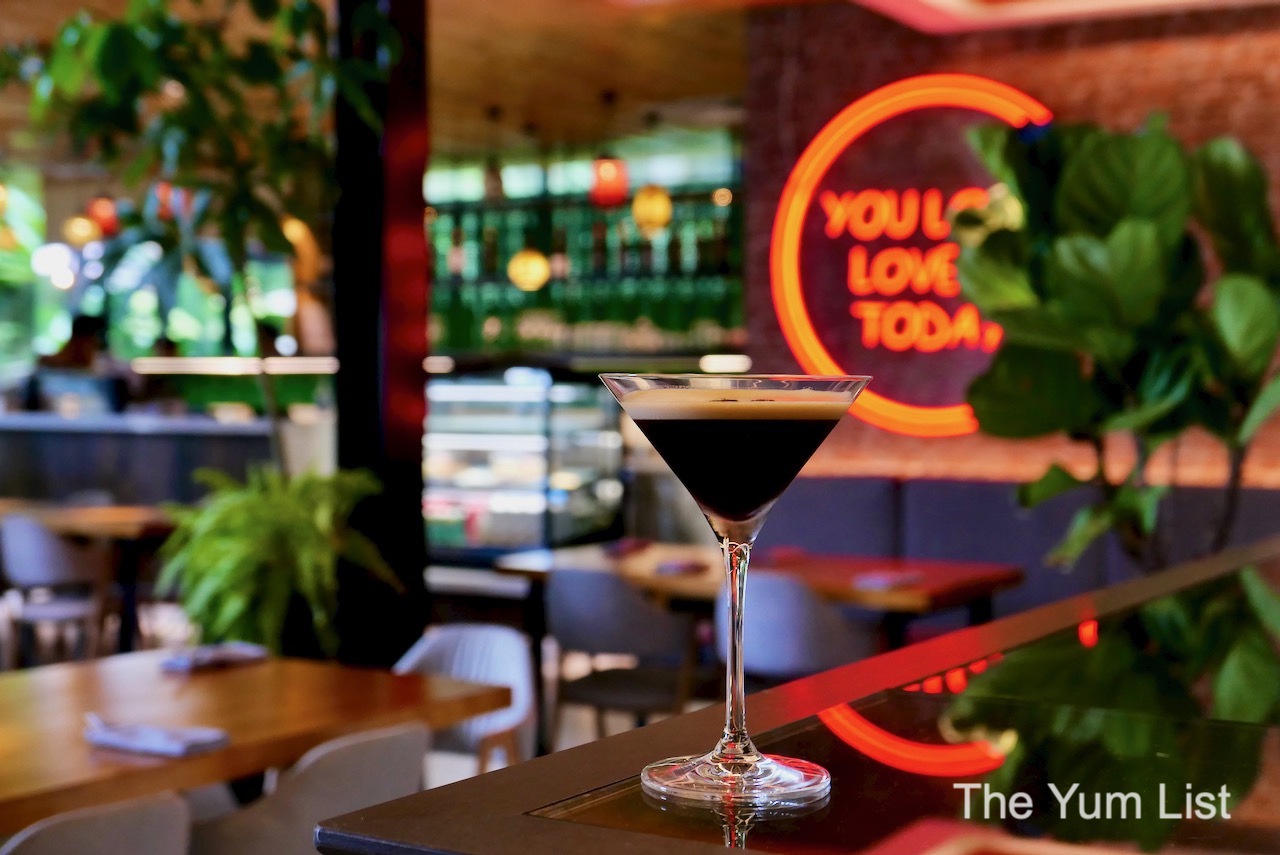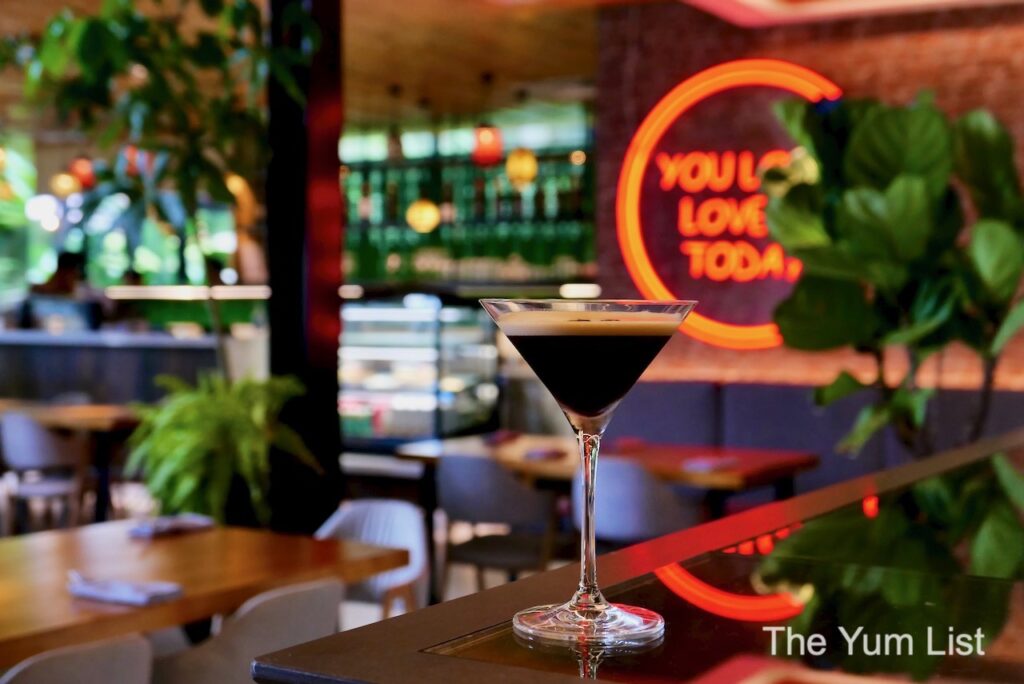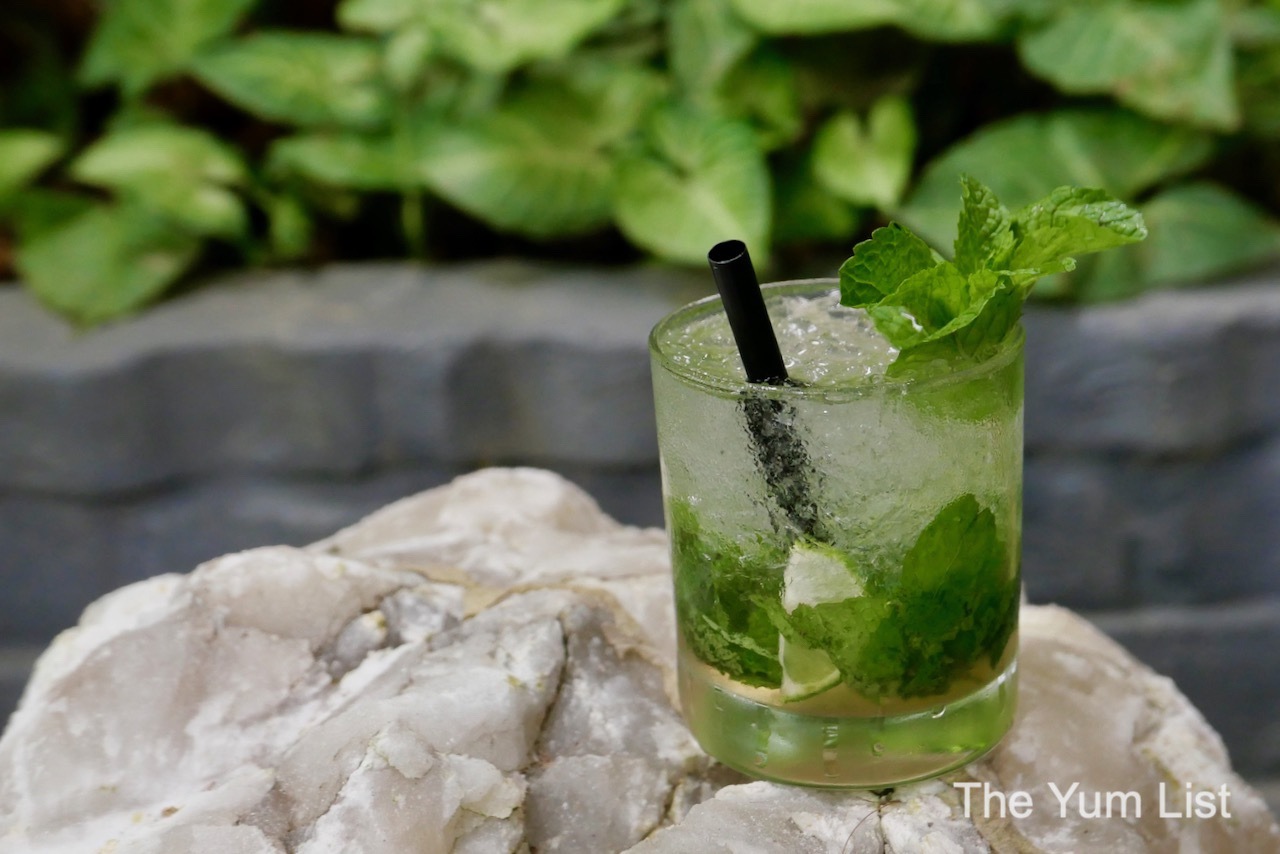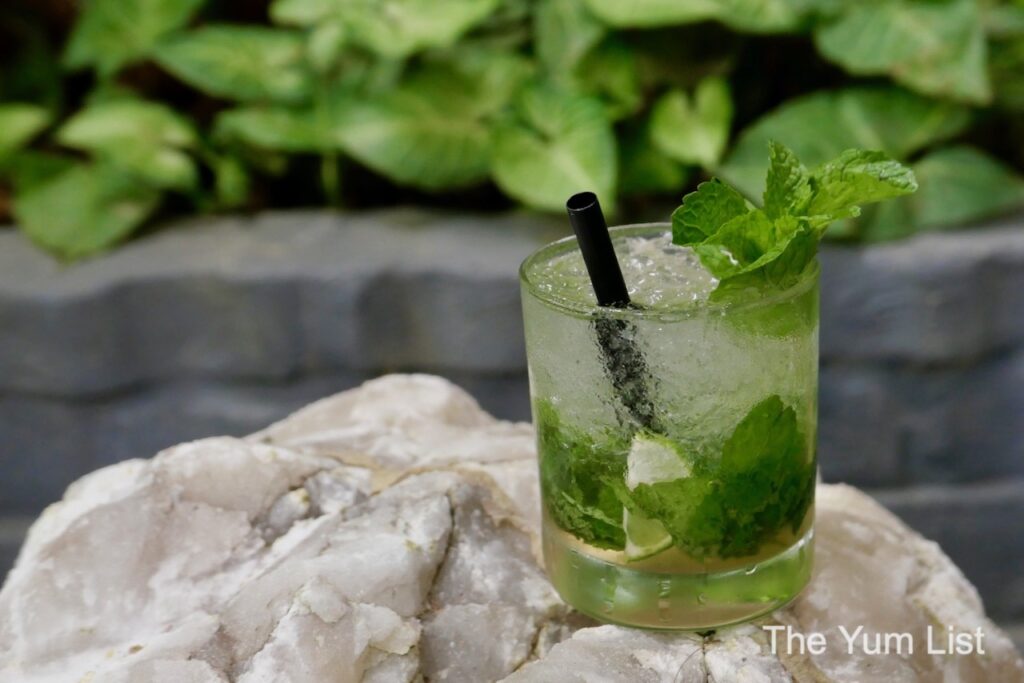 Tamu Rooftop Bar KK
Once 4:30 pm ticks around, it's time to put away the laptop and head up to the roof for a continuation of cocktails! Whether you are visiting Kota Kinabalu or a local, Tamu Rooftop Bar is the hangout venue of choice. While you might get premium ocean sunset views from other locations, this is the only place where sunsets have the stunning backdrop of dramatic jungle greenery.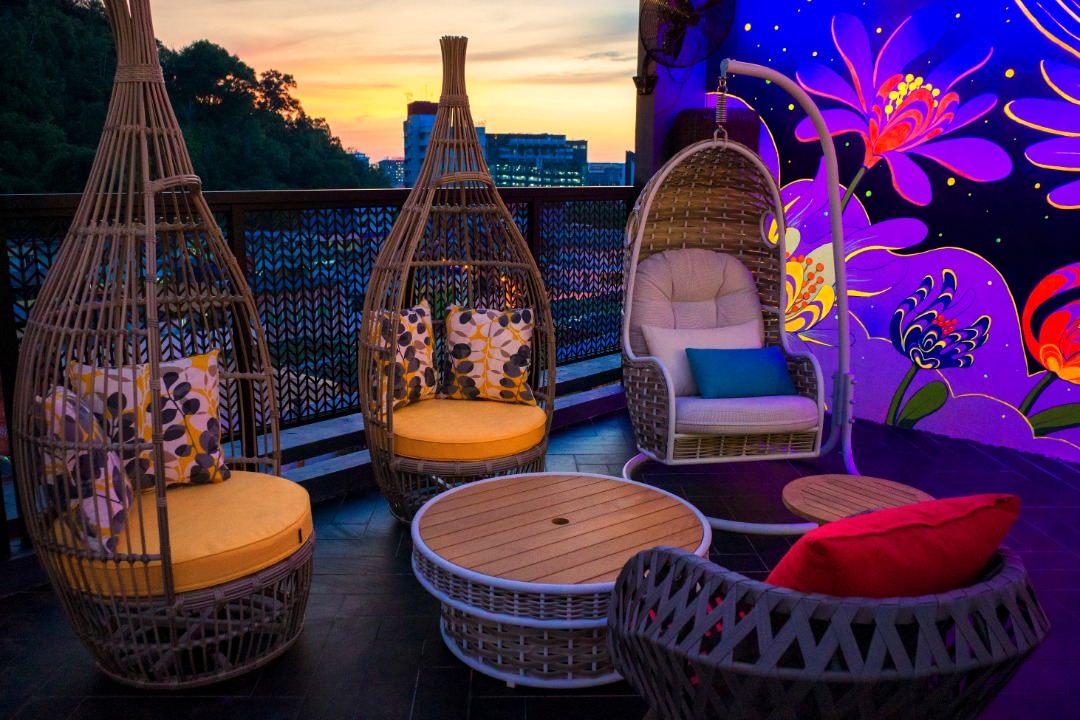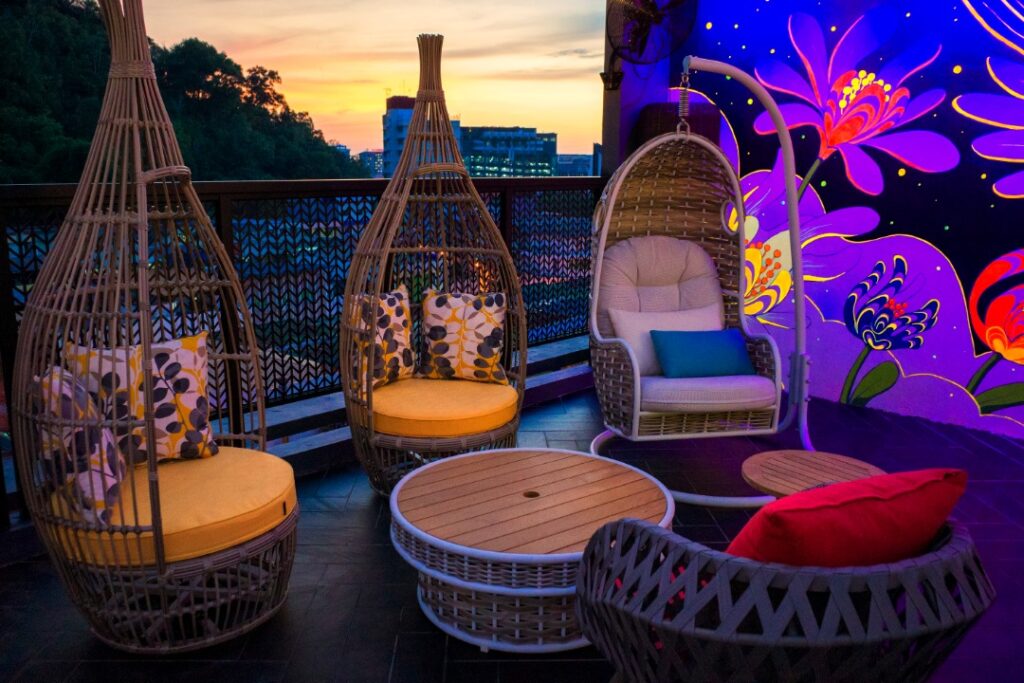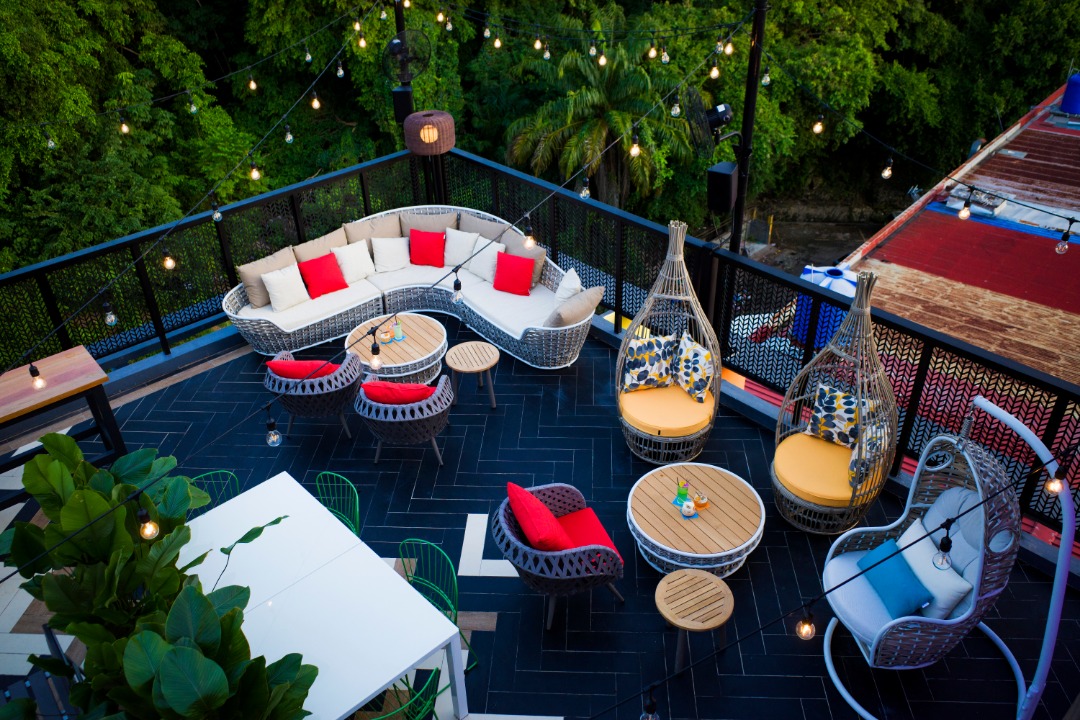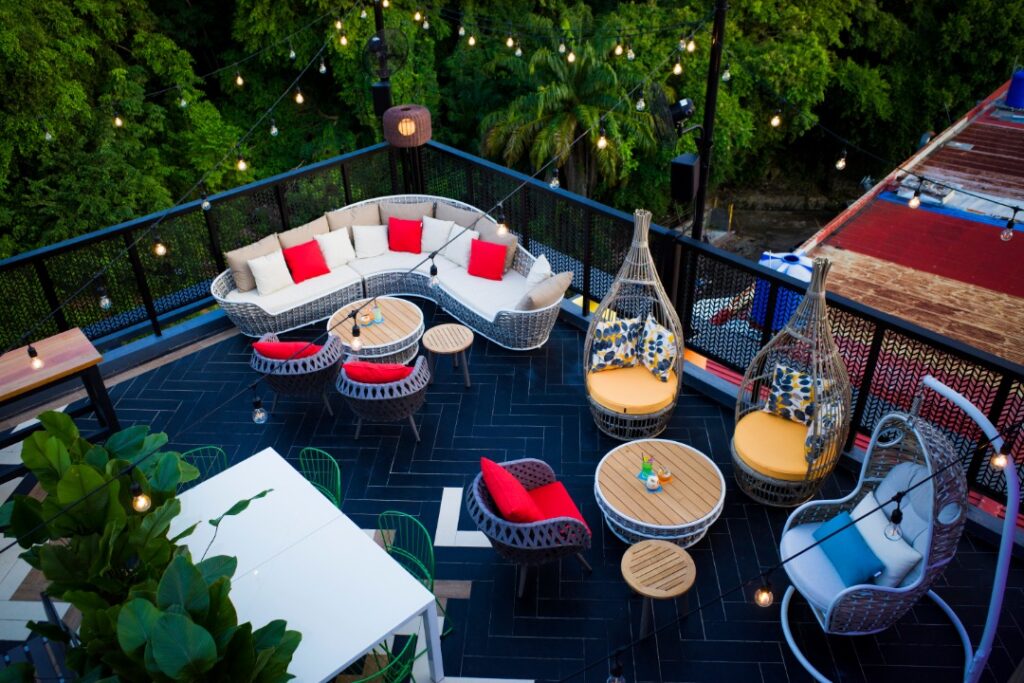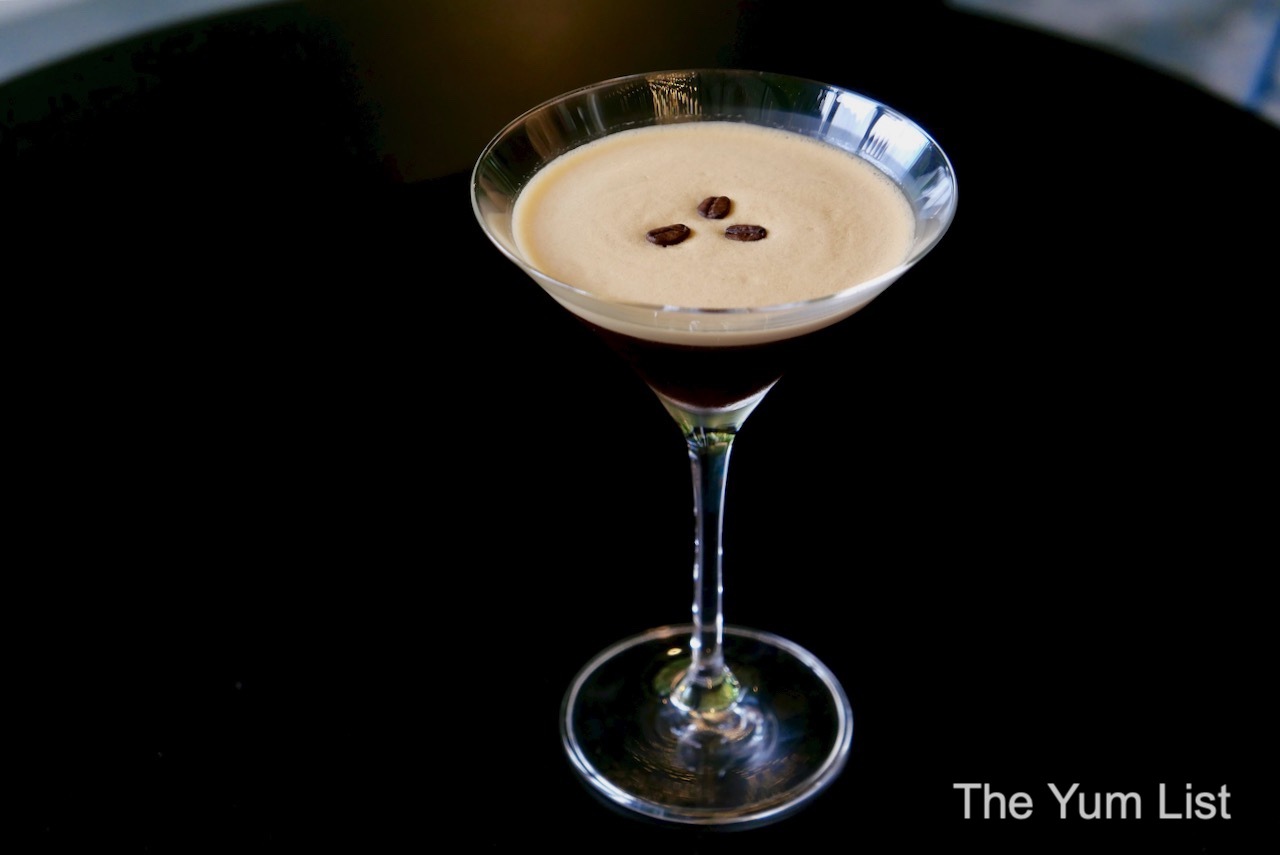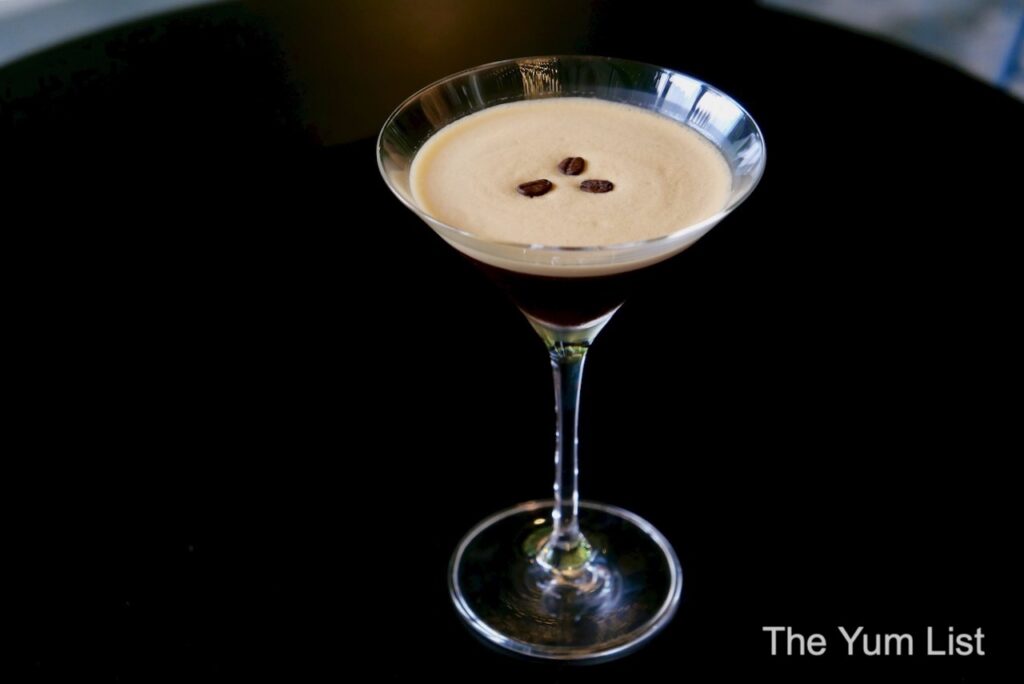 Reasons to visit: Tana Restaurant's smørrebrøds and beautifully made coffees win us over, as well as their kombucha, and well-made classic cocktails. We recommend visiting Tamu Rooftop bar for prime sunset views over the jungle hills behind Kota Kinabalu. Lastly, whether you're visiting Kota Kinabalu or are a Sabahan local, the artworks by Kenji Chai and Wilson Ng are a must-see.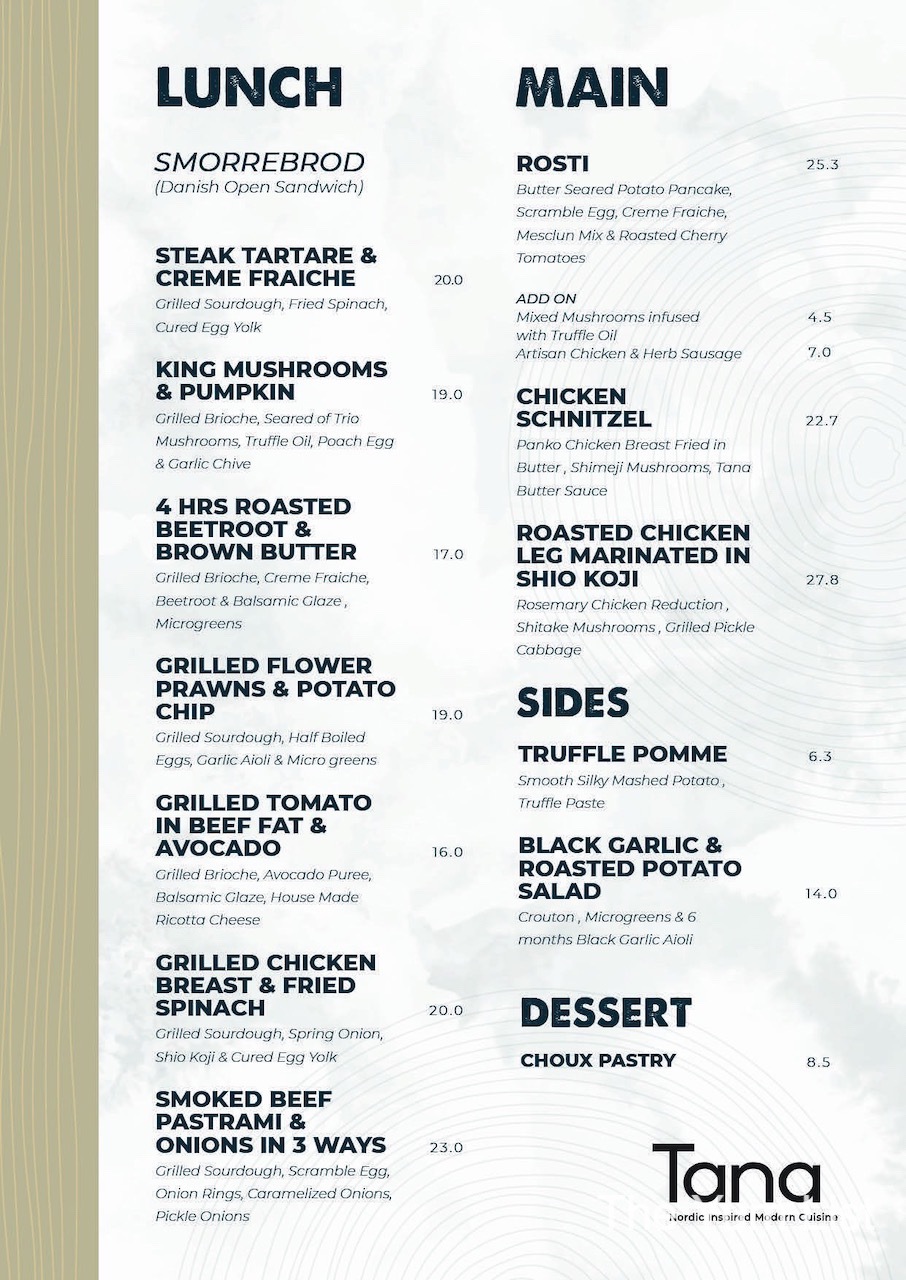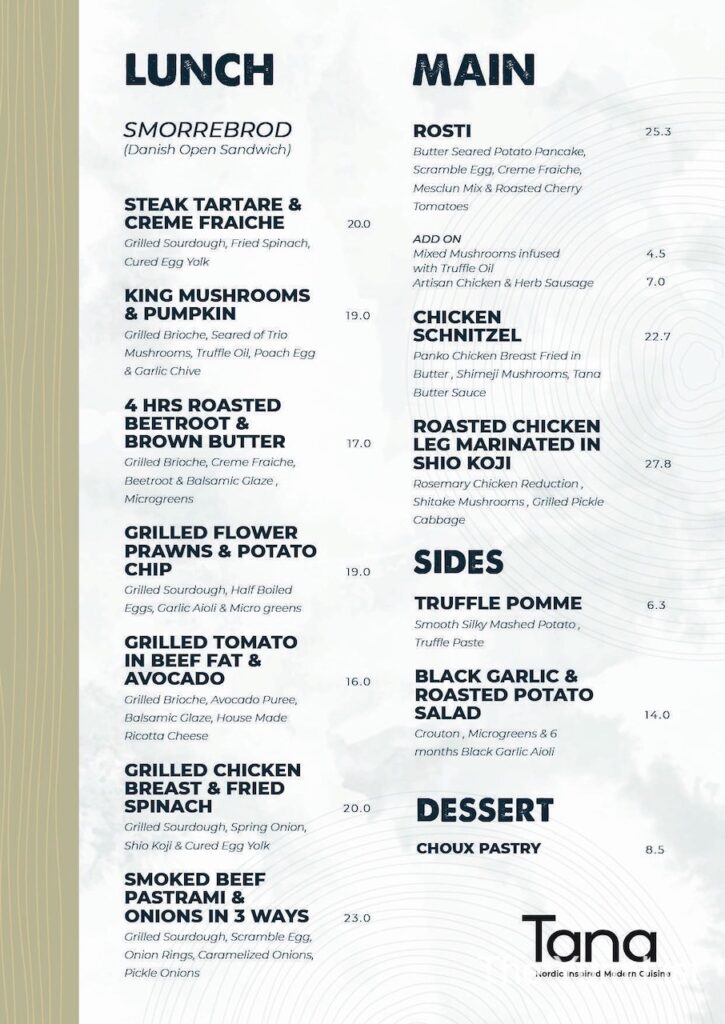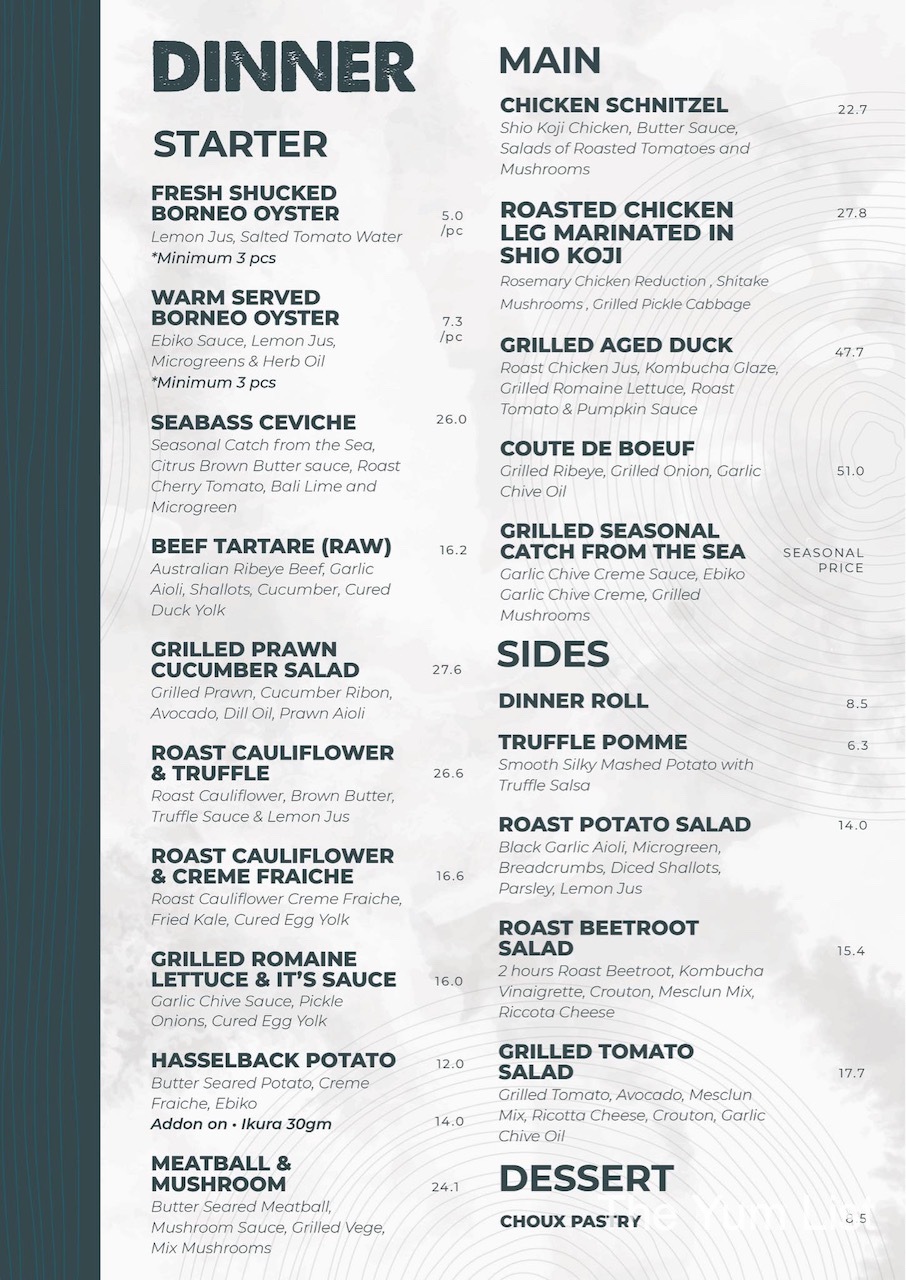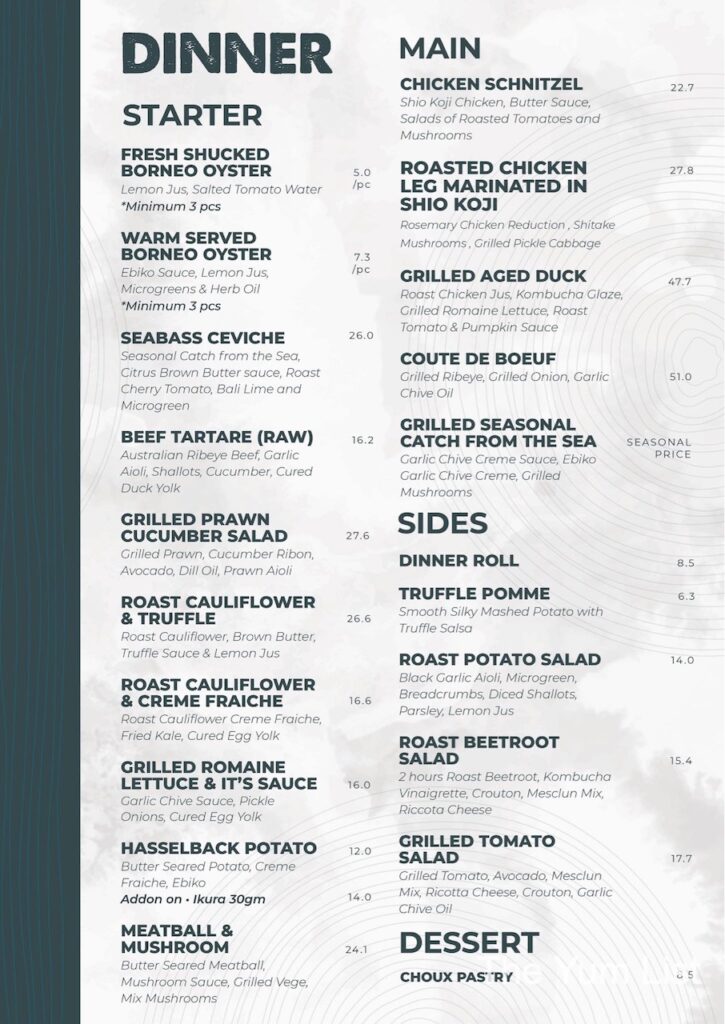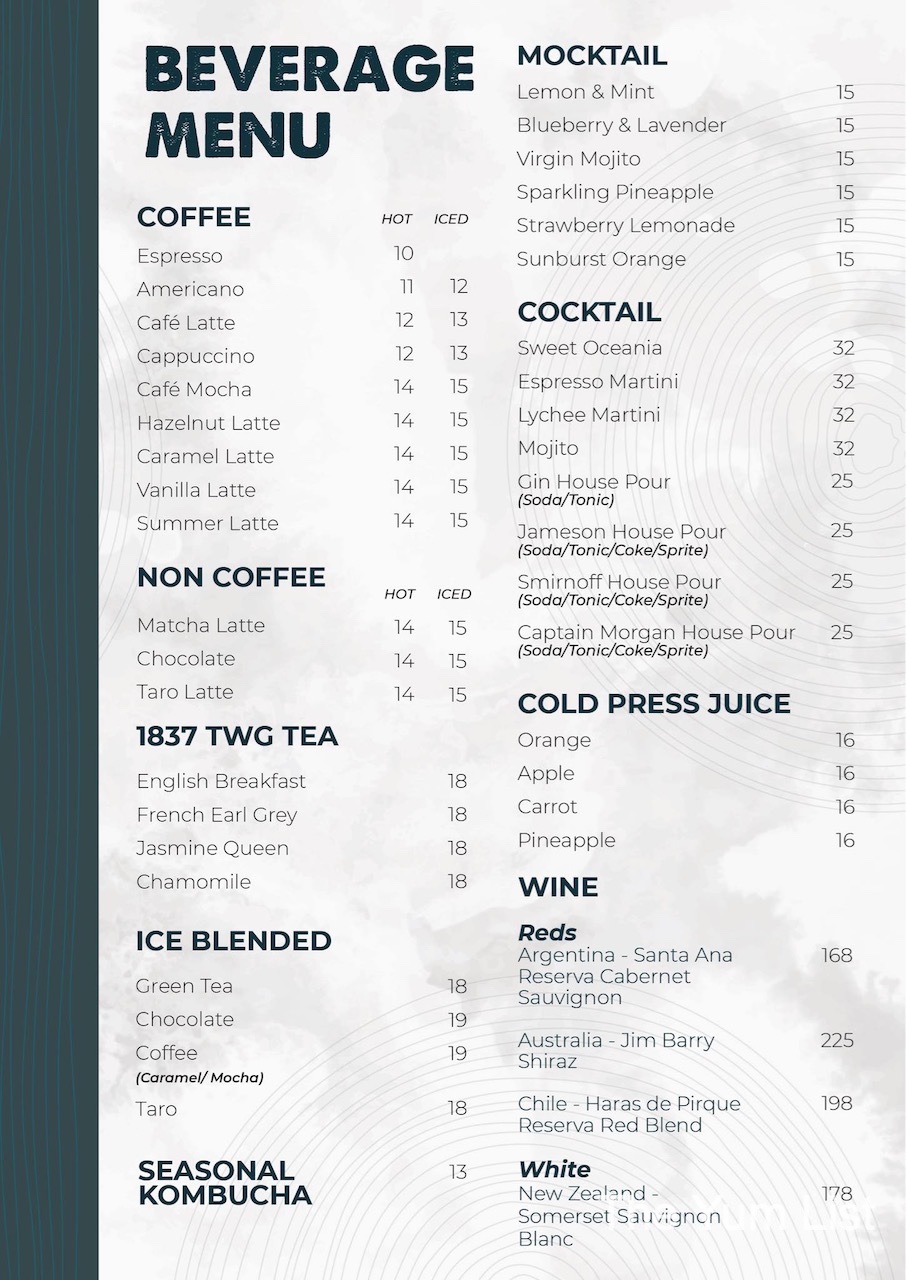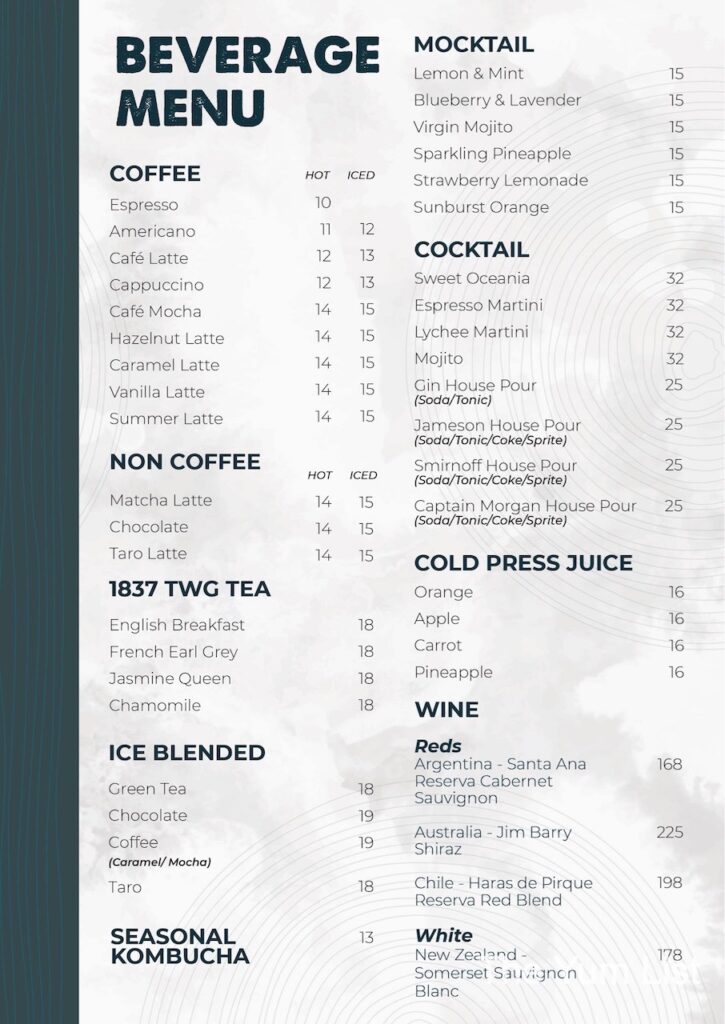 Tana Restaurant
Ground Floor, Toojou Hotel
Lot 12, Jalan Masjid Lama, Bandaran Berjaya,
88000 Kota Kinabalu, Sabah, Borneo Malaysia
+6088 534 899
Tana KK Opening Hours
10 am – 4 pm & 6 pm – 10 pm
Find more travel recommendations for Sabah here and stay up to date with the latest gourmet happenings around Malaysia here and here.