Halal Restaurant Ampang – Brix. @ M City
Words: Rebecca Cannon
Photos: Rich Callahan
I jumped for joy when I read Brix's menu statement [that they] 'aim at crafting food that elevates – halal, innovative and local' and they 'believe in the goodness of quality and fresh local produce. However, my jaw didn't hit the ground until I went and met the chef and discovered it all true. This meant not only was I eating scrumptious food, but I felt good in heart, body, and soul. All my friends could come, thanks to their halal status, my body wasn't to be poisoned with lab-made unpronounceable chemicals, and my soul was not blackened from carbon emissions of importing loads of foreign food. Located in M City in Jalan Ampang, decorated in an industrial diner-style that's clean bright, and says you don't need to be rich or a foodie, you're welcome here.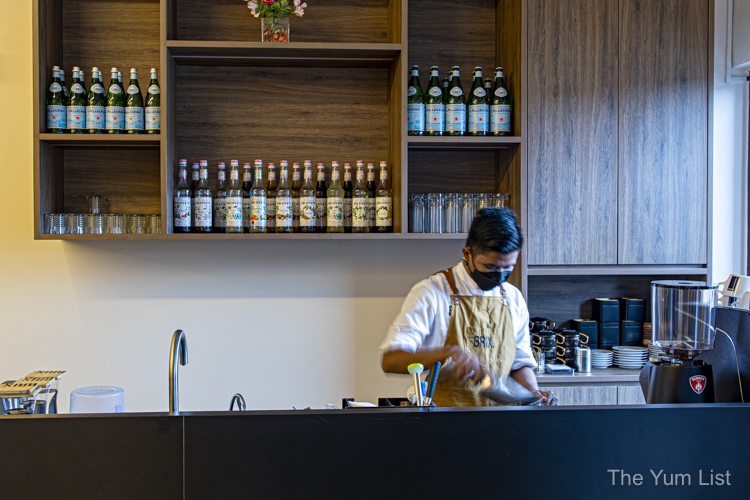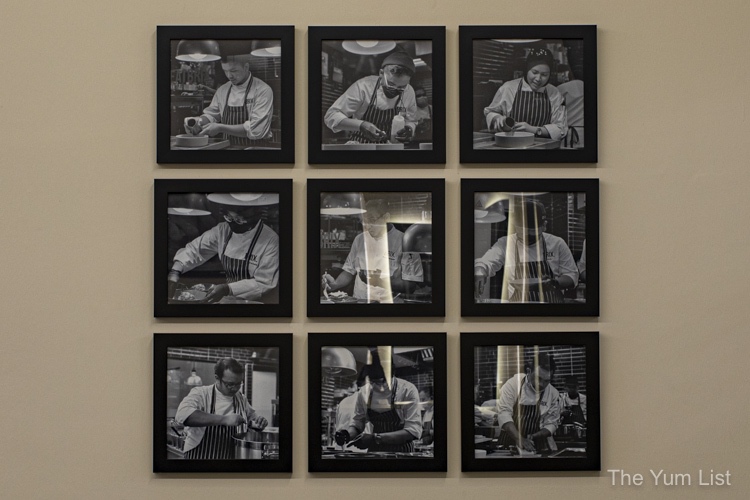 Halal Restaurant Ampang – Brix. Drinks Menu
As part of their halal status, no alcohol is served, but that doesn't mean the fun is dead. For our afternoon pleasure, we sampled the Brix Irish Mocha (RM25), T.20 Mocktail (RM25), and Latte (RM20) with some water on the side. I'm mentioning the water for a reason (soon to be revealed). The Irish Mocha was my favourite. It's what I think of when I want coffee – iced, milky, and sweet enough to cover caffeine's bitterness. Speaking of coffee, the beans are the Cloud Catcher company which focuses on a sustainable relationship with their bean-growing farmers. This coffee is roasted locally, but the South American beans are not too fruity and are a bit nutty. You can sense this more in the latte. The T.20 was very interesting though, make sure you stir it up with your paper straw, so you get the flavours of vanilla and tamarind combined. I mentioned the water because their 'tap water' showed their mission statement. It's local. It's been through a standard filter and is naturally filtered again at your table by hunks of activated charcoal. The charcoal's natural grain is kept, and light shines off these ripples creating intricate patterns through the glass vessel.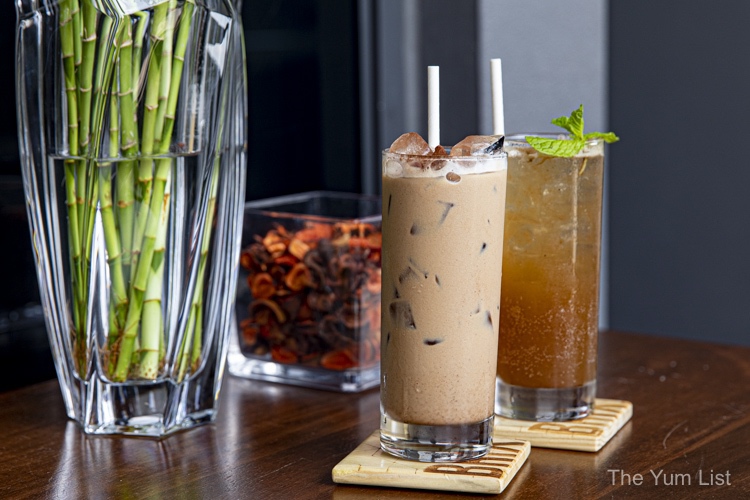 Halal Restaurant Ampang – Brix. Food Menu
Starters and Entrée
From the starters and entrée sections, we selected the Shrimp Croquette (RM35), Chicken Caesar Salad (RM35), and the Fresh Capellini (RM45).
Shrimp Croquettes were my favourite, and the chef so lovingly described the long and careful process they take to make them so.
The Fresh Capellini is a seafood pasta. The pasta is of-course hand made in the restaurant and the flour used is one of the few imported things- from Italia of course. The pasta tastes like a rustic dish you'd find in the hills of Tuscany. Brix adds a touch of saffron to the buttery sauce, which softens the seaweed prawn wrapping whilst preserving the soft crunch of the prawns.
The Caesar Salad is great for anchovy lovers, as extra is used to ensure the saltiness is not lost by the redaction of bacon. The Brix twist is the best part, though, the crumbed and deep-fried eggs. The lingering oil on your lips, the golden crunch of the crumbs, and the soft egg on the inside are perfection.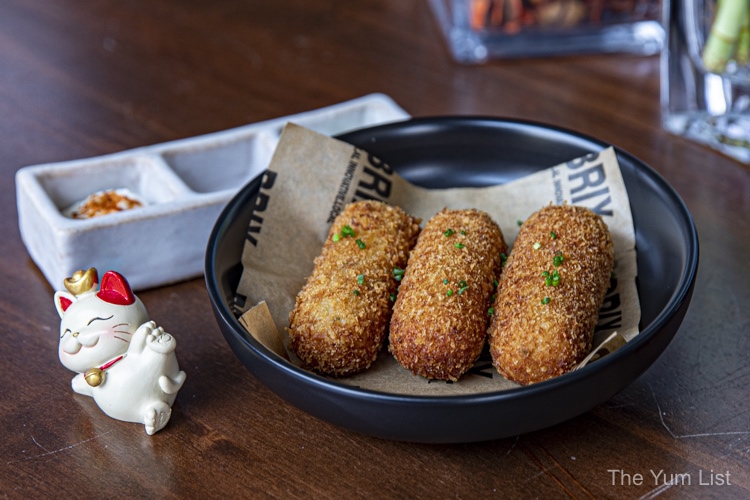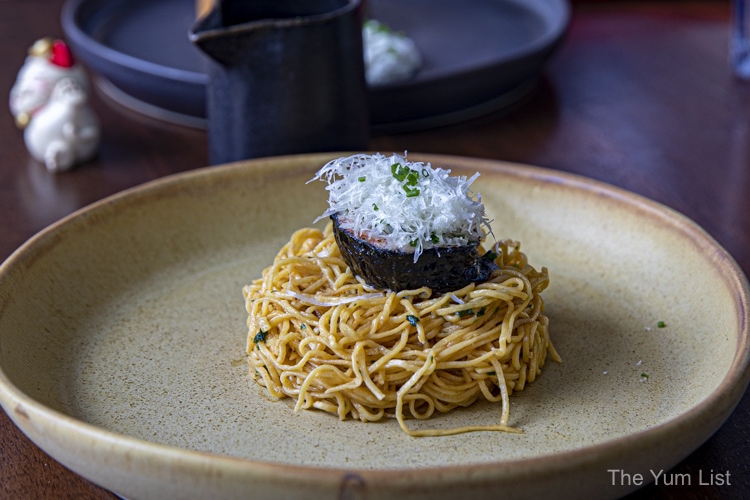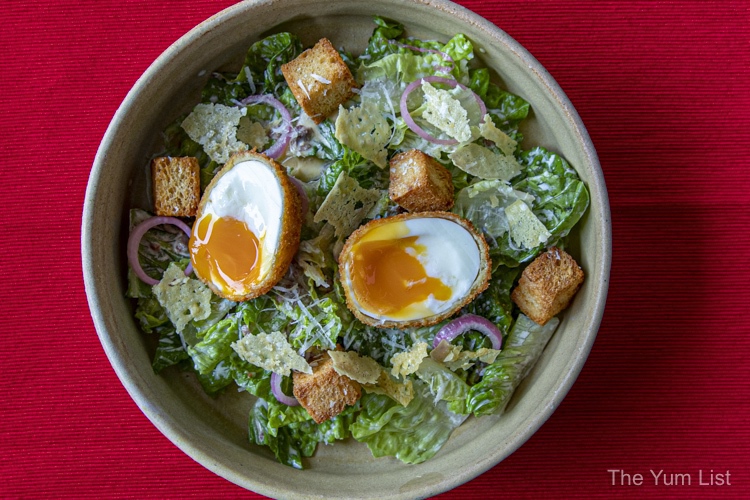 Mains and Supplementary
It's a good job, I had friends to share my starters with so I didn't fill up before mains. I couldn't wait to try the top-selling Beef Tenderloin (RM65) and the intriguing burger tower that is Brix Lamb Burger 2.0 (RM60). The Roast Duck with its poached peers (RM65) was also calling, and because you can't have a burger without chips, a side of Hand Cut Chips had to be ordered (RM25). So much food. This was why I had to have friends that are willing to share!
For me, who grew up with 'the only way to cook any meat is well-done, the Beef Tenderloin was the best and worth every ringgit as a medium-done steak. The beef is grass-fed, making it taste meatier whilst being leaner and more nutritious. The Bordelaise sauce was just what was needed to finish the dish off. The tenderloin was moistened, and the sauce added some acidity with a hint of sweetness. I would have been perfectly satisfied just with this, but more goodness was to come.
The lamb burger is as beautiful and as daring as the Dark Tower. Despite first appearances, it's not made with three slices of brioche, but two slices with a potato latke as the central layer between two thin cut lamb patties. I don't fully understand the wizardry responsible, but I ate the whole pickle willingly. It still retains its cucumber taste despite a pickling process.
Despite the other strong contenders for mains, the duck breast still holds its own. It's an organic breast from Ipoh, which takes over 27 hours to prepare. It's glazed with honey and spices, including coriander seeds and lavender flowers, and a delicious mandarin sauce is poured over for good measure just before serving.
The chips were an unexpected highlight. Like getting a hug from a soft toy, they were warm and oh so fluffy. Dusted with a mild harissa spice to make an addictive taste.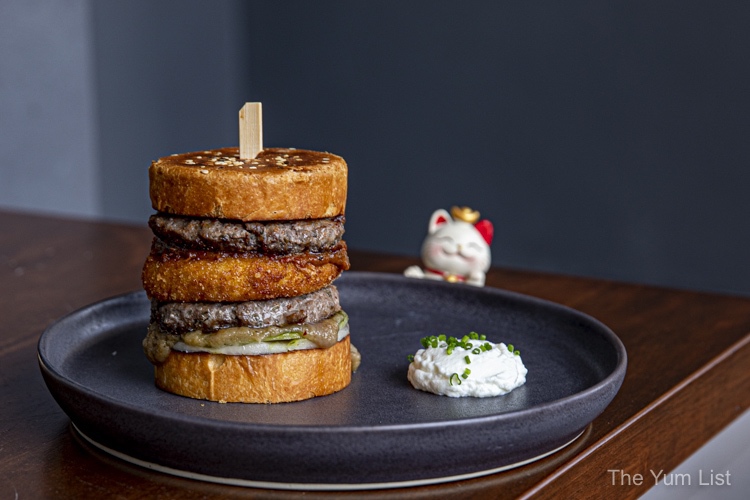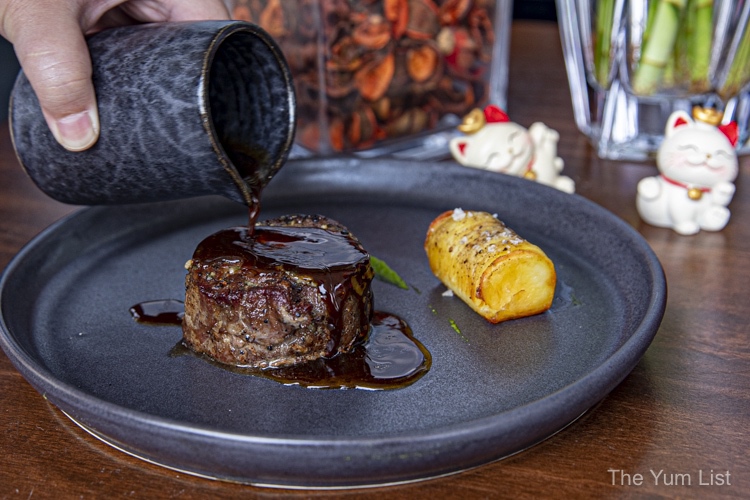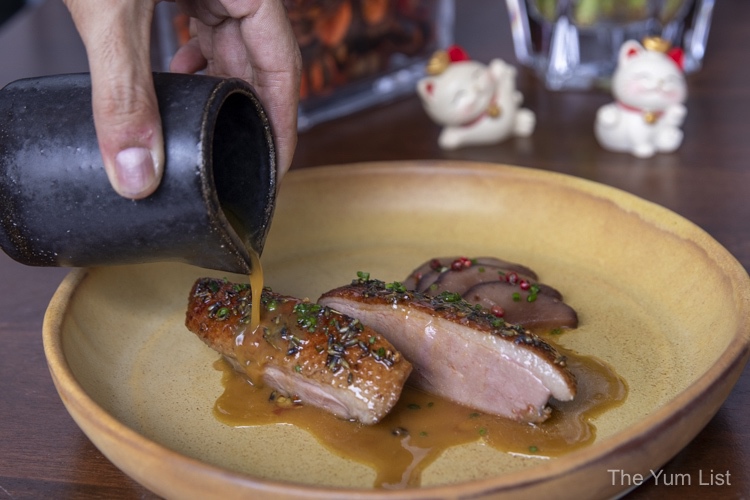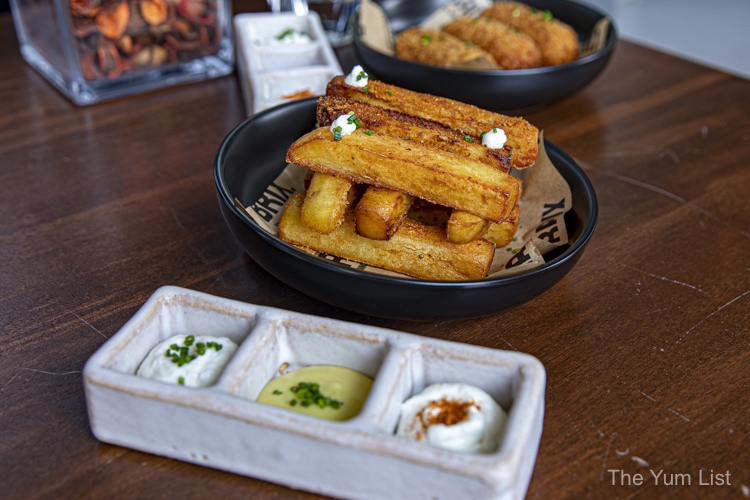 Dessert
Calling the dessert what we had simply a Passion Fruit Mousse (RM30) is a disservice to the creation and composition of the dish. It's actually a slice of mango jelly, covered in passionfruit mousse on top of coconut cream, which is then cloaked in white chocolate and placed on top of a flaky pastry biscuit and a small pipping of berry coulis around the edges. It's a dessert that isn't a saccharine death. It's sweet enough to be a satisfying end to your meal, whilst also being relatively light, perfect if you're main was meat-heavy.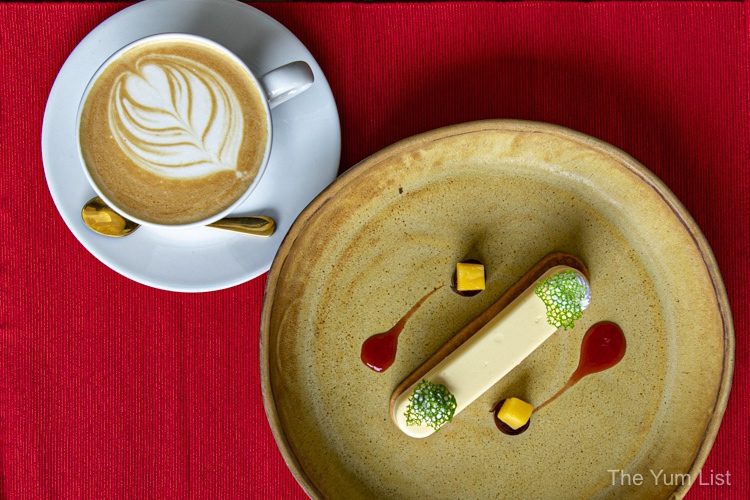 The experience wasn't over yet. Lean in for a secret, closer, closer, okay. Chef Rexxa likes to keep a few things off his menu, so he can treat you with them and leave you feeling like you are family visiting his kitchen. We got to sample his secret hot chocolate. It's a mix of all white, milk and dark chocolate, foamed with latte milk and laced with orange rind and cinnamon. The last surprise came at the end when we were informed there was no added sugar! Be good diners, and you just might get the same treat.
Reasons to visit Brix – a halal restaurant in Ampang: The food is fantastic with its own twist on many dishes. It is a nice place to hang out with friends or by yourself with a coffee on a bench. The staff are friendly and keen to please.
Brix. – Halal Restaurant Ampang
R-6-G, ground floor, M city Ampang,
326 Jalan Ampang, 50450, Kuala Lumpur, Malaysia
Opening Hours
Monday- Thursday 12-9.30 pm
Friday 12-10.30 pm
Saturday & Sunday 11-10.30 pm
Find more halal restaurants here and stay up to date with the latest happenings around Malaysia here and here.