OITOM Kota Kinabalu
Words: Claire Matheson
Photos: Monica Tindall
Serving hard to source local ingredients that would eclipse the biggest global produce names, and advocating for local Sabahan culinary talent, OITOM shines with blazing incandescence as Sabah's fine dining destination of choice. Unashamedly edgy, it has no loyalty to the old accepted ways of doing things. Passionate for all things Sabahan, humble yet intrepid chef Raphael Lee is fostering Kota Kinabalu's fine dining scene with his first restaurant. OITOM is a burning star of haute cuisine, so bright everything around it fades to black.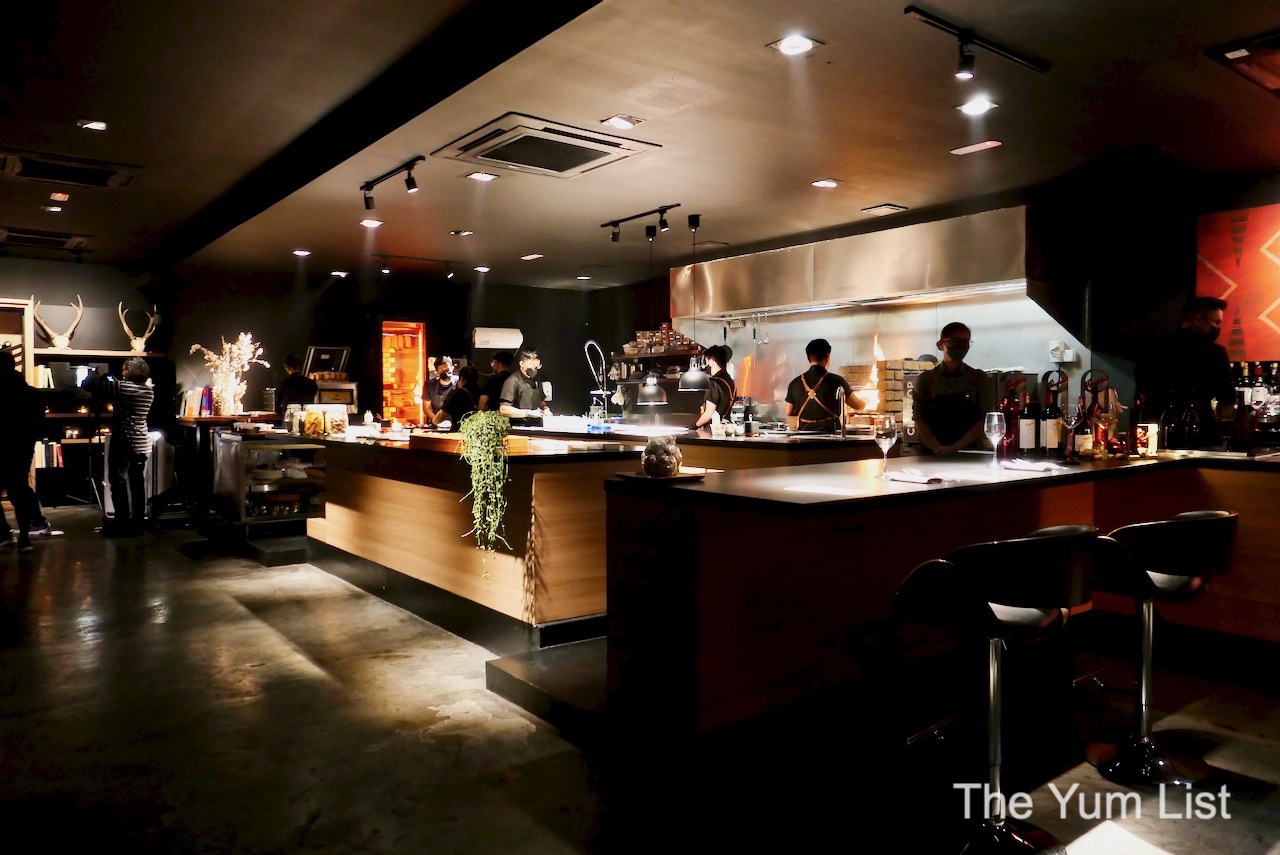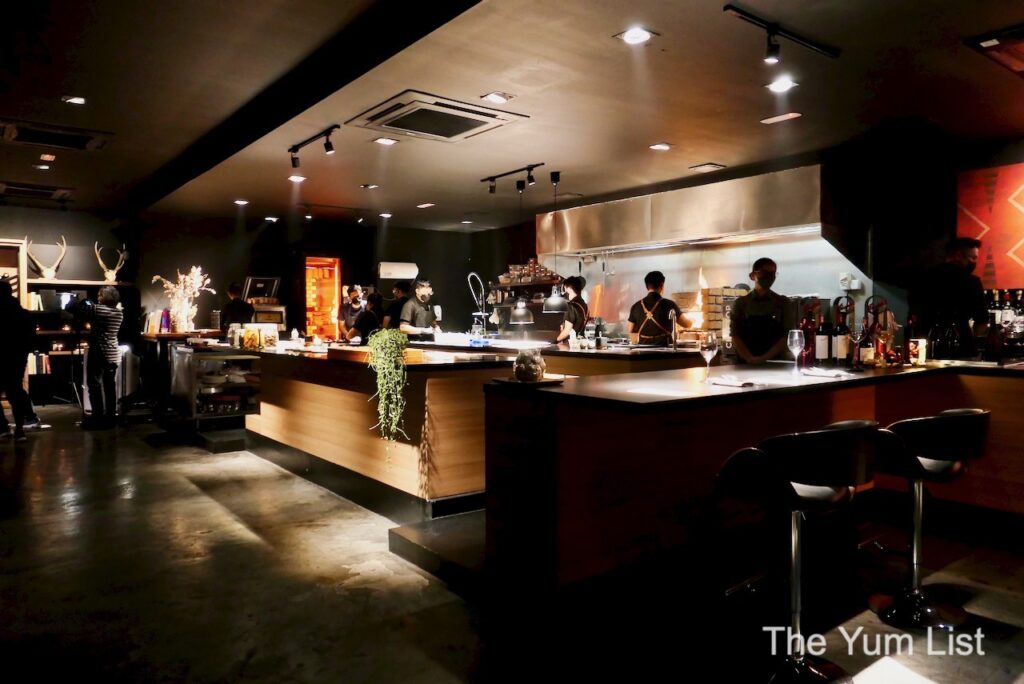 OITOM Kota Kinabalu
Matte black. Jet black. Cool black. Glossy black. Black on black. The dark, moody and enigmatic mise-en-scene of OITOM is a minimalist backdrop, absorbing any distractions from the dramatically spotlit plates. The name OITOM is the local Kadazan word for black, acting as both a connection between the unadorned stage where Raphael and his team assemble their artworks and a homage to local indigenous heritage, celebrated in each and every dish. The central food preparation area is elevated, and your gaze is magnetically drawn to the plating benchtop – the beating heart of the restaurant.
Dark polished concrete floors, with matte black table and benchtops, and wood and charcoal accents provide the central theme to OITOM's stage. The space is intimate, with only a single row of tables along a smokey glass wall and a couple of front row bar seats. On the back wall, a Himalayan salt dry ager is lit with an eerie red, lending a rosy hue to the hanging sides of meat within. The kitchen is equipped with some James Bond-level gadgetry. A huge hood takes up most of the kitchen space, with a brick backed multi-tiered charcoal grill taking pride of place. On the main kitchen deck, a small tray of bottles with dropper tops sits, hiding secret homemade concoctions protected from oxidation by brown tinted glass. Each dining area is spotlit, a sphere of theatricality for food thespians. Dishes are accentuated by the stunning flatware – white stone, with bursts of bubbled dark charcoal.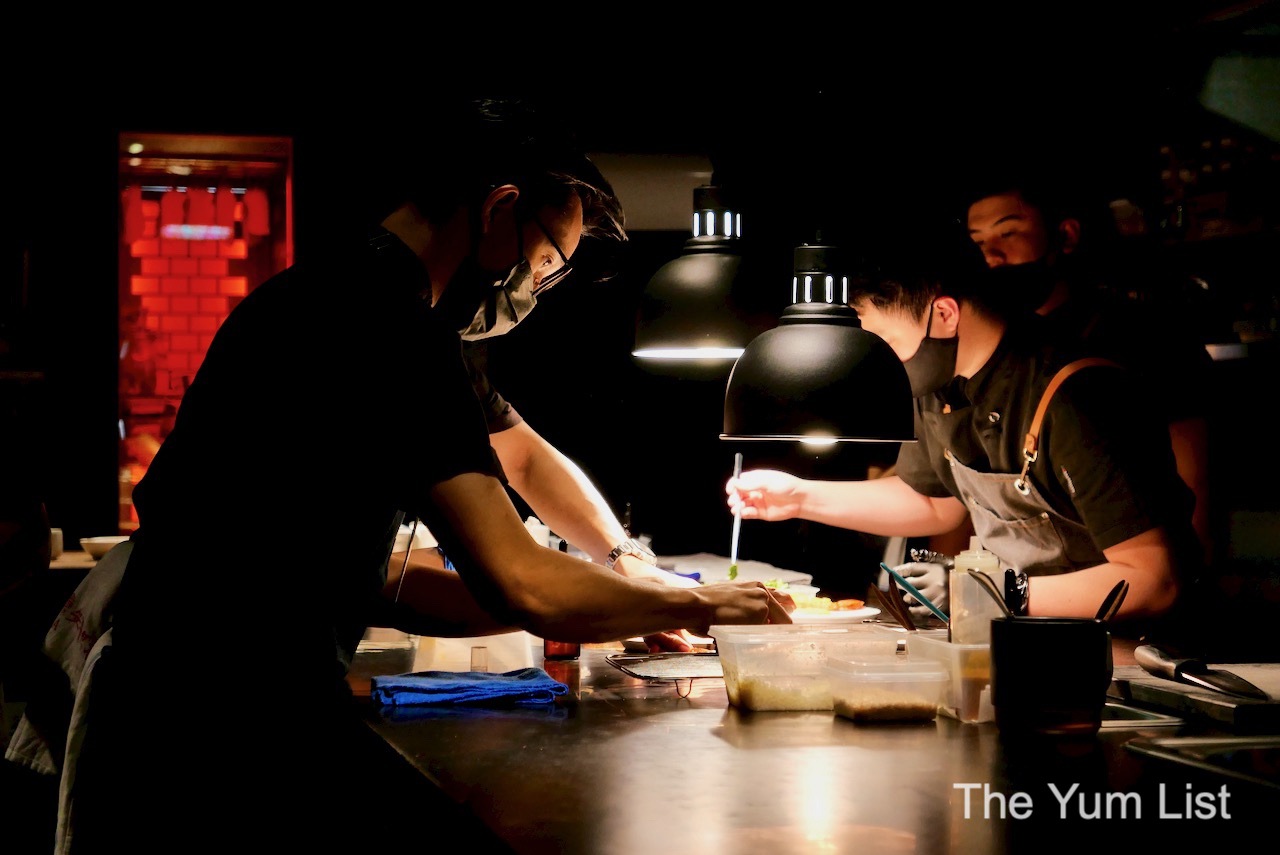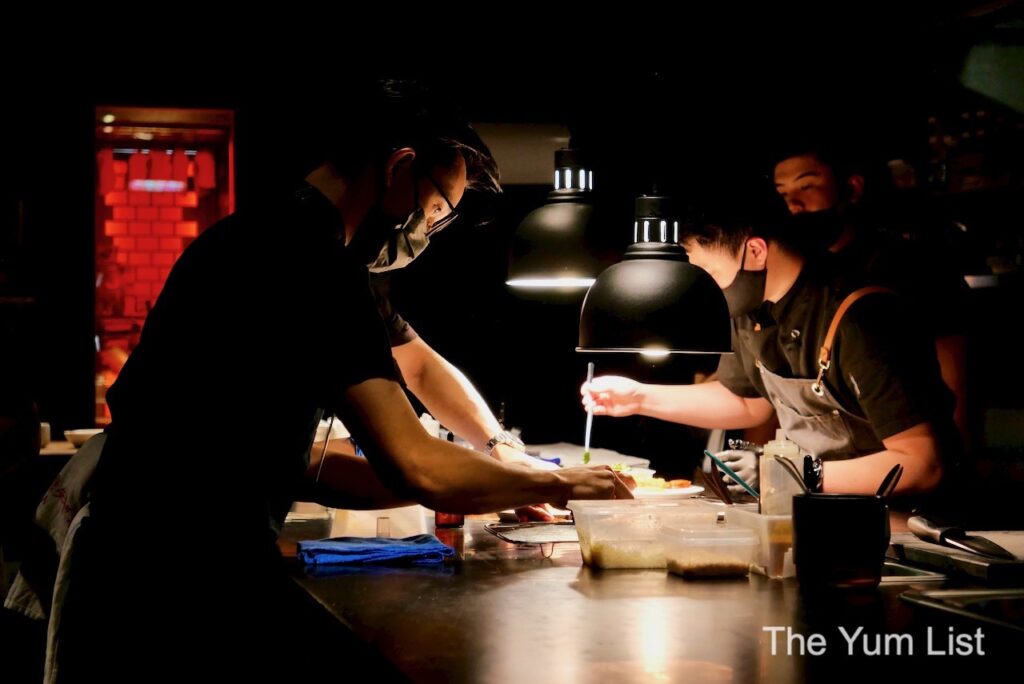 OITOM Menu
Plating at OITOM is an intricate affair, and the whole team assembles to put together a table of dishes. One of the chefs then accompanies the dishes to the table, talking guests through the ingredients, components and techniques for an intimate shared dining experience. It is this fantastic teamwork that allows us to meet many of the team, from Owner and Head Chef Raphael to Sous Chef Ryan, to Pastry Chef Jessica and Manager Anney. Each chef takes the time to patiently explain the individual elements and the many days of preparation behind the scenes required to produce a single plate. From our conversations, we learn that in addition to their local sourcing philosophy (greater freshness often means stronger, purer and more complex tastes) many techniques used by the team at OITOM are about intensifying the flavours of ingredients. Their preparation is not necessarily taken from their cultural heritage but instead seeks to use scientific experimentation to accentuate and illuminate.
Chef Raphael Lee – OITOM
Owner and chef Raphael Lee has not had your usual culinary career start. A true Sabahan, Raphael has always fought against the tide to chart his own path, secretly watching Jamie Oliver and Gordon Ramsey when he 'should have been studying'. After finishing college, he chose to take up an internship with Hilton in Singapore rather than follow the usual university route. Gaining a fantastic skill base and preparing high-level cuisine with speed and precision, he learnt quickly. He tells us about sustaining a significant knife injury during this time and how it compelled him to zealously practise and master his knife skills. But Raphael also came to understand that the mass scale and systemic nature of hotel restauranting did not fit with his personal style. As an artist, sometimes you must learn what you are not before you can clearly define what you are.
Sabahan Ingredients
It was at the renowned Kilo Kitchen in Singapore that Raphael learnt innovation, pushing the boundaries of his technical skills and flavour profiling. Next came Melbourne, where Raphael battled 'a frustrating learning curve to catch up' with the intense foodie culture of the city. Returning to Sabah eight years later, he craved a return to his roots. He was shocked by the same discovery that strikes many upon returning to Malaysia: Malaysians don't take pride in their own homegrown ingredients. He began visiting local farms, wanting to advocate for the beauty of each locally grown product, using a single item in a myriad of ways to experiment with texture and unlocking surprising flavours in his relentless pursuit. He was questioned heavily. Why did he want to use local products in fine dining? He argues that Malaysian produce is taken for granted. It can be grown year-round, without the changing seasonality needed to learn to appreciate each individual fruit, vegetable, flower, or animal product at a certain time of year or the dishes it could produce. Raphael is determined to change people's minds, that Malaysian fine dining should put Malaysian produce centre stage, illuminated and dazzling in its quality.
As a precursor to our wine-paired Tasting Menu, we have a glass of the house kombucha. It is double fermented, with rose apple tea in the first ferment and mulberry in the second. An initial vinegary aroma is countered with sweet berry and rose apple freshness, turning to a tart finish. The aromatic vinegar is not present on the tongue but playfully arises into the nostrils from the back of the throat as you sip, enlivening the senses.
Amuse Bouche
Before beginning the menu proper, we encounter their Beetroot Tart. Served in a perfectly balanced hand-made wooden spoon, the paper-thin tart casing takes around six hours to prepare. First, the beetroot is roasted for two hours, then seasoned with a touch of 32-year-old Modena balsamic vinegar and wild honey. The honey is harvested from the highest hornet hives in the world, atop Tulang trees – some of the tallest emergent trees found anywhere on the planet. Harvested sustainably, without a smoker, the process leaves the hives to continue production. It costs around RM220 for 750ml, but Raphael tells us he thinks the price of this ingredient is too cheap considering the wild growth and the danger of collection processes. We have to agree with him. If these collection methods were used in Europe, the price would be exorbitant. Dehydration processes intensify the flavours as the sugar content caramelises with the loss of moisture. The filling is a homemade cheese curd with a spruce pine needle oil decorated with edible flower petals.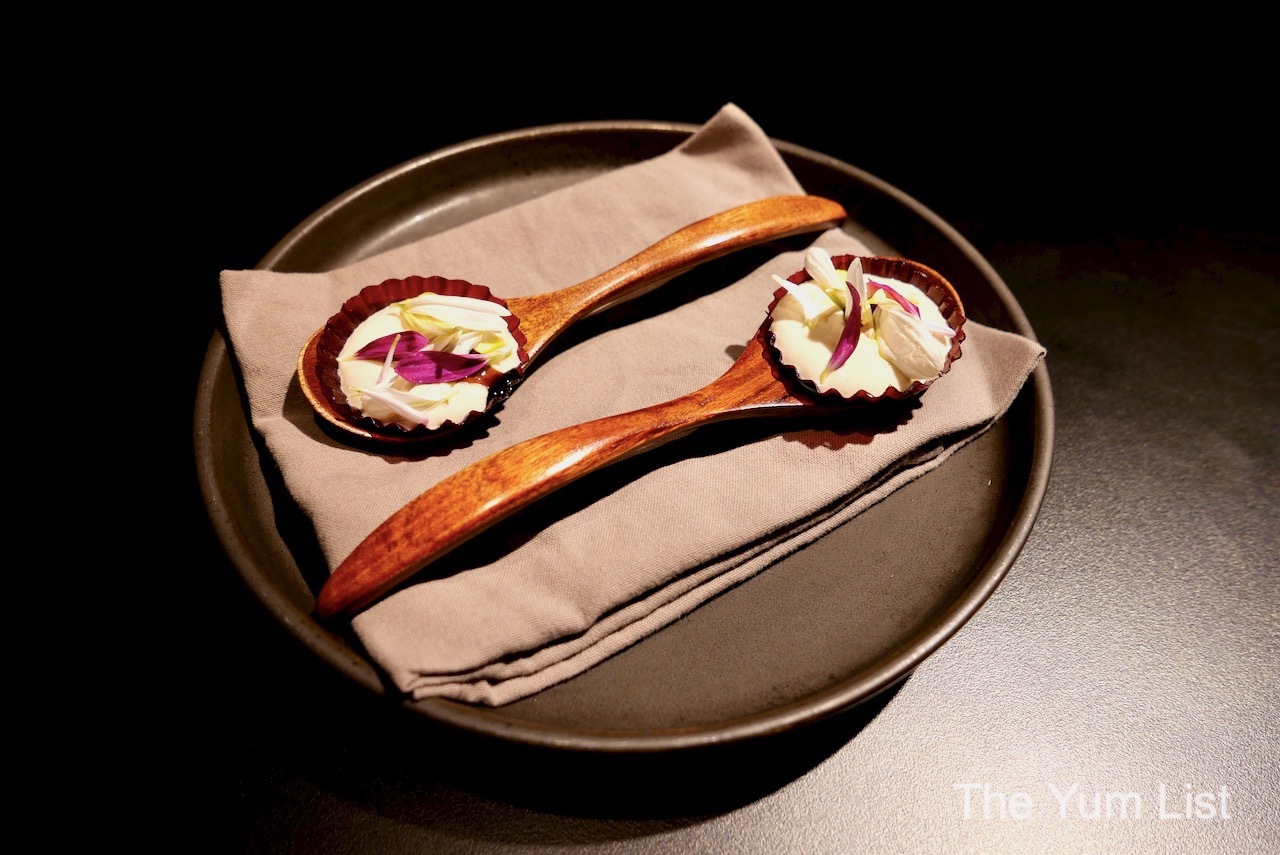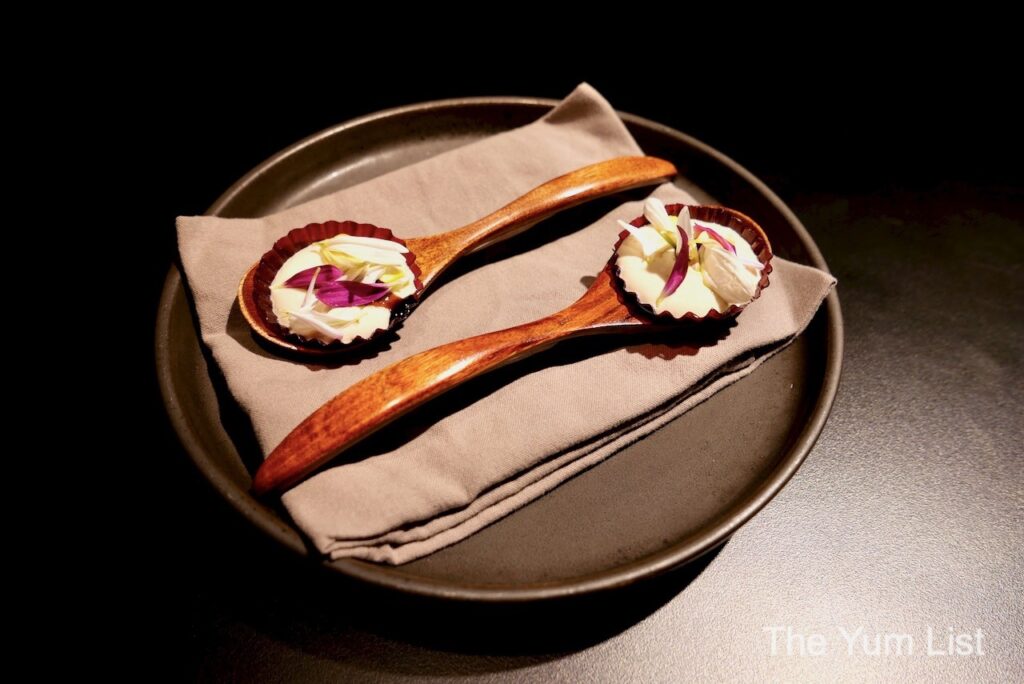 Rye Doughnut – OITOM Kota Kinabalu
Our second dish from the tasting menu is a 'simplified' Rye Doughnut filled with locally farmed @Bayuaquaculture Mud Crab Veloute, sourced with 100% organic certification. The shells of the Bayuaquaculture's crabs are deep purple in colour, indicating a high fat content – the wagyu standard of mud crabs. The doughnut is covered with fluffy shavings of pecorino cheese and served on a bed of coriander seeds. It is authentic contemporary fusion – Bornean crabs, with a Danish-style doughnut, and distinctly Italian cheese.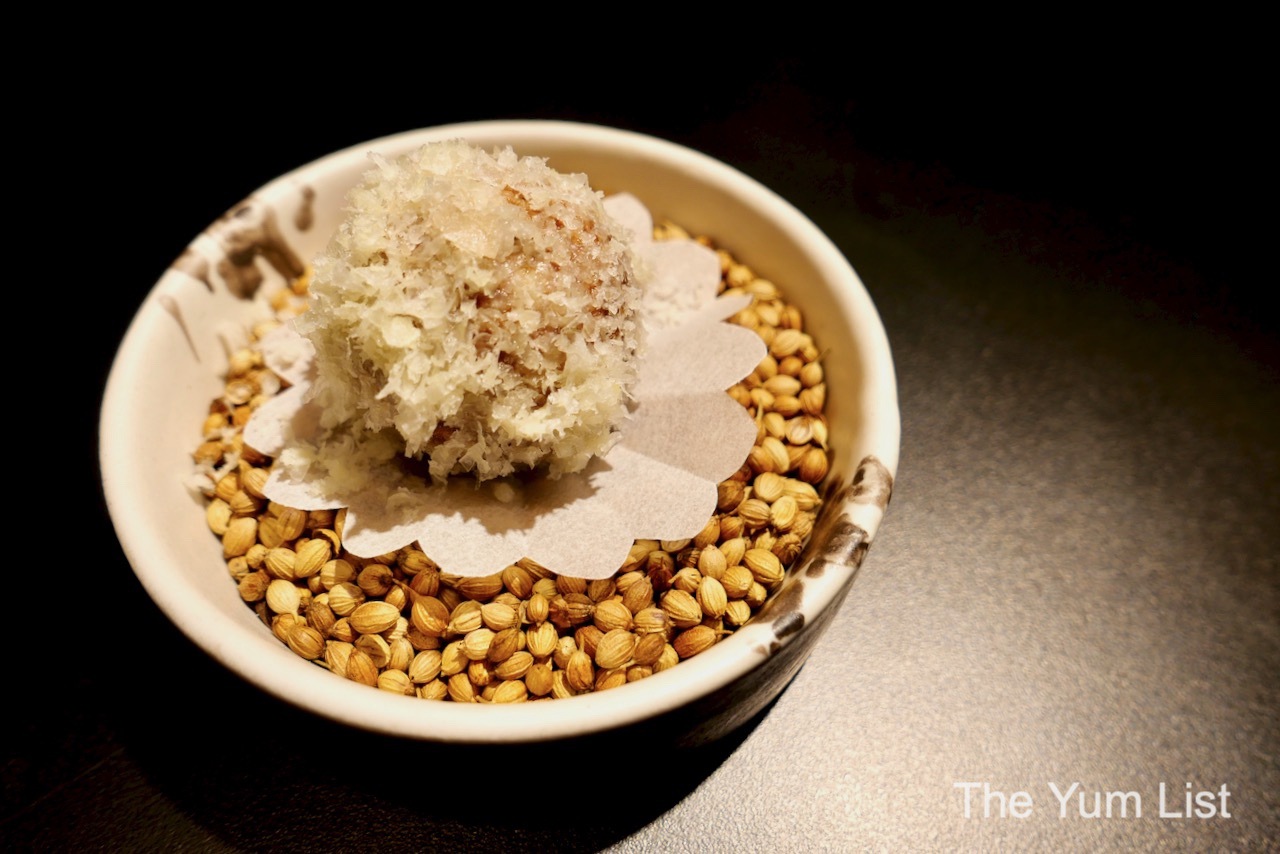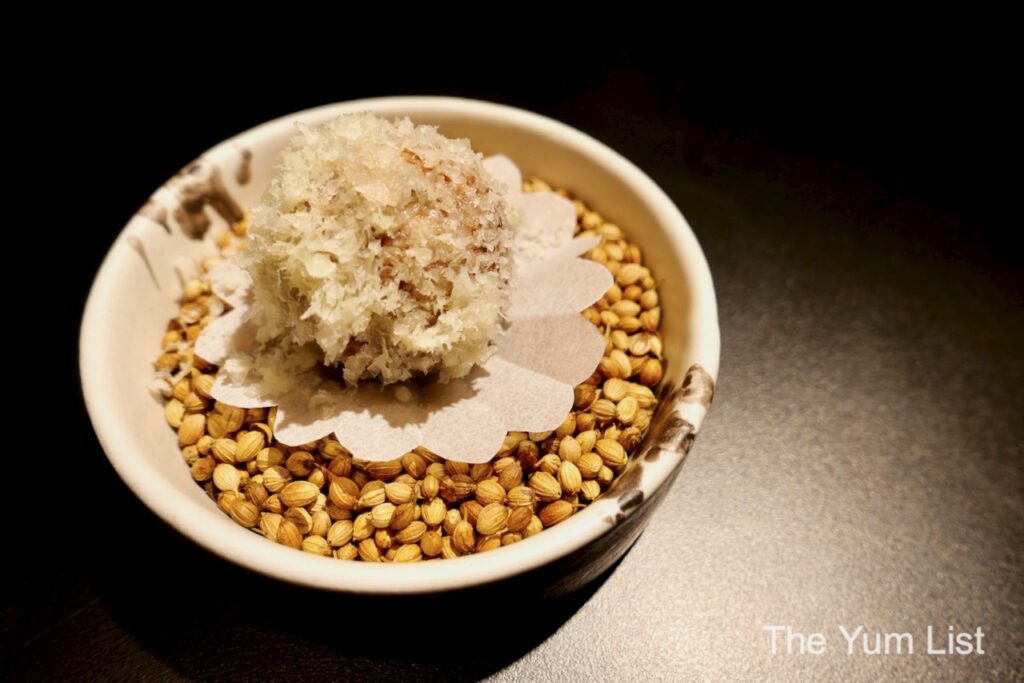 Bread and Wine
In between courses, we are served a fresh-baked, flower-shaped pull-apart bread. Fluffy and garlicky, with a crisp outer shell, it is served with salted seaweed butter. We sip our first wine of the evening, a 2020 Chardonnay from Banrock Station in South Eastern Australia. Silken at first, the dry, bold white builds to a crescendo of oaked complexity with a waft of acidity. Finishing with strong smoke flavours, it lacks harshness. A more full-bodied white for those seeking something more than the average quaffable Sauvignon Blanc. This has character.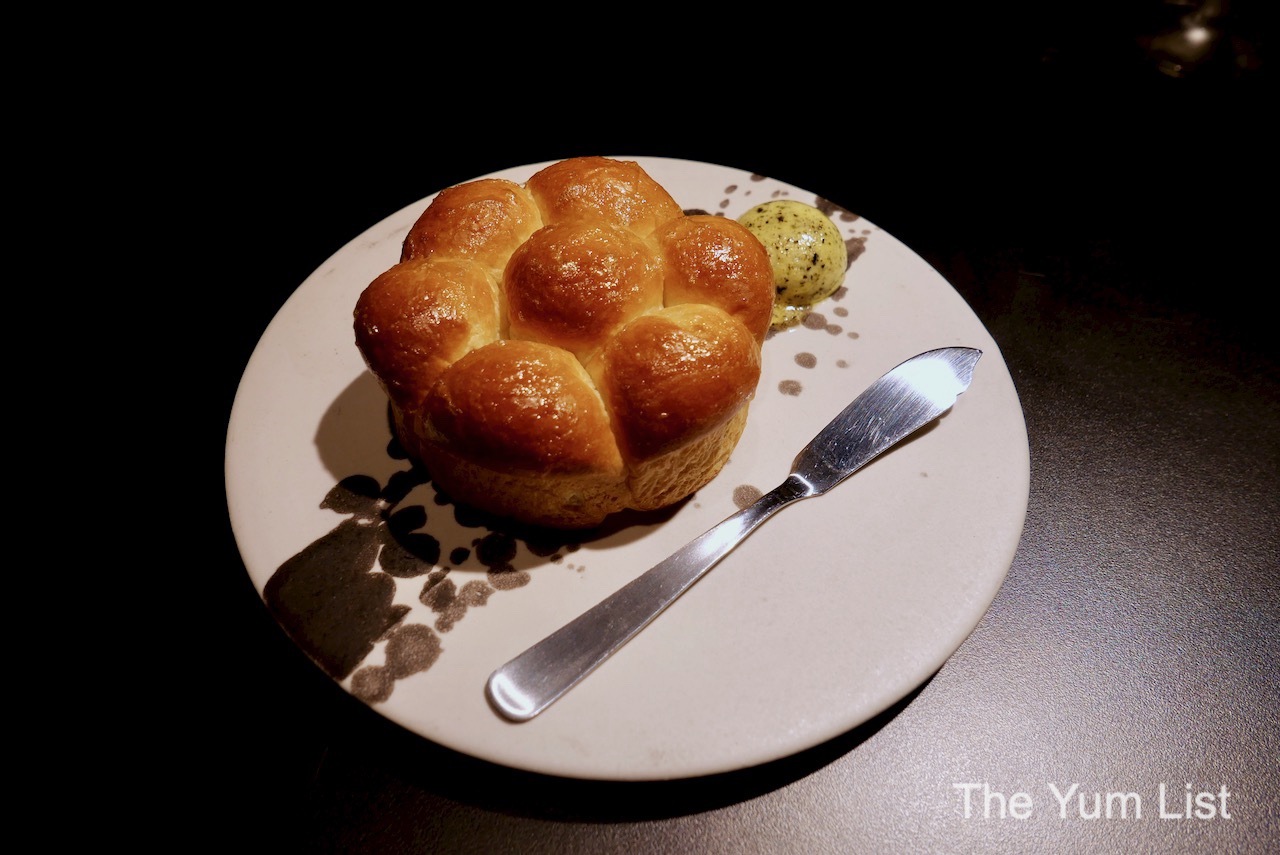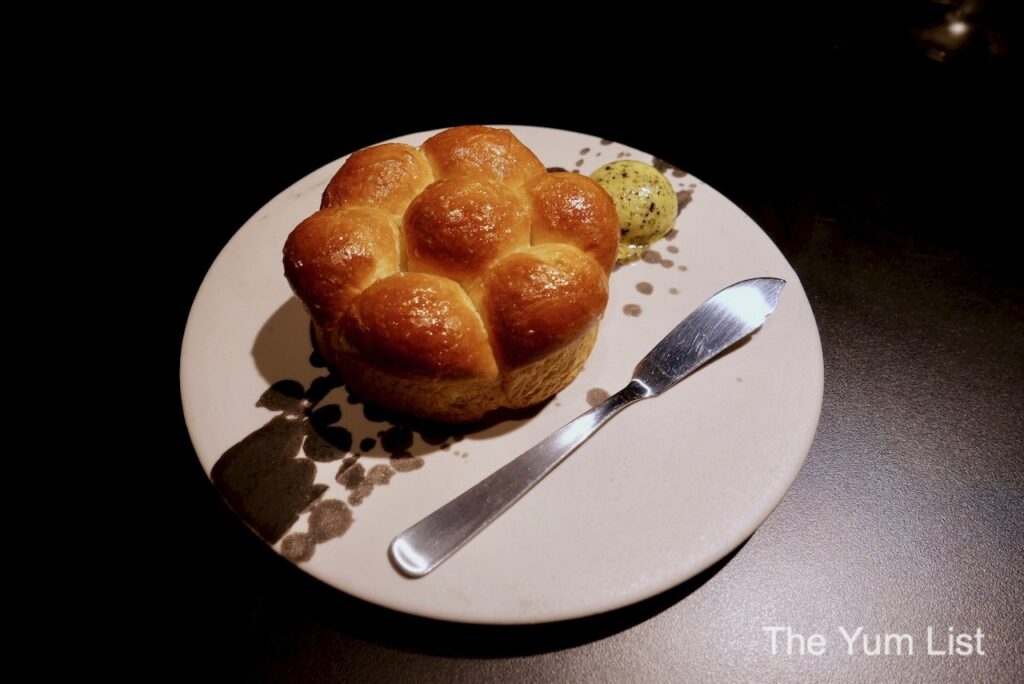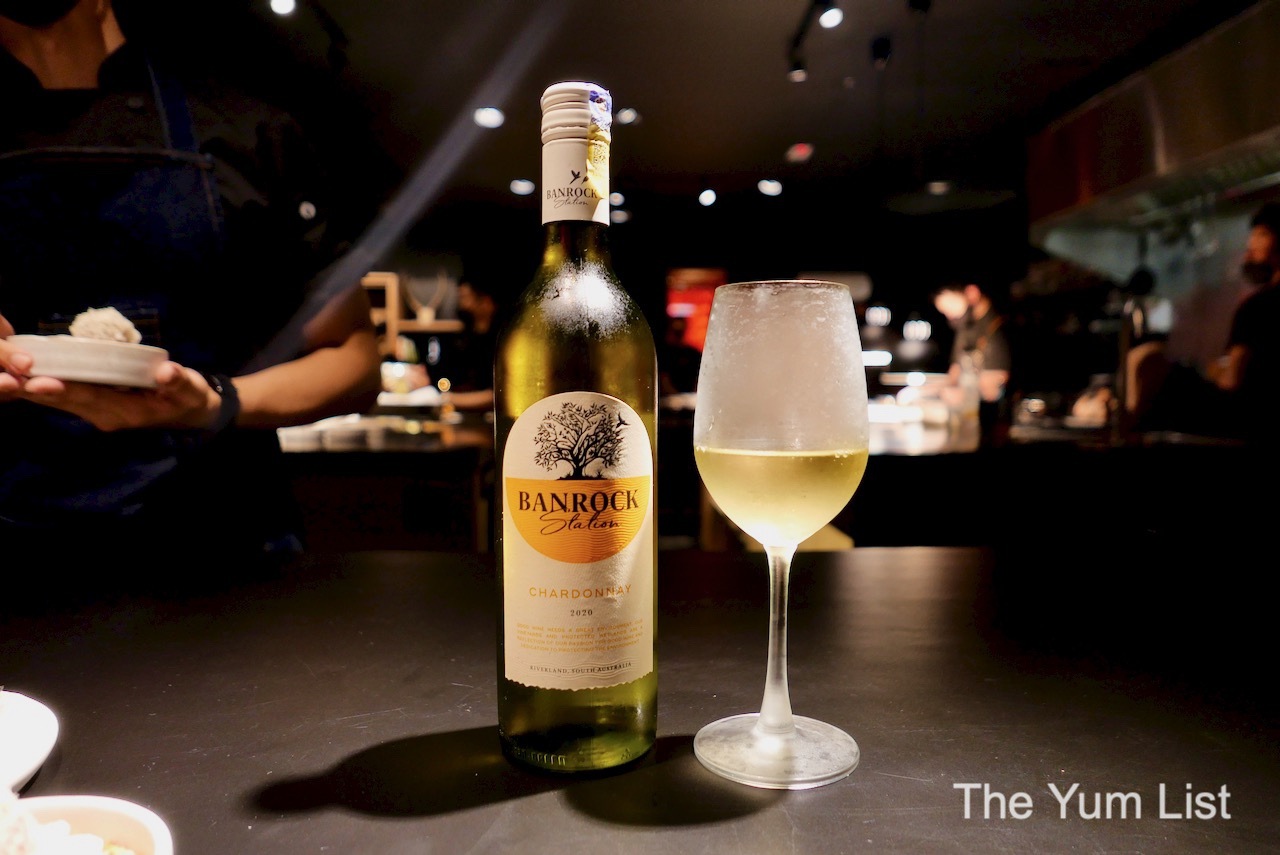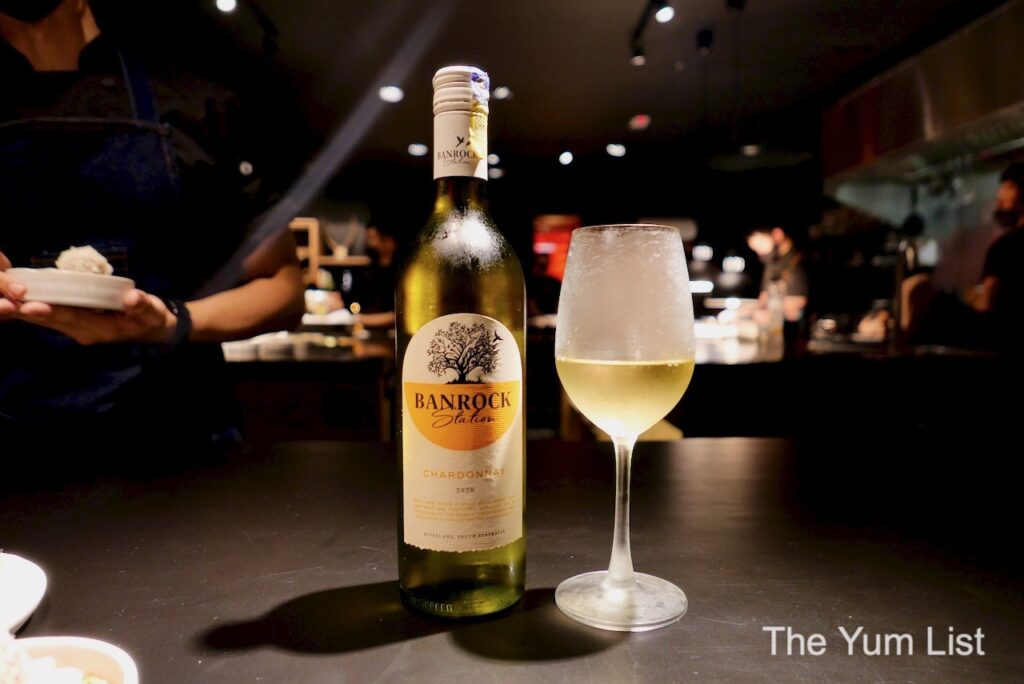 Scallop
It is no surprise a Sabah fine dining menu features high-quality, fresh seafood in its chorus line. Thick slices of scallop are smoked for one hour, delivering a subtle yet unerringly smooth taste. Raphael has paired it with @GomelonBorneo White Kirin Melon. Gomelon Borneo solely focuses on growing melons, primarily Honey and Golden Kirin melons. They are world-class experts. The Kirin is adopted from Japanese origins, loving the Bornean climate. OITOM's dish compresses the Kirin with its own juice, further accentuating this scallop and melon combination with slivers of green apple, compressed with apple kombucha. A velvety sauce made from French cream, melon juice, tarragon vinegar and wild arugula is poured over the top. The sauce emulsifies quickly, so Raphael advises tossing the bowl prior to eating. The melon is sublime, light, and flavoursome without overpowering the dish. The scallops sit quietly in the background, waiting their turn as the flavours turn in your mouth, bringing them to the fore. OITOM grows its own edible flowers to use as a garnish on this, and many other dishes, at a farm only six minutes from the restaurant. Last year, they harvested around five kilograms of marigolds alone. They also specialise in carnations and violas.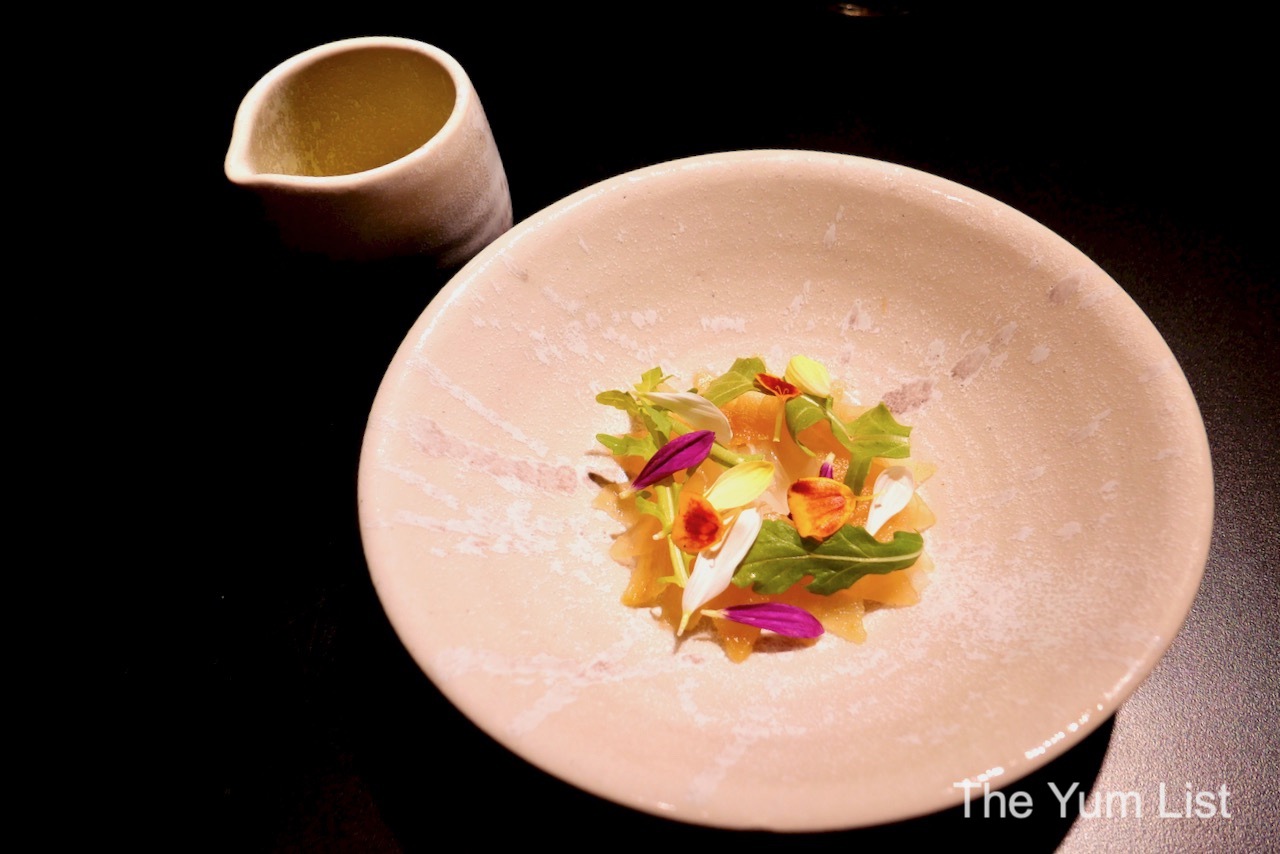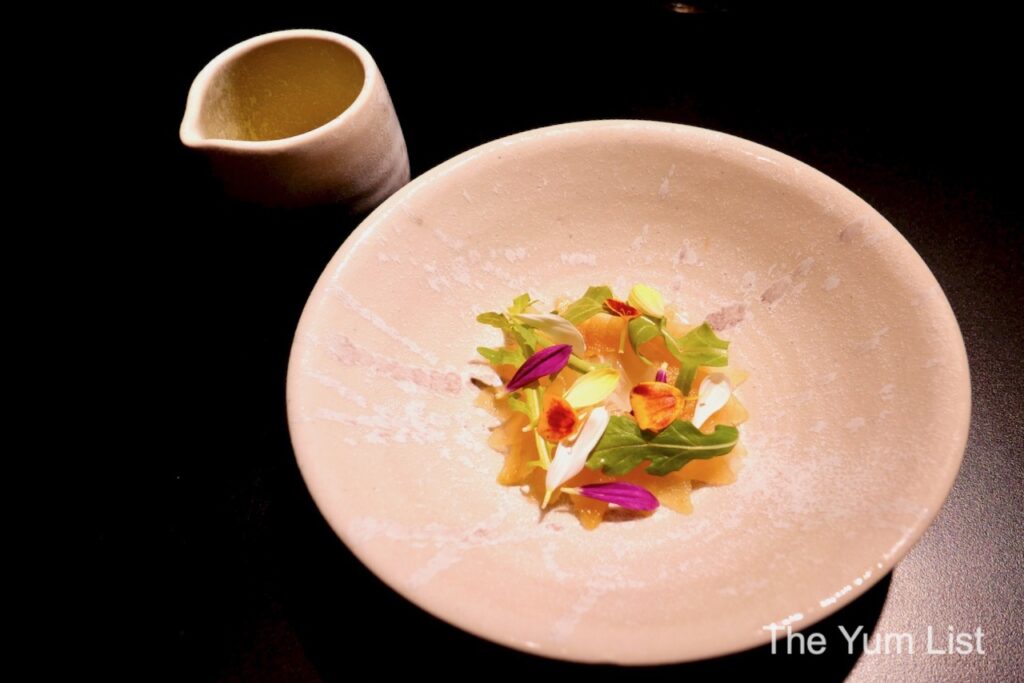 Wine Pairing – OITOM Kota Kinabalu
Our second wine for the evening is a Pinical Estate Semillon Sauvignon Blanc from the Riverina regions of South Eastern Australia. High in acidity with gooseberry and pineapple notes, it has the lingering finish of fresh growth and green grass, allowing it to weave together the fruits and floral notes with the tender scallops. Easy to drink, it is meant for slow sipping rather than bigger mouthfuls.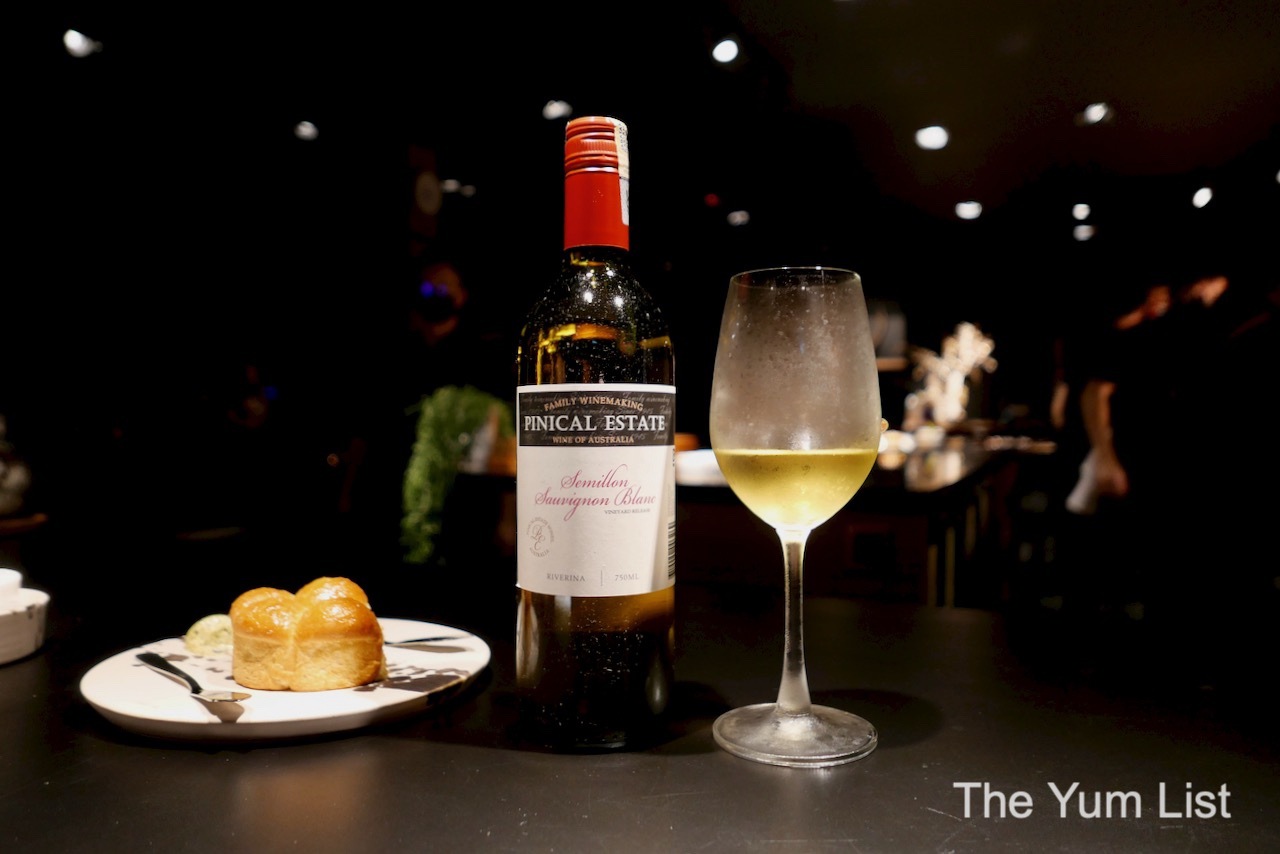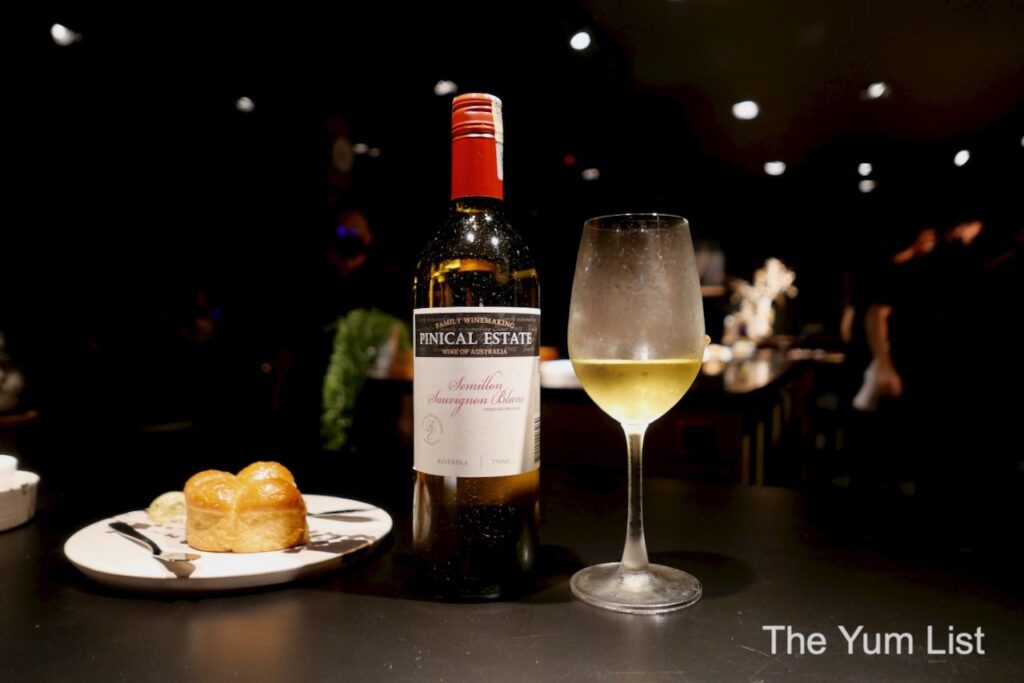 Flower Prawn
Continuing in the seafood vein, our next dish is a Slow-grilled Flower Prawn cooked sous-vide at a mere 48 degrees for one hour before searing in an oil made from prawn shells for added complexity. With a medium-rare texture, it has a more delicate, sweeter flavour than your common tiger prawn. A custard-like duck egg emulsion for dipping carries a fairly heavy, umami flavour, counterbalanced by the sweet and sour of pickled cabbage. The garnish is a sprinkle of pan-fried Brazilian spinach for crunch. The plate is made from simple ingredients yet carries a mature sophistication that is captivating.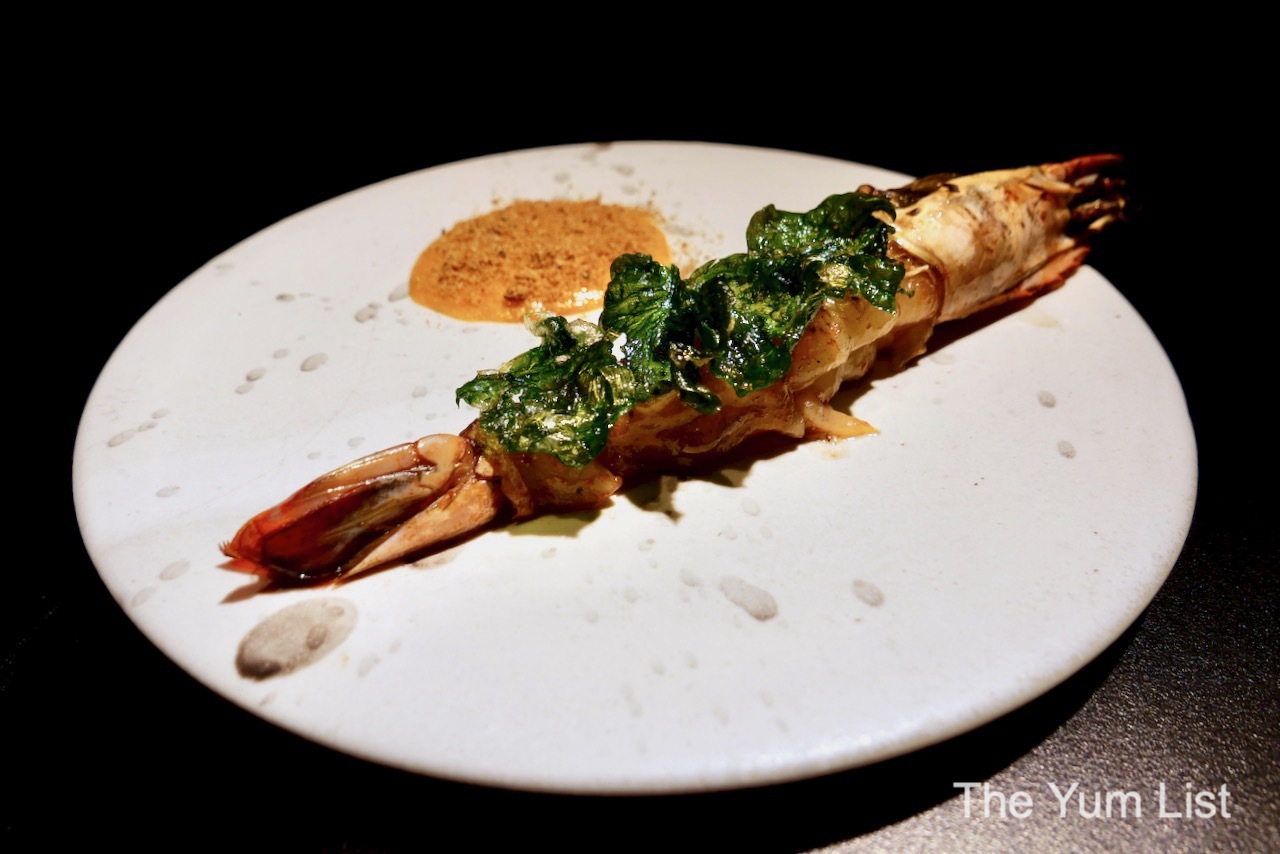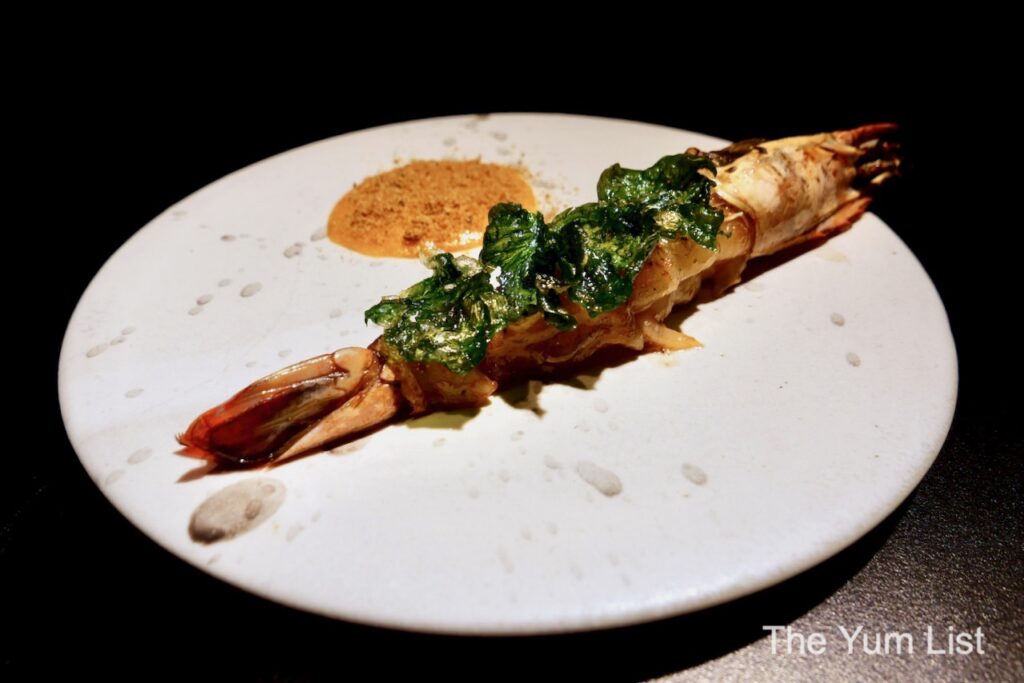 Plant-forward Recipes
Ryan approaches with our next dish and talks us through the Caramelised Cauliflower and Grilled Cucumber paired with Ikura and Cured Duck Yolk. A plant-forward dish, Japanese cucumbers locally-grown by Bubble Farm are used in multiple ways. First, a cucumber emulsion with grilled cucumber juice, a chicken glaze, and canola oil incorporates the smoky savouriness of the grill in each element. Paper-thin cucumber slices show off Raphael's knife skills. Cauliflower stems from a farm in Kundasang, at the base of Mt Kinabalu, are pan-seared with butter and chicken glaze before a final, light baking. Cured and dehydrated duck yolk is sprinkled on top, mimicking the flavour of parmesan cheese. A final garnish of salmon roe completes the plate. OITOM loves working with local farms as they can request super fresh harvesting. There are no more than two days between earth and plate for the locally sourced cucumbers and cauliflowers.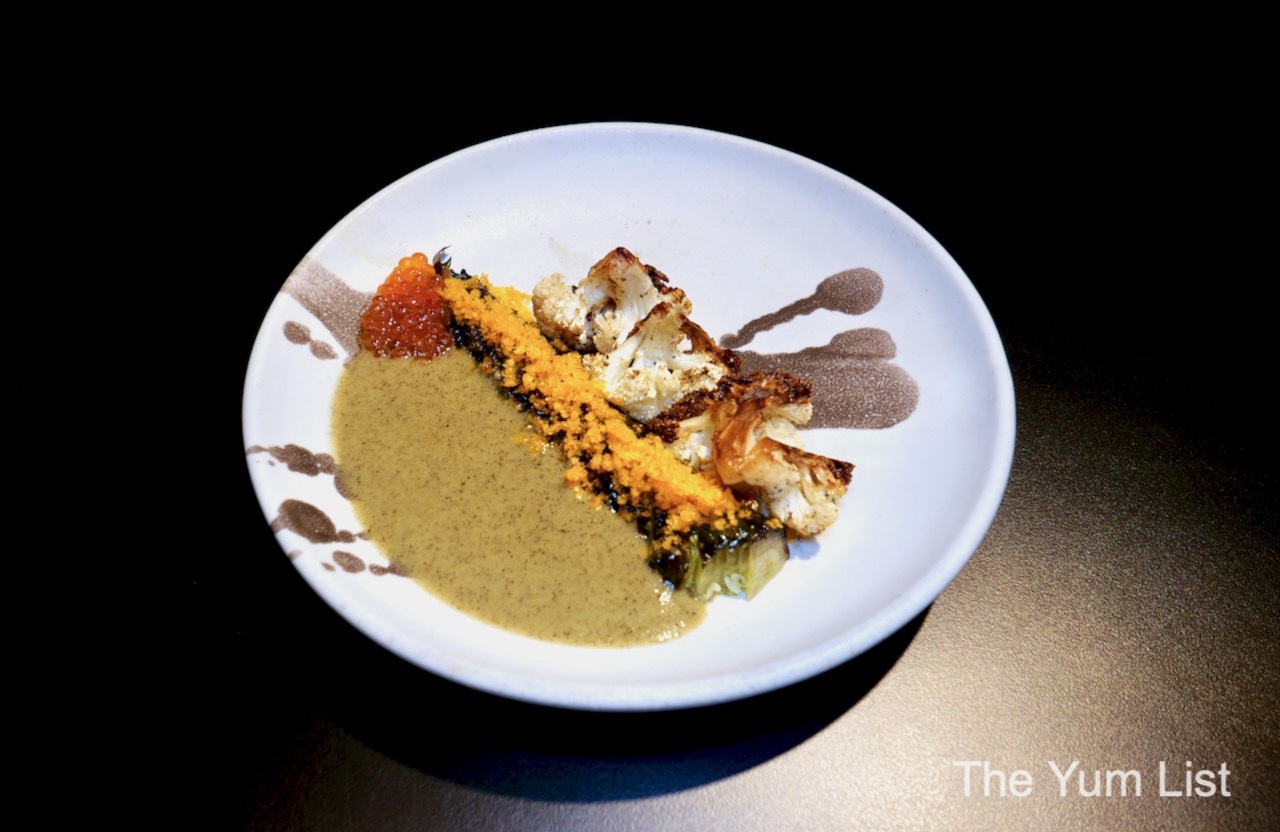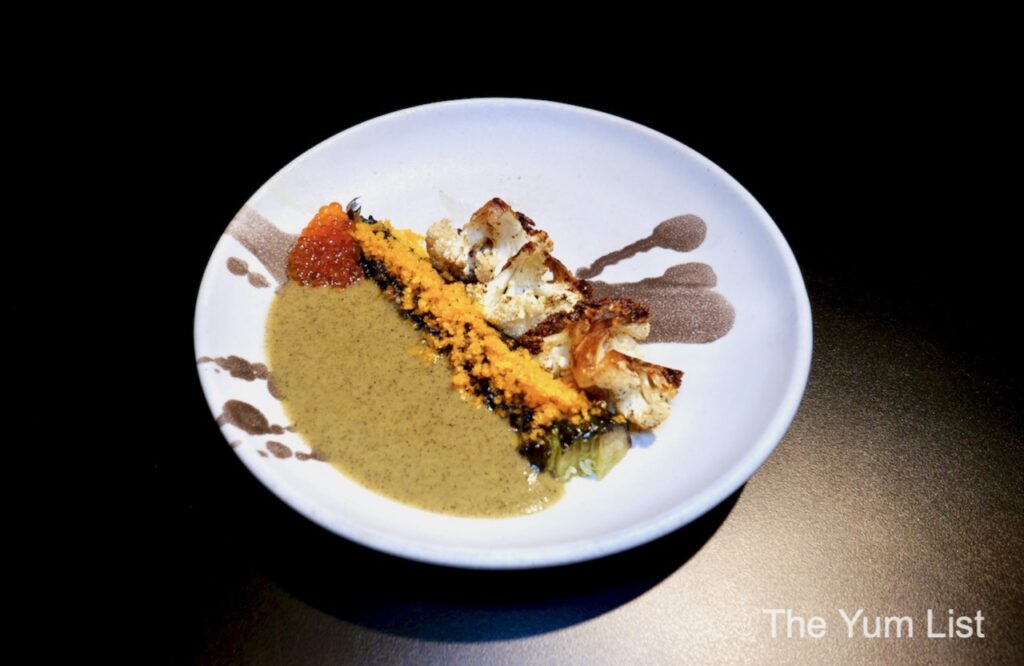 OITOM Kota Kinabalu – Grouper
The leading lady on tonight's menu is a Fresh-caught Grouper from @Bayuaquaculture. Hybridised for greater consistency, the fish is marinated with Shio Koji barley, requiring two days of fermentation to 'cook' the starter, with salt and water added to turn it into Amazake. A Japanese technique, local Sabah grown rice is used instead. Cooking of the grouper uses a Michelin technique where instead of pan-searing it on heat, it is slowly brought up to a temperature of 50-60 degrees, subtly cooking the fish with an incredible textural finish, more akin to lobster than a flakey white fish. After grilling, the grouper skin is brushed with a starfruit kombucha gel. Springy and elastic flesh indicates a high level of health for the animal. Its supernal flavour is elevated by the shio koji. A creamy, New Zealand mussel sauce with dill oil and shimeji mushrooms gives an almost smoked bouillabaisse taste.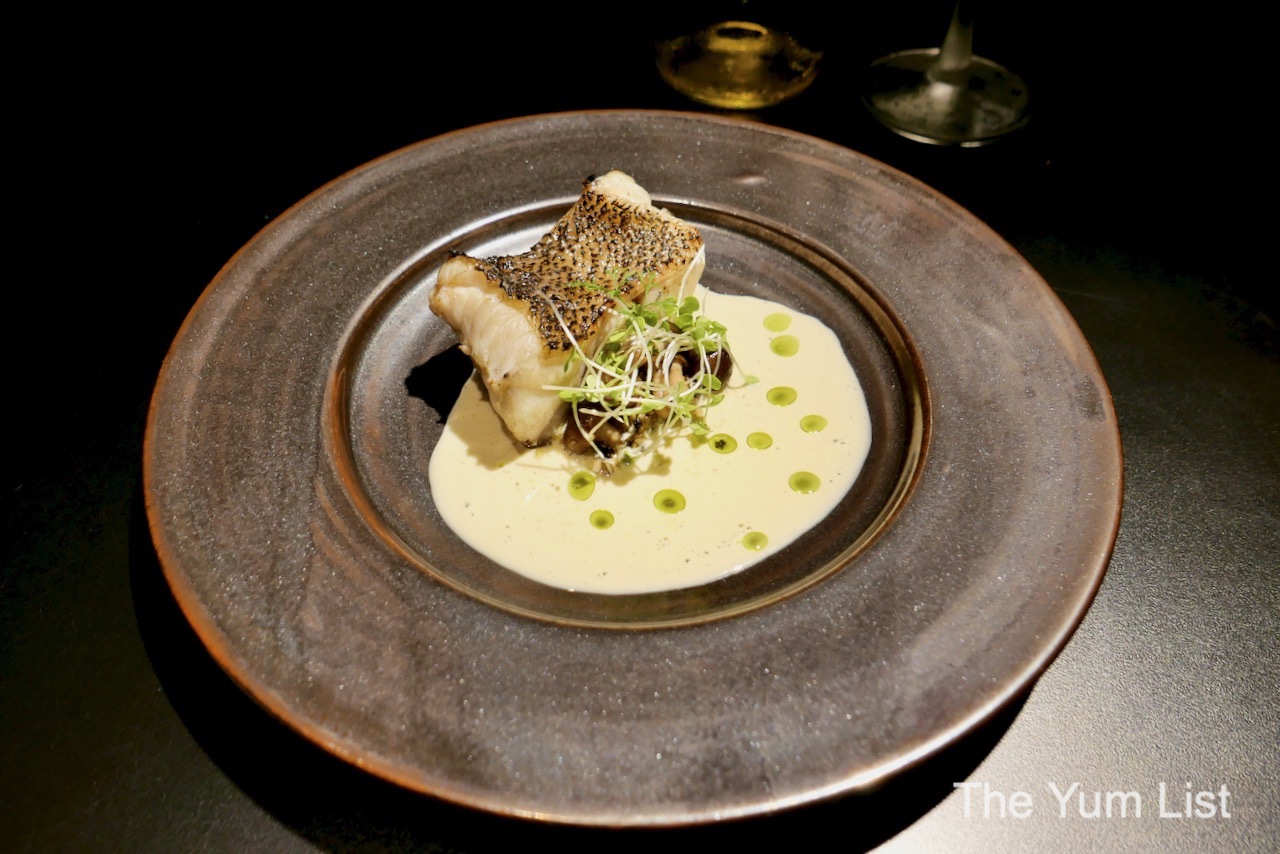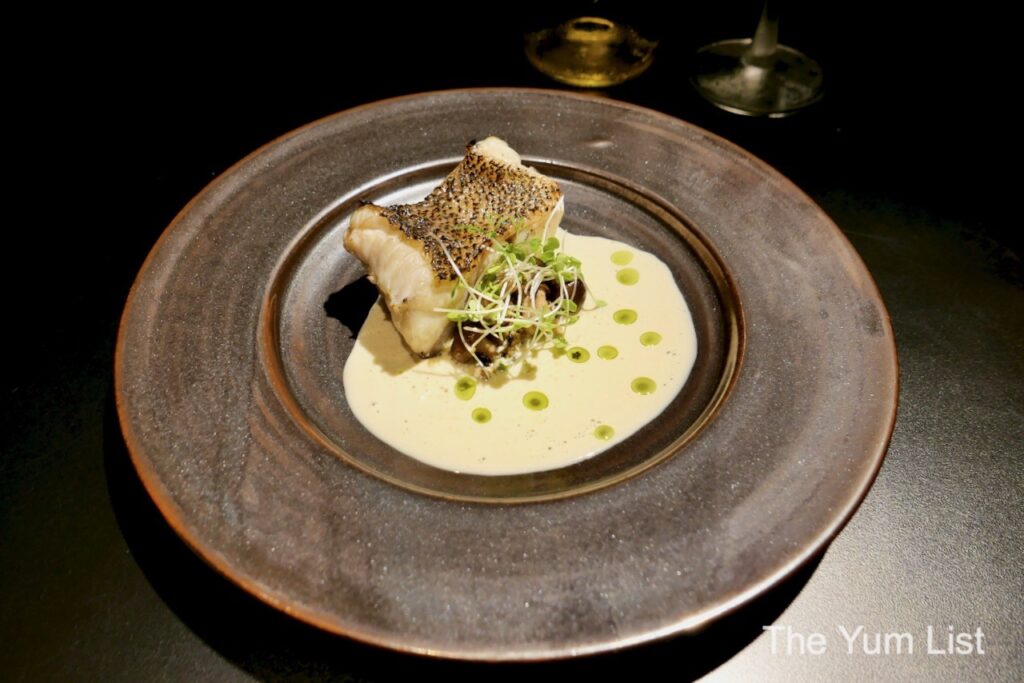 Bordeaux Blanc
The restrained polish of a dry 2019 L'egende Bordeaux Blanc graces us with mineral sophistication topped with layers of citrus. Delightful to drink, notes of grapefruit, honey and pear give a lightly tart finish, mixed with earthy layers. This final glass provides a charming segue between our main course and a sweeter final plating.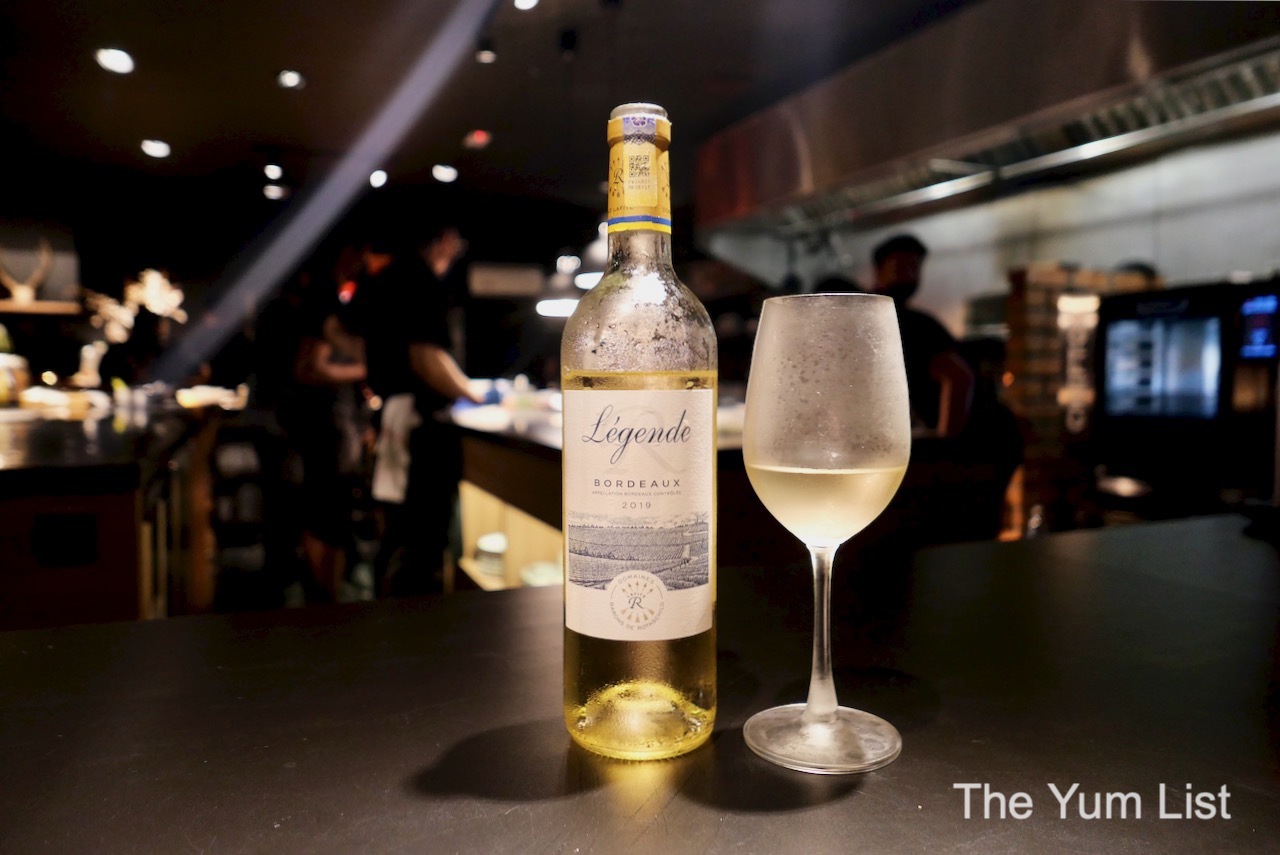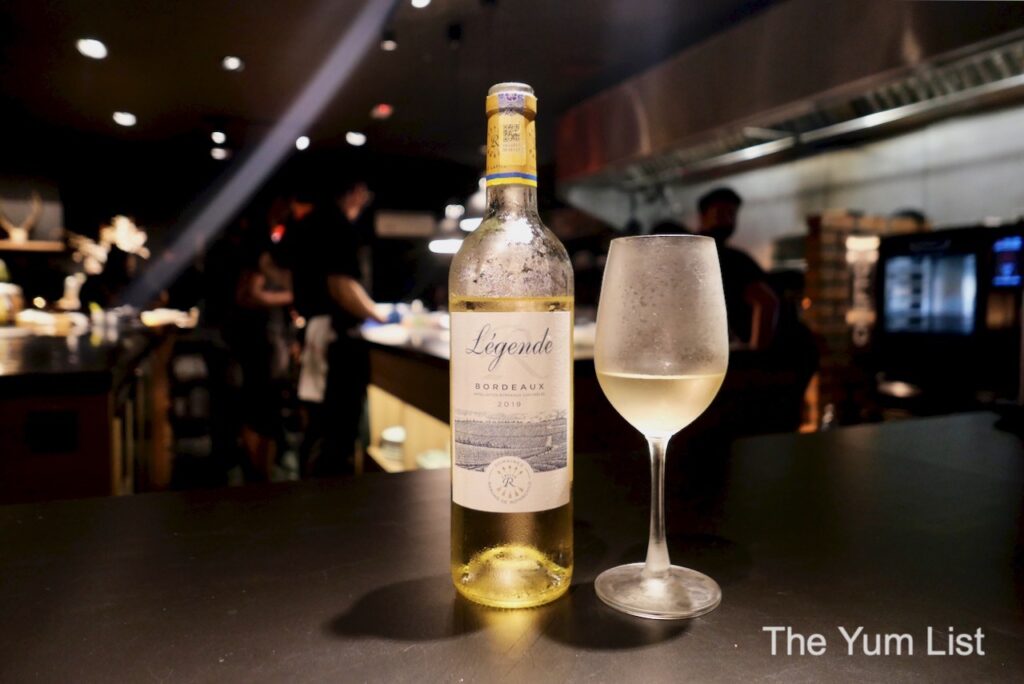 OITOM Dessert
For dessert, Jessica explains her creation of a Coconut Gelato made from local coconuts, served with a pan-toasted butter-rich French toast brioche, and Vanilla Cream Chantilly from Sabah's own dairy farms. High altitude and plentiful rain make for rich dairy grazing pastures, and Sabah's dairy industry produces milk, creams, and cheeses with a level of quality that would rival New Zealand or the European Alps. To accompany fresh strawberry chunks in a balsamic glaze, small cubes of Kirin melon, slow-roasted coconut flakes, and shaved Kota Kinabalu Bonaterra chocolate for dusting add intense bursts of locally grown, showstopping flavour. The fire-toasted lime rind is such a small component to the dish, yet this final touch is so potent it draws all the components together. OITOM's pastry chef, Jessica, is originally from Kota Kinabalu and has been studying and working here for the past two years. Like all OITOM's chefs, her contributions to menu brainstorming sessions are wonderfully trusted. She is given agency to challenge her own skills and knowledge – a vital part of the team's innovation process.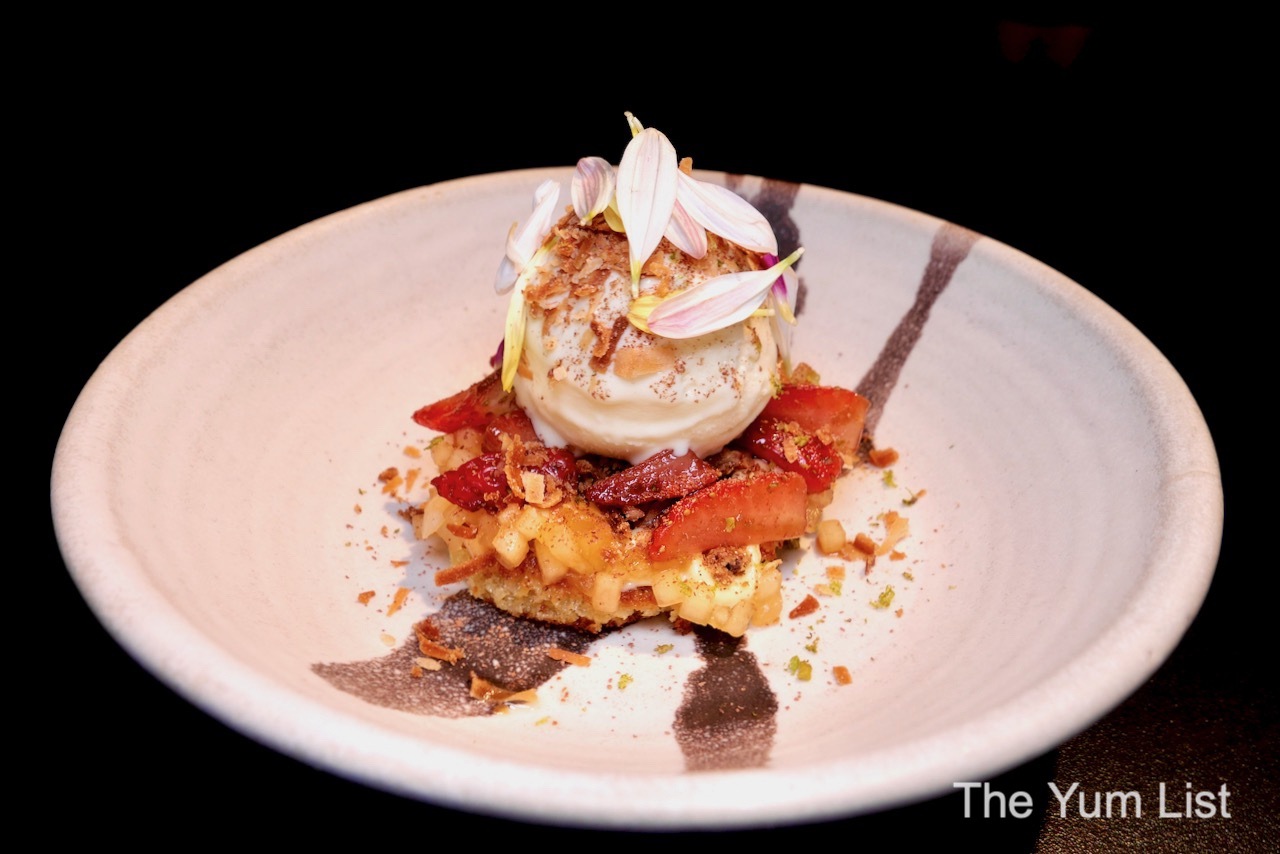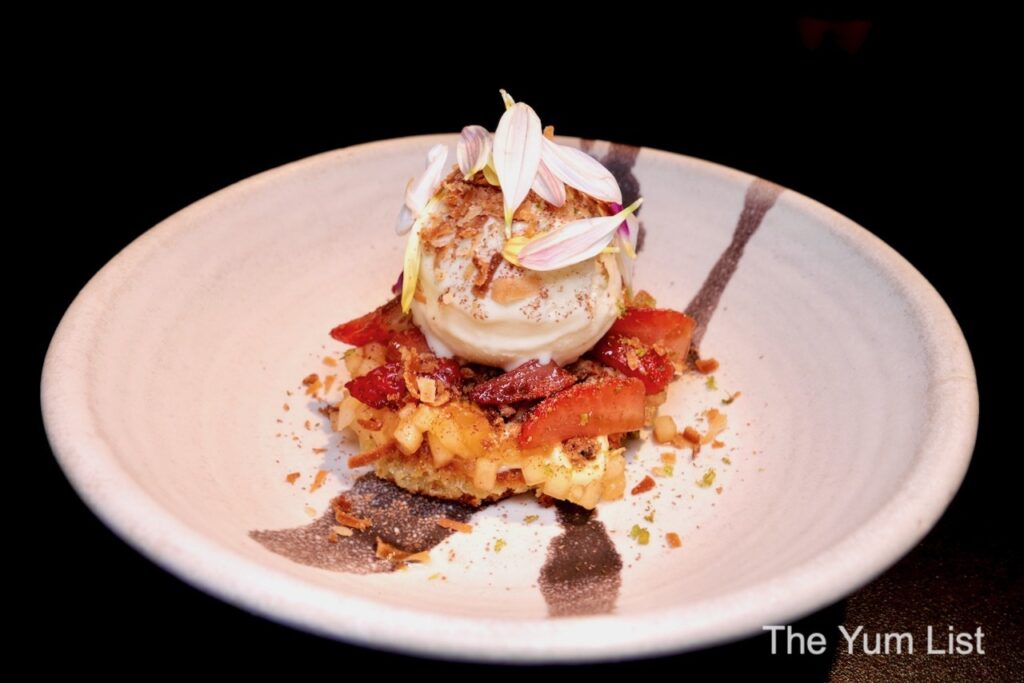 OITOM Kota Kinabalu
On the night we are here, a film crew from RTM is filming. Their crew move around the preparation space, multiple cameras on stabilisers zooming and panning around the stagecraft. We appreciate the wider celebration of food at OITOM. The intricate and highly developed nature of each dish is worthy of filming and acclaim, as are their dynamic and arduously trained culinary team. OITOM's modern, nuanced cuisine is designed to cast the spotlight on the incredible quality of Sabah's ingredients and farmers. It is an unbelievably cool vision in a rockstar chic space.
Fine Dining KK
Fine dining is not just visiting a fancy restaurant and being served delicately presented, expensive dishes. It is an art form. The artist is influenced and inspired by their own personal experiences of the world around them. Ingredients and flavours act like paints. Higher quality supplies mean the colours are bolder and brighter when standing alone. They blend better with other shades, creating wholly new colours when combined and mixed. In the end, when it all comes together, the layers of a story are woven together, with the power to evoke strong emotional responses from the audience. What once starts as an all-white (or all black) canvas builds and grows into a source of transcendent light. Each viewer, or diner, will bring their own interpretation to the piece. Personally, I feel the most interesting moments in appreciation are when you learn of the intentions of the artist and compare them with your own understanding – our differences in experience, culture and identity determine what we take from the piece. So too, with fine dining. The artistry is evident in each mouthful, each flavour profile, and the careful treatment of each individual ingredient. From its black background, OITOM seeks to illuminate guests with the ultrabright flare of truly Malaysian fine dining.
OITOM's tasting menu is available for only RM169 net (changes seasonally), with a three glass wine pairing for an additional RM120. Predaceous guests can substitute a Grilled Black Angus as their main for an additional RM46 per person. (Prices subject to change depending on seasonal ingredients.)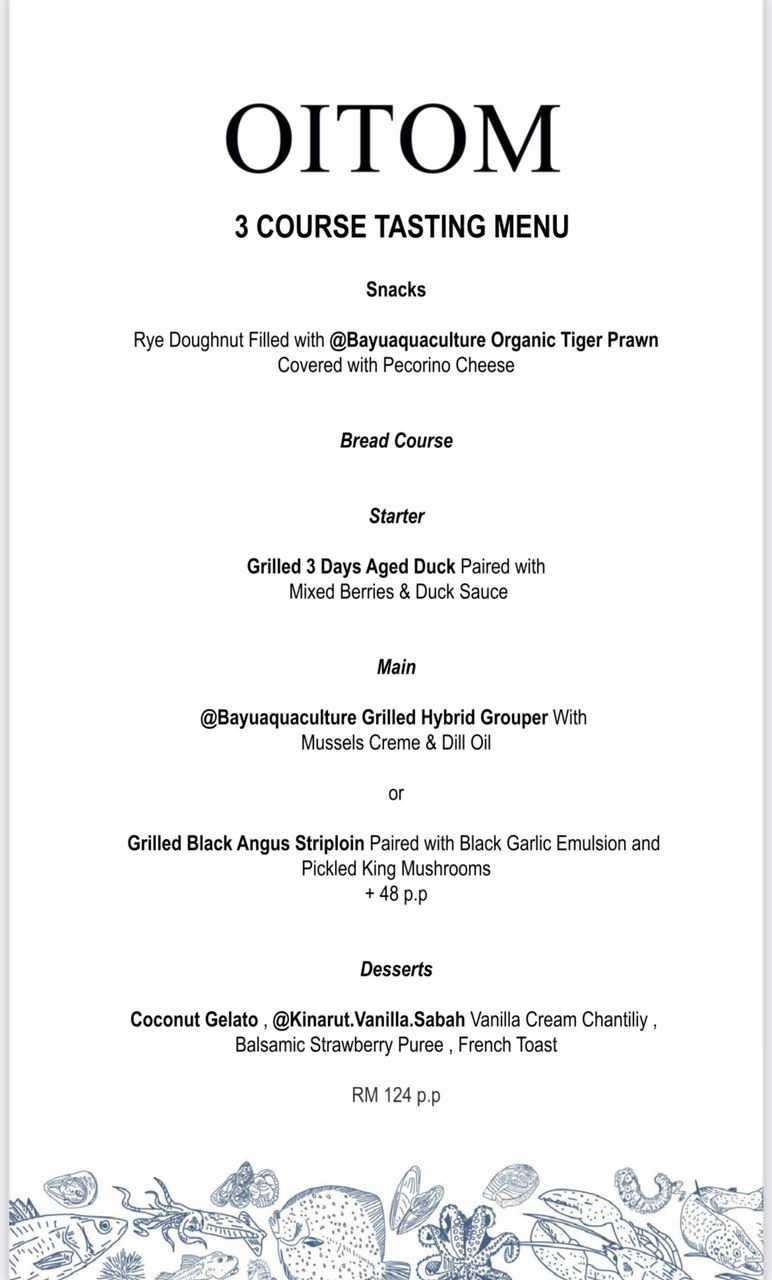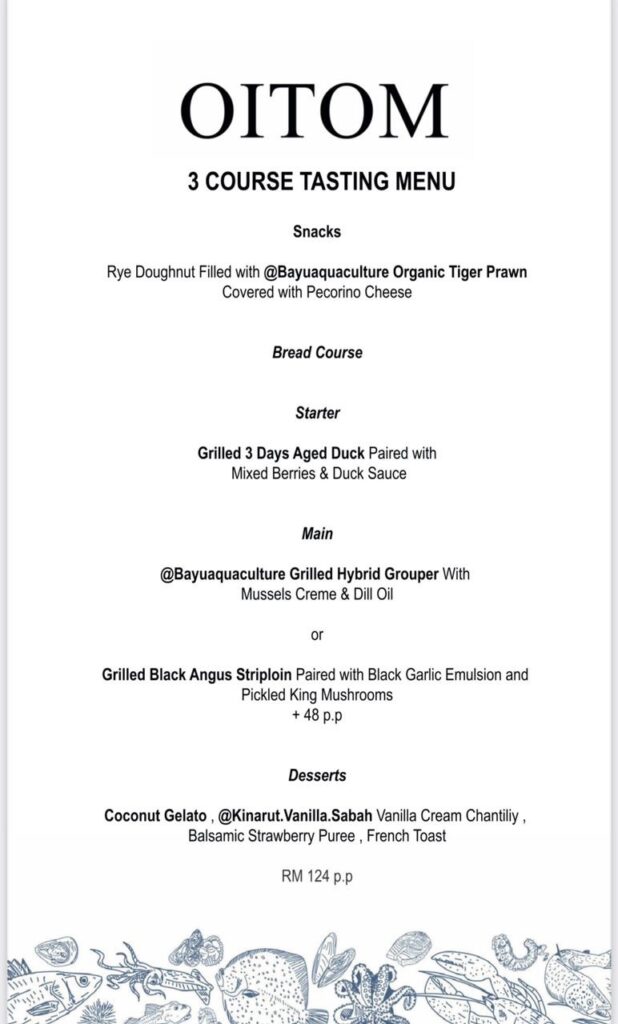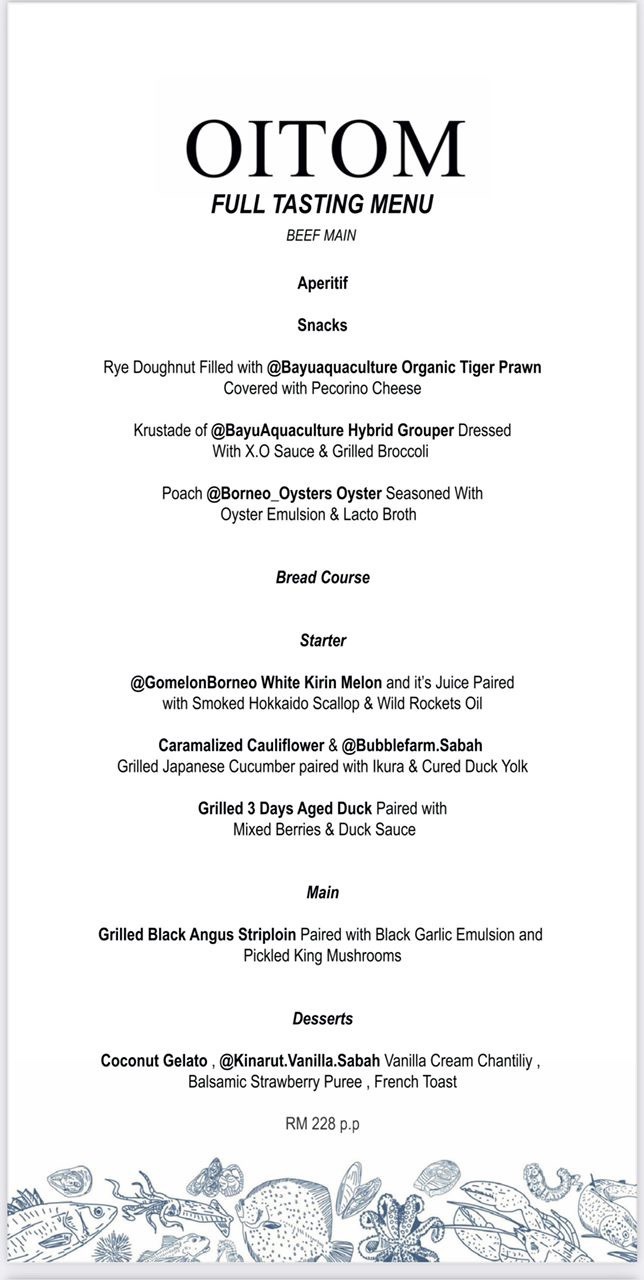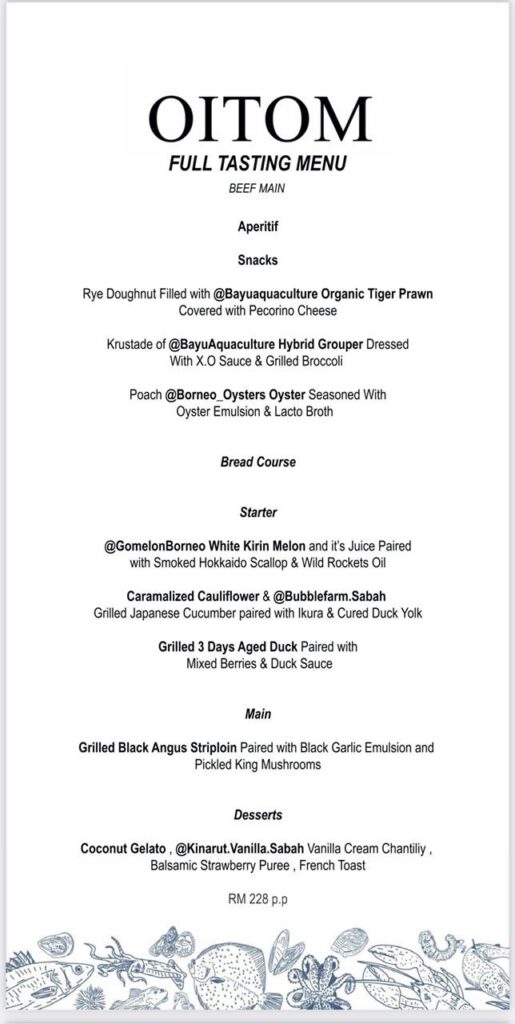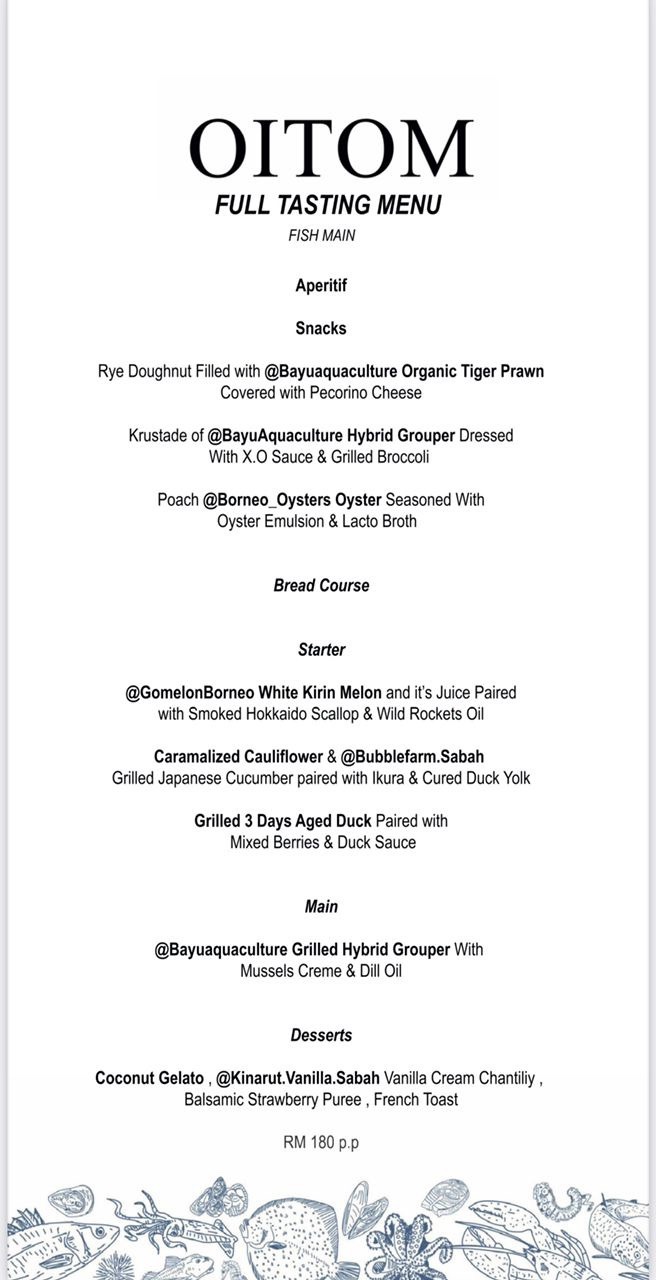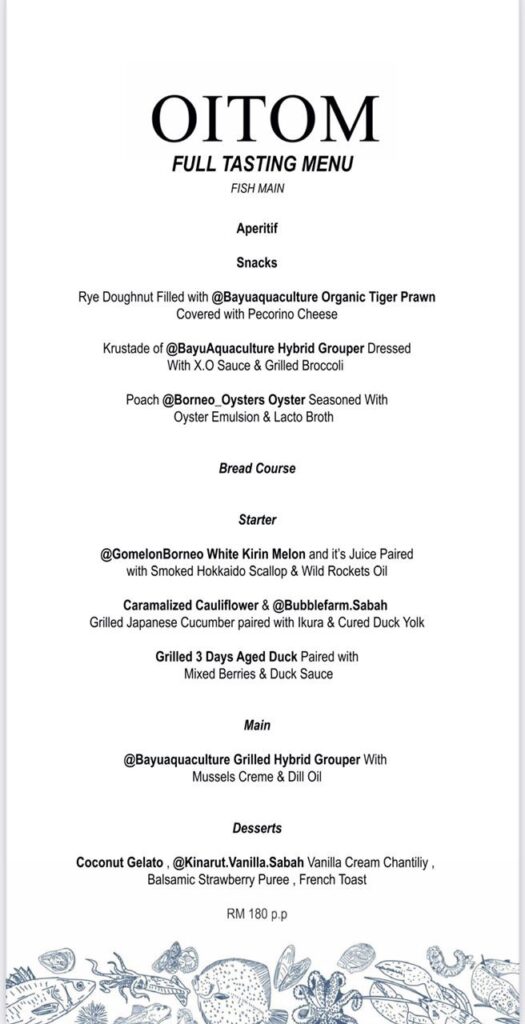 OITOM
Lot J-1-1 1st Floor Block J
Lorong Pusat Komersil 88/1 88 Market Place Jalan Pintas,
Lorong Sri Kepayan, 88300 Kota Kinabalu, Sabah
www.instagram.com/oitom_kk
+6014-329 9375
OITOM Opening Hours
Tuesday to Sunday: 6:30 pm-10:30 pm
Find more travel recommendations for Sabah here and stay up to date with the latest gourmet happenings around Malaysia here and here.