British Breakfast Bangsar
Words: Rebecca Cannon
Photos: Rich Callahan
A red telephone box stands out front of S+I like a Tartus, letting you know this place is as British as seasons changing from miserable to the rain coming from the other direction and brekkie all cooked in a frying pan. Located in that ex-pat haunt of Bangsar, it glares slightly down on Antipodean, fitting the cafe's national identities. Inside S+I makes me think of a modern working-class British vibe with the exposed red brick walls. However, like the Spice Girls is willing to have some fun about it with retro British pictures and Union Jack pillows. The music, though, is old school rock from the UK, of course.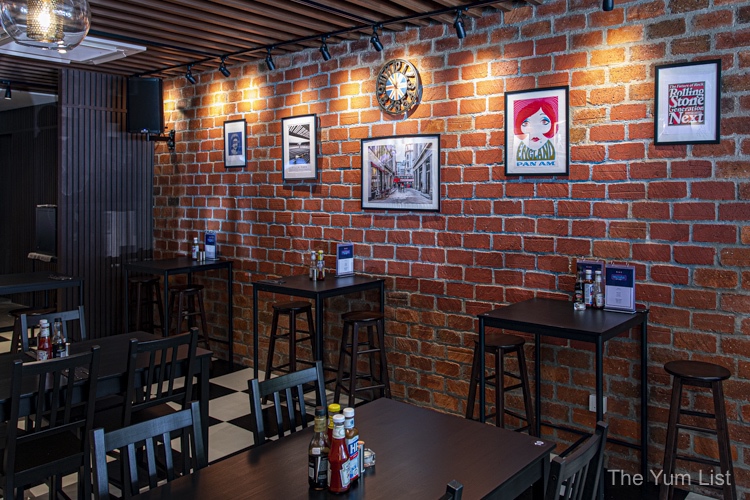 British Breakfast Bangsar – S+I
We sat down, ready to take our place for the traditional fry-up that is the British breakfast. We had the Fully Monty (RM30), Vegetarian Full Breakfast (RM28), Eggs Royale (RM28), Corned Beef Hash (RM30), Baked Beans on Toast (RM21 ), and Bacon and Egg Buttie (RM26). Somethings to note before I begin. In honour of their Malaysian location, S&I is pork-free. You can still buy alcohol at the bar, but the bacon will be of chicken origin. All the baked beans served are Heinz, because why try and improve on the best?
The Full Monty – British Breakfast Bangsar
The Full Monty is a full English breakfast complete with fried eggs, mushrooms, streaky bacon, lamb sausages, hashbrowns, and baked beans served with fried bread. The bacon, despite my apprehension for being chicken, was fine; smoky, meaty, and crispy. So, all in all, bacon without the pig. The British know how to do a hashbrown; crunchy on the outside, soft-cut potatoes on the inside. It was my first time trying fried bread. It doesn't look deep-fried because it's not. It's merely cooked buttered in the frying pan. Given it's fried, I shouldn't have been surprised, but it is highly addictive. Overall, it's your typical but well-crafted full English breakfast. If you're a vegetarian, they also serve a vegetarian version (header photo) with the bacon replaced with tomato and the meat sausage for a vegetarian one.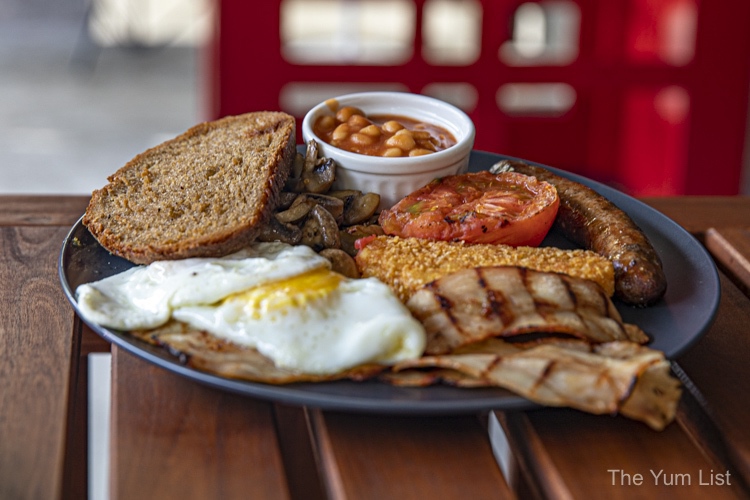 Eggs Royale
If you can't eat a full breakfast, why not try one of the smaller options? The Eggs Royale is exactly what it's named; poached eggs on an English muffin with smoked salmon and hollandaise sauce. No tricks, just what you expect. The sauce is made in-house and politely served on the side. This gives you control over how much to drown or drab your eggs in it. The British muffin is indeed a good British muffin, and I imagine a lot of the UK ex-pats will be very thankful for that. As is typical, a fresh side salad comes with the dish which is crispy from the raw vegetables and lemony to compliment the hollandaise sauce.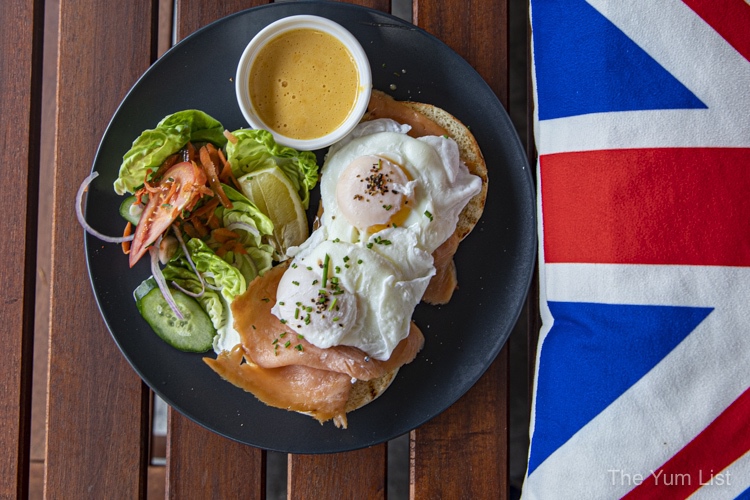 Bacon & Egg Buttie
Continuing on with eggs on bread, the Bacon & Egg Buttie is as much a British breakfast staple as the full English. Here buttie means sandwich in the slang of the motherland. Just as with the rest of the fried eggs, the yolks are a dark but vibrate orange colour highlighting the freshness of the eggs and the kampung lifestyle they must lead.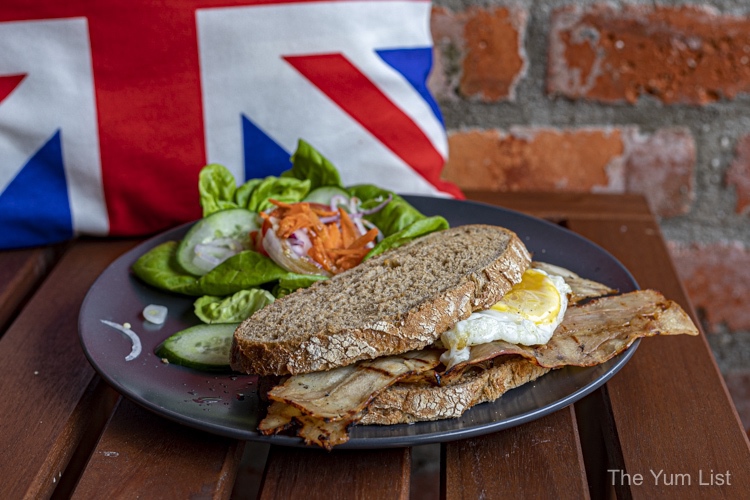 Beans on Toast
I enjoyed the soft sourdough bread buttered and in its natural form. Still, I discovered it was equally delicious in toast form as part of Beans on Toast. Here the bottle of HP sauce sitting at each table comes in handy because it's Heinz baked beans! You can choose to add some grated cheddar to your meal if you're so inclined.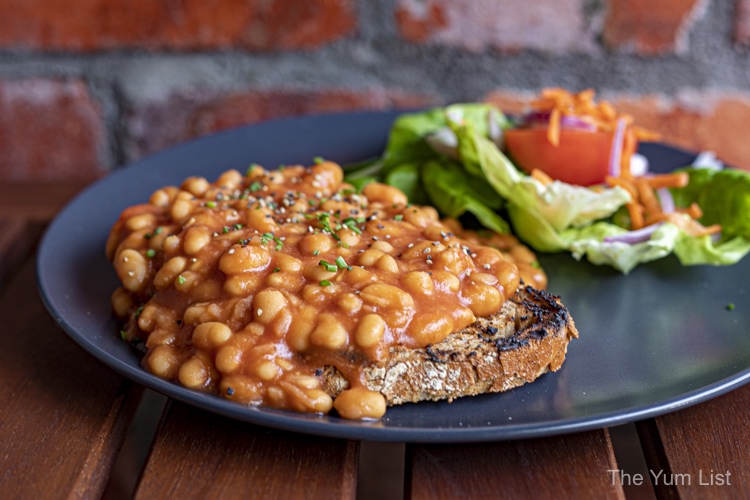 Corned Beef Hash
The last meal we tried was the chef's favourite and head of house's guilty pleasure – Corned Beef Hash. Personally, I think of corned beef like marmite – you either love it or hate it. If you're like the owners, then you'll adore this dish – hunks of corned beef with roasted potatoes and some onions, with a fried egg and slice of fried bread on the side. This will definitely fill you up for the day ahead.
You can happily wash your meal down with a variety of fresh juices, teas, and barista-made coffee. Or use these beverages to help wake you up. Thank god for a British breakfast, or I'd truly despise mornings.
Reasons to try the British breakfast at S+I: a good fry up sure to fill your tummy.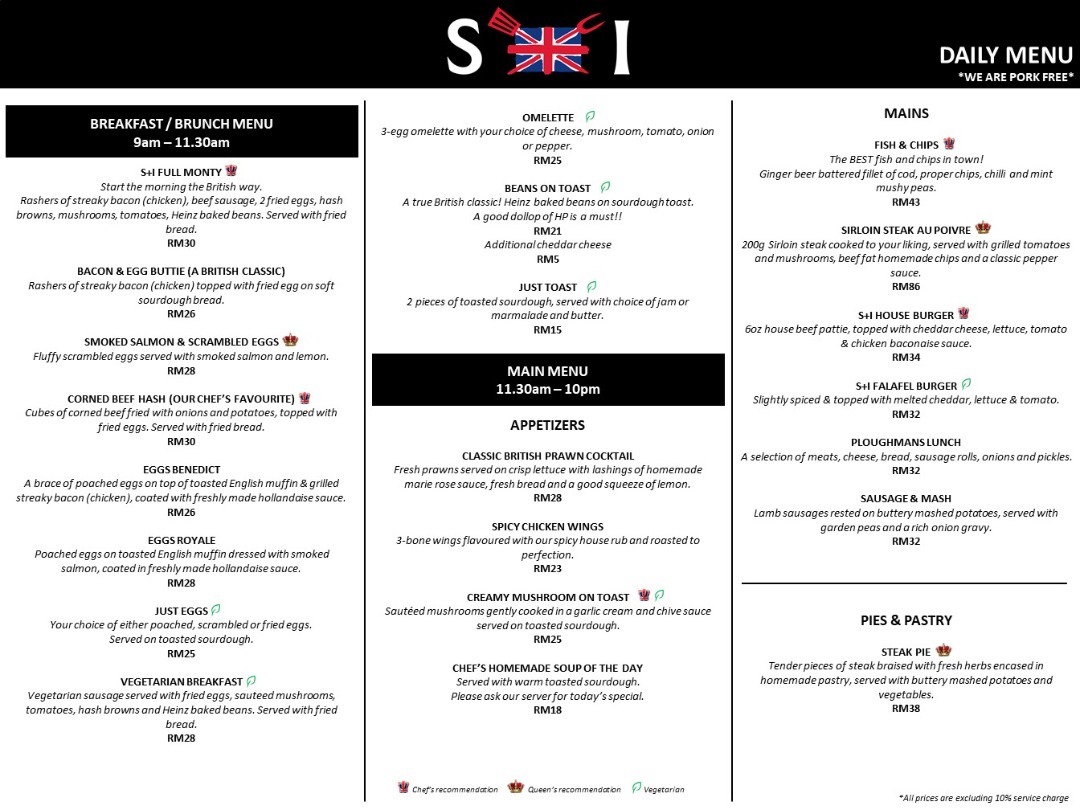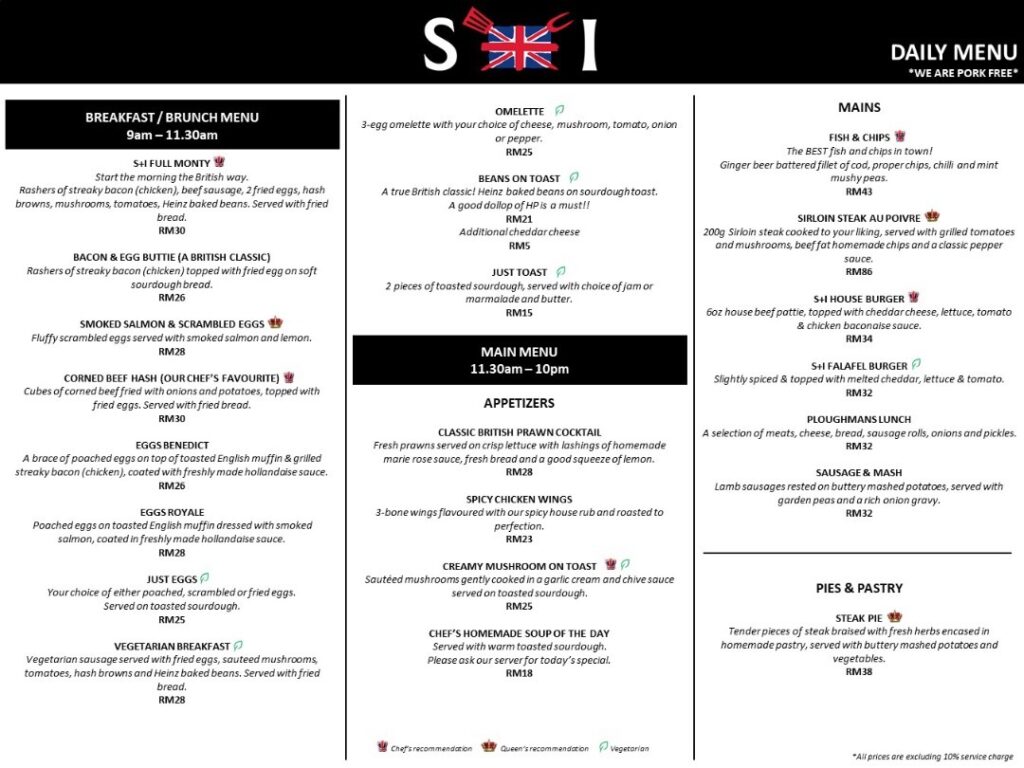 S+I Restaurant
17-G, Jalan Telawi 2,
Bangsar, Kuala Lumpur, 59100
+012 371 7161
Opening Hours
Tuesday – Sunday 9 am-10 pm
Breakfast served between 9-11:30 am
Find more restaurants in Bangsar here and stay up-to-date with the latest gourmet and travel recommendations for the country here and here.