Ní.Kizoku – Chinatown KL
Words: Monica Tindall
Photos: Rich Callahan
First, it was hip cafes and hidden cocktail bars, then a cascade of contemporary dining establishments that came with the revival of Chinatown KL. Now, upmarket dining has reached the area, adding yet another layer to this vibrant scene. Ní.Kizoku Modern Japanese Dining Bar 霓•貴族 is a fine complement. It is sure to become an integral part of this exciting food and beverage arena.
Partners Abby and Sean wanted to incorporate European and local elements into Japanese cuisine, providing guests with a familiar yet exciting menu. The owners of three izakayas (Fujisawa) had a solid foundation from which to work. The same concept is reflected in the setting, with the character from opposite sides of the globe represented. The room is immediately charming and irresistible in its fusion of old-school Europe and Japanese izakaya décor.
Studded leather lounges, chandeliers, maroon velvet curtains, elaborately framed mirrors, antique clocks and still life paintings are juxtaposed against giant sake barrels, staff dressed in black kimonos and an odd samurai statue on the mantel. The table setting bridges the interior design and the food with ornate gold cutlery and purple goblets alongside sleek black chopsticks and wooden sake boxes. French and Japanese bossa nova tunes further add to the eccentricities.
I'm not sure if I'm in for a royal feast of opulence and debauchery in the dining room of an ancient French chateau or have merely stumbled through time to a fancy bistro in a back street of Paris that has adopted a family of Japanese chefs. Either way, the quirkiness of the concept works! We're tantalised by the backdrop and soon also become enamoured by the food.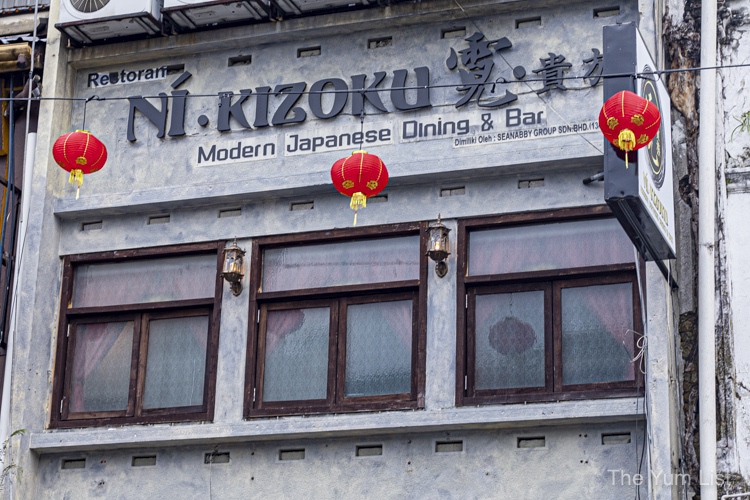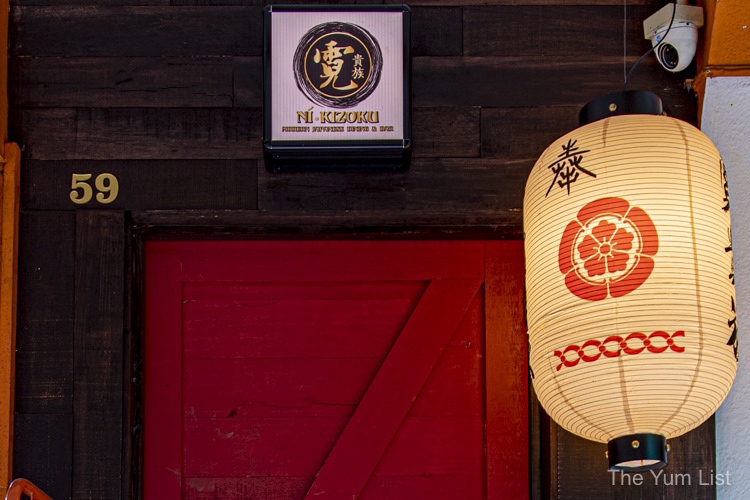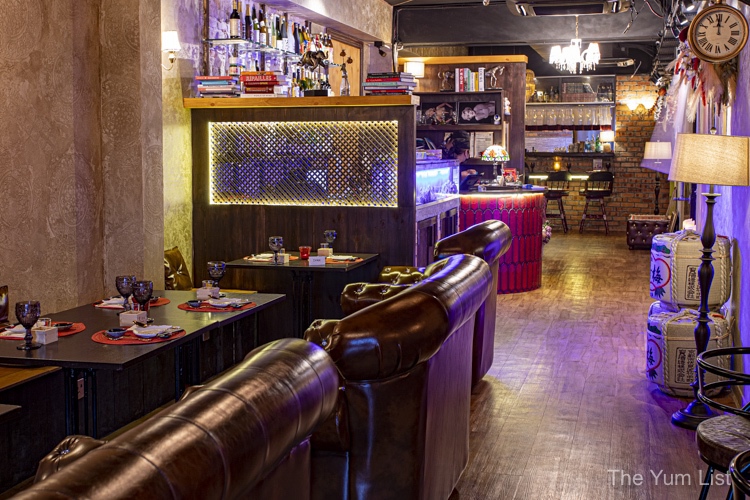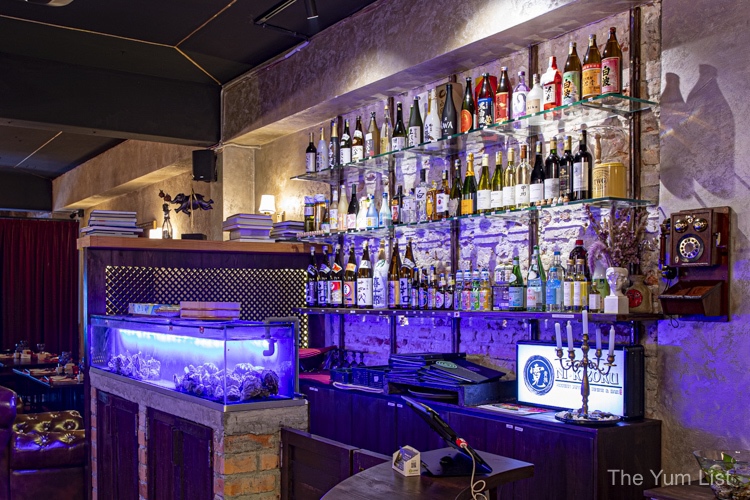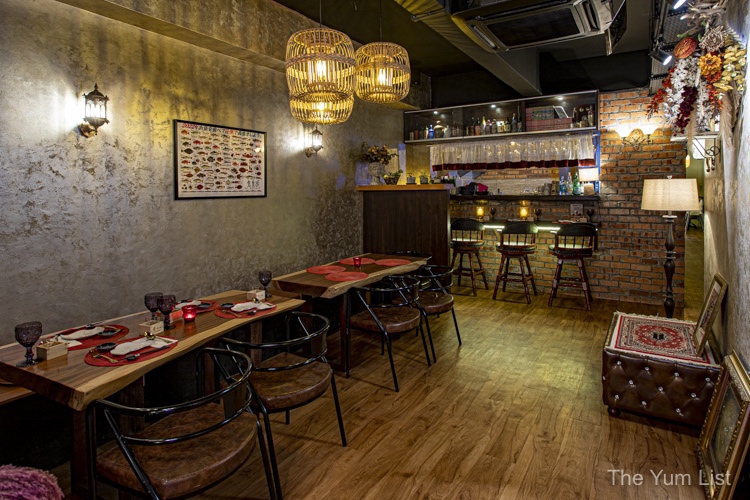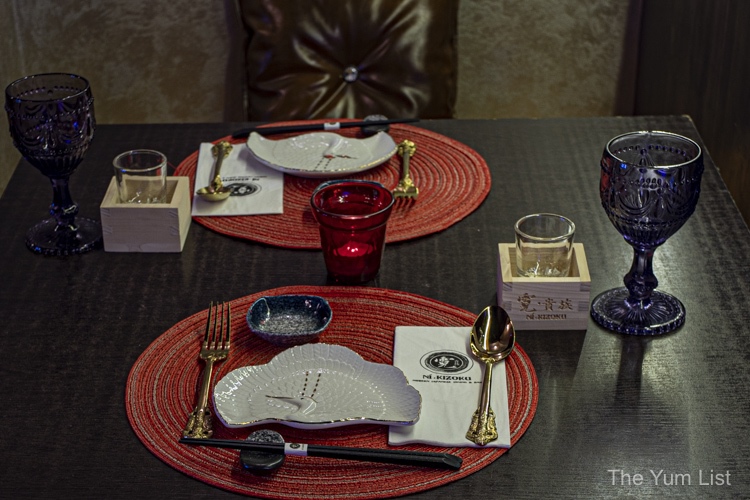 Ní.Kizoku Menu
Aperitif
Sake, shochu, highballs, wine and a compact selection of cocktails compose the boozy offerings of Ní.Kizoku's menu. Our entrance with Tomato Zuke Sangria (RM 39) and Ram-bu-tan (RM 35) perfectly introduces what is to come.
Firstly, their signature cocktail is a twist on Spanish sangria with Cameron Highlands cherry tomatoes and pomegranates soaked up to 72 hours in every glass. The tomatoes combined with the oba leaf garnish remind us of Japanese salad. This order comes in a trio of small glasses on a stone-filled tray. It's a slightly savoury version of sangria, and the portion is just right to whet the appetite.
While the Tomato Zuke Sangria has a savoury profile, the Ram-bu-tan (RM 35) is sweet and fruity. White wine holds organic blue pea flowers, fresh rambutan and mint leaves. Served well-chilled, it's excellent as an aperitif, works well with the seafood dishes and takes the edge off a warm afternoon.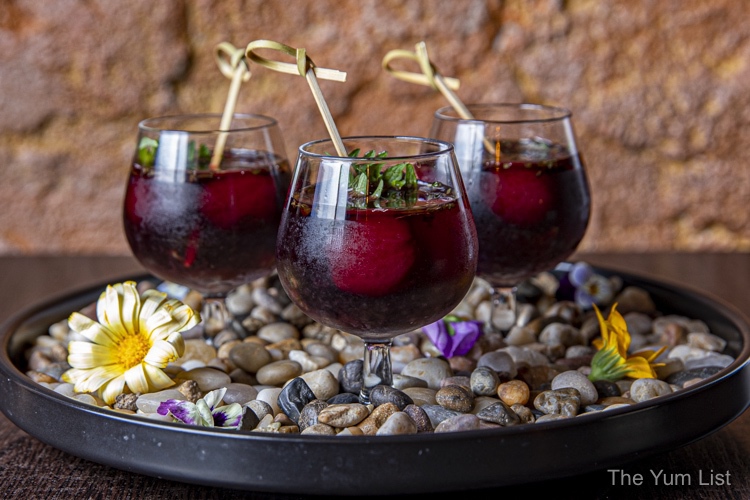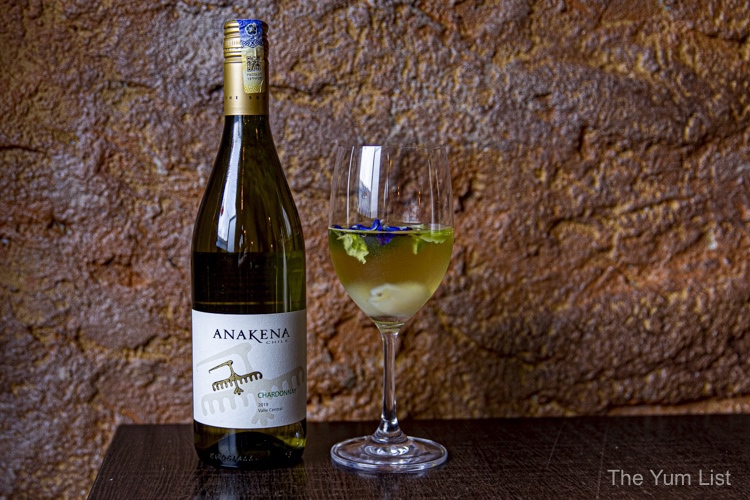 To Begin
Ní.Kizoku's food menu is extensive. It could take quite some time to scroll through, so I recommend chatting with staff about your preferences. We don't even touch on a quarter of what is offered here. More reason to return, right?
Ikura Avocado Anchovy Toast (RM 35) is immediately attractive. Vibrant with colour thanks to edible flowers, gold leaf, pink salmon, and green avocado, it stands out on the dark leaf-shaped plate. The ingredients are layered on a croissant slice and served with a cube of kombu butter on the side. What a beginning! It's not only gorgeous but delicious.
The Smoked Salada (RM 25) with Three Salmon Ikura Rose (+RM20) is equally impressive. Beautiful rolls of pink salmon, Okinawa seaweed, mango, pomegranate, red coral and iceberg lettuce are arranged in a ring around the plate with wafu dressing in a sherry glass in the middle. It's bright and fresh, and the dressing is superb.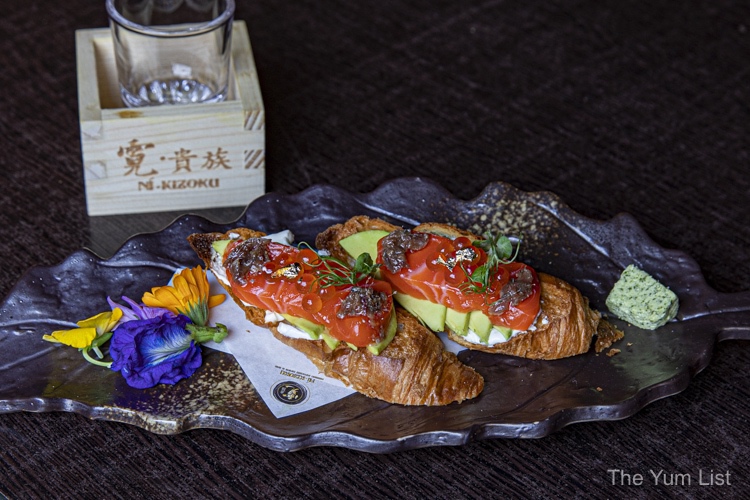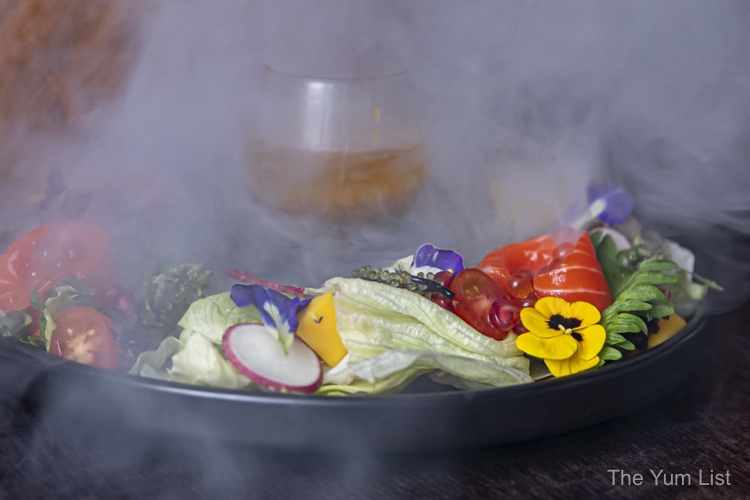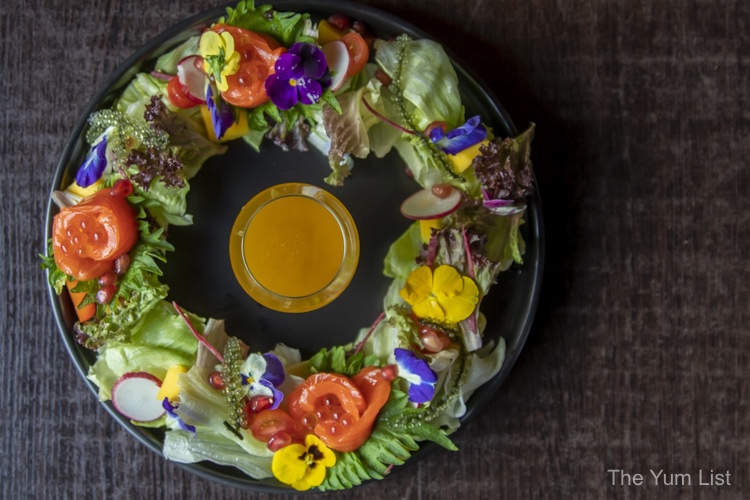 Cheese
The 5 Assorted Cheese Platter (RM 49) is an unexpected appearance on a Japanese menu. Still, the team has woven in enough elements to fit the transition. Five types of cheese – petit brie and bleu d'Auvergne from France, Australian naturally smoked cheddar, Italian grana padano, and white cheese from Denmark are laid out on a wooden platter. The cheeses are supported by a glass of pomegranate seeds, a Hungarian honeycomb, and the iconic Japanese Meiji salt crackers.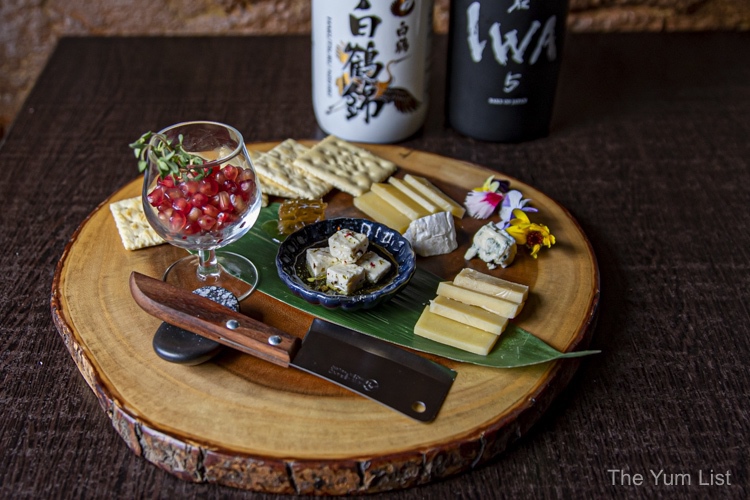 Sashimi
In our ongoing goal to support more plant-forward menus, we try Okinawa Umi Budō (RM 39) from the sashimi section. These sea grapes from Okinawa arrive in a cloud of dry ice, adding further mystery to these not so common treats. They're briny, gently sweet and crunchy. It's best to try them first on their own and then dip them in the ponzu sauce.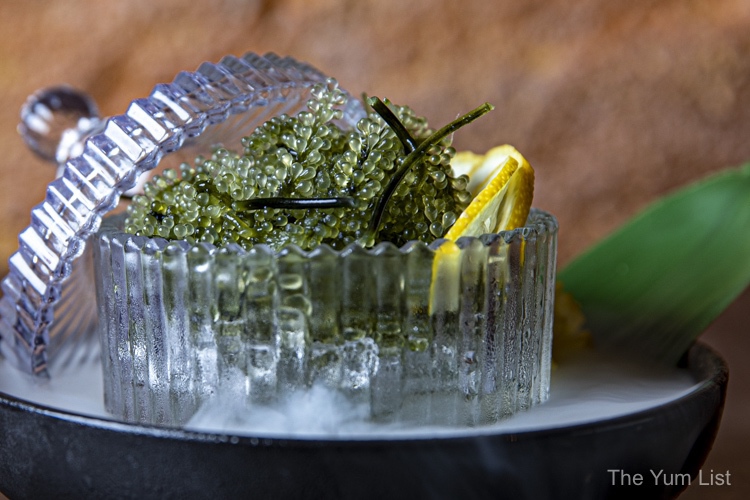 Nori Tacos – Ní.Kizoku
Looking at Ní.Kizoku's nori taco section makes me think this could be a concept all on its own. I'd love to see them as a pop-up at Tiffin at the Yard or the like. Each taco shell is deep-fried nori seaweed in a light tempura batter holding a variety of ingredients. We try both the Hokkaido Nori Taco (RM 23) and the Inari Avocado Nori Taco (RM 13). The former is filled with a plump seared Hokkaido scallop, caviar and gold flakes. The latter holds rice inside a sweet tofu pouch along with avocado, mango, pomegranate and gold flakes. I'd recommend both of these and would like to return to try the rest of the selection.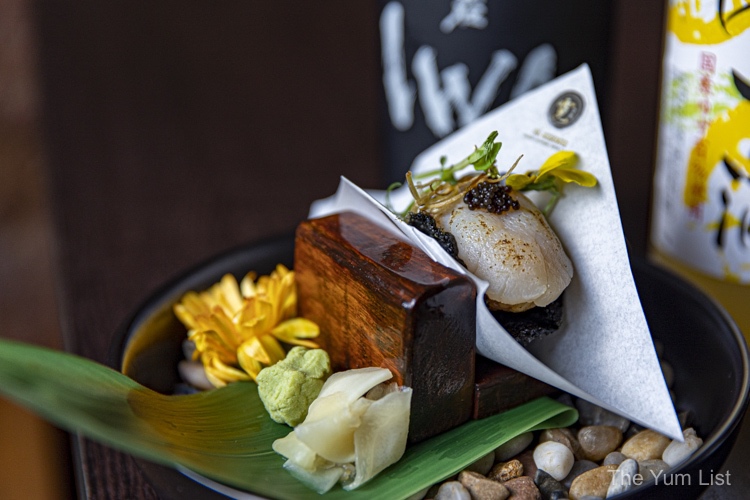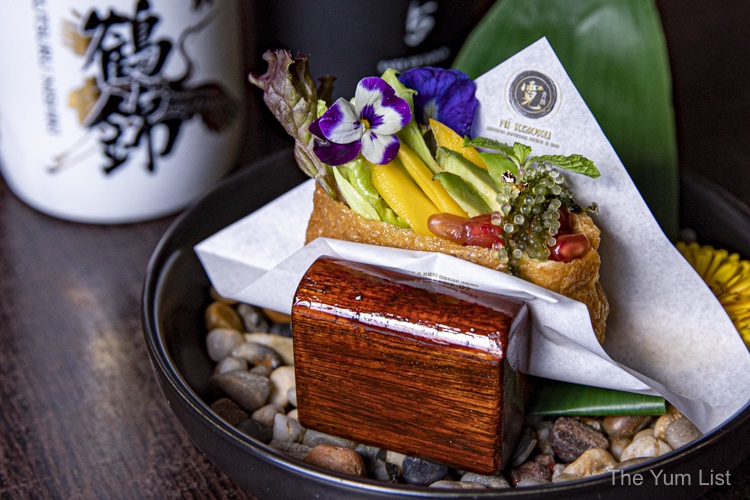 Rice
Rice bowls at Ní.Kizoku come with a variety of toppings, but the most luscious is the Kizoku Wagyu Don (RM 180). Melt-in-the-mouth slices of Aussie wagyu are grilled in a truffle teriyaki sauce. Bafun uni, ikura and caviar make a Japanese version of surf and turf. At the same time, the delicate onsen egg binds it all together. On the side, a bowl of rich clam and Okinawa seaweed miso soup make it a complete meal.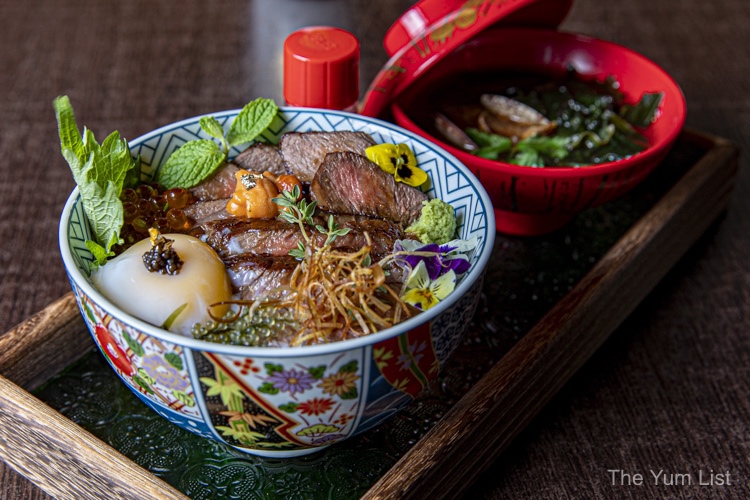 Noodles
Unexpectedly, although we should by now be ready to expect the unexpected, the Hot Salmon Akadashi Inaniwa Udon (RM 25) comes in a crystal bowl you might imagine finding on Grandma's dresser. The akadashi soup with salmon, spinach, seaweed, mushroom and Inaniwa udon is absolutely delicious. With my limited knowledge of Japanese noodles, I expected fat round strings. However, Inaniwa is distinct, more resembling flat ribbons of fettuccine. They're silky, slippery and absolutely slurpable. It's another dish that would make a perfectly satisfying lunch all on its own.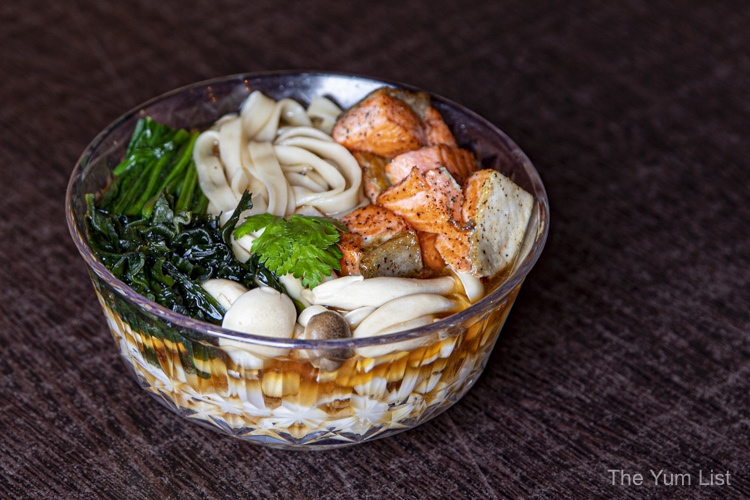 Dessert Menu – Ní.Kizoku
We end our meal at Ní.Kizoku with Uji Matcha Crème Brûlée (RM 15). It's gently sweet, topped with edible flowers, rambutan slices and mint. Just the right size, it's a well-received conclusion to a highly satisfying meal.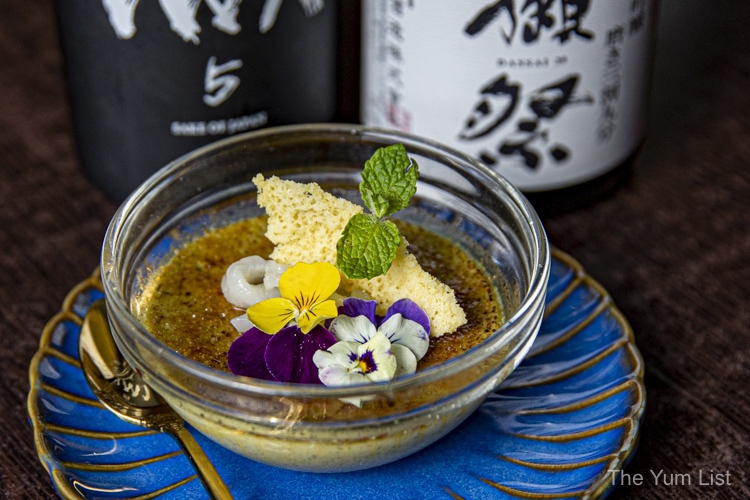 Reasons to visit Ní.Kizoku: a genuinely captivating and unique setting; great location in the happening street of Jalan Sultan; beautifully presented and delicious menu; must try the nori tacos and Inaniwa Udon.
Ní.Kizoku Modern Japanese Dining Bar 霓•貴族
No.59A (first floor), Jalan Sultan,
50000 Kuala Lumpur, Malaysia
+603 2022 3889
+6011 3605 3839
Ní.Kizoku Opening Hours
Tuesday – Thursday: 5 pm-11 pm
Friday: 2 pm-12am
Saturday: 12 pm-12 am
Sunday: 12 pm-11 pm
Monday closed, except on eve of public holidays
Find more contemporary restaurants in KL here, more on the hot food and beverage scene in Chinatown here, and stay up-to-date with the latest gourmet and travel recommendations for Malaysia here and here.