Feeling+ by Optimist Coffee
Words: Monica Tindall
Photos: Rich Callahan
Fans of Optimist Coffee, a cheery takeaway coffee shop in KL's city centre, are sure to applaud their next step in creating a sit-down café in Damansara Heights. Mirroring their upbeat vibe and good brew in the new space, Feeling+ augments the concept with a chilled space to appreciate it and the addition of toasties encouraging guests to linger a little longer.
Founder Trev Ng says that 2021 was full of challenges, but they decided to "take a bold pivoting step. To expand to our very first dine-in cafe in a neighbourhood we love, Damansara Heights." While they have a new brand direction, the core values of Optimist remain – to spread optimism with good coffee and food. "We want Feeling+ to be a soul-comforting space, with some really good toasties, coffee and positivity. We hope guests feel good whenever they are here with us."
Located on the first floor of The Five, it occupies a corner lot flanked with large windows. In a palette of plywood, polished cement and cool white, accented by potted plants, Feeling+ café has a calm, minimalist mood. Simple block furniture sees chairs and tables fitting together like Lego pieces. A giant mobile, balancing coral, a mirror and an air plant, sways ever so gently suspended from the ceiling. Further positing the outlook of Optimist Coffee, look out for inspirational quotes on walls and nooks: "Be in the present," "Only good vibes," "Relax. Trust the process. Enjoy the journey. Enjoy the ride."
Feeling+ by Optimist Coffee Menu
As mentioned, the core of the Feeling+ menu is good coffee and hearty toasties. Stone-hued ceramic serving dishes and cups fit right into the relaxed atmosphere.
Toasties
We begin big with carbs on carbs in the Mac 'n' Cheese & Cauliflower Karaage Toastie (RM 28). Spongy, chewy slices of sourdough hold the namesake ingredients alongside Feeling+ sauce, gherkins and pickled onions. Pretzels add a crunch on the side.
Our first bite was big and bold but it's the light spice in the Kimchi & Mushroom Toastie (RM 26) that most grabs our attention. The fermented cabbage is complemented by roasted mushrooms, spicy mayo, coriander and mozzarella that makes a great shot as it melts down the sides.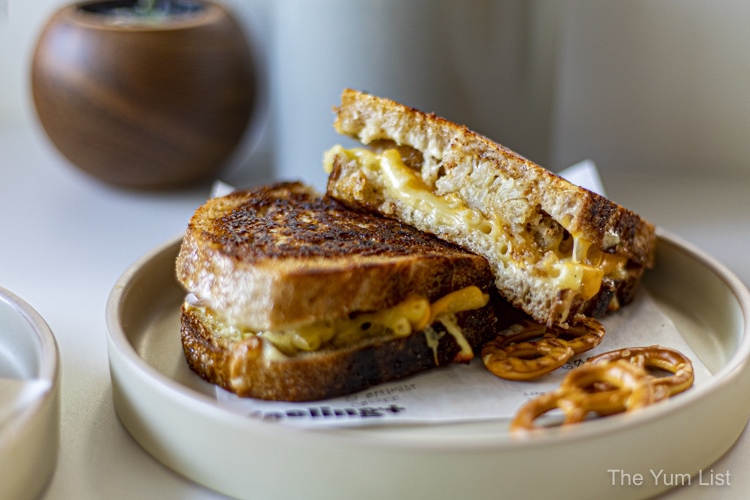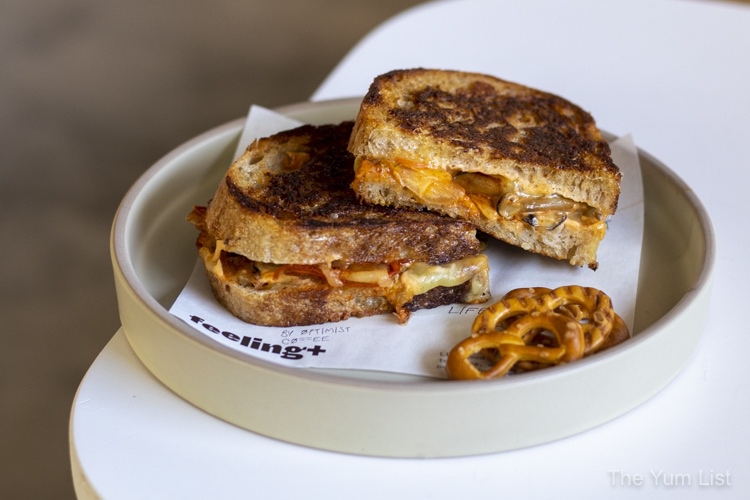 Open Toasts
Open toasts still offer two slices of sourdough, only in this presentation the filling is displayed on top for all to see. Smashed Pumpkin with Crispy Enoki Open Toast (RM 19) is a solid plant-based option with onion mousse and cauliflower hiding amongst the smashed pumpkin and a crispy brown tangle of deep-fried enoki.
The Hung Yoghurt Smoked Salmon Open Toast (RM 29) is possibly the prettiest of the lot. It's hard to deny those soft pink rolls of fish contrasted with army-green capers and a milky white poached egg as a fetching shot. The yoghurt, pickled cucumber and sumac lift the recipe with their slight tang and spice.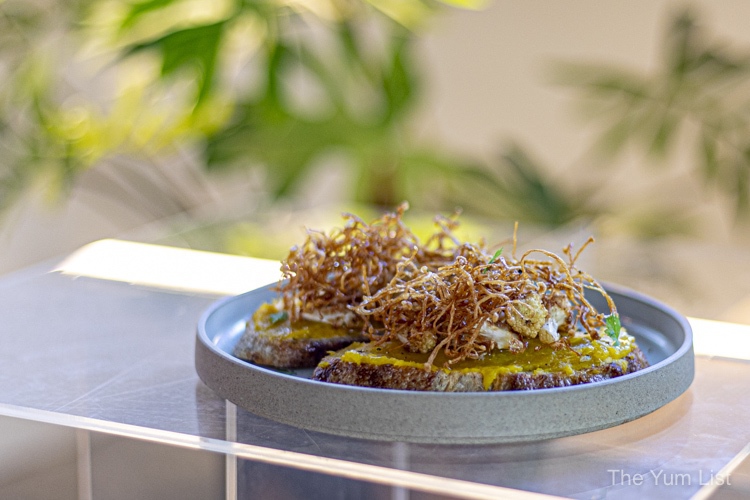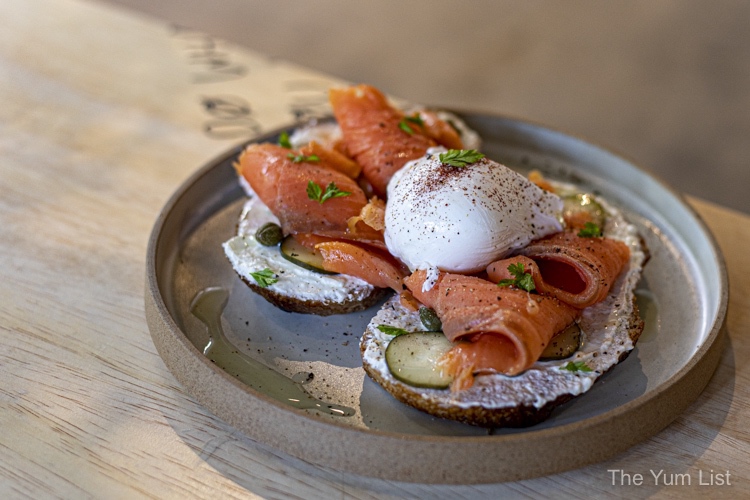 Others
The Chai Granola Bowl (RM 22) offers a sweet choice for brekkie or a filling snack. House-made granola has a touch of spice with chai syrup coating the oats and almonds. It covers a bowl of natural yoghurt and is crowned with shredded green apple and peeled orange segments. As the bowl sits, the sweetness of the granola seeps into the yoghurt, and the freshness of the fruit enhances every spoonful.
Feelings+ French Toast (RM 26) resembles the furniture with its two rectangular prisms of thickly sliced bread. The egg mixture has only just soaked into the edges, so the middle is fluffy white milk bread. The toppings are delicious – caramel sauce, banana, blueberries, lemon cream cheese and crushed pistachios.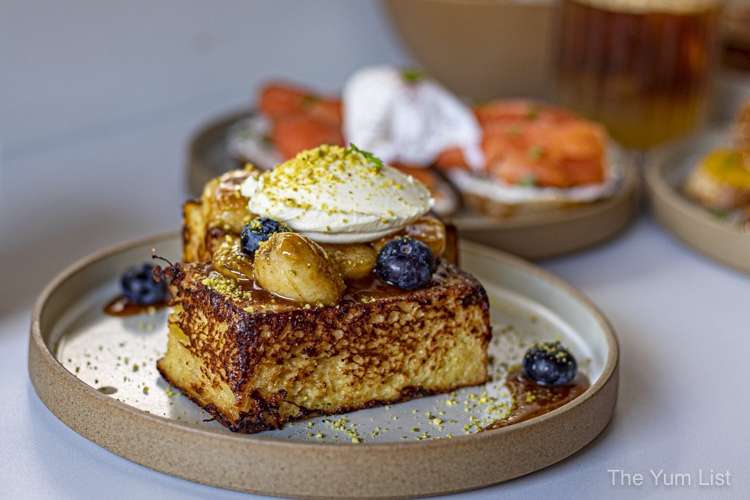 Feeling+ by Optimist Coffee – Beverage Menu
It would be remiss not to enjoy a good brew while here. The Cappuccino (RM 12) is just what you'd expect from this team – a balanced blend with an expertly foamed crown. However, the Orange Espresso Tonic (RM 16) is something special. Fabulously refreshing on a hot day, caffeine, fizz and citrus are a winning combo. Still, if you'd prefer to forego the coffee, there are several other beverages on the menu such as the Matcha Latte (RM 13). Dairy alternatives, such as soy or oat milk, can be substituted for an additional RM 3.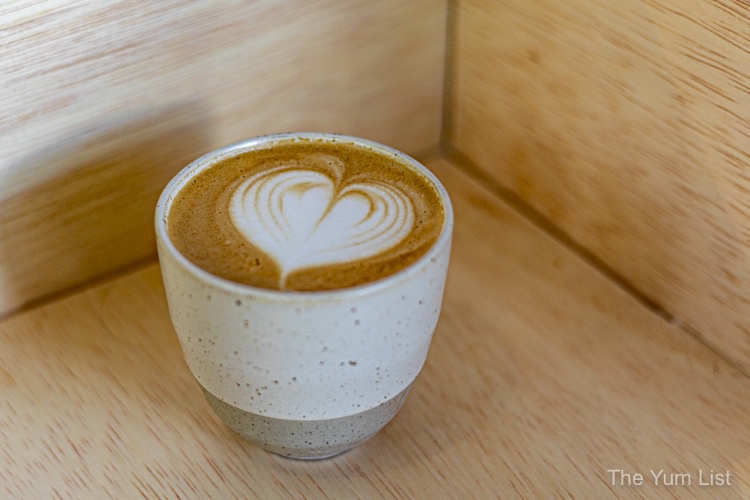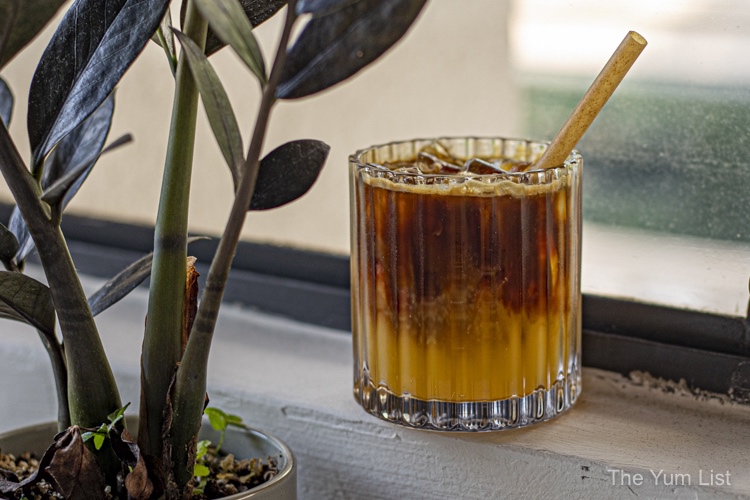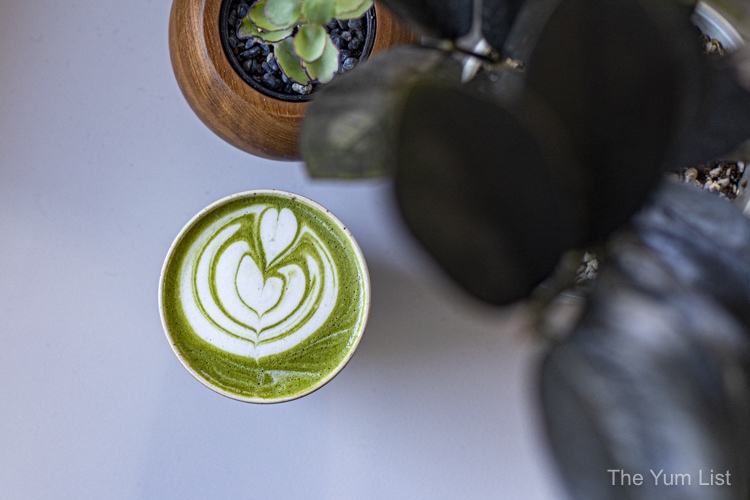 Reasons to visit Feeling+ by Optimist Coffee: cool space, quick bites and good coffee. I love the Orange Espresso Tonic, and the Kimchi & Mushroom Toastie will keep Rich returning.
Feeling+ by Optimist Coffee
The 5th Place, The Five @ KPD, Jalan Dungun
Bukit Damansara, Kuala Lumpur
Feeling+ by Optimist Coffee Opening Hours
8.30am-5 pm, kitchen closes at 4 pm
Closed on Mondays.
Find more of our favourite cafes in Kuala Lumpur here and stay up-to-date with the latest gourmet and travel recommendations for the country here and here.